A wedding album can take you down memory lane whenever you flick through the pages. This article can help you create the best wedding album.
You have said your vows, eaten the cake, and opened the presents, and now it's time to create something to remember it by. Putting together a wedding album is the finishing touch to your special day. It'll also make a thoughtful gift for your family and your brand new in-laws!

The photographs of your wedding day are timeless memories that can immediately take you back to the moment when you said "I do." However, creating an innovative and unique photo album is not an easy task.
In this article, we will share some of the best ideas to help you create a wedding album that can tell your story in a beautiful way.
Pick creative photos for your wedding album
The best part of any wedding album is of course the pictures. Your choice of wedding photographer will play the biggest role in how your wedding photographs will turn out. Visit Wedding Photography Melbourne to get the best photographer for your big day.
"These are professional photographers that use PPI calculator to estimate the number of pixels contained in each image. This is how they endeavour to retain the quality of the images that make your wedding album more attractive."
Here is a list of some amazing shots that you must have in your wedding album to make it innovative, beautiful, and creative.
Bridal shower photos
The bridal shower can be a great chance for the bride to get some nice photos of her pre-wedding bash. Get some pics of the games and the group raising a glass of wine, and you are good to go!
The venue specials
Of course, your wedding venue will play a significant role in making your wedding album a wonderful one. Wedding venue décor should definitely be included. Everything from the limo to the superb background should be captured by your photographer.
If it is a destination wedding, make sure to capture the stunning location. It would be best if the photographer captures the happy couple in those beautiful views.
Getting ready shots
Getting ready shots at a wedding is not ordinary; in fact, they are incredibly significant. The photos of the bride just before her final touch-ups, and the groom's excitement prior to that "I do" moment can make the most adorable shots for a wedding album. Moreover, the couple can have a whole series of pictures of the party getting ready to make sure they don't miss out on a single detail.
Close-up portraits
Close-up shots are a must-have for a wedding photo book. The blushing bride and the happy couple gazing lovingly at each other will make for amazing close-up shots for a gorgeous wedding album. A mixture of the bride and group alone and with the whole wedding party will give you the best photo album.
Make your entries dramatic
The days are gone when only the groom entered in a dramatic way. Brides today should also make their entry dramatic and grand. You can arrive in a vintage car, with doves or special music, or choose any other funky way to enter the venue that will create a lasting impression on anyone present at the wedding.
Candid shots
Candid shots are beautiful and look really natural in an album. These impromptu, unrehearsed pics make for the genuine expressions that will embellish your wedding album.
Candid laughter moments between the groom and the bride should never be missed. There will be countless adorable moments throughout the day where the couple will burst into laughter, and some of these moments must be added to the album. Also, ensure that candid photos are a little larger than the other photos to add to the charm.
The girl gang
No wedding album is perfect without some prankish bridesmaids teasing around with the groom. Also, make sure to have some super fun shots of the bride with her girl gang. Don't forget to experiment with color schemes and outfits throughout the shooting to give your wedding book some flair.
The groomsmen
Having some quirky photographs of the groomsmen is also a must. Get some peculiar, classy, and fun shots with the groomsmen and add them to your album so you can relive those moments for years to come.
The emotions
Weddings in any religion or region are an occasion where a myriad of emotions come out. From fun to sadness, giggles to tears, nervousness to excitement, all sorts of emotions explode at a wedding. Preserving some of those precious moments is a must to get the perfect wedding album.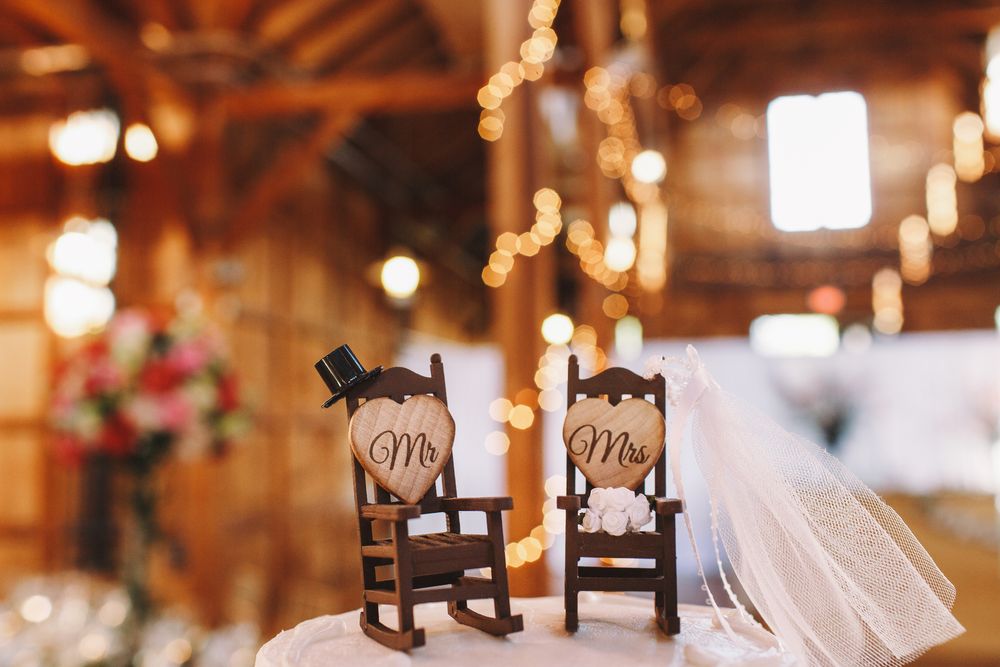 Create Your Wedding Album
Creating your wedding album is such a fun post-wedding activity, although it can be somewhat overwhelming to know where to start.
Get organized
The best place to begin is by getting organized. With the digital world we live in, chances are all of your wedding photographs are going to be files stored on your mobile phone and computer. Get all the photos onto the same device and create two folders, one for your wedding album shortlist and one for normal wedding memories.
Then begin filtering through. This is not only going to make it simpler to upload them for your album, but it is a great way to bring together all of your photos. Back up all your photos on a USB or hard drive to make sure they are 100 percent safe and sound.
Get creative
With housekeeping being over, it is time to get creative. Decide if you want a theme for your album. For example, you may simply want a collection of all the funniest moments of the day, or the most romantic. Do you prefer a modern theme or something more traditional?
A theme gives you focus. It can be of great help if you are struggling to whittle down the number of pictures that will go in your album.
Run order
Chronologically is the most sensible and straightforward approach. This way, every time you open your album, you will recollect the entire day as it unfolded. However, it is by no means the only method.
You can arrange your pictures by subject – people, styling, flowers, and food – or you can be artsy and organize your pictures by color for a nice curated effect.
Choose the album cover and caption
Lastly, decide on your album cover photo and your first wedding album caption. To keep things simple but romantic, it is a nice idea to use a picture of the two of you during one of the several candid moments with a beautiful line like 'Locked in for life!' Include your names and the date to make it extra special.
If you want to keep people within the pages, choose a picture of your ring boxes, the flowers, or the venue with the wording stating the when and where. Or simply design your wedding album as what it really is: a day that is all about you and your partner, and choose a picture that says LOVE the loudest with your newlywed names underneath.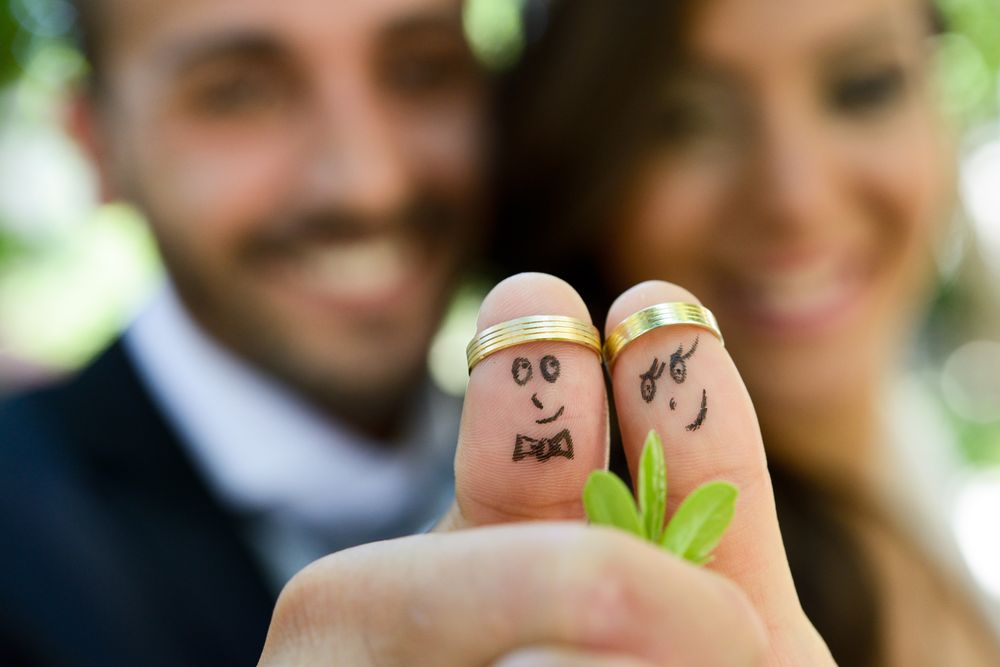 Add more interesting features to your wedding album
Add designs and make a collage
Your wedding album does not necessarily need to be formatted like a simple book. You can always add design features like clip art, frames, and backgrounds, or arrange ten to twenty images in a collage format to give your wedding album a quirky touch.
Add quotes and poems
Yes, a picture says a thousand words, but that doesn't mean your wedding album should be without words. Adding some quotes is another way to add snippets of real meaning that will move you every time you flip through the pages.
If you're stuck for words, take a line or two from the readings during your ceremony, the song lyrics of your first dance as husband and wife, or some lines from your favorite poem. Also, do not forget the vows, particularly if you wrote your own.
If you are a bit of a wordsmith, you can add a caption for every single photo, noting what you love most about the scene captured, or how you remember feeling at the time that photo was taken.
Create a slideshow
A great option for your digital photos is to make a slideshow. Slideshows are enjoyable because they can be accompanied by music and provide a cinematic experience as each picture flashes before the viewer's eyes.
Send your wedding album off to print
People may be more digitally-minded nowadays, but nothing really beats a nice piece of stationery. Imagine going through your wedding album together with your family on your anniversaries, during the holidays, and maybe even later with your children.
With just a little time and effort, you will have created something absolutely beautiful and totally bespoke to your style and your big day. And it will be bound, printed, and securely wrapped in less than a week to make its way to your newlywed home.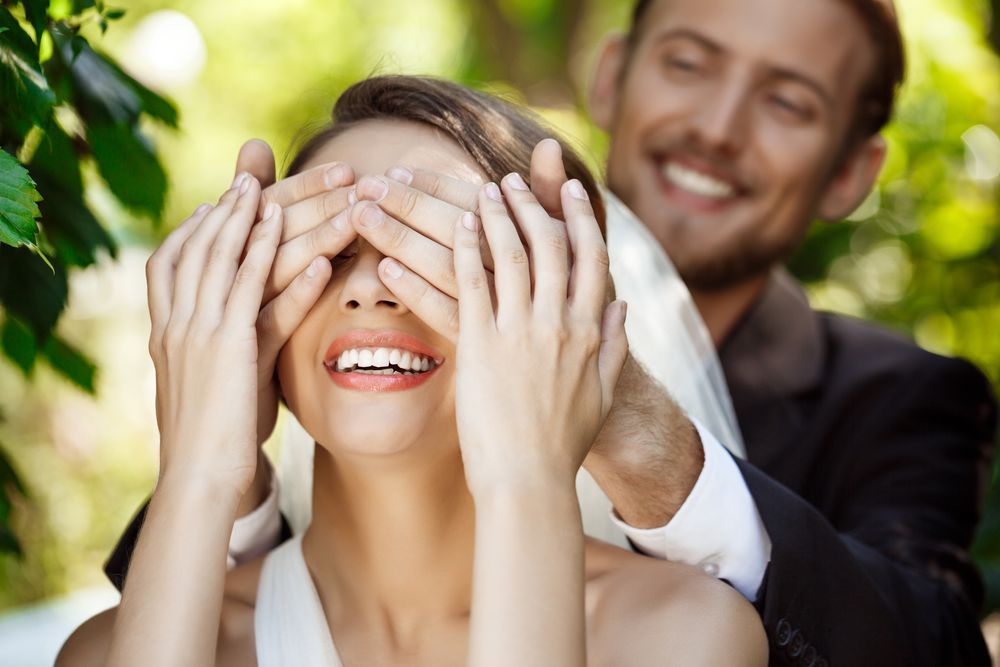 Conclusion
In conclusion, take an artistic and creative approach, and mix all shots from the wedding and pre-wedding ceremonies to make your wedding album wonderful. Even the simplest moments exhibited in artistic ways can add to your wedding album. Instead of creating a bland album, make sure to create variety and whimsy to make it interactive and creative. Happy wedding!
Published by
decolore
Thanks for being a part of this beautiful blog. Hours spent to create this web space to our visitors as much useful as we can. We're living with a pace of life and build beneficial collections related to graphic and web design. Here we come up with premium and free collections like mockups, backgrounds, fonts, wordpress themes, branding, inspiration, tutorials and informative articles for professional designers and beginners. Go ahead and let's be a partners! View all posts by decolore