If you love to paint or draw, you can do so indescribably beautifully with the iPad and Procreate app. You just need some cool brushes and the artwork will be amazing. So, today we present to you comic brushes for Procreate and for your investigation. We hope you will enjoy our handpicked collection and use with a creativity in minds.

You may also like:
Vintage Comics: Grunge Procreate Brushes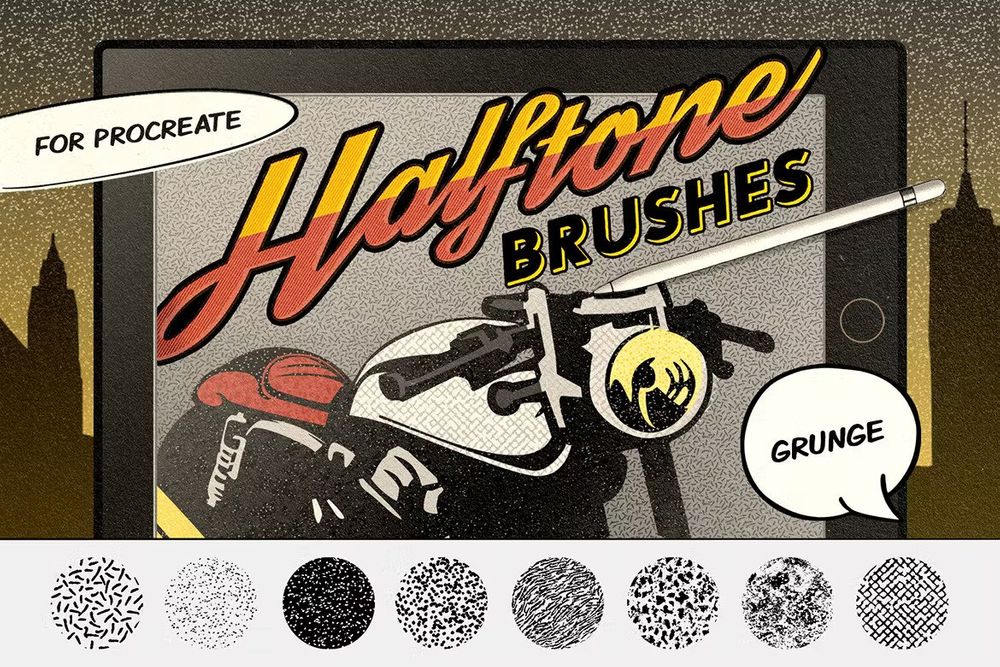 12 grunge brushes for iPad come with 4 worn paper textures with grunge texture you can use to keep up with the vintage comic book style.
Comics & Halftone: Procreate Brushes
48 Inspired comic style brushes and 10 comics paper textures for creative projects. You will love to use this brushes in Procreate on any kind of projects, from illustrations for kids, retro style illustrations.
Vintage Comics: Line Procreate Brushes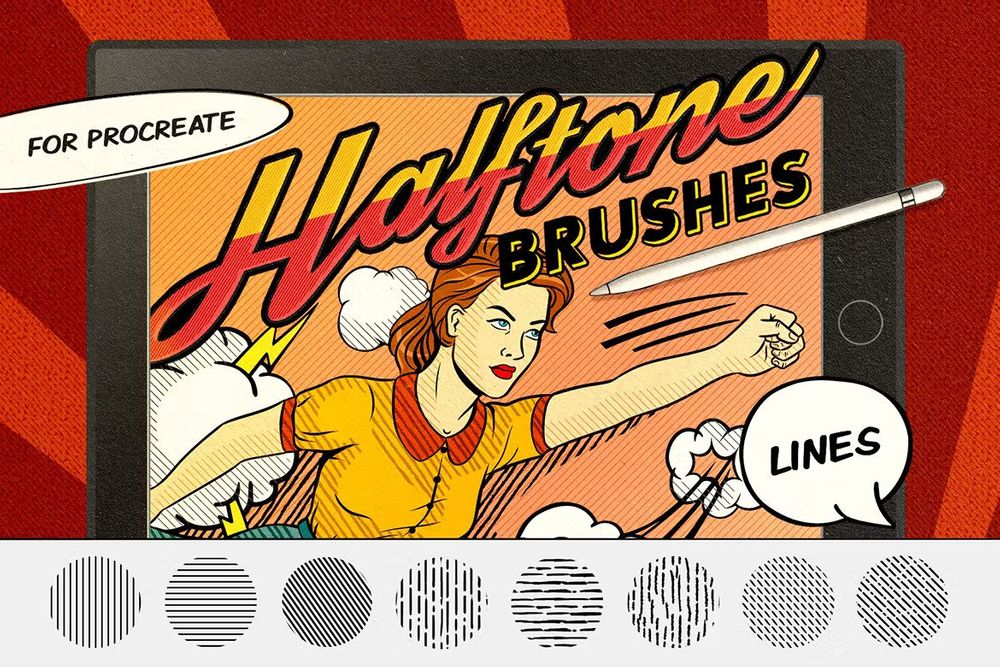 21 pattern brushes with different-looking lines contain tons of illustration possibilities in them. There are also 4 worn paper sheets with grunge texture you can use to keep up with the vintage comic book style.
Comic Ink Brushes for Procreate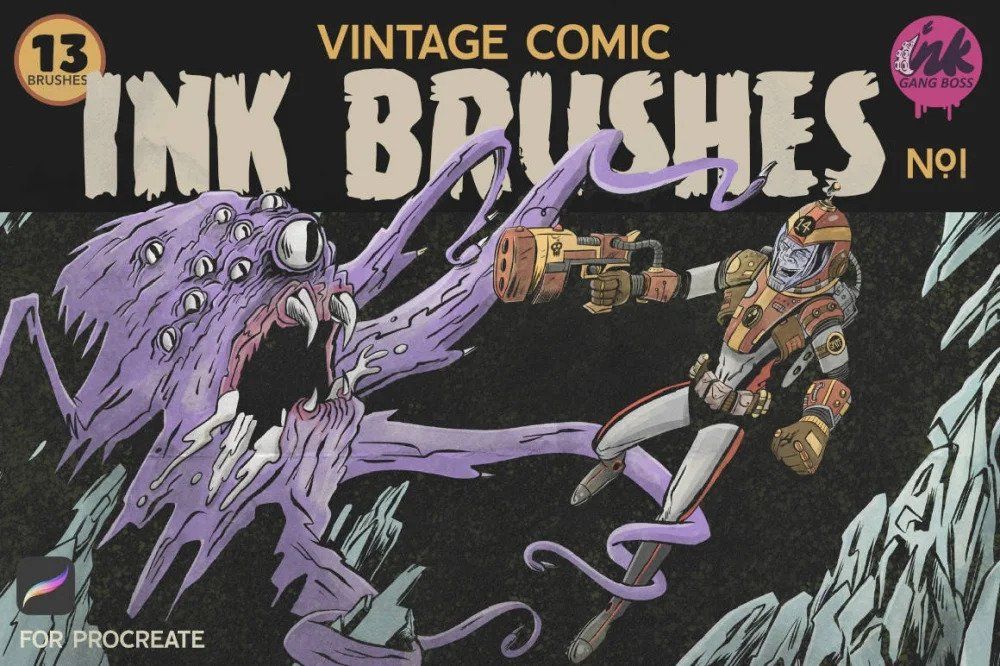 These brushes are perfect for adding natural touches and a more traditional feel to your linework.
Comic Builder for Procreate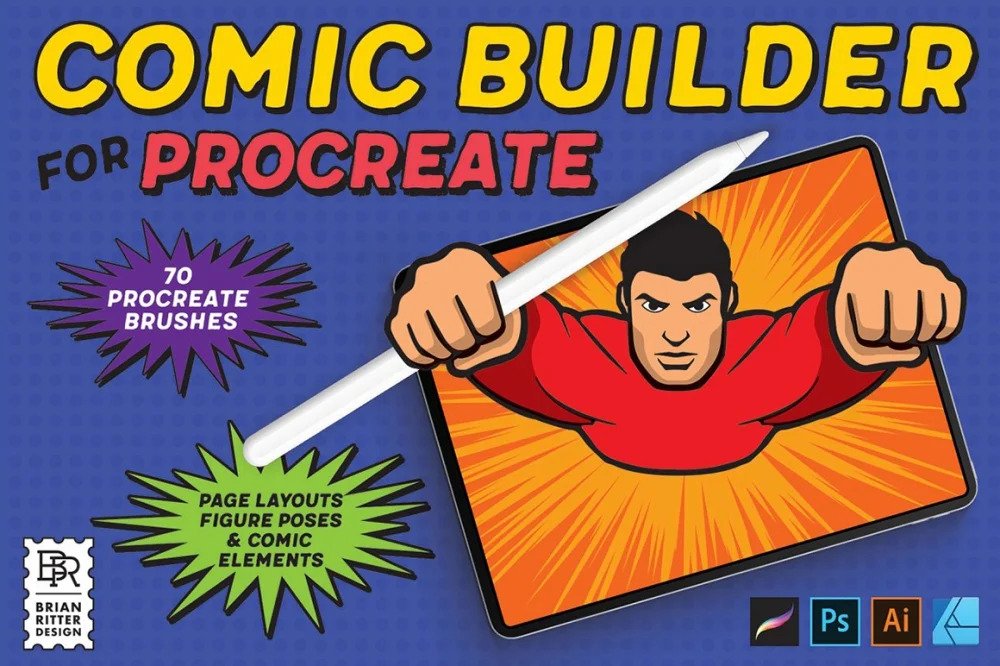 This is a set of 15 page layouts, 15 figure poses and 40 comic elements for drawing comics quicker and easier with the Procreate app for iPad.
Procreate Sweet Liners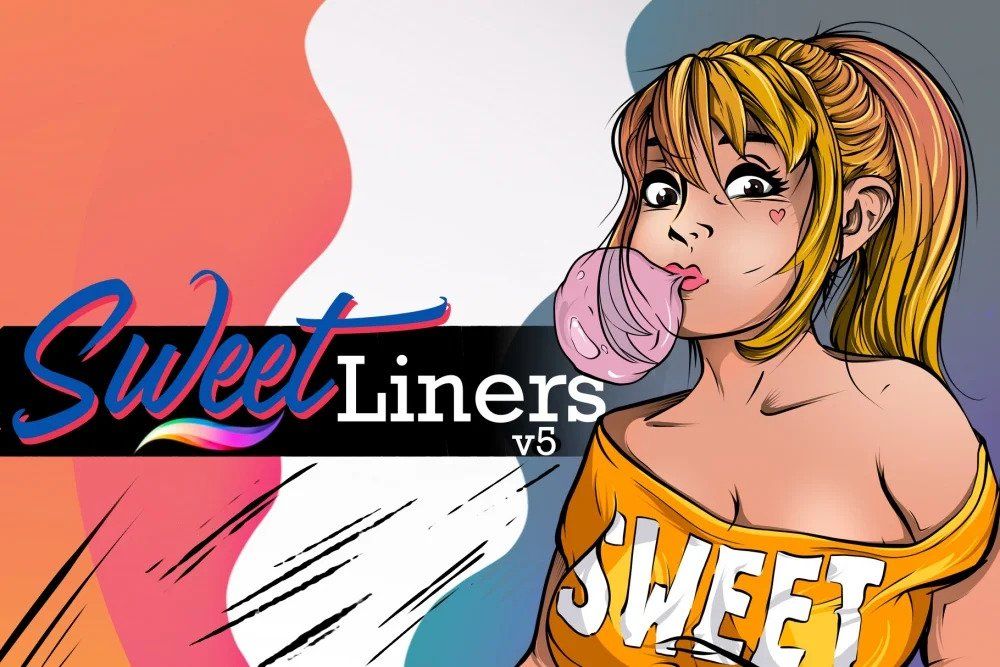 50 perfect liners for all, whether you are an expert or just a drawing for fun. If you are looking for the perfect stroked brush, you just found it.
Vintage Comic Creator for Procreate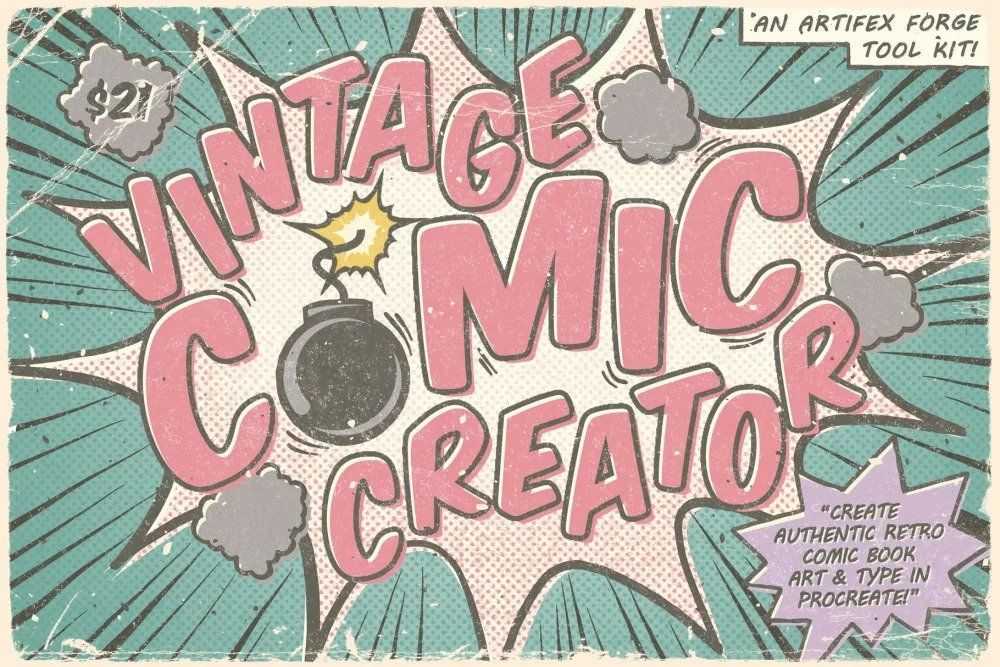 This fantastically extensive tool kit features ink liners brushes, seamless halftone and ink texture brushes, stamp shape brushes, plus a set of vintage overlays. Create easily a comic book designs or illustrations.
Marvelous Vintage Comics Collection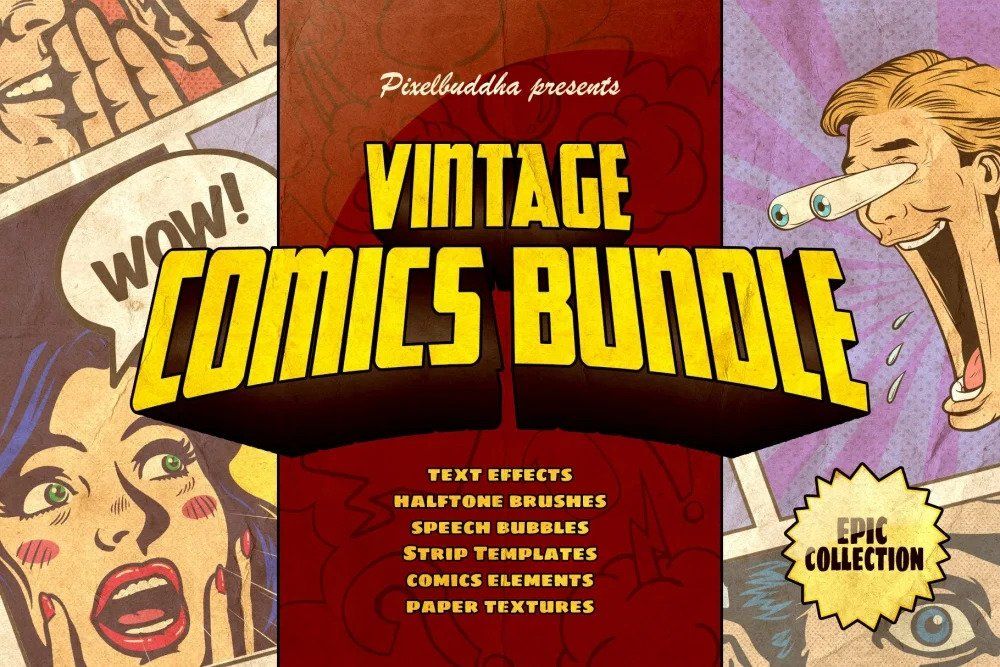 Text effects, halftone brushes, speech bubbles, strip templates, comics elements, paper textures, and frames – provided for you with the essentials elements to build up your own vintage comics book.
The Comic Lettering Masterclass for Procreate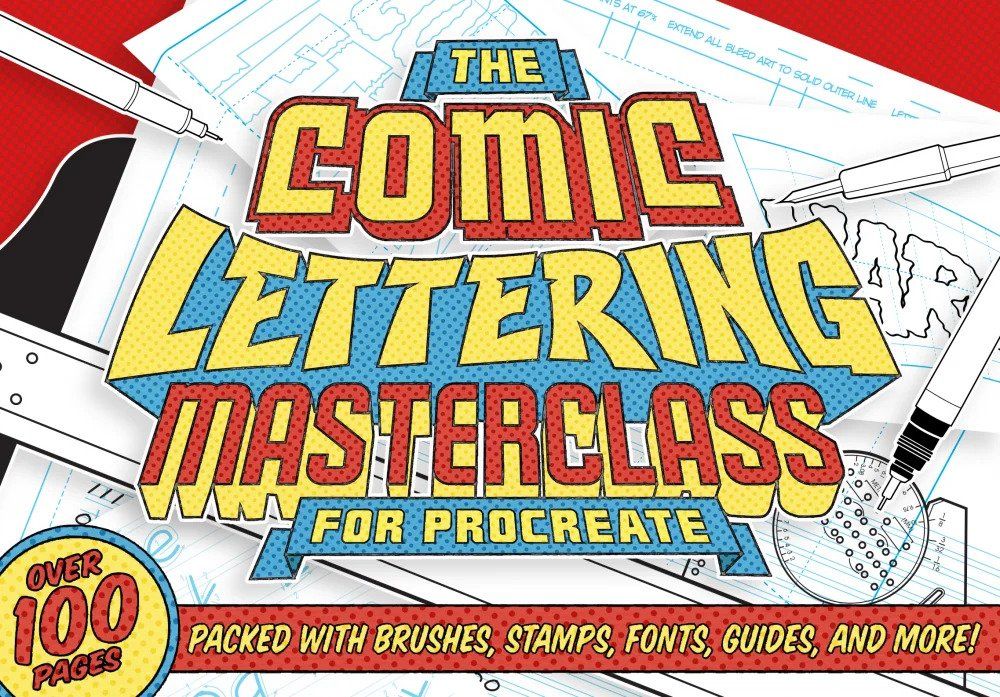 Powerful tools, guides, brushes and fonts specifically designed to assist the comic lettering enthusiast.
Procreate Comic Shape Brushes Stamps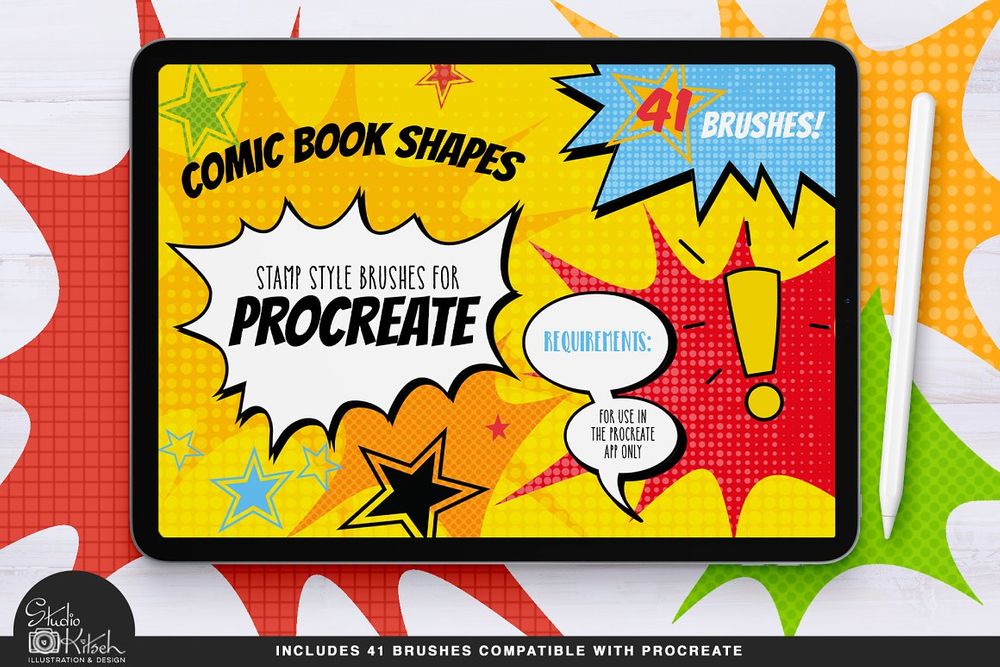 41 Brushes/stamps that are as easy to use as a tap of your Apple pencil or finger! Resize, change color easily.
Comic Vibes! Brushes for Procreate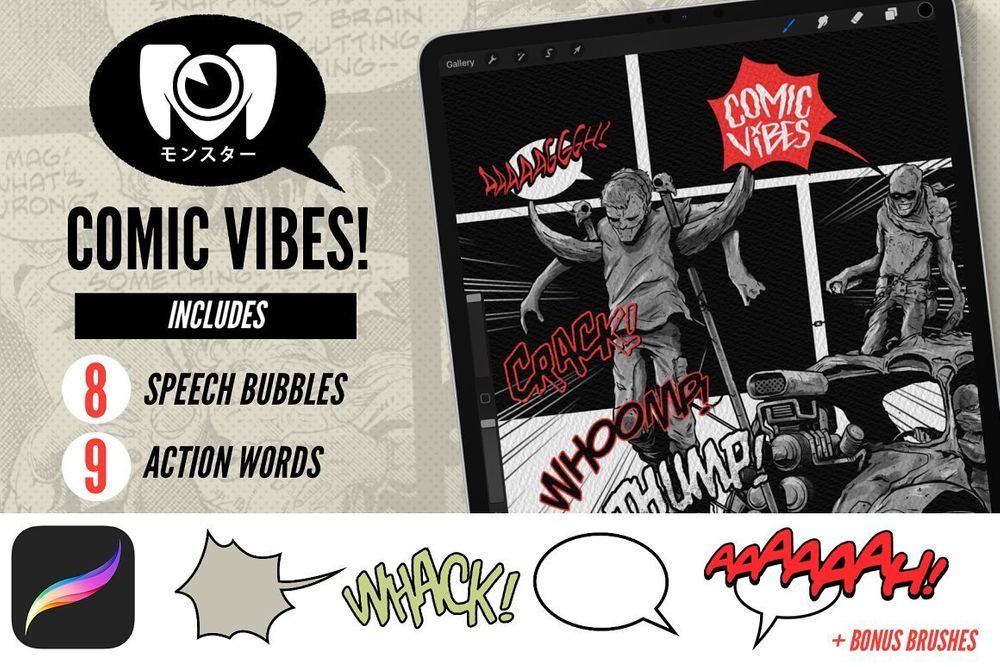 This brush kit comes equipped with 8 unique speech bubble shapes, 9 action words shapes and 2 bonus action lines for creation amazing comics.
Free Basic Brush Set for Procreate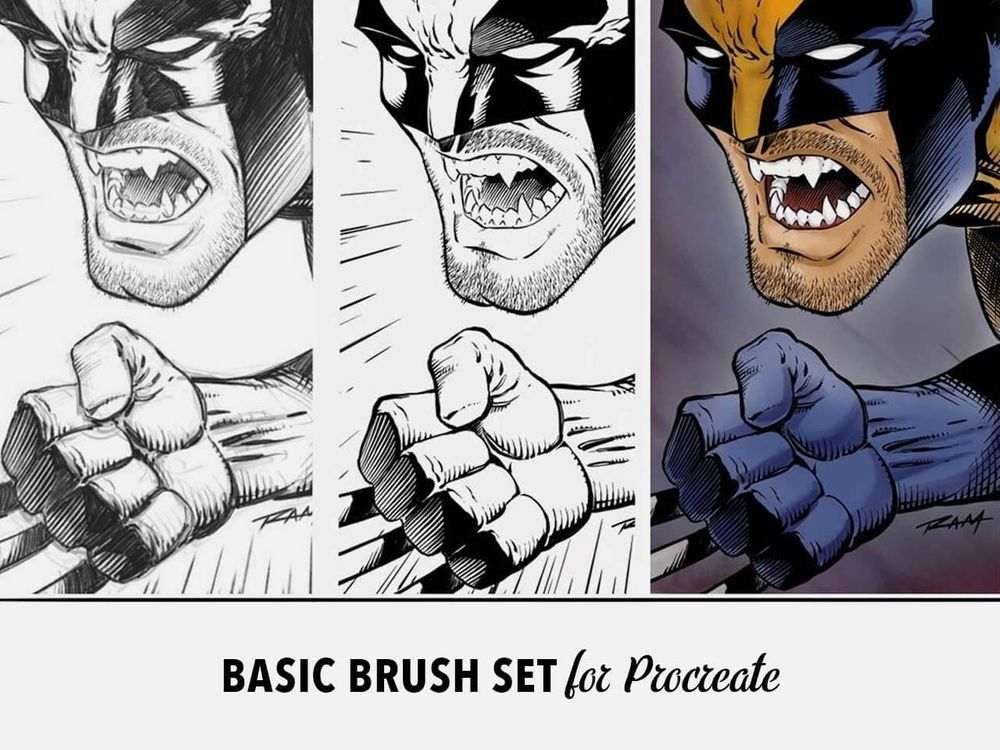 A basic set of free comic Procreate brushes to help you a bit in your creative wanderings. So be sure to try them out and adapt to your workflow.
Free Comic Book Mini Brush Set for Procreate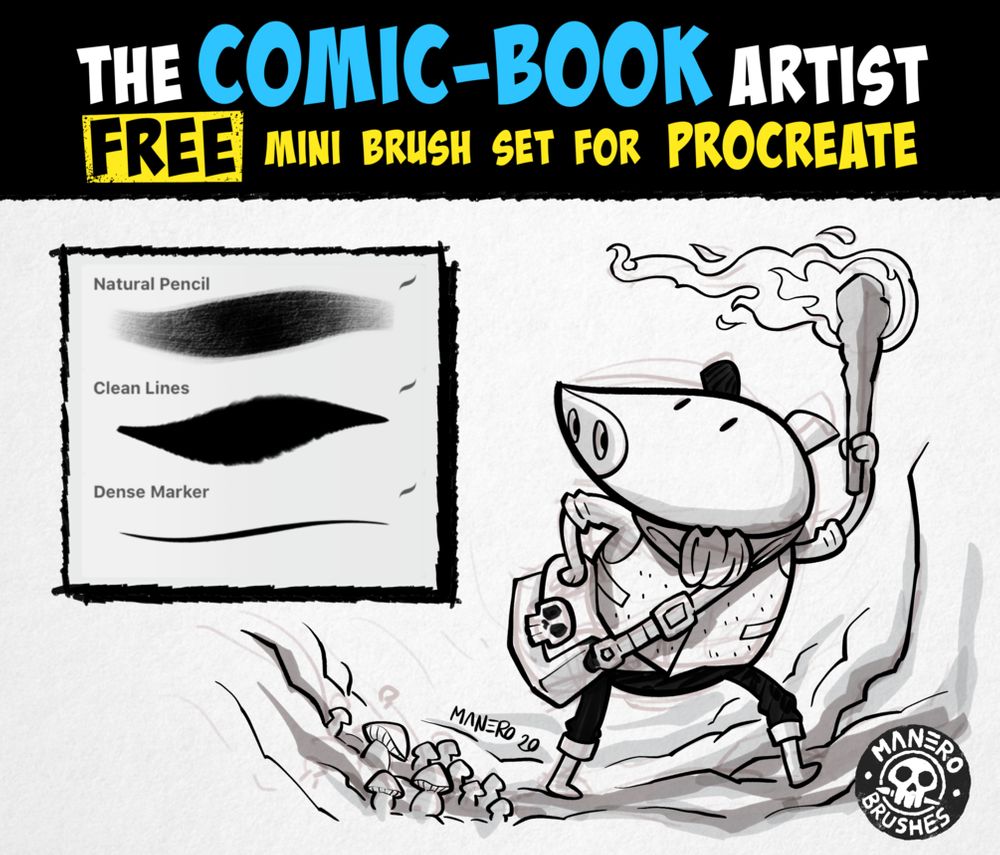 You will love to use these brushes in Procreate on any kind of project, from illustrations for kids, grunge style illustrations, comic and realistic projects.
Free Comic Ink Brush Set for Procreate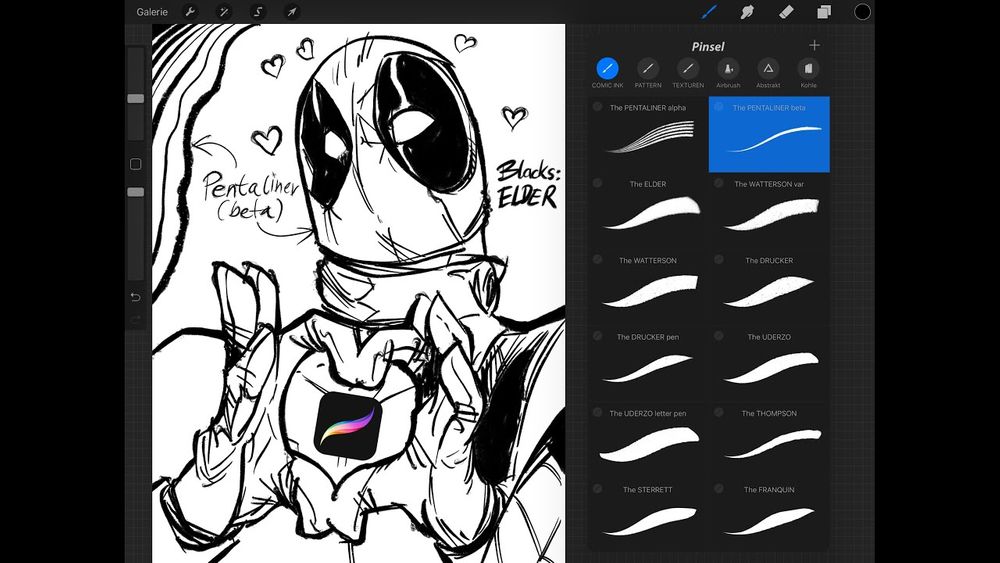 Custom made Procreate ink brush set with more than 20 brushes for inking and special effects.
ColorLab Procreate Vintage Comic Kit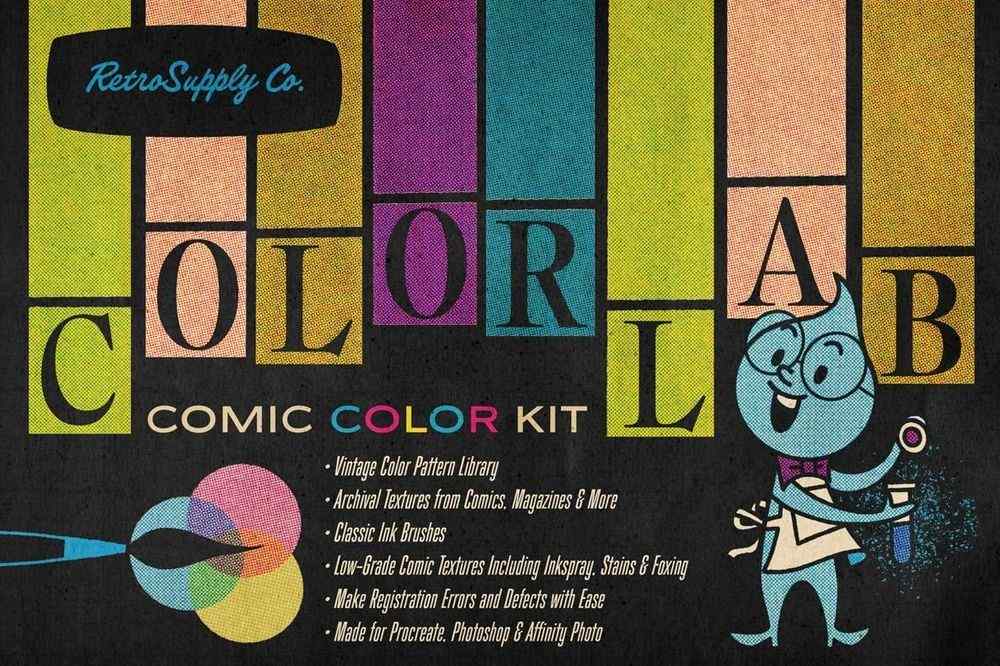 You are going to fall in love with this Procreate vintage comic kit. Featuring 8 paper texture templates, 31 diverse brushes, and a whole lot of swatches.
Retro Texture Brushes for Procreate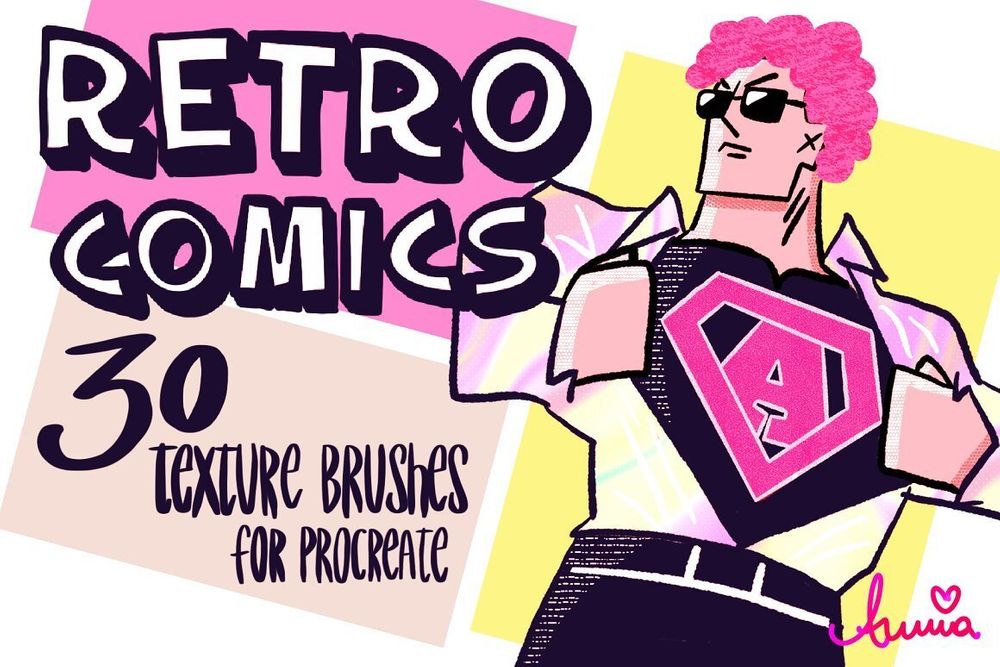 This set includes 30 brushes with different, seamless, hand drawn textures and shaders – from gritty to halftones, all textures in one set.
Image credit: freepik.com