The spring is coming with the full power to our countries and homes. As we got an inspiration from the spring, we decided to come up with fonts that can be useful to spring related designs.
We hope you are also like spring when everyone grows up and warm wind brings happiness to all of us. So, here are a collection of more as 35 lovely spring fonts for a beautiful design. We hope you like our selection, so you can start making something amazing with these fonts effortlessly.
You may also like:
Odour. Spring Botanical Font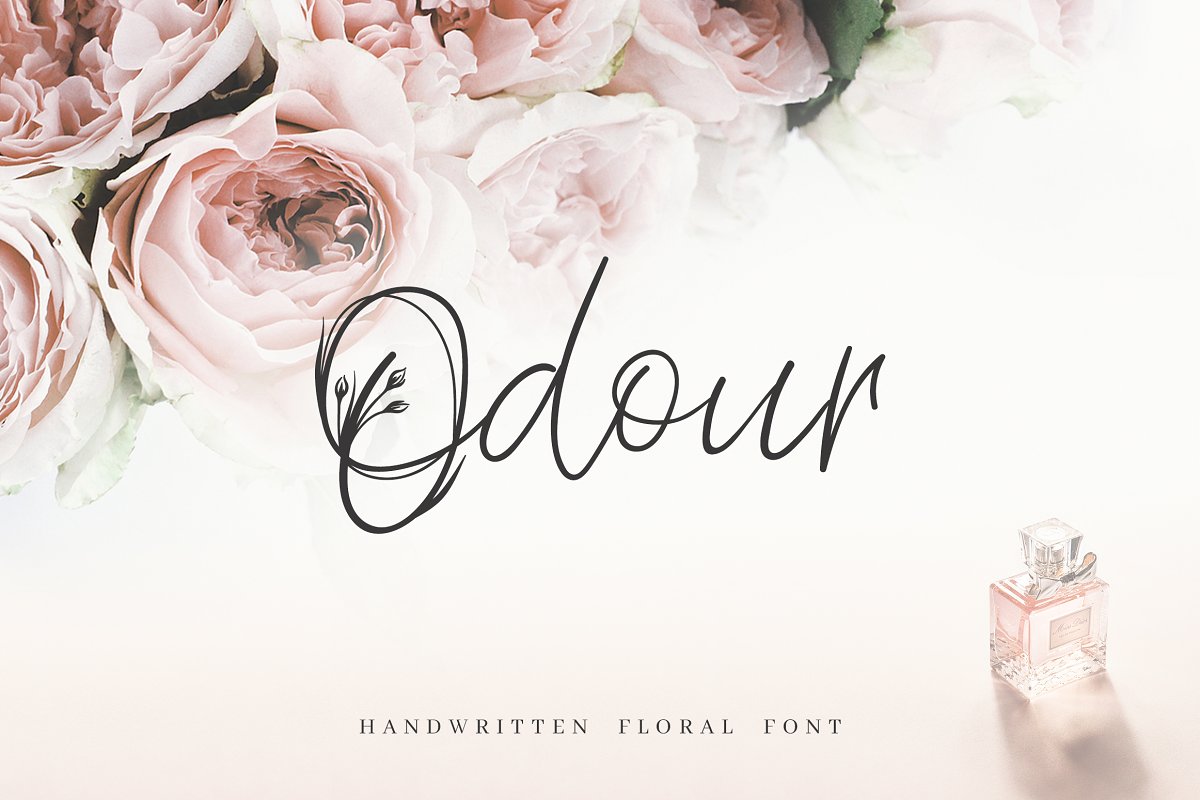 Odour Regular is a modern calligraphy font. It's perfect for wedding design projects, instagram, invitations, signatures, watermarks, logos, letterpress address, titles, birthday invitations, handwriting and more.
Spring Market – Rustic Font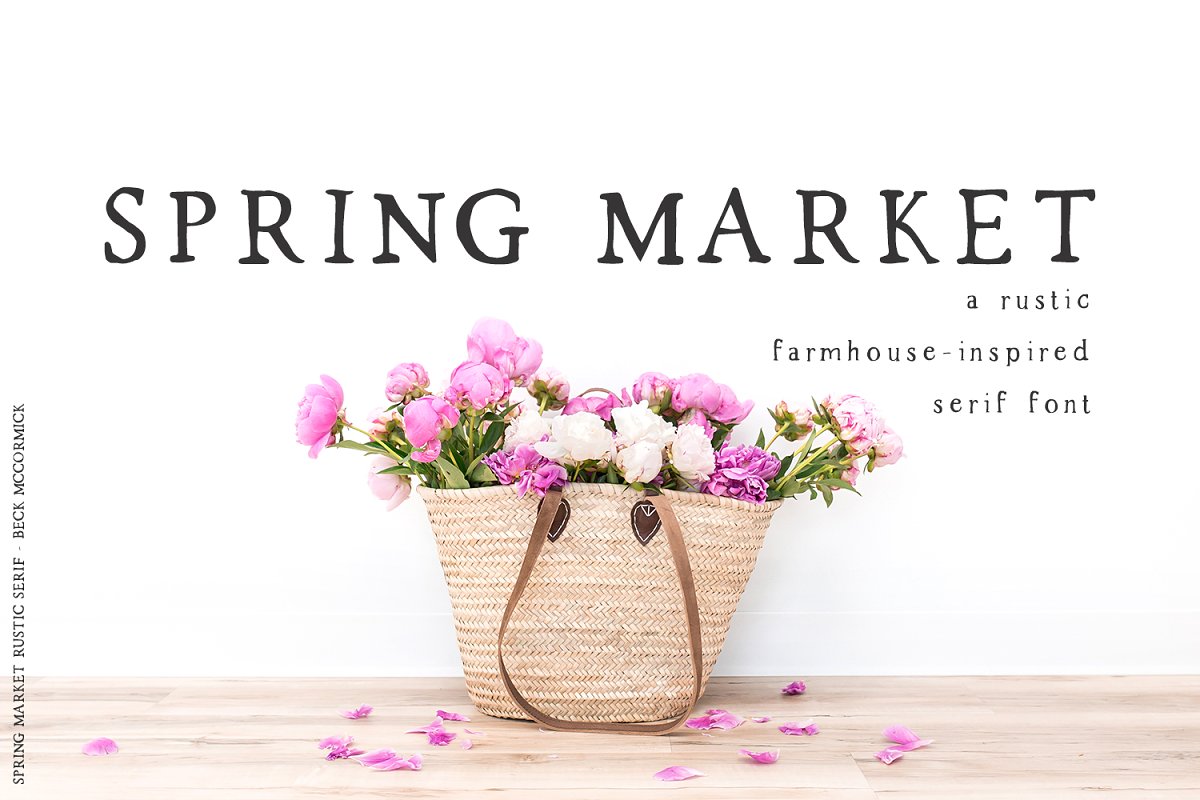 Spring Market has the perfect amount of rusticity and refinement for your next project. I recommend this font for logos, invitations, and your next home decor project that needs that shabby chic touch!
Keshya – Free Font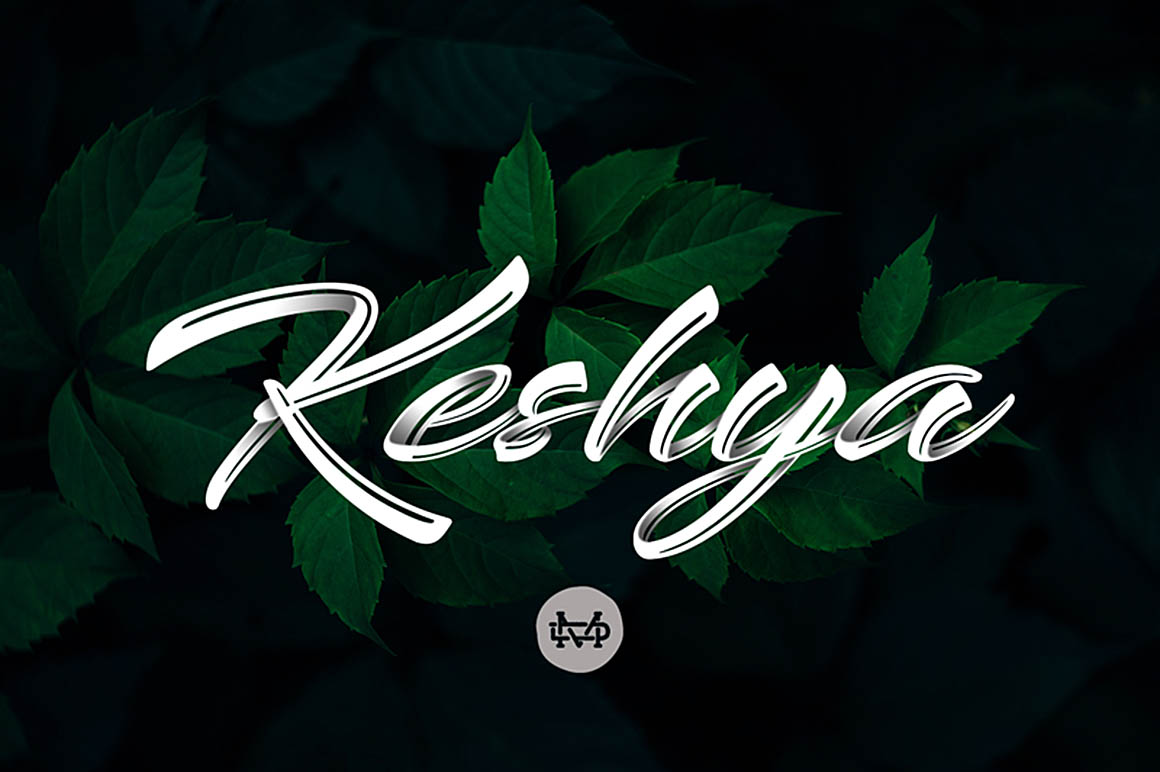 Nice display brush script font free to use for design projects. Download and enjoy.
Free Thuressia Script Font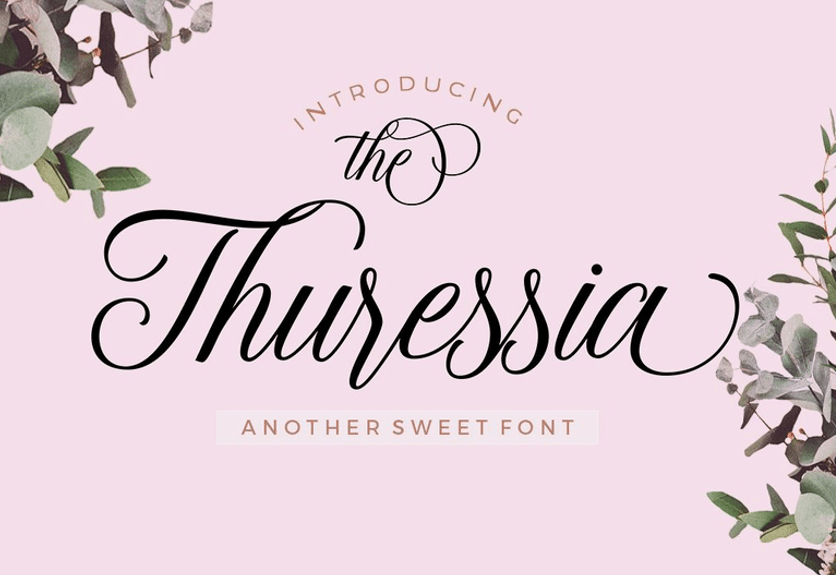 Thuressia script is modern calligraphy font. Wit uppercase and lowecase letters, symbols and uncomplete numbers. Script font good for logo, product packaging, wedding invitation, branding, headlines and etc.
Creata Free Font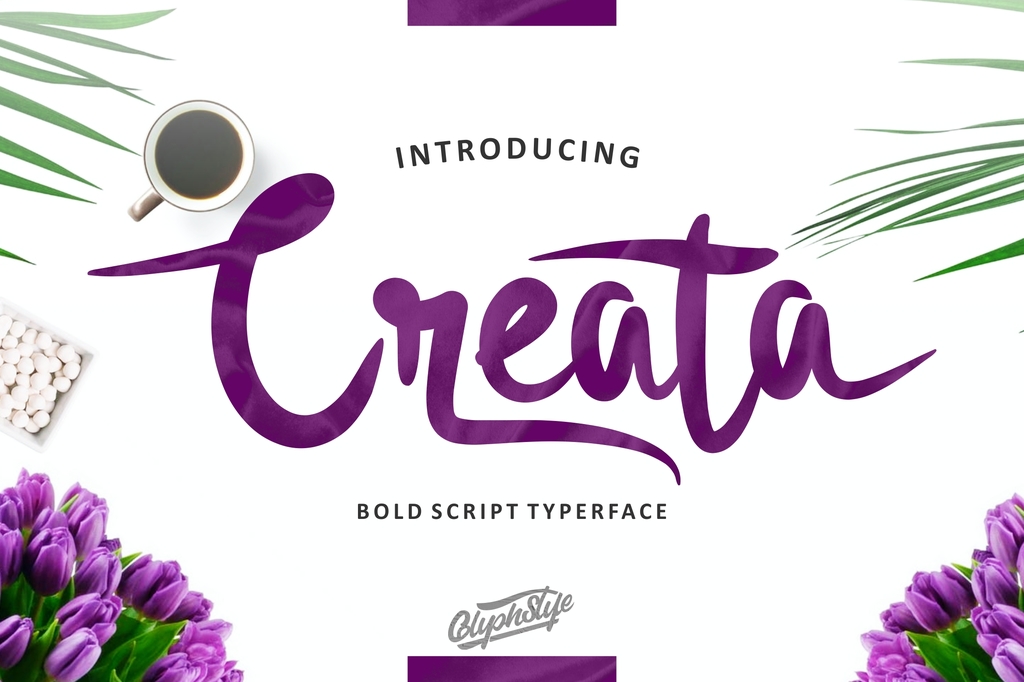 Free bold script typeface for the best designing of logos, packaging, branding and other handcraft designs. Free for personal and commercial use.
Pink Script Free Font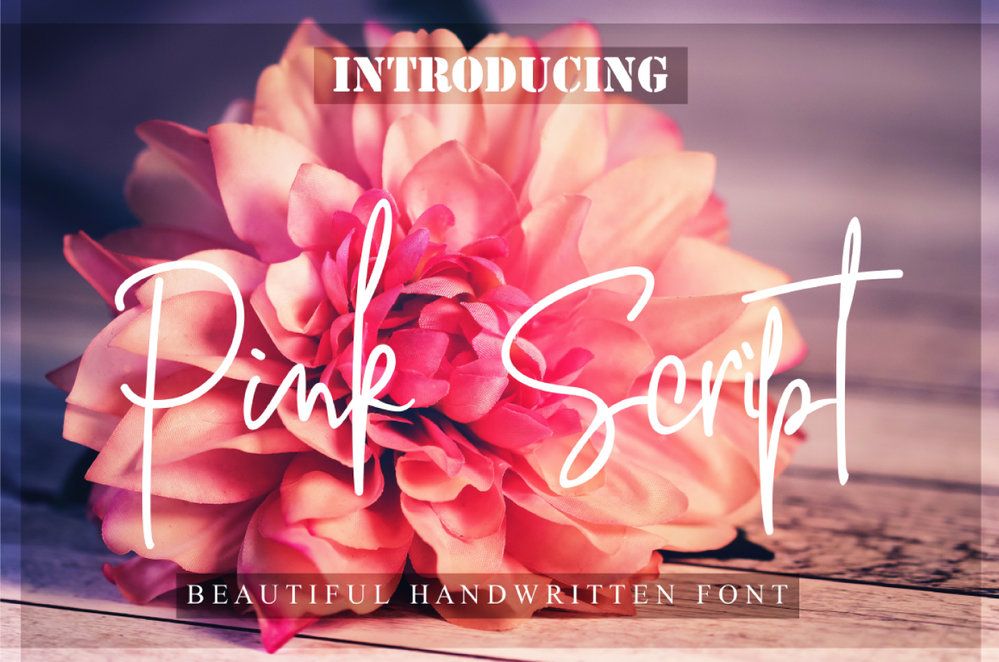 A fashionable and quirky new handwriting font script. Created to look as close to a natural handwritten script as possible by including over 100 ligatures, and a full set of lowercase alternates.
One Love Free Font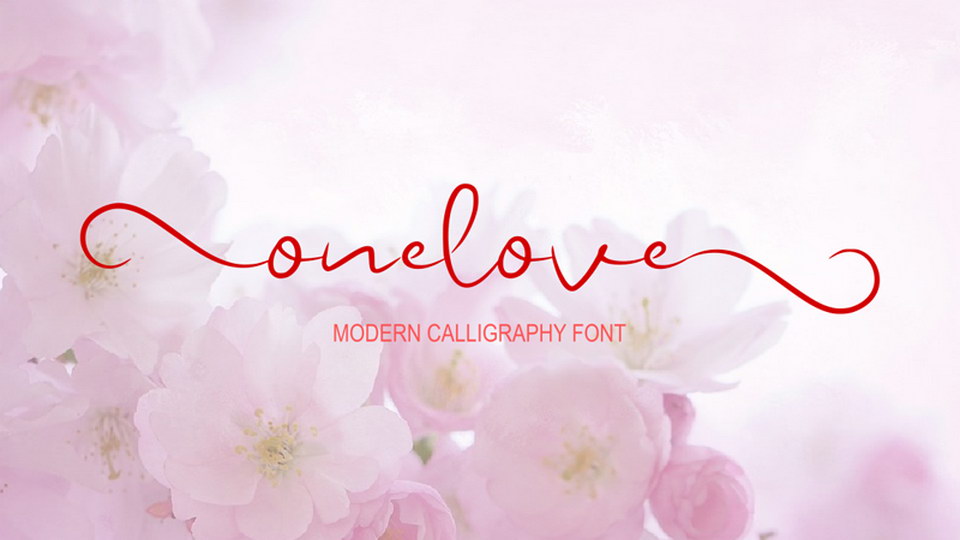 A modern calligraphy font free to use for pernal and commercial purposes. Best for invitation cards, wedding, branding, love day cards etc.
Olivia Script Free Font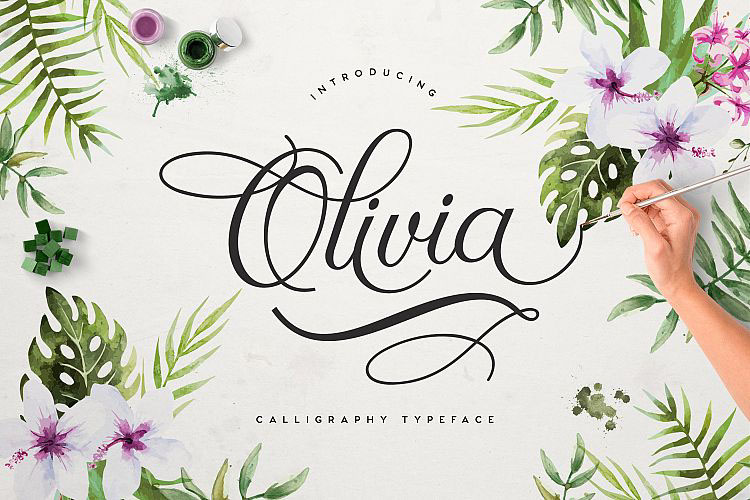 A modern calligraphy typeface with 351 glyphs, you can use this font for multiple purposes such as wedding invitations, greeting cards, posters, wall hangings, gifts and much much more.
Priscilla Free Script Font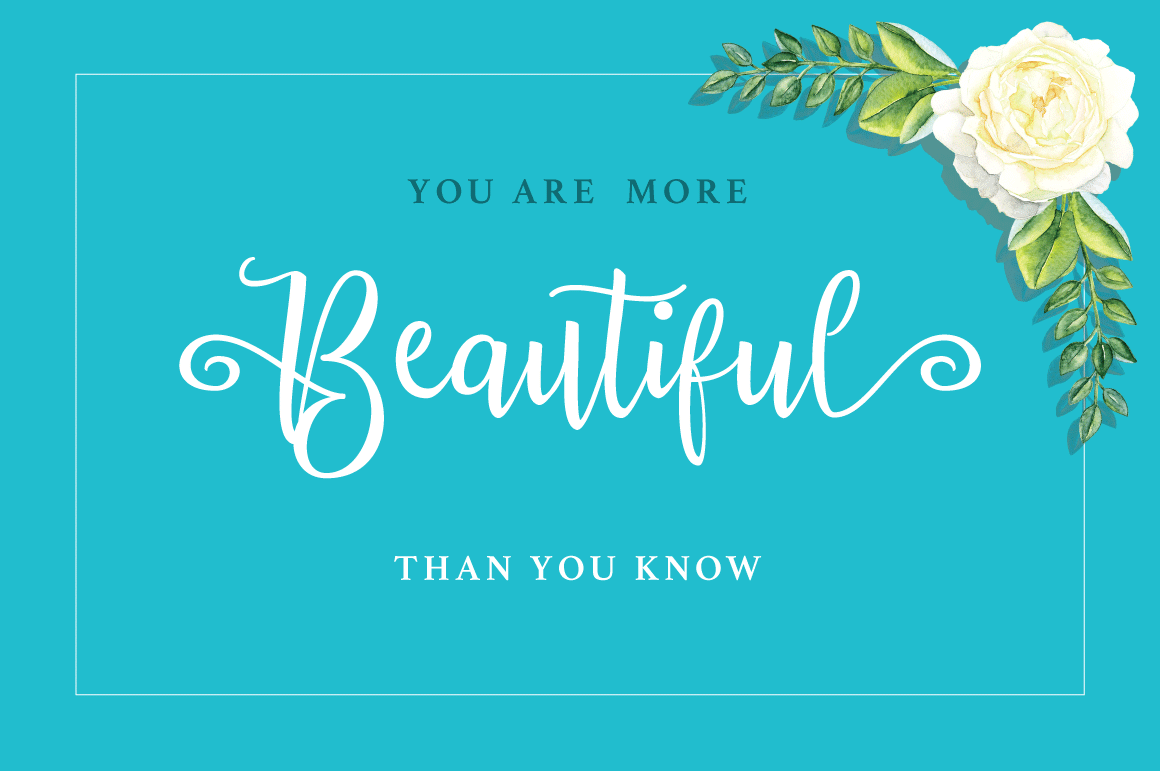 Priscilla script combines from copperplate to contemporary typeface, classic, beauty and elegant touch.
White Garden Calligraphy Logo Font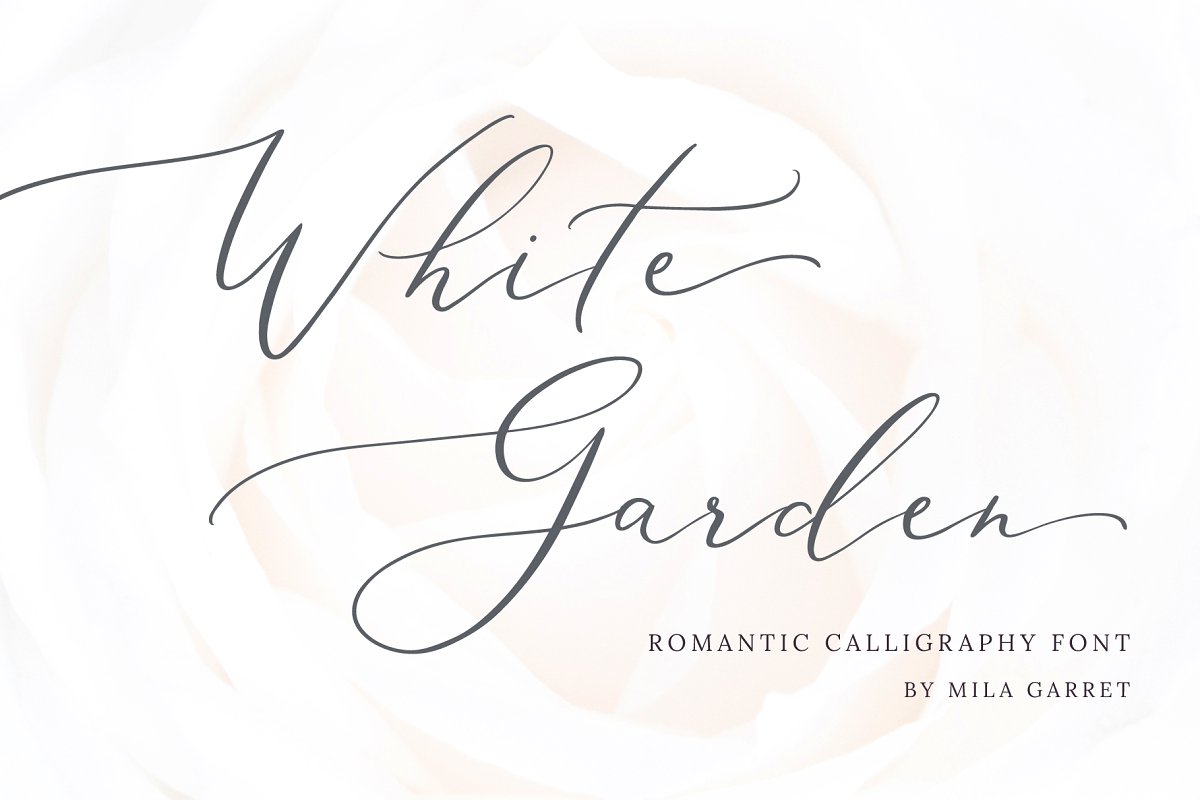 White Garden is perfect for elegant logos, upscale packaging, wedding stationery, websites, and any other projects requiring a handwritten and luxurious touch.
Apricot – Handlettered Serif Font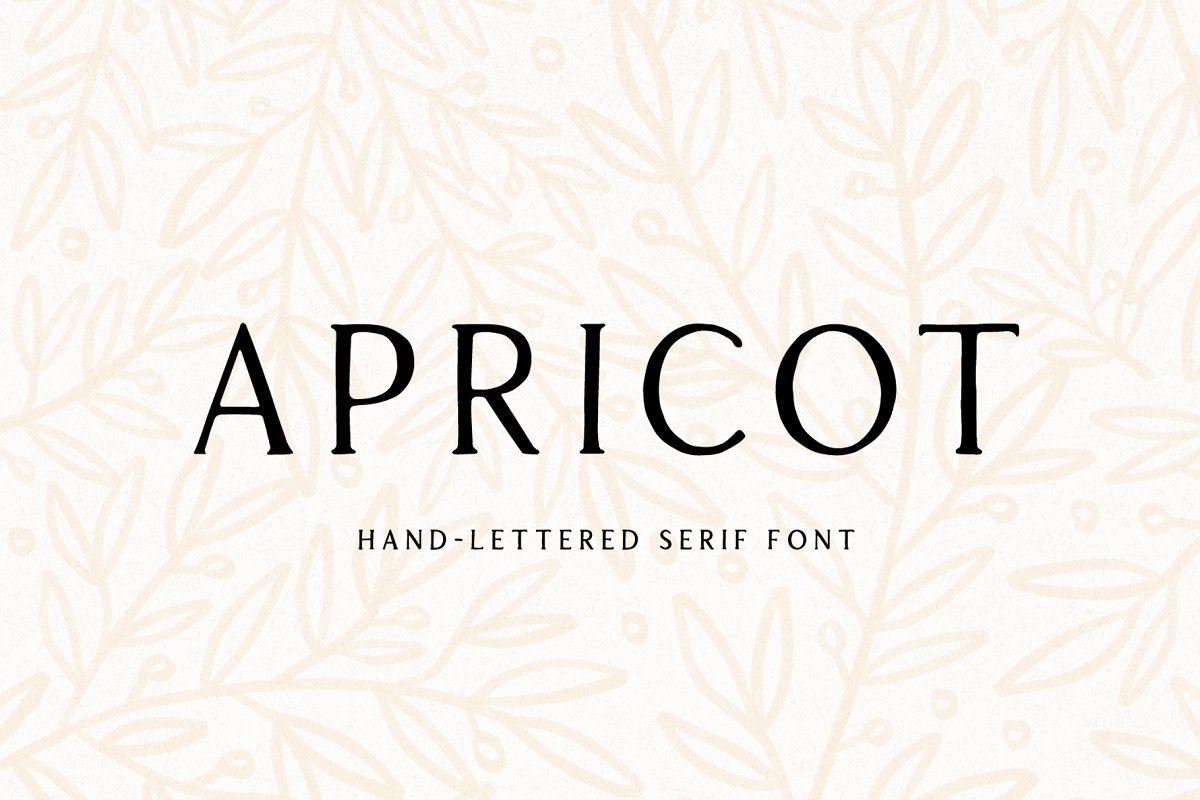 Its hand drawn style provides a slightly imperfect look, perfect to add a handmade touch to your projects. Use for logos, quotes, invitations, blog posts, business cards, presentations and more! This font is all caps and includes full numbers and punctuation.
MIROSA Font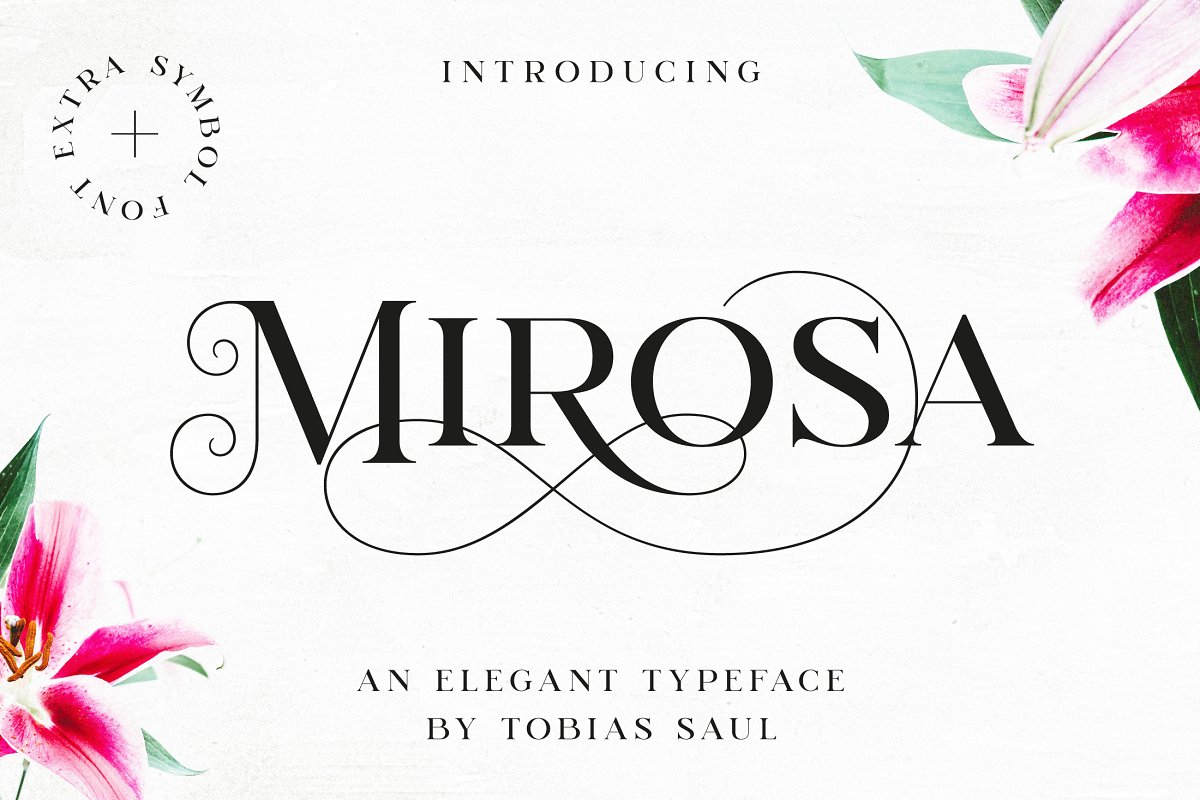 MIROSA allows you to create beautiful headlines, logos and titles in just minutes. But that's not all! Additionally it comes with a second symbol font with 26 extra swashes.
Hello Spring Font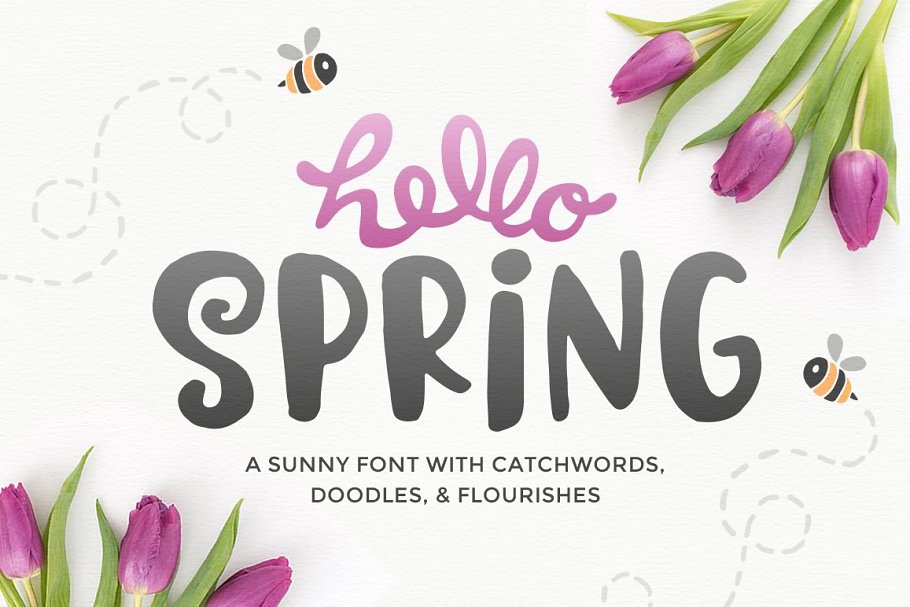 Hello Spring! An adorable new font that comes with catchwords, doodles, and flourishes to help give your projects that special touch.
Among The Wildflowers / Font Duo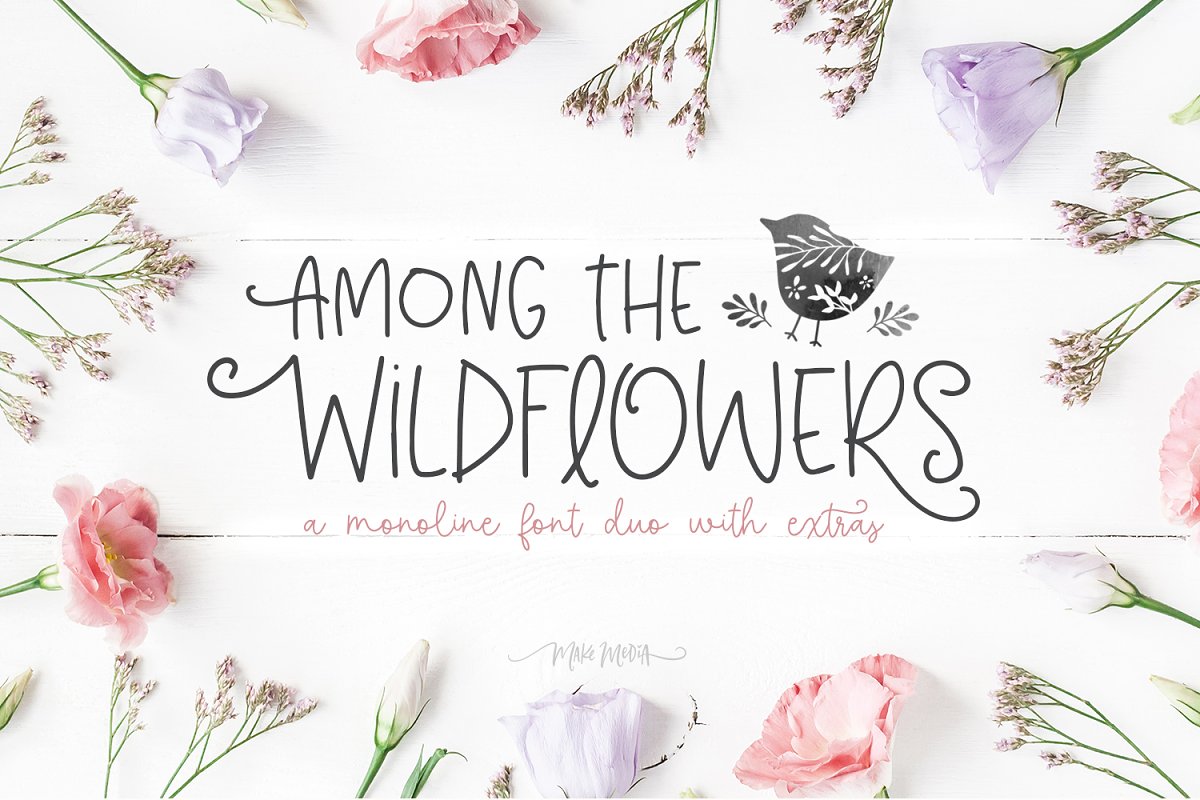 Inspired by clean, monoline typography, decorative illustration, trendy pastels and minimalist branding, this set boasts two fonts, 46 logo templates, 200 hand drawn illustrations, 8 PNG watercolors, 12 overlays, and a whole lot of bohemian flair. ??
Paperie Creme Stylish Script Font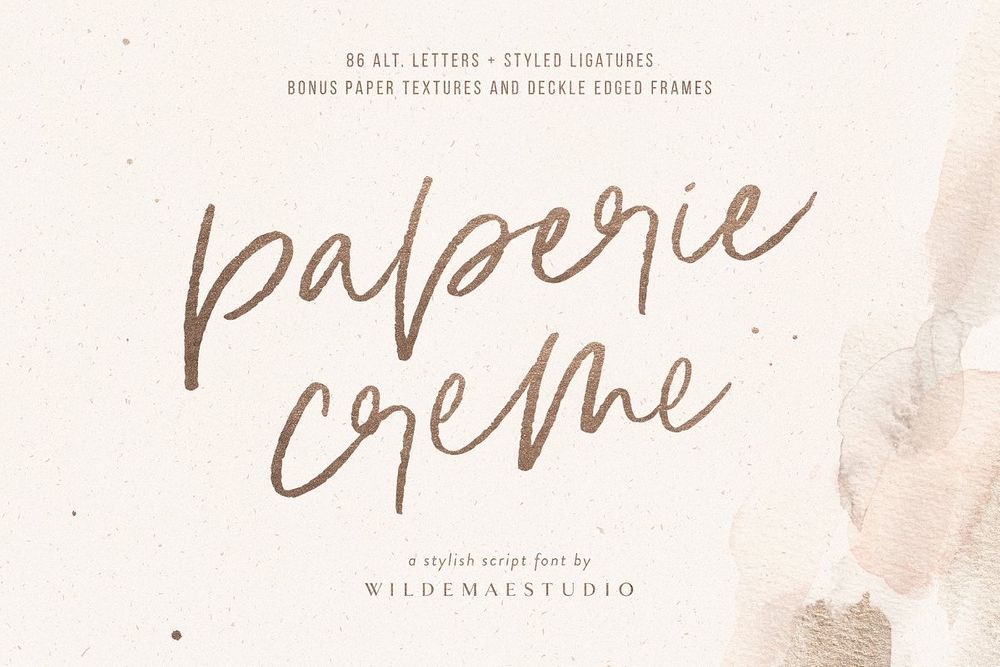 Paperie Creme is a stylish, ultra-versatile, handwritten script font perfect for creating beautiful logos, signage, social media, blog posts, styled quotes, packaging, and more!
Mother Nature Font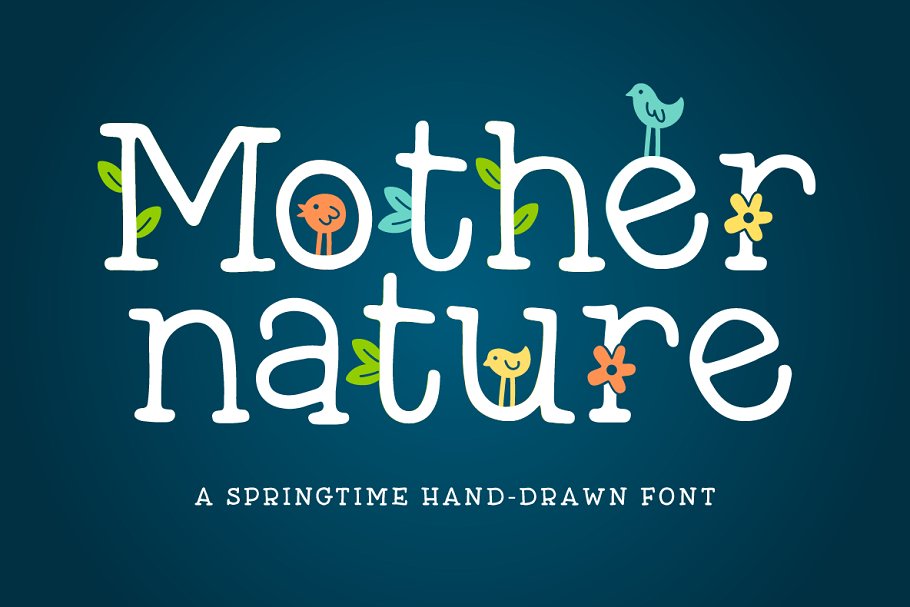 Mother Nature! A beautiful font that will give your projects a classic, yet fun and unique feel. Perfect for birth announcements, wedding invitations, anything that needs a touch of cuteness.
Batisde Font & Free Logos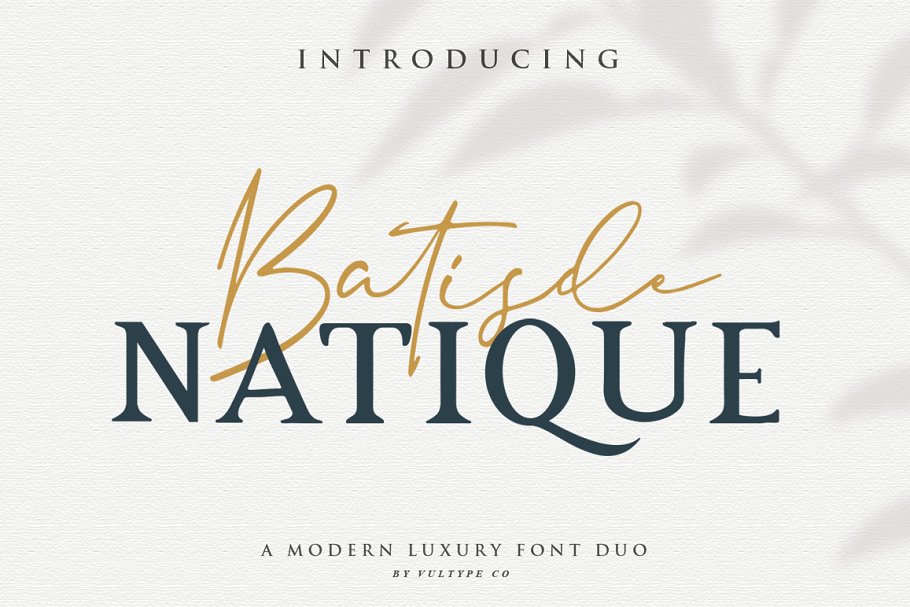 Batisde Font duo is minimalistic script and modern serif with beautiful ligature and alternate font.
Maria Rose Elegant Script SVG Font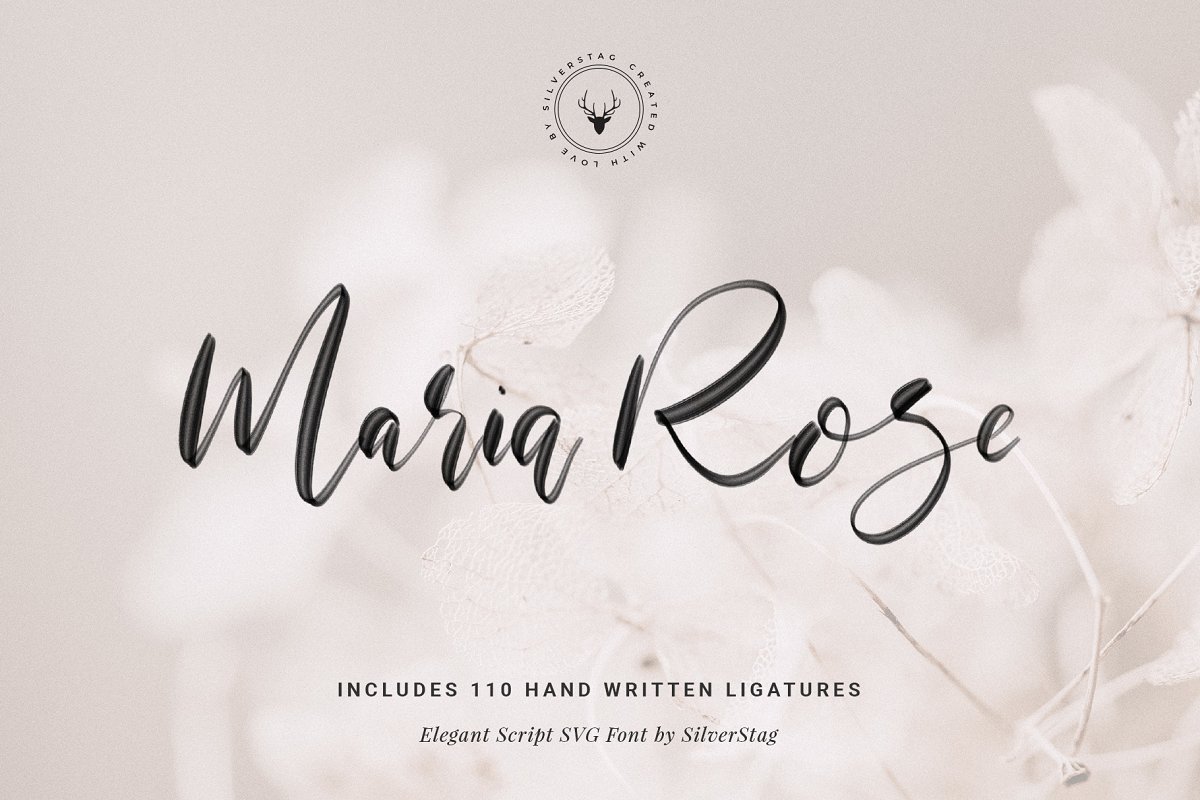 Maria Rose is an elegant SVG Font that has a true hand drawn look and feel.
Spring Dreams Typeface with Clipart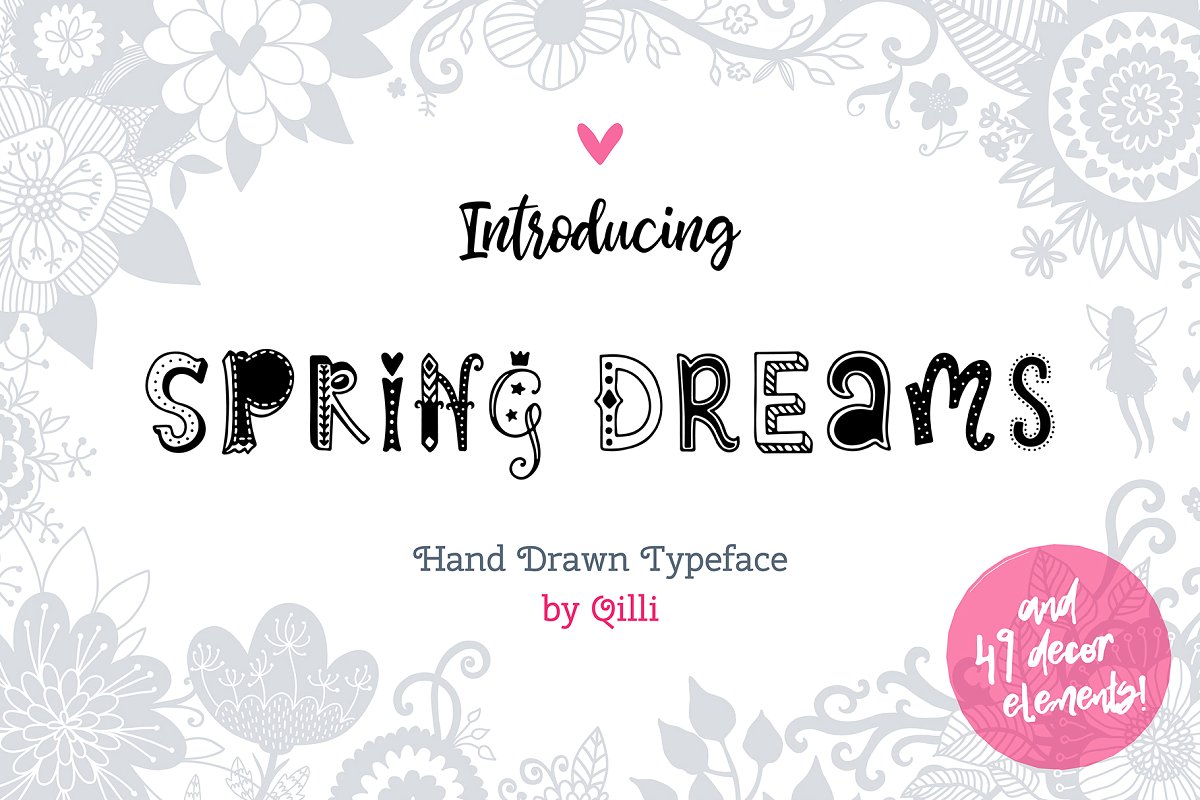 This hand drawn font is perfect for cards, prints, logos, wedding invitations, arrange illustration and decoration.
Oh Spring! Calligraphy Font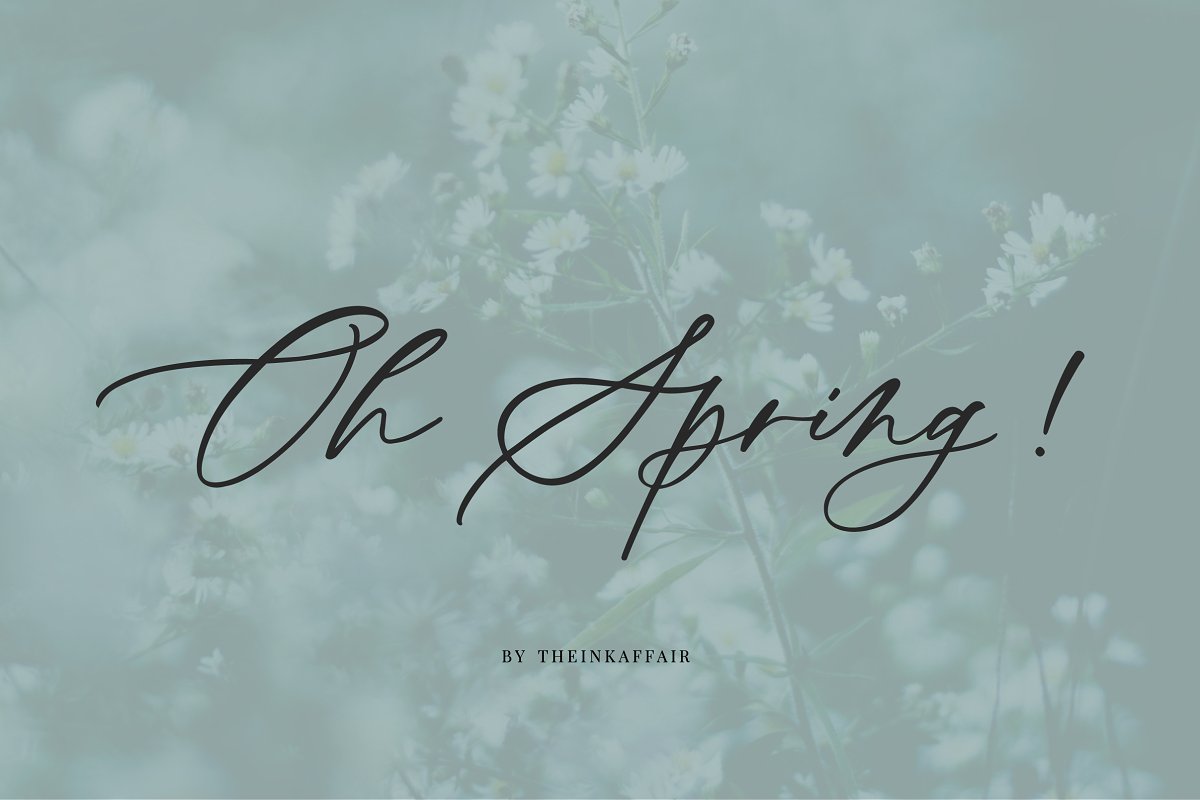 A hand lettered calligraphy font with an elegant touch. It is perfect for wedding invites, packaging, branding, pretty social media and Instagram posts, logos and so much more!
'Le Jardin' Floral Font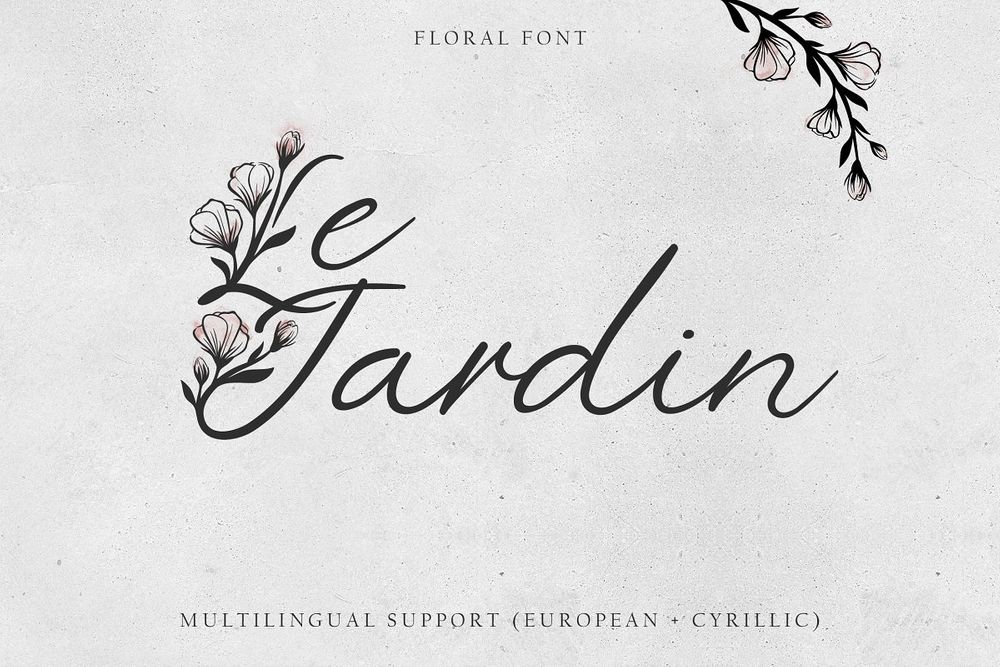 Le Jardin comes in two styles: Floral and Regular. This font includes ligatures and full set of lowercase alternates to make your text as close to a natural handwritten script as possible.
Clementine Script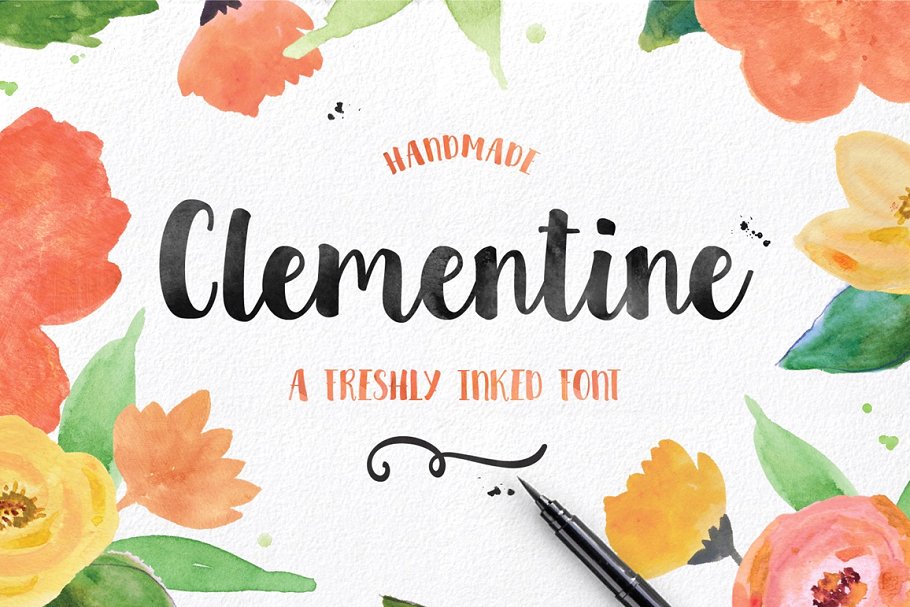 Clementine Script is a tangy new hand crafted typeface. Multi purpose use as is or really sweet in all caps. This script was inspired and designed with a large chisel felt marker. Perfect for signage, posters, logos, headlines, and more!
Spring Vibes. Floral Font + Frames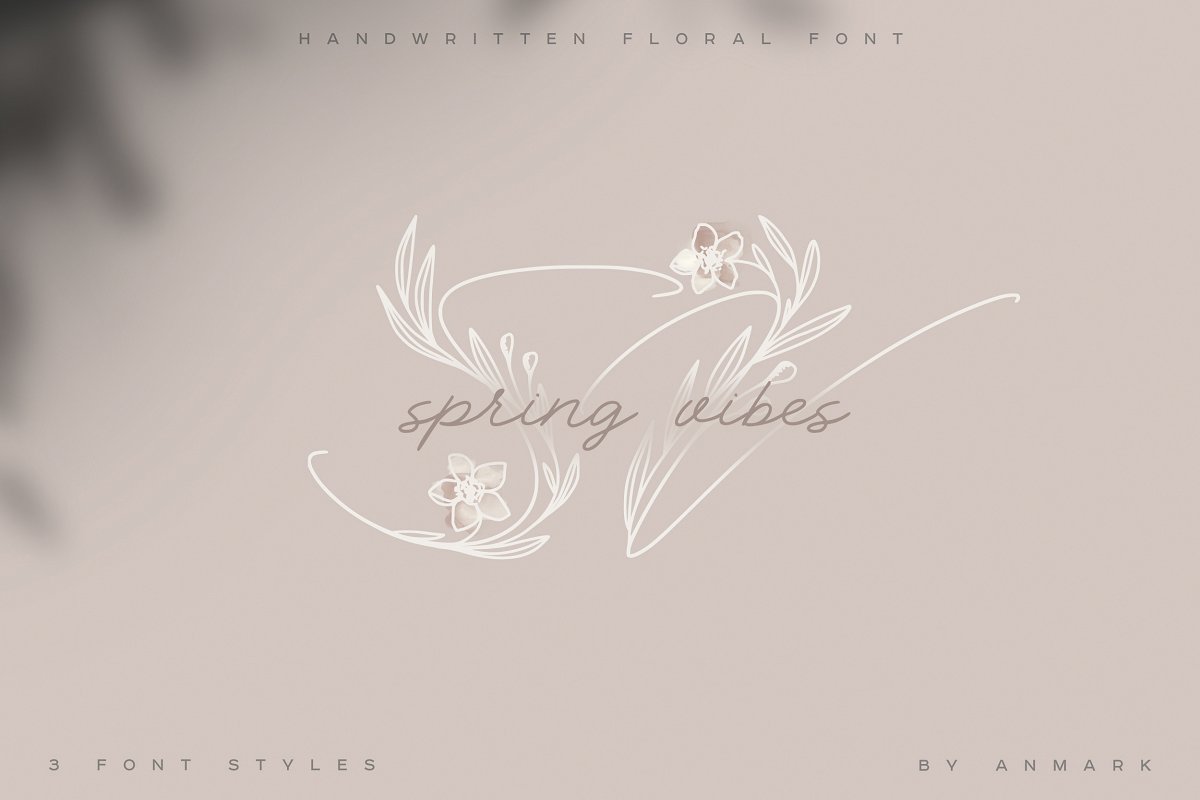 Spring Vibes Floral is an elegant, decorative, feminine handwritten font. Uppercase letters with flowers and leaves are ideal for your wedding monograms and logos.
Bright Side Script Fonts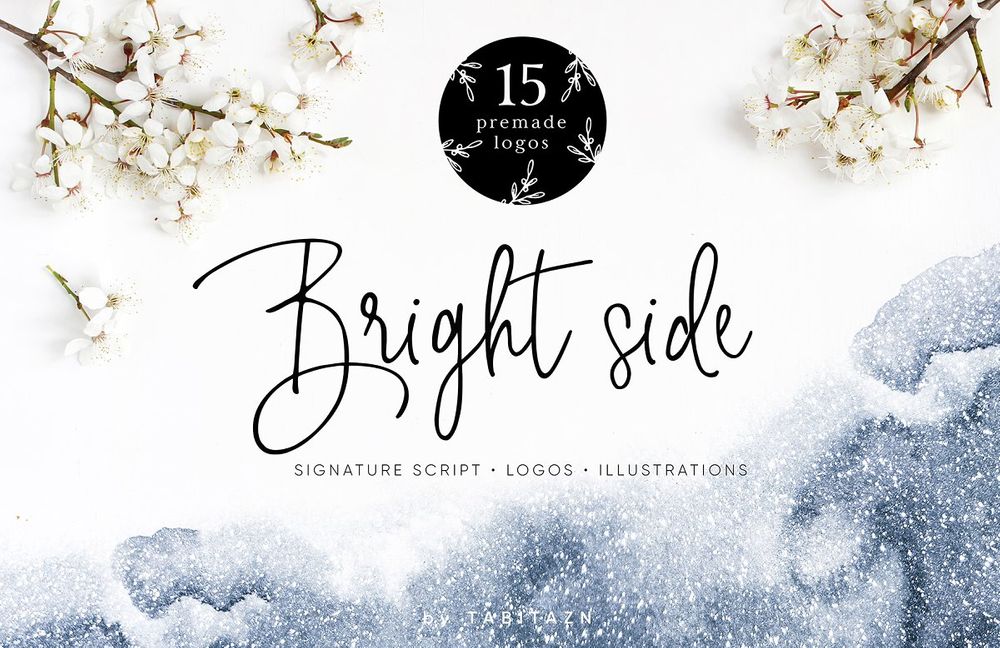 The Bright Side collection – a modern monoline signature script font with a bunch pre-designed logos and doodle vector illustrations.
SpringRain SVG Watercolor Brush Font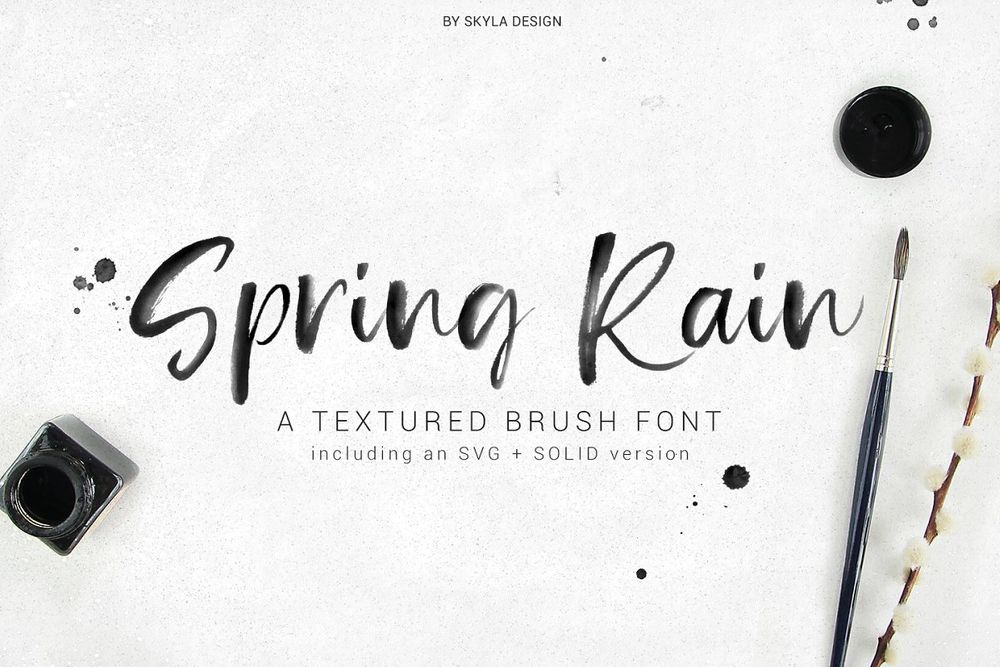 Spring Rain is a trendy brush font with lots of texture and style. This font comes in both an SVG font where all that yummy watercolor texture is included and also comes in a solid version.
Hey Spring Brush Font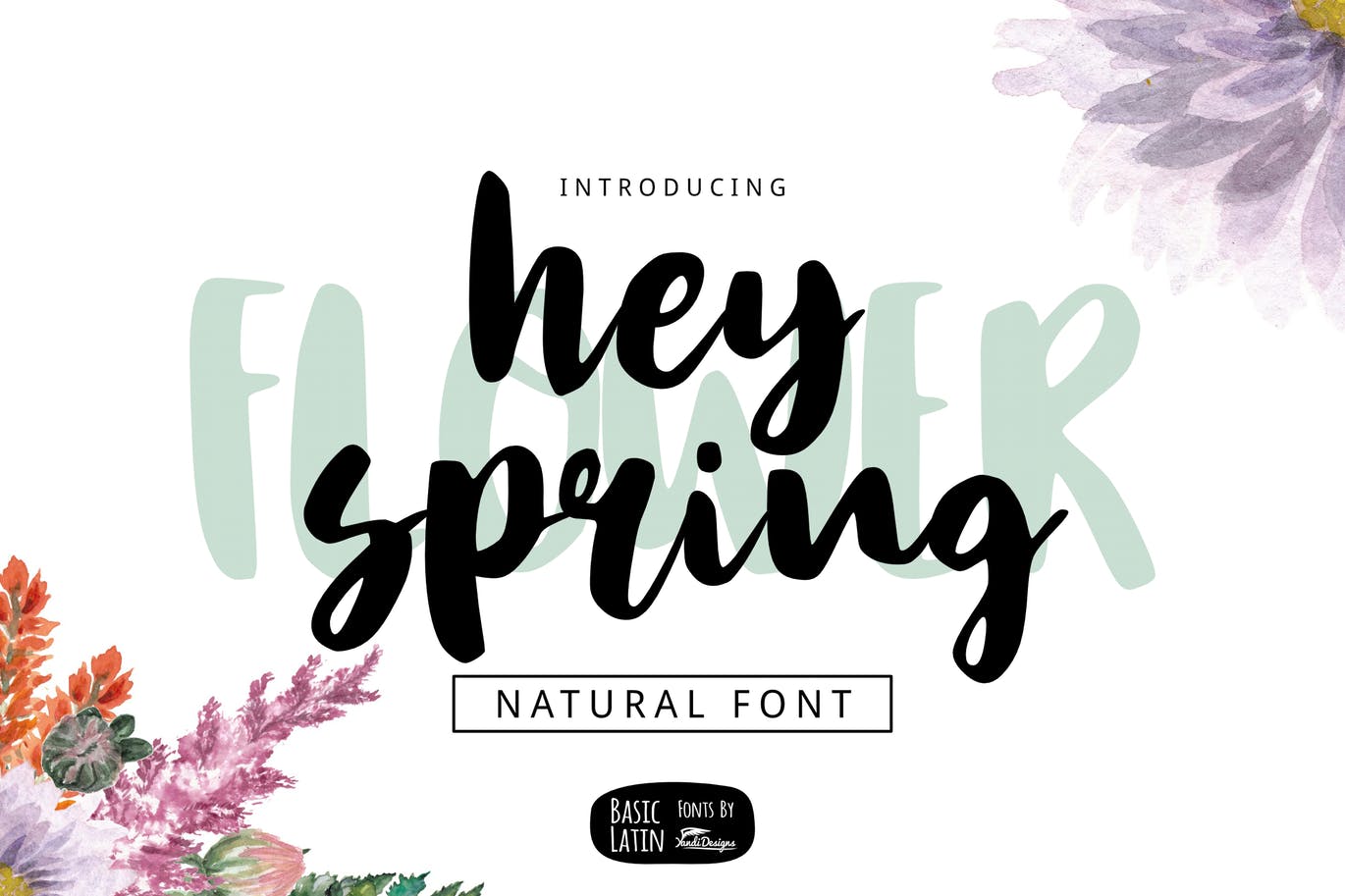 Simple fresh multipurpose brush font, suitable for many project children book, quotes, logo  heading, title etc.
Simanice Signature Font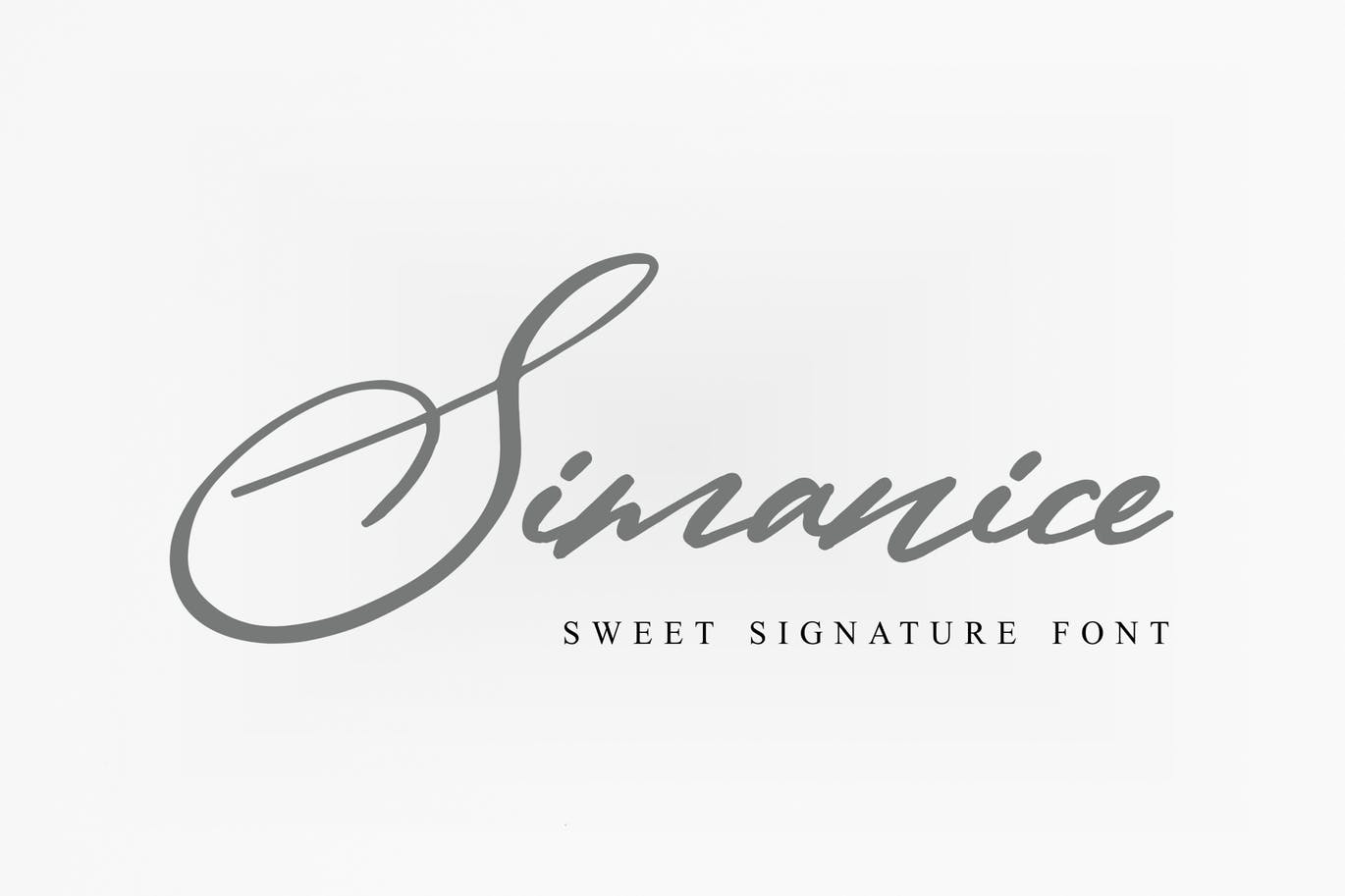 Simanice Signature font, a fashionable and contemporary pair of signature & sans fonts designed to perfectly complement one another. With a fast-flowing script font. Including: logos, branding, magazines, blog posts, social media, advertisements & product designs.
Shunda Typeface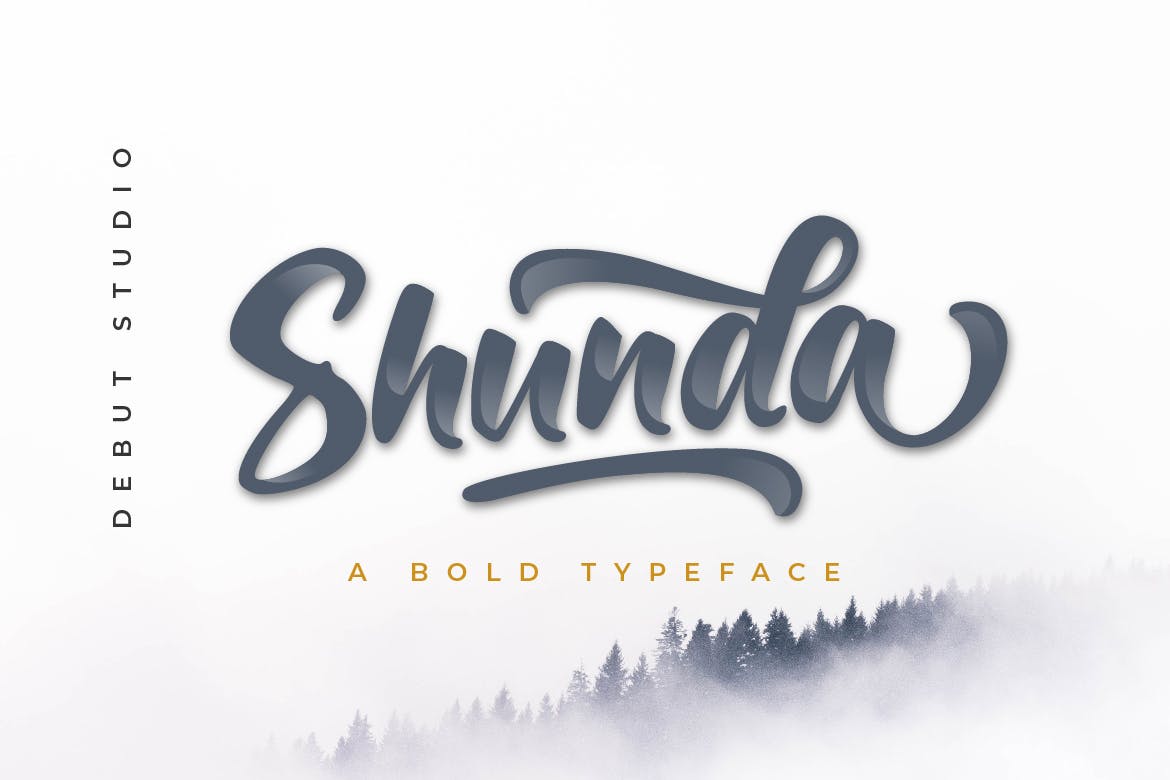 Shunda Typeface – this font is perfect for design purposes such as lovely design for wedding, crafting, posters, business cards, and others.
The Floralist Font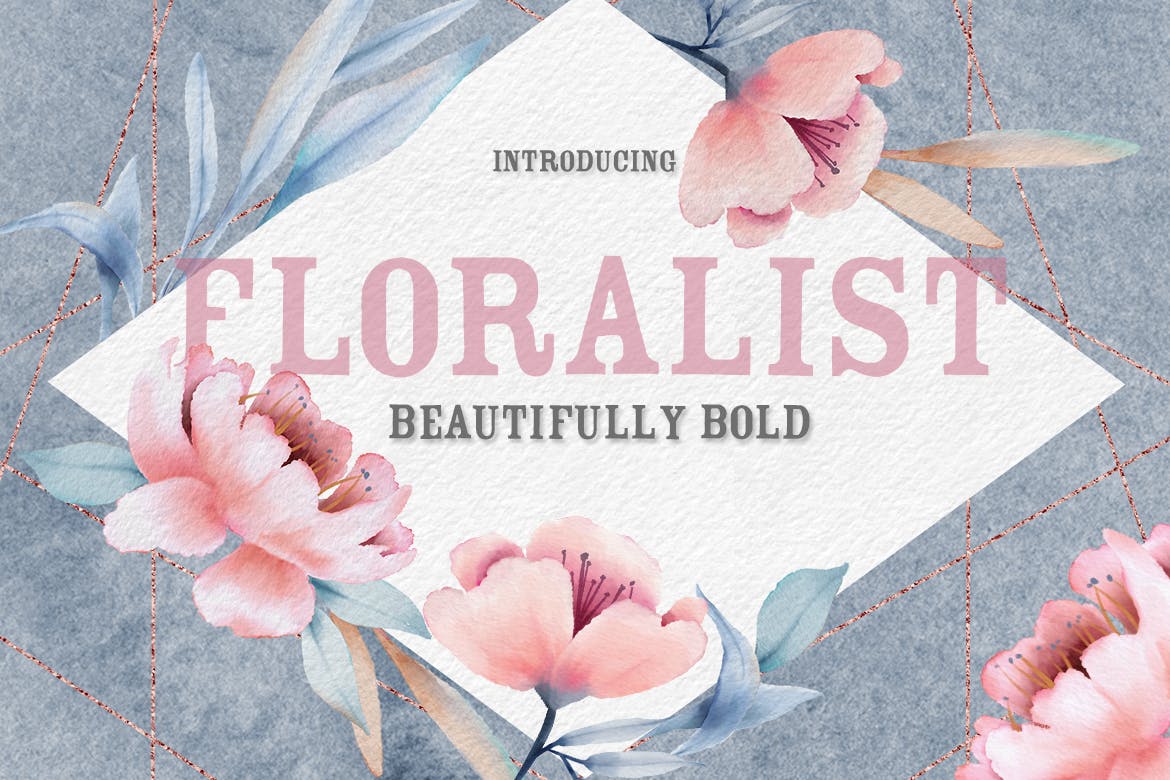 Floralist is a pretty and bold new font that adds a little height to your designs. It can even be used for quirky and unique logos! Let floralist pair with your favorite script fonts for added sass.
Springfield Font Duo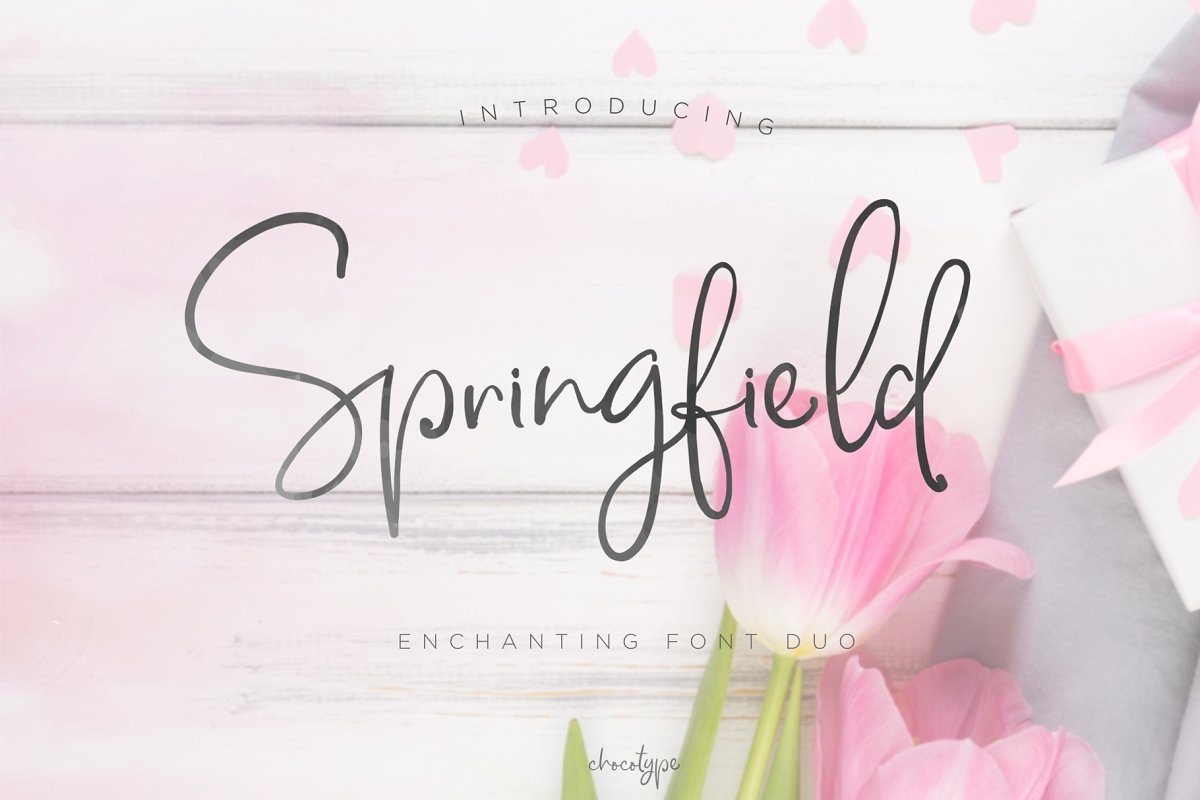 Springfield Script has a large variety of alternate characters, allowing you to make each word look completely unique to the next! Ligatures are also included. It has multilingual support with accented characters for international users.
Spring Blush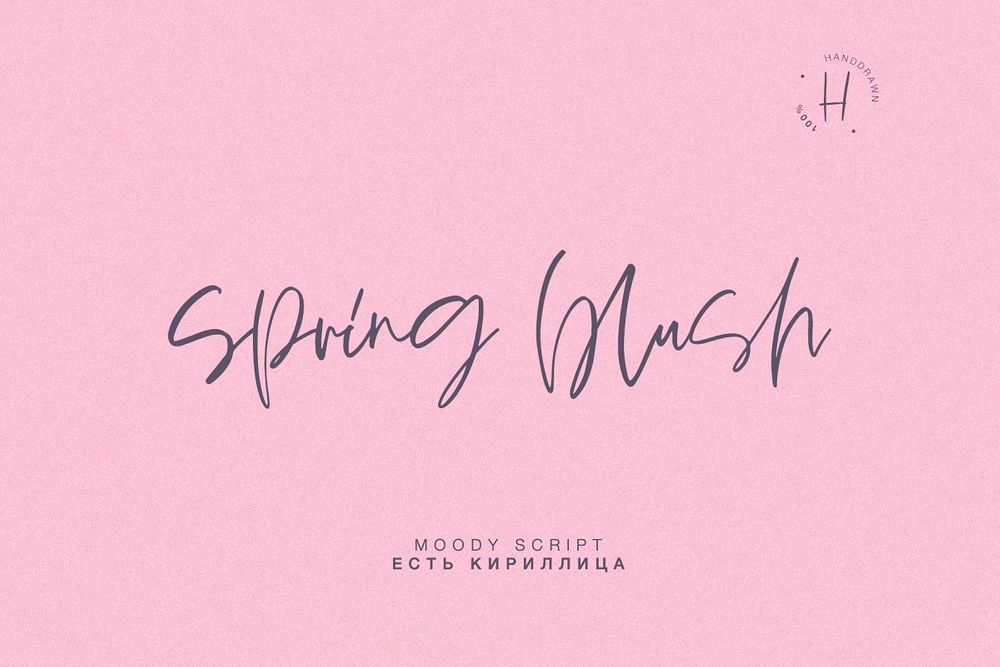 This font fully supports Cyrillic! Now you can diversify your projects, create cards and greetings, posts and titles for blogs. The scope is huge. Plus it's fresh, not like other fonts – the ability to stand out from the crowd.
Oui, Mon Cheri Font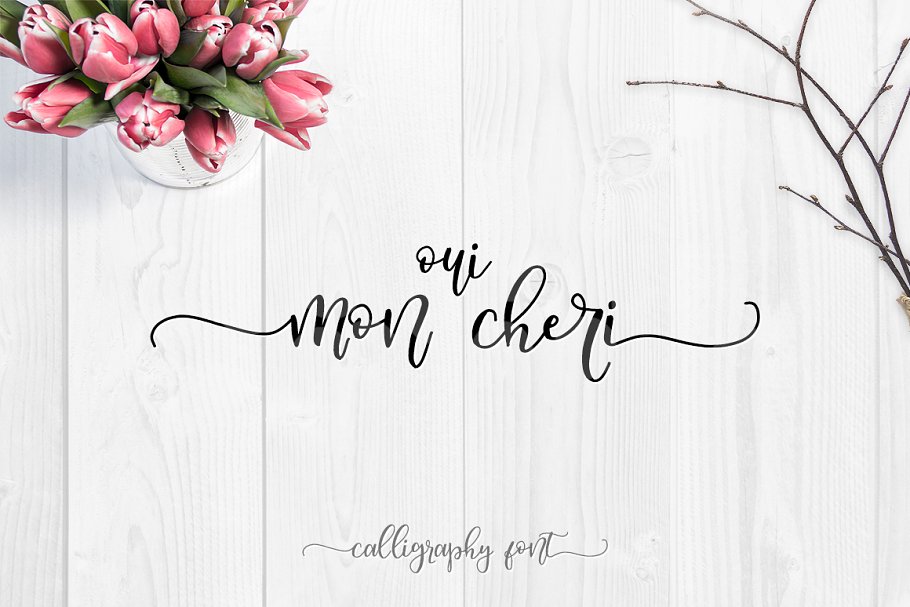 Oui, Mon Cheri also comes with PUA Unicode that gives you full access to the ligatures, swashes, and alternates in software that doesn't support the extra characters.
Pretty Woman | Couple Font Duo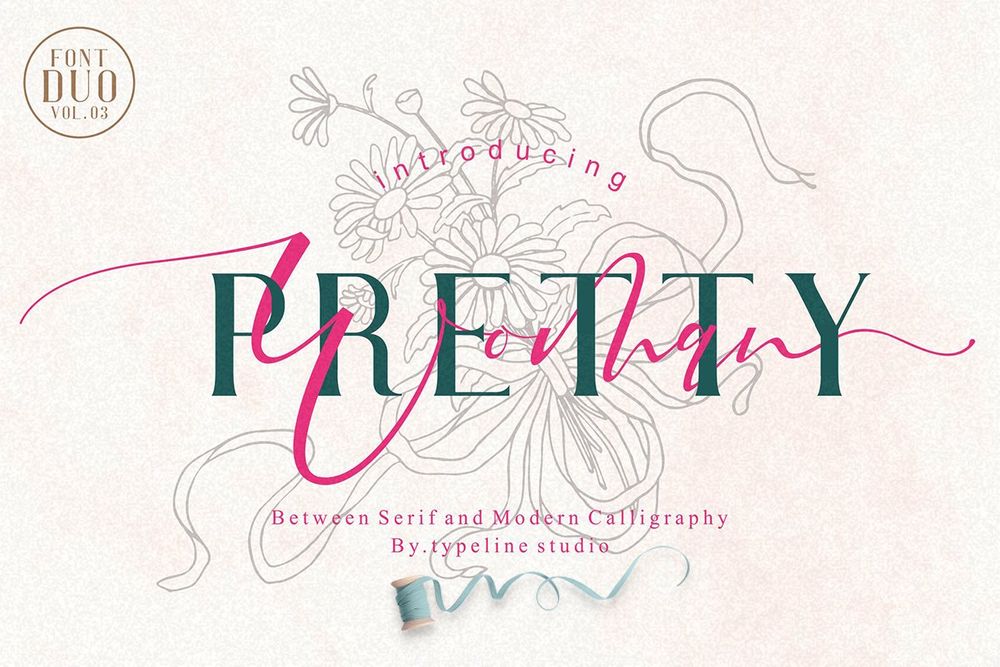 Pretty woman is font duo between serif and modern calligraphy, pretty woman good for logo branding, wedding, invitation, typhography wedding, quotes text, magazine, or anything do you want.
Spring Hit SVG Font & Extras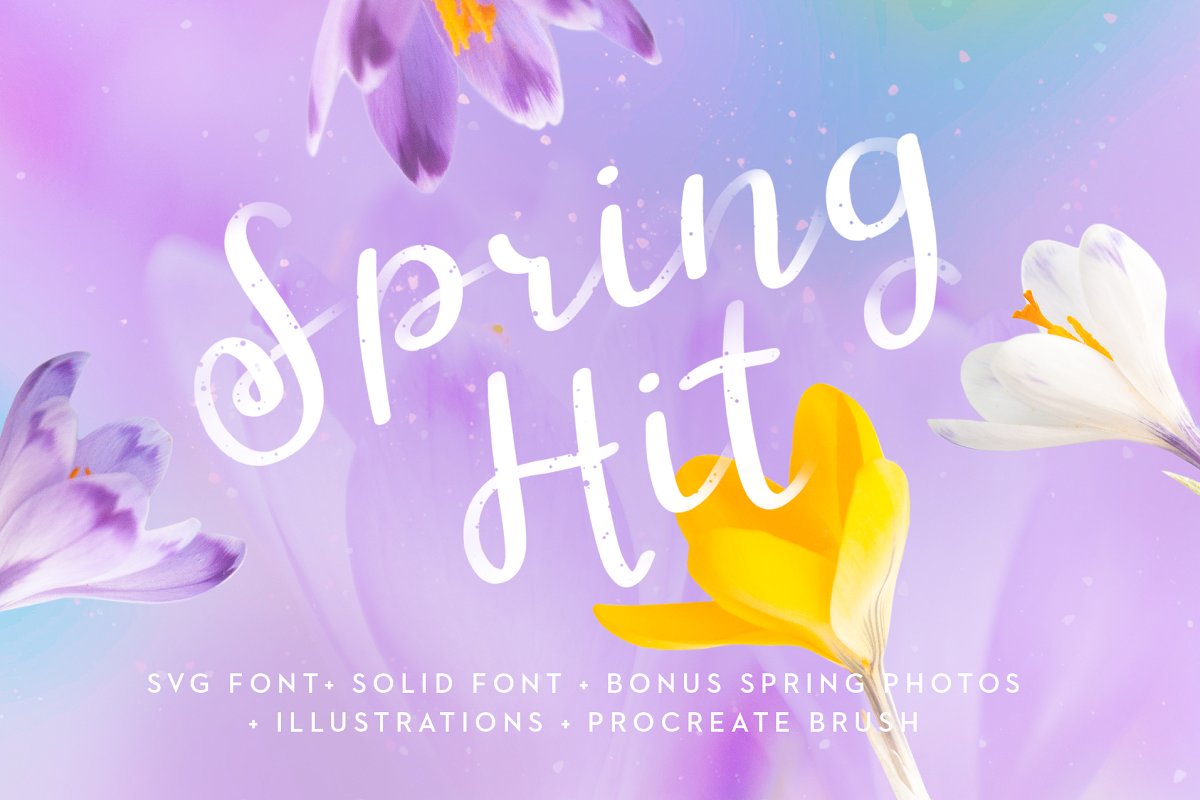 Spring Hit is SVG font with subtle​ transparent details. Set also includes solid OTF and TTF versions​. You can combine font with background photos, isolated saffrons or play with procreate brush and sample illustrations that are included.
Tulip Garden Script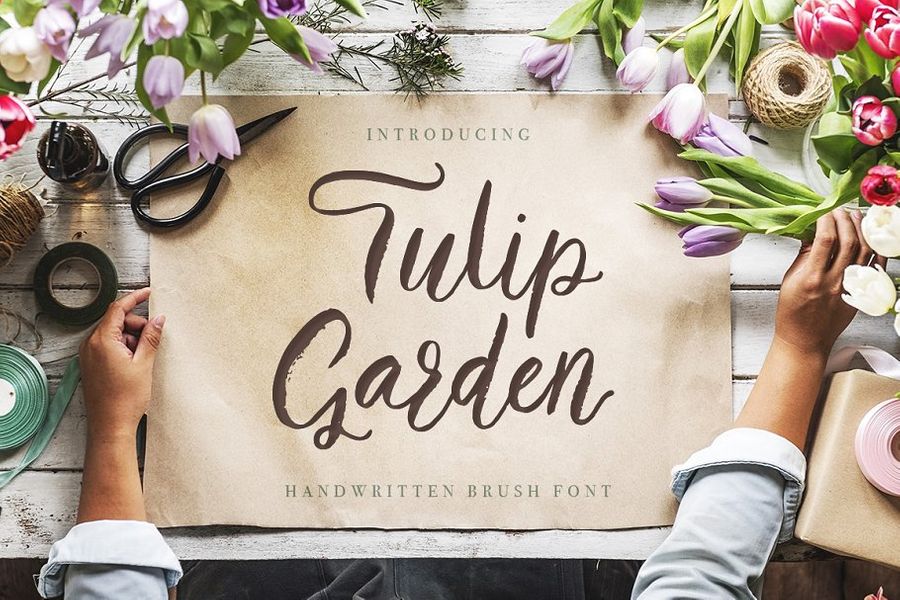 It's playful textured handwritten font with lots of ligatures and alternative symbols for the whole alphabet.
Chirp & Blossom Font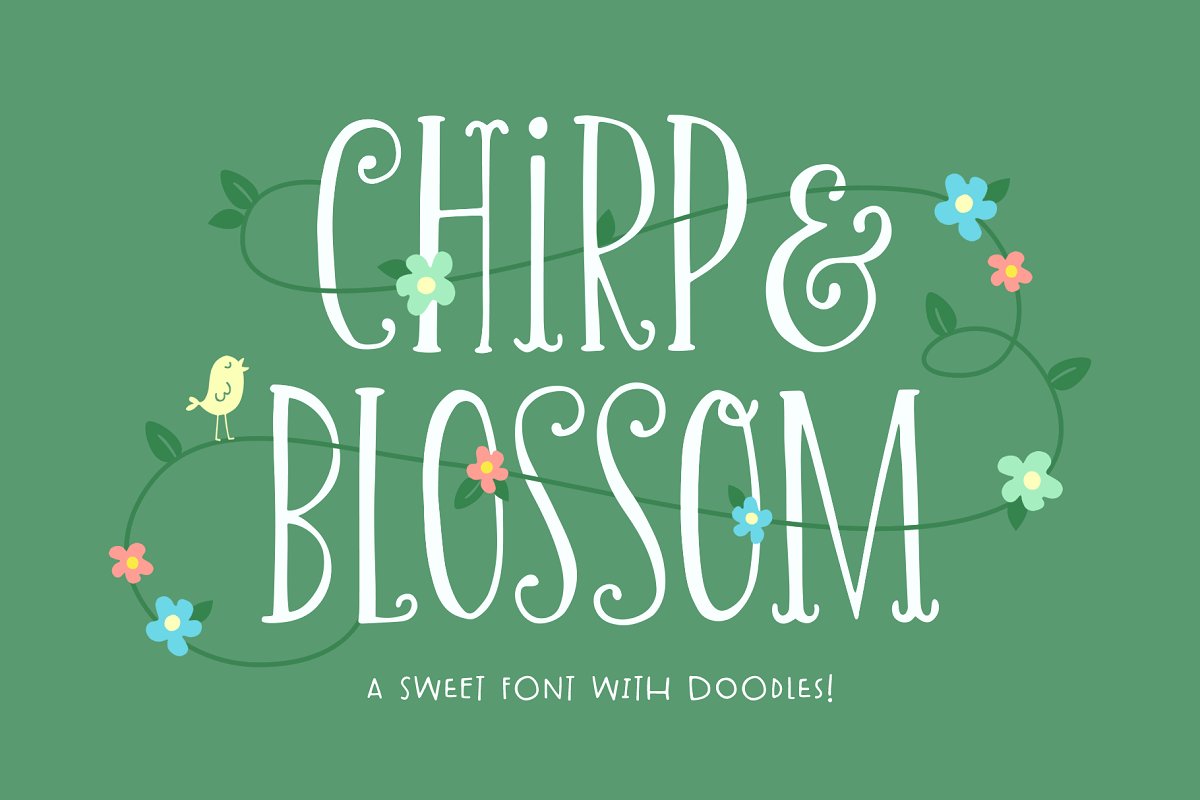 Chirp & Blossom is an adorable hand-drawn font that evokes feelings of springtime, sunshine, and happiness! It comes with a bonus set of nature-inspired doodles to bring your designs to life!
Primavera – Handwritten Brush Font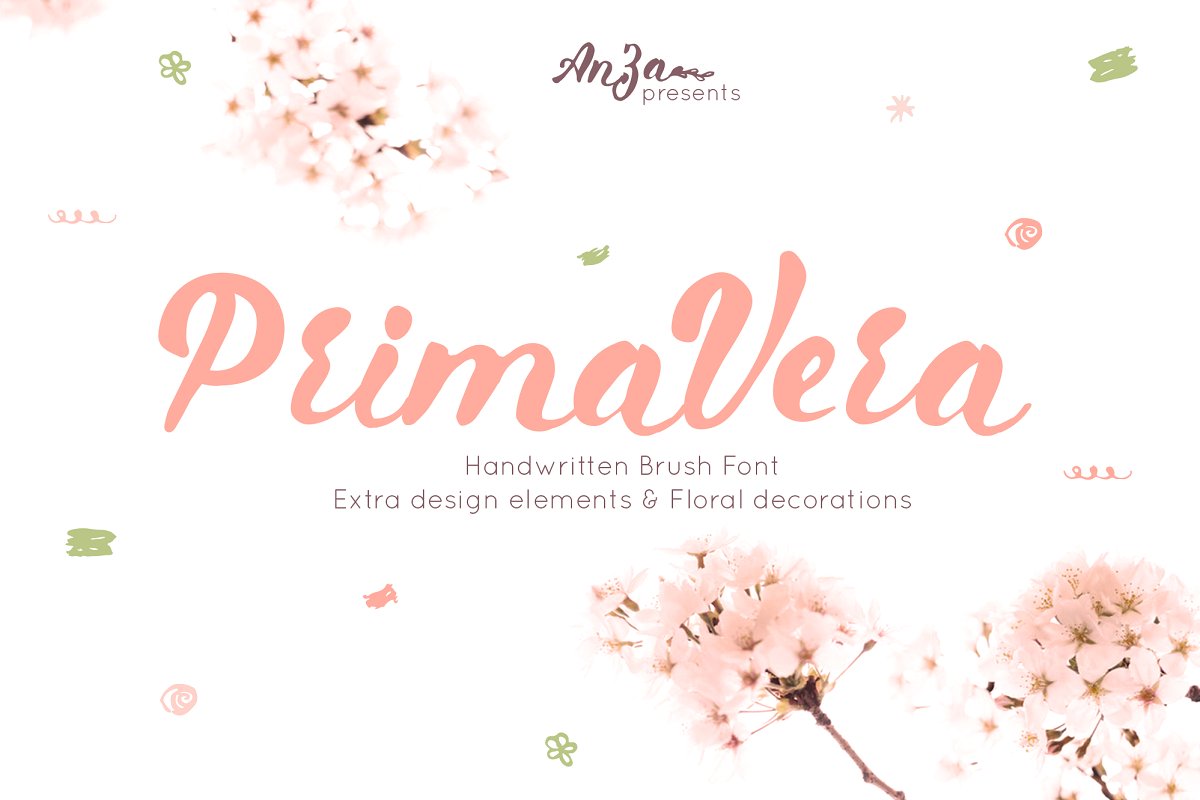 This font with with extra design elements and floral decorations will help you to create special and touching typographical design for every day or the happiest day in life.
Magnetto Font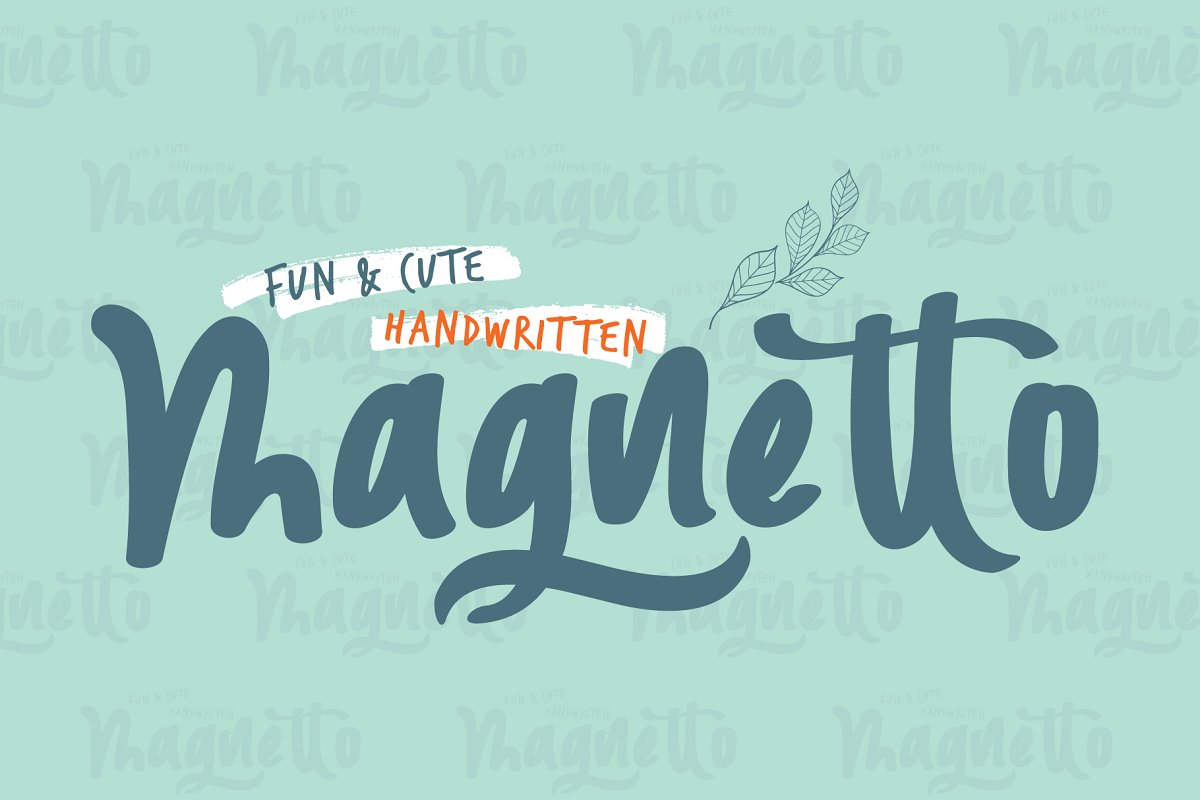 Magnetto font is fun and cute handwritten. Its characters have been drawn by hand to give them a warm and authentic look.