Today we have for you extremely high quality unique pencil fonts to create a handwritten or sketch style for your unforgettable design and they will not leave you indifferent. Pencil fonts are a great choice for creating typography that stands out from the crowd. They provide a great and individual look that cannot be achieved with any other typeface.
All these pencil fonts were created by professional designers and are of the highest quality, whether they are free or premium fonts. Create something special with our selected and proven fonts from this collection. It's what makes them a perfect choice for personal branding designs, children's book covers, invitations and greeting cards that create unlimited emotions.

You may also like:
Kvltura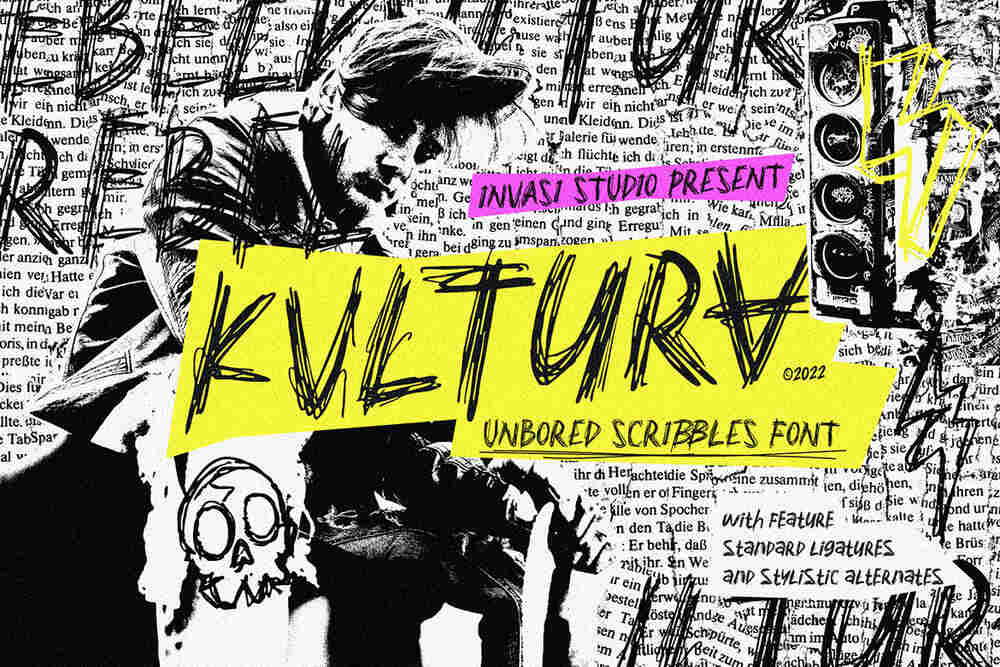 It is an all-caps handwritten font. You can combine any character with a ligature and alternates for an incredible combination. Perfect for your display project for headlines, quotes, editorial designs and many more.
Handodle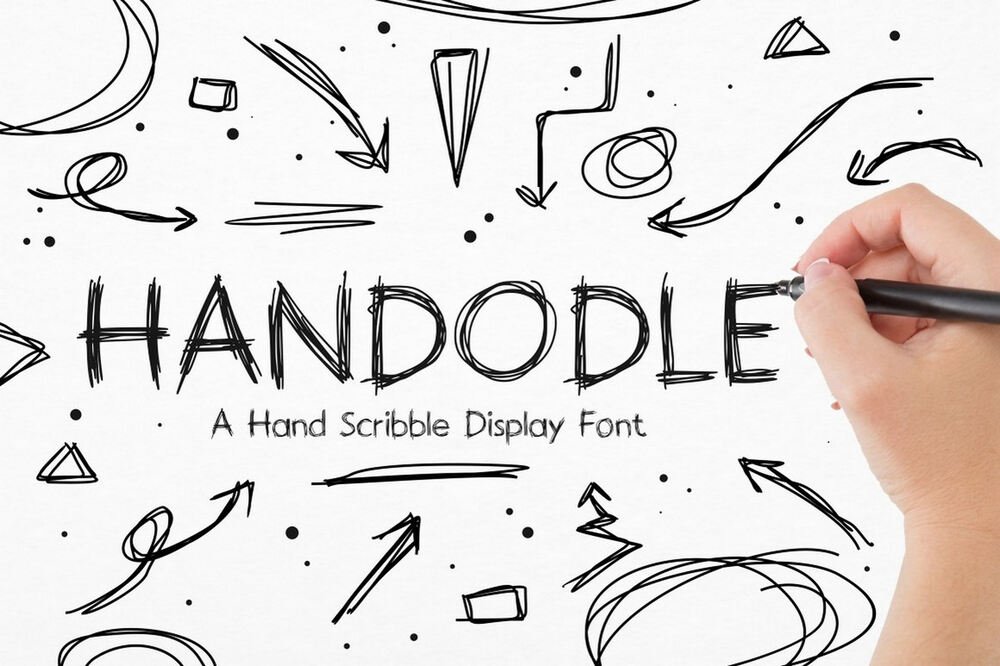 A natural and fun scribble handwritten display font. It have numbers, punctuation and symbols, multilingual support. Perfect for logos, quotes, crafts, t-shirts, greeting cards, branding, invitations and many more.
Pencil Pusher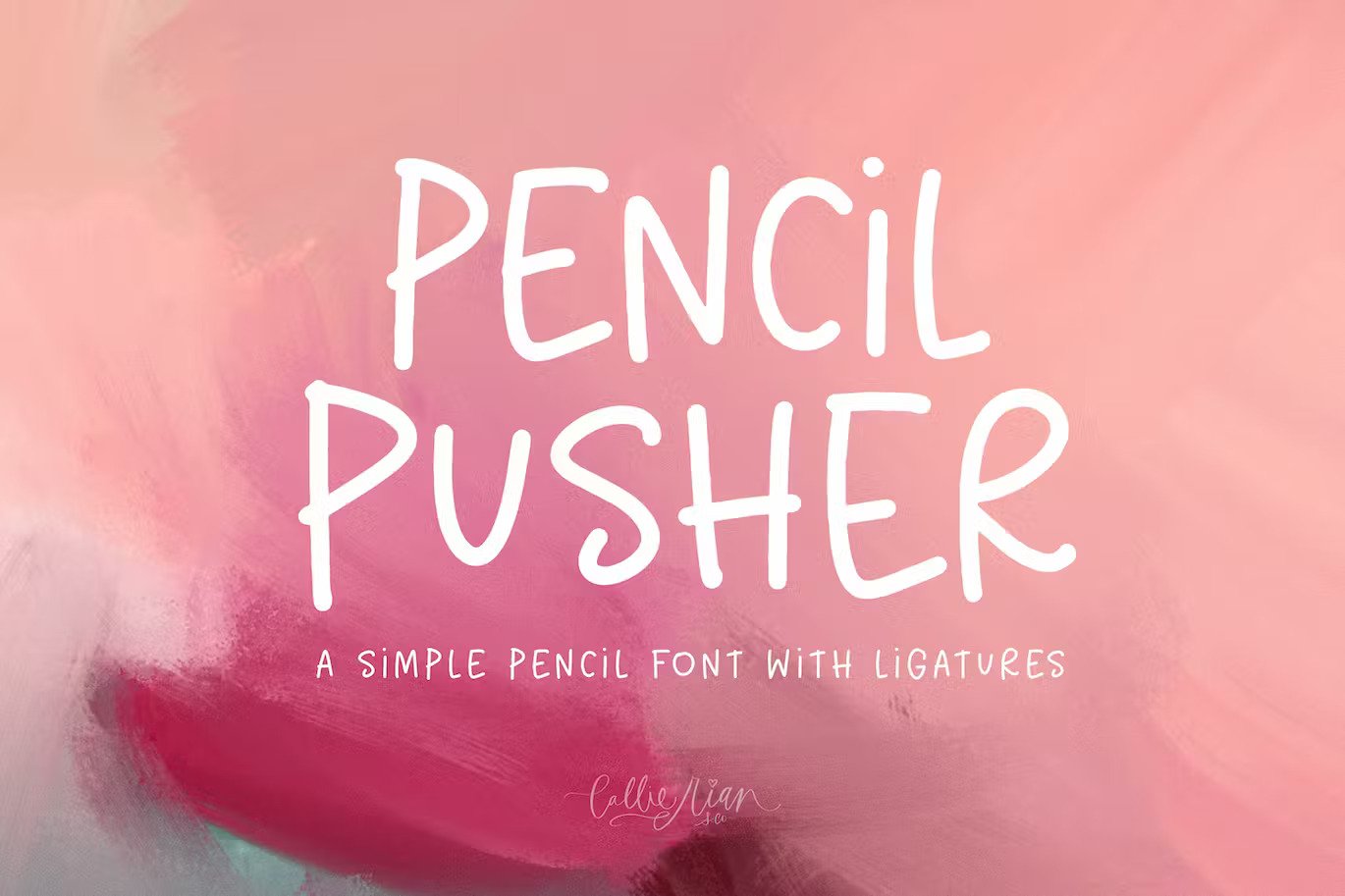 A small handwritten font from the modern artisan collection. This font is so perfect for social media and subtexts. Use it also for greeting cards, Insta quotes, stationary and many more.
Sketching Universe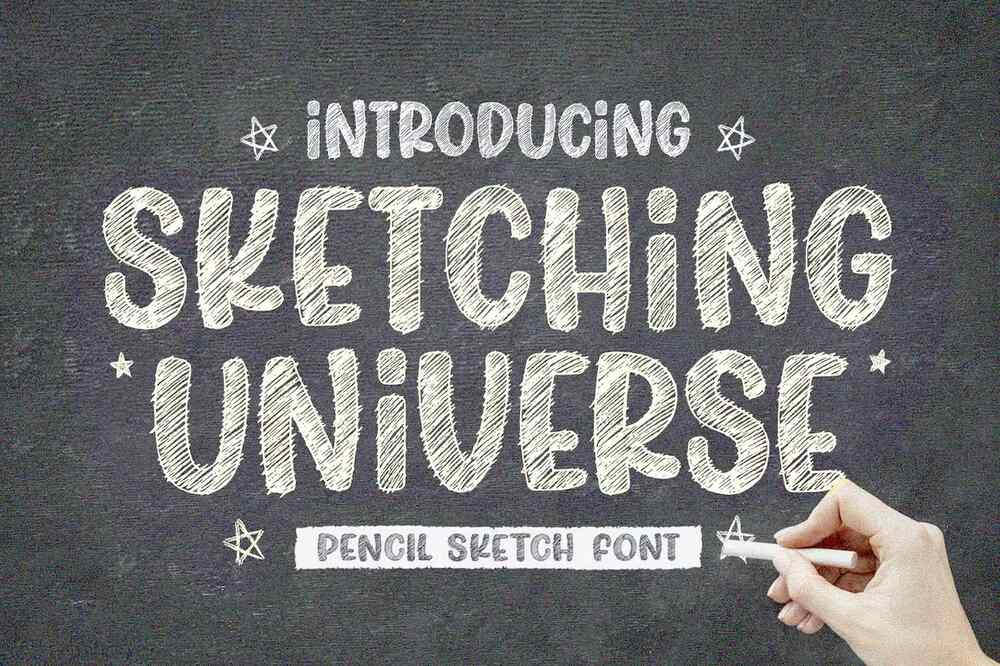 A cute, bubbly and friendly outlined display font. Its a pencil sketch font style. Feel natural and unique style makes it incredibly fitting for a large pool of designs.
Sketchy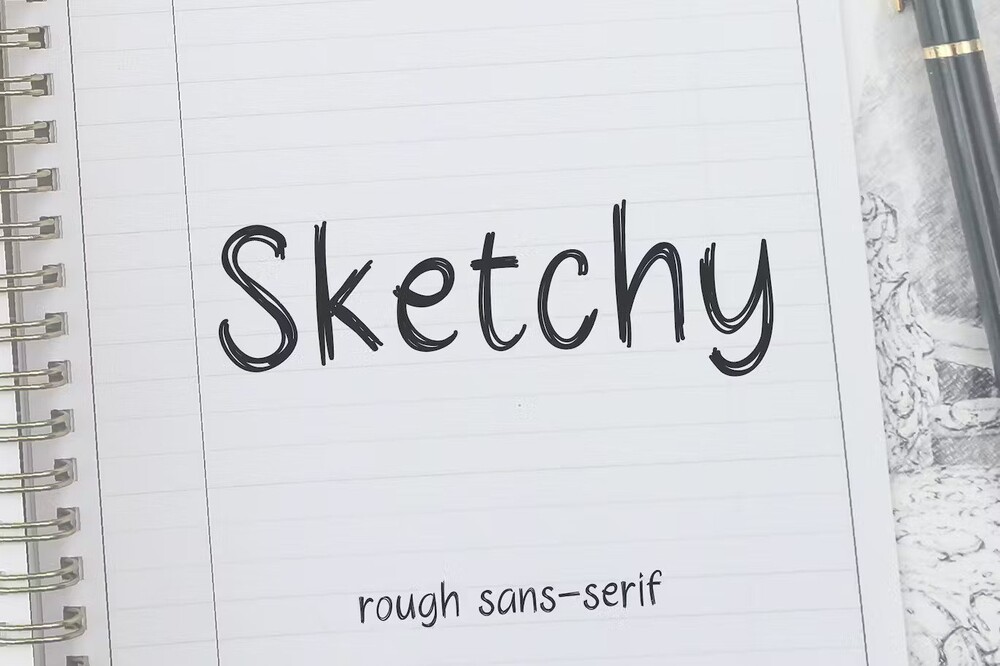 It is a font that written in pencil look-a-like. It has rough and thin look. This font suits perfectly for write a quotes, notes, book titles, logos, music covers, and many more.
Happy Hints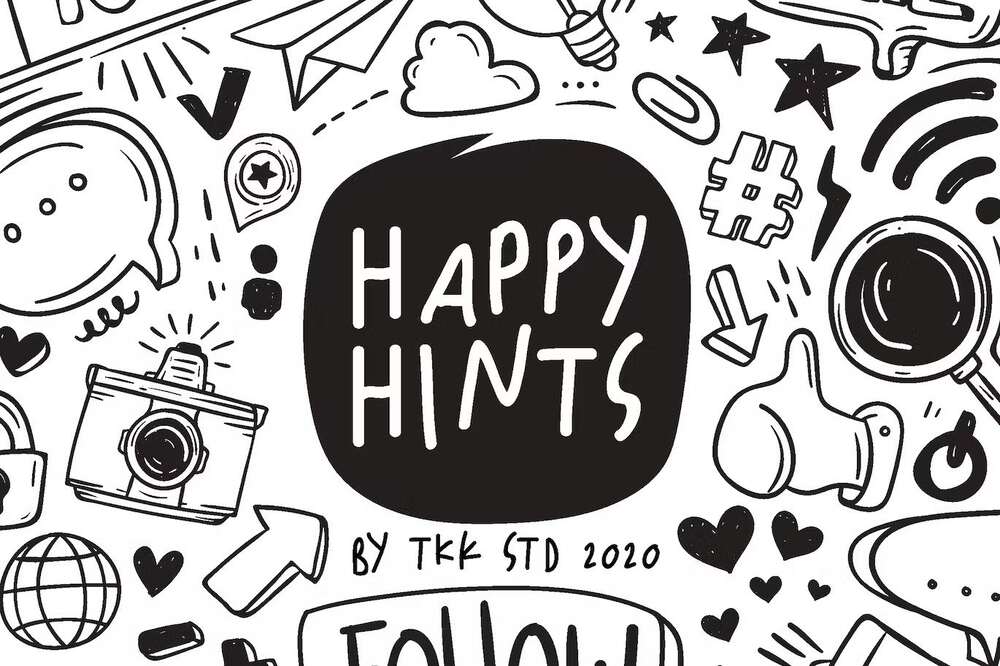 With quirky shape, bouncy baseline, un-even line between letters, this font bring a lot of scribble feel in it. Suit perfectly for doodle font, food packaging writing, cafeteria wall and many more.
Note Today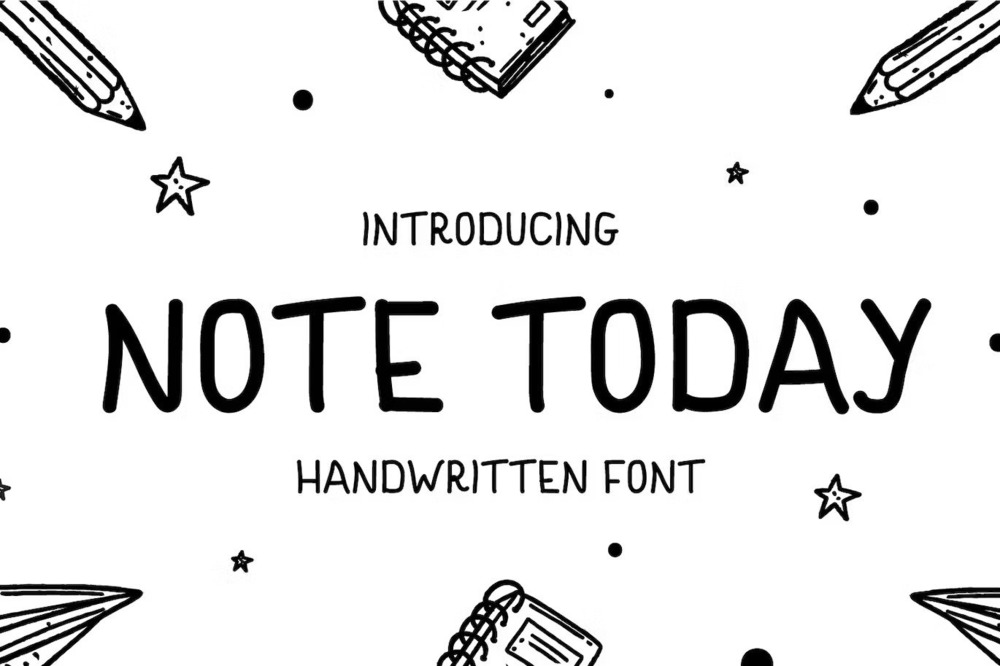 It is a cute handwritten display font. It will add an incredibly joyful touch to your designs. Add this beautiful display font to each of your creative ideas such as quotes, shirt designs, websites, branding, children's designs, blogs and many more.
Sketch Written / Free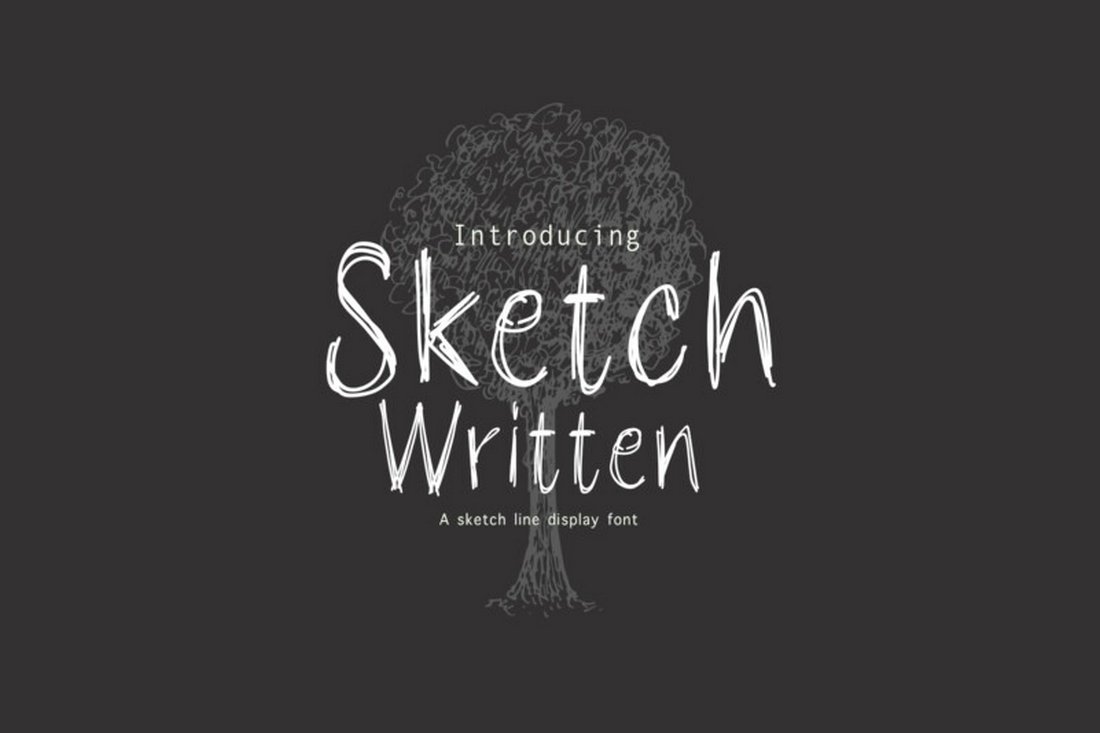 It is a free for personal use only font that depicts repetitive hand-drawn scribbles. Created to bring an eccentric and creative hand-lettered look, this font creates a unique and personal atmosphere in designs.
Sketch Pencil / Free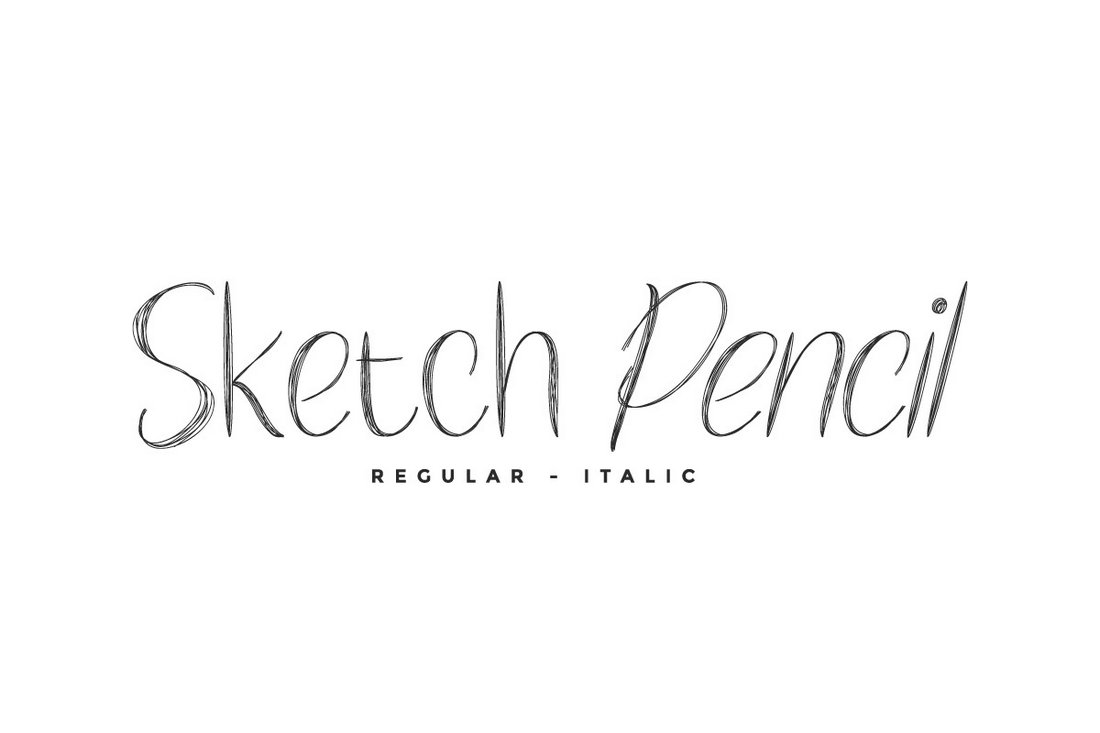 This free for personal use only font comes with a more elegant and stylish letter design. It's suitable for personal branding designs, business cards, name tags, and promotional ad campaigns.
Rock Slayers / Free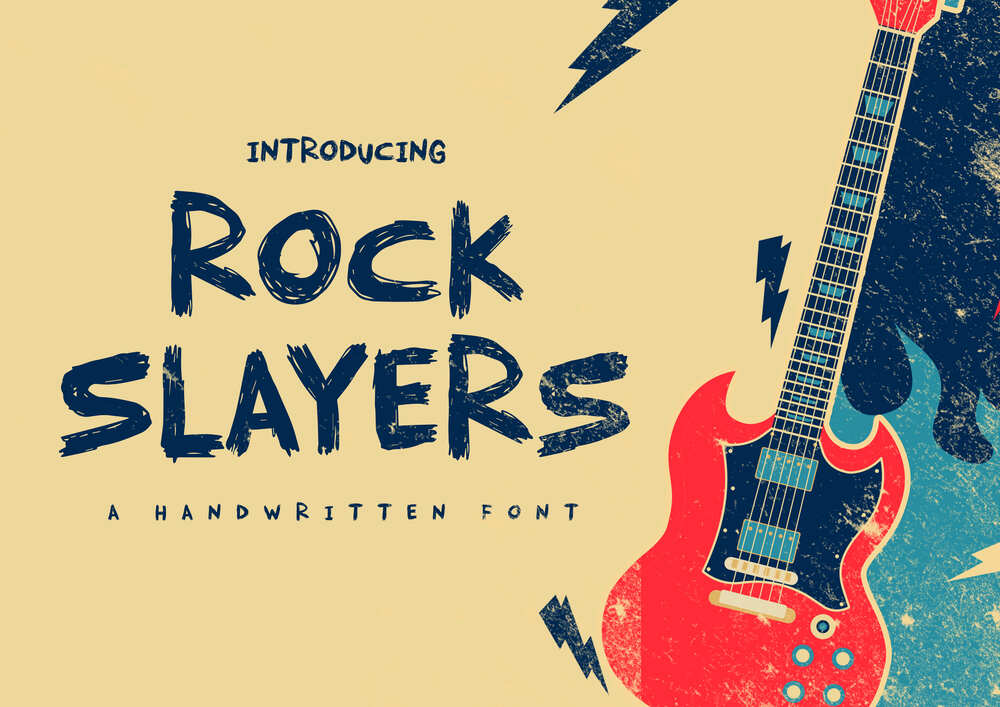 It is a straight and free pencil font with a handwritten-style design. This font comes with all-caps letters featuring sketch-themed designs. You can use it for free with personal projects only.
Magical Candy / Free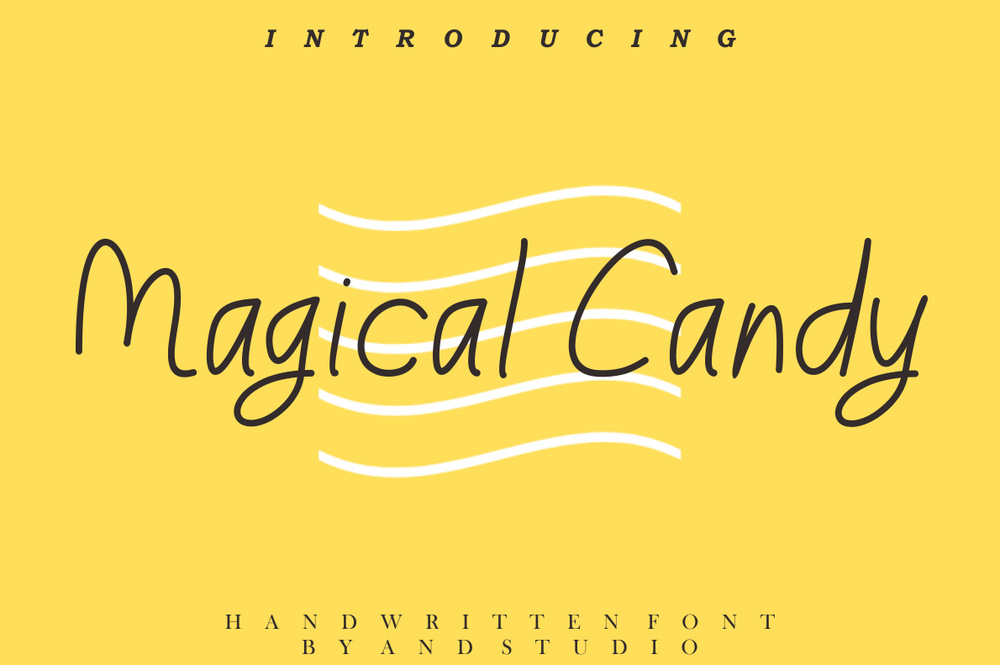 A free font with a simple and minimalist look. It has pencil style letters featuring a beautifully flowing handwritten styled design. You can use this font with your personal projects only.
Pictum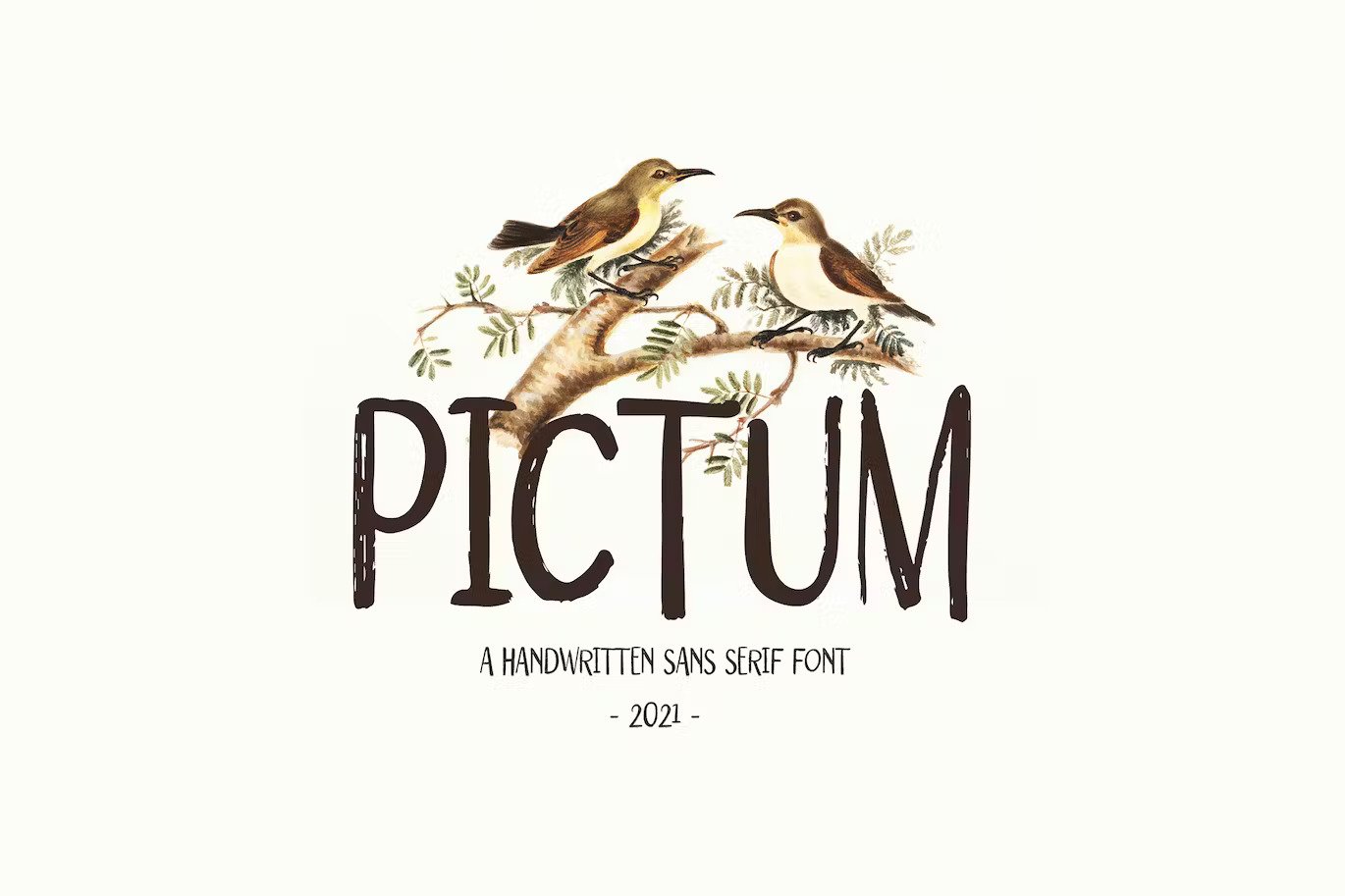 A trendy and vibrant handwritten pencil font for all your design needs such as postcards, book covers, posters, invitations and many more.
Sketches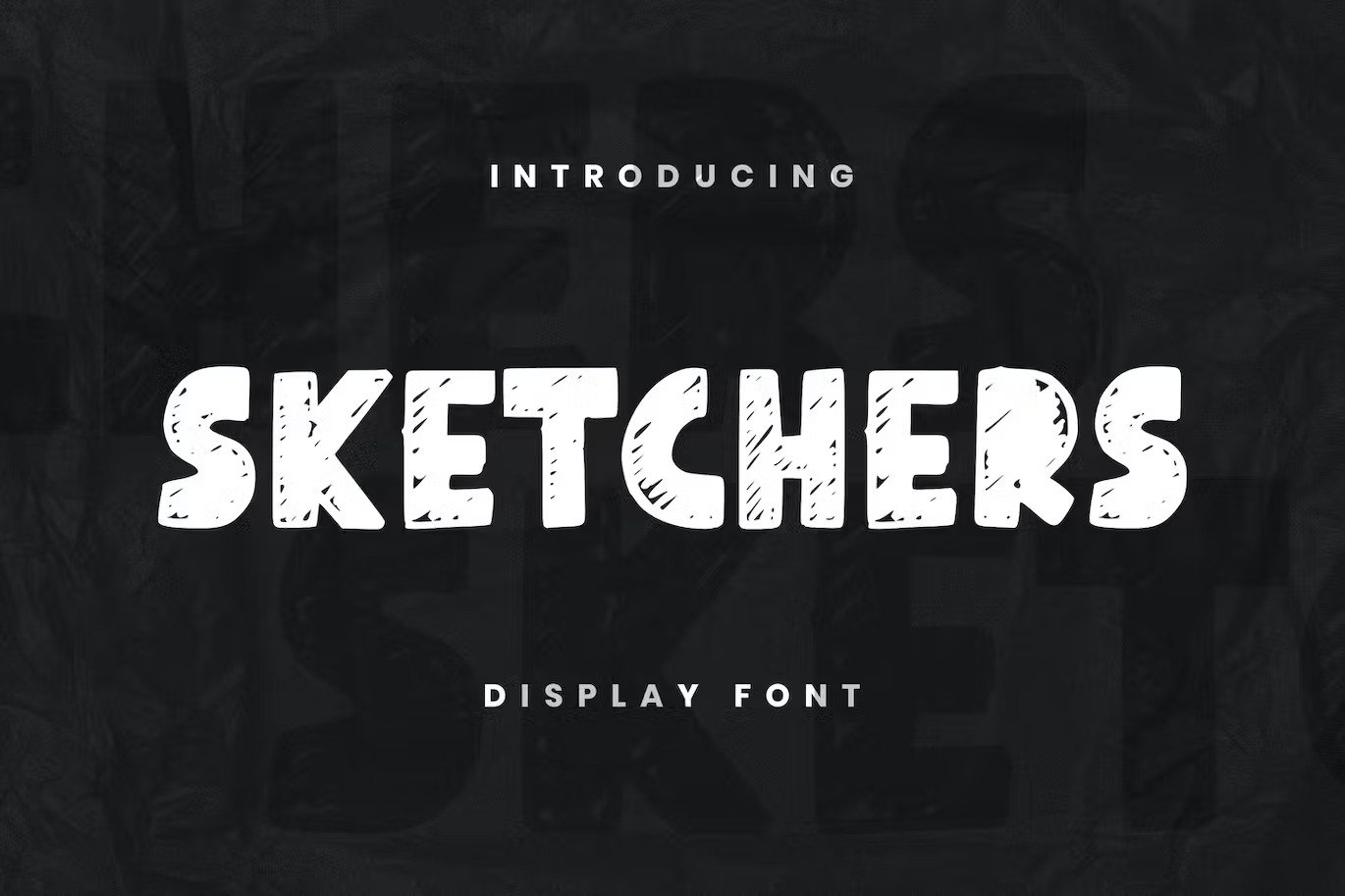 A bold sketched pencil font for your designs to create an amazing style. It has uppercase and lowercase, numeral and punctuation, multilingual support and opentype features.
Chalk Times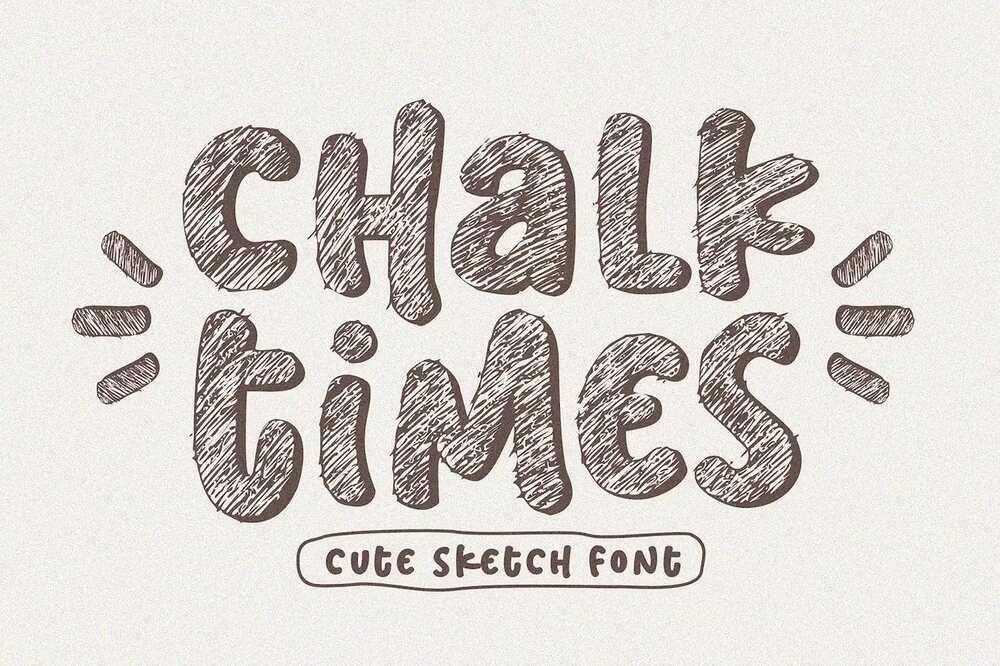 It is a cute, bubbly and friendly outlined display font. Its a pencil sketch font style. Ideal for endless variations.
Letter Sketch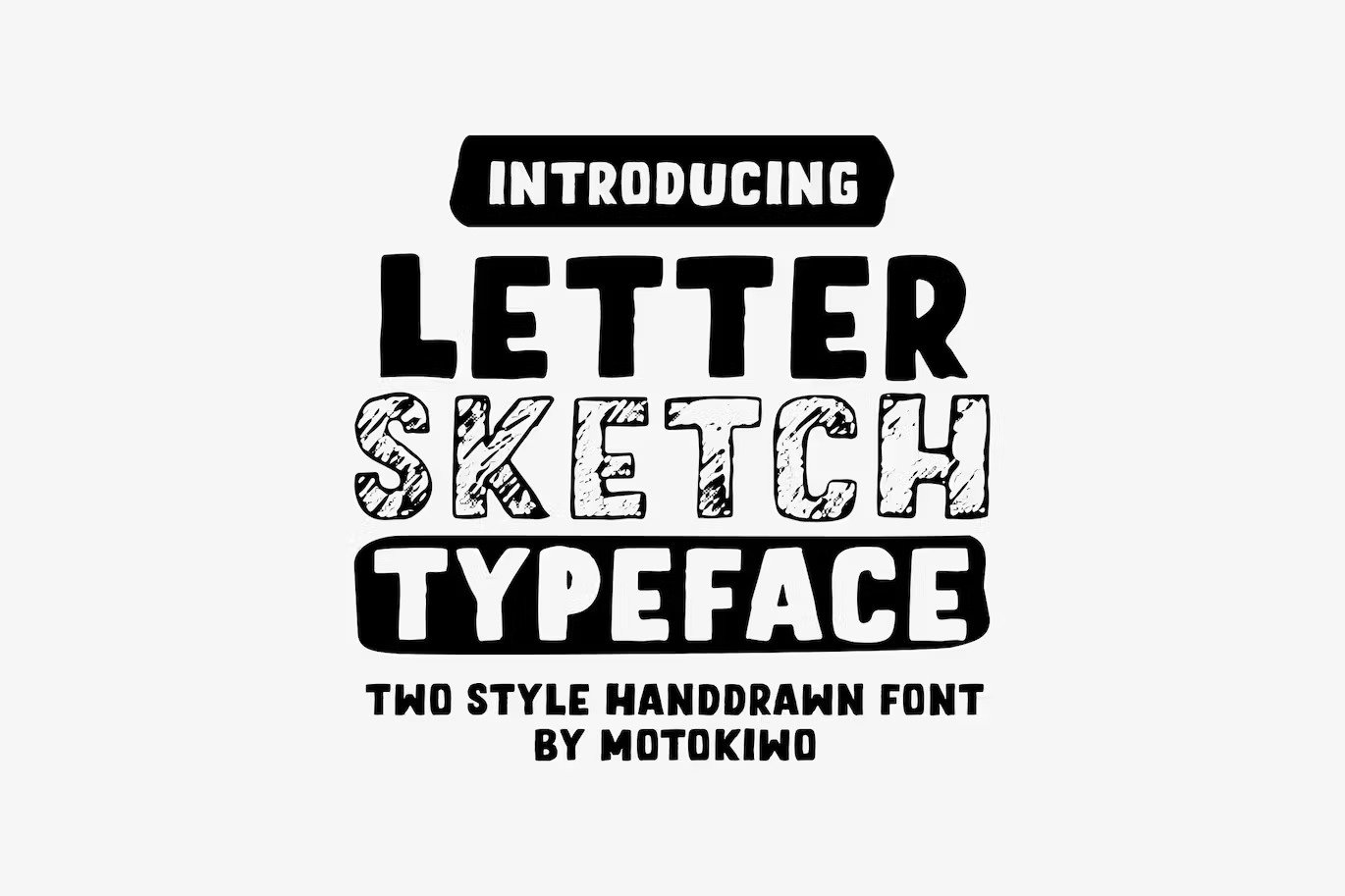 It is all caps hand drawn font with two style, rough sketch and filled. You'll find natural drawing feels in each characters and will give personal touch to your projects.
She Lovely / Free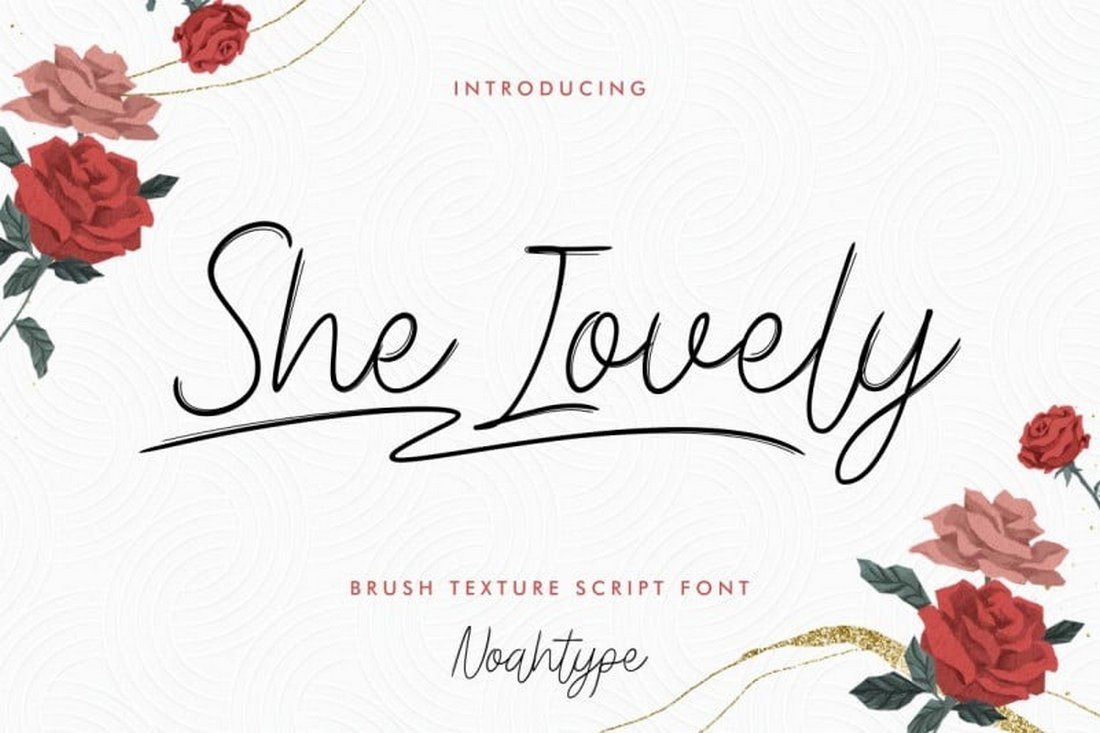 It is a free, beautiful handwriting font with pencil textured effect inspired by original hand lettering. This font contains ligatures and alternates characters to perfectly make natural handwriting look to your designs.
Efrancd Handwritting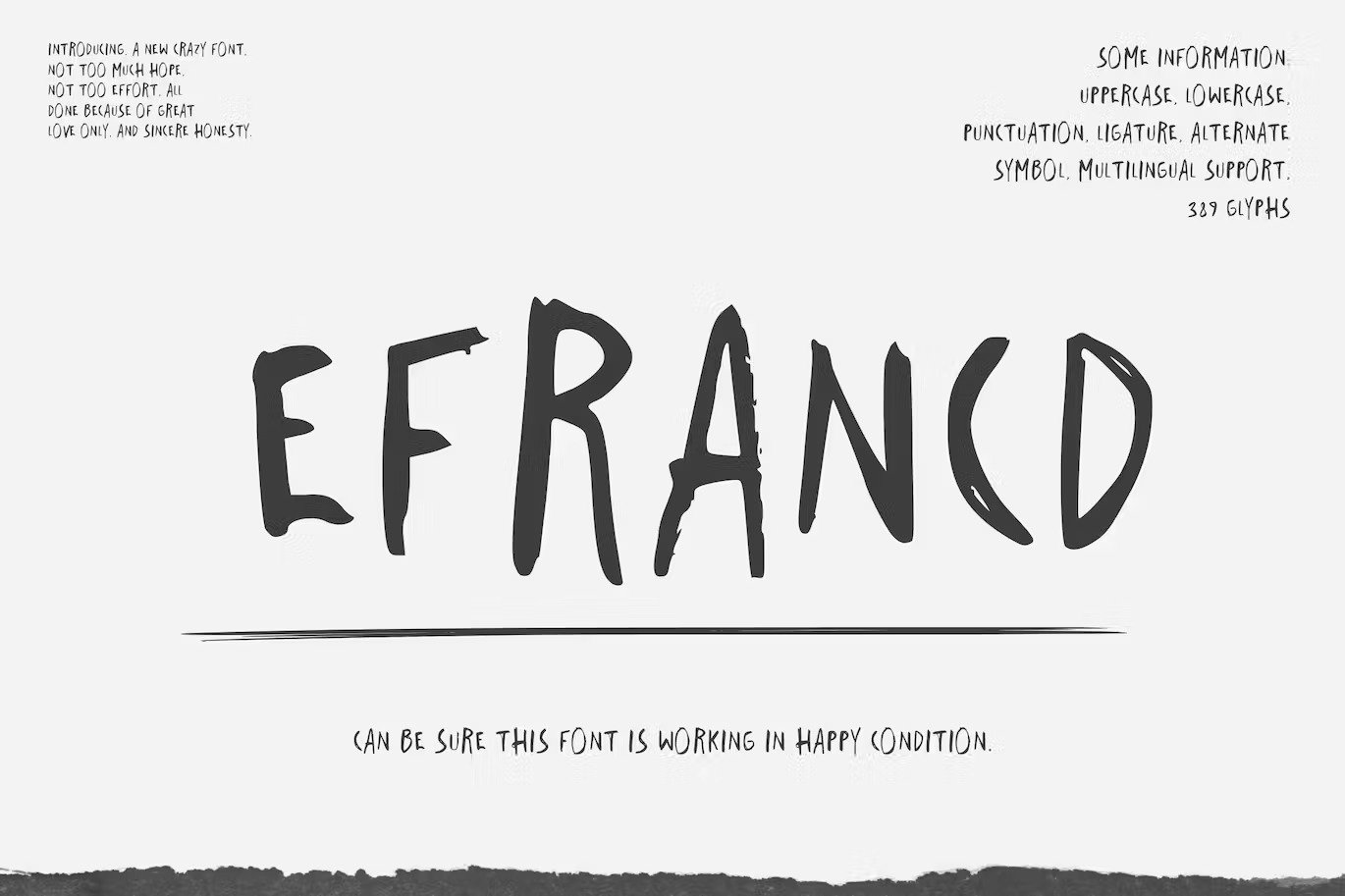 Freehand writing made into a font, equipped with uppercase, lowercase, punctuation, ligatures, alternate and several symbols. This handwritten font looks messy and natural. It has a multilingual support too.
Antonie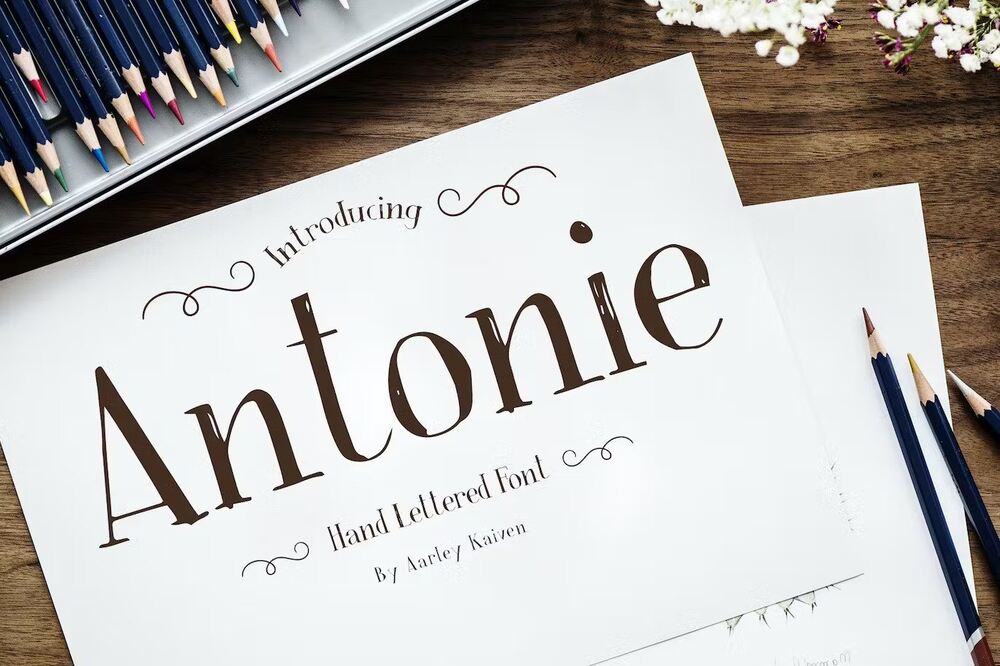 A minimal hand painted typeface, perfect for using in ink or watercolour based designs or on its own as bold hand-brushed lettering. Suitable for invitation card designs, headlines, posters and many more.
Scratchy Font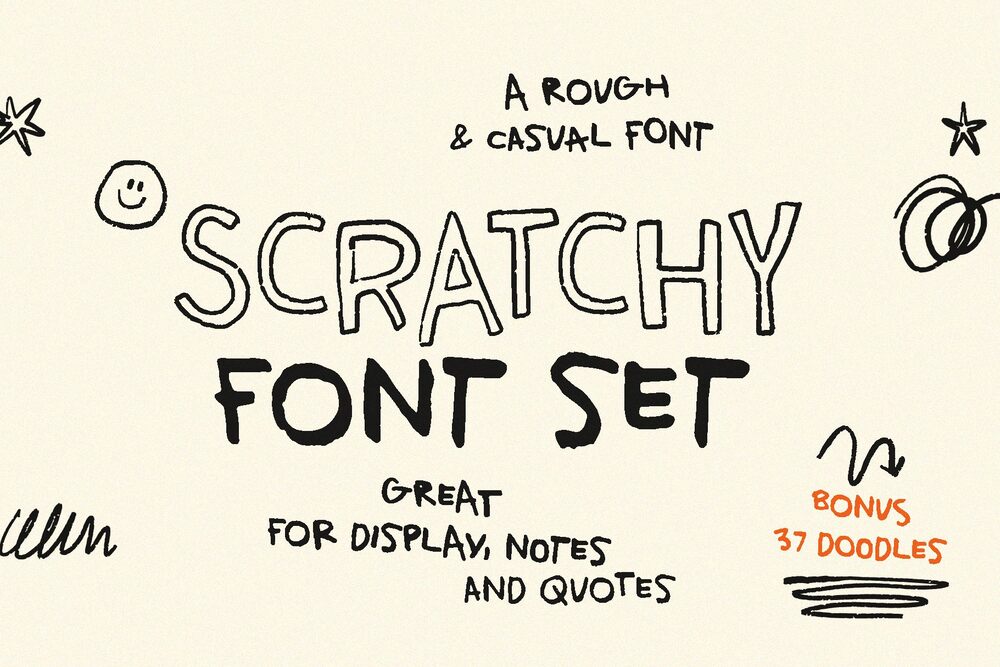 It's a rough and casual font with a whole lot of character. Plus there are 1 to 2 hand-drawn alternates for character! Great for notes, quotes, art, display, and more.
Thinker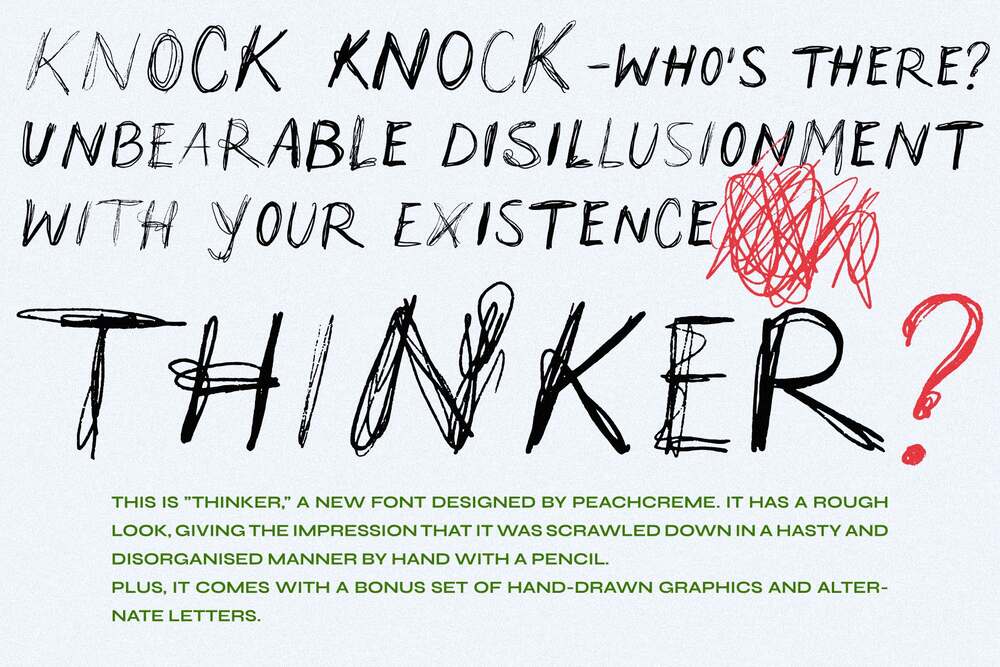 This font has a rough look, giving the impression that it was scrawled down in a hasty and disorganised manner by hand with a pencil. Plus, it comes with a bonus set of hand-drawn graphics and alternate letters.
Skyline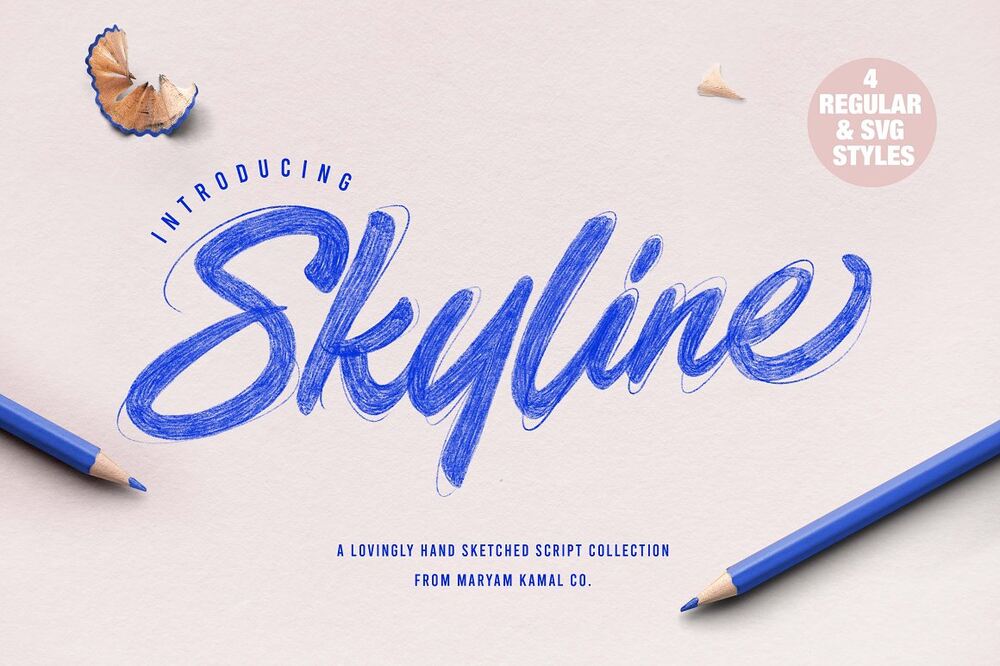 A modern hand lettered bold script inspired by Instagram lettering trends. Every character was hand-sketched individually to give each letter a unique pencil texture. Create quotes, invites, t-shirts, logos and many more.