Passing the spring periode, comming a summer fever and every designer have a desire to add something flowery to their designs. Flowers blooming everywhere, so, this time we have gathered a nice collection of design elements dedicated, illustrations, logos, graphics, fonts, patterns etc. dedicated to a beautiful flowers and we calling it a "Flower Power".
You can add these creatives to your web design, brochures, booklets, greetings, wedding, invitations, business cards and everywhere you think it can be an attractive and exciting movement. Keep a good mood and enjoy.
You may also like:
6 Free Floral Seamless Patterns
File Type: JPG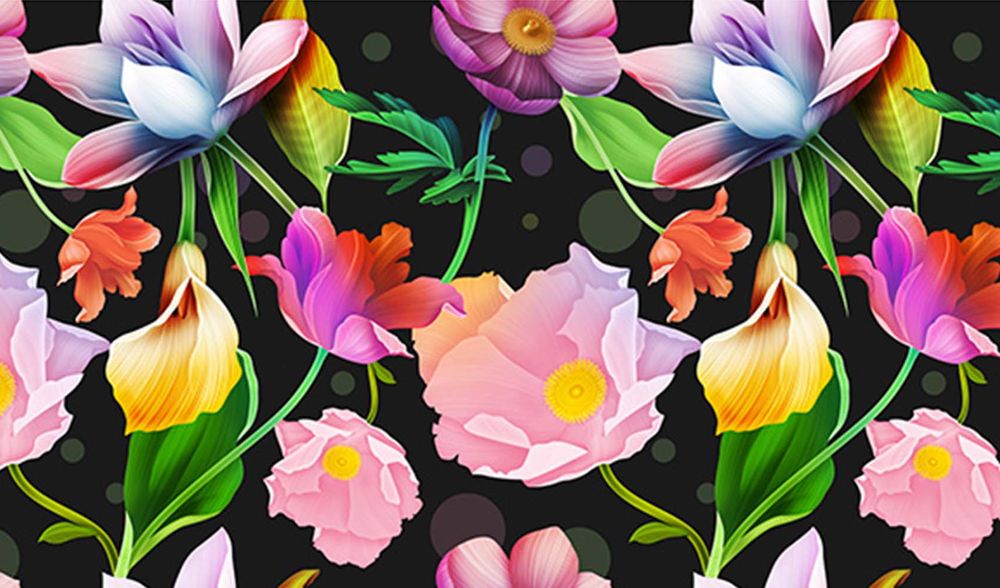 Give your work a stylish fashion look in vintage style with these 6 stunning seamless patterns. You can use them for display or print projects, all images go in high-res 300DPI.
Isabella Floral Business Card
File Type: AI, EPS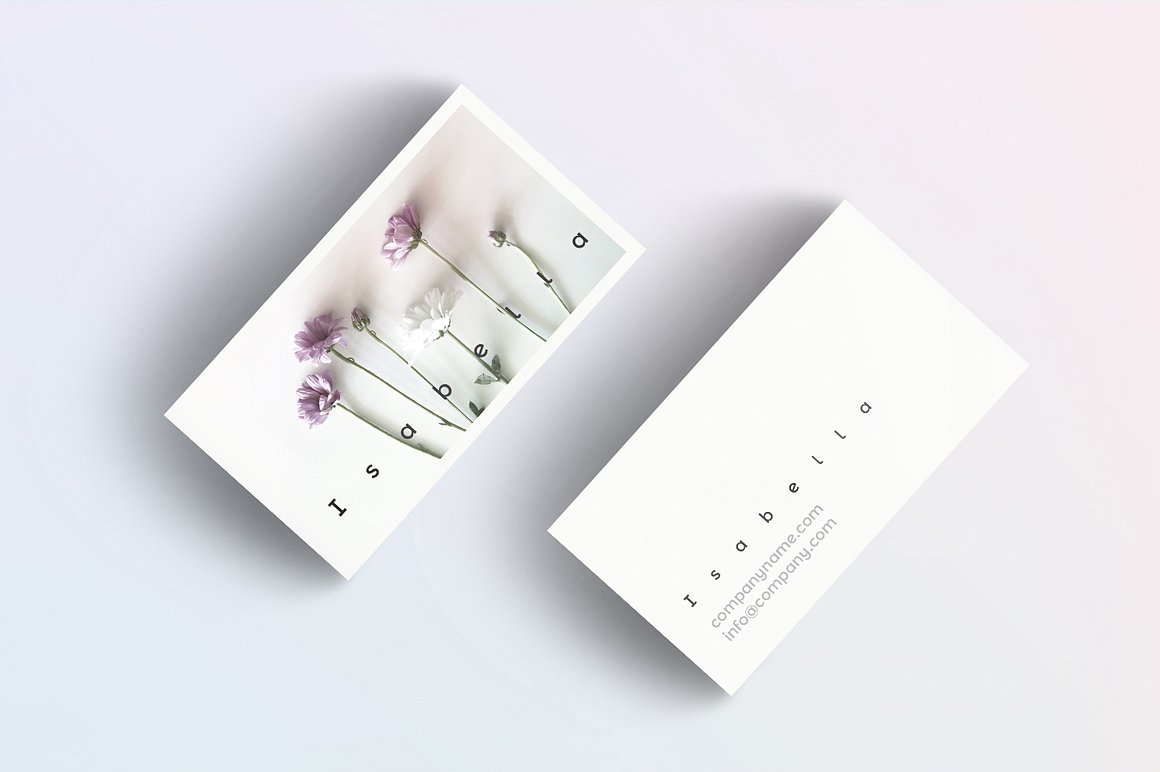 Floral business card template combines minimal styled photograph with soft gradient vector overlay, perfect combination of style and elegance!
Free Birds & Flowers Patterns Pack
File Type: AI, EPS, PNG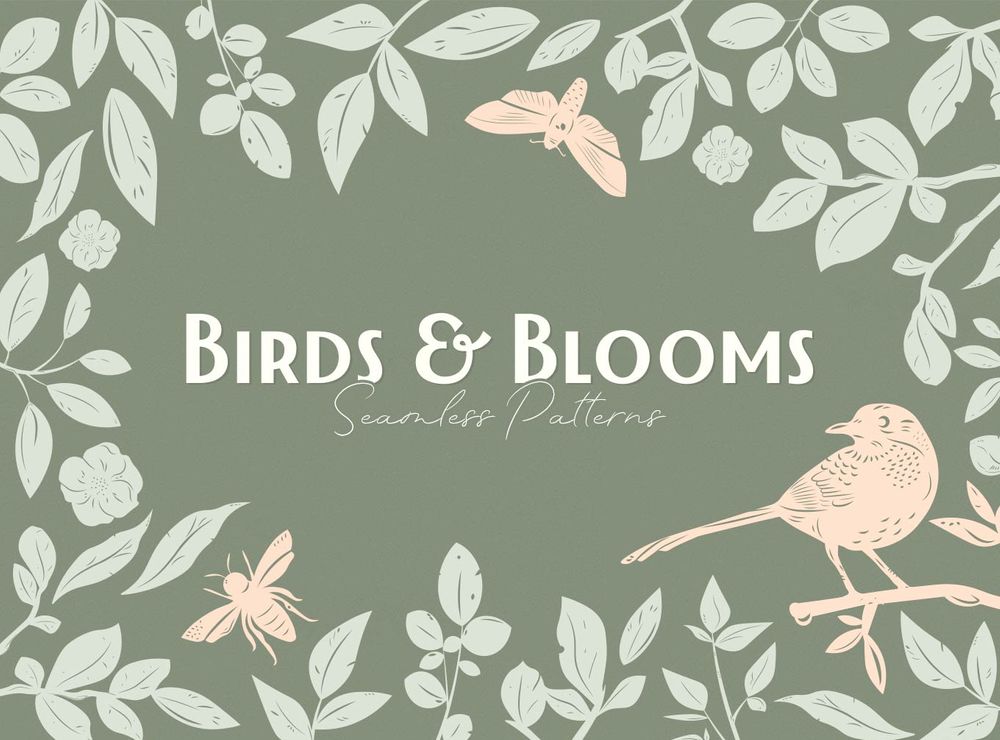 The collection features 12 lovely patterns, available in 6 colored and 6 monochrome ones for applying them anywhere. All the tiny elements will remind you of old biology atlases reincarnated in this set to become your designs. Digital art, book covers, fabric, backgrounds, branding – continue the list of projects by applying these delightful patterns to anything your soul desires!
Magnolia Time. Watercolor Collection
File Type: PNG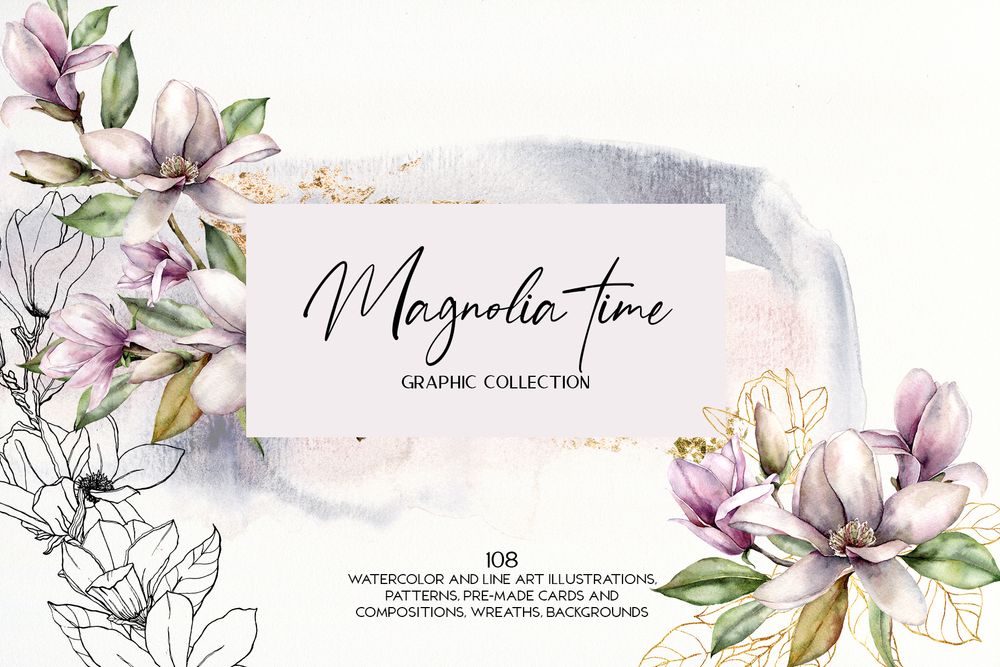 It consists of floral and decorative elements which will help you to create elegant Spring design. All elements are easily combined with each other. They may be used for design of cards and gift boxes, textiles, websites, festive paper and for a huge number of cute things.
10 Free Floral Graphics of Flowers & Bouquet Illustrations
File Type: PNG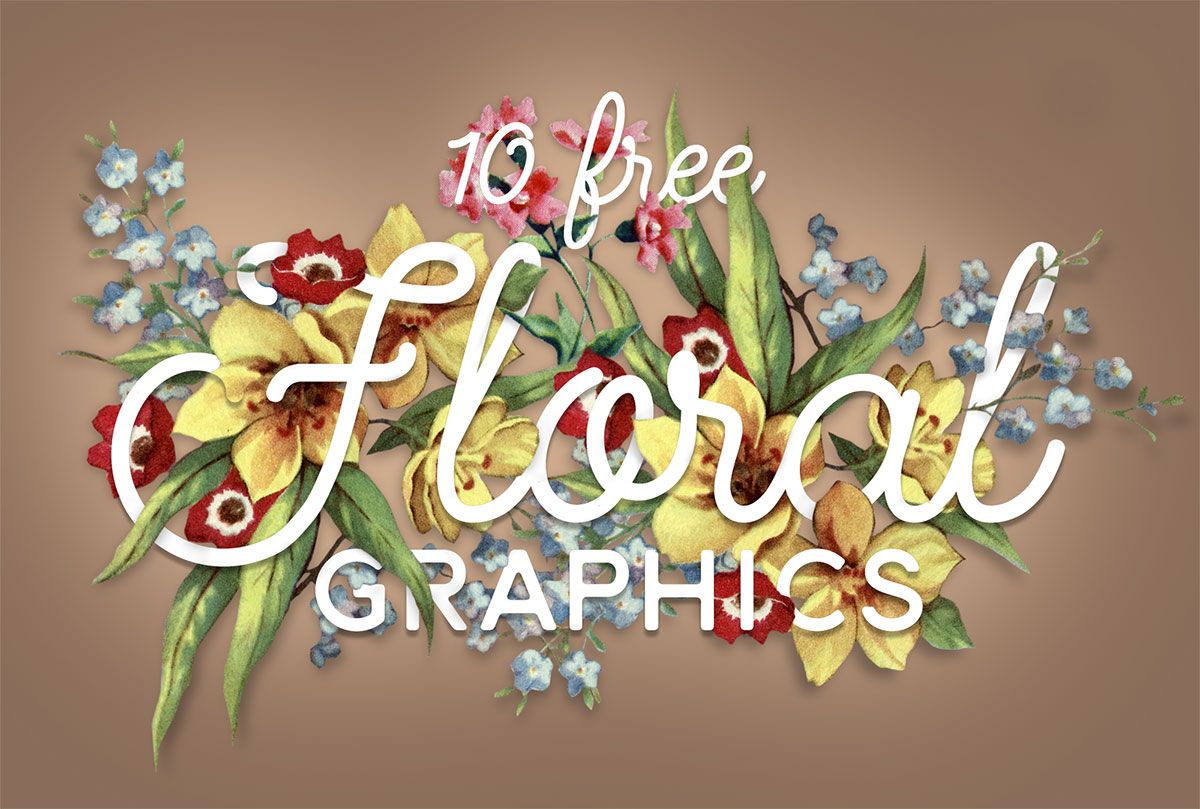 This free pack of floral graphics contains 10 images of illustrated flowers that have been meticulously clipped and saved with transparent backgrounds so they can be quickly and easily overlaid against any background or layered up to produce more intricate bouquets.
Lillia – Free Floral Illustration Sample (PNG)
File Type: PNG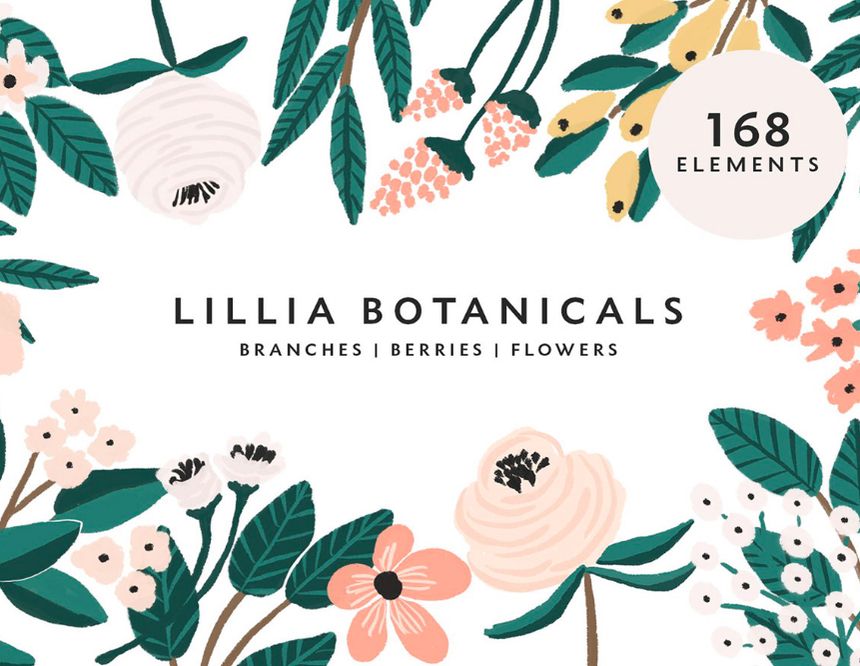 A beautiful collection of hand illustrated flowers, berries, branches, leaves & buds.
Free Magnolia Floral Graphic Design Elements
File Type: PNG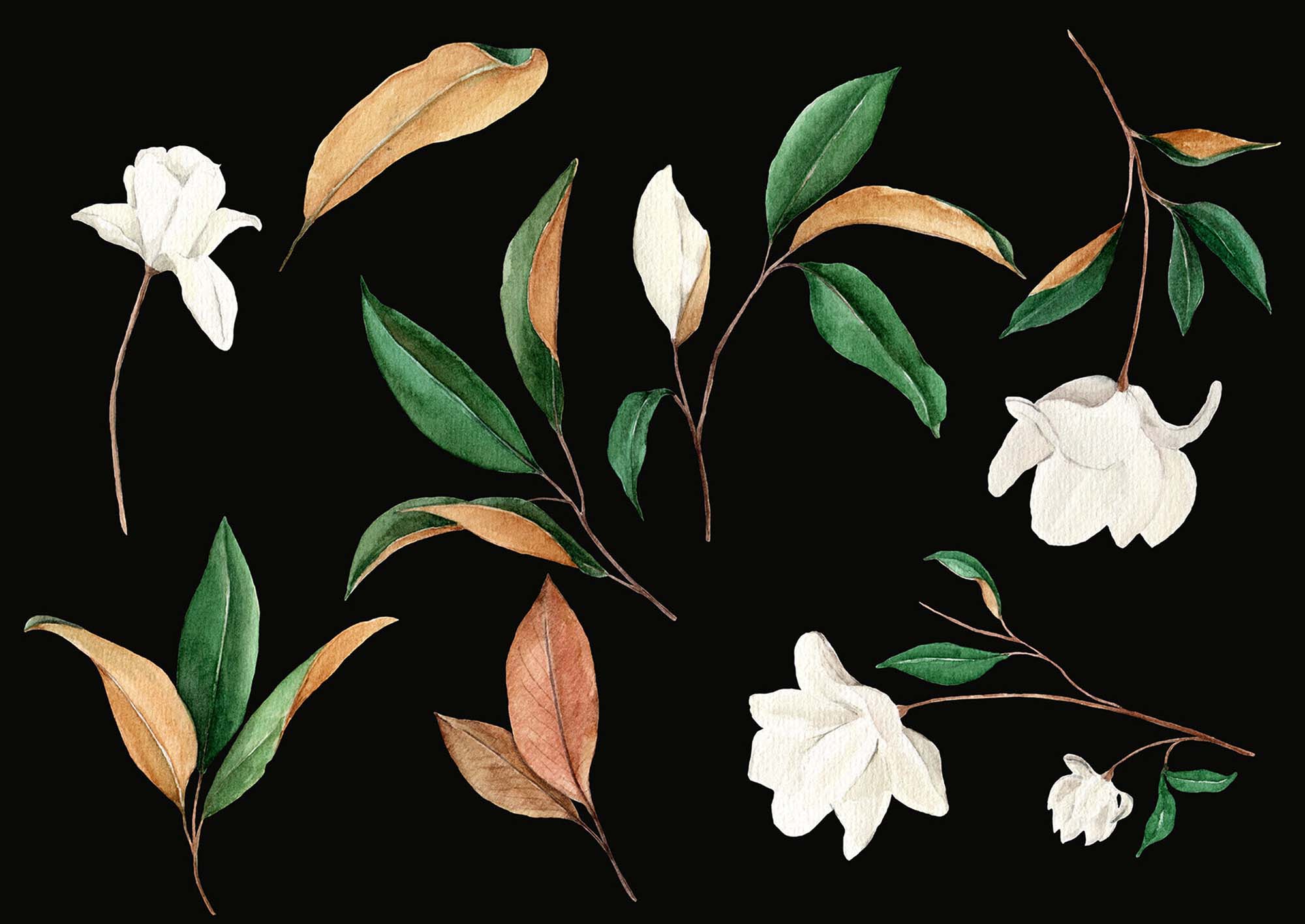 You can use this magnolia floral pattern in fabric prints that will look harmonious and stylish in living rooms. It can also be used in floral wallpapers with a combination of colors to brighten up your bedroom decoration.
Free Vintage Herbarium Illustrations
File Type: PNG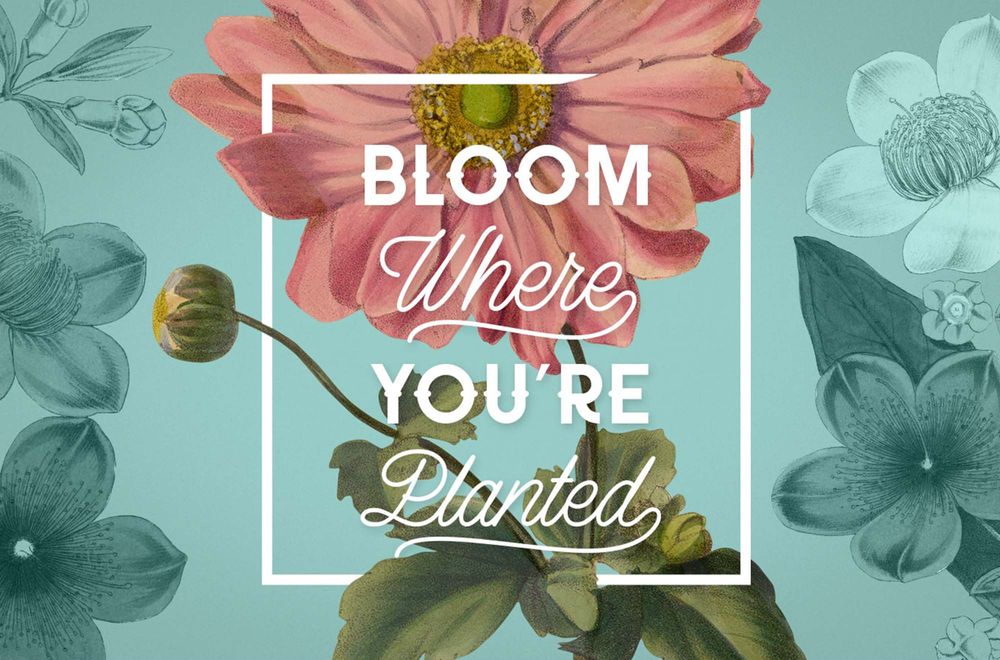 We encourage you to use them for a vast range of projects: from fabric and apparel design to patterns and posters, as they are the very items no one can pass by.
Free Spring Garden Watercolors
File Type: PNG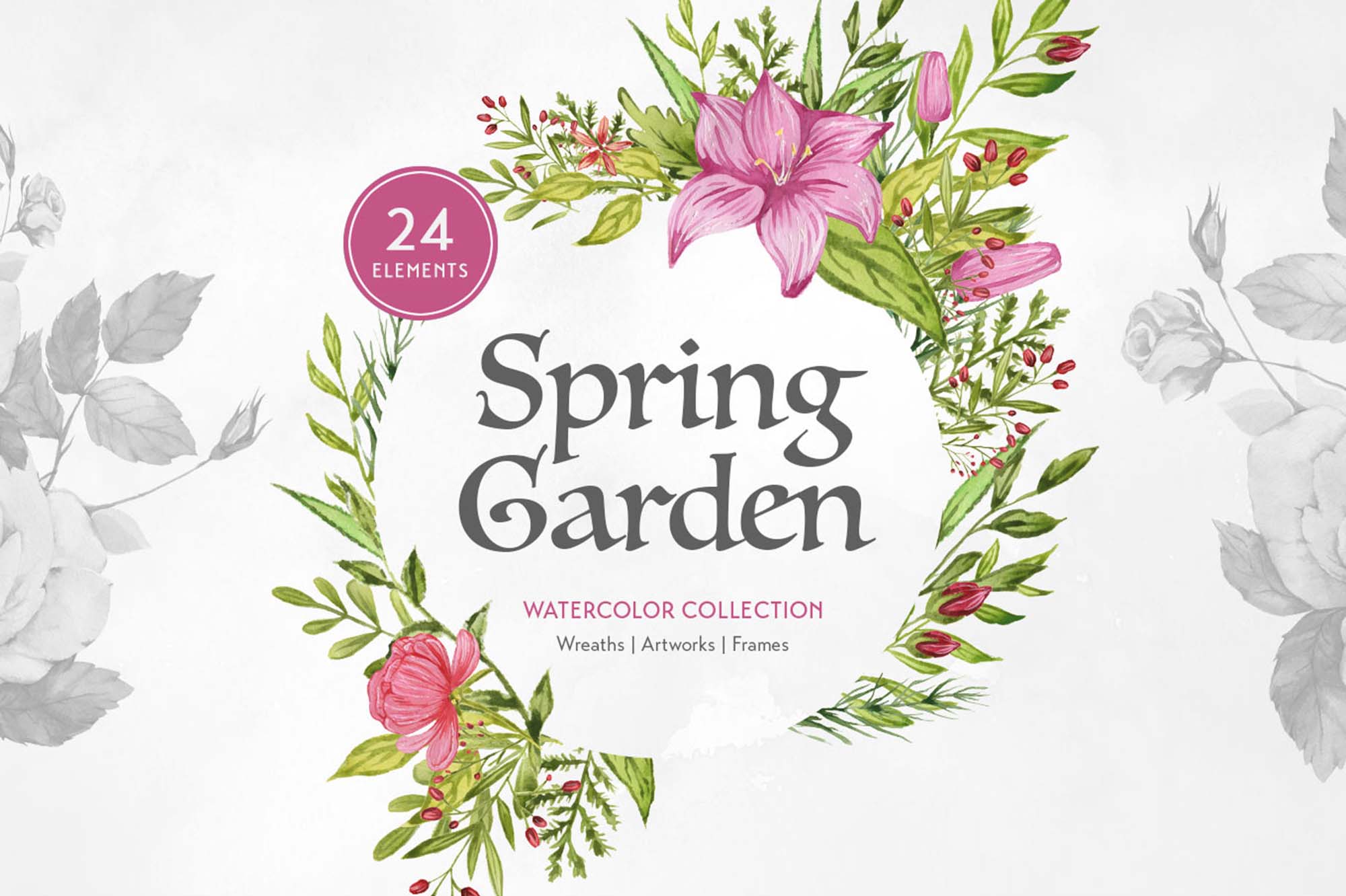 These watercolor selections will decorate any medium; you can use them for your home décor poster frame design, and also add some matching floral cushions to create a sense of harmony in your room.
Free Enchanted Watercolor Clipart
File Type: PSD, PNG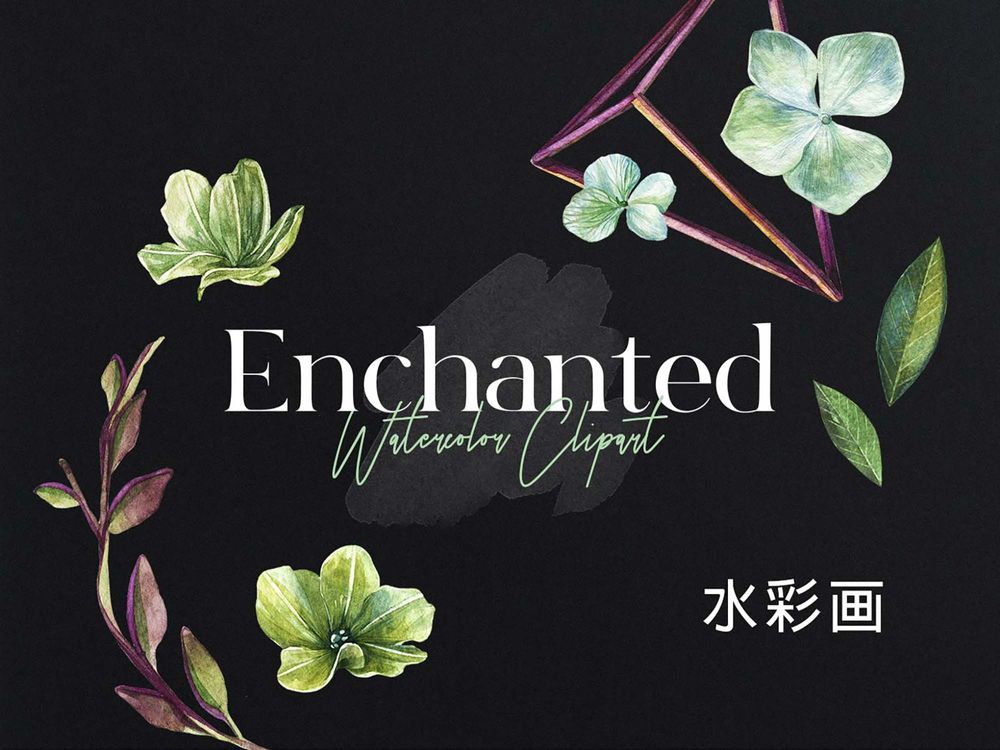 Add these illustrations to your collection and use them for flyers for dance performances, pillowcases, branding designs for florists, covers for themed notebooks (with the possibility of spells on the inside) or for simple artwork to decorate the room.
Free Floral Vector Patterns
File Type: AI, PSD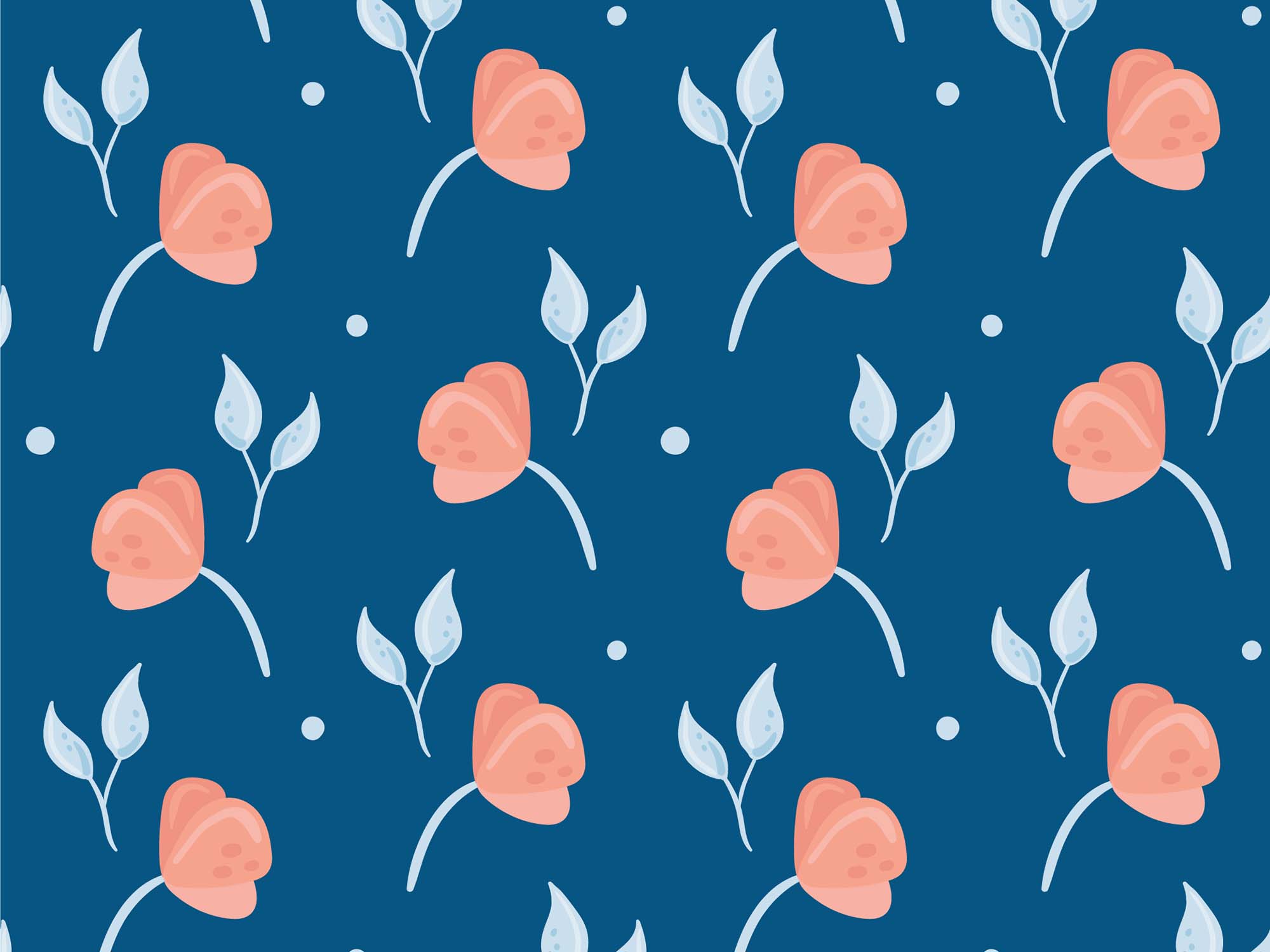 Bright yet easy on the eye, the patterns are available in PSD as well as AI format with well-organized layers that are easy to edit.
Tropical Orchids. Graphic Collection
File Type: JPG, PNG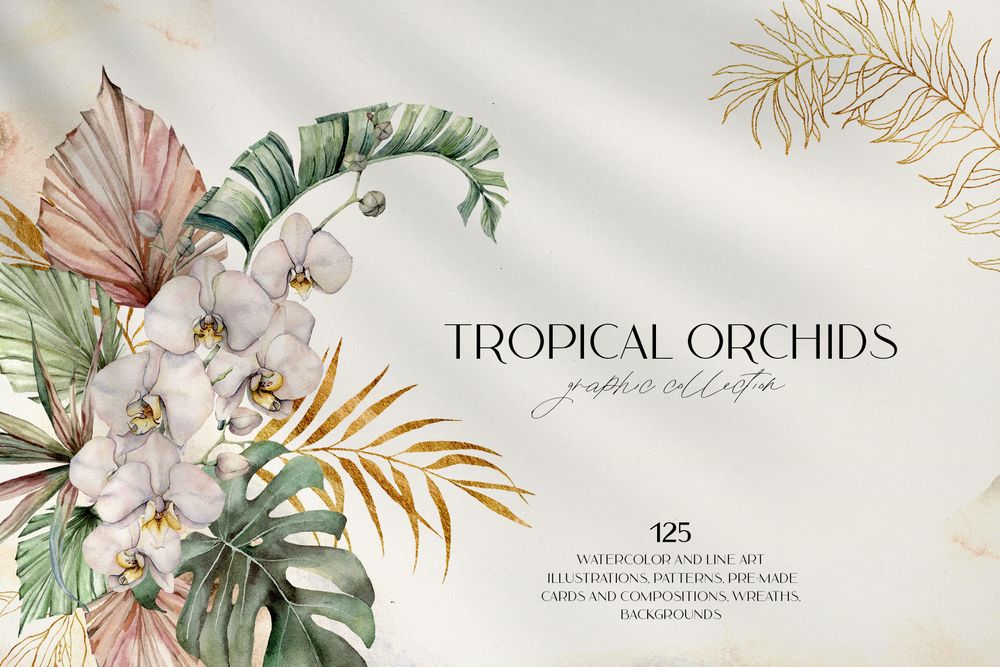 All elements are easily combined with each other. They may be used for design of cards and gift boxes, textiles, websites, festive paper, invitations, branding and for a huge number of cute things.
Monochrome. Watercolor
File Type: PNG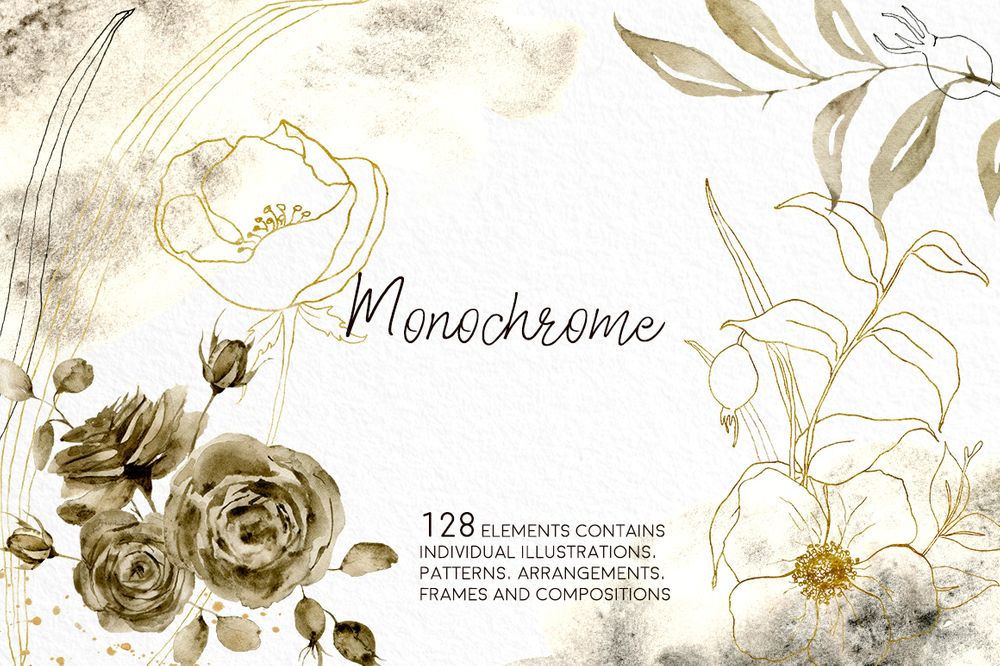 All elements are easily combined with each other. They may be used for design of cards and gift boxes, textiles, websites, wrapping paper, invitation and for a huge number of things.
Flower Wedding Invitation Suites
File Type: AI, PSD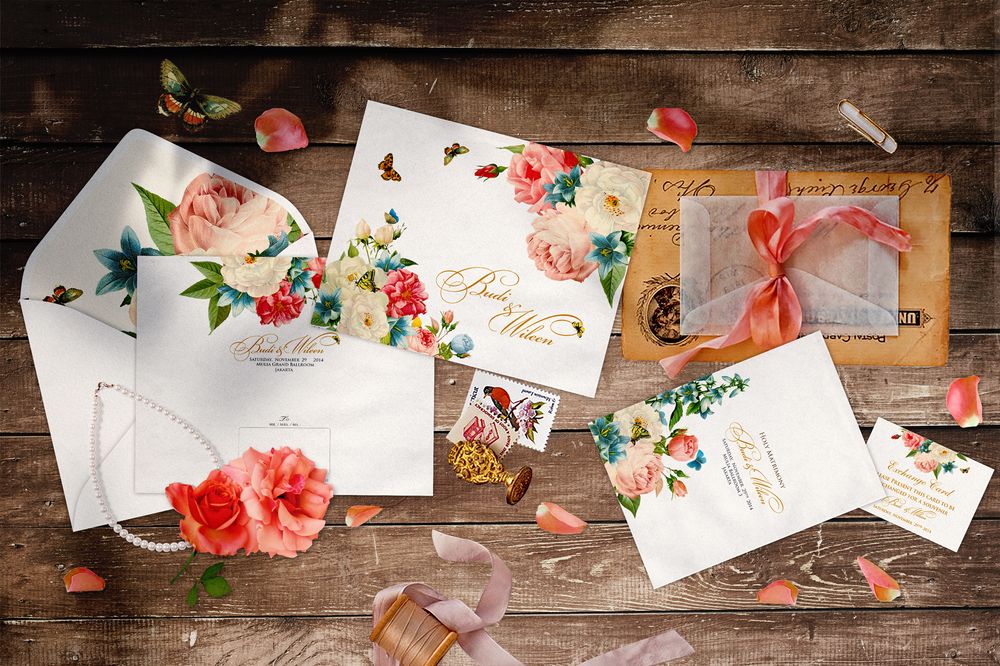 Every detail is very easy to edit, even the florals. botanical flower set comes with color highlighted & well arranged layers so you can edit the whole information right away.
Flower Market Clipart Collection
File Type: PSD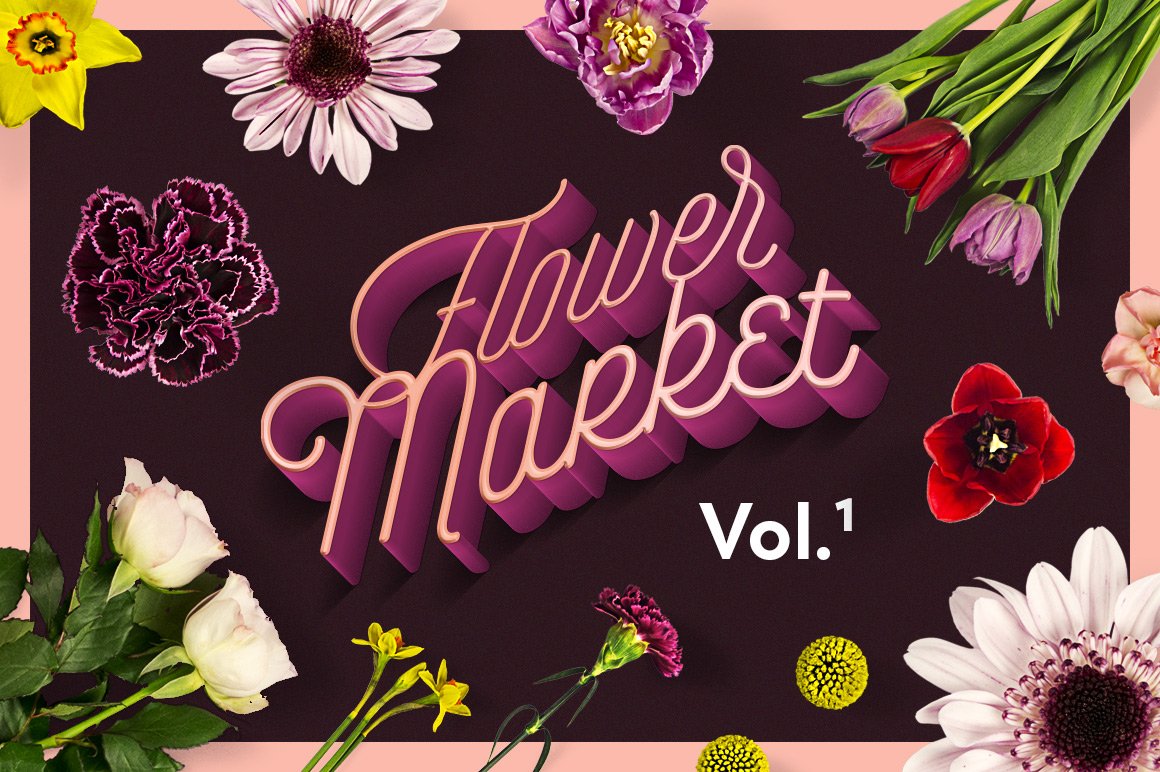 The diversity of magnificent flowers will make the one marvel – roses, tulips, clove pinks, jonquils, various wildflowers and more. It means whether it's a nostalgic card, commercial newsletter or a juicy, vibrant web page – you'll pick up the right bloom for your purpose.
Reysha / Flower Script Font
File Type: OTF, TTF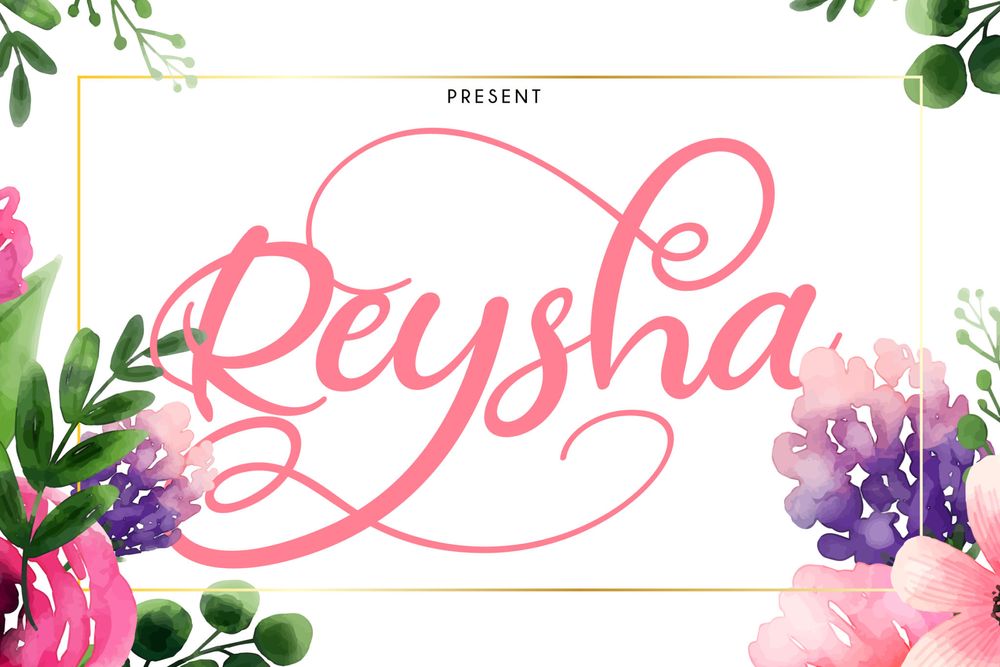 Reysha font with a calligraphy style, so beautiful on invitation like greeting cards, branding materials, business cards, quotes, posters, and more!
Watercolor Flower Hand Painted Clip Art
File Type: PNG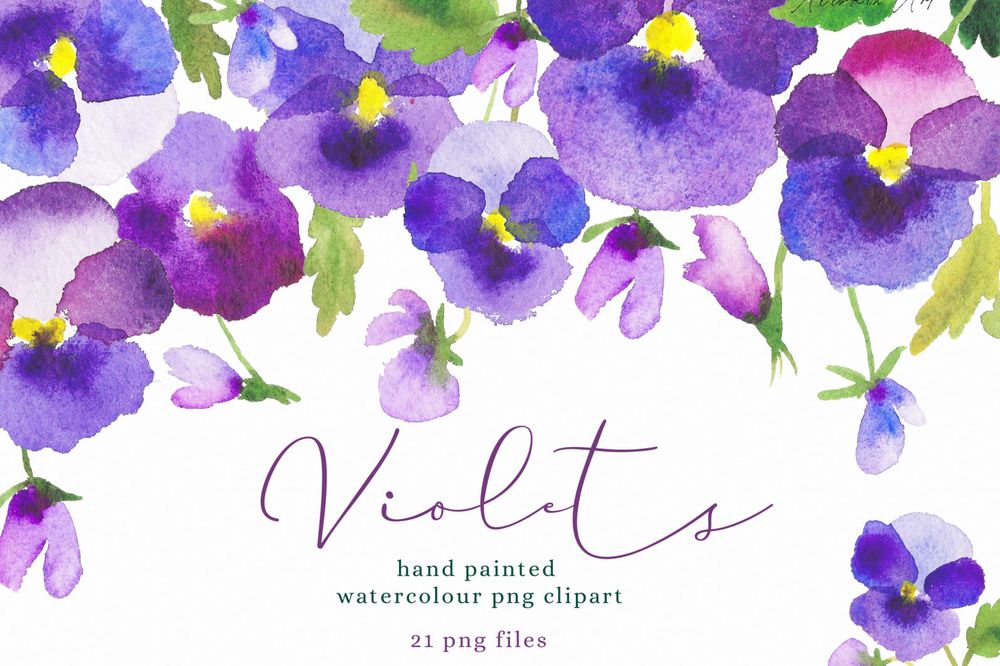 Violets flowers in clip art, hand painted watercolour clip art is great greeting cards, party invitations, posters, print templates, baby shower and much more.
Flower Power / Botanical Illustrations
File Type: AI, PDF, PSD, PNG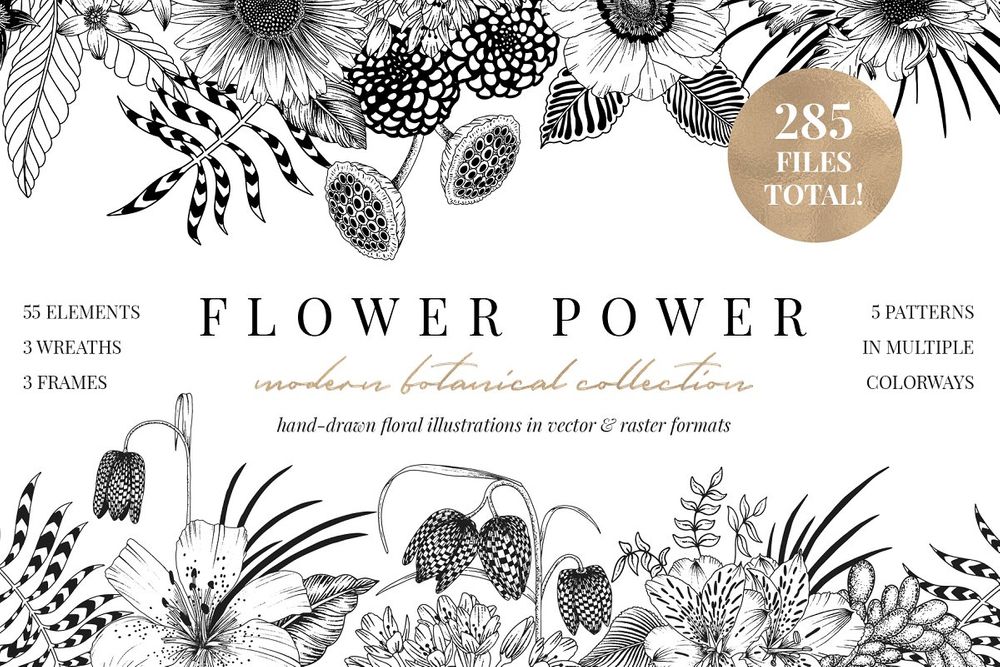 A modern botanical collection of 55 hand-drawn illustrations, 6 pre-made arrangements and 18 patterns in vector and raster formats.
Flower Line Art – Peony Illustration (EPS, JPG, PNG)
File Type: EPS, JPG, PNG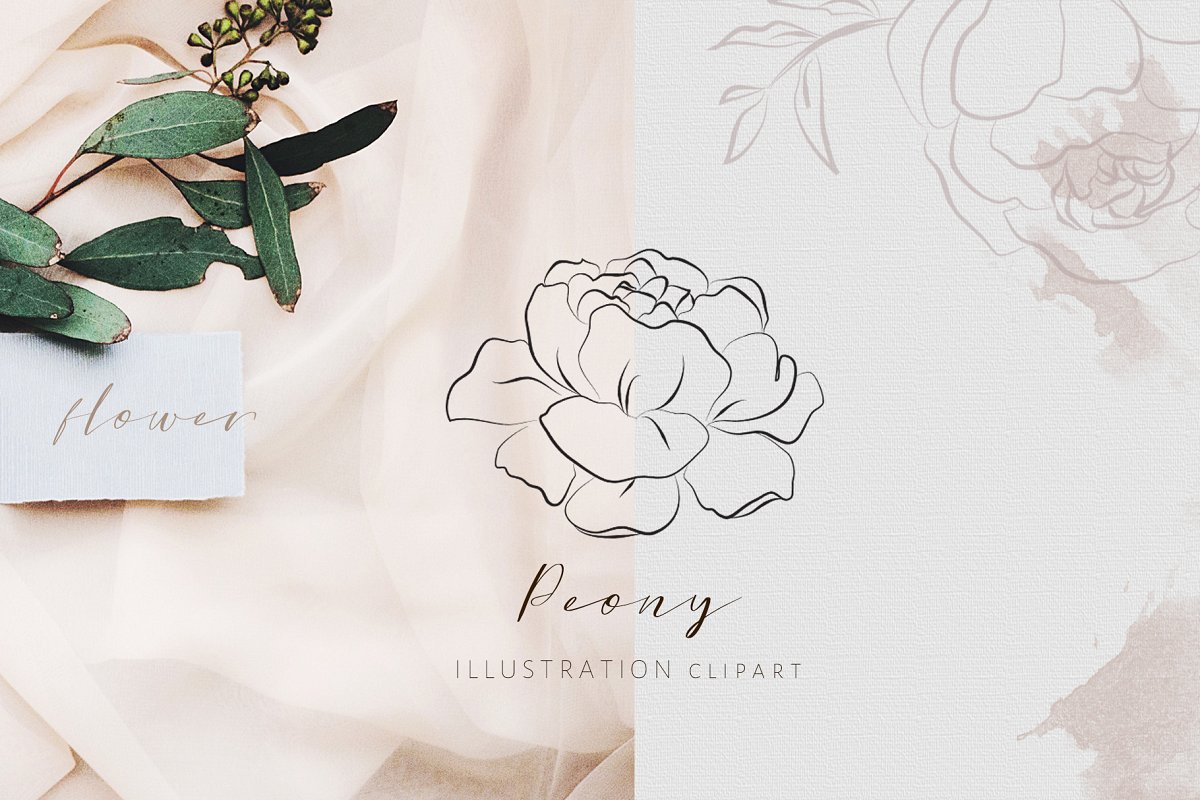 Peonies symbolize romance and prosperity. Their feminine blooms are perfect to use as elegant illustration design clipart. Digital peonies are also the best way to keep them last throughout the year. You may use them for your own wedding, decoration, website, icons, logo, packaging etc.
Watercolor Flower Clipart – Paprika
File Type: AI, PDF, JPG, PNG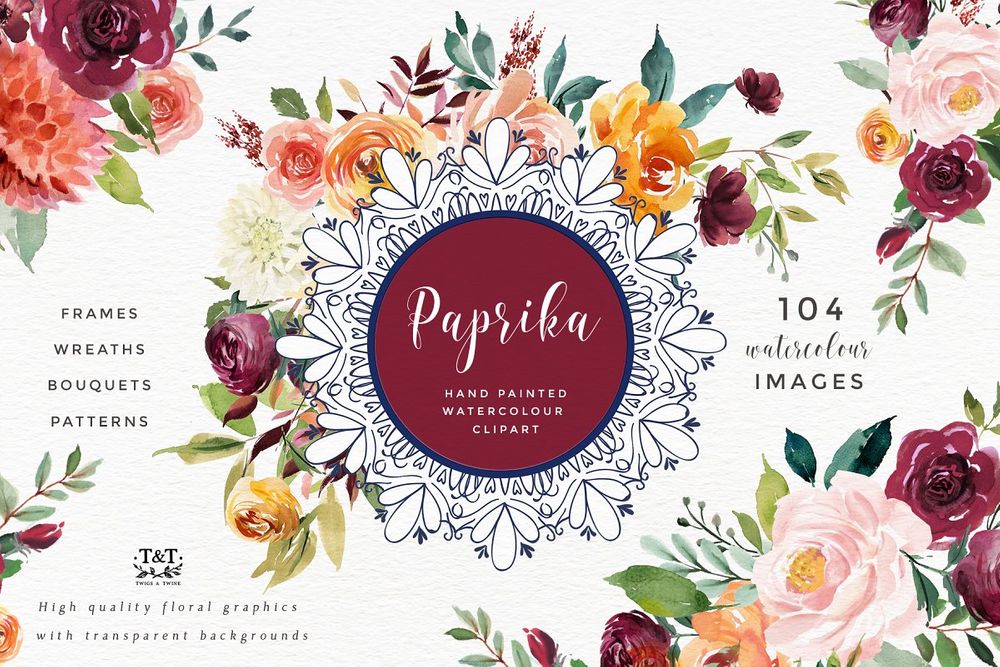 This set of floral elements and design assets is created in a gorgeous palette of burgundy, gold, coral, blush and leafy greens. It works beautifully with gold foil accents. It would work perfectly for wedding stationery, with a rustic style, or for many other design projects including wall art, logo design, branding and marketing material etc.
Spring Collection – Watercolor Set
File Type: PNG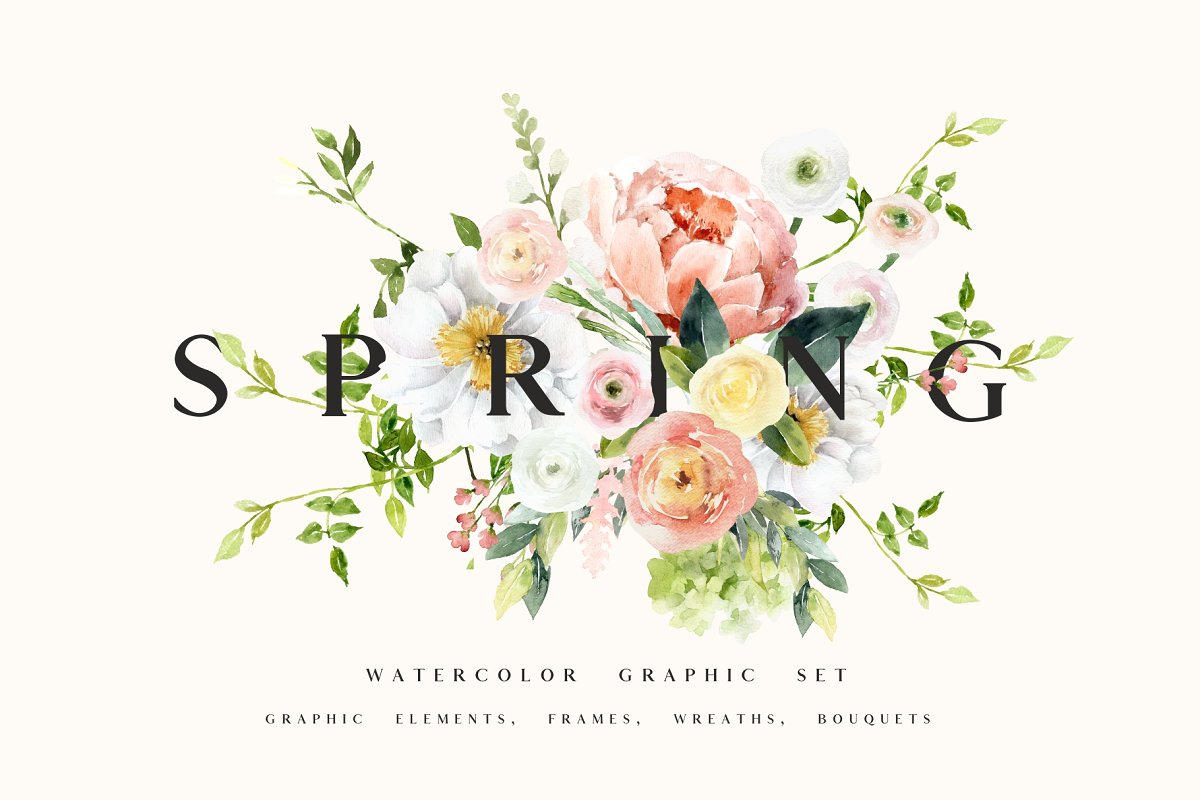 Spring collection is a set of beautiful fragrant flowers and lush greenery. Fresh spring palette, high-quality graphics. Perfect graphic for wedding invitations, greeting cards, photos, posters, quotes and more.
Flower Outlines & Patterns
File Type: AI, EPS, PSD, PNG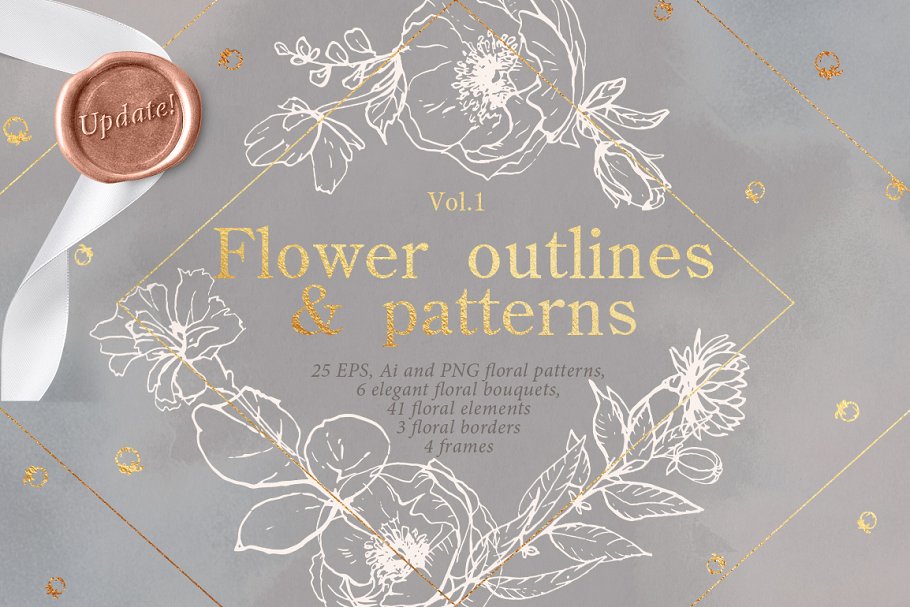 With this set you can create elegant logos and monograms and this collection will bring vintage in your design.
Boho Watercolor Flowers Collection
File Type: PSD, JPG, PNG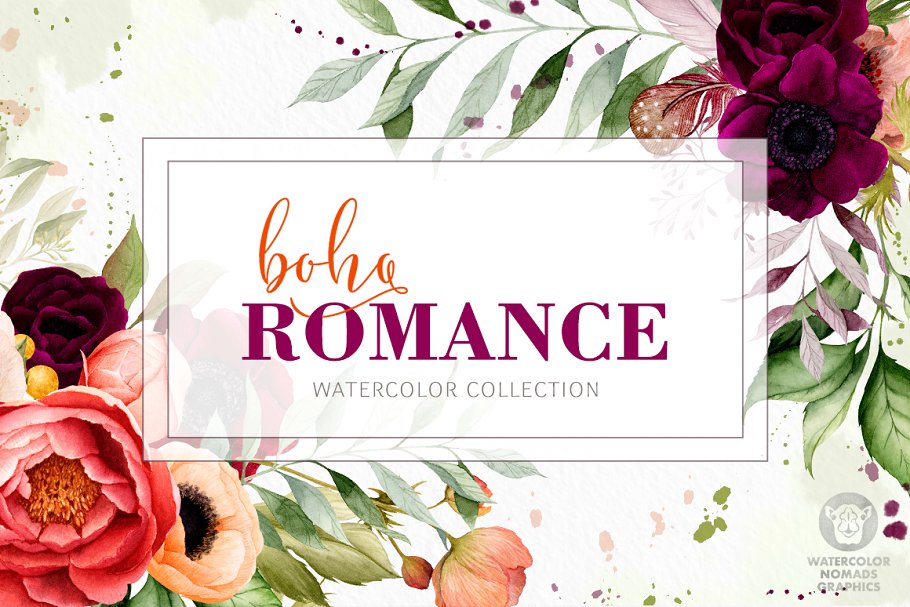 It is collection for the free romantic soul and it is a perfect match for engagement and wedding stationery designs, t-shirts, combined with typography, prints and posters, wall decor, packaging design and so much more.
Line Drawing Delicate Flower
File Type: AI, EPS, SVG, PDF, PNG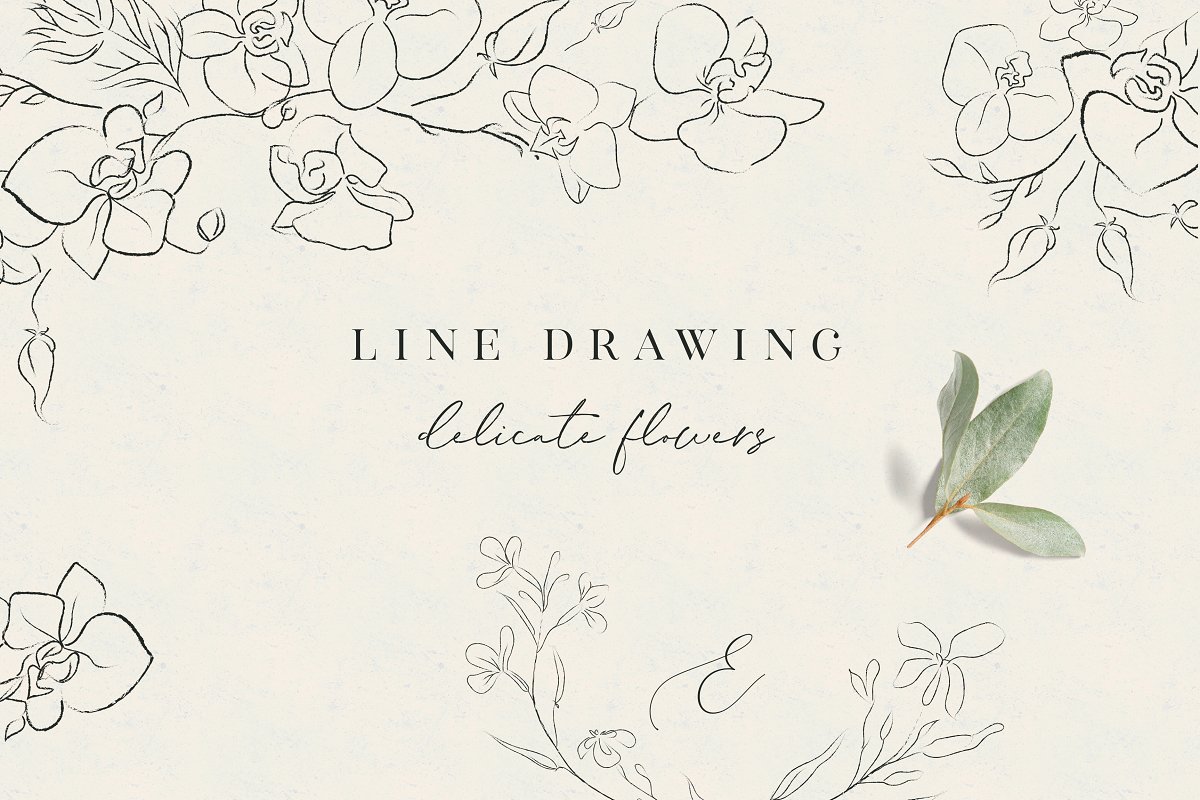 Perfect for cards, logo, branding, wedding invitations, personal stationeries, templates, , wallpapers, textiles, packaging, accessories, paper bags and whatever you love.
Tropical Boho Wedding Flowers
File Type: PNG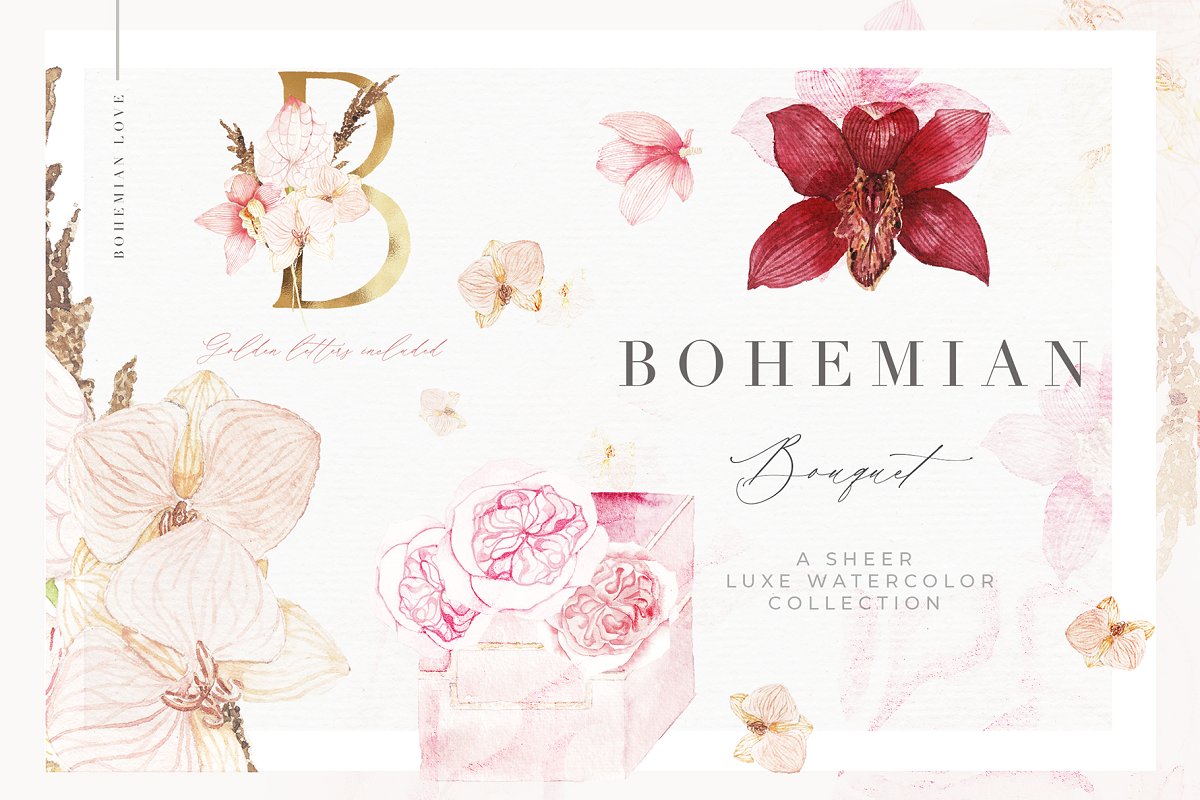 This set is a perfect all-in-one collection for modern, feminine wedding stationery and invitations. It looks gorgeous combined with artisan calligraphy scripts and is perfect for fresh and bright as well as sumptuous, modern and darker themes.
Flowers Sketch Cllection
File Type: PNG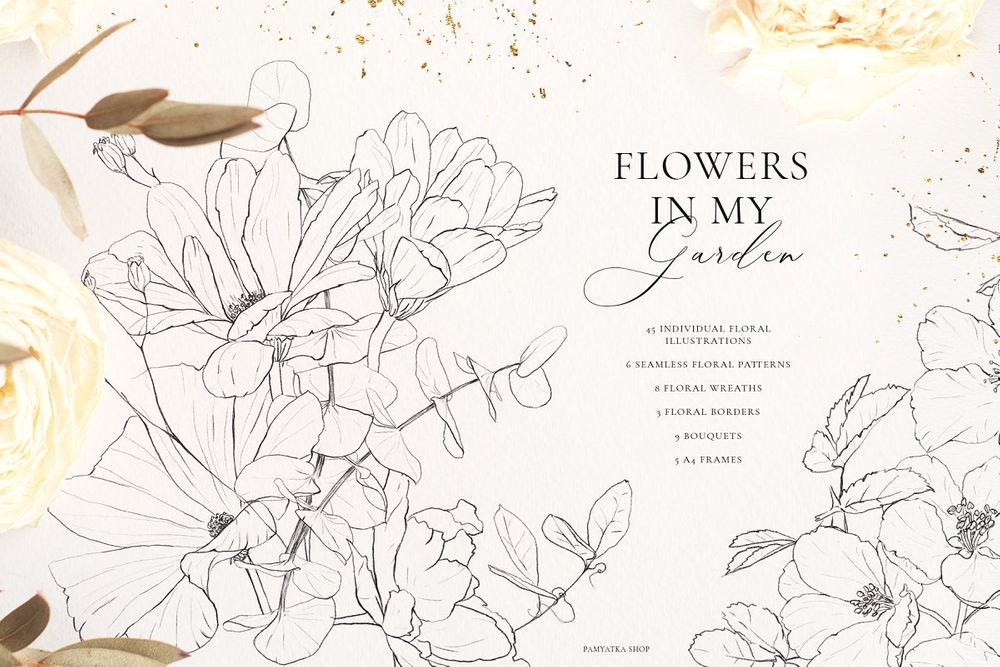 This is a pencil sketch set from the flowers of my garden so you can add tenderness and thin elegant lines to your design. This collection will be perfect for wedding invitations, feminine logos, website design or Instagram as well as many other ideas of yours.
Hand Drawn Floral Logo Elements Vol.2
File Type: AI, EPS, PSD, PNG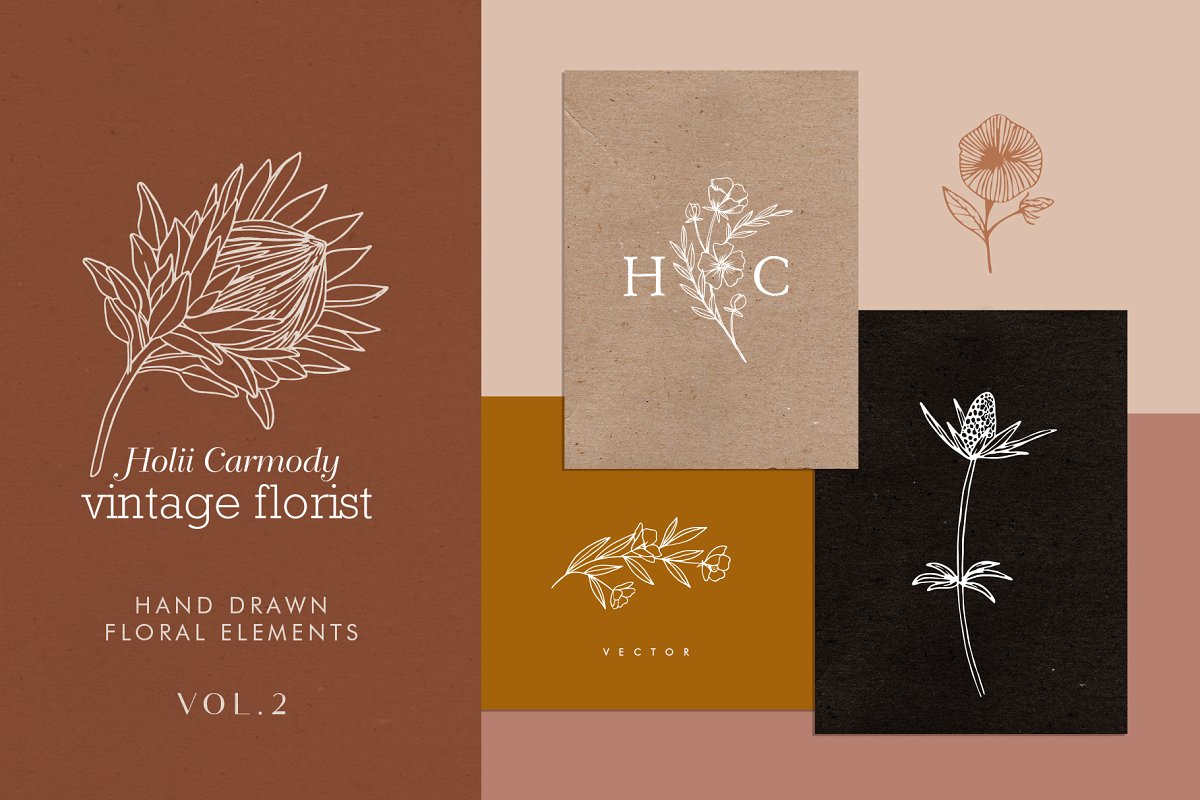 All you need to create a modern hand drawn floral logo in Adobe Illustrator!
Flower Tulips Edition – Custom Scene
File Type: PDF, PSD, JPG, PNG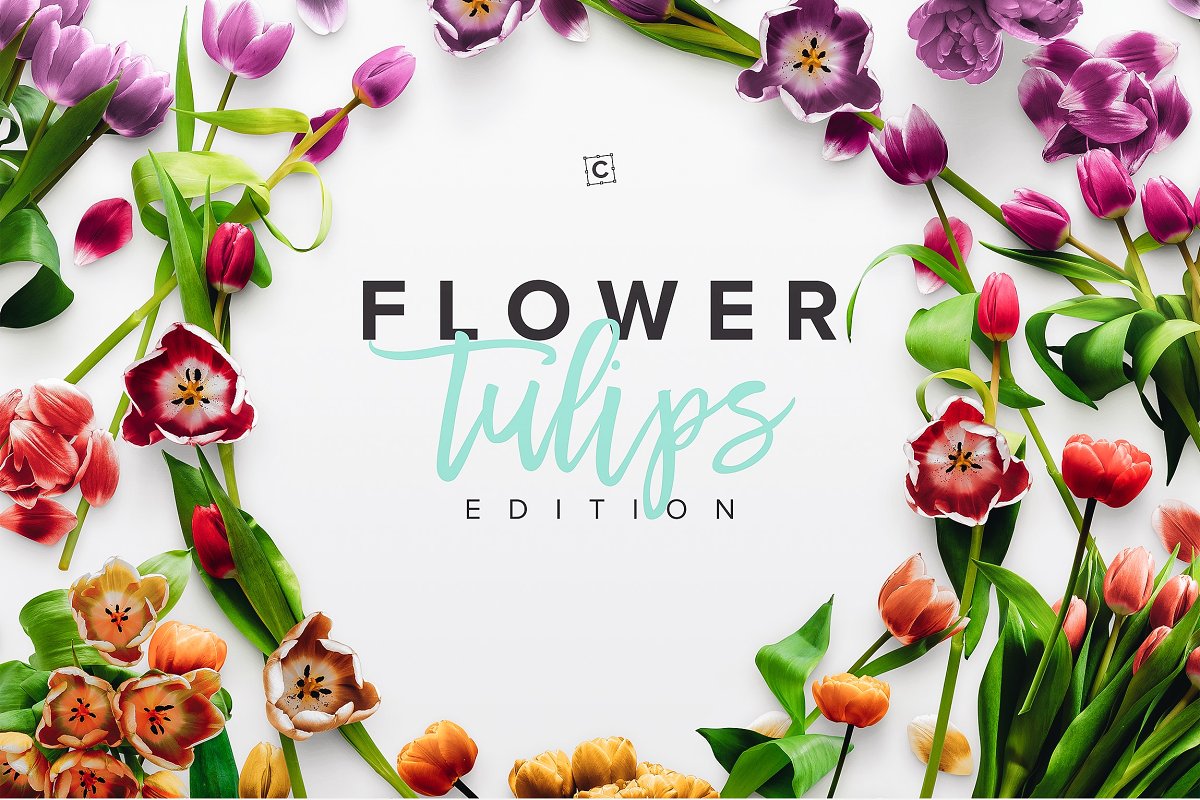 Use the flower's recognizable shape and colours to make your graphic designs pop. Bring your portfolio presentation to life by embellishing with a floral design and scattered petals, create a flatlay header for your blog post, or hero imagery on your website. Add natural beauty to your product styling and create stunning content for your social media feed.
Elegant Flower Patterns
File Type: AI, EPS, PDF, JPG, PNG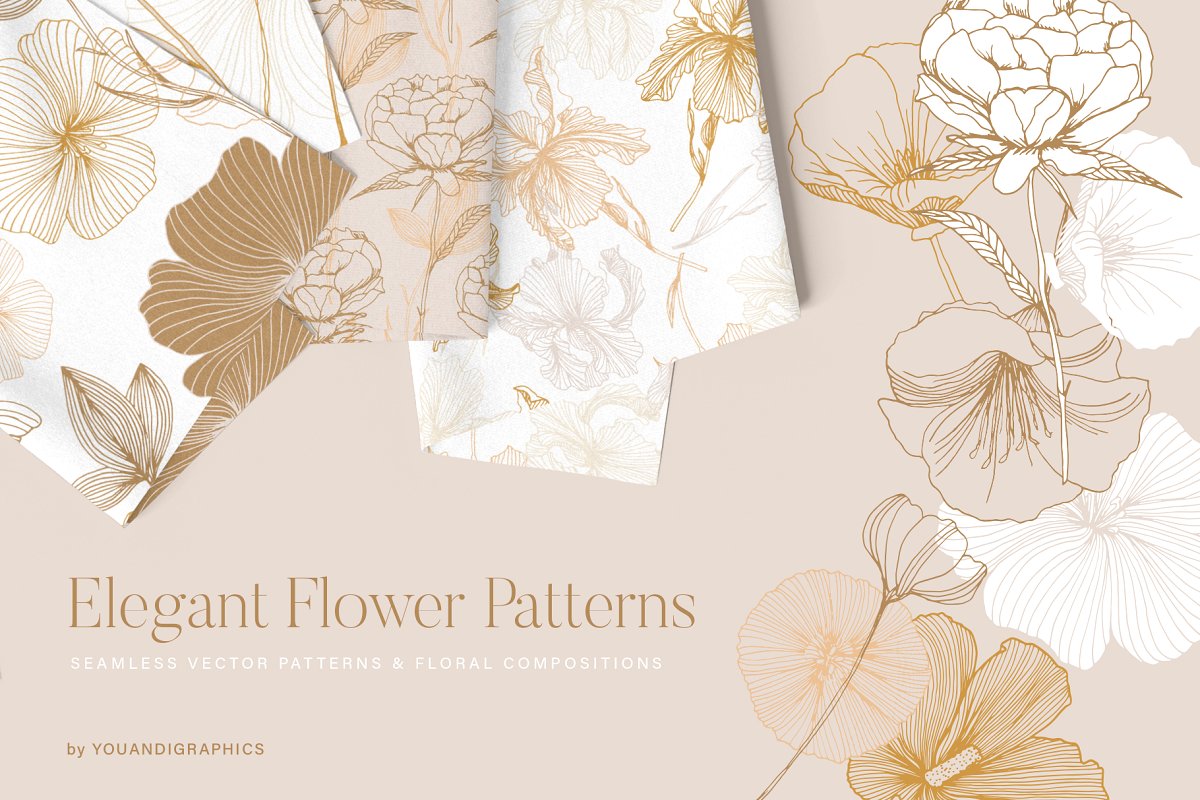 A selection of hand drawn flowers in elegant line work and a classic color palette that creates a unique selection of floral patterns.
60 Flower and Floral Icons Vol.2
File Type: AI, EPS, SVG, PDF, PNG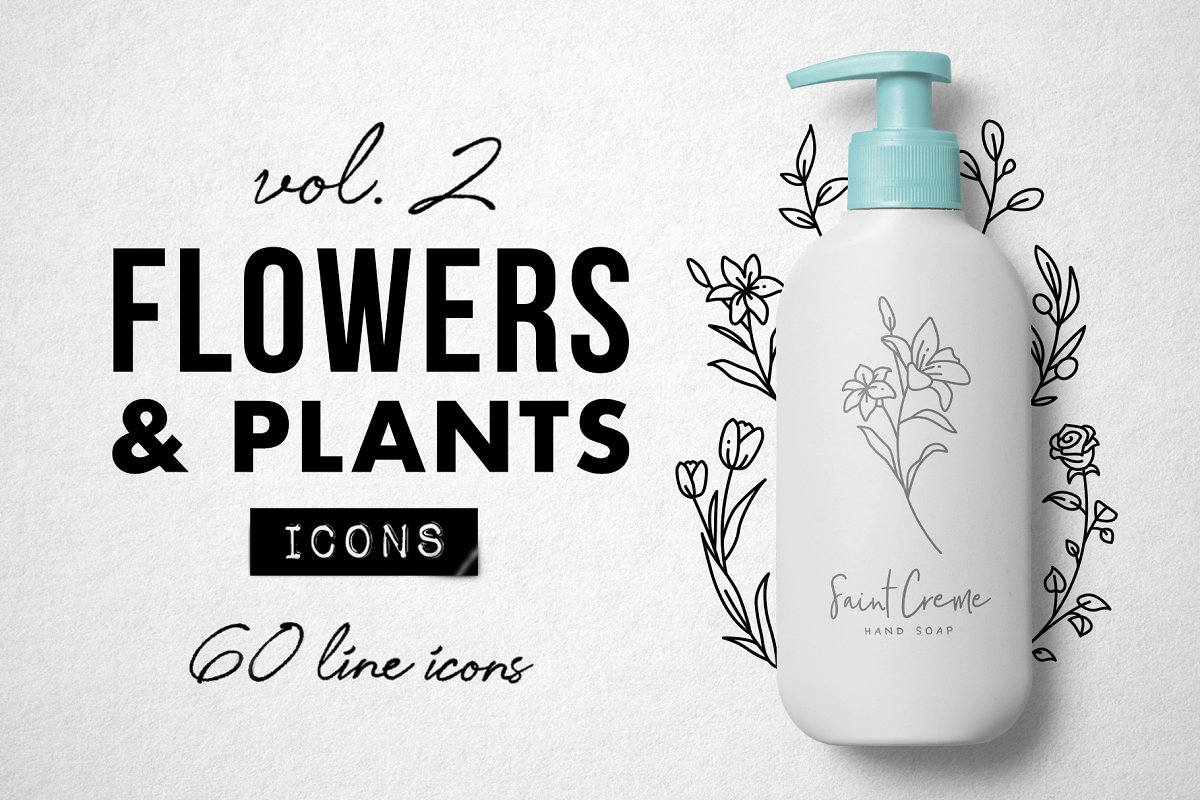 A complete set of (curved, short, multiple branches, and winding): roses, eucalyptus silver dollar plants, olive branches, ginkgo plants, lavender flowers, tulips, lilies, and jasmine flowers.
Blush and Navy Watercolor Flowers
File Type: PDF, JPG, PNG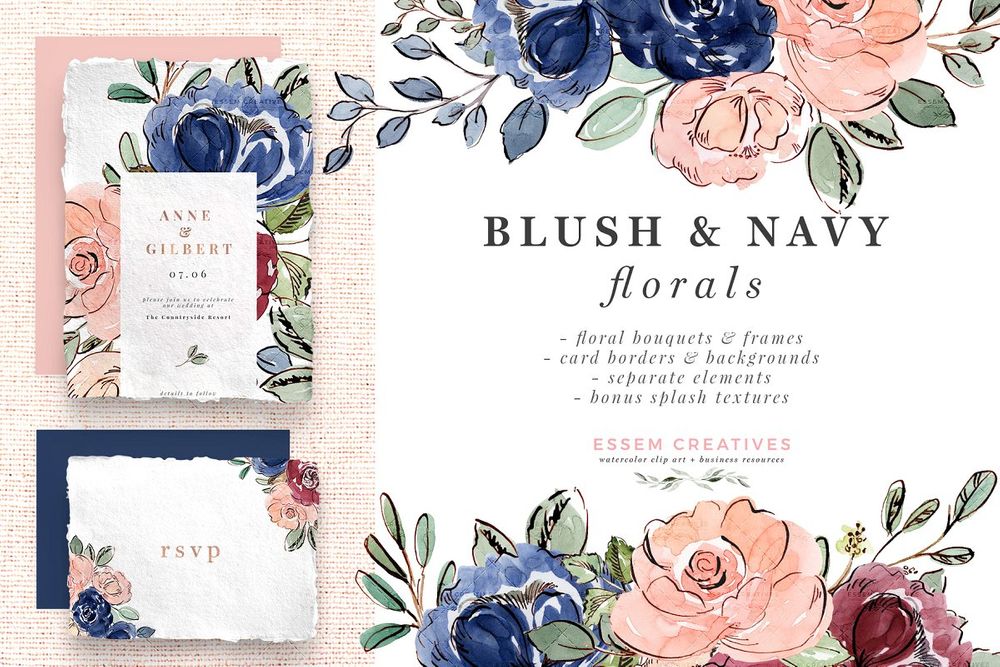 It is a new set of watercolor florals clipart for your personal & professional design projects. Painted in a unique, yet on trend watercolor style, these blush pink navy blue blooms with accents of peachy cream and greenery is perfect for stationery, branding & many other design projects.
Lush & Nude Floral Collection (PDF, PNG)
File Type: PDF, PNG
Lush & Nude it's a bohemian dream collection with classic trends, organic florals, grasses and greenery. It's a pomp of dried palm leaves and the triumph of white flowers symbolize reachless and luxury.
Paper Flowers. Patterns and Designs
File Type: AI, EPS, PDF, JPG, PNG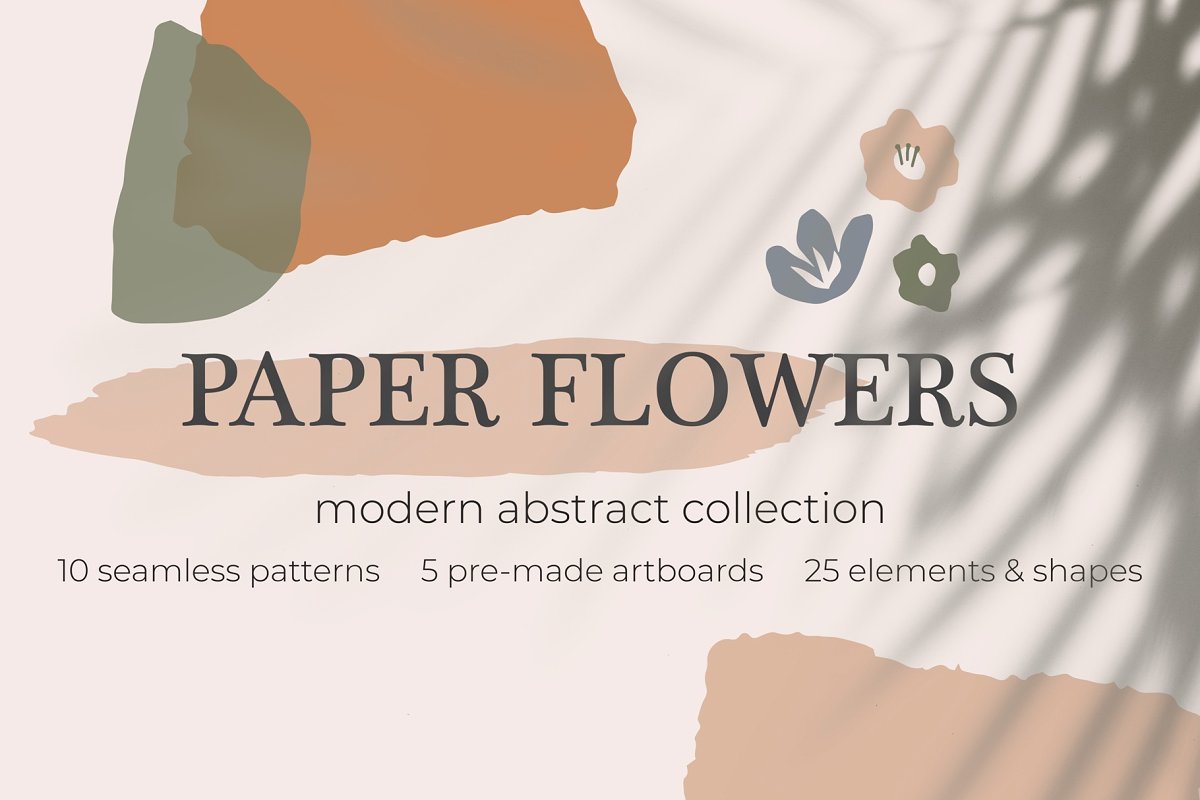 Modern hand drawn graphic collection, inspired by simple shapes and natural colors. You will get 5 premade artboards for packaging design and social media, 10 seamless patterns, and 25 organic hand drawn vector elements with flowers, papers and brush strokes for your creativity.
Ink Botanicals, Logos & Patterns
File Type: AI, PDF, PSD, PNG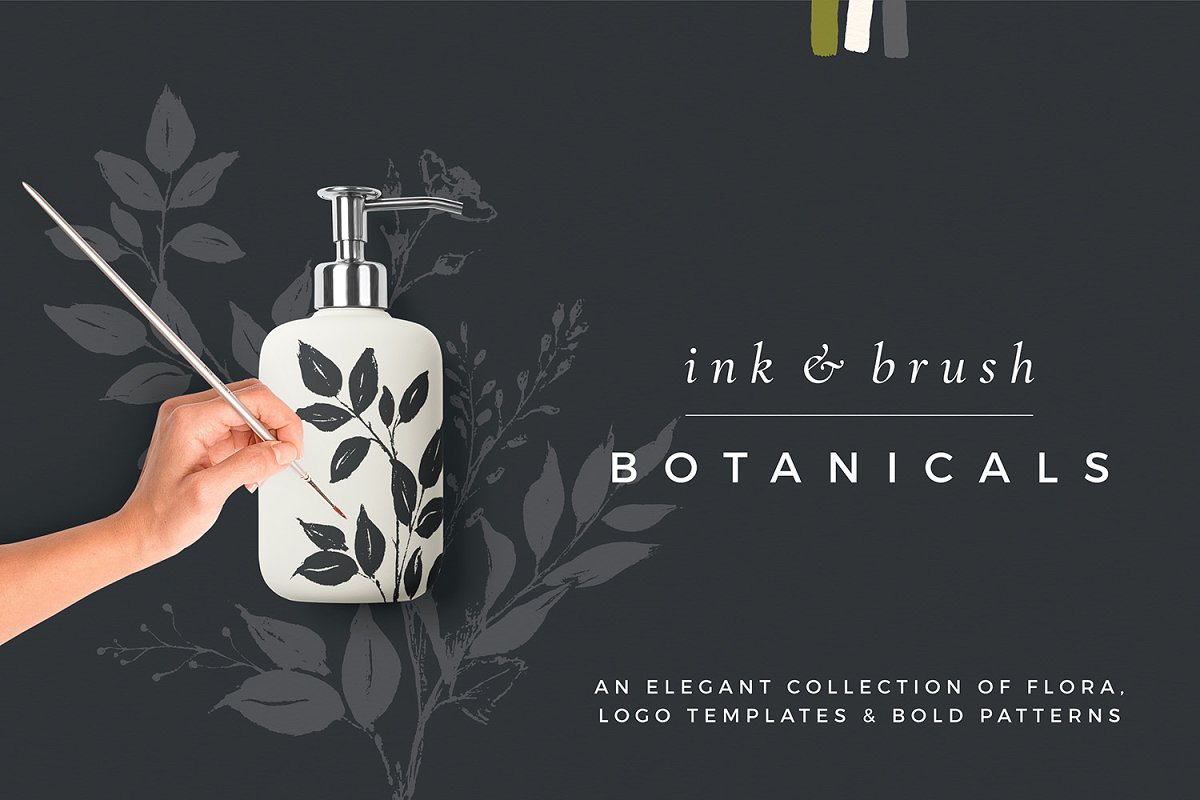 Effortlessly create graceful minimalistic designs that work beautifully with wedding stationery, blog & personal branding, greetings, soft furnishings and so much more!
Melancholy Floral Collection
File Type: PNG
Includes individual vintage flower and leaf clip art with dark and moody styling in blue, purple, turquoise, mustard and burgundy colors. Wonderful for creating moody wedding designs, stationery, artwork and more.
Floral Illustration & Logo Packs
File Type: AI, EPS, PNG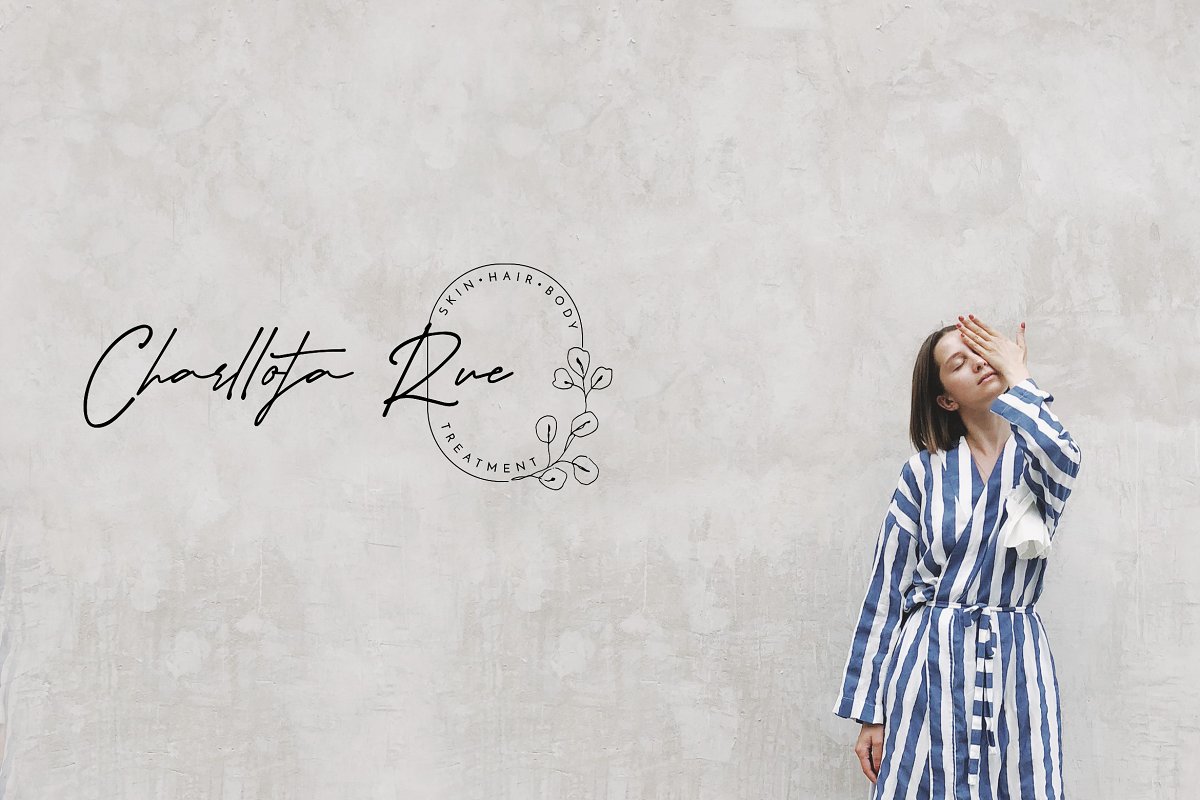 Artsy mono line hand-drawn foliage packs and 50 pre-made logo templates that you can use for a lot of purposes: wedding stationery, branding project, social media images, blogs, etc.
Featured image by rawpixel.com