We want and are satisfied when we admire some things especially in nature, let's say looking at various flowers. So with this inspiration we want to present you flower brushes for Procreate collection. It's an absolutely gorgeous list of all kinds of flowers whether it's drawn or painted, and it can be your best choice for working with the iPad and the Procreate app.

You may also like:
Fantastic Oil Paint Brushes for Procreate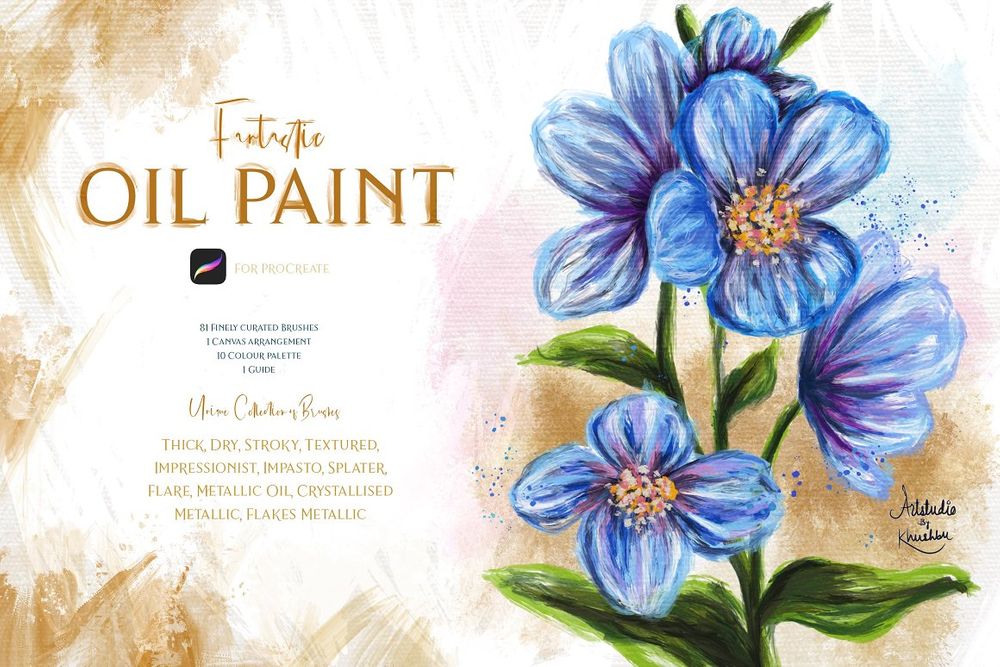 Finely curated oil paint brush set for Procreate. Perfect for all who just want to explore their creativity in an easy way.
Free Flora Vegetation Brushes for Procreate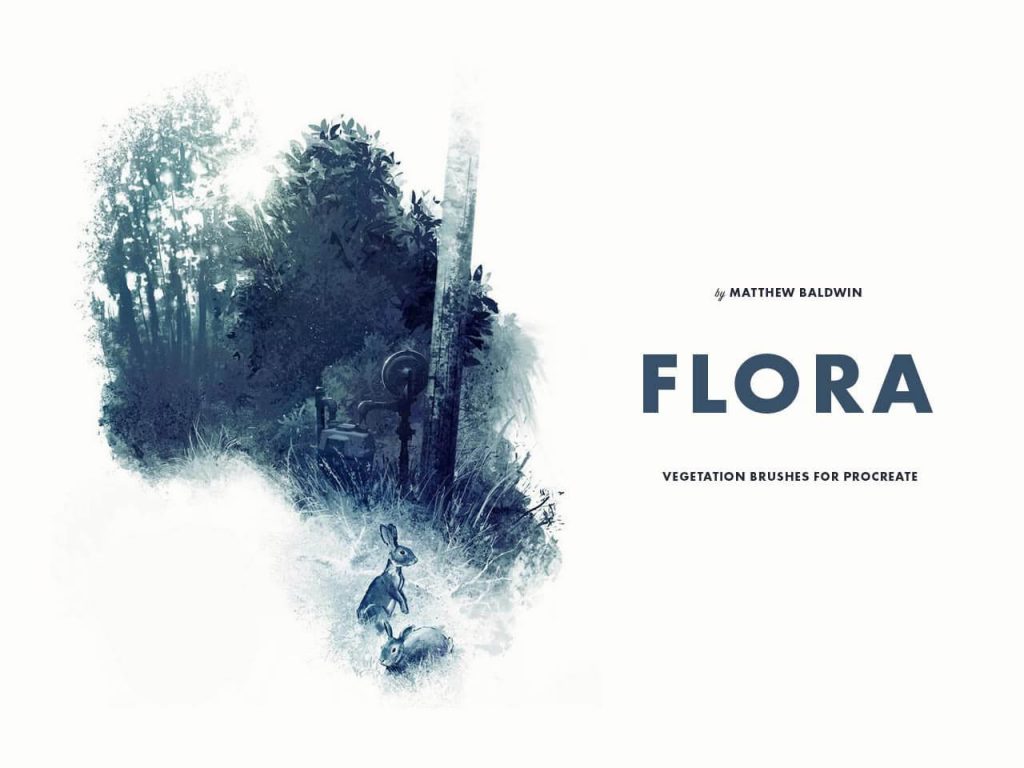 You'll get assembled over 90 free Procreate brushes that help you express mass, tone, texture in nature.
Oil on Canvas Procreate Brushes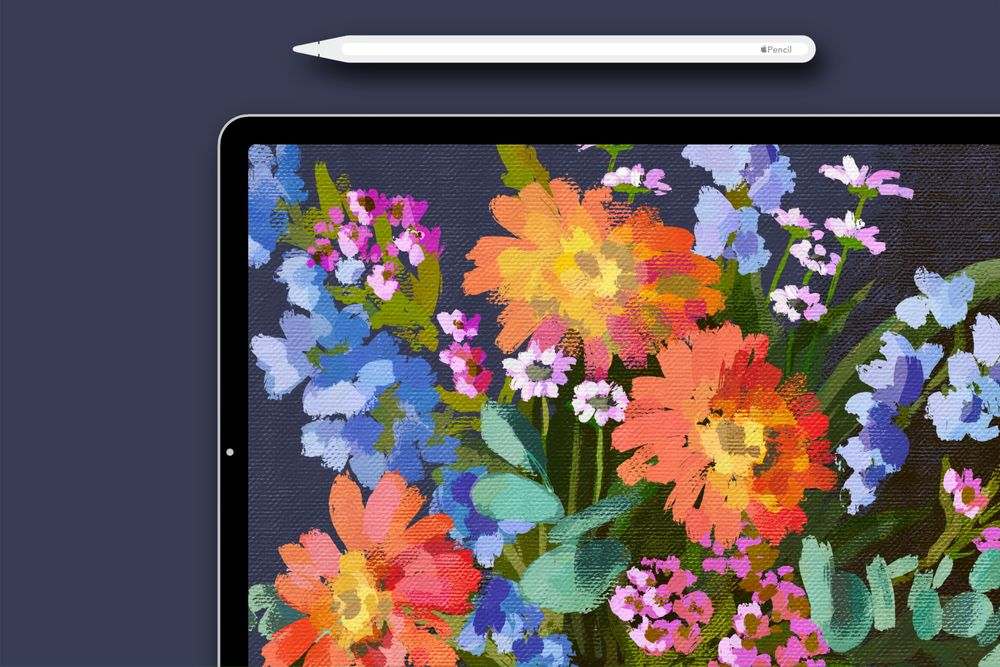 This brush pack makes it super easy to get gorgeous canvas texture in Procreate but also still keep the smudgy smooshy oilyness of a wet media brush.
Watercolor Brushes for Procreate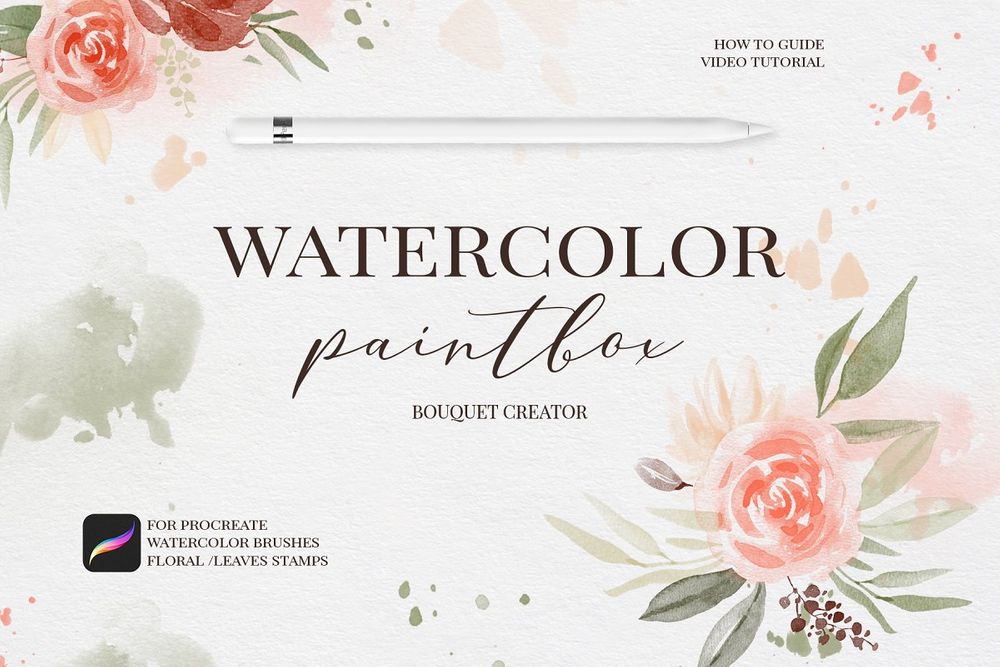 This perfect product comes with watercolor brushes, watercolor stamps, 3 paper textures that you can use as a background layer and a pre-made Procreate template.
Dual Color Brushes for Procreate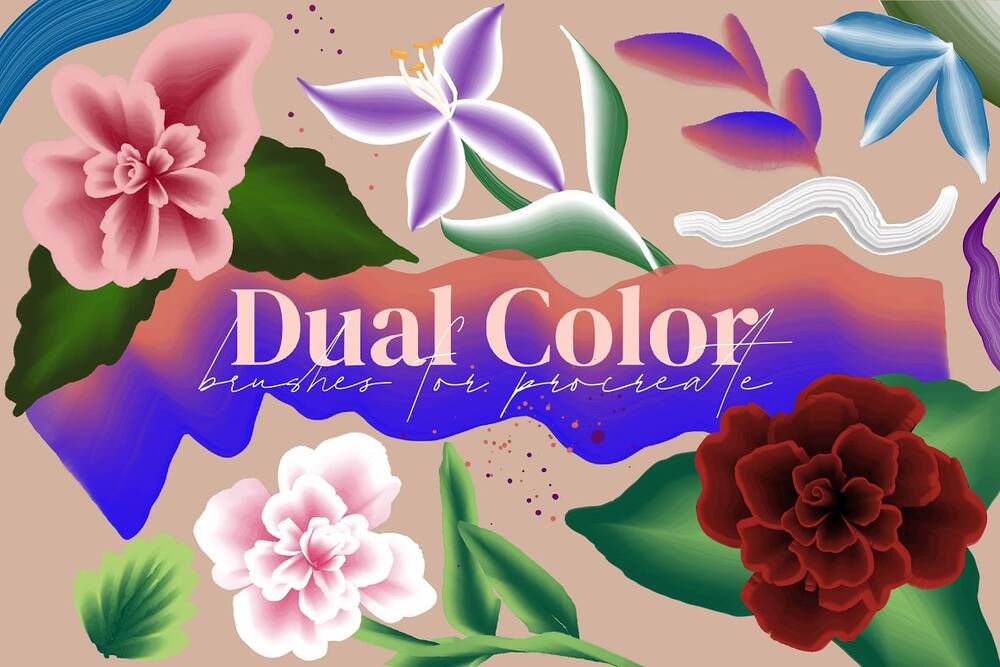 A special collection of 43 dynamic brushes which paint in two colors at the same time, enabling you to create digital one stroke style paintings right on your iPad.
Procreate Watercolor Brushes Kit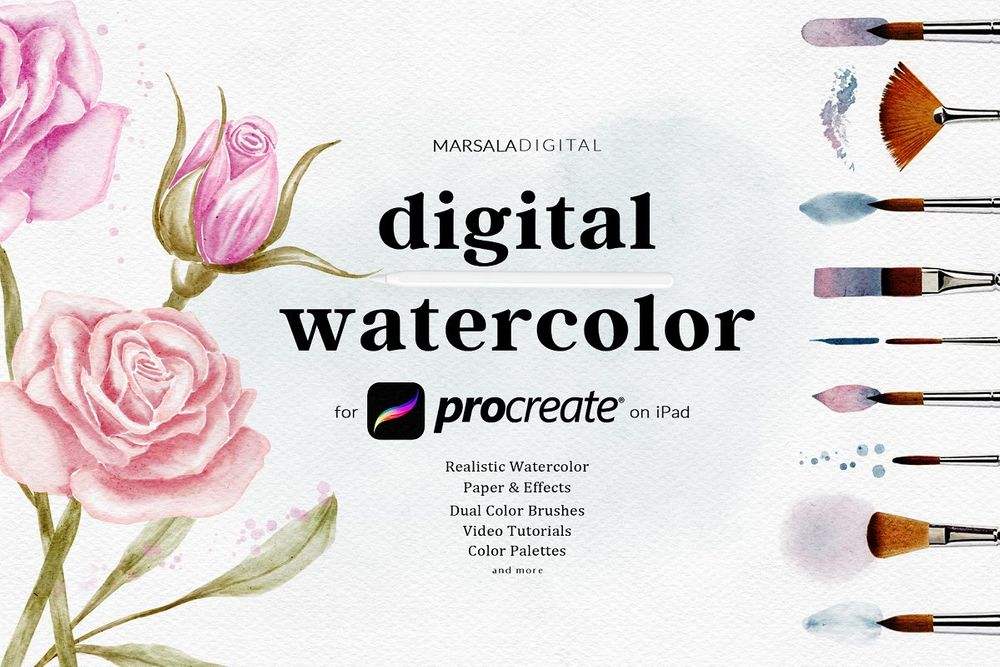 It includes carefully crafted 26 watercolor brushes, and 4 ready to use Procreate templates with paper & effects layers which allow you to create realistic watercolor paintings on your iPad.
Gouache Brushes for Procreate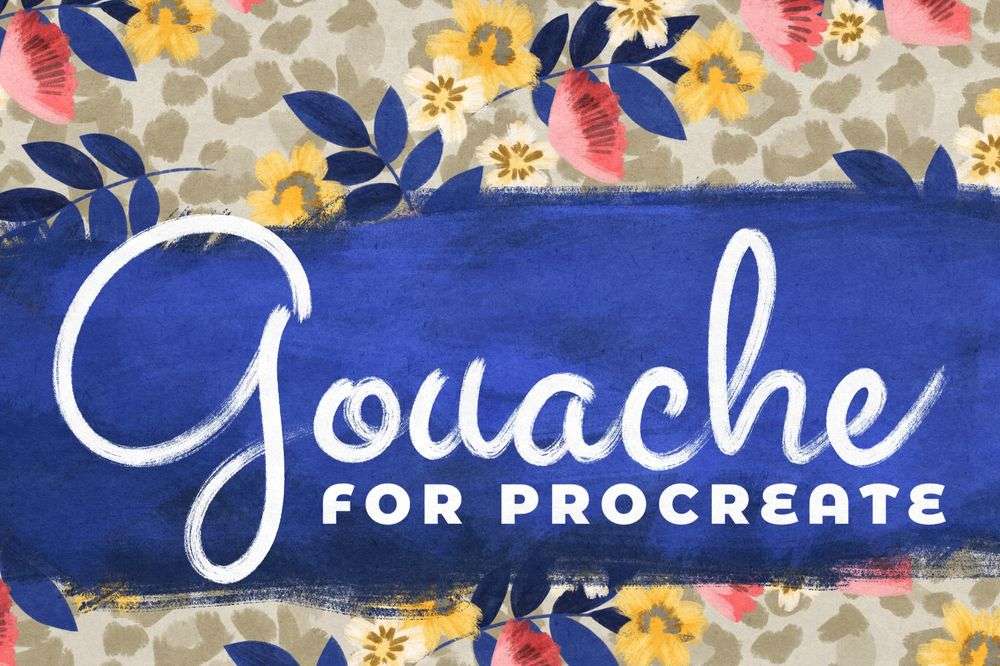 This is an an essential tool-kit of brushes which covers all your gouache needs. All these brushes mingle to their versatility and built in texture.
244 Watercolor Brushes for Procreate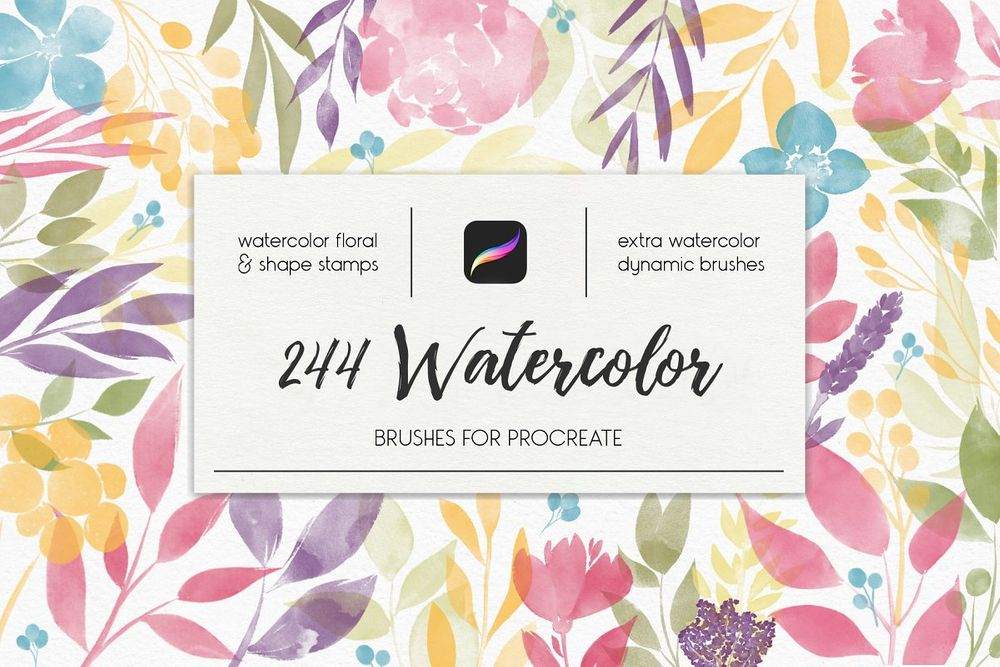 A huge pack of 244 gorgeous stamp brushes and some extra dynamic brushes for more possibilities.
Watercolor Soft Box – Procreate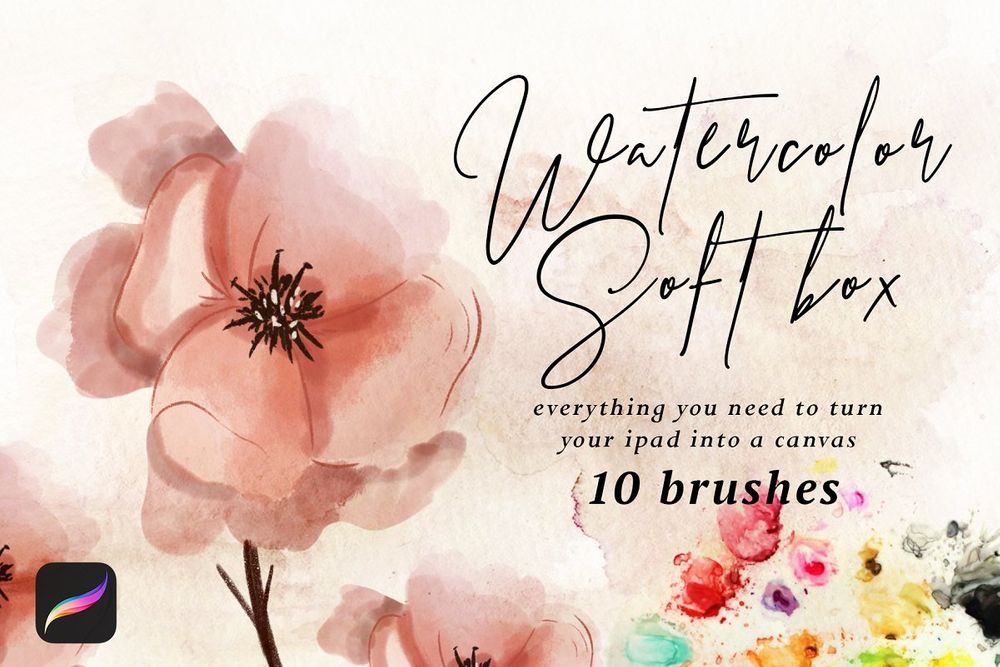 The most amazing Procreate watercolor set includes 10 brushes to make your designs more attractive.
Procreate Watercolor Kit
17 realistic watercolor Procreate brushes with paper textures, whose layers are organized in a certain way so that you can easily create the most realistic watercolor pictures.
Procreate Flowers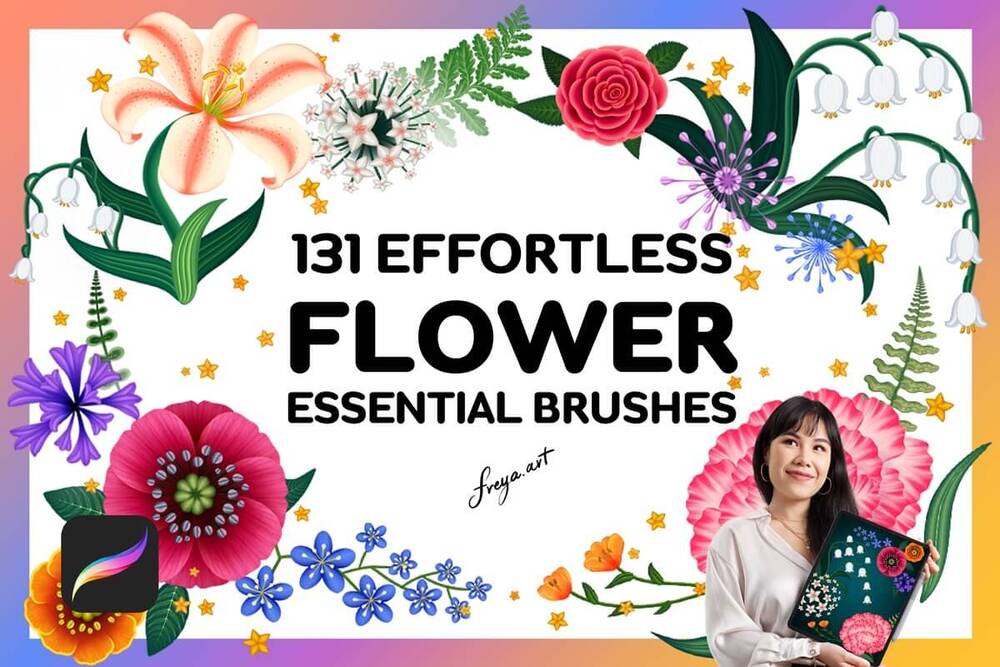 Set of 131 different effortless flower brushes for Procreate. Wasy to use in your iPad.
Floral Procreate Stamp Brushes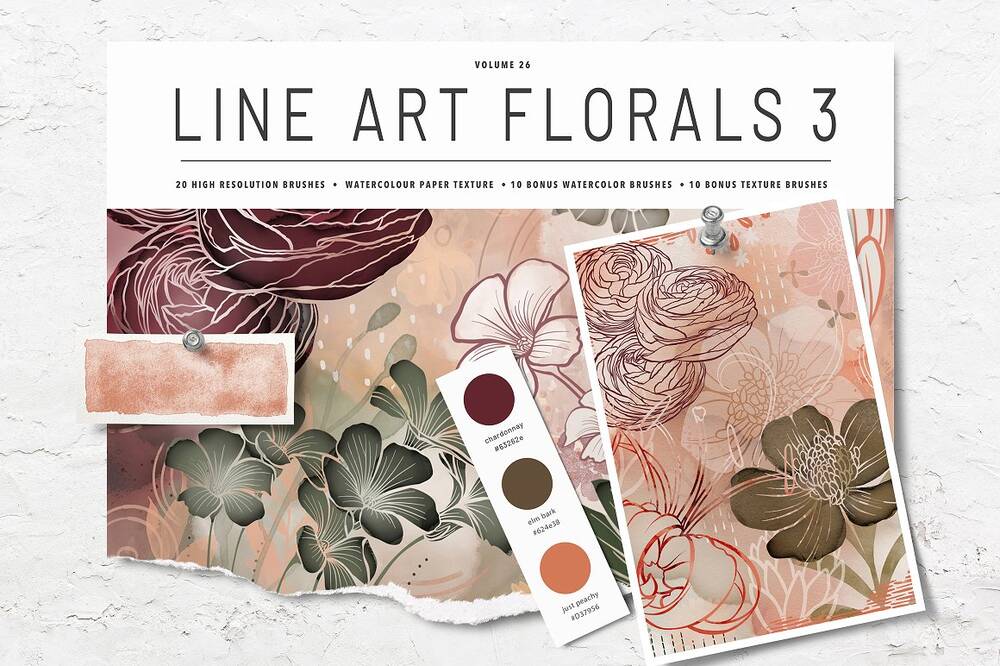 26 line art floral Procreate stamp brushes, a collection of line art-inspired floral illustrations made specifically for Procreate on the iPad.
Flowers Procreate Brush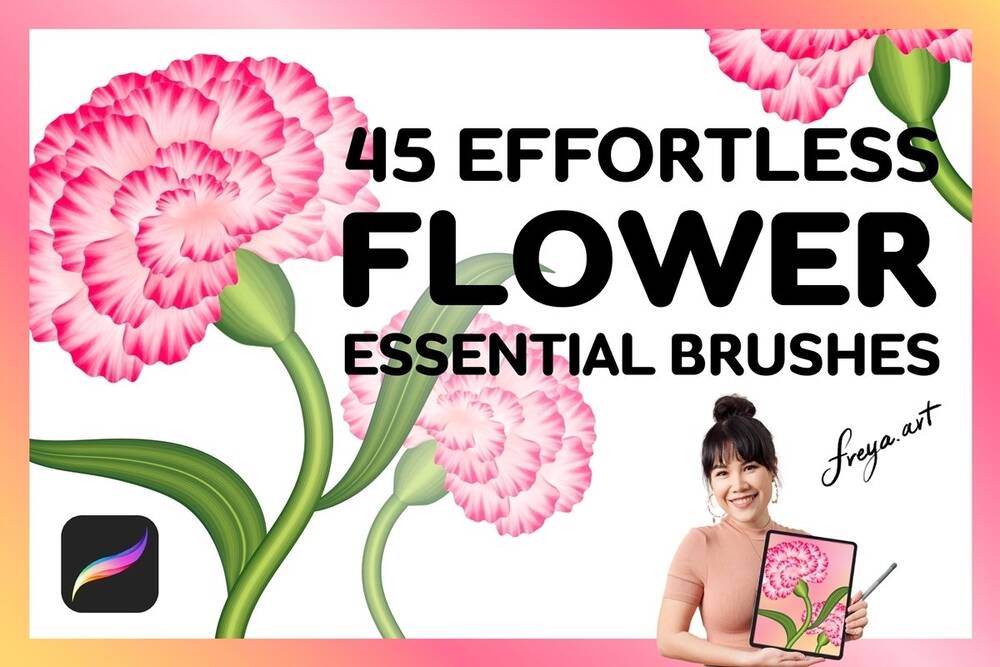 Set of 45 different effortless flower essential brushes for Procreate. Easy to use in iPad.
Flower Touch Procreate Brushes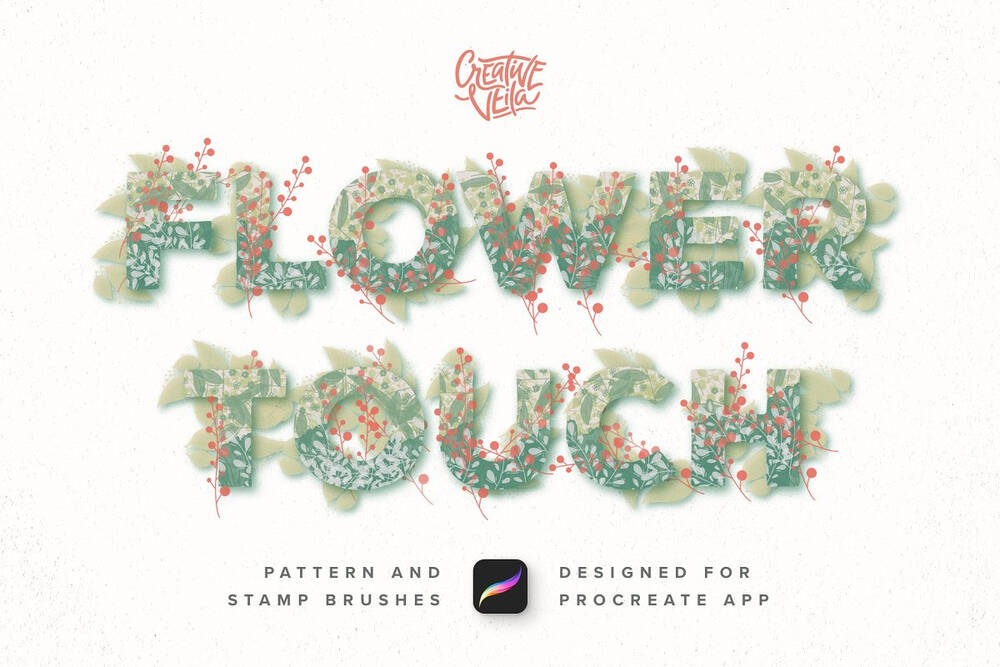 Joyful set of over 100 pattern floral brushes spreading the stream of leaves and flowers from under your Apple Pencil
10 Flower Stamps for Procreate
10 magnificent flower brushes for Procreate that is very easy to use in your iPad.
10 Flower Stamps for Procreate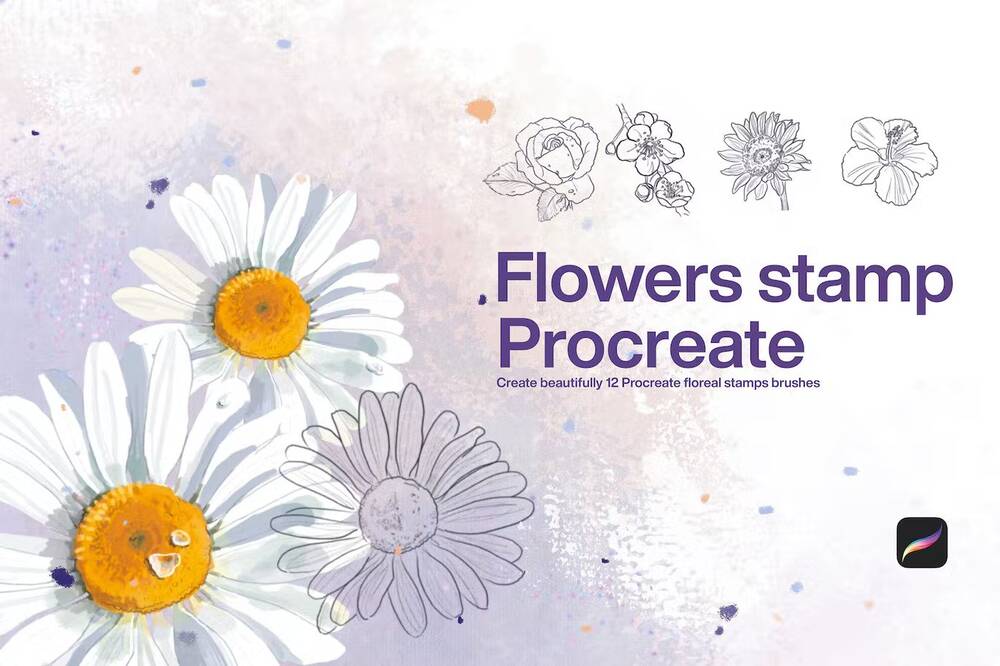 10 flowers emotion stamps for Procreate are great tools to craft flowers. Use your Ipad as you would paint with flowers stamps.
Procreate Blossor Line Art Brushes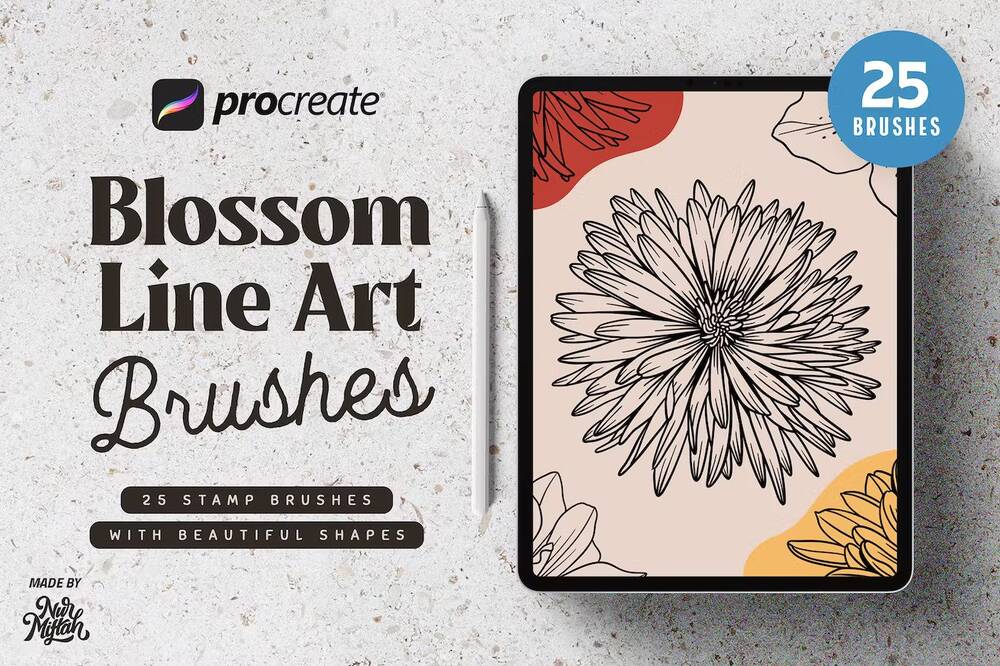 This product has 25 stamp Procreate brushes with beautiful shapes. Easy to use in your iPad.
Floral Alphabet Procreate Stamp Brushes
26 Stamp Brushes for Procreate (floral alphabet A-Z). Easy to use in your iPad.
Leafly – Procreate Stamp Brush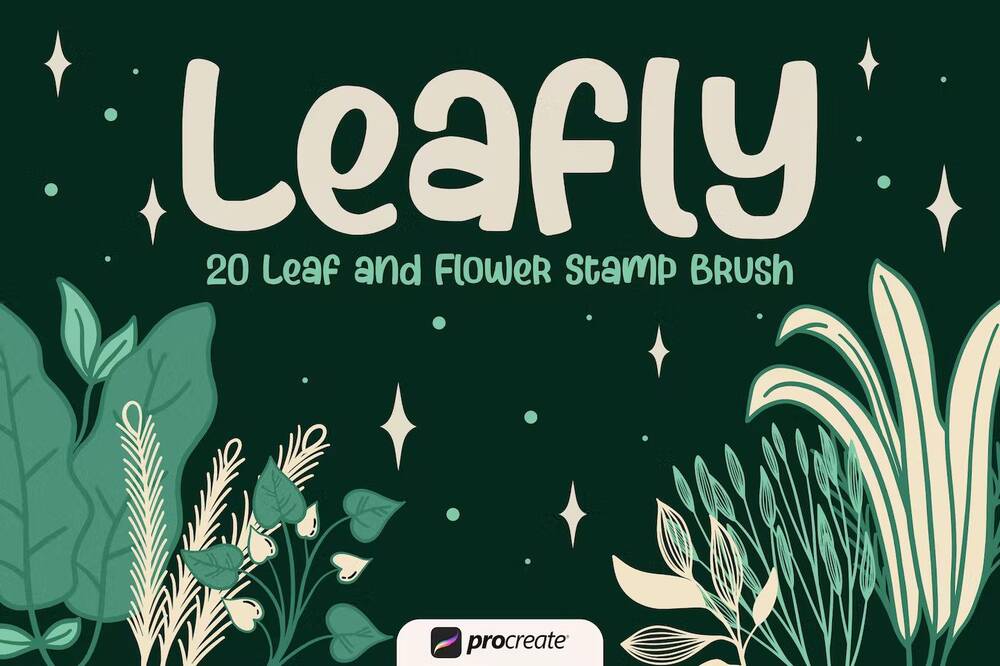 There are 20 leaf stamp brushes for Procreate, which can be used by anyone who wants to create patterns, illustrations, and additional design assets.
Procreate Flower Stamp Brushes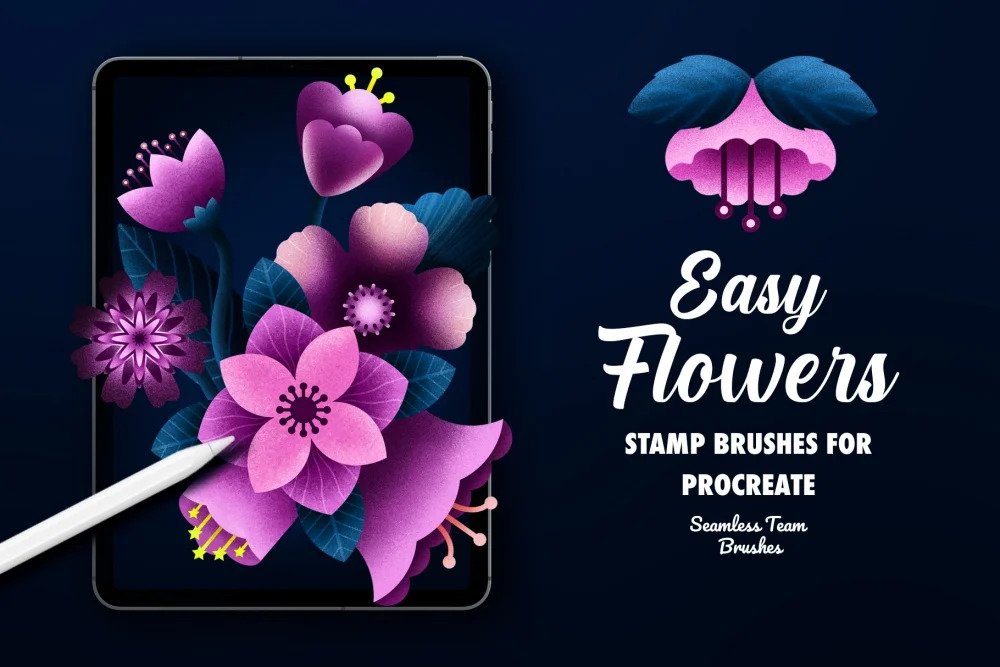 Collection of 125 simple and beautiful stamps for Procreate. Create hundreds of flower combinations by mixing together different flower parts.
Procreate Watercolor Flowers Stamps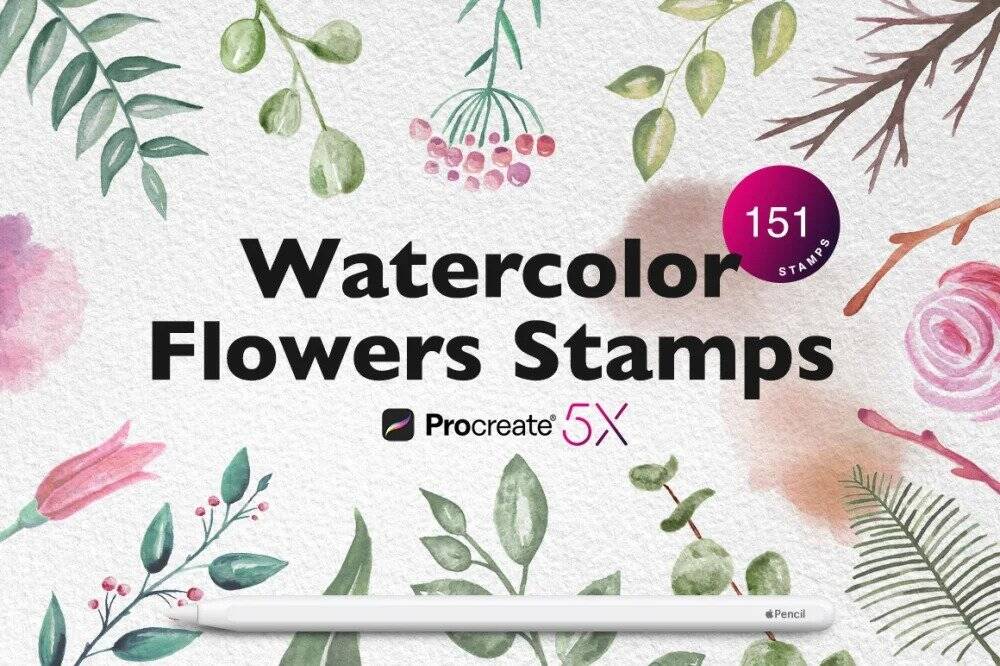 This pack includes 151 high quality hand painted floral and foliage stamp brushes for the Procreate app.
Garden Flowers Brush Kit – Procreate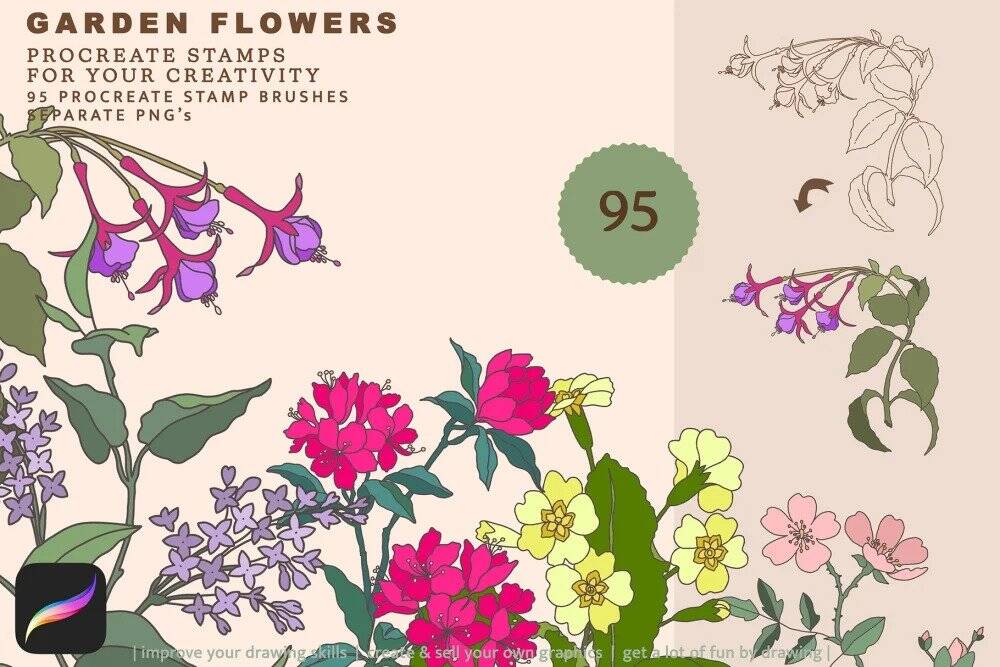 This set consists of over 90 beautiful floral shapes: perfection is not required, pick from the many shapes as your guide, add a new layer and start drawing.
Procreate Stamp Flowers Brush Set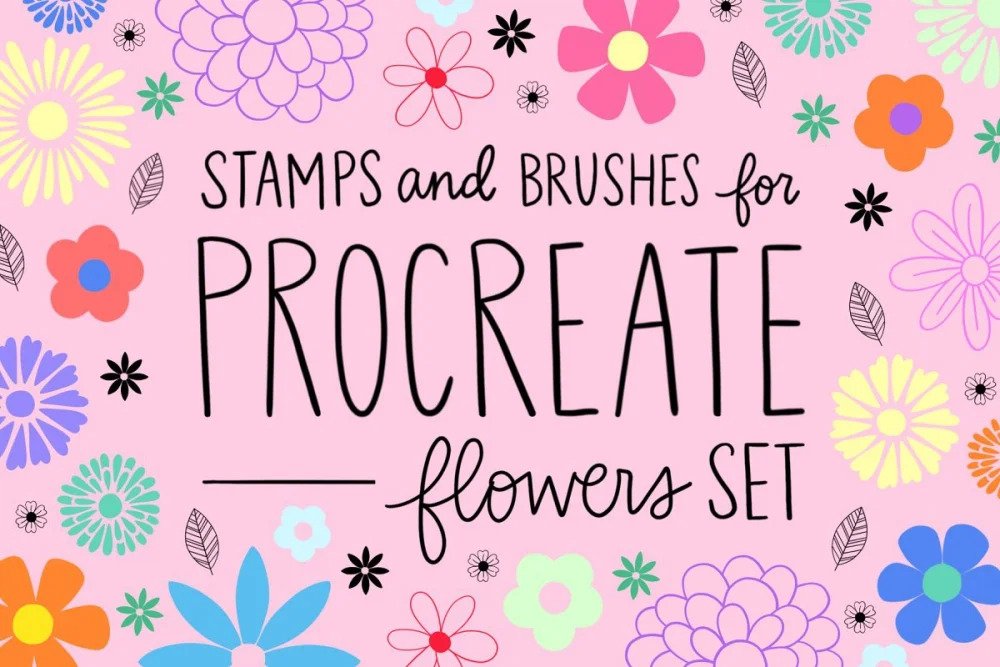 The flower set stamp/brush collection includes 36 Procreate stamps and brushes featuring Dani's popular illustration style for use in all of your Procreate work.
Folk Art Floral Procreate Brush Kit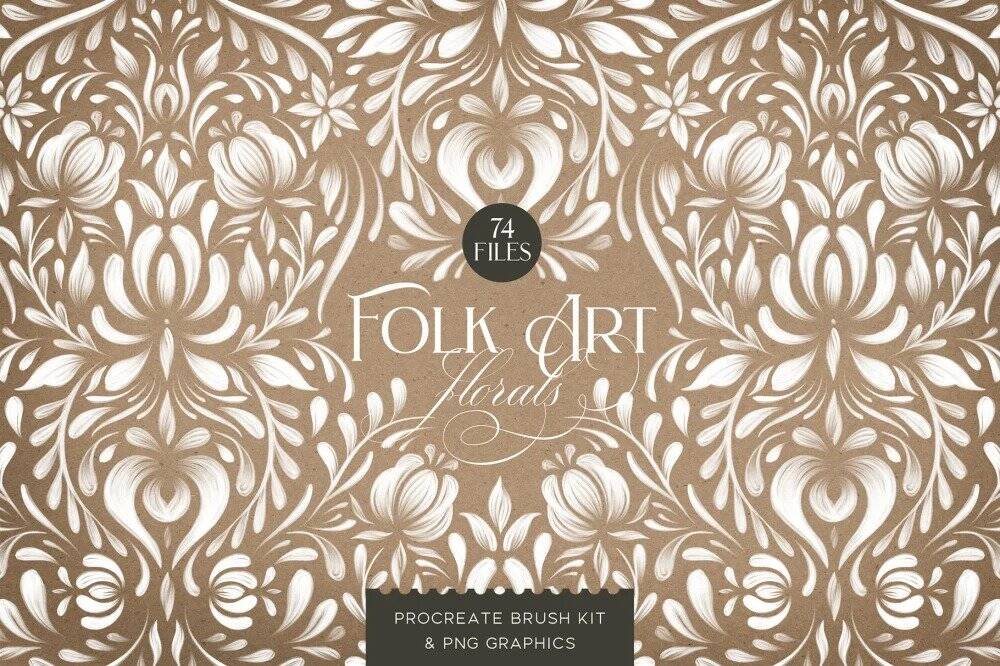 Procreate is such a great design tool, and this large kit includes stamp brushes of flowers, leaves, stems, swooshes, and premade motifs as well as 4 seamless pattern brushes.
Floral Fusion Procreate Brush Stamps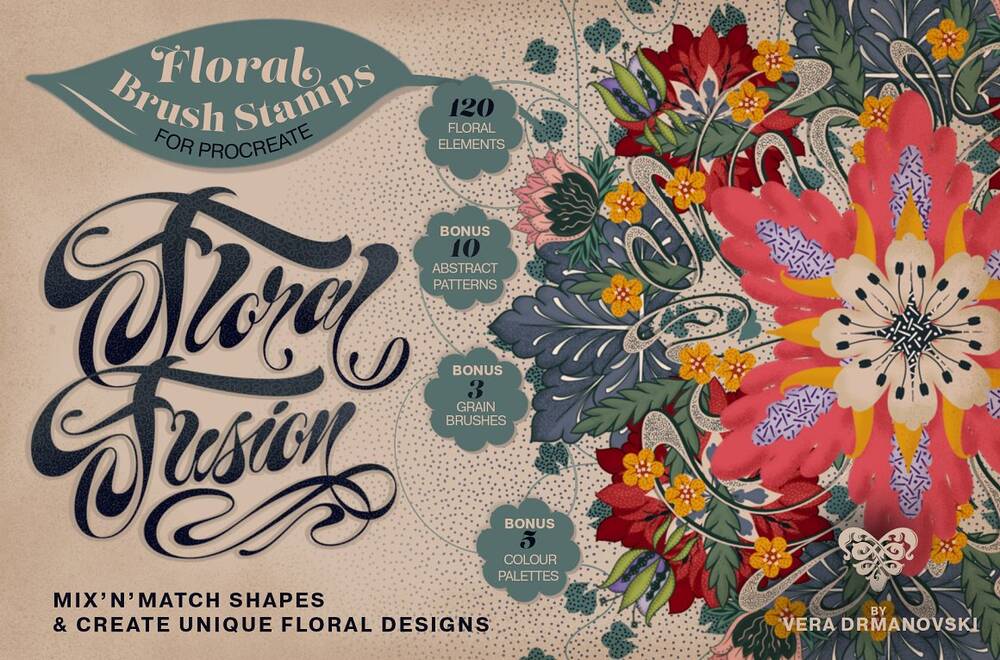 It is a set of 120 floral shapes that can be mixed and matched to create unique floral designs. These brush stamps are very unique because they are fueled by your creativity; your imagination is the key!
Watercolor Flowers Procreate Creator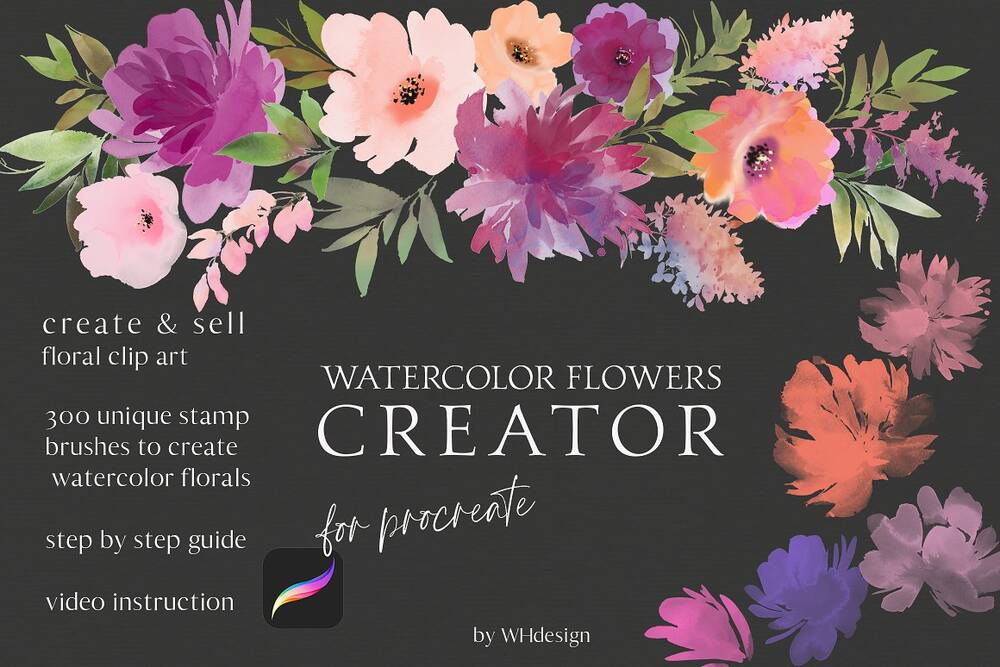 300 florals stamp brushes to create unique floral elements and arrangements in Procreate. It is allowed to create florals with these brushes and sell as clipart as long as you use two and more brushes for each elements.
Watercolor Flowers Creator for Procreate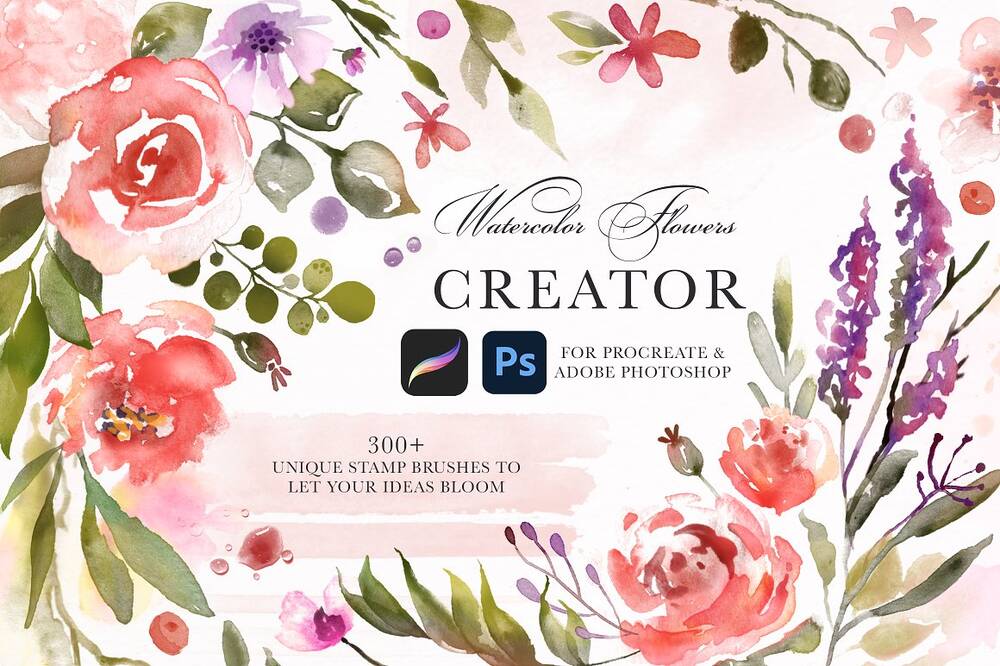 It's fun and easy. Just combine some brushes together. Create your own unique watercolor floral illustrations, for yourself or for sale. Available for Procreate app and Photoshop.
Flower Bouquet Brush Stamp for Procreate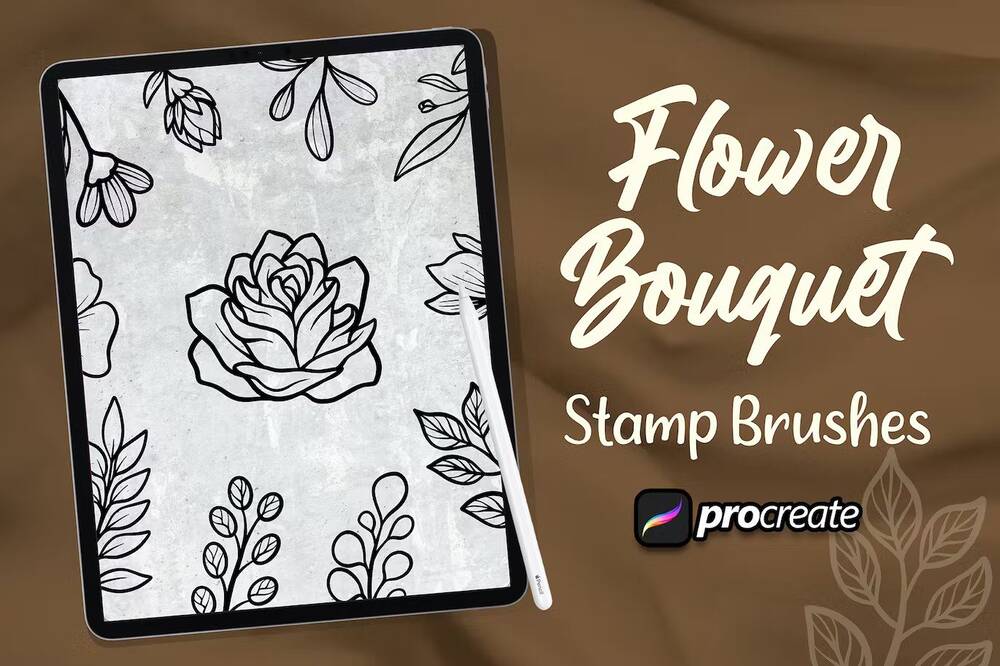 In this Procreate brushes package you will find everything you need – for example, making logos, illustrations, or special backgrounds. Using a brush is very simple!
Procreate Florally Line Art Brushes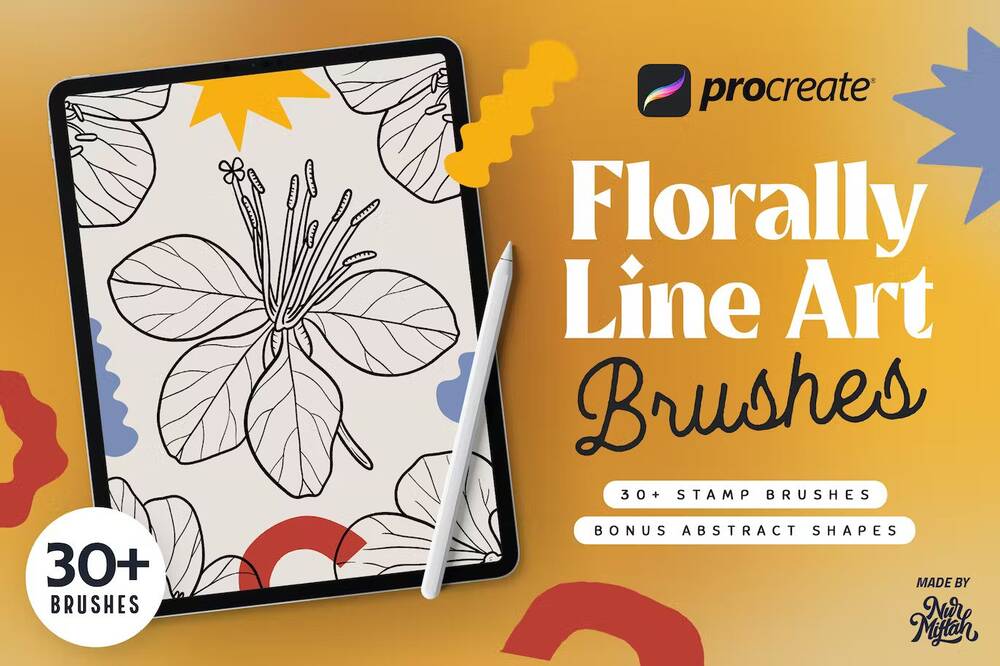 This product has 30+ stamp brushes with beautiful shapes with bonus abstract shapes. Can be used for wall art, logo designs, fashion designs, or to complement your other design needs.
Free Aquarelle Watercolor Procreate Brushes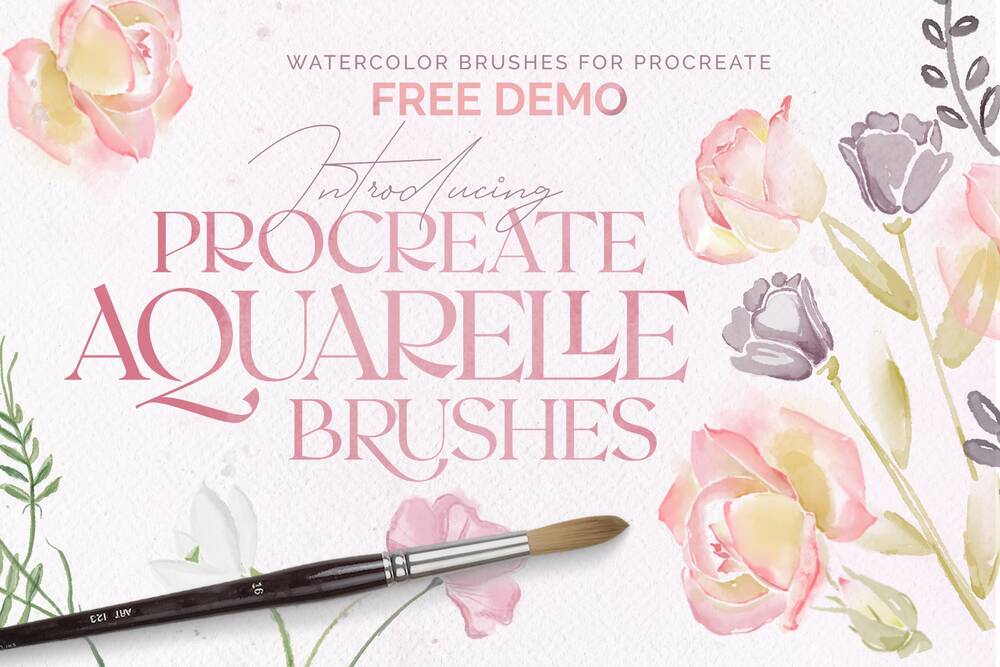 A free version of aquarelle watercolor brush set for Procreate featuring 16 realistic texture brushes, perfect for illustrations for kids, watercolor-style illustrations, Japan-style and realistic projects.
Flower Tools Brush Box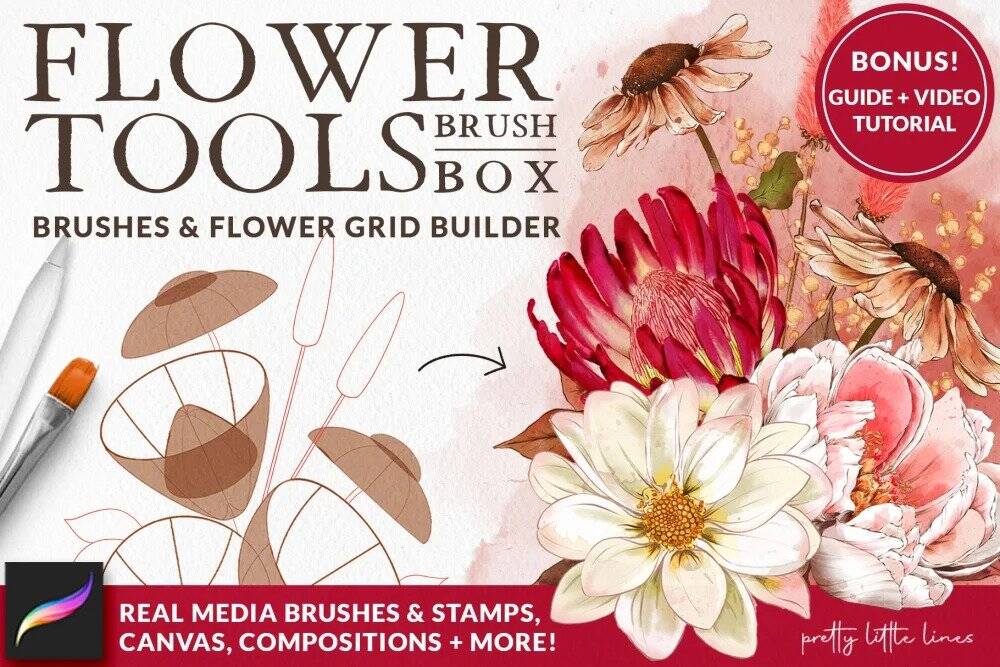 Create stunning flowers by using this Procreate tools brush box and bring to the life the most attractive artworks. Easy to use with your iPad.
Image credit: freepik.com