Choosing a color scheme and style for your wedding invitation is a huge challenge as it involves many different aspects from the decoration to the youngest favorite attributes. Needless to say, you need to think carefully and plan ahead when choosing a wedding color scheme and style. We'll help you make the right decision.
In this post, we have gathered a touch of some trendiest and prettiest wedding color schemesand styles that are quite popular right now in the industry. These color subtles are perfect for designing invitations and all wedding stationery. As well as for all other aspects of your one of the most special event in the life.

We have added an examples of each color scheme and style. You can click on image to download these example templates to quickly make a beautiful wedding invitations just the way you are looking for.
1. Floral Greenery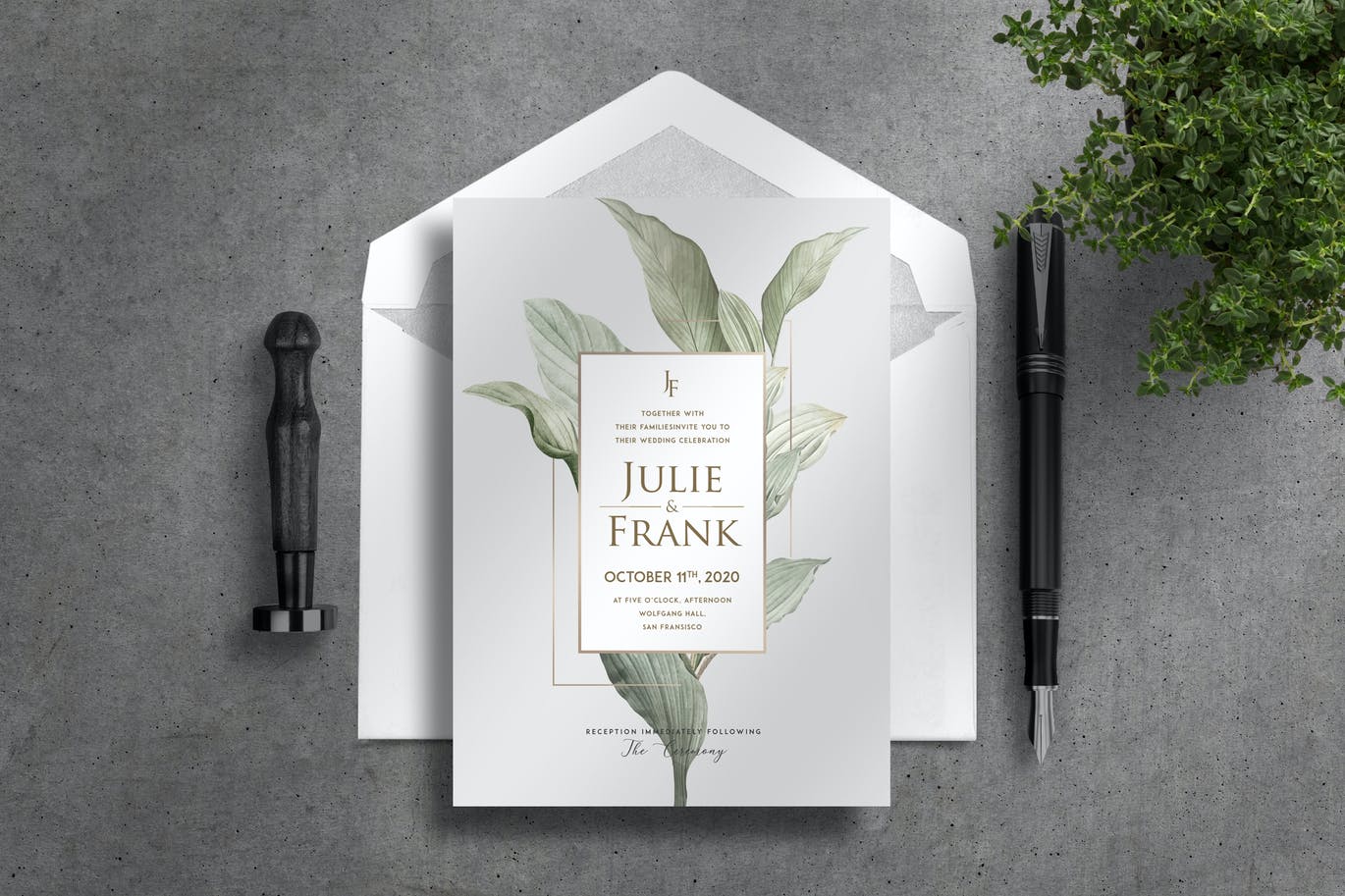 An awesome green color means peace and calm, so why therefore of the wedding planners choice this color scheme for invitation cards. Also you can get a lot of designs in this style, so it is more simplier to get needed atributs for such an event.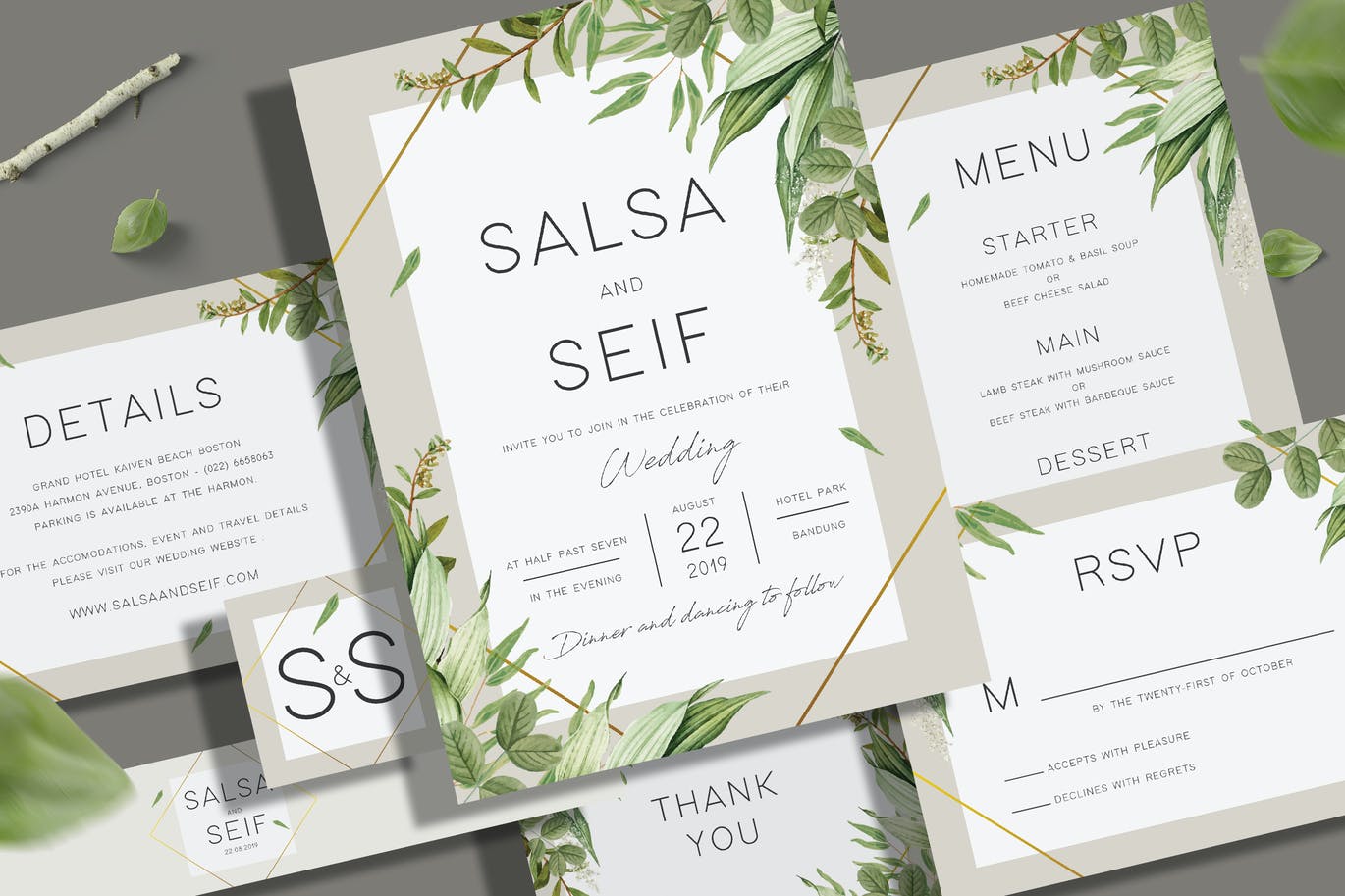 While this color scheme is perfect for all aspects of the wedding needs is some there are a lot of things that don't work, let's say when a wedding takes place in the winter. Whether you're planning an outdoor wedding or a refened hotel venue, the floral greenery theme will fit right in with any environment.
2. Pastel Pink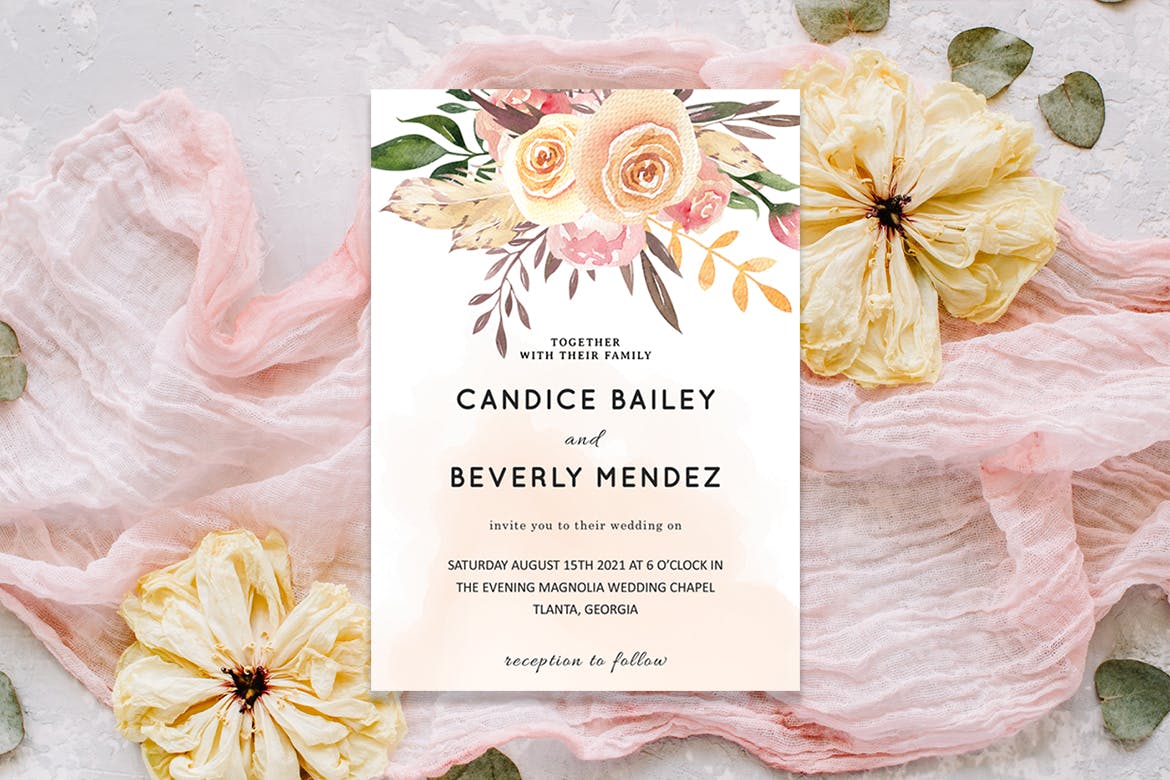 The pastel pink color will take the wedding event to a tale of dreams and beautiful wishes, which can end only positively and provide guests with a casual atmosphere. This color scheme is suitable for invitations without a doubt, just a fabulous color.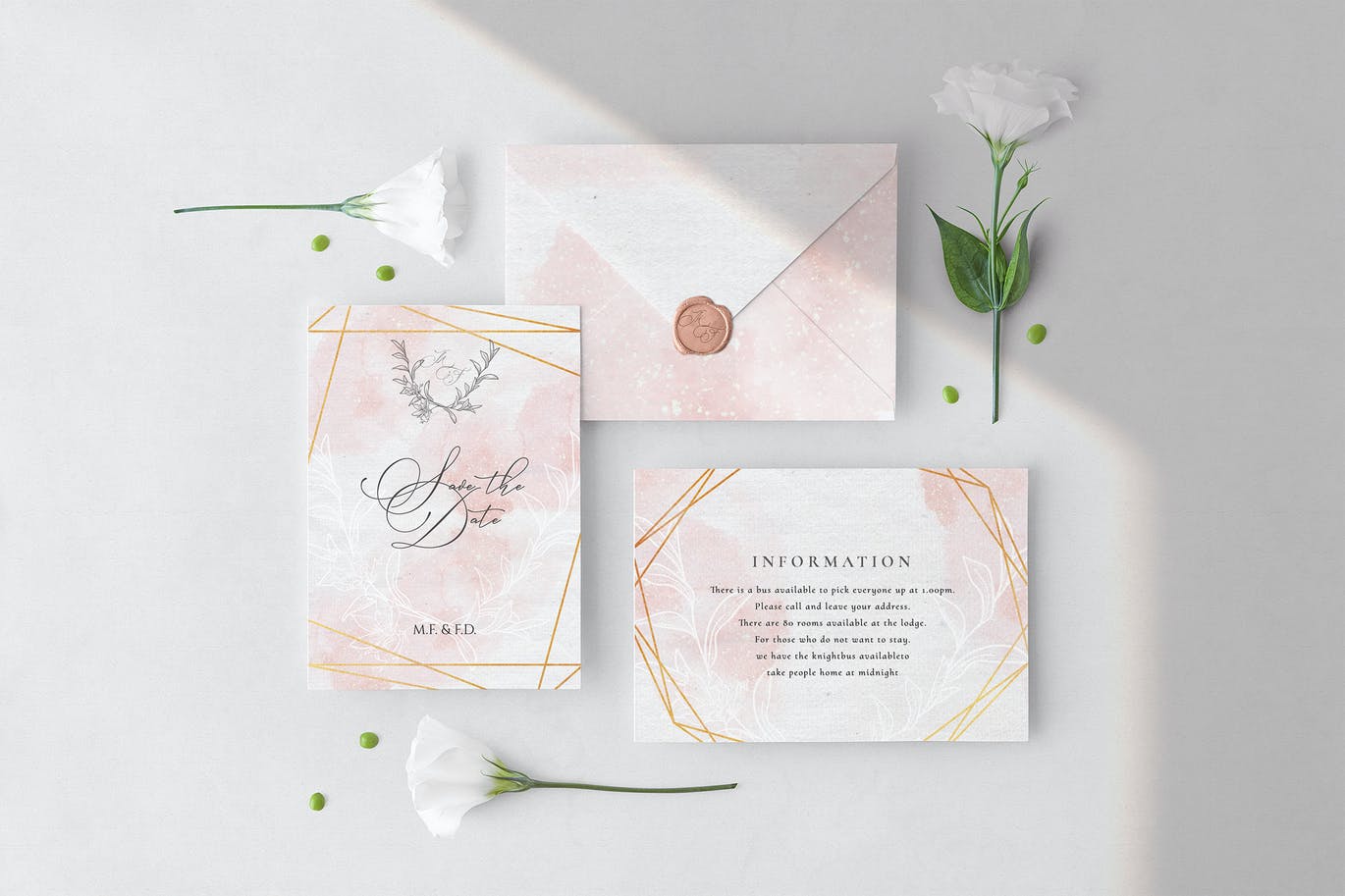 Pastel pink wedding invitations looks more elegant especially when you add decorative elements to the design. This color working in any time of the year and can be a perfect choice to integrate in a whole wedding decoration needs.
3. Art Deco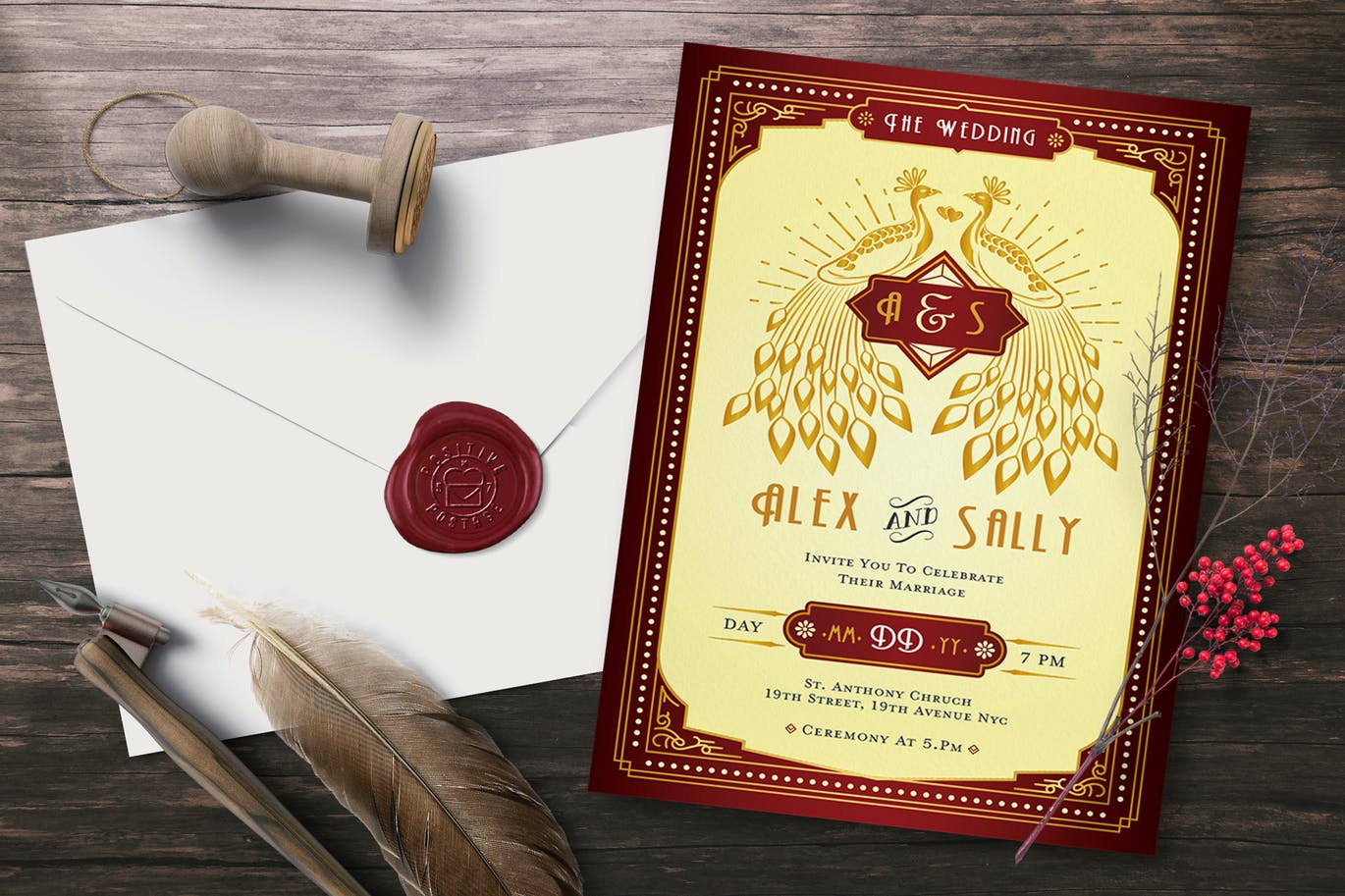 If your wedding celebration is exceptional let's say very luxurious, then art deco style invitations are just a must. The way Art Deco adds a certain extravagance to the overall look of the design is what makes it effective for wedding invitations.
The main element of Art Deco is that it can be tamed with different color combinations. If the text is golden, the whole can be black, dark gray, blue, red, or even just white.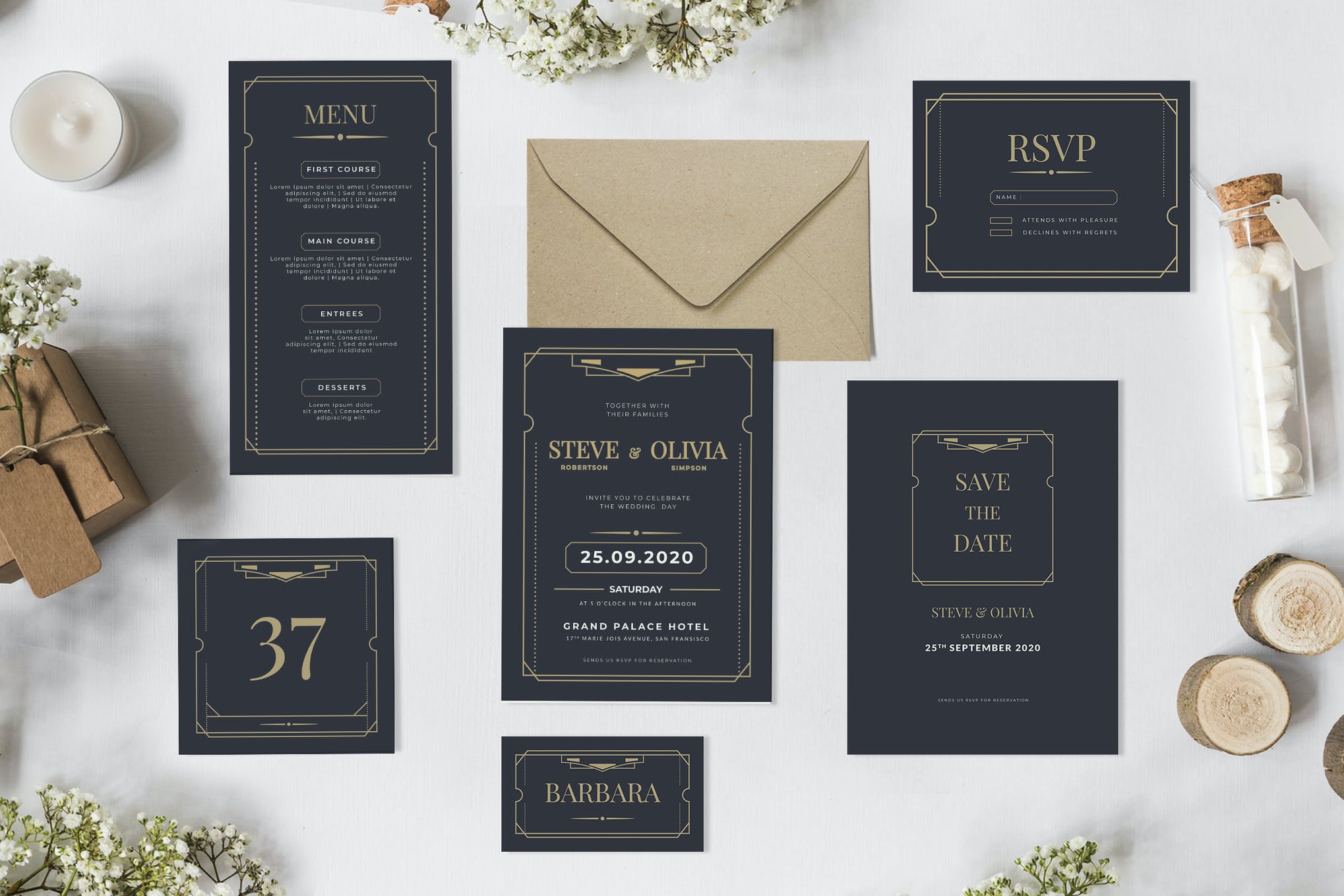 Of course, to use Art Deco style, you need to like it, because if you are younger, then choose something more modern without any scruples.
4. Navy Blue and Gold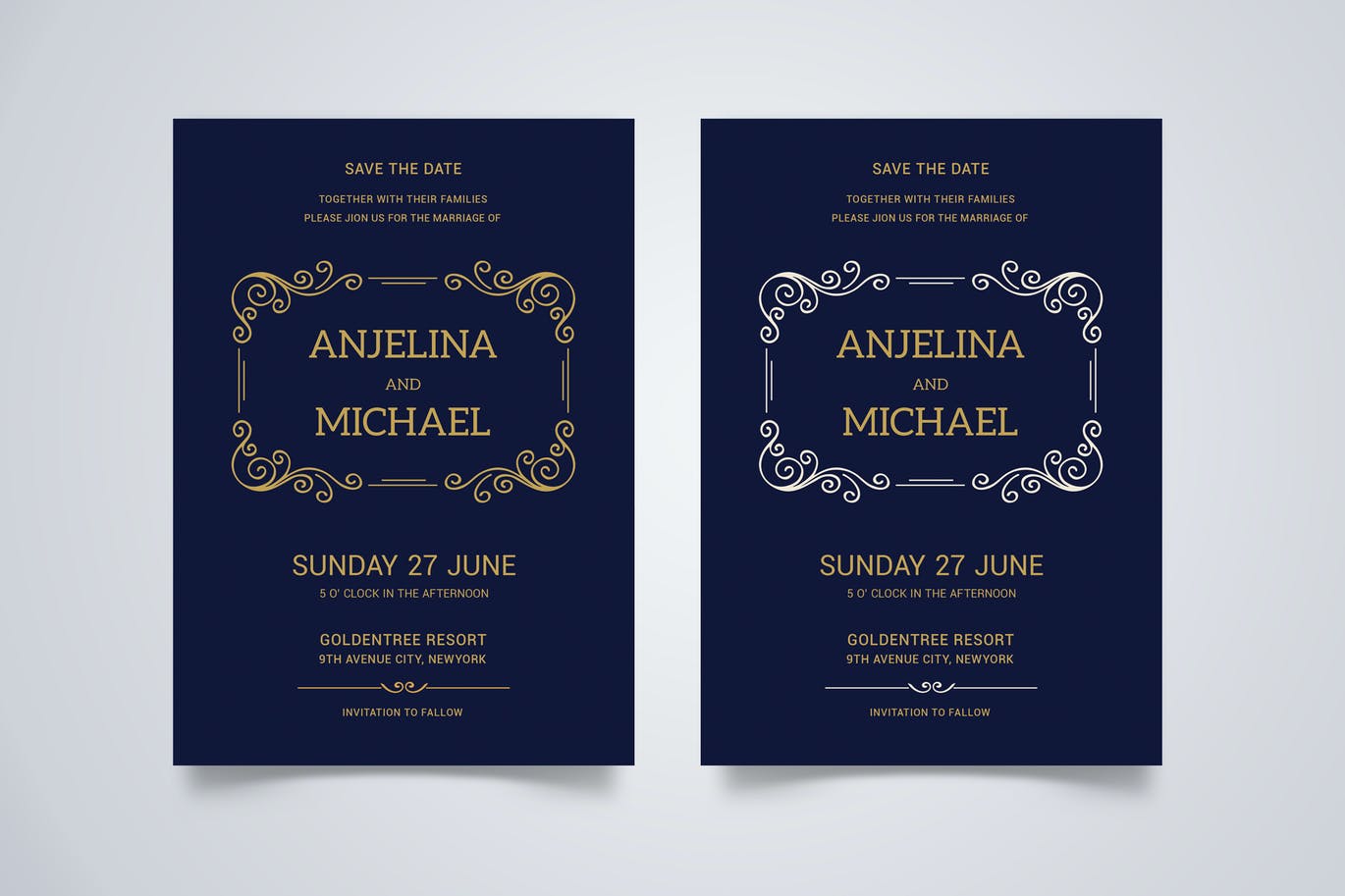 When choosing a style similar to Art Deco, don't miss the opportunity to look at the combination of Navy Blue and Gold. It's an eye-catching duo that leaves no ebony and a very appropriate style if your wedding is planned by the sea.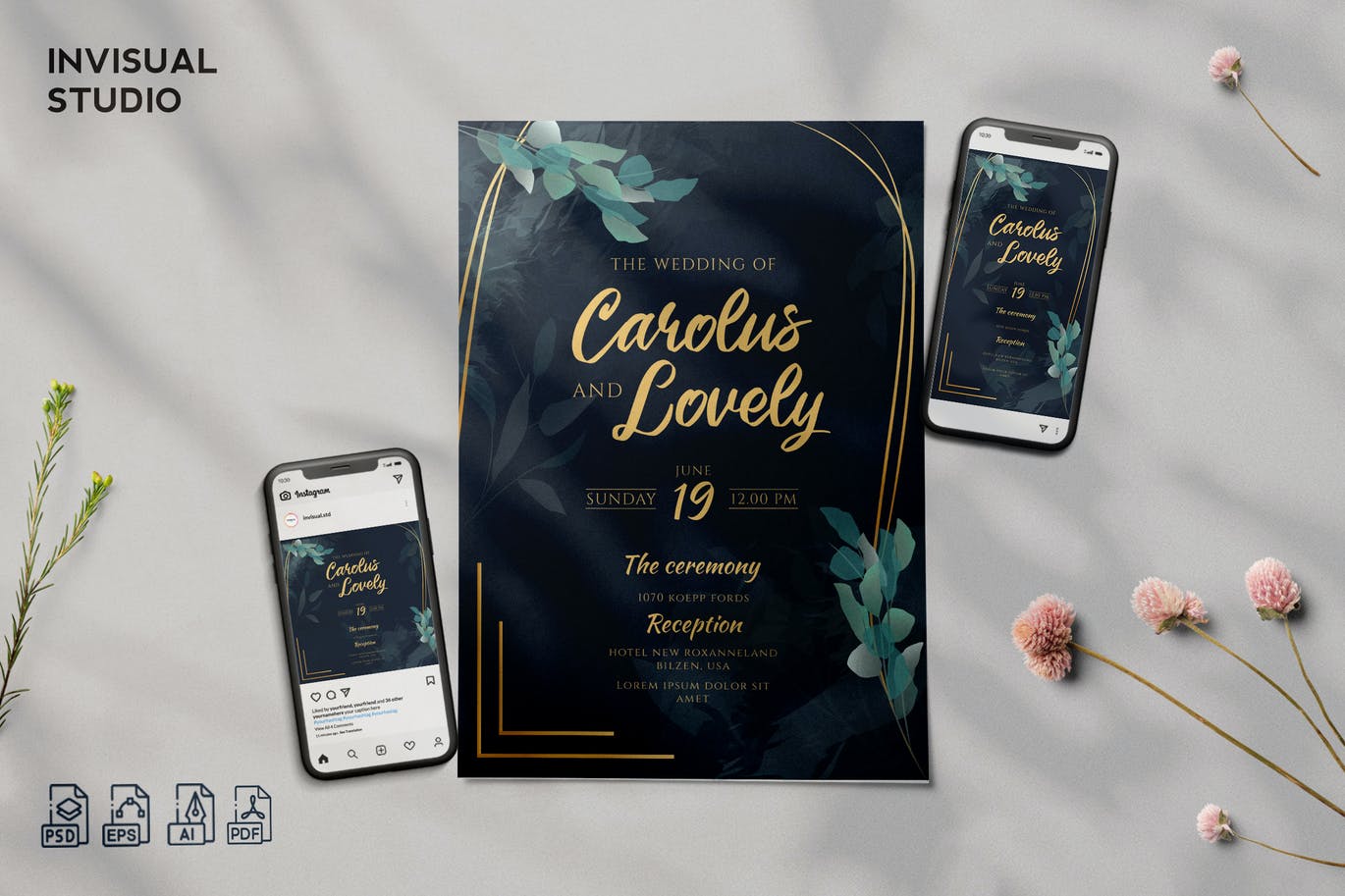 This color theme is also very suitable for a minimalist wedding style it doing wonders to make your designs look more in sync with all the other decorations and arrangements.
5. Watercolor Palette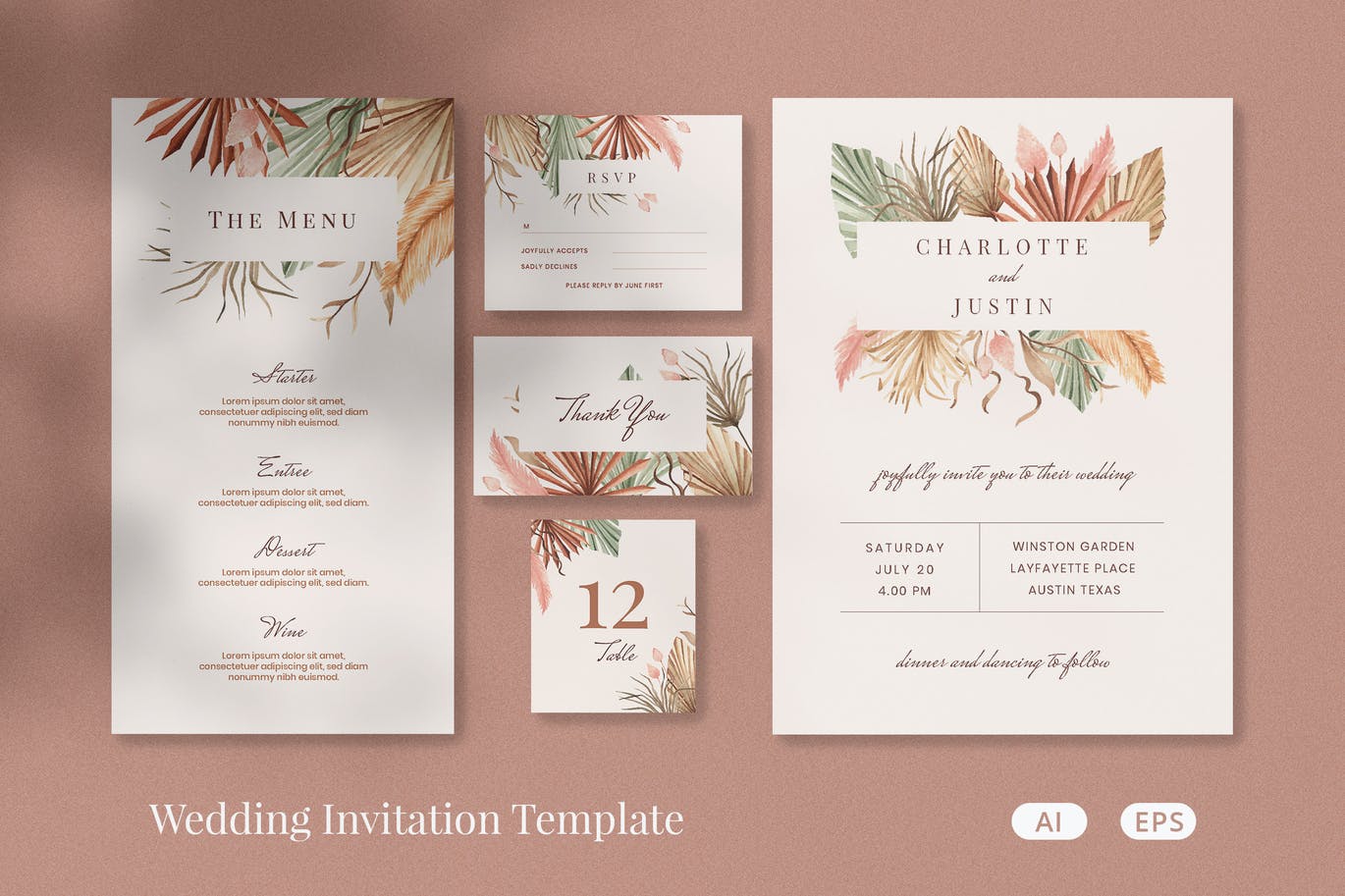 You won't find levels in this color and style combination because the Watercolor style is truly exclusive and eye-catching. Your invitation will not be boring and will express your beauty qualities without any reservations. We highly recommend using this style as it is a vivid art.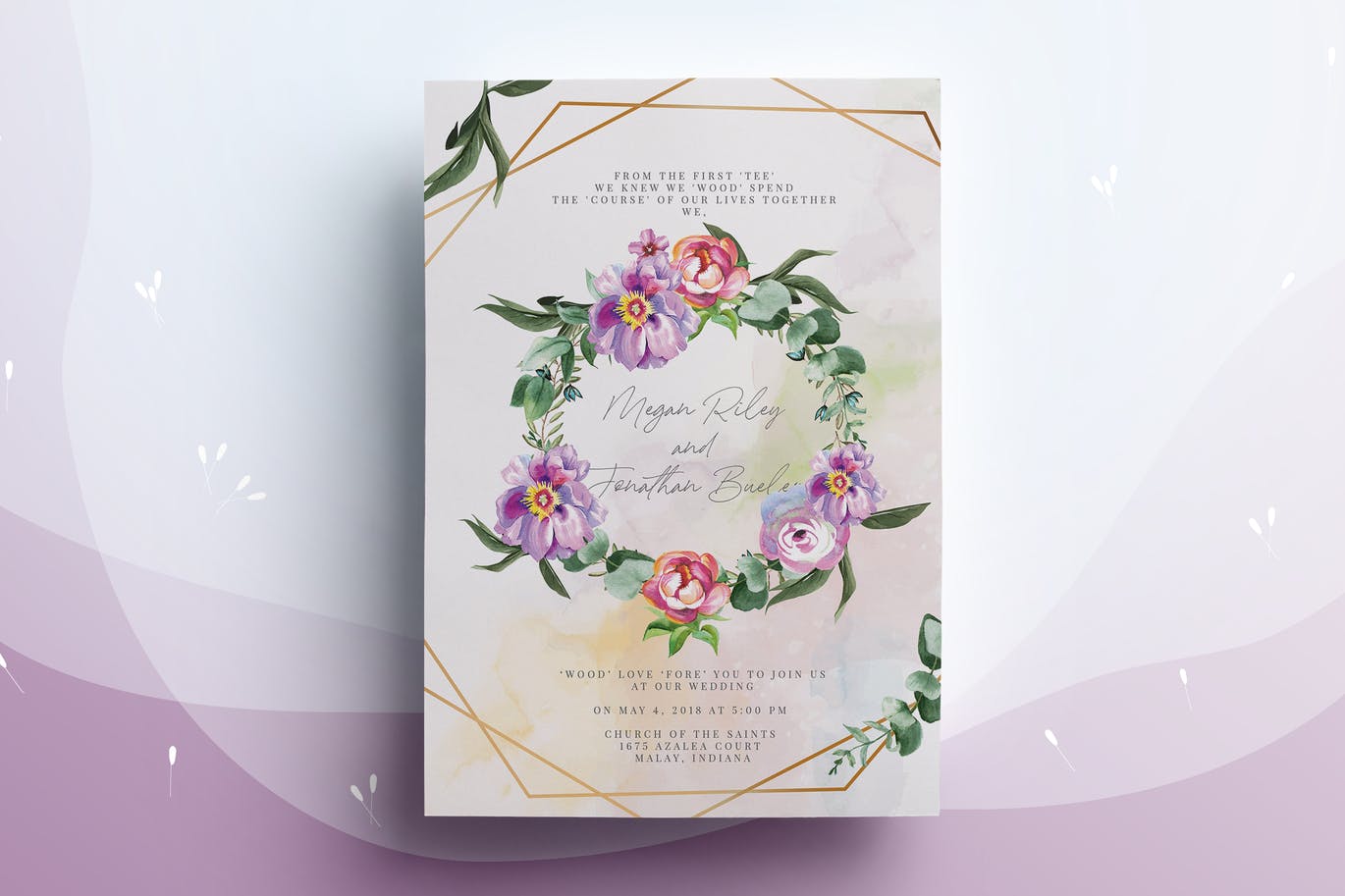 Selection of watercolor style it will also give you more room to choose different shades to not only design your invitations and cards but also more choices for floral arrangements and decorations.
6. Green and Ivory
This cozy color combination will suit any envirnment and will give charm to your wedding invitation. The green color will be very suitable if the event takes place in the summer or fall. Various combinations of flowers or foliage will fit this palette.
7. White and Gold
This is a classic style that is suitable for any time and most often when choosing wedding invitations. It is an elegant and innovative color combination that does not leave you indifferent and if you choose these colors you will definitely not be mistaken. And modern and classic in one.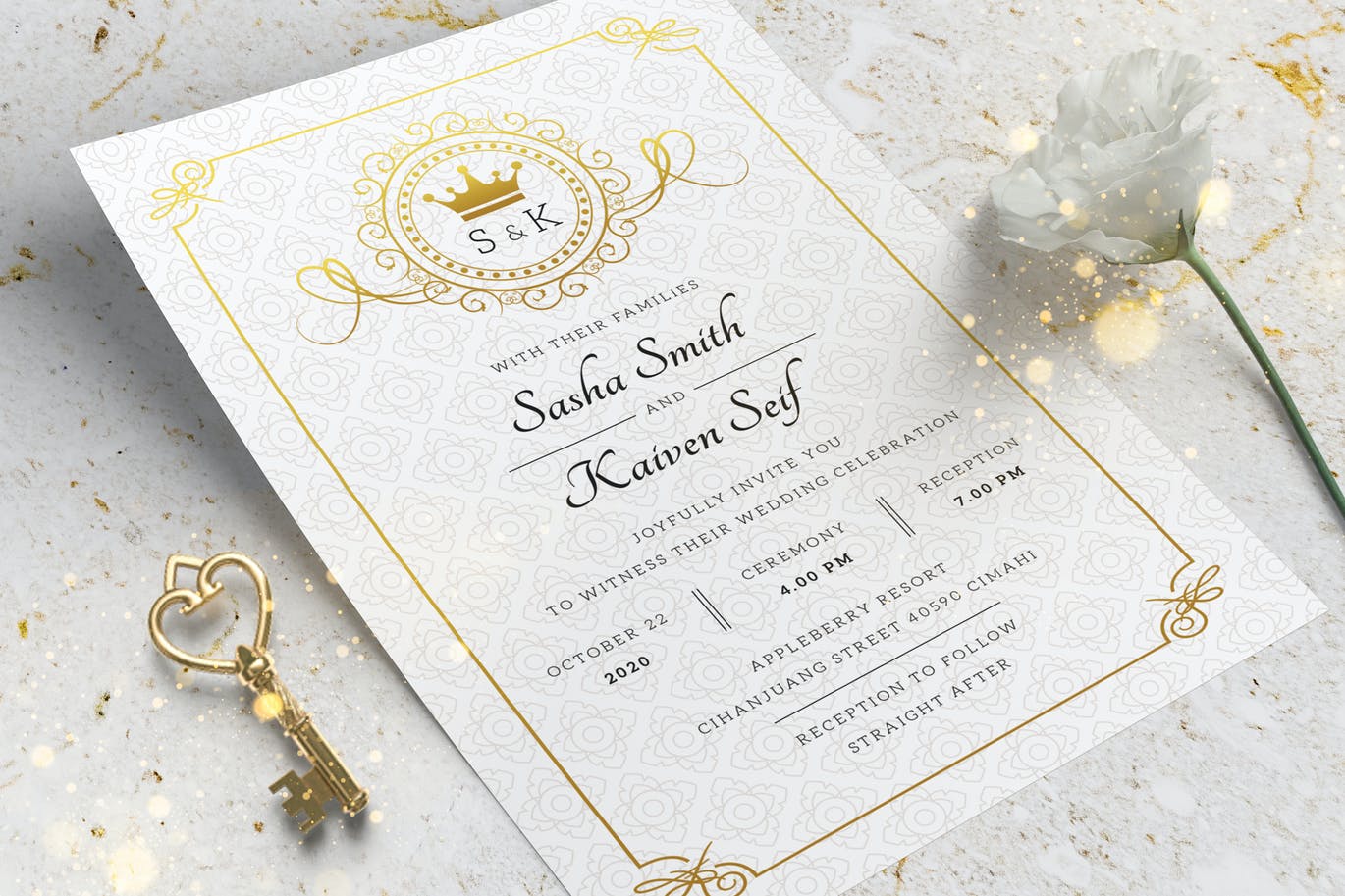 If you choose the right fonts and a few expressive attributes, then these invitations can serve your modern wedding.
8. Rose and Gold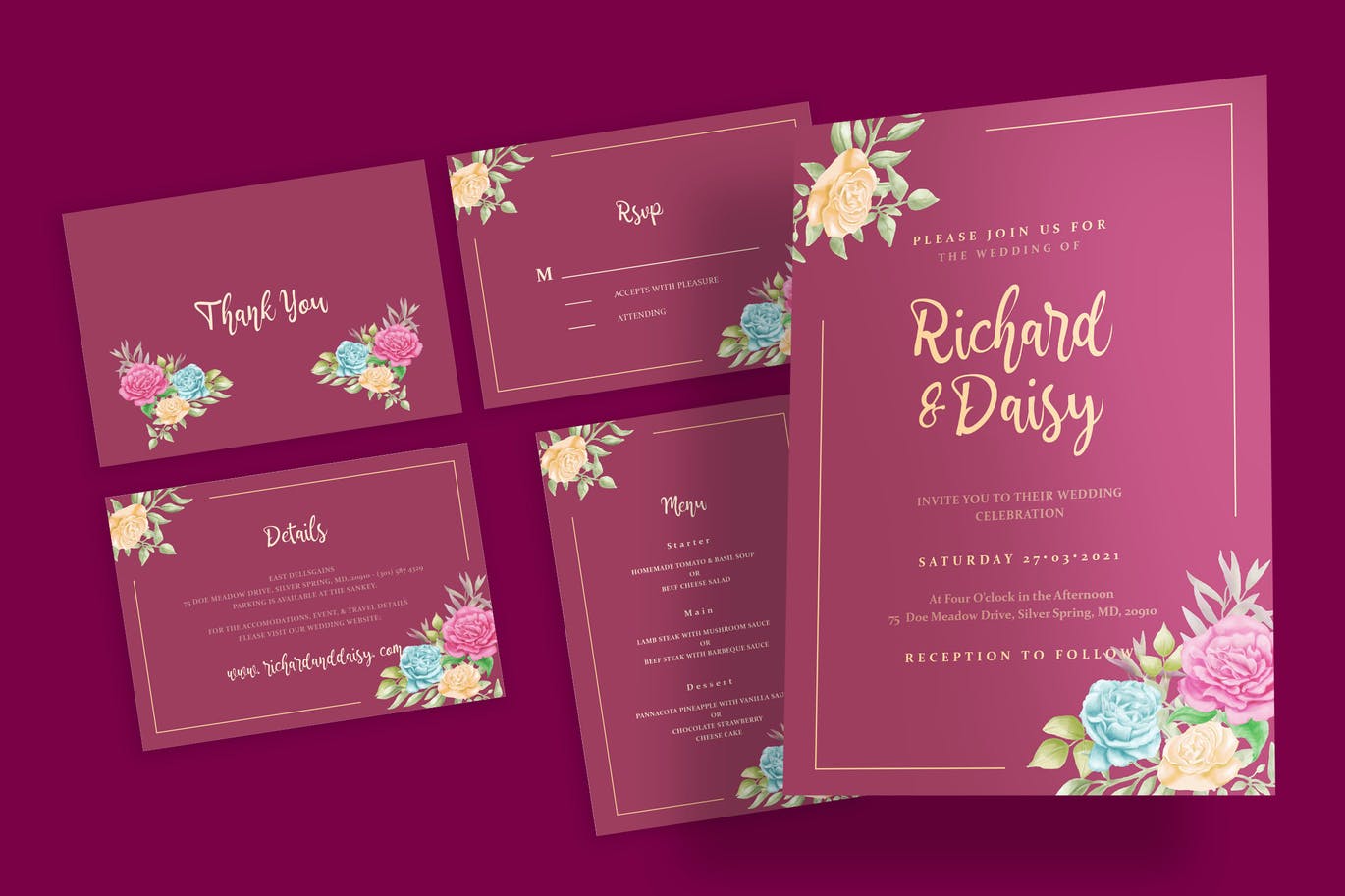 Rose gold is another amazing color palette for creating your wedding invitations. Another good feature of this color is that it can be friendly to any other color, so don't miss the opportunity and pay attention to this combination.
9. Black and White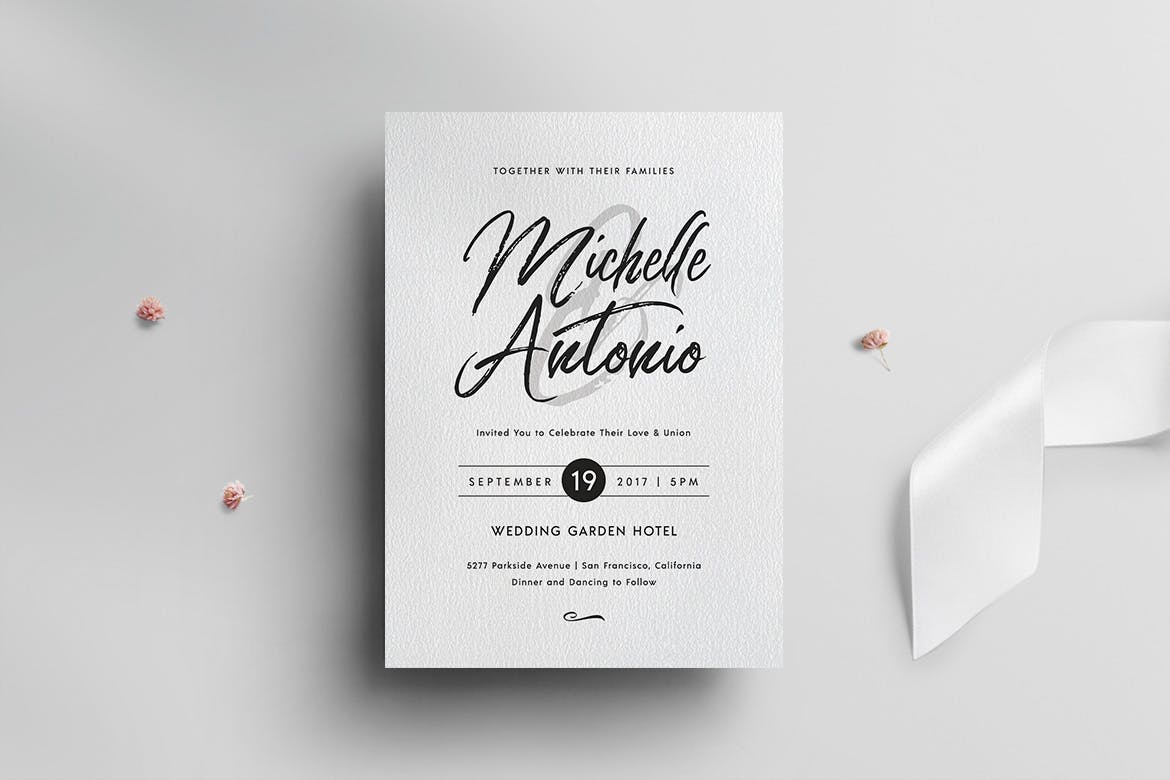 If you don't like bright colors, then black and white could be a good choice. And all that said, it's just both modern and classic and requires less attention to fonts and other attributes. I think the combination of these colors reflects real feelings and a good mood.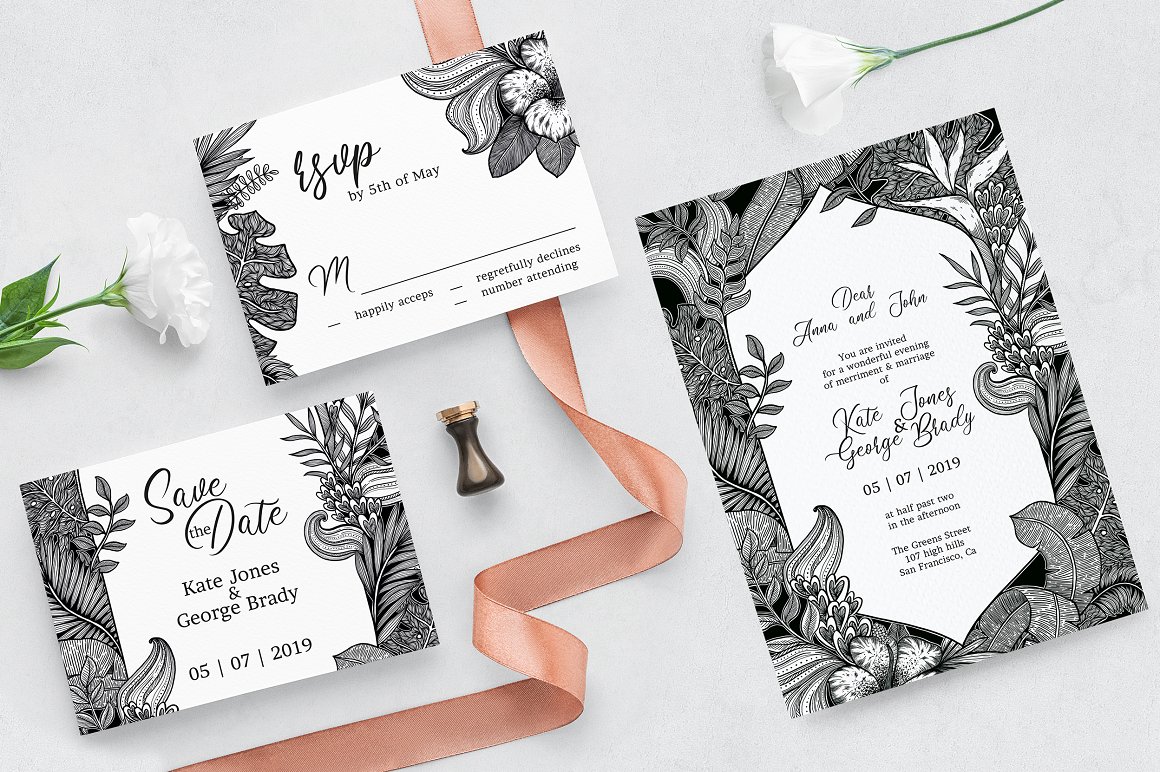 Black and white would be most suitable for couples with an artistic soul who have at least some artistic experience. There are many ways to get these neutral colors, for example, to pay minimal attention to detail.
10. Vintage Style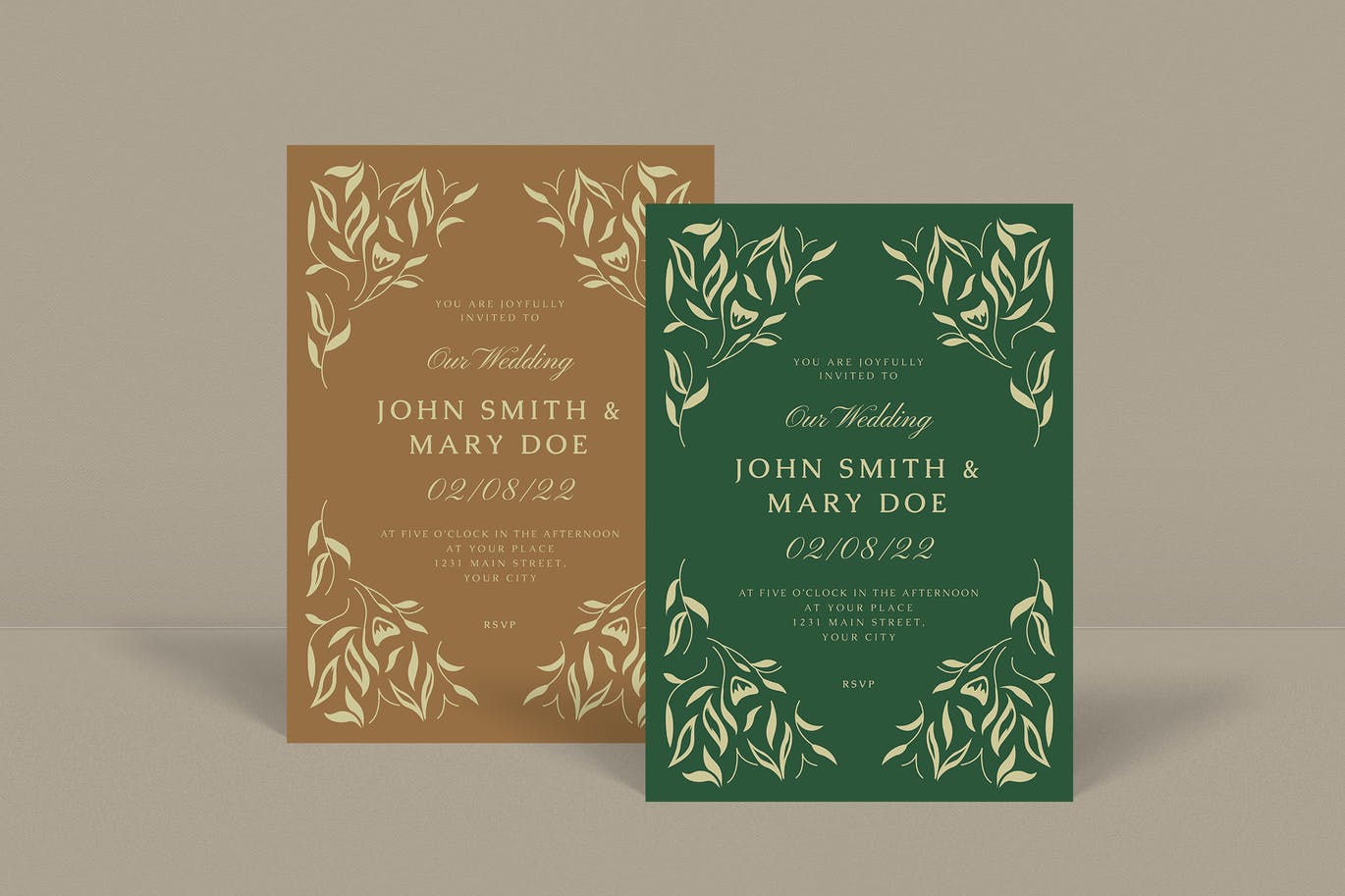 There is no right color scheme for creating a vintage-themed wedding invitation in this style. However, if you are sympathetic or up for a wedding for the first time, easte seniors, so this category may be your horse.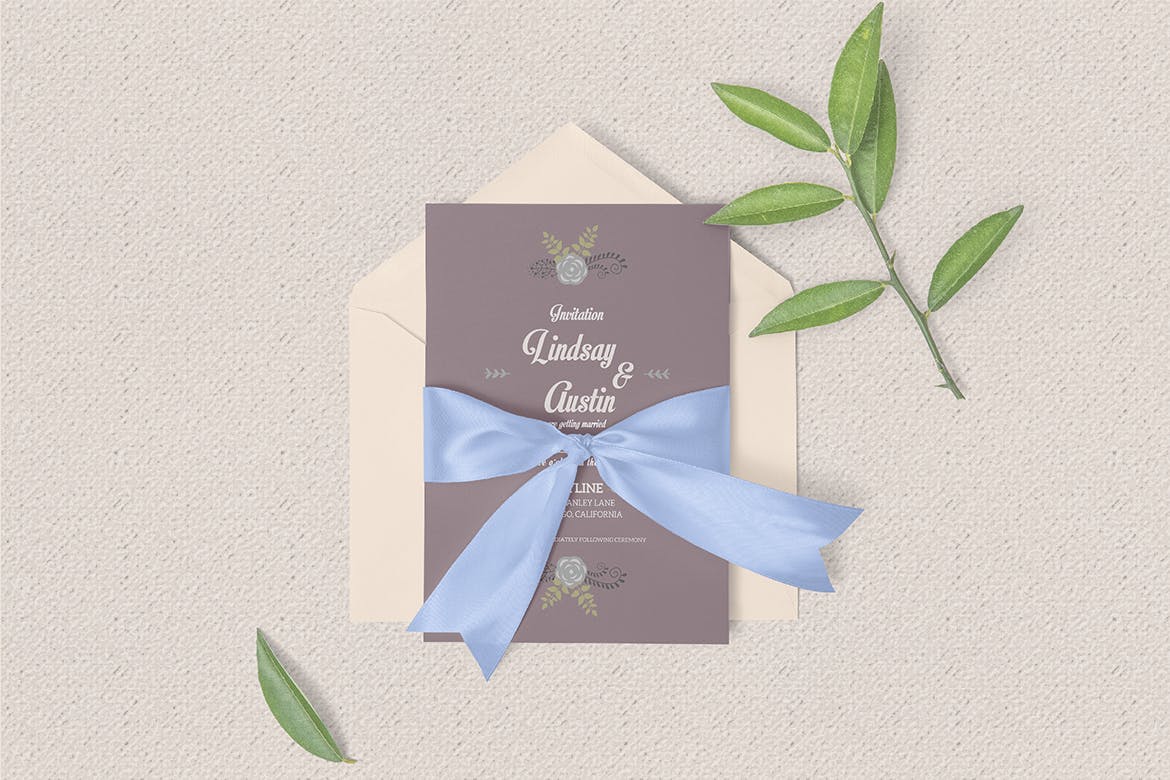 If you like to experiment and do things the other way around, then a nostalgic style can fit your personal type.
Create Your Wedding Color Palettes
You can also craft your own color palettes based on specific color schemes. The process is easier when you use a color palette generator like these below.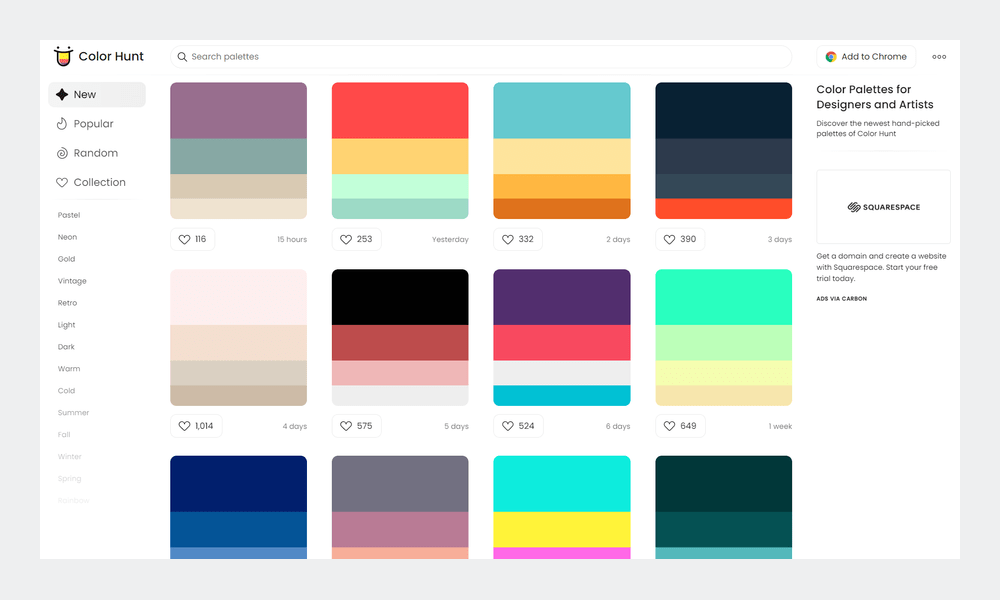 Color Hunt is an outstanding place to start your search for a color palette that fits your needs. It includes lots of pre-made color palettes and allows you to browse colors based on different themes and categories as well. The site also allows you quickly copy HEX codes for each color.
Published by
decolore
Thanks for being a part of this beautiful blog. Hours spent to create this web space to our visitors as much useful as we can. We're living with a pace of life and build beneficial collections related to graphic and web design. Here we come up with premium and free collections like mockups, backgrounds, fonts, wordpress themes, branding, inspiration, tutorials and informative articles for professional designers and beginners. Go ahead and let's be a partners! View all posts by decolore