Decreasing PDF file size to conform with the specification of file transmission services is a necessity when it comes to electronically submit documents. PDF compressing has always been a major demand for office workers, and today we'll talk about the best free tools and methods to compress PDF.

This post offers 3 online and offline methods to compress your PDF documents to an ideal file size of less than 500KB. Whatever device you're on, you'll find the method that works for you. For most people, the handiest approach to compressing your PDF documents is using a reliable online PDF compressor (and preferably a free one).
So, in this post, we will start with PDFgear, the popular free online PDF compressor tool for PC and mobile. Read on to learn more about it, and how you can reduce PDF size with it.
How to Reduce PDF File Size Below 500 KB Online Using PDFgear
The online PDF management toolkit PDFgear.com offers a robust and precise online PDF compressor that enables you manually reduce the size of your PDF documents to 500KB or less, without quality loss.
It doesn't matter what device you're on! PDFgear works on mainstream operating computer and mobile systems including Windows, Mac, Linux, Android, Mac, etc. The worthiest part about PDFgear is that despite it being completely free to use, it doesn't have limitations against free users, and the use of PDFgear doesn't require registrations.
The following tutorial reveals how you can compress your PDF documents to less than 500KB online, using PDFgear.
Step 1: Upload PDF to PDFgear PDF Compressor
Use a web browser application on your computer or mobile phone to navigate to the PDFgear PDF Compressor tool. Hit the Add files button or drag and drop the file to upload the large PDF you want to compress.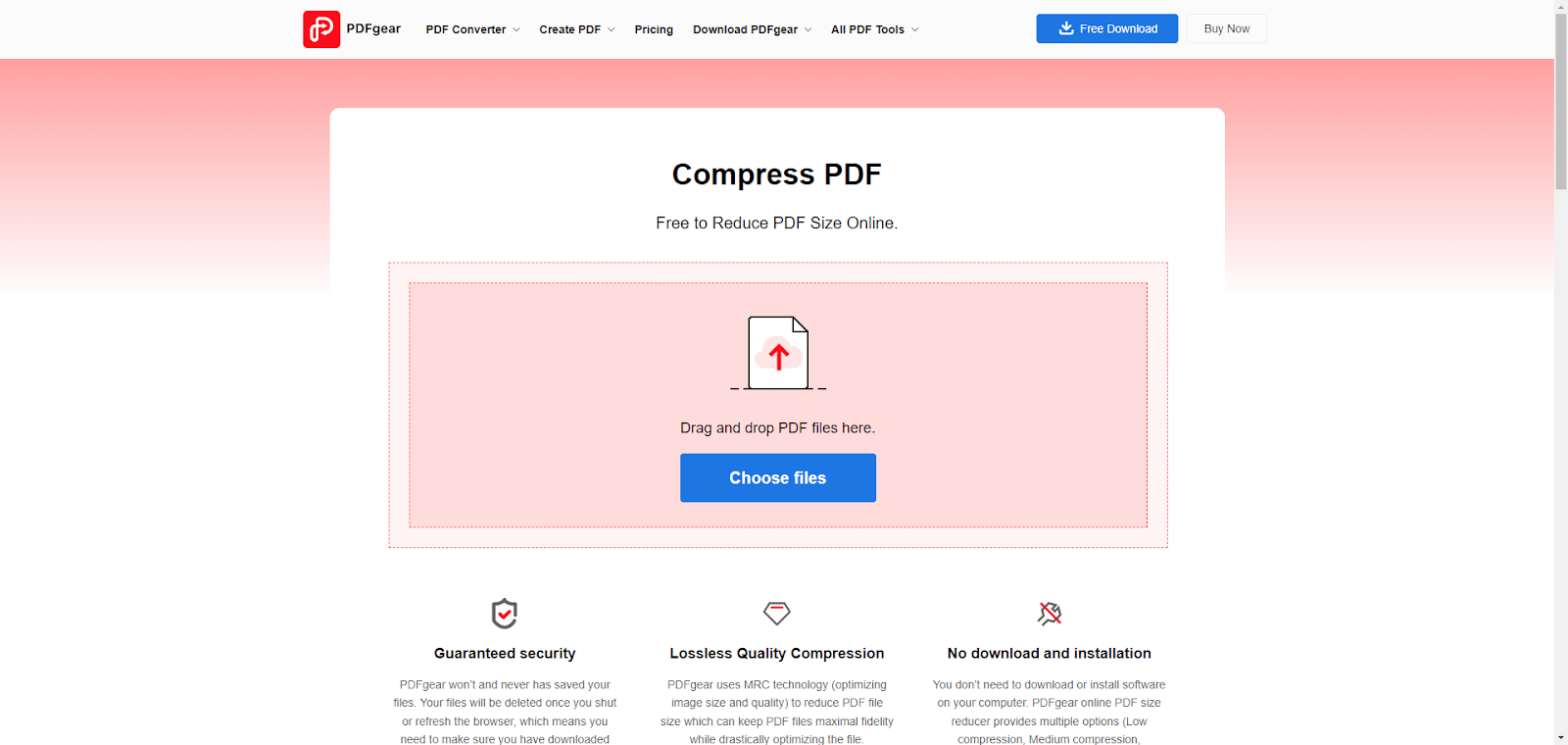 Step 2: Compress PDF Using PDFgear
You'll be asked to select a preferred compression mode, from 3 given options: Low compression, Medium compression, and Strong compression. The stronger the compression, the smaller the file is, and the poorer the output quality. Select one according to the original file size, and hit the Compress button.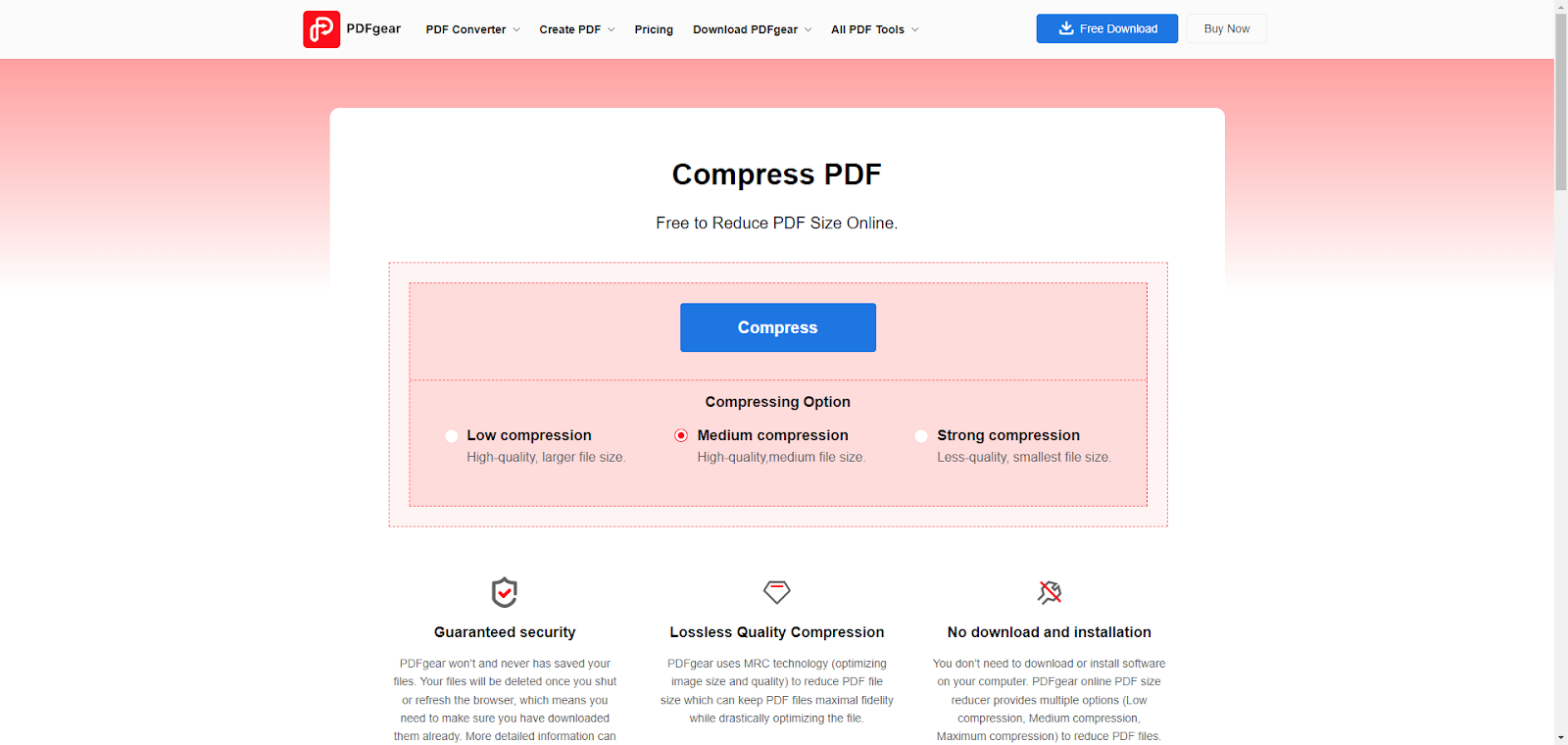 Step 3: Download the Compressed PDF
The file will be ready in 2 seconds. Then hit the blue Download button to download the compressed PDF document. Before that, you can check the output file size beneath the filename, to see if it's under 500 KB already.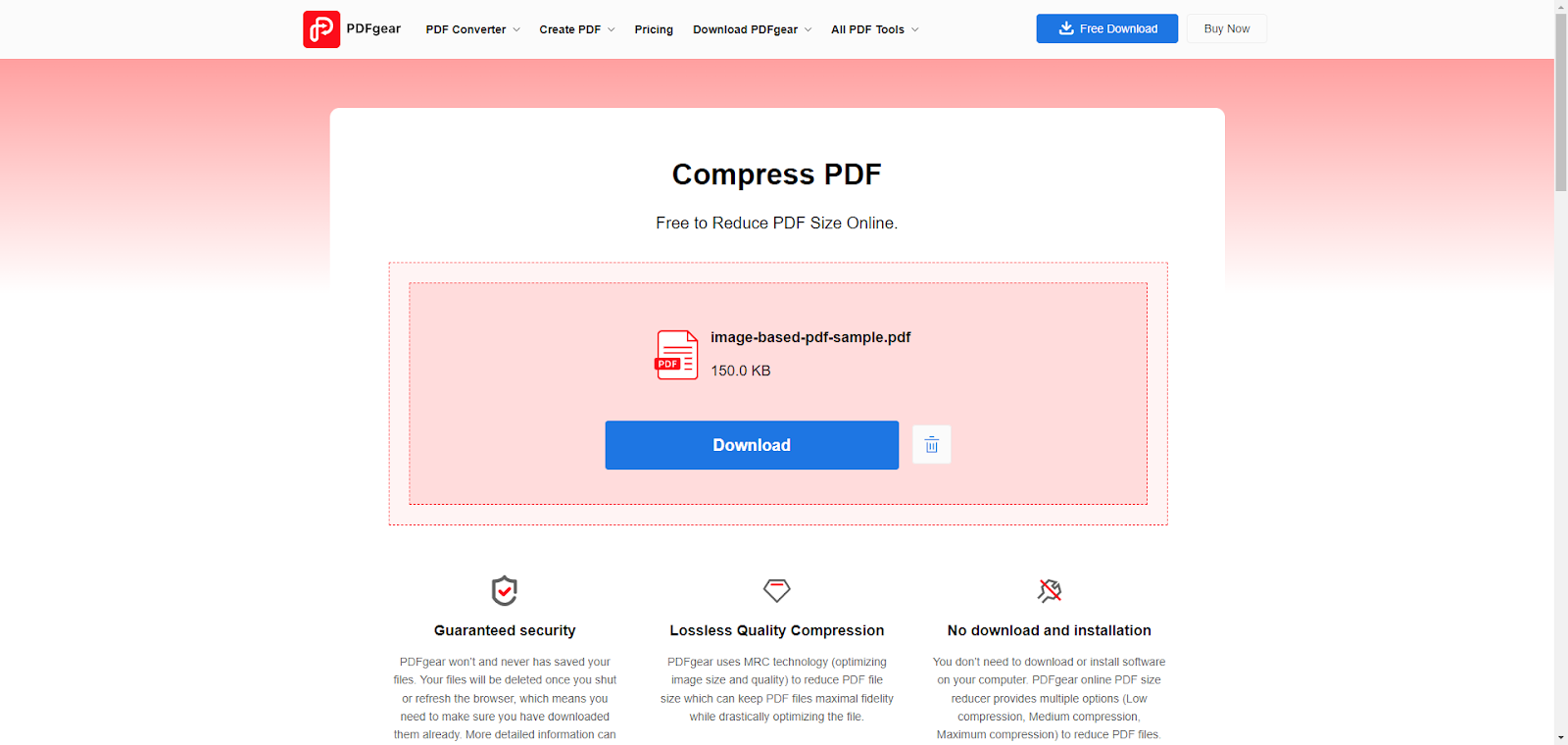 How to Reduce PDF File Size Below 500 KB Offline with PDFgear Desktop
In many cases, you may find yourself away from the internet, making using the online tool PDFgear impossible. A reliable offline method comes in handy, thus we all need to prepare one for the future.
When looking for an offline PDF compressing solution, a solid piece of PDF compressor software is definitely the answer. But which to choose, from a myriad of options out there? The key is choosing one that meets your own requirements.
And I personally use PDFgear Desktop, the software version of the aforementioned PDFgear online service. PDFgear Desktop is free, steady, intuitive, powerful, and faster, which are my favorite merits, and the output files have no quality loss. As long as I have downloaded it onto my computer, my offline PDF size problems are solved once and for all.
To reduce PDF size below 500KB using PDFgear Desktop:
Step 1. Hit the download button below to download and install PDFgear Desktop on Your Computer.
Step 2. Launch PDFgear Desktop on your computer, and enter the PDF Compressor tool from the Compress PDF category.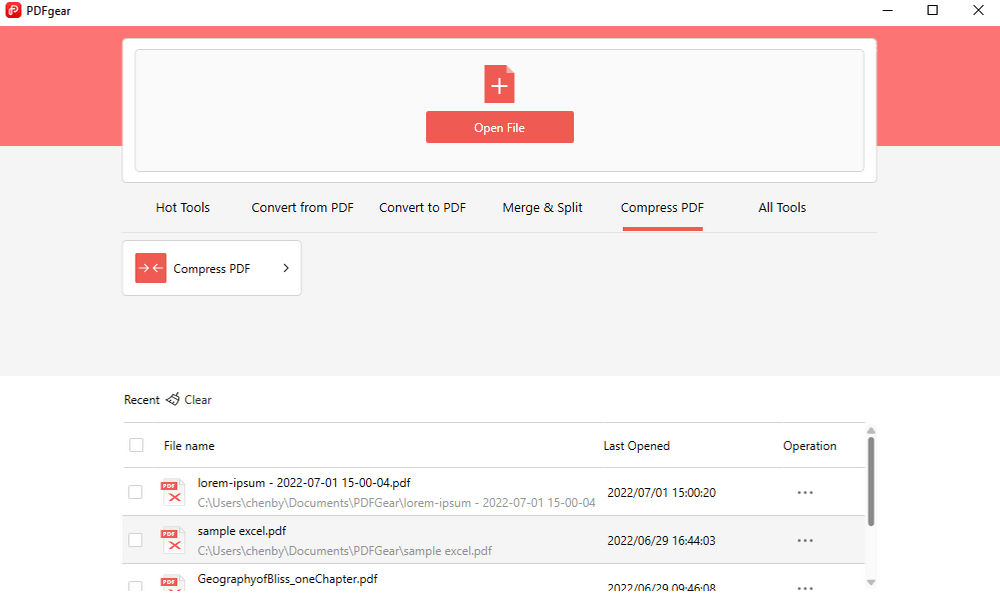 Step 3. Hit the Add files button to import your oversized PDF documents to PDFgear Desktop Compressor.
Step 4. Select a fitting Compression Level from Low, Medium, and High.
Step 5. Define the output file folder from the Output Path box below, and hit the Compress button.
Then the conversion will start, and when it's done, you'll be led to the output file folder if the corresponding option is enabled.
Compared with PDFgear.com, PDFgear Desktop prevails in the support for offline compression, extremer compressions, and batch mode.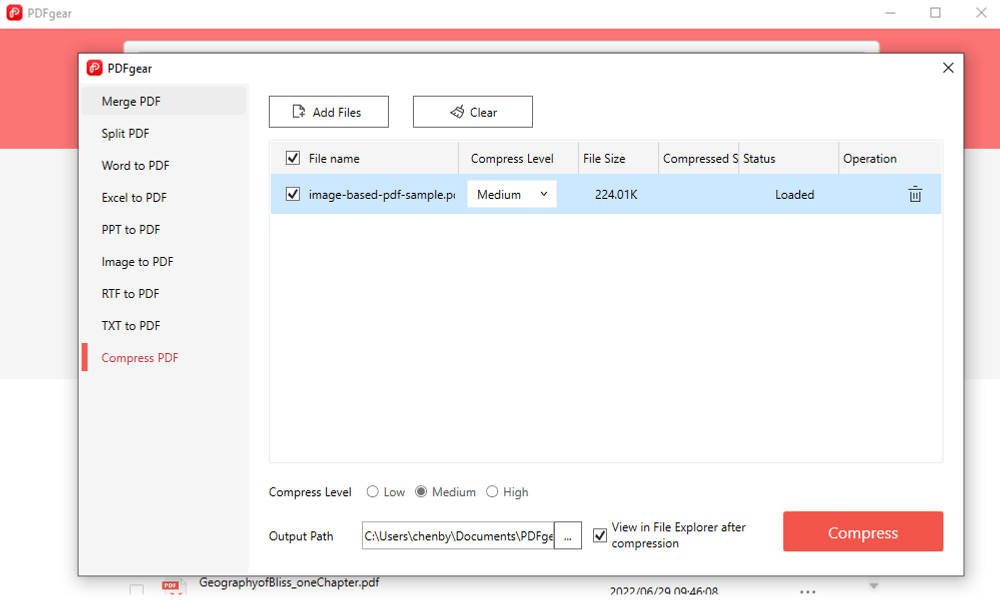 How to Reduce PDF File Size Below 500 KB Offline Using Preview
In need of sending a PDF document via email on your Mac computer or MacBook, yet find the file size of the document exceeds the standard?
A third-party tool isn't a must. iOS users are lucky since they have an inbuilt option for them to get their problem solved real quick, without needing any third-party programs or services.
Check your device and there's a practical PDF reader app called Preview preinstalled on Mac. Generally, most users use Preview to open documents from their file storage, without knowing that Preview is above a PDF reader app – we can use it to resize PDF documents.
The illustrated steps below show you how to reduce the size of a PDF document on a Mac using the built-in Preview app.
On your Mac computer, locate and open the PDF document you intend to compress using Preview.
Go to the File tab and hit the Export option from the dropdown.
From the export settings window, select PDF as the output file format.
From the Quartz Filter menu, select Reduce File Size.
Click the Save button to save the PDF document with a reduced file size.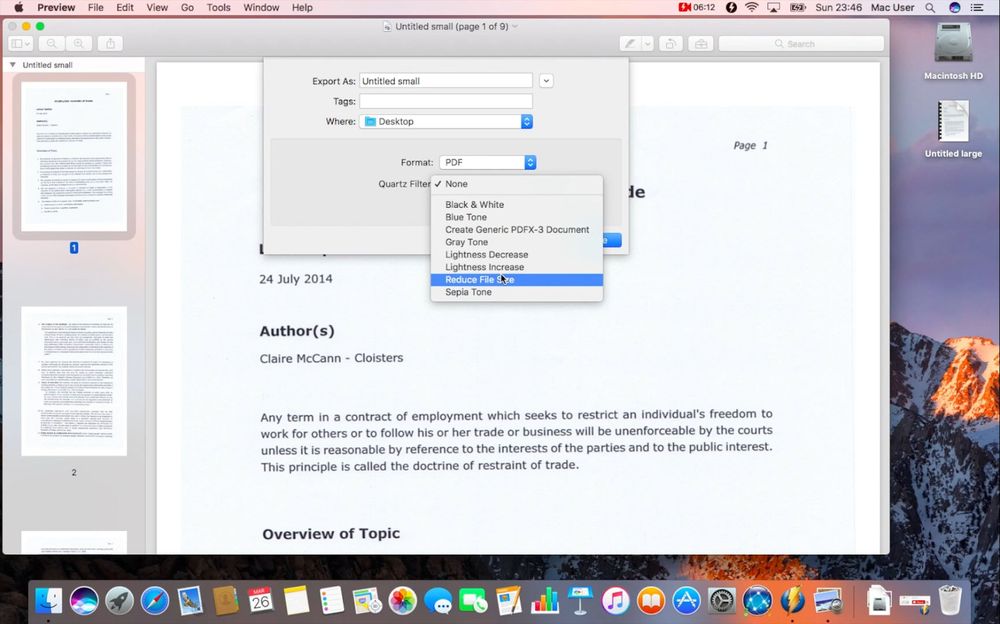 Conclusion
The working methods for reducing the size of PDFs vary, but we've gathered solely the easier approaches. With the 3 introduced methods, I believe the PDF document size issue will no longer be an issue to you, no matter what device you're on, connected to the internet or not.
And as mentioned, the three methods are all free to use, so don't forget to try on your favorite one when you have time.
But you should note that resizing PDF below 500KB is in the scope of low/light compressions. And if you intend to significantly compress your PDF documents, say 90% compression ratio, then PDF compressor software like PDFgear Desktop is your go-to option.
Published by
decolore
Thanks for being a part of this beautiful blog. Hours spent to create this web space to our visitors as much useful as we can. We're living with a pace of life and build beneficial collections related to graphic and web design. Here we come up with premium and free collections like mockups, backgrounds, fonts, wordpress themes, branding, inspiration, tutorials and informative articles for professional designers and beginners. Go ahead and let's be a partners! View all posts by decolore