Top 10 Font Pairing Tools for Designers
It is not enough to choose a good font for personal or commercial design, it takes a lot more to complete happiness.
Fonts are very important to make a good design project, that's an imminent thing for designers. And to use two fonts or more is a challenge. The advise from me, that never use more as 2 fonts for your project if you are not a enough experienced designer you can hurt the style of your design.
Just be smart how you eill be pairing Comic Sans with Arial? Now, to ensure your font pairings work with one another, you need to make sure that they share the right level of contrast. I a one thing when you pair different fonts and another thing when you try not to go to the fields. So, to help you out, we have gathered a list of some of the best font pairing tools to keep this process more easy and finish with a good results. Enjoy them right now!
You may also like:
---
1. Fontjoy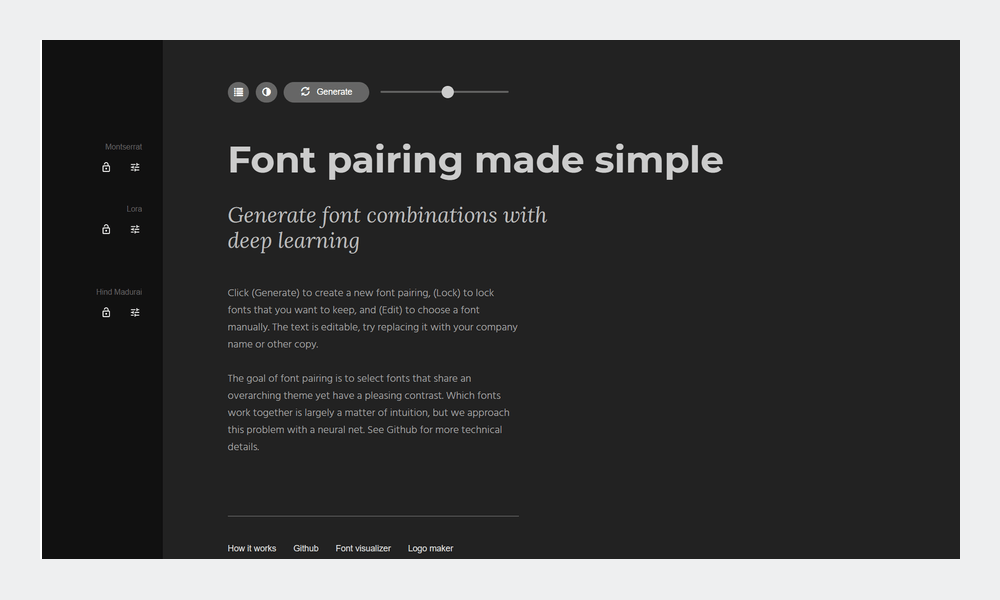 With Fontjoy you can either hit the generate button and let the tool randomly create some awesome font combinations. Or, you can 'lock' a particular font that you like, and let the tool find other fonts that go together with it. This simply font pairing tool will save you a lot of time. Come in to enjoy.
View Source
2. Font Combinations Library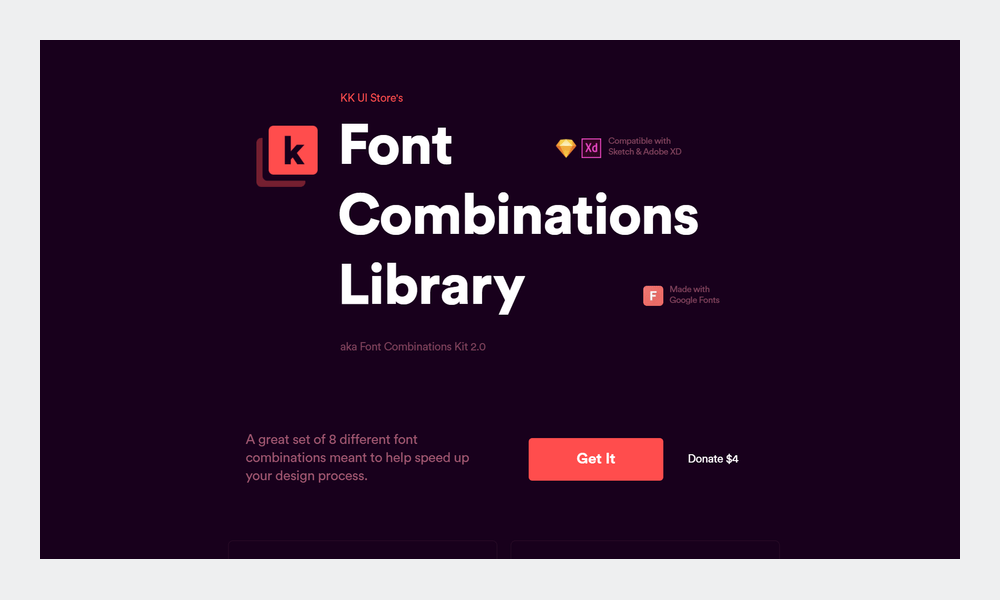 Font Combination Library, also known as Font Combination Kit 2.0, comes with 8 amazing font combinations that can help you speed up your designing workflow. The library working only with Google Fonts.
View Source
3. Canva Font Combinations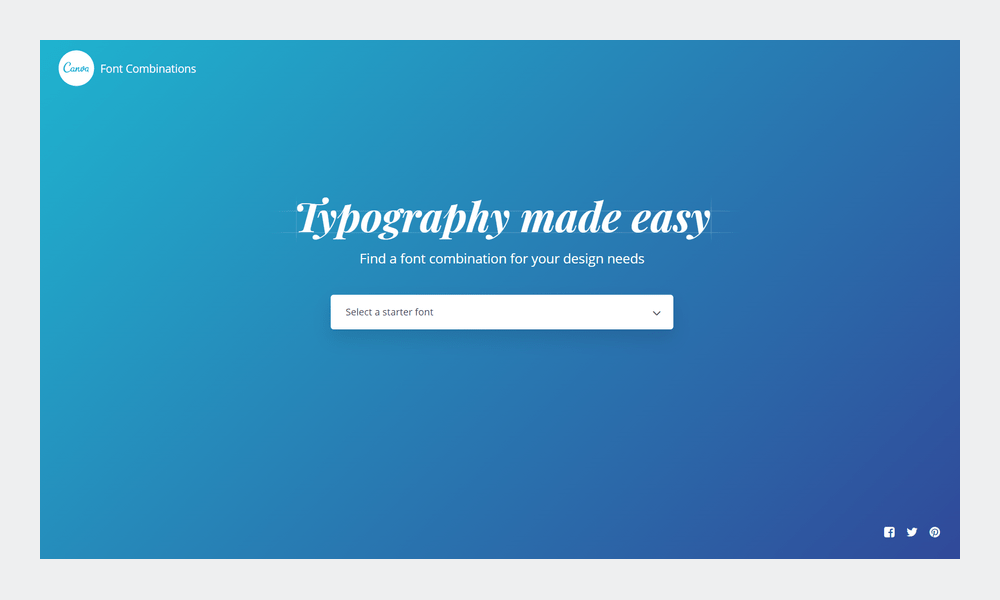 Canva is a well-known web app that comes with awesome advanced features and templates to help you create remarkable designs. Did you know that in this platform you can create font combinations too?
You can simply use the drop-down box to select a starter font. Don't worry as it has got a large library of fonts to choose from. Once you have selected desired font, the tool will pick another font that creates the perfect font pairing with it.
View Source
4. Mixfont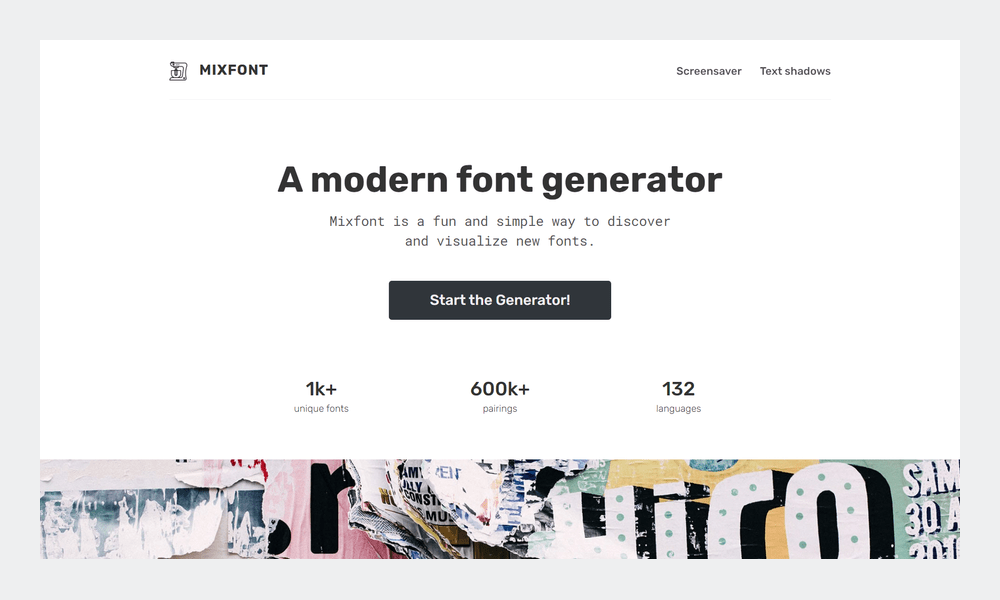 This platform offers an easy way for you to visualize hundreds of thousands of font pairings so you can find something that best suits your project. It comes with a dedicated button, which you can click to generate new font pairings. If you like a particular font typeface, you can lock it and let the generator swap out the other font to help you find a suitable pair.
View Source
5. Typespiration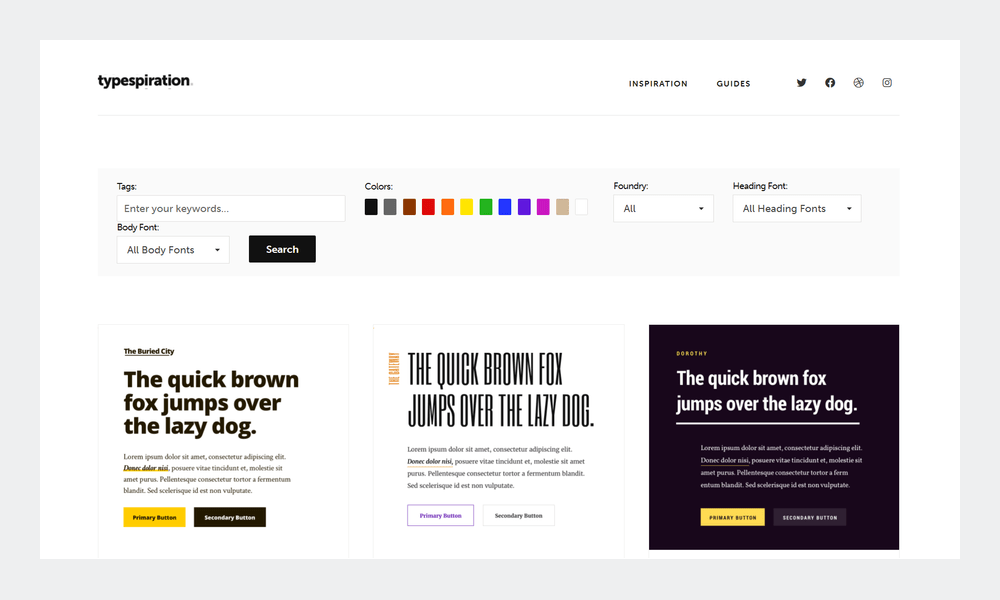 Typespiration is an amazing font pairing tool that will help you browse through tons of font combinations in different style formats to help you choose the perfect font pair.
You can either specify the heading font and see how it compares against different body fonts to pick the perfect font pair or vice versa. Alternatively, you can leave both heading font and body font unspecified and check all possible font combinations.
View Source
6. Typewolf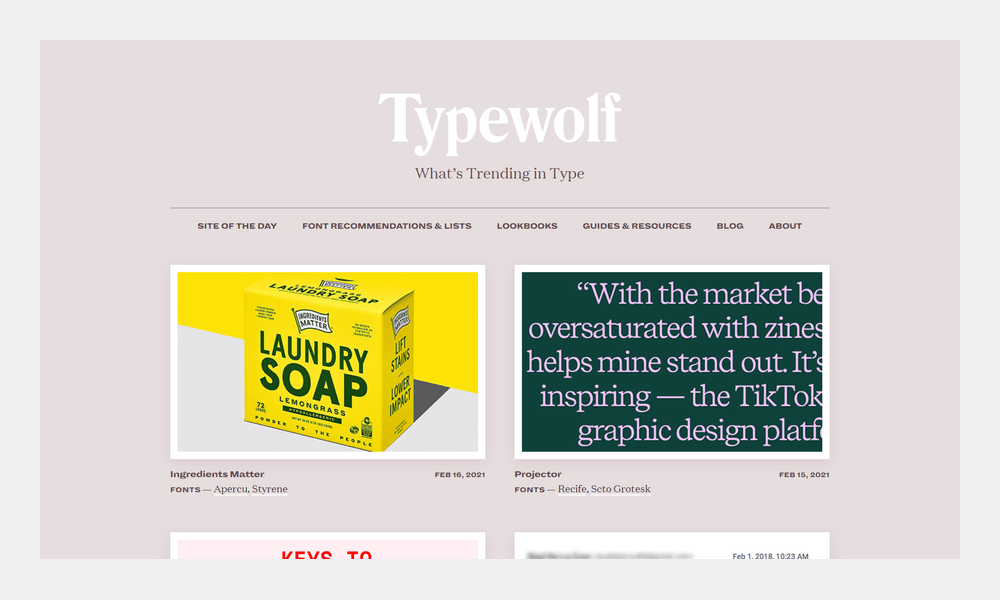 Discover new typefaces and new ways to combine the fonts with Typewolf. There, you'll find the most popular fonts, the site of the day and various font recommendations to find your perfect match.
View Source
7. Just My Type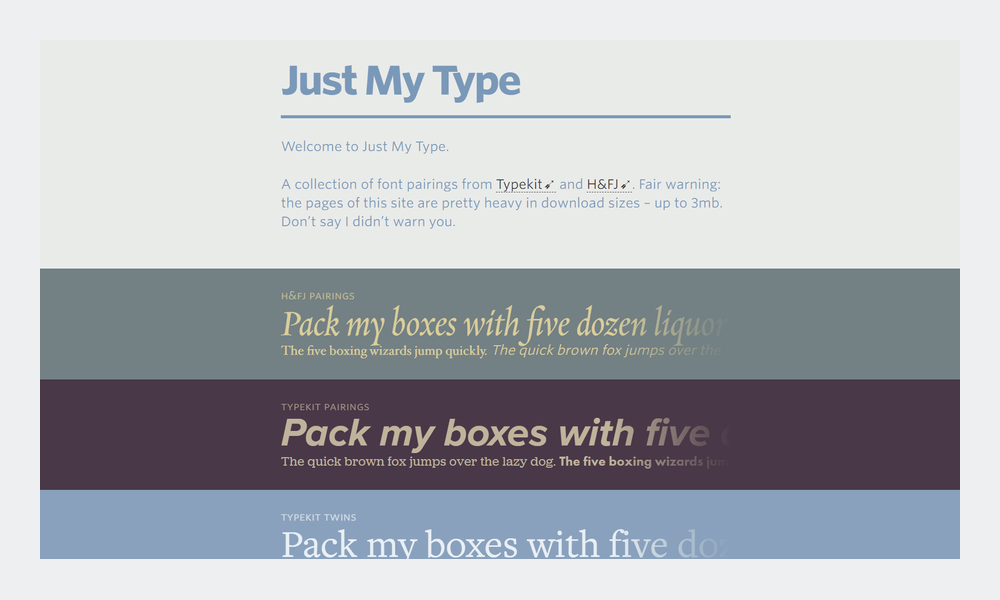 This platform showcase of font pairings from Typekit and H&FJ. These font samples are displayed in beautiful colorful blocks. Worth to try.
View Source
8. Font Combinator by Typotheque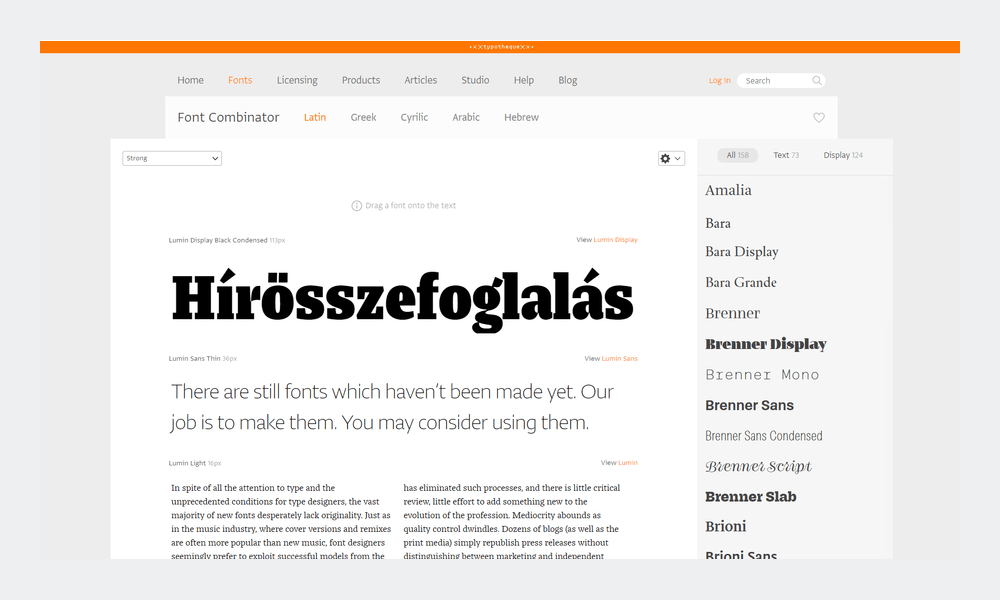 Typotheque is a graphic design studio and a type foundry publishing and distributing original Latin and non-Latin fonts. Their Font Combinator will help you to pair Latin, Greek, and Cyrillic fonts.
You get access to a style selector that has many options like contemporary, elegant, classic, compact, airyand so on. Once you pick a style, it will generate a demo content that uses a font combination showcasing how it will look when used for the heading, body, and footer transcripts.
View Source
9. Adobe Typekit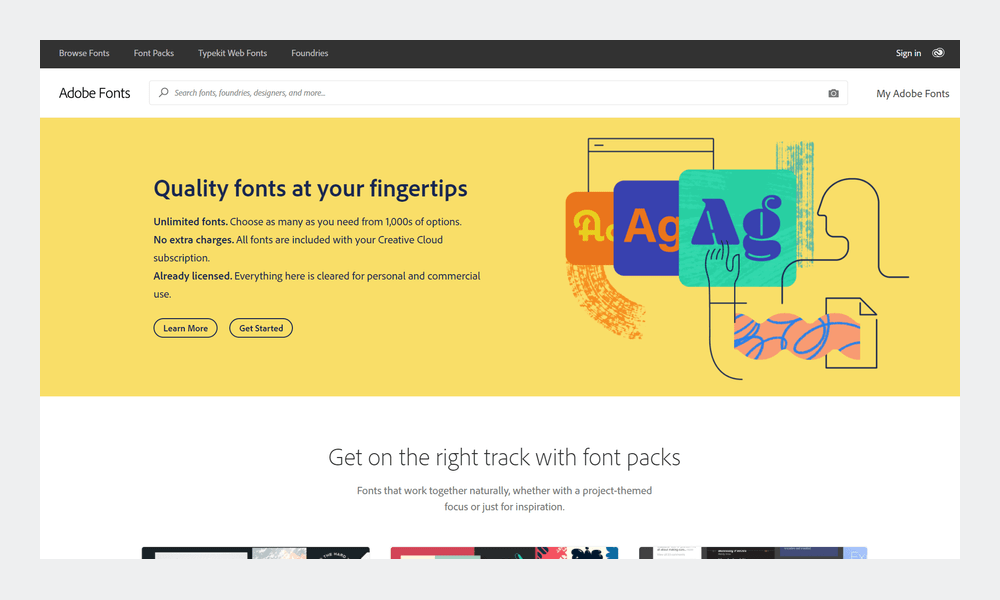 Adobe Typekit is a subscription font tool which brings together various fonts for quick and simple search and pairing. Along with a free plan with limited collection of fonts, you may choose one of the paid plans that bear more options. Great for both beginners and professionals.
View Source
10. ByPeople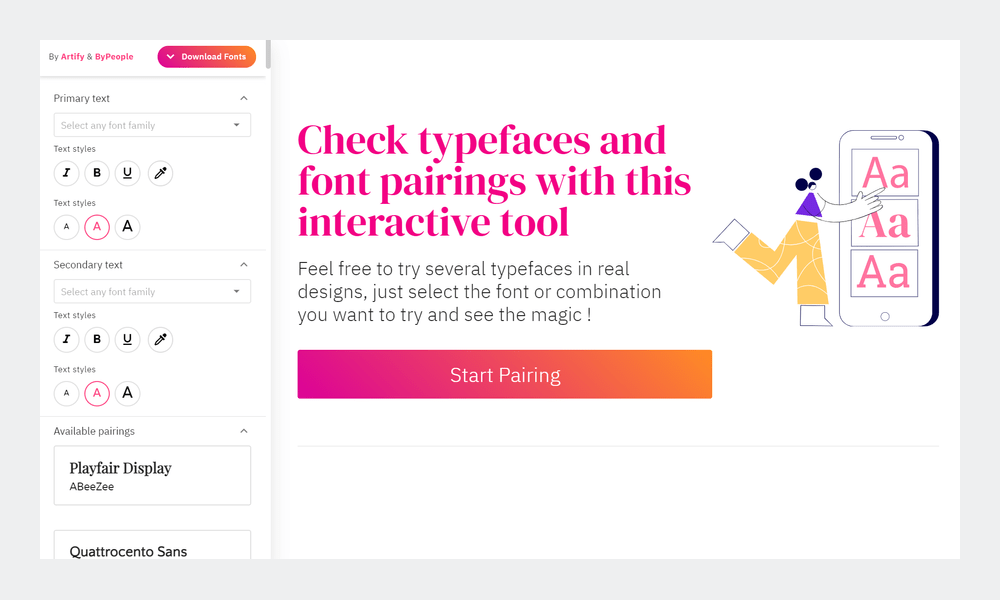 This amazing online program gives you a platform where you can test two typefaces or font pairings and see how they look together. It gives you the option to pick a primary font and a secondary font.Then you get the option to add different styles to the font – bold, italics, and underlined. You can even change the font color and font size. Try it.
View Source