How to Craft a Flawless Designer Resume: 8 Fresh and Creative Tips
When you're a designer, it's expected that you approach any problem or task with a different set of eyes than other people.
The first step, when you're in between jobs and looking for a company where you will work, is to craft a creative and attractive resume. This is the first signal your potential employers will get about your design abilities and skills.
In this guide, we're going to talk about some of the most impressive things you can do on your designer resume, as well as about some things you should avoid doing.
1. Word Processors? Really?
One thing is for sure: you don't get a good result with a word processor. This type of software is acceptable in case there's a formal job at hand when there's not too much need for out-of-the-box thinking. However, it is not at all convenient when you aspire to land a creative job.
When creativity is important in your next job, you cannot present a resume that's too serious and template-like. In this case, it is important to find the ideal balance. To do this, it is advisable to have a PDF format for your CV. Any software that accepts PDF will allow you greater freedom of creation.
On the other hand, it is not advisable to accept a predefined design. On the contrary, the original and pleasant design will be easier to remember by the interviewer or employer. Of course, it should not be too flashy or made in poor taste.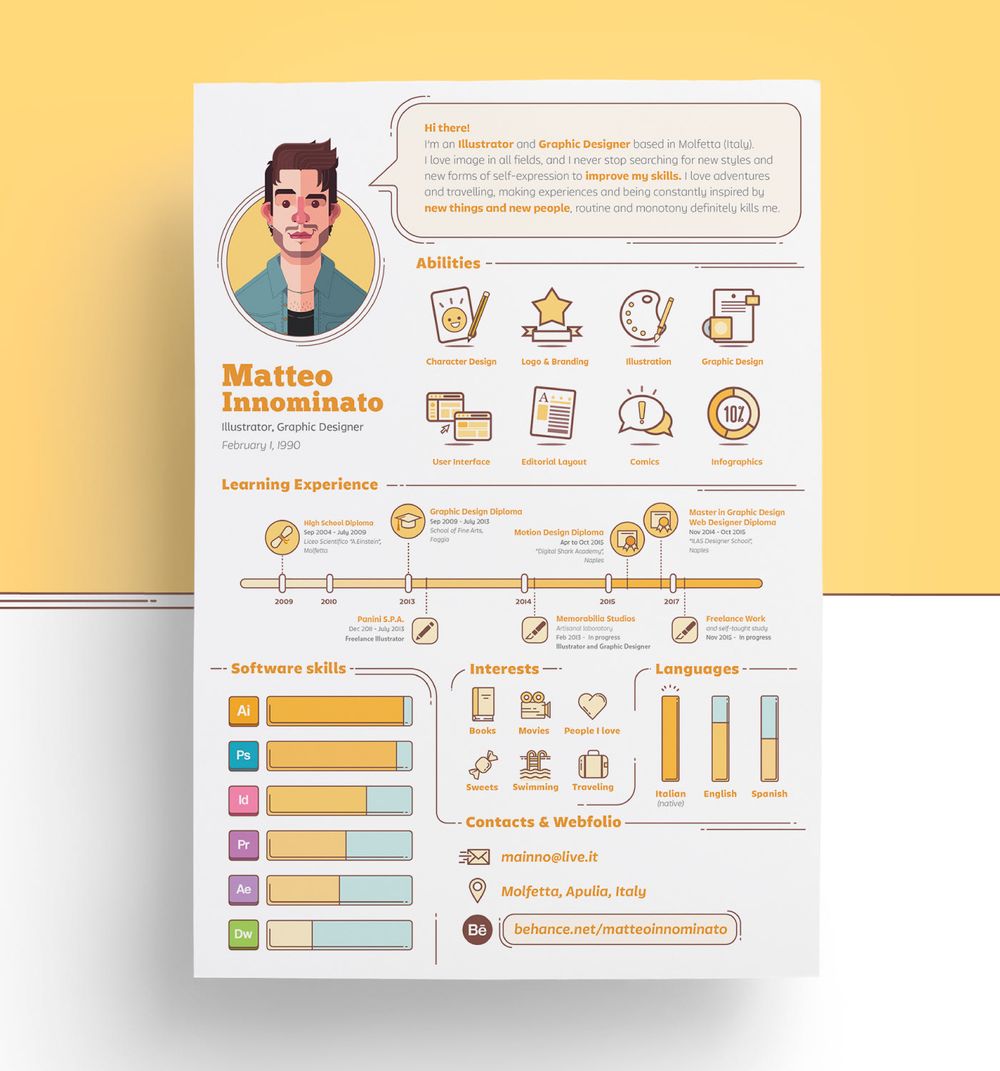 2. Play Around with Design Elements
Some people say that quality is in the smallest details. That's why you should carefully consider the type of font you will use. In this case, you can get a creative font that represents your personality.
Along with this, the color scheme is another positive aspect. Not all the words on your resume need to have the same color. Different fonts and color schemes allow you to highlight some important features of your resume. We recommend that you use colors that are pleasing to the eye.
3. Be Clear and Assertive
Two aspects are essential to any successful CV. I assure you that no one wants to read a long, boring resume. That's why you should be brief about what you want to convey to the other person.
In particular, the most important thing should be included, thus eliminating the secondary aspects. It is also not necessary to include every aspect of your life and work experience. Including only the most important can give you an advantage. In this case, it is a matter of stirring up intrigue so that the employer asks you more questions.
In this way, you can make yourself better known. Of course, the first place on your resume should include your personal and contact information. It is a simple and quick way for the employer to contact you, and above all, remember you.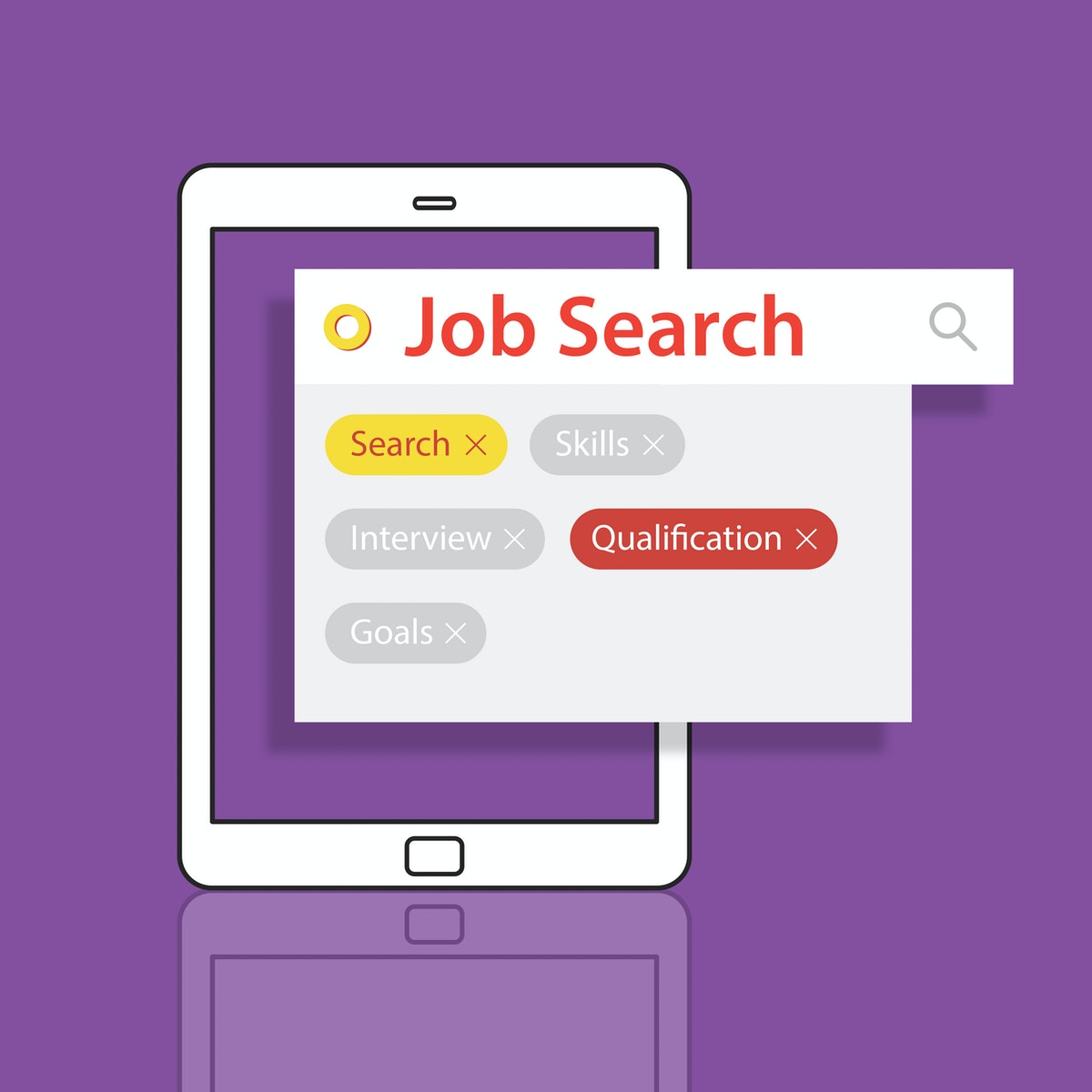 4. Work Experience, 100% Real, No Fake
A fairly common piece of advice for a resume is not to lie. Unfortunately, many people include fake work experience in their resume. Nevertheless, lies on a resume are notorious. Employers deal with people who lie on their resumes every day.
That's why your lie on your resume has little chance of success. On the contrary, it's much more valuable to include only the experience and education you have. Besides, honesty is a value that allows you to generate better work relationships.
Along with this, you should include some kind of sample of previous work you have done. To do so, you will have to adapt your work or design portfolio to your resume.
It is also possible to attach your designs in a separate file. It is not necessary to include all your works, but only those that are more representative.
5. Simple and Personal is Best
When a user does not have much experience in design, something simple is recommended. A simple design with nice touches allows you to get a good result. In this case, it should not be too simple to include anything interesting.
Also, you can include aspects of your personality in the design. In this way, your CV will arouse more empathy and sympathy with the employer.
Also, a simple and personal design will awaken the other person's interest in getting to know you. So, your resume should not be overflowing with design.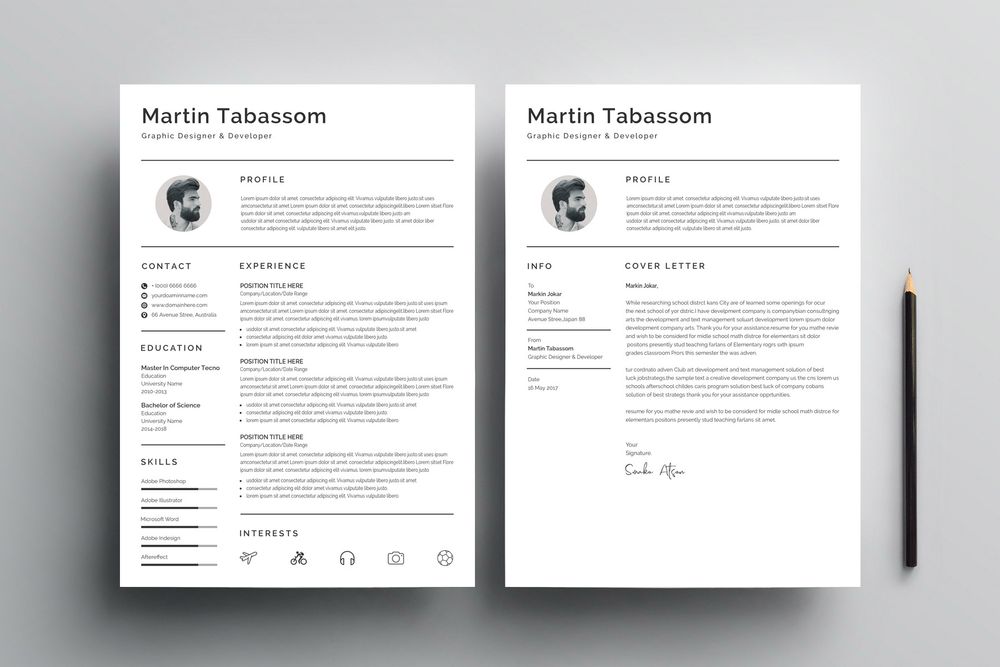 6. Enemy Number One, Plagiarism
As with any other work where you can use the Internet for inspiration, plagiarism is also a problem here. It is very tempting to use someone else's resume design. However, if you decide to do this then you have condemned your resume. Of course, the only one who will be harmed will end up being yourself.
It is necessary to mention that any employer who detects a plagiarized design will eliminate that person from the hiring process. It doesn't matter if the rest of the content of the resume is real. The plagiarism that has been discovered is reason enough to put you out of the running.
On the other hand, you can improve your designs and creativity as you practice more and more. Remember, every employer will always prefer someone with a weaker skillset who is willing to learn and improve than someone who steals other people's designs.
7. Paper Resumes
When you must have a paper resume, not every option is the same. Of course, you could photocopy your resume as the cost is affordable. But keep in mind that this will be the first thing your next employer will notice about you. And first impressions definitely matter.
That's why opting for higher-quality options may be more appropriate. Of course, the cost is higher but I assure you that the result will be more positive. By having a quality impression your level of professionalism will be higher. In this case, it is an aspect that any employer can appreciate.
8. Additional Aspects of the Resume
Another secondary aspect is the coherence of the entire resume. In this case, it is a question of whether you have used the same style in all the content of your curriculum. It is not a good presentation to see different bullet points, fonts, or font sizes.
Also, it is common for these errors to be difficult to detect. We don't want the resume to look impromptu or informal. Besides, your portfolio and cover letter should match your resume.
In particular, your cover letter should be short and clear in what you want to express. Through short paragraphs and professional communication, you will be able to get a good result. As with the resume, the cover letter should not demonstrate plagiarism.
In this case, it could be detected that the text has been used in a lot of other presentation letters for other companies. Although it is a task that takes more work, it is advisable to write each cover letter differently. In this way, your employer will notice your dedication and level of professionalism.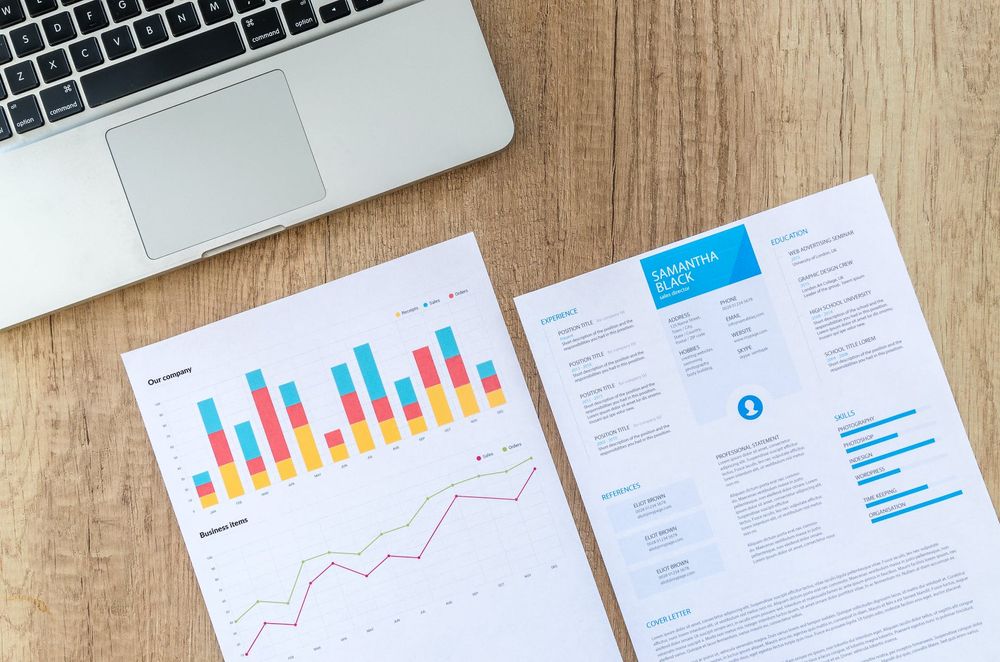 Conclusion
Good resumes open many doors, but a perfect resume can make even your wildest professional dreams come true! The important thing is that you set aside enough time to be able to really offer your best. Remember, the time and effort you invest in crafting a perfect designer resume will pay out in the multifold after you start applying.
Have fun with it! It definitely can be a stressful activity to craft your resume, but if you start seeing it as a fun way of presenting yourself, it can become entertaining and fulfilling.
Published by
Melanie Sovann
Melanie Sovann is a professional writer working with TrustMyPaper, an expert academic writing service. She has been in the content writing industry for over 5 years and loves to expand her knowledge and keep herself up to date with all the latest tips and advice. View all posts by Melanie Sovann