Dosens of designers use watercolor style in their graphic designs. It is a new trend which brings you to the nice handmade digital products. Watercolor styles can be used in a number of ways to emphasize your content. Whether you are considering a watercolor look for your graphic design or just want to experiment with the style, we have a collection of ideas, examples, and resources to help you get started.
In this post we have gathered more as 25 awesome watecolor inspired graphic designs for your business. All of the templates are in the best quality and made by professional designers. Hope you will enjoy this post.
You may also like:
Watercolor "Purple Garden" Design
File Type: PNG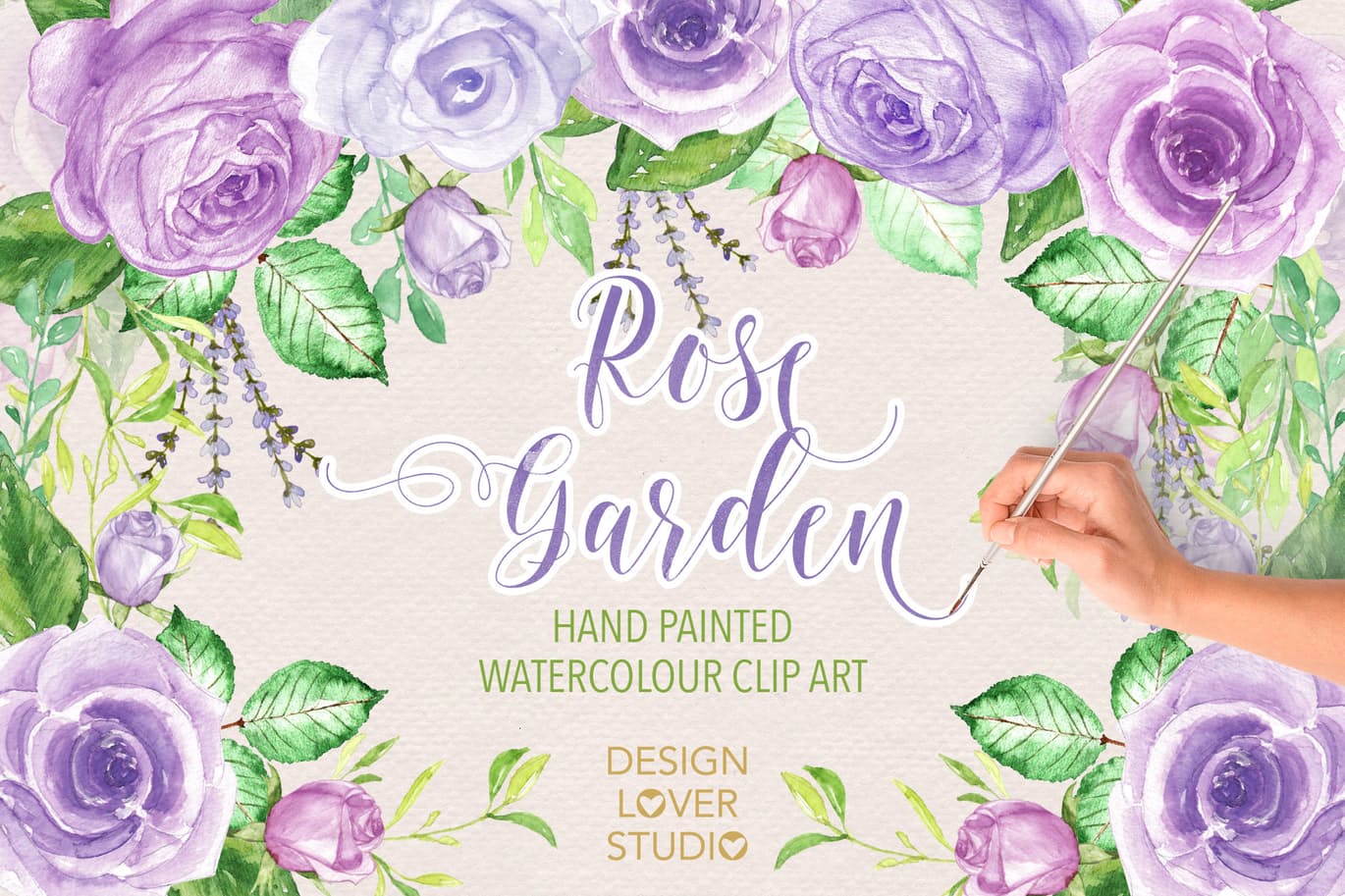 15 watercolor separate clipart flower 300 dpi PNG file with transparent background -1 wood background 12″x12″ 300dpi JPG files -1 chalkboard background 12″x12″ 300dpi JPG files -1 watercolor paper background 12″x12″ 300dpi JPG files.
Lunar Flower Watercolor Graphic Kit
File Type: EPS, PNG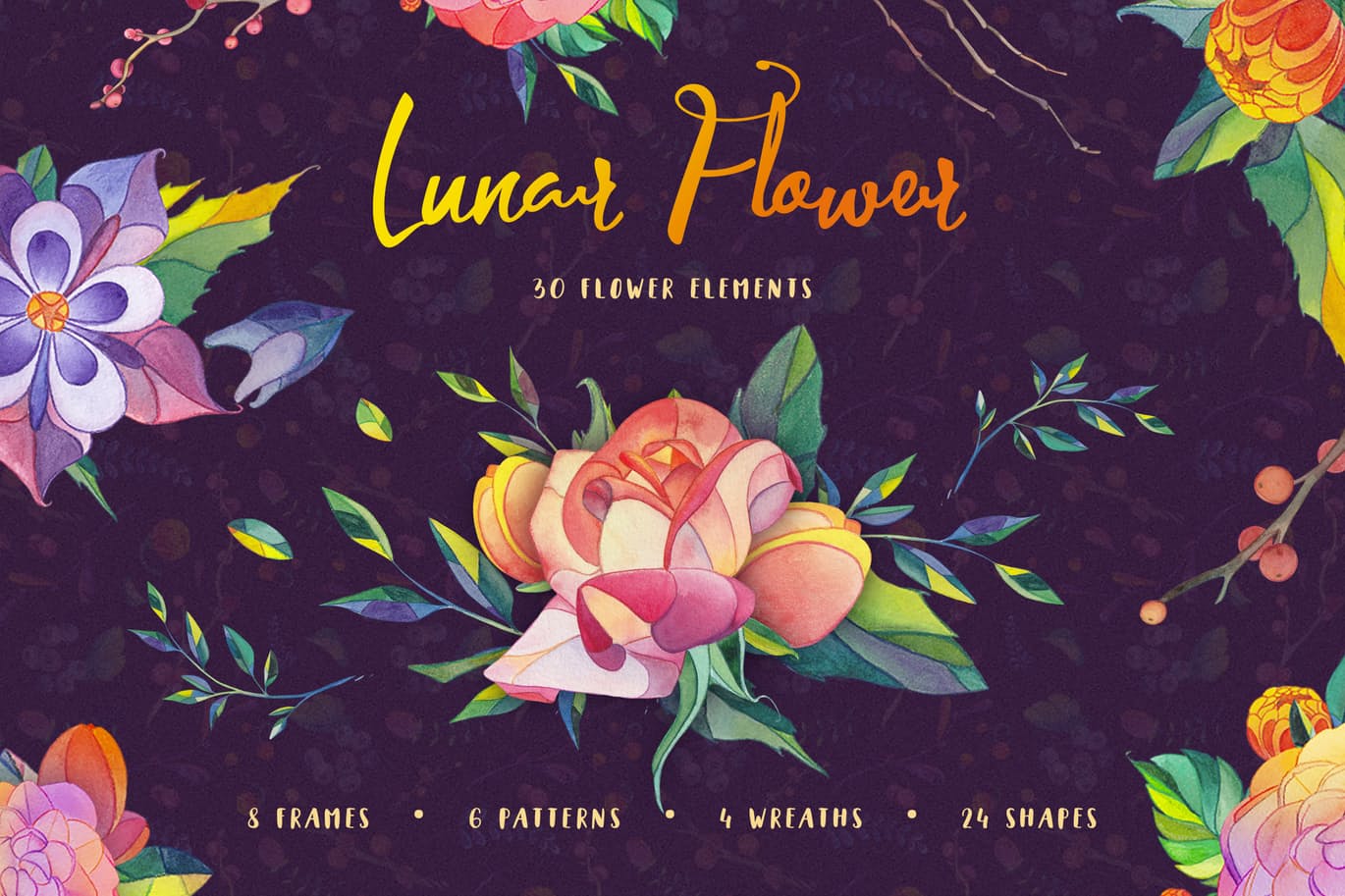 Lunar Flower Watercolor Graphic Kit is a set of 30 stylized vector illustrations of flowers, leaves, and branches. Use these cliparts to create adorable greeting cards and touching wedding invitations, to decorate your blog, or create a logo.
Watercolor Enthusiast Graphic Kit
File Type: AI, PNG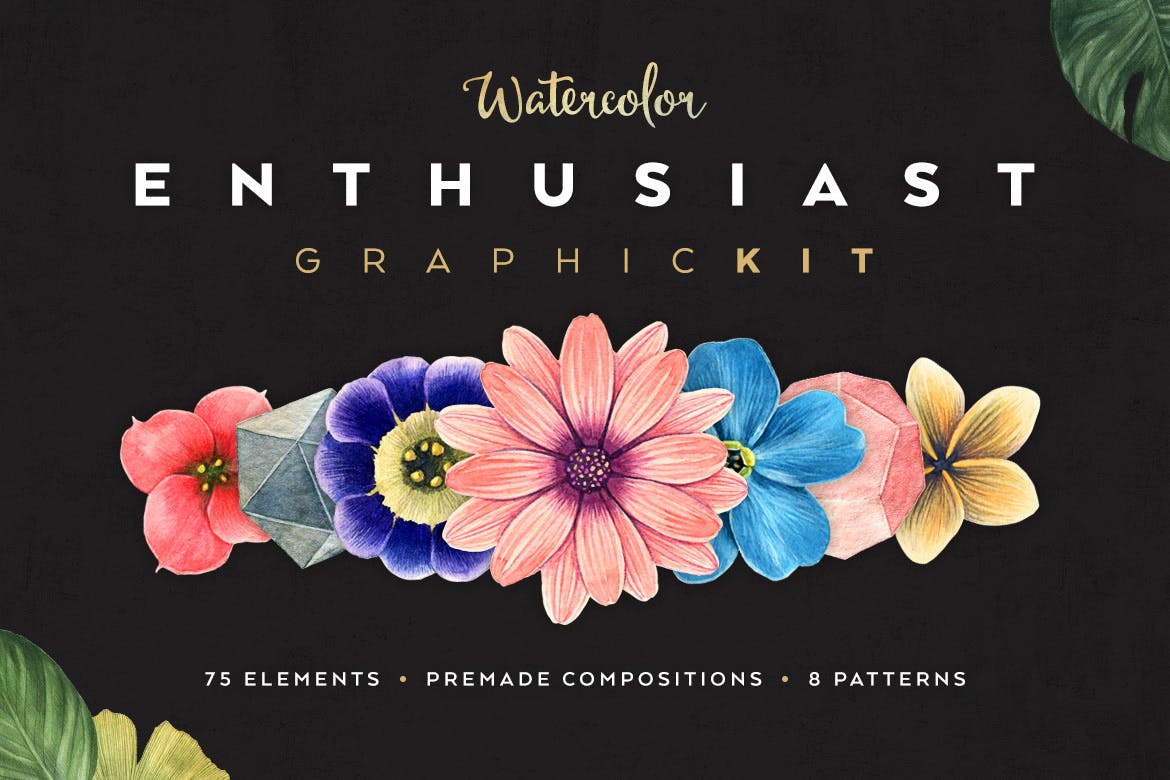 Watercolor Enthusiast is an incredible collection of watercolors created with a huge passion and attention to the details. Flowers, minerals, leaves, shells, easily adjustable pre-made composition and patterns — everything to give you unlimited freedom to create any design project.
Watercolor Calendar 2019-2020
File Type: INDD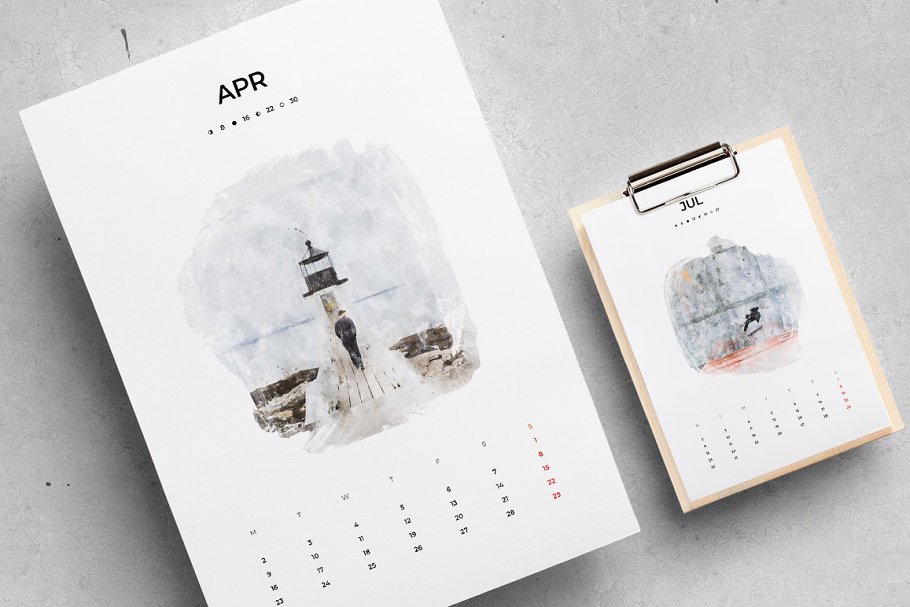 A beautiful calendar to start the new year! The 2019 Watercolor Calendar is an InDesign template available in two sizes (A3 and A5) so you can use it as a poster or desktop. A calendar that will also give a cool touch to the place where you choose to place it. I hope you enjoy it!
Eucalyptus Foliage Wedding Suite
File Type: PSD, PNG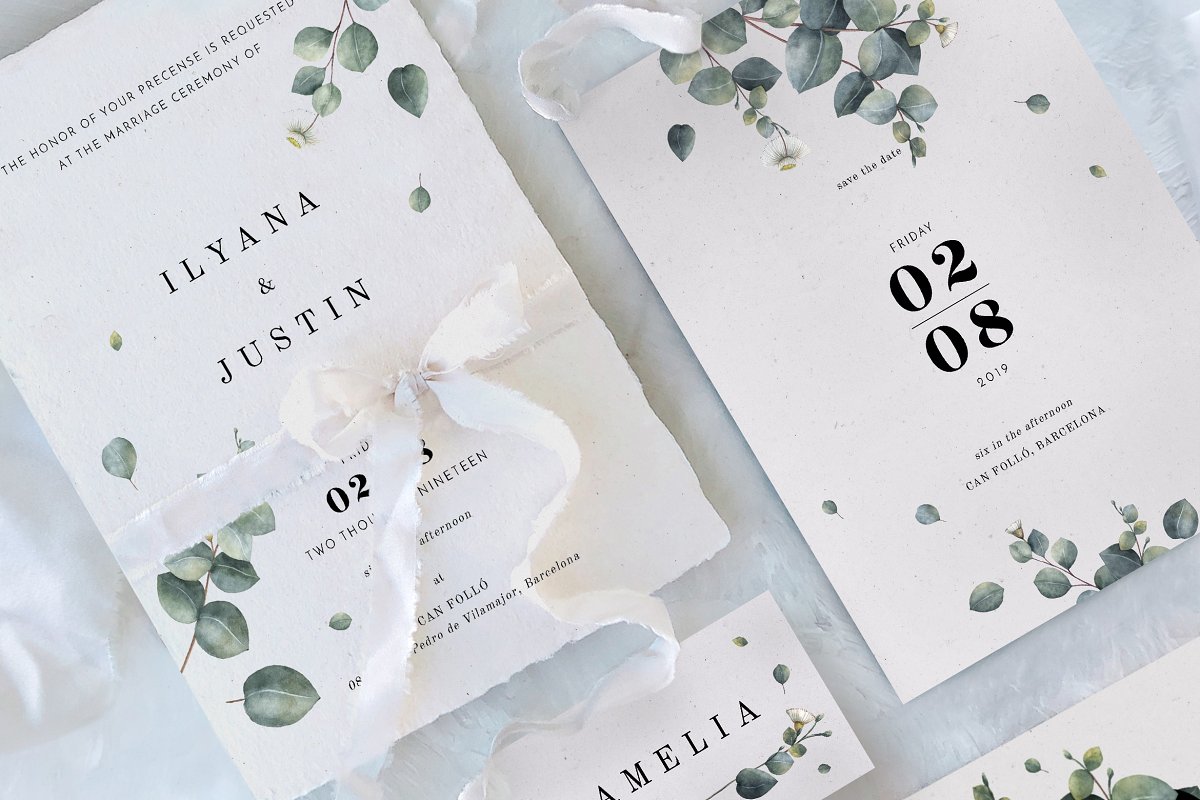 Sophisticated & elegant wedding invitation design with a mix of eucalyptus illustration & modern layout for your wedding celebration!
Watercolor Premade Branding Logo
File Type: EPS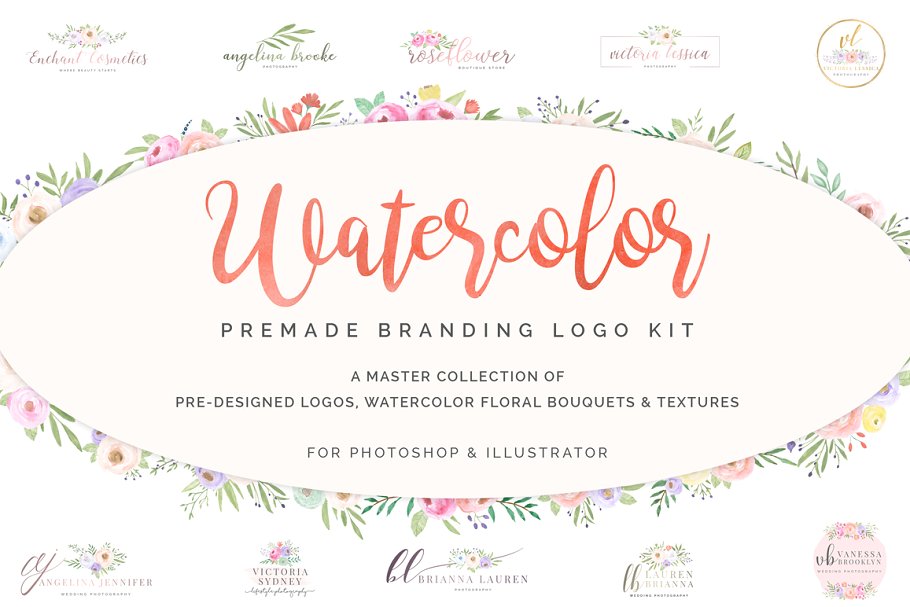 The brand new concept of Logo branding with watercolor floral bouquet. All of them are ready for both Adobe Photoshop and Illustrator.
Watercolor Logo Templates
File Type: PSD, PNG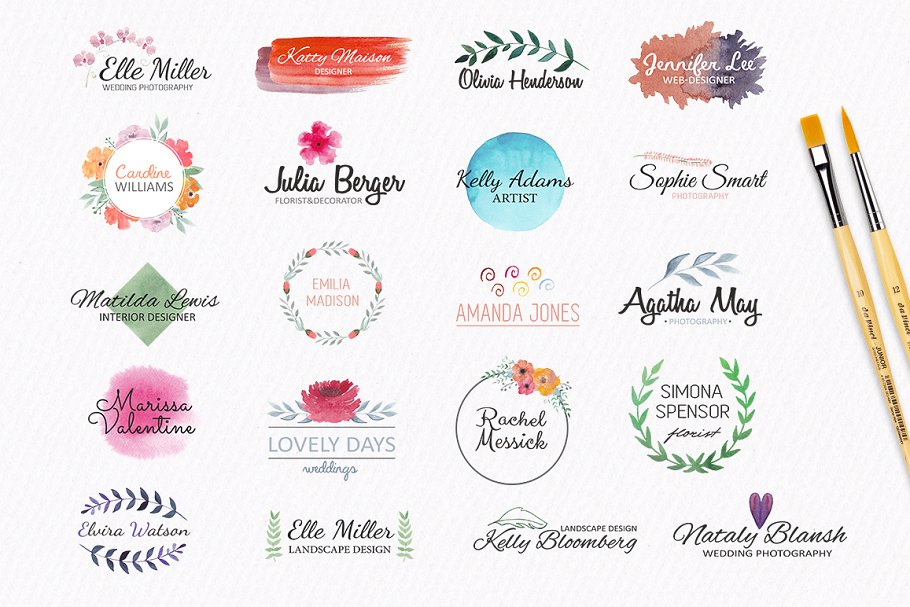 You can save a great amount of time by using this watercolor logos collection. These logotypes are perfect for photographers, florists, decorators, designers etc. They are hand-painted, have beautiful watercolor textures and nice colors. Look good both on web and stationery.
Watercolor Design Bundle
File Type: AI, EPS
Introducing the Layerform Watercolor Design Bundle! Perfect for those looking to add a handcrafted feel to their artwork, this set covers your artistic endeavors in Adobe Photoshop & Illustrator with brushes, vectors and watercolor textures all made by hand and digitally converted.
Watercolor Floral Design Kit
File Type: PNG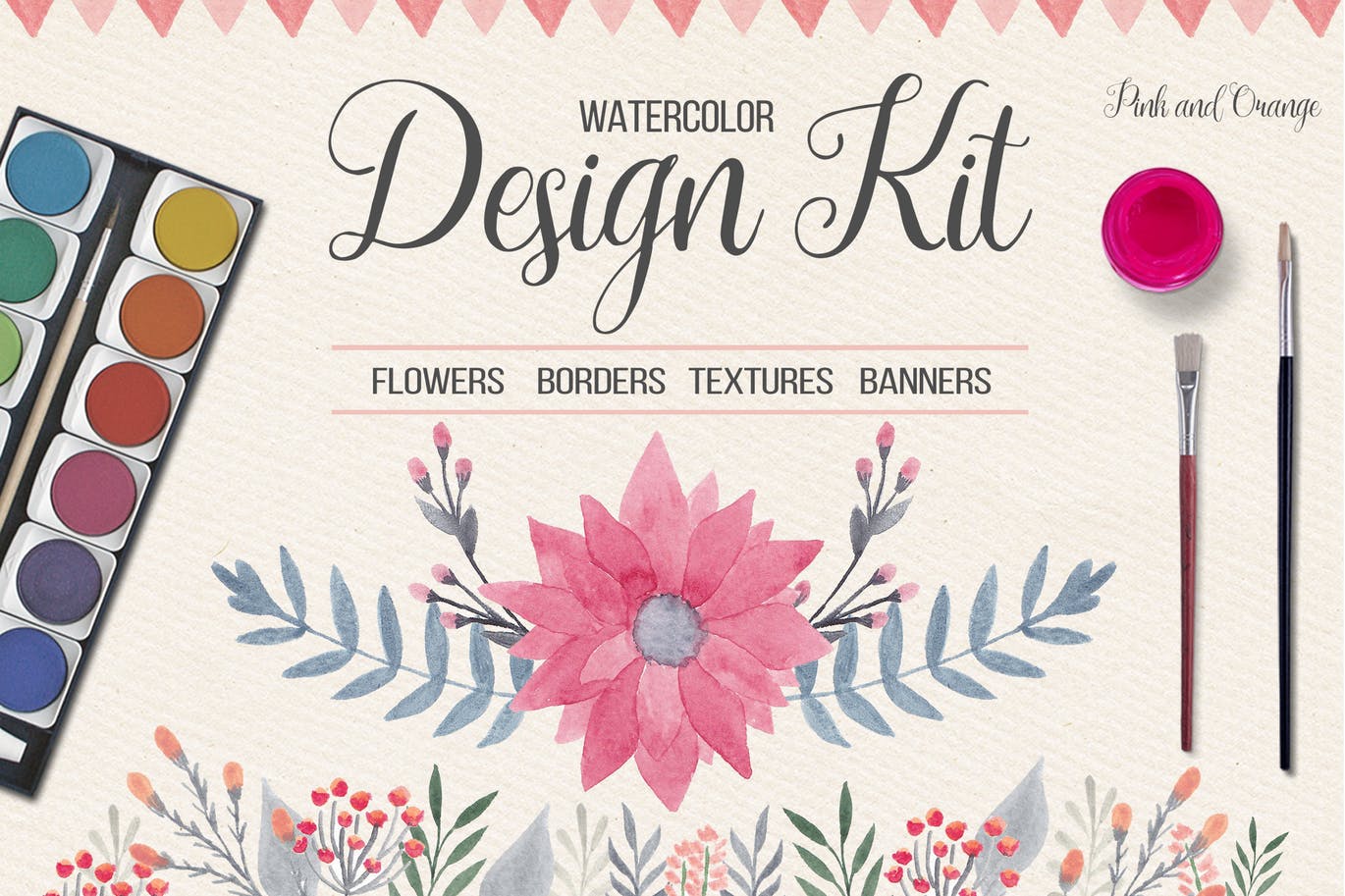 This pack contains more than 40 watercolor flowers, about 40 floral elements (leaves, branches), 7 watercolor bouquets, 12 decorative borders, 20 hand-painted yellow banners/ribbons, 6 watercolor textures/backgrounds.
Watercolor Design Kit New Green
File Type: PNG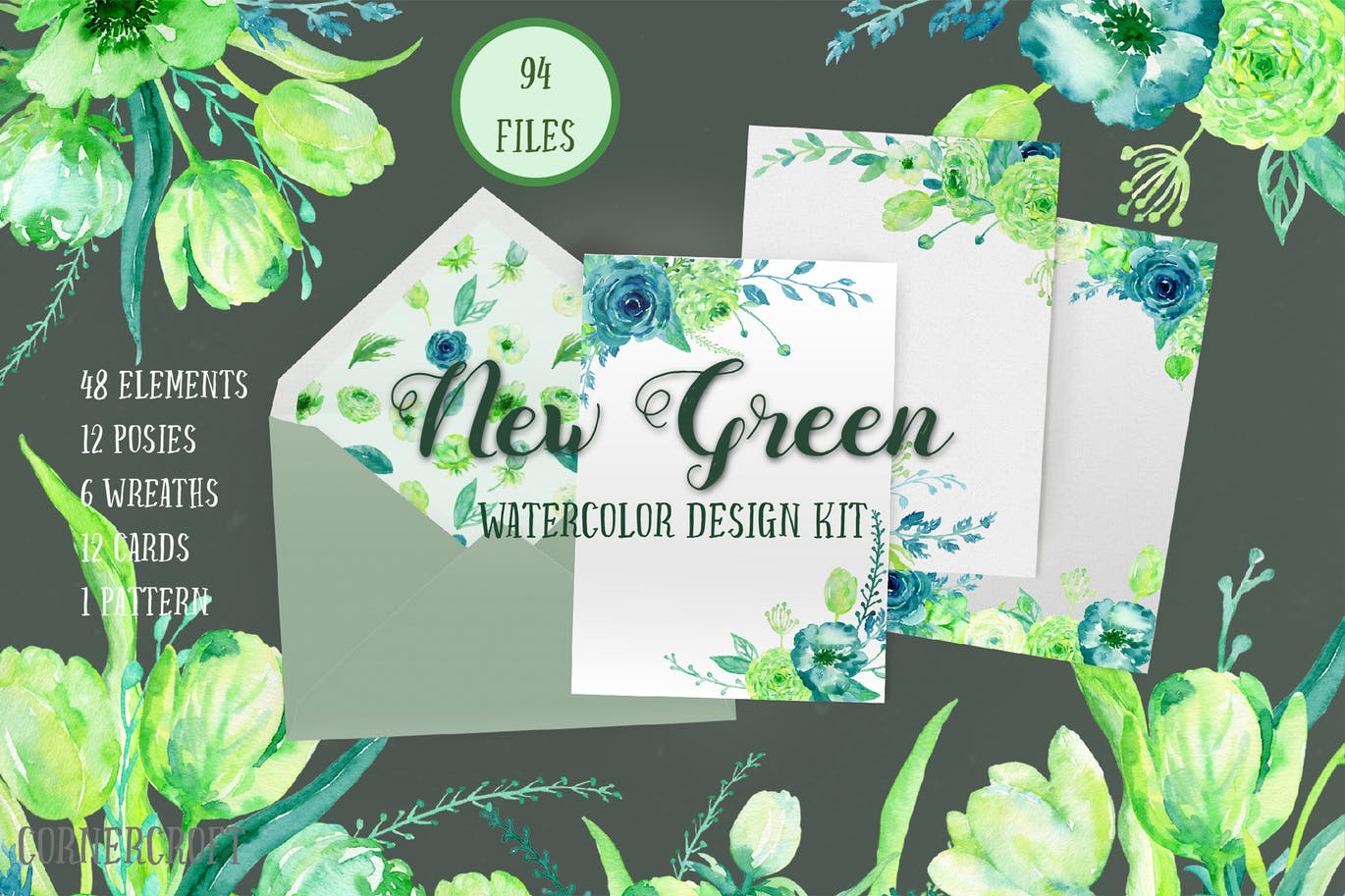 This is a green themed watercolor design kit specially put together for designing wedding invitations, valentine cards, greeting cards, feminine blog and web designs. The flowers in this design kit are tulips, roses, ranunculus and other spring flowers.
Greenery Wedding Collection
File Type: AI, EPS, PNG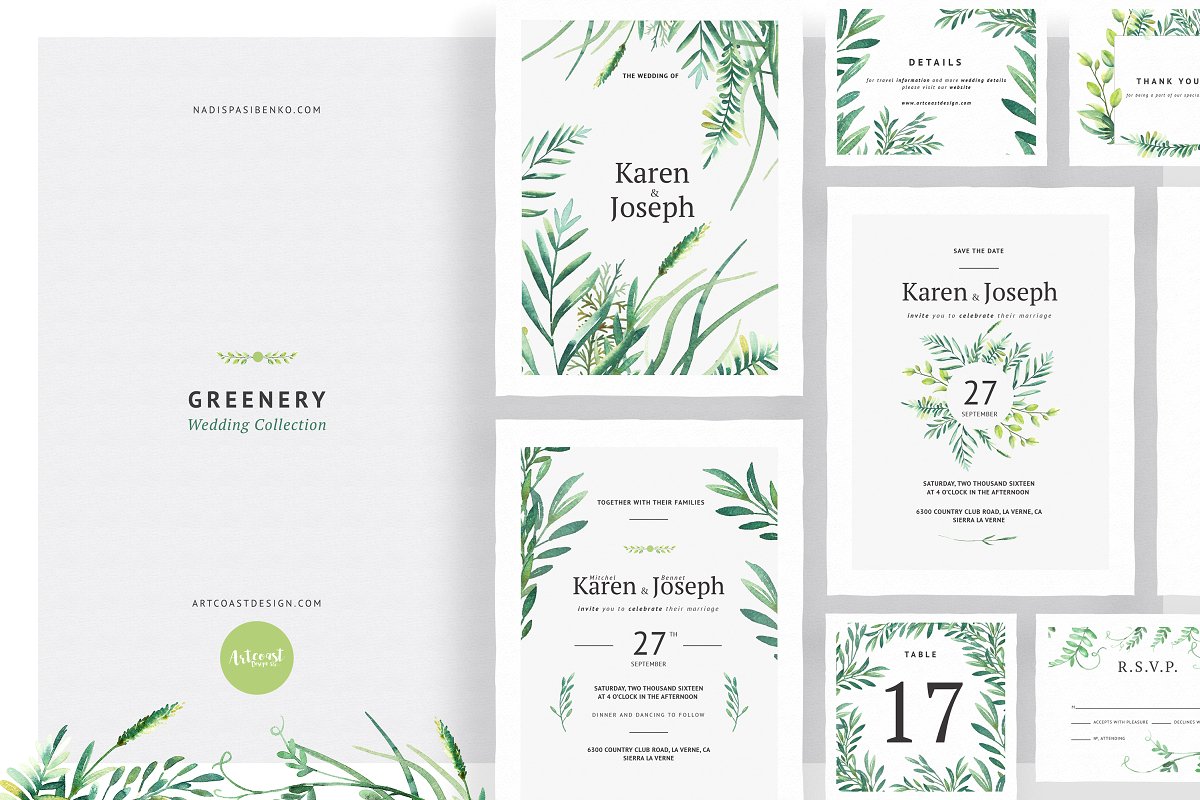 Greenery Wedding Collection. Includes: Save the Date, Invitation, RSVP, Details, Thank You Card, Escort card, Menu, Table number. The templates are print ready. Simply replace the text with your own information.
The Dreamy Watercolour Collection
File Type: PSD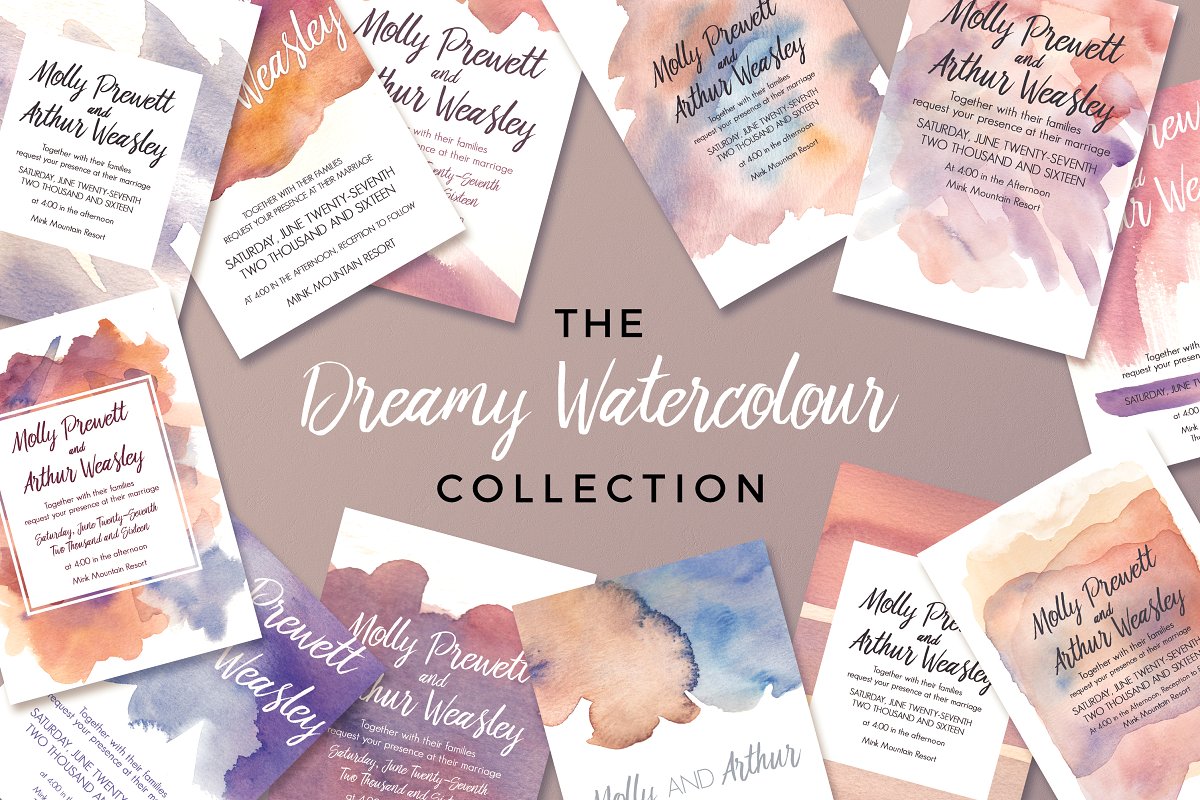 All text and font colors are editable. The watercolour elements were hand painted and are not fully editable, although the colour can still be modified by changing the hue (this is pretty limited though).
Peach Watercolor Invitation
File Type: PSD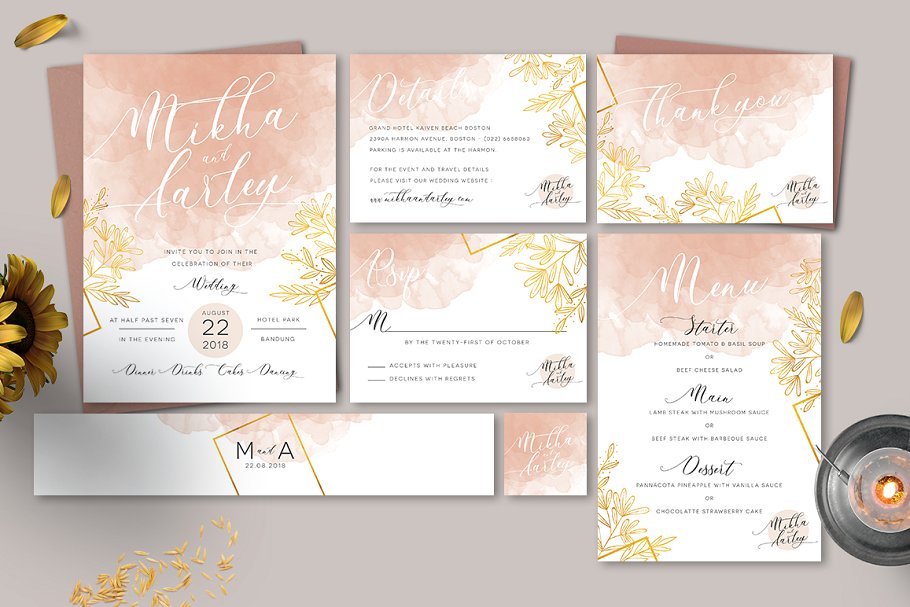 Peach Watercolor Invitation for your beautiful wedding, birthday, anniversary, etc!
Watercolor Wedding Invitation Suite
File Type: PSD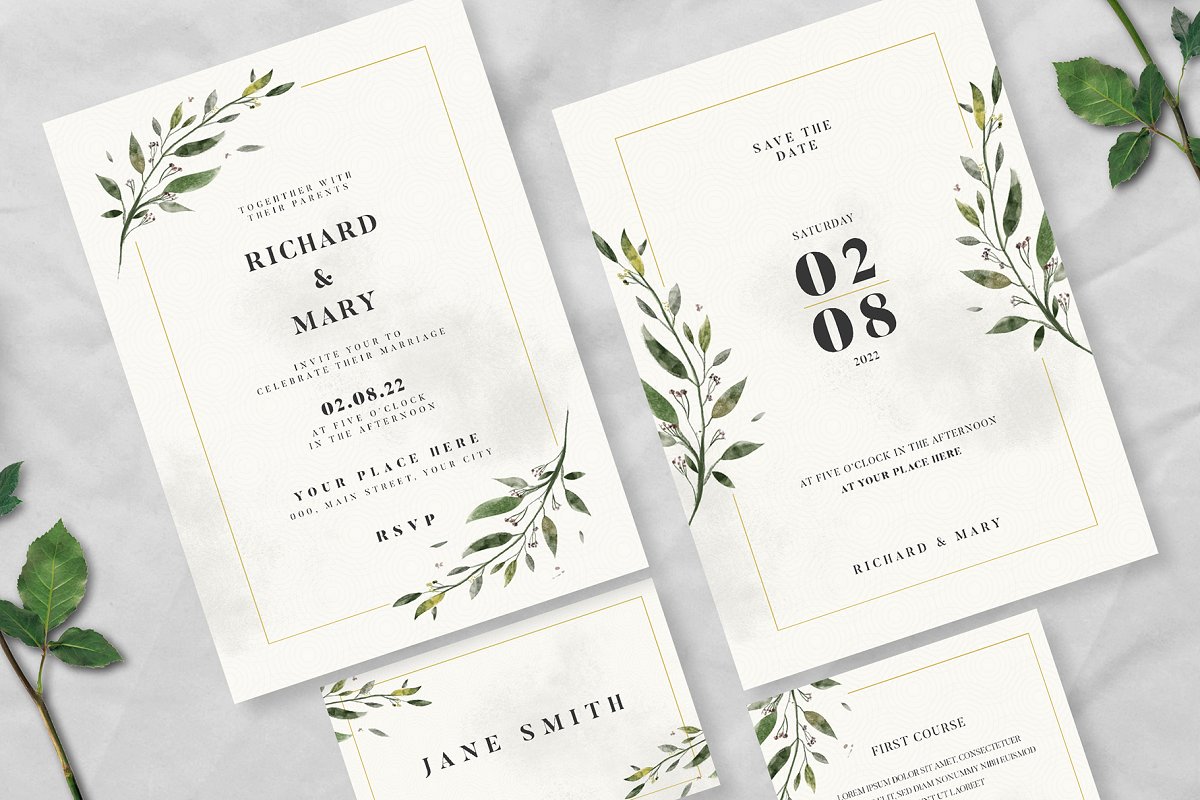 A complete wedding invitation design for your wedding celebration is now ready for download! you can easily create an elegant and sophisticated theme. The package itself contains: front & back wedding invitation, save the date, RSVP, thank you card, table number, menu card, escort card all files are ready to use and come in very simple layers.
11 Watercolor Flower Wreath Graphics Illustrator
File Type: PNG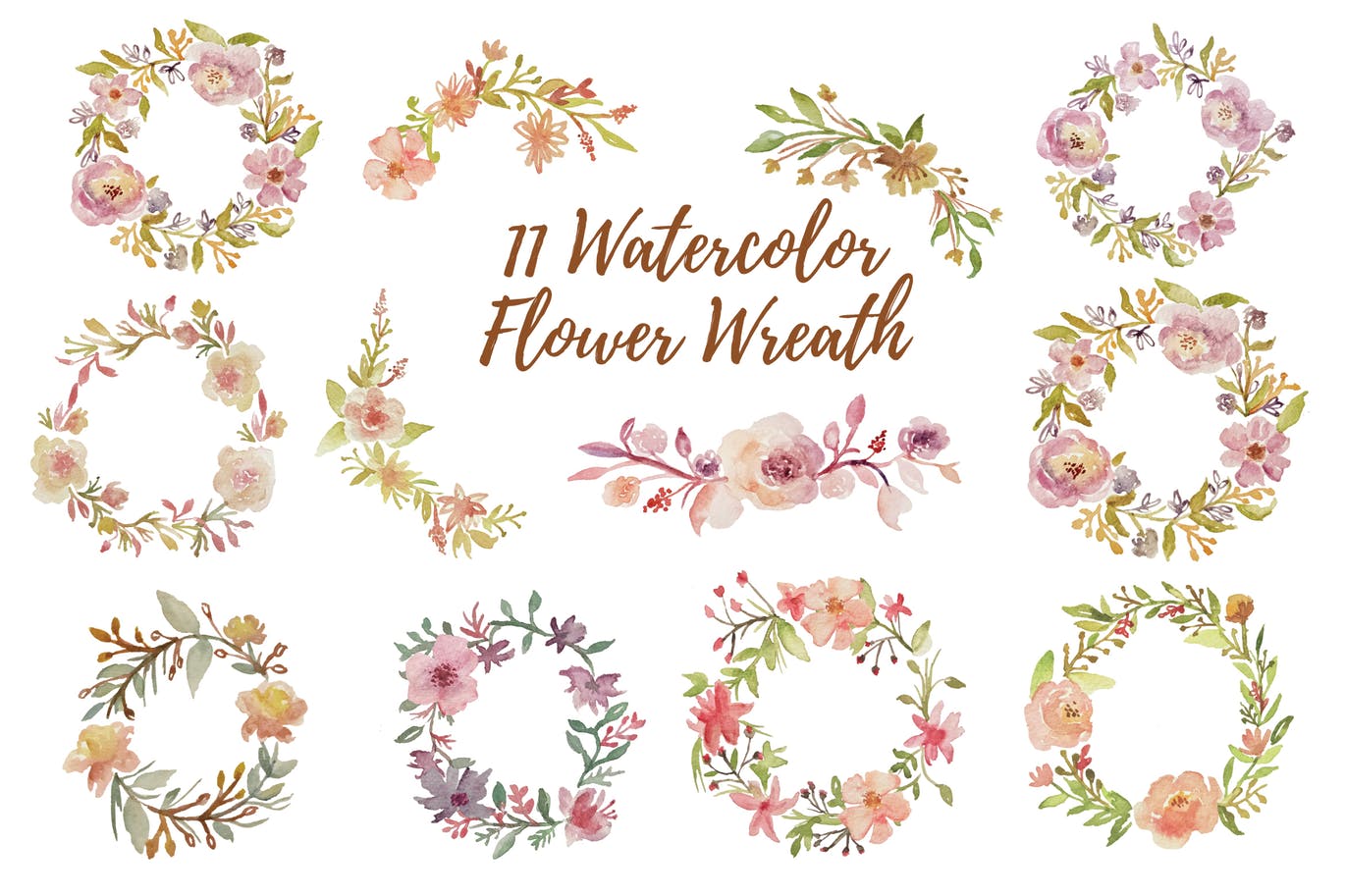 11 Watercolor flower wreath graphics illustrator, watercolor clipart and decorative elements.
10 Watercolor Geometric Floral Frame Illustration
File Type: PNG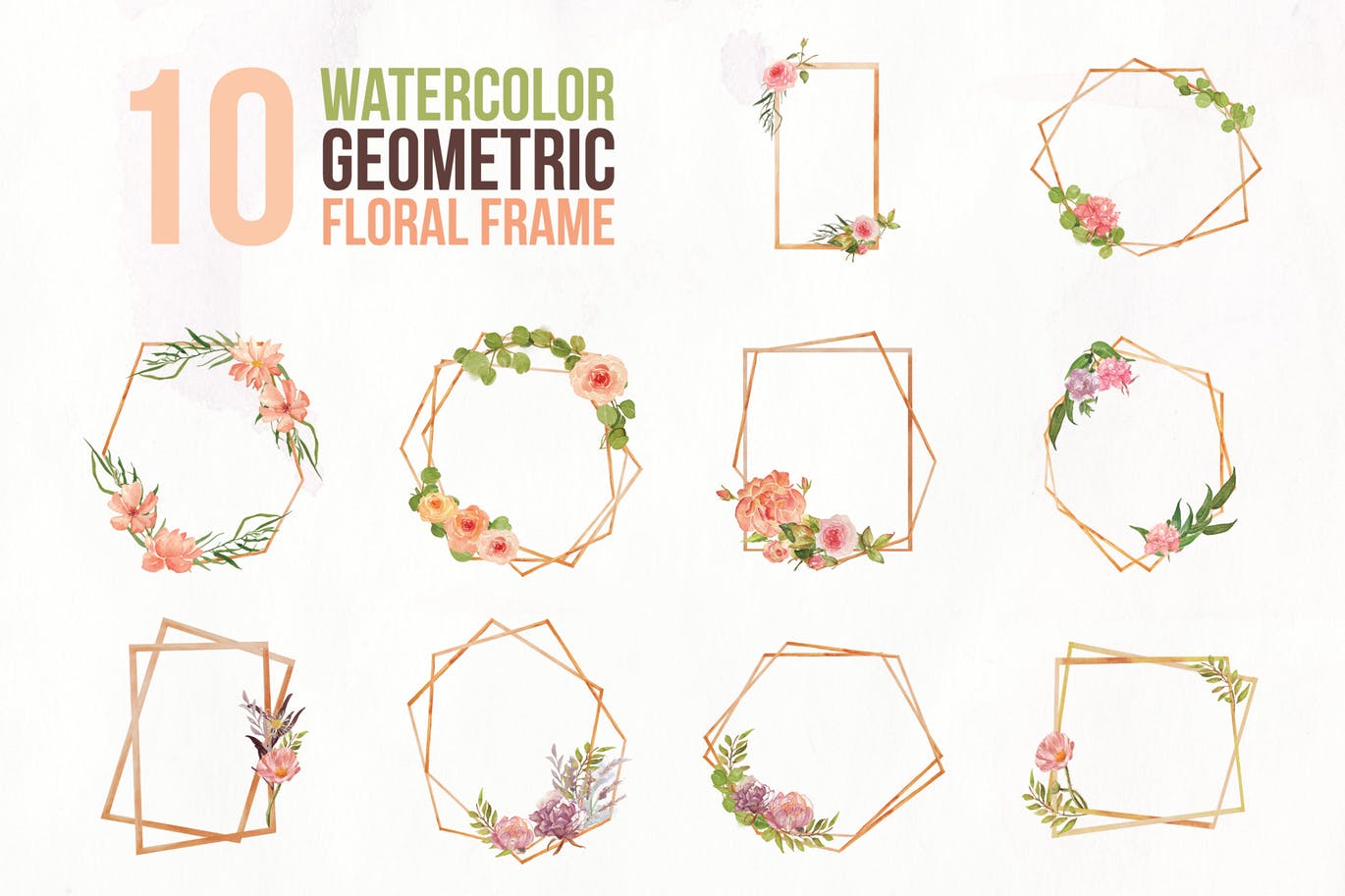 10 Watercolor geometric floral frame illustration , watercolor clipart and decorative elements.
Watercolor Wedding Invitation
File Type: PSD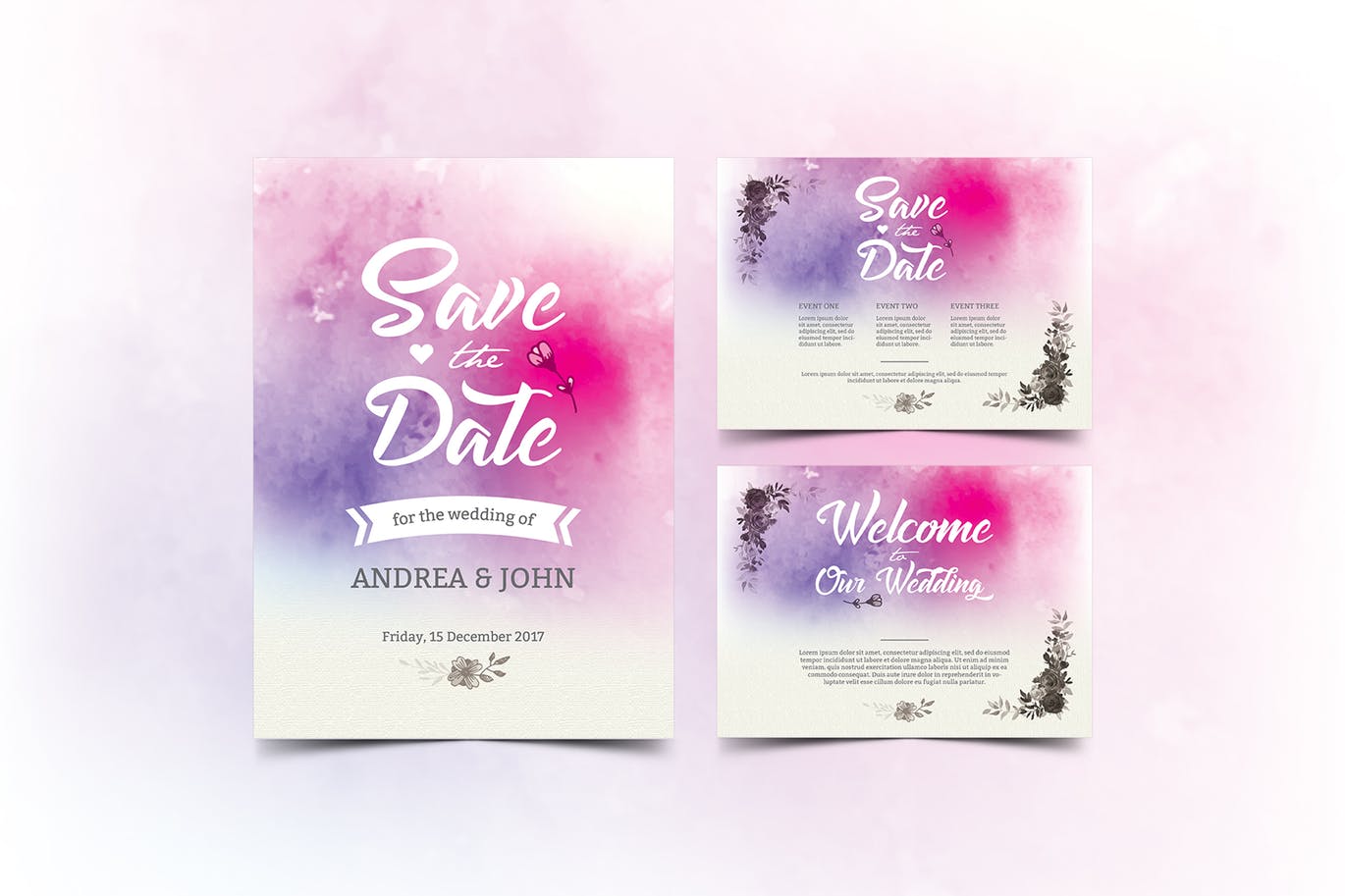 This modern wedding invitation and save the date pack is perfect for any DIY couple looking to show their unique personality! Each invitation and save the date color has its own PSD file. Layers are carefully organized and labeled for easy customization. Happy wedding planning!
Business Card Template with Watercolor Background
File Type: PSD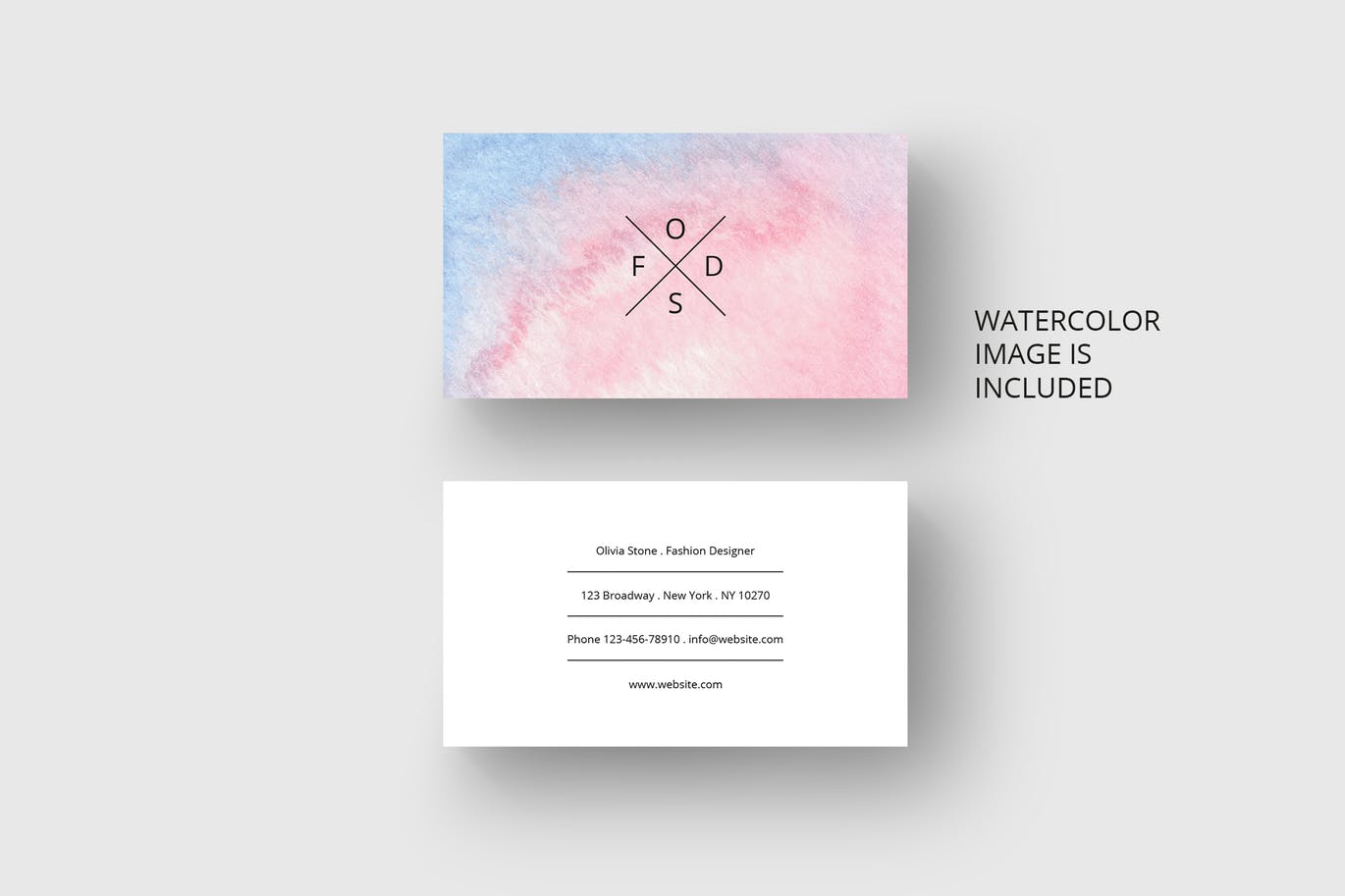 These business card come in two sizes EU (85 x 55 mm) & US (3,5 x 2 inch) and each once with and once without bleed. This is a well organized PSD-template with 300 dpi, so you only have to add your content and it`s print ready. Only free fontsare used (also for commercial use).
DIY Watercolor Floral Baptism Invitation
File Type: AI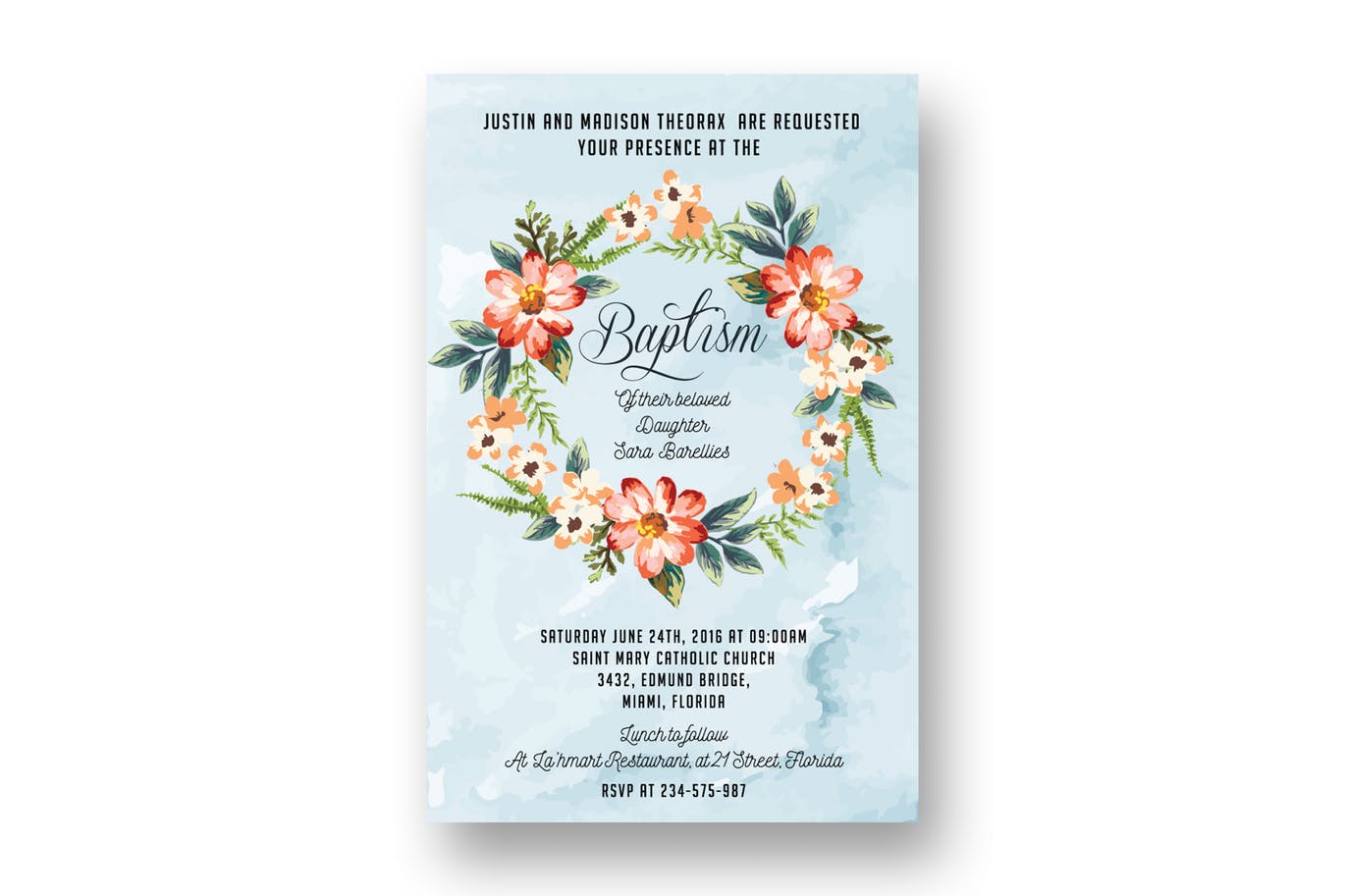 This set comes with a single card (back & front) which can be used as a greeting card or invitation card.
Watercolor Business Cards
File Type: PSD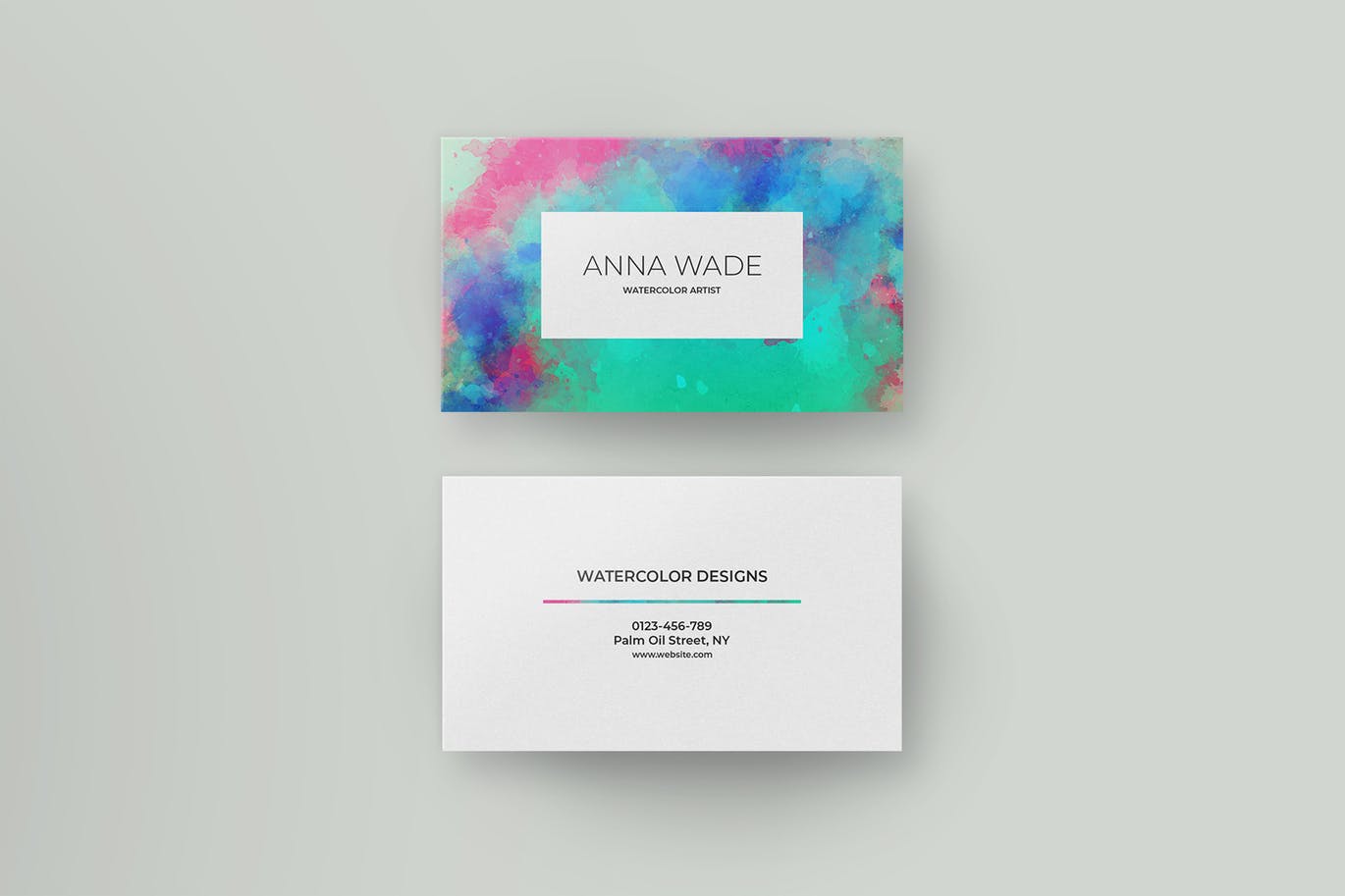 Two horizontal business cards in Photoshop PSD file format watercolor style.
Business Card
File Type: PSD
Business cards in Photoshop PSD file format watercolor style.
Watercolor Flowers Table Cards
File Type: PDF
1 PDF file normal size printing paper 8×11 / A4 21cm x 29cm, with 4 table cards on there.
Watercolor CV/Resume Template
File Type: AI, DOC, PNG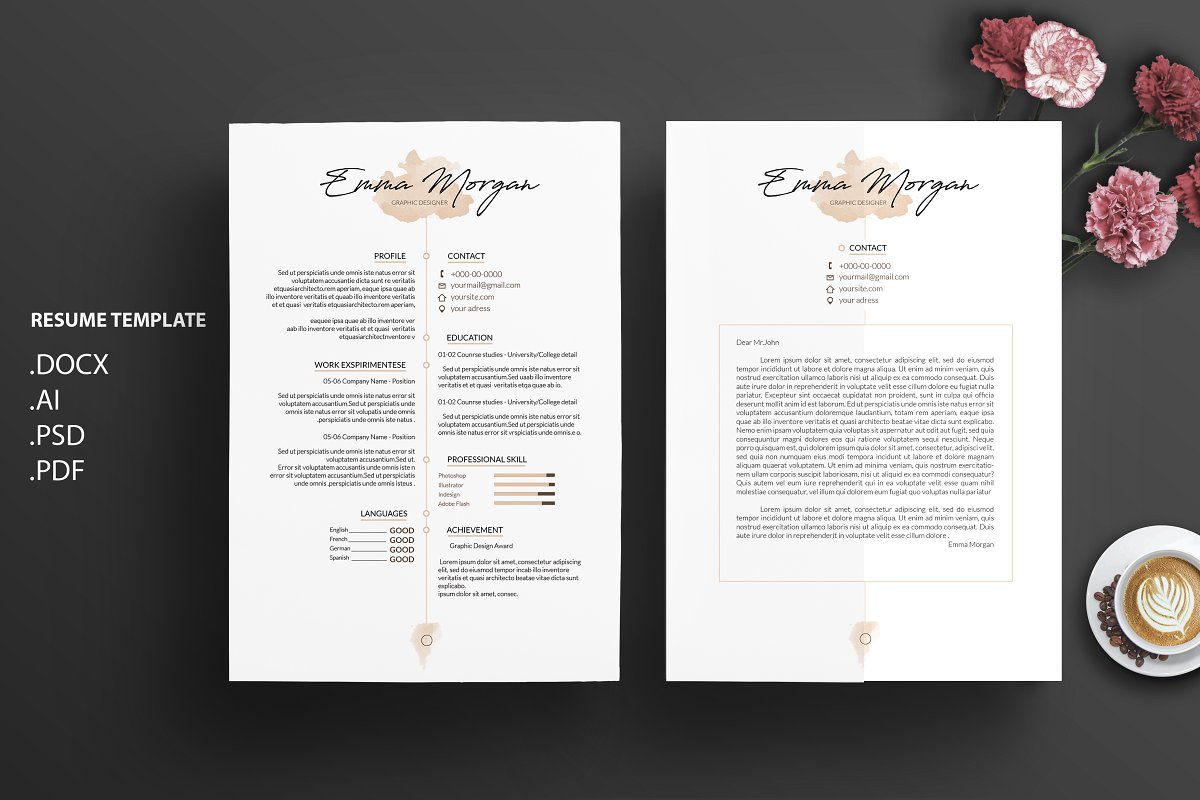 This listing is for digital files that I customize with your information for you and then you may print the files at home or send it to any printing services or photo lab.
Wedding Menu Template, Aurora
File Type: PDF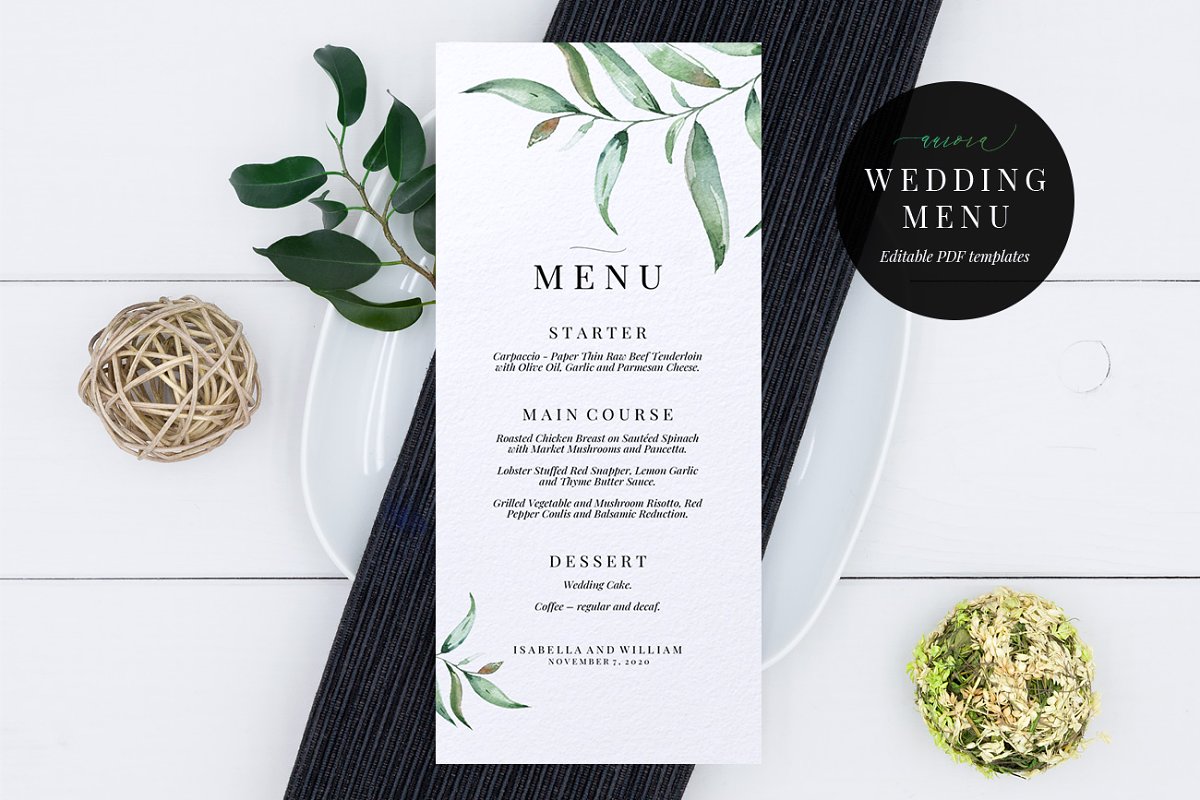 This is a quick and easy solution which you can use to create a simple and elegant Wedding Menus. You can edit and print as many copies as you need.
Watercolor Greeting Card
File Type: AI, EPS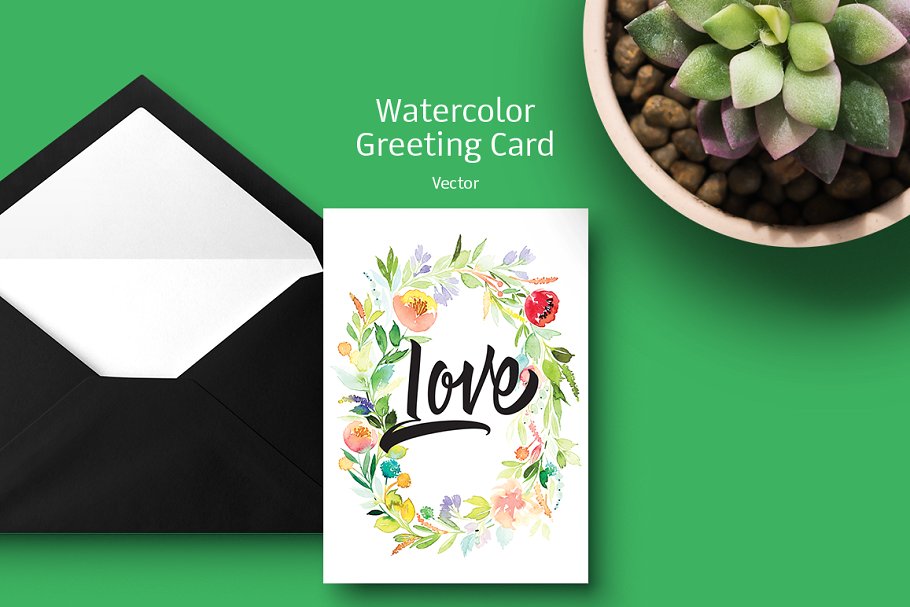 Watercolor card wreath with flowers. Suitable for weddings, Mother's Day, Easter. Vector lettering "Love".
Watercolor Sweet Patterns
File Type: PNG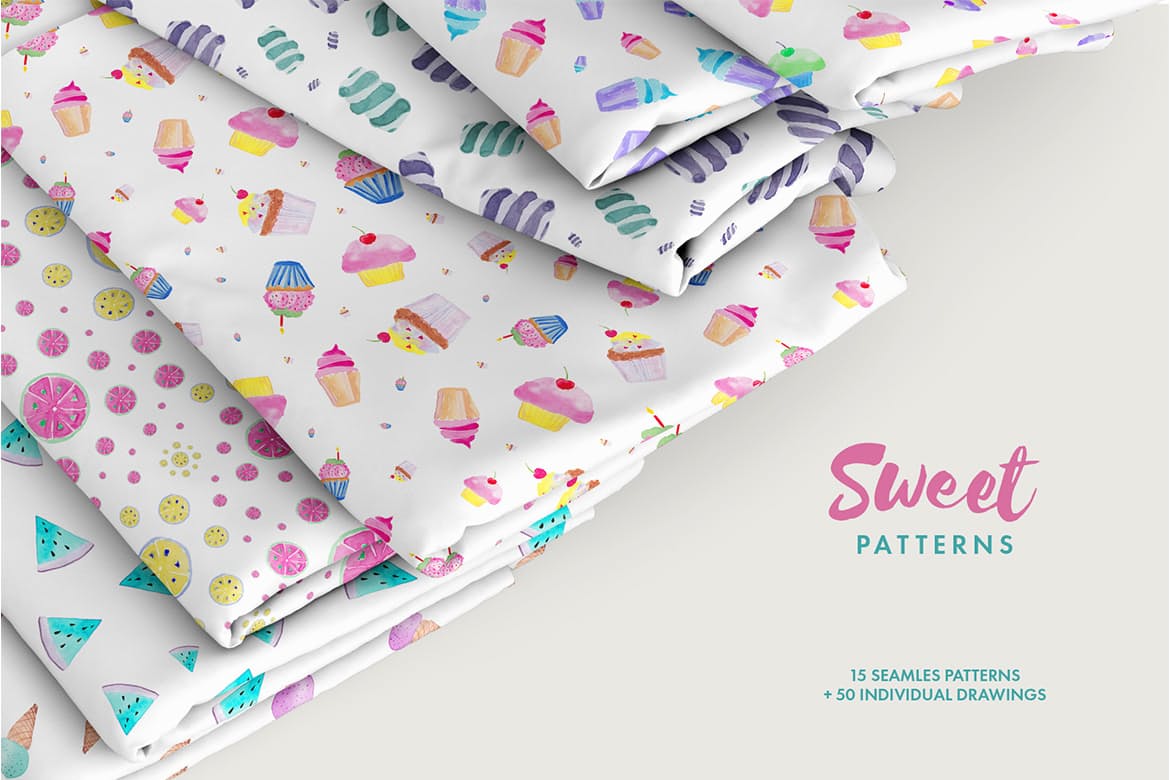 15 seamless patterns created with hand-drawn watercolor sweets.
Wonderful Watercolor Papers
File Type: JPG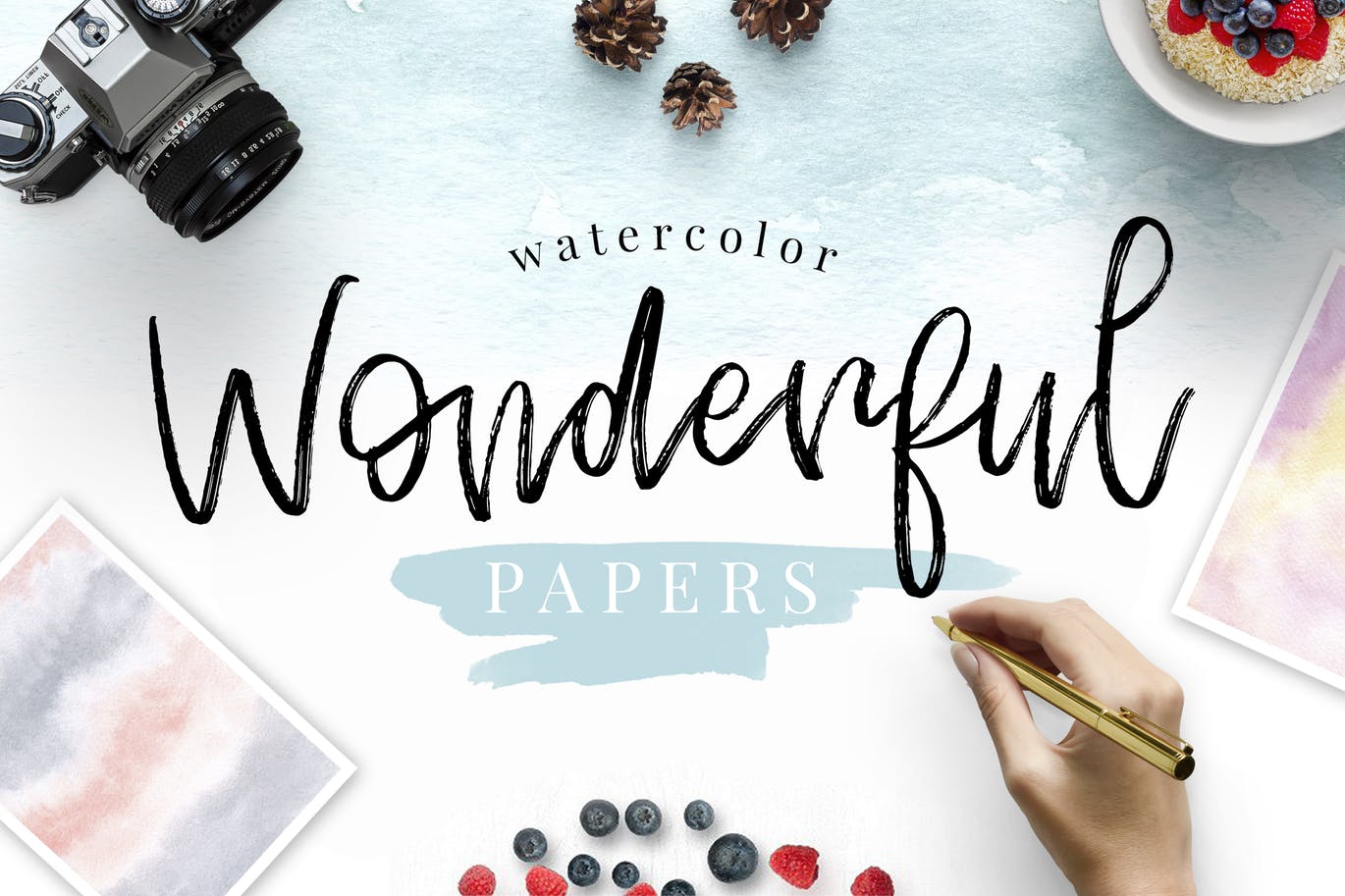 Watercolor Textures can be used for handmade crafting of all sorts: invitations, cards, party banners, gift tags, packaging, party supplies, digital scrapbooking, for web design. These are just some examples, however you are free to use these textures as you like!
Birds in Watercolor
File Type: PSD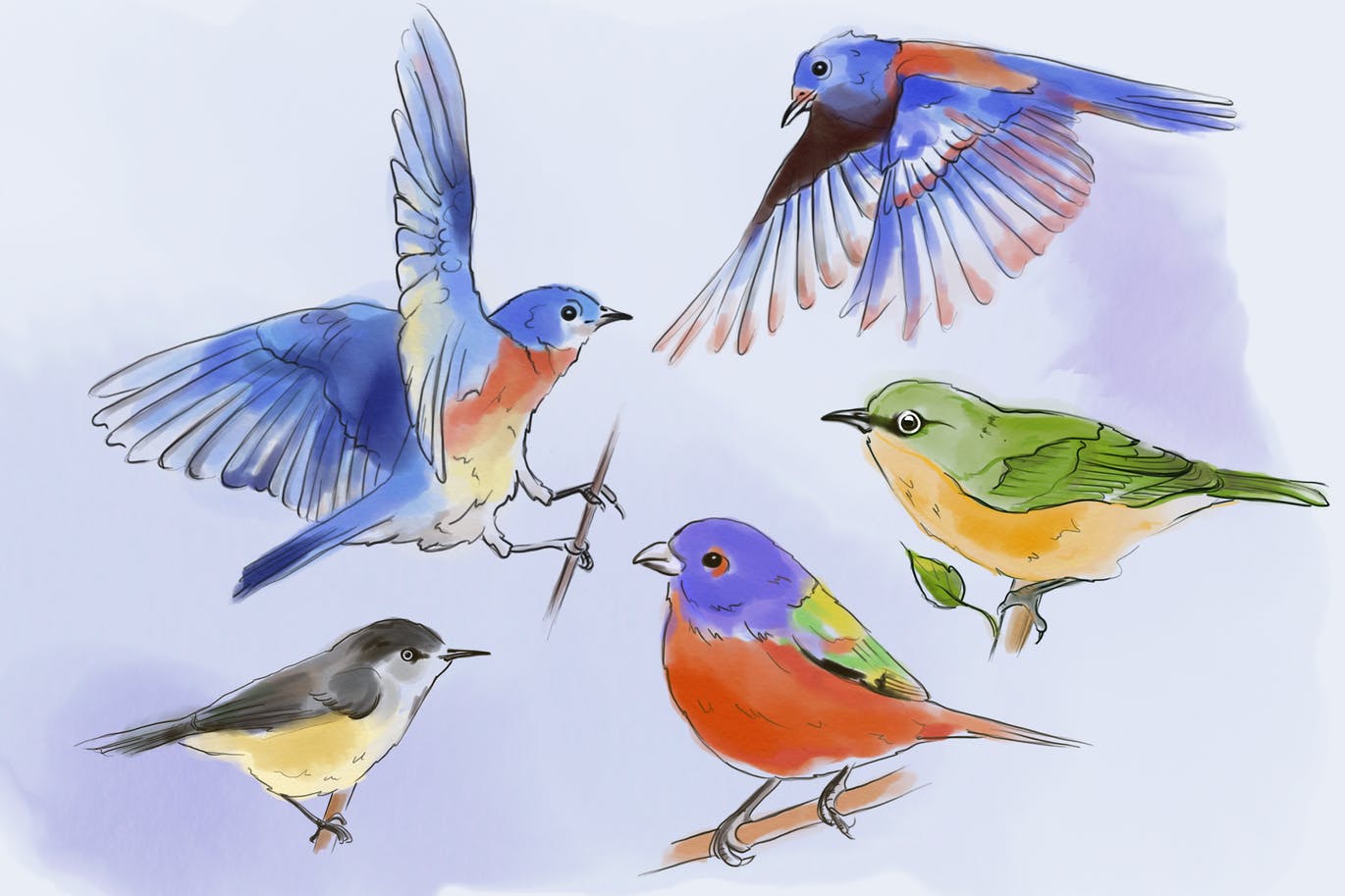 The package includes AI and EPS versions and the preview image.
Watercolor Floral Business Card
File Type: PSD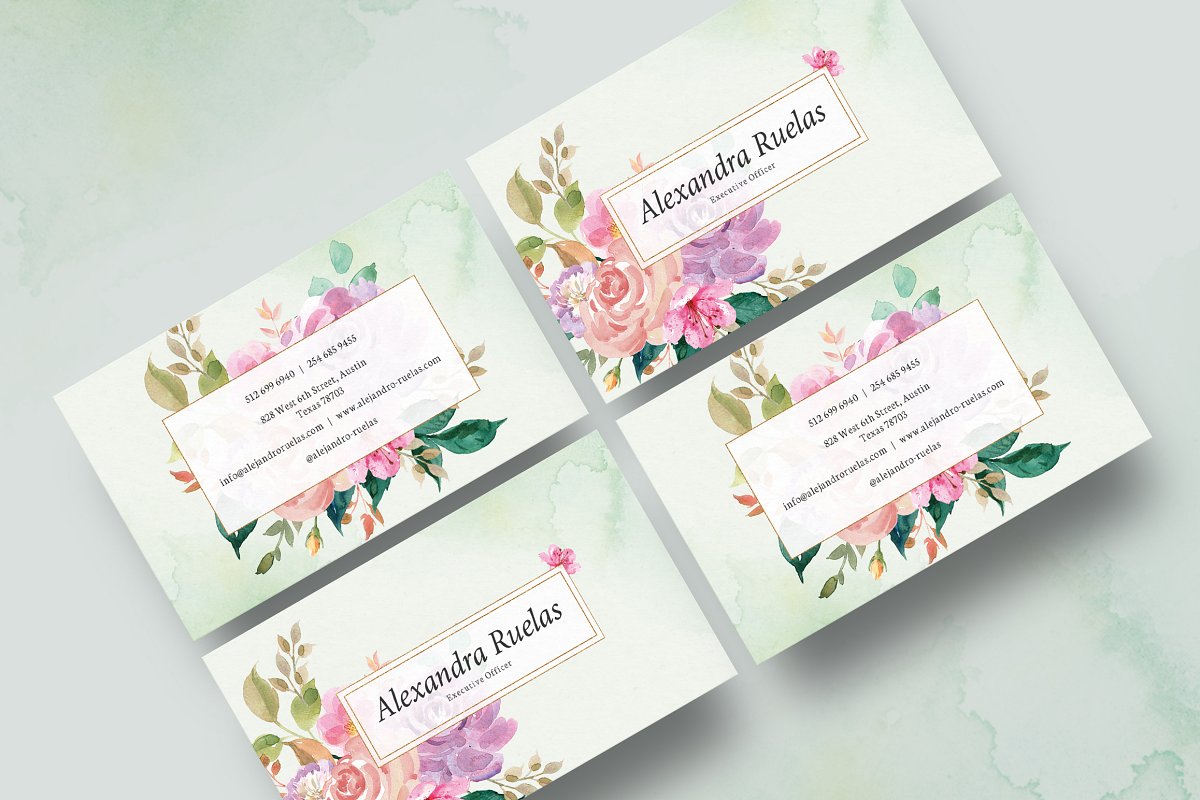 Introducing our Watercolor work based Floral Business Card Template. It's best suitable for your brand identity. It's suitable for a variety of fields like cosmetics, jewelry, beauty, fancy restaurants, luxury and fashion industry, interior design, architecture, graphic design & personal branding.