Watercolor fonts can be applied to any graphic design project to spice things up. This fonts can be used for fashion, stationery, magazines, film, books, greeting cards, brochures and on so much other graphic designs. To save you from the hassle of trudging through endless options, we`ve put together a list of more as 20 fabulous watercolor fonts. Enjoy the power of fonts today!
You may also like:
Hello Bloomie SVG Font Family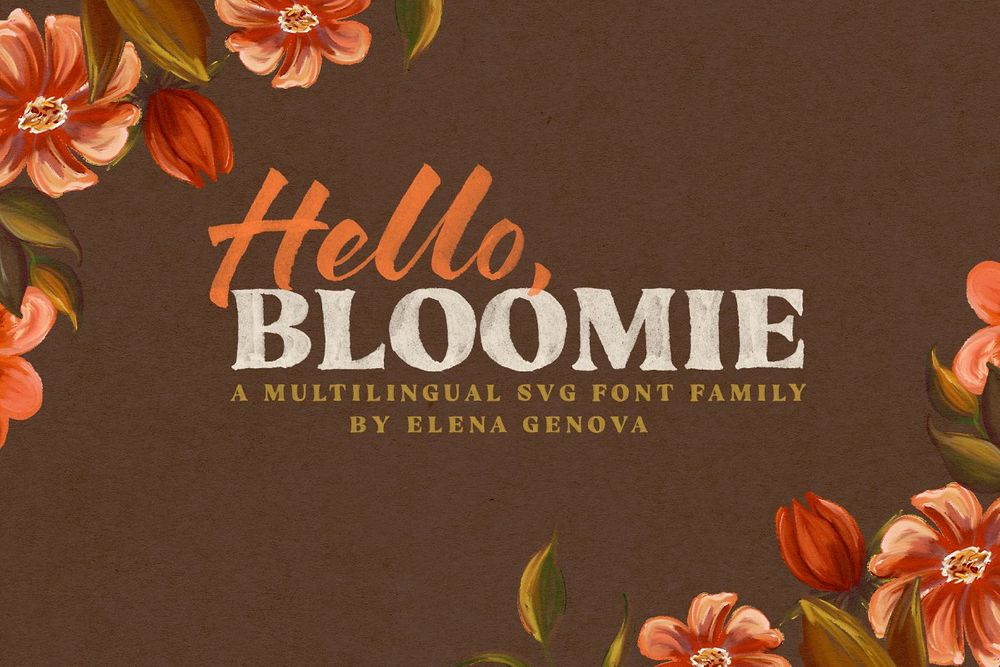 Hello Bloomie is a multilingual SVG font family. Both SVG fonts (brush script and serif) retain real brush and paper texture. The family also benefits from OpenType features – ligatures, alternates and some design elements – that will allow you to create unique designs with brush-written look.
The Georgios Font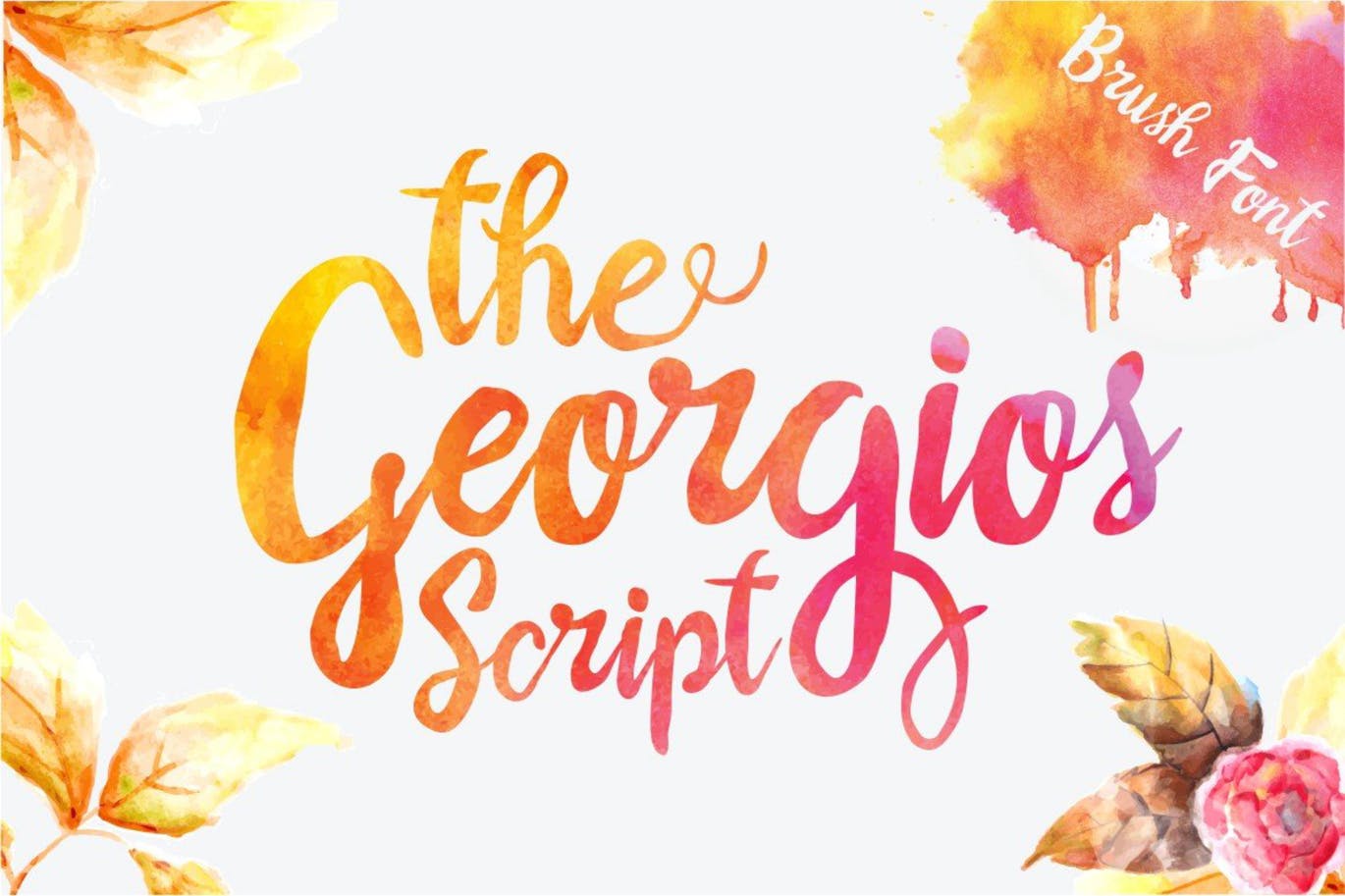 Georgios glyph consists of 276 glyphs, including many alternate choices of characters, including the stylistic alternates and sylistic set.
Bentonite Script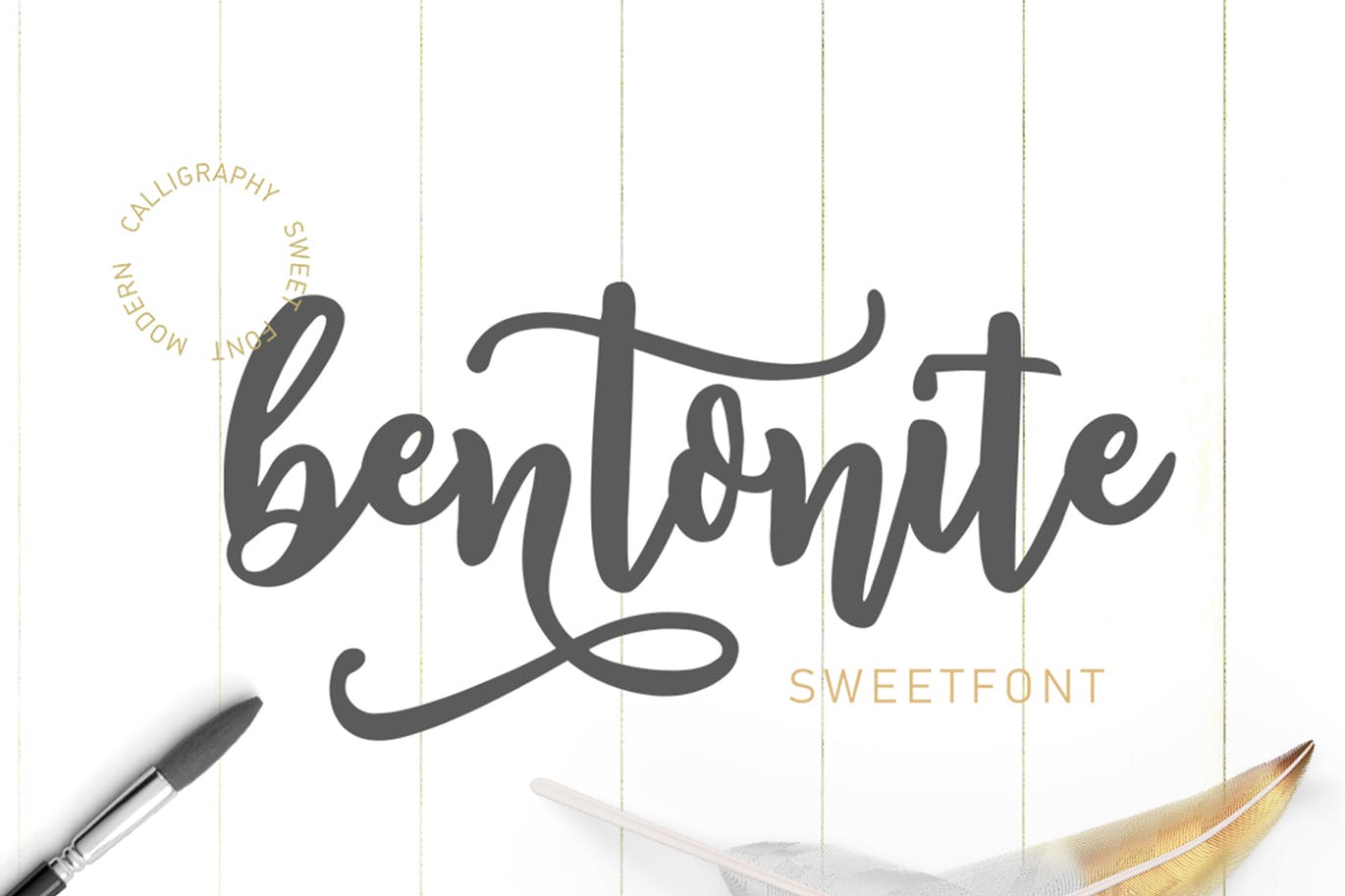 Bentonite is a calligraphic manuscript modern, dynamic and pretty with swashes. Can be used for many purposes. such as title, signature, logo, wedding invitations, letterhead, signage, labels, newsletters, posters, badges, etc.
Jody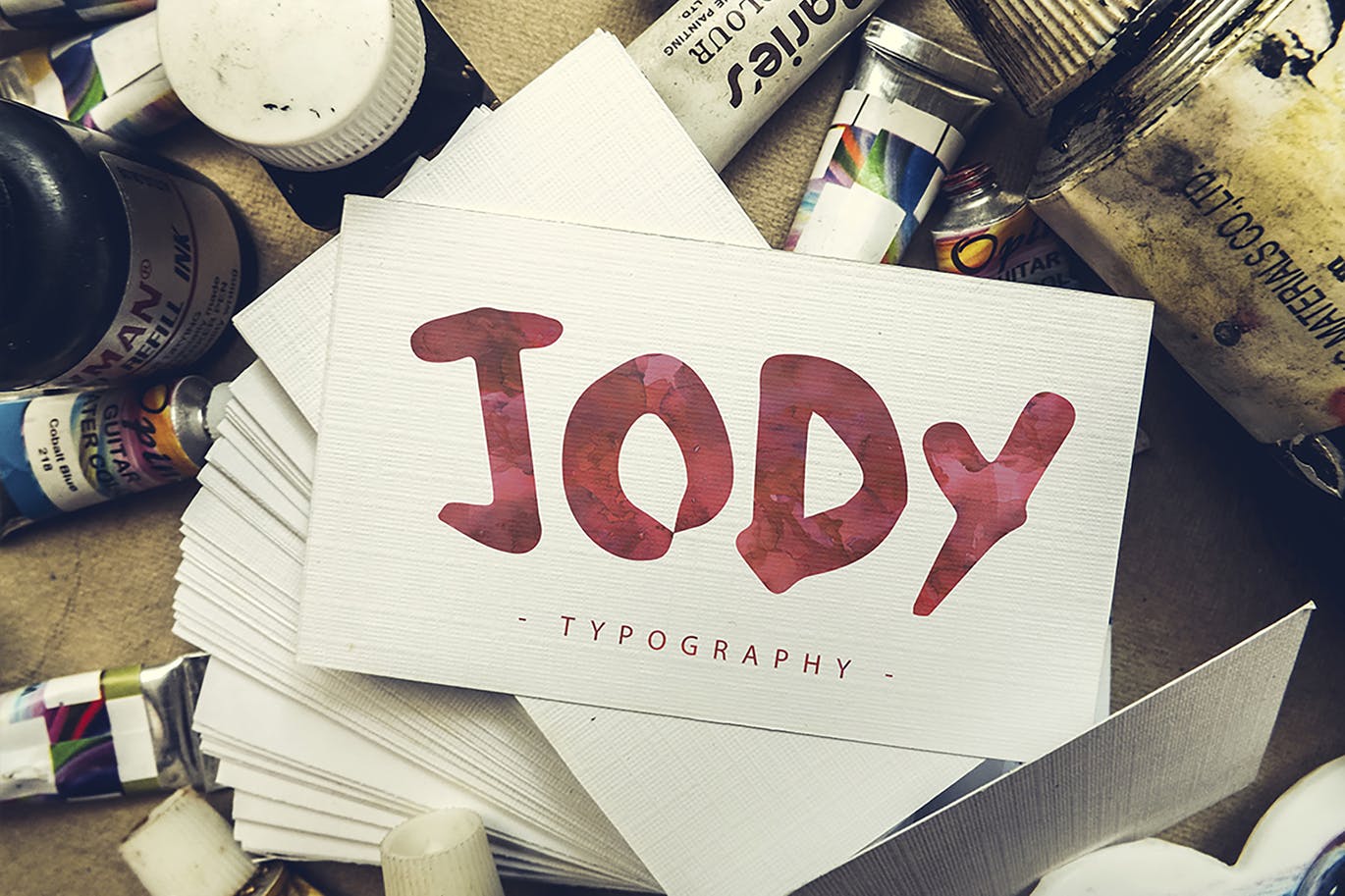 Jody is a font with an acrylic look & feel to it. This font is perfect if you are looking to create items that need to stand out.
Bouqet Flower & Watercolor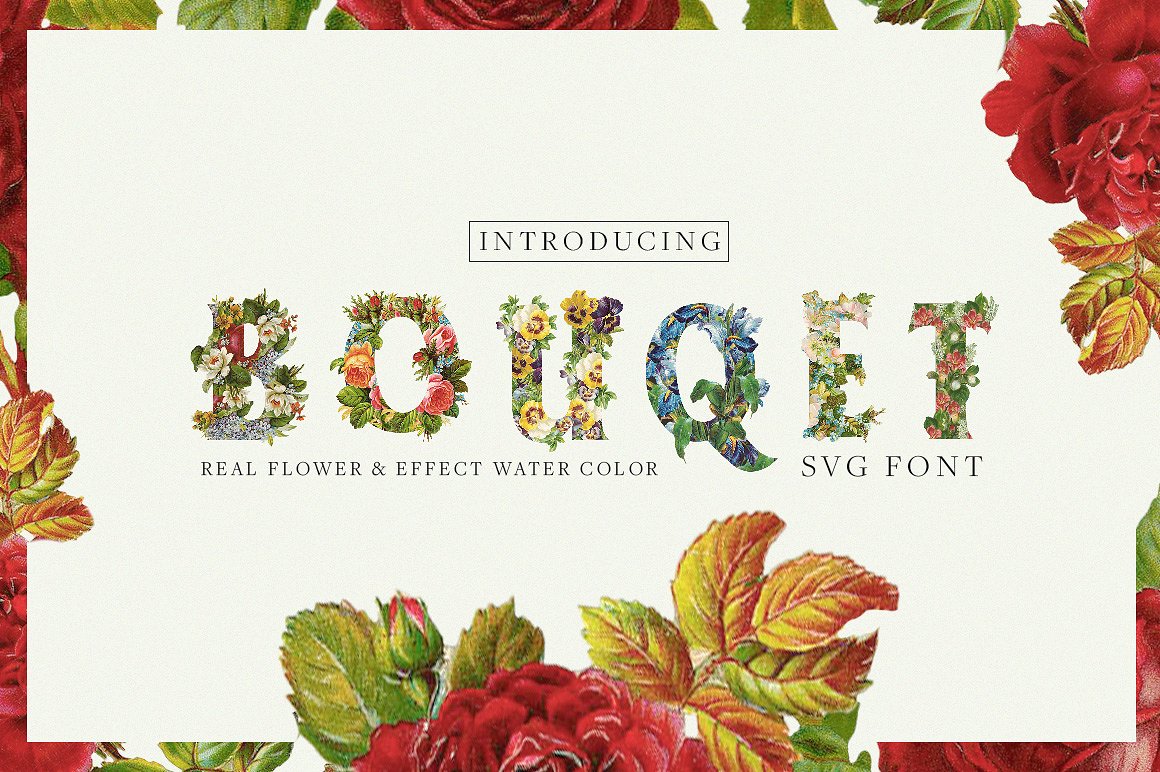 Bouquet Flower & water Color font svg created with two versions. wich is Real flower version and flower color water effect. Bouqet Flower & water Color typeface can be used in all versions of photoshop.
Billow Font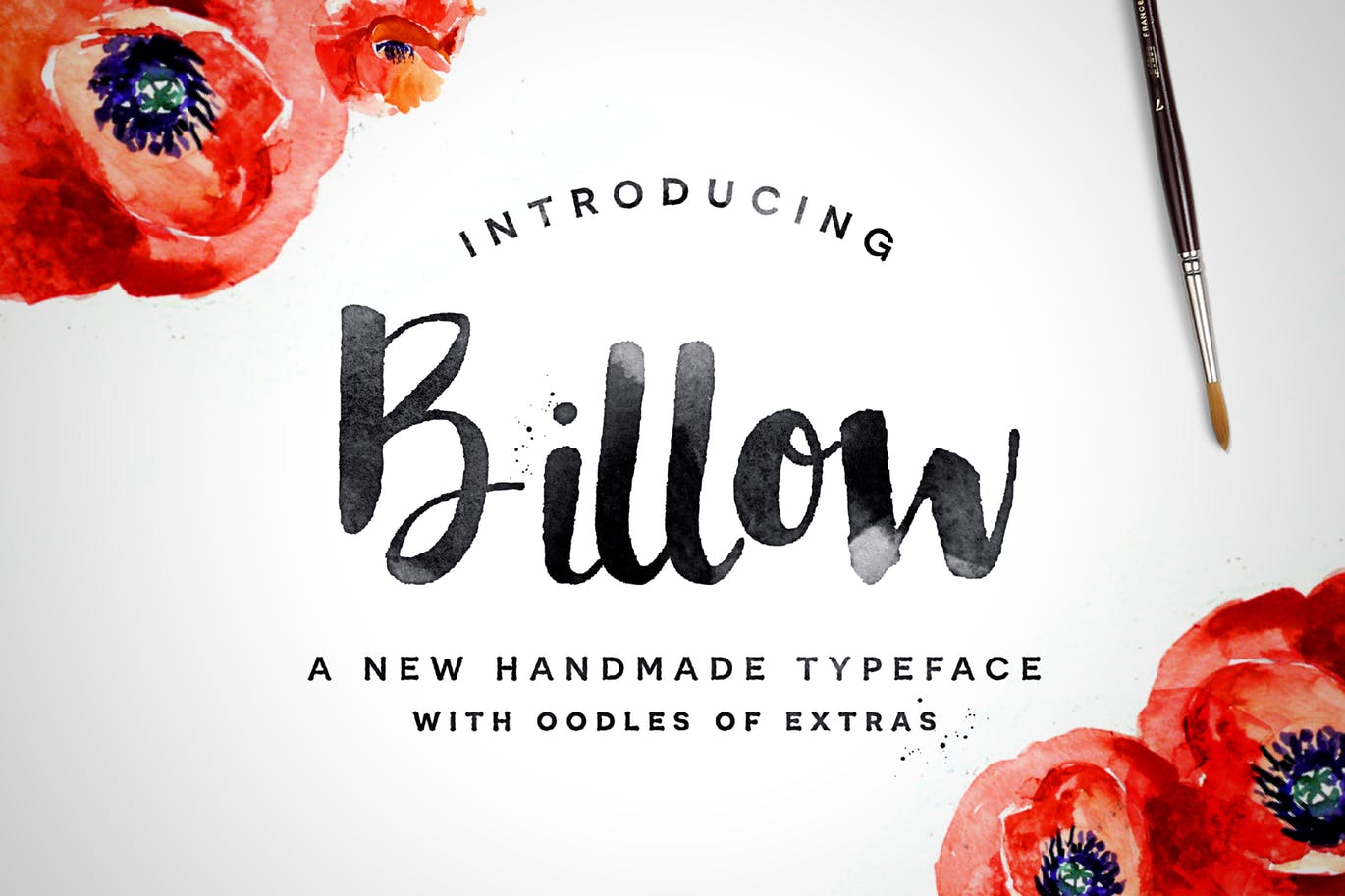 Billow is a bold and beautiful hand lettered font with oodles of extras! It's imperfect baseline and thin-to-fat characters give it a fun and stylish aesthetic perfect for typography, branding, logo design, invitations, prints, and wedding elements. It's unrefined. It's spontaneous. It's imperfectly perfect!
Flawless Script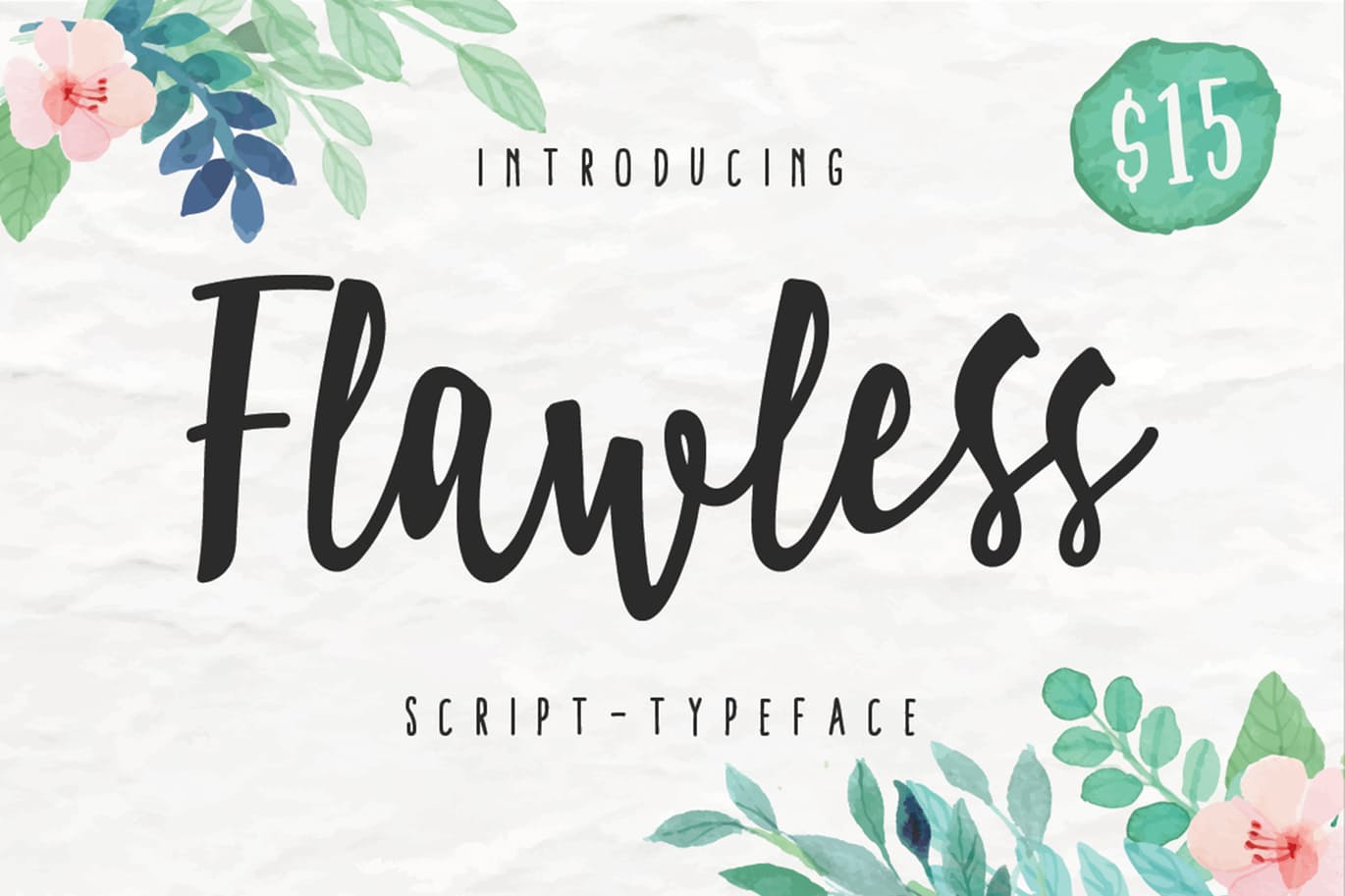 FLAWLESS SCRIPT is handwriting brush script, can make it easier to convey the message in your design. use this font for awesome wedding card, poster, etc.
Honeycomb Font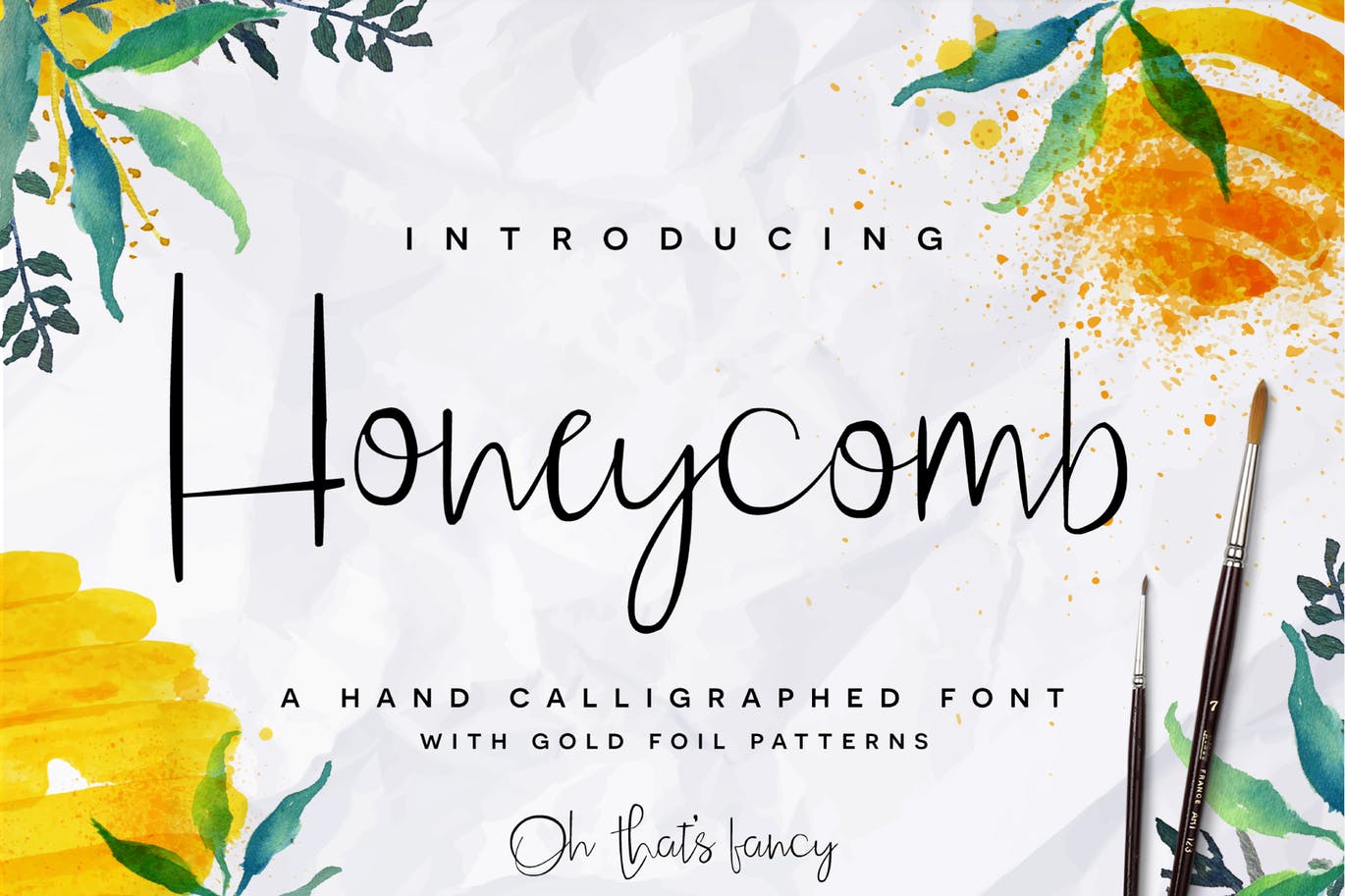 Honeycomb is a fun & flirty script font with some sweet bonuses! It's fat-to-thin brush strokes and imperfect baseline give it a fun and stylish aesthetic perfect for typography, branding, logo design, invitations, and prints.
The Lovestory Font Collection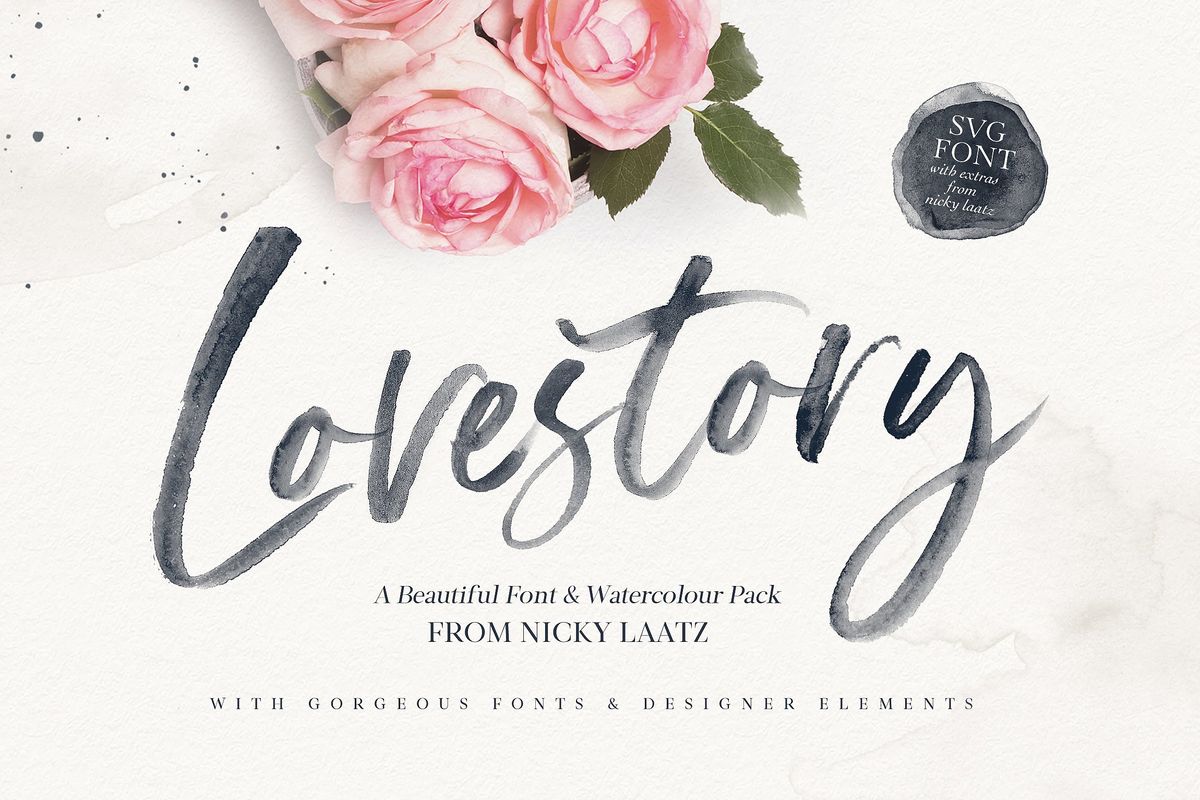 Make your own Lovestory!, with the new Lovestory SVG Font Collection – a set of elegantly co-ordinated graphic SVG fonts and elements to create beautiful typographical designs.
SkyLove SVG Watercolor Font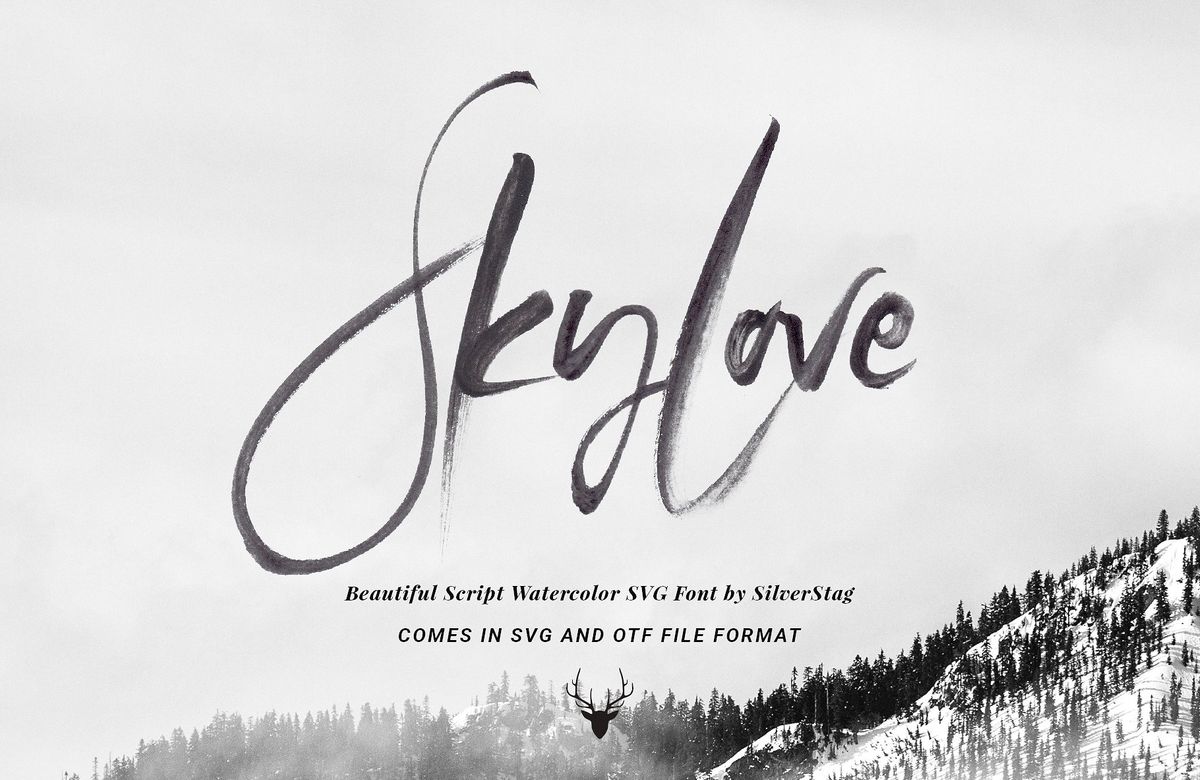 SkyLove is a watercolor SVG font that has a true hand drawn look and feel. SkyLove Watercolor font requires Photoshop CC 2017 or Illustrator CC 2018 (or newer) to use, however OTF SkyLove Script doesn't require any specific software and can be used on any computer and in any software.
Norffo Font + Watercolor Brush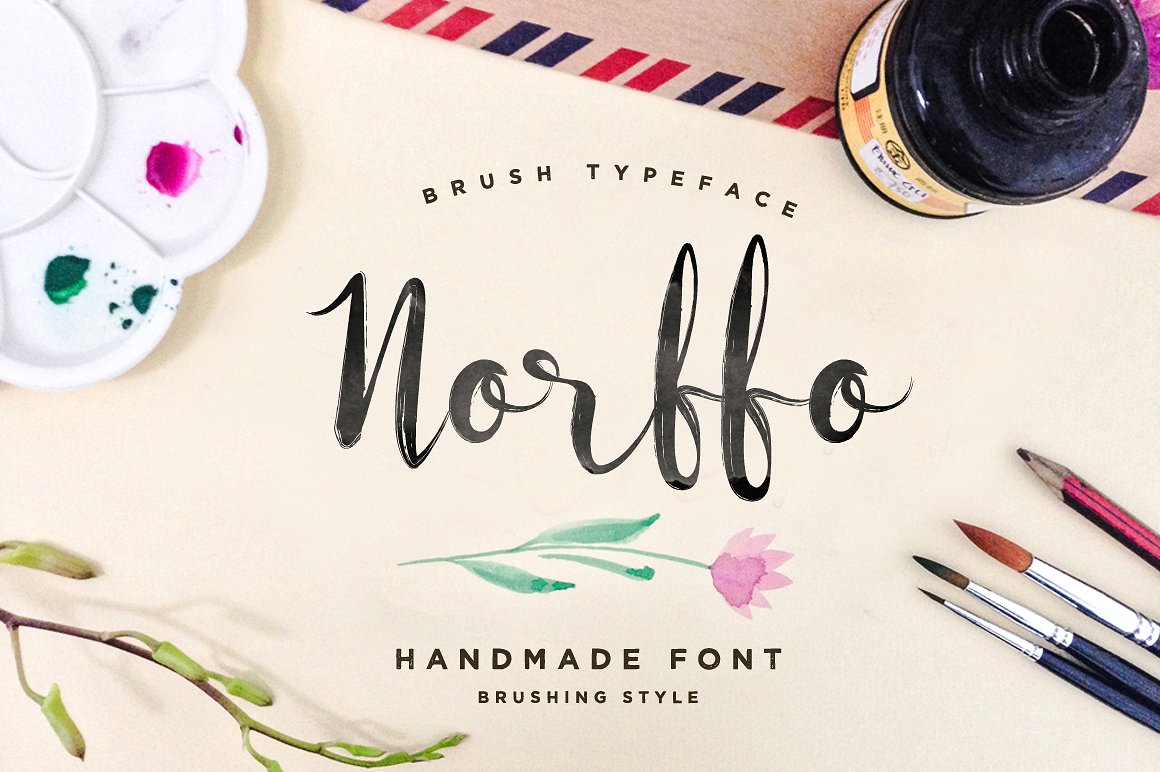 For those who love to create project with fun concept design, Norffo handwriting brush style typeface is suitable for your font collection. You will also get a bonus of 11 watercolor brush for photoshop.
Ciera Watercolor SVG Font, Florals & Logos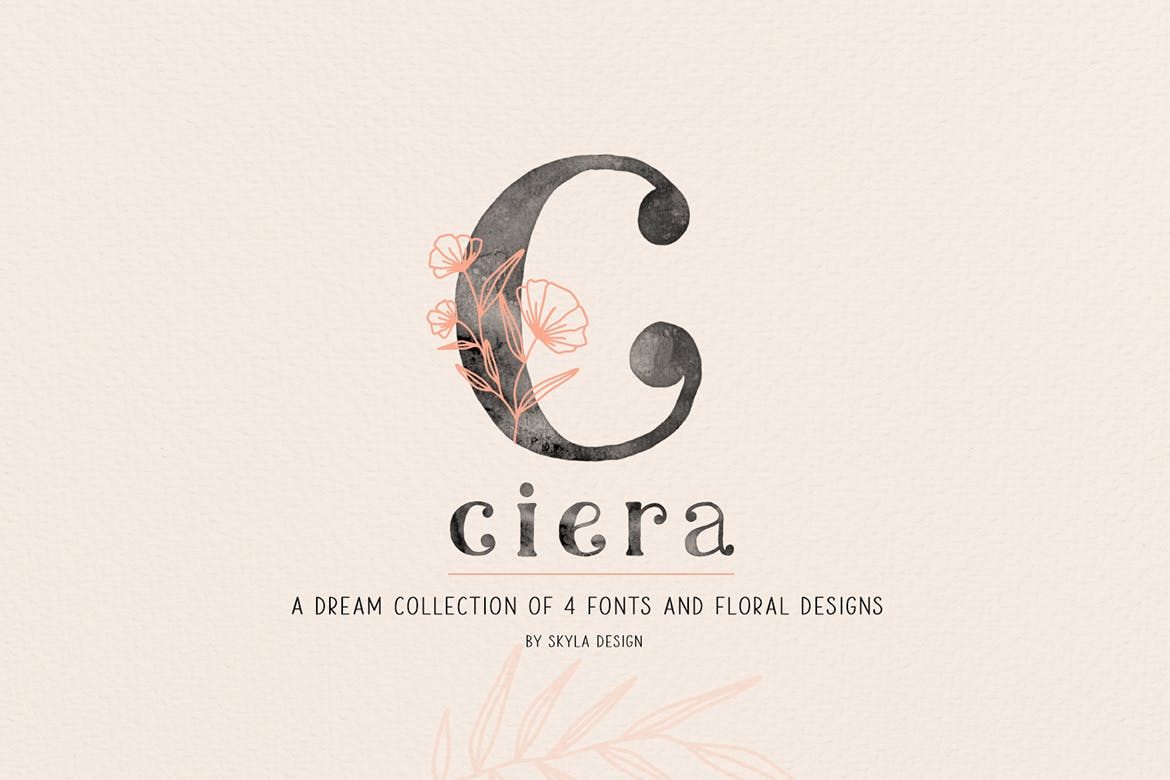 A dream collection of 4 fonts, 23 floral illustrations & 6 premade logos. Ciera comes in both an SVG font with all that lovely watercolor texture included & also comes in a solid version and a sans font that pairs perfectly with it. Use the premade logos and gorgeous illustrations to create wedding designs, monograms, mood boards & any other lovely projects you are working on.
Rivina Brush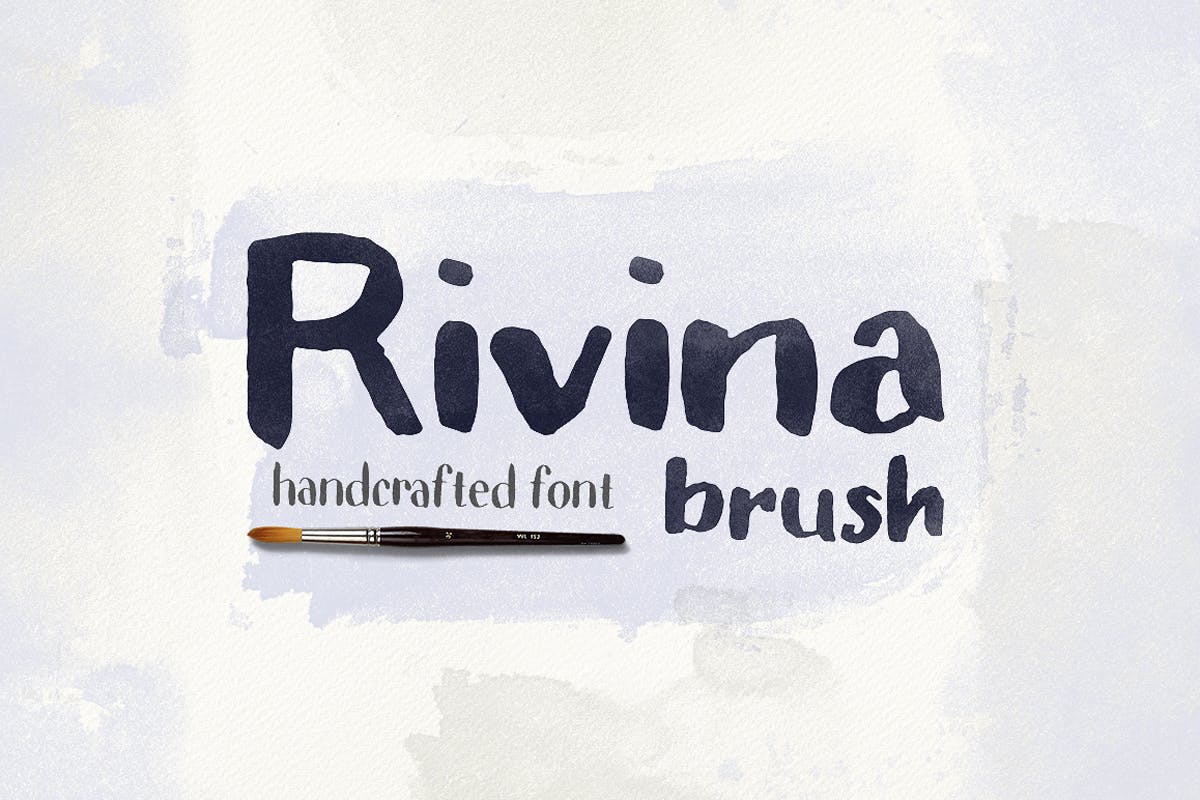 Introducing Rivina Brush, another hand-drawn​ font that has been added to the beautiful Rivina collection. The design of Rivina Brush is based on the original Rivina font family which was inspired by the do it yourself movement that has exploded in recent years. What with the overload of all things virtual, this change of direction was inevitable, and one that I accept with open arms.
Caliope Font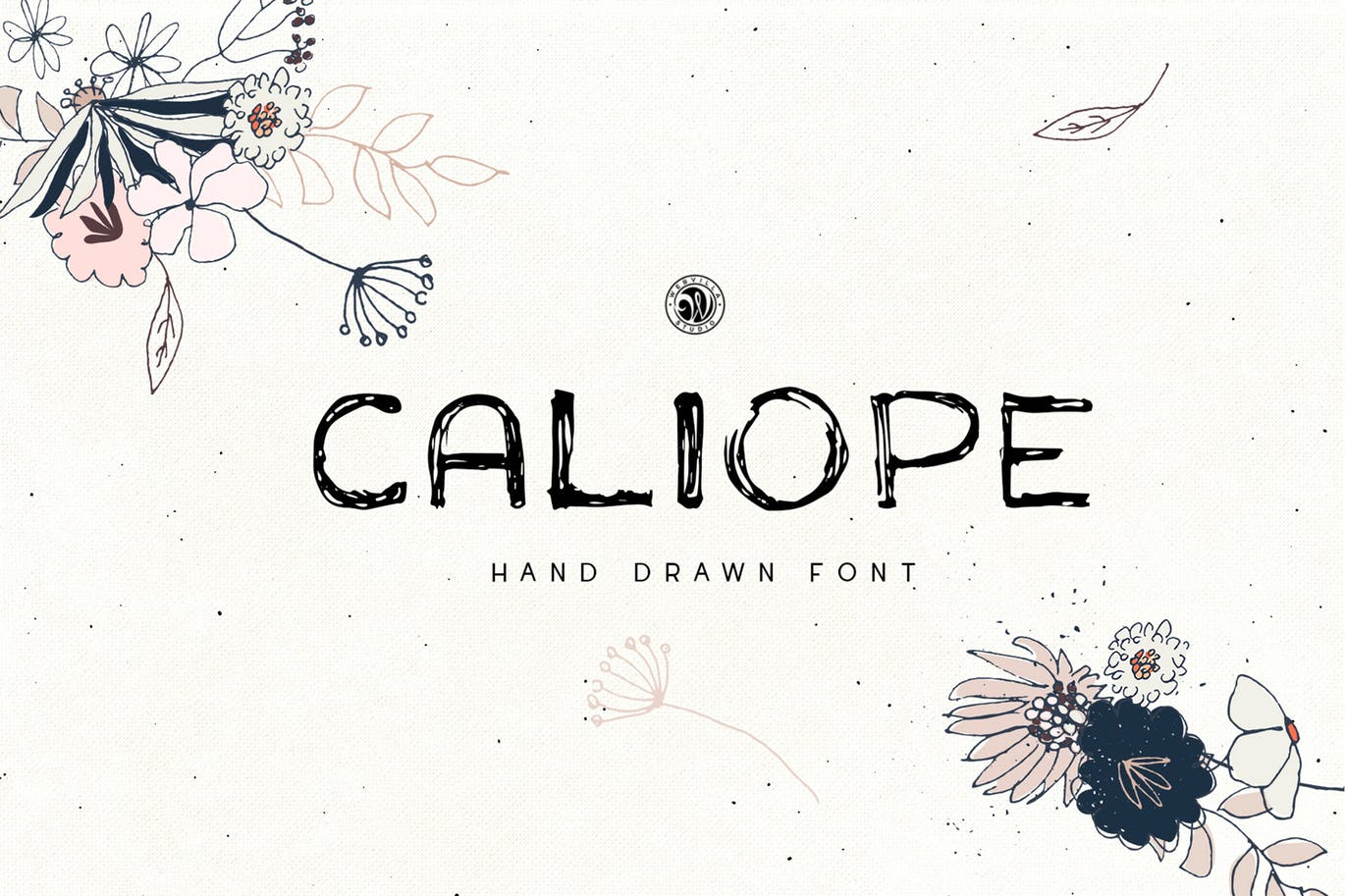 Caliope font – hand lettering display font. Ideal for invitations, logos, branding, blogs, handmade craft items, scrap booking, printed paper items and more.
Nomad Font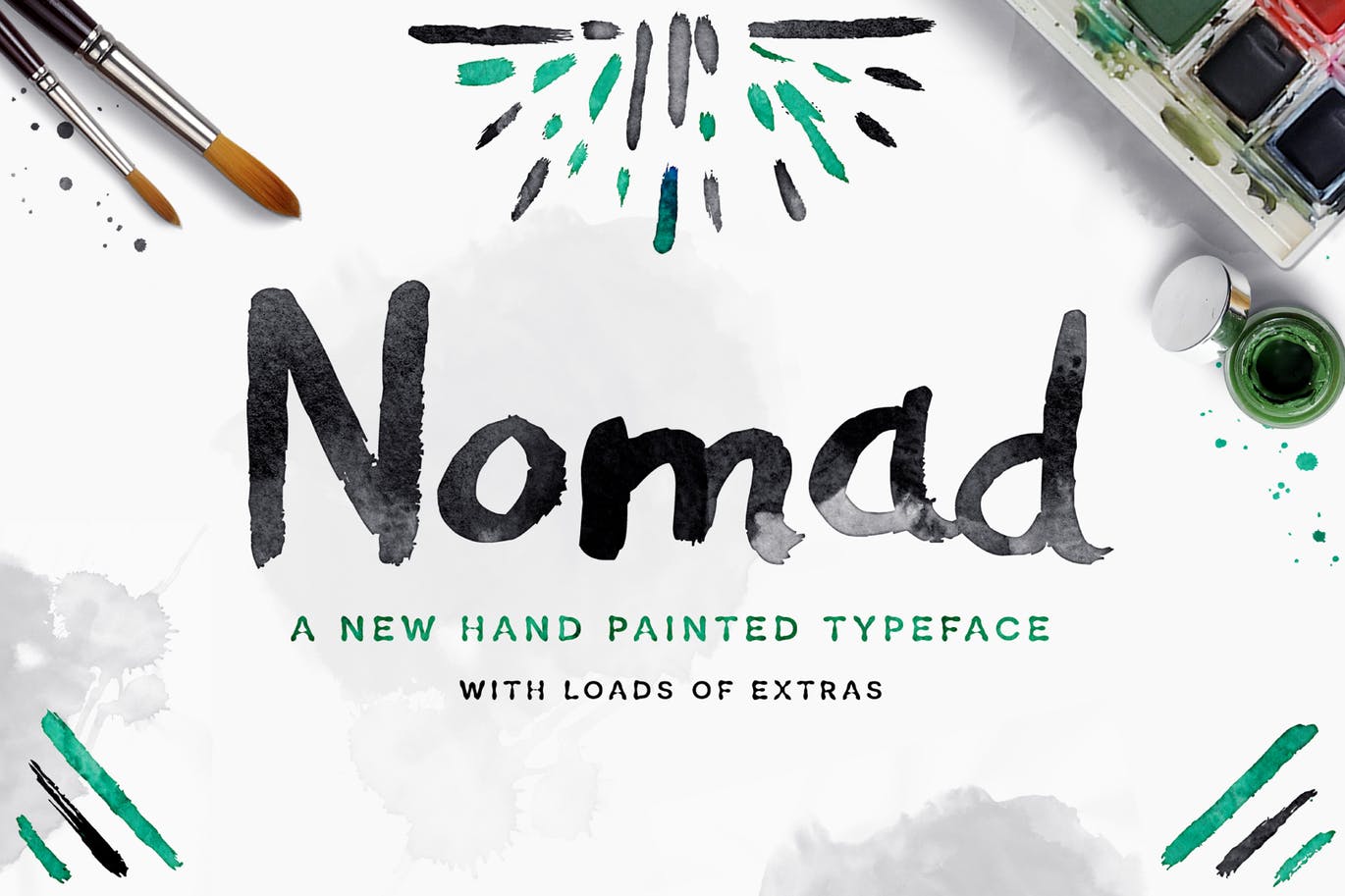 Nomad is a no-nonsense hand-painted font with tons of extras! It's slightly imperfect baseline and roughened brush strokes give it a fun and stylish aesthetic perfect for typography, branding, logo design, invitations, and prints. It's unrefined. It's dangerous. It's imperfectly perfect!
Heartwell Font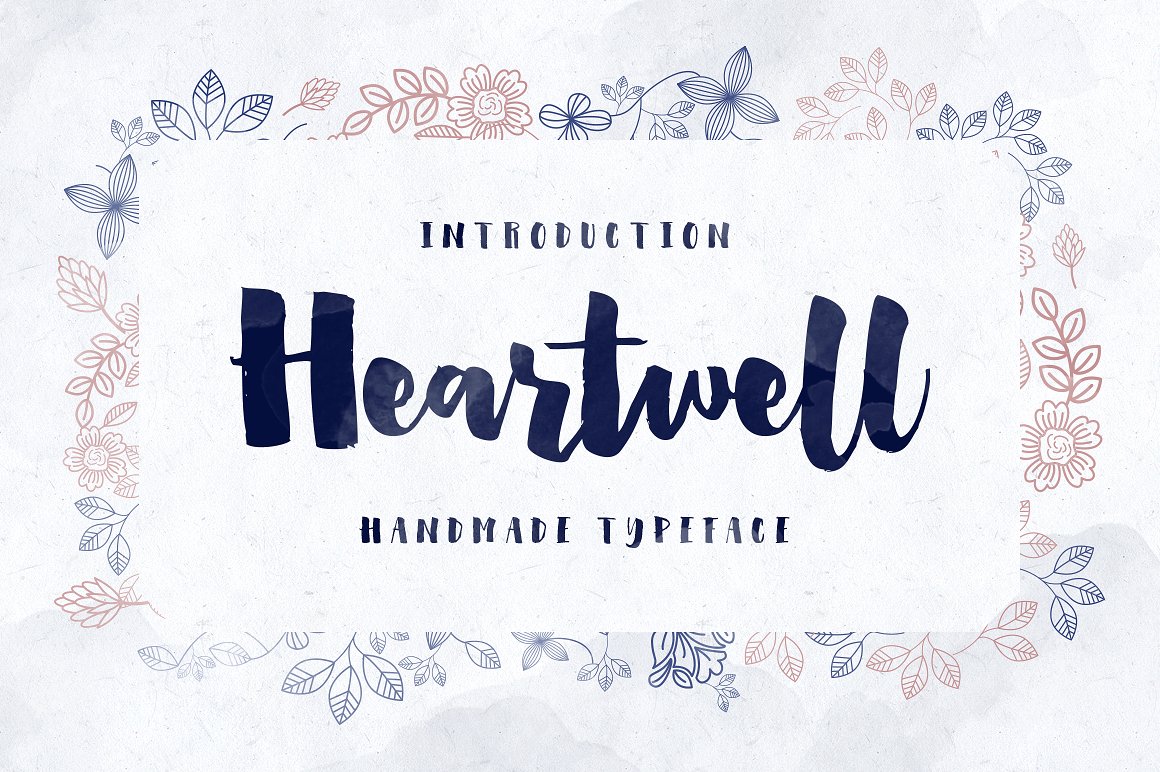 Heartwell Typefaces is a modern calligraphy brush typefaces. Inspired by the modern calligraphy lettering and try to create them with brush & ink. This fonts have dancing baseline to ensure that is modern calligraphic style. Fat and thin stroke in this fonts impresses the harmony.
SpringRain SVG Watercolor Brush Font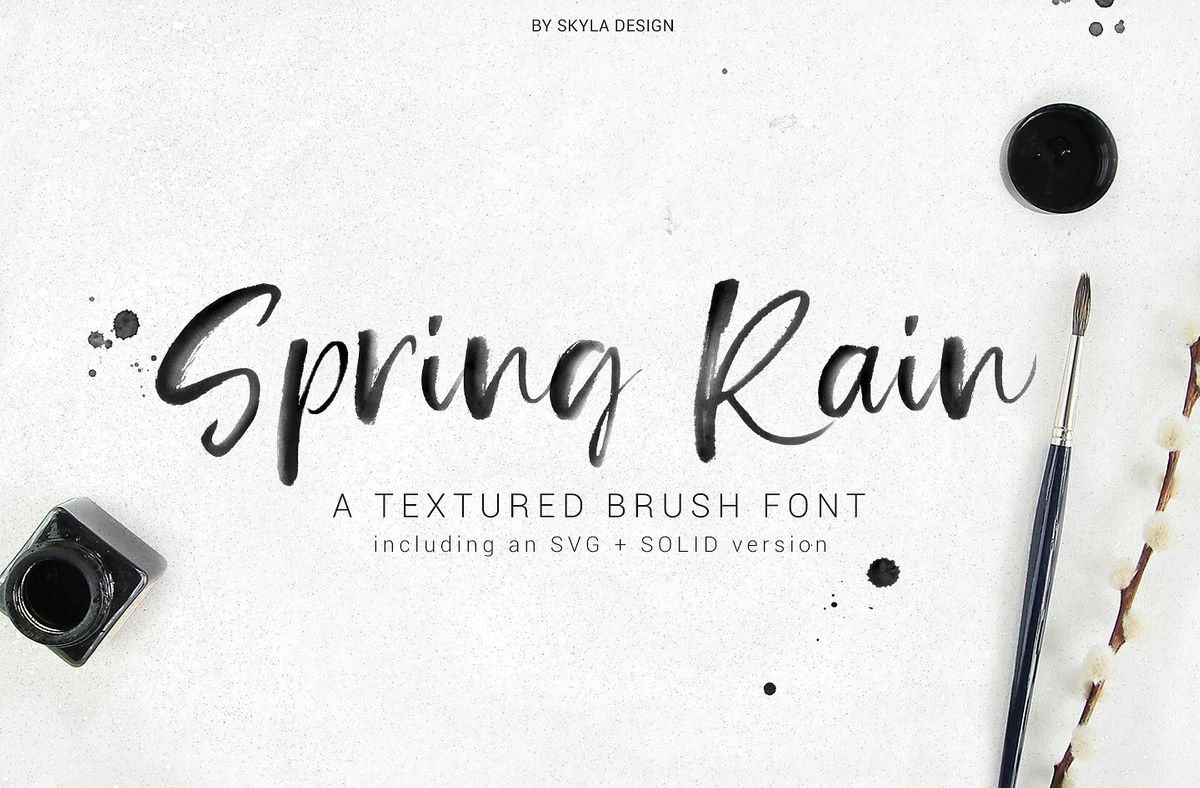 Spring Rain is a trendy brush font with lots of texture and style. This font comes in both an SVG font where all that yummy watercolor texture is included and also comes in a solid version.
Bougenwille Script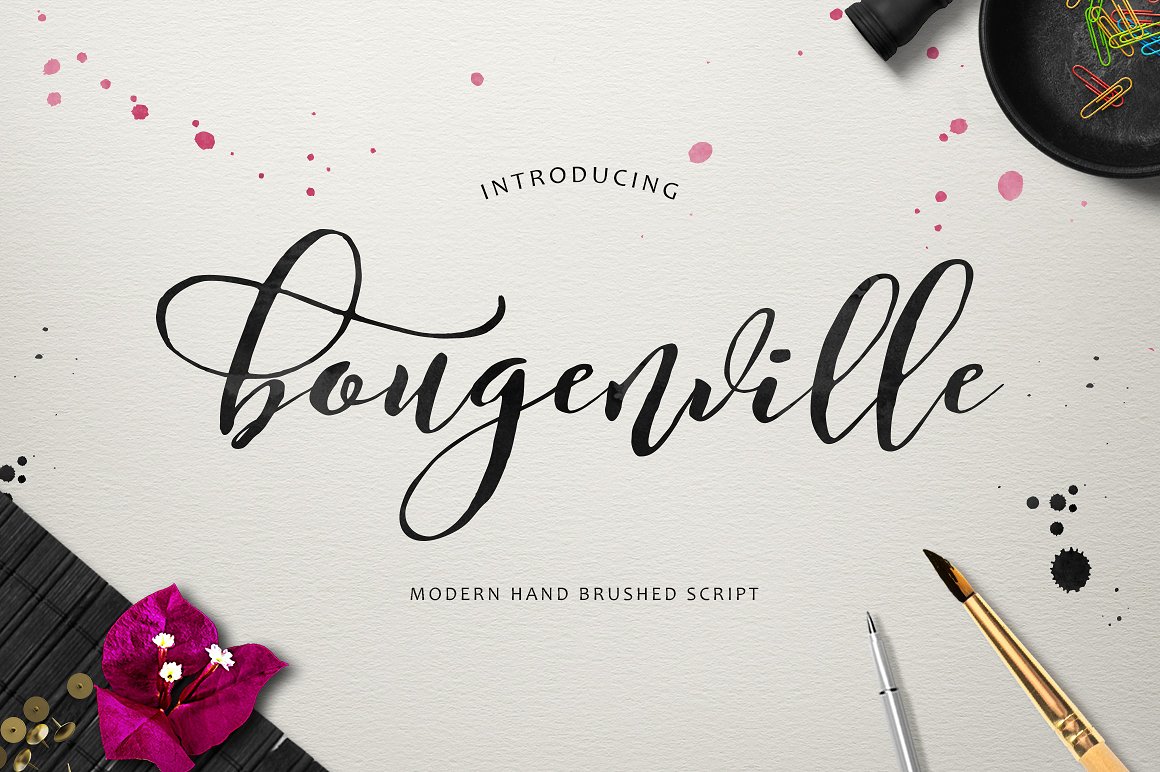 Bougenville come with 385 glyphs. The alternative characters were divided into several OpenType features such as Stylistic Sets, Contextual Alternates, and Ligature. The OpenType features can be accessed by using OpenType savvy programs such as Adobe Illustrator and Adobe InDesign.
Little Mo Watercolour Display Font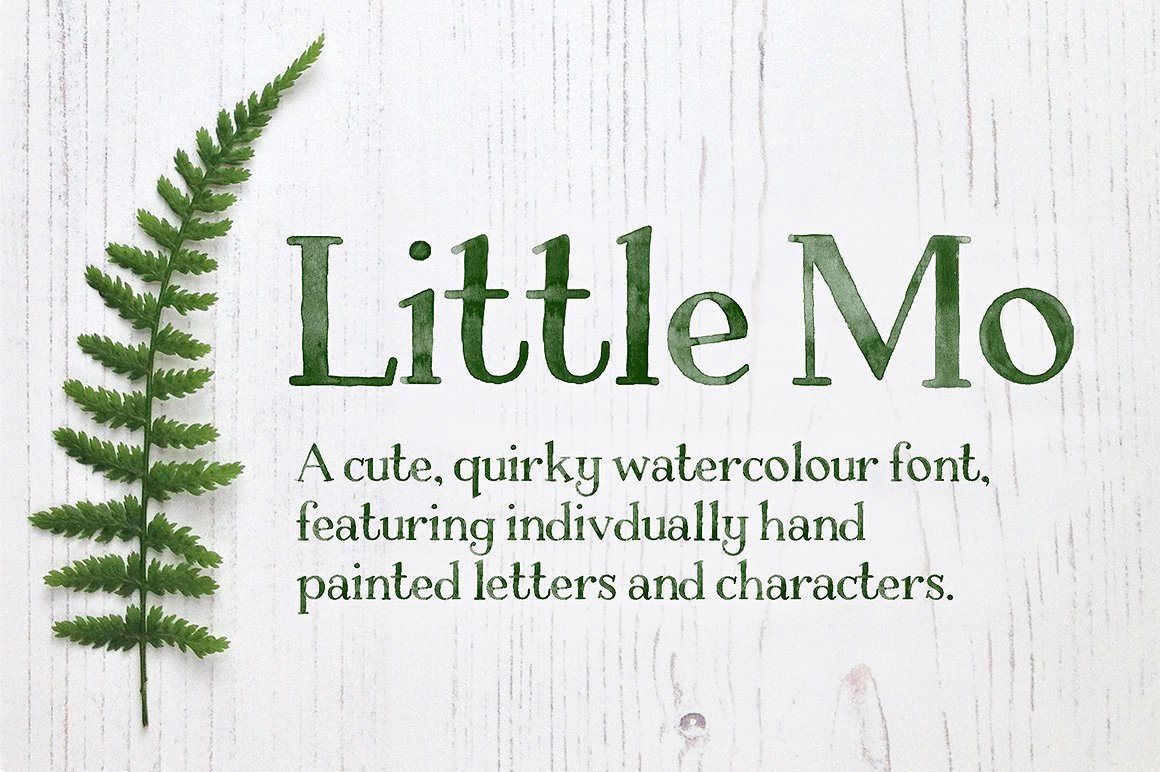 A cute, quirky hand painted watercolour font, featuring individually hand painted characters with lovely watercolour textures.
Milky Way Brush Font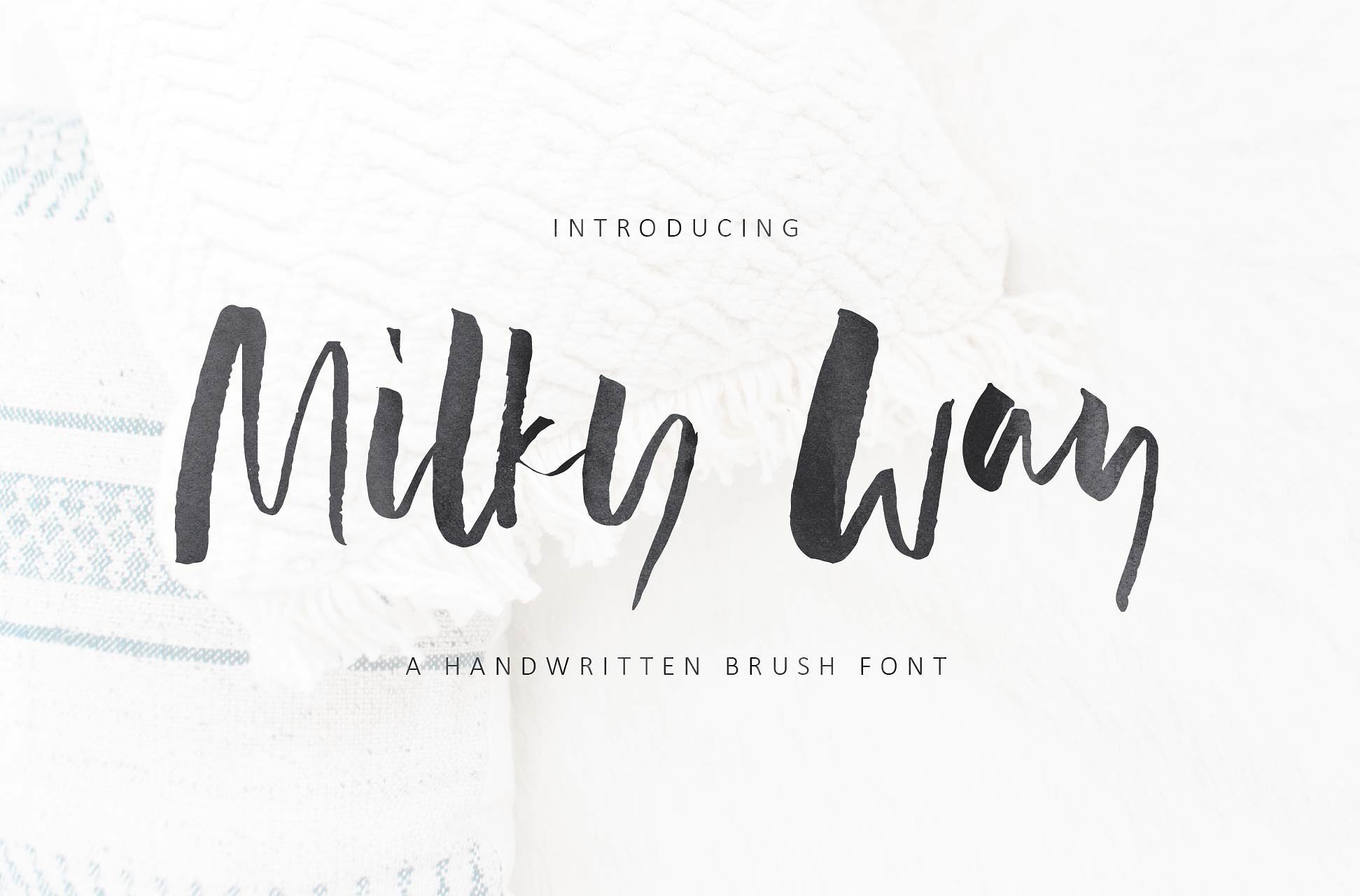 "Milky Way" is a handwritten brush typeface coming with a lot of alternates & ligatures. Its realistic hand lettered look makes it the perfect fit for signature logos, printed quotes, wedding invitation cards, social media headers, product packaging and a lot more!
Ohio Font Duo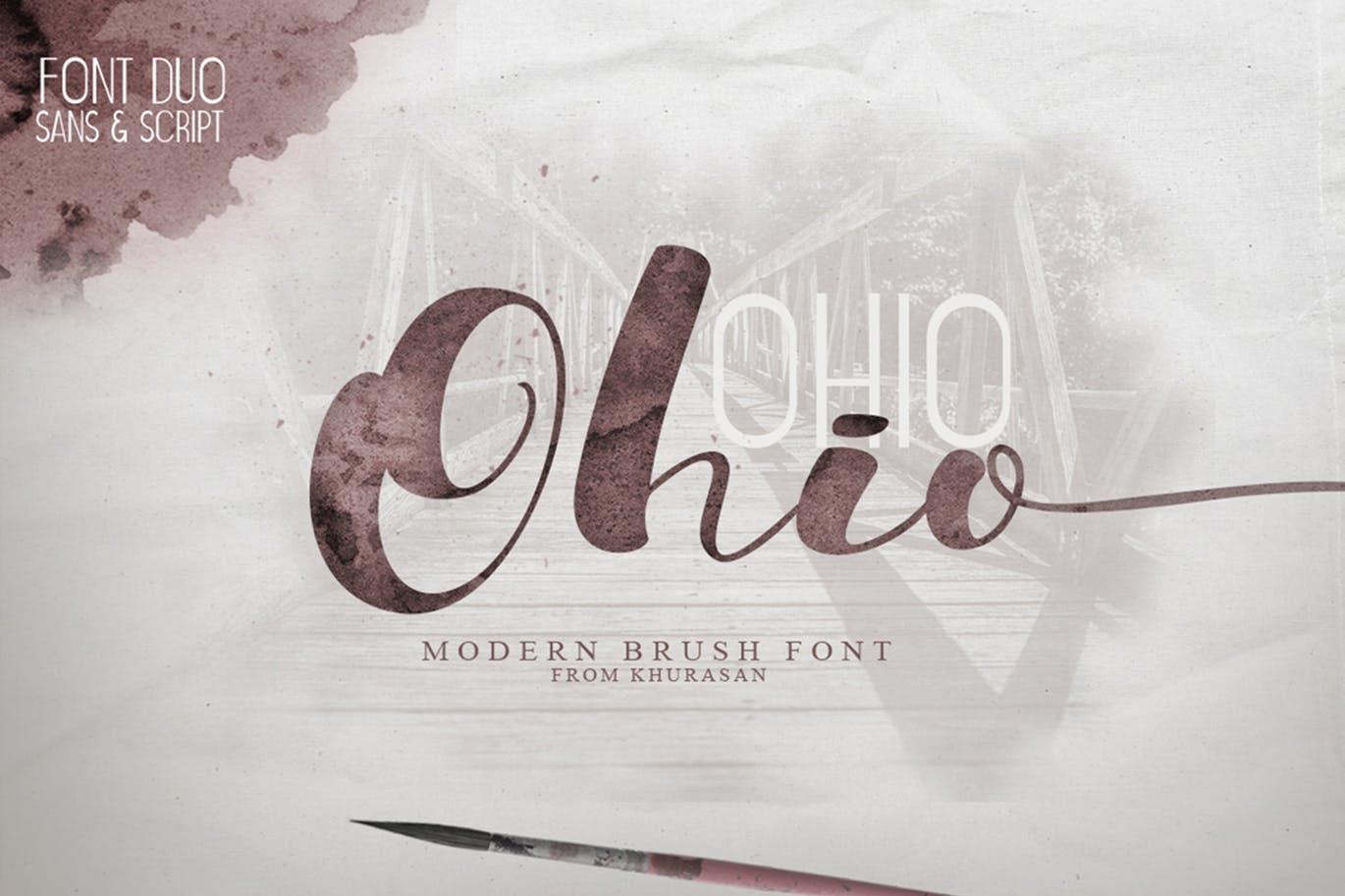 Introducing the Ohio Font Duo, a handwriting script and sans nice font type. Ohio Font Duo it's perfect for namecard, poster, logo, magazine, cover, banner, tshirt and headers, or even large-scale artwork…
Sicily Script Font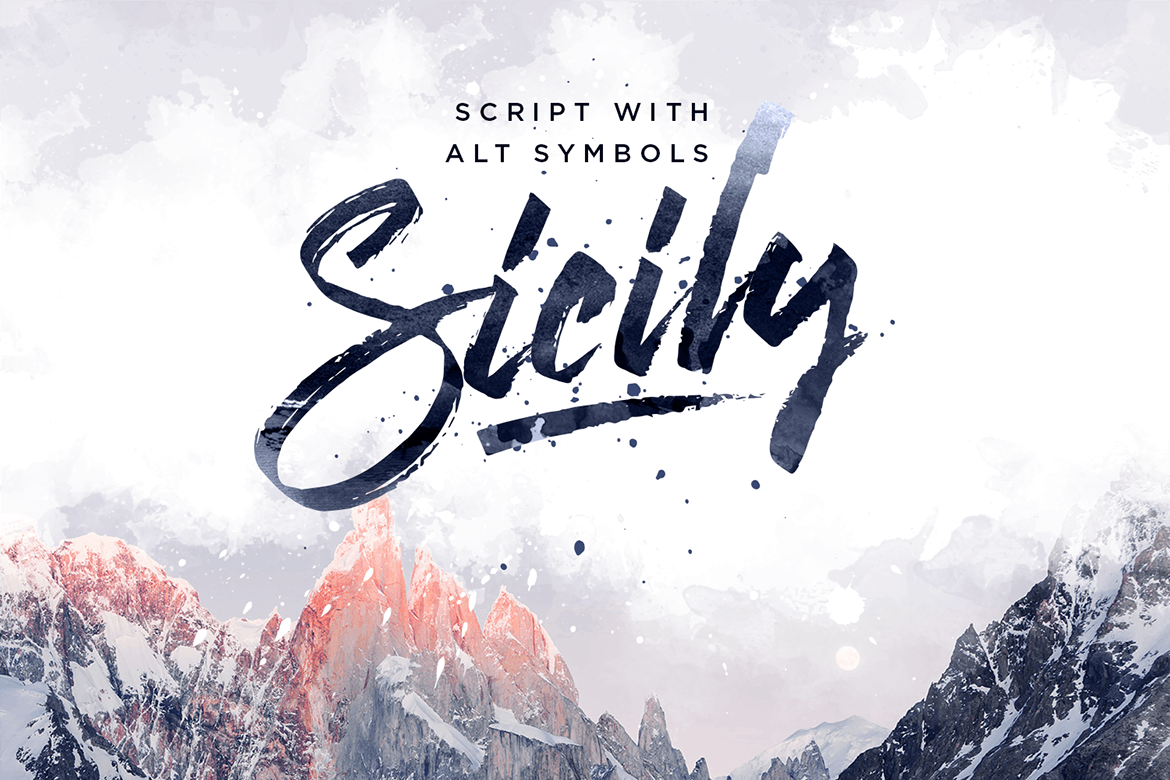 Sicily is Handmade Font Brush, with combination lifestyle and street-wise brush font. With extra attention to quick strokes and sharp details. Sicily to deliver a message expressly and quickly, ideal for logos, apparel, quotes, product packaging, or anything which needs a typographic turbo-boost.
Adrift Font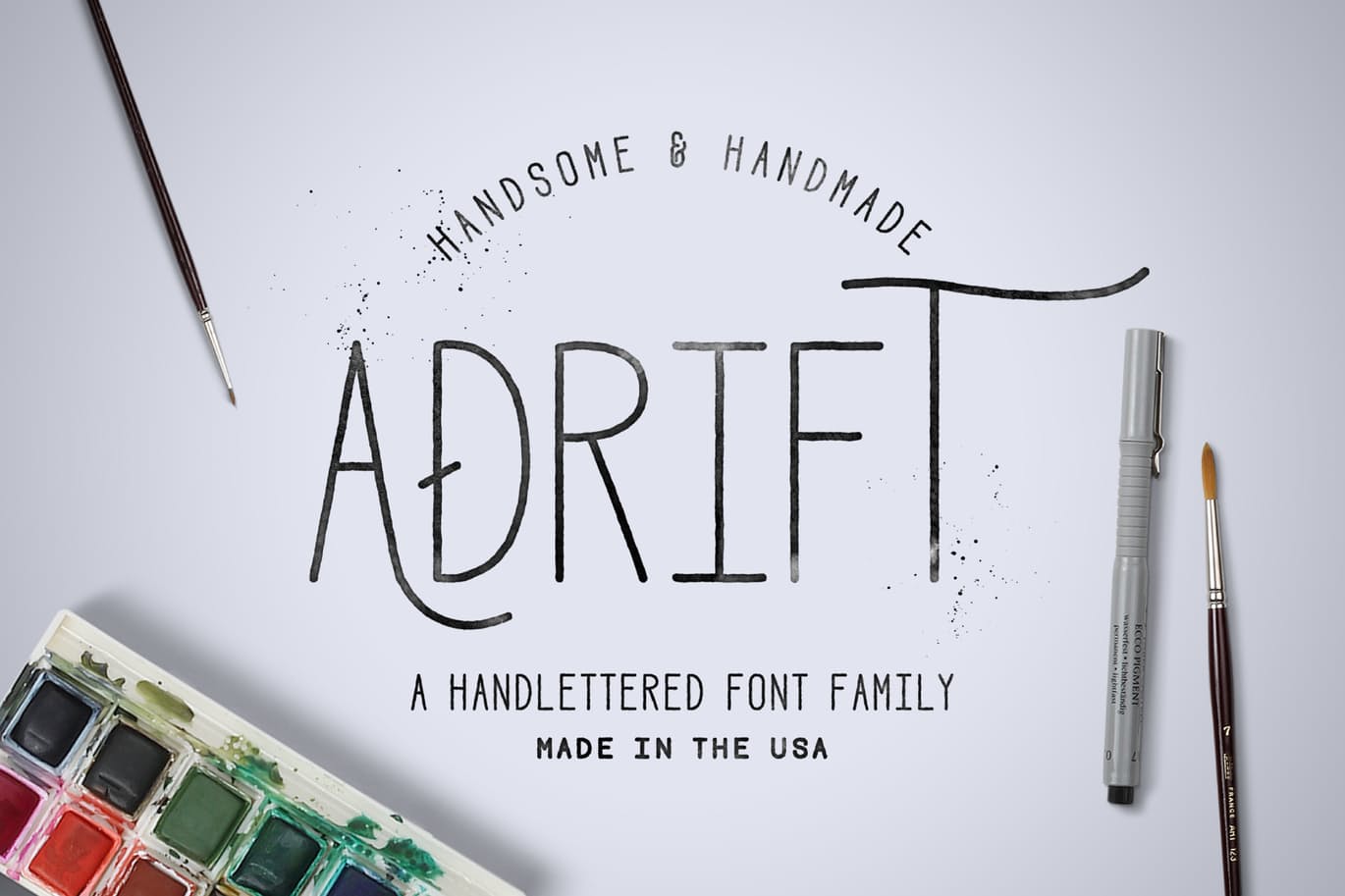 ADRIFT is a handsomely hand-lettered font family inspired by the hopeless wanderer inside of all of us. It includes 4 weights (regular, medium, bold, and roughened). Each of these come in otf, ttf, and a webfont. This sans serif is perfect for logos, typography, prints, and t's. Keep it classic or add some flair to your project with one of the 17 alternate letters included!
Botanica Brush Family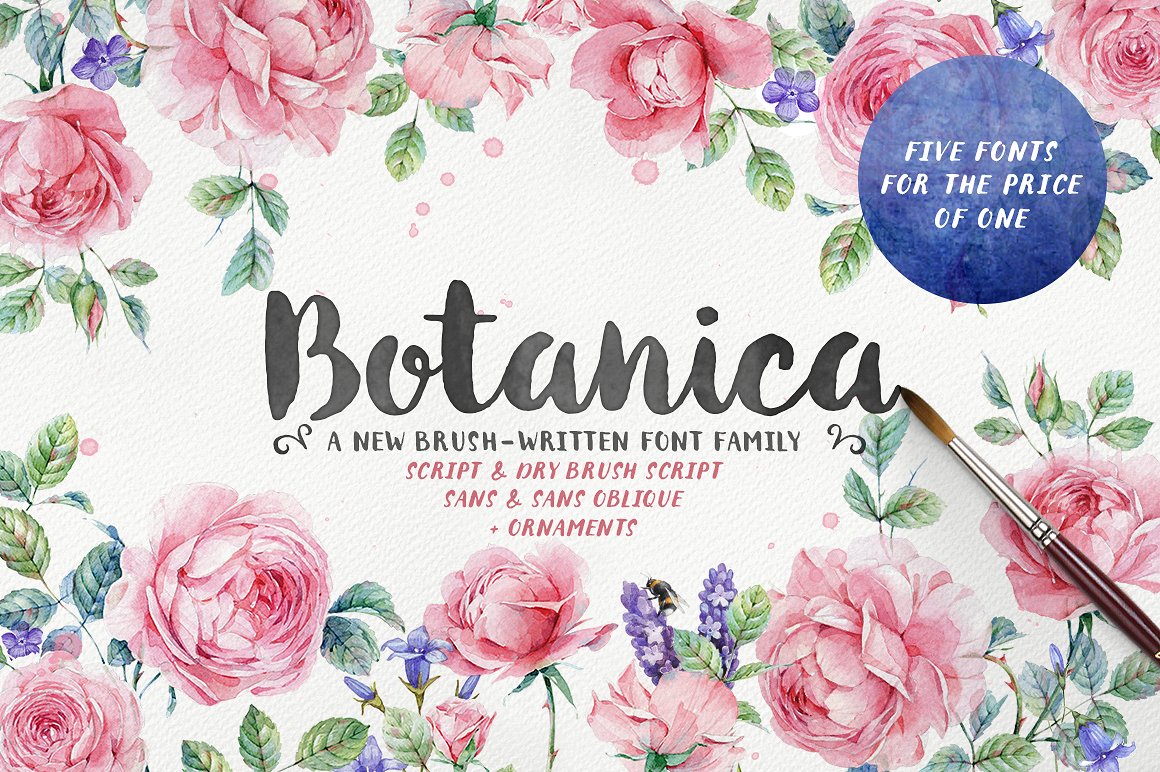 Botanica Brush is a new 100% brush written font family with inky texture that was inspired by modern trends in brush lettering. The fonts look good both together and separately and possibilities are only limited by your imagination. Two types of initial and terminal swashed makes the Script font a good companion in wedding invitations design.
Fabulous Script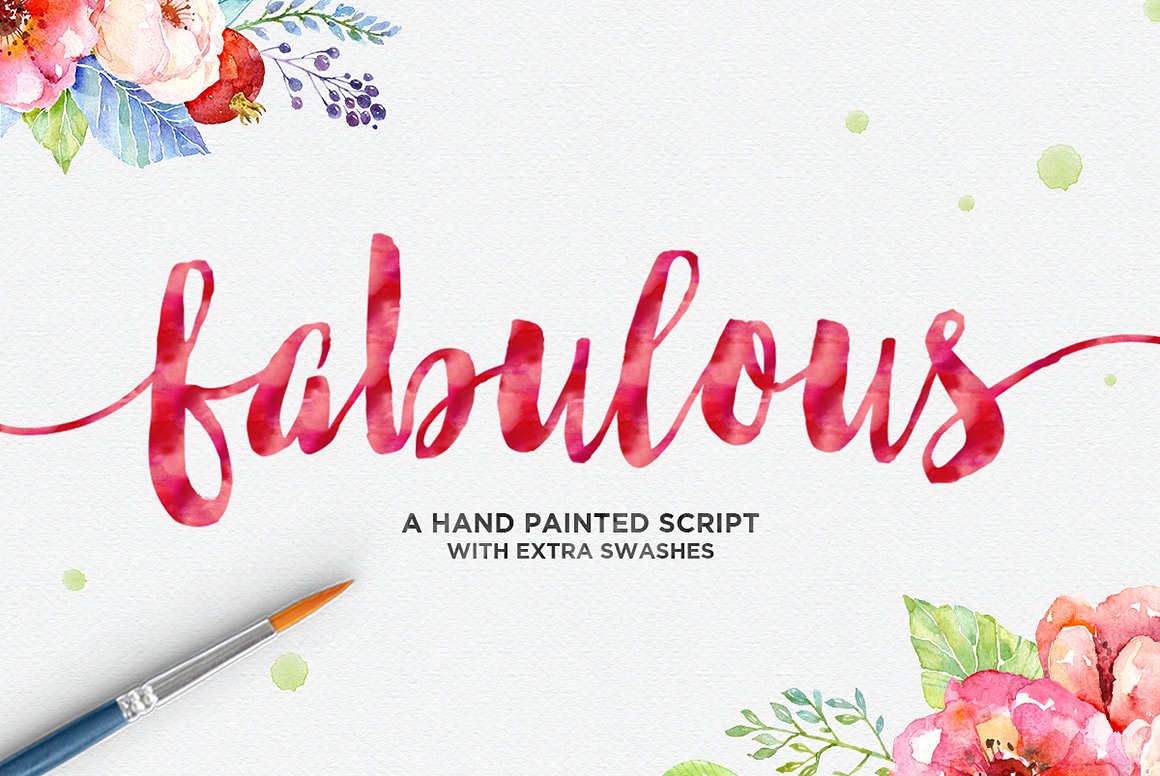 Fabulous Script is a beautiful handpainted script, organic, fun with dancing baseline and different swashes that can be applied to the beginning and ends of all lowercase.
Pickley – Watercolor Opentype SVG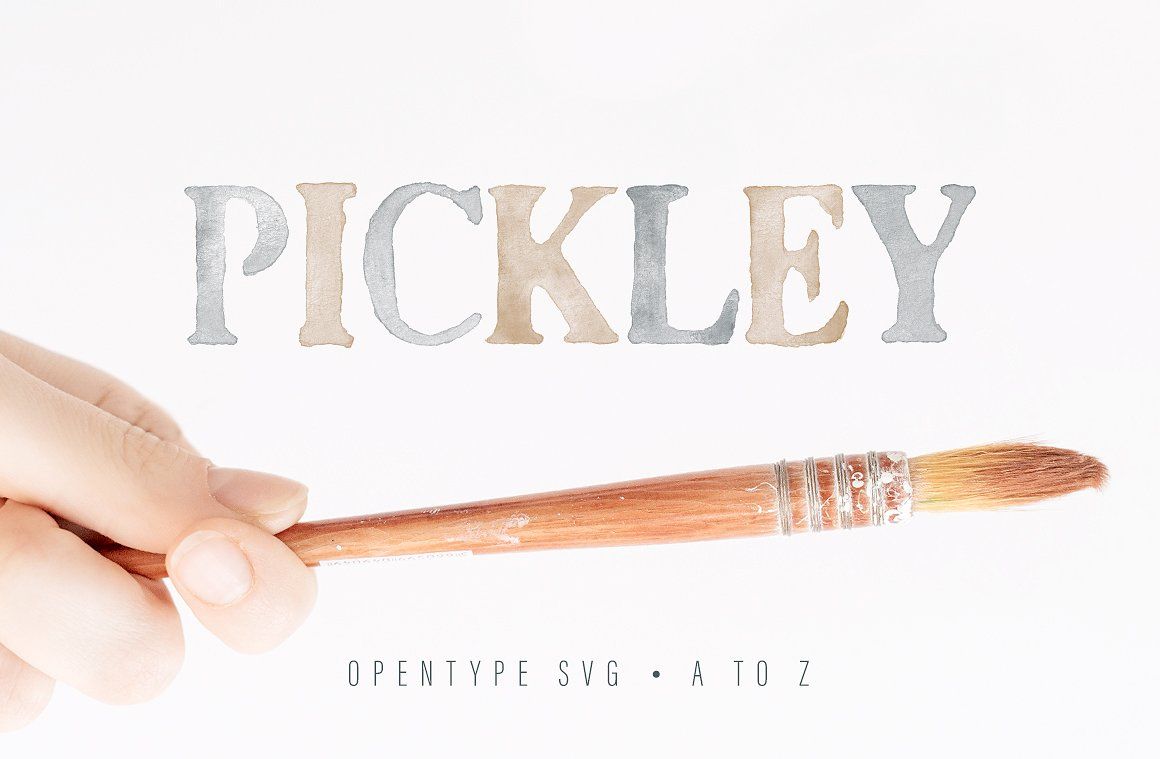 Meet Pickley, a no nonsense font made from my popular watercolor alphabet. Pickley is limited to the alphabet with basic punctuation as seen in the second preview. No numbers or multilingual glyphs included.