They say progress and innovation cannot be stopped. Over the years we observe that technology is getting better and better. The Internet allows us to communicate in real time on opposite ends of the globe. Time flies so fast that sometimes we do not notice significant changes in many things we are dealing with. This also applies to the website building process.

Earlier designing and building a website required knowledge of design basics, website editors, HTML and CSS skills, and much more. One of the first website builders that did not require special programming skills was the Geocities project, founded in 1994. Since then, the market for website builders has been represented by more than 70 platforms, allowing you to create a wide variety of types of websites. Without exaggeration, website composers can be called one of the best methods to get a ready site. And exactly the best ones, if we talk about the speed of development and the cost. Today there is a rich collection of free and premium website designers which allow any user to independently and without any cost to build a modern website for personal needs or business.
Now I would like to draw your attention to one of the best website builders which can be used for multiple purposes. Novi Builder is an innovative and powerful HTML builder. This is a great solution for beginners as well as experienced developers.
Key Aspects of Novi Builder
Two services are offered by Novi Builder – it is an HTML/CSS editor to modify the templates and a great collection of pre-made HTML templates for any type of business. With Novi Builder, you can feel free to import existing HTML sites and enjoy its customization. Besides, it is a B2B/B2C online platform, which is equally good for end users who purchase the templates as well as the clients who provide web-development services. Note, a Novi Builder is not a web builder. Take care of a separate hosting account to start.
Make sure to follow installation instructions to get the builder installed. After extracting Novi Builder package you will see the following files structure documentation, demo, builder, config – builder configurations files folder, plugins – builder external plugins folder, and locally published website files. Once it is installed, you will find Novi Builder easy to use.
In short, Novi Builder includes Novi visual page builder, visual content editor, multiple pages, Drag-n-Drop, export and publish functionality.
A number of website templates have Novi Builder included. For example, portfolio HTML templates can boast of in-built Novi Builder for your enjoyable website building.
Novi interface includes:
Main panel
Novi modes switcher
Page Manager
Main menu
Visual Editor area
Developer's toolbar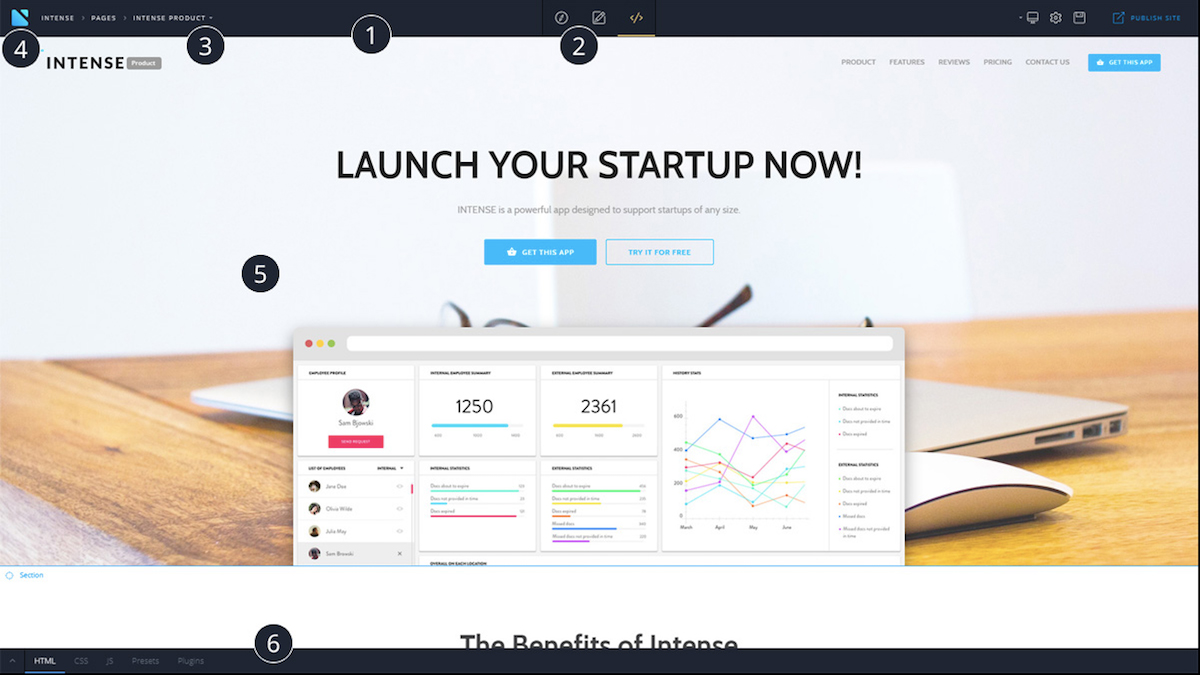 Working with pages:
Page manager trigger
Pages Search filter
Adding a page
Existing pages list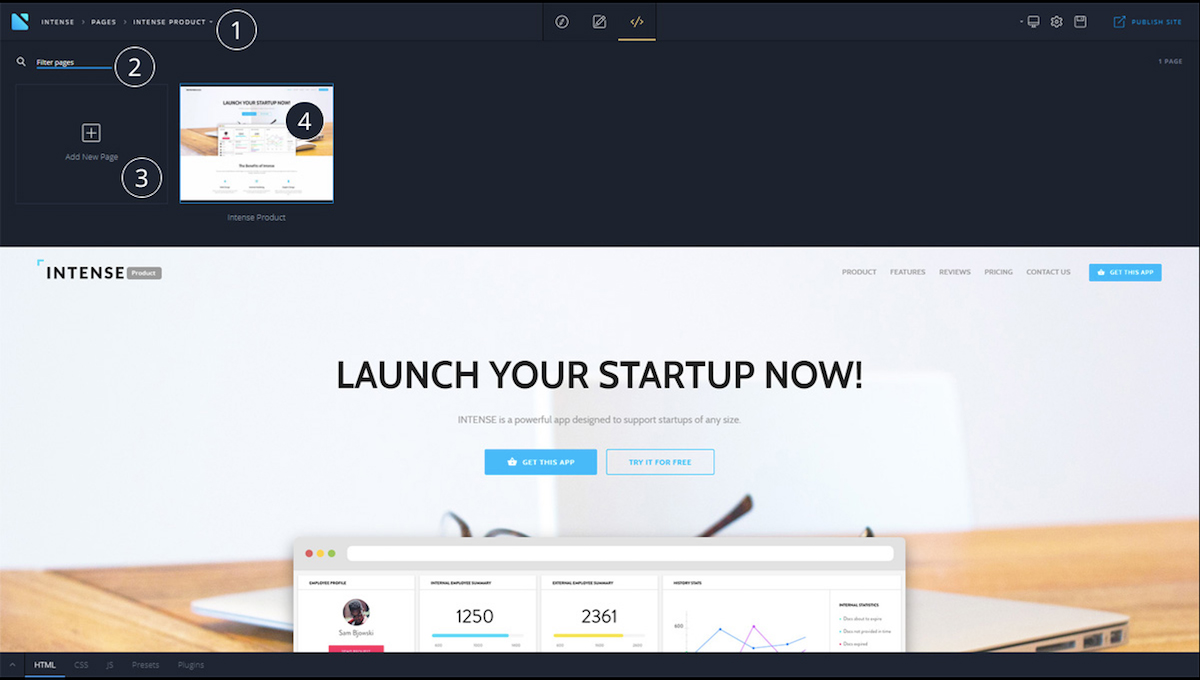 Developer's toolbar:
Developers tools area
HTML code editor
CSS code editor
JS code editor
Presets – presets manager
Plugins – plugins manager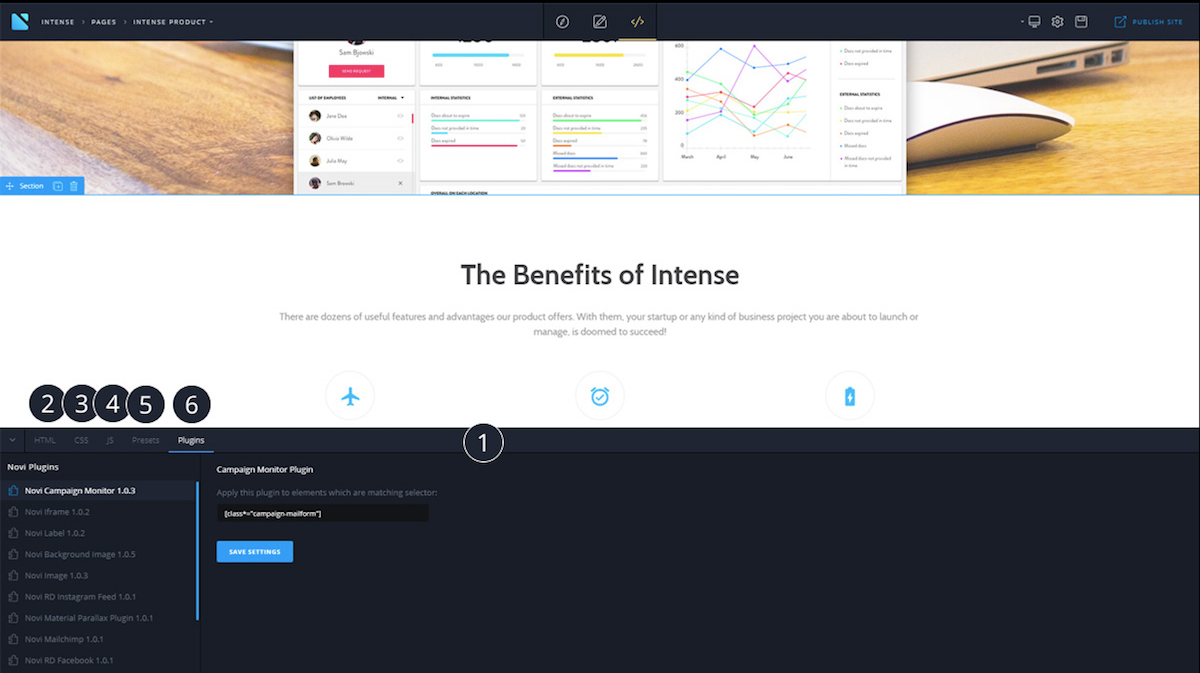 Novi Builder is your irreplaceable tool for instant HTML websites creation and maintenance. Use the feature of working with your website's source code, available only in Novi Builder.
Managing the pages has never been easier. Create, edit, delete, and manage the settings of your project's web pages with 'Page Manager'. A simple click opens the desired page or creates a new one. To delete or access additional actions, use the context menu on the selected page.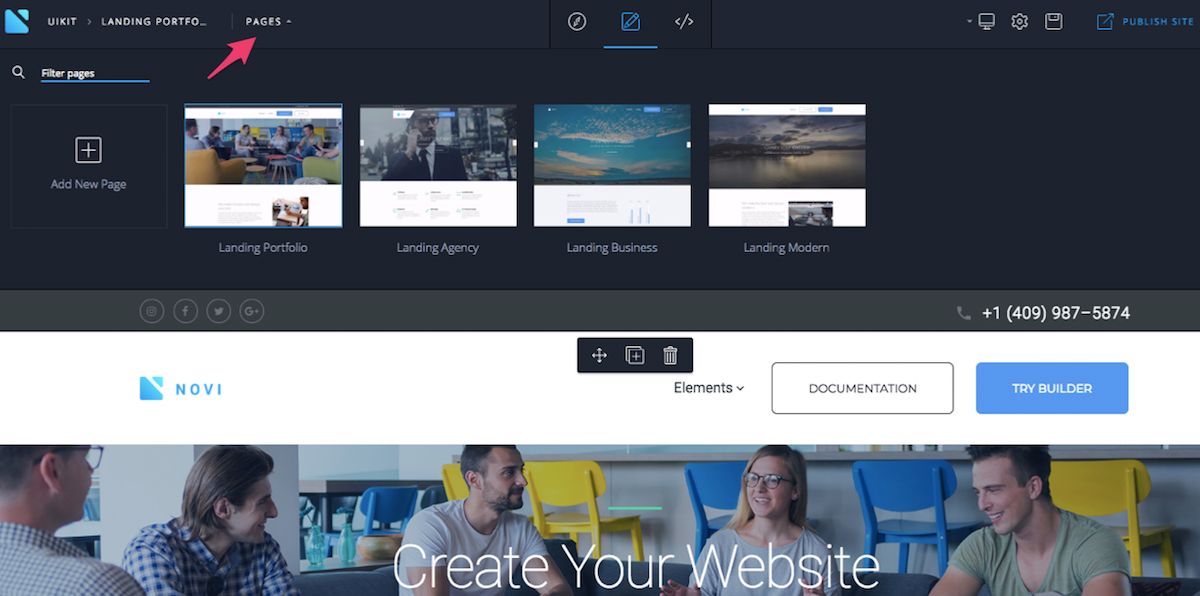 Separate task – separate mode. Browse, edit, develop, and create the design of your future website with 'Preview', 'Edit', and 'Design' modes.
Preview mode allows previewing your website.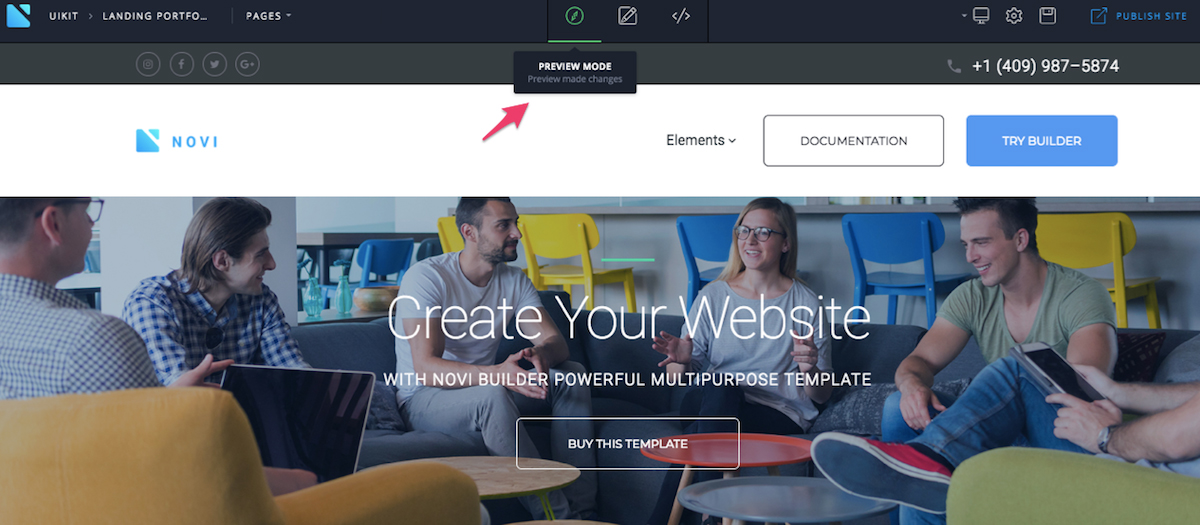 Edit mode is mainly intended for the end-users. It allows you to use all the visual tools for content editing, including the builder's plugins. "Edit Mode" is the one that loads by default.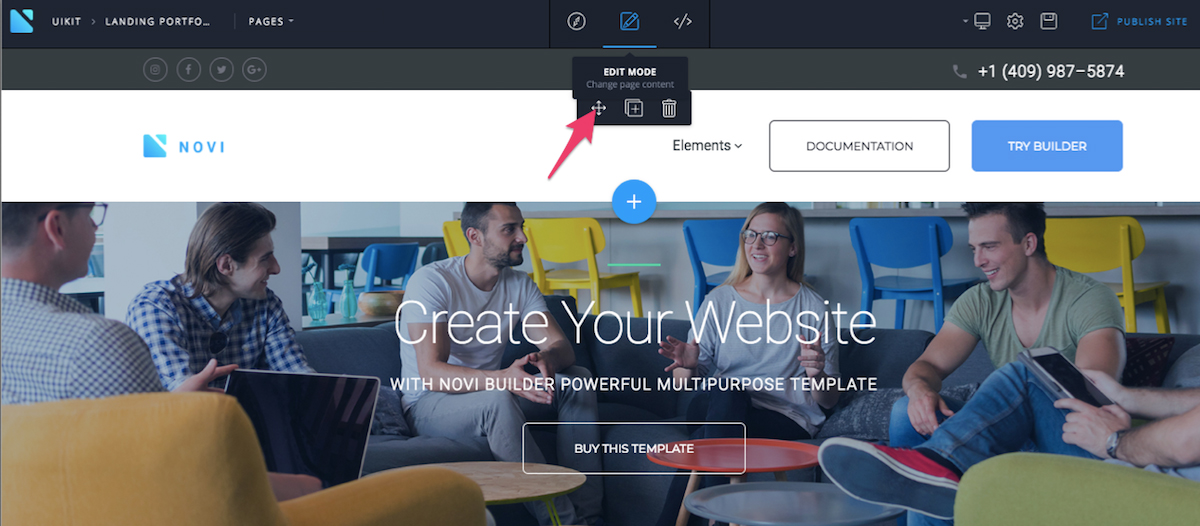 Design mode is mainly intended for developers. It provides you with the following options:
Configure the builder's plugins
Edit the source code of the page (HTML, CSS, JS) with the help of the code editor tool
Manage the project's presets
Manage the page's content using the visual editor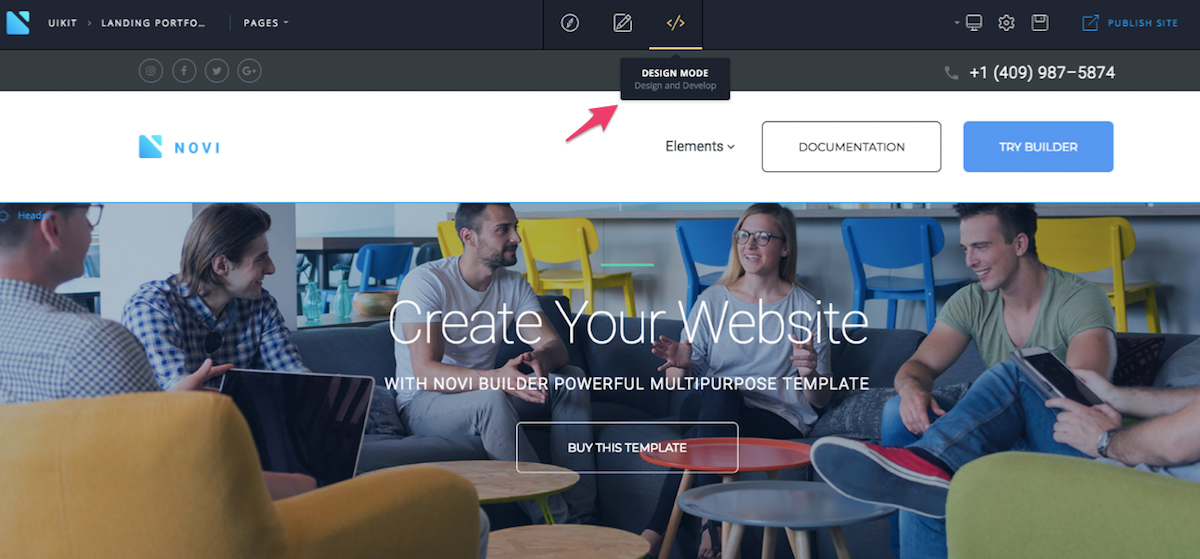 Developer tools help you to get enhanced features to create your HTML website in Developer mode. It is an absolutely new way of work with visual HTML page builders. Use the power of HTML, CSS, and JS editor in its usual form and edit the source code of your project just as you would have done it in any standard code editor.
Instant Publishing. Update the version of your website using instant publication of your website.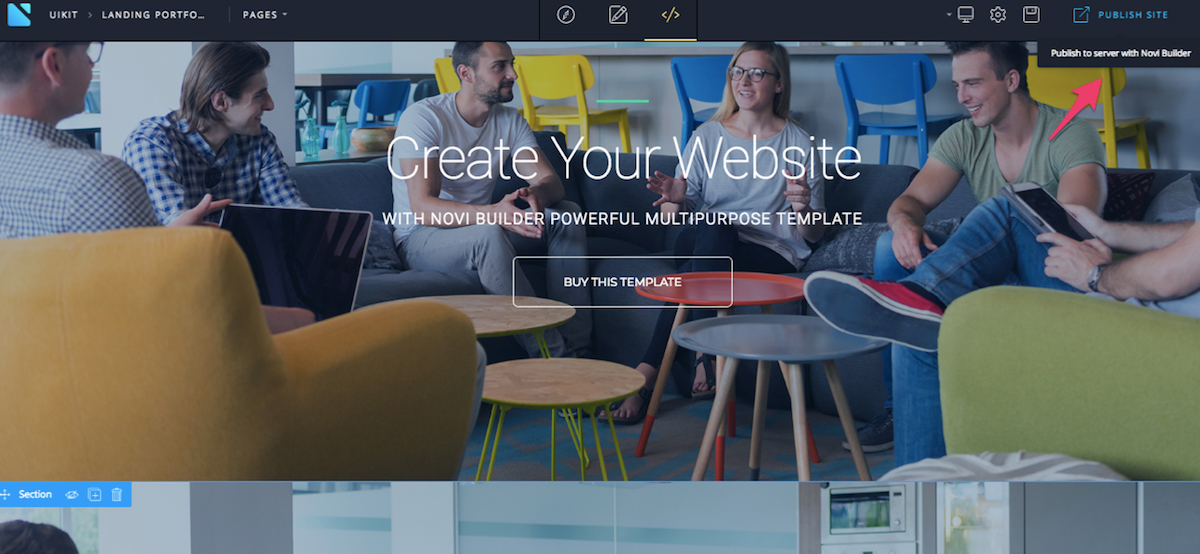 Try Novi Builder free of charge to explore more features and decide if it is the best website builder for you.
Templates
40+ free pre-made HTML templates with open-source code are offered at the price of one average template that you are paying for the Novi subscription service. Absolutely different business areas are covered. Medical website template, Startup company website template, Commercial real estate website template, Business consultancy website template, and many other variants. Moreover, you can customize each and every template to fit your needs.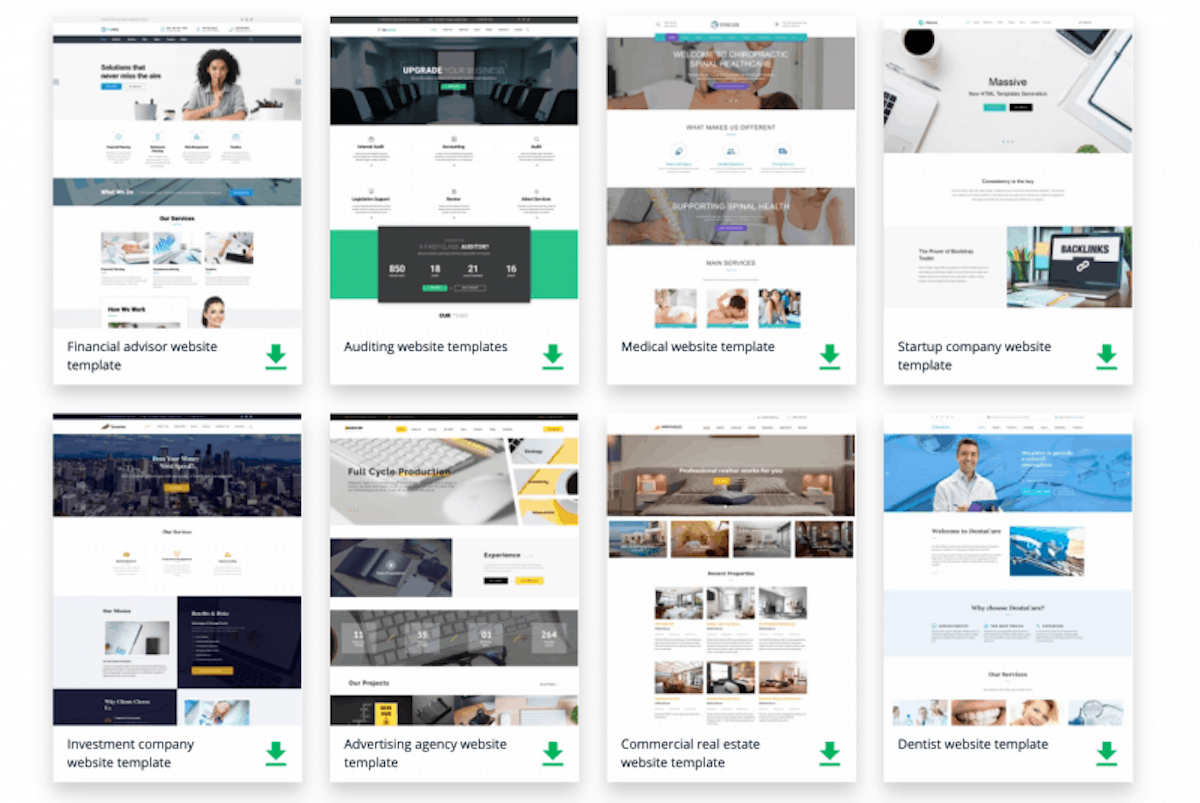 Here are a few benefits for your consideration:
Forget about programming experience to edit HTML texts.
HTML is the standard that can be converted to any CMSs, platforms, and editors.
You are getting a coding-free editing tool while building HTML websites for the customers.
All developers tools can be used for editing HTML.
No browser-related issues. All of them support HTML.
HTML is SEO-friendly.
Fast loading speed is guaranteed.
You can experiment and add any third-party code or functionality.
The installation process is simple and easy. Use FTP or file manager to upload the files to the related folder and make your website functional with a few clicks.
You will be surprised to know how easy and hassle-free the installation process is. Use FTP or file manager to upload the files to the related folder and make your website functional with a few clicks. Two versions of the template will be provided. The first has standard HTML code with all related files. The second one has Novi editor as its basis. WYSIWYG visual editing simplifies your work on the website. Developers never stop working on the templates to make them better and more functional. Once any updates are released, you will be provided with them free of charge.
Novi Membership

Novi membership allows you to forget about creating a website from scratch. This is a perfect solution to enjoy HTML drag and drop builder, access to all existing and future templates, plugins, and elements. Drag the blocks, save your presets, change the code, and visual part. You are paying just once and getting access to a rich collection of beautiful HTML templates and 20 must-have plugins. Social plugins, Contact form, Sliders, Countdown, Google maps, and more are included.
Let's see who exactly will benefit from Novi Membership. Developers and freelancers will pay just once and use a great collection of templates for any project and whenever they want. A great choice of templates, custom code or functionality, ready presets, plugins and scripts will turn your work into successful projects.
Being a template author, you can import any valid HTML template into Novi Builder with 3 clicks only and multiply your earnings right now.
If you are running a startup or any other project, Novi Builder is an easy and affordable solution with a powerful drag and drop builder. Just pick a template, add your content, install and you are ready to go.
Startup
Advanced
Developer

Novi visual HTML edi-tor
Novi plugins
Unlimited projects
Free updates
Developer support
30-day money-back guarantee
Multipurpose HTML template

Novi visual HTML editor
Novi plugins
Unlimited projects
Free updates
Developer support
30-day money-back guarantee
20+ HTML templates

Lifetime access to Novi visual HTML editor
Lifetime access to Novi plugins
Lifetime unlimited projects
Lifetime free updates
Lifetime developer support
30-day money-back guarantee
Lifetime access to all Novi templates
Sell your templates empowered by Novi Builder
Take a look at some other details in a comparative table below.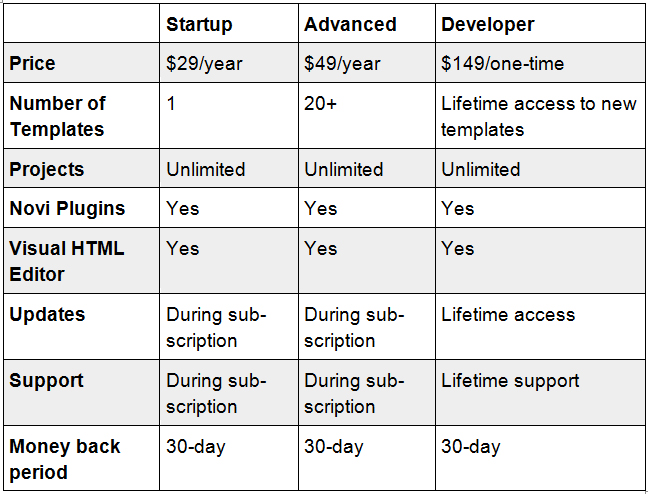 Documentation, ticket service, and Facebook community are provided to support and ensure your enjoyable experience with HTML visual builder. Unfortunately, no chat and phone support are offered, but their ticket service is extremely helpful.
Conclusion
Novi Builder comes with everything you need to create a fully-functional website. This is a great choice of the builder to create an HTML website if you have a lack of coding experience. With Novi Membership you pay once and take advantage of all its features forever. Novi Builder can easily compete with other website builders that are available in today's market. Choose Novi Builder and enjoy an effortless drag-and-drop builder opportunities for your website.
Published by
decolore
Thanks for being a part of this beautiful blog. Hours spent to create this web space to our visitors as much useful as we can. We're living with a pace of life and build beneficial collections related to graphic and web design. Here we come up with premium and free collections like mockups, backgrounds, fonts, wordpress themes, branding, inspiration, tutorials and informative articles for professional designers and beginners. Go ahead and let's be a partners! View all posts by decolore