Did you know, globally, the average annual salary for a UX designer is approximately $53,000?
Additionally, as per the same source, the mean base pay in the US for a UX designer is $85,277 per year. Yes, a profession in this sector brings in a lucrative compensation package.

However, here's the thing. Let's assume, you already hold the required eligibility to land a job in this industry. Where do you start? Where can you look for the ideal UX design position?
UX job boards serve as an excellent resource to search for open roles at all sizes of businesses, from small-scale to large tech behemoths. To assist you in beginning your job hunt, we've put together a compilation of 10 excellent UX job boards.
Top 10 UX Job Boards for Design Professionals
You may get a sense of what firms are seeking in your promising applications by going through UX job websites. Instead of pondering if you possess the necessary skills to obtain a fantastic design position, take the initiative to research what employers are interested in seeing in your resume. Go through our checklist to get there!
1. Uxcel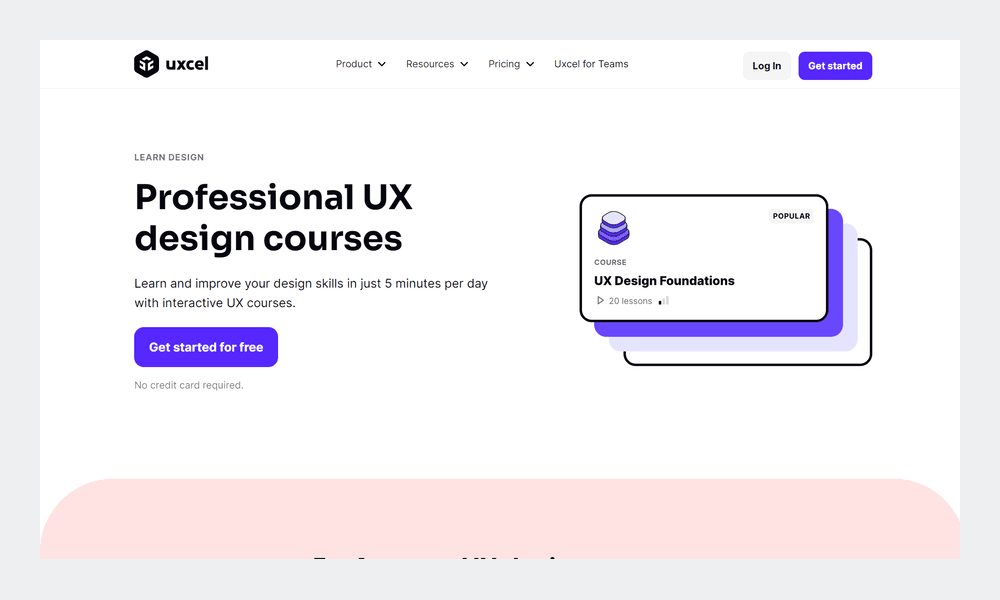 You may immediately search for job and internship openings from across the globe on Uxcel's UX/UI employment board. Simply upload your profile and submit a detailed, impressive application for a particular post in one location, which is among uxcel's primary benefits.
One of the reasons why uxcel is among our choicest UX job boards is that – it enables you to take classes, pass competency tests, and receive badges and certifications. Your technical skills will appeal to organizations that are actively seeking creative people to hire.
The number of available positions on this portal is always expanding, and the online application is unique. It's effortless to complete and won't take much effort.
Firms can easily verify candidates' academic and practical expertise by administering skill tests to them. Show the potential employer immediately that you're fit for the position for which you are applying.
The Upsides
Creation of uxcel expert designer portfolios and submission of job applications in one location
Seamless application process
Access to free job postings
The Downsides
The number of available jobs is still increasing
2. We Work Remotely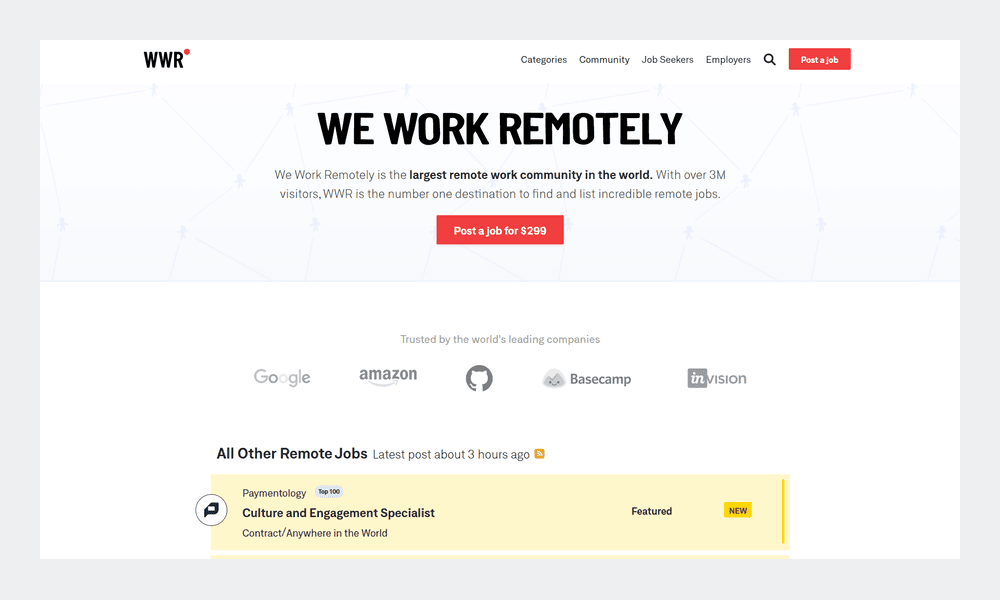 The portal, as its name implies, provides a variety of remote jobs all over the globe. Careers in a variety of fields, such as UI/UX design, software, advertising, and sales, are posted on We Work Remotely. Fortunately, the sophisticated searching and filtering features allow job seekers to focus their search and choose a certain area, time zone, and employment type.
The Upsides
Powerful sorting and searching system
Jobs available from all locations
Listings of new positions that are updated regularly
The Downsides
Availability of only remote roles
Many positions in sectors not specific to UX design
Offline application process
3. Dribbble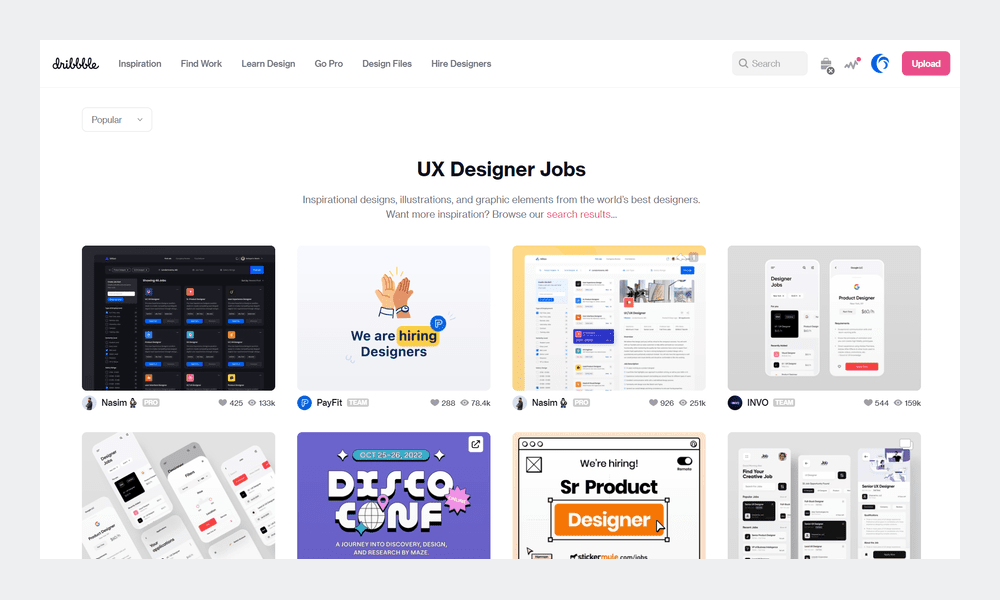 Dribbble is essentially a platform for UX designers and animators to publish their work, develop a portfolio, showcase their abilities, and ultimately find work. You could be acquainted with the site as a resource of ideas and inspiration.
Two channels are available on Dribbble: for independent designers and for people looking for full-time work, including remote choices. For expert, intermediate, and beginner level designer professions, the latter offers a variety of design positions.
In order for employers to identify you as a potential employee and get in touch with you when your qualifications fit their needs, you can post your finest work on your Dribbble account and describe your professional inclinations.
The Upsides
Building a portfolio that you may use to qualify for employment
Access to both full-time and freelancing alternatives
Positions at all design levels
The Downsides
Non-availability of a method to apply remotely
A dearth of jobs at the entry-level
No autocomplete function for geography and keywords filters
4. Indeed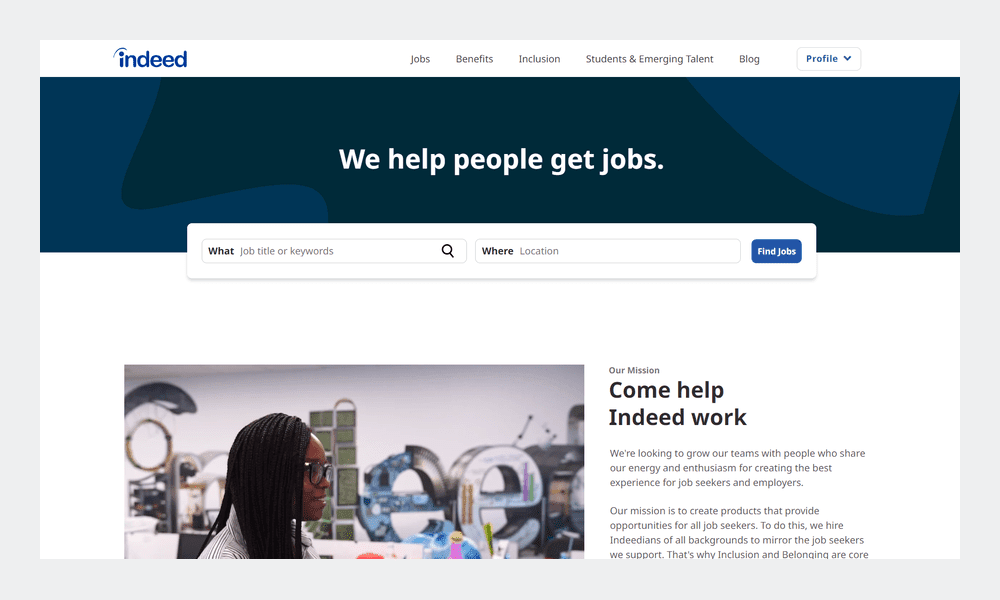 Indeed is a global employment network with American roots that enables job searching, resume posting and company analysis in the IT sector. The website lets you use your Indeed profile to submit job applications or, when you lack one, it refers you to the employer's website.
Students and those looking for entry-level positions receive special attention from Indeed, which offers them chances to successfully move to full-time roles.
The Upsides
Global job vacancies
A flexible application process
Options for graduate and entry-level applicants to participate in special programs
The Downsides
Many positions in industries irrelevant to UX design
Simple search functionality without sophisticated filtering for unregistered users
A challenge to confirm the validity of posted positions
5. LinkedIn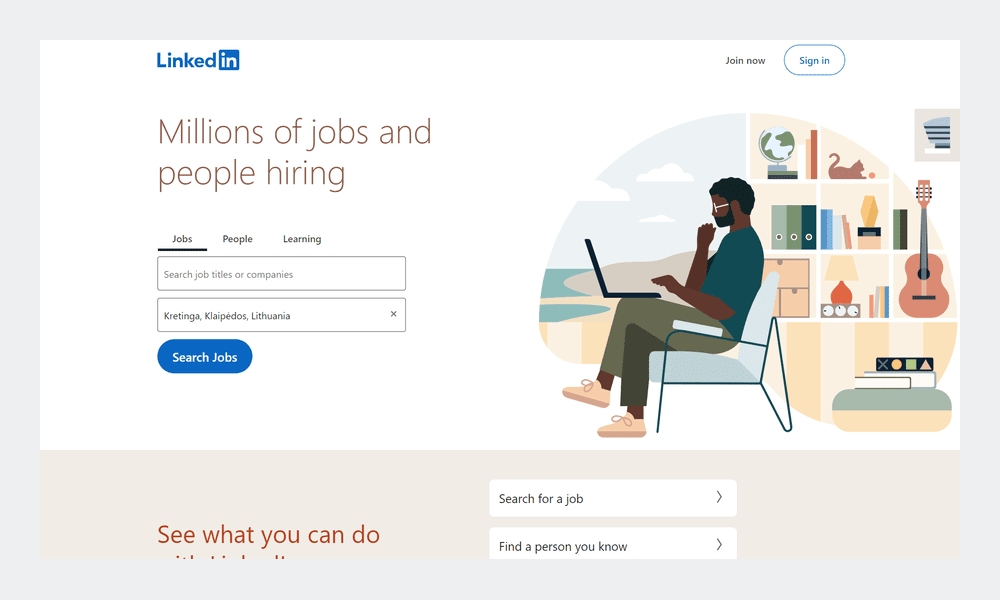 Since its first release in 2003, this platform has grown to become among the biggest social networks for businesses. If you're searching for employment via LinkedIn, first create a profile (if you don't have one already) and browse open positions at both well-known organizations and up-and-coming startups.
Users of LinkedIn can expand their networks and follow businesses they're seeking to collaborate with. A few businesses involve applying directly from their site with your online profile. Others send you to sites run by organizations or third parties where you're required to provide all pertinent information, like references, work history, abilities, and other important details.
The Upsides
An option to build a professional identity that you can use to submit applications for jobs
Ability to create a strong network of contacts with prospective employers
Continual updates with fresh job postings
The Downsides
Requirements from certain businesses to apply through their websites
Many positions in sectors not related to UX design
A few job postings, which are out-of-date or expired
6. Remote OK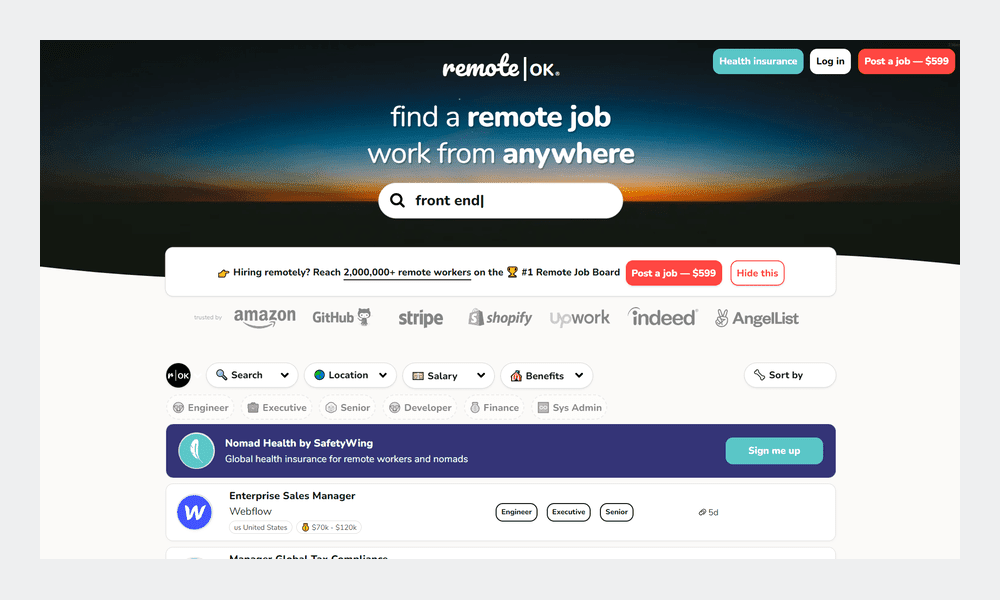 People have become so accustomed to working from home that a majority of them are unlikely to ever return to the corporate world. Work from home? Ok! The portal provides regular position updates for vacancies in UX design, software and programming, sales, advertising, and production.
If you prefer not to sort through a boatload of career opportunities, sign up for a periodic or daily newsletter of fresh remote roles since the website only has fairly rudimentary capabilities.
The Upsides
Updates about job vacancies every day
Subscriptions for fresh remote jobs on a periodic basis
Generation of resumes using several layouts off-site
The Downsides
Availability of only remote jobs
Many positions in industries irrelevant to UX design
Simple search engine without sophisticated filtering
7. Authentic Jobs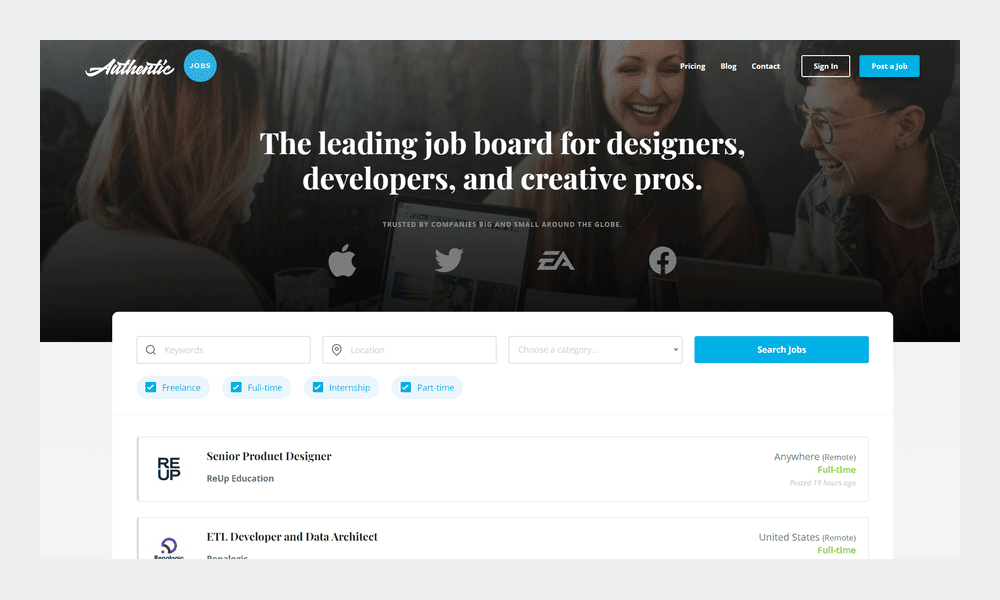 In order to assist UX designers, developers, as well as other creative people, in finding full-time, remote, part-time, or freelance employment and internships anywhere around the globe, Authentic Jobs had been established.
You can find recommendations for related projects that could be of interest to you in every job description section. To submit an application, go to the organization's website and finish the procedure there.
The Upsides
Various roles for all levels of design expertise
related employment advice
Various internship and job categories
The Downsides
Offline application process
Many positions in diverse sectors not relevant to UX design
No autocomplete function for the location or keyword filters
8. AIGA Design Jobs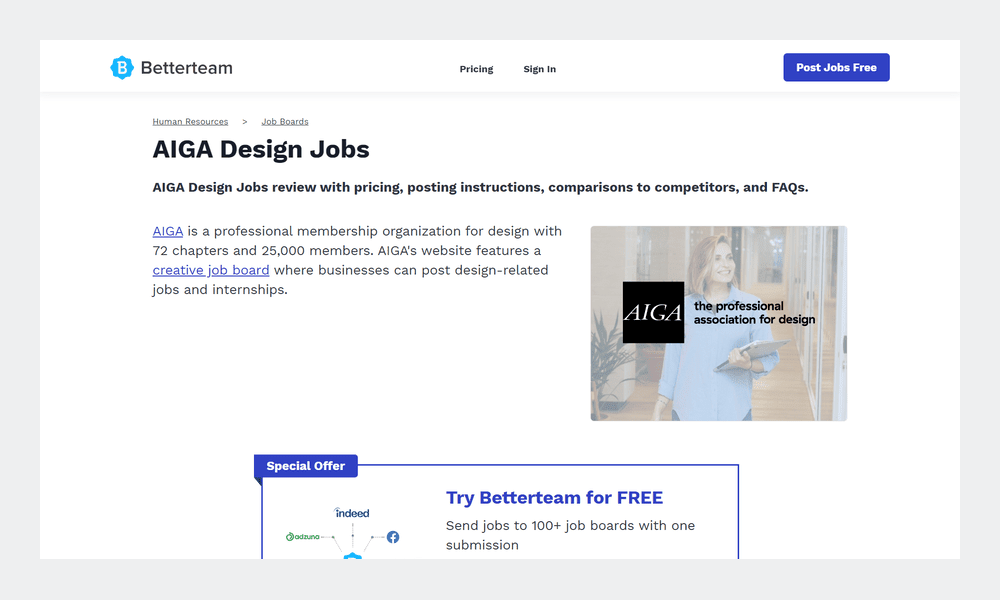 All levels of experience can find relevant design opportunities published by AIGA. You can refine searches to only see freelance and remote positions if that's what you're interested in. The drawback is that — to apply for employment and access the entire job posting and the company's contact details, you must become a registered user.
The Upsides
Availability of only design roles
Modern filtering mechanism
Opportunities, including internships, at all design levels
The Downsides
To access the job specification and apply, you must become a member
No mention of the most recent positional updates
Primarily US-based businesses
9. Just Remote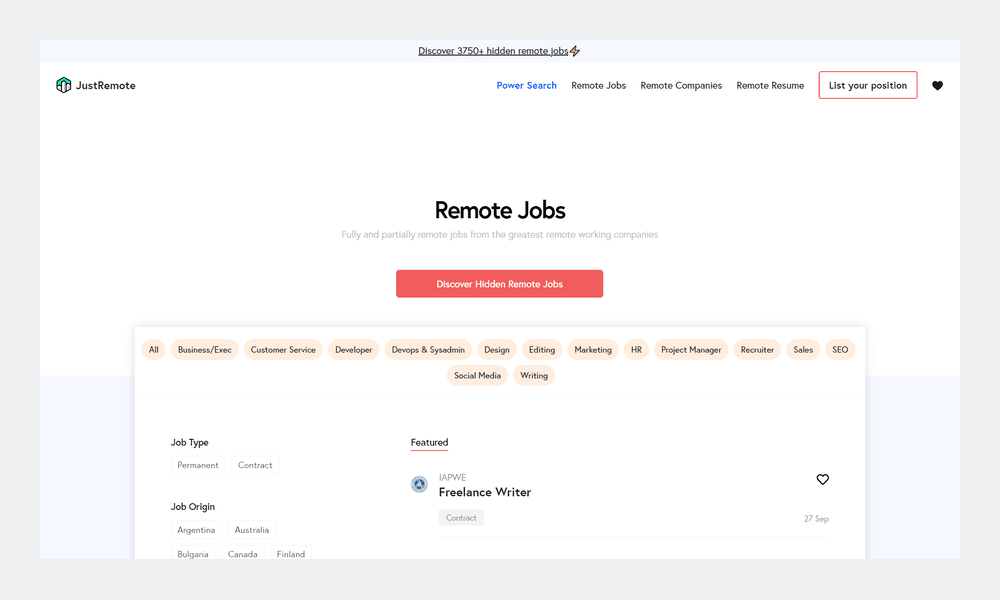 Another useful tool for locating a remote job in any area of the IT sector, including UX design, is Just Remote. The most desirable job positions, which aren't posted and concealed from the primary search, are accessible with a premium subscription.
The Upsides
Several positions in design
Jobs that are both full-time plus part-time
Remote employment openings on a global scale
The Downsides
Availability of only remote roles
Many positions in fields irrelevant to UX design
Subscription service for a number of the finest job opportunities
10. Working Nomands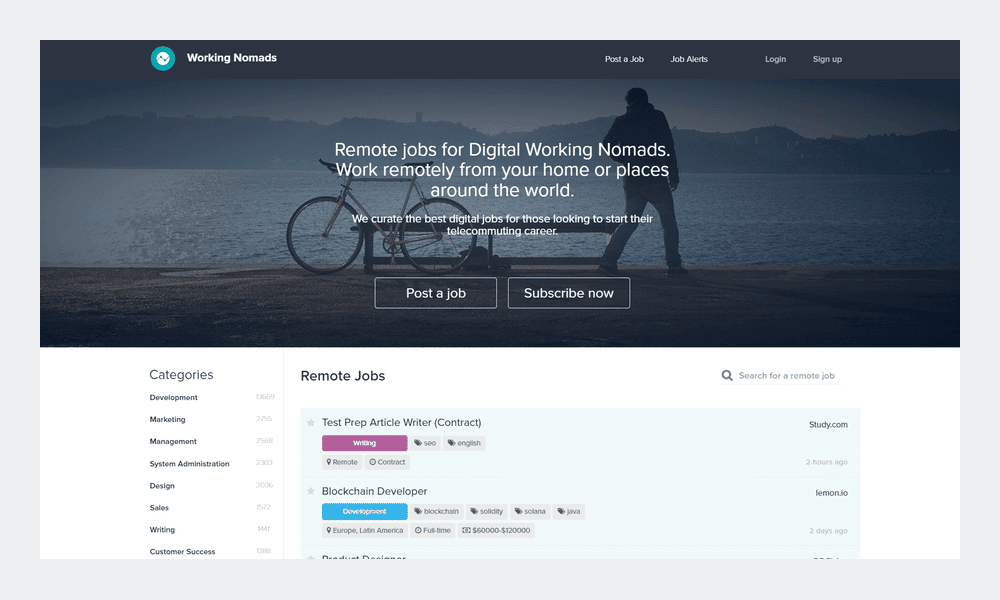 People that don't settle down and travel about frequently are referred to as "nomads," or telecommuters. The website provides listings of intriguing remote job openings across a variety of professions, including design, coding, marketing, administration, journalism, healthcare, and academia.
You must browse the entire listing to discover what you require because the website lacks a sophisticated filtering feature. As an alternative, you may sign up for newsletters to browse relevant job openings.
The Upsides
Subscription option to a newsletter with relevant job vacancies
Career bookmarks
Positions for all levels of design expertise
The Downsides
Availability of only remote jobs
Simple search engine without sophisticated filtering
Many positions in industries not pertinent to UX design
Get started with your search through the ideal UX design job portal!
You're undoubtedly eager to start applying for employment on these websites. Move more slowly. Do you truly desire to submit an application for any position with the term "design" in it? Review job descriptions thoroughly and comprehend the particular talents needed.
Write a compelling cover letter. Include the portfolio items from your work that are most pertinent to the position. A UX designer who satisfies every requirement mightn't exist, so keep in mind that several job descriptions serve more as wishlists for ideal applicants. Apply even if you believe you are mostly eligible and are willing to gain the abilities you lack.
Published by
decolore
Thanks for being a part of this beautiful blog. Hours spent to create this web space to our visitors as much useful as we can. We're living with a pace of life and build beneficial collections related to graphic and web design. Here we come up with premium and free collections like mockups, backgrounds, fonts, wordpress themes, branding, inspiration, tutorials and informative articles for professional designers and beginners. Go ahead and let's be a partners! View all posts by decolore