There has been a significant increase in the demand for graphic designers in the last few years, so there are constant opportunities for designers to get a foot in the door. Graphic designers can work as traditional employees for a company or freelance and work independently to find clients. Freelancers technically work on their own as entrepreneurs to market their services, while contract positions most often work remotely as an employee.

As most of the job hunting in our modern world is done online, here are 5 of the best job search engines for graphic designers to browse through.
1. Lensa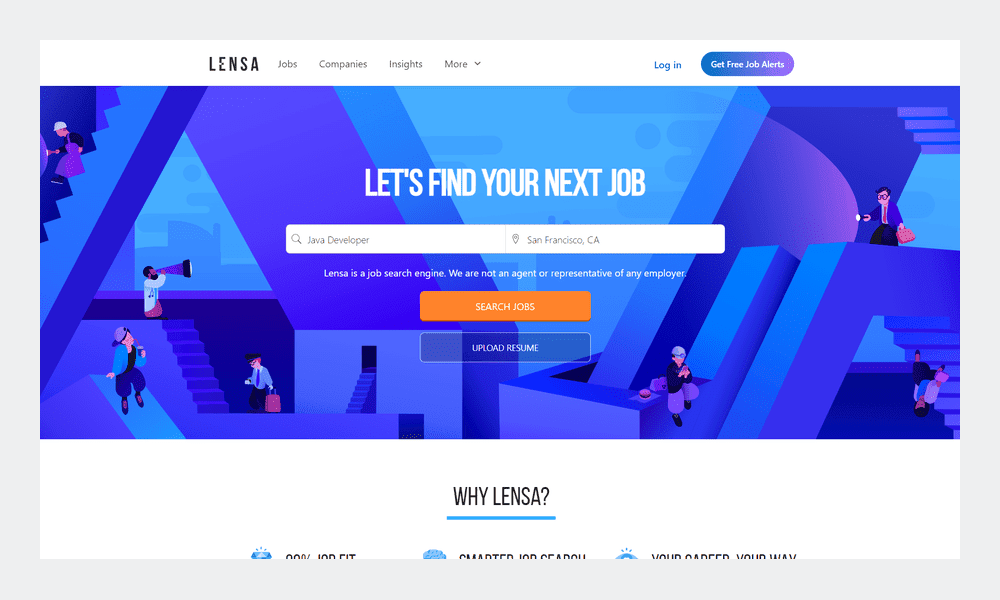 Lensa offers the opportunity to create a detailed profile that outlines what professions you are interested in, your education level, previous work experience, as well as the salary range you are looking for. You can also filter through many different criteria, such as location, salary, full-time, part-time, and remote to optimize your job search.
Additionally, using the Community Pages feature, you have free access to a lot of very useful statistics on any company that you are interested in. There are statistics for employee data that includes age, gender, diversity, and years spent at the company.
The efficiency of Lensa's job search algorithm is immediately apparent because after you've uploaded your resume, you'll automatically see a few job openings advertised to you. Lensa has extensive data on thousands of companies, so graphic designers have a very wide range to choose from.
2. Indeed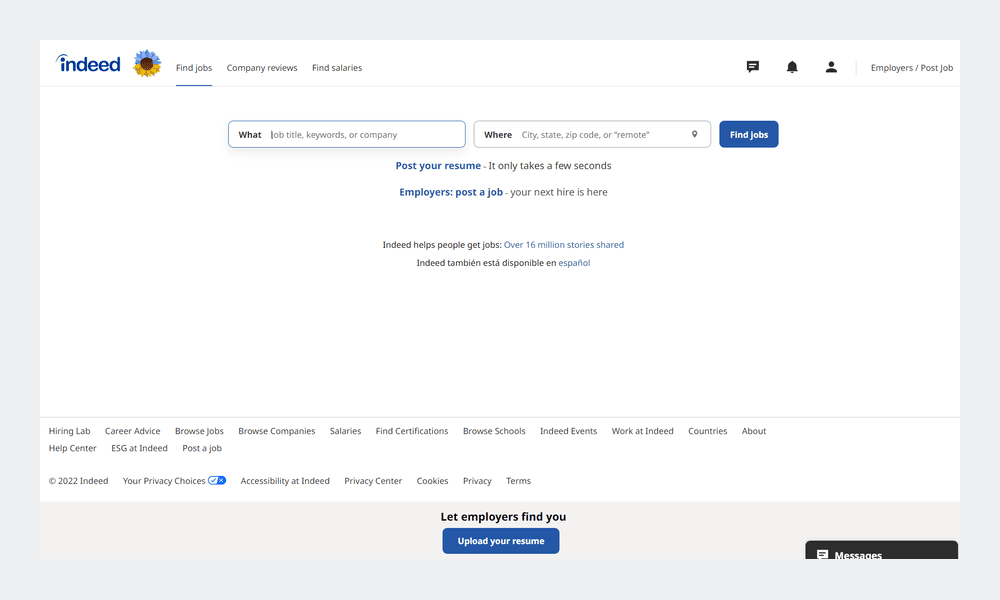 Indeed has roughly 1.5 million companies that are on the site looking for people to hire and 4.5 million new job listings being added every single month. This platform is available in over 60 countries and is currently the most visited job site in the United States. It is completely free, and job seekers can search for opportunities by job title, keyword, company, or location, so as a graphic designer, you can find which is the best fit for you.
The easiest way to start your job search on this site is to sign up for an Indeed account. You will have access to Indeed's tools and resources that will help you find a graphic design position catered to you. Once you've created an account, you can upload your specific graphic design resume. If you have an existing resume, you can upload it to the site, but if you don't, you can easily create one on Indeed. By uploading your resume, Indeed can find graphic design positions that fit your specific skill set, educational background, and previous experience.
This site offers a career guide that is very helpful to go over because Indeed has consulted with career coaches, recruiters, hiring managers, and product experts to put this guide together. Indeed offers tons of great information like reviews, salaries, and potential advancement opportunities. By using this guide, you can find great information on how to pursue your graphic design career.
3. FlexJobs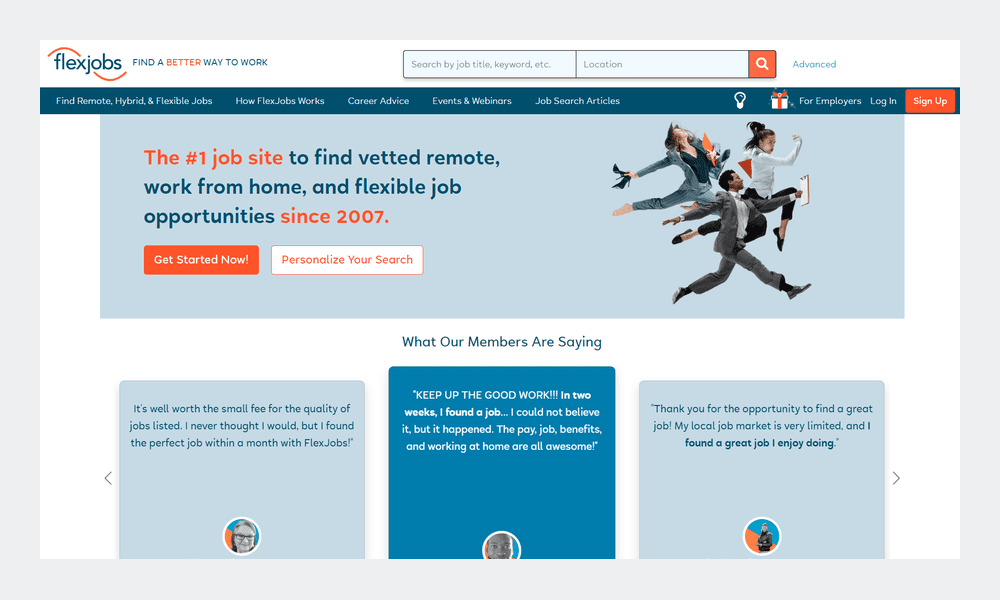 FlexJobs is another leading online job service for professionals seeking flexible work, specializing in full-time, remote, and part-time jobs, employee and freelance jobs, as well as on-site jobs with flexible, part-time, and alternative schedules. This is incredibly ideal for graphic design because there is specific software for graphic design that professionals use on their personal computers. As a result, a lot of work in the graphic design world is done remotely so FlexJobs perfectly meet the expectations and working conditions for this career.
Since its launch in 2007, FlexJobs has helped more than 4 million people in their job searches and has created the largest vetted database of legitimate flexible job opportunities. Additionally, FlexJobs provides ongoing career support, including curated expert resources and career coaching services to partner with job seekers in all phases of their journey.
This site may not be optimal for everyone as it is not free to access. FlexJobs offers four different packages at different price points. They have a weekly subscription for $9.95, their most popular monthly subscription for $24.95, a three-month package for $39.95, and a yearly subscription for $59.95. If making a small investment is possible for you, you will most definitely be getting your money's worth. Each membership plan with FlexJobs includes unlimited job listings and resume searches, and all plans include dedicated account support.
4. Design Jobs Board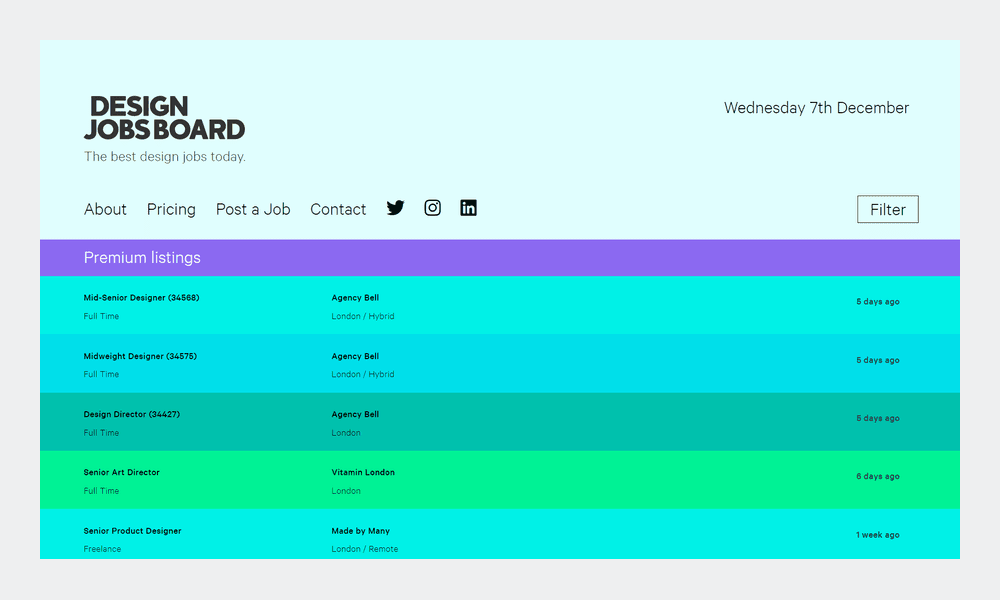 Established in London in 2008, the Design Jobs Board has expanded to serve an international audience, primarily hiring talent from the United Kingdom, Europe, North America, and Australia. They aim to connect the most exceptional creative talent with the most respected agencies across these countries.
Job listings have multiple filters to fit your specific needs. You can filter openings by level, such as junior or midweight, role, like design or design management, and type, such as internship, part-time or full-time. While the company is based in the United Kingdom, the board posts openings in the UK, Europe, Australia, and North America.
This site offers multiple package deals with different features that make your experience in finding a graphic design job that much easier. The site offers a range of different prices to suit all kinds of requirements, from finding your first intern to bagging the best senior creatives to head up your projects. The prices are considerably higher than on FlexJobs, and unfortunately, there are no free packages, so this may not work for people on a tighter budget.
The five packages Design Jobs Board offers are the Internship listing for £49, their Standard listing for £99, the Premium listing package for £199, the Multiple Package for £399, and finally, the Recruitment Package for £499. The prices don't include VAT, so those costs will be added to each package.
5. Authentic Jobs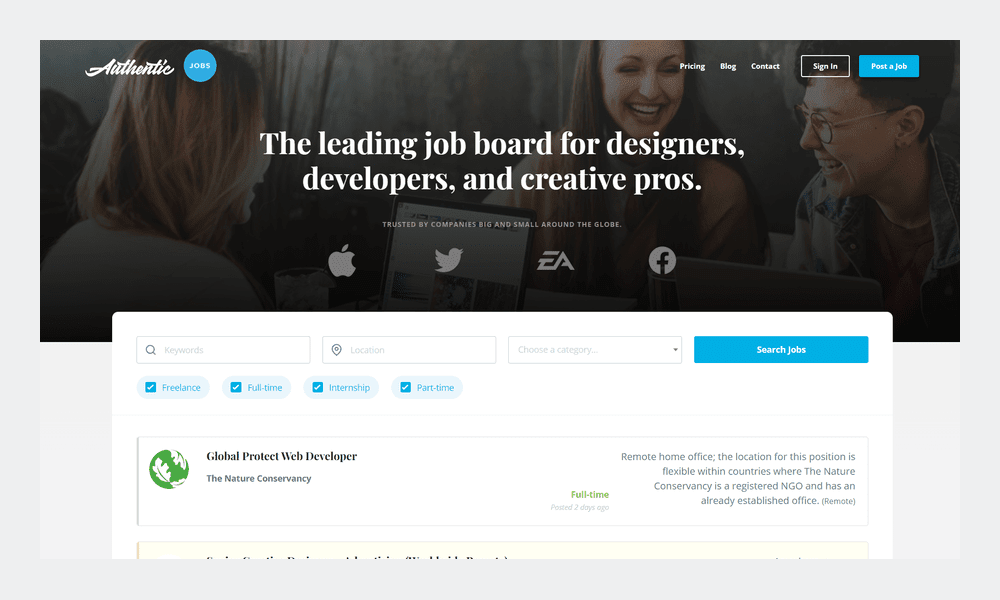 First formed in 2005, Authentic Jobs is a leading jobs board in the digital design space, and it is unique as it primarily offers senior-level positions in different areas of design. This site is used by some of the biggest recruiters in the United States, including the New York Times, Tesla, and Mercedes. It is one of the top job boards for professionals in the design industry.
Most jobs are based in North America, although there is the occasional international listing, as well as some remote working jobs. While there are a lot of full-time positions that probably won't work if you're looking for remote graphic design jobs you can do on the side, there are still quite a few gems that come through for freelancers. However, if you are looking for a full-time job this site is perfect.
Goodluck
If you want to look at your options out there as a graphic designer, using any of these sites will give you a good idea of what the current job market offers. When you are looking for a new job, you are already under a lot of pressure and may not want to filter through hundreds of sides just to find the best fit for you.
These platforms are known for how accommodating they are to graphic designers, so it would definitely be worth it to check out these sites and know you are taking one more step in the right direction to find a job in graphic design.
Image credit: freepik.com
Published by
decolore
Thanks for being a part of this beautiful blog. Hours spent to create this web space to our visitors as much useful as we can. We're living with a pace of life and build beneficial collections related to graphic and web design. Here we come up with premium and free collections like mockups, backgrounds, fonts, wordpress themes, branding, inspiration, tutorials and informative articles for professional designers and beginners. Go ahead and let's be a partners! View all posts by decolore