We have listed here a bunch of gym and fitness WordPress themes designed and developed specially for gym, fitness center and crossfit group websites. These are versatile and highly customizable WordPress themes that allow you to make your own unique and professional website you have always wanted.
WordPress is simple, easy to use and setup and it's free to use for commercial or any other purpose. Keep a good mood and enjoy!
You may also like:
Activia – Gym and Fitness WordPress Theme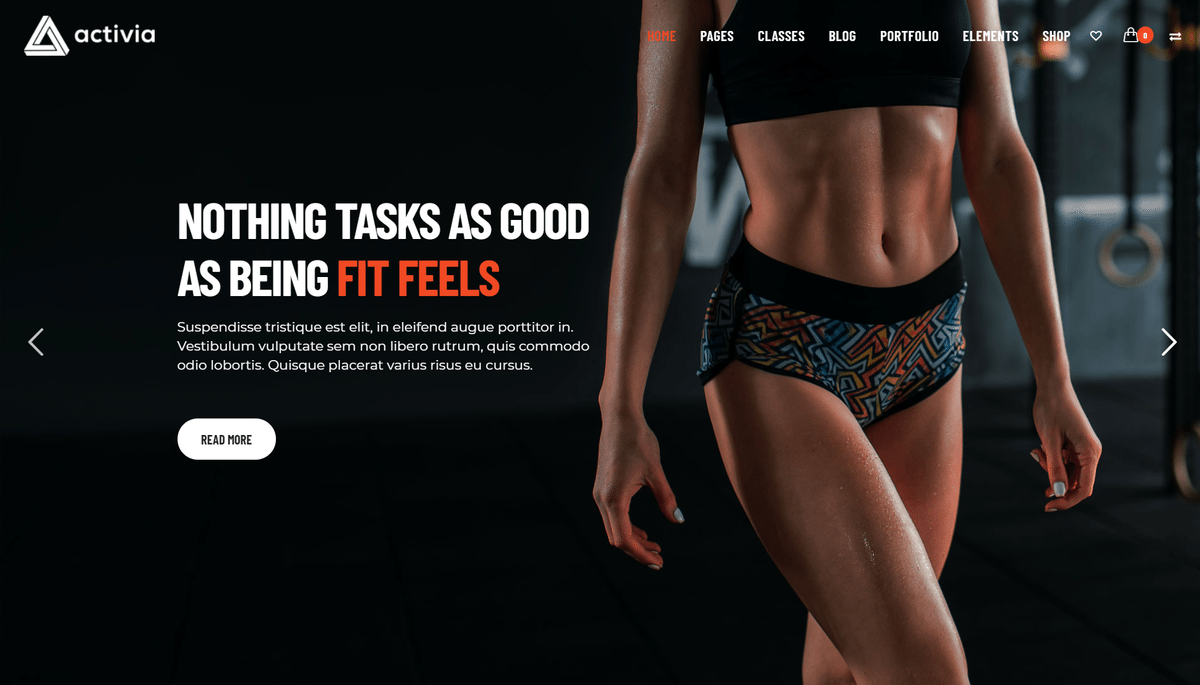 Activia is a WordPress theme designed specifically for gym, fitness and all kinds of sports activities services. Can be also successfully used for any business where the management of the schedule and events is important. It's created by using the latest HTML5 and CSS3 techniques in accordance with the latest WordPress Coding Standards. Fits all popular mobile devices and tablets.
WizeFit – WordPress Theme for Gyms & Fitness Clubs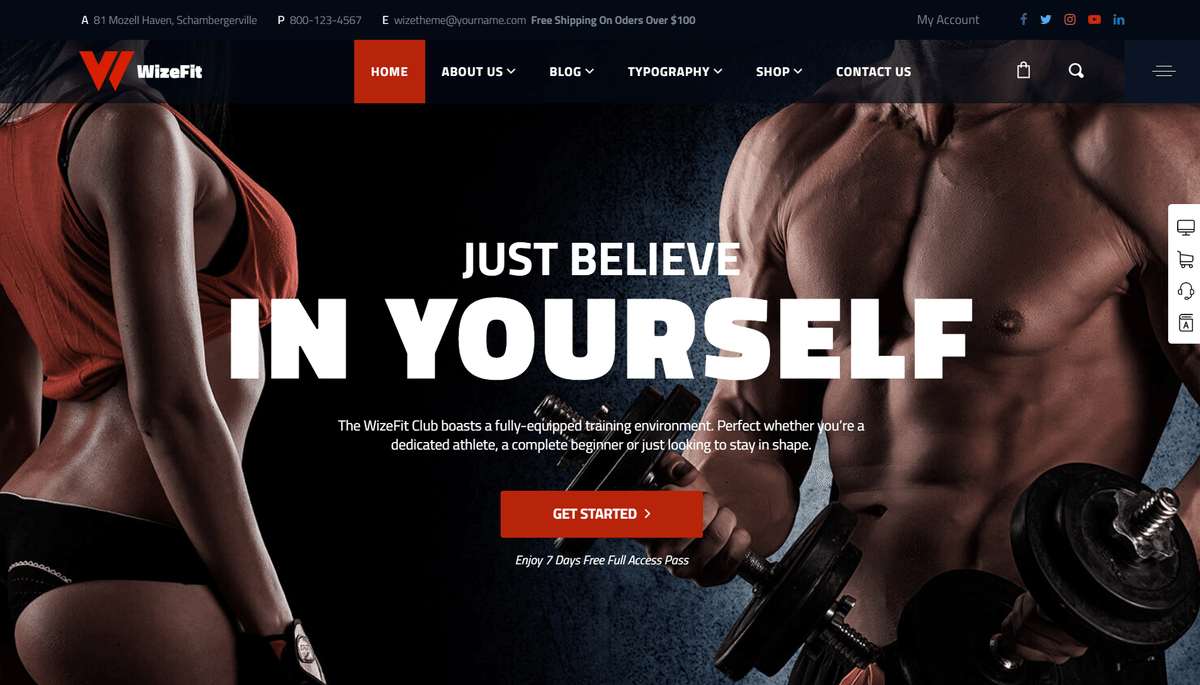 Wizefit is a fresh and modern WordPress theme perfectly suitable for CrossFit centers, fitness clubs, yoga classes, pilates trainers, and other related purposes. This template is a unique opportunity to promote your fitness and sports-focused business and get as many customers as possible.
Jevelin – Multipurpose Premium Responsive WordPress Theme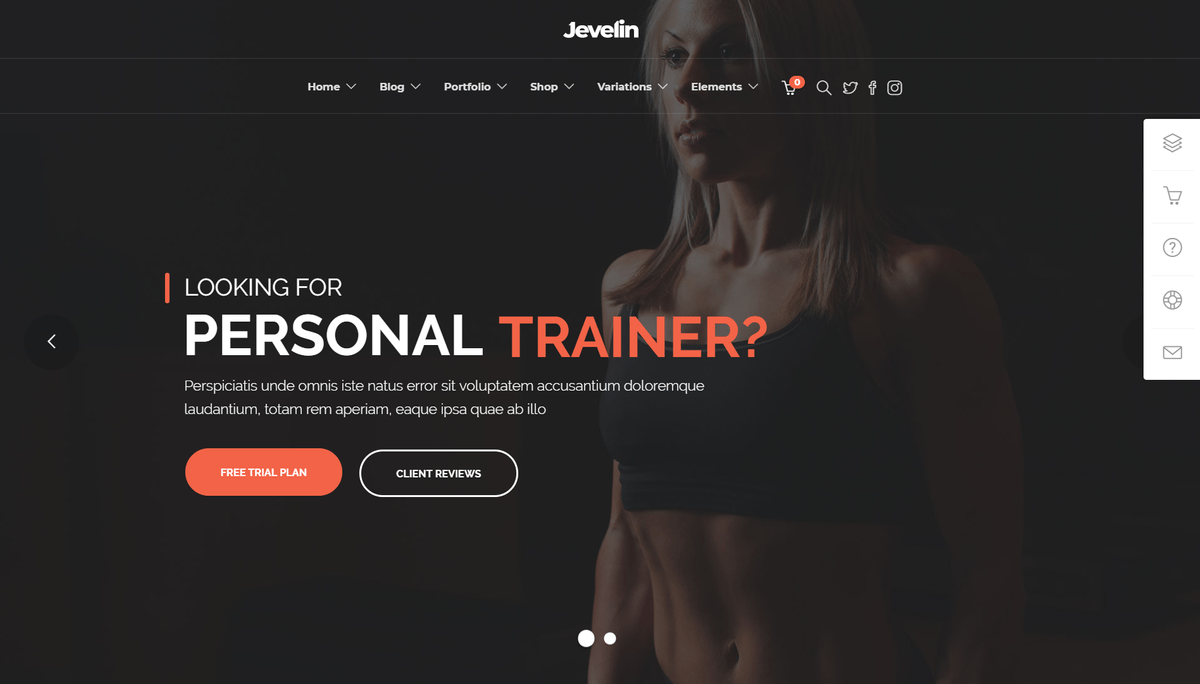 Fitness websites find in Jevelin a sound ally for a brilliantly speedy single click setup and a completely visual customization process involving a drag and drop page builder and a set of powerful admin panel settings all a couple of clicks away, each with the potential to utterly alter the look and feel of your website inside out.
Infinite – Responsive Multipurpose WordPress Theme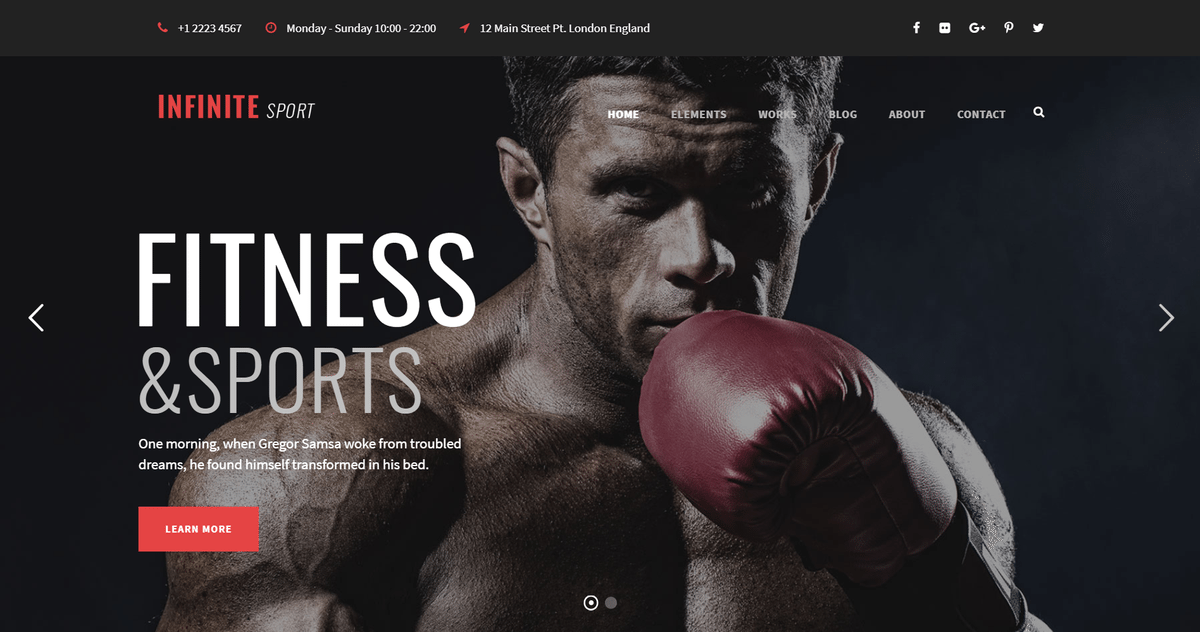 Infinite is built around the unique GoodLayers drag and drop page builder, also featuring the Revolution, Master and LayerSlider slider premium plugins and a vast variety of wonderfully composed demo websites and template pages for you to get things started off on the right foot, regardless of your niche.
Deadlift – Fitness and Bodybuilding WordPress Theme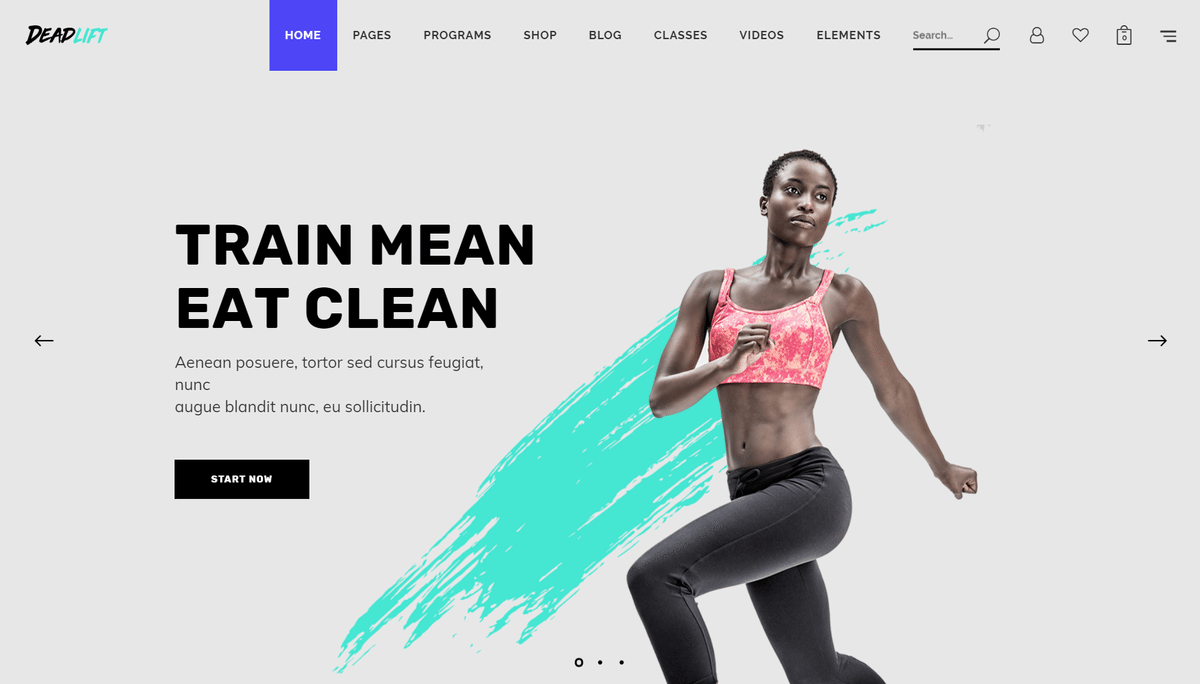 Deadlift is a bold and modern fitness WordPress theme. It includes many features for your website like classes timetable, workout programs, meal plans, recipes and more. It is designed to be clean, user-friendly, secure and focused on performances.
TheGem – Creative Multipurpose High-Performance WordPress Theme
TheGem incorporates the Visual Composer, a premium drag and drop page builder that makes short work of most visual and layout customization tasks without having to write a single line of code, offering you over 60 functional elements with over 250 customizable settings in total, so you are always in complete control of your website.
Prowess – Fitness and Gym WordPress Theme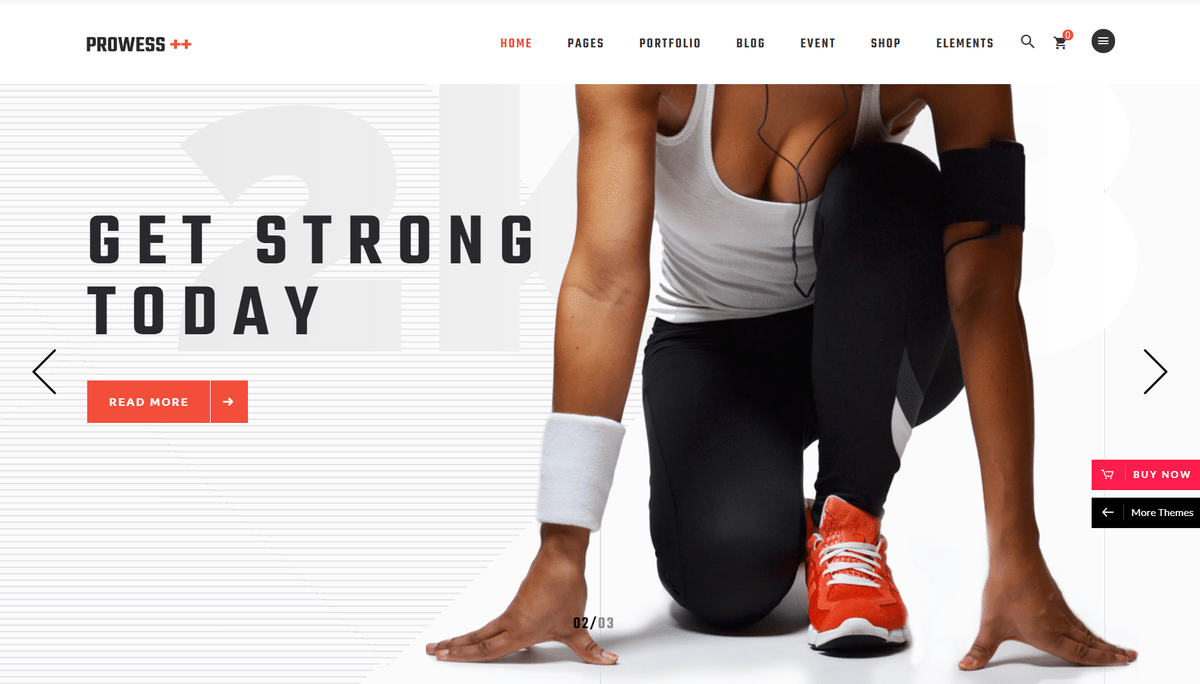 The theme is fully decked out with sports elements and features, so you can easily showcase your business and every aspect of your fitness or a yoga studio. Thanks to the Timetable plugin, creating events and fitness, yoga or gym classes is really simple.
Maruthi Fitness – Fitness Center WordPress Theme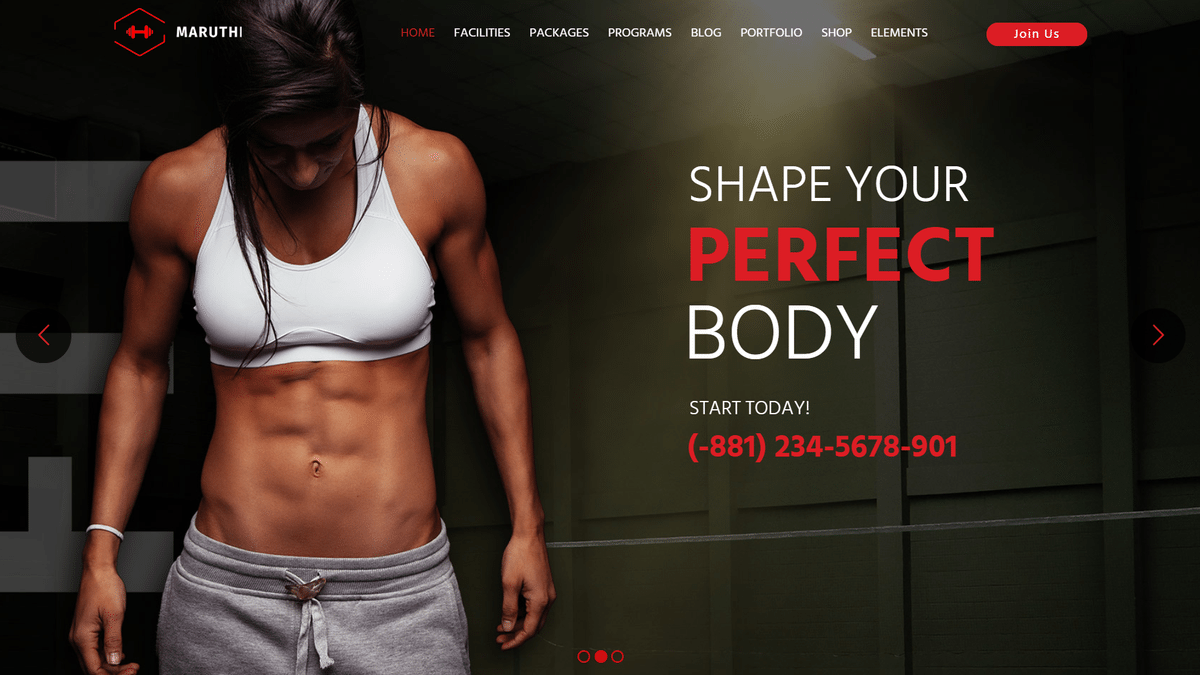 Welcome to Maruthi theme, which is a dazzling sports & fitness center theme.
Maruthi comes in 3 dazzling demos namely Default, Aerobics, and Sports. Each demo offers astonishing homepages that are sure to catch your clients attention totally. All the three variants of Home Pages offer you gorgeous layout and attractive sliders to showcase your fitness centers, sports clubs, gym and other physical exercise oriented sites.
Absolute Fitness – Multipurpose WordPress Theme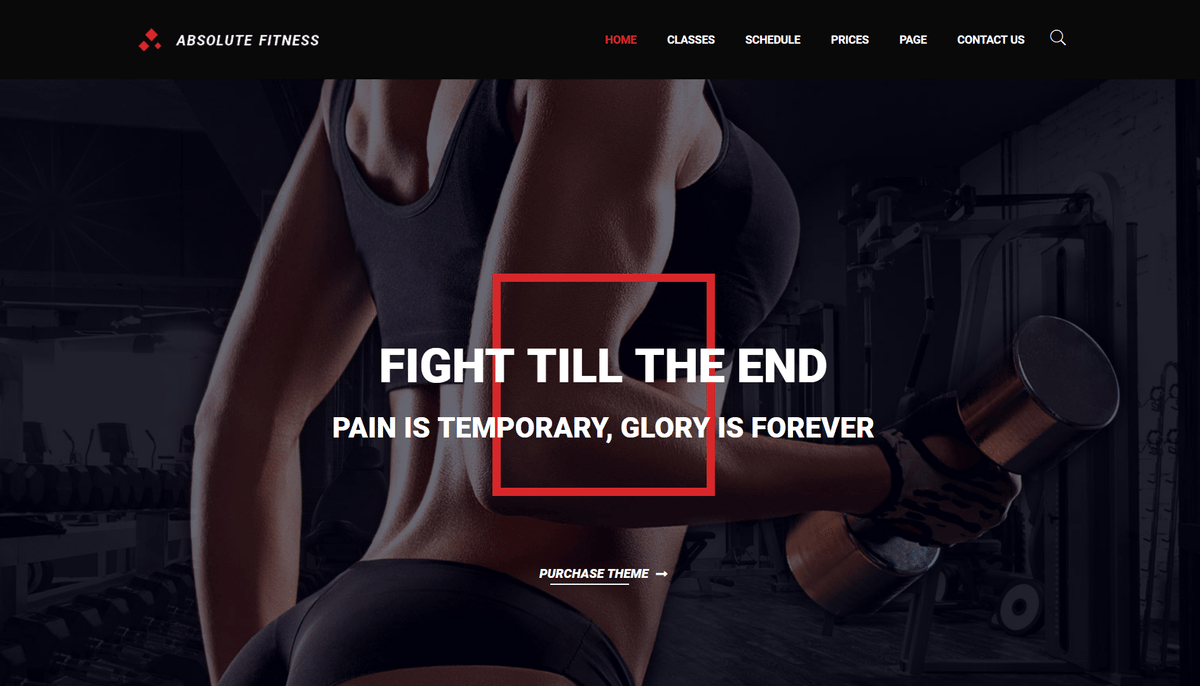 Absolute Fitness – modern and functional WordPress theme for sports clubs in different directions.
Gym Edge – Gym Fitness WordPress Theme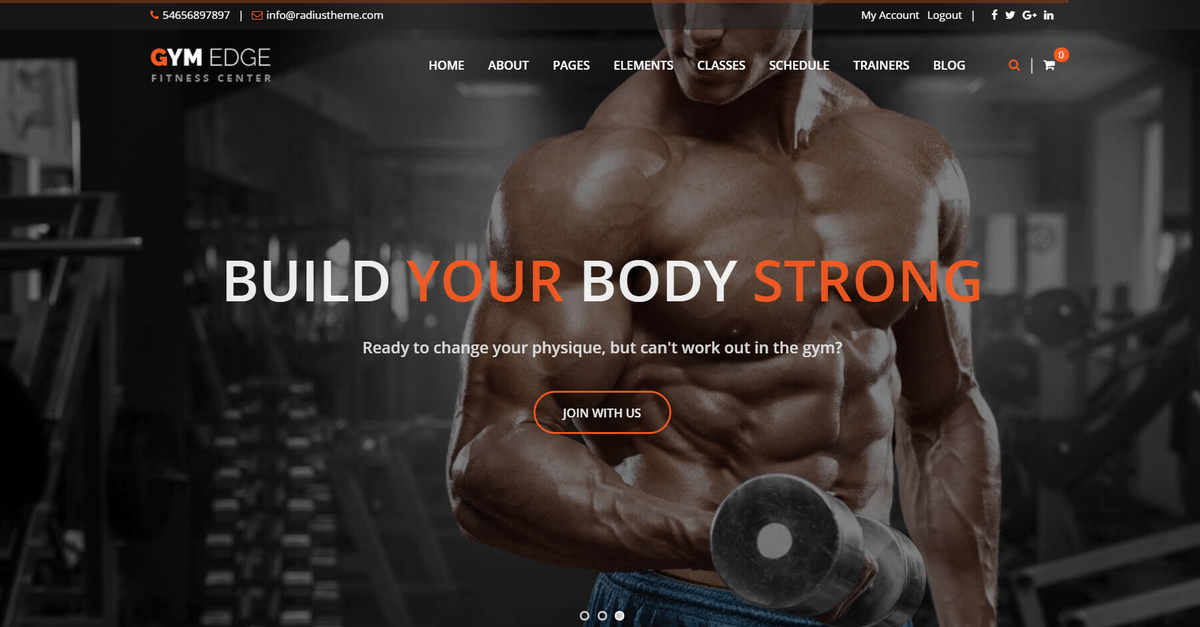 GymEdge – Gym Fitness, Yoga & Personal Trainer one & Multi page WordPress Theme. It is fully responsive for all kind of devices like Desktop & Mobile.
Girly – Gym Fitness WordPress Theme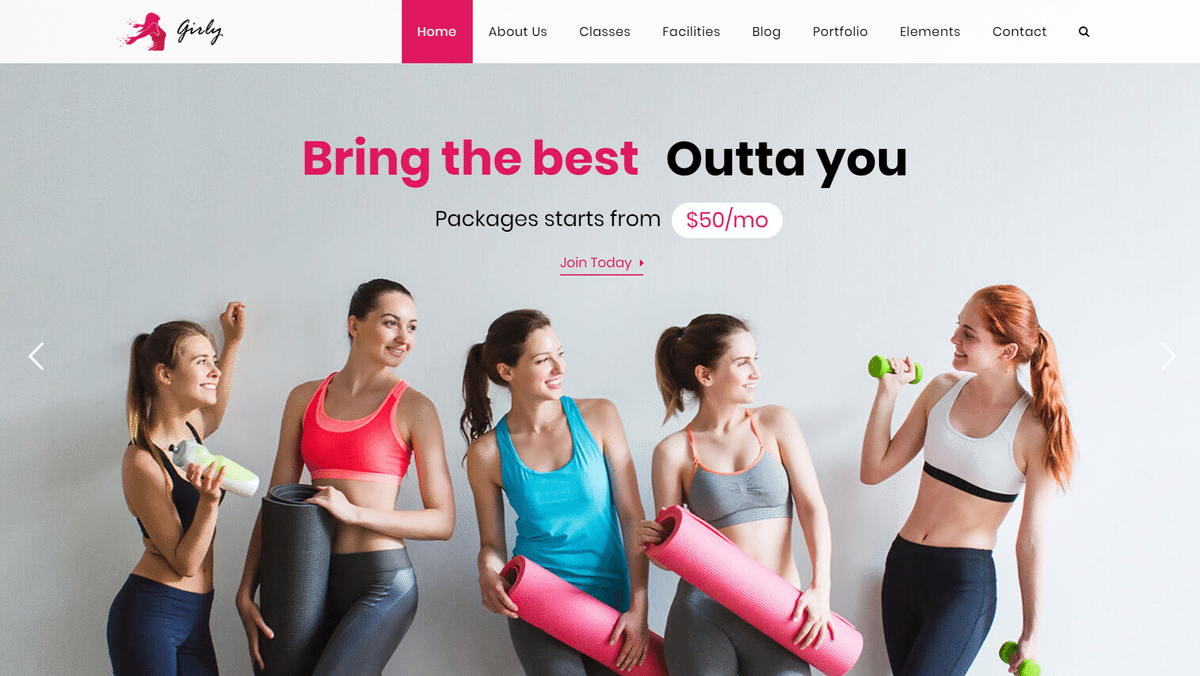 Girly Gym Theme is an exclusive girl's gym theme that offers amazing features tailor-made for the girls. The Trainers page and Practices page list the services delivered by Trainers and by the Facilities. This feature tags the course to the trainer and vice versa. All that you have to do is to decide on the course or class you want to join and check out on the site. The classes and class details page in 2 variants break up the class by streams such as regular yoga, intermediate and advanced level.
Tiger Claw | Martial Arts School and Fitness Center WordPress Theme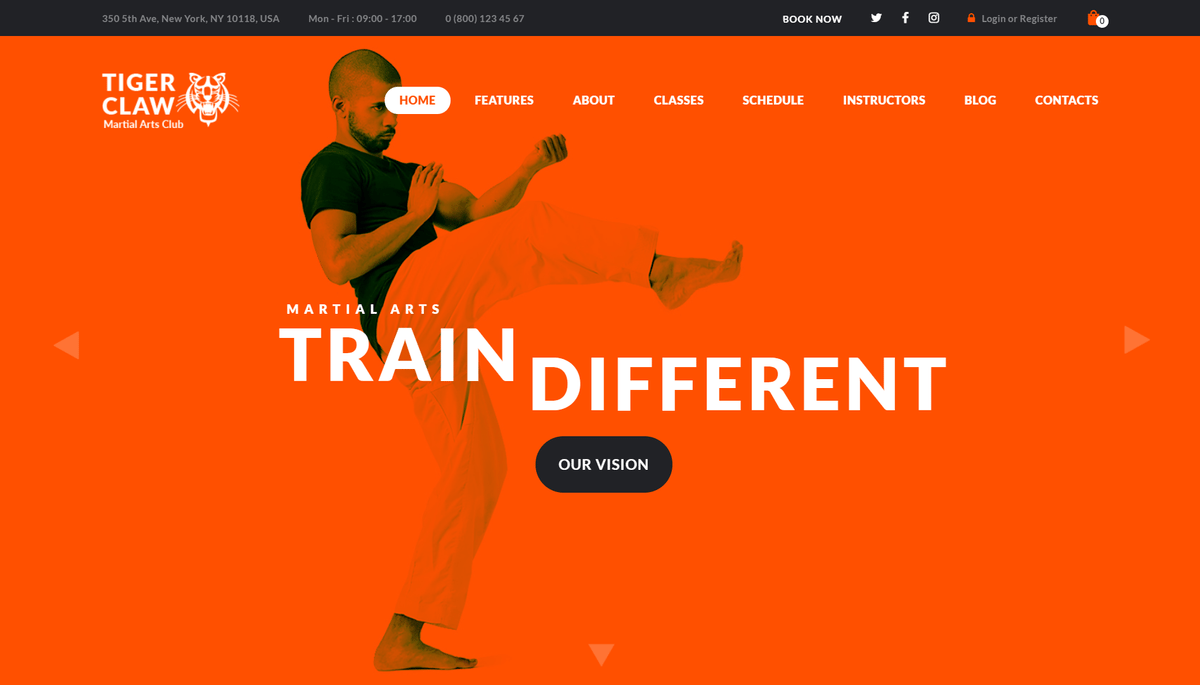 Tiger Claw is a modern sharp & bold Sports WordPress Theme. It is designed for all kinds of athletes, sportsman, trainers, coaches, runners, sportsmen and all healthy lifestyle people. Also it is perfect for martial arts like wrestling, boxing, MMA, karate, taekwondo, aikodo, mix fight company. Above all it fits blog, magazine, marathon runner, healthy lifestyle coach, fitness coach, jogging trainer or sportsmen health store.
StarGym – Gym Trainer, Fitness Club and Gym WordPress Theme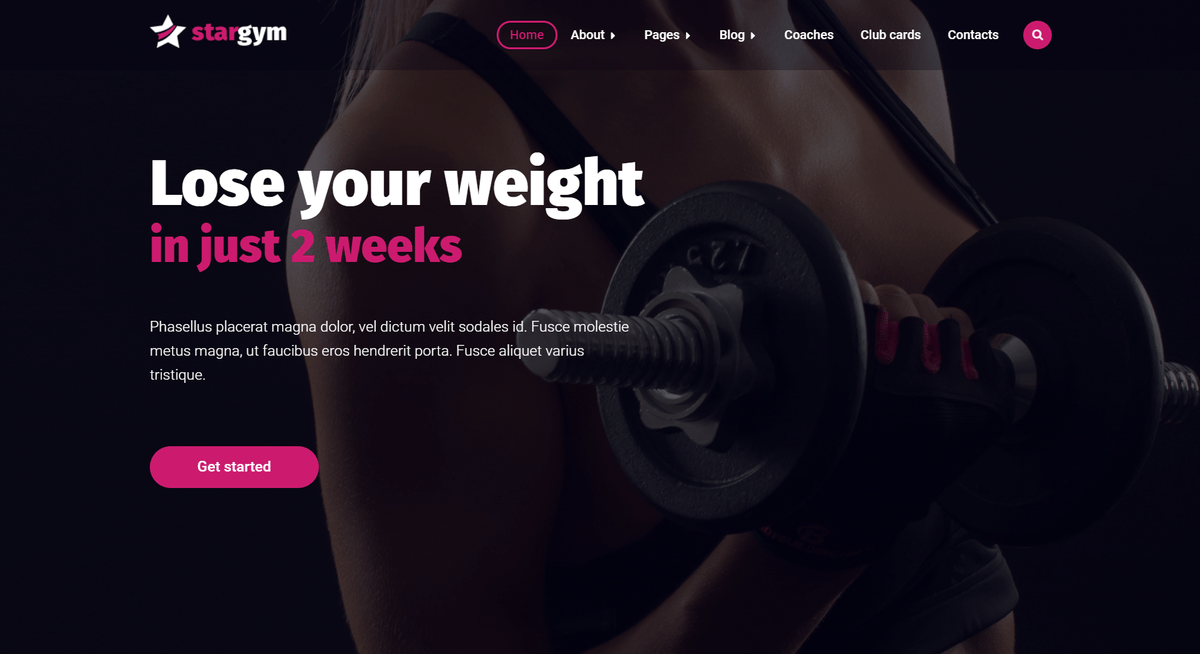 Stargym is a modern Fitness and Gym WordPress theme created specially for Gym, Fitness, Health Clubs, Fitness coach and other related businesses. It can also be suitable for a fitness instructors, personal trainers, dancing teachers, athletes and classes.
KALLYAS – Creative Multipurpose WordPress Theme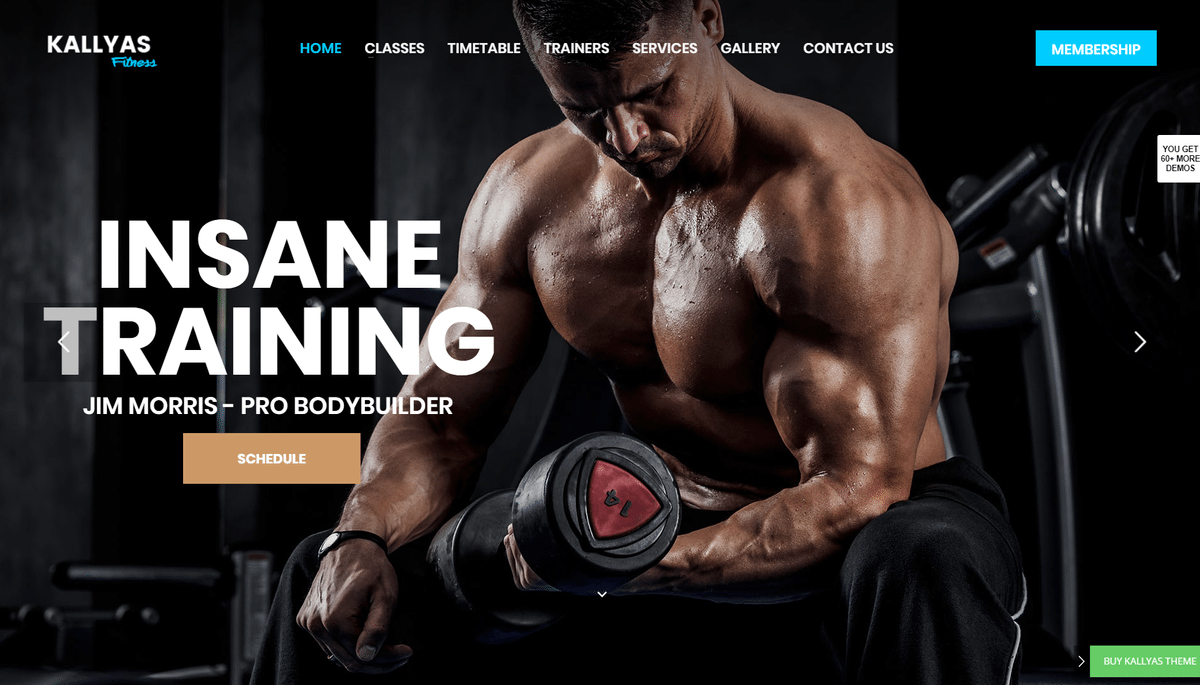 KALLYAS is a youthful and fresh-faced, colorful and innovative, easy to use and very intuitive, readily responsive WordPress multipurpose website theme. It is a massive, ambitious and broad website building tool, a platform to empower webmasters from all backgrounds and skill levels to easily and efficiently construct their very own customized websites in a matter of minutes, without having to write a single line of code yourself. KALLYAS comes prepared with a plentiful, varied collection of powerful and professionally designed template pages and demo websites to suit myriad different purposes.
Gym X – Fitness, Gym & Sports WordPress Theme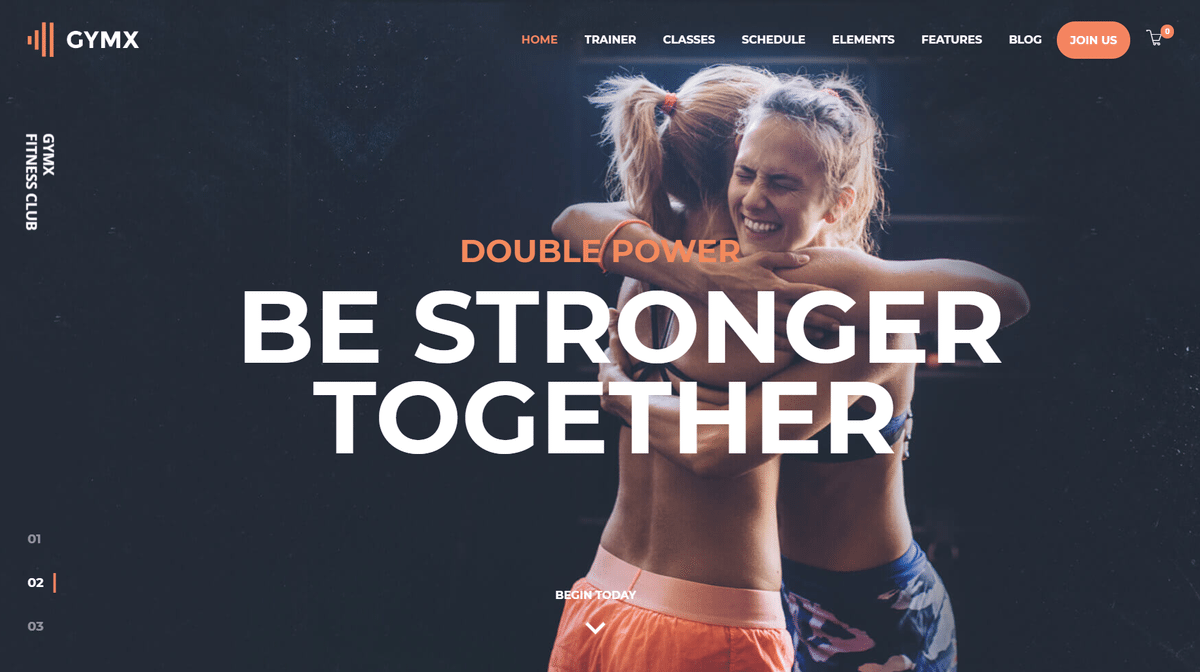 Gym X is a WordPress theme for fitness gym and sports. Its goal is to present fitness spaces and products as well as a comfortable site for fitness fans. Additionally, its design has lots of fonts and color theme options to make everybody feel in the working out zone. You also have four columns available to put on images and videos. For criteria searches on different sites, you can use the MegaMenu on the top. Gym X features WPML translating plugin to make you at ease when reading instructions. If what you want is to organize clients' time or your own fitness dedicated time, you got it! Gym X has a set up schedule to select workout styles for both indoors and outdoors training.
Samurai | Karate School and Fitness Center WordPress Theme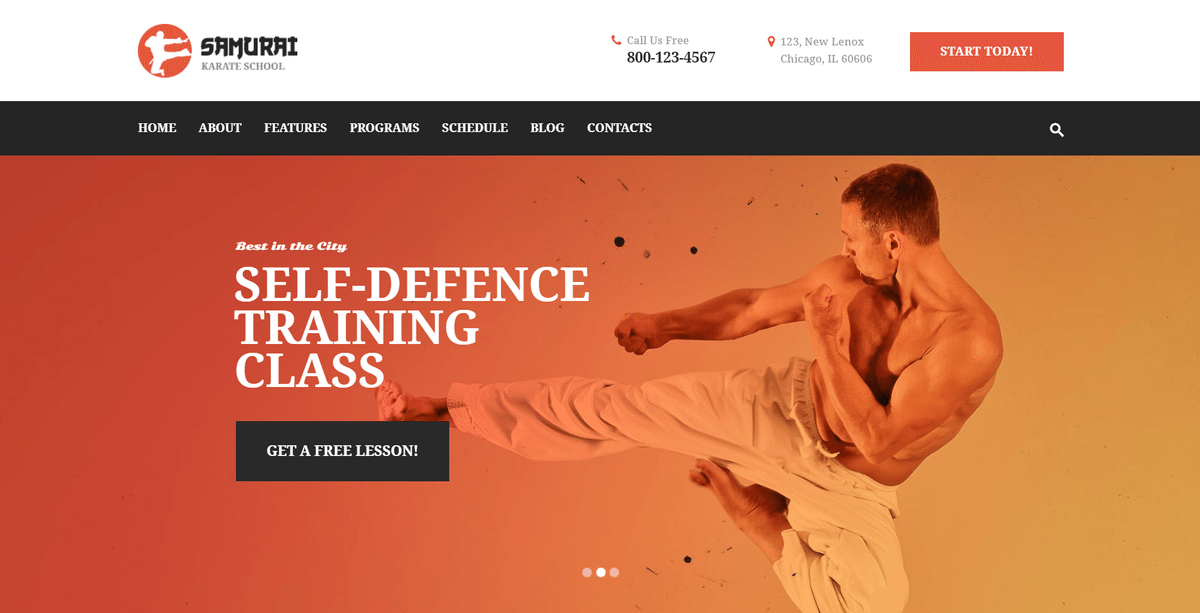 Samurai is a modern, clean, fresh & responsive Karate & Martial Arts WordPress Theme. It is designed for all kinds of contemporaryathletes, sportsman, trainers agency, sports coaches, runners company, sportsmen and all healthy lifestyle people. Also it fits bold & stylish blog, magazine, marathon runner, healthy lifestyle coach, fitness coach, jogging trainer or sportsmen health store.