Every application for a job starts with sending a resume. A polished, original and carefully filled in CV along with a well-written cover letter is your chance to interest a potential employer, and make a great first impression. The problem is that while searching for a perfect candidate a recruiter or a boss looks through dozens of similar applications. This means that a professionally crafted and stylish CV levels up your chances to score a dream job.

In this special compilation we've gathered 35+ amazing resume and cover letter PSD templates. Crafted by the skilled designers from popular online resources, all of the pieces below stand to the highest standards, and will look great whether printed or on the web. The PSD format allows you to adjust any template with the minimal knowledge of Photoshop.
Anything from a photo to text and colors can be customized in just a few clicks. What's most important, all samples in the collection provided here are available for free. All you need to do is scroll the page and download free resume PSD template which perfectly matches your style, preferences and needs. We hope that you enjoy our unique collection, and find an impeccable resume model which helps you score your dream job!
1. CV and Cover Letter – Free Resume Templates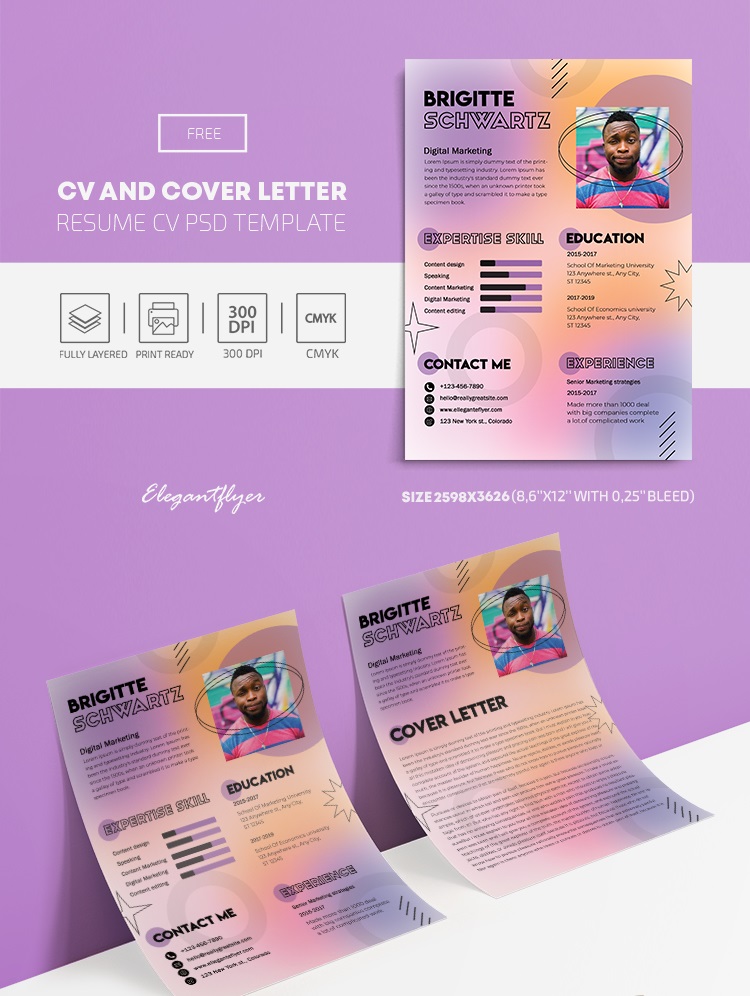 Stand out from the crowd with this fantastic CV & cover letter template! Bold writing and decorative elements in black create a catchy contrast with the colors of the background grading softly from violet to orange. The template looks playful, yet modern and unique.
2. CV and Cover Letter – Free Resume Templates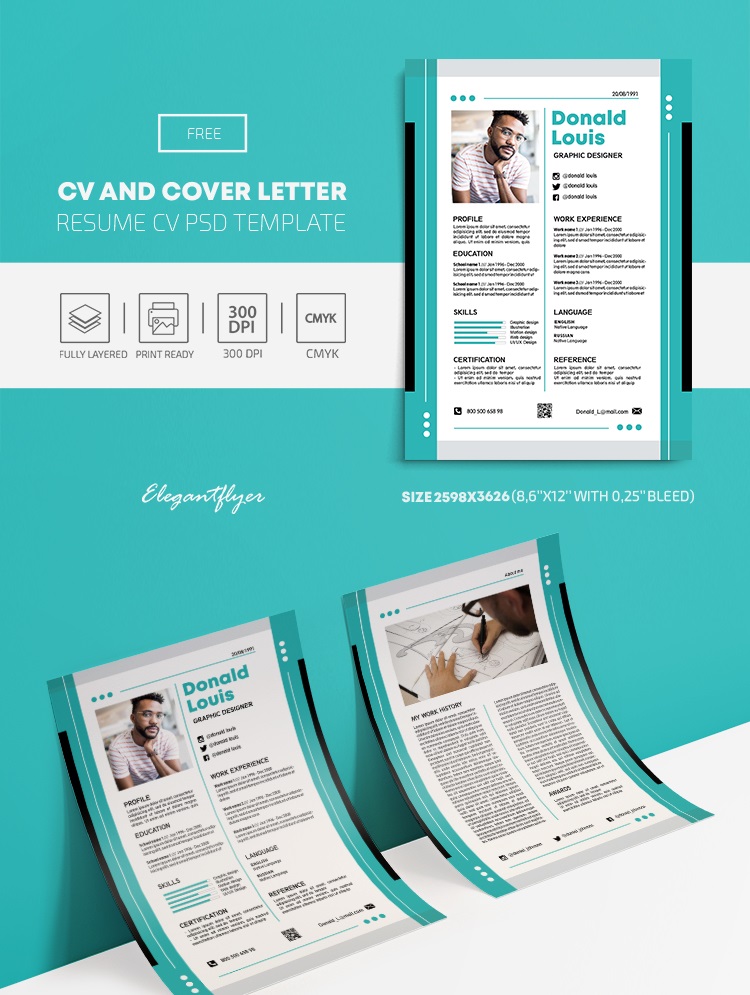 Draw the utmost attention to your resume and cover letter using this stylish template! Aside from smart minimalist layout its biggest advantage is the palette: the vibrant tiffany color contrasting with black and white will instantly catch every look.
3. Project Manager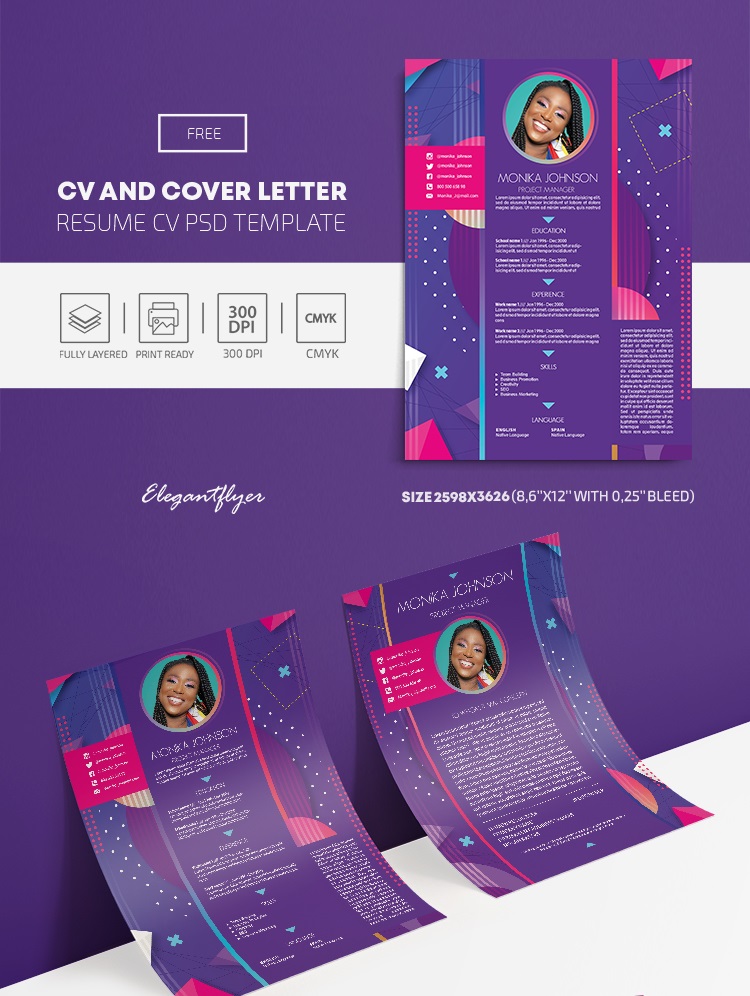 Here's one of the most amazing CV models on our list! Various shapes, textures, and colors varying from violet to pink make the background of this template look unique and creative. The information is arranged neatly in accordance with the design.
4. Free CV PSD Template and Cover Letter
Keep it simple yet impressive with a cool resume and cover letter template presented here. The neat layout and a few accents in vivid yellow is all it takes to make this CV model noticeable. Filling in the sections with your own text in PS won't take long.
5. Free Resume PSD Templates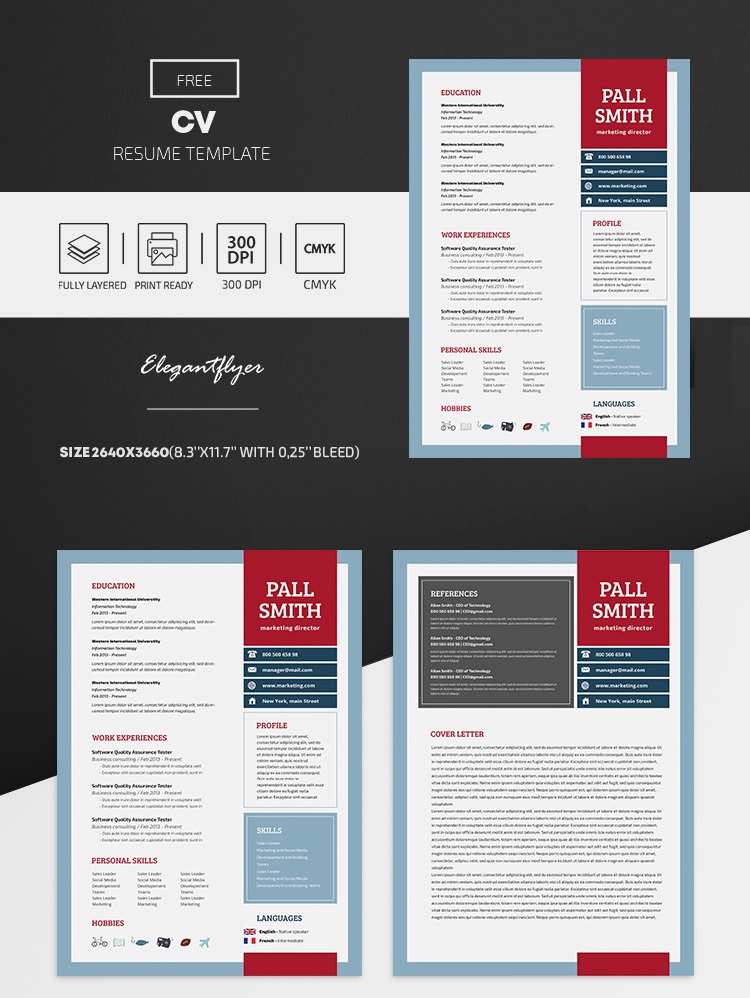 A few accents in dark red make the overall reserved palette of this CV model look contrasting and stylish. Your information will be organized neatly in several sections; editing them is easy in PS. The cover letter page is included.
6. Infographic Resume Templates in PSD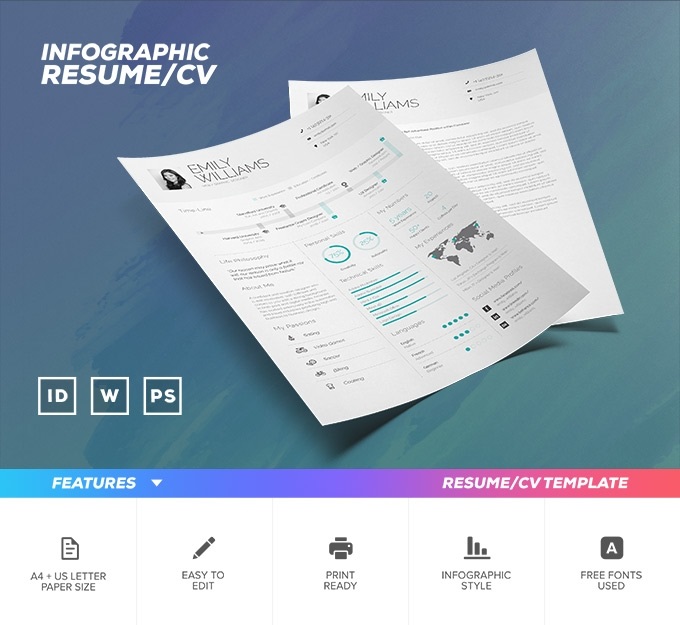 Although this resume sample might seem simplistic at a first glance, you surely will notice many amazing details as you look closely at it. A unique layout with the catchy infographic, an array of stylish icons, and a pleasant palette with the accents in turquoise and dark gray will definitely interest your potential employer.
7. Resume – Free CV Templates in PSD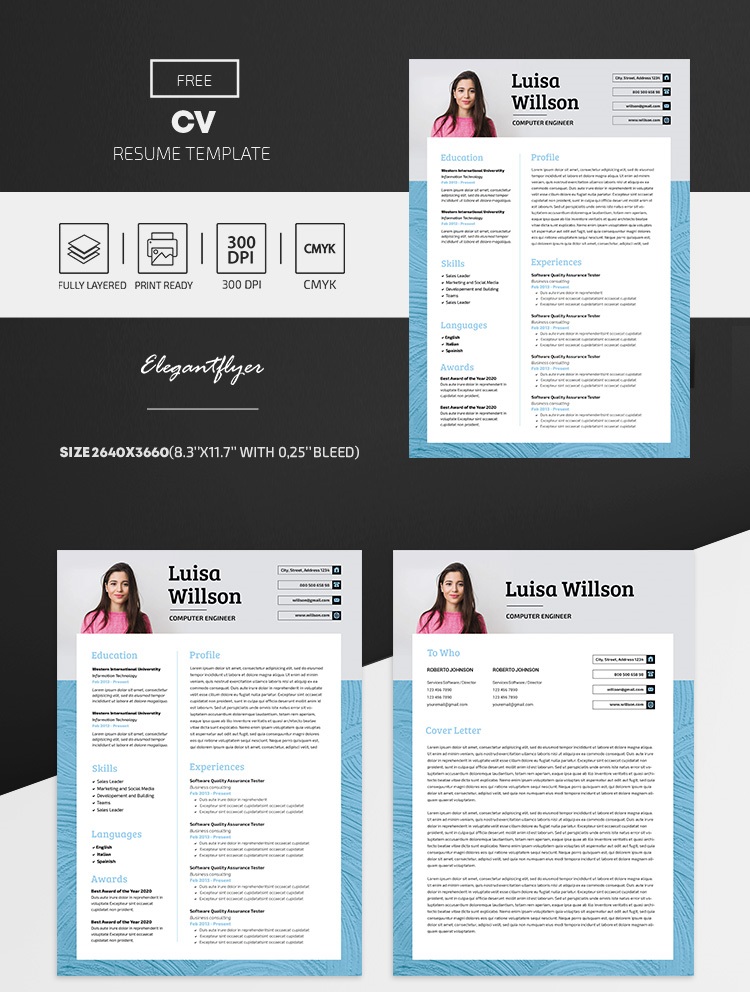 This stylish template will help make a great impression on everyone reading your CV. The original layout, and color accents in light gray and blue give this sample a pleasant and interesting look. The PS temple is extremely easy to adjust in Photoshop.
8. Personal Portfolio Resume Templates in PSD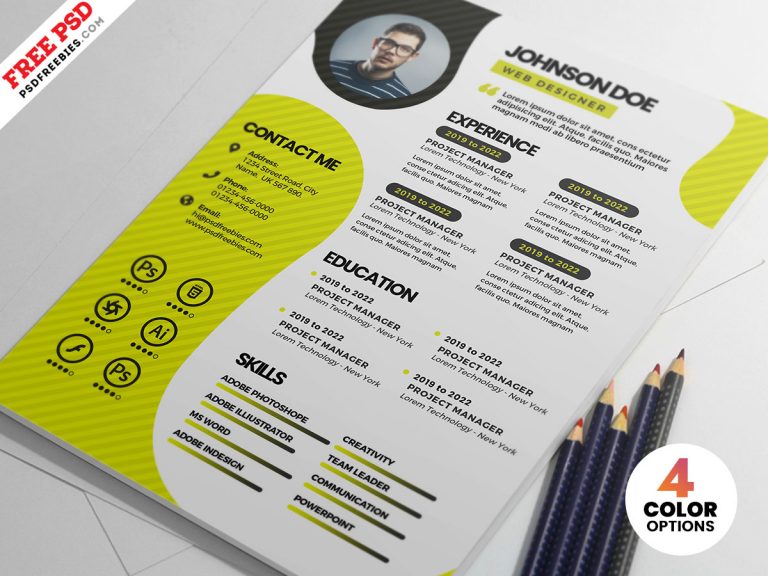 This free template with a few abstract rounded shapes included into its layout will easily draw extra attention to your CV. Dark gray and fresh lime color create a stylish combo, making this resume model stand out from the crowd.
9. CV – Free Resume PSD Templates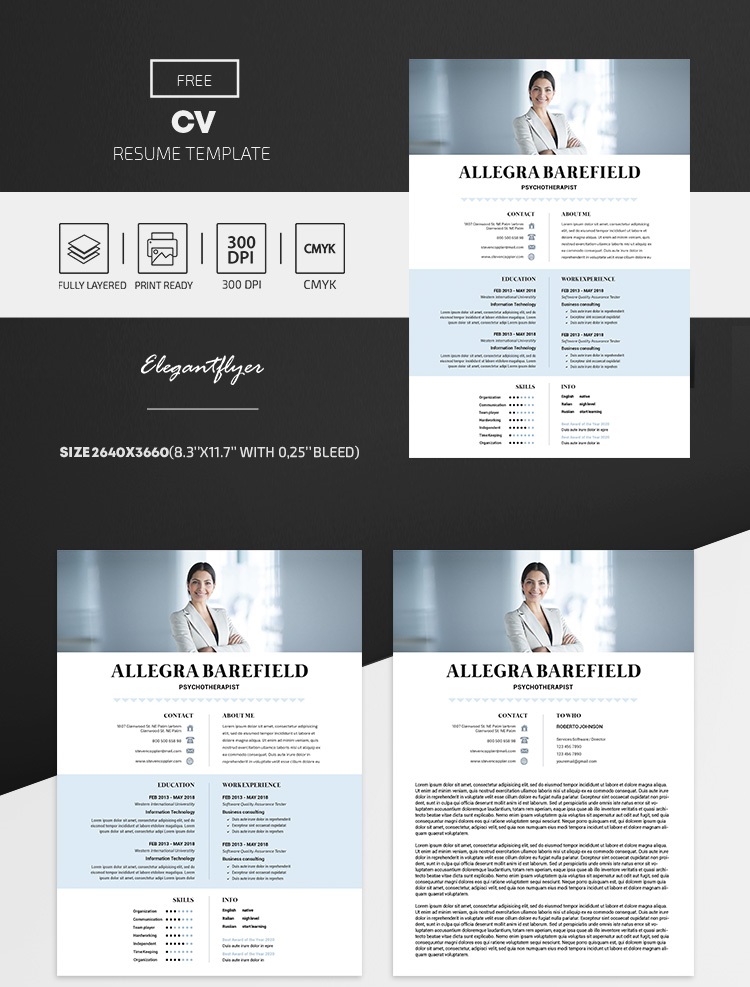 Here's a sample which looks both professional and unique. An original layout divides the sheet into four sections, the top one assigned for your photo. The cover letter matching the CV model looks just as stylish and well-organized.
10. The Software Developer Resume Templates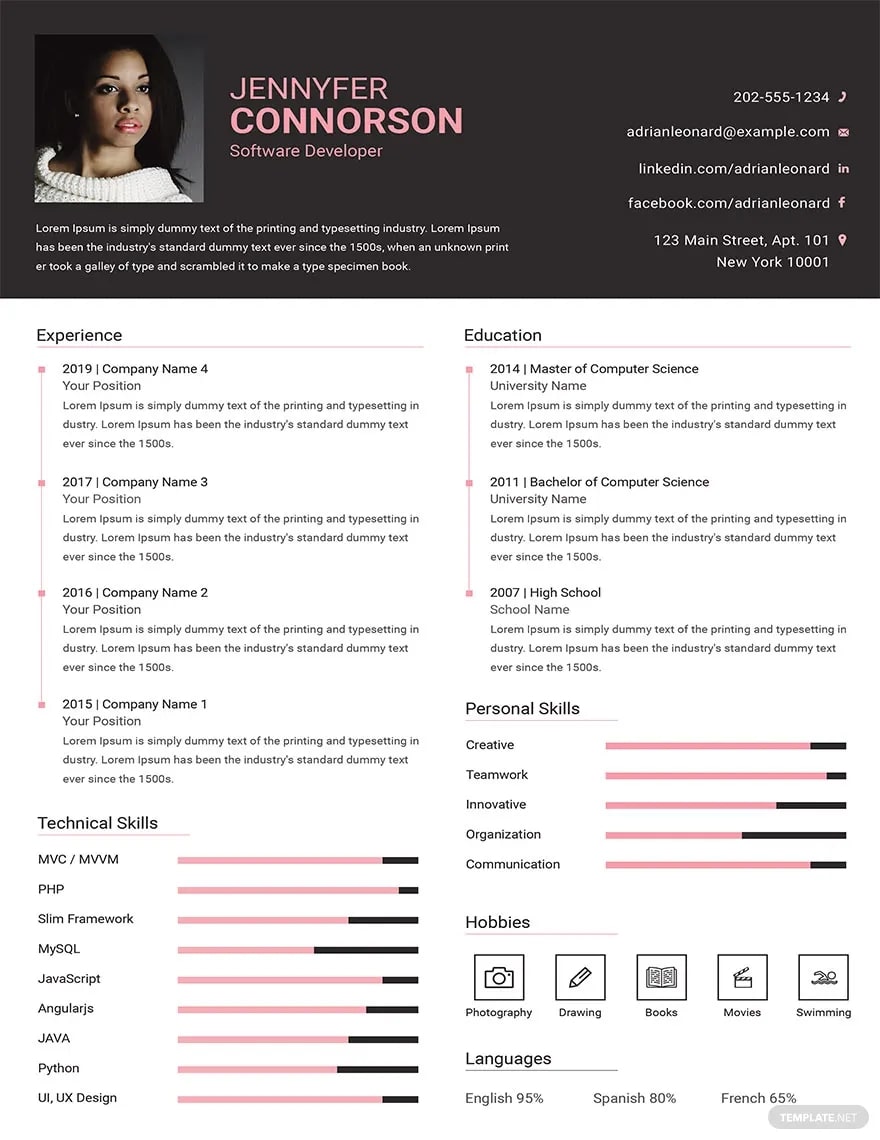 A special set here includes the templates for a CV, a cover letter and a portfolio which means that you'll be able to present yourself to a potential employer in the best way possible. The accents in dark brown and light pink look interesting together, but you can apply other colors in PS.
11. Job – Free Resume PSD Templates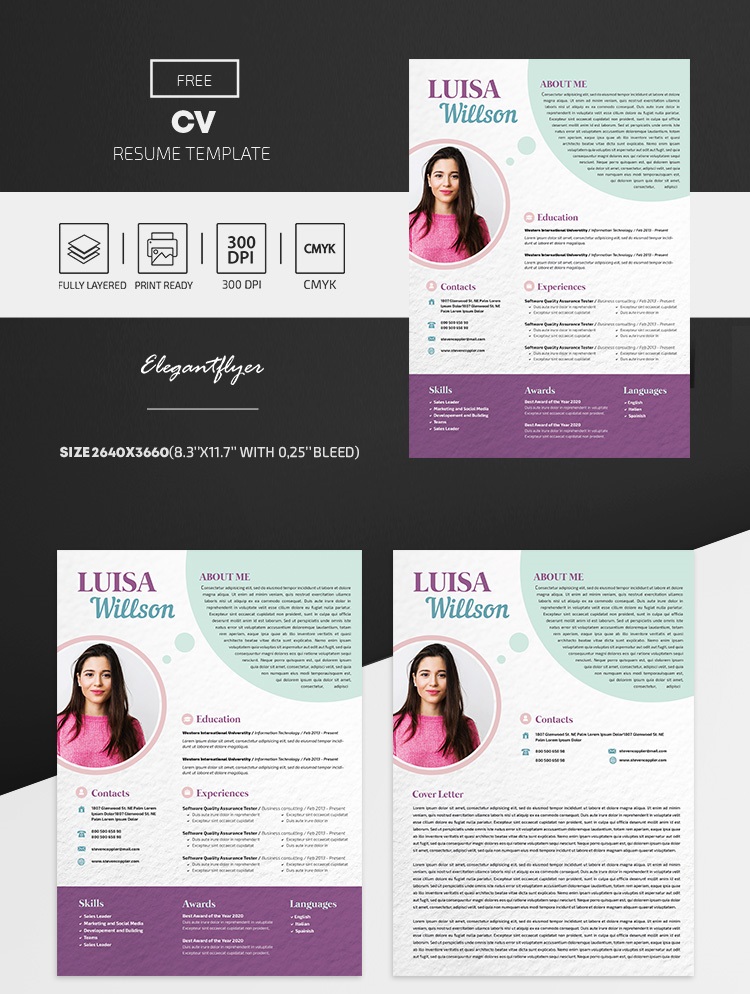 We love the set of these unique CV and cover letter templates presented here. An out-of-the-ordinary design and color accents in purple, pink and mint give it a stylish, light-hearted look. We grant that your resume will get extra attention from the employers.
12. Free Photographer Resume PSD Templates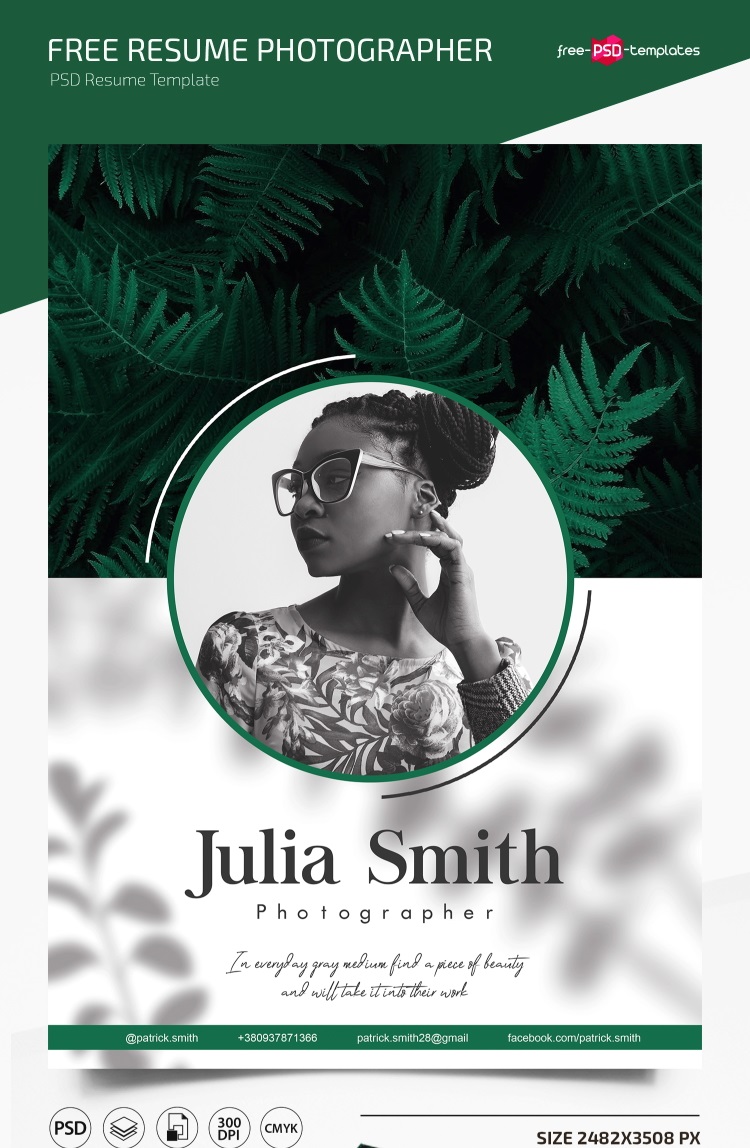 Unique, fashionable and well-balanced, this template can become a perfect pick for a photographer or other artist. Although a big professional image of juicy ferns in the upper part of the sample looks impressive, you can replace it, along with the other images and text in PS.
13. Free Best Resume PSD Templates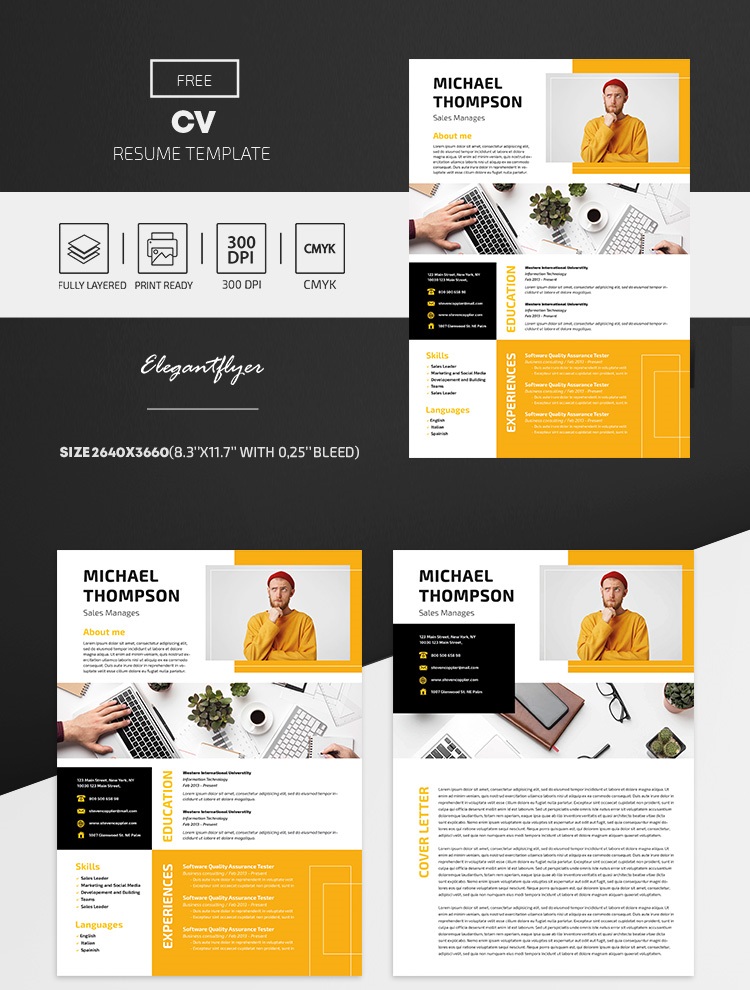 Make a bold statement while applying for your dream job with this cool and eye-catching template! Intense yellow color which contrasts with black and plain white will instantly draw every look to your resume and cover letter. Smart layout allows arranging all key info with ease.
14. Minimal Resume or CV Design Template Free PSD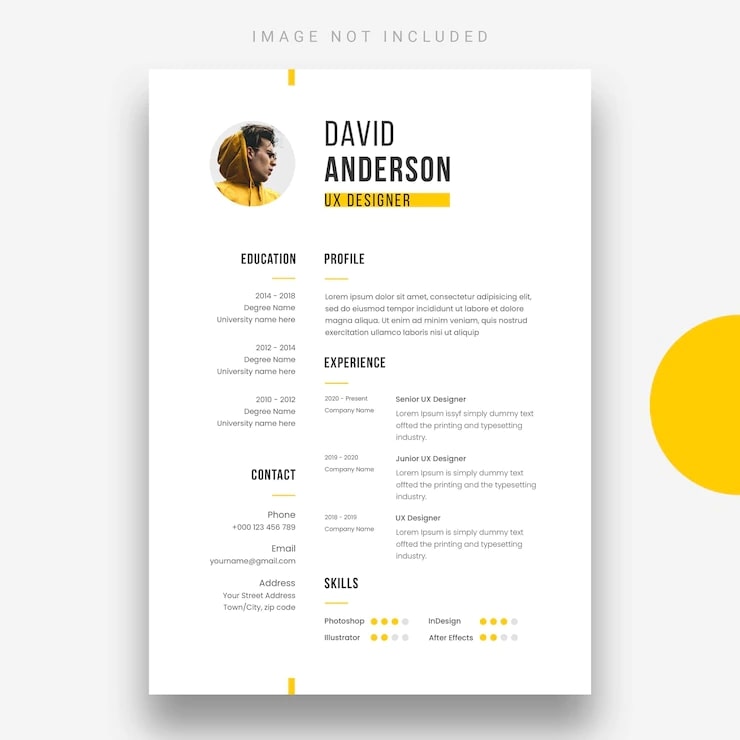 If you're into minimalism this template might be the right one for you. Keeping it simple and reserved, this piece will however make a great impression on any employer reading it. Only a few accents in vivid yellow and information being arranged wisely on the sheet will make your CV look extra stylish!
15. Lawyer Resume – Free CV and Cover Letter PSD Templates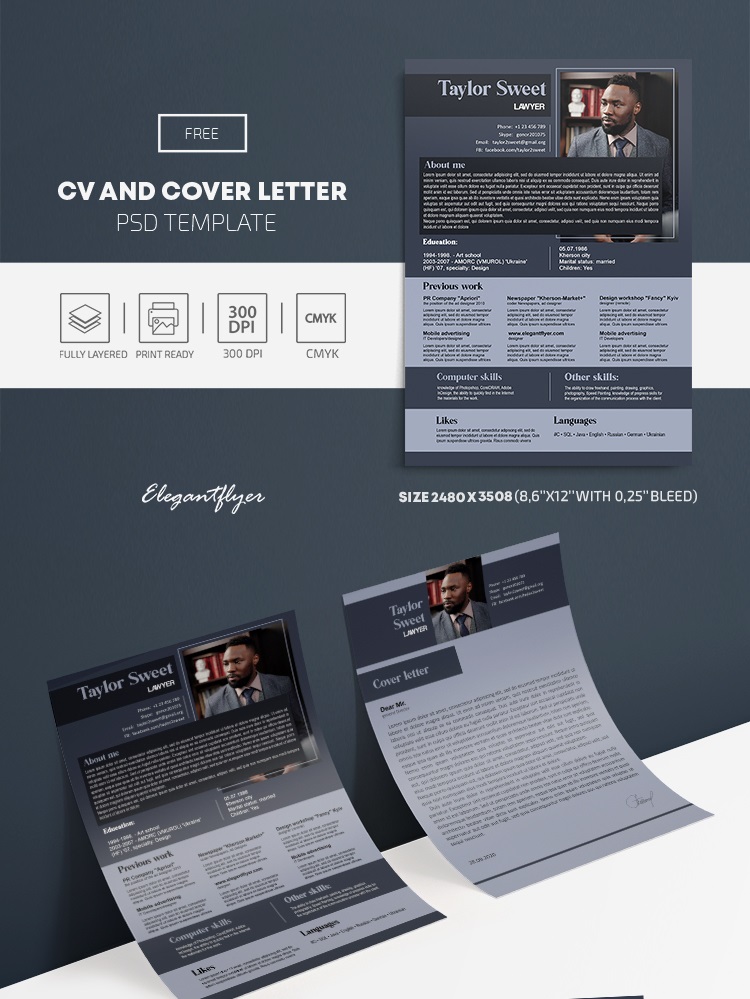 Thanks to a dark palette and a thought-through layout, this CV template looks solid and professional. The sections of text and the images arranged neatly both on the resume and the cover letter pages will give an impression of you being an experienced and a serious employee.
16. Professional Resume Templates for Web Designers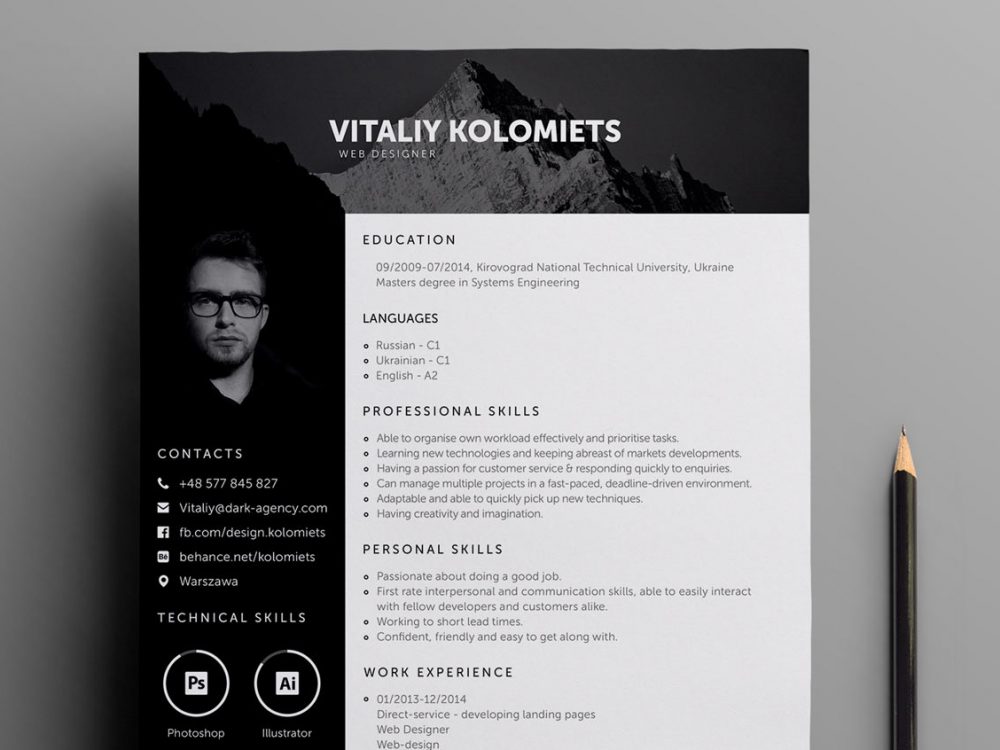 An amazing pick for web designers, photographers and other creative workers, this template will help you stand out from the crowd of eager applicants. The big images placed on the top and on the side of the template look impressive, while the text in the middle remains minimalistic and simple.
17. CV – Free Resume PSD Templates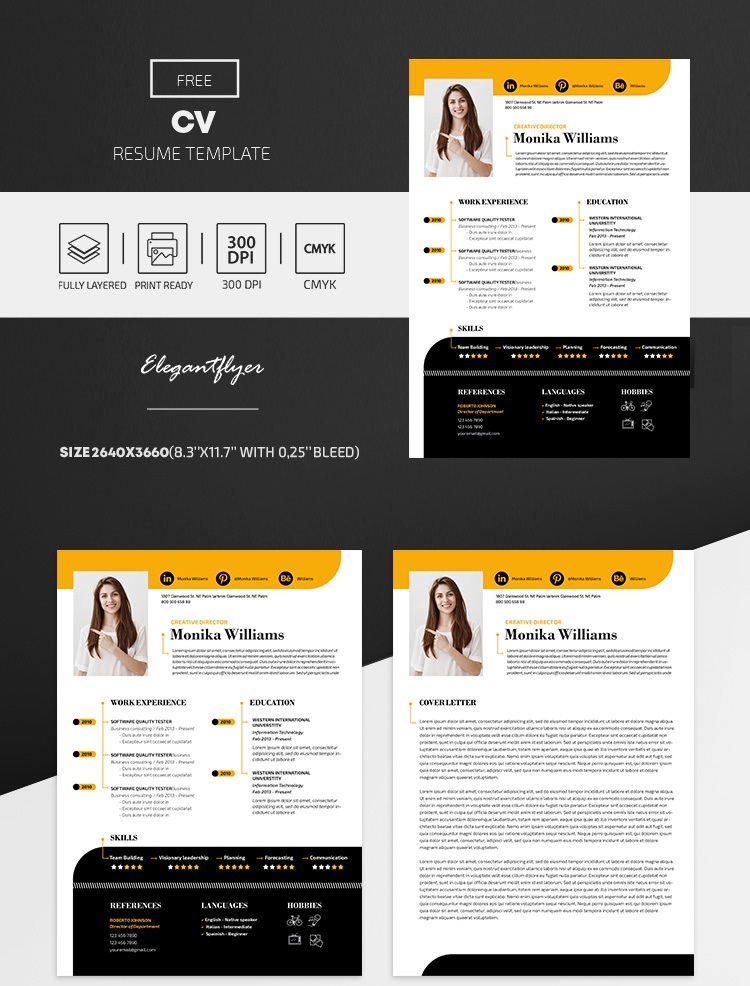 This set of a CV and a cover letter template looks stylish, modern, and thought-through. While the middle part of the resume template is meant for providing the key information, your social media and other contacts will be accentuated placed in the rounded black and yellow sections on the top and at the bottom of the page.
18. Elegant Minimalist Resume Design PSD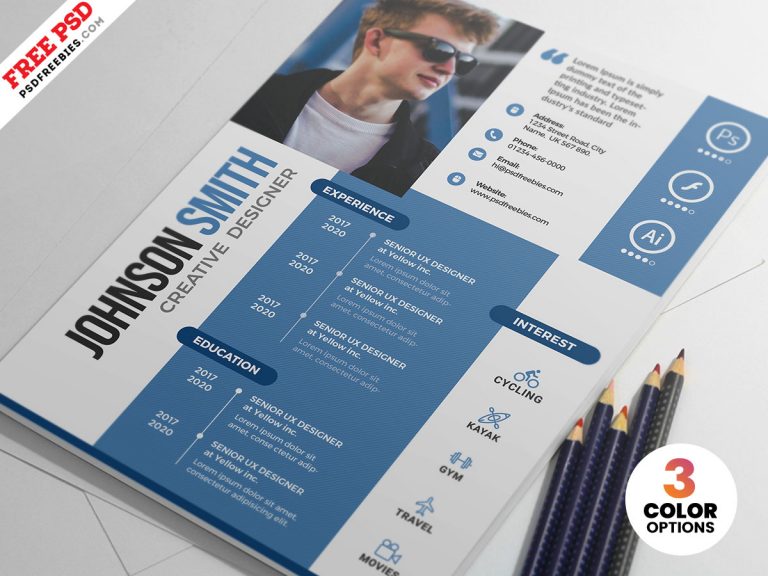 Divided into several plain segments, this CV template places the main focus on your name and photo put on the left side of the page. Original icons and a special layout make this model even more interesting. Although the blue & white palette looks cool and fresh, you can apply other colors in PS.
19. Free CV and Cover Letter PSD Templates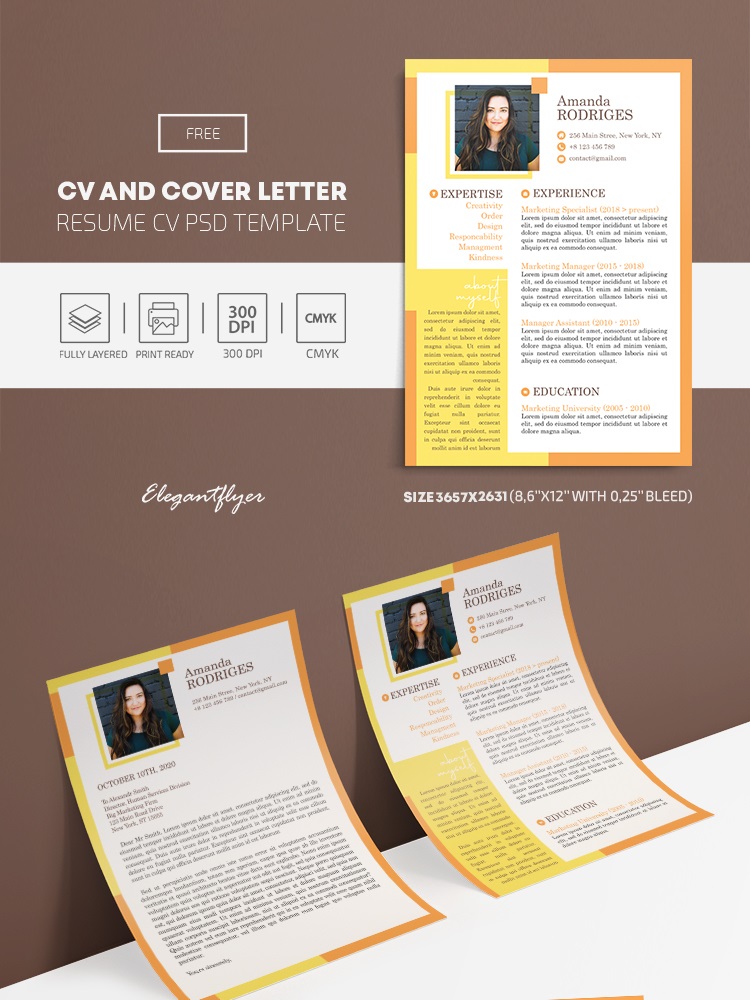 Aside from looking professional and stylish, this amazing sample will help to bring out your individuality and show a positive approach to life. The accents in soft hues of orange and yellow will bring in a cheerful note, placing a smile on your potential employer's face.
20. Free Resume Templates in PSD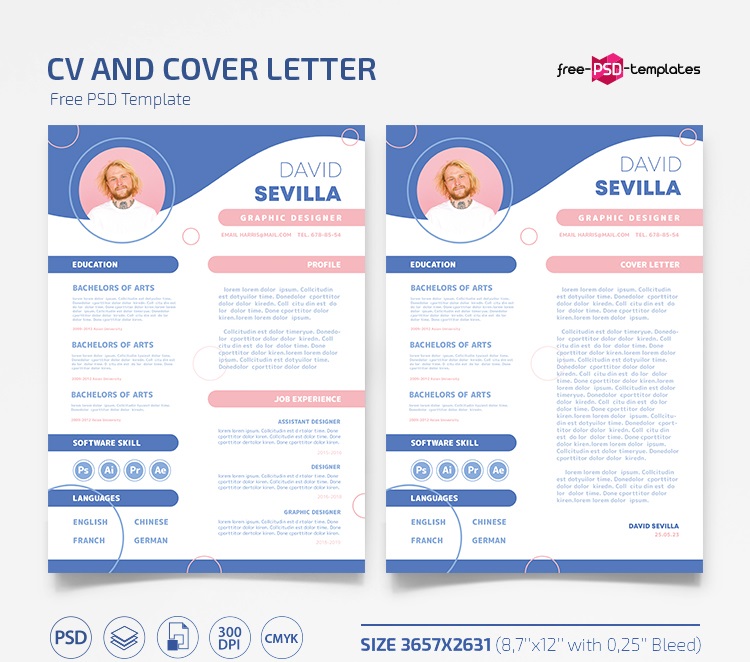 Here are a couple of original templates that have a cool and light-hearted vibe to them. Rounded shapes and a palette in blue & pink will point out your creativity, while the thought through layout will allow you to arrange all important info neatly on both pages.
21. Free CV and Cover Letter PSD Templates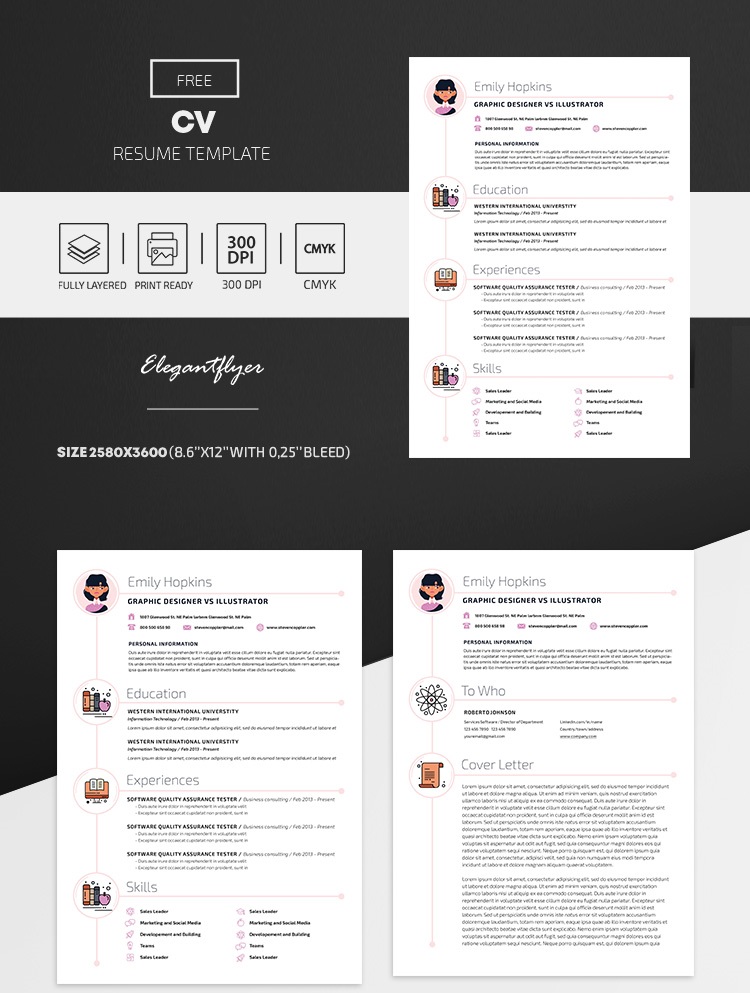 Here're the special samples that can do great for illustrators, graphic designers and other creative workers. A few cute doodle-like icons help to divide the text into clear segments while adding up some extra charm to both the CV and the cover template.
22. Clean Modern Resume or CV Template Free PSD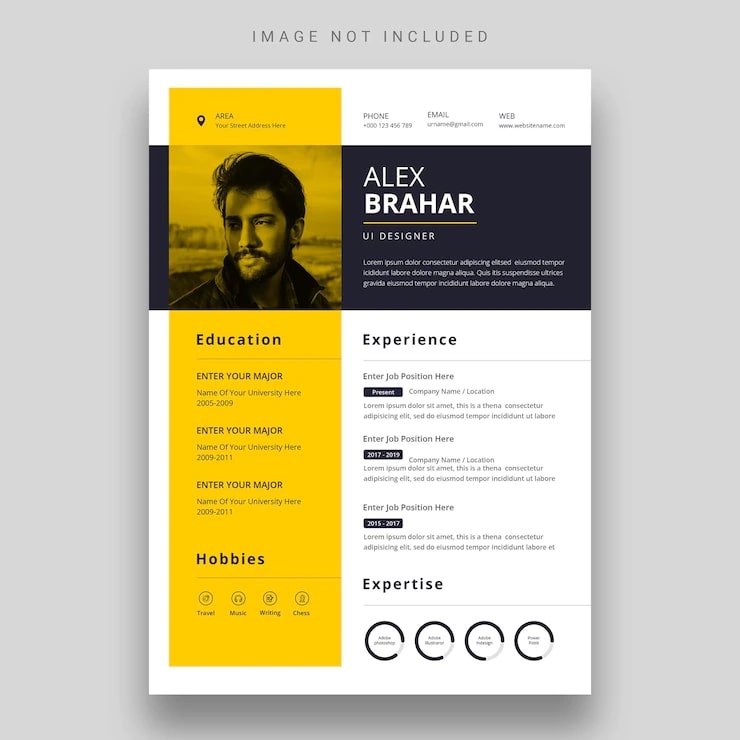 This template will help you make a bold statement while pursuing a vacancy of your dreams. While the text remains clean and minimalistic, the main focus falls on the two wide intersecting sections in vivid yellow and dark gray – they will help to highlight your name, photo, contacts and other important details.
23. Free CV and Cover Letter PSD Templates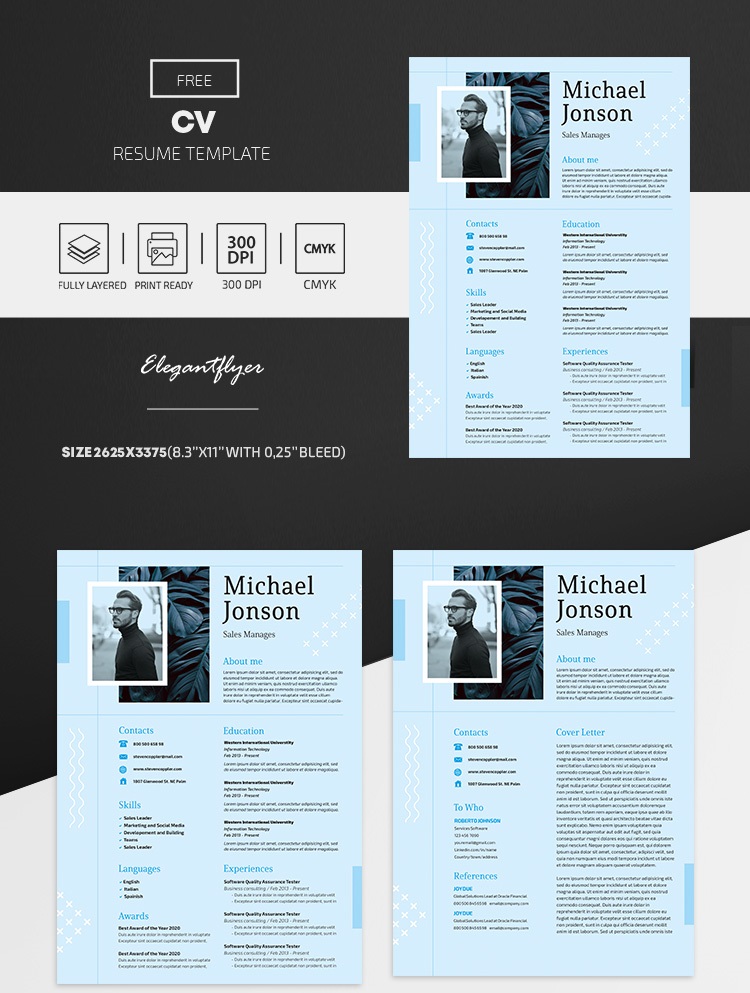 A breezy blue hue which a designer chose for this pair of templates makes them look unusual and appealing. The accents in a darker tint of blue help dividing the text into smart sections. An image matching an applicant's photo adds a stylish detail to the layout. The samples are fully adjustable in Photoshop.
24. Clean Modern Resume or CV Template Free PSD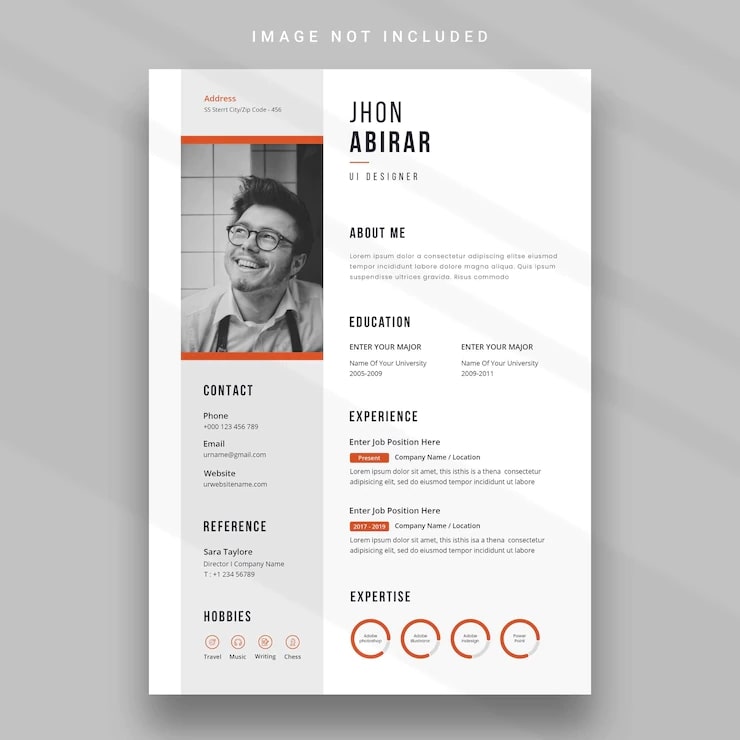 Keep it simple, modern and extra stylish with this special template we offer. A few terracotta accents are enough to make this clean and clear layout look amiable and catchy. The text and the photo are extremely easy to replace in Photoshop.
25. Free CV and Cover Letter PSD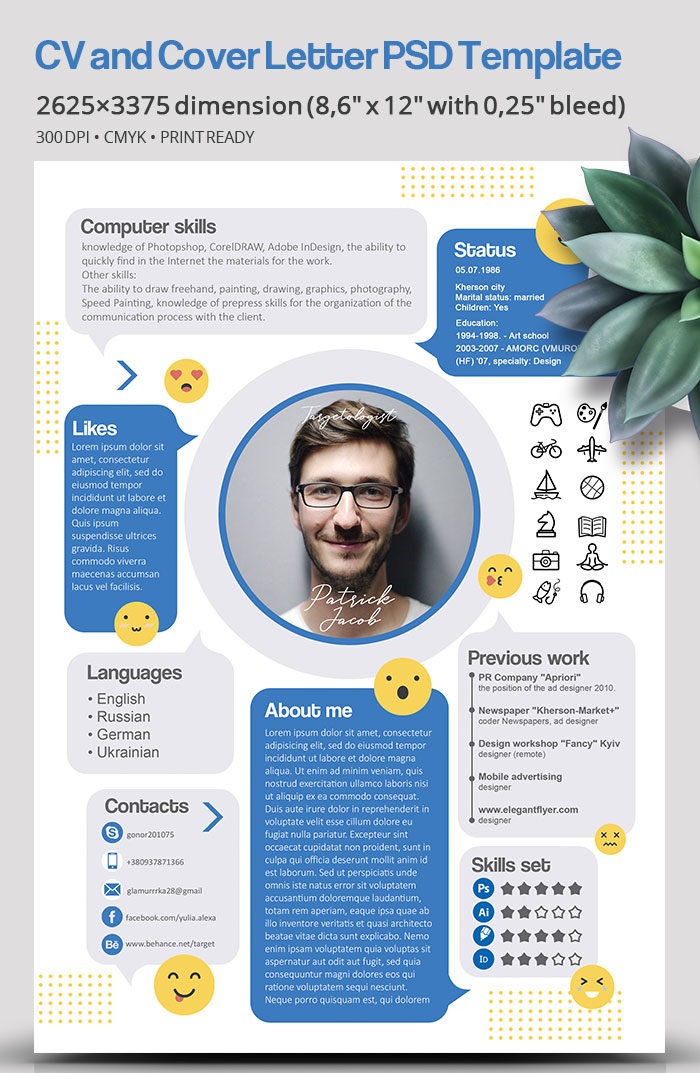 Who told you that the resumes should look dead serious to make a good impression? Here's a template that will instantly draw much attention from potential employers. An unusual layout with an applicant's photo placed in the middle, funny emojis and cute minimalist icons will point out your individuality and sense of humor.
26. Cool and Colorful Resume CV PSD Templates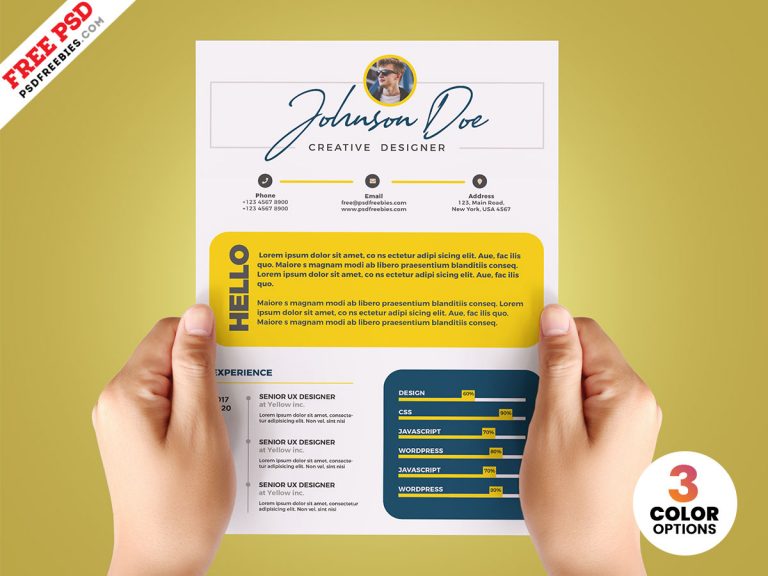 This cool template with the catchy sections in yellow and dark turquoise will easily interest any employer whether they look at your resume printed or online. Simple text, infographics and an applicant's name written in a creative font add style to the piece.
27. Free CV PSD Resume Templates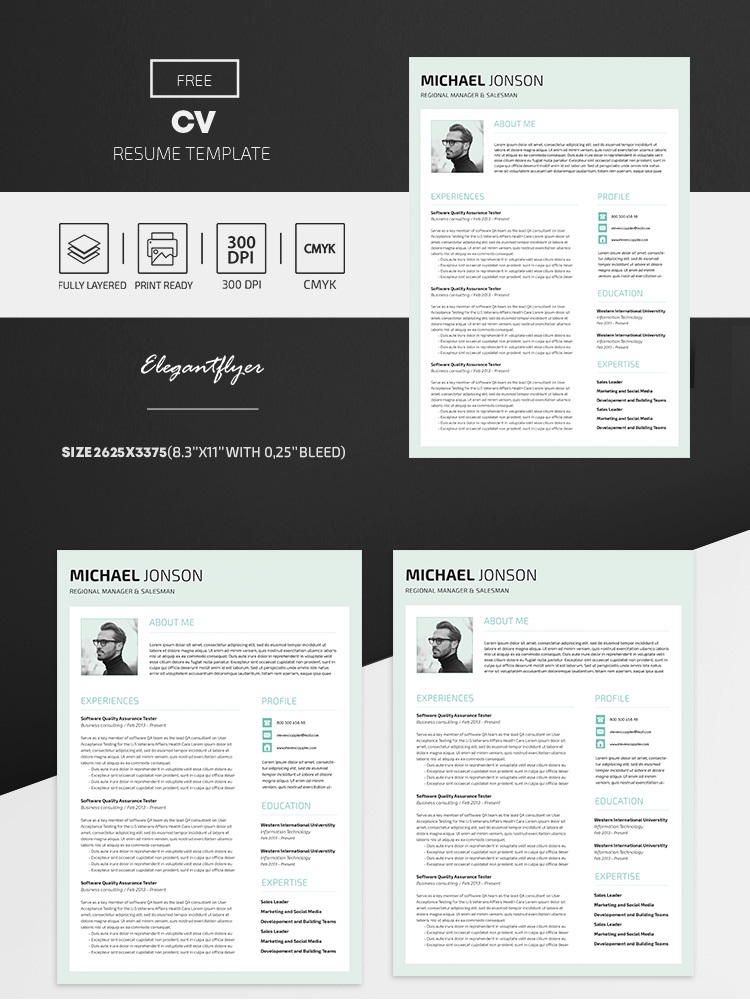 Your resume will certainly gain much attention with this special designer template. A combination of plain white and a light mint tint looks fresh and eye-pleasing. The information, your contact and a photo will be arranged neatly along the page.
28. Free Resume and Cover Letter PSD Templates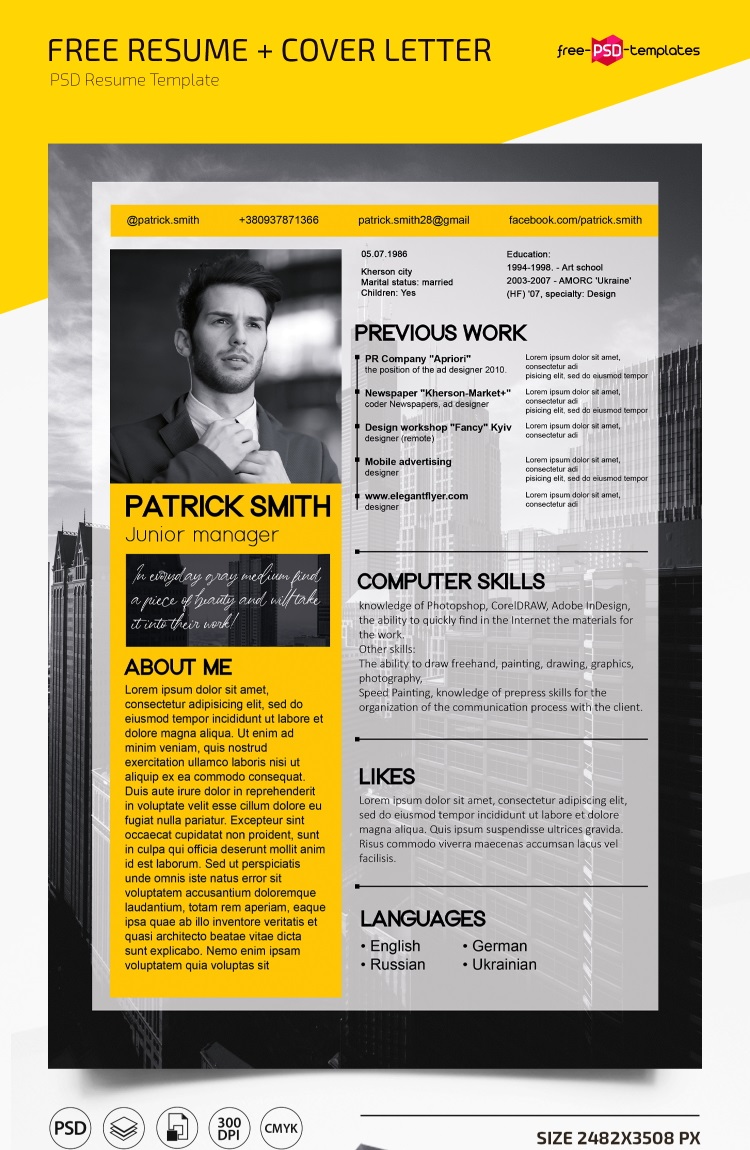 We believe that yellow and black matched in a resume template is a winning combination which can help you stand out from a long line of applicants. A B&W city view image in the background makes this professionally crafted piece look extra stylish!
29. Professional Modern Resume Templates Free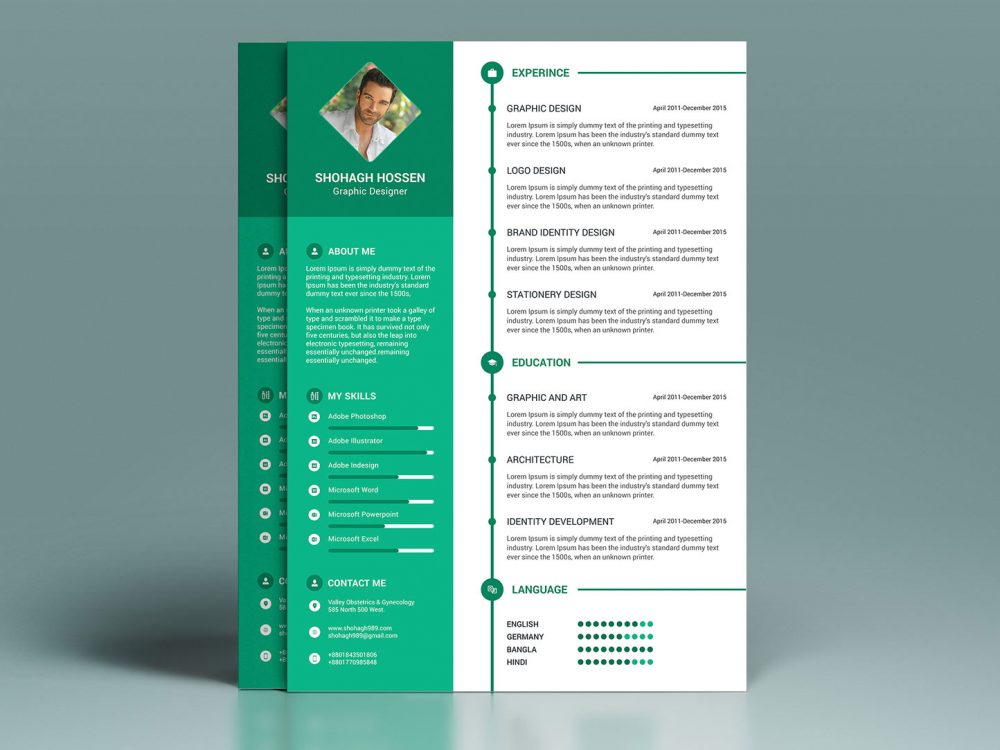 We love the vibrant emerald and green that a designer chose for this CV template. Clear sections and infographics will keep your information organized neatly on the page. Small icons make the sample look original. This Resume is easy to customize in PS.
30. Free PSD Modern Resume or CV Design Template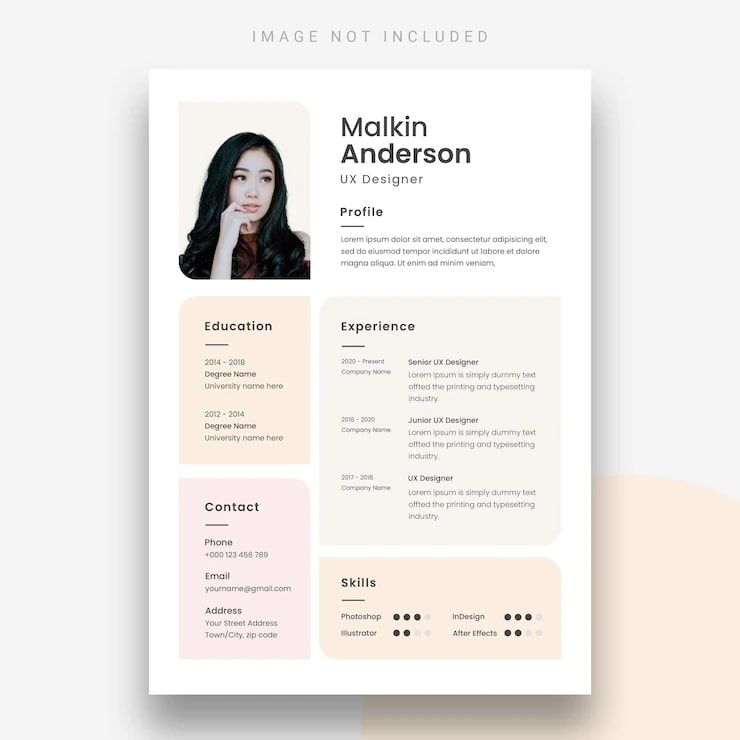 Here's a fashionable resume template where your information will be presented in a few sections in light pastel colors. Simple fonts and a clean layout give this piece a minimalistic and stylish look. The photo and text are easy to adjust using PS.
31. Free Editable Resume Template PSD in Minimal Botanical Theme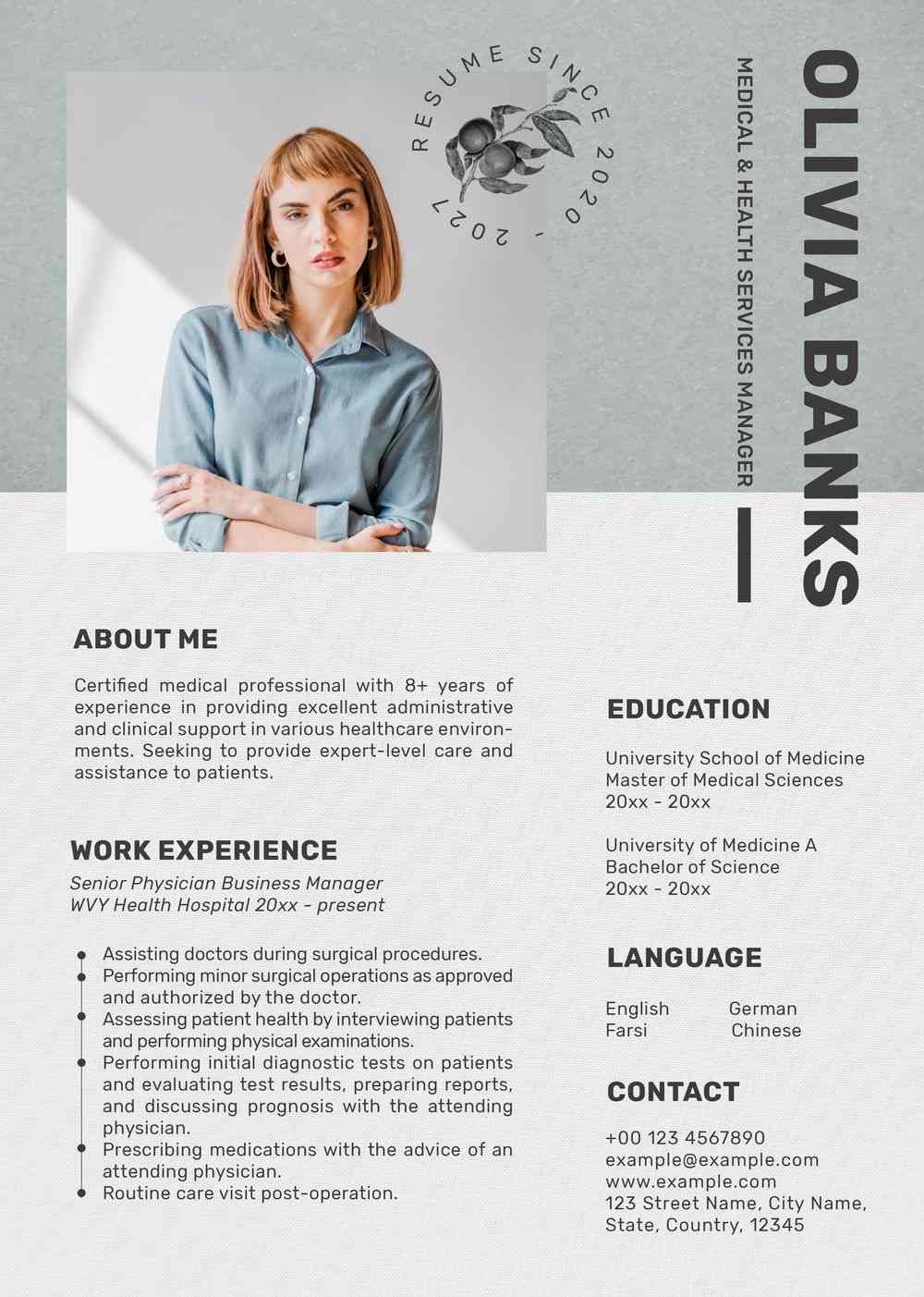 Despite being minimalistic and reserved, this free CV template looks incredibly stylish. The upper part of the page colored in fresh mint pastel, and an applicant's name written vertically in bold black letters create an impressive contrast that will draw extra attention to the resume.
32. Free Creative Resume PSD Templates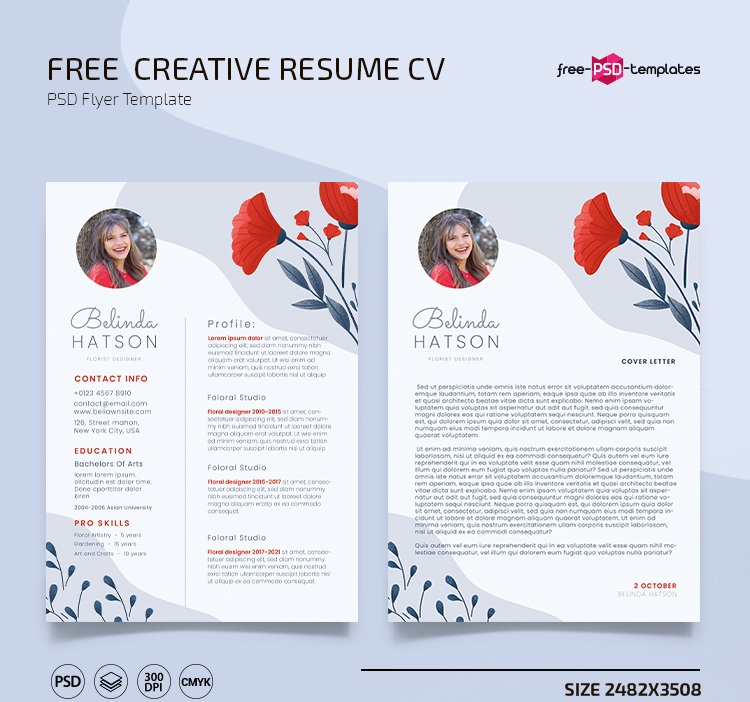 Here's a set of two special templates – a CV and a cover letter – that will enchant everyone with its elegant look and lovely floral motives. An original illustration of red flowers and twigs looks catchy against the soft lines and pastels in the background. A few headlines in red help to set the right accents and structure the text.
33. Modern Free Resume Templates with Cover Letter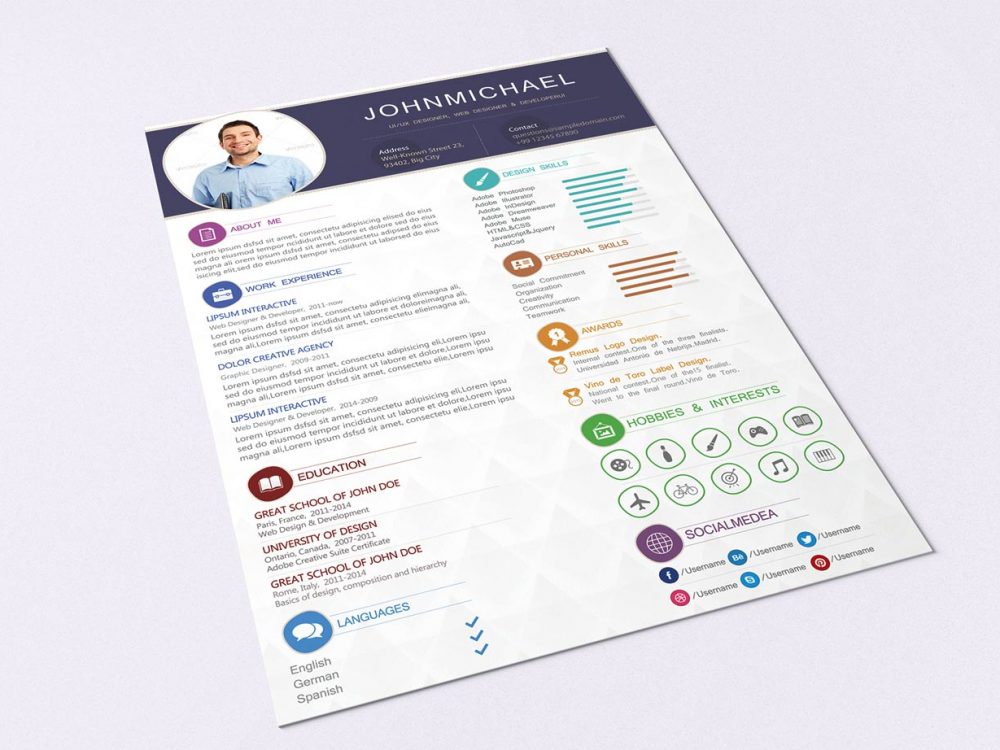 Keep it simple yet effective with this cool resume model! A minimalist layout looks well-organized thanks to the colorful icons, infographic and headings. Even a quick glance will be enough for a recruiter to understand how diligent, professional and creative an applicant sending this CV is.
34. Awesome Modern Resume CV PSD Templates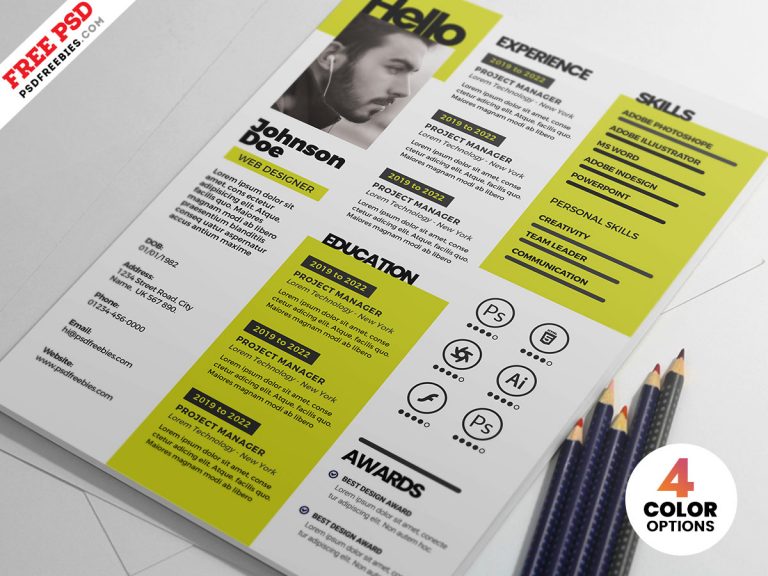 Present yourself as a skilled, proactive and creative potential employee using this fantastic resume template. A few sections and accents in catchy lime color will easily focus a recruiter's eyes on your CV. Minimalistic layout and a few words written in a bold black font add style to this free adjustable sample.
35. Curriculum Vitae Template Free PSD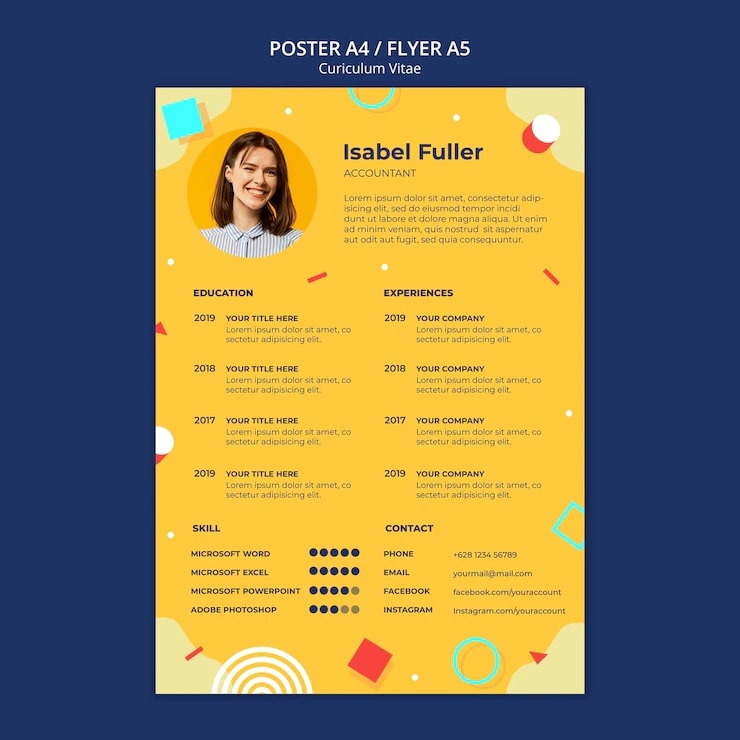 A CV looking as amazing as this will instantly steal an employer's attention! Playful geometric shapes and a cheerful hue of yellow used for the background can surely make anyone smile. In contrast to these light-hearted elements, the layout of the template is kept as simple and restrained as possible which overall gives a perfect result.
Now that you've finally reached the bottom of this list presenting 35+ free templates in Photoshop we hope that you chose a CV sample which perfectly corresponds to your professional goals. Don't forget that all templates included into this collection are fully customizable in PS, and what's important too, they are available for free!