Resume writing seems easy until you sit and actually start writing it. It needs to be succinct and focused and still provide enough information about you. You always can buy a professionally written resume from a custom writing service. Or you can find a great example to replicate. In this article, you will find professional free Adobe Indesign resume templates to make your resume look smart and creative.
The importance of having a unique resume looks great for all job seekers: from a professional research paper writer to managing director; and gives you a great impression on your prospective employer. Your resume is always going to the be the first impression to any potential employer has upon you.
The templates do require you to have one of the following software: Adobe Indesign, and possibly MS word, Photoshop, illustrator to edit and update as you would desire. We have made this mainly directly to use Adobe InDesign but other software may be applicable.
You may also like:
Resume CV Design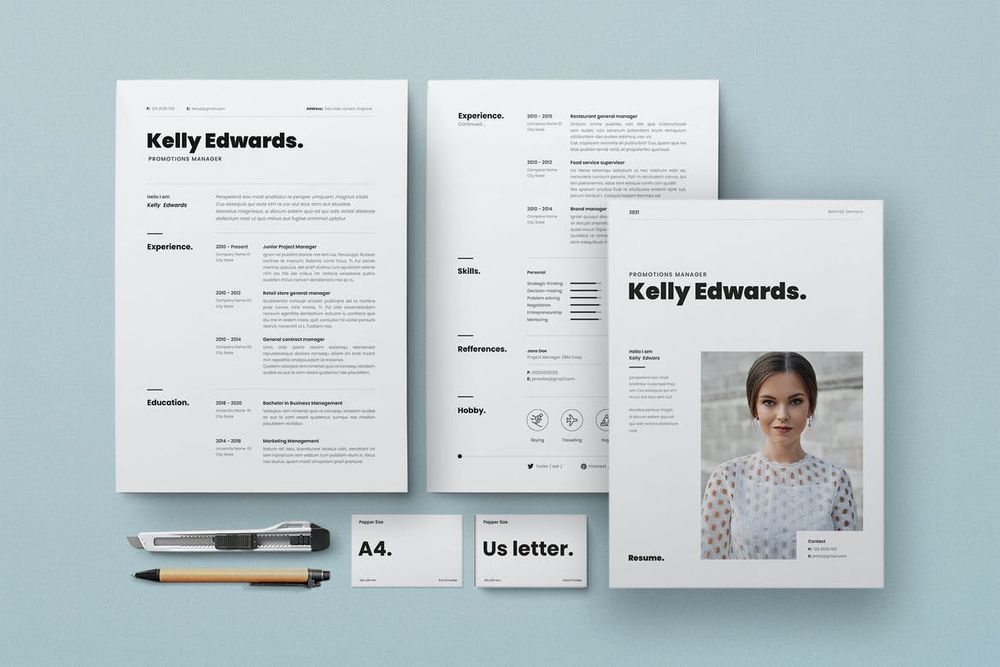 This resume template doesn't bother with too many flashy colors, instead it has perfectly adapted the rules of contrast sizing and variation in typography.
Fendy Watson Resume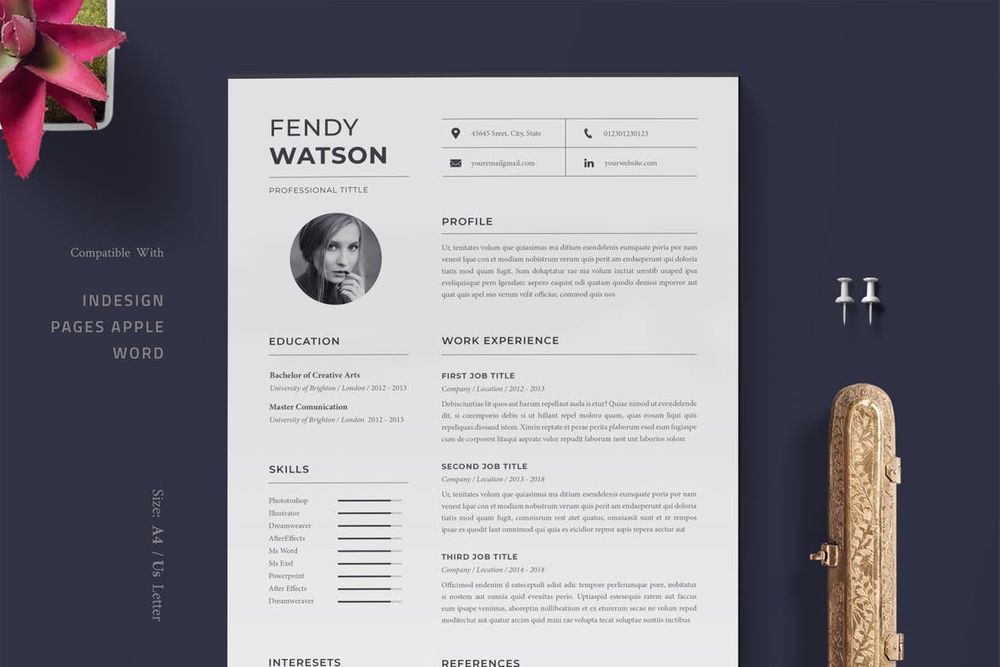 It is a retro but nontheless incredibly elegant resume template. Not great for tech, but if you are an academic, this one is solid gold.
Free Simple Resume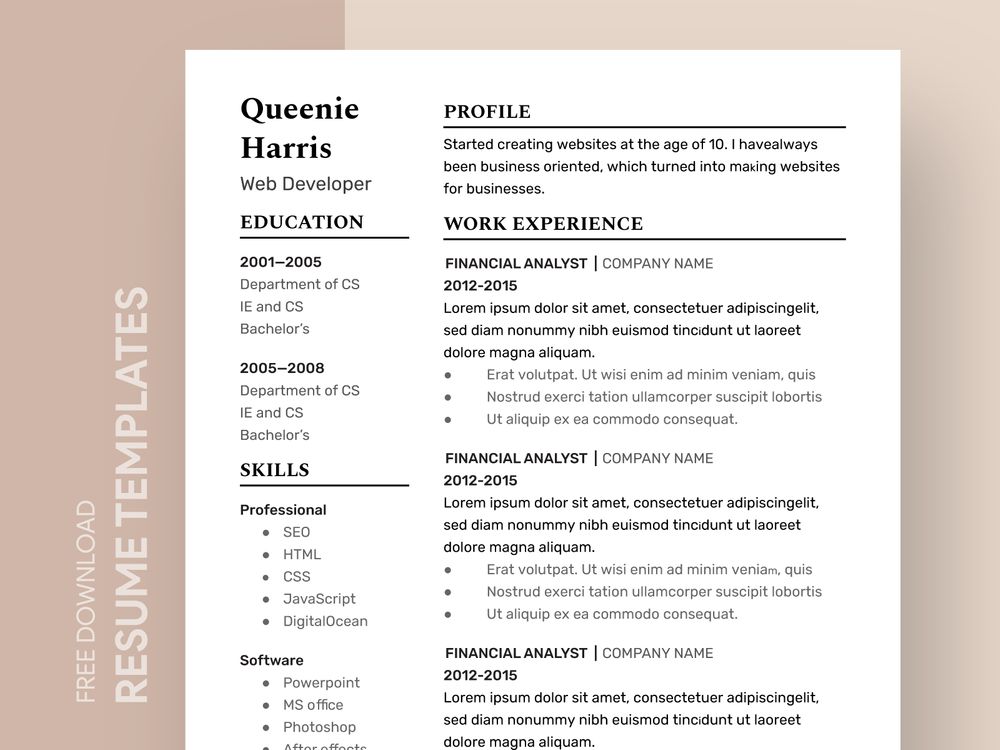 Get a minimalistic resume template for Google Docs for free. Versatile resume designp rinted in black on a white background.
Free CV for Scholarship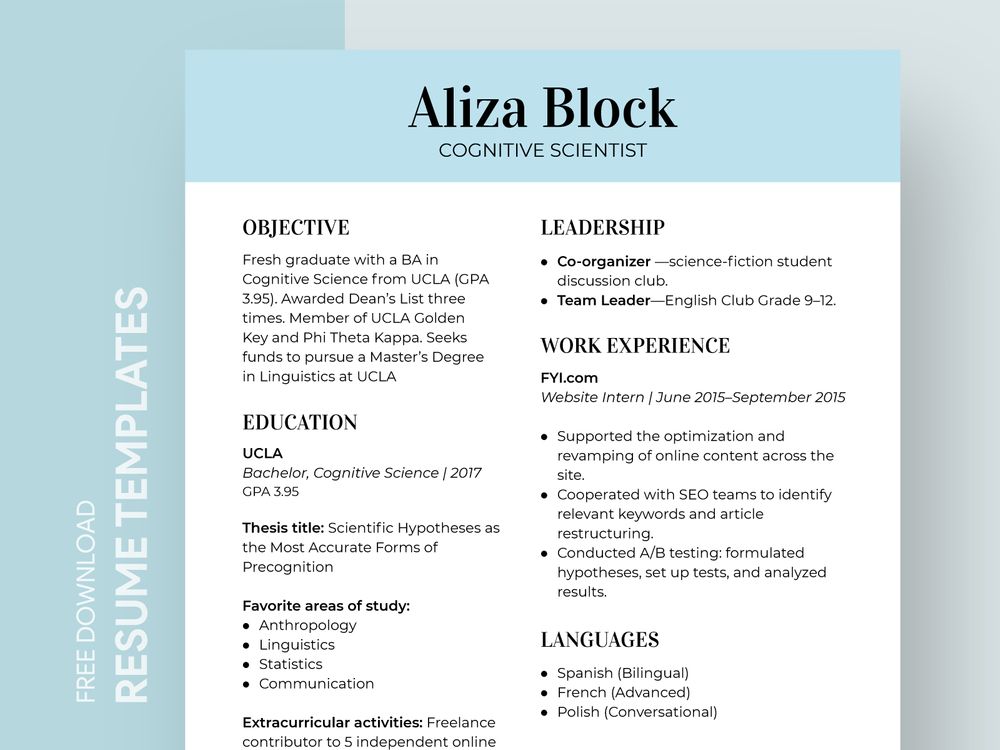 Get a free and easily editable online CV template for a successful scholarship interview in Google Docs.
Free Resume Template for Adobe Indesign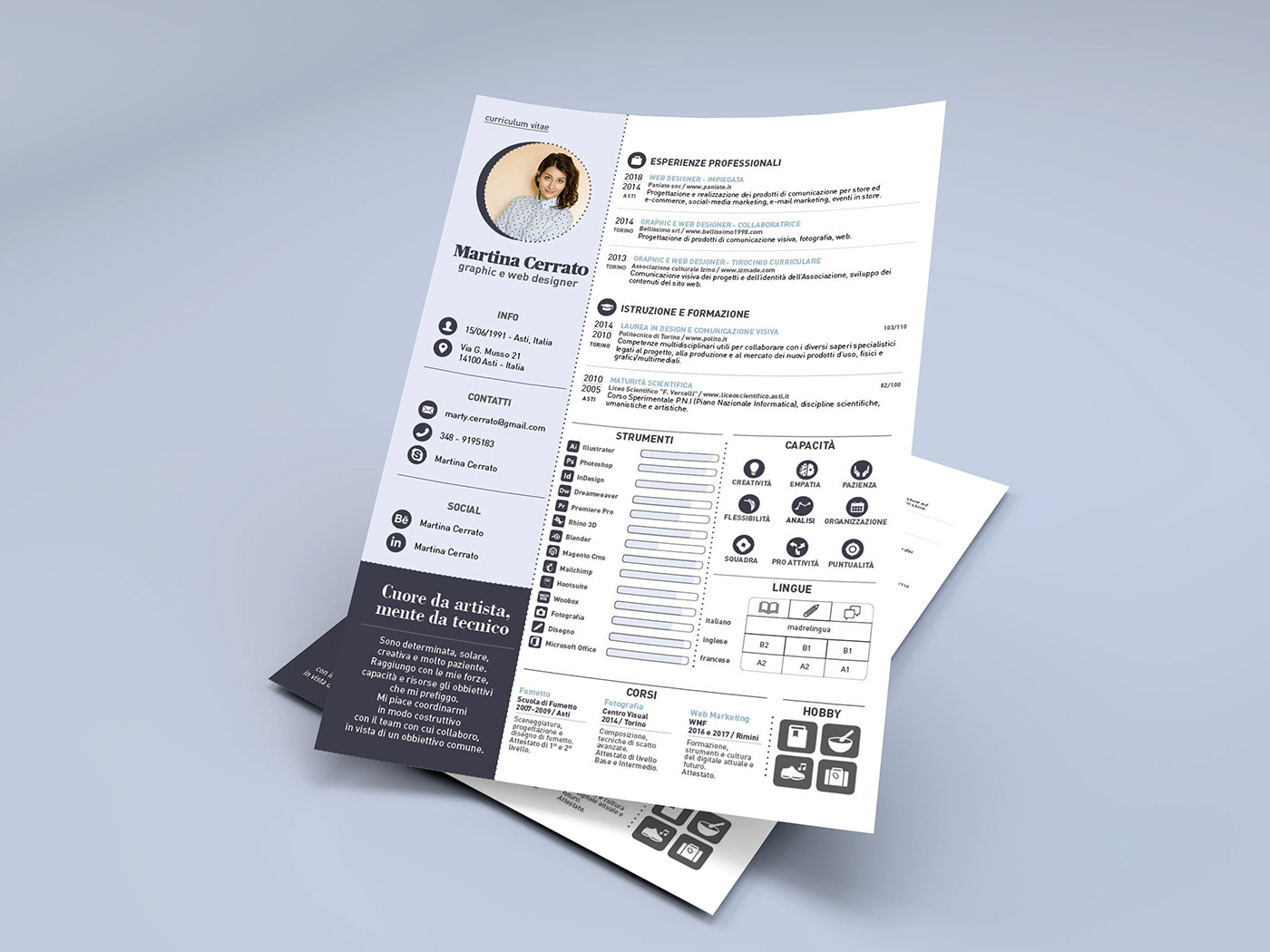 Contains all kinds of small facts, reference areas, social media contacts and of course basic resume stuff like work experience and education.
Free Multipurpose Resume Template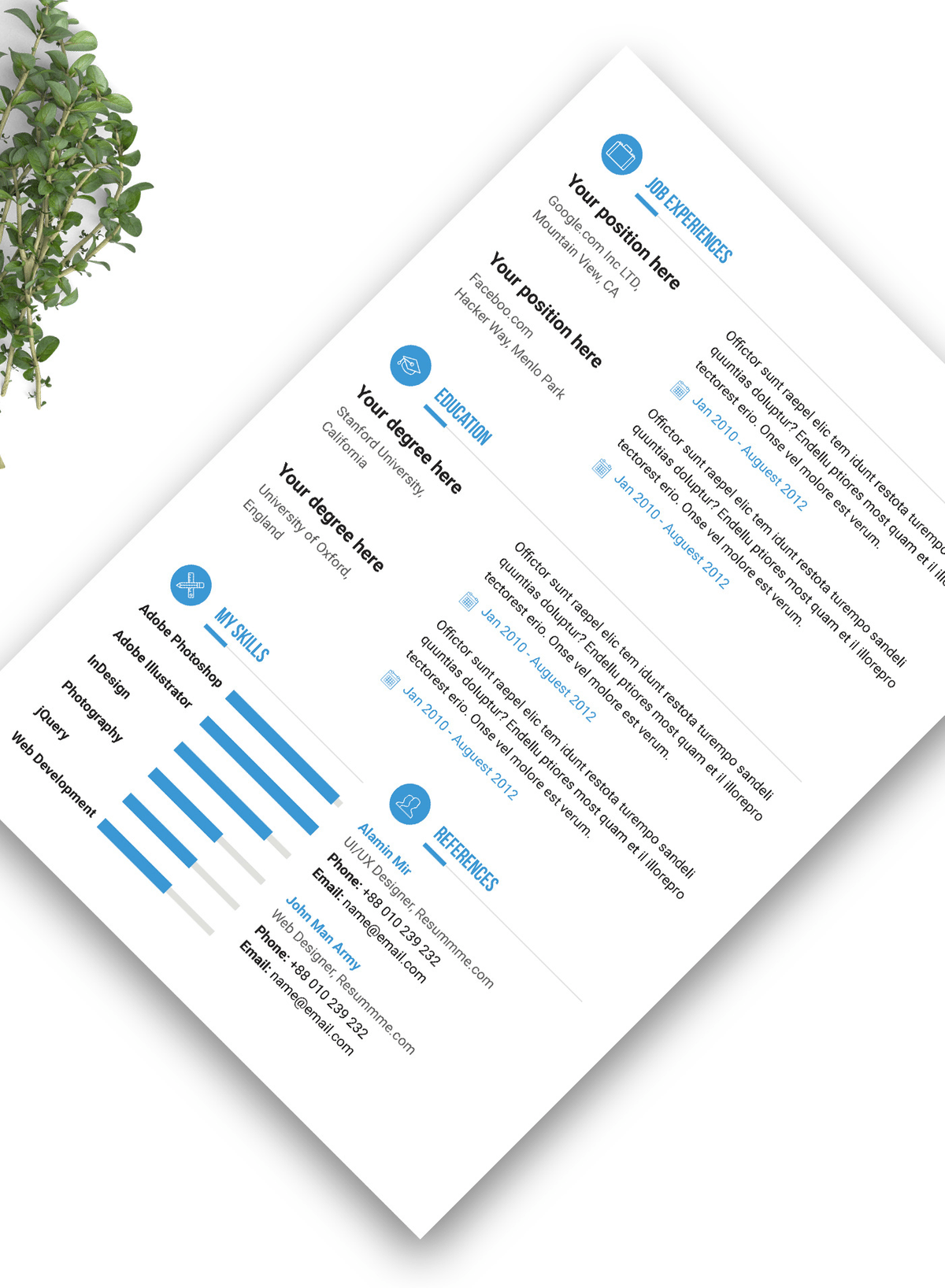 This free template is designed for entrepreneurs, designers and those fresh out of college who want to show off their skills in a sophisticated modern way. This file is ready to print file, it uses CMYK color standard and 300dpi resolution.
Free Resume Template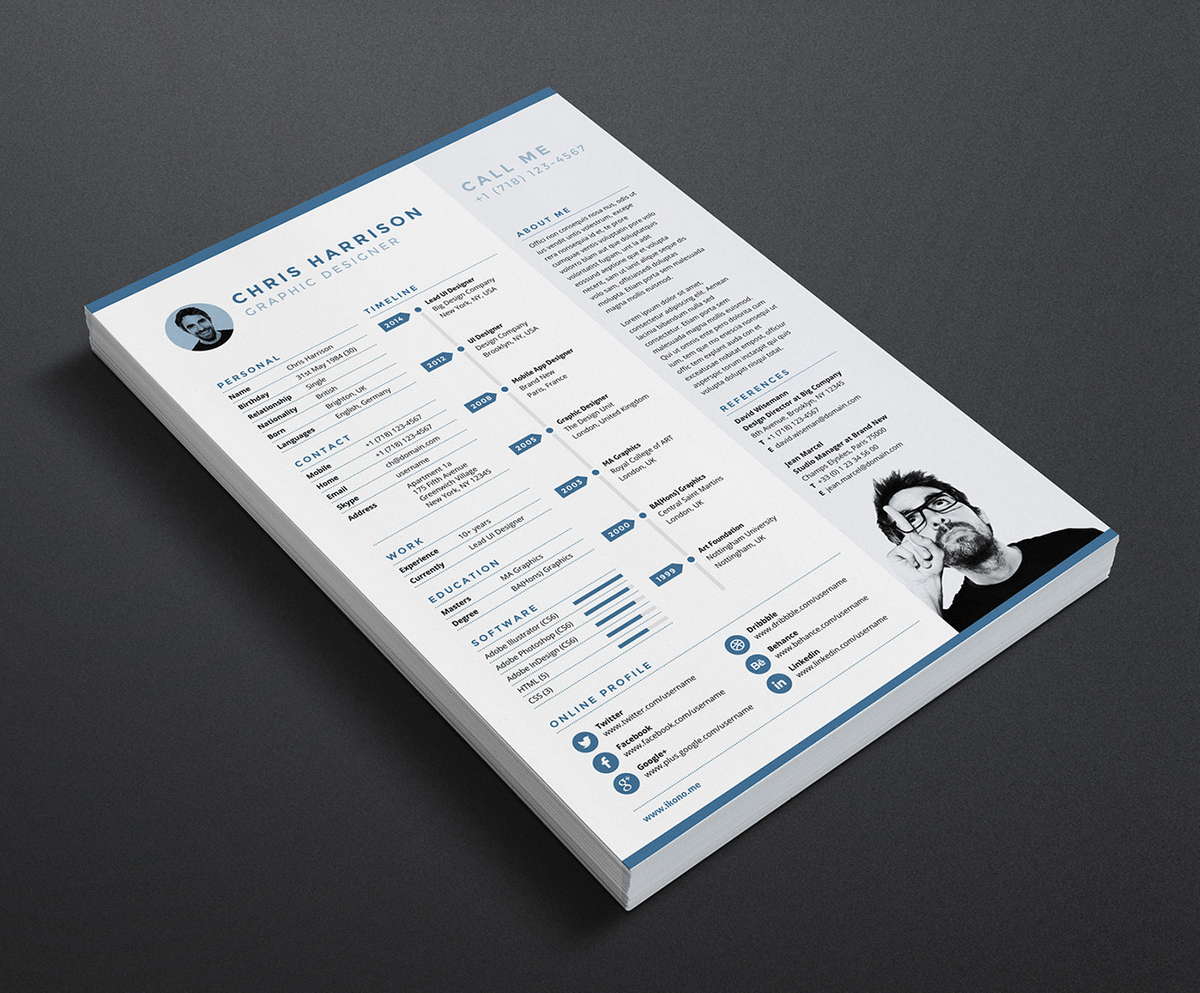 Clean and functional single page resume design is the zero cost way to build a professional looking creative resume. Areas are included for your profile, personal information, an experience timeline, skills chart, references, social media icons and places to add your own photo.
Free Material Resume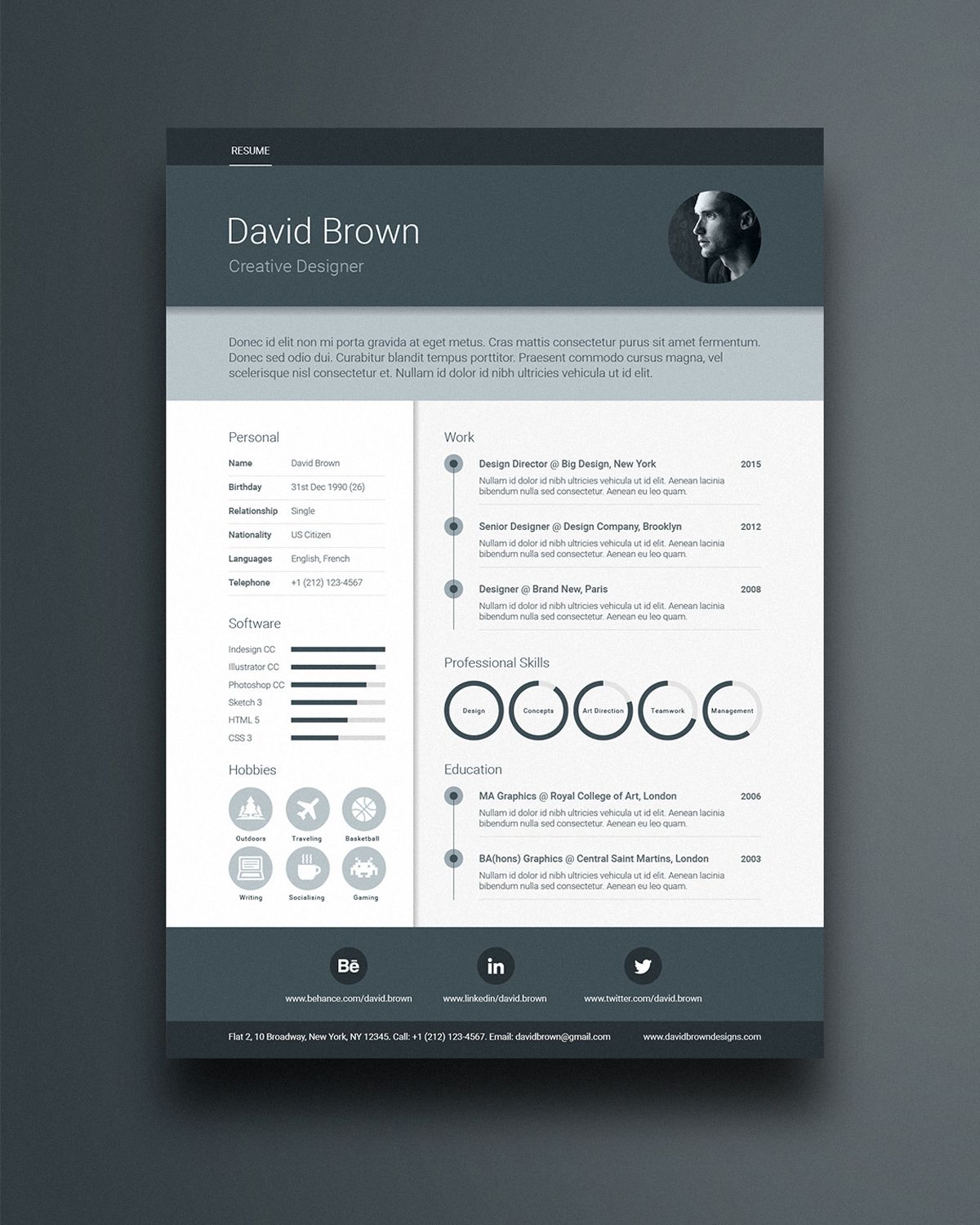 The template includes areas for professional profile, work experience, education, skill circles, skill bars, social media icons and images. A creative resume templates that's sharp, modern and eye catching ensuring your resume stands out from all the other job applicants.
Free Clean Entrepreneur Resume Template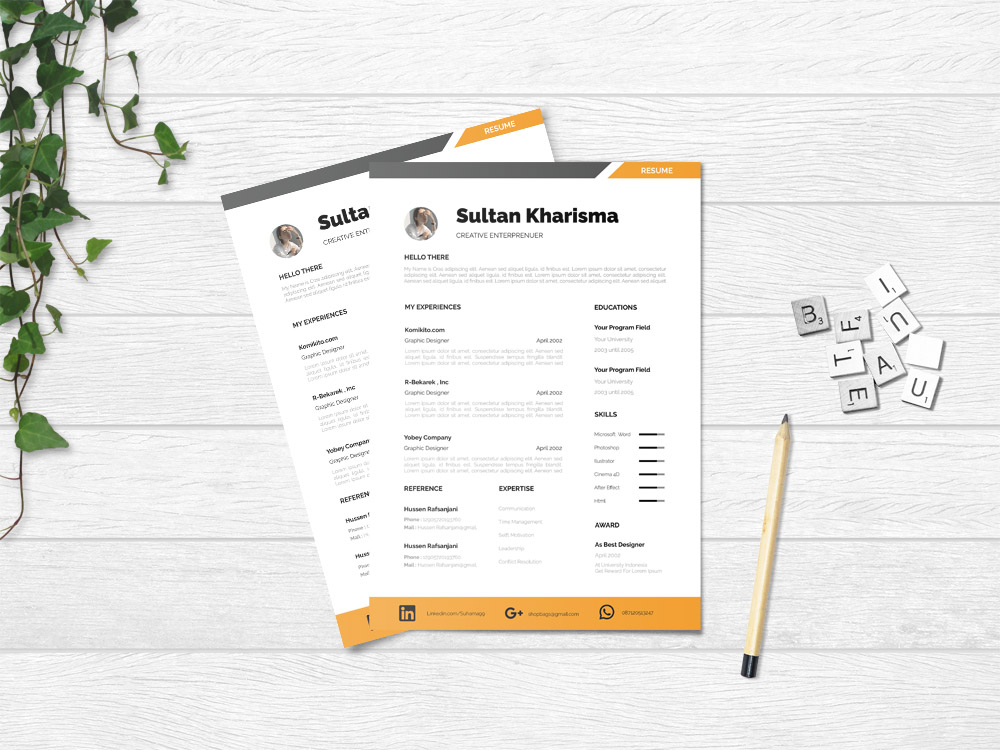 The template can be easily customized to your liking and includes all necessary files for a quick set-up. Delete or add anything you desire in the document, change colors or simply keep the original design.
Flat Elegant CV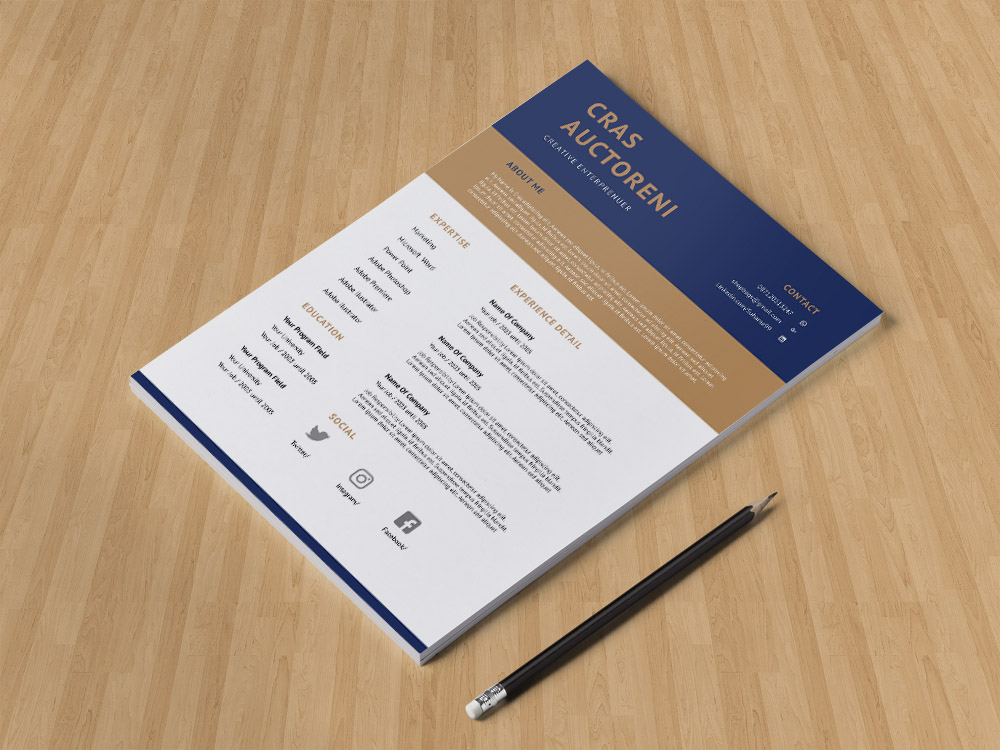 Here is free flat elegant CV template for job seeker with cover letter page. This free resume template available in multiple file format, so you can easily modify it, you can simply replace the filler text with your own information and add your own photo.
Free Clean Resume Template (InDesign)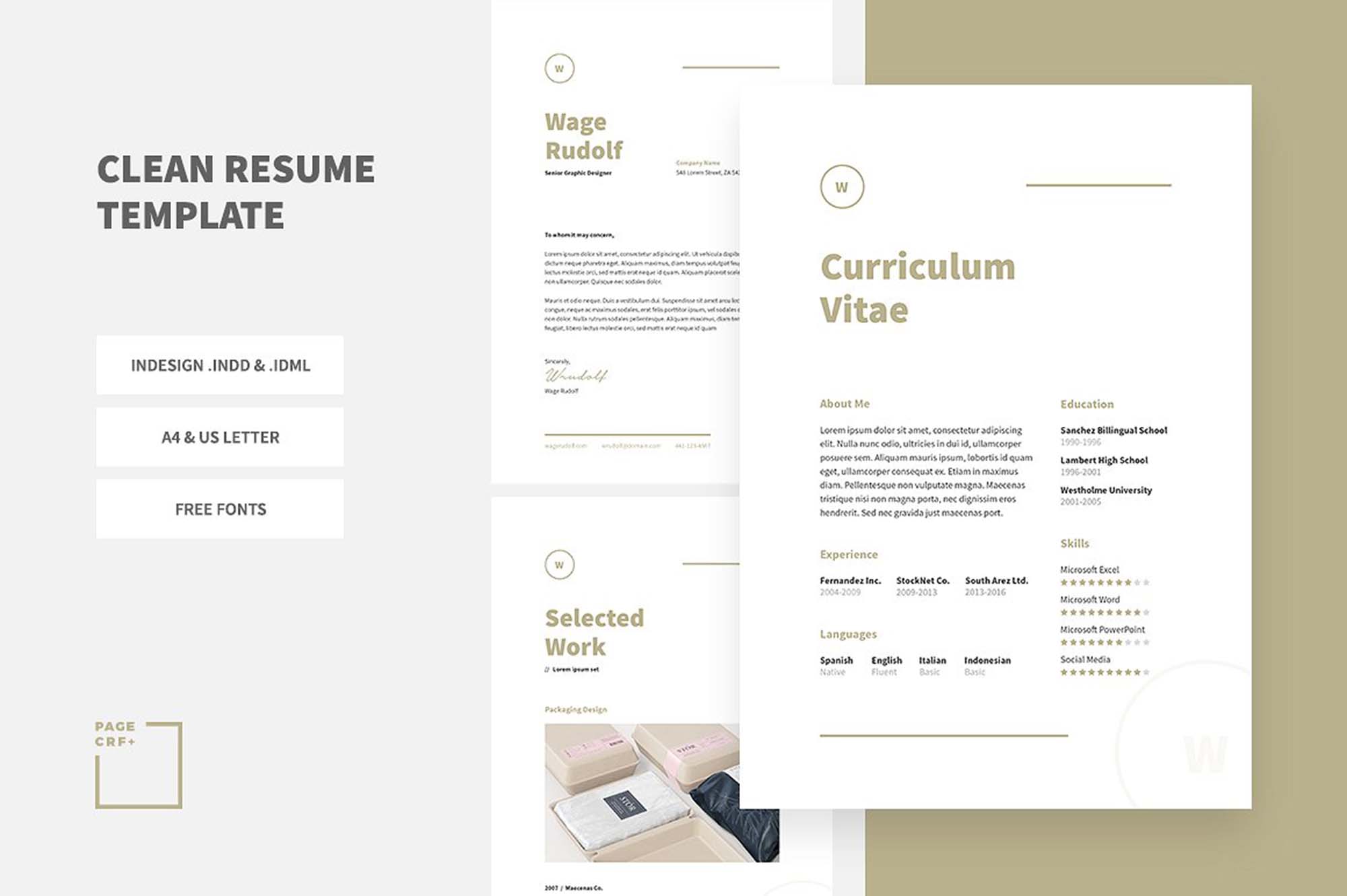 This file includes 3-page designs: a cover letter to show your personality and abilities, a Curriculum Vitae for your past experiences, and a Portfolio to include your designs. This resume template is extremely easy to use so you can add and remove elements and change colors with a couple of clicks.
Free Simple Resume Template Indesign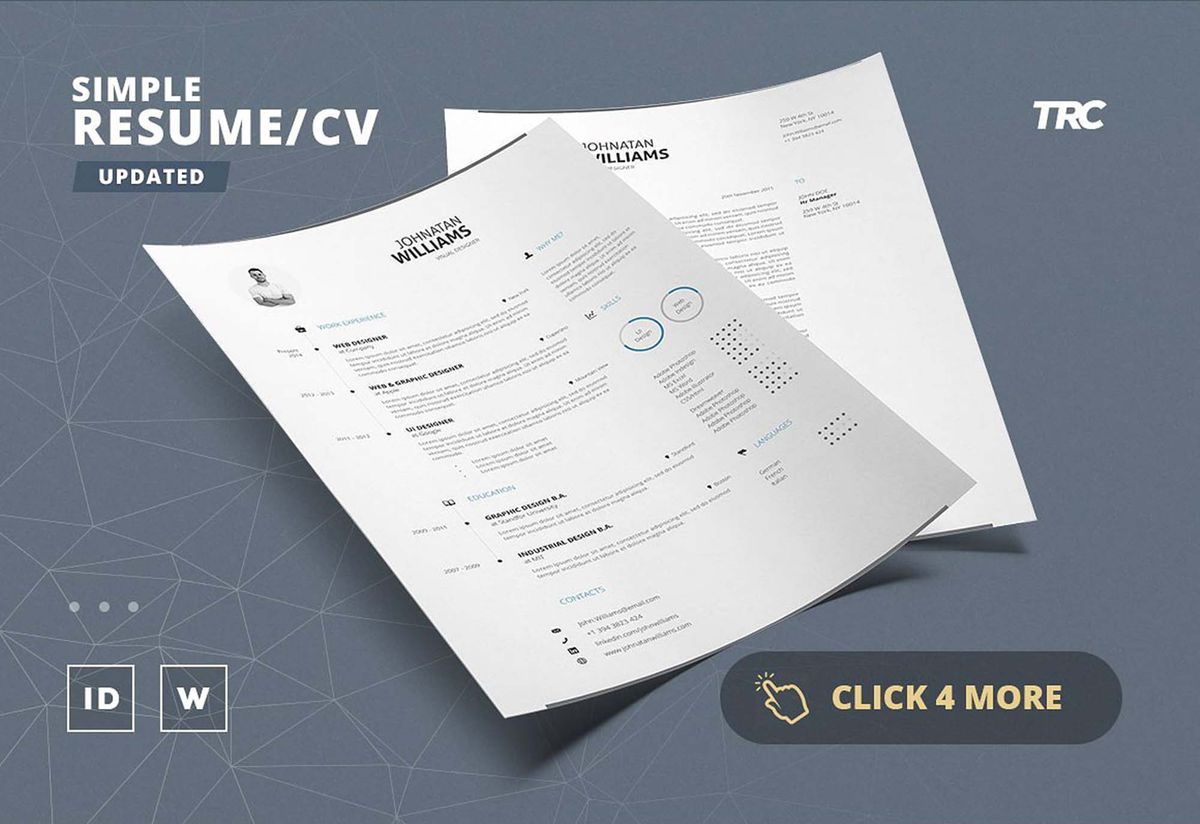 This freebie will allow you to provide all of your essential information in a simple and stylish manner. It includes a resume as well as a cover letter in A4 paper size for your academic and professional needs.
Free Creative Chocolate Resume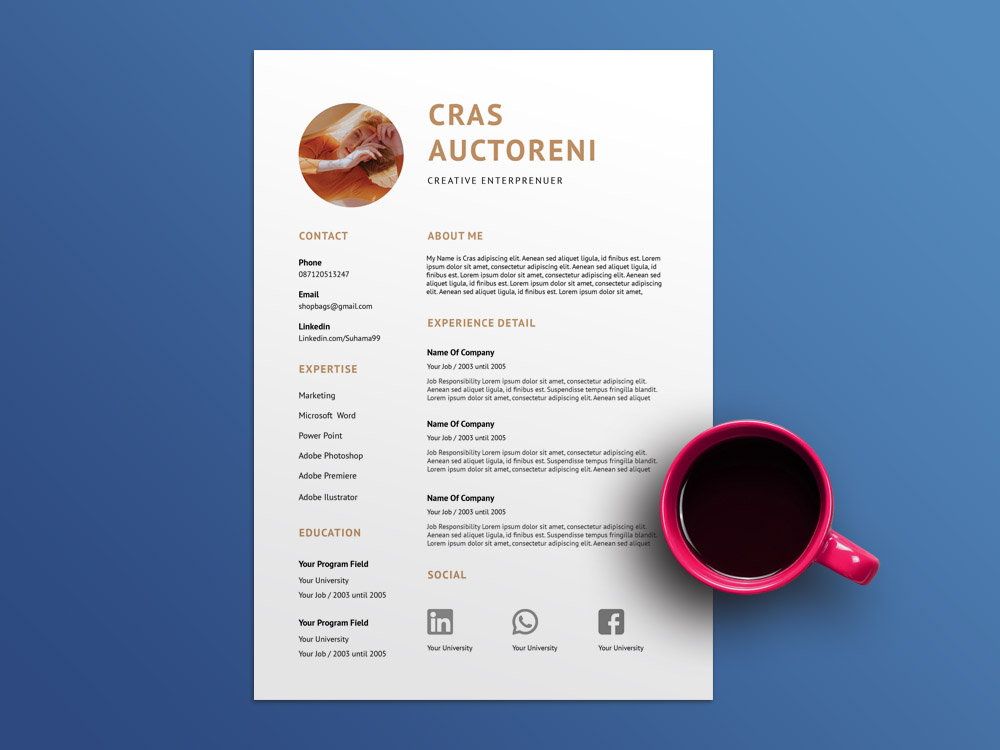 Here is free creative chocolate resume template for job seeker with cover letter page. Available in Multiple file format, using this template you can present your personal curriculum vitae with professional way.
Clean Resume Template Free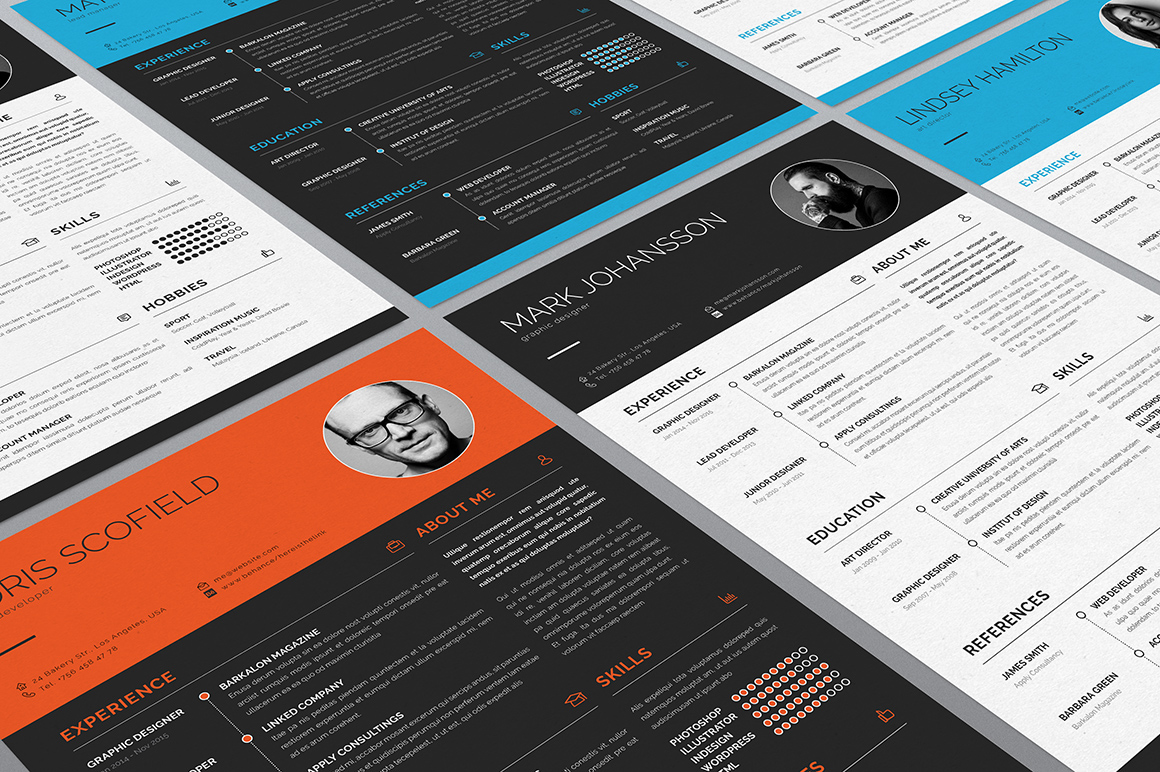 This is a perfect type of resume template that comes in two different colors from a light and dark version. There is a PDF file for a preview that can be created. The files are compatible with Adobe InDesign, Photoshop, and Illustrator.
Free Professional Resume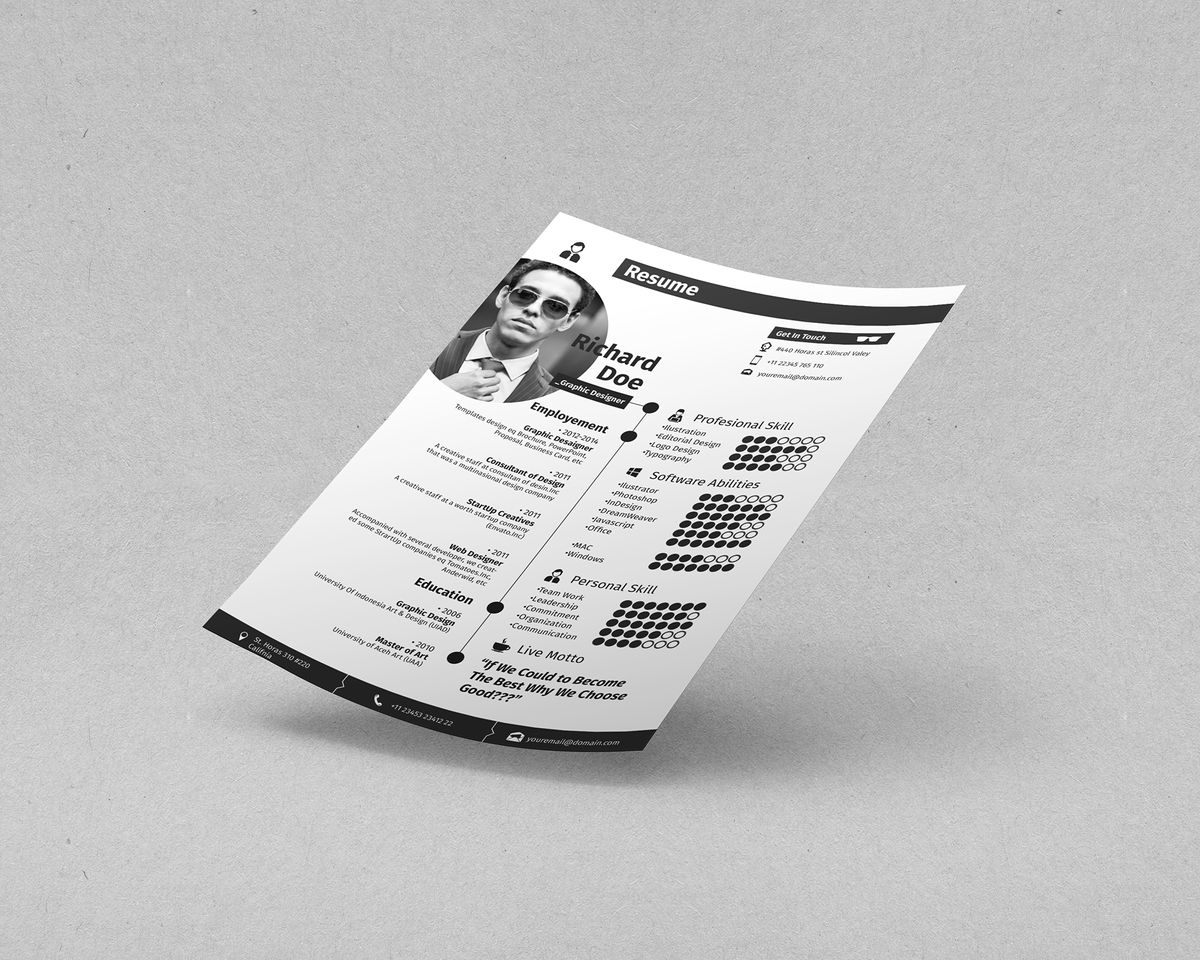 This is a professional Resume that is Suitable for any job seeker that is proposing their creative abilities. These files are easy to customize as well as add more pages if you needed. In the files, you will find 36 pages of resume templates, a PSD image placeholder, basic InDesign help file and 20 CMYK recommended professional color List.
Free Resume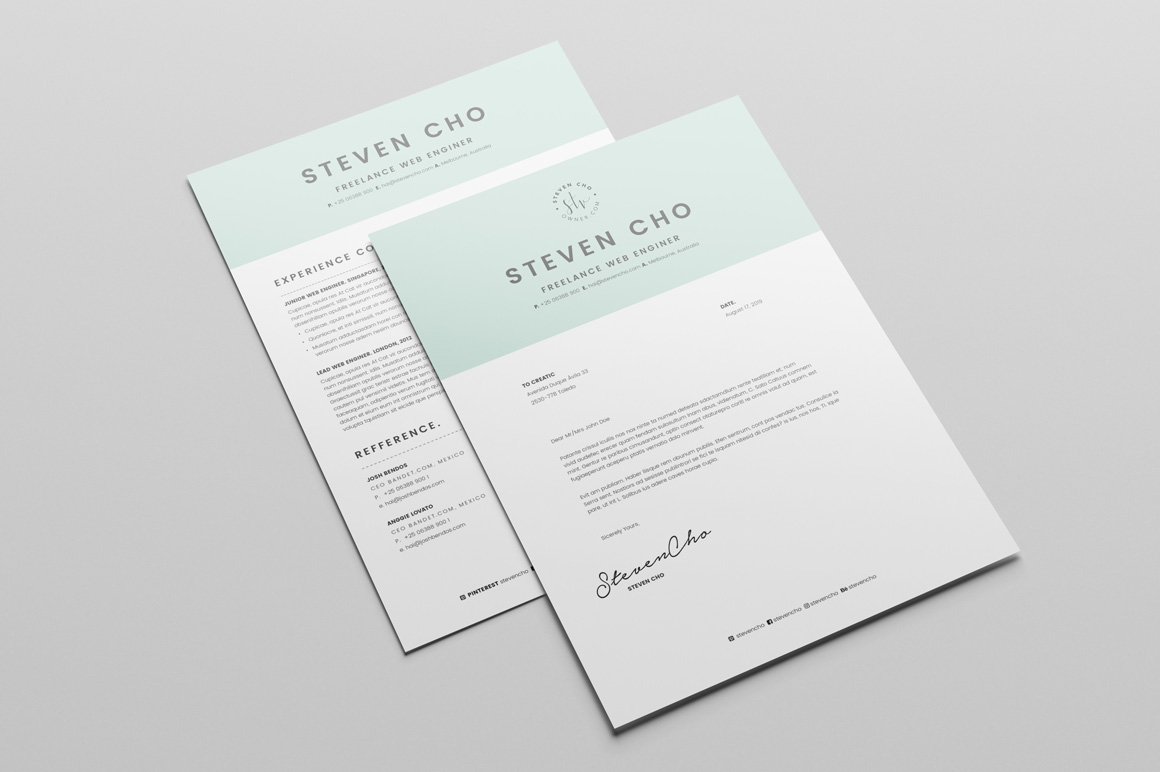 A cool free resume fields designed to showcase all your skill sets, work portfolio, references and much more. that includes a cover-letter template pack for professionals, provided in two different paper sizes. These files were created with Adobe InDesign and Microsoft Word.
Free Timeless Resume CV with US Letter & A4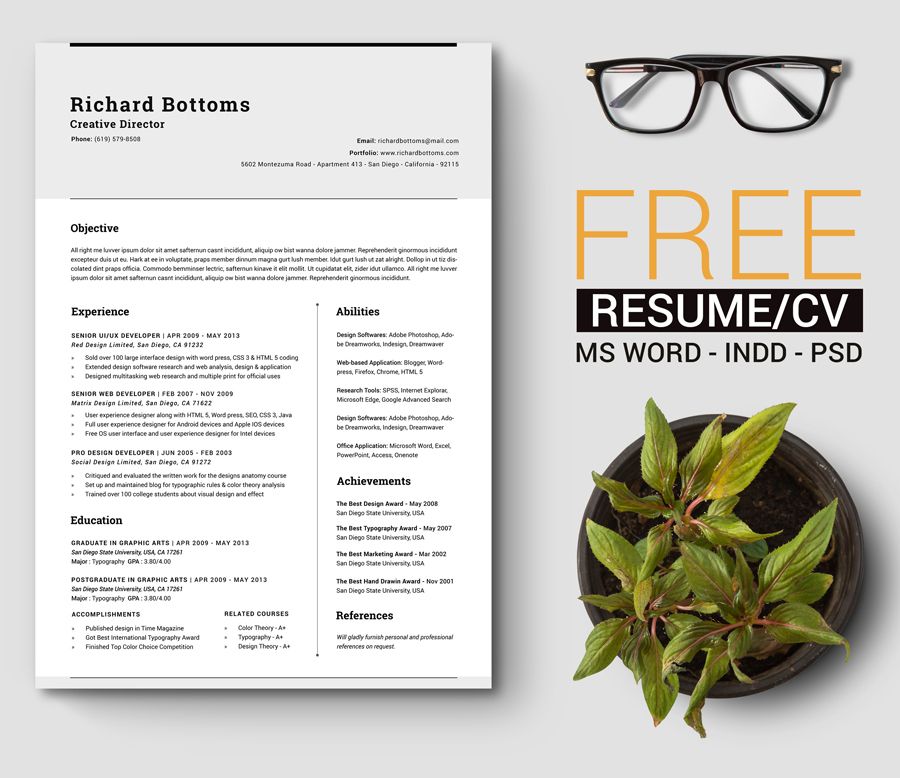 Simplicity can be a lot of some job seekers so with this Timeless Resume Template it can be designed for any job and or any applicant. You will get a free pack that includes Microsoft Word, Adobe InDesign, and Photoshop format.
Resume/CV and Cover Letter (Free)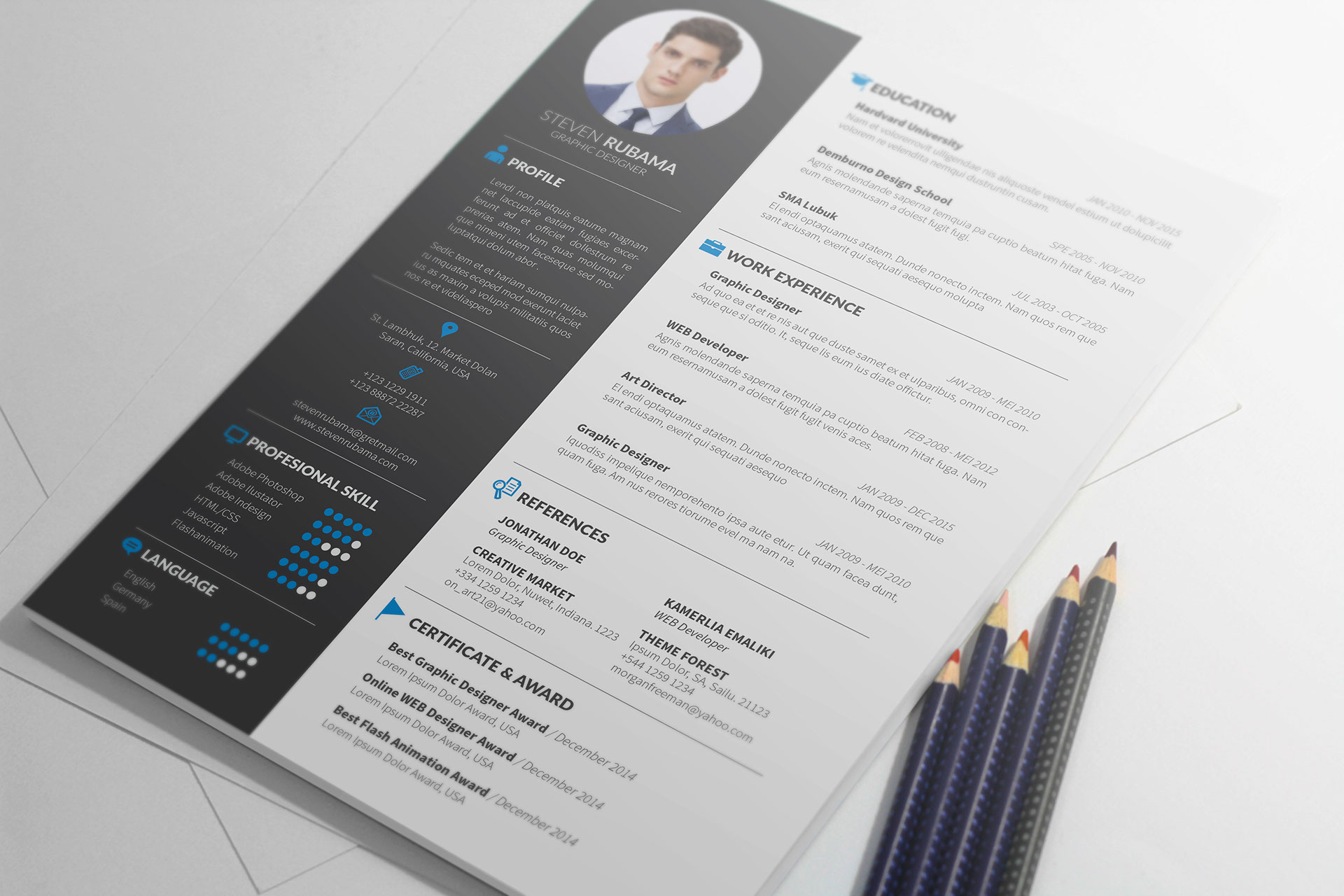 Get this clean modern package that includes your resume and cover letter for your personal use. Colors can be changed at your convenience as well as add photos if necessary. A graph can be added to your skills and language to show a different perspective.
Brown Color Resume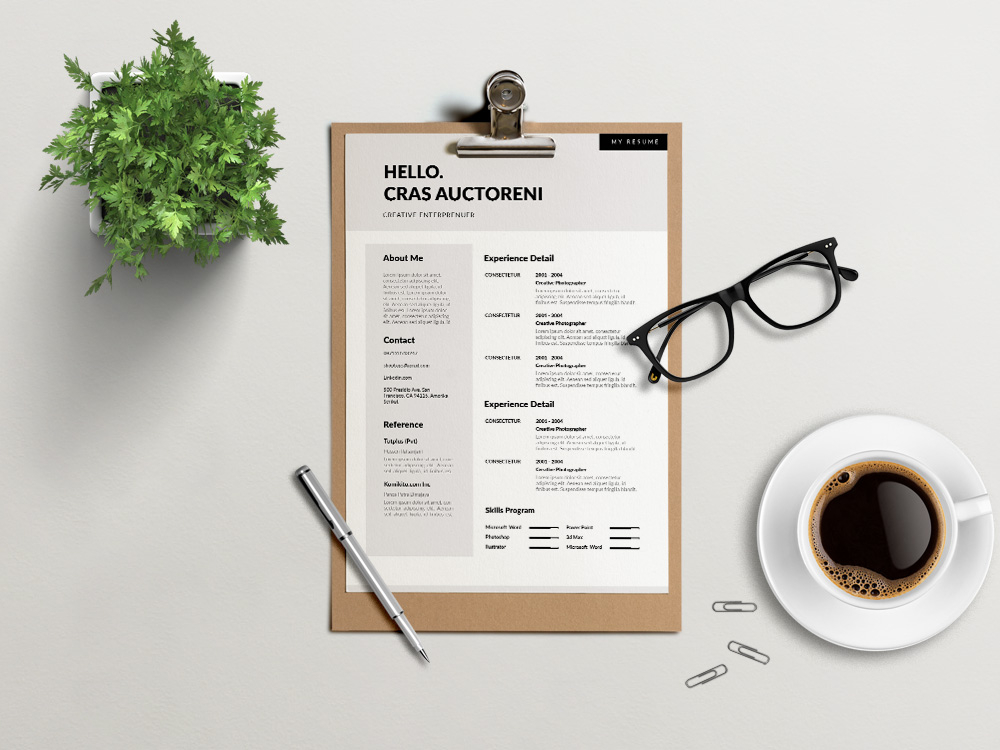 Here is free brown color resume template with cover letter page. This template is ideal for people who want to excel in their non-standard way of thinking and looking at the world.
Simple Clean CV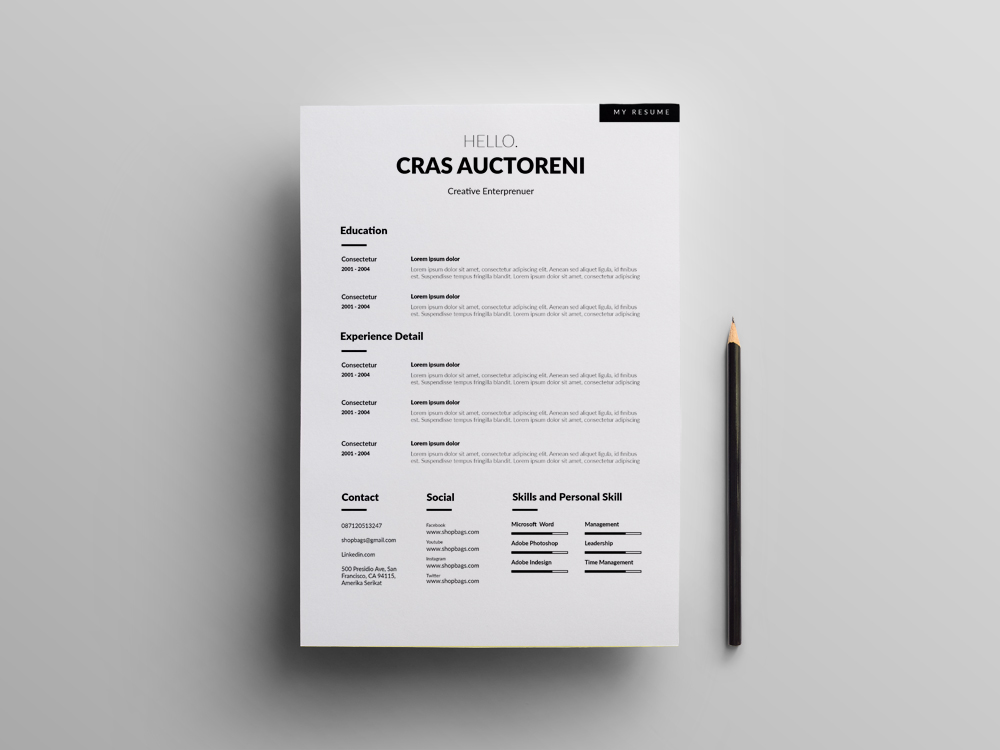 Here is free simple clean cv template with cover letter page. It easy to use and customize with different multifile format, so you can quickly tailor-make your resume for any opportunity.
Dot Line Resume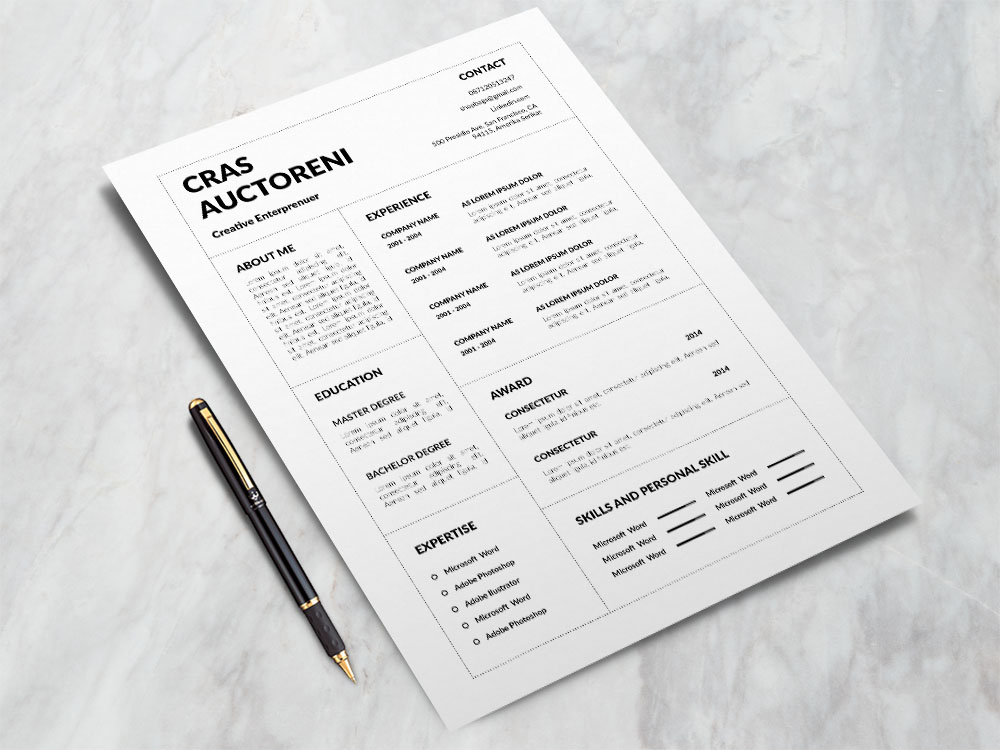 Here is free dot line resume template with cover letter page for your next job opportunity. Tweak the rest of the design to complement the shot. Adjust the colors, include a background pattern or texture, or toss in some icons.
Vertical Resume Template
Vertical style minimal resume / cv template with advanced editing features. You can download the free illustrator file with editable text. Will also be available in Photoshop, Indesign & Word Formats. The resume template can be easily exported to pdf document with pages.
Blue Minimal Resume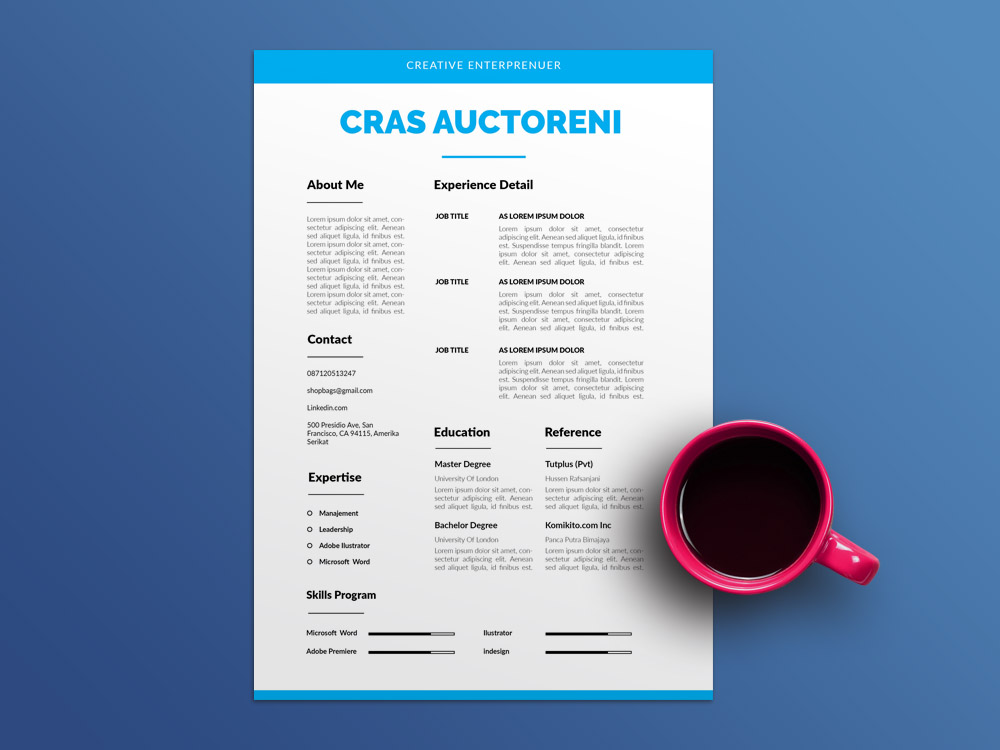 Here is free blue minimal resume template with cover letter page for your next job opportunity. Come with professional design, it will ensure, that your resume uniquely interests the employer. You just need to stay confident and be ready to answer questions from the employer.
Editable Resume Template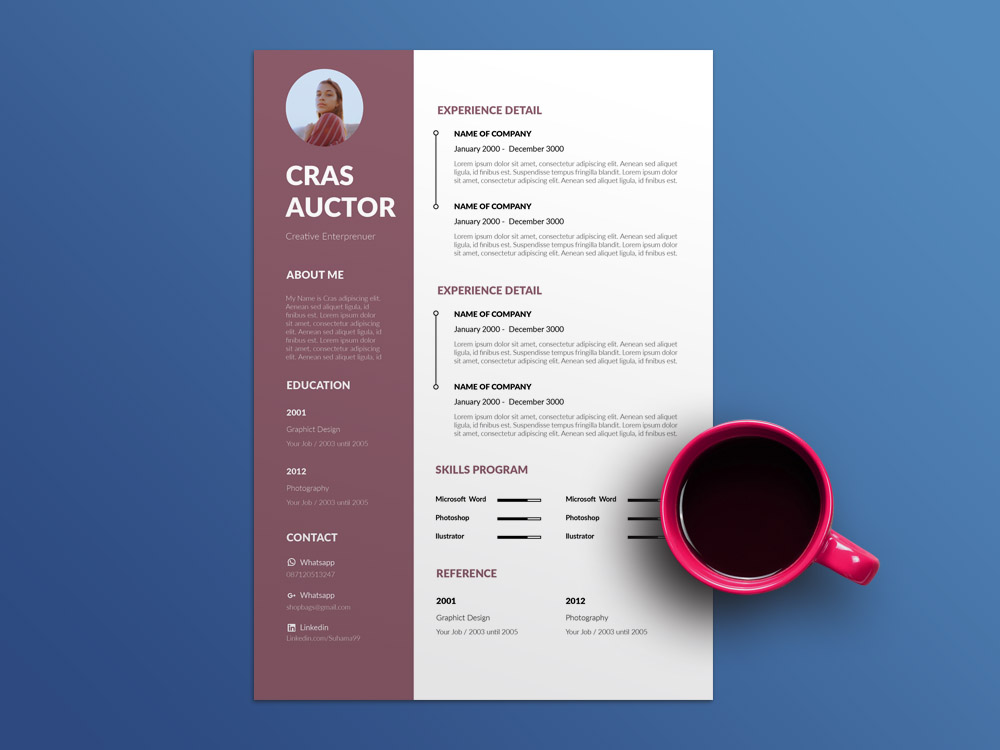 Here is free editable resume template with cover letter page. Available in multiple file format (Indesign, Illustrator, Word and Photoshop) it easy to edit and customise and edit.
Professional Indesign Resume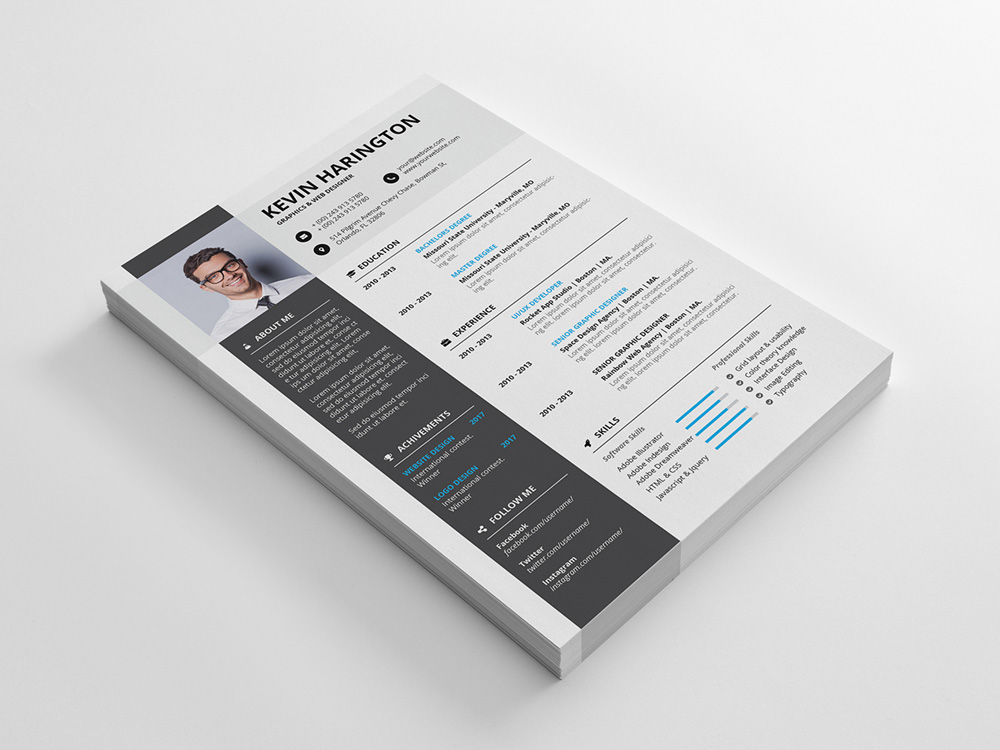 Here is free professional Indesign resume template with elegant design. It is is an elegant, professional, simple and corporate resume for your next job interview. which includes a single page resume/cv and cover letter. Very easy to change or customize.
Free Clean CV Template with Cover Letter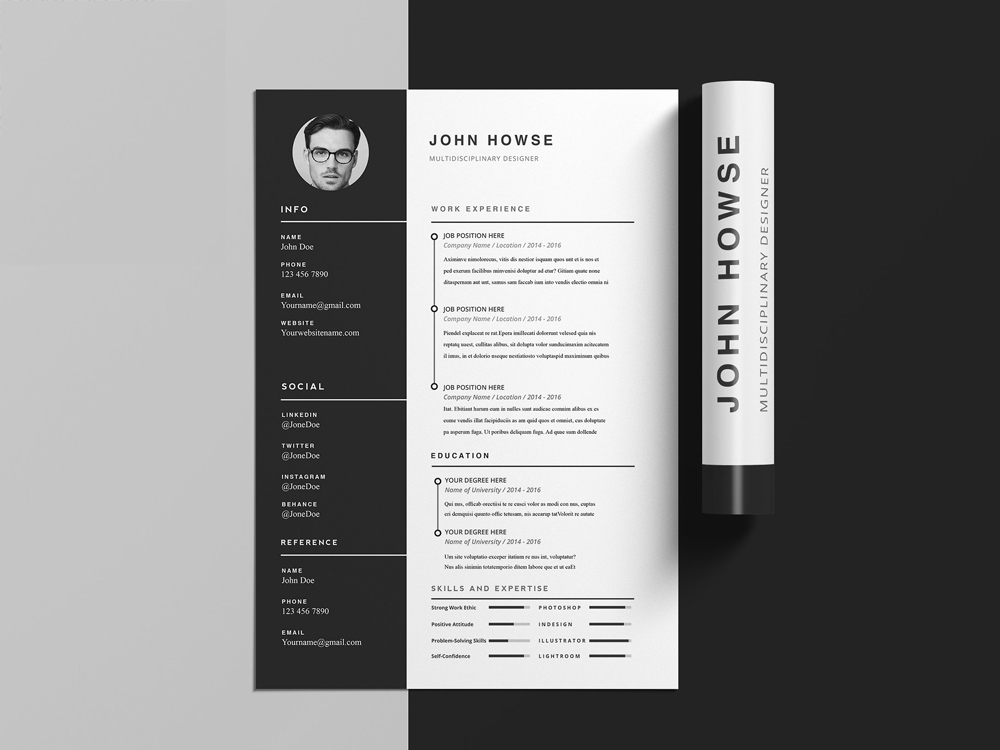 Free clean CV template with cover letter for your next job opportunity. It is clean, elegant and professional resume templates were carefully designed to help you make the best impression at your next job interview.
Free Professional Designer Resume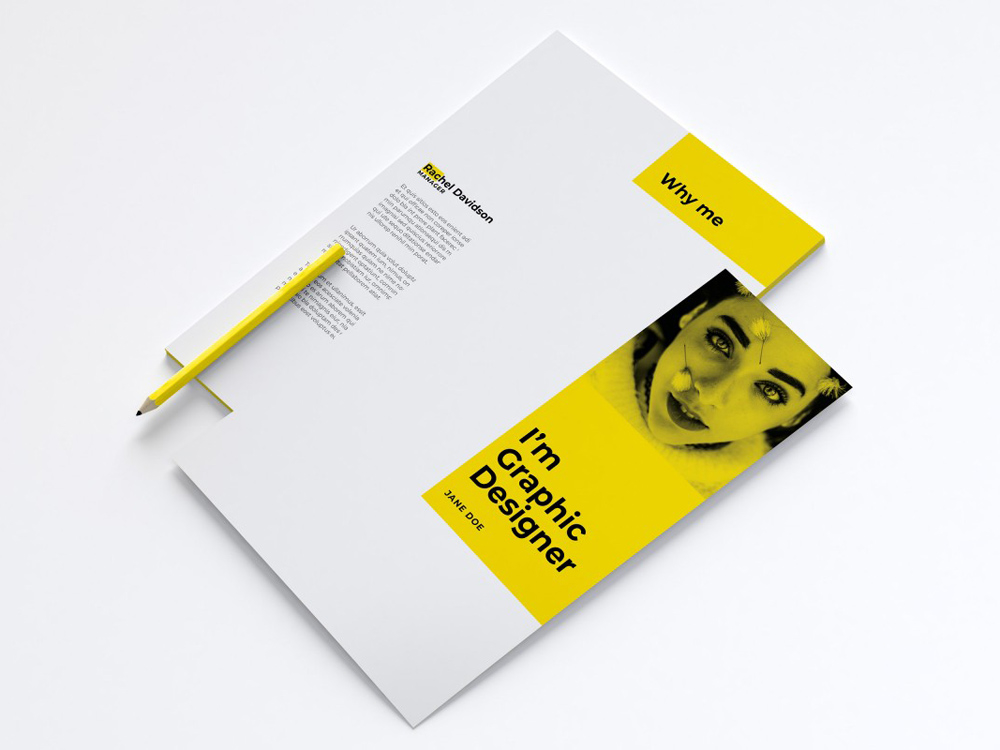 Free professional resume template for designer with 13 custom pages for your next opportunity. Available in indesign file format, show the best of your portfolio, references and skills with this minimalist template.
CV Resume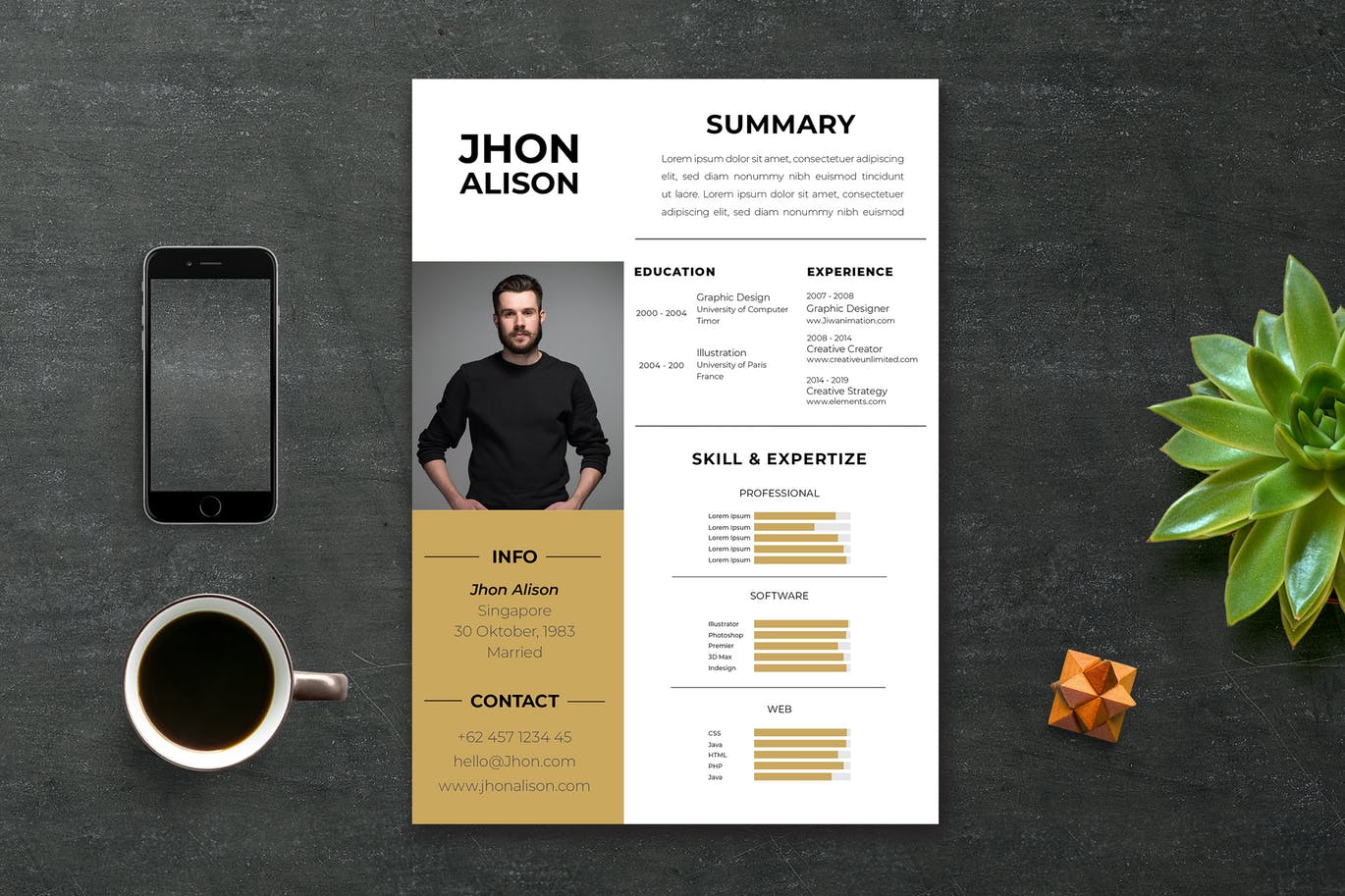 Creative Minimalist Resume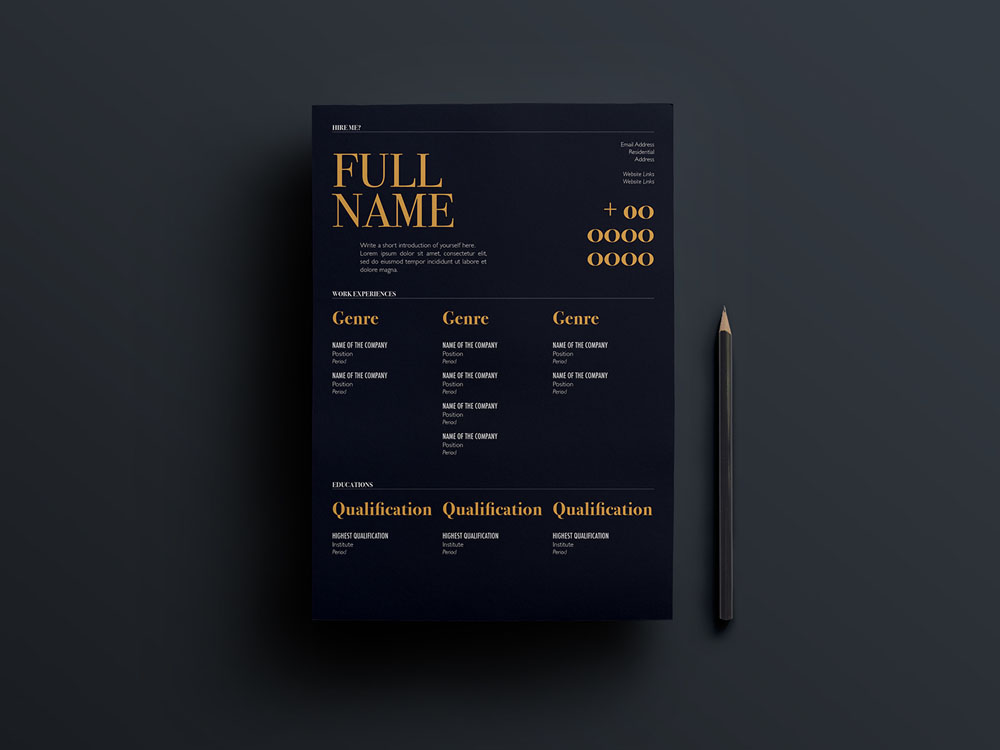 Here is free creative minimalist resume template for job seeker in Indesign file format. It will help you make a best impression when applying for your next job opportunity.
Gross Resume Template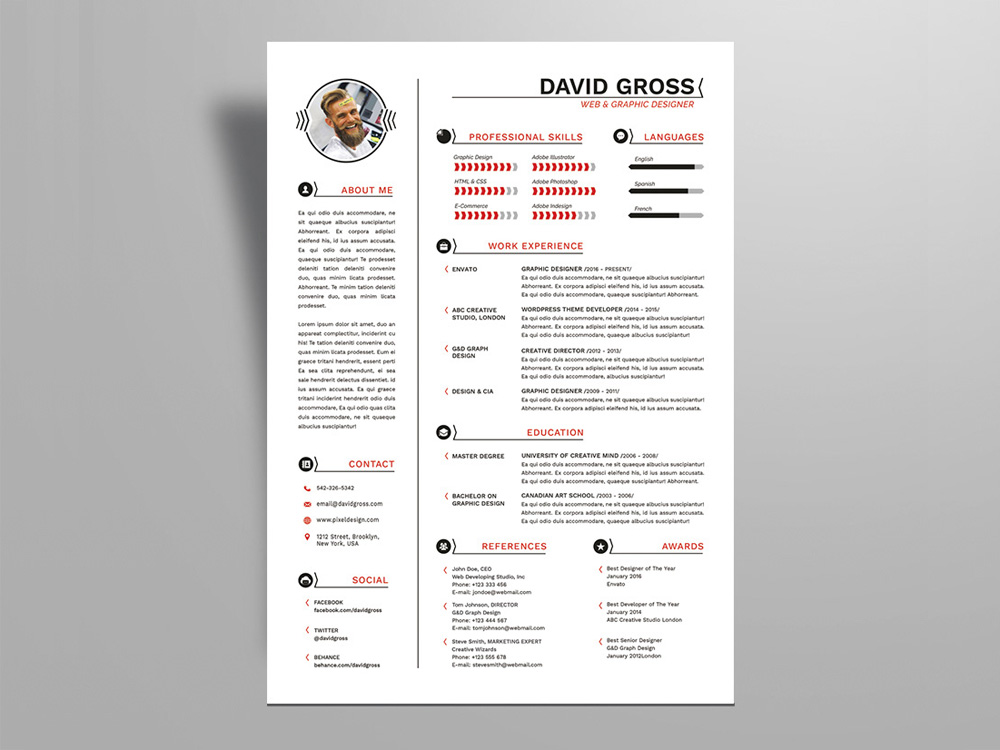 Free hipster resume template with clean design for your next job opportunity. Available in Indesign, Photoshop and Illustrator file format, you can use this templates for any job opportunity with easy. This template also come with portfolio and cover letter with matching design.
Free Journalist CV Template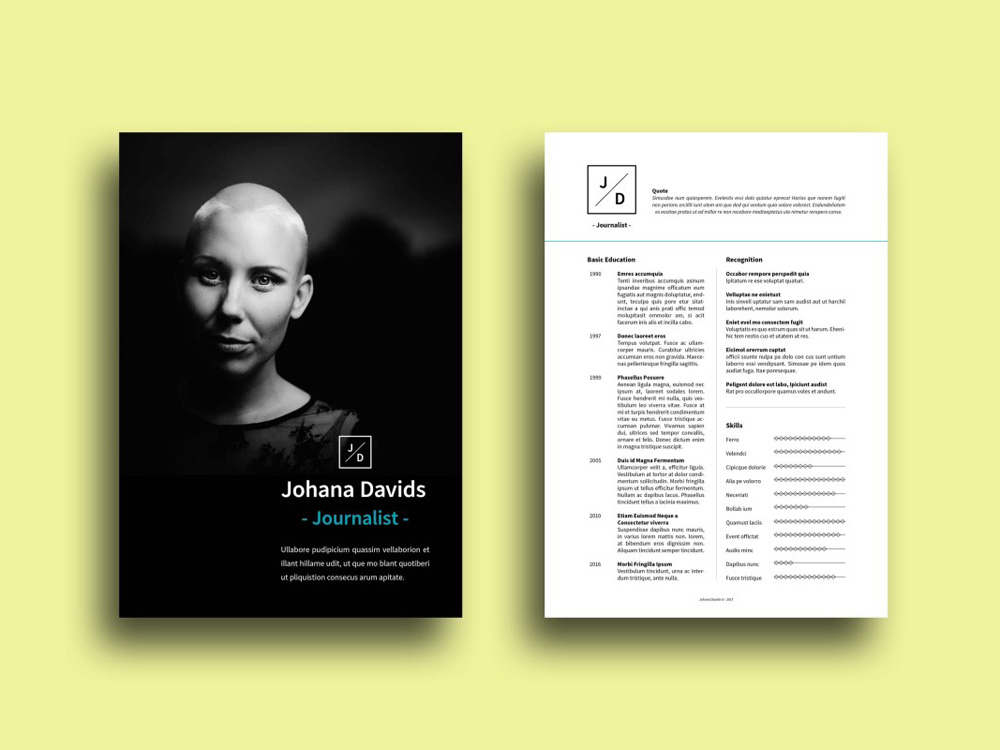 Free journalist cv template with clean design for your next job opportunity. It will help you highlights remarkable information from a professional correspondent, completely ready to print and super easy to customize thanks to the organization in layers of texts, images, backgrounds and other elements.
Minimalist CV Template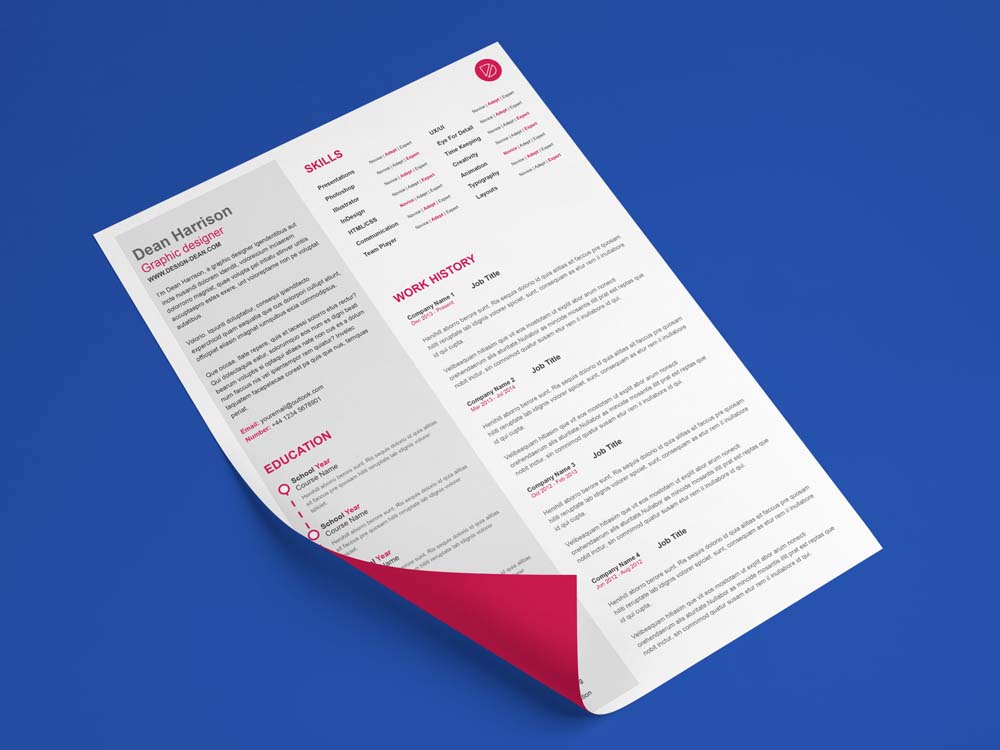 Free minimalist resume template with clean design for any job opportunity. Available in indesign file format now you can showcase your profile with smart and elegant way.
Free Designer Resume
Free designer resume template with impressive design for your next opportunity. Available in indesign file format, it come with a lot of originality and attributes that will help you to impress your potential recipients and/or companies to which you aspire.
High End Resume Template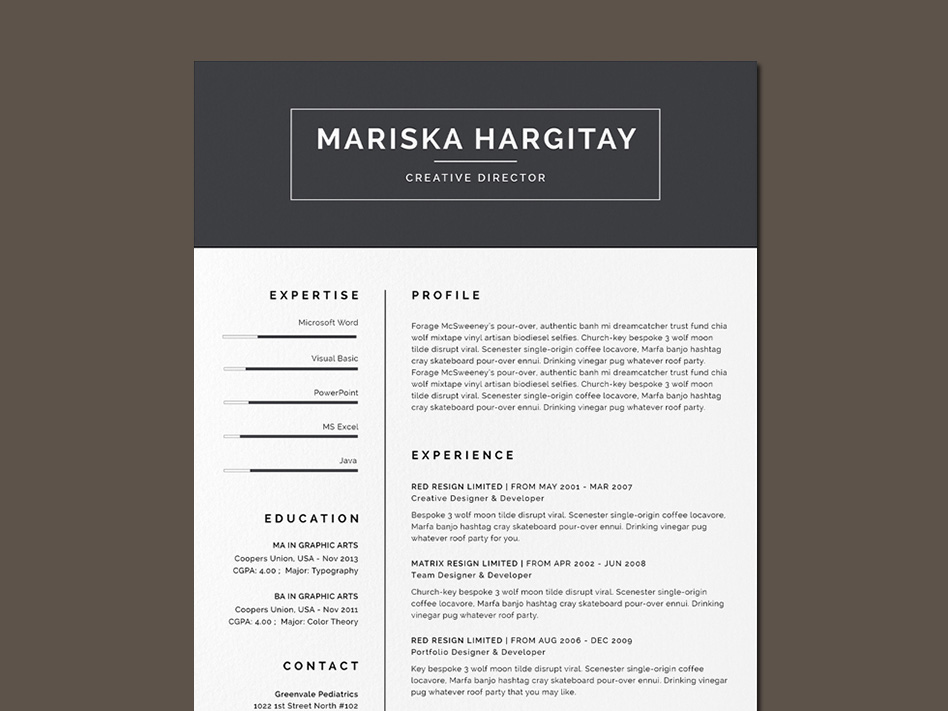 Free high end resume template designed handcraft in hipster style. This elegant and clean layout design will work well for any industry. Easy to edit the text, color & images.
Juan Resume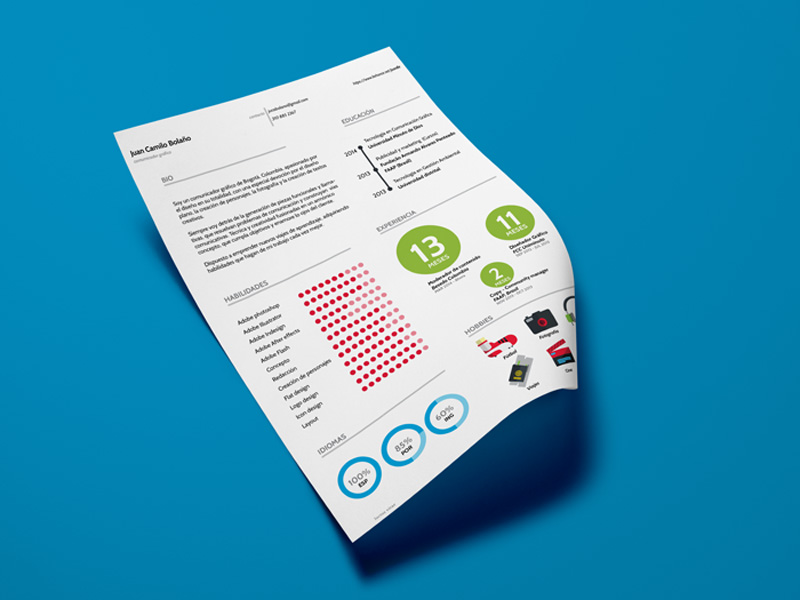 This resume template are easy to customizable like icon, graphic elements, text and photos.
Hans Resume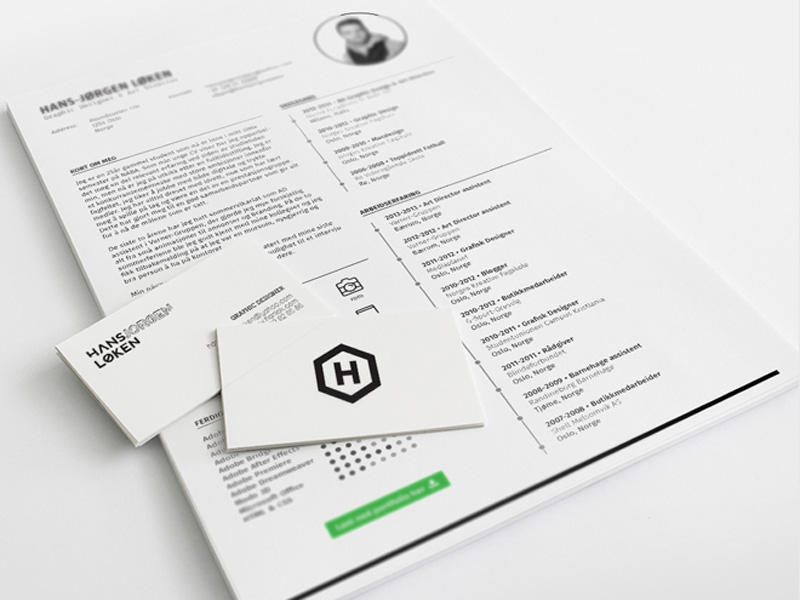 Free Indesign resume template with clean and simple design. This resume template designed to make a good impression. It very easy to use with all main design elements are editable and customizable.