Painting walls add meaning to your room. Whether it is just a color, decoration, or any painting at all, they give you an outlet for your innermost self and personality traits.
Colors are said to express personality traits. Hence, when you choose to add color to a dull wall, you are revamping your own life a bit using art and paint.

If you are in the mood for painting your walls, we would recommend you learn more in the section below about the eight cool wall painting methods you take inspiration from!
8 Cool Wall Painting Ideas That You Need to Try
You can get wall painting ideas anywhere. You can get them from social media or even from useful art magazines like the artfile magazine. By taking inspiration from various sources, we are presenting you with these eight amazing wall painting ideas that you must try!
Polka Dot
Polka dots are fun to paint on a wall. As it consists of two solid colors, it is much easier and takes less time when designed on a wall. It gives off a more happy and cheerful vibe, hence resulting in a more positive aura.
You can use any two color combinations, but white and any subtle color are recommended as one of the best combinations.
Chalkboard Wall
Chalkboard walls are more creative compared to the wallpapers or paintings in this list. You have the full liberty to design anything on the wall, with any chalk color.
Vertical Stripes
Vertical stripes of any color on the walls will give your room a fun edge. You can go for a thick or narrow edge when it comes to painting the stripes on the wall.
Make sure you use proper paint stripes to have straight lines of color on the wall.
Rainbow Stripes
Sometimes, choosing one color might be hard. Hence, we recommend you go with all the beautiful seven colors of the rainbow. If you are an extroverted person, rainbow stripes give off a major party and fun vibe.
Bold Half Color
An accent wall that has one bold half color may not be the ideal look you are looking for. But it does look aesthetically pleasing with the right types of wall accessories, such as a mirror. This will make your wall more majestic than ever.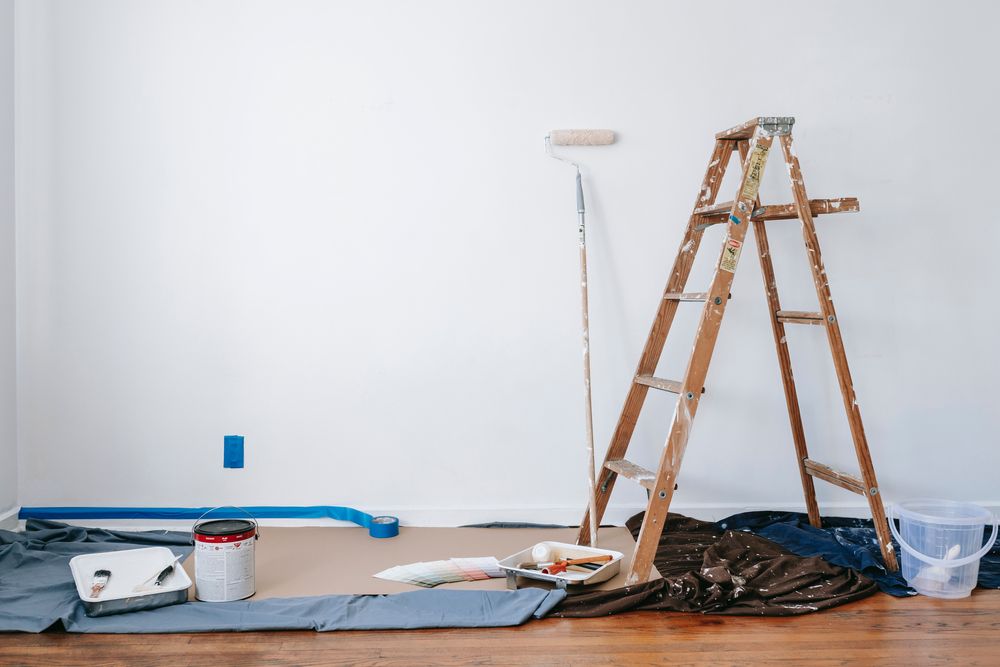 Patterned Way
If you are trying to be more artistic with your methods of painting a wall, you can use tape to make the patterned wall painting. You can use these patterns to take inspiration when it comes to painting your bedroom walls.
Solid Color Block
Sometimes you can go for a very subtle background color and then use a block of solid color in the middle of the wall for better aesthetics. You can also use stripes of tape to create a square area of a solid block of color in the middle or any other shape and decorate it.
Watercolor
Lastly, watercolor can be a way of making a wall look aesthetically pleasing. It will transform an accent wall into artwork! Such soothing wall painting will make your room look trendy and elegant at the same time.
How to Make White Wall Interesting
If you have a plain white wall and you want to make it interesting by painting something on it or maybe accessorizing it, This section is just for you. Look at the points below to get an idea of how to make a white wall beautiful.
Starting with:
Use wood tones to complement your white walls.
Add subtle neutral color splashes to the walls.
Create your own contrast to match the wall.
Use white walls to make a minimalist bedroom or living room.
Add long mirrors to create better aesthetics.
Try to make it monochromatic.
You can go for an industrial chic vibe as well.
Which Colors Make a Gray Wall Aesthetically Pleasing
Having a gray wall can be boring at times. And not knowing how to make it interesting or aesthetically pleasing can frustrate you.
We tried to jot down a few colors that will make a gray wall look beautiful.
Staring with:
Use red contrast to make the gray wall more dramatic.
Use mustard-colored accessories for richness.
Use green-themed fabrics with gray to give a natural and peaceful vibe.
Try teal blue bed sheets or pillow cases against a gray wall for a peaceful aesthetic.
Conclusion
We attempted to outline all of the possible ways to make a boring wall look amazing with beautiful colors.
And we hope you have found the best wall painting inspiration while exploring the various wall painting options with us. Now you can be the ultimate wall painter yourself. If you like aesthetically pleasing wall painting ideas, you can learn more about these background ideas.
Frequently Asked Questions
What are some cool things that I can put on my wall as decoration?
You can use large-scale art designs that are available. A gallery wall is one of the most popular and cool ways to decorate any boring or pale-looking wall. Mirrors, murals, and shelving can be very useful and fun as wall decorations.
How to choose the best art for my room?
Many interior designers have said that choosing the best art for your wall decoration comes with the type of wall painting that you are using. Having set the wall color you want, you can choose artworks that complement it.
How to get painting ideas for wall decor?
If you are a beginner at painting walls, you can paint them in the same manner as any other painter. Try to spice things up by painting patterns on the wall, which is much more advanced but gives the best aesthetic.
What paint should a beginner use for wall painting?
Any beginner should go with acrylic paint as their ultimate choice of paint when wall painting.
Published by
decolore
Thanks for being a part of this beautiful blog. Hours spent to create this web space to our visitors as much useful as we can. We're living with a pace of life and build beneficial collections related to graphic and web design. Here we come up with premium and free collections like mockups, backgrounds, fonts, wordpress themes, branding, inspiration, tutorials and informative articles for professional designers and beginners. Go ahead and let's be a partners! View all posts by decolore