Do you know the details to include on your business cards? Well, a business card can be described as your brand's extension. It is used to pass information about your business and what it does in a meaningful, powerful, and memorable way.
As a business owner or manager, you should not use a business card as a tool or a way of giving information to potential customers. You should also see it as a chance for you to personally connect with customers.
This means that even though we are going to continue seeing advancements in technology and the birth of different digital networking tools, nothing is going to replace business cards any time soon.

Here are some important details to include on your business cards:
Company Name
How would people know the company you are representing if you did not have the company name on your business cards? Well, you need to make sure that your company name takes up adequate space on your business card.
This is because your business prospects are most likely going to remember the company name compared to any other information on the business card. This means that it should be the largest font on your business card.
In addition, do not provide a short form or a nickname if your business has any. Instead, ensure that the full name of your business is included on your business card.
Logo
A business logo acts as a visual representation of your company, what it stands for, and what it does. It represents your business and helps your customers remember your brand and even the business itself.
Having a business logo creates the perception of a trustworthy, professional, and credible business to your customers. This is an important detail you do not want to leave out.
When including your business logo on your business card, make sure that it is displayed on the front. You should also use high-quality images to ensure that it looks good, especially after printing. In addition, leave some white space around the logo to make it clear.
Business Slogan or Tagline
Most businesses have a slogan or tagline. This is an important detail and should not be left out when designing your business cards. Those who lack a slogan or tagline can simply summarize what they do to create one.
A slogan or tagline plays an essential role for businesses whose names are not self-explanatory. They are alternative ways of telling your customers what your business does and how it does it.
For instance, if you run an online taxi business company with a name that is not related to the taxi business, then you can use a tagline such as "Comfortable Online Taxis".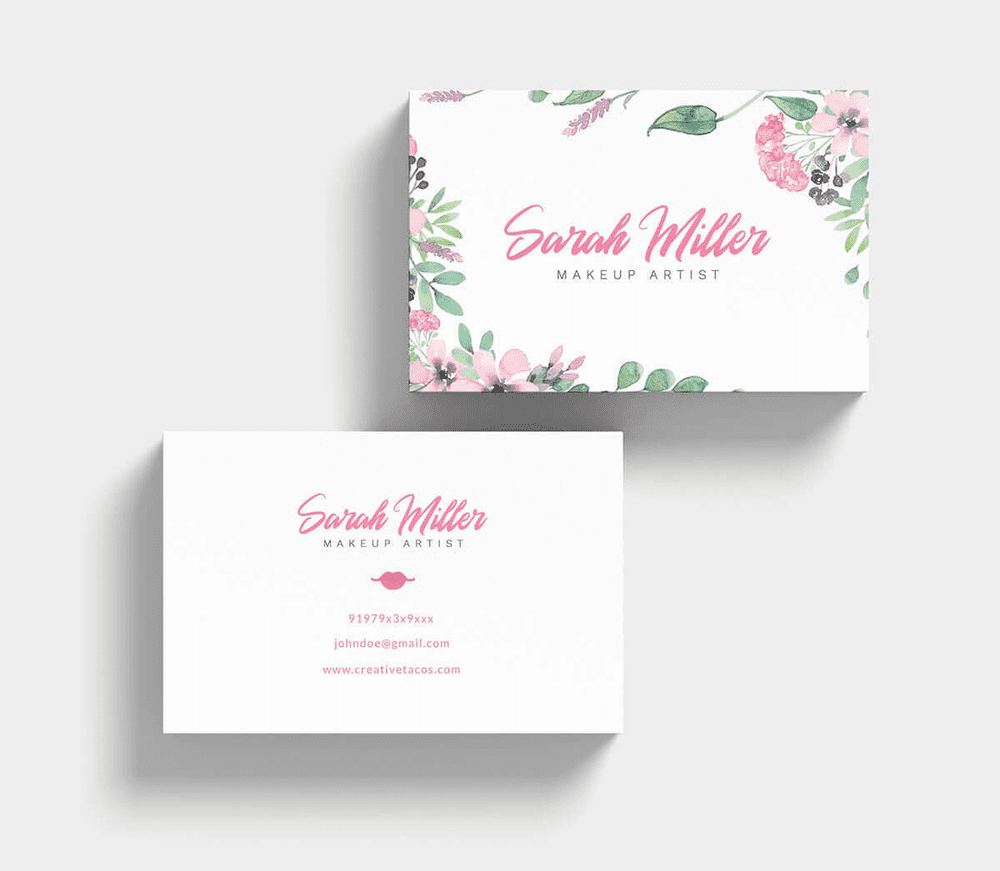 URL's of Your Social Media Accounts
Social media platforms have grown in popularity over the past decade. Today, they play an important role in helping businesses interact and engage with their customers.
If you do not have active social media accounts, then you are losing a lot and giving your competitors an easy time. You need to ensure that you have included the URLs of your social media accounts on your business cards.
Before the URL, you can use social media icons such as these Instagram icons. Make sure that the icons you use can be recognized easily. This can help you attract followers who can end up being qualified leads.
Contact Details and Business Adress
The main purpose of a business card is to make it easy for your potential and existing customers to contact you. You, therefore, need to make sure that your phone number and email address are included on your business cards.
The business address is also important information to include on the business cards. This is not only the physical address but also the business's online address such as your website. Make sure that this information can be read clearly.
Name and Role / Title
You need to ensure that you are personally connected to your business. This can be done by including your full name on your business cards. Just below the name, you can add your role or title.
Since most people are not good with names, a job title or the role you play can help them easily remember the person that they are dealing with. Even though it's not very important, you can also add a headshot. This depends on the industry you are working in.
Adding a photo is important for people who work as caregivers, photographers, realtors, and actors, among others. Potential customers need to know and see the person they are dealing with.
Business cards are an important asset for businesses that want to make it easy for customers to access and contact them. When designing your business cards, make sure that the details discussed above are included.
Published by
decolore
Thanks for being a part of this beautiful blog. Hours spent to create this web space to our visitors as much useful as we can. We're living with a pace of life and build beneficial collections related to graphic and web design. Here we come up with premium and free collections like mockups, backgrounds, fonts, wordpress themes, branding, inspiration, tutorials and informative articles for professional designers and beginners. Go ahead and let's be a partners! View all posts by decolore