Do you desire to make gorgeous portrait shots but are unsure of how to proceed? To assist you to generate fresh ideas, here are 5 shooting and editing suggestions.

1. Choose the Background
You need to choose a background that fits the photo's intended theme (travel, afternoon tea) and style (casual, sophisticated). Therefore, I advise you to think about the background's design in addition to the characters' outfits and actions.
Think about the setting you wish to use, whether it be a lovely castle, open cliffs, turquoise sea, lush forest, a park lake, or even crumbling ruins or gothic architecture…
It will be a good choice as long as your background conveys the significance and distinctive style of your photograph.
A solid color background, such as picking a wall with a white background for shooting, is another easy and effective alternative.
A white background can give your picture a really polished appearance. Additionally, you can do a lot with the white background when post-processing photos.
If there aren't any white walls nearby, I advise using Fotor's convenient online picture background remover to create a white background for your photos.
Simply submit your portrait photo to the relevant page, and the system will eliminate the background for you automatically in less than 5 seconds. If you download it after this step, the background of the picture will be transparent. Of course, you can have the option of switching to a white background, a background of another solid color, or a background of a landscape by clicking the "change background" button.
2. Use a Proper Composition
Whether you are photographing a portrait or a landscape photo, composition is crucial. Of course, some people crop their photos to create a new composition, using photo editing software like the useful Fotor photo editor since they didn't think about composition when taking pictures. Yet, I still maintain that when taking pictures, you should strive to focus on composition.
Common and easy-to-use shooting compositions include center composition and leading line composition.
The center composition is the most common, just put the subject in the middle, surrounded by an open scene, and no other clutter.
If you use the center composition to shoot people and find there is some discordant debris in the four corners of the picture, such as unwanted stone and pigeons… Then you can use the Fotor's remove unwanted things feature to clean up some of the clutter from photographs.
The line that directs the viewer's attention to the main subject is referred to as the leading line composition. It can make your images more vibrant. This leading line might be a natural line, like a river or twisted branches, or it might be a human creation (long rope bridge, corridor, track, road, fence).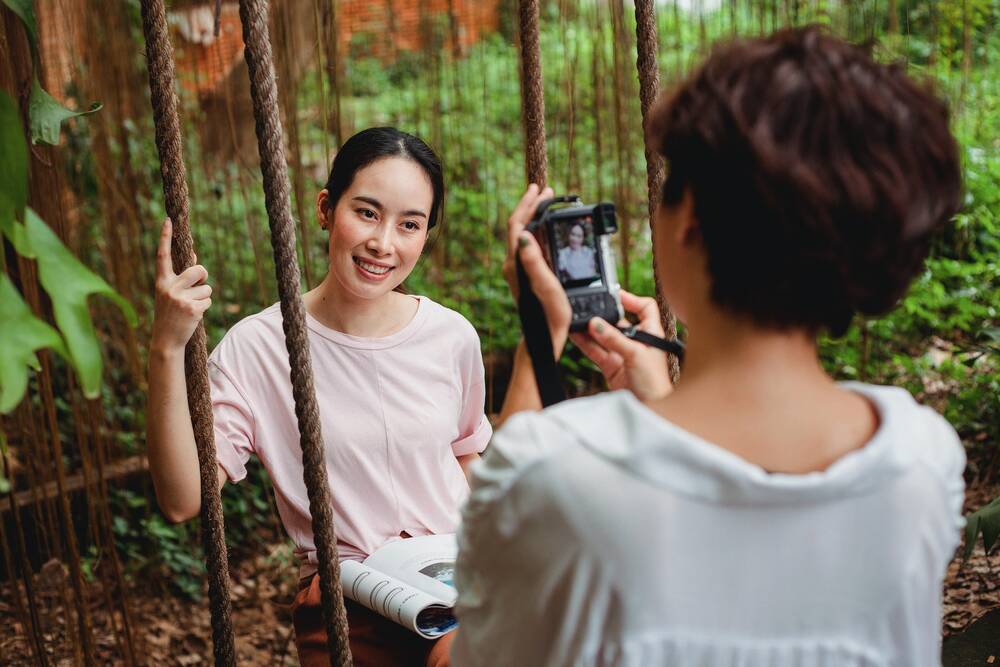 3. Search for Shade and Light
In order to make good colo of the photo, we must first ensure that the shooting takes place in a sunny but not overly bright area. Second, we can search for intersections of light and dark areas to take photos. For instance, when the sun enters the room, half of it is illuminated while the other half is in the dark, we can shoot the person here. Our eyes are now able to focus well on the object at the intersection of light and dark.
Another illustration is photographing aside a shimmering lake, which will result in a vivid white-yellow tone and give the image a divine aura encircled by a halo of light.
If you can't find the unusual light, you can snap a photo in ordinary lighting and then manually apply the ideal quantity of colored flare using the Fotor photo editor's "Lens Flare Effect." Consider adding a faint greenish-purple aura to your image. Does it resemble a beautiful aurora?
4. Enhance Photos with Texture
People often have an immersive visual impression while looking at pictures of enormous boulders with uneven surfaces, peeling bark, and mottled red bricks, which makes the image seem more appealing.
5. Other Tips
The final and most crucial consideration is to strive to achieve a 90-degree shooting angle between the subject and the camera. This will make the finished film appear more natural and prevent an odd tilting sensation.
Prepare a tripod and adjust the position according to the shooting person before each shot if you lack the confidence to shoot at 90 degrees every time. This is also a nice option. You can also use the Fotor picture editor's "tilt-shift" option to fix the slanted image if it still has a tilt.
Final Words
I hope these minor pointers will be useful for your portrait photography. Even if you don't completely adhere to these suggestions, it's still okay because you can use a good photo editor to enhance your images and create even more stunning results.
Published by
decolore
Thanks for being a part of this beautiful blog. Hours spent to create this web space to our visitors as much useful as we can. We're living with a pace of life and build beneficial collections related to graphic and web design. Here we come up with premium and free collections like mockups, backgrounds, fonts, wordpress themes, branding, inspiration, tutorials and informative articles for professional designers and beginners. Go ahead and let's be a partners! View all posts by decolore