We can all agree that Google Workspace is fantastic. The G-suite avails many features that can be beneficial to organizations of all types and sizes. Teamwork, collaboration, and communication are easy with some of the applications. Such include Meet, Chat, Drive, and Calendar. But wait, do you know Workspace can help with website designs?

Google Workspace has tons of resources for website designs. The website builders and apps available will make your work so much easier. It doesn't matter which industry you are designing for.
You get everything you need right from one platform. From this, you can manage teams and improve collaboration with document sharing. You can also save files on Google cloud and so much more.
Our article will explore ways to introduce Google workspace in your website designs. Let's dive into it.
1. Take advantage of the workspace website builders
Google Workspace has some fantastic website builders and apps you can use. These are:
Overdrive

allows you to create web pages from G-suite and Drive. The integration of Overdrive with Google Drive is seamless. All you need to do is decide on the content you want to use and let the tool work for you. With the simple click of a button, you can create pages, navigation, and site structures.

The information that is on the web page is the same one that is in your Drive. The website is mobile-friendly, and the drag and drop feature makes it easy to use. It has multiple page types and designs, allowing you to customize your site as you wish. Overdrive allows for easy integration with other apps like Google Analytics, Twitter, and Facebook.

Google Apps Script

allows for the automation of workflows on third-party products and the Google workspace. It uses Google JavaScript cloud scripting language, which allows you to enhance the features of some of the G-suite tools. You will get more from your Gmail, Drive, and Docs.

The platform enjoys support from a robust Google Workspace community. Users get access to updates and new patches. The API provides everything you need to build your web applications, automate processes, and extend your Google services.

Atlassian Cloud

helps with web development issues. Such include fixing errors or problems in the pipeline during the development of the cycle. The Gmail add-on works well on all devices. Developers get up-to-date information about the workflow.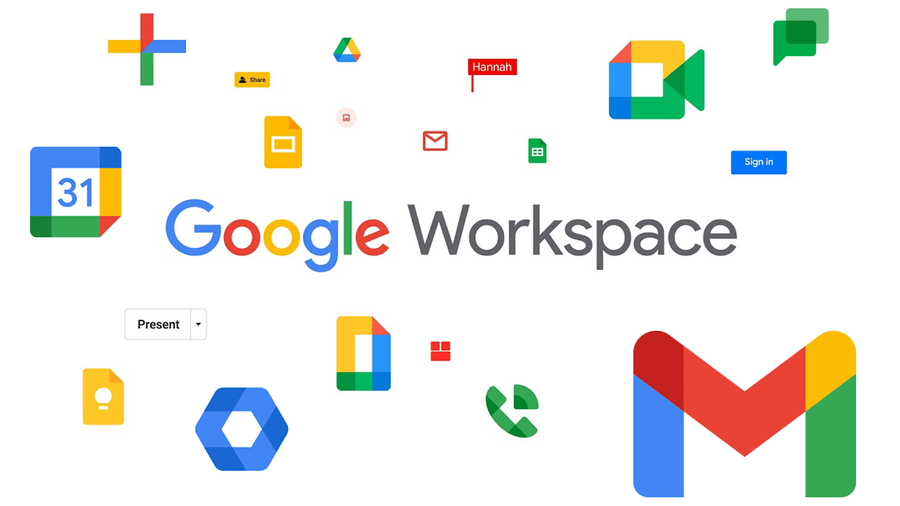 2. Improve visual design with Google workspace
The right website design must have functionality as a top priority. The more people can do within one central location, the better.
It will amaze you how much you can do with Google Workspace when coming up with your web design. You can improve collaboration and communication all within one platform.
Some of the functionalities you get include:
Online portfolio

for storing design files. It also allows you to showcase work, photos, temp, and so much more. The best part is that if you update files, it automatically does the same on your website.

Let's take the example that you manage websites for nonprofits. Signing up for Google Workspace for nonprofits is a fantastic idea. The online portfolio offers a fantastic place to showcase the work of the organization. Donors and other stakeholders can simply log on to access the information.

Create

powerful slide presentations on the pitch deck

. Organizations need all the help they can get with slide presentations. The pitch deck allows for the incorporation of videos, images, graphs, and so much more.

Currents Posts

provides a platform for sharing concept ideas. It is a fantastic tool for marketers who may want to share design briefs and compare Concepts to the larger team. The Forms are excellent for collecting feedback on proposals.

Sheets for project planning

resulting in better streamlining of activities. Assigning tasks, getting progress updates and reviews are easy. It does not matter how many people are collaborating on the project. Team members can edit, comment, share or move files. You also get a history of the activities in case you need a reference point. Co-authoring and chat functionalities are available in real-time.

Drive

provides a fantastic place to save files. Team members and clients can get the documents whenever they need them. Best of all, you can set an expiration date once the project is over. It prevents anyone from seeing, printing, copying, or downloading the files.

Group

allows for better team collaboration through the use of email lists. Team members can share calendars, creative assets, and so much more.

Google Mee

t allows for video conferencing and is excellent for remote working conditions. Screen sharing lets everyone know who is in the meeting. Integrate it with

Google Chat

to allow for sharing of links and other resources during the session.
3. Team sites for projects and events
If your organization handles a lot of projects and events, it helps to have a collaborative platform. You also want team members to use it from whichever device.
The experience on Smartphone and desktop devices should be seamless. Google has optimized Workspace Site themes for all devices.
It also helps if you do not have to incur the extra cost of hiring a web designer. That is the one thing you love about Google workspace Sites. You need zero design or programming skills. It has a simple click and drag-and-drop feature that is easy to use.
Users have complete control over sharing, ownership, and commission. Co-authoring in real time further improves the collaborative aspect that is critical for teamwork.
Now here is where it gets interesting. Once you set up the site, even external audiences can see the content. They do not even need to have a Workspace account. You can, however, restrict access to keep information safe.
You do not even need to have a domain upfront. When signing up, it gives the option to purchase a domain from Google host partners. They will then guide you on how to set up Workspace on the new domain.
Final Thoughts
Web design is no longer a complicated process with platforms like the Google workspace. The tools are easy to use. The drag-and-drop features mean you do not need any coding knowledge.
The web design must also ensure functionality. Organizations need a way to centralize communication and collaboration. Team members should have access to documents whenever they need them.
Cloud storage, co-authoring capabilities, real-time feedback, video conferencing, and charts help with all these.
We have shared ways to introduce Google workspace to website design above. The platform is resource-rich for web designers, with or without coding knowledge.
Published by
decolore
Thanks for being a part of this beautiful blog. Hours spent to create this web space to our visitors as much useful as we can. We're living with a pace of life and build beneficial collections related to graphic and web design. Here we come up with premium and free collections like mockups, backgrounds, fonts, wordpress themes, branding, inspiration, tutorials and informative articles for professional designers and beginners. Go ahead and let's be a partners! View all posts by decolore