Love is everywhere and St. Valentine's day is on the way to our sweet hearts. We've gathered together a fantastic collection of Valentine's day flyers and templates, mockups, icons, vectors, greeting cards, illustrations and much more. Some of them are completely free, some cost a few dollars, but all of them will get you in the festive spirit. Enjoy this marvelous time and magic. Don't search longer, because in this post you will get the most useful items for your Valentine's day design. Keep Enjoying!
You may also like:
Free Valentine's Day Illustration Pack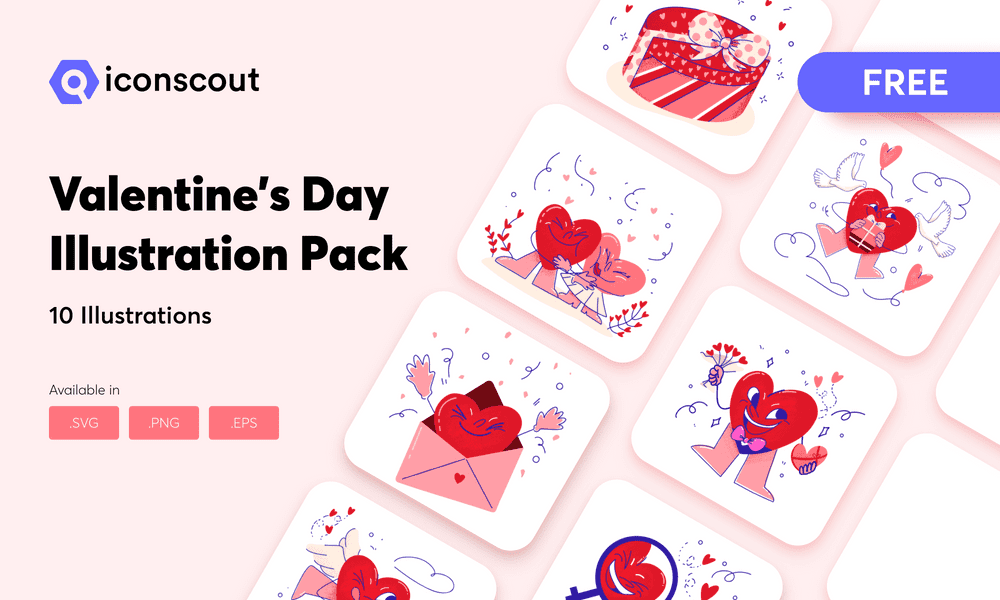 Valentine's day illustration pack containing 10 illustrations. These are in SVG, PNG, and EPS formats. All are free for personal and commercial use.
Free Valentine 3D Illustration Pack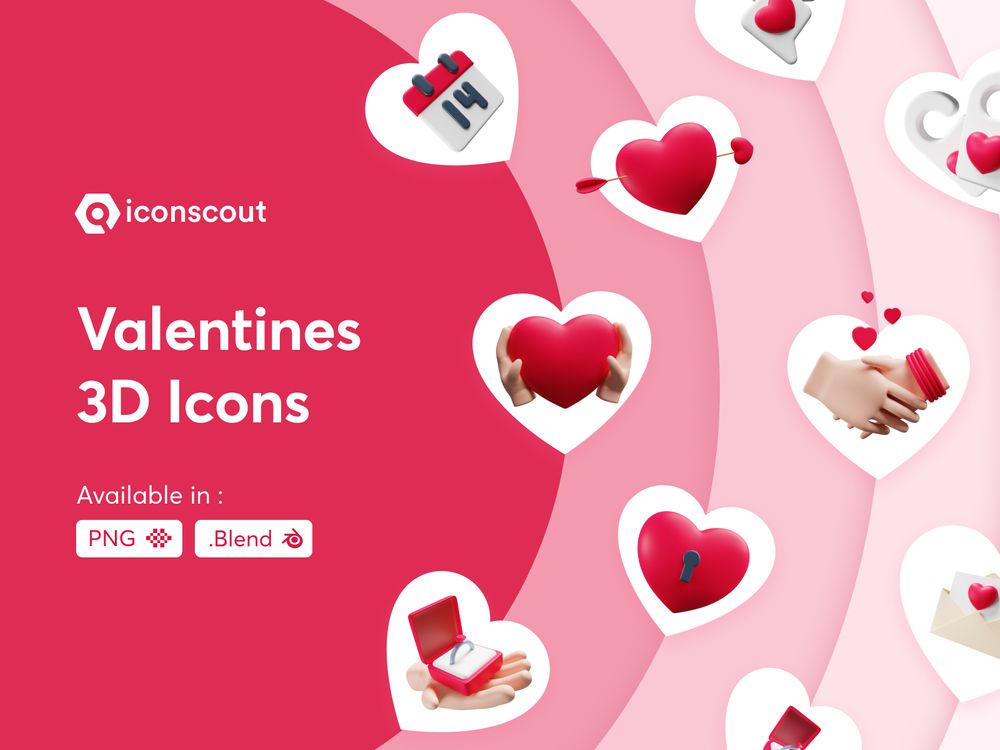 A beautiful and romantic 3D Valentine day illustration pack for modern design projects.
Lovingly Symbol Flourish Hearts Font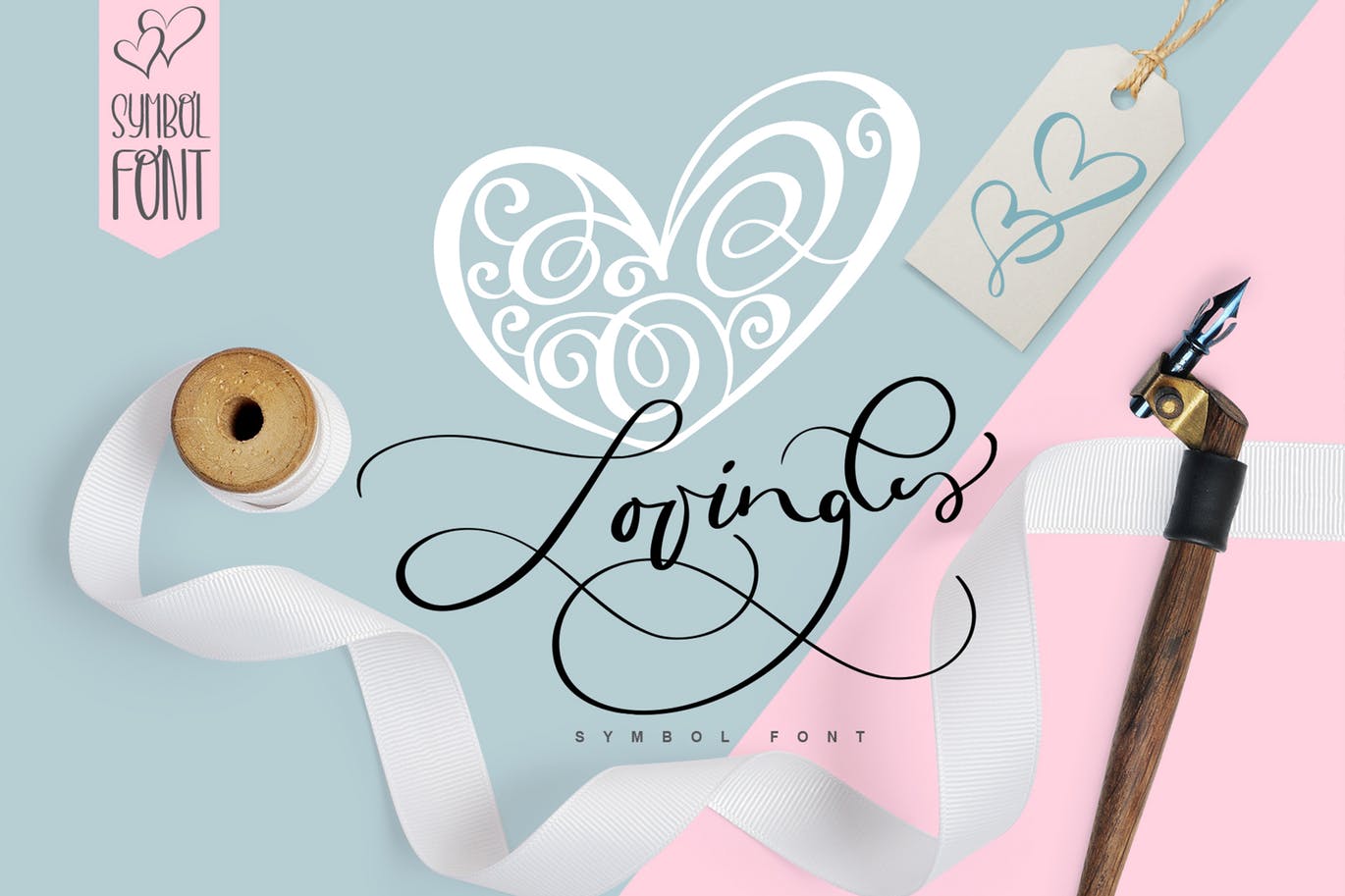 Lovingly includes unique heart flourishes that give a charm and romantic love holiday mood ornaments, Valentine greeting cards, invitations, etc. Thin, elegant calligraphic lines like a light breeze give freshness and dreaminess to your handmade creations.
Valentines Day Flyer Template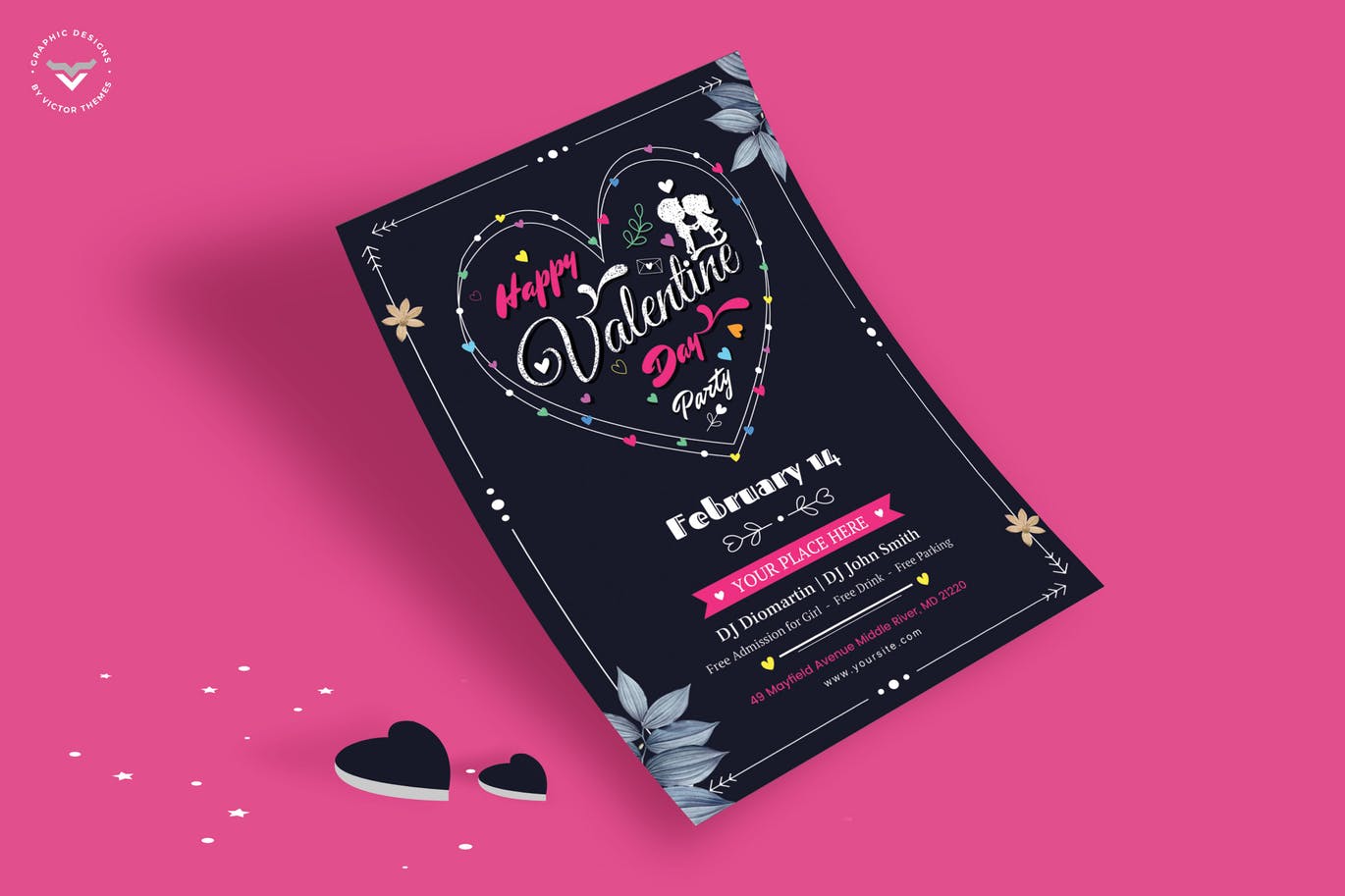 Valentines day flyer template made for your Valentines day celebrations.
Valentine Seamless Patterns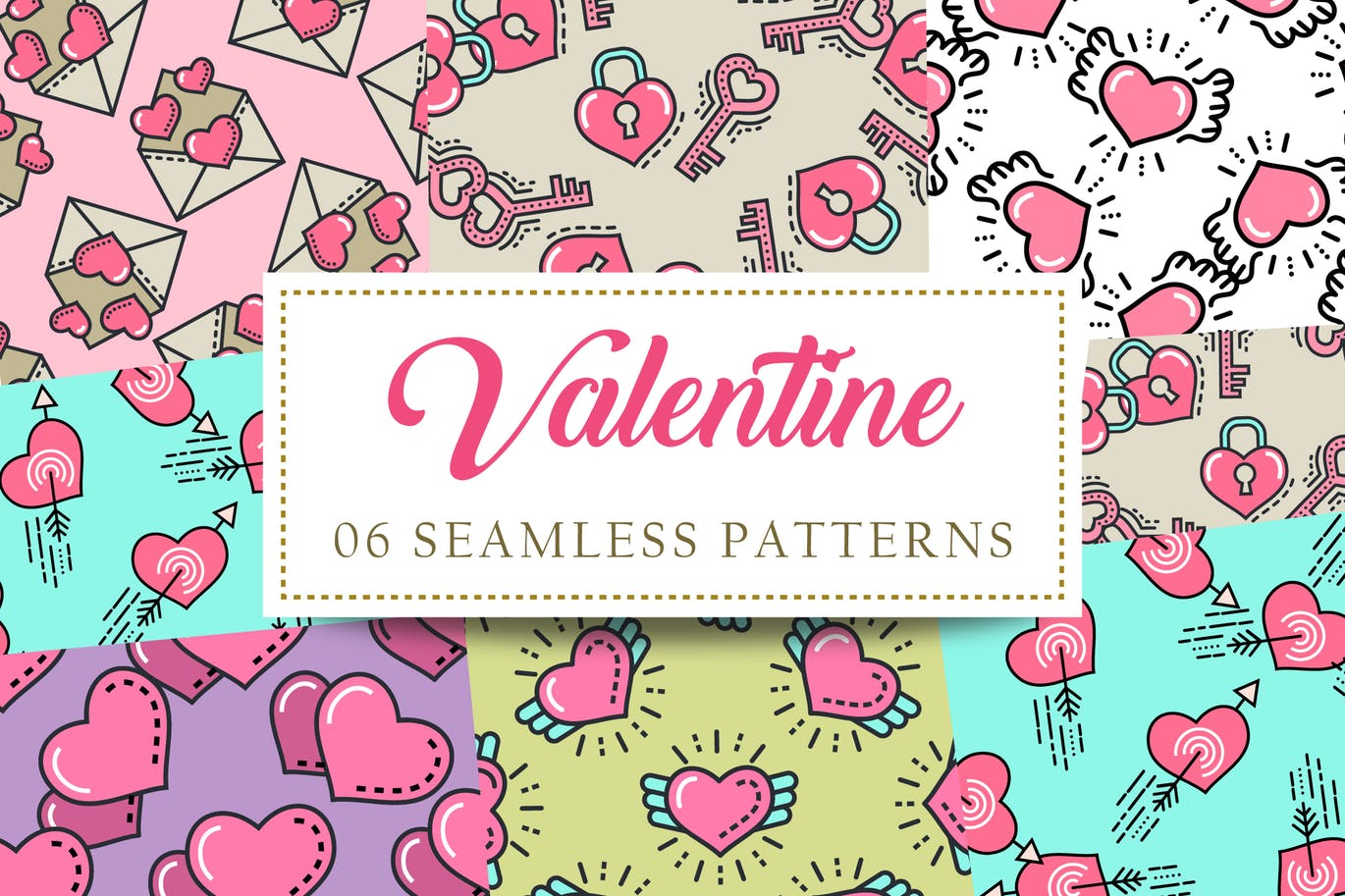 Collection of 06 Valentine seamless patterns. Perfect for greeting cards, wallpapers, pattern fills, web page backgrounds, surface textures, textile, wrapping papers and more!
Free Valentine's Day Icons Set (Ai)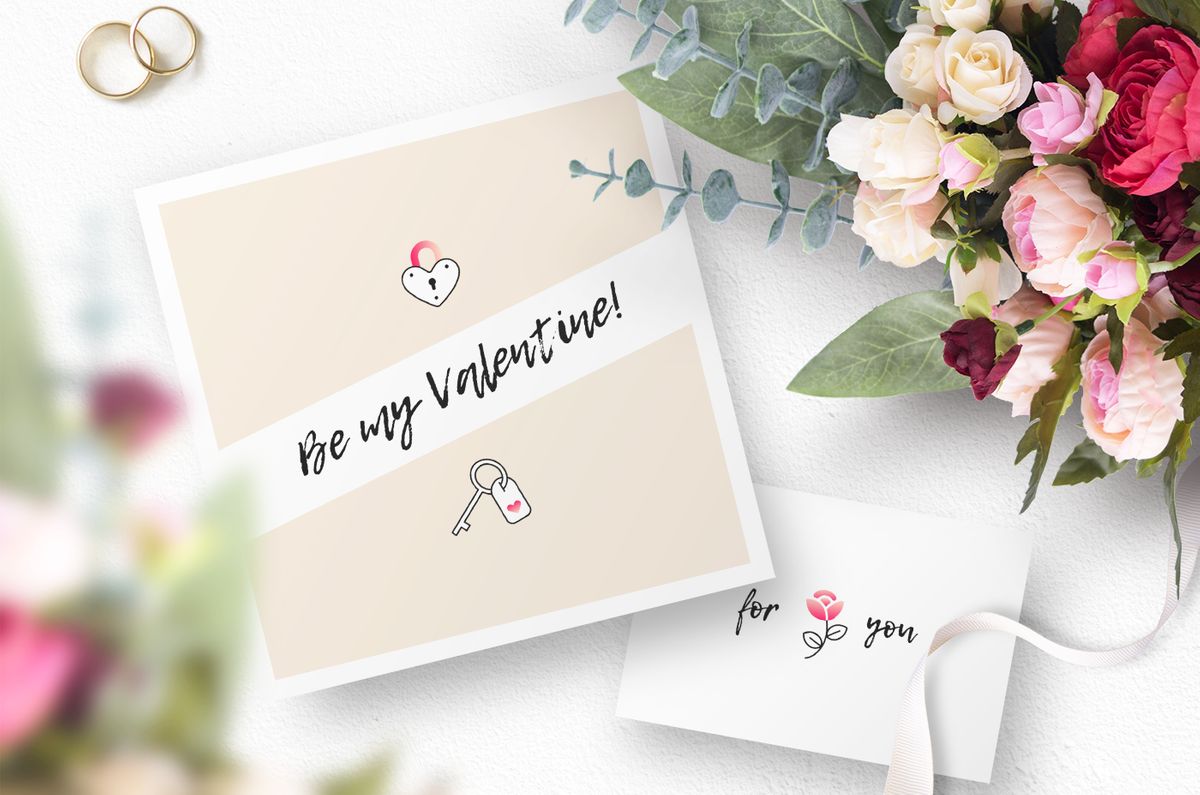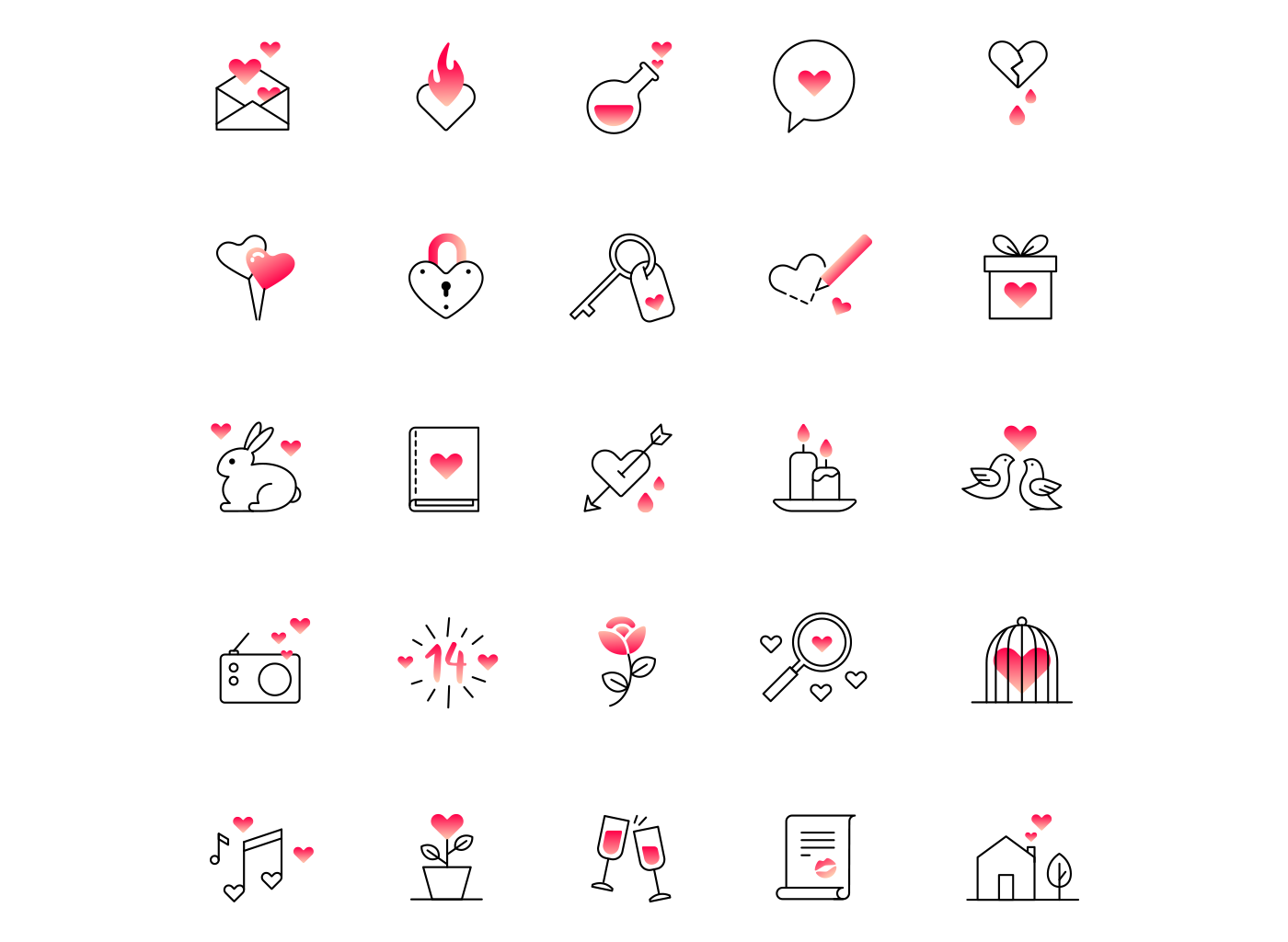 Introducing beautiful free set of Valentine's Day icons set. Icons are delivered in vector Ai, easy to scale and change the color. Use icons to express your feelings. Free for personal and commercial use.
Free Valentine's Day Scene Creator Mockup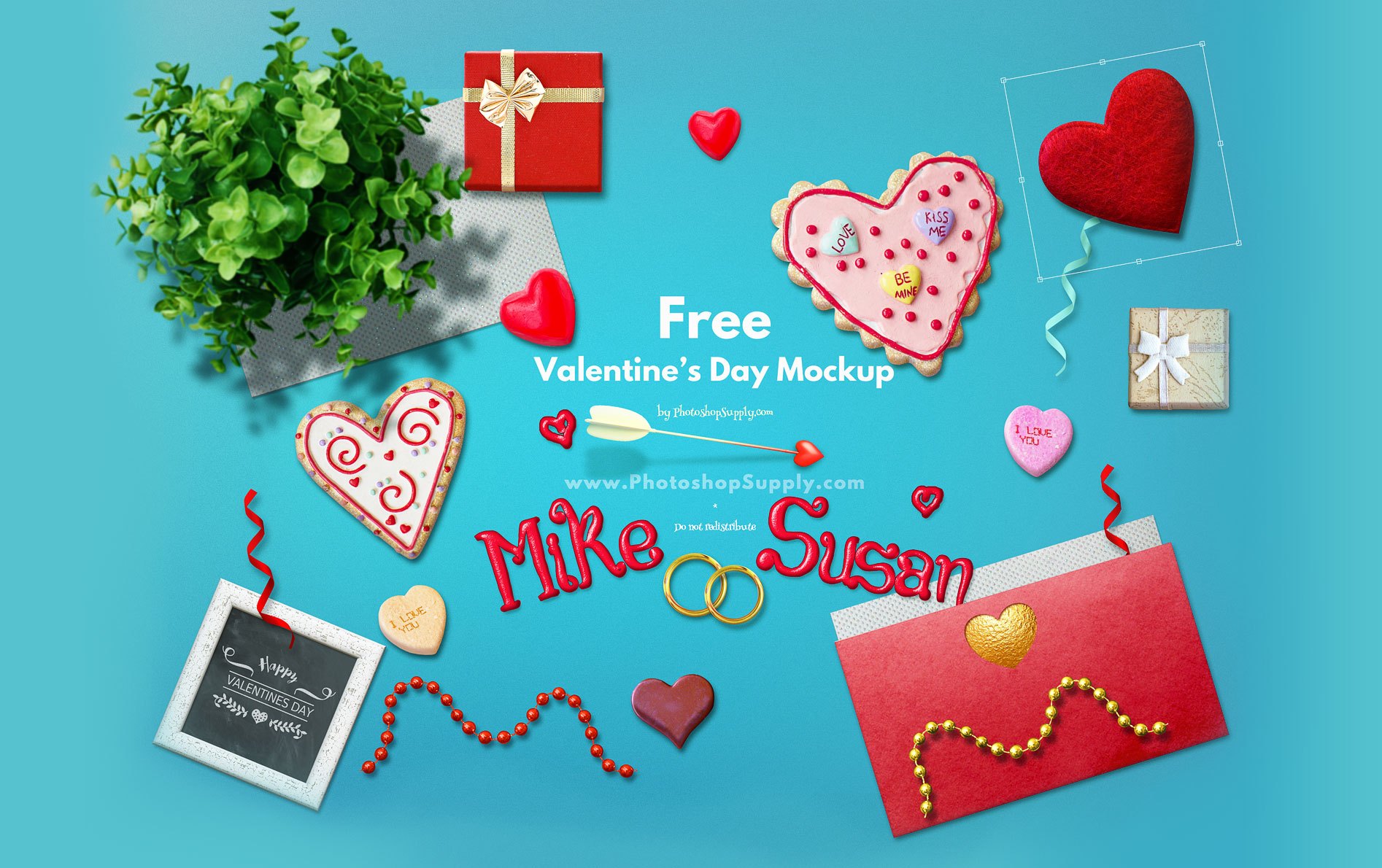 Use the free Valentine scene creator to design beautiful Valentine's Day backgrounds, posters, greeting cards, etc. The PSD file includes 17 elements in separate layers and well grouped, so you can easily resize, rotate and move them.
Free Lovely Valentine Day Font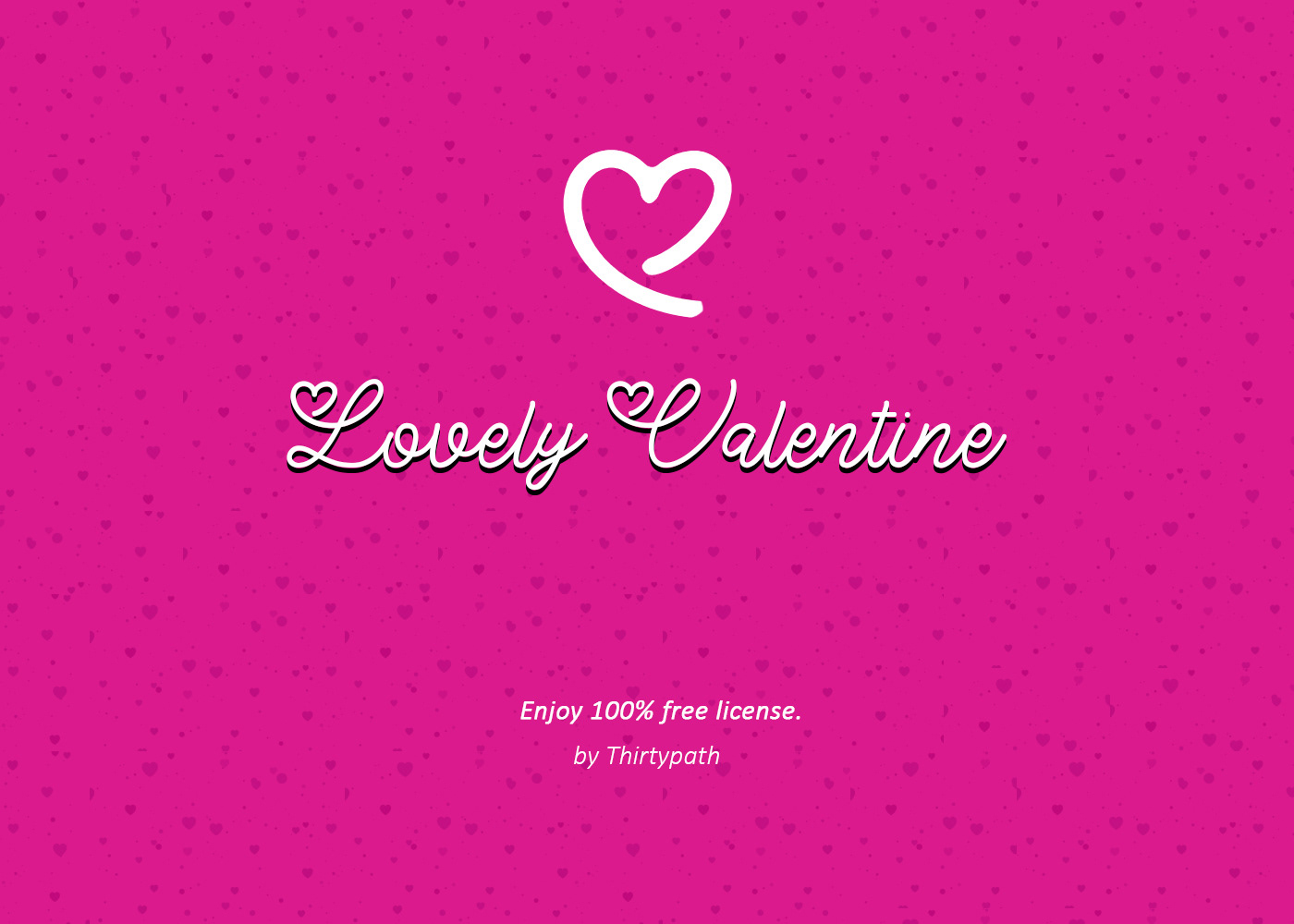 100% free font for commercial and personal use. Enjoy!
Valentinum Sweethearts Photoshop Action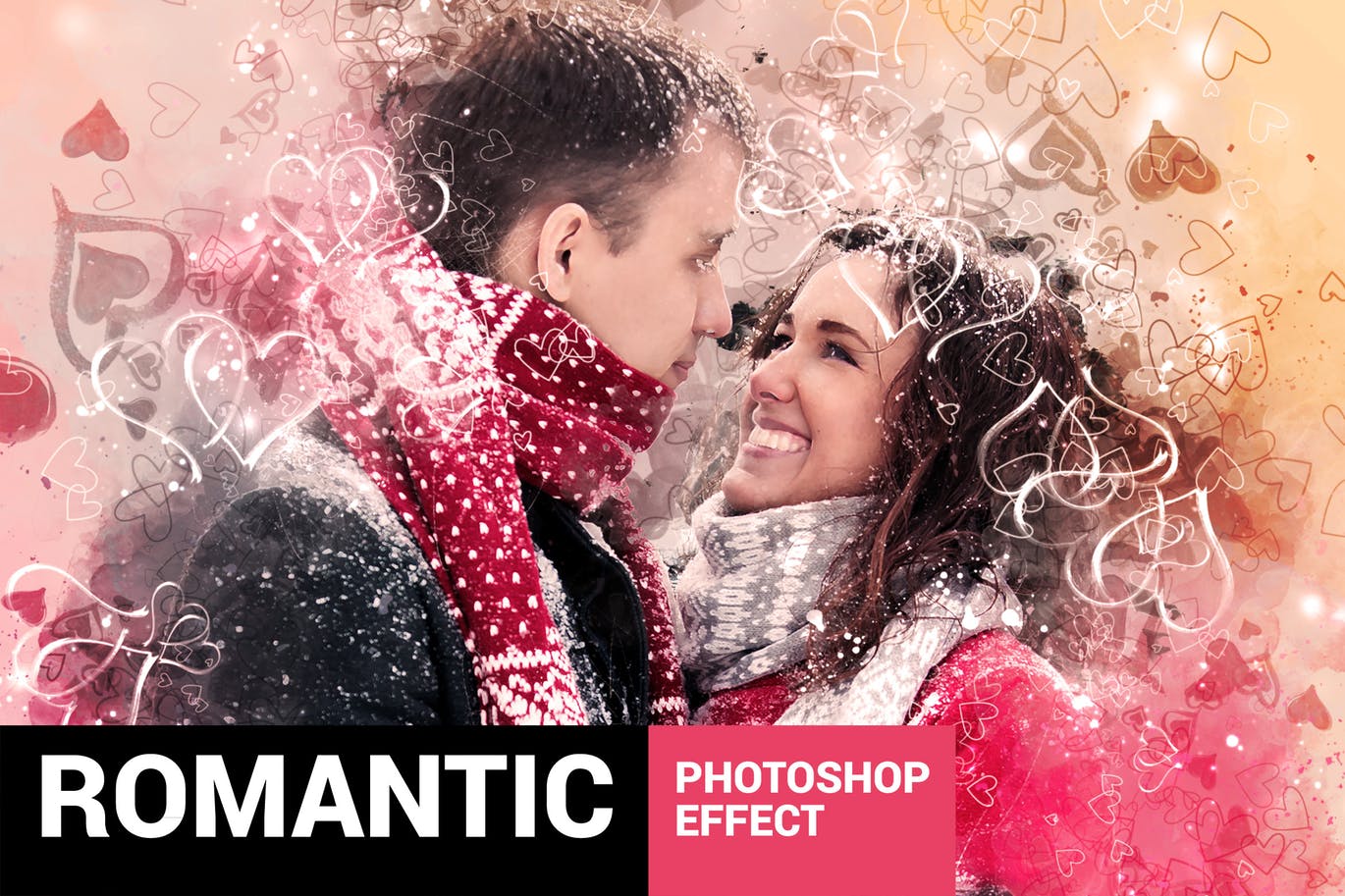 Valentine's Day Photoshop Action make your photo like a greeting card with professional watercolors, sweethearts details and light effects. Highly detailed result, a lot of possibilities to easy customise and improve. One click action. Video tutorial included.
So Lovely Bears + One Mouse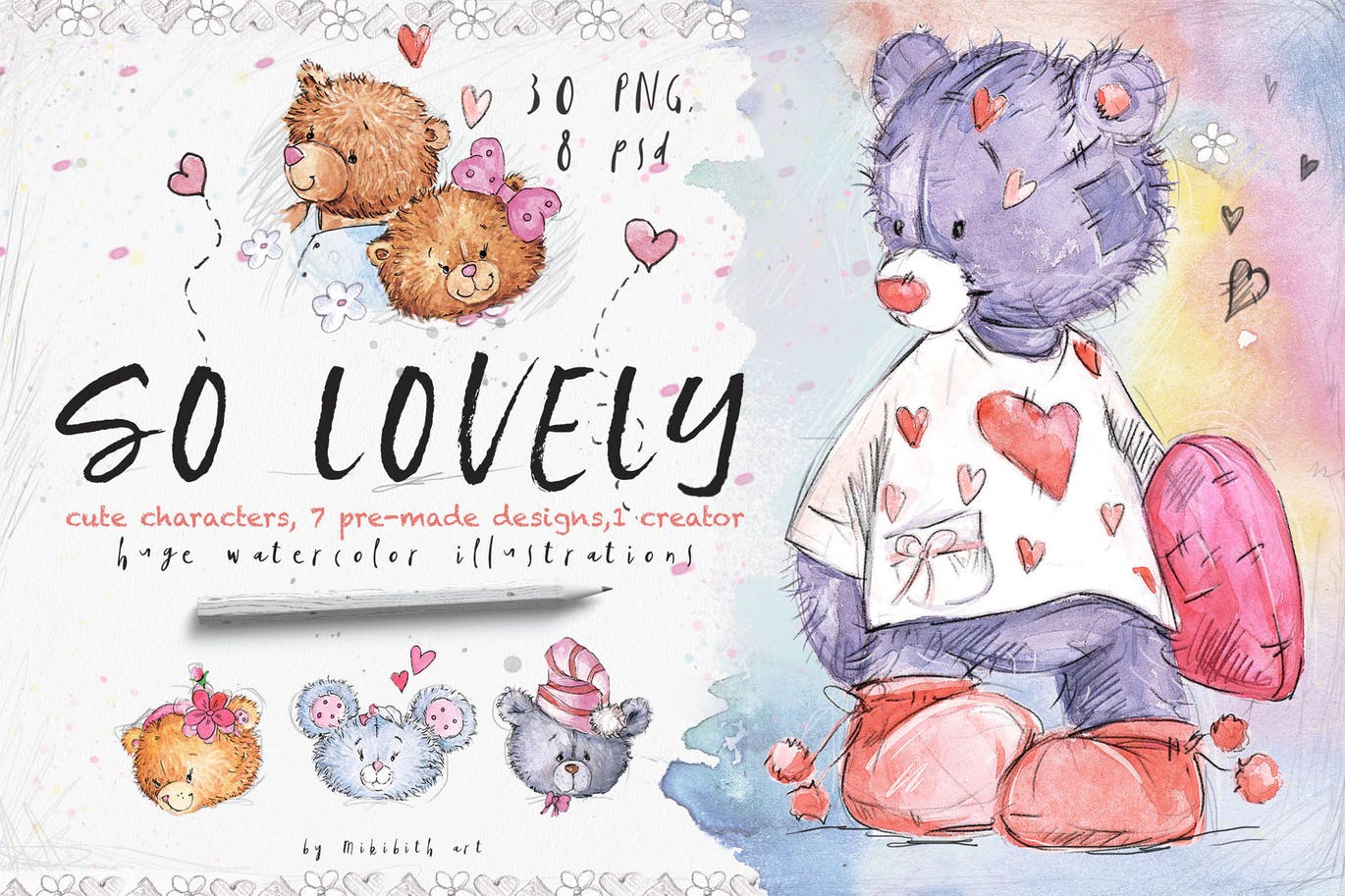 So lovely and cute collection for the valentines designs! 5 characters watercolor, over 30 PNG elements, 7 pre-made layered designs and 1 psd creator. Hope you will enjoy this collection!
Valentine Doodle Design Elements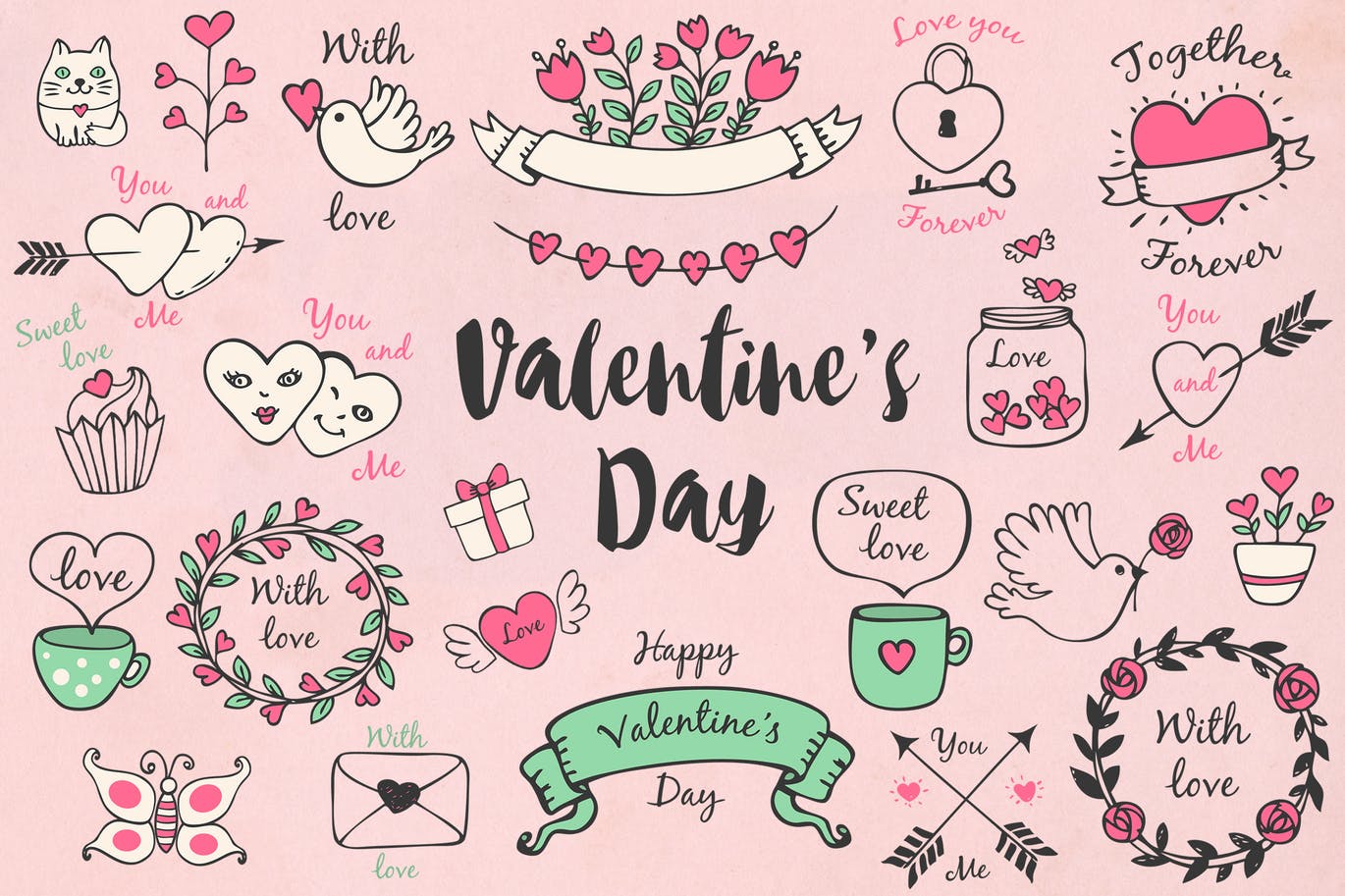 Set of vector Valentine doodles. This kit includes 24 different hand drawn design elements.
Valentine Seamless Patterns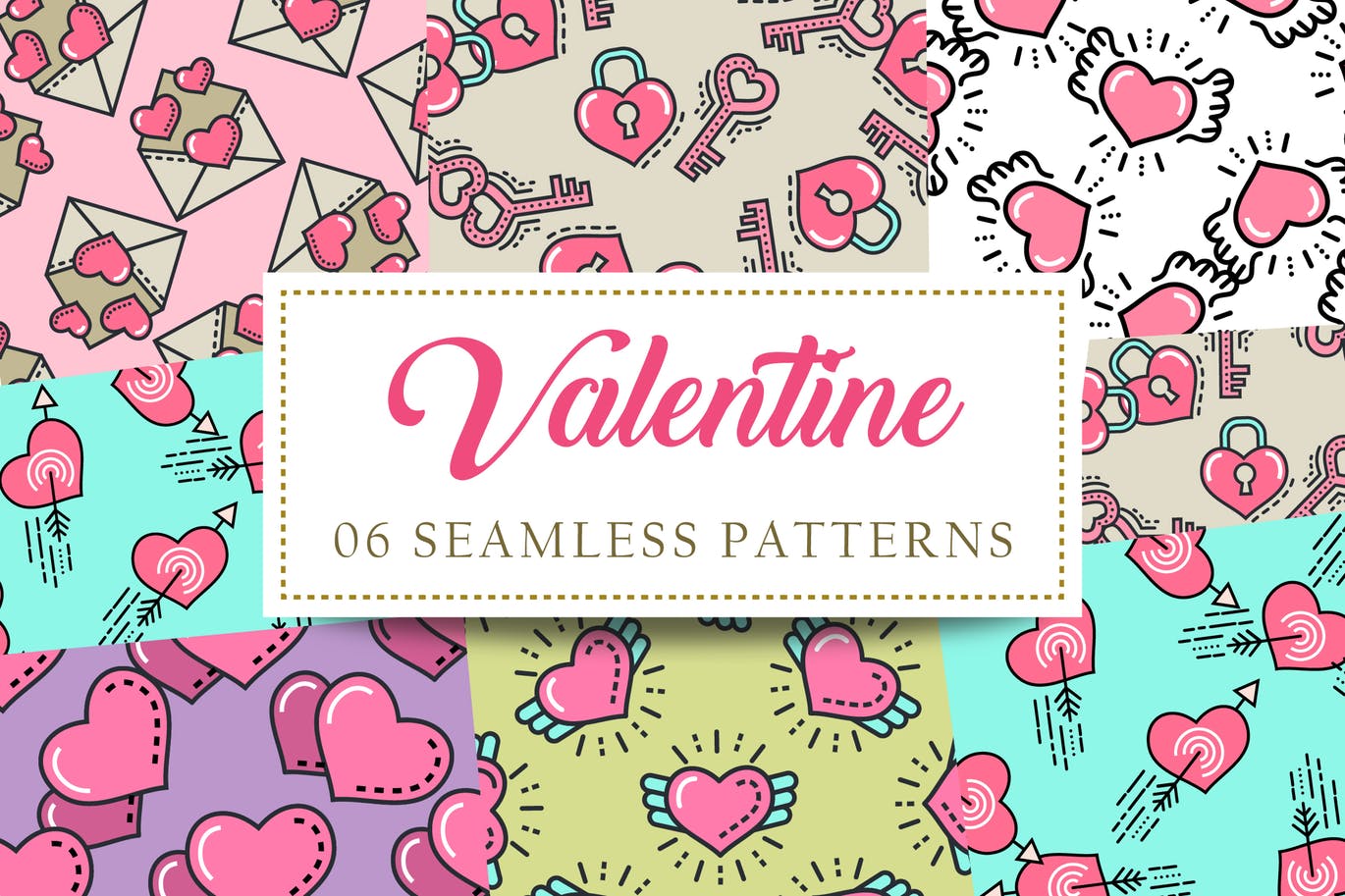 Collection of 06 Valentine seamless patterns. Perfect for greeting cards, wallpapers, pattern fills, web page backgrounds, surface textures, textile, wrapping papers and more!
Feline Valentine Clipart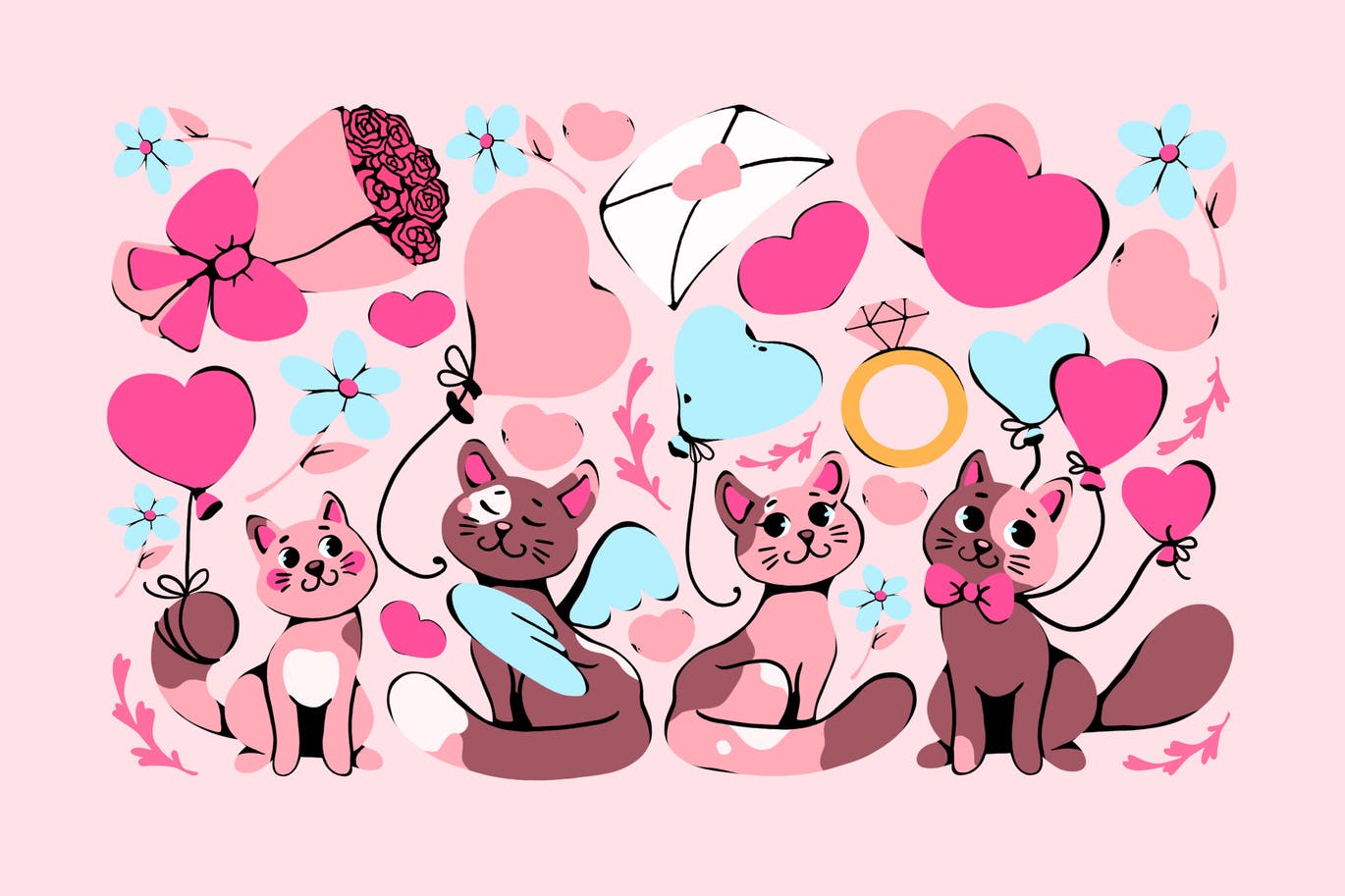 The package includes PSD and JPG versions.
Valentine's Party PSD Free Flyer Template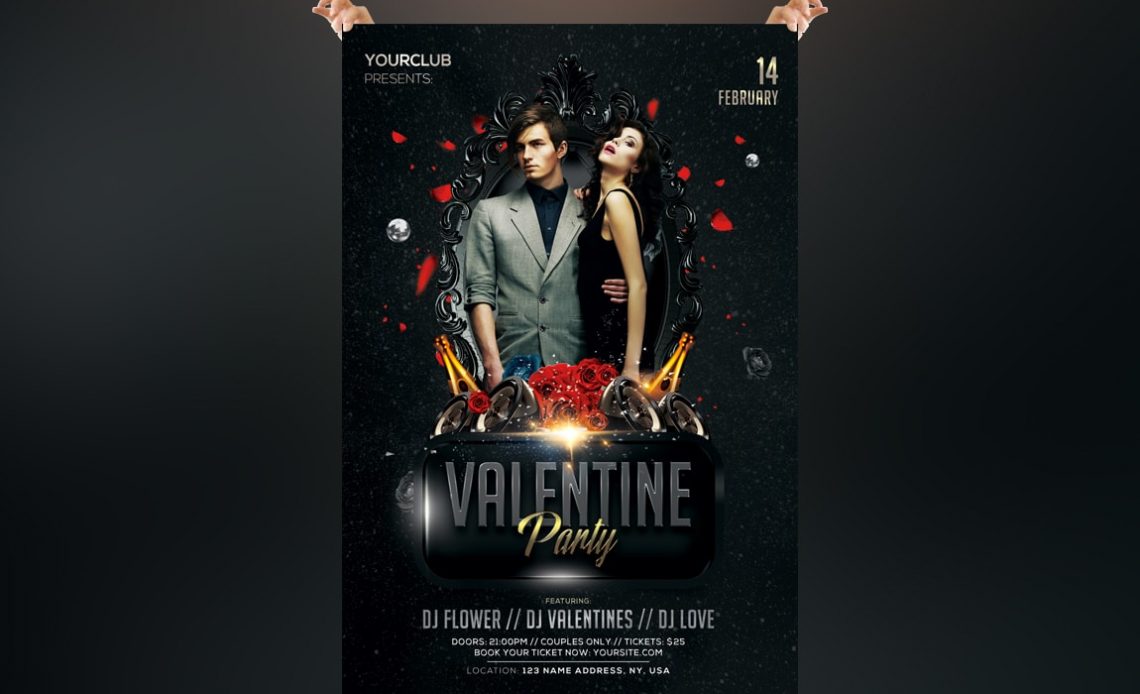 Download Valentine's Party PSD Flyer Template for Free. This 2019 Valentine Black & Gold with silver Flyer is fully editable and easy to edit.
Free Valentine Greeting Card Mockup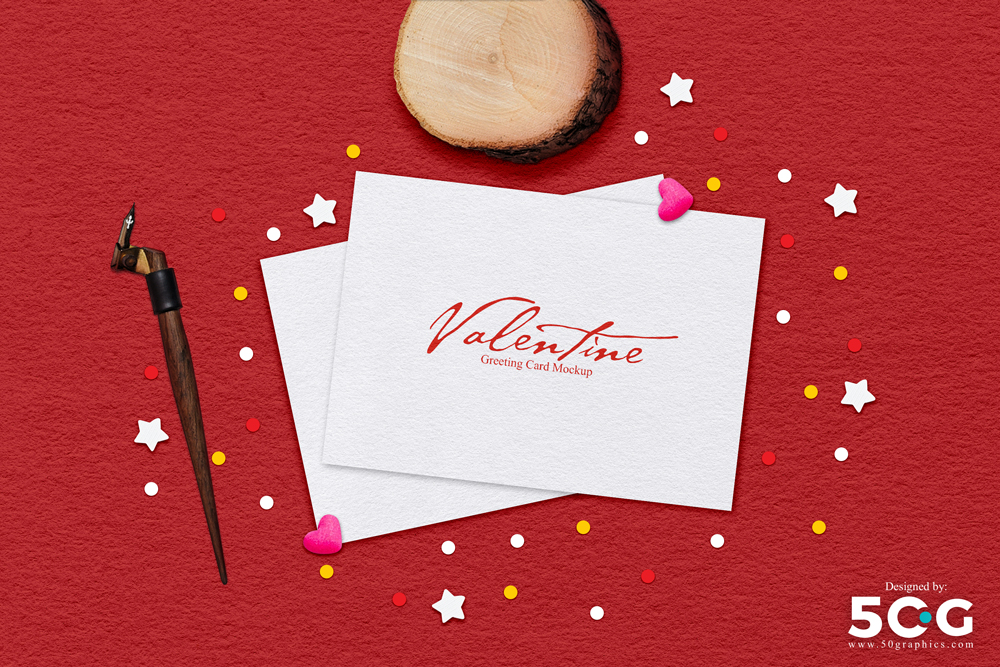 All are allowed to use this mockup freebie for personal and commercial use.
Free Elegant Valentine's Day Greeting Card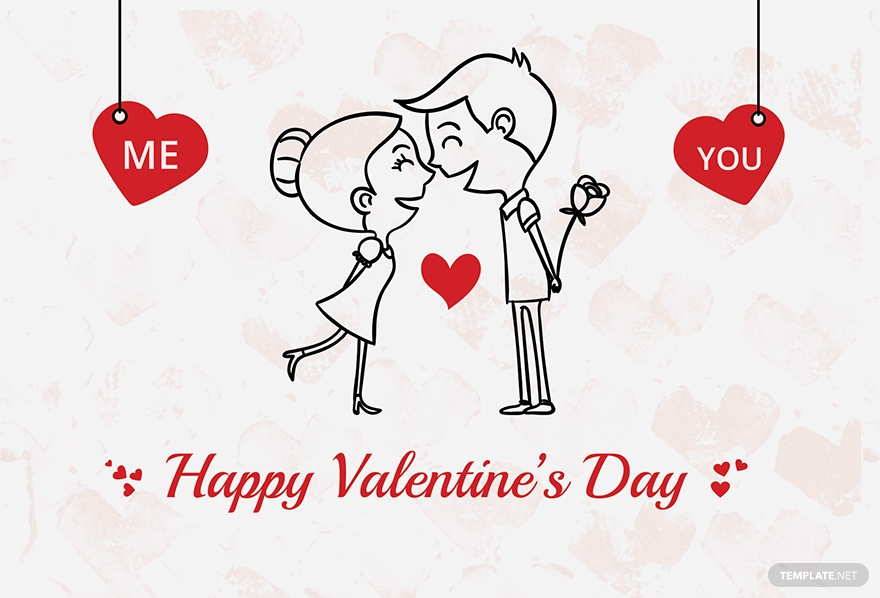 Free download PSD Valentine's day greeting card for your needs
Free St. Valentine Day Free Icon Set (Ai)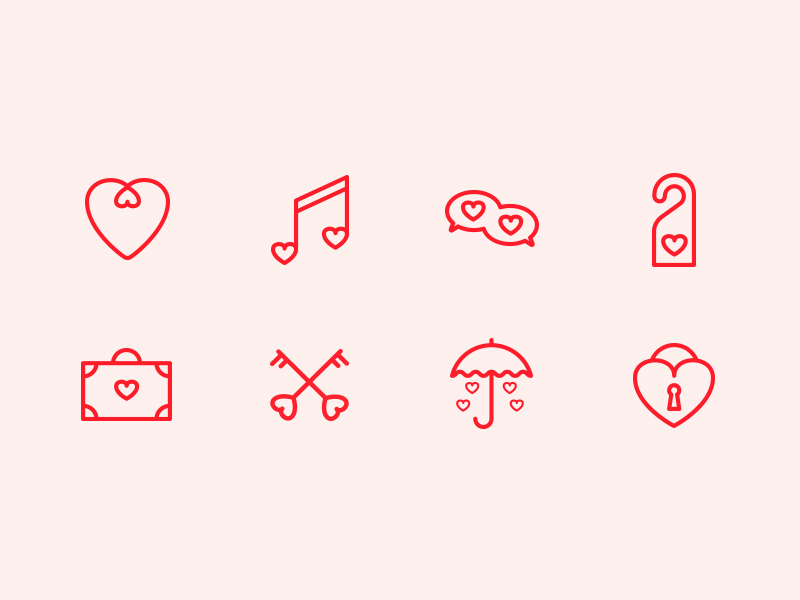 Free for commercial use. No attribution required.
Free Valentine's Day Icons (SVG)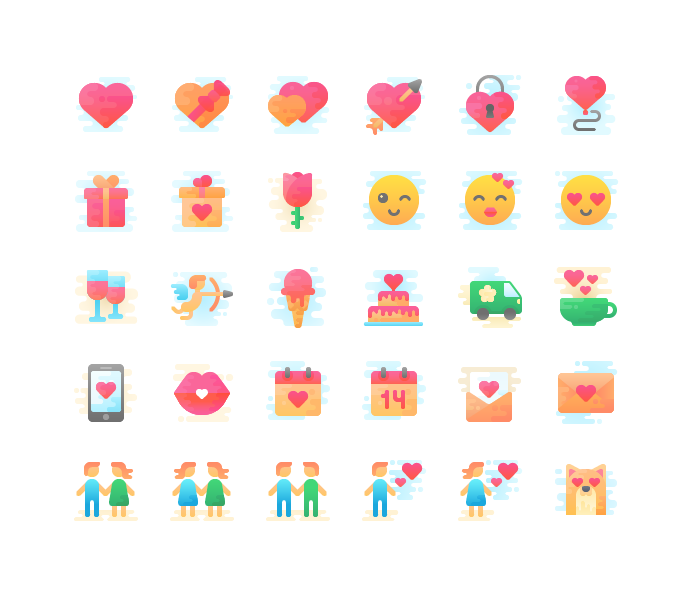 30 free, SVG Valentine's Day icons. Designed by Icons8.
4 Free Valentine's Greeting Card Templates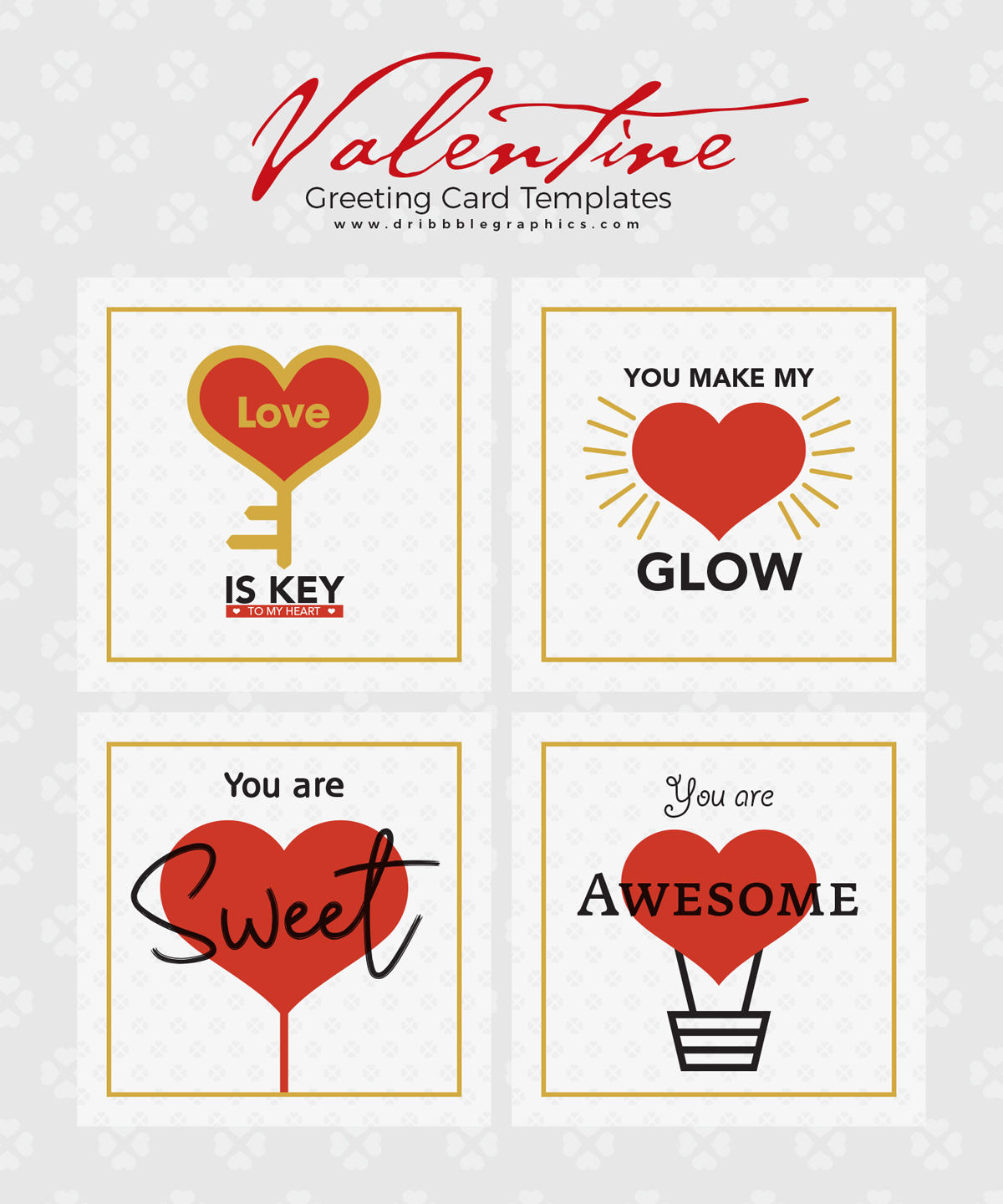 These greeting card templates are designed in vector format. These templates can be use for valentine's flyers, invitations and other designs etc.
Grace – 25 Love and Marriage Icons (SVG, PNG)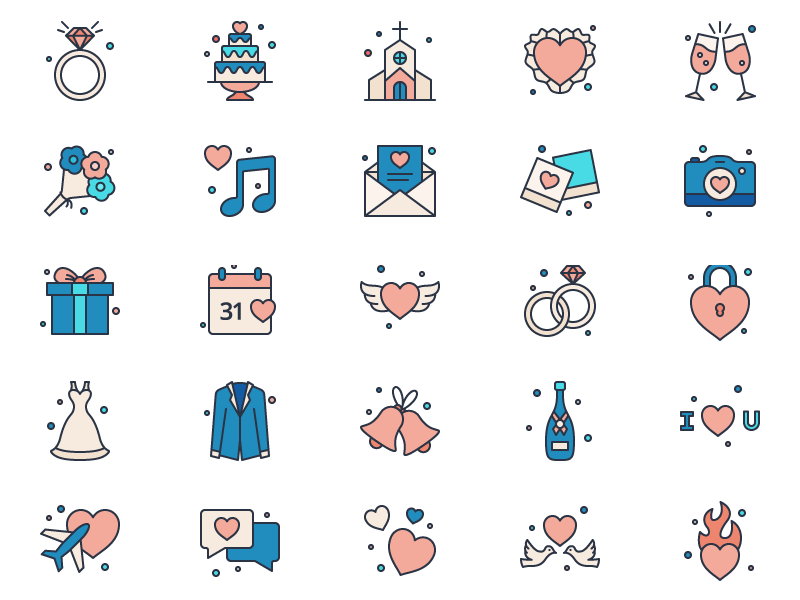 Free Valentine Cupid Facebook, Twitter Covers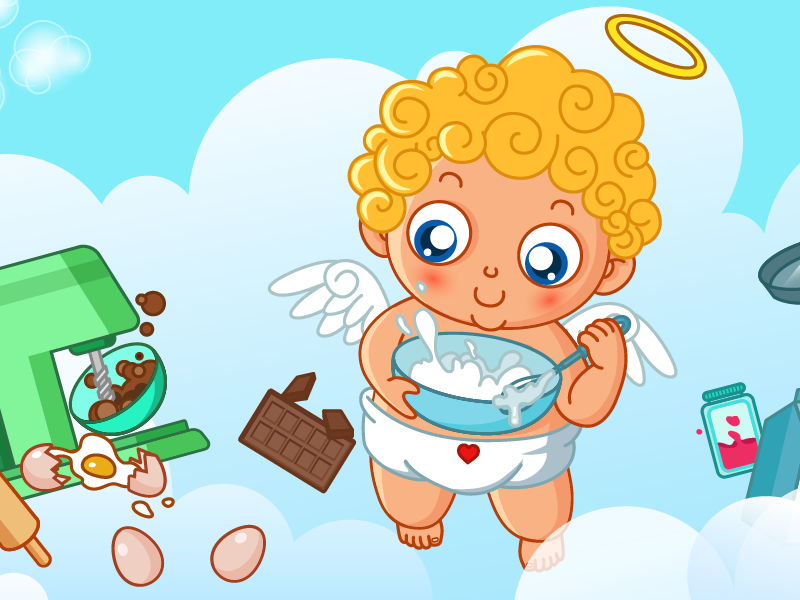 Free Valentine's Greeting Card in Girl Hand Mockup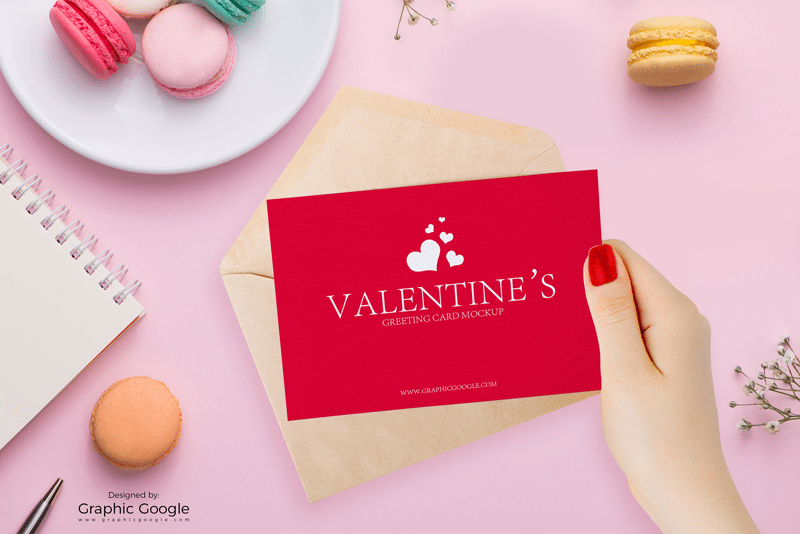 This piece of art has all the possible attributes that make it perfect for related concerns and you will love it when you obtain its services.
Watercolor Valentine Hearts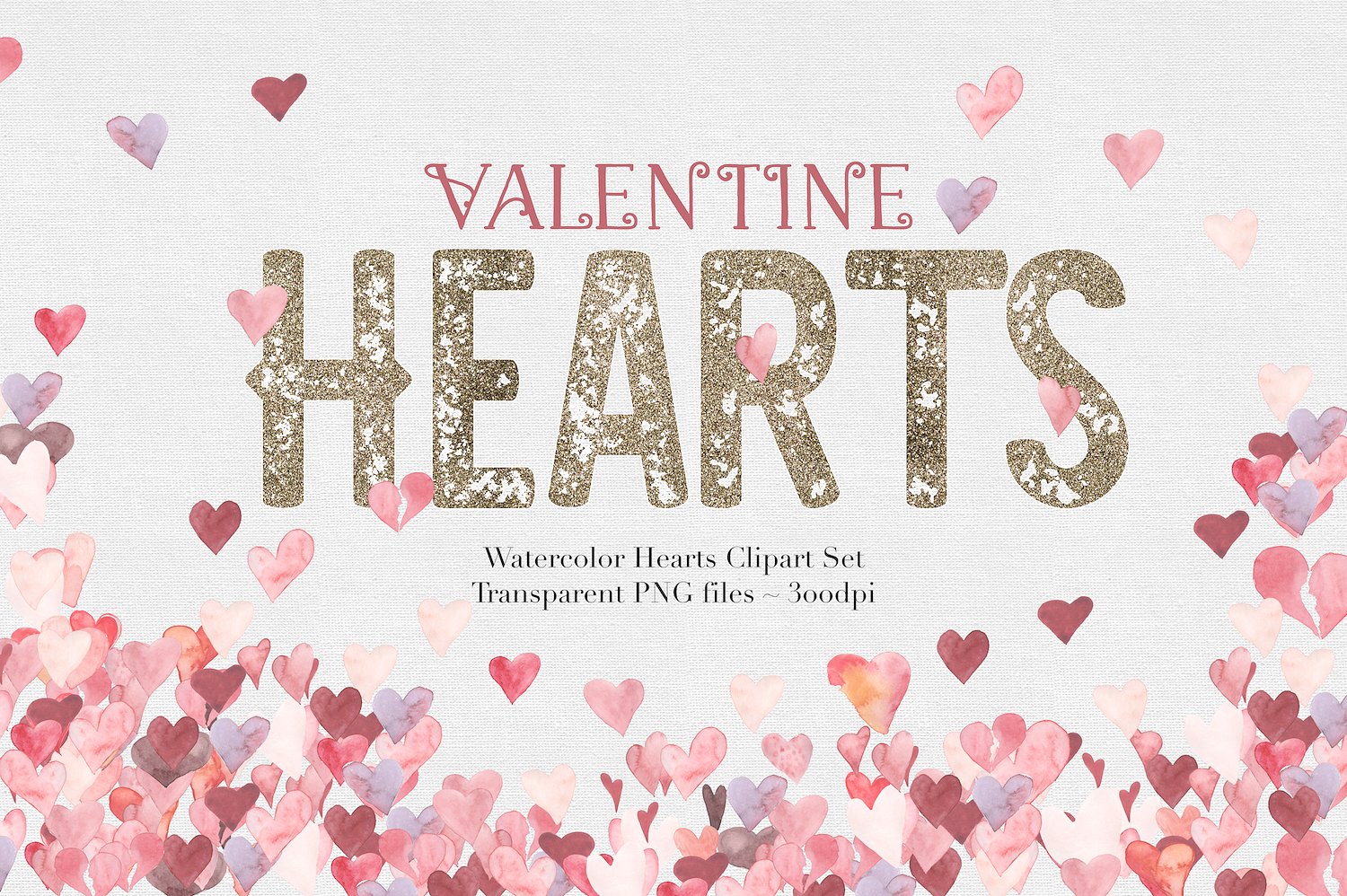 21 Unique Hand painted Heart Images plus one bonus image. Available in PNG Format with transparent background. Perfect to use in almost any program. Create your own logo or use in scrapbooking , invitations, stationery… anything you can think of! Each image is at least 1000px with 300dpi.
Valentine's Day Pack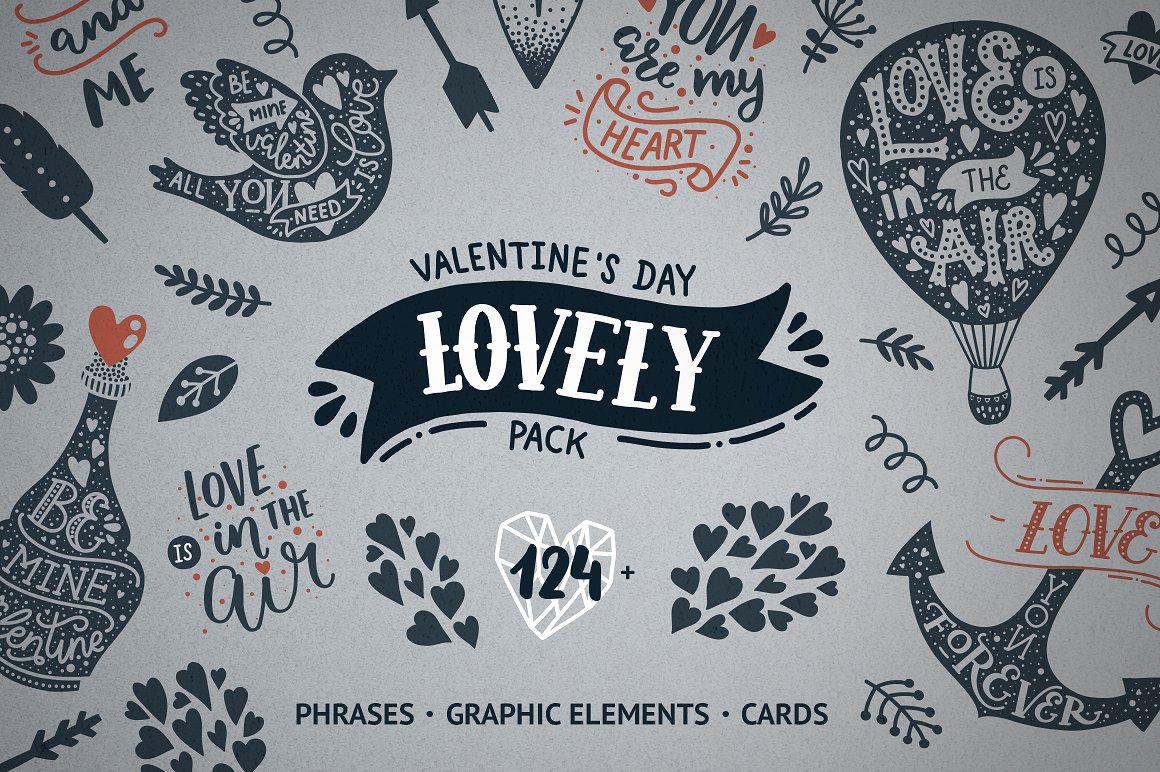 Set of 124 design elements and 8 greeting cards. Valentine's collection with Romantic quotes, hearts, arrows, feathers, floral elements, ribbons, silhouette and hand lettering. Perfect for greetings, posters, prints, weddings, apparel, packaging, invites, graphic design and much more.
The Blooming Elegant Font Trio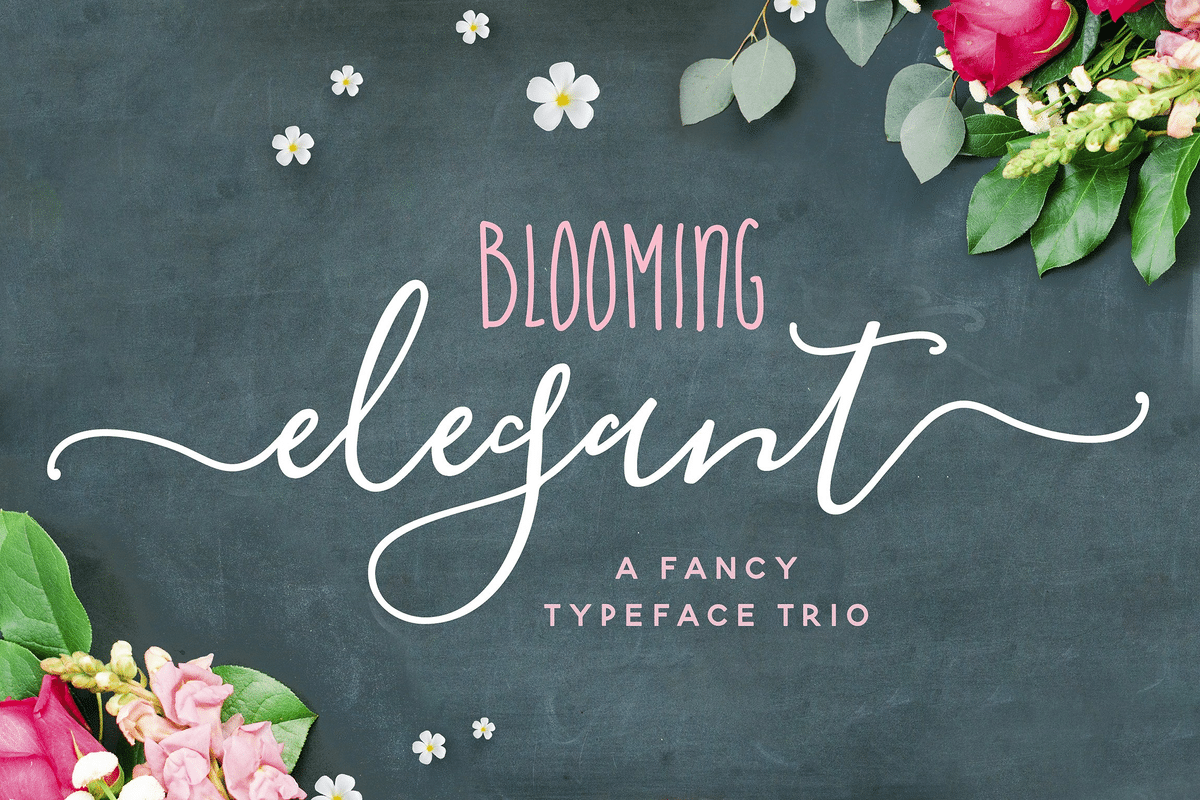 Blooming Elegant consists of three fonts designed to compliment each other perfectly. Together or apart the fonts are ideal for adding that special 'hand lettered' look to your designs.
Valentine Neon Hearts (Ai, EPS, PNG)
Set of 16 Valentine neon hearts makes it quick and easy to customize your romance projects! Used neon vector brushes included. Each symbols is named and numbered. All of the icons are correctly placed in separated folders. In this set you will get fully editable vector AI(CS5), EPS10, JPG and separately transparent PNG files in 3 resolutions.
Valentine's Day Bundle 2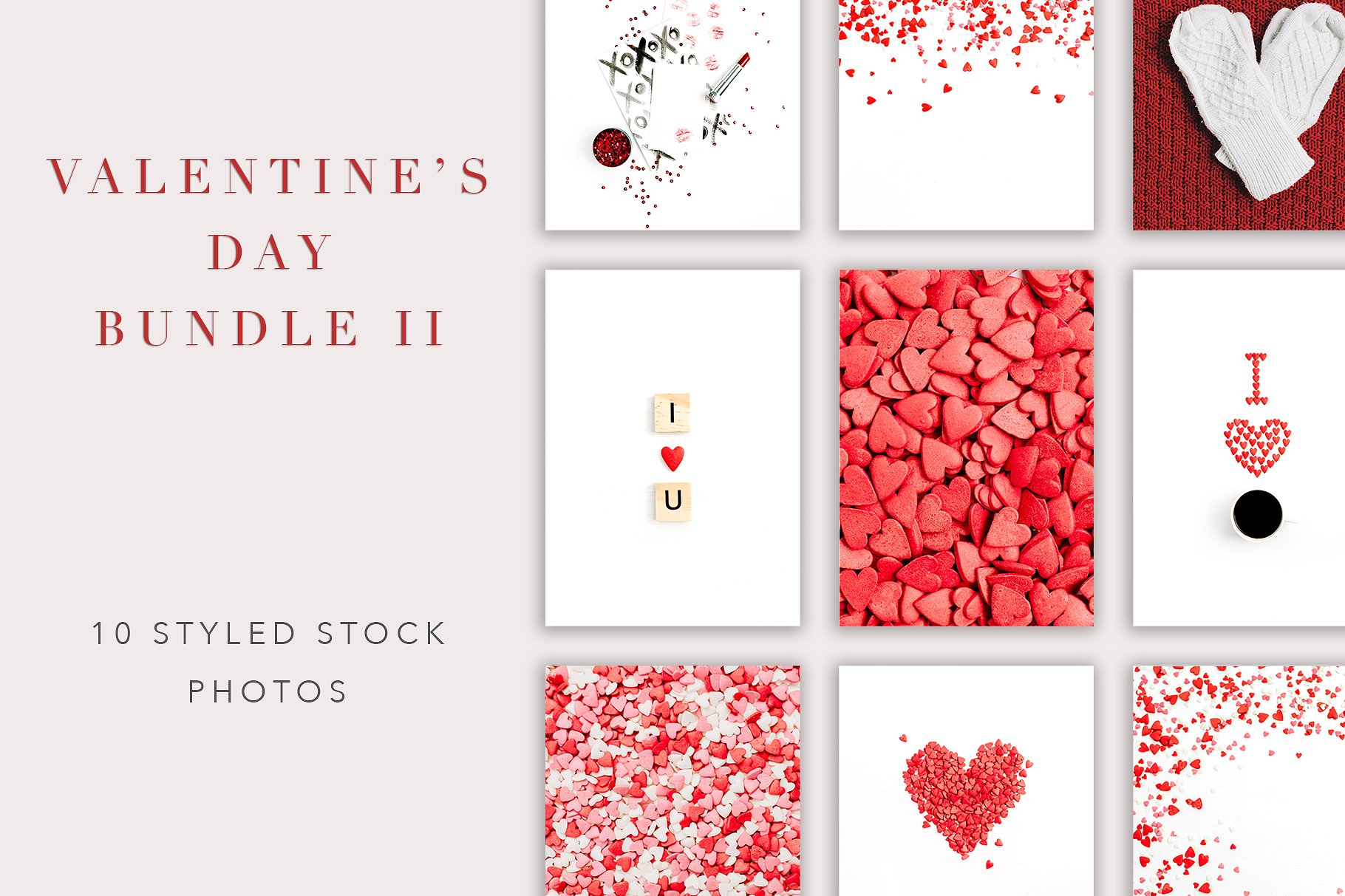 Gorgeous photos for bloggers, calligraphers, florists, websites, magazines, business owners, wedding professionals who are looking for something special to promote social media accounts.
Chin Up Buttercup! Font Duo & Extras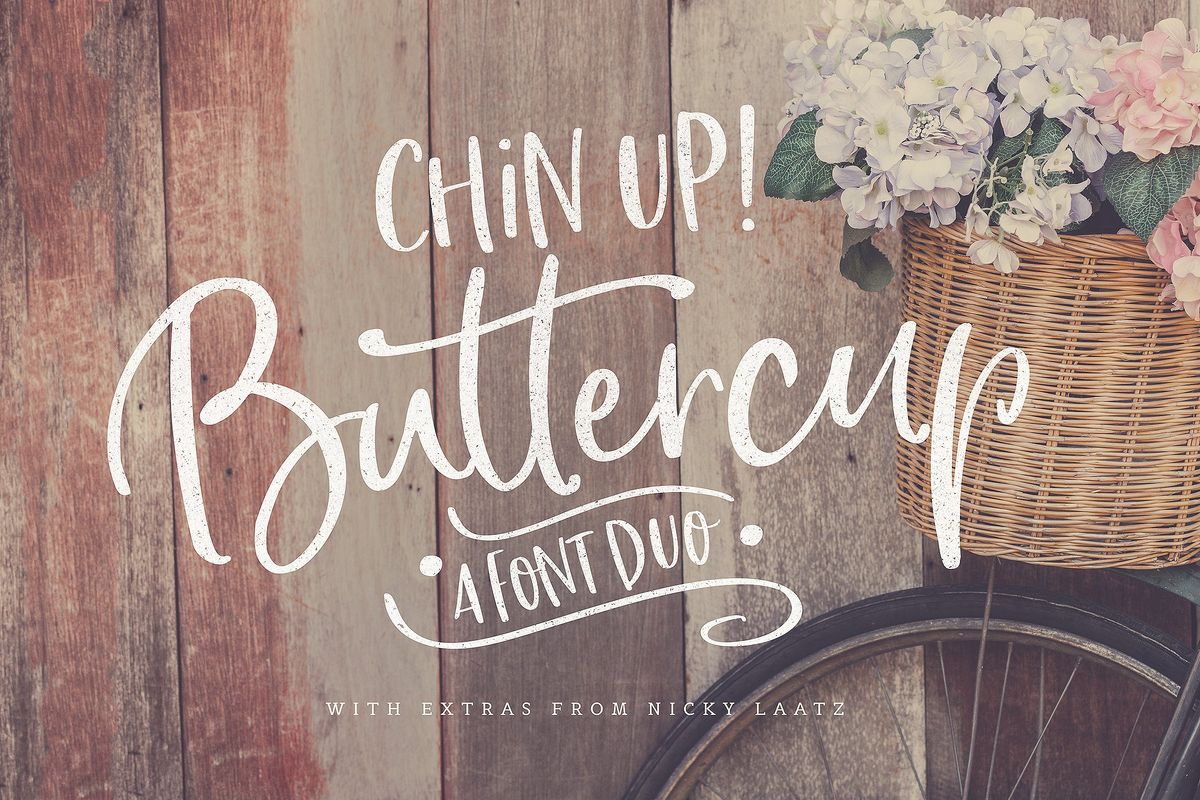 Creative and Casual, together or apart, Chin up Buttercup Fonts and Illustrated Doodles allow you to make tons of gorgeous typographic designs in a jiffy, just in time for all your Christmas labels, cards and branding too!
Valentine's Day PSD Invitation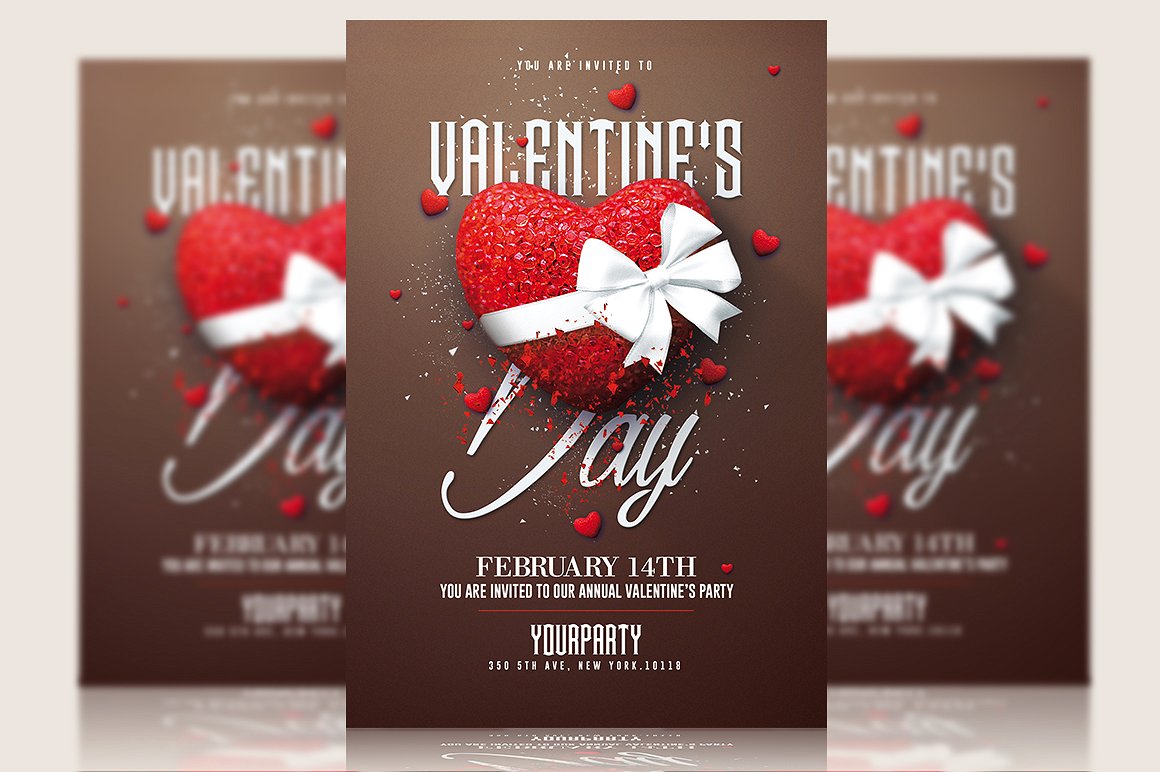 Valentine's Day Invitation | Psd Template Exclusive Template, Very easy to Edit and Creative Design perfect to promote your Valentine's Party!
Be My Valentine Design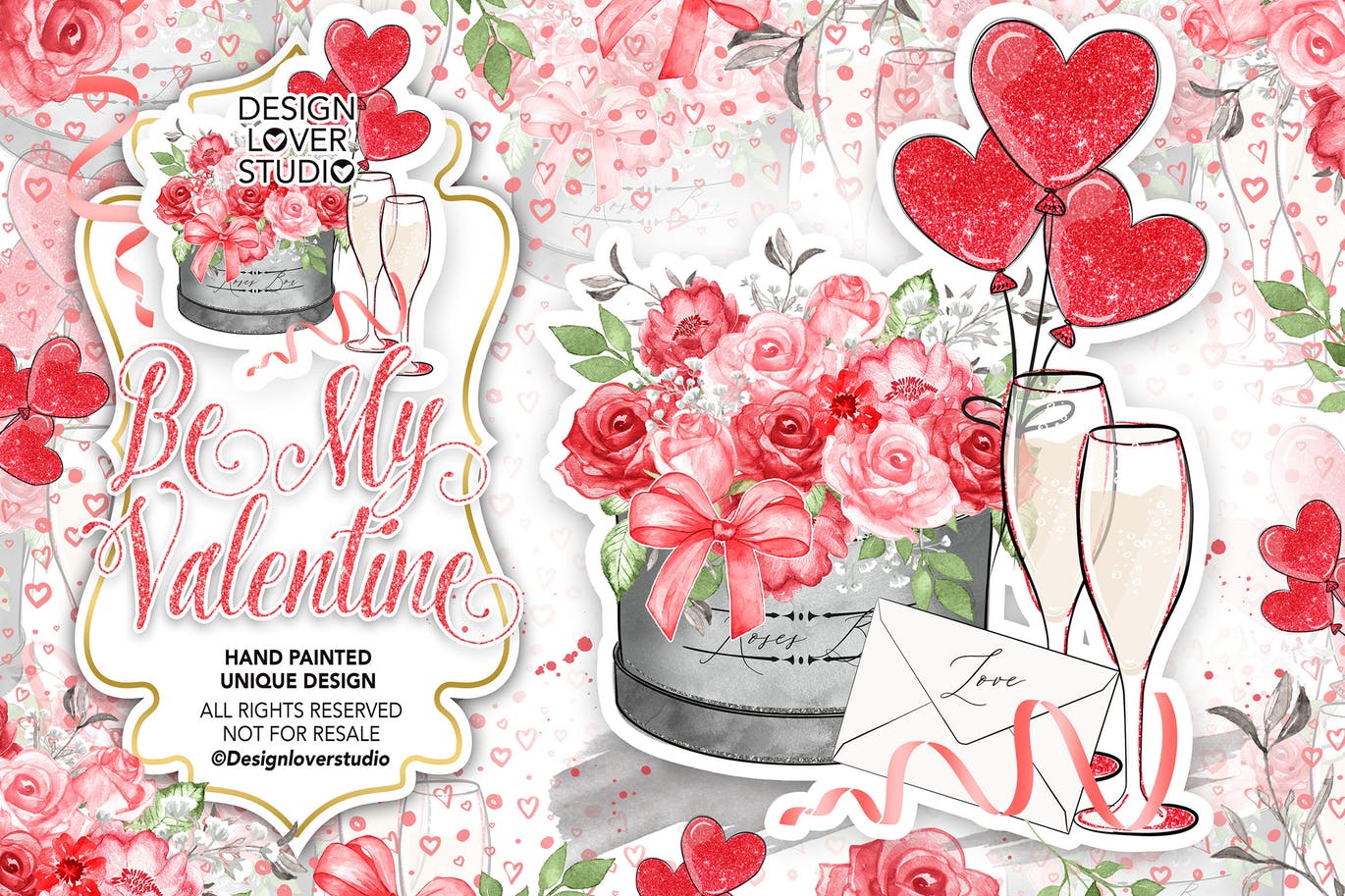 Be My Valentine design, clipart, romantic watercolor clipart, bouquet, roses box, roses, bow, letter, hearts balloon, Spring flower clipart, Pink Floral Clipart, Leaf clipart, Wedding Clip Art, wedding invitation, hand painted rose clipart, floral clip art flowers hand drawn clip art wedding clip art flower clip art painted flowers clip art wreath flower wreath floral wreath peony clip art rose clip art, watercolor flower, watercolor flower.
Couple in Love Celebrating Valentines Day. Vector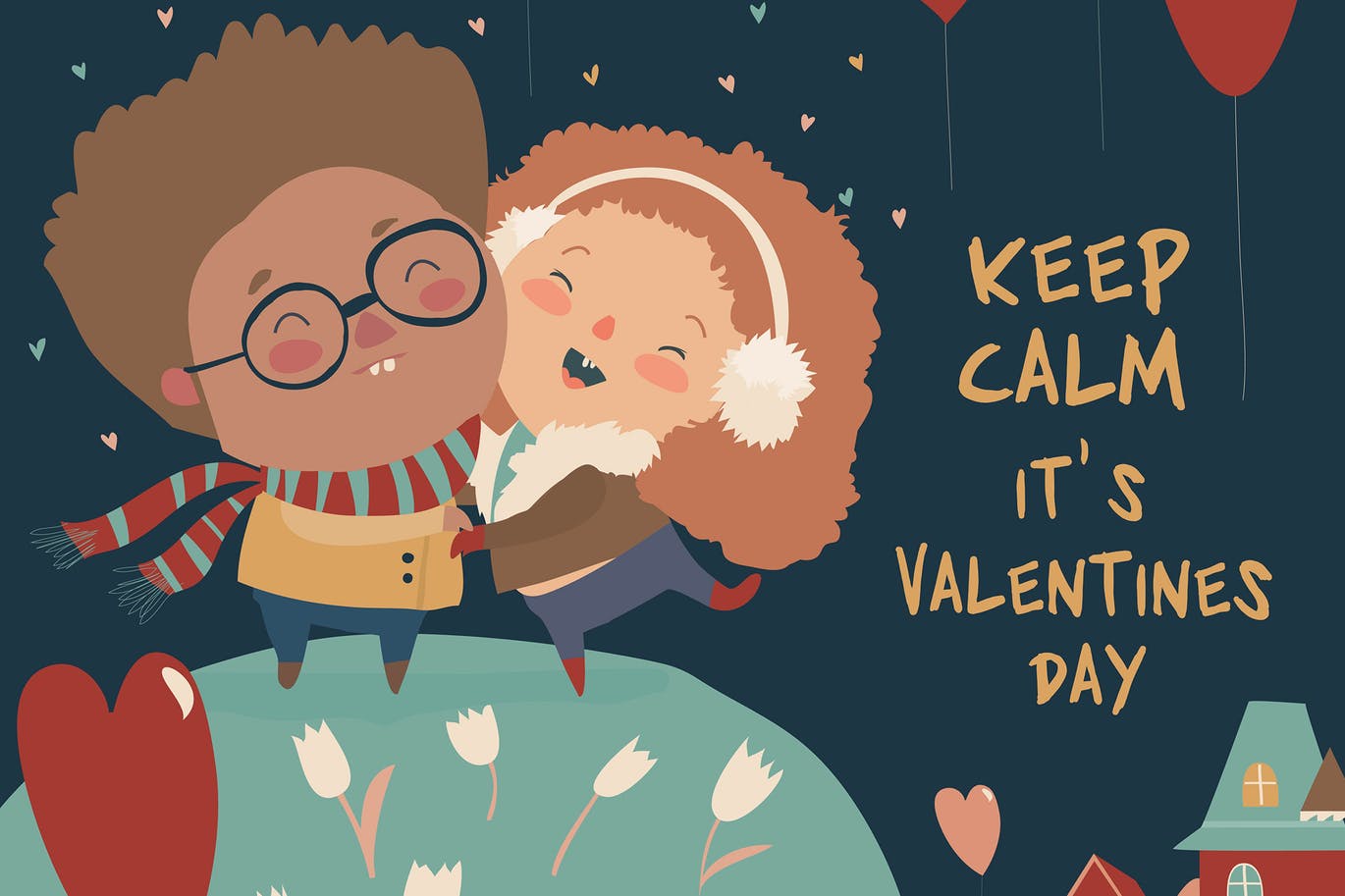 Couple in love celebrating Valentines Day. Vector romantic greeting card.
Trendy Valentines Day Greeting Cards Design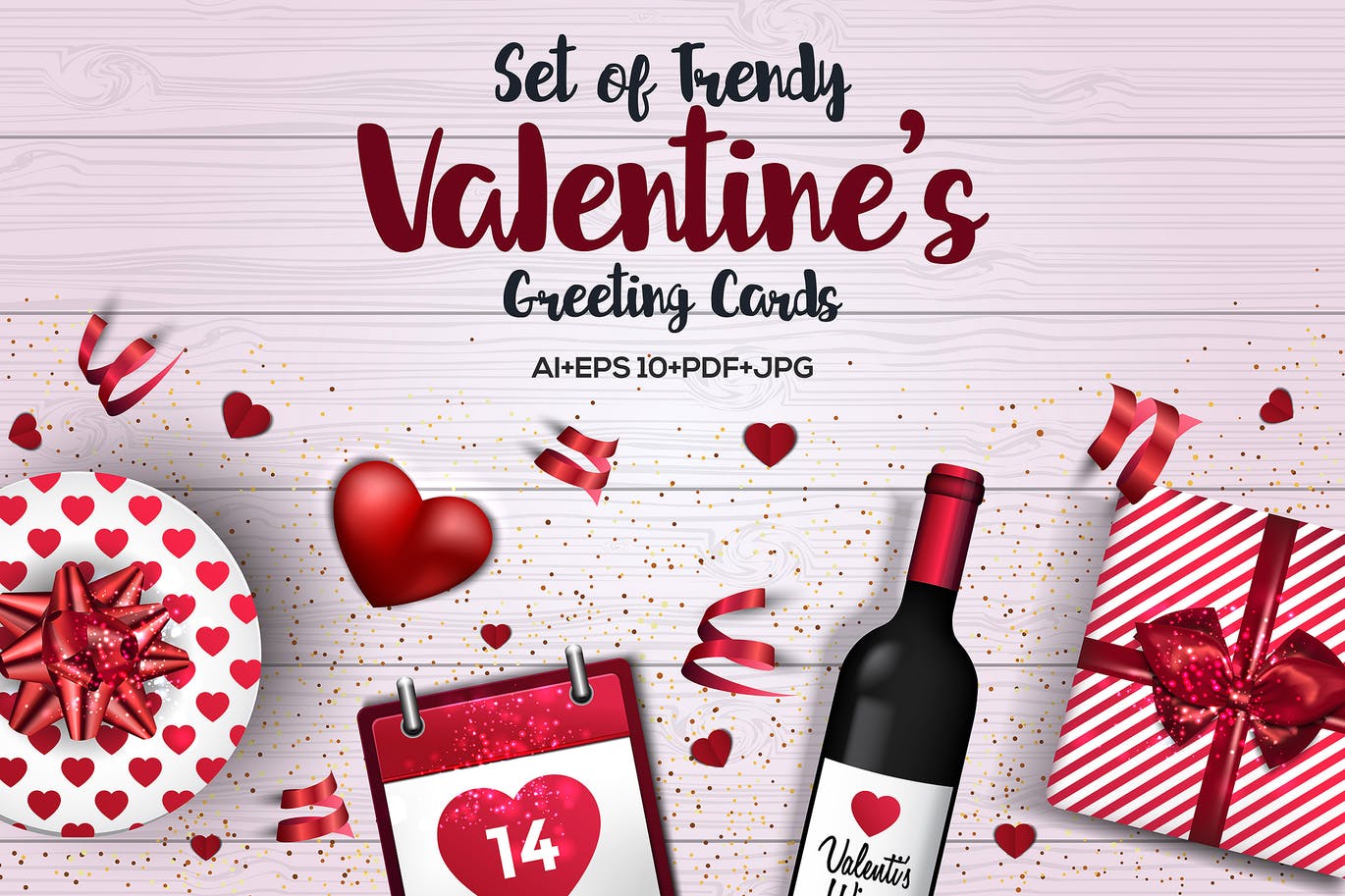 Set of 5 Trendy Valentines Day greeting Cards Design. Top view on romantic composition with gift boxes, rose petals, bottle of wine and red hearts. Vector Illustration.
Valentine Vector Hand Draw Hearts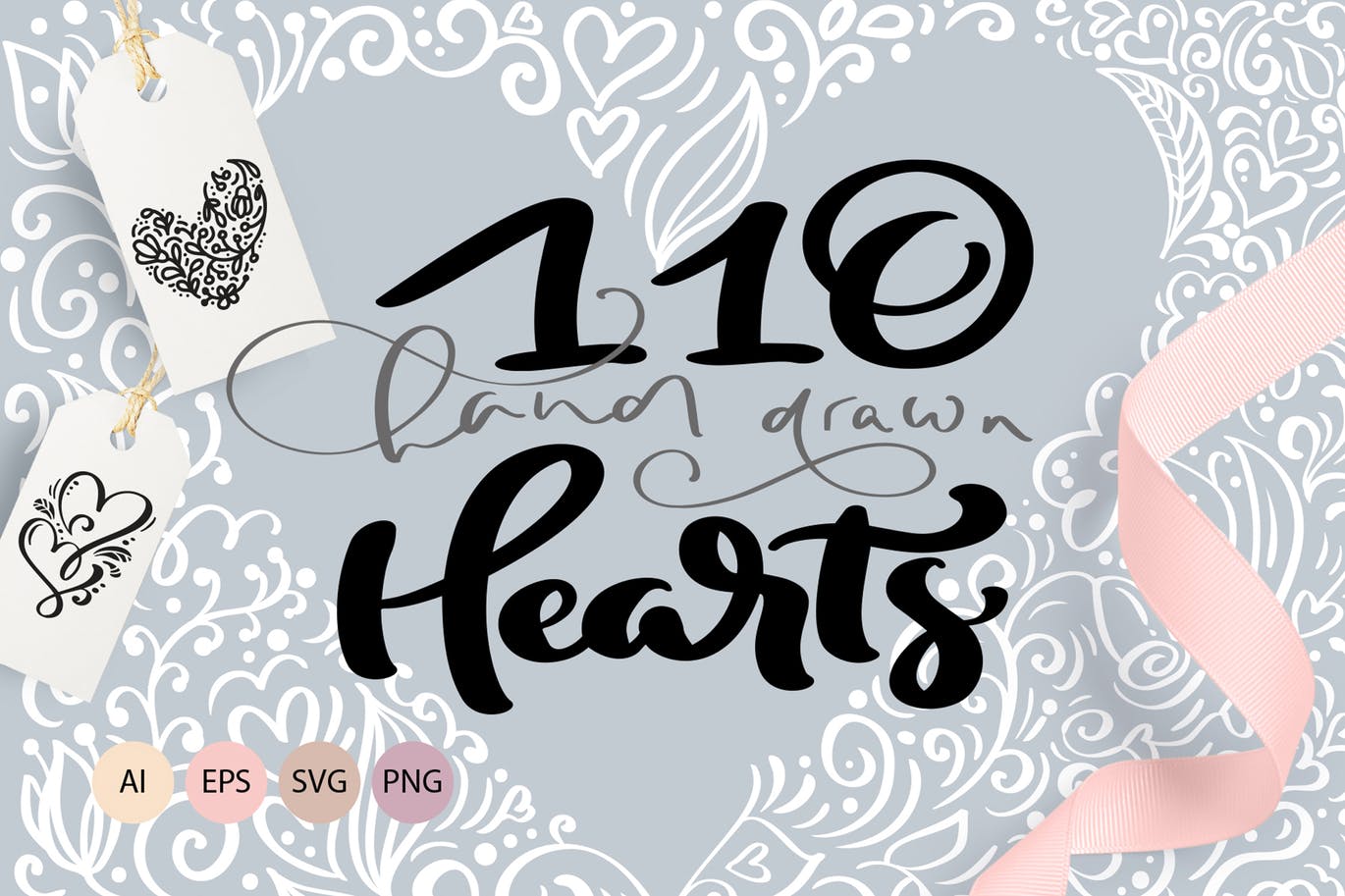 Valentine hand draw vector bundle hearts help you create a cute greeting cards, wonderful wedding invitations, dashboards and stickers, photo & text overlays, divider text and more! It`s includes 110 vector Calligraphy Valentine's Day heartes for design.
Free Valentine's Day Card Mockup – A6 Size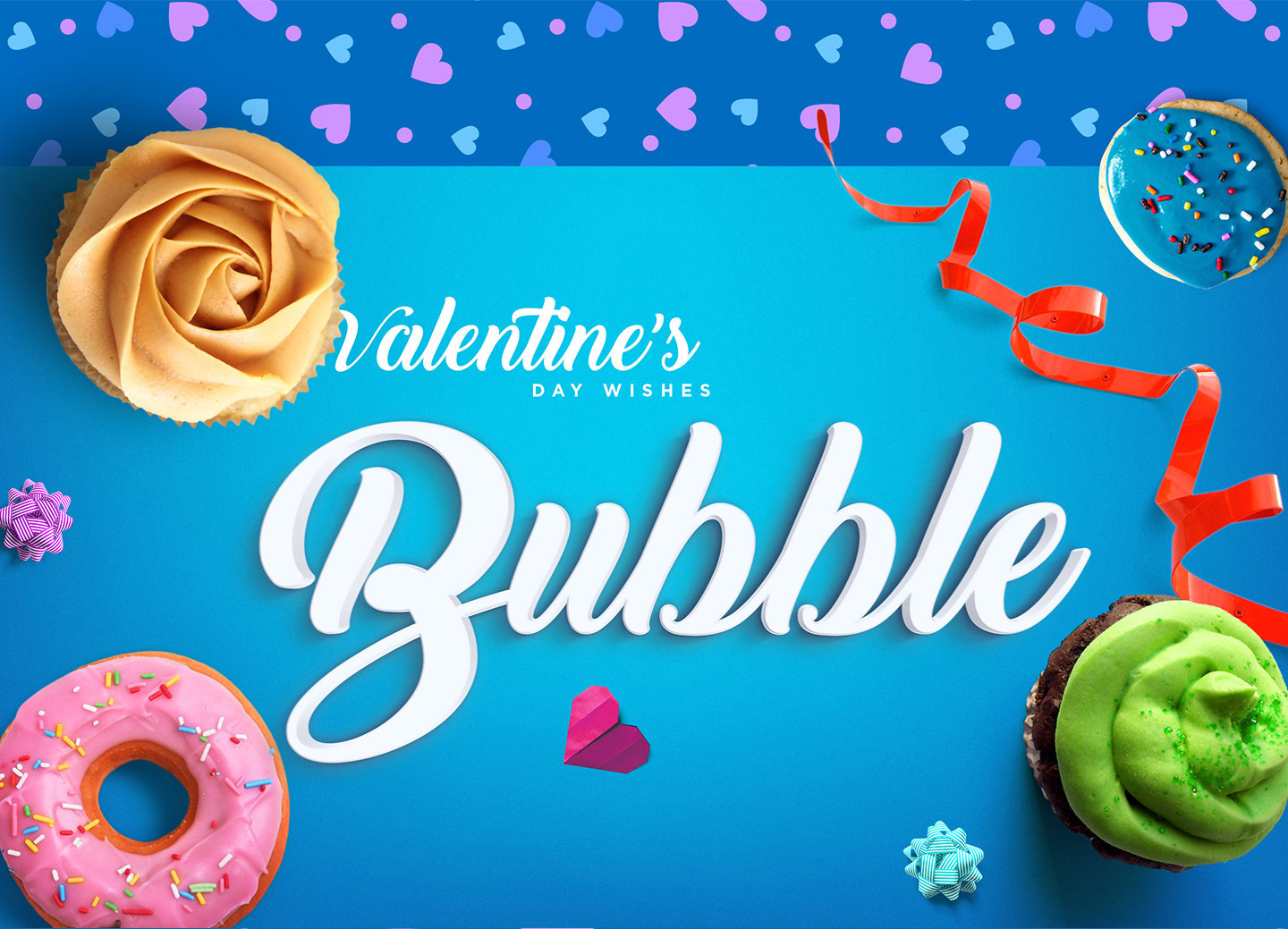 300px detailed props and print ready A6 size artboard. Built-in shadow and 3D text effects.
30 Sugar Sweet Free Valentine's Day Icons (Ai, EPS, SVG, CSH, PNG, Sketch)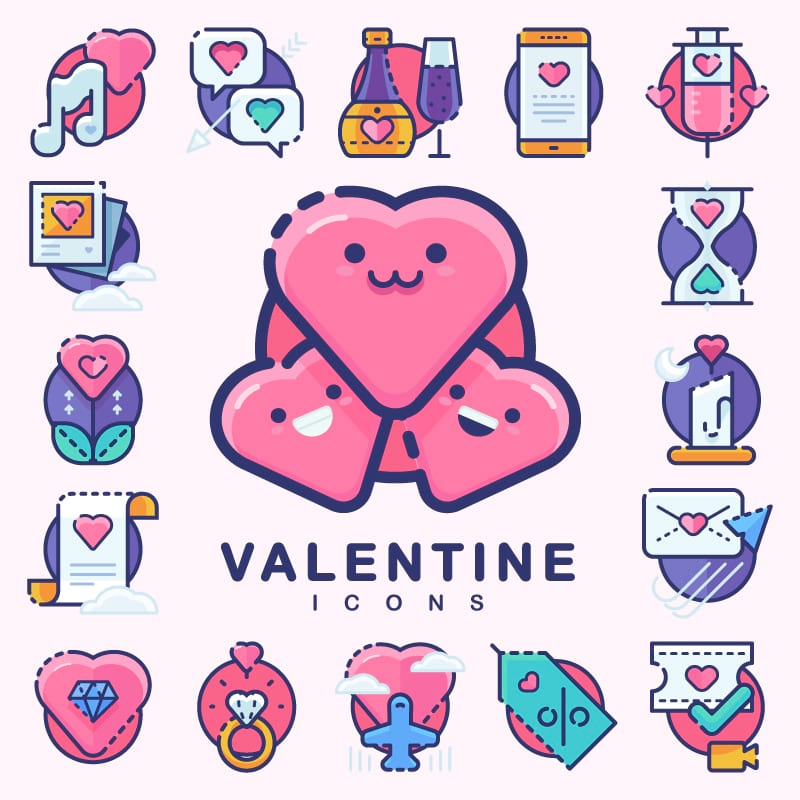 This catchy icon set is available in two different styles.
Free Happy Valentine's Day Greeting Card Design Template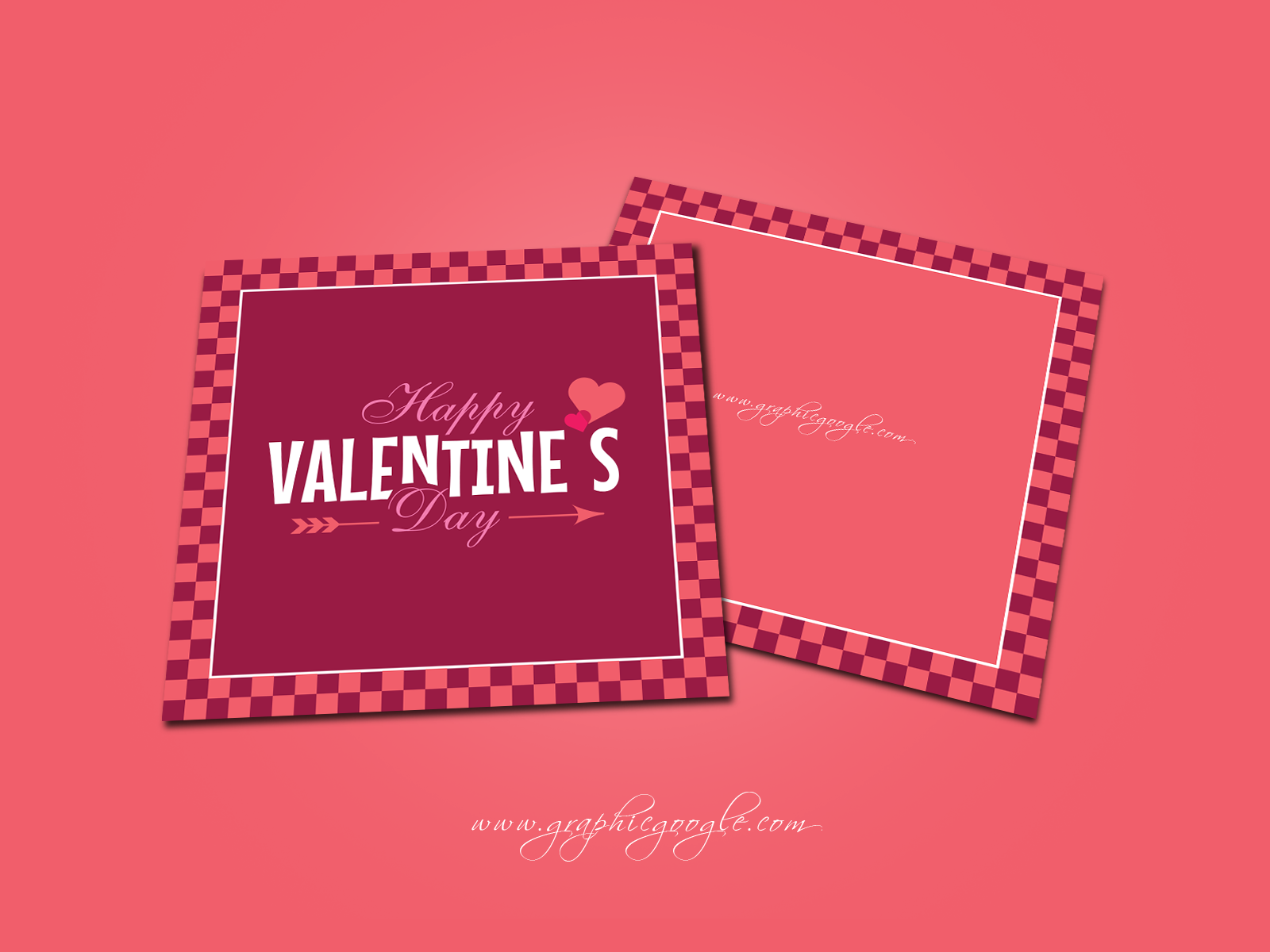 Free to use personally and commercially, but link-back to website is compulsory.
Free Happy Valentine Day Greeting Card Template Design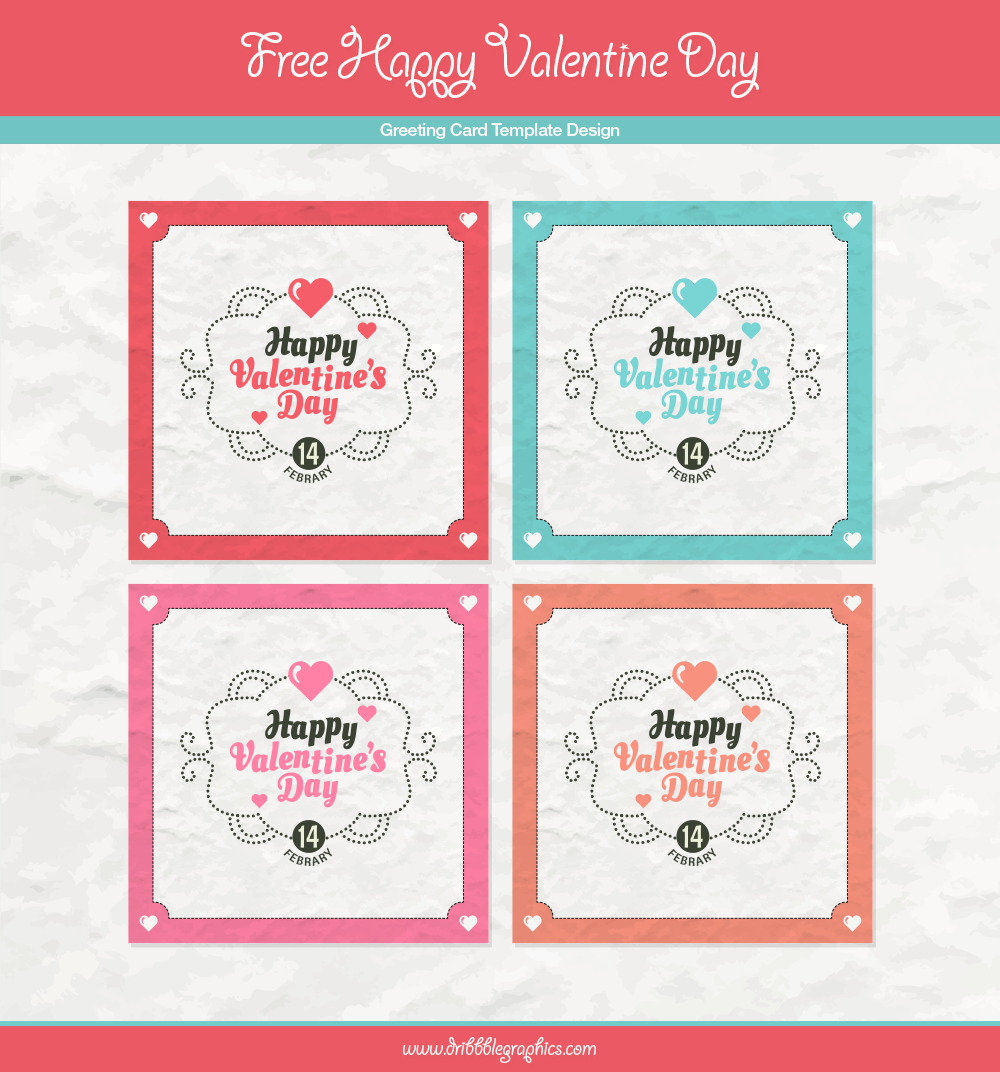 You can use Valentine Day Greeting Card personally and commercially but always remember to give direct download back-link to website.
The Love Icons (EPS)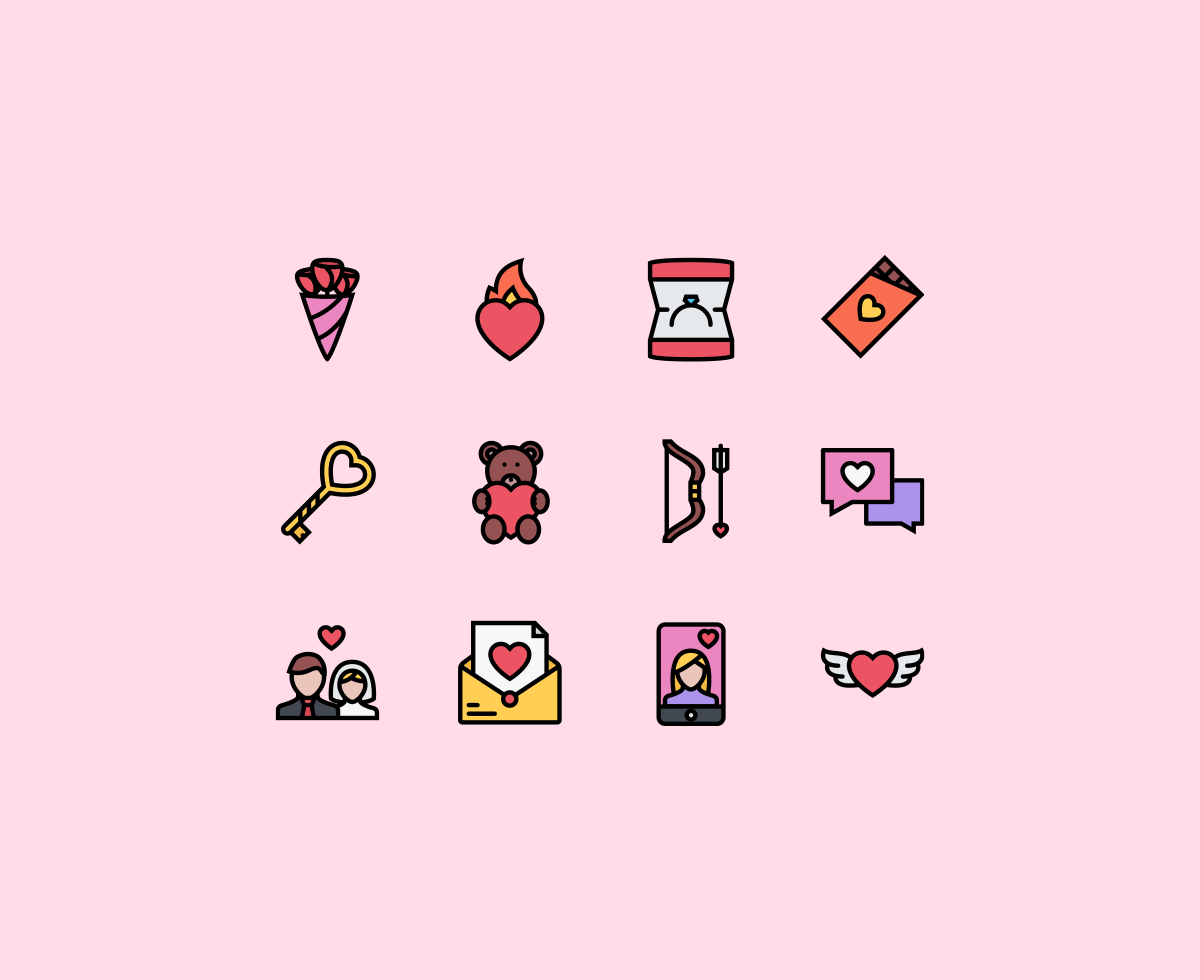 12 free love icons in vector format.
Valentino Icons (Ai, EPS)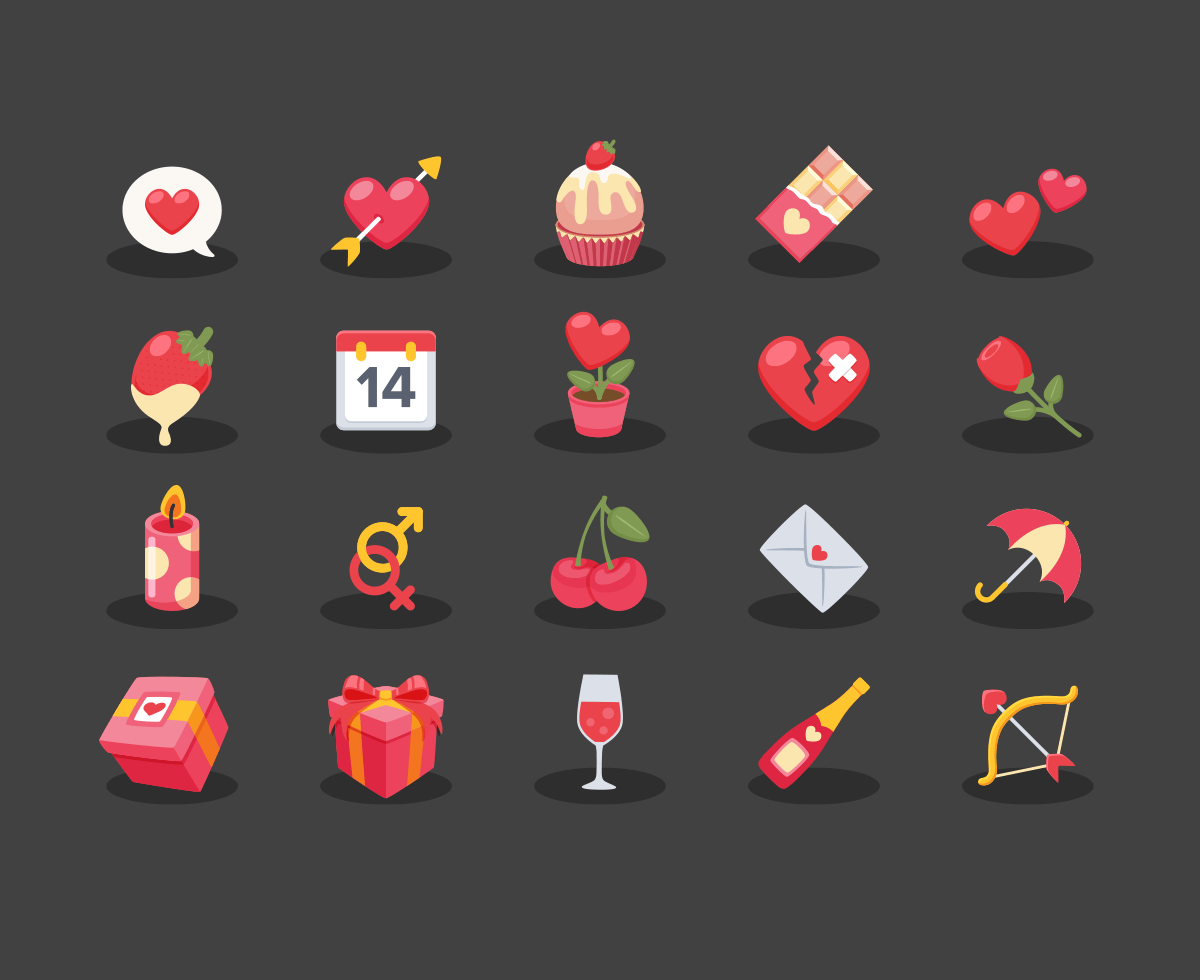 A free collection of 20 Valentine's Day illustrations in vector format (AI, EPS).
Valentine's Day Icons (Ai, EPS, SVG, PSD, PNG)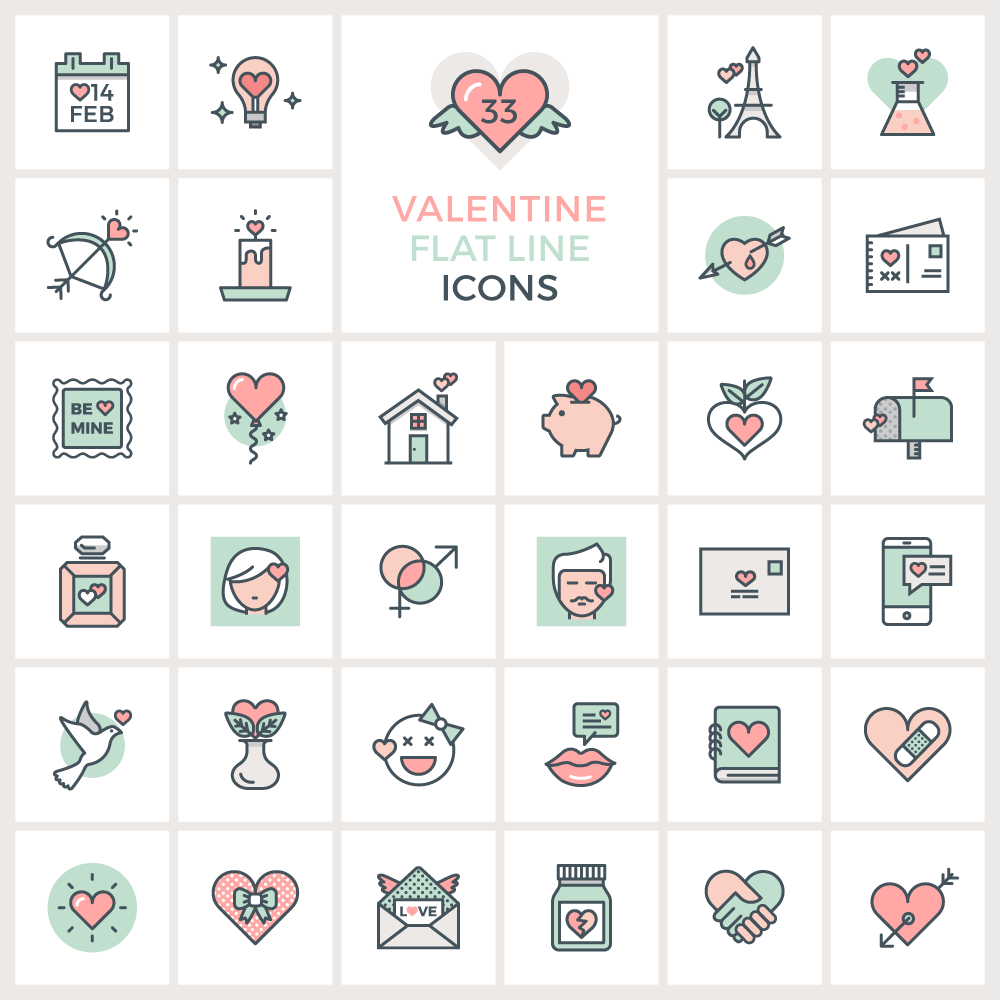 33 Valentine flat line icons in vector format.
Happy Valentines Day. Love Cards.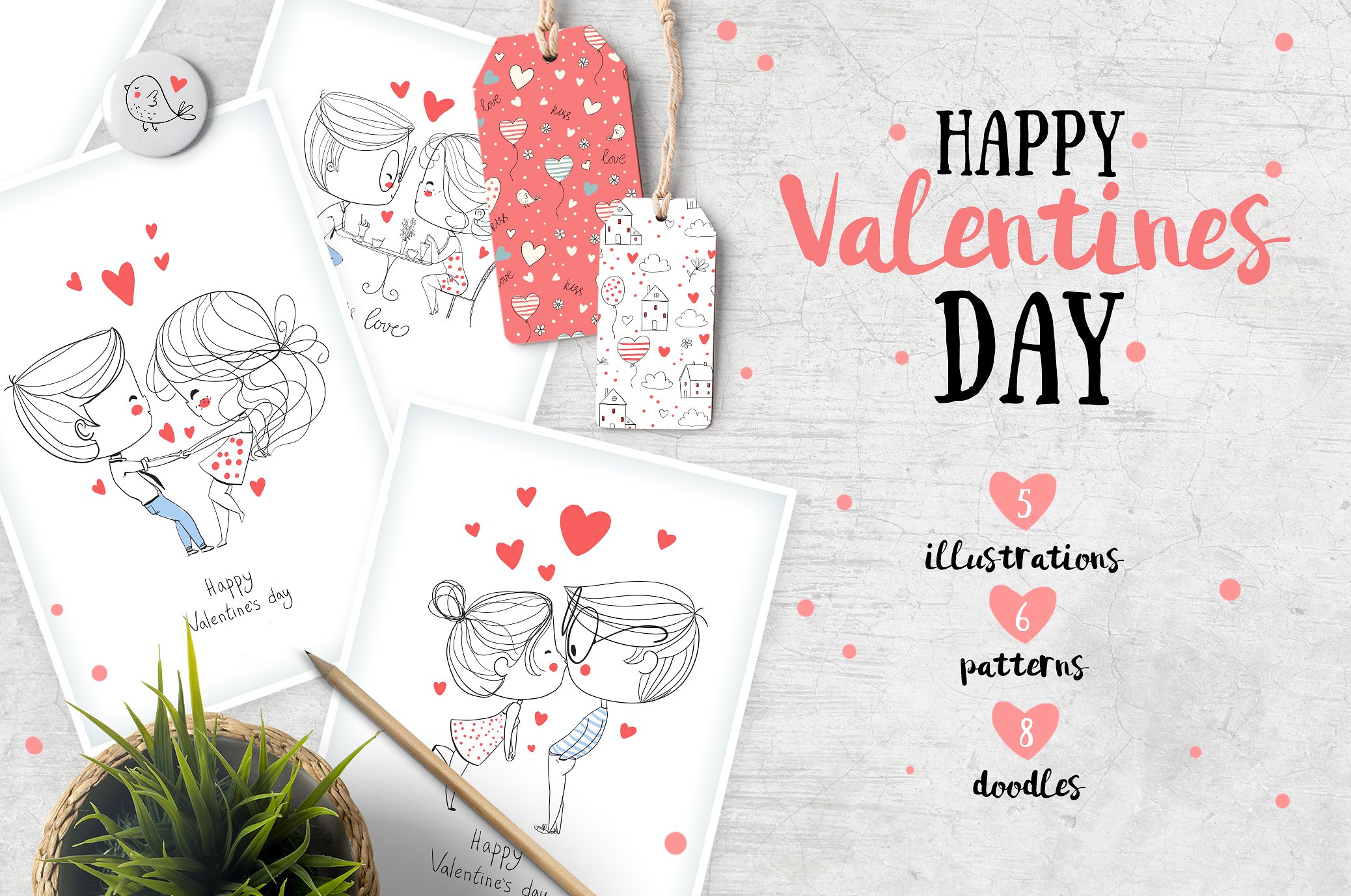 Eps (10 illustrator) + Png (3000 px). 5 Character illustrations, 6 Patterns, 8 Doodles.
Valentine's Day Lettering Pack

Special edition of lettering fully devoted to ♥ Giant Romantic Lettering Pack! This product includes 110 hand written romantic quotes and words (you can check them all out in the preview) and 14 bonus clipart elements.
Believe in Love – Valentines Set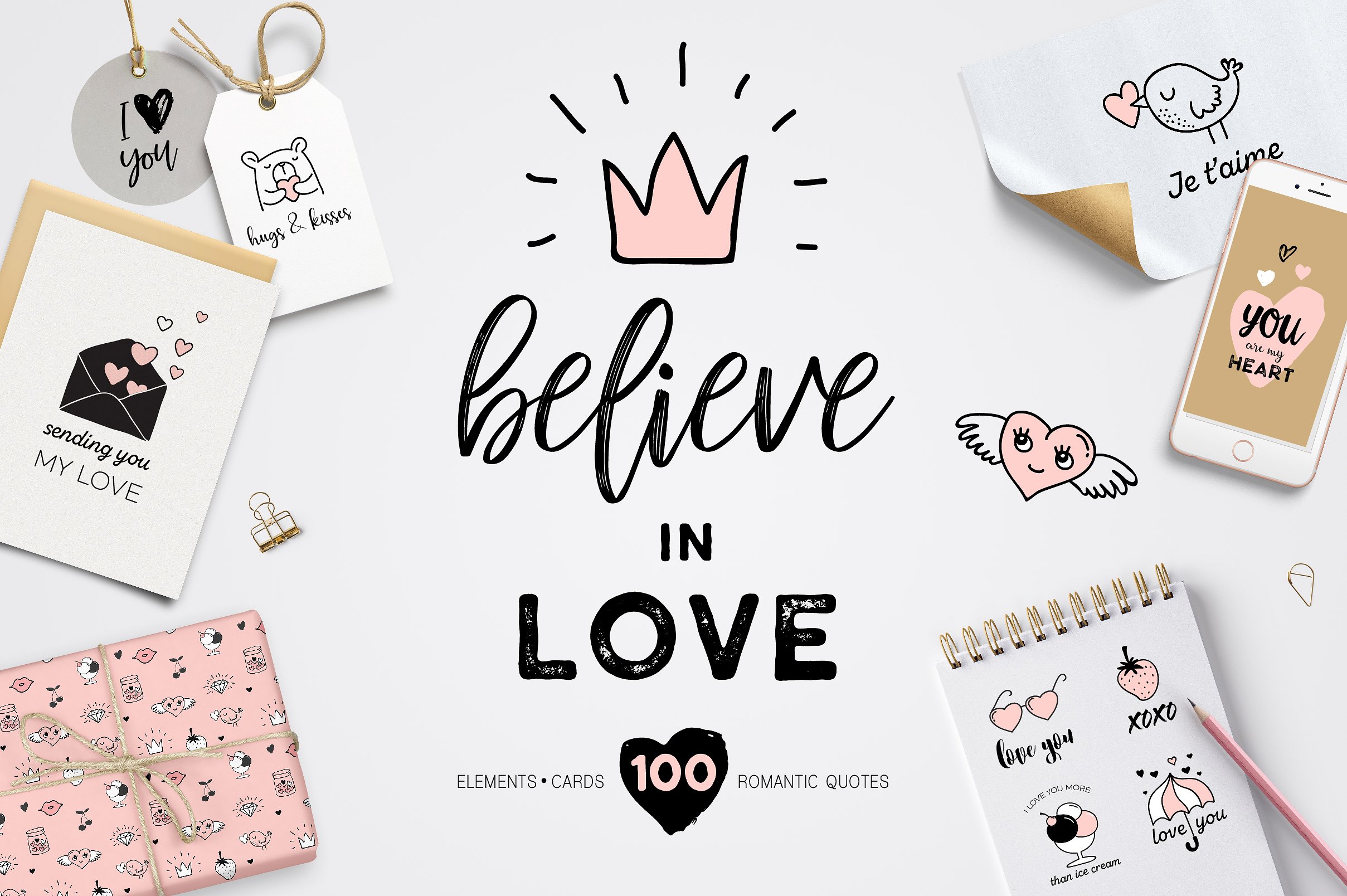 Believe in Love – Valentine's day collection. Clean and simple stylish romantic quotes, illustrations, patterns and elements, for make modern style Valentine's greeting cards, temporary tattoos, apparel design, photography overlays and more…
Farmhouse Script Font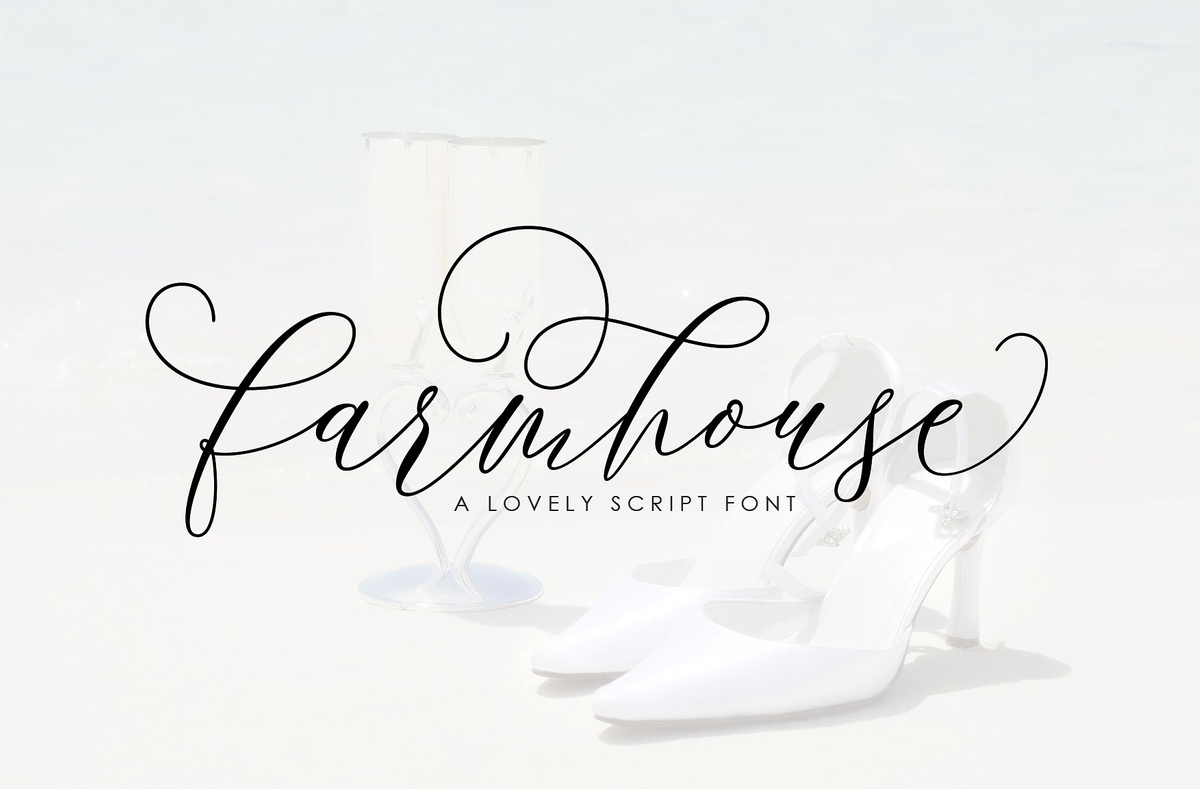 Introducing Farmhouse Script calligraphy an elegant new font! This font is specially created for those of you who need a touch of elegance to design your projects next with perfect results and amazing.
Valentine's Day Badges & Quotes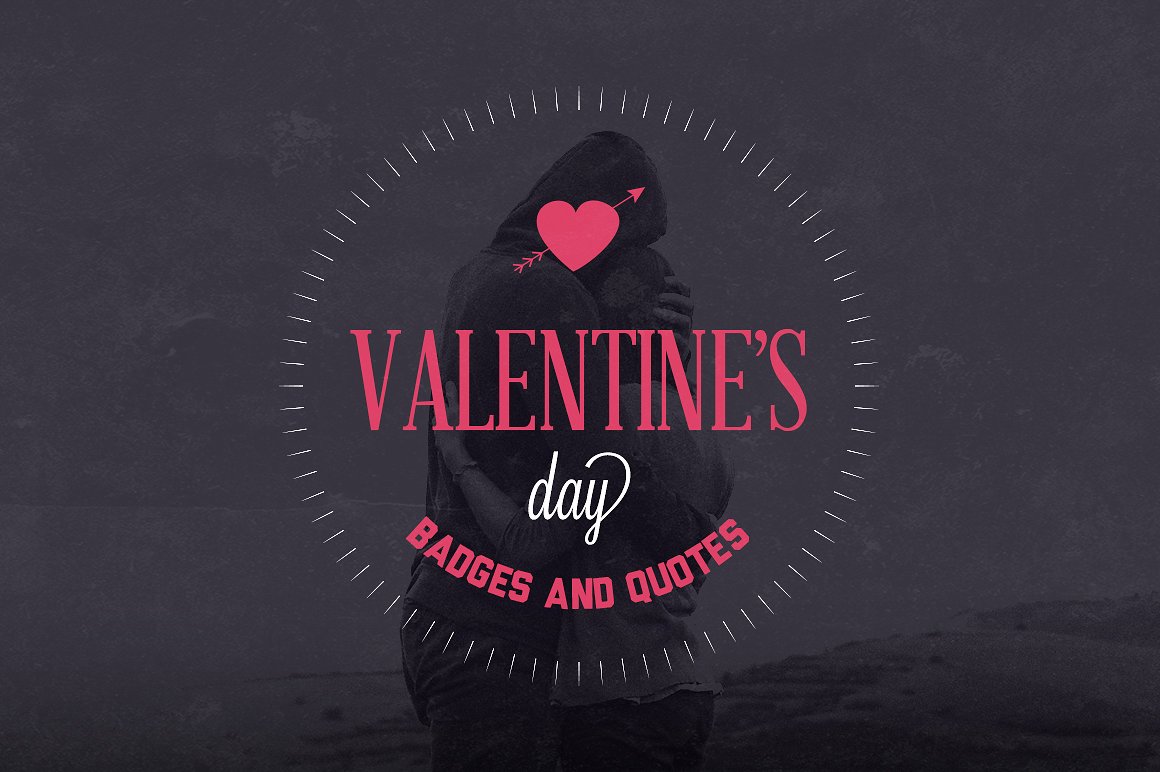 A set of badges for Valentine's Day, you can use this set for greeting cards, post cards, decorative elements for photo albums, etc.
Cute Valentine's Day Stickers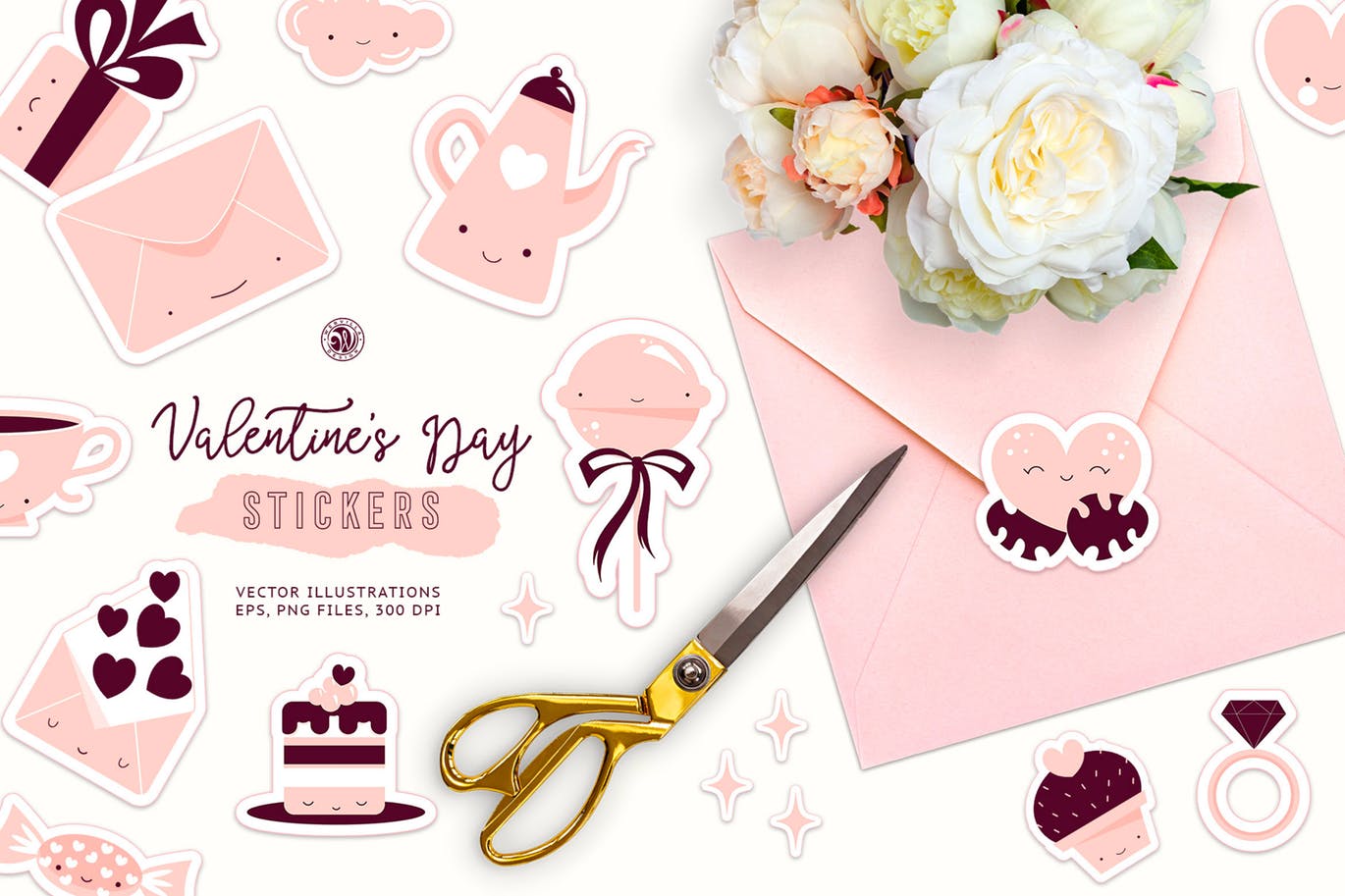 Valentine's Day Stickers – cute illustrations as eps and png files. Ideal hand painted stickers graphic for DIY projects, invitations, cards, wedding invitations, greeting cards, planners, logos, cases, print design, branding, packaging, posters, wallart, blogs, website, advertising and more.
Valentine's Mood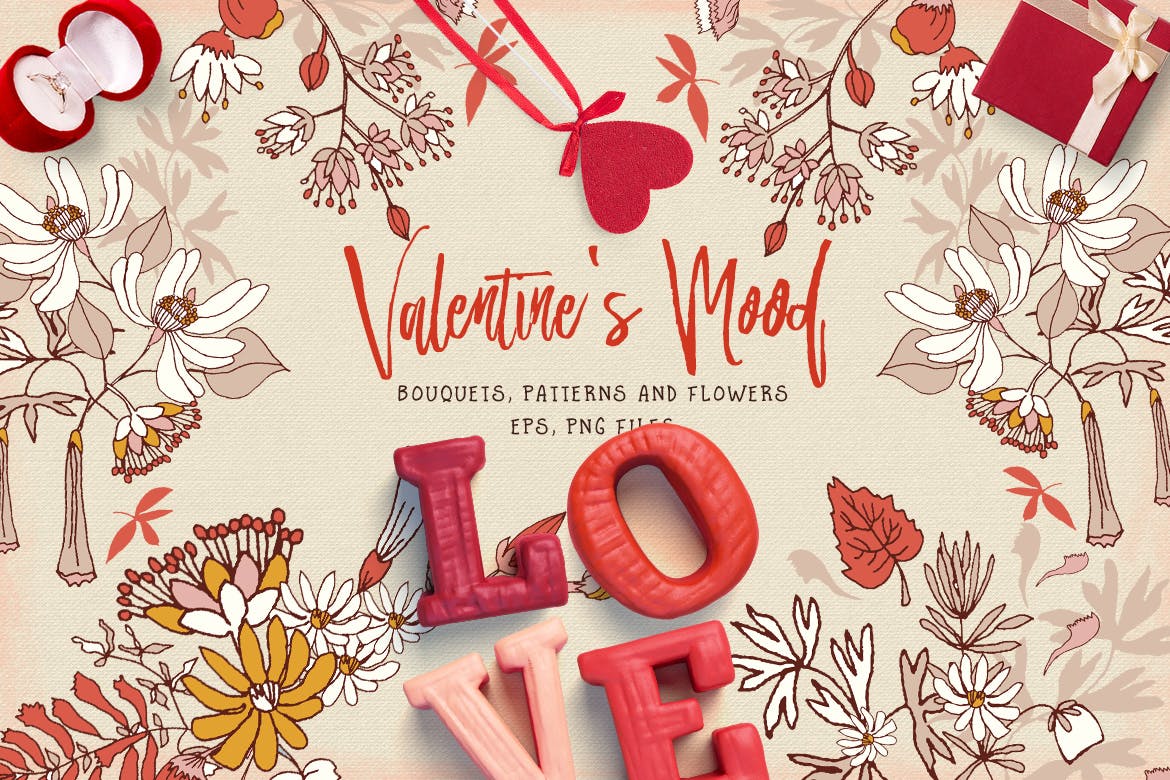 Valentine's Mood – png, jpg and eps files. Ideal cliparts graphic for invitations, cards, wedding invitations, DIY projects, greeting cards, logos, cases, print design, branding, packaging, posters, wallpaper, blogs, website, advertising and more.
Valentine's Day Flat Color Icons (Ai, EPS, PNG)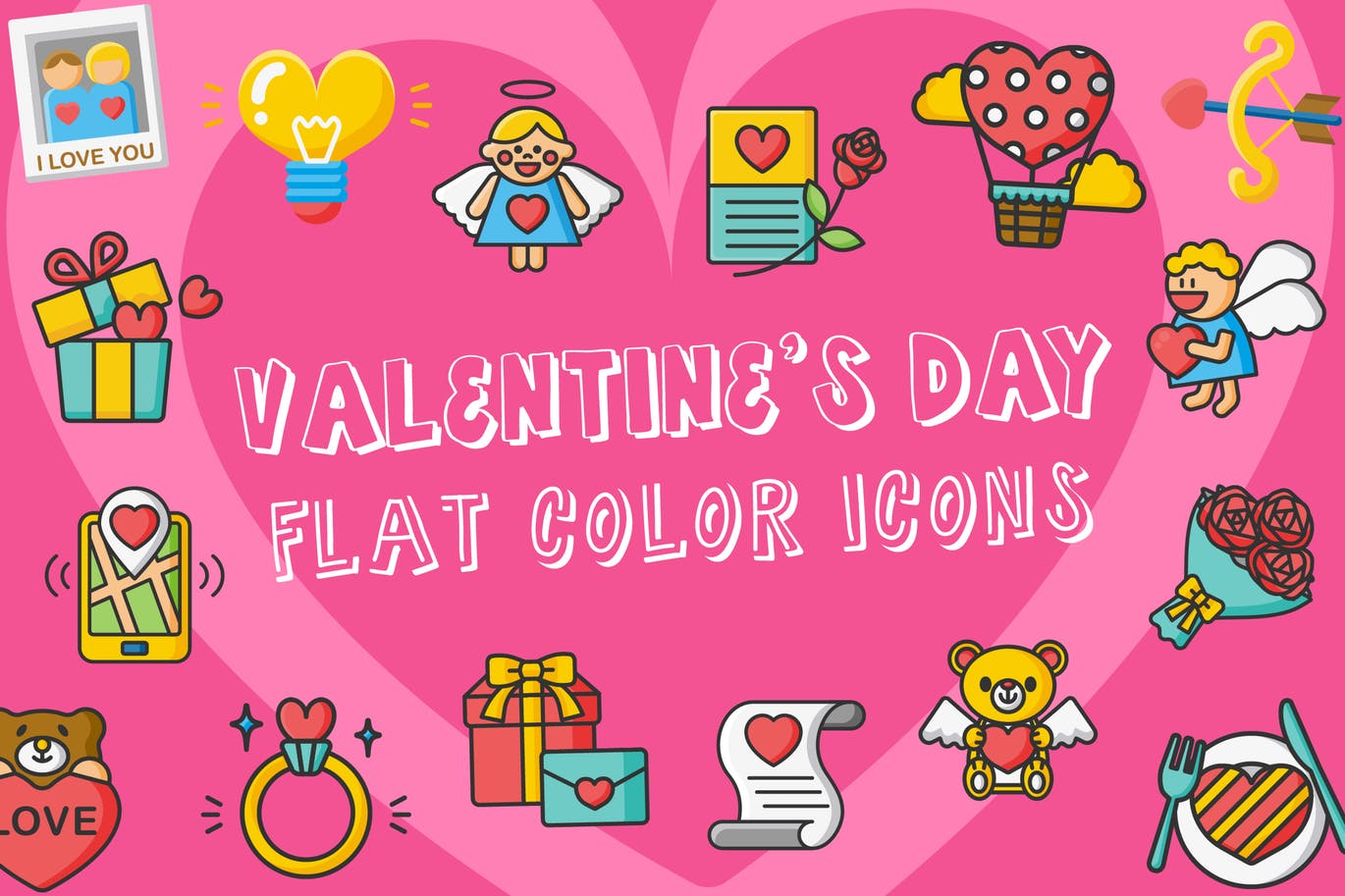 My Valentine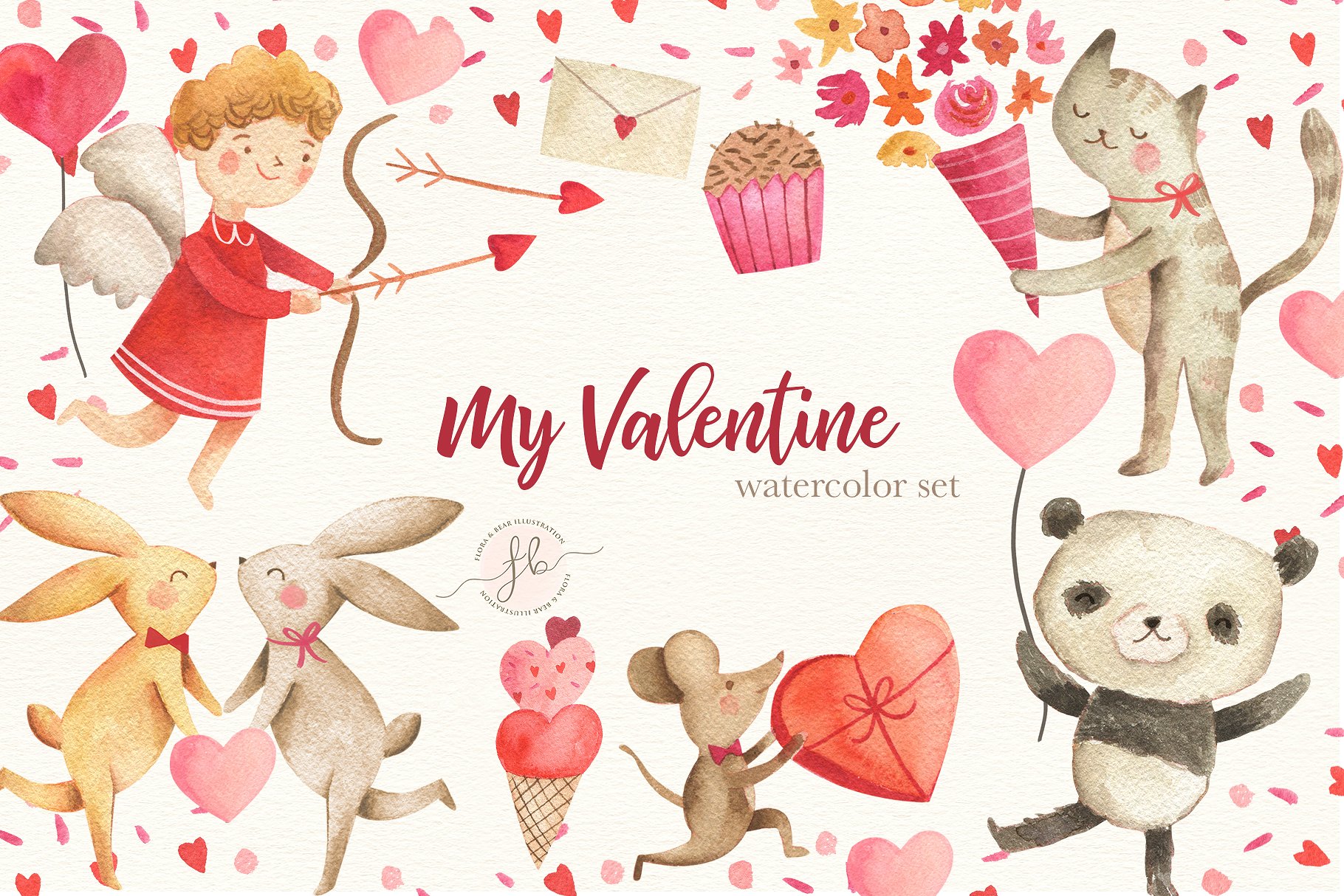 This Valentines Watercolor Clipart Set includes 14 items of hand painted watercolor elements ( all png, 300 dpi, transparent background).
Valentine Flyer Template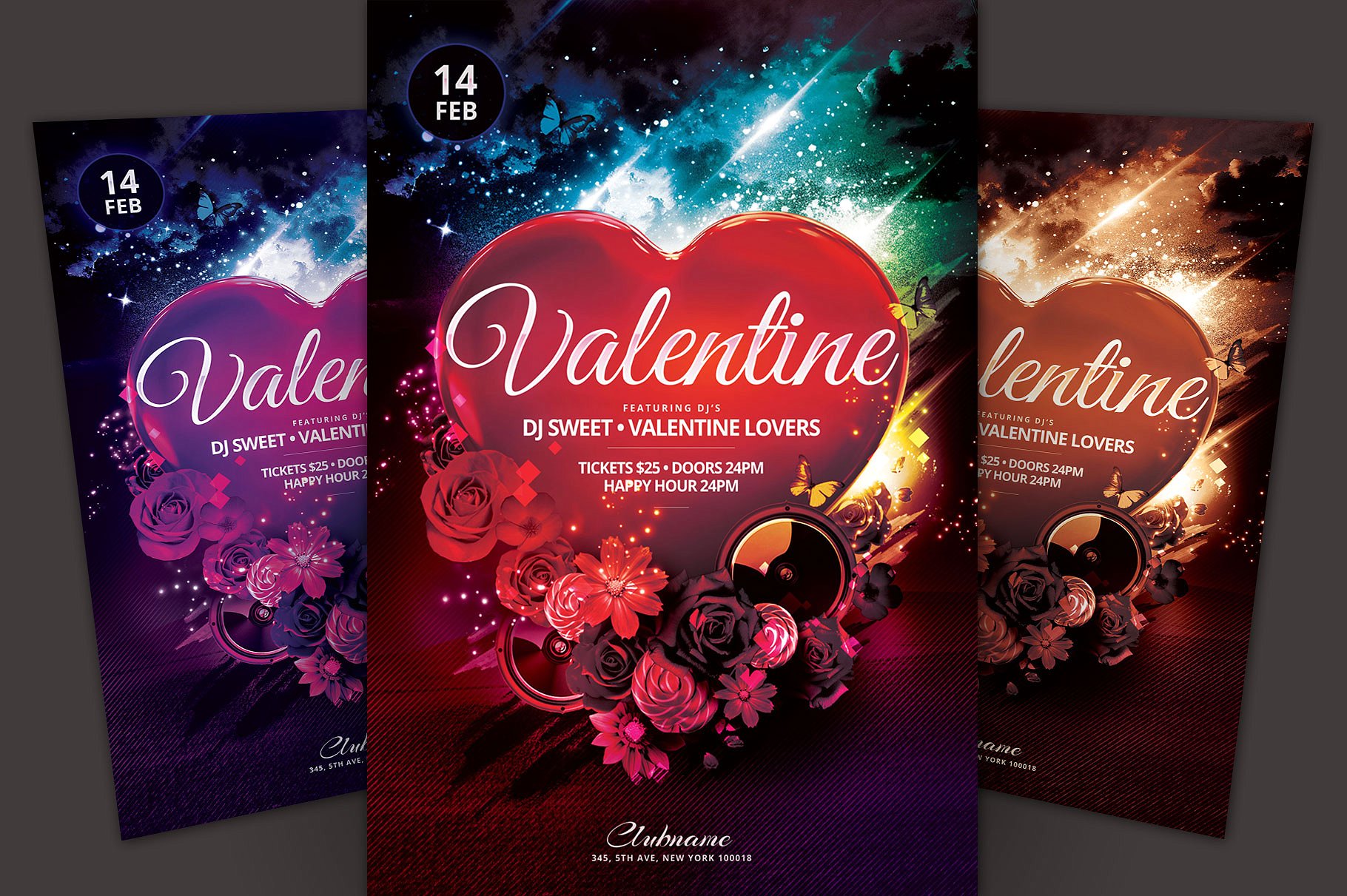 The PSD file is very well organized in folders and layers. You can modify everything very easy and quick. Changing the color style, pictures and the typo is no problem. The main folders that will require most customization are highlighted in different colors.
Blumishly Brush Font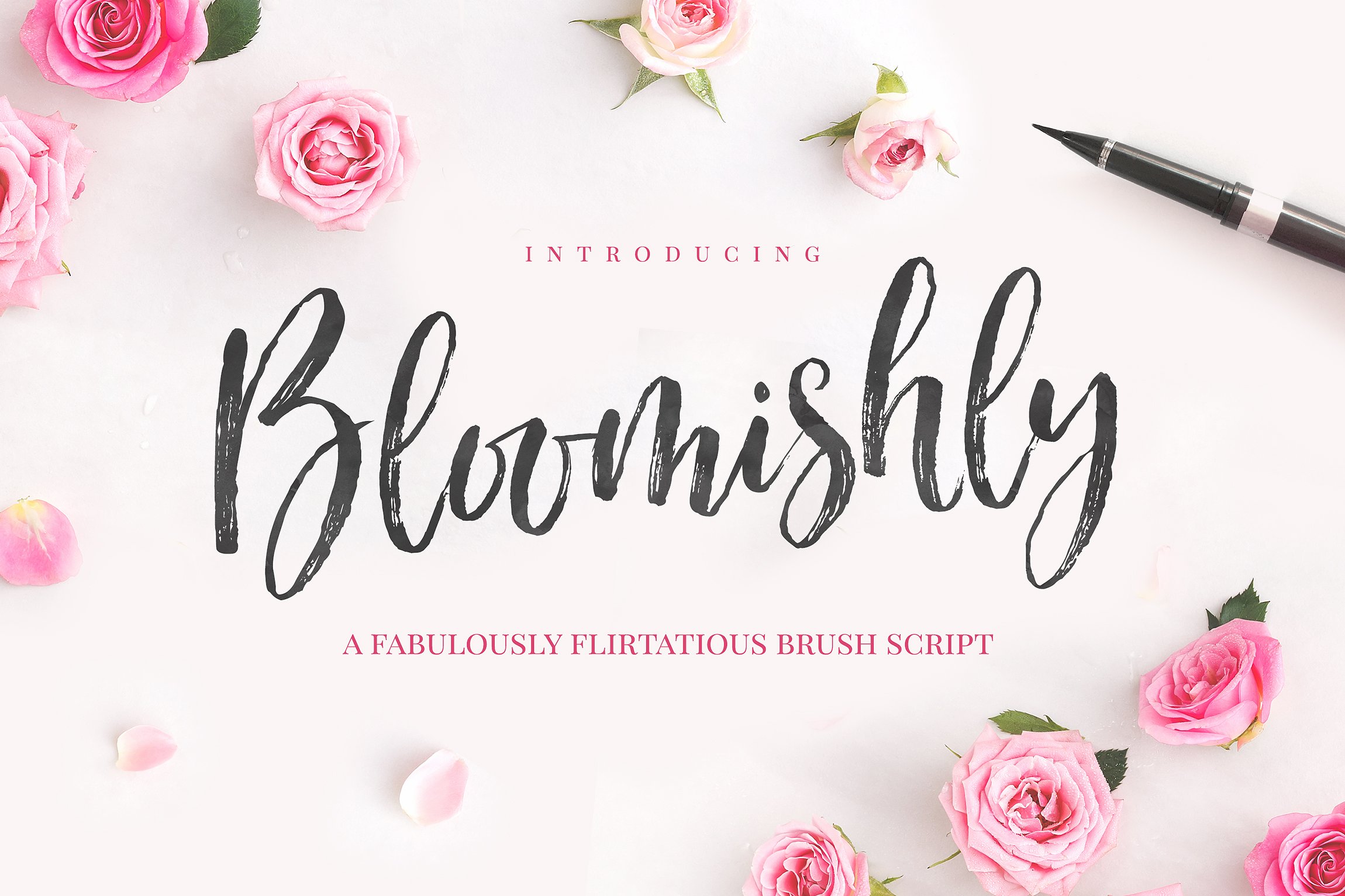 Bloomishly has a playfully bouncy baseline, and thick flourishing lines – perfect for adding a fresh & unique look to company branding, logos, greetings, magazine layout, homeware, prints and invitations.
Valentine's Menu Template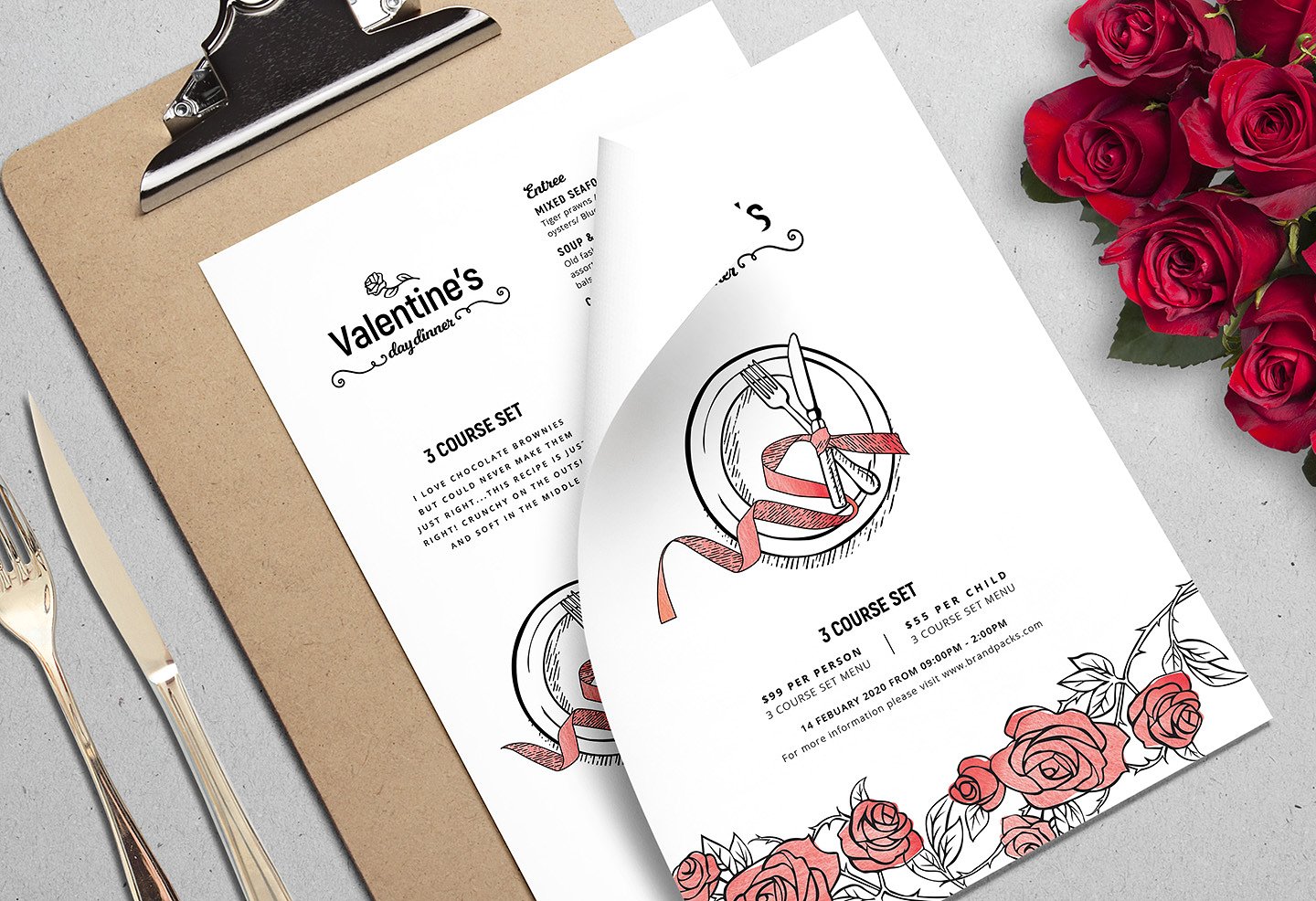 Create beautiful menu designs & layouts for Valentine's Day events in just minutes with these readymade Valentines Menu Templates for Photoshop & Illustrator.
Valentine Icons (PSD)
The package includes PSD and JPG versions.
I Love You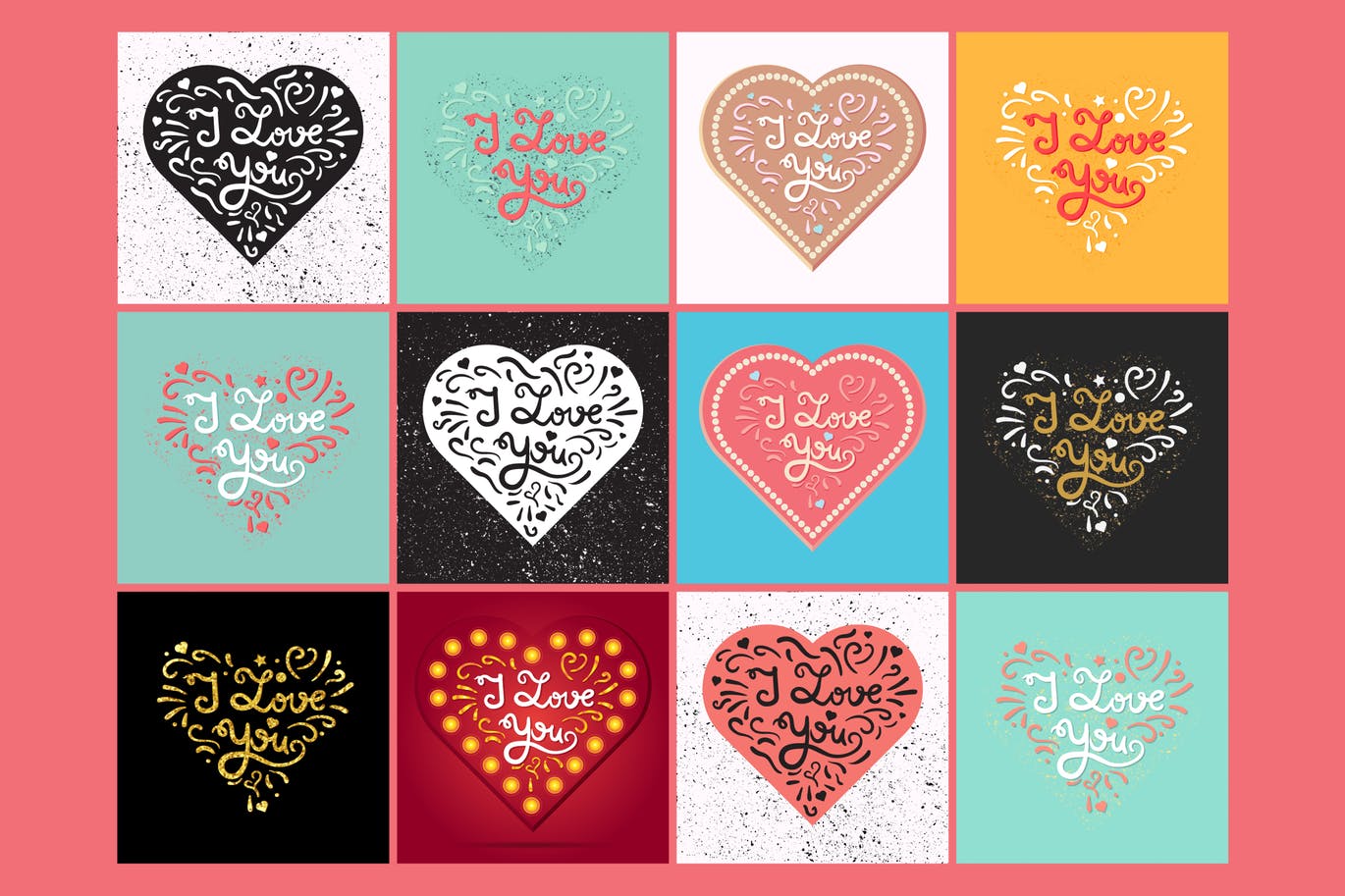 I Love You contains 12 vector letterings "I Love You" for greeting card, print and banners. Vintage hand drawn lettering hipster composition with phrases about love. Print, typographic, greeting, poster, t-shirt design about emotions. Valentine's day greeting or wedding banner with heart.
Valentine's Day Lettering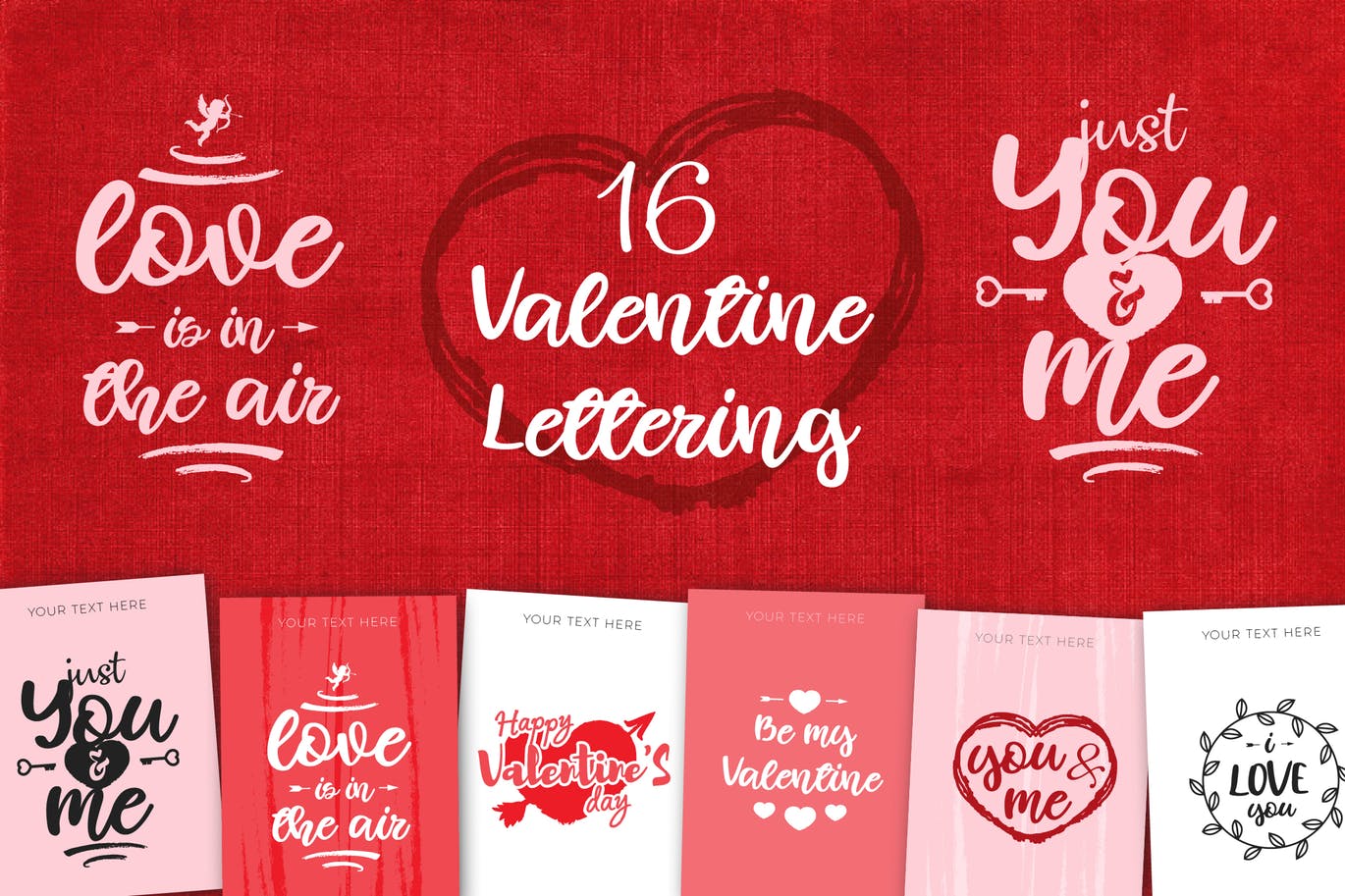 Set of 16 Valentine's Day lettering overlays. Easy to make overlay wishes for DIY Valentine's Day cards and invitations.
Lovely Day Doodles
The package includes AI and EPS versions and the preview image.
100 Valentine Icons (Ai, EPS, SVG, PDF, PNG)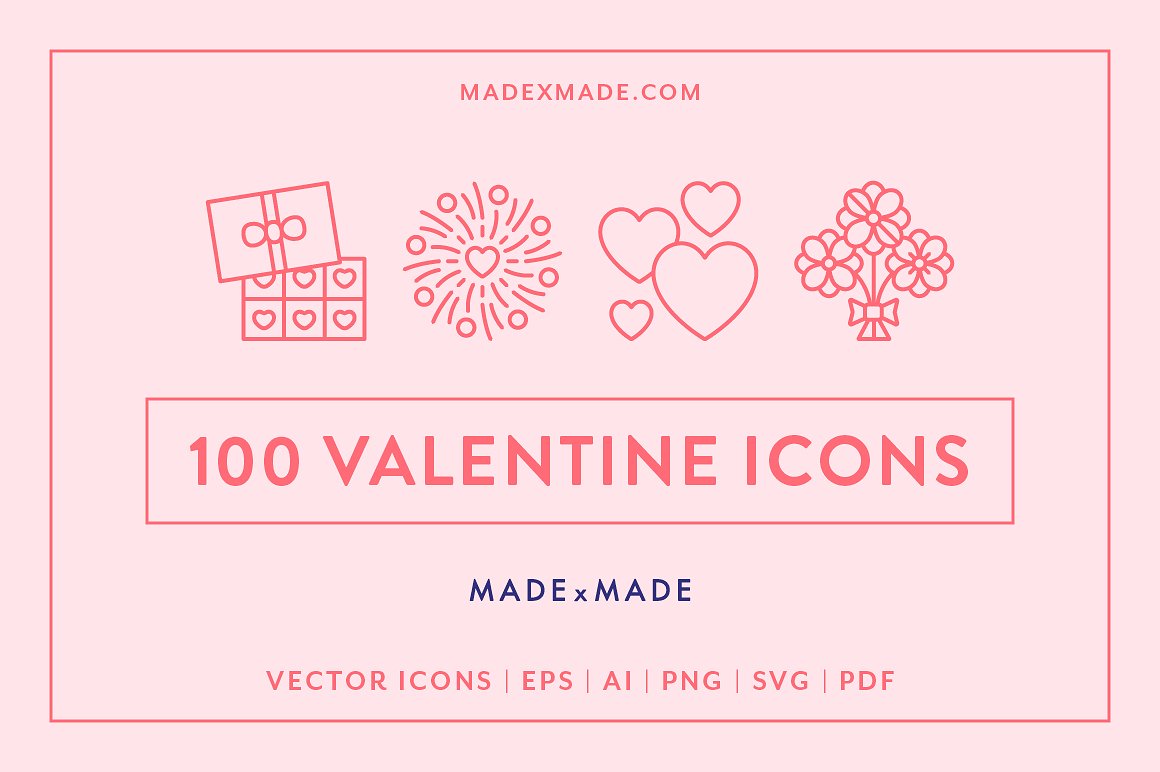 A loveable collection of 100 'Valentines Day' themed vector line icons suitable for web, print, symbols, infographics and apps. This set includes icons for love, dating, romance, gifts, flowers, celebrations, food and drinks and many more Valentines Day related topics.
Valentine's Day Free Icon Set (Ai)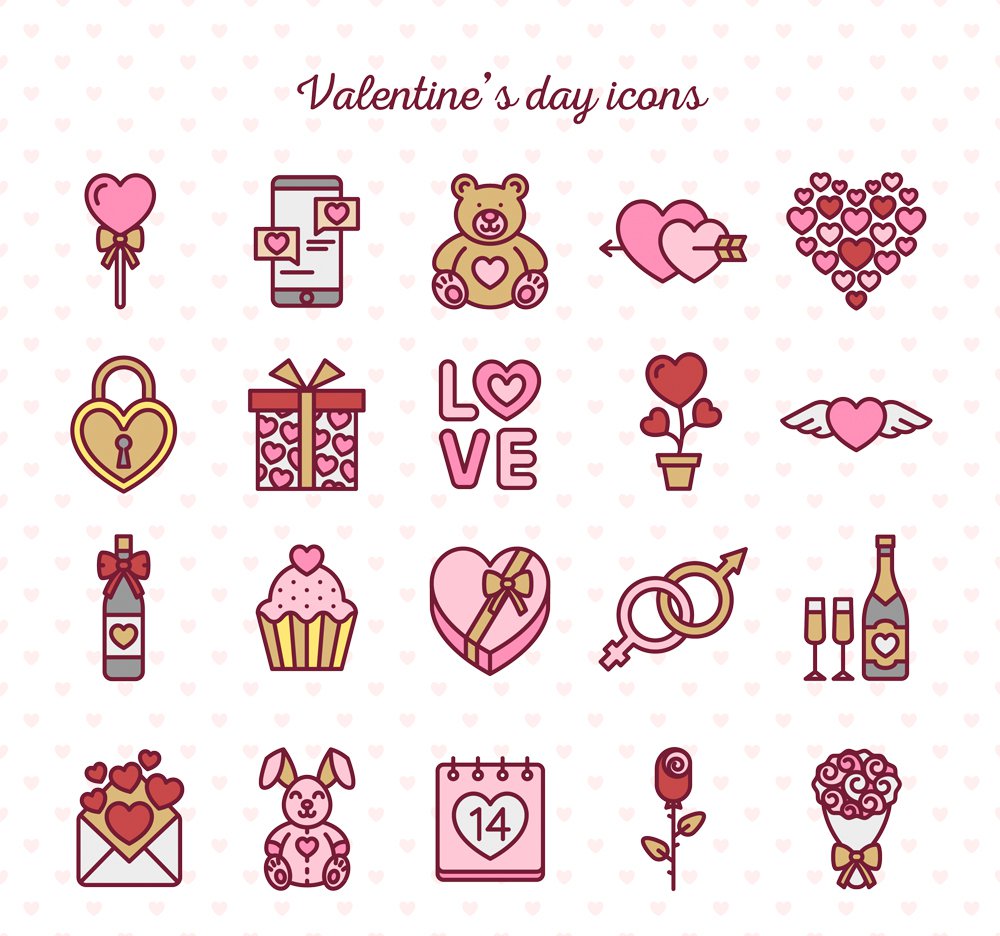 9 Free Valentine Cards in Vector Format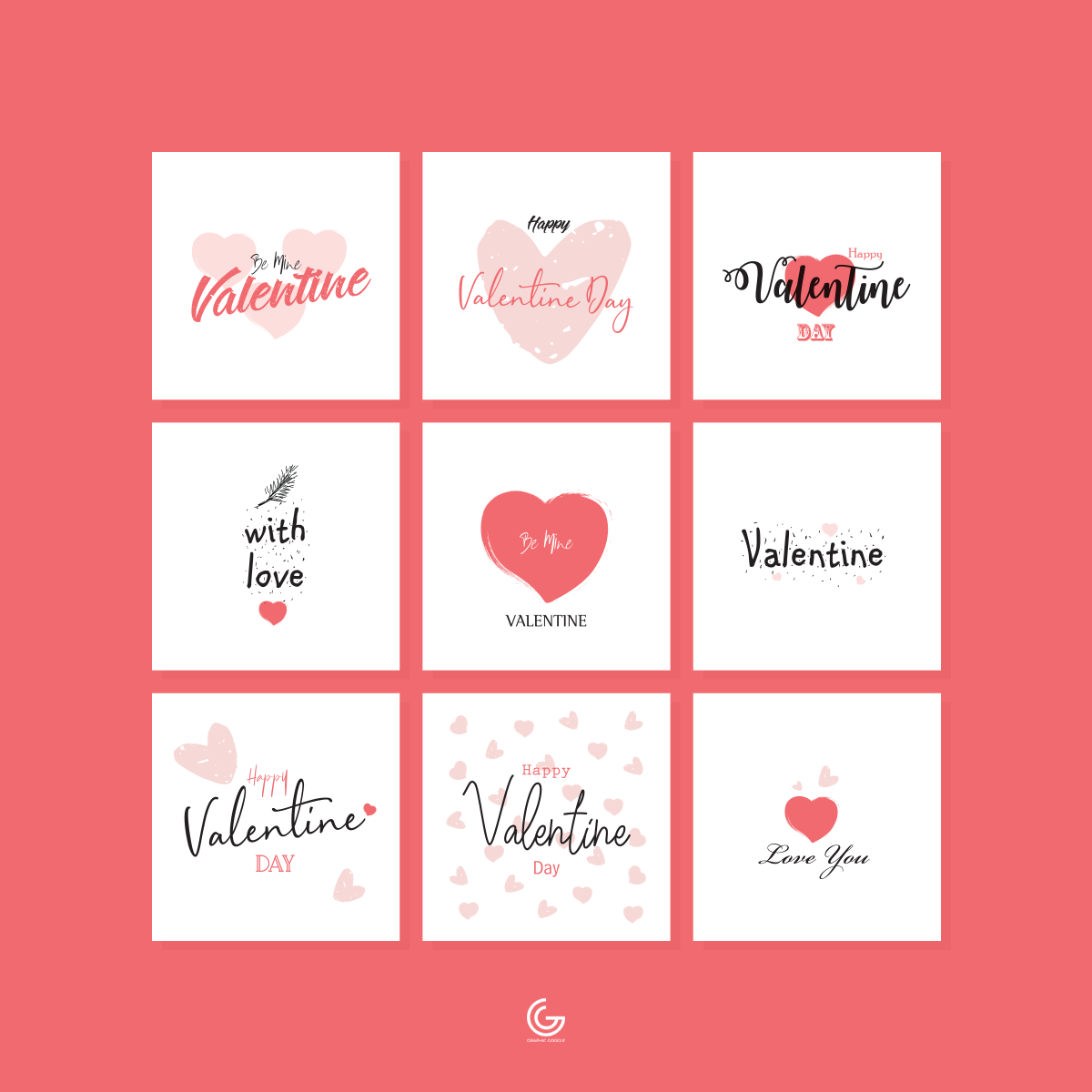 Free to use personally and commercially, but link-back to website is compulsory.
Love Icons (PNG)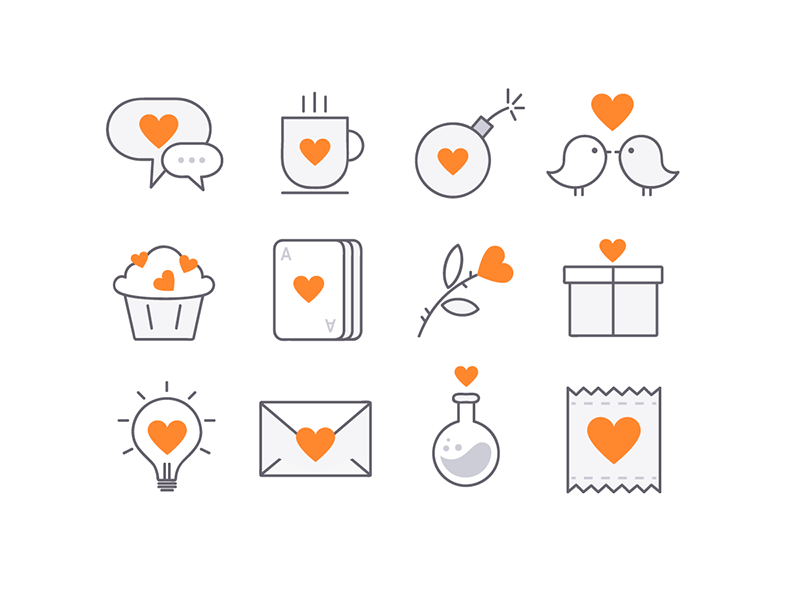 It is never too late for love 🙂
Minimal Valentine's Day Card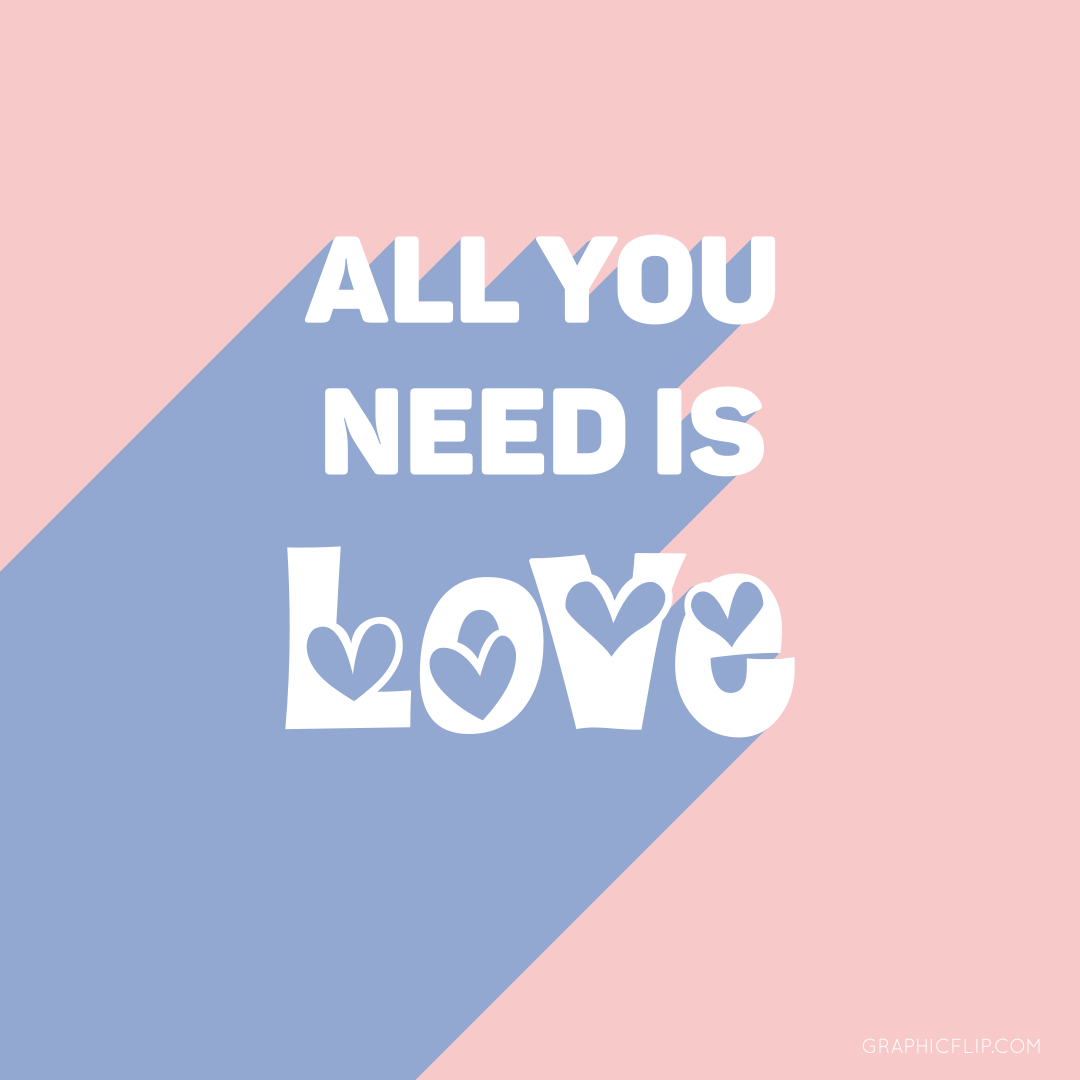 The Valentine day card is available for free download as 1080×1080 px PNG image. This image size is optimum for sharing on social channels like Instagram and Pinterest too.
Free Love Letter for Valentine's Day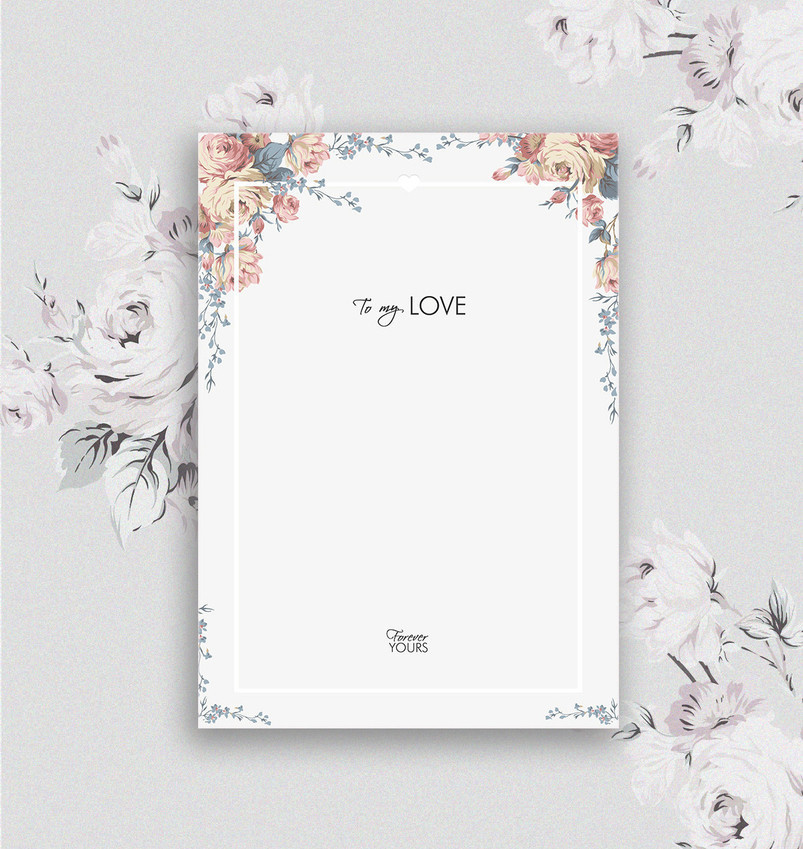 All About Love and Rabbits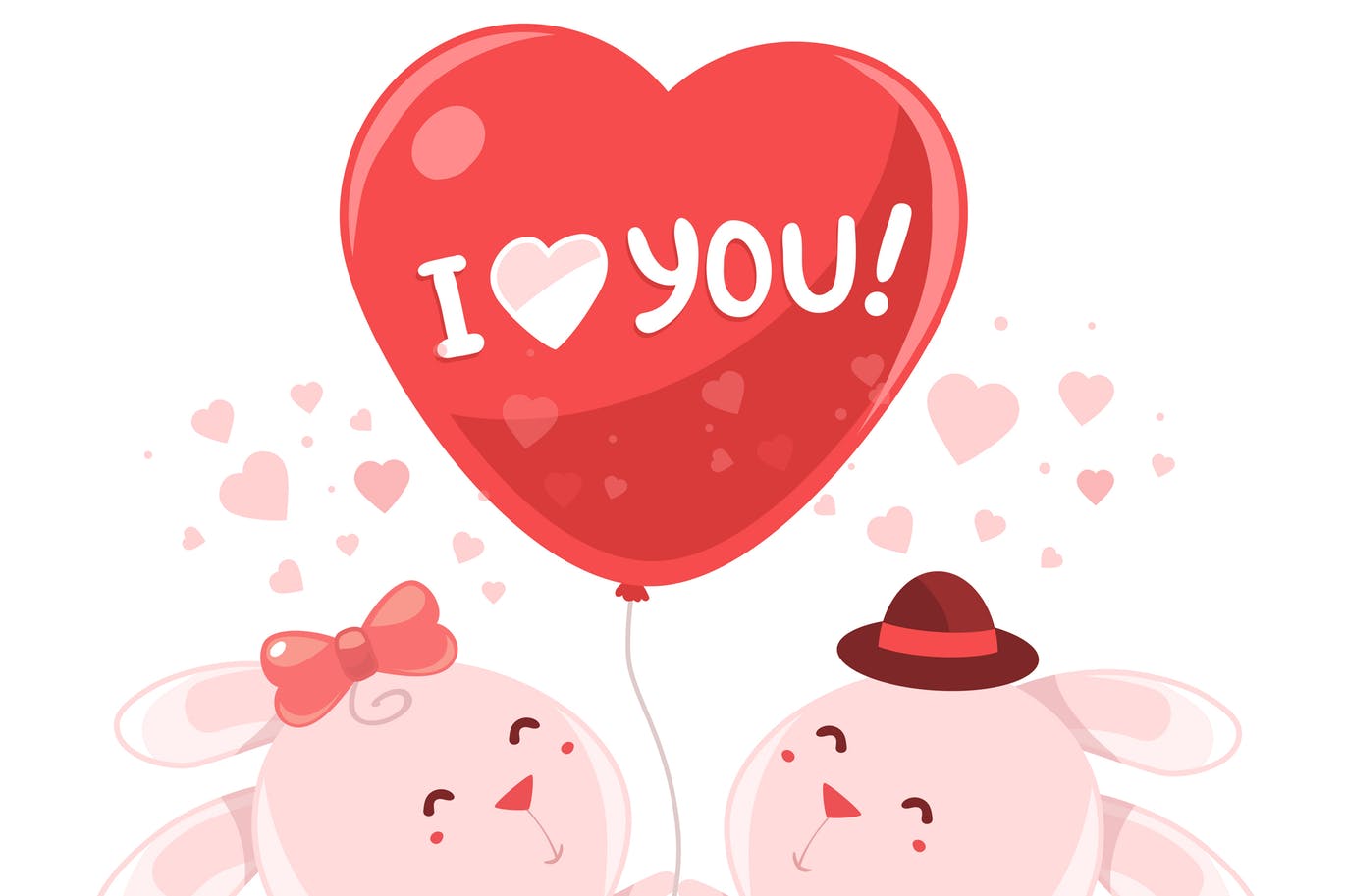 Vector illustration of two cute pink bunny girl and boy. They holds together big red balloon with the word love on white background, bunny boy holds big red balloon and flies on big red balloon. Art design for Valentine's Day greetings and card, web, banner, poster, flyer, brochure, print.
Valentine Mockup Scene Creator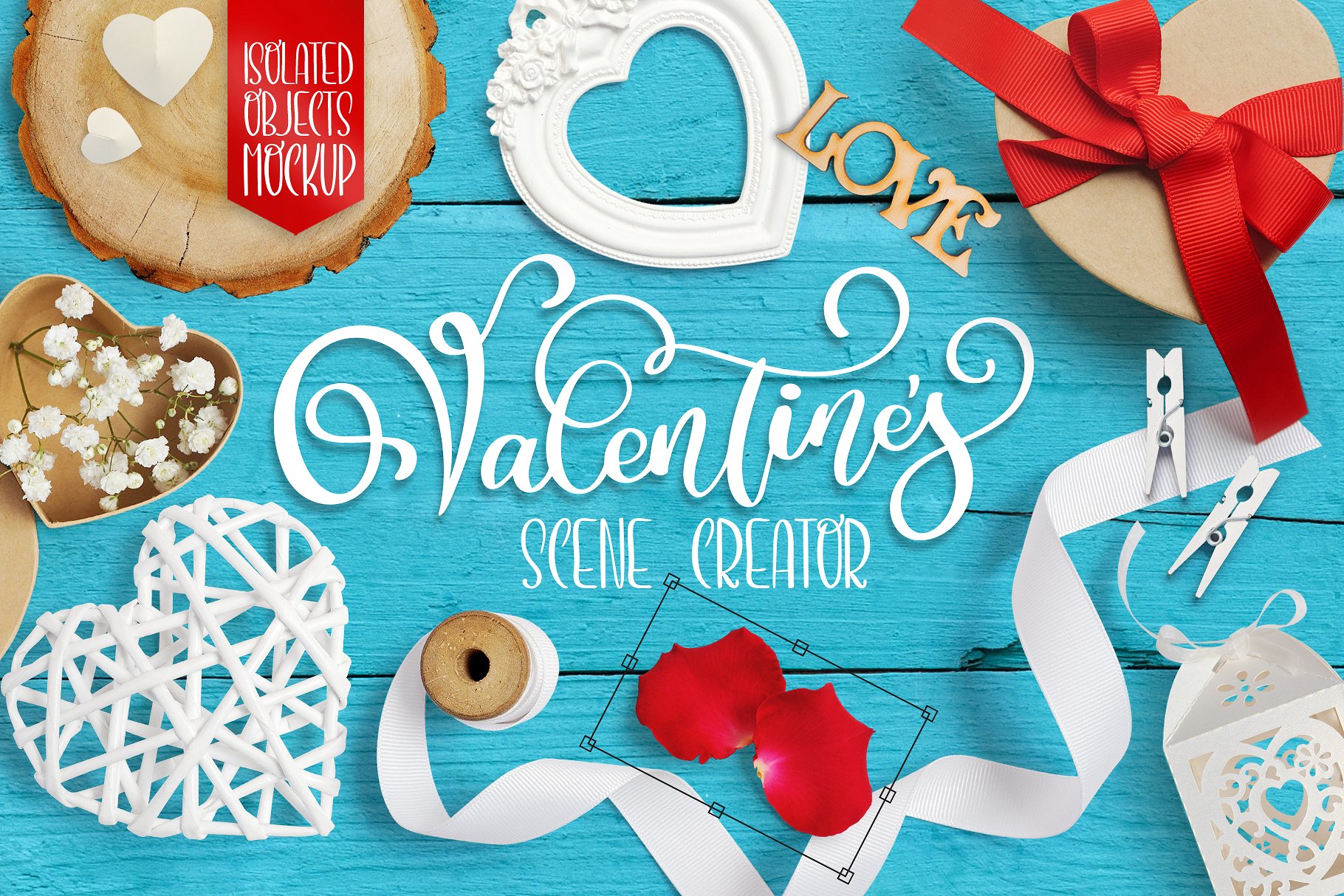 Valentine scene creator includes a range of movable Valentines props that you can use to create your own images and mockups. It includes 61 isolated PSD Valentines objects, 4 PSD scenes and 6 JPG backgrounds – mix and match to create endless different scenes!
Valentine's Day Flyer Template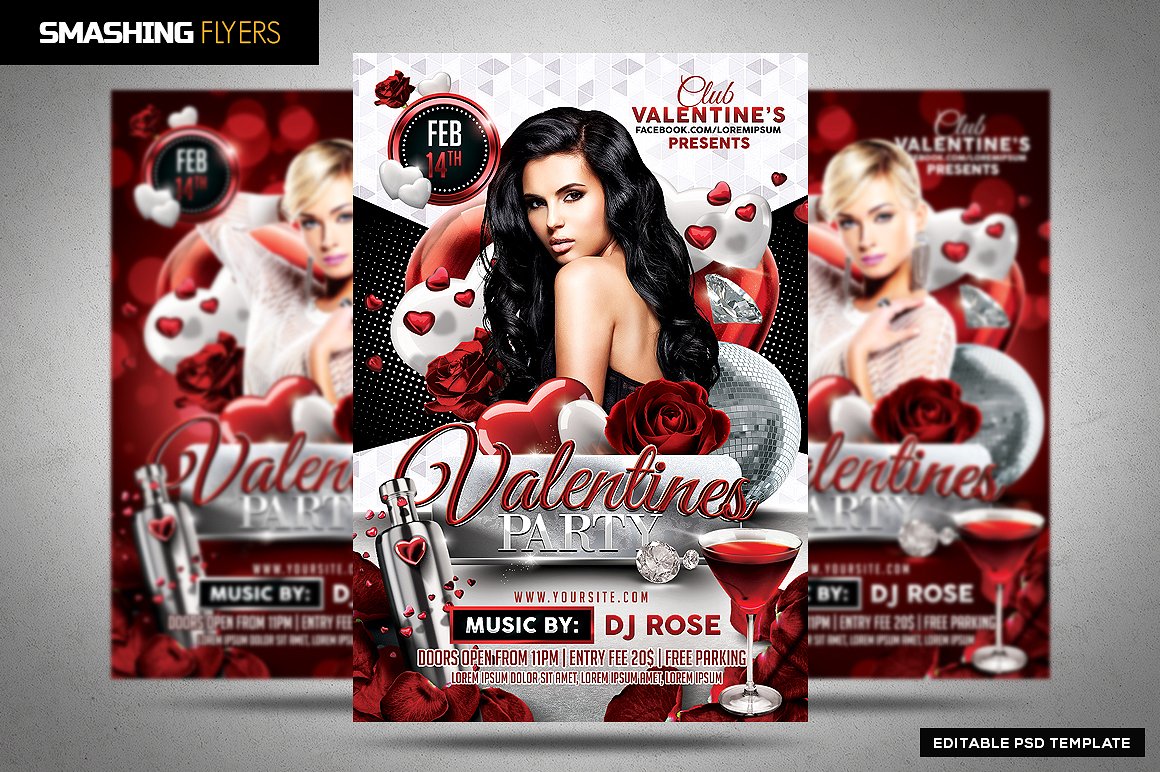 Promote the Valentine's Day in style with this highly customizable Valentine's Day PSD Flyer Template!
Valentine's Day Nordic Bundle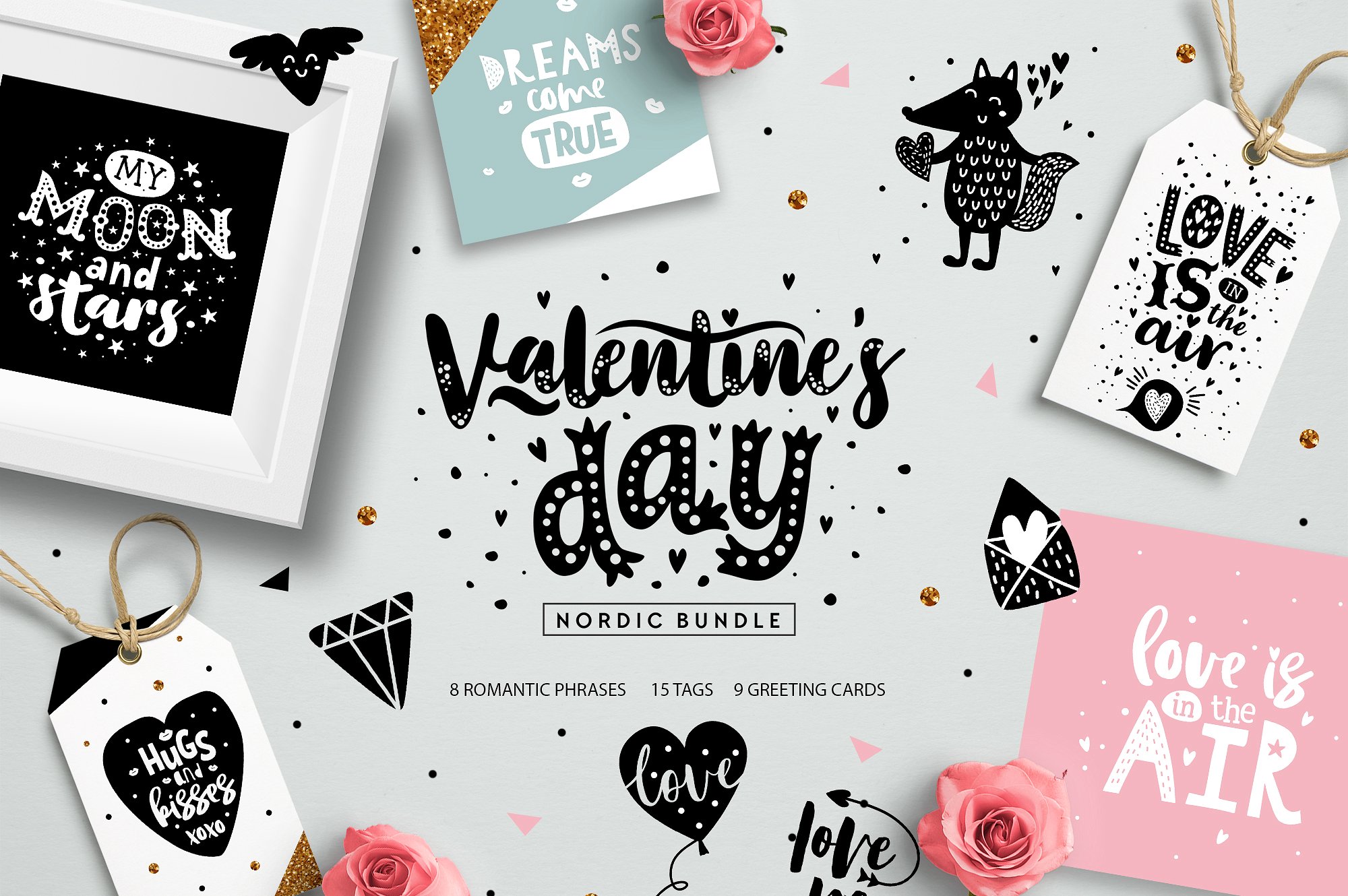 This cute bundle include romantic phrases, cards, tags, overlays, elements and other graphics. This set is just what you needed for the amazing invitations, party decorations, printable, greetings cards, posters, scrapbooking, t-shirts, baby clothes and more.
Hollyn Font + Extras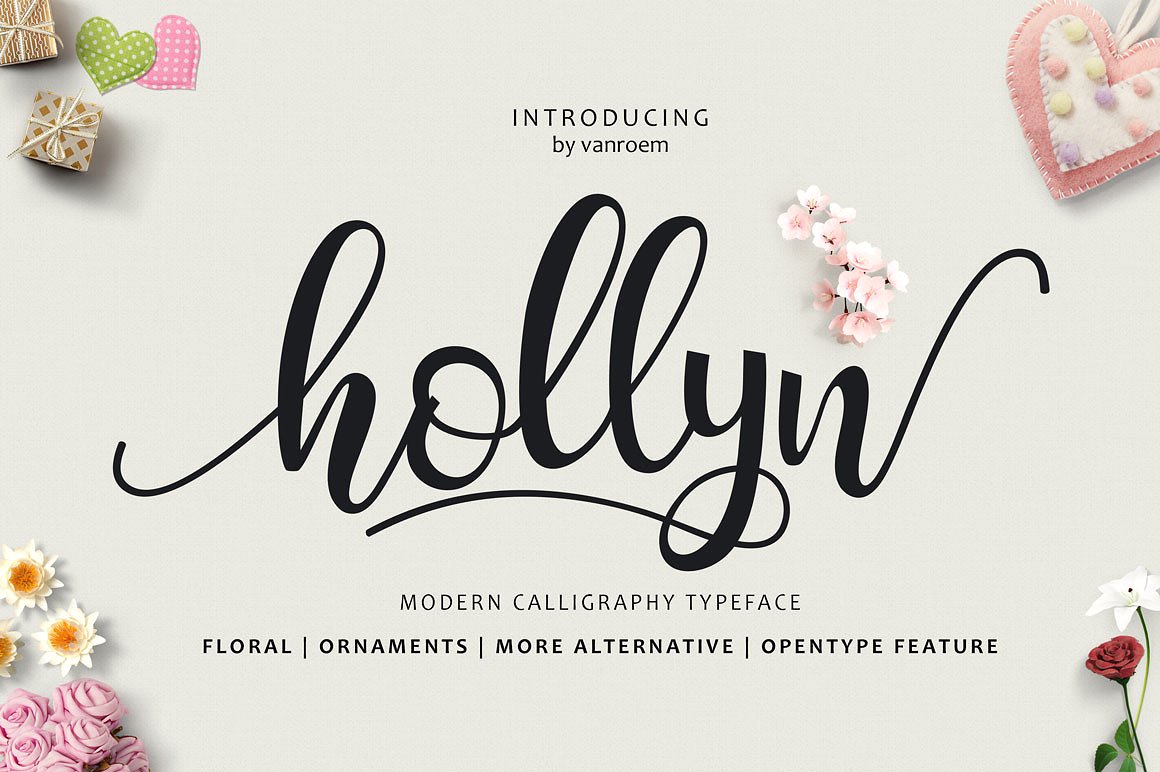 Hollyn Script is guaranteed to make your text stand out – perfect for logos, printed quotes, invitations, cards, product packaging, headers and whatever your imagination holds.
Valentine Patterns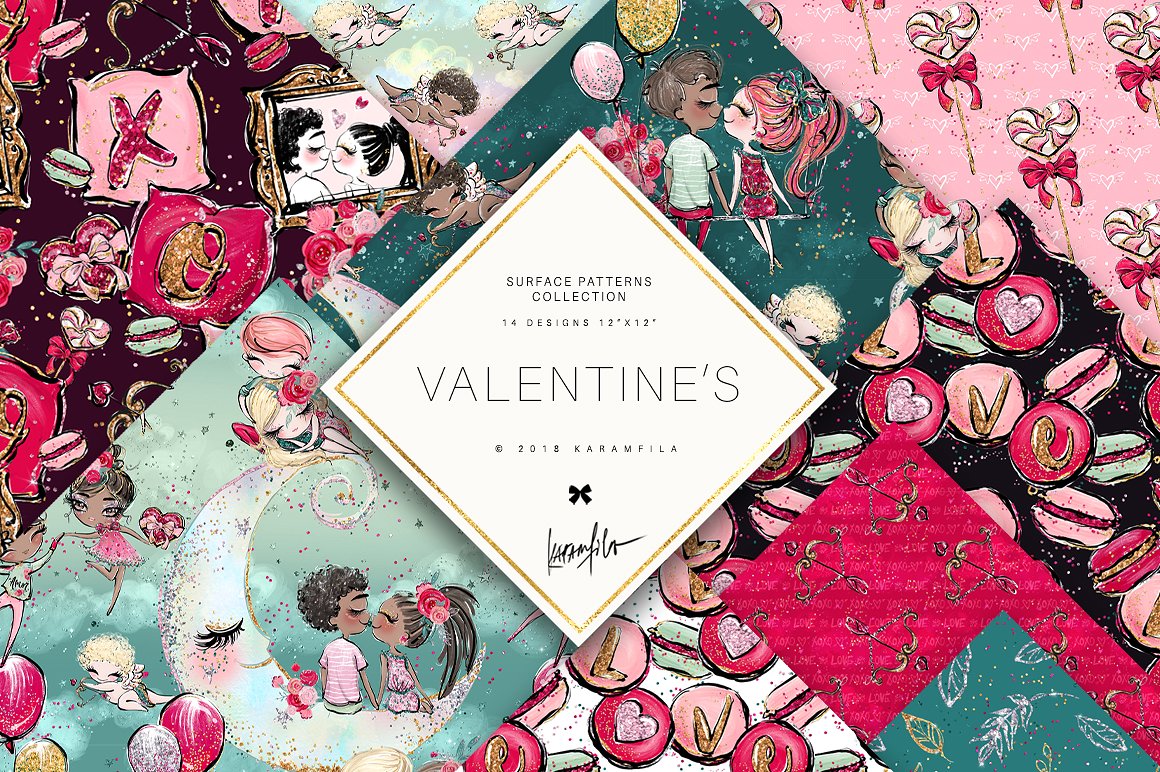 Karamfila's "Valentine's" 2019 collection Valentine Digital Paper, Valentine's Day Paper, Valentine Stickers, Planner Paper, Valentine Fabric Patterns, Macaroon, Lollipop Patterns.
Cool Love – Valentine's Pack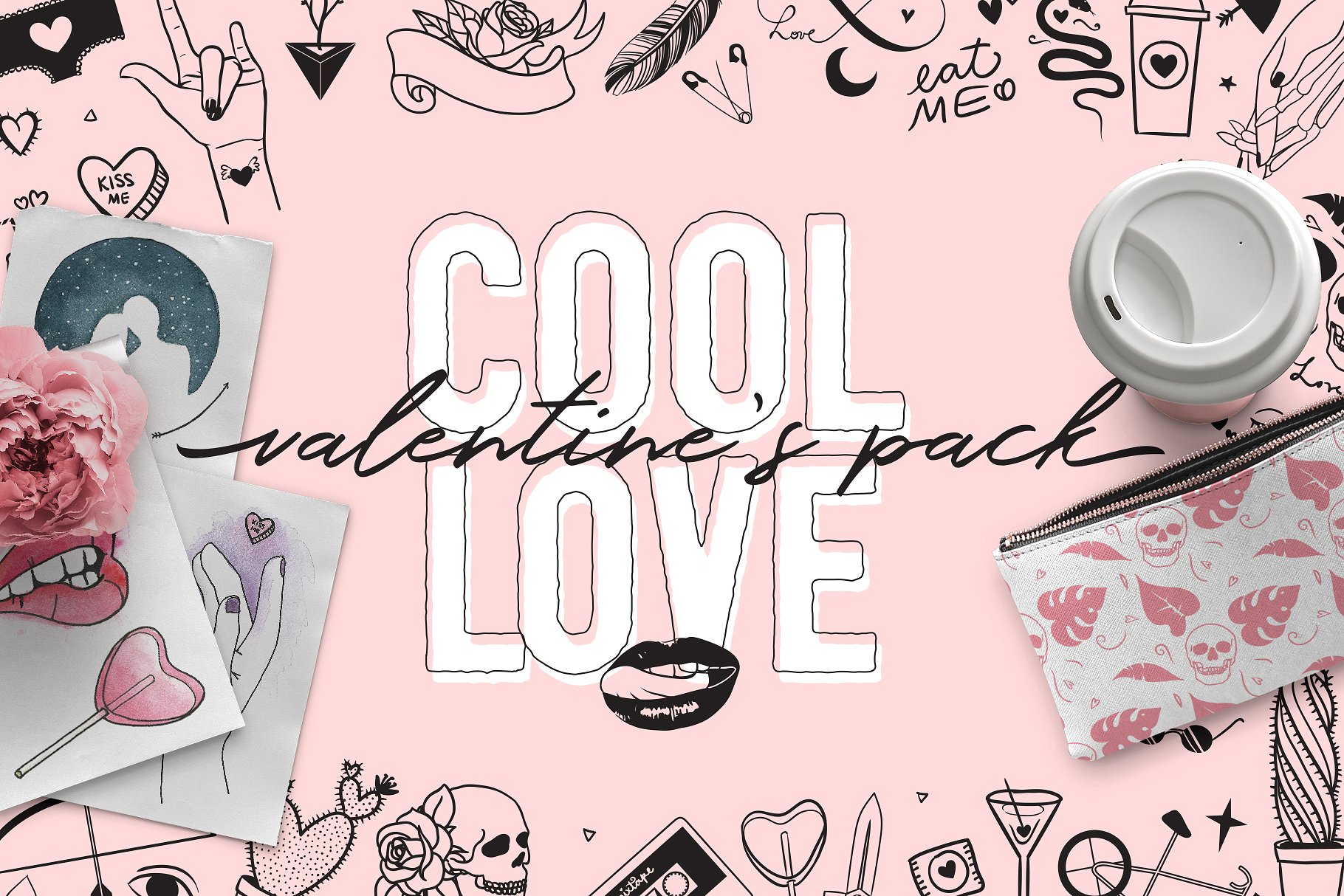 Ready for valentine's day? Tired of those cheesy and childish graphics and want something different? This is the pack for you!! Watercolors, vectors and patterns all in one amazing price. Create amazing cool things for valentine's day or for any other projects. This wide range of objects and formats allow you to create endless different projects, and get amazing styled designs.
Valentine's Day Background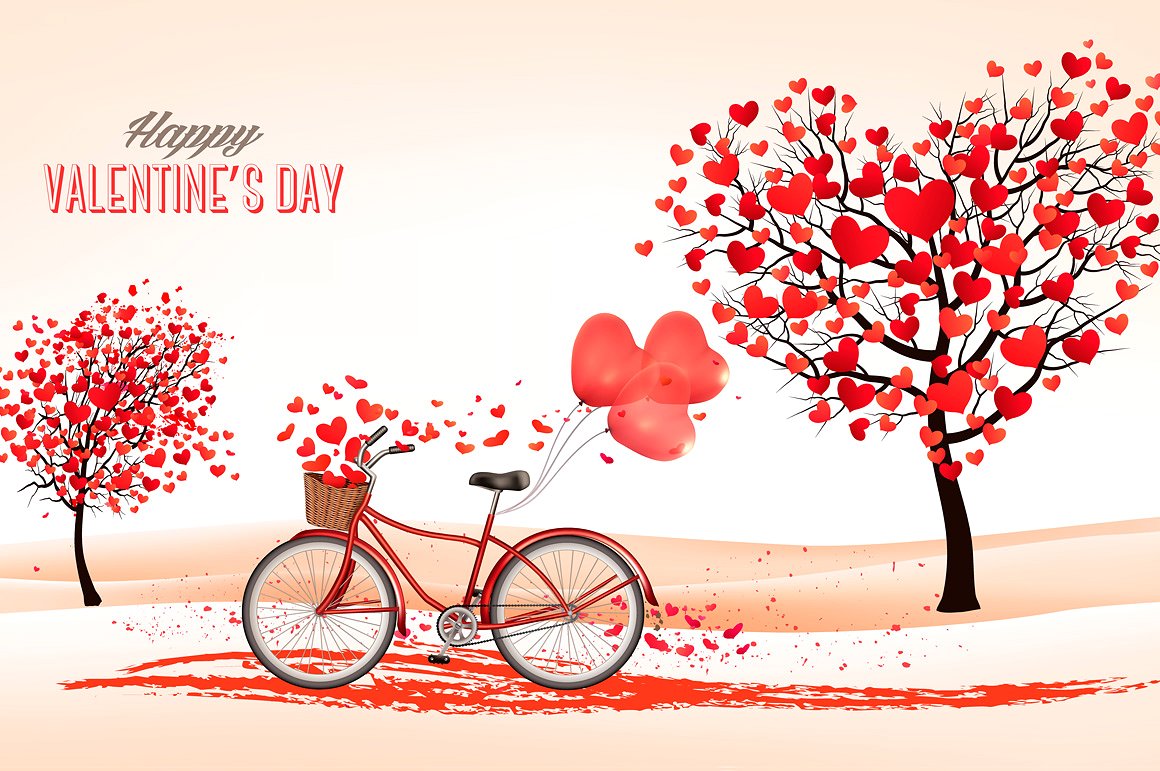 Valentine's Day background with a heart shaped trees and a bicycle. Vector.
Valentine's Day Love Collection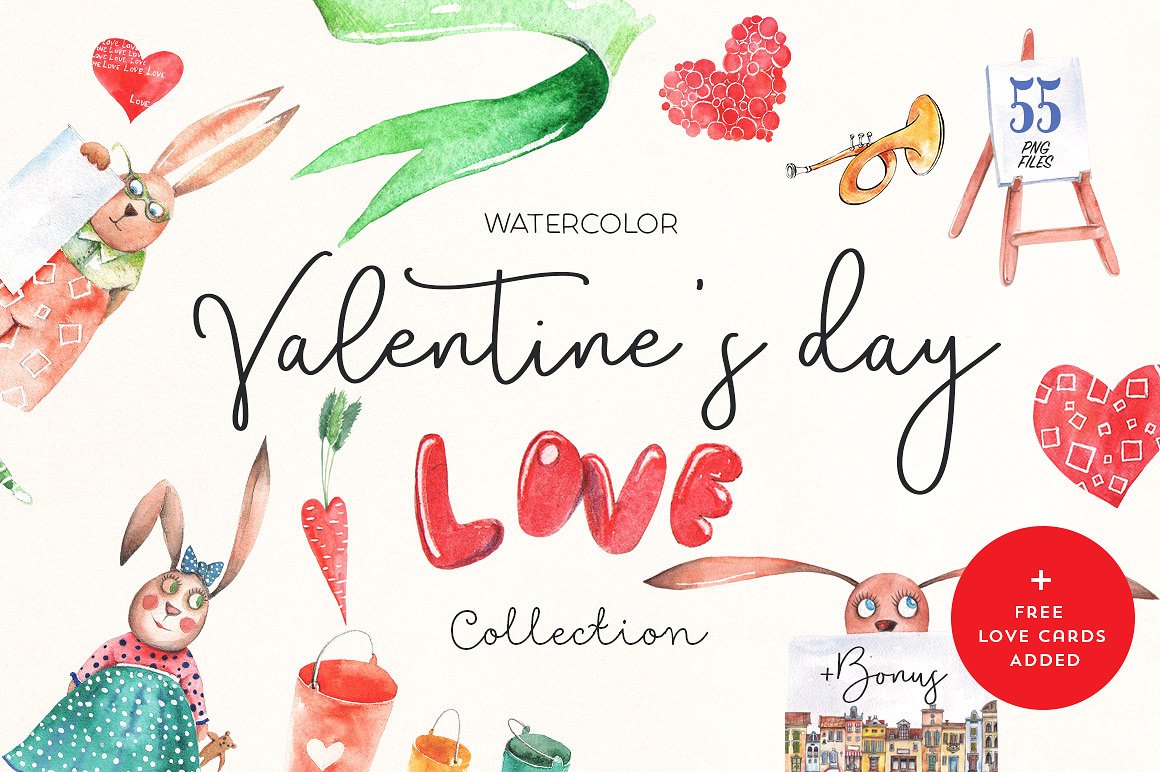 This is a Collection set of high quality watercolor Love elements. Perfect illustrations for all designs, wedding invitations, websites, blogs. cards, DIY designs…