Latest 35+ useful admin dashboard templates based on native Bootstrap 3 framework. Fully responsive and based on HTML5/CSS3, SASS standards.
The look and features of these admin templates are different. Find the best match according to your site branding and your site elements. Explore the each detail of this theme individually so that you can get your desired Bootstrap admin theme easily.
In this great post we gathering 35+ most useful and attractive HTML5 Admin Dashboard Templates for your investigation. Hope you like our selection and Enjoy!
You may also like:
Sneat – Free Bootstrap 5 HTML Admin Template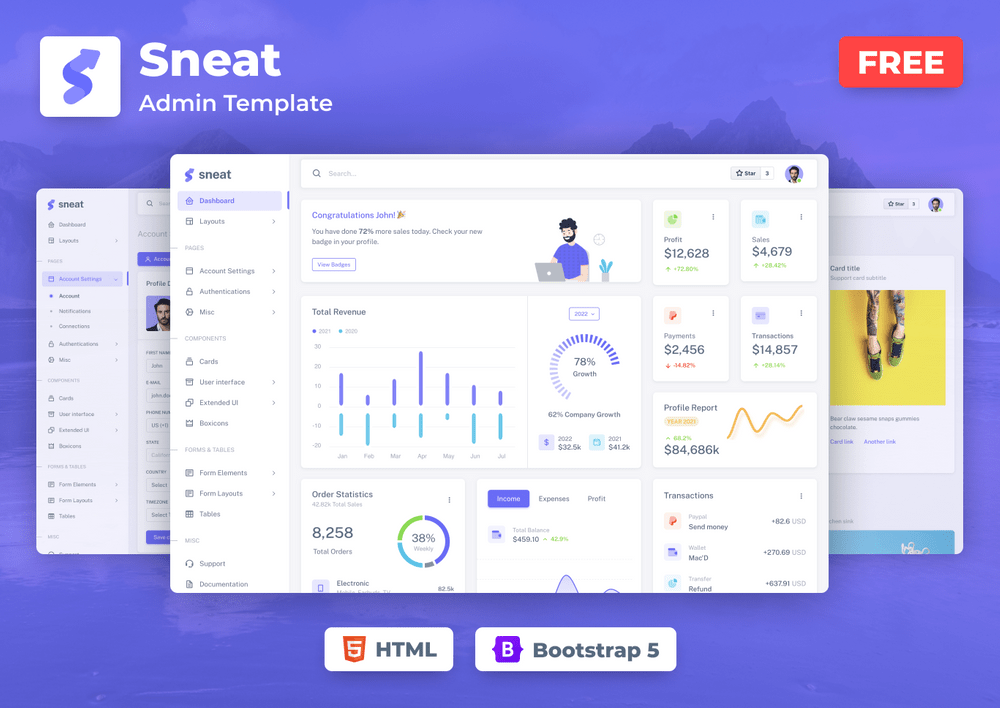 If you're a developer looking for a Bootstrap 5 Admin Template enriched with features and a highly customizable look no further than Sneat. Besides, the highest industry standards are considered to bring you the very best free bootstrap admin template that is not just fast and easy to use, but highly scalable.
Sing App HTML5 Dashboard Template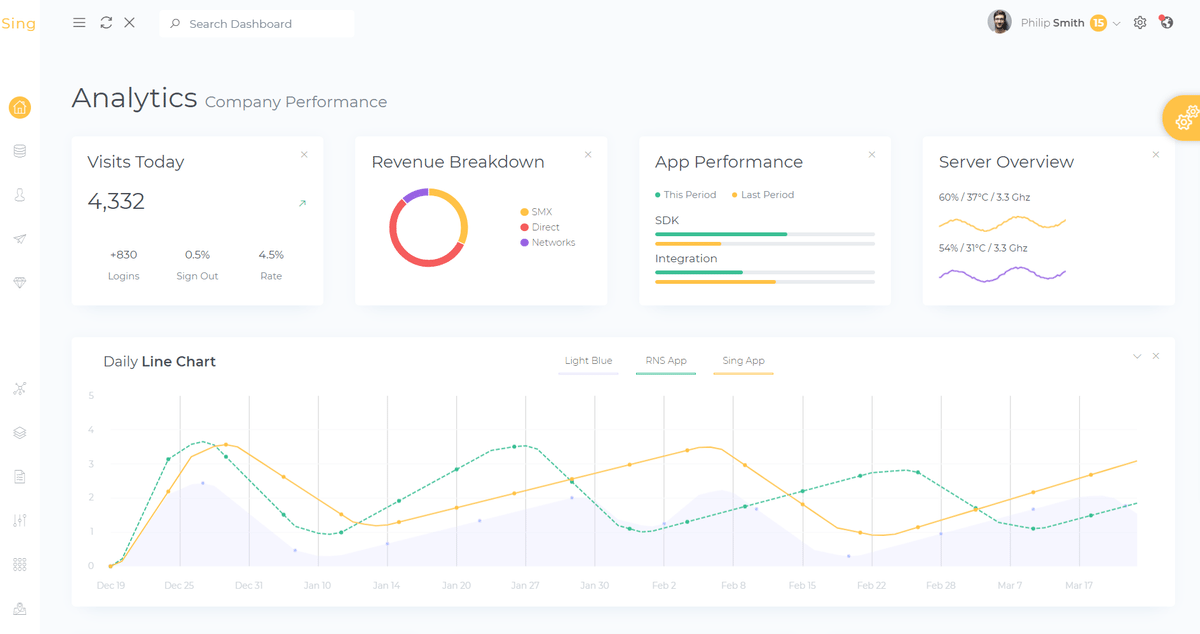 Sing App HTML5 is a fully responsive admin dashboard template built Bootstrap 4.2.1 and pure Javascript (No frameworks). On average it will save you around 400 man-hours in development time. You can use Sing App HTML5 to build any type of web applications like SAAS, CRM, data analytics software, investment dashboards, etc.
BIRD (Pro) – Multipurpose Responsive Admin Dashboard HTML5 Web APP Kit with Bootstrap 4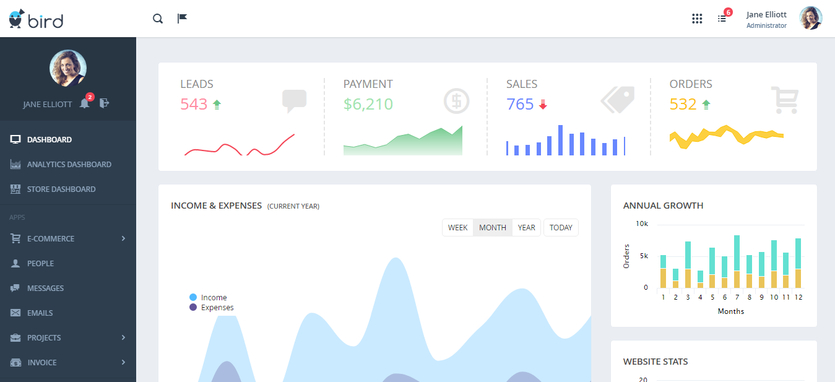 CoreUI – Bootstrap Admin Template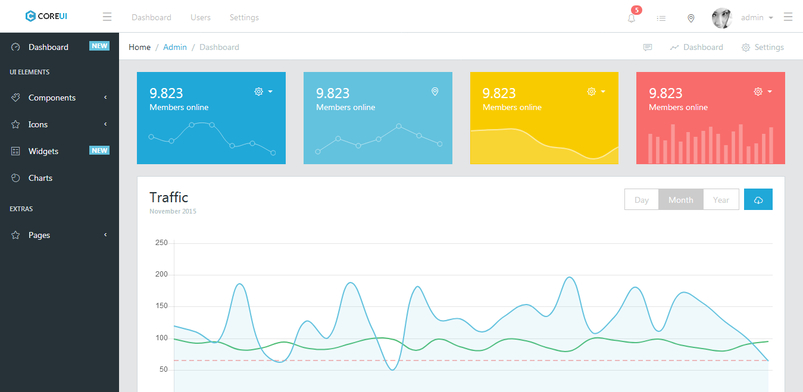 The only Bootstrap Admin Template you need to create amazing user interfaces. CoreUI is an open source Bootstrap 4 based admin template.
VueJS Laravel Admin Template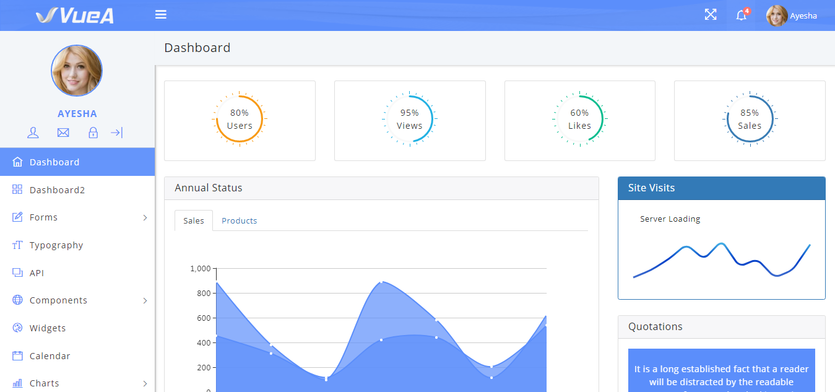 Here we present VueJS Laravel Admin Template for ThemeForest Community Embracing all latest technogies, its built with Vuejs2, Laravel 5.4 and Bootstrap 4. Whats more! We added almost every component you will ever need when developing an admin template…
Pongo – Simple & Clean Admin Template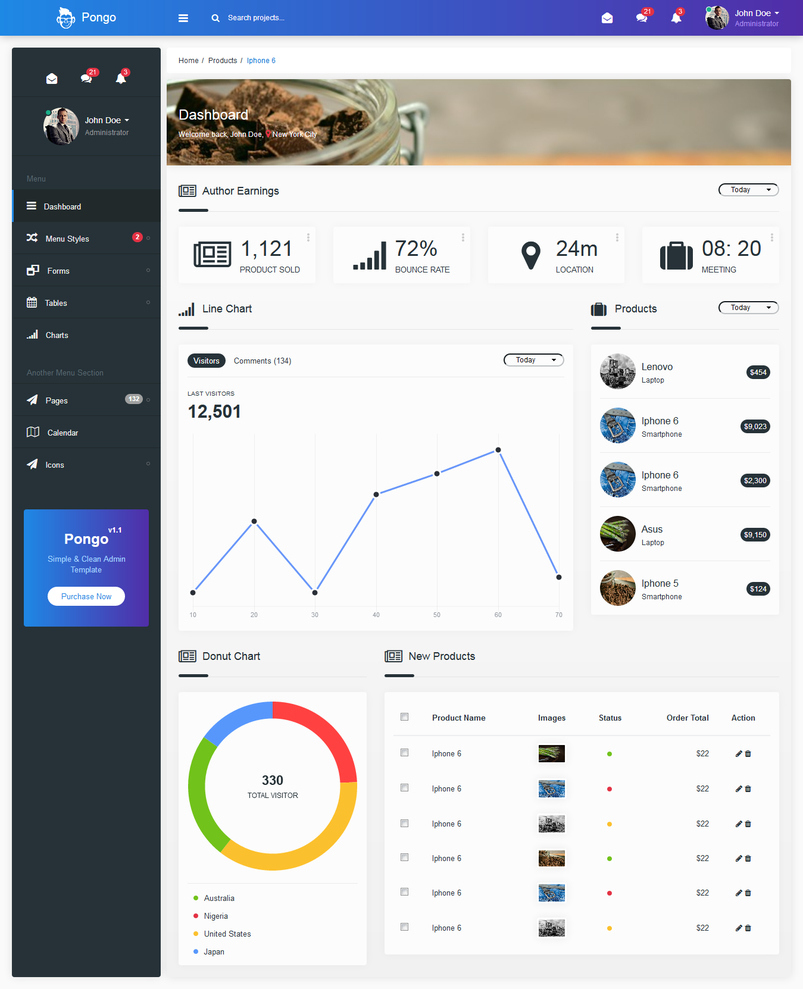 Pongo is a fully responsive, simple & clean admin template.
AdminBSB – Material Design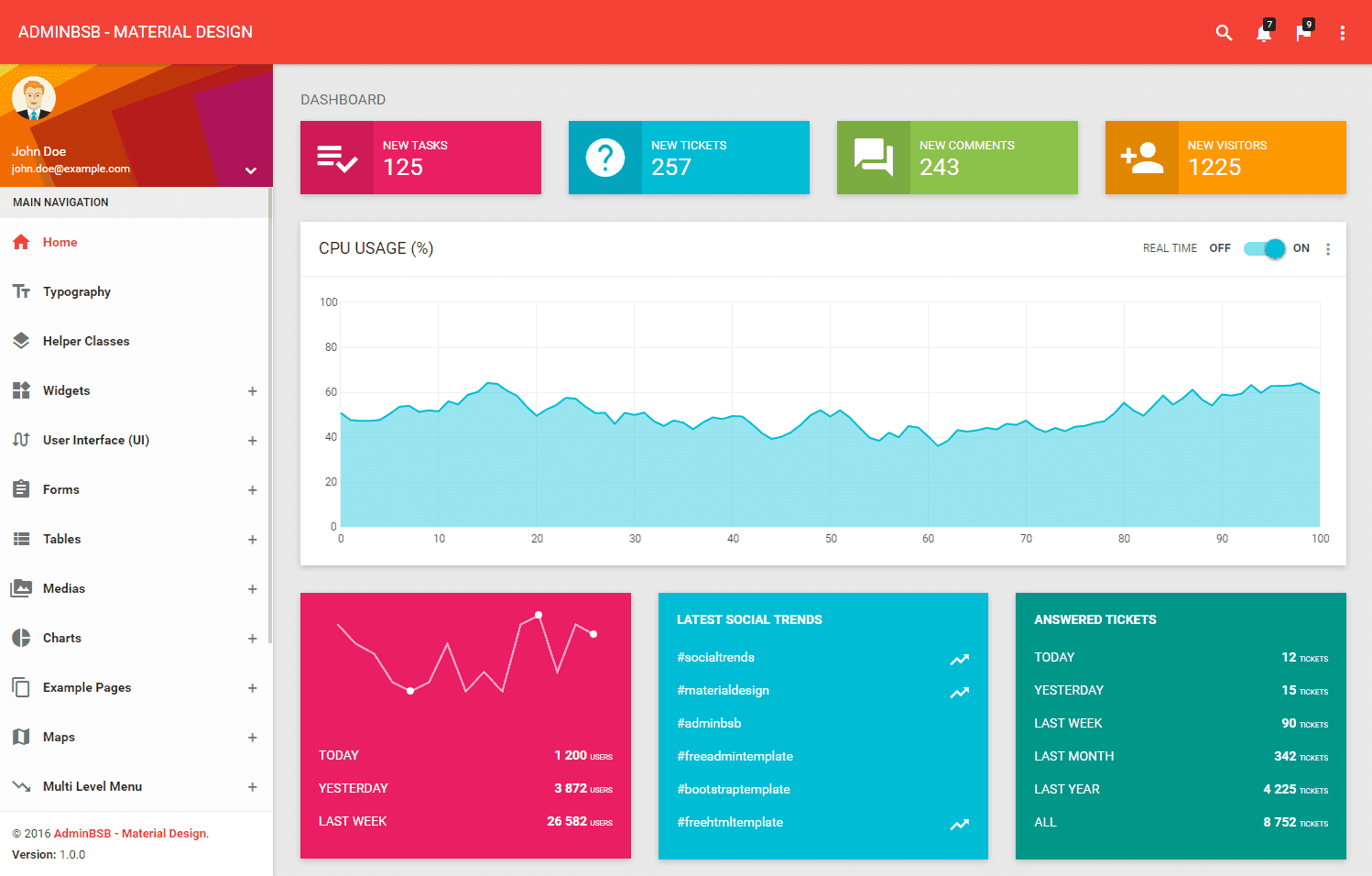 Pooled Admin Panel Bootstrap Responsive Website Template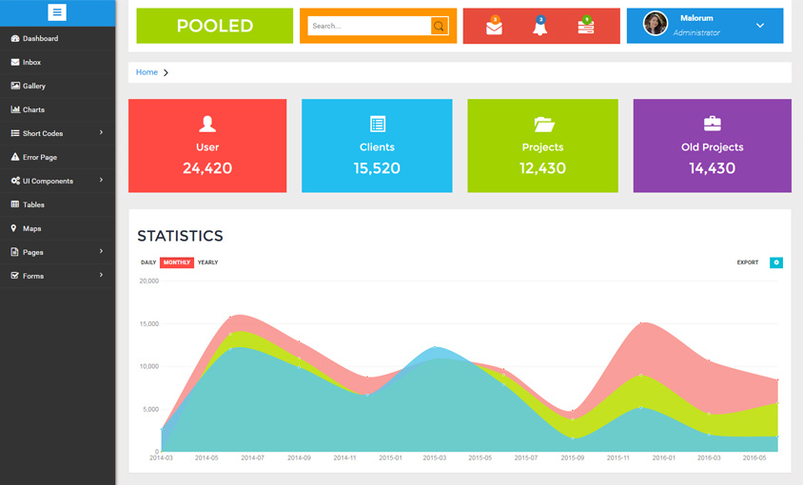 POOLED is a clean, Flat and Elegant ready to use responsive admin template, based on Bootstrap Framework and powered by JQuery. It's a Cross-browsing responsive template supporting all new browsers, compatible with desktop and mobile devices.
Colored Admin Panel Bootstrap Responsive Website Template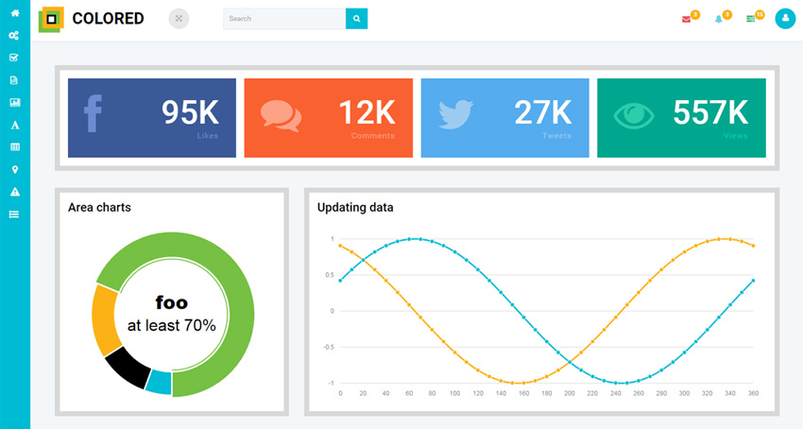 An Admin template built with entrancing looks and robust functionality using Bootstrap framework to cater your business needs. COLORED – Adds COLOR to your business! An Admin Panel Category Flat Bootstrap Responsive Website Template built with entrancing looks and robust functionality to cater your business needs. COLORED can be used for various business purposes say like Custom Admin Panels, Dashboards, Project management systems, CMS, CRM and more. It is an abundantly featured choicest admin template built on top of Bootstrap Framework, using modern web technologies HTML5, CSS3 and powered with jQuery.
Primer – Angular 2 Material Design Admin Template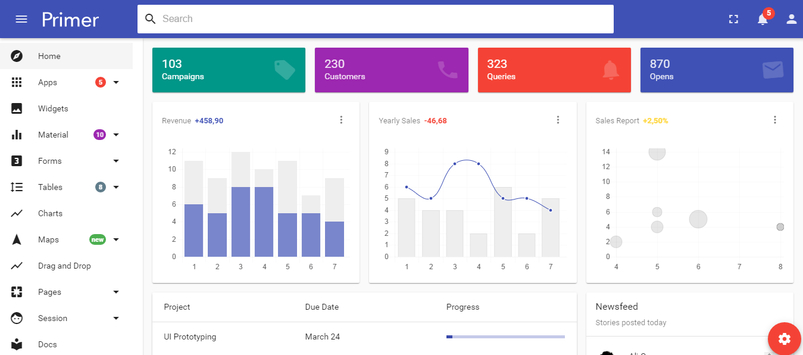 Primer is a creative material design admin template built with Angular 2. It comes out of the box with AoT and lazy loading support, Language translation , RTL support and light and dark colour schemes. With this, you get all you need to start working on your SAAS, CRM, CMS or dashboard based project.
Zeiss – Clean Responsive Admin Template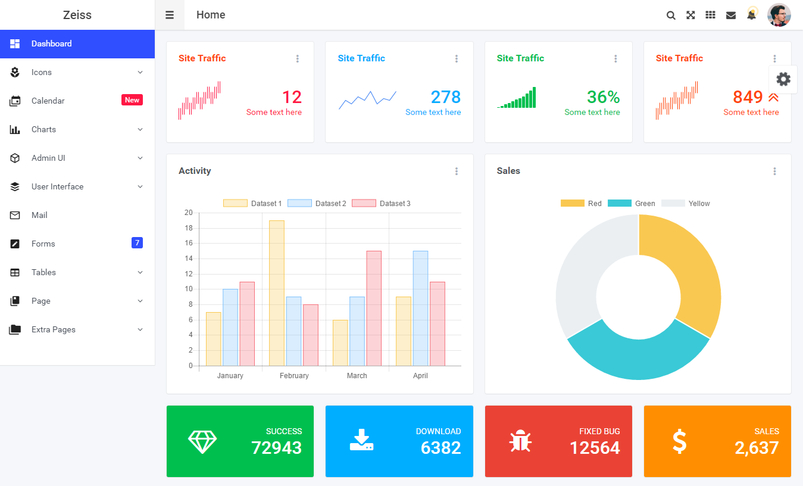 Zeiss is a Responsive Admin Template fully featured premium admin template built with Bootstrap 3.3.7, HTML5, CSS3, jQuery and LESS, beautiful features ready to use.
Azimuth – Angular 2 Admin Template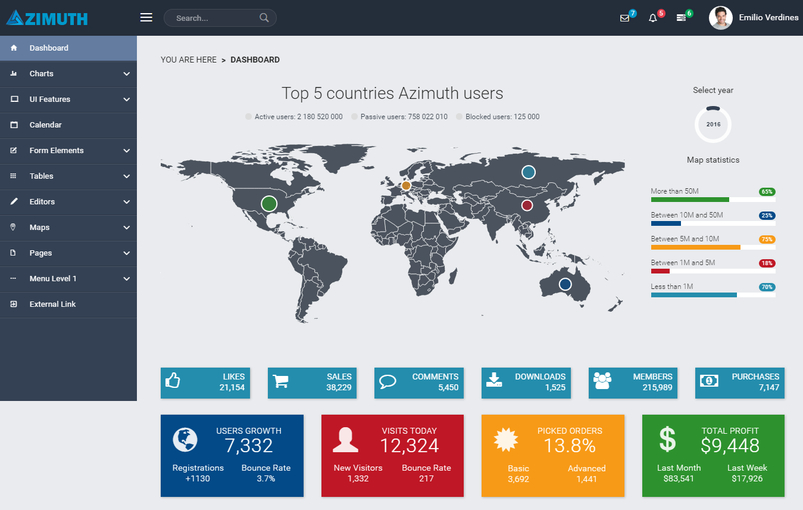 Azimuth is a front-end Admin Dashboard template based on Angular 2, Bootstrap 4 and Webpack. That means all the data you can see on graphs, charts and tables is mocked in Javascript so you can use the backend of your choice with no limitations.
Material Admin Extended – Dark Responsive Template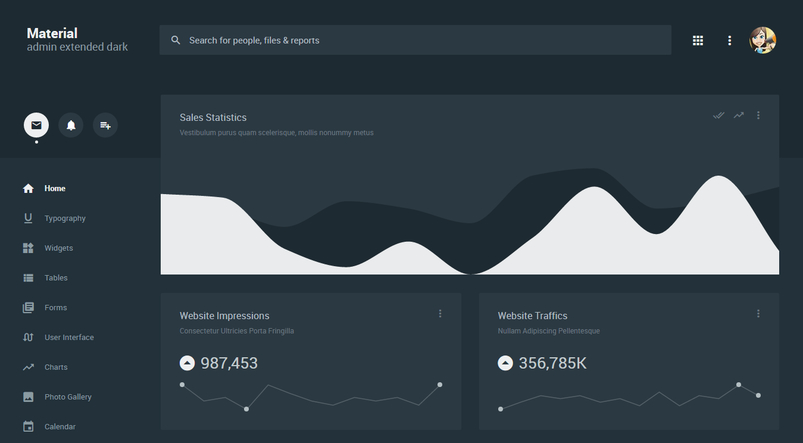 Material Admin Extended Dark is a Google Material Design inspired powerful-lightweight fully responsive retina display compatible admin template based on latest Bootstrap 3. MAED follows a unique dark color scheme tone in order to provide a better dashboard experience. This can be used for all type of web applications such as admin panels, CMS, CRM, custom dashboard etc.
Simple Admin – Responsive Admin Template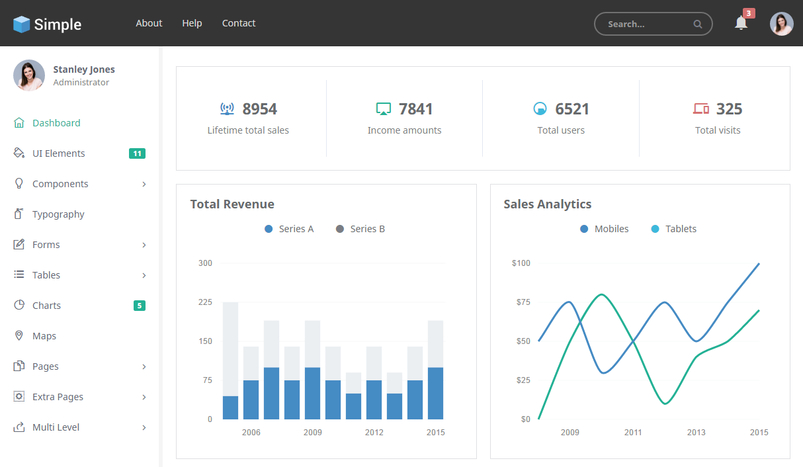 SimpleAdmin is a bootstrap based premium admin template. It has super clean user interface, customizable components and widgets and three different color schemes. It is fully responsive and easy to customize. The code is super easy to understand and gives power to any developer to turn this theme into real web application.
Codex – Responsive Admin Template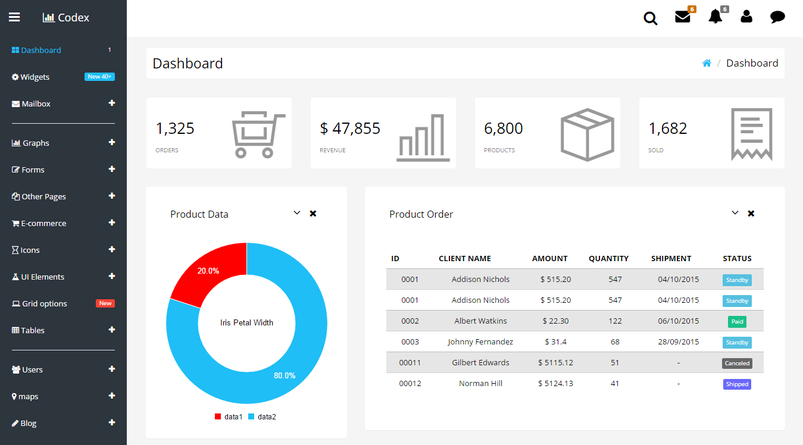 Codex is a bootstrap admin dashboard template built with Twitter Bootstrap Framework and it has a huge collection of reusable UI components and integrated with jQuery plugins also.
It is also easy to use and modify that is suitable to your needs and can be implemented to your desire projects such Project Management System, CRM, HRMS, Real Estate, Ecommerce, Loan Management System, Billing Management System and more.
Big Ben – Responsive Admin Dashboard Template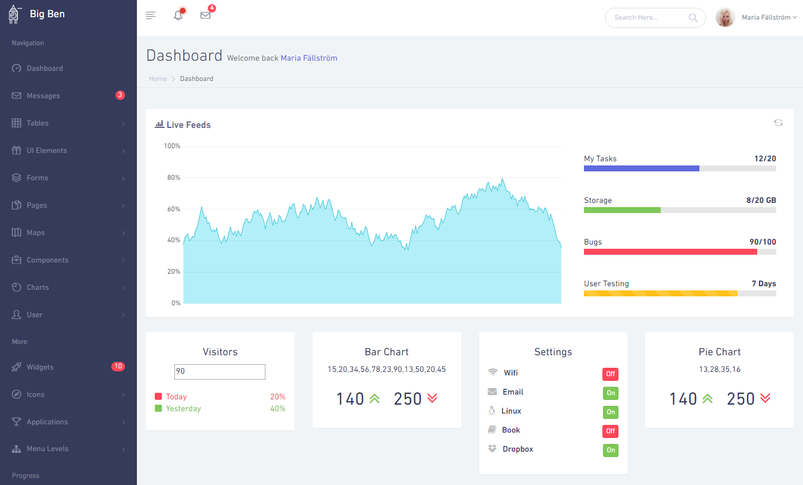 Big Ben UI Framework is a premium Web Application Admin Dashboard built on top of Twitter Bootstrap 3.3.7 Framework. We have carefully designed all common elements.
Big Ben helps you quickly build beautiful and accessible user interfaces for interactive web applications. Comes packed with lots of UI interactions, elements, components and styles. It was created to be the most functional, clean and well designed template for any types of backend applications.
Admire – Bootstrap 4 Admin + Laravel Template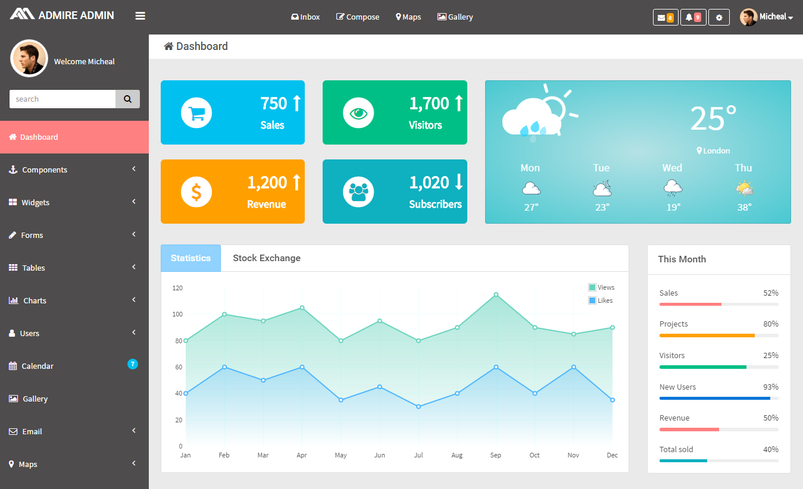 Admire is a bootstrap 4 based admin template built with developers in mind. It comes with 70+ pages and 6 layouts. It has 6 colors schemes and 2 dashboard styles and plenty of widgets. We have used gulp for asset streamlining, so it will be very easy for you to customize it as per your needs.
Shoppy Ecommerce Admin Panel Responsive Web Template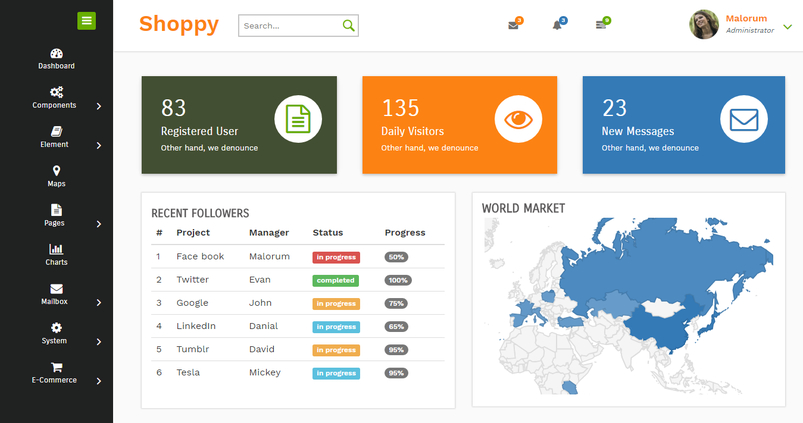 SHOPPY is a Flat-Responsive-Vibrant-Clean-Pristine Admin panel category Web Template built upon HTML5, CSS3 and Bootstrap framework. This vibrant and versatile Admin template surely makes the top-of-list in its category with the cleverly coded and visually magnificent nature, and it has plethora of elements embedded uniformly and makes it a stand-out choice. The transformable navigation bar fetches the beauty and the header has the elements that are handy.
Modular Admin – HTML Template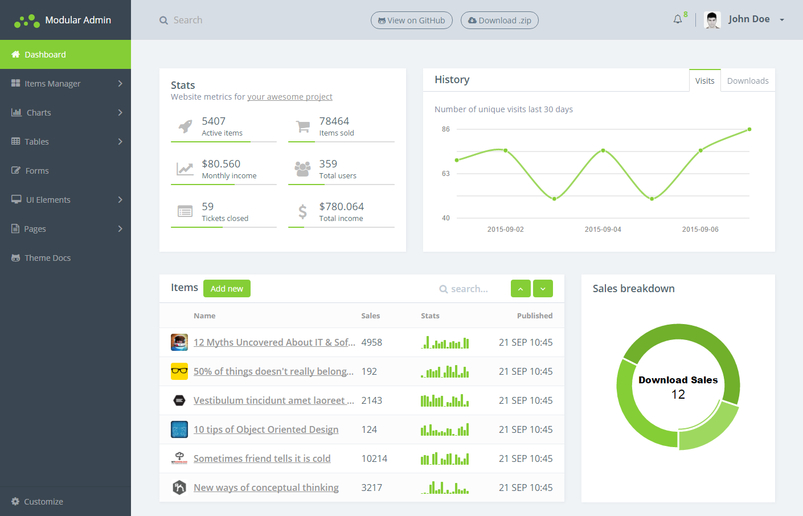 Material Dashboard Template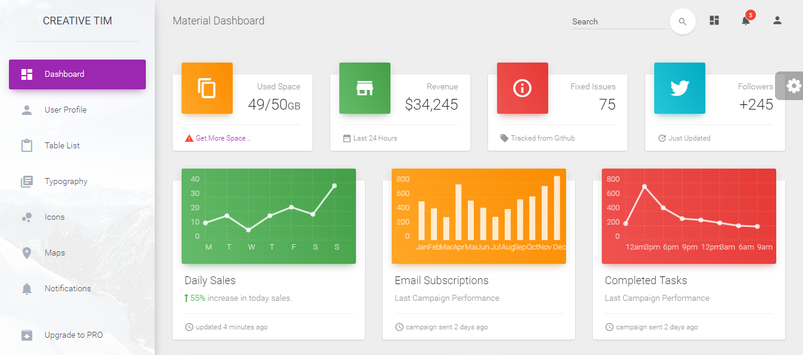 Material Dashboard is a free Material Bootstrap Admin with a fresh, new design inspired by Google's Material Design. We are very excited to introduce our take on the material concepts through an easy to use and beautiful set of components. Material Dashboard was built over the popular Bootstrap framework and it comes with a couple of third-party plugins redesigned to fit in with the rest of the elements.
Track – Material Design Free Admin Template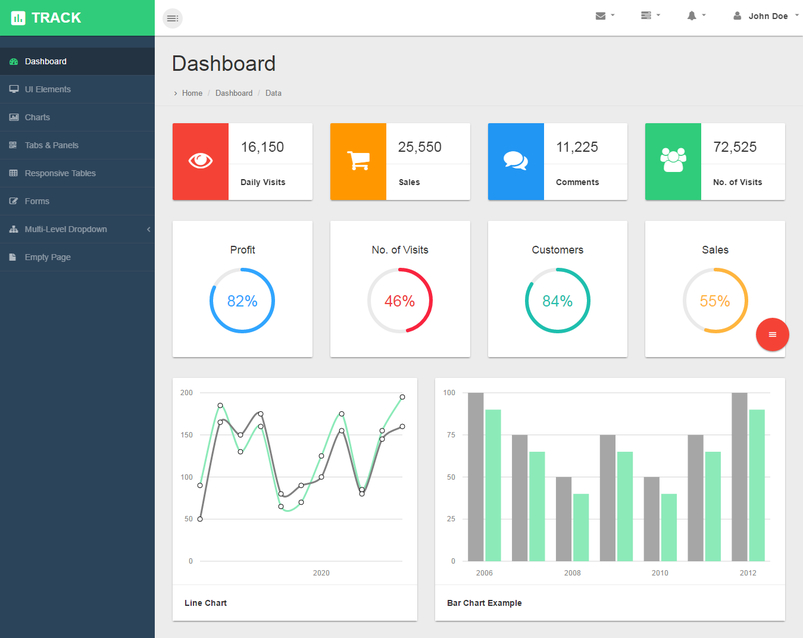 Track material design free admin template is a clean and minimal Bootstrap and HTML5 based admin template. This template is mobile friendly and optimized to be used for any device like mobile, tabs, desktop. This template is powered by javascript and jQuery with amazing charts and graphs also bundle of widgets wich can be used in the development. Track is one of the best Material design admin template of Webthemez of template because of its elegant design, nice functionality and well use of Material design framework.
Helsinki – Responsive Admin Template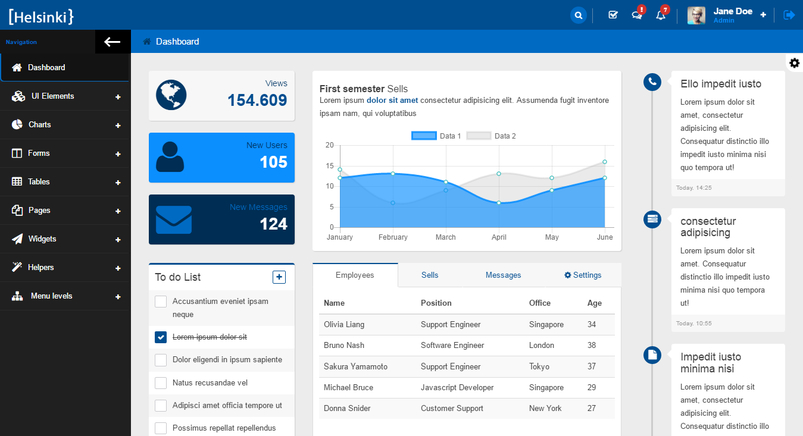 Helsinki is a front-end admin template built on top of Bootstrap, is fully responsive and ready to be use in any device.
CoreNG – Angular 2 Material Design Admin Template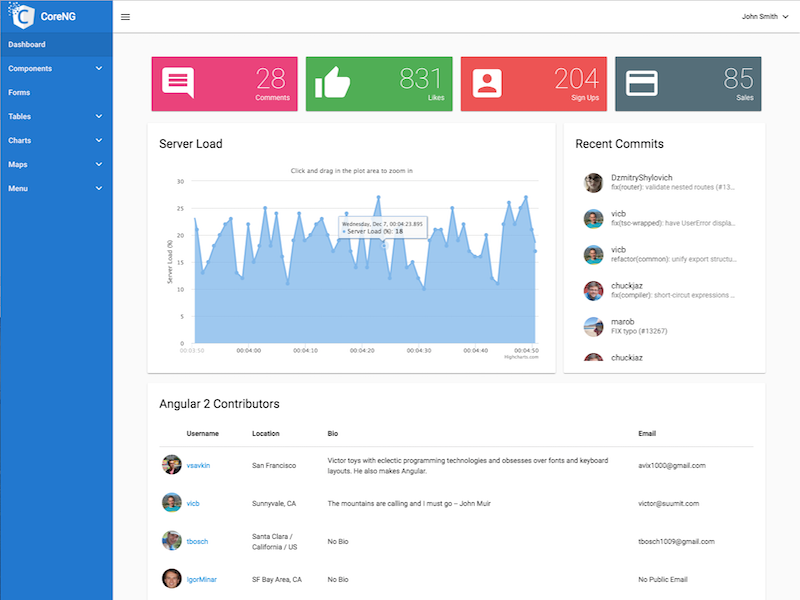 CoreNG is a Angular 2 theme built from the ground up with Angular CLI as your all in one build system and the Google backed Angular Material 2!
Kenny – Dashboard / Admin Site Responsive Template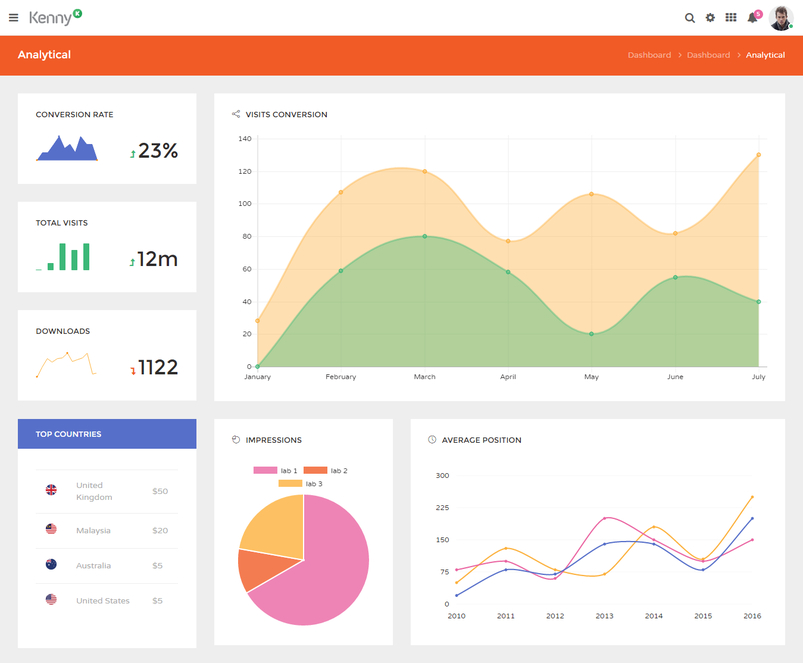 Kenny Admin is a WebApp template for admin dashboards and control panels. It is a responsive HTML template that is based on the CSS Sass framework Bootstrap 3.3.6 It utilizes all of the Bootstrap components in its design and re-styles many commonly used plugins to create a consistent design that can be used as a user interface for backend applications. Kenny Admin is based on a modular design, which allows it to be easily customized and built upon.
Xadmino – Responsive Admin Template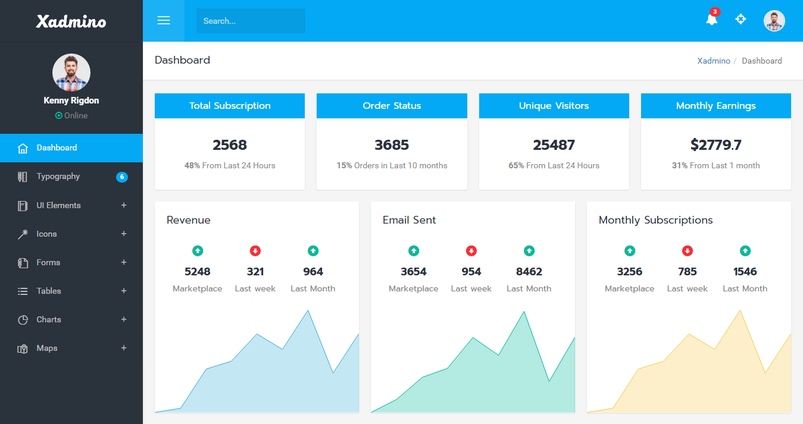 Xadmino is a bootstrap based fully responsive admin template. It comes with lots of reusable and beautiful UI elements, widgets and features. It allows developer to easily build a super awesome web application.
Elephant – Dashboard and Admin Site Responsive Template (+RTL)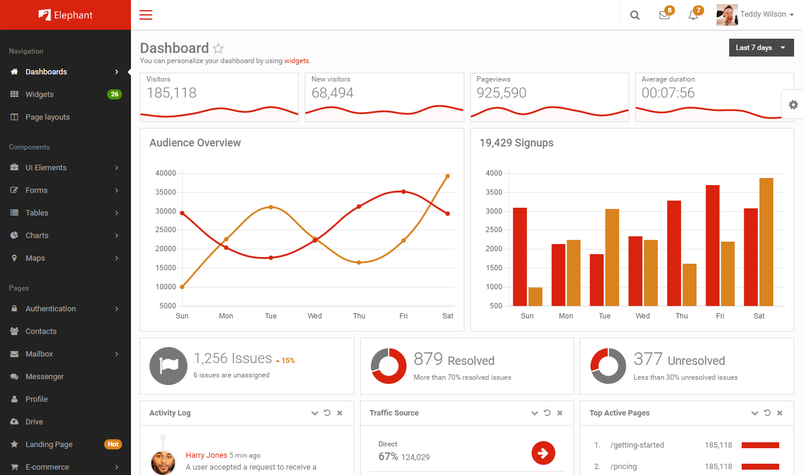 Elephant is downloadable in two forms, within which you'll find the source code and compiled files. The file structure in the Elephant is similar to the HTML5 Boilerplate file structure.