Your employees work hard to promote your products and sell your services; now, it's time to pay it forward. If you staff a team of trendy graphic designers that know how to make your content pop, we recommend asking them to use their skills to create amazing award certificates.

What are Award Certificates?
Award certificates are used to recognize employees for their hard work and dedication to your company. They're usually given to students, teachers, or employees. You may give out an award certificate to celebrate an achievement or milestone, like meeting a sales goal.
Why are Award Certificates Important?
Giving your employees a memorable award for their years of service – like certificates or plaques–, can increase their motivation and encourage friendly competition. Plus, awards can improve productivity and create a more positive workplace.
How to Create an Award Certificate
Creating an awards certificate isn't too tricky, especially if you're using a template. But, if you want to start your award certificate from scratch, make sure to add the following components.
1. Type of Award
Some large organizations will put an emblem at the very top of the certificate, which indicates the award type. For example, if your employee is a part of the marketing apartment, you would place "Marketing Award" in a stamp-like symbol. Keep in mind that this isn't the award's title.
2. Award Title
The award title is the name of the award your employee is winning. It should be written in the boldest, biggest font. The word "CERTIFICATE" is often larger than the following text. If you don't include the word "CERTIFICATE" in your award, your award title can be one size.
3. Presentation Line
The presentation line is the small sentence that precedes the award winner's name. You can write "this certificate is proudly presented to" or "for being exceptional and driven towards the company values." You can get really unique here if you want to customize this section.
4. Recipient's Name
In this line, simply put the recipients' names. It's not a good idea to put a nickname or just their first name, as the employee may not be able to prove the certificate was handed to them. You may want to keep this space blank, not typed if you want to personally sign the certificate.
5. Company Name
Directly under the recipient's name, put your company's name. Once again, don't get creative here for the sake of your employees. We also recommend including your logo if it doesn't take up a lot of space. For example, use the printed "Google" logo, not the tri-colored wheel.
6. Award Description
Use the next section to talk about why the employee is winning the award. An award description is essential because it makes your employees feel like they aren't just a number. Talk about the actions they took to win the award and why you feel they deserve recognition for their work.
7. Date and Signature
In the bottom left-hand corner, put the word "DATE" and an empty line. In the bottom right-hand corner, put the word "SIGNATURE" and a similar empty line. You should leave these sections blank (like the recipient's name line), as handwritten dates and signatures are more personal.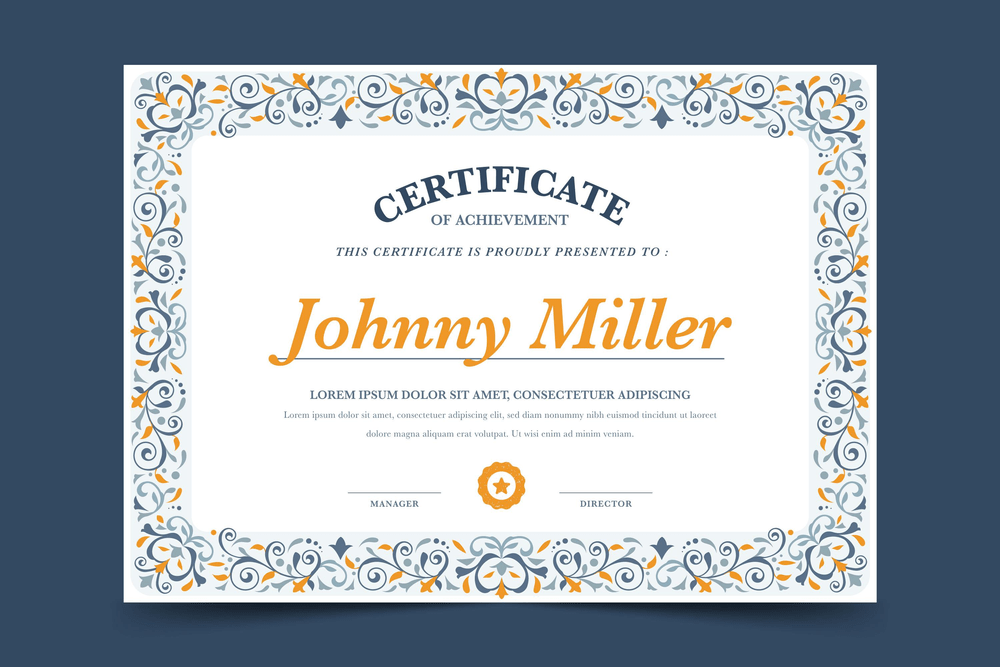 How Big Should an Award Certificate Be?
Award certificates are typically rectangular, with the average width being 2-3 inches longer than the height. The most common award certificate size is 11 x 14 (1056 x 1344 PPI), 8 ½ x 11 (816 x 1056 PPI), and 7 ½ x 9 ½ (720 x 912 PPI), but they can be printed in almost any size.
How Can I Make My Award Certificates Pop?
Award certificates are classic, effective, and beautiful if you add the right design elements. If you want to go above and beyond when designing your award certificates, use these 3 tips.
1. Use a Stylish or Bombastic Font
The best designs are imaginative and creative, but certificates still have to look professional. With that in mind, experiment with different fonts, symbols, and text sizes to see what works best for your employees. You can even use different font colors for each department.
2. Spend Some Time on the Border
If there's any place on the certificate you can add some personality, it's the border. You don't have to use lines, baroque patterns, or shapes if you don't want to. Consider using flowers, pencil crayons, and other symbols instead, but don't forget to incorporate your brand's colors.
3. Get the President's Signature
It's always nice to be recognized for our hard work, but we often appreciate compliments more if they're from the people we admire. When your employee sees that their certificate was signed by the president, it'll make them feel validated, appreciated, and cared for by the company.
Published by
decolore
Thanks for being a part of this beautiful blog. Hours spent to create this web space to our visitors as much useful as we can. We're living with a pace of life and build beneficial collections related to graphic and web design. Here we come up with premium and free collections like mockups, backgrounds, fonts, wordpress themes, branding, inspiration, tutorials and informative articles for professional designers and beginners. Go ahead and let's be a partners! View all posts by decolore