Free Email Template Builders: Top 2019
We all face this problem almost every day — how to make a right choice among the overwhelming diversity of goods and services, whether it food, gadgets, taxi, money transfer or so. It's easy to get lost among the dozens and thousands of brands, models and offers, isn't?
It may seems a bit weird but the same goes to email marketers. Imagine that professionals in the world of products diversity are often being confused too! I mean the choice of email marketing tools.

There are many email template editors in cyberspace, their features seem to be more or less similar… So which one deserves to be your cup of tea? Some experienced marketers already have their preferences. But if you're just stepped the field of this industry, you need to choose — and make it as fast as you can.
Ok, we'll try to help you. The best practical solution is to provide a brief survey of the most popular email template builders and figure out their unique features, pros and cons. We have chosen top 10 email builders of 2019 (not in preference order, just random): Stripo.email, CampaignMonitor, GetResponse, Mailchimp, BEE Free, Unlayer.com, MailStyler 2, EDM Designer, Topol.io, and Mosaico. For your startup convenience, we are going to review only the options and features available with Free subscription plans, not the paid ones.
So, how these tools and their performance differ? Let's go.
1. Stripo.email
I consider Stripo.email as maybe one of the best tools among competitors, a real next-gen editor. This independent service is already embedded in some ESPs. It offers 300+ predesigned templates and 10,000+ images. It's up to you to decide to use drag-and-drop and/or HTML editors as they may be used simultaneously, so it's convenient to work with visual elements, to insert images, videos and interactive elements.
All templates are fully responsive and proved by Email on Acid. Each of email templates and each of its modules have very flexible displaying options for end user: you can choose the elements to display and hide on mobile screen.
Stripo blog is a royal treasury of articles on hottest ecommerce topics: you want to know how to build performing templates and embed interactive elements, or curious what is in trend now? Just welcome!
The last but not the least. Stripo is available for embedding into your platform as plugin. And there is a FREE subscription to try. Easy-to-setup menu and friendly support team would definitely make everything for you to fall in love with solution.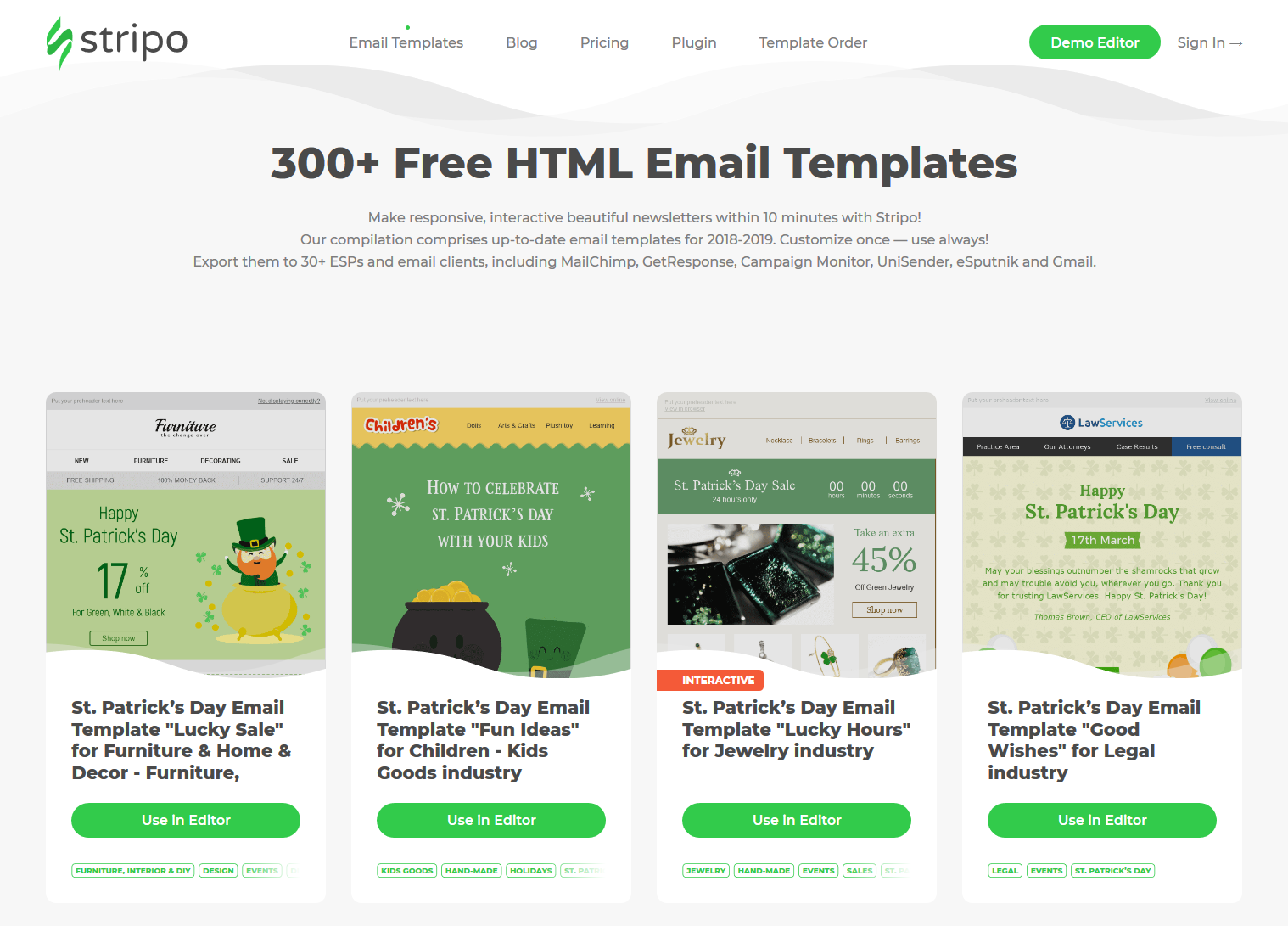 Pros:
Smart elements to create product cards easier and faster; personal content library to save and reuse email modules; option to add the text over banner with no Photoshop. You can also export your templates to most of the famous ESPs and email clients.
Cons:
To be honest, I don't know. ?
2. CampaignMonitor
Properly speaking, this is not an independent template editor but an embedded tool of world famous ESP service. But I decided to mention tools of this kind anyway because CM email design is really amazing, their interface is pretty user-friendly, and they offer 50+ ready-made templates.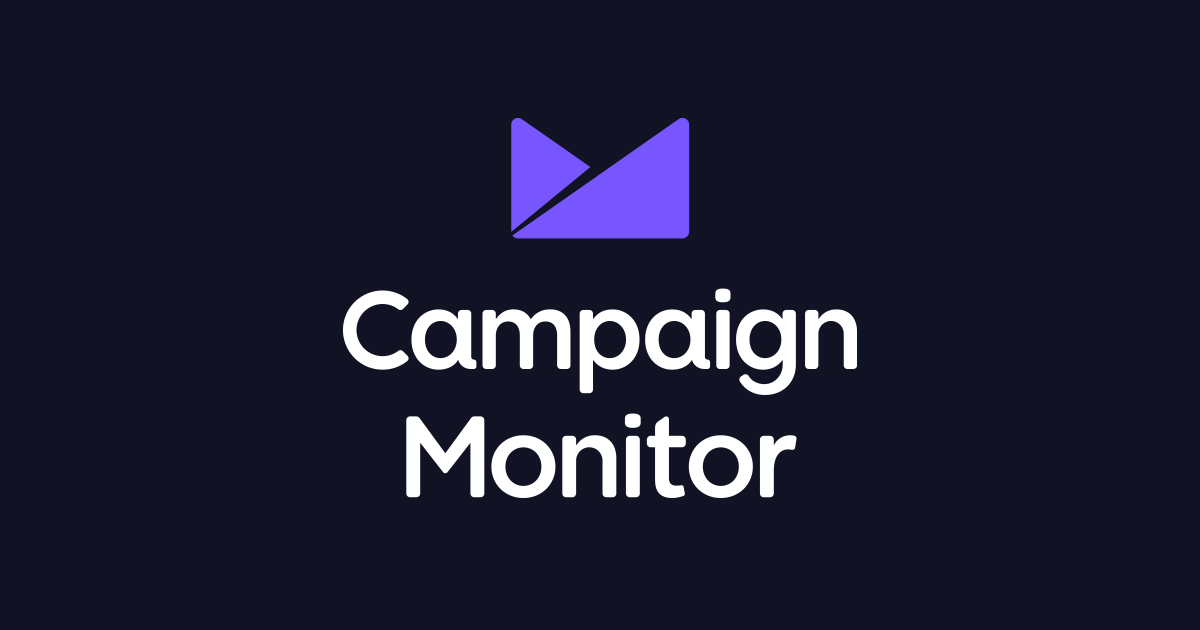 Pros:
Their innovation is an option to design and manage mobile-friendly responsive surveys right in the editor adding as many questions as you need.
Cons:
No access to HTML code. So you cannot embed interactive elements in your templates.
3. GetResponse
One more top ESP service. The very first advantage to mention: GetResponse is the best solution for those who host webinars. There are convenient options to send invitations and sequences of reminders, provide statistic data and ask participants for feedback.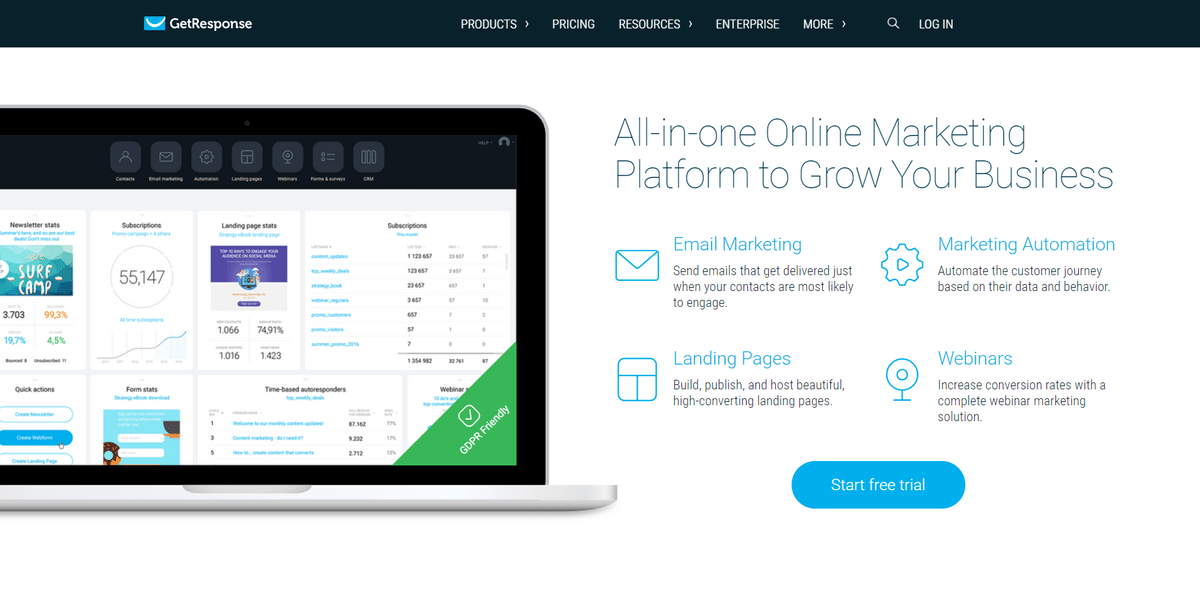 Pros:
500+ available templates and option to edit in HTML editor.
Cons:
No simultaneous use of both drag-and-drop and HTML editors, no options to embed videos or even video links. There is also no export allowed, so you have to send emails via this service only if you choose it. Such a "forced loyalty". ?
4. Mailchimp
Once again, this is world-famous ESPs known to be the best solution for small businesses. And yeah, it's equipped with built-in template editor with 100+ pre-designed templates and 24/7 support service.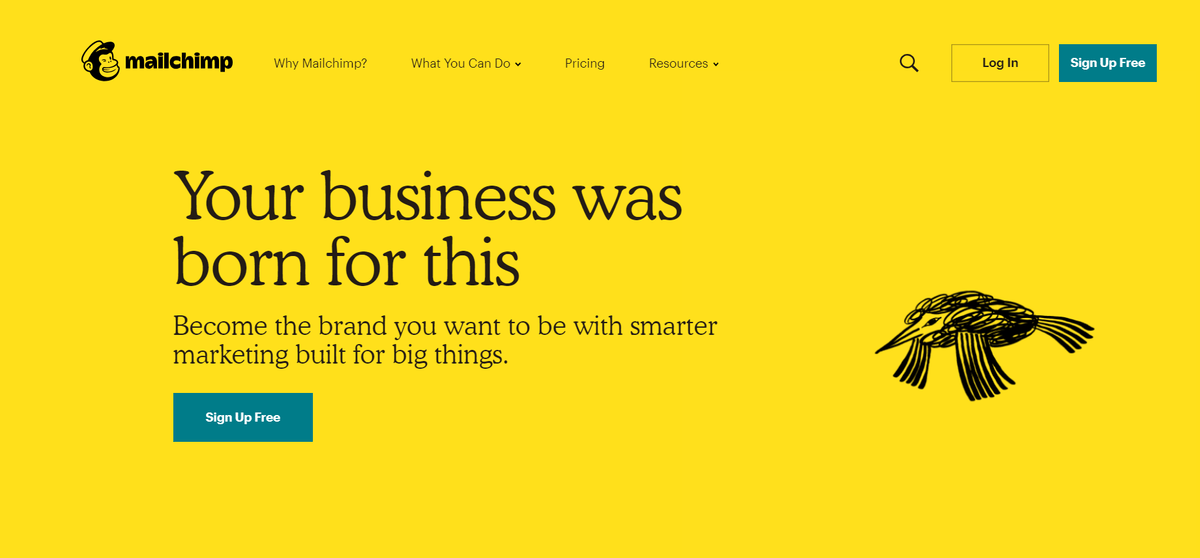 Pros:
"Share via socials" option, a quite rare feature.
Cons:
You can add only one CTA button per line.
5. Bee Free
This online drag-and-drop template editor is good to make responsive templates. It offers 50+ predesigned templates and a blog to inspire you with some fresh design ideas. Another noticeable feature is that Free account enables you to send test emails to any address or download your HTML template with all the images you added.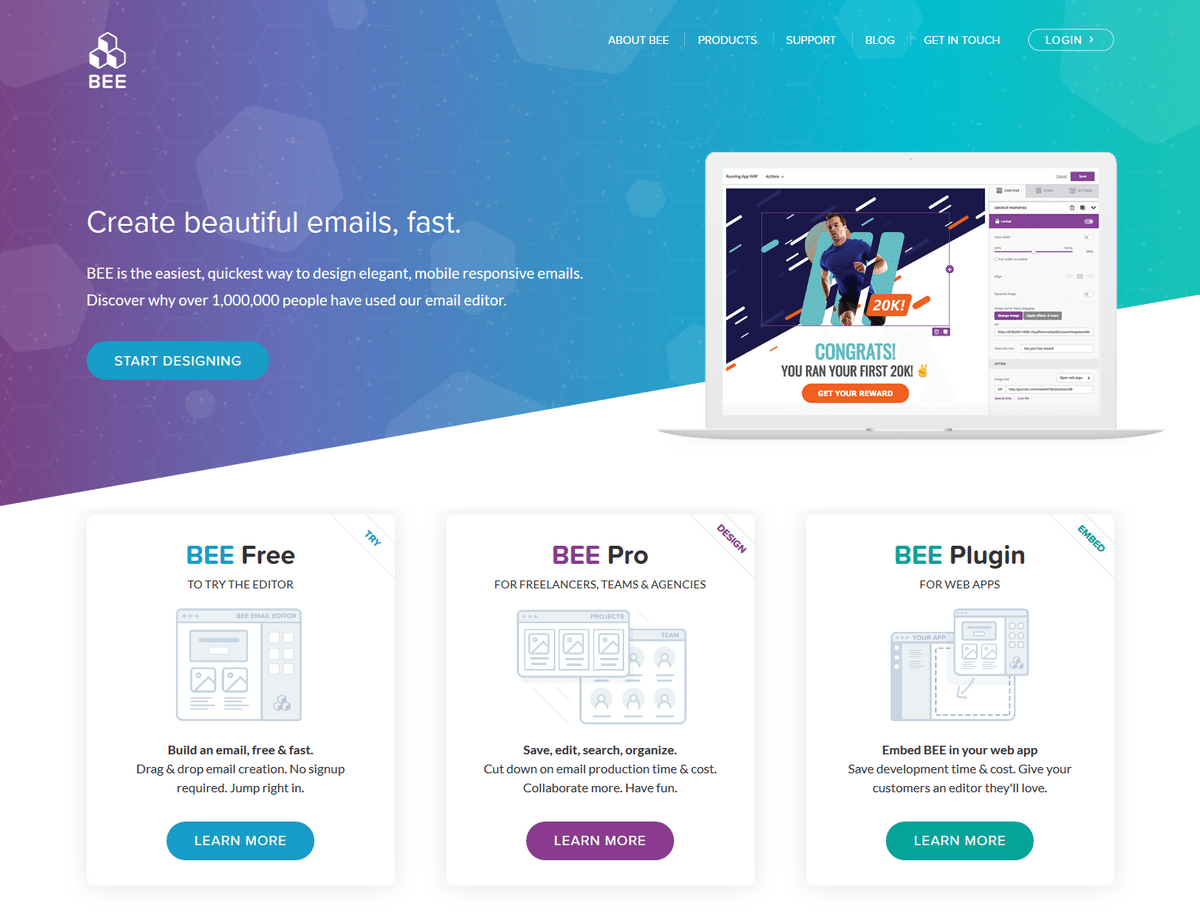 Pros:
Autosave. Logging in BEE Free again, you can continue from the checkpoint you stopped before.
Cons:
Unavailable on mobile devices. And no direct export to ESP services.
6. Unlayer.com
A new service started at the end of 2017, still raw a bit… but it has a potential. Currently, there are no predesigned templates, they offer just a basic blocks: button, image, divider, text, and HTML code. Email export is already available (still only as HTML or JSON files). By the way, you can embed video or social links using HTML code… if you're a professional developer, of course.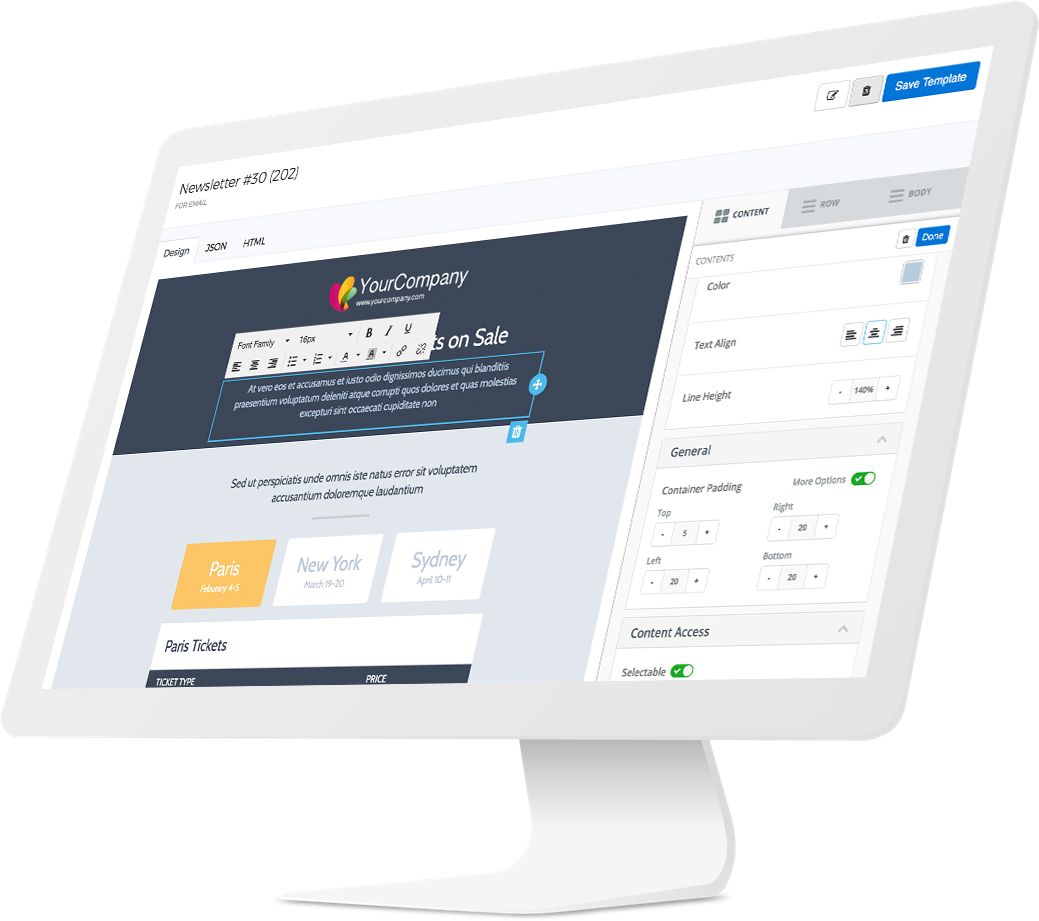 Pros:
Interface is quite user-friendly, you can easily choose tools and blocks to add to your template.
Cons:
No video blocks.
7. MailStyler2
First of all, their additional URL address is newslettercreator.com now (website was recently updated). You can use both to find this tool. This is offline responsive template builder, so you have to download and install it before to start your work.
There is no blog here but you can watch their tutorial in the "Videos" tab to learn how to use MailStyler2.
They offer 8 templates only. Sad but true: most features are available only with Pro account. You cannot even export templates or send test email until you buy it.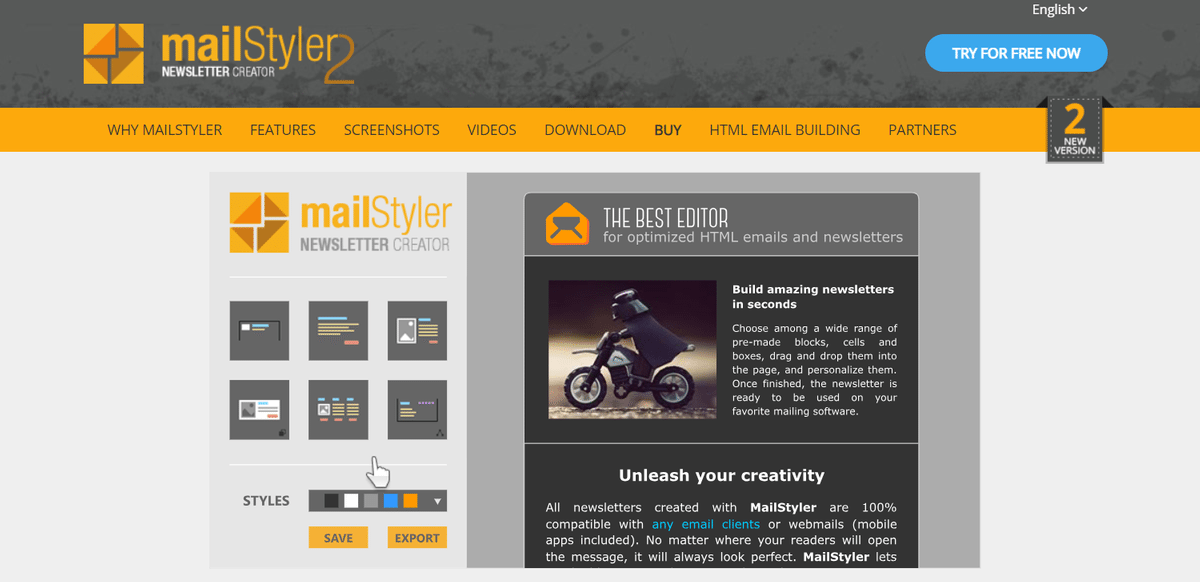 Pros:
Option to "weight" the HTML code. This is serious advantage because all email clients have HTML size limits (100kbs, as a rule). You can also write text over banners (MailStyler2 and Stripo are the only two tools equipped with this option).
Cons:
No HTML editor = no embedded videos or interactive elements.
8. EDM Designer
An advanced drag-and-drop editor providing online service for 5 years so far (Chamaileon.io email designer is their new project, by the way). It offers 15 basic templates and option to start from scratch. To be honest, the list of their blocks is not so diverse to make a modern template. And no video block there.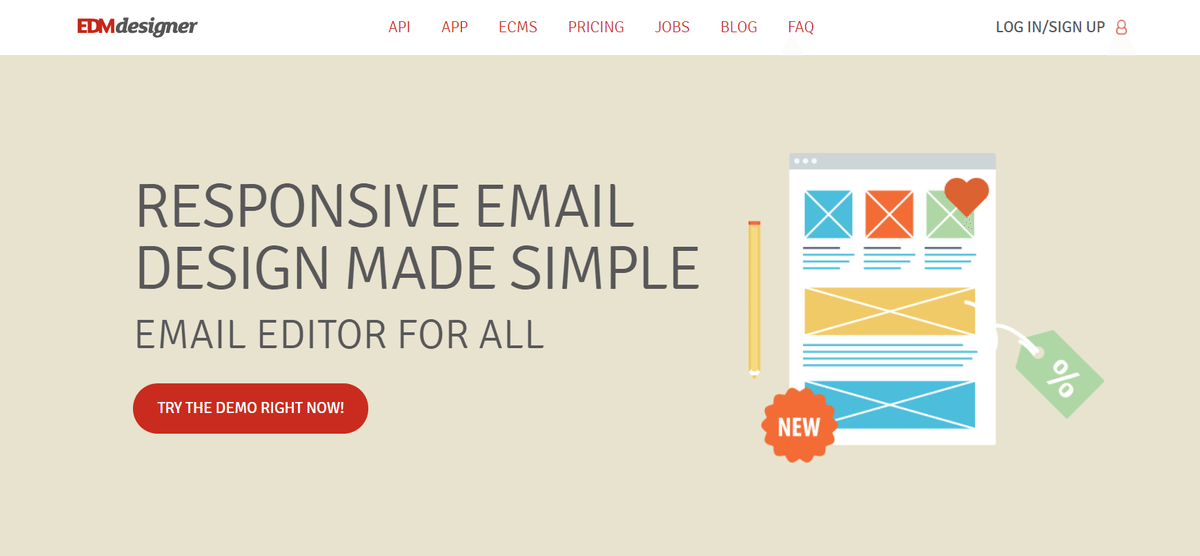 Pros:
It's easy to switch between text and image within a structure.
Cons:
No way to set the button size, no free images available (but you can upload yours), no "Socials" blocks — they offer only Facebook and Twitter icons. And no free direct export to any ESP.
But Chamaileon project supports export to six ESPs.
9. Topol.io
In fact, this is another drag-and-drop editor with a basic HTML block. It offers 7 ready-made templates – but good set of blocks and intuitive image editor instead. Their emails are fully responsive and correctly displayed on mobile devices.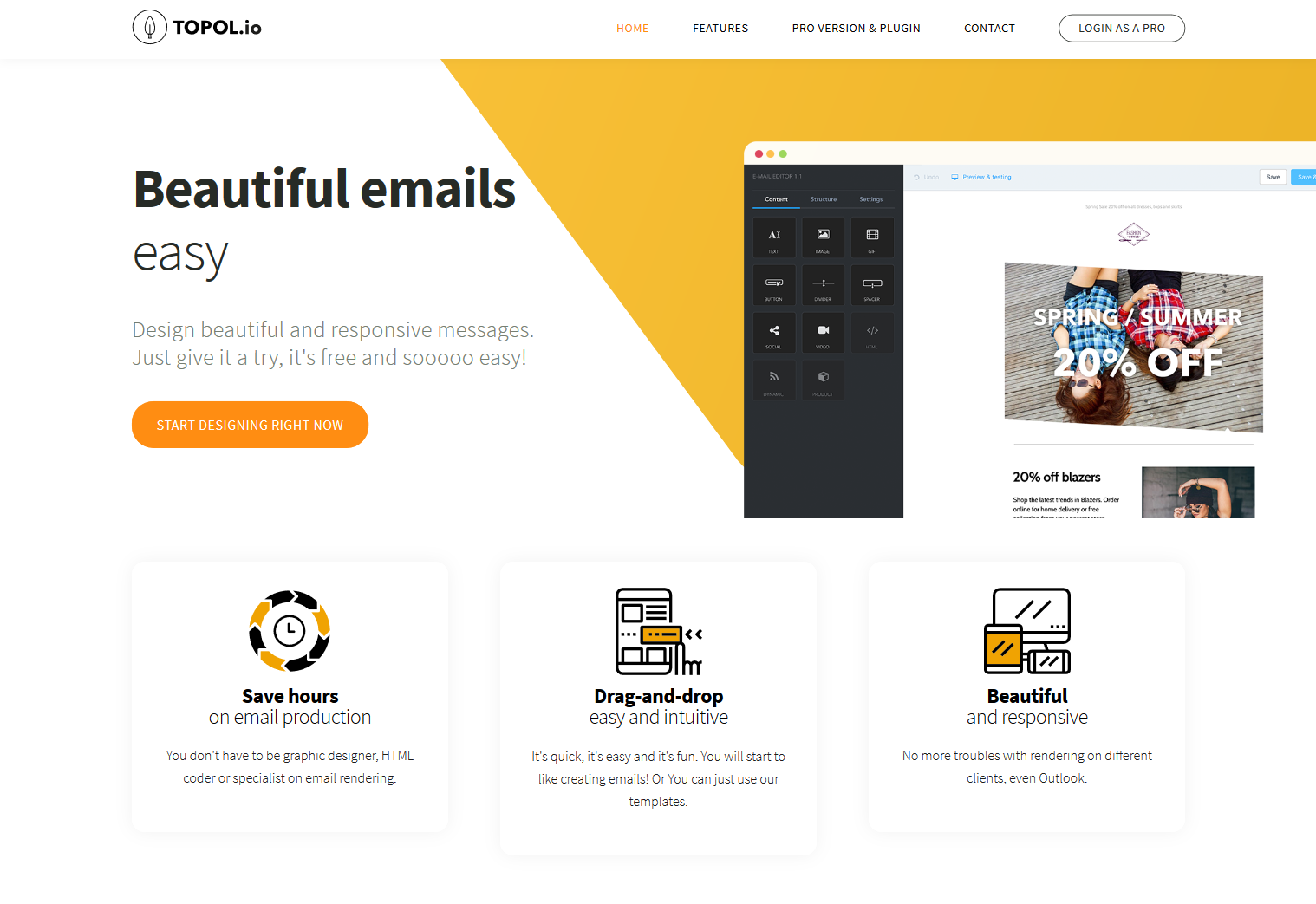 Pros:
An option to insert links to GIFs which will be correctly displayed in template.
Cons:
No editable HTML code. So you cannot add interactive elements.
10. Mosaico
The last tool in our survey is Mosaico, an open source template builder. It doesn't offer any predesigned templates but you can edit two basic structured templates. Its blog is updated not regularly but you will find some useful posts regarding email clients there.
There's also an option to download the template you designed as HTML file. Then, you can edit text and images in your ESP when exported.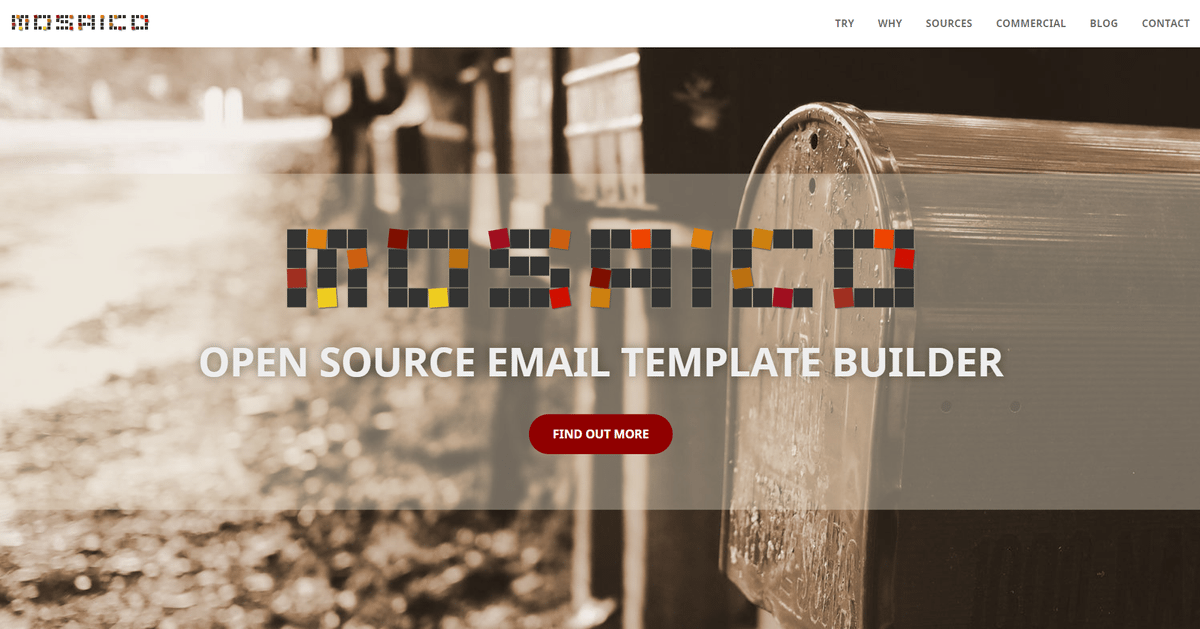 Pros:
This drag-and-drop editor is unusual as you don't need even to drag blocks and containers – just click the block in tool panel to add it to template. I also liked their manual on how to use the editor. You do not need to surf website.
Cons:
No libraries, no file storage at all — you cannot save your templates or images. Also, uploaded GIFs are displayed as static images.
Wrap up
So we have just reviewed top 10 template builders of 2019 and surveyed their advantages and weak points.
Now you are the only one to decide which tool fits your specific needs better. Of course all the features mentioned above are just basic, so you may need to surf the web and learn them better. But we hope that current survey will help you with main directions of your research. As you can see, we added screenshots for you to know the visual style of all those editors as aesthetic element is very important as well — the final decision is caused by taste preferences too, not practical arguments only.
We will end up now with a list of recommended features modern template builder must offer. Take them into consideration when choosing:
Responsive web design (RWD);

HTML and CSS codes access to embed the interactive elements;

A set of pre-designed email templates;

Integration with widely used ESPs;

Automation to save user's time;

Library storage to save the designed blocks for further use.
That's all for now. May this review help you to find email template editor you really need and enjoy to work with. Wish you the best of luck!
Featured image by: rawpixel.com
Published by
Hanna Kuznietsova
Hanna Kuznietsova is the chief content officer at Stripo.email. Working with email is one of Hanna's passions; She loves analyzing email and conducts research to write about the latest trends in email marketing on the Stripo.email blog. View all posts by Hanna Kuznietsova