Cryptocurrency website creators sometimes search on the internet about cryptocurrency website design ideas. In this article, I have included a few thoughts about cryptocurrencies that designers love.
As the world progresses, there is a new replacement/ alternative to the old way of doing some essential things for us humans. Similarly, a cryptocurrency intended to emerge as a new mode of transaction/ currency to the world, but instead, it became a way for investment.
Whether legal or illegal remains the question for the independent and decentralized currency, cryptocurrency has been shaking the world of finance with its groundbreaking capabilities.

Many individuals and companies are willing to create websites for cryptocurrencies and use the increased popularity of cryptocurrencies to their benefit. As a result, they are looking for the best ideas to make the visual aspects of the website look beautiful.
If you are one of those cryptocurrency website creators looking for the best cryptocurrency web designing ideas, then this article may help you.
Scope of Cryptocurrency Website Design
The general awareness regarding cryptocurrency and its utilities is growing, and, inevitably, the global interest for the said currency will only increase. So, it is neither too early nor too late to start a website for cryptocurrencies.
There is vast competition since it is a positive trend; the best website designs help your cryptocurrency website excel over the other websites in the market.
Things to Look for in Cryptocurrency Web Design
There are already multiple cryptocurrency websites that only highlight bitcoin and other popular coins. Since there are thousands of cryptocurrencies, talking about all the best ones possible on your website is wise. Here are some crucial sides that you should highlight:
Look for the design ideas that will help you highlight the primary things your website offers—for example, the products and services.
Try to make the website's design simple, user-friendly, and build trust among the users.
Colors to Use in Cryptocurrency Web Design
The colors of your cryptocurrency website are very crucial to determine the look and feel of the website. Also, many visitors tend to prioritize the color of a website to make it their go-to website for specific categories.
Many cryptocurrencies have their distinct colors. If you want to talk about specific cryptocurrencies, then you can use colors that relate to them.
Professional websites tend to have a very clean-looking background with either blue/black as the block's color.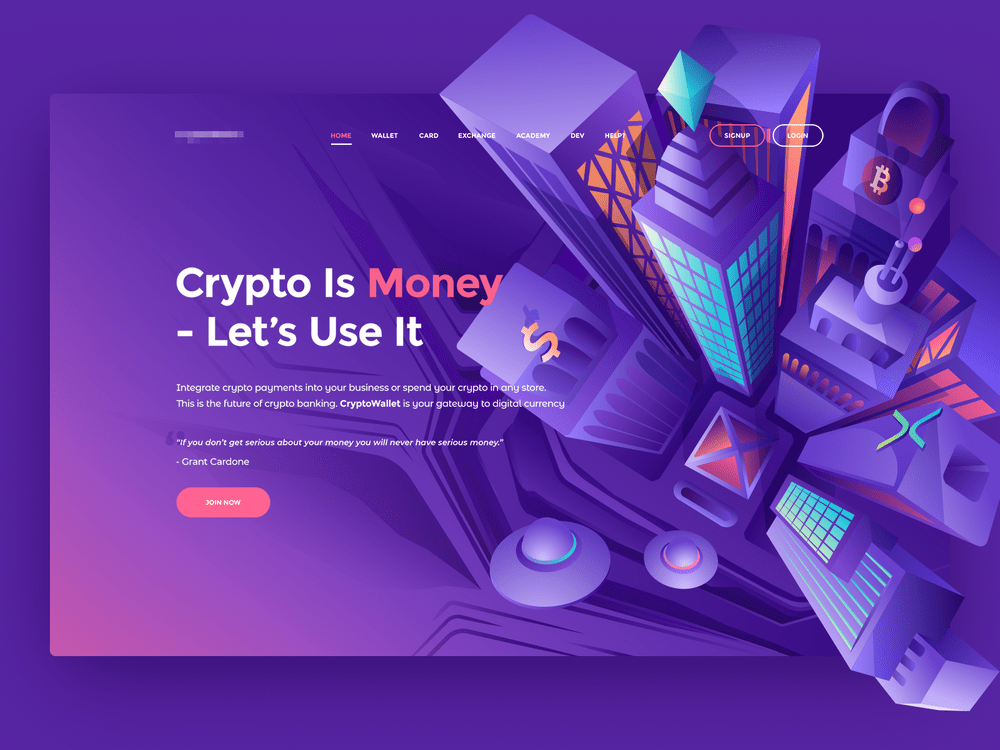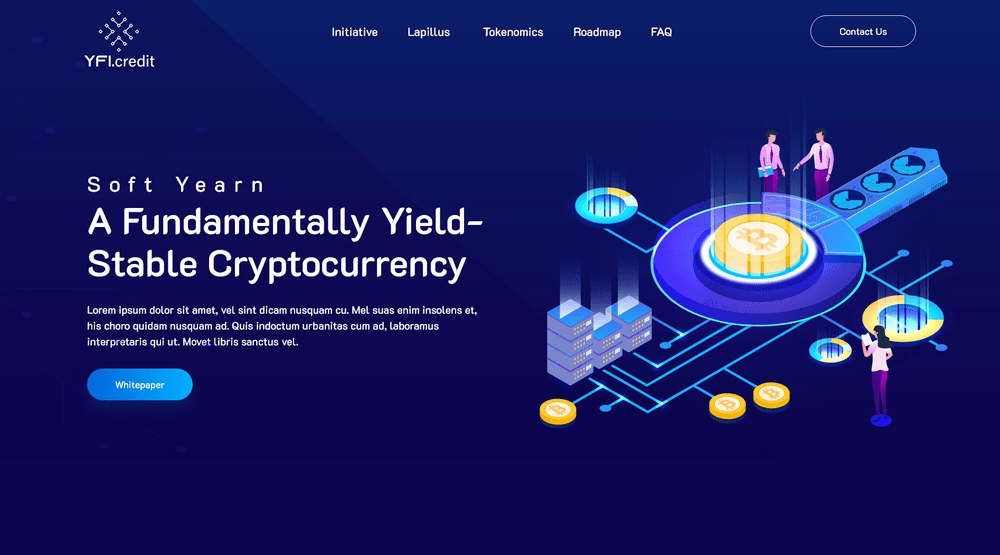 Cryptocurrency Website Design Ideas
Here are some of the best web designing ideas for cryptocurrency websites. I handpicked these from some of the best examples; these designing ideas can help you create your cryptocurrency website.
Blocksphere
Blocksphere stands out as excellent inspiration for new cryptocurrency website designing. Blocksphere's beauty is its dominant black color and white as the text color to contrast the black background.
There are other ornaments as well that make Blocksphere a premium example for inspiration:
Digital typography.
Particle backgrounds.
Ultranarrow sidebar.
Vertical lettering.
Footer navigation.
The concept of this website design looks high-tech. The mystery of the black background lightened by the light of white texts makes it a unique website design idea.
Read Also: SEO Tips For Affiliate Marketers
ICO Dashboard by Vita Spenser
Vita Spencer's ICO dashboard is another inspiration for cryptocurrency website design. The website's design has an elegant and clean look and is organized.
The concept of Vita Spencer feature's backend.
Vita Spencer's website incorporates the use of Card Layout beautifully.
The dark tones accompanied by the beautiful gradients make the design look very premium.
Crypto Agency
Crypto agency is quite similar to Blocksphere. But few things make Crypto Agency distinguishable.
Pink color on the texts as highlights and for drawing attention to the essential segments.
The background has geometric touches.
Elegant graphs and crossed-out headlines.
Hero Image by UixNinja
The design of uixNinja's Hero Image is very futuristic in its looks. The dark background is well-utilized. Although the dark background is there, the blue color and other neon-like colors have a profound impact in making the website's overall impact.
The design has multiple explorable aspects with an incredible concept.
Also Read: earn money
Crypto Maker
Crypto maker is another smart choice because of its deep blue colors. The colors of this particular design create a business-like atmosphere for the website designing. The royal blue color does not make the design appear like a mystery, but it sets a premium tone for the website.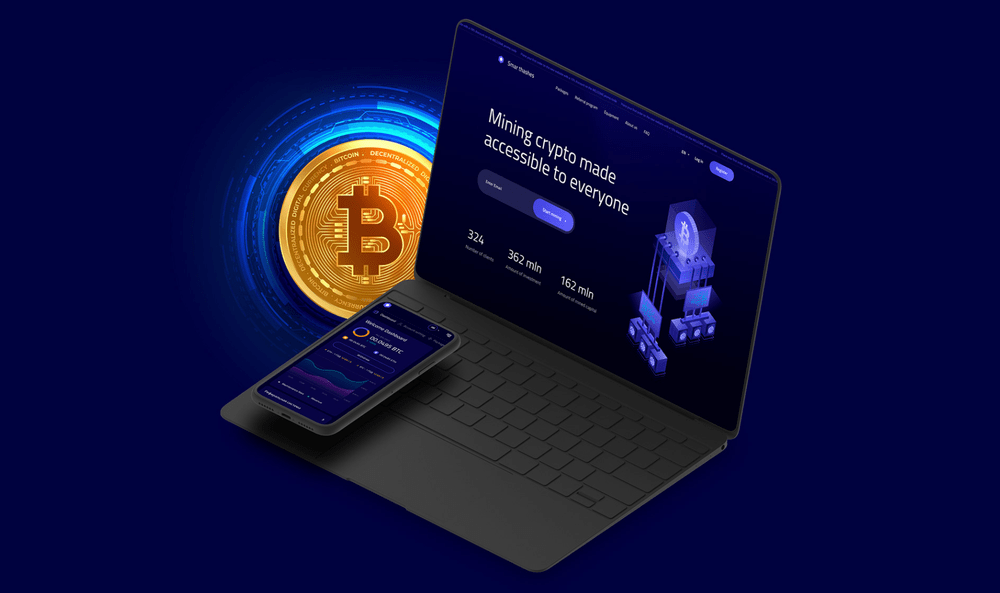 Conclusion
These ideas are all modern and up to date. Designers like the neon colors on a black background. The high-tech vibe of a website is very suitable for cryptocurrency web designing as they represent the digital nature of cryptocurrencies.
Cryptocurrency web designers can use any of these ideas for designing their cryptocurrency websites. If you find any of these ideas attractive and suitable for your website, I recommend you implement them.
Read Also: Technology Guest Post
Published by
Ani Johnson