13 Expert Tips to Designing a Winning Resume
A good resume can help you get a better job and open doors to a better future. What other documents can change your career dramatically? Very few.
That's why it's worth taking the time to put together a resume that effectively shows off your credentials and experience. The experts of the company providing do my essay services have prepared 13 tips for successful resume design.

1. Use a professional photo for your resume
Including a photo of yourself on a resume is a great way to introduce yourself to a recruiter.
Most importantly, it should be a recent, high-quality photo that makes you look like the ideal candidate for the position you're applying for. Never use photos of questionable quality from social media profiles!
2. Add a nice and interesting frame to your resume
Most resumes are printed on smooth white paper. And the colors most commonly used on resumes are light gray and blue. Every recruiter has a stack of these resumes on their desk.
A beautiful and interesting frame will help your resume stand out from the others. Using a frame on your resume allows you to show your personality without distracting the manager from important information.
3. Use data visualization to show flexible skills
It's not so easy to talk about flexible skills in a resume. If you bring in a range of buzzwords and phrases when describing yourself, your story is bound to seem disingenuous. On the other hand, a manager may find a resume that lists too few personal characteristics odd.
Visualization is a great way to show both rigid and flexible skills. The unique visualization of data will not only attract attention but also help to present information unusually.
4. Stick to a uniform color scheme in your resume design
For a resume to be effective, its design must be cohesive. Remember to use the same fonts, icons in the same style, and the same colors in all sections of the resume.
The same color scheme not only makes the resume look great, but it is also easy to read.
5. If you don't have a lot of experience, create a resume in minimalist style
It's okay if you don't have a lot of experience. Everyone has to start somewhere, so don't worry!
To make up for your lack of experience, you can create a resume in a minimalist style. It gives the impression that the author wanted to be concise and expressive. And he succeeded.
If you want to resort to this tactic, make sure that the other sections of the resume look similar. It will be strange if you list 1-2 jobs and then give a huge list of flexible skills that you think you have.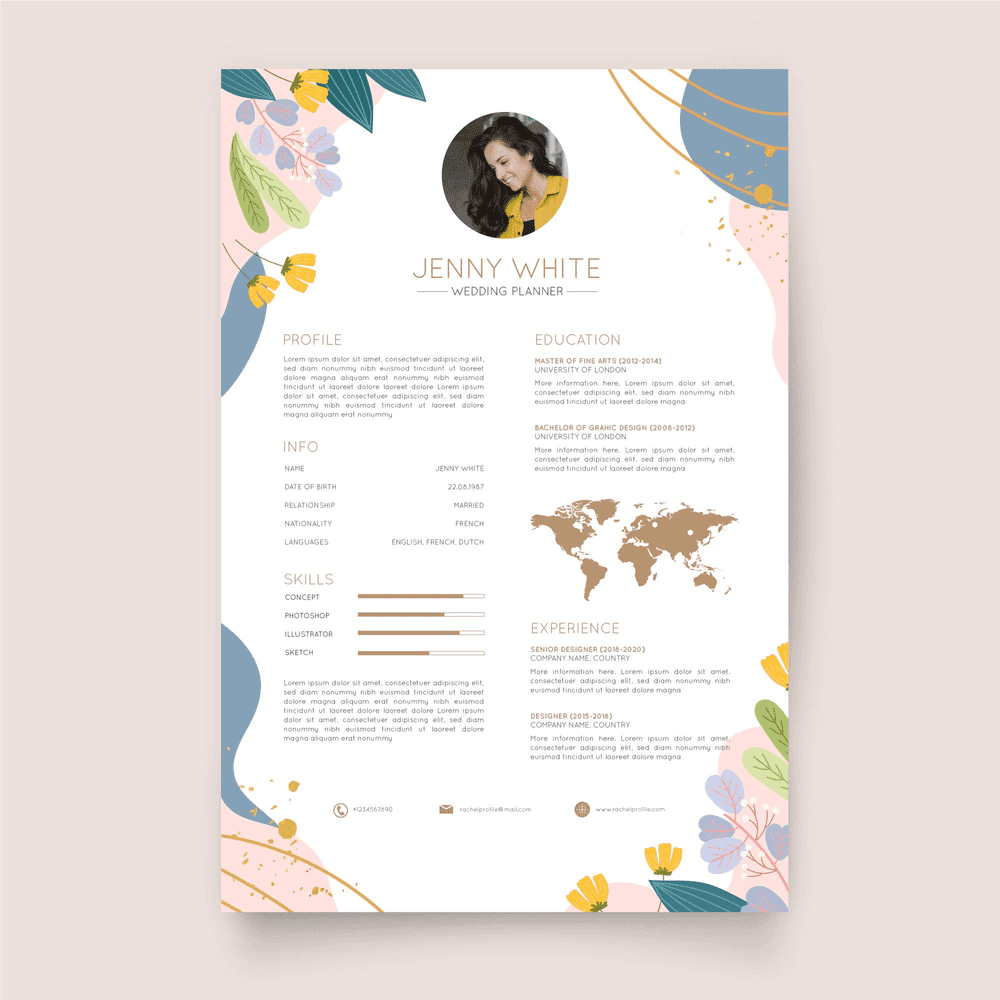 6. Highlight the contact details by changing the background color in the section
Your contact information should be at the very beginning of your resume. It's advisable to give them their section – that way they'll be easy to find.
You don't want to miss out on your dream job just because a recruiter or program couldn't find your phone number!
One of the easiest ways to highlight your contact information is to change the background color in the relevant section.
7. Never use just one font in your resume design
Using just one font on a resume is the worst design decision you can think of.
There are, without exaggeration, thousands of fonts that can be used. In fact, with so many choices, there is no justification for using just one font in a project design, especially in a resume design.
8. Always include strong words in your resume
Use strong words to make your resume stand out from others. Strong words include:
action verbs;
words that describe company values;
words that describe skills and abilities;
special keywords;
buzzwords.
Using strong words will not only make resumes stand out in the eyes of recruiters but will also help pass the filters of the software that is used to automate the screening of incoming resumes.
The main thing is not to go overboard with strong words. Excessive use of them can make a resume seem untrustworthy and end up in the trash.
9. Create a resume with an infographic
Data visualizations, icons, and other visual elements can help make your resume design unique. This kind of approach is a great solution for those who don't have much experience with a full resume.
10. Include direct links to social media profiles
Include links to your social media profiles in your resume section with your contact information so they can easily be copied and pasted into the address bar of your browser. Don't forget that your goal is to make your resume as user-friendly as possible.
Add links to your work on other venues such as Medium, Behance, Dribbble, or your website.
A recruiter may want to look at your previous work before reviewing your resume. Make your work easy to find by adding direct links to relevant resources.
If you have a good portfolio, it will help you get the job. Or at least it will make you stand out on the list of other applicants.
11. Include badges to illustrate your interests outside of work
Most managers at today's companies are interested not only in your work experience but also in your hobbies.
Understandably, it's not easy to seamlessly put your non-work-related interests into your resume. That is why it is best to use some simple icons to illustrate your hobbies and interests.
Recruiters can understand a lot about a candidate based on this information, so don't forget to include it in your resume. And well-chosen badges can help make a resume visually appealing.
12. The story about yourself on your resume should match your work experience
According to the authors of the CheapPaperWriting platform, three types of personal narratives can be used on a resume.
The first one, the motivational narrative, should be used if you don't have much experience in a particular field or industry. This type of self-story can be called an abbreviated version of a motivational letter.
Next comes the qualifications story. In this kind of story, you should only list relevant flexible skills, qualities, and abilities. For example, the resume below emphasizes organizational experience because the resume was created for the purpose of obtaining a higher position.
Finally, a summarizing narrative about yourself, which is essentially a summary of relevant work experience. This kind of narrative should be used by people with a lot of professional experience and multiple accomplishments.
Just remember to include only information related to the job for which you are applying. Don't turn the introduction into a novel. The story about yourself should be short and interesting.
13. Add a simple timeline to your resume to visualize education or work experience
One of the best ways to visualize work experience or education is to use a simple timeline.
Most people are familiar with timelines and will find the information they need right away. You can even use a timeline to organize your education information if you have more than one (as in the example above).
That's all the resume design tips for today!  Hope these tips and templates will help you get a great job. Need help creating a resume or motivation letter? You can turn to professionals and choose the best based on essay writing service reviews.
Image credit: Depositphotos
Published by
decolore
Thanks for being a part of this beautiful blog. Hours spent to create this web space to our visitors as much useful as we can. We're living with a pace of life and build beneficial collections related to graphic and web design. Here we come up with premium and free collections like mockups, backgrounds, fonts, wordpress themes, branding, inspiration, tutorials and informative articles for professional designers and beginners. Go ahead and let's be a partners! View all posts by decolore