10 Logo Design Trends for 2021 to Boost Your Branding
A logo builds a brand's identity. It showcases a brand's vision and mission. Plus, a logo exhibits a brand's sentiments and goals for their respective field. Most importantly, it communicates your authenticity to your audience.
And for this very reason, one cannot overlook this aspect, especially when just starting. Today, we live in a world where the average attention span of web users is no more than 6.8 seconds, during which the logo plays an essential role in holding your visitor on the page.
Hence, it genuinely needs to be a masterpiece. It should hold their attention, convey your purpose, and be in line with the trend. While purpose and attempts at retaining attention depend on a variety of factors and vary from brand to brand, trends are a concrete aspect that can help you secure your position for sure.
That being said, the following are the top ten best logo design approaches for 2021 to boost branding. Let's get straight to it!
1. Geometrical Logos
Triangles, rectangles, circles, and squares – little did we know that these basic shapes can add depth to a business. Their definite sides bring about mathematical precision, which gives a confident and definite impression. Meanwhile, the geometrical combos bring about a range of emotions to intrigue your audience. It does so with different arrangements and color combinations.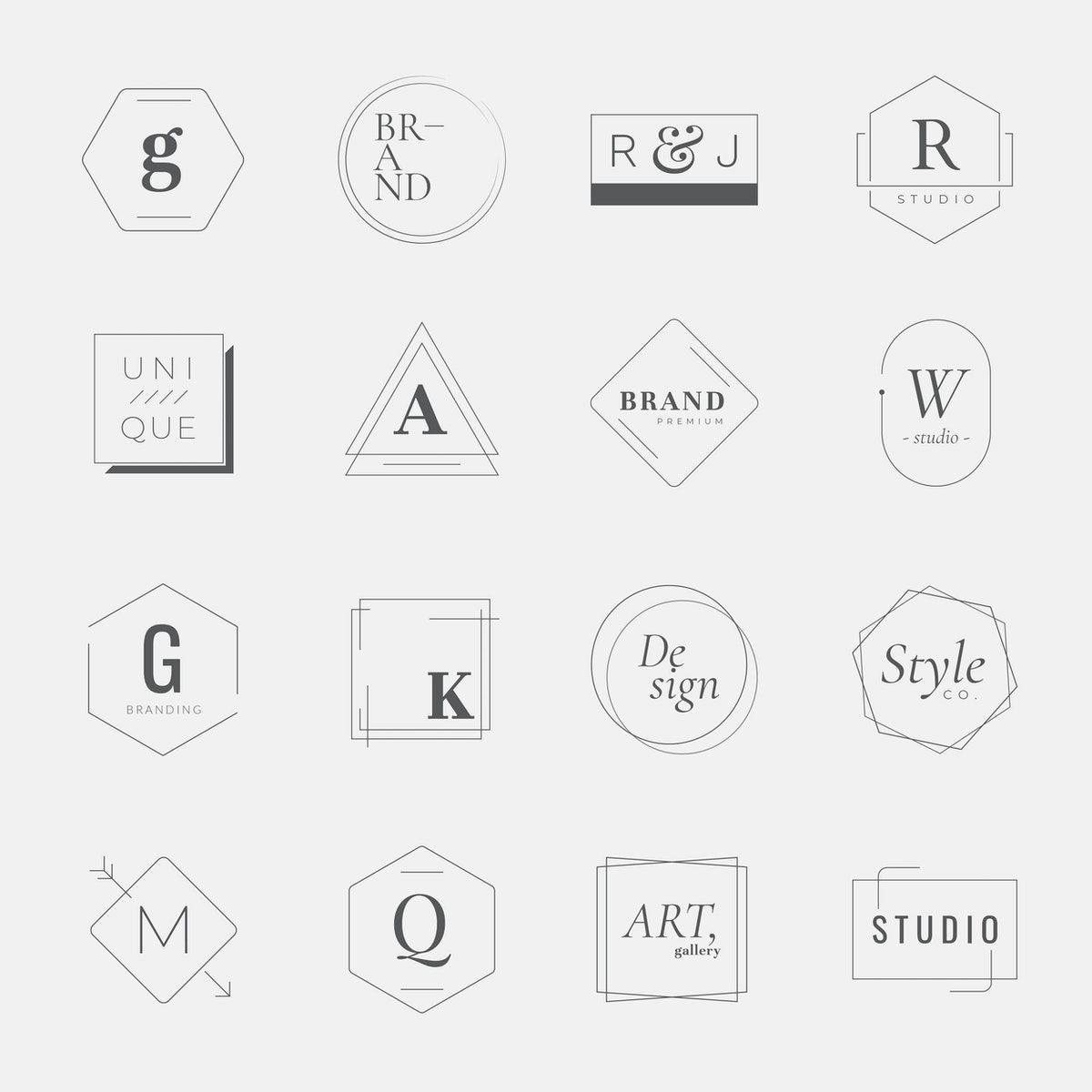 Another great aspect of geometrical logos is the fact they provide room for boldness. You can use intense shades of colors to represent your mottos. Overlapping a few shapes also allows for creating a complex yet purposeful logo. But it's mainly the simplistic pairing of multiple regular shapes these days that has taken the market by storm. All thanks to the stable, calm, and definite impression that they give.
2. Font-Centered Design
Well, fonts have always been a favorite tool of most logo designers. With about 550,000+ fonts existing in the world today, it's a domain of much versatility. Hence, they allow designers to explore the limits of their creativity.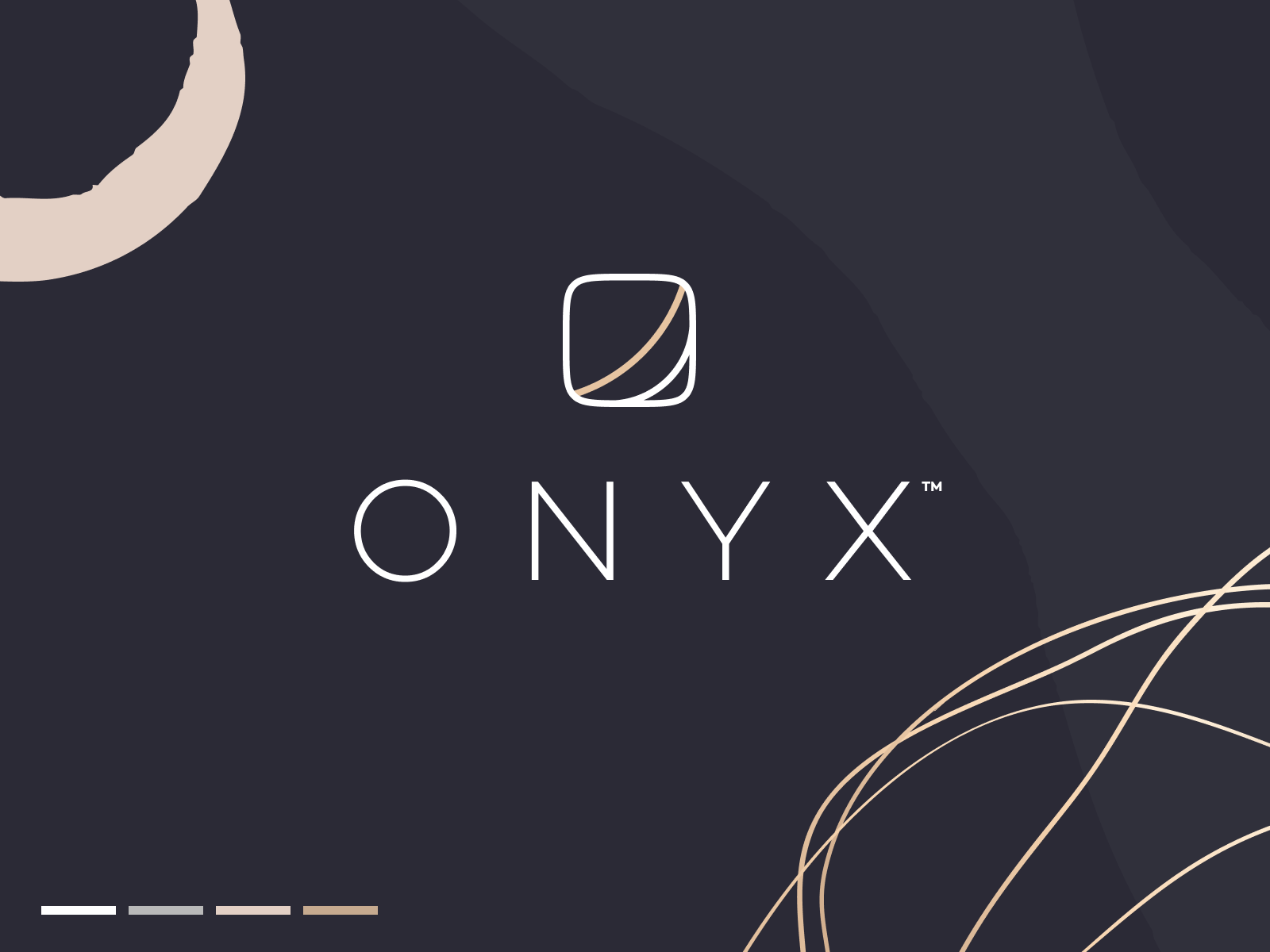 Perhaps, that explains its popularity in the current times. Nowadays, designers seem to be focusing more on exaggerating one or two letters per wordmark to exhibit their creativity and make the sign of that letter known. It seems to focus on breaking the rules. Perhaps by refusing to follow one font only and adding a show-stopper within the brand's name. Plus, it makes the logo more appealing visually, and we expect to see more divergence of this practice in the times to come.
3. Negative Space
Fundamentally, negative space refers to the space surrounding the subject of an image. It creates an optical illusion and a compositional balance by complementing the actual subject. Hence, it enables the designers to say more with less stuff on the screen.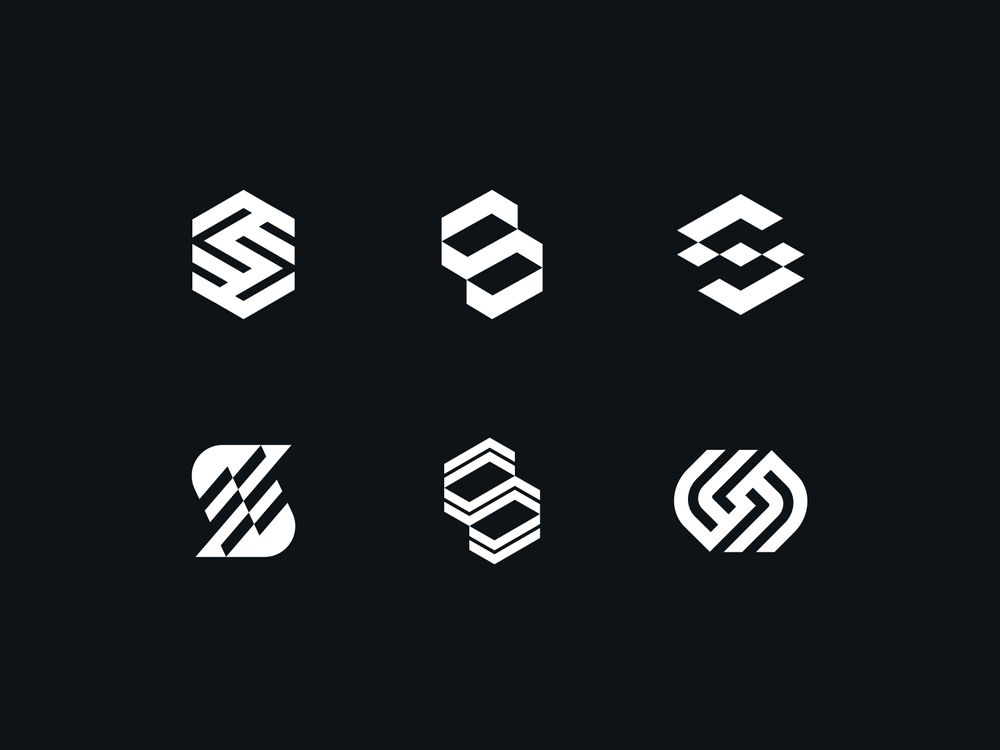 Imagine negative space logos as one of those images that demand attention and focus. If you pay them enough attention, you discover a figure hiding within a figure or an object in the shadows of the other. Such illusions are undeniably highly visually appealing and intriguing.
4. Symmetry
Similar to geometrical logo designs, symmetrical logo designs seem to be getting much attention too. It's probably so because symmetrical composition gives off feelings of a thought-out structure and balance. Thus, it's usual trade or engineering companies that prefer such logos. Some of the famous symmetrical logos include that of McDonald's and Volkswagen.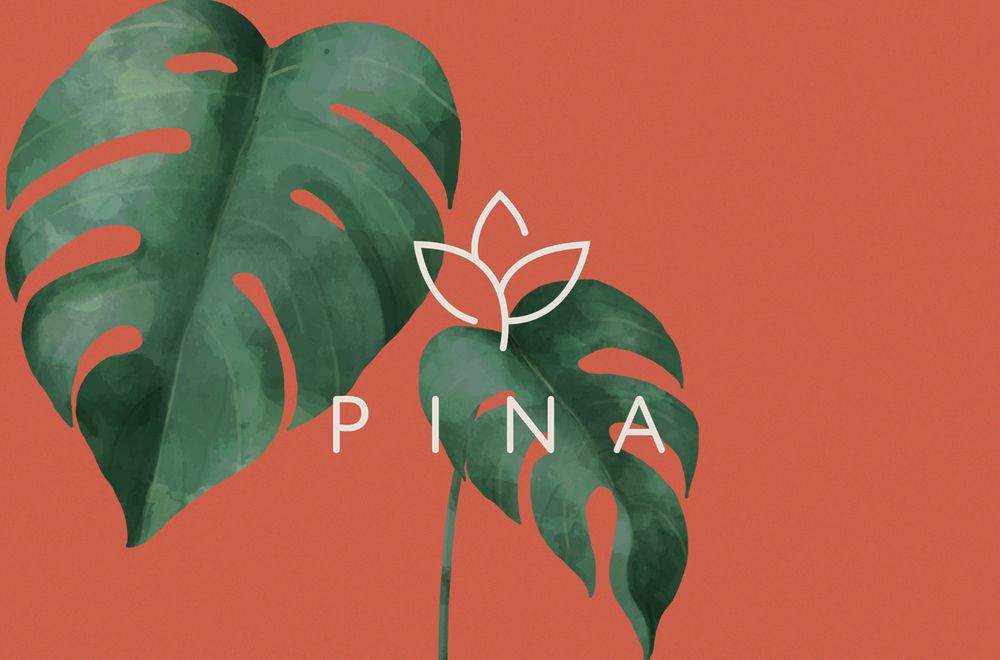 Fundamentally, there are about four different types of symmetries, including translational symmetry, rotational, plain reflectional, and glide-reflectional. All of these casts an alluring impact with their flawlessness causing your audience's minds' to naturally gravitate towards it.
5. Portraiture
Another element that seems to promise a growth curve in 2021 is portraiture. In today's times, masses seek out the name behind the brand – the person who built the empire. Why? Well, because it makes the logo appear much more authentic!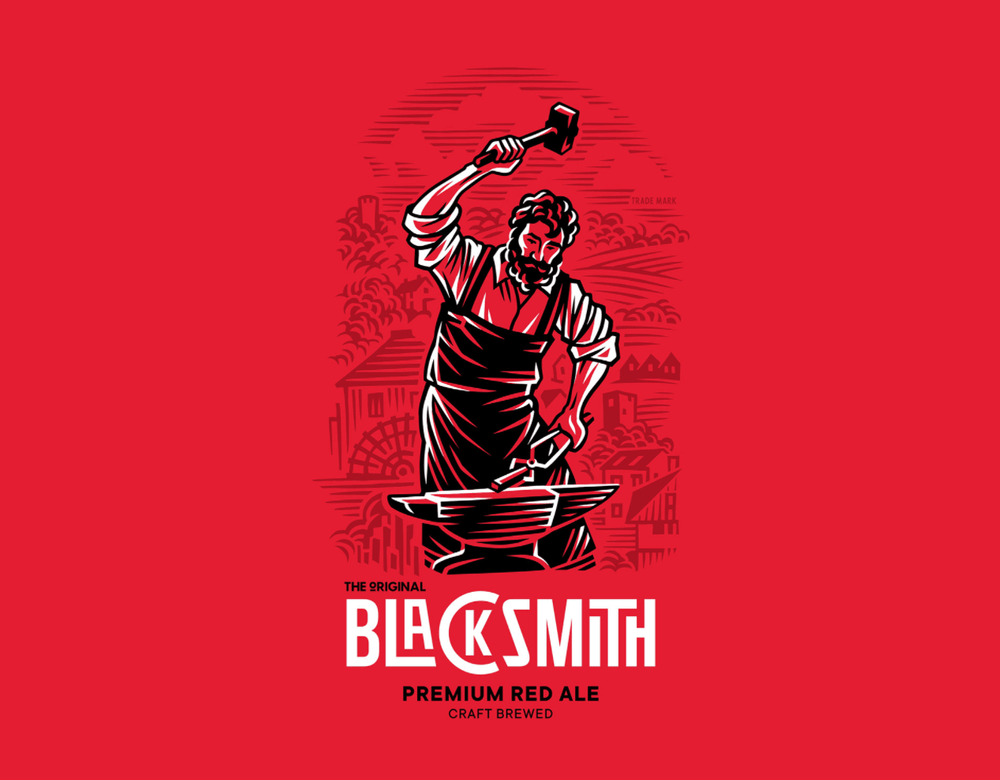 On the contrary, it gives the brands a proprietary edge allowing the companies to gain better recognition. And it also allows the brands to form a deeper connection with their audience.
6. Gradients
People have used gradients in designs and logos for a very long time. And, ever since its invention, the element has not yet lost its potential in making the design outshine the others.
Gradients are more like the trump card of the designers. The transition of color shades and fonts creates a 3D image. Or, in simpler terms, it makes the image come to life!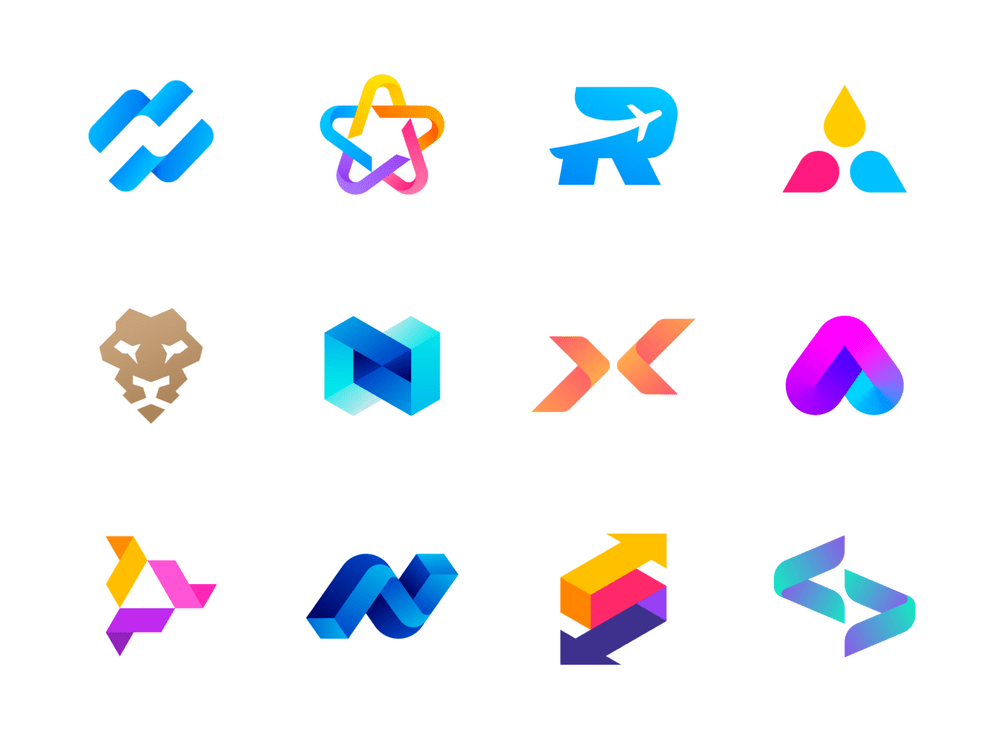 For a brand, gradient logos can indicate the flexibility and ease provided to the customers. It also gives a relaxed impression on the target audience. Hence, attracting them and boosting sales.
The smooth transition reflects the breathing and liveliness stored within a simple design. Well, there's no wonder designers continue to keep this evergreen design trend in 2021 too!
7. Stained Glass
Have you ever seen those painted glass windows in the medieval churches, the type with shards of colors and shades? Well, the logo designers are looking forward to infusing these stained glass designs in 2021!
These stained glass designs have a quite aesthetic and classic touch to their looks. Usually, the logo has several fragments of different colors, joined together to form one big picture.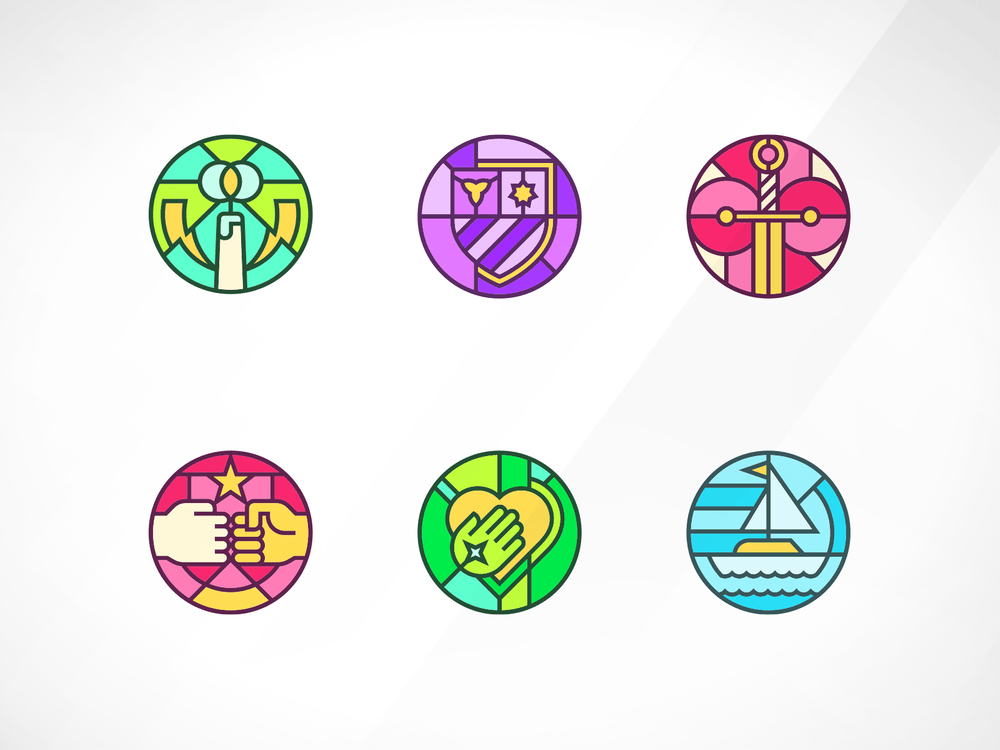 With a year spent in lockdowns, the addition of nature in the stained glass design can give it a refreshing vibe. This particular concept and usage of a good color pallet can make your brand logo stand out amongst the usual modernized logos.
8. Fusion
In today's world, humans have evolved to a stage where we spend chunks of our days in front of modish curved computer monitors. Work, education, socializing, entertainment-perhaps, all our tasks have an association with these digital screens and technology.
In such a place, where innovation rules our minds, using fusion designing styles can make the competition quite strong. However, it is certainly worth it!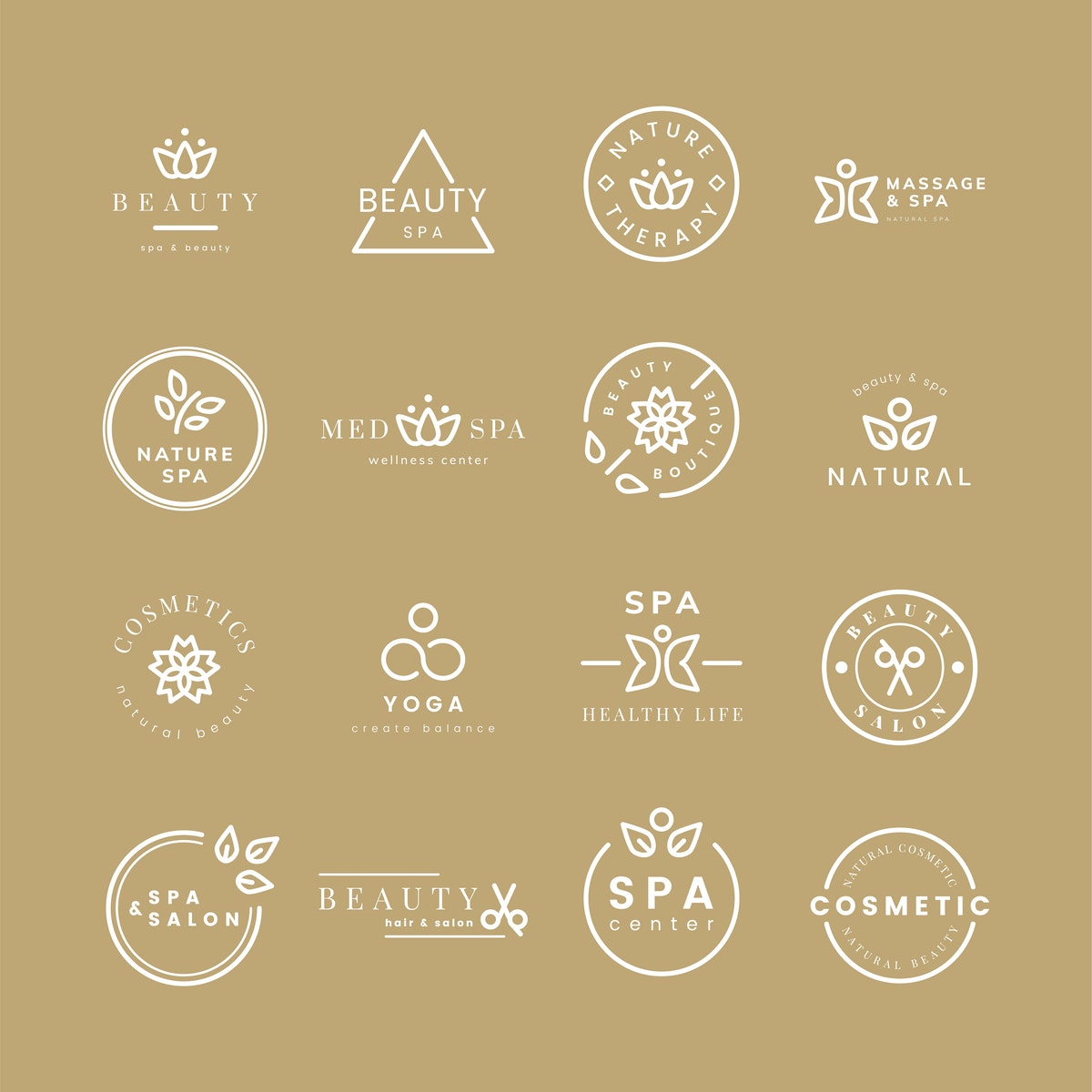 Fusion refers to the incorporation of various design styles and trends in one. For example, a fusion logo can incorporate geometry, negative space, and portraiture.
Sounds bizarre, but the combination of different elements gives the logo a unique and unmatchable outlook. Business logos can benefit from these unique looks and attract more people!
9. Anime
Did you know that the anime industry can reach $36.26-billion by the year 2025? Well, the industry is booming, and the popularity of Japanese animation is taking over the design trends too!
Previously, the year 2020 remained successful in the anime logo trends. And, the pattern is likely to continue till 2021. The usage of bright color schemes and attractive cartoons in logo designs can give a brand a major boost.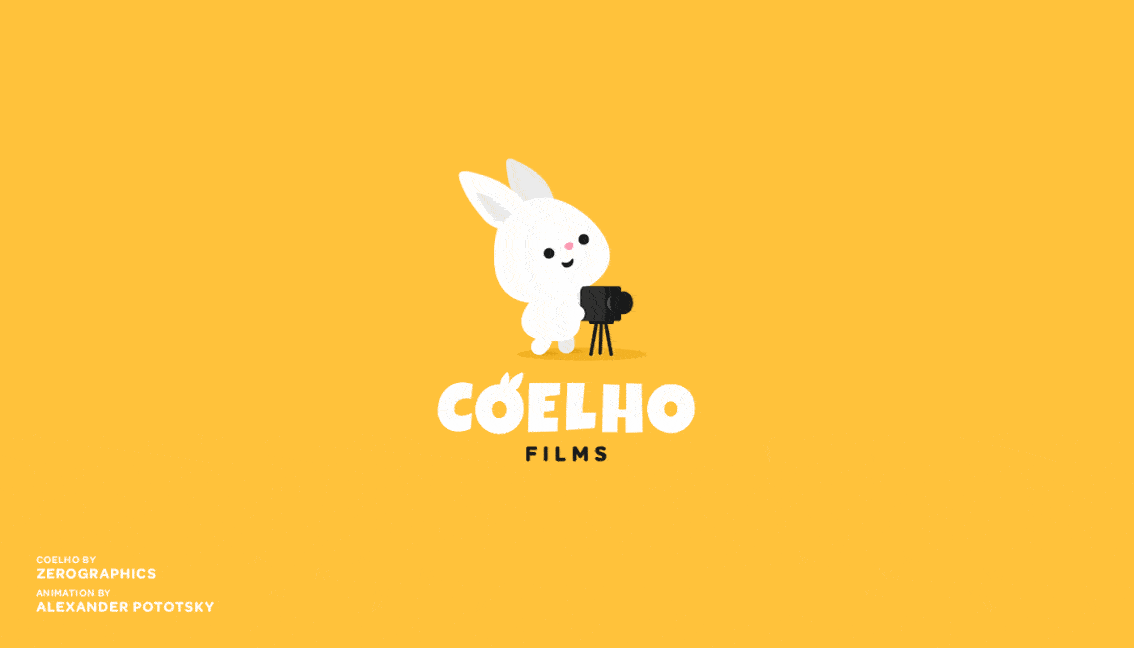 Now, these anime logos do not necessarily need to have a connection with one of the Japanese cartoons. A brand can create its own mascot or character, which can be a great marketing tool as well!
10. Static Motion
The term static motion sounds more like an oxymoron, with its contradicting meaning. But, in the world of logos and designs, the static motion element can become a real game-changer in 2021.
In design terms, Static Motion refers to the creation of motion or movement in a stationary image. Generally, designers create this element by the usage of tracers, splatter particles, fluid shapes, splashes, and action lines.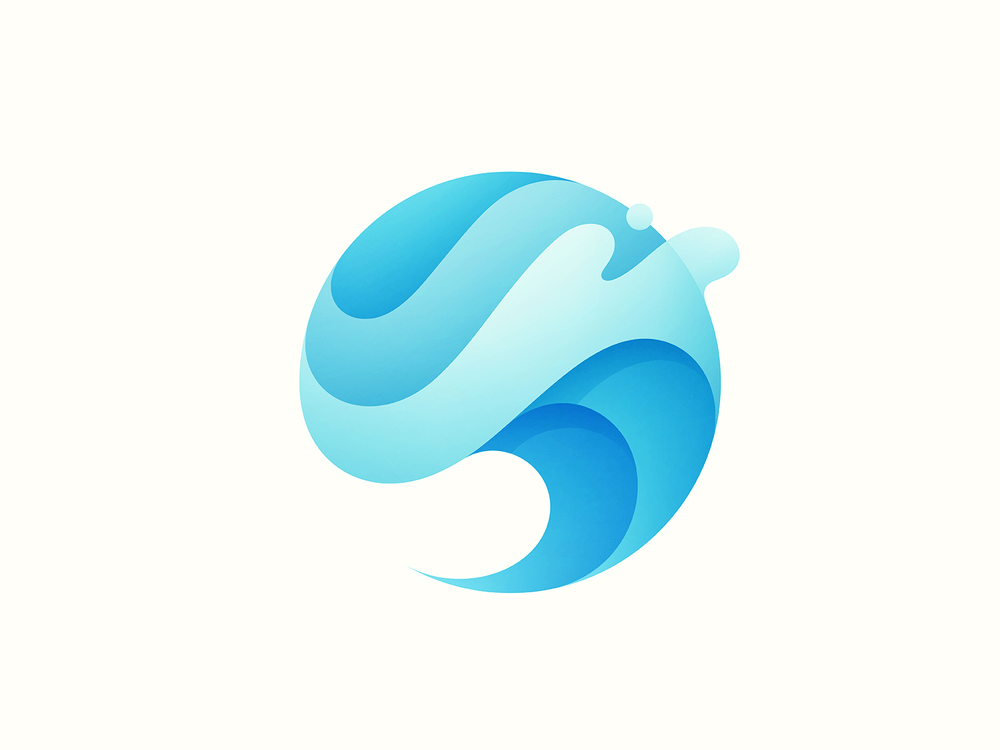 Designers may also incorporate moving animals to establish the motion element. Altogether, the station motion design gives an impression of movement and liveliness. Static motion brand logos also reflect that the business is a living thing. Hence, attracting an active and lively audience.
Published by
Shawn Mack
Shawn Mack is a content writer who offers ghostwriting, copy-writing, and blogging services.His educational background in business and technical field has given him a broad base from which to approach many topics. He is also fond of writing interesting articles on technology & digital marketing related topics. View all posts by Shawn Mack