The sports sector is currently estimated at $512.1 billion, but it will continue to grow and reach a value of $623.6 billion by 2027. That's why sports are an important part of the global entertainment industry. Many sports teams with amazing players inspire and motivate everyone to fight for a better future. That is why, apart from enjoying the games, fans are constantly searching for interesting information regarding their favorite sports teams.
A creative sports website, for instance, is the key to attracting many fans and increasing brand loyalty. However, the website should be innovative, appealing, and useful. For the website to stand out, you need creative content, a unique design, and captivating images.

So, continue reading the following four tips to help you transform your website into a community for all fans to gather and share their love for sports.
Post Informative Content Front and Center
When fans visit your website, they want to see accurate content regarding their favorite players and their respective teams. One of the most valuable pieces of information for them is the dates for the next five games of their favorite sports teams. So, you can post the schedule front and center on the website; but to make an impact, you need to share a creative schedule with unique designs and strong colors.
Nowadays, you can share upcoming season details quickly and easily by creating sports schedule graphics that stand out. You can choose from a variety of schedule graphic templates available online to showcase the full or partial season schedule, team rivalries, and more.
You can also share information about the dates for the biggest derby matches and the star players. All of these will help fans stay updated with everything regarding their favorite team and players. Make the graphics your own by using your brand's name, colors, and logos. When you are done, share the graphics on your social media platforms as well, for an even better reach.
Enable Live Streams
Many fans from all over the world cannot watch their favorite sports team live at the stadiums. So, create an option for them to watch their team by live streaming the games on your website. Fans will appreciate knowing they have a place where they can follow their favorite teams alongside other devoted fans.
However, the quality of the stream is essential if you want to achieve success using this option. Implementing high-quality visuals and audio should be the top priority for your streams. Fans see you as the connection between them and the sporting world. Providing them with the chance to watch the games of their favorite teams in great quality is the key to securing constant traffic.
Use Captivating Images
Having quality imagery is another way to attract people to visit your website. Therefore, post images with vivid colors and powerful messages written on them to make sure it provokes strong emotions in sports fans. The images and messages you share should tell a story and create a long-lasting memory for the fans.
Most of the time, when fans visit a website, they remember all the images they saw and not the plain text they read. That is because there is so much information available to read, so people pay attention to the data connected with beautiful imagery and certainly remember it for next time. This is something you can use to your advantage and attract, but also transform, all visitors into loyal fans of your sports website.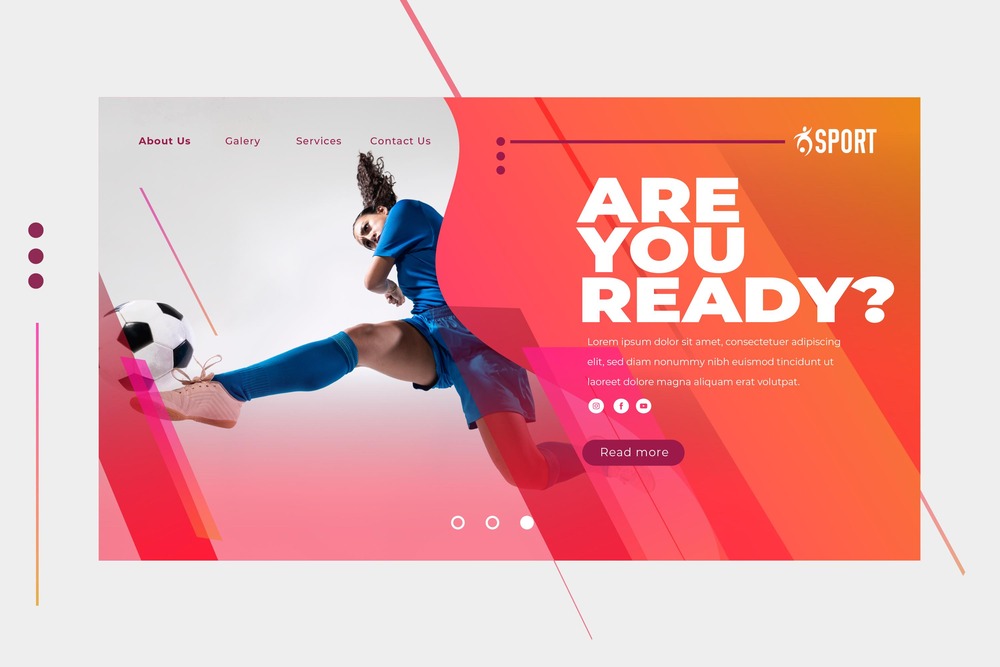 Share Teaser Videos
Using teaser marketing will help you to attract and connect with your target audience. Fun teaser videos promoting various sports events are the best way to create anticipation among the fans. So, depending on the sporting event and location where it will be held, make sure you create interesting teaser videos with necessary information regarding the event and the participants.
For example, share videos of the stadiums where the event will be held, interesting facts about the best players participating in the event, or how they prepare for the games. A 30-second teaser video is more than enough to put all of these, and then share it on your website.
Final Thoughts
The key is to provide fans with precise information, share it in one place, and make it easily available. That is why a sports website is the best option. But, to make it stand out, you need a creative website filled with effective imagery and videos. As a result, by visiting your creative website, sports fans will have their own space where they can share their love for all kinds of sports.
Published by
decolore
Thanks for being a part of this beautiful blog. Hours spent to create this web space to our visitors as much useful as we can. We're living with a pace of life and build beneficial collections related to graphic and web design. Here we come up with premium and free collections like mockups, backgrounds, fonts, wordpress themes, branding, inspiration, tutorials and informative articles for professional designers and beginners. Go ahead and let's be a partners! View all posts by decolore