Elementor: Open Source Page Builder for WordPress
Building the site page by page, keeping in mind several factors such as aesthetics, functionality, and the unique needs of the audience and visitors, can be quite challenging. Elementor is a WordPress plugin that adds a page builder functionality to your existing WordPress theme and allows you to do exactly that.
Let's look deeper at Elementor content builder. It uses front-end editor that gives an opportunity to implement changes on your website using visual editor and observe applied changes almost immediately. Elementor was released in June 2016 and became a bestseller in less than 3 months. The number of active installations grew up thick and fast. And almost in a year, their user-base includes more than 300.000 users. Now this plugins gains 2.000.000 users and is called one of the most popular drag and drop page builder in the net.

Elementor is Not a Theme
Elementor is a WordPress plugin and not a theme. This means you can leave your existing WordPress installation as it is and install the plugin. After you install the plugin, you can create a new blank page and start editing in Elementor instead of using the classic WordPress editor.
Faster Editing With Visual Drag and Drop Editor
The biggest advantage of this plugin is its visual drag and drop editor. The professional can see the changes live as they are made in the editor. It comes loaded with a number of widgets that can be used for adding basic elements. There are widgets available for images, buttons, and various other necessary features. People who are familiar with the default editor of WordPress will immediately understand the advantage of using this plugin.
Creating content in one location and then switching to the preview mode can be a tedious job. It also makes the whole process needlessly time-consuming. Moreover, watching the preview and then modifying again also harms the productivity of the professional who can never be sure about the accuracy of his/her work. People using Elementor have to simply drag the desired elements and drop them at a selected location. The plugin offers device previews which help get an idea of how a website will look on different screens.

Enjoy over 80 design elements.
Cool Widgets for Every Needs
Elementor comes with all the basic elements you would expect from a page builder. Headlines, text, images, icons, dividers, anchor link components, videos, google maps, testimonials, and many more. Most of them are self-explanatory. Each widget in Elementor offers advanced design customizations, so you can fine-tune them and get the exact result you intended.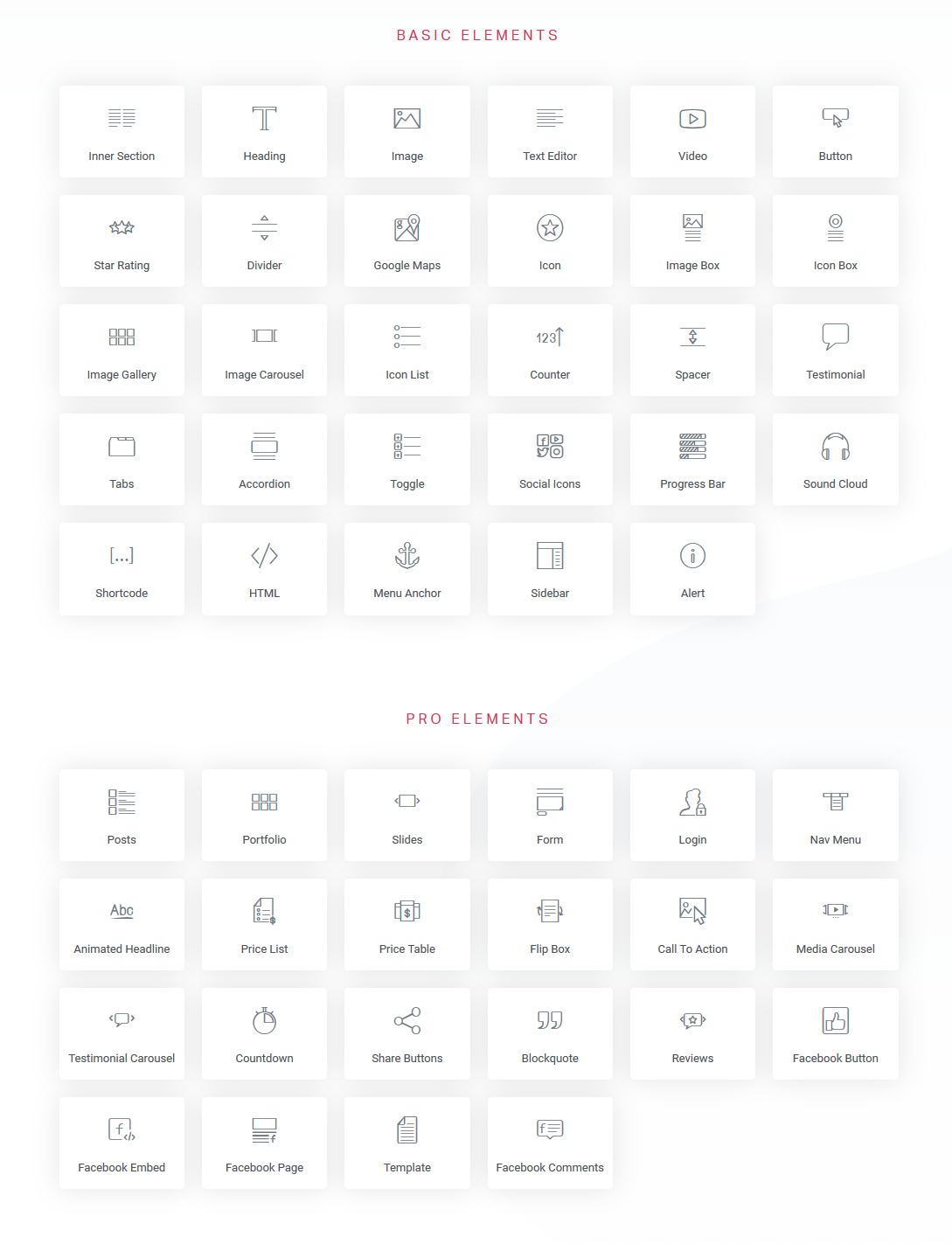 Build Websites With Elementor – No Code!
The answer is by drag and drop. The Elementor canvas has two parts-blank canvas and the left panel. What does the left panel do? The left panel lists all the elements available for use and other settings. Place your mouse over any element and drag it out in the blank canvas. As soon as you drop the element the left-hand side panel will be replaced with the elements' settings tabs.
Elementor Templates
Elementor comes with a template library. It lists 130 templates ranging from landing page, about page and home page. These templates can further be sorted using tags. Every template has tags such as- Sport, Business, and Food. Once you type in these keywords on the template sorting Search bar, relevant templates will be loaded for you.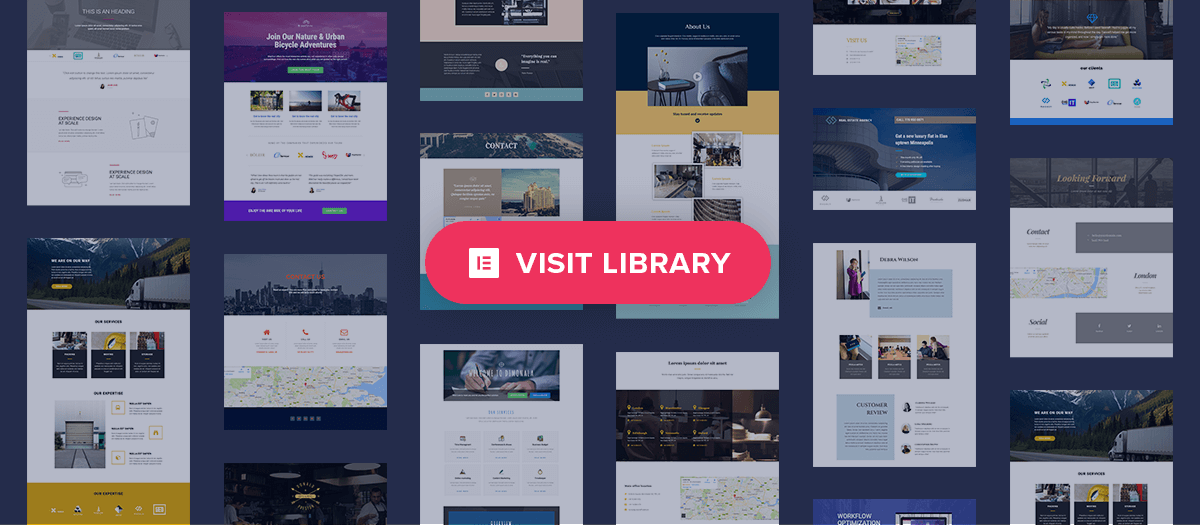 These templates will have three filtering criteria- New/Old Templates, Popular Templates and Trending Templates.
Things That You Should Know About Elementor:
Elementor page builder is compatible with all WordPress themes;
Front-end visual editor displays applied changes in real time;
Create any content layout or page layout according to what your current WordPress theme allows you to do;
Doesn't require any knowledges in HTML, CSS or PHP coding;
So well-optimized;
Workflow in Elementor
You start by creating a page in WordPress. Instead of using the standard WordPress editor, you click "Edit with Elementor" and start editing the page. You could use Elementor also in posts, but I would assume that in most cases this does not make sense. Admins can de-activate the plugin for specific roles and posts globally in the plugin settings.

After you install the Elementor plugin, you will find the "Edit with Elementor" button next to your page title.
Colors and Fonts
The plugin relies on the basic settings of your theme for displaying sidebars or footer widgets, but it comes with specific options for defining the style of your single one scroll site. There is a global setting to manage primary, secondary and fonts. Apply your brand settings here instead of customizing each content element separately. By customizing the color and font settings you could create a completely different looking landing page with Elementor compared to the rest of your WordPress site.
Truly Responsive. Mobile First
Elementor Page Builder comes with an exclusive toolset, that lets you create truly a responsive website in a whole new and visual way. From different font size, padding and margin per device, to reverse column ordering, this is the most powerful mobile page builder for creating perfect responsive websites.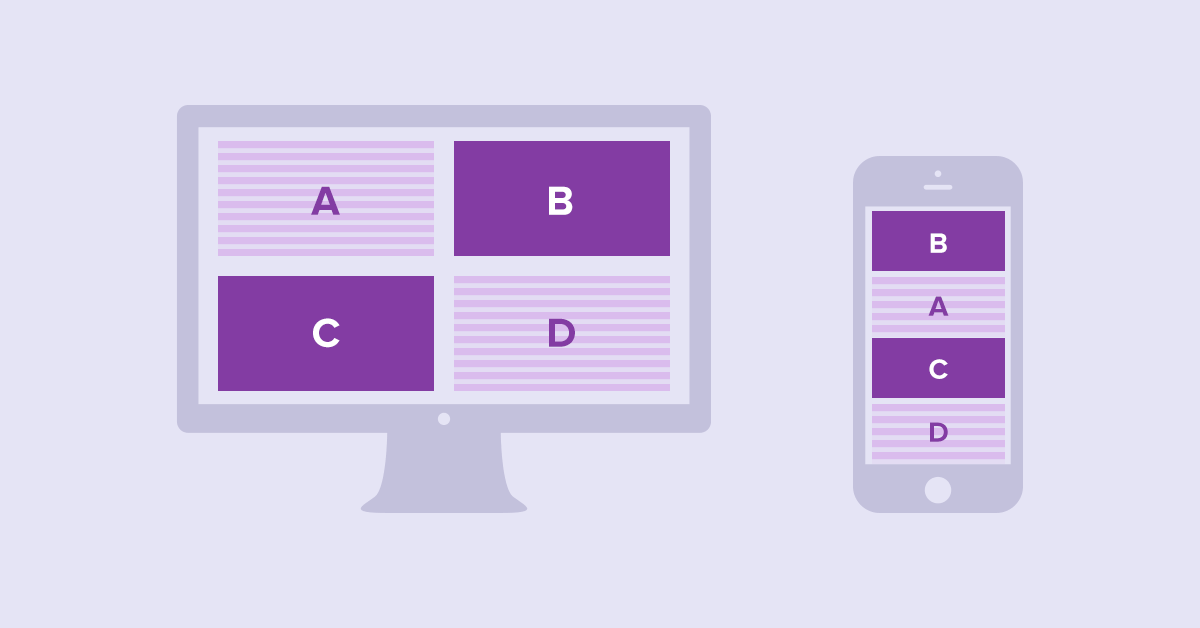 Perfect for Landing Pages
Elementor is also perfect for creating highly effective landing pages. You know how important these pages are especially in a business website or blog. The plug-in allows you to craft a visually appealing landing page, with opt-in forms or a nice product display.
Don't Stifle Your Self! Go PRO!
Elementor Pro vastly improves your design workflow and lets you design faster and better than ever. With Elementor Pro, everything is done visually and without code.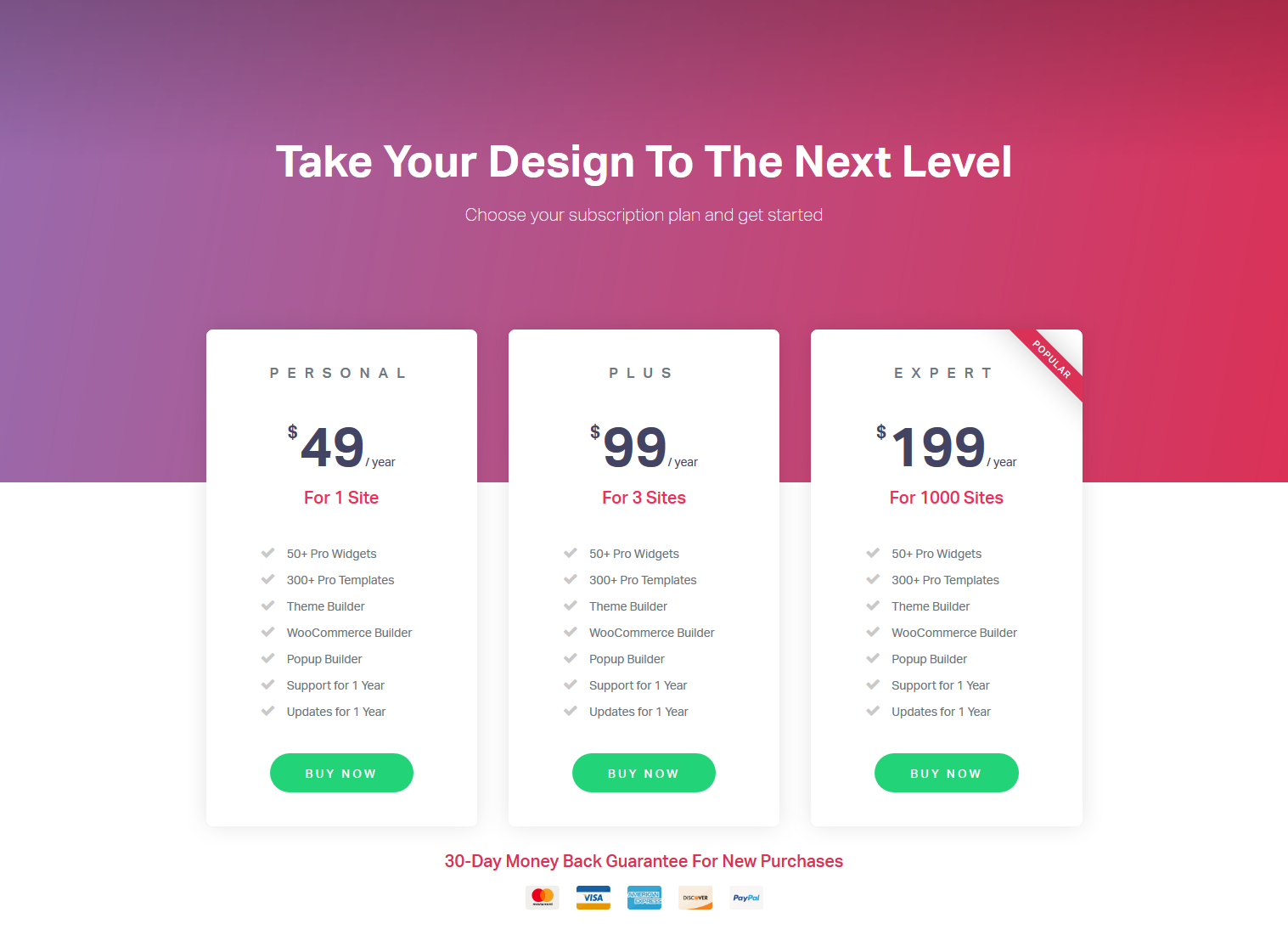 Making changes to your theme shouldn't be so hard. Endless coding, dealing with developers, switching themes. The Theme Builder in Elementor Pro turns the entire process of creating WordPress websites 100% visual including your site's header, footer, single post and archive page design.
Let's Wrap it Up!
If this were a plugin review site, I would give Elementor 5 out of 5 stars. If the product keeps up this level of quality, I am sure the company behind will build a great community around its product. It does not matter if you are new to WordPress or a veteran, getting started with Elementor is easy, and it is fun to build pages with it. One big advantage is that you can stick to your existing theme and use Elementor for "special" pages on your site.