There used to be a time when no one had the opportunity to build their own business branding, but it didn't take long for such an innovative platform, Looka, to emerge. It is a smart and powerful logo creation platform that allows anyone to create their own branding that is easy to use whether it is a beginner or an experienced person.
Your business can be impeccable and well remembered because this online program provides every opportunity to create a logo. You can choose from 300+ branded templates that are simply impressive. Create from scratch or use an existing concept for your business by enlivening it with branded materials such as colors, fonts or photos.
What is Looka?
Looka combines your design preferences with AI and lets you create enchanting logos that you will fall in love with endlessly. It is one of the most intuitive and easy-to-use design platforms ever and trusted by over 5 million entrepreneurs.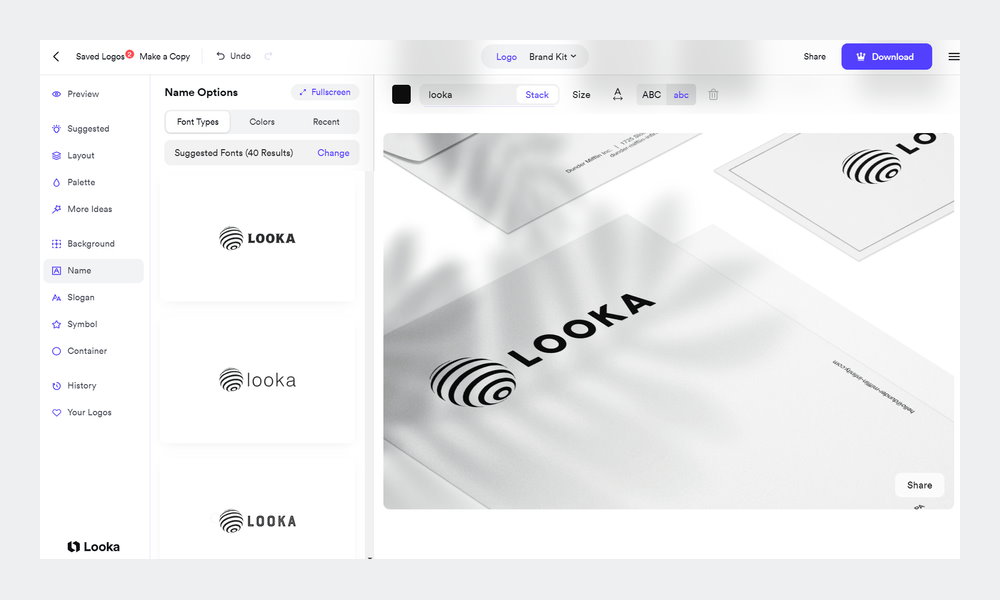 Looka gives you everything you need to launch your brand and look great from day one. Turn your creative vision into a business and brand you'll love using.
Key Features of Looka
A few cool features to know:
Forget the time when creating a logo was like climbing Everest. Looka's software is powered by AI to create a logo that matches your vision – no design skills required. Generate endless variations. Surprise yourself and your colleagues.
Looka's "Brand Kit" uses your logo, colors, and fonts to instantly create hundreds of branded marketing materials – all in one spot. With the many sophisticated tools given, your branding will be flawless in minutes.
Customize the design of your brand's – such as business cards, social profiles, email signatures, and more in the Brand Kit's easy-to-use editor. Choose from 300+ ready to use templates to cover your business needs.
How Does it Work
Looka is an online tool. You just log in to the dashboard and use the on-screen tools to get started:
First, Looka provides you with a selection of logo styles, colors, and icons for you to take your top picks which they'll use as inspiration later when generating your logo options.
Next, you'll be presented with a selection of color pallets from which you pick your favorite. Looka will use this color pallet to create your logo.
At the next stage, you'll be asked to tell Looka more about your business, including your company name and slogan. This helps Looka get to know your business a little better and it may play into the final logo design options.
To follow, you have the option of searching for up to 5 icons that symbolize your brand. This is an entirely optional step, but one that's useful if you're interested in creating a logo that includes an icon. They have thousands of different icons, to choose from so there's bound to be an icon that represents your brand.
And finally, Looka presents you with an endless amount of options created using your desired preferences and inputted information that you can then edit and adjust as you desire.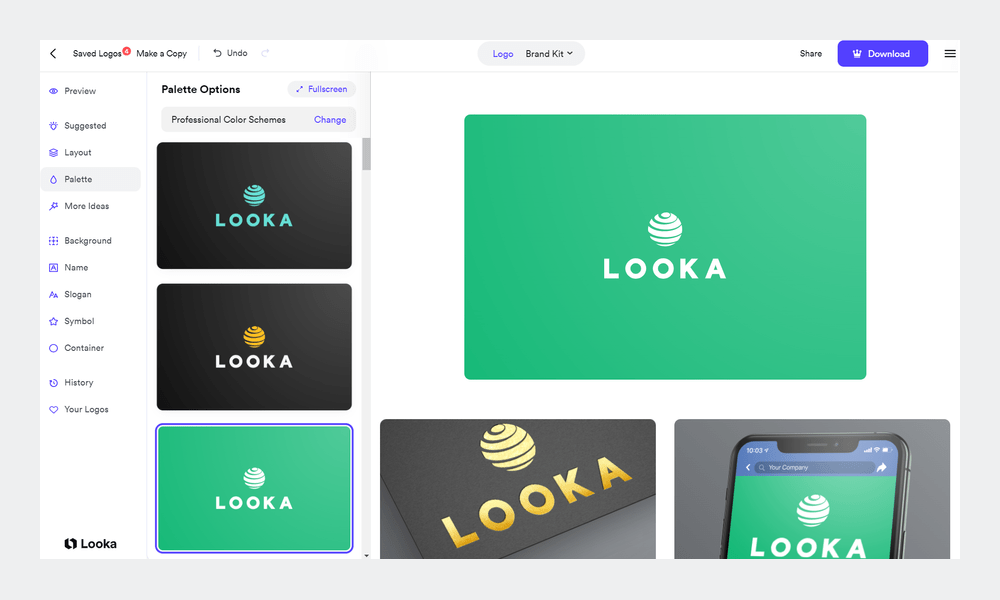 If none of the created logos meet your expectations, try restarting the process and refine your preferences to help Looka's logo generator create a logo that's more interest your tastes.
Products You Can Use
Beyond Looka's online logo generator, which is obviously their main feature and service, they also provide additional products that make them a one-stop shop for logo creation and design:
Looka provides you with ready-to-use PNG files for websites, presentations and more so your logo looks good no matter where you need it to use.
Expand your business with experienced marketing materials and 300+ branded templates personalized to your logo's design. 20 asset types – including invoices, flyers, and email signatures.
The social media kit is an extremely useful resource because you'll be provided with over 40 different sizes of your logo that are ready to use for profile and banner images for Facebook, Twitter, YouTube and more.
Ready to look professional and impressive? Pair your logo with punchy business card designs you can print and share with anyone finally.
The Looka's business name generator helps you to brainstorm ideas, check availability, and see logo ideas instantly. Can be something cooler like this?
Get logo ideas, colors, styles just in one awesome place inside Looka's website. Generate the ideas and create the logo of your dream, everything is possible without any doubts.
Pricing
Looka's pricing packages include:
Basic

€20
A low-resolution version of your logo

Premium

€55
High-resolution version of your logo
Vector EPS & SVG files
Transparent background
Black & white versions
Lifetime phone support
Branding guide including font names & colors
Full copyright ownership
Make changes to your logo & re-download whenever you want
Print-ready versions of your logo
Access the social media kit for an additional add-on cost
Access the business cards for an additional add-on cost
Access the brand guidelines for an additional add-on cost

Brand Kit Subscription

€84
The Premium Package plus:
The social media kit
Business cards
Brand guidelines
Unlimited changes
Unlimited technical support
Full ownership and more..

Brand Kit Web Subscription

€168
Everything in Brand Kit Subscription
Website
Conclusion
Nothing is impossible when such a design machine helps you to generate not only ideas but also a comprehensive business identity. Build without borders with Looka's help.
Looka's helpful and friendly in-house customer success team is available via live chat and email to answer all your questions. Get help accessing files, tweaking your logo designs, and more.
Published by
decolore
Thanks for being a part of this beautiful blog. Hours spent to create this web space to our visitors as much useful as we can. We're living with a pace of life and build beneficial collections related to graphic and web design. Here we come up with premium and free collections like mockups, backgrounds, fonts, wordpress themes, branding, inspiration, tutorials and informative articles for professional designers and beginners. Go ahead and let's be a partners! View all posts by decolore