Over time, tons of wannabes have faded into obscurity, while the top-performing programs are still standing strong. It all started when Adobe introduced Illustrator back in 1987. Two years later, the world was introduced to Photoshop, along with CorelDRAW.

Fast-forward to the 21st century, and the landscape of graphics software has changed for the better. Over time, different kinds of graphics software have come and gone, leaving the top-performing software standing strong. Granted, a talented designer can make a beautiful work of art in MS Paint, but with the power that modern graphics software can offer, there'd be no reason to waste your talent on such unbefitting software.
Today, we'll share with you ten of the best software choices for graphics designers. Whether you're new to the designing game or a seasoned veteran, you'll find the right tool in this guide.
1. Adobe Photoshop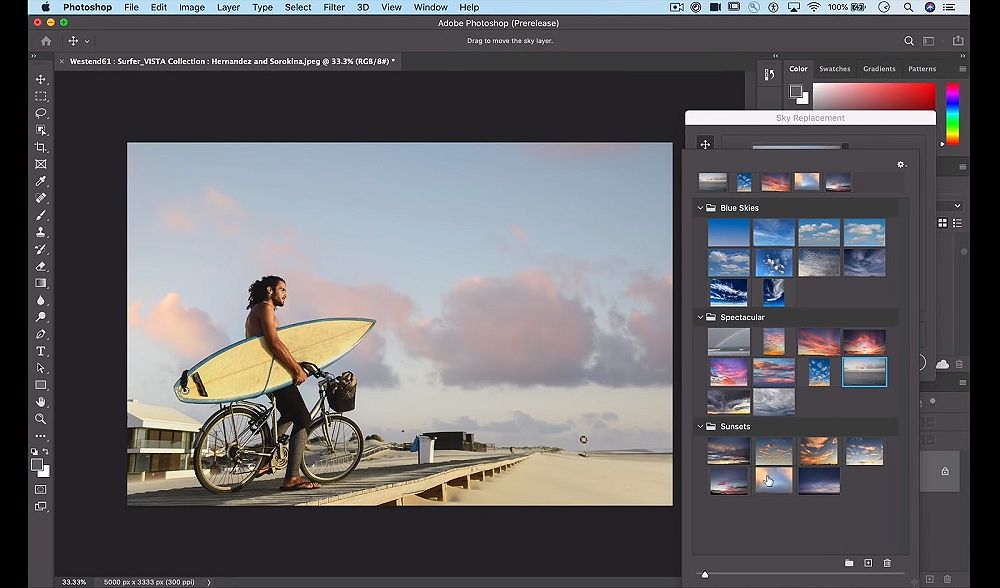 Adobe isn't just the leading manufacturer of PDF readers and editors. Adobe Photoshop is, hands down, the most popular graphic design software. Millions of aspiring and professional artists use it to create posters, websites, and logos. Whether you're adding final touches to illustrations or coming up with intricate designs, Adobe Photoshop is the go-to tool for designers of every level.
Adobe is constantly developing its suite to make its products more customizable to users of different expertise levels. It also actively syncs with Adobe Creative Cloud to give users a wider range of one-of-a-kind features, such as Face-Aware Liquify, Design Space View, and synced libraries.
This program isn't just used to edit images. Artists can design highly realistic artwork from scratch. It lets you work with 3D images, isolate specific elements from backgrounds, and use custom-made brushes, along with countless other handy image-editing tools.
Pros:
Advanced and unparalleled image editing tools at your fingertips

Works with nearly all image file formats

Easy to share files between users and device platforms

Large library of templates at your disposal

Great for both basic and intricate photo editing projects

Emphasizes functionality and flexibility
Cons:
Expensive subscription cost

Not as great for vector-based image editing

Too many tools for beginner designers

Requires 4 GB of hard drive space
Price: Starts from $20.99/month
2. Adobe Illustrator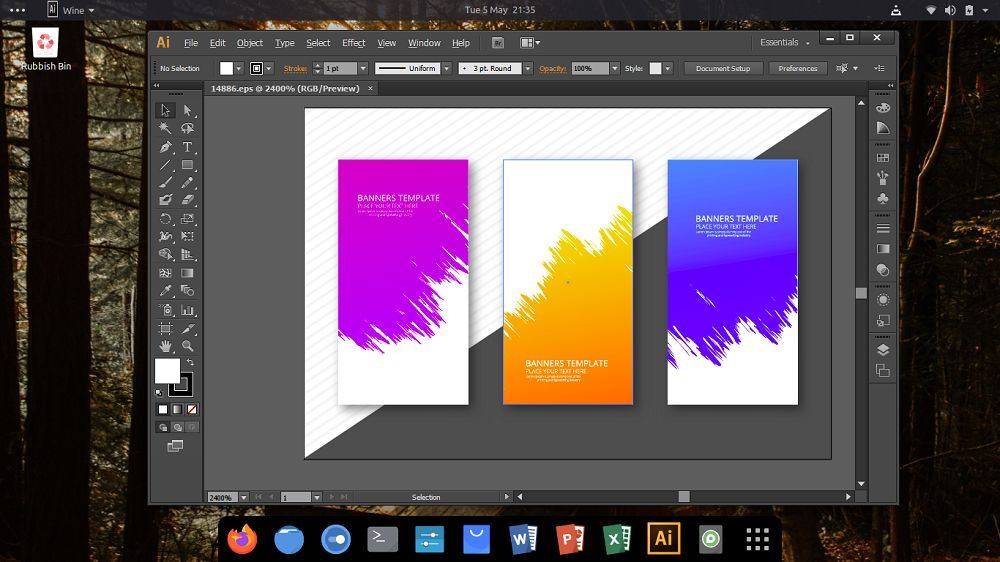 Adobe Illustrator is a graphic designing software that places a heavy emphasis on vector designing. With Illustrators, artists can create icons, posters, brochures, and billboards. Adobe Illustrator Draw offers many of the same features but for mobile devices.
Illustrator also lets you add and remove details to fonts by modifying weight, slant, and width. Newbie designers will undoubtedly appreciate professional-looking templates to save time and draw inspiration. While there's a pretty steep learning curve, users claim that Illustrator can provide most if not all of the editing tools they need to create spectacular works of art.
Pros:
Lots of options to express creativity

Works with all kinds of file formats

Robust, easy-to-use toolset

Excellent compatibility with other Adobe programs

Great for vector-based images

Ideal for printed marketing material
Cons:
Steep learning curve

Different hotkey setup to Photoshop

The interface can be intimidating to new users

Freehand drawing tool can be awkward at times

Complaints about half-pixel editing and formatting
Price: $19.99/month
3. CorelDraw
CorelDRAW was initially made for Windows desktops but has branched out to include iOS, too. This program lets users create vector-based illustrations for marketing and mobile app purposes. This is an extremely customizable piece of software that comes with AI technology (LiveSketch) to convert sketches into vector images. Photo and font editing can be done through Photo-Paint and Corel Font.
What's great about CorelDRAW is that its web graphic tools allow you to publish your content directly onto your WordPress site. It's a pretty light program, even when working with humungous designs, that's compatible with over 100 different types of file formats.
Pros:
Fast loading and operating times

Beginner-friendly interface

Powerful automatic tracing of bitmaps

Can export individual sheets

Customizable suite to fit your every need

Excels at creating and modifying vector-based images
Cons:
Quite pricy

Text to path feature could be more intuitive

Can crash suddenly

Eyedropper tool can stop functioning randomly

Print preview isn't very accurate
Price: $339/year or $885 for a lifetime license
4. GIMP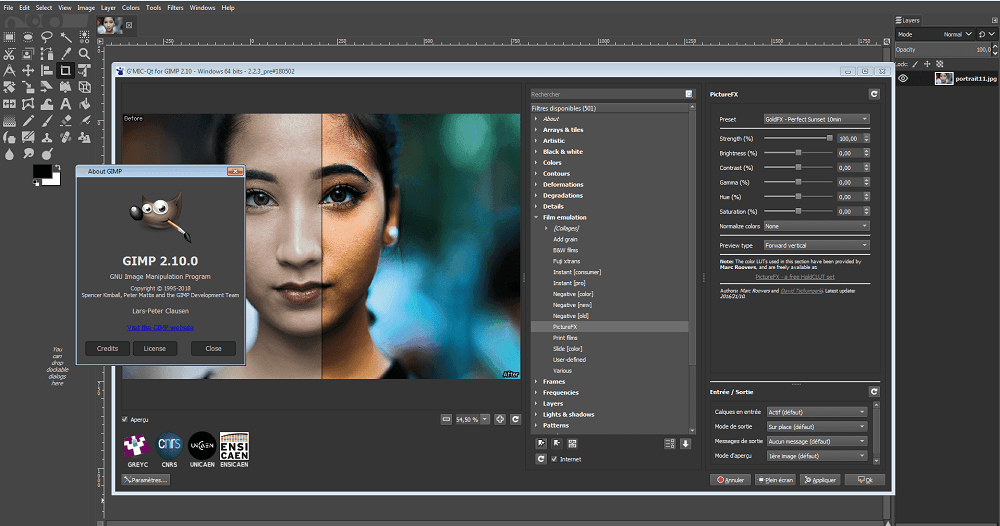 GIMP is a totally free graphic designing program that's compatible with all desktop OSs. This open-source software is incredibly customizable and has numerous third-party plugins that can improve productivity and creativity. GIMP is mainly used to retouch images, but it also allows for smaller designing projects like creating icons and logos.
Many consider GIMP to be the budget-friendly version of Photoshop, which is virtually true. While it's missing many of the handy editing tools that you'd find in Photoshop, it's not bad for a 100% free piece of software. Plus, it's updated regularly to improve usability and add editing tools.
Pros:
User-friendly interface

Excellent layering feature

Light and works on multiple platforms

A high number of tools, considering $0 price tag

Super-friendly user community

Helpful how-to videos on YouTube
Cons:
Long loading times, especially when downloading fonts

Complex features can be time-consuming to use

Not ideal for 3D image editing

Floating panels can be annoying
Price: Free
5. Adobe InDesign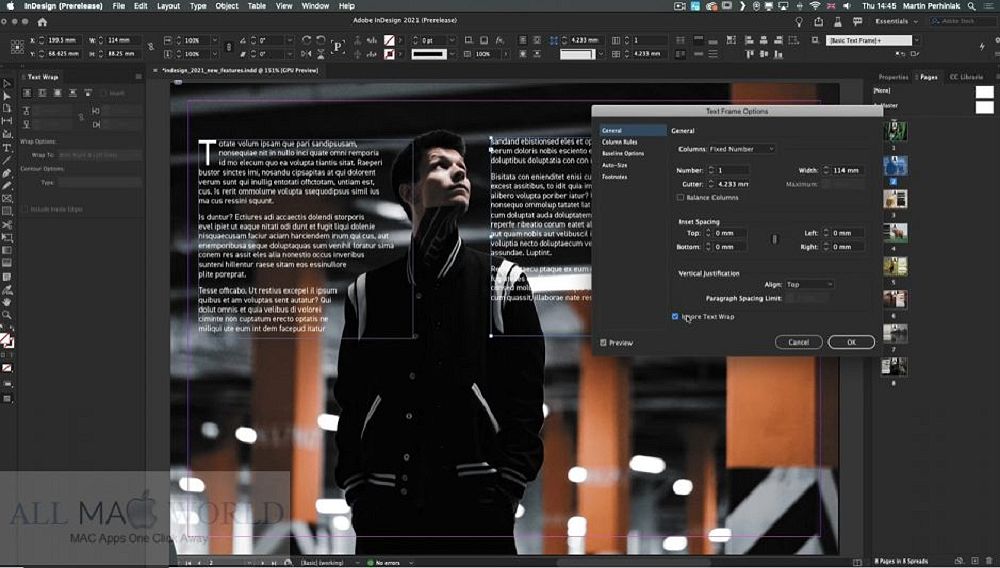 Adobe InDesign was primarily designed for text-based content in blogs and magazines. It has an excellent handle of typography to create high-quality brochures, posters, as well as interactive digital content. Users love that all of the tools are streamlined to help newbies find them for quick access and enhanced productivity. As an Adobe product, you'll get the most out of InDesign when using it in conjunction with Illustrator and Photoshop.
This program doesn't use stored pixels, but instead, it generates graphics using advanced mathematical formulas to produce super-crisp lines that users can print out in nearly any dimension. Plus, we can't forget to mention that customers will gain access to the seemingly infinite pool of Adobe stock images, templates, and videos to convey any message you'd want to send.
InDesign comes with a wide range of export options to help get your work out to the public. A majority of users save their files as PDFs, which you can do by using InDesign, Adobe Acrobat, or even free PDF tools online. This program lets designers enrich their PDFs with weblinks, audio, videos, and GIFs, which are must-haves to promote your brand.
Pros:
Versatile toolsets

Syncs well with other Adobe programs

Precise measurement tooling

Can create interactive digital content

Complements Photoshop

Fast loading and operating times boost productivity
Cons:
Not ideal for beginners

Requires a powerful PC setup

Drop shadow feature can be awkward

Not the best software for vector-based designs
Price: $29.99/month
6. Corel PaintShop Pro
Corel's photo editing software, PaintShop Pro, is often considered to be the budget-friendly alternative to PhotoShop. It supports editing both vector and raster images as well as layers to create highly intricate digital artwork. PaintShop Pro is missing many of the advanced editing tools like auto subject selection, 3D modeling, and typography management, but for the price of a lifetime license, this is hardly an issue.
Corel has vastly improved PaintShop's interface over the years, but it's still nowhere near as polished as Photoshop. However, it does offer several AI-based tools, such as AI Denoise to create more natural-looking images, as well as AI Upsampling that removes the blocky effects of low-res images.
Pros:
Excellent how-to videos

Useful AI-based editing tools

Robust effects

It has many of the same premium features as Photoshop

Great for drawing vector images
Cons:
The interface can be inconsistent at times

Not available for macOS

Random slow processing time
Price: $79.99 for a lifetime license
7. Corel PhotoImpact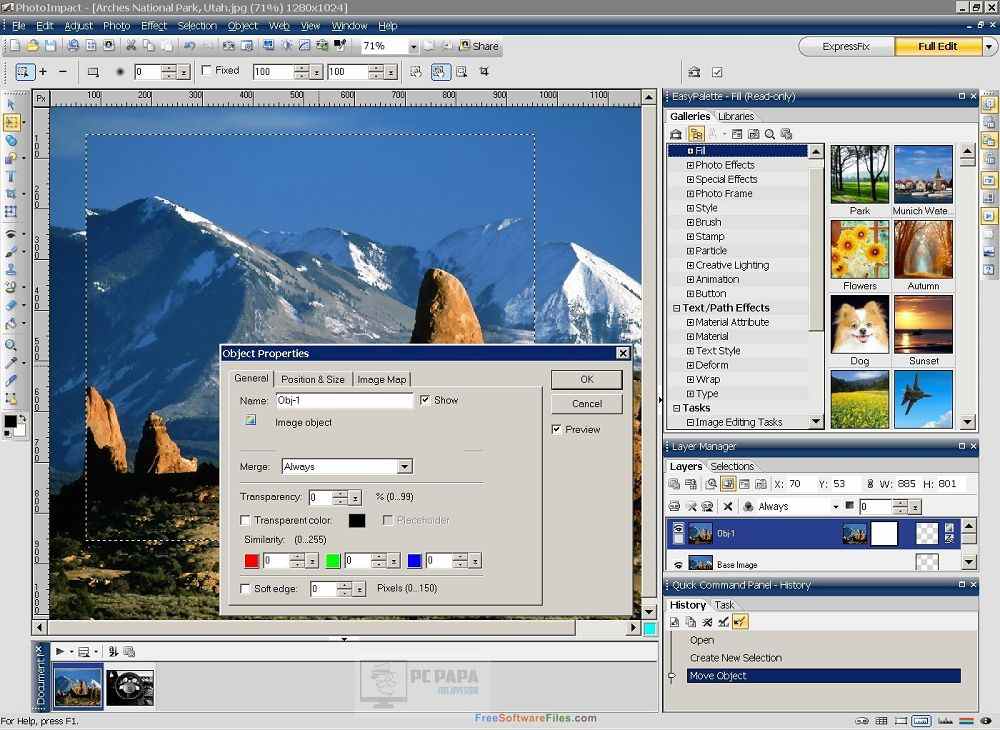 Corel PhotoImpact is far from being the most comprehensive photo editing software of all time, but for simple editing jobs or as a stepping stone for aspiring digital designers, it certainly covers the basics. This program comes with numerous filters and a merging tool to create panorama shots. There are also specific tools like the Cloud Pen to produce hyperrealistic clouds in the background.
Users mainly use PhotoImpact to create collages, calendars, comics, and cards, thanks to its countless templates. It doesn't offer much in terms of sharing like CorelDraw, but you can send slideshows to others via email. With two interfaces (ExpressFit and Full Edit), users can determine how many quick-access tools are displayed at any given time.
Pros:
Great for basic photo editing

Has built-in web design tools

Easy to learn and use

Countless tutorial videos

It doesn't take much hard drive space
Cons:
Limited support

No options to share artwork online

It could come with more editing tools
Price: $29.99
8. Inkscape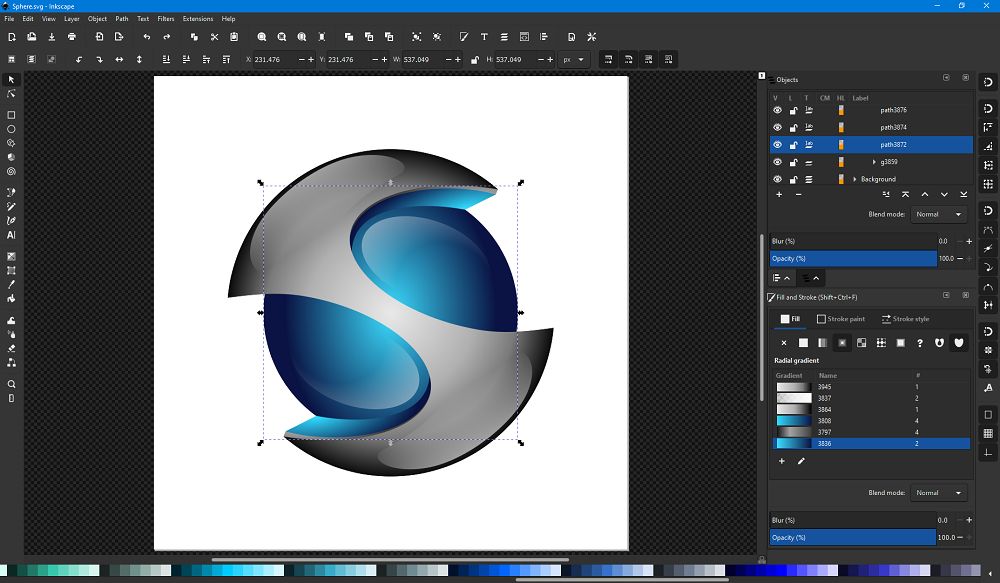 Inkscape is arguably the most user-friendly, free-to-use graphic design software out there. Both pros and aspiring designers can utilize the wide range of flexible drawing tools to create 2D artwork without much trouble. It's an open-source program that works on any OS, and it's completely free to use upon downloading.
This graphic design software specializes in creating vector images. It offers several editing tools, font management, gradients, node editing, and complex path operation. Processing and saving images can be slow at times, and some users even experience sudden crashes. However, there's not much to complain about, seeing as how it's a completely free piece of software with an interface akin to that of Adobe Illustrator.
This program thrives from its loyal fanbase. A community of users and developers contribute to release consistent updates with upgraded tools to enhance productivity, despite its random crashes.
Pros:
It comes with the essentials for vector-based image editing

Compatible with all desktop OSs

It has a thriving, passionate community of users

The website has free-to-download plugins

How-to tutorials on the Inkscape website

100% free
Cons:
macOS version can be buggy at times

Sudden random crashes

Long loading times when zooming in and out

No dedicated support

Has a moderately steep learning curve
Price: Free
9. Serif DrawPlus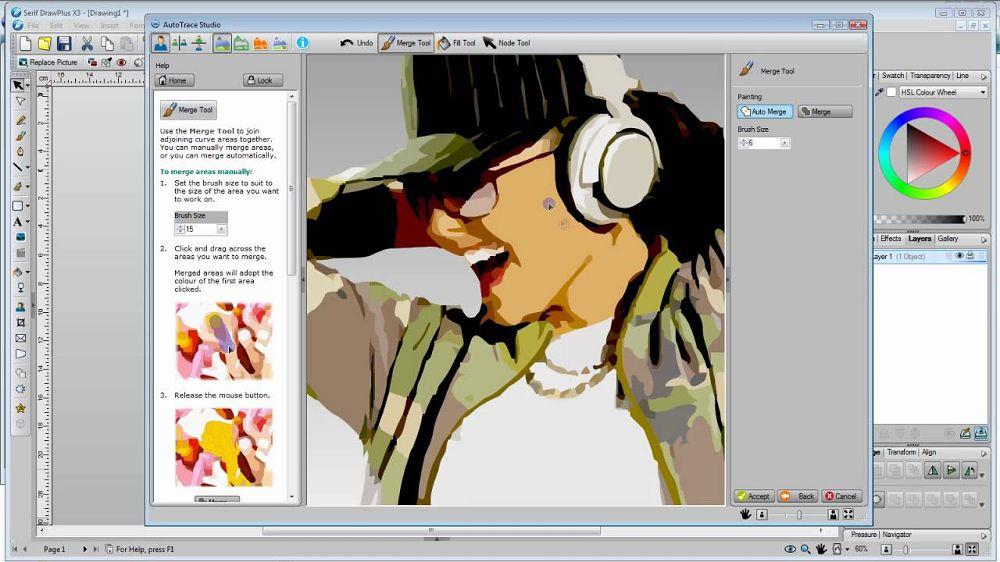 Serif DrawPlus is a powerful photo editing tool that designers use to make logos, brochures, and simple animations. What sets this program apart from the others is its user-friendliness. Expert and beginner graphic designers will get a ton of use out of DrawPlus as both a stepping stone toward Photoshop and an end tool for basic editing.
This program is like Inkscape in a lot of ways. First, it's a vector-based editing program that's mainly used to create icons and images for blogs and magazines. However, it comes with a 3D image and animation editor for newbies. It doesn't come with nearly as many photo editing tools as premium software options (no panorama merging or high-dynamic-range imagine), but it comes with enough to help amateurs effectively create vector-based works of art.
Pros:
Powerful program for editing vectors

Wide selection of helpful brush tools

Great line control

Fun for beginners

Completely free
Cons:
Limited photo editing tools

Mainly for drawing

Outdated-looking interface

Long response times

Doesn't important super-high-def images
Price: Free
10. Affinity Designer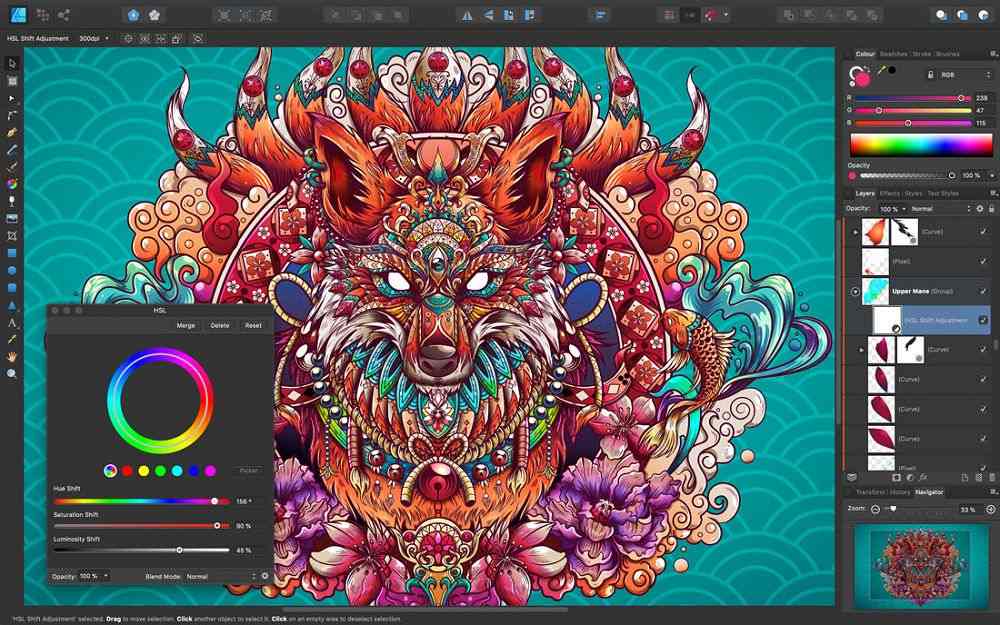 Affinity Designer is a more pocket-friendly alternative to Illustrator, making it an excellent option for those chasing design as a career. This program loads at record times to improve workflow much better than most of its competitors. Being able to zoom in and out of your work at 60 FPS and up to one million percent to assess and adjust gradients and effects is a real game-changer.
It comes with a versatile grid system to create isometric graphics and icons. A snapping option lets users better align geographical shapes based on their locations relative to other objects and paths. But what sets this product apart is its dual environment where designers can edit both vector and raster images.
Users can switch between editing vector and raster images easily and efficiently. The company also provides a version of Designer for iPads that comes with the same library of features and editing tools as its desktop counterparts. Fully modifiable grids and guides can help users achieve precise angles and spacing at will.
Pros:
Has an online help system

Cost-effective alternative to the Adobe suite

It comes with advanced image editing tools

Great for printed materials

It can be a direct replacement for Adobe Illustrator
Cons:
Documentation isn't always crystal clear

It has a steep learning curve for amateur designers

Lack of updates

Tools aren't as intuitive as in other graphic design software
Price: $24.99 for PC, $9.99 for iPad
Published by
decolore
Thanks for being a part of this beautiful blog. Hours spent to create this web space to our visitors as much useful as we can. We're living with a pace of life and build beneficial collections related to graphic and web design. Here we come up with premium and free collections like mockups, backgrounds, fonts, wordpress themes, branding, inspiration, tutorials and informative articles for professional designers and beginners. Go ahead and let's be a partners! View all posts by decolore