40+ Vintage Design Elements – Graphics, Backgrounds, Fonts & More!
Vintage or Retro design is often used by web and graphic designers. Vintage style images or backgrounds brings you to nostalgy time from the past.
If you wanted to create something old and don't have idea where to take the elements, then this collection of vintage designs is just for you, to help to make your work faster.
In this post we have added a lot of vintage design elements like graphics, backgrounds, textures, fonts, mockups, photoshop actions, photos, illustrations, design effects and much more… Also this post has constantly updates, so come back later for more designs.
You may also like:
---
20 Free Retro Vintage Lightroom Presets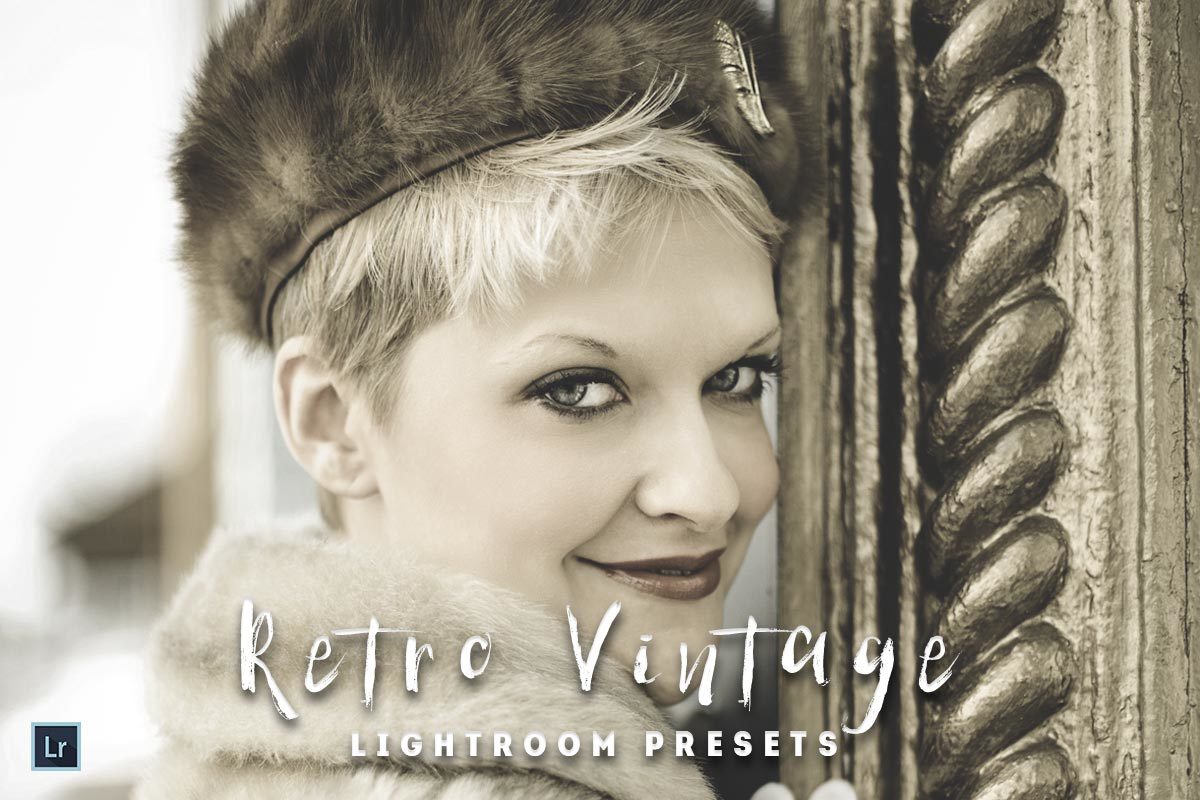 20 Free Retro Vintage Lightroom Presets will help you to create a vintage feel. With this set you will be able to quickly and easily add a professional vintage finish to your images. These filters are suitable for every photos with our 20 different vintage effects you should be able to find the exact effect what you need. The results may be different from photo to photo. These Lightroom presets can be used in your RAW and JPEG images.
Download Source
Vintage Cup – Free PSD Mockup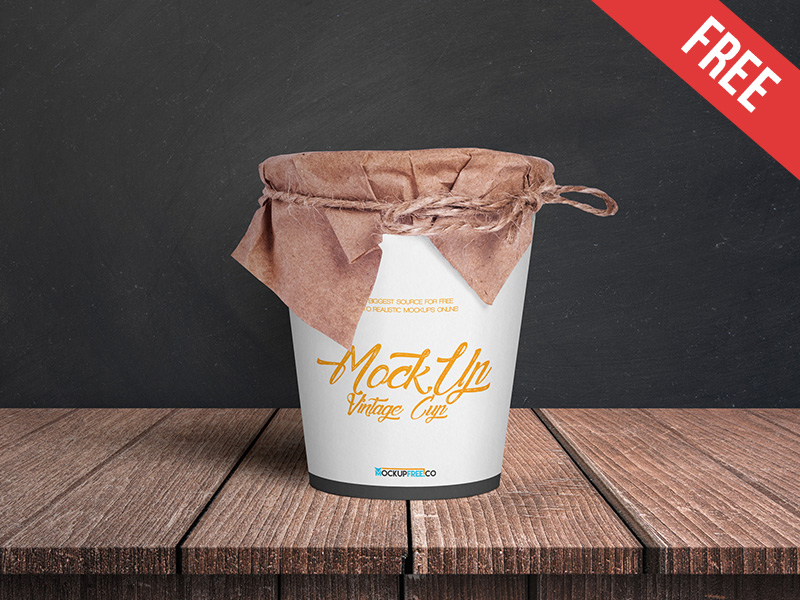 Elegant and Vintage Free PSD Mockup – Vintage Cup can be downloaded for free from our website and used for your private and commercial needs. Get this awesome mockup for implementing your professional ideas, for showing the necessary design and for lot of other interesting ideas and goals you have!
Download Source
Vintage Sign Mockup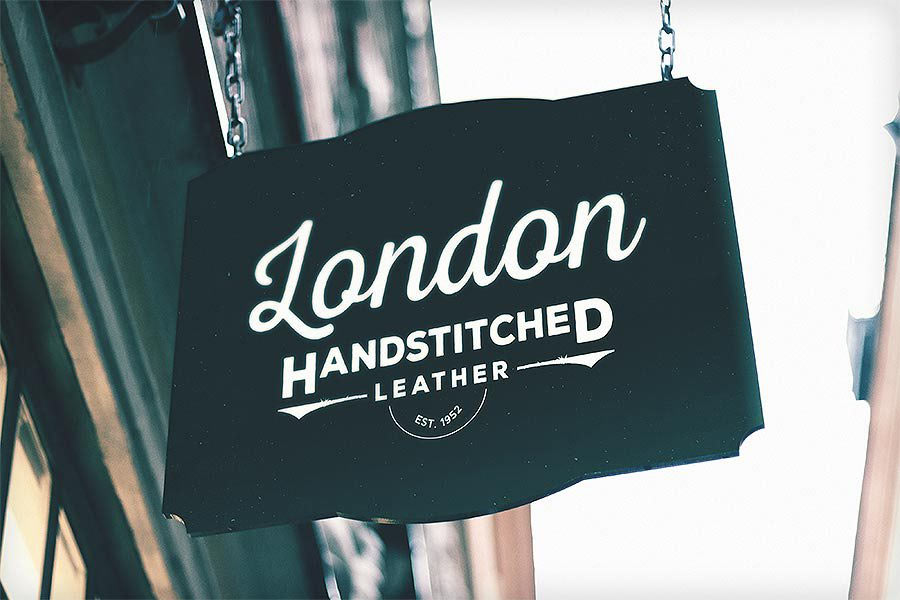 Simple double click the smart object icon and insert your Logo or Design, Press Ctrl + S and Voila! Your design will appear in the mockup!
Download Source
Plastisol 2 Vintage T-Shirt Textures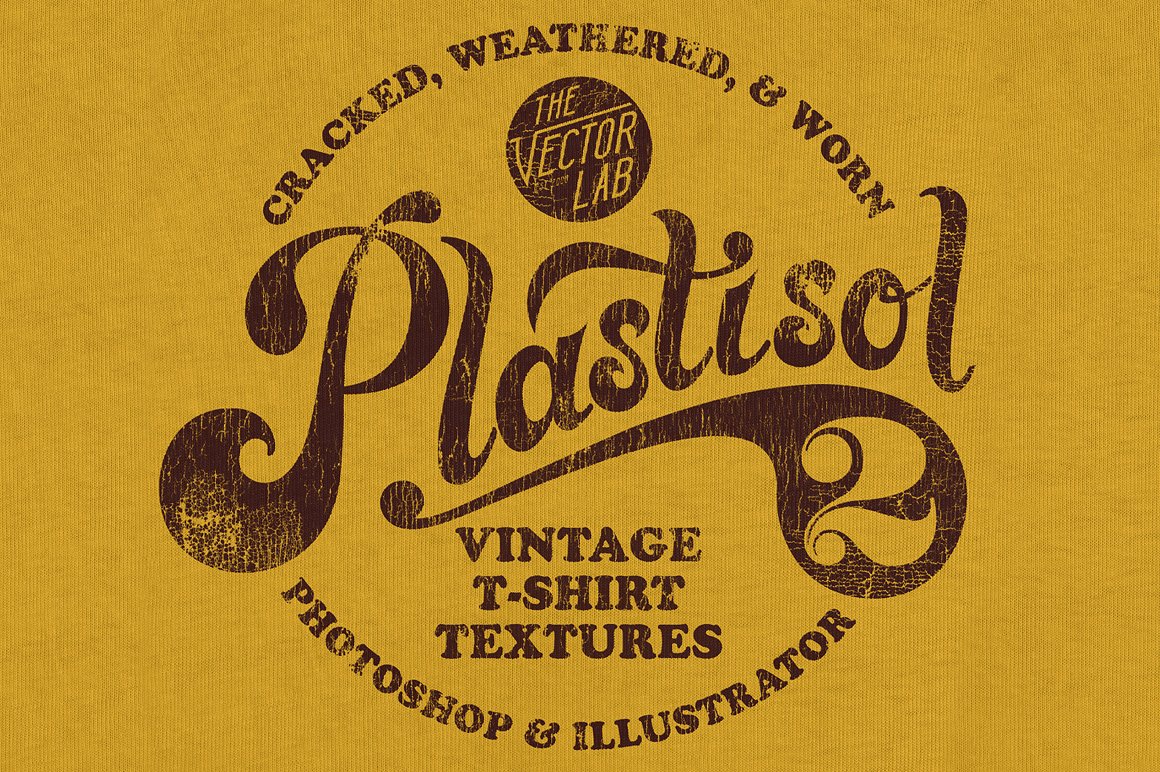 A follow-up to the Original Plastisol Collection, these cracked ink "Plastisol 2" textures will make your t-shirt designs look vintage! Plastisol 2 textures have SUBTLE EDGES, giving designers precise control of where to place the textures onto graphics.
Info / Download Source
Mega Bundle 326 Vintage Los Badges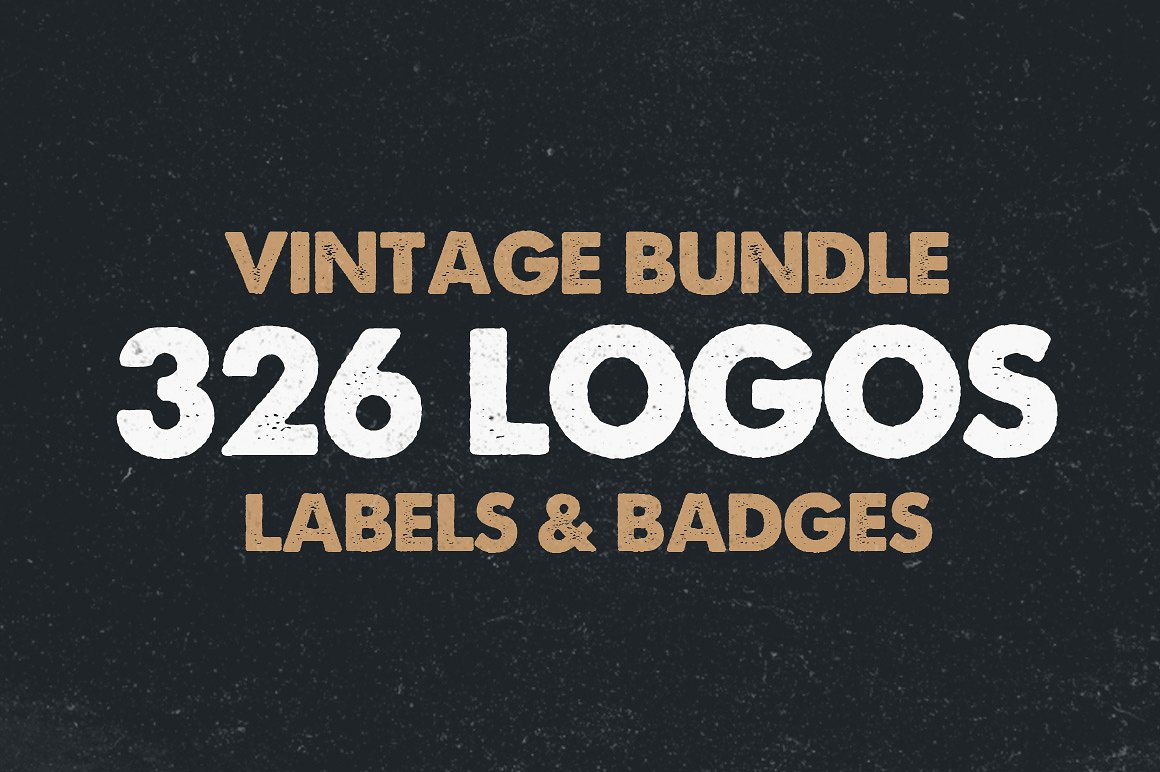 You will get 18 Sets at an amazing price! We basically are giving 15 sets for free!
Info / Download Source
Vintage Gritty Grunge Textures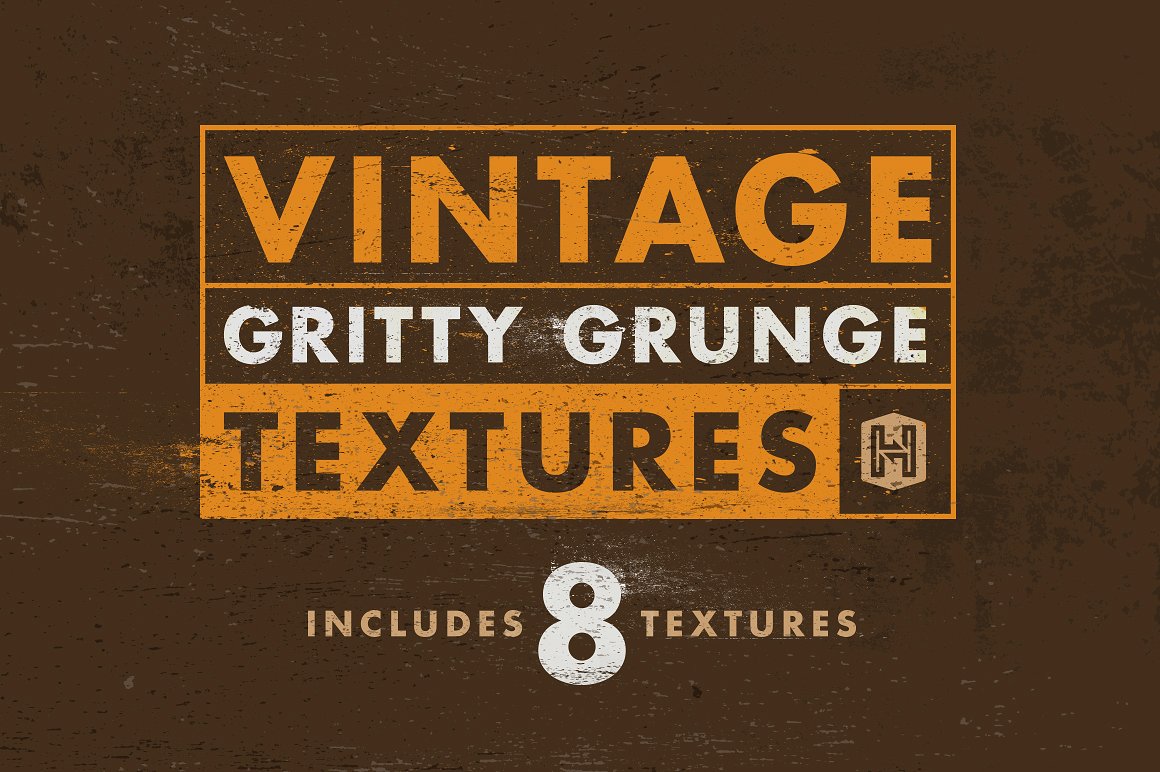 This is a collection of some grungy textures ranging from some light grit to heavier distressing. Works great for everything from adding subtle hints of age to totally destroying your graphics!
Info / Download Source
Vintage Break Font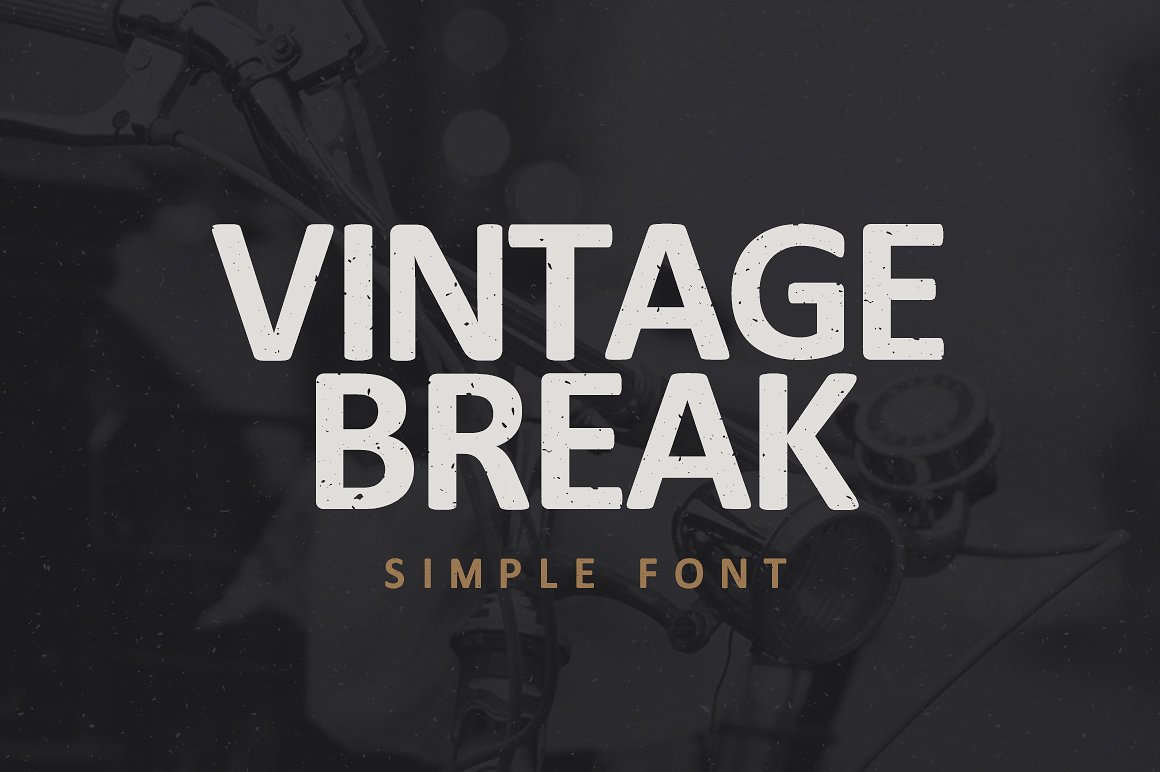 Vintage Break is a high resolution letterpress font that's vintage and authentic with a touch of grunge.
Info / Download Source
Vintage Pre Designed Templates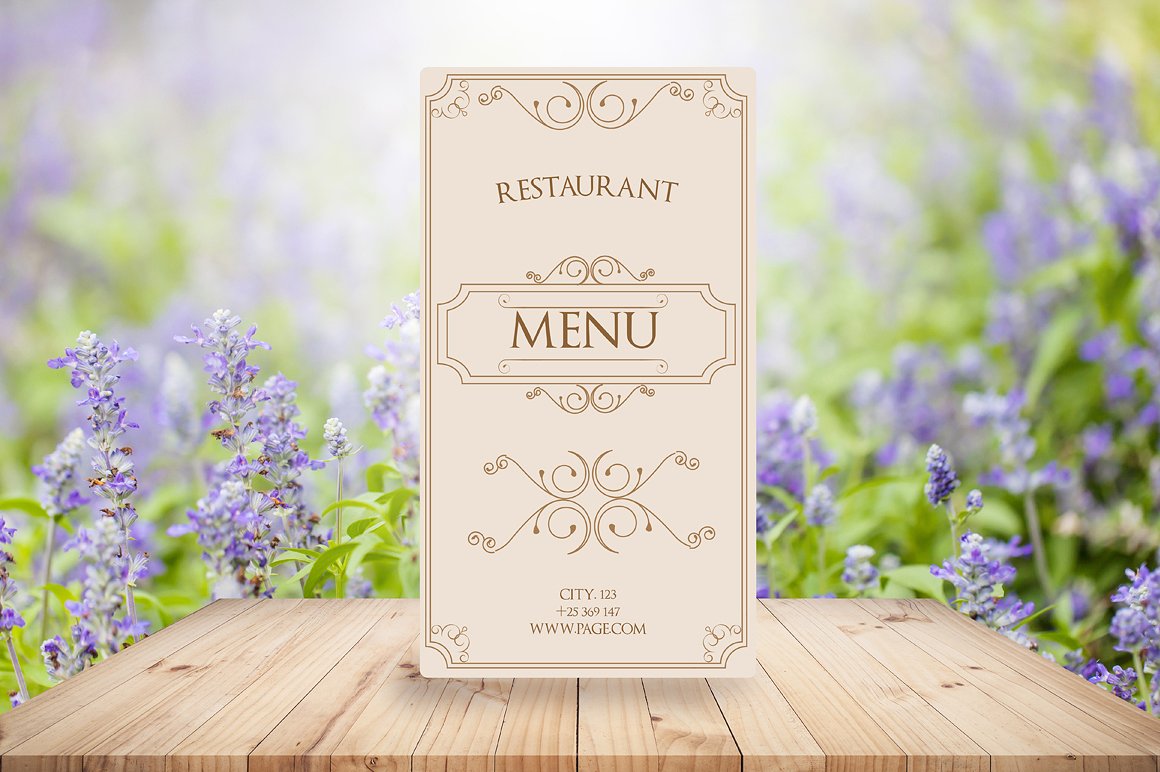 A bundle of 24 Predisigned Templates. Can be used for menu, wedding invitations, gift cards, business cards and etc. Have fun with mixing elementf for make your own designs.
Info / Download Source
Vintage Paper Textures & Effects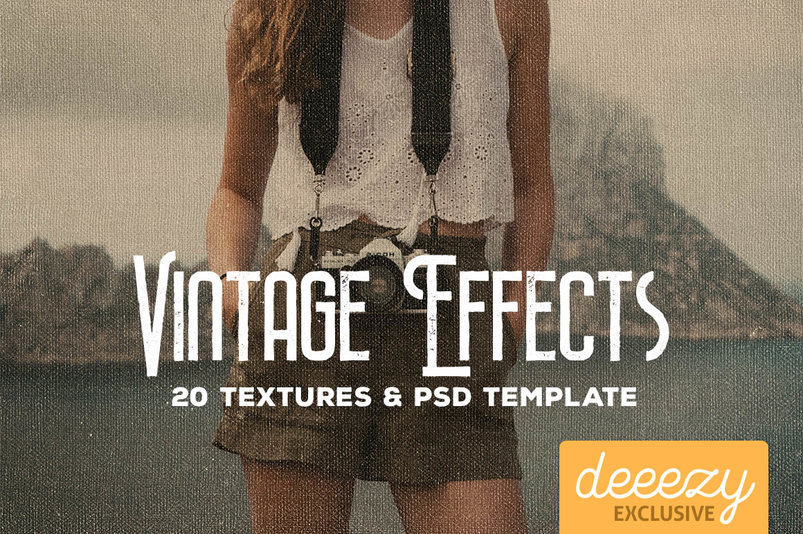 Amazing grunge textures bundle with 10 hi-res textures (also in screen dark version). Great for your new vintage photo or flyer effects.
Download Source
22 Awesome BW Photoshop Actions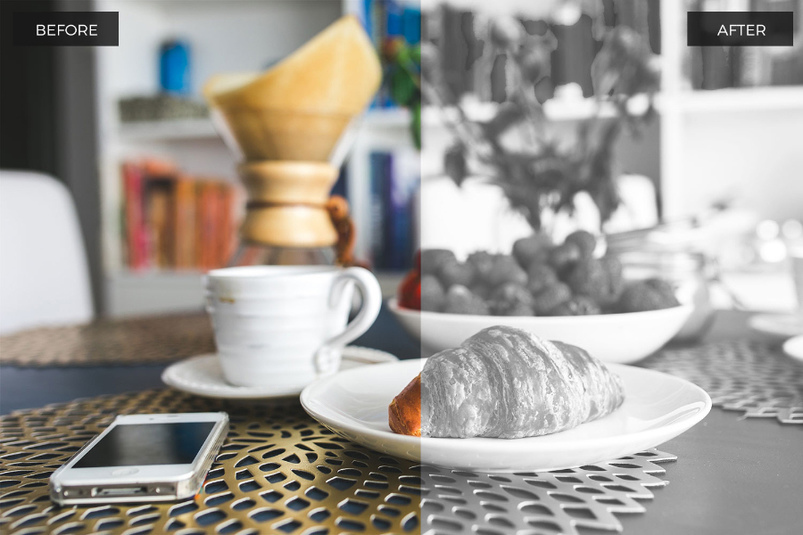 Here's an awesome bundle of 22 Awesome BW Photoshop Actions that will miraculously transform your color photos into bold and impressive black & whites…
Download Source
Free Vintage Texture Pack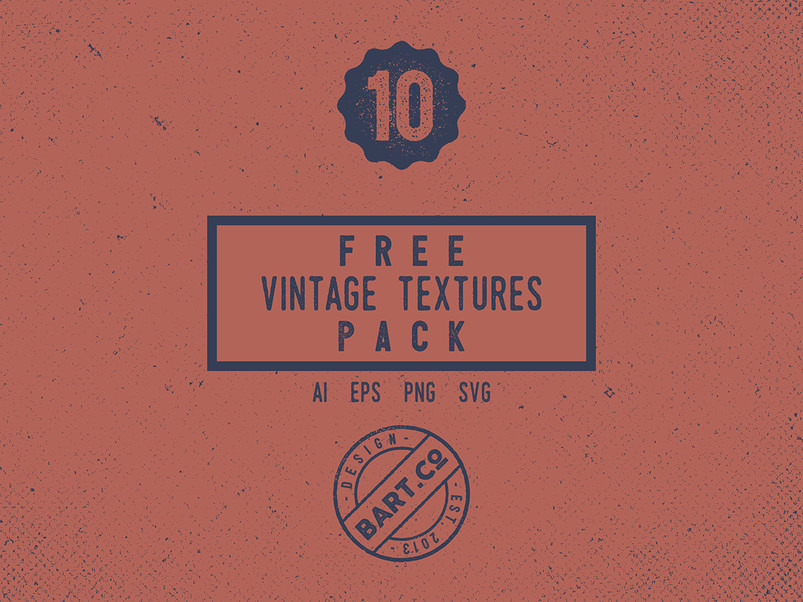 Download Source
25 Vintage Figures Vol. 4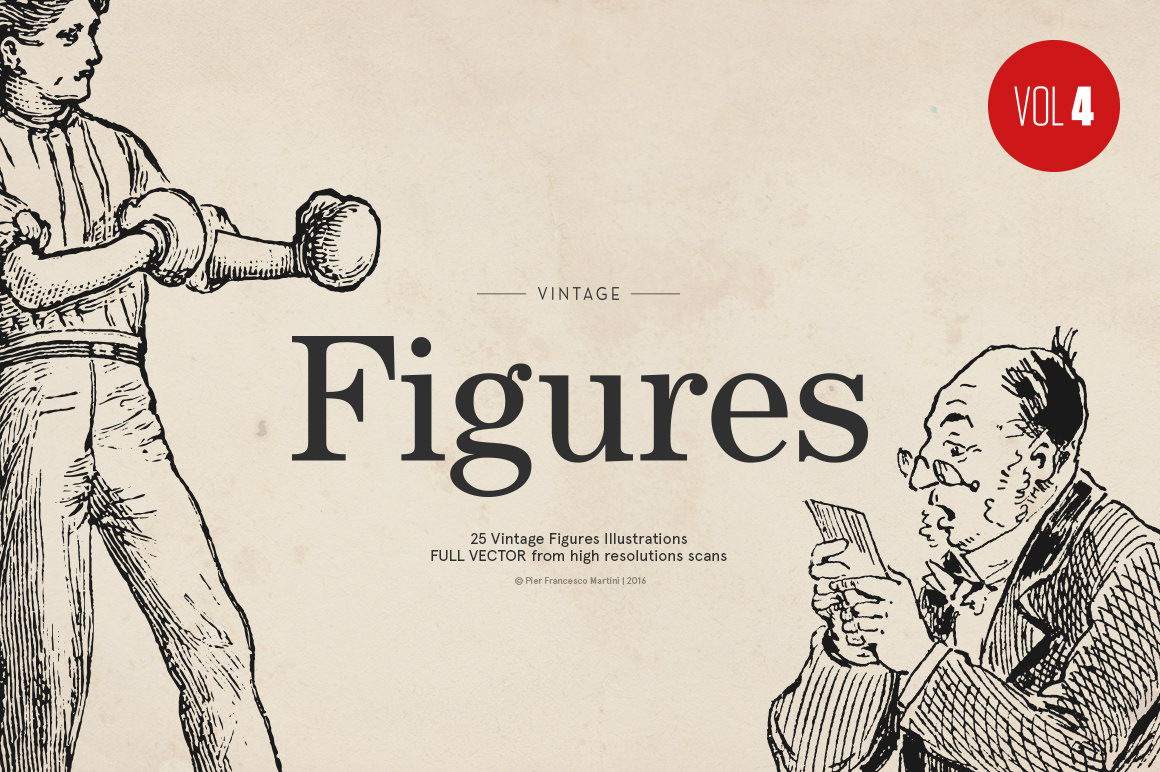 ALL VECTORS came from high resolution scanned pictures.
Info / Download Source
Ribbon Banner Kit Vol. 2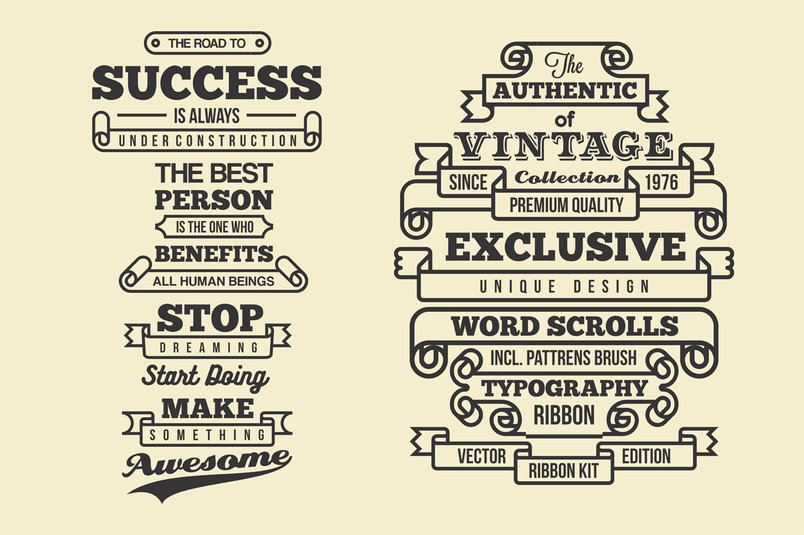 Vector Ribbon Kit for Illustrator that the elements are great for any design project, chalkboard design, apparel design, logo design, poster design, content creation, ornament deco, typographic pieces, labels & stamps or the web also in print etc..
Info / Download Source
10 Vintage Victorian Badges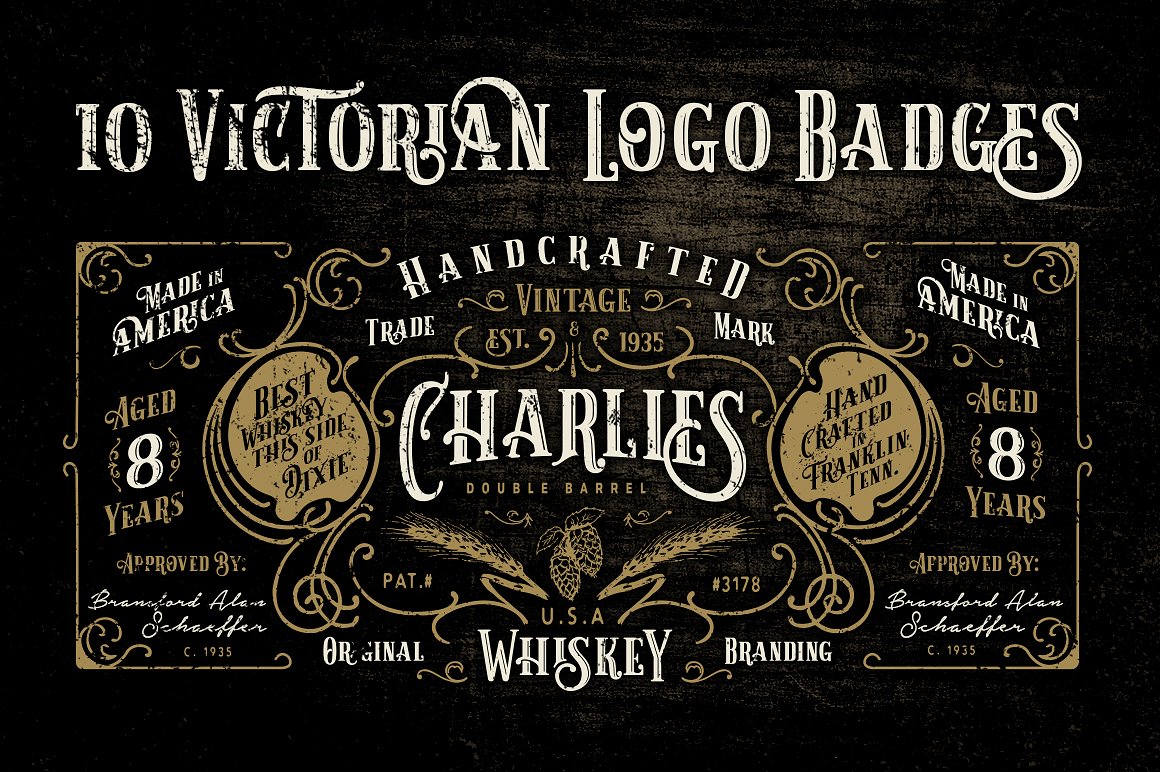 Perfect for making your own vintage logos, t-shirs, or product designs!
Info / Download Source
Vintage Paper Patterns Mega Bundle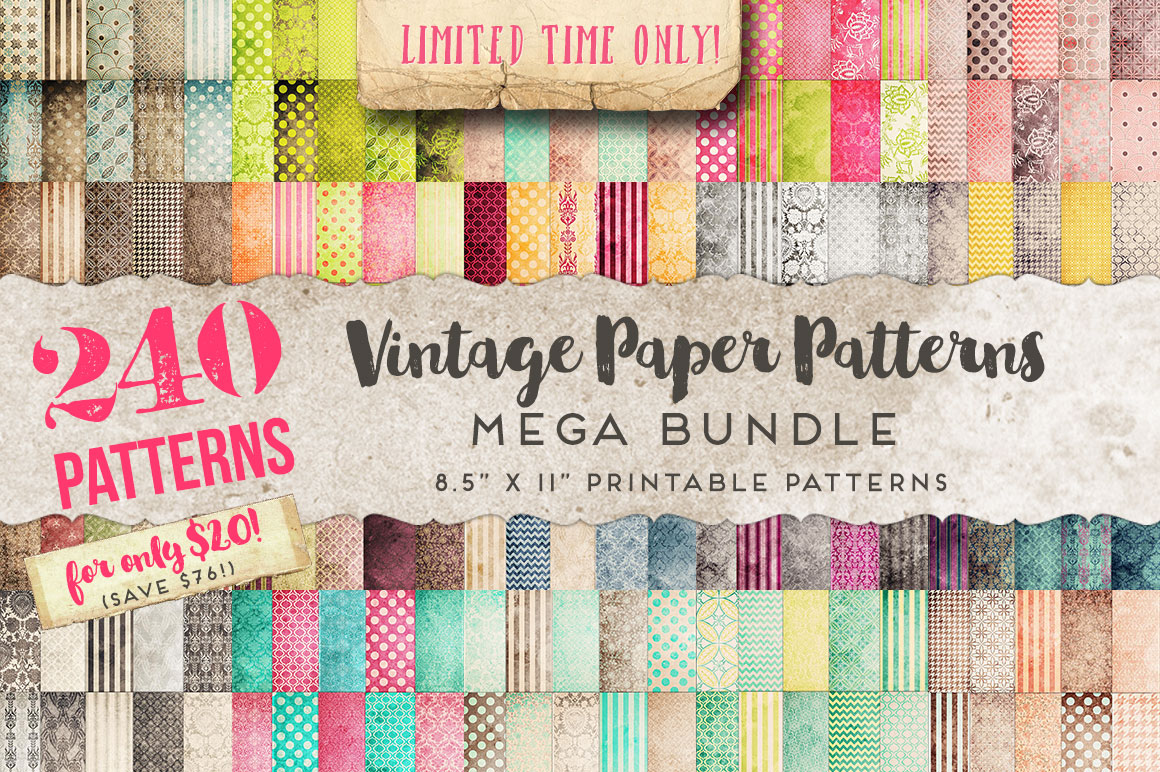 This is a MASSIVE bundle of 240 of my best-selling vintage paper pattern graphics from my shop. They make wonderful backgrounds for so many different types of projects
Info / Download Source
Vintage Letterpress Texture Effects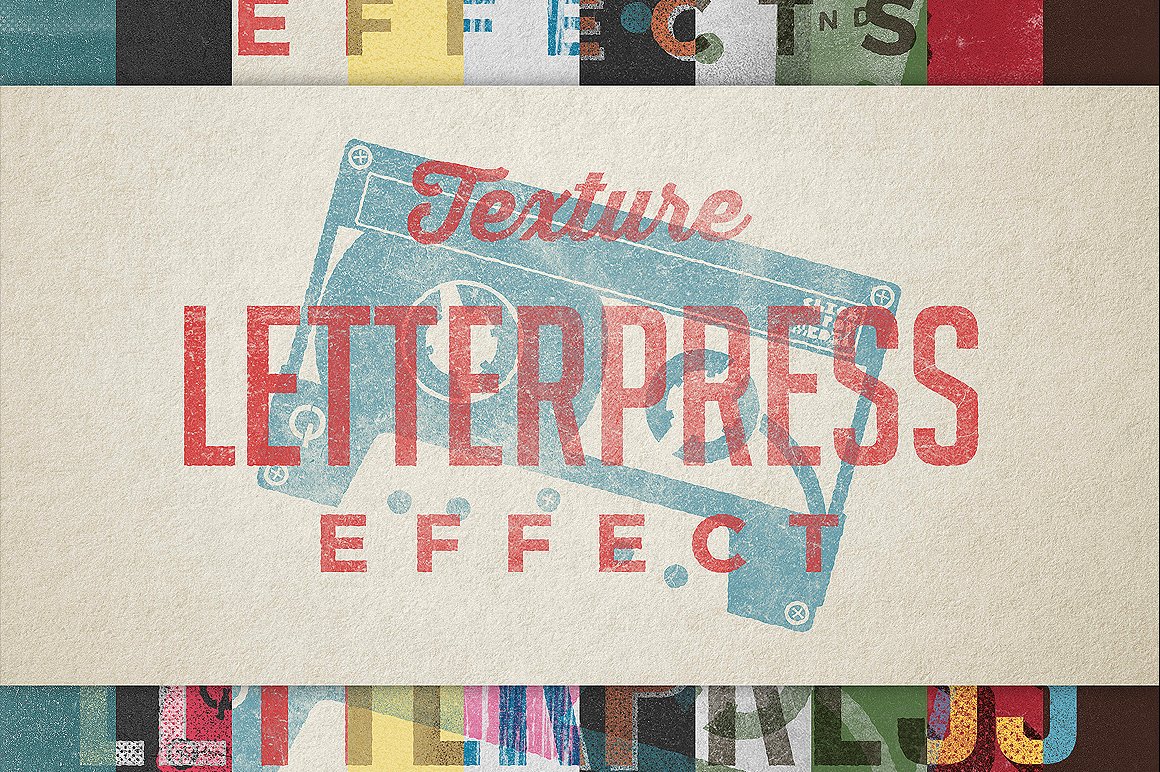 Very easy to use. Replace the text and logos in seconds via smart object layers. Open the file, open the smart object layer, change the text or place your logo, save, and you are done! It takes 20 seconds!
Info / Download Source
Photo Looks – Vintage Pack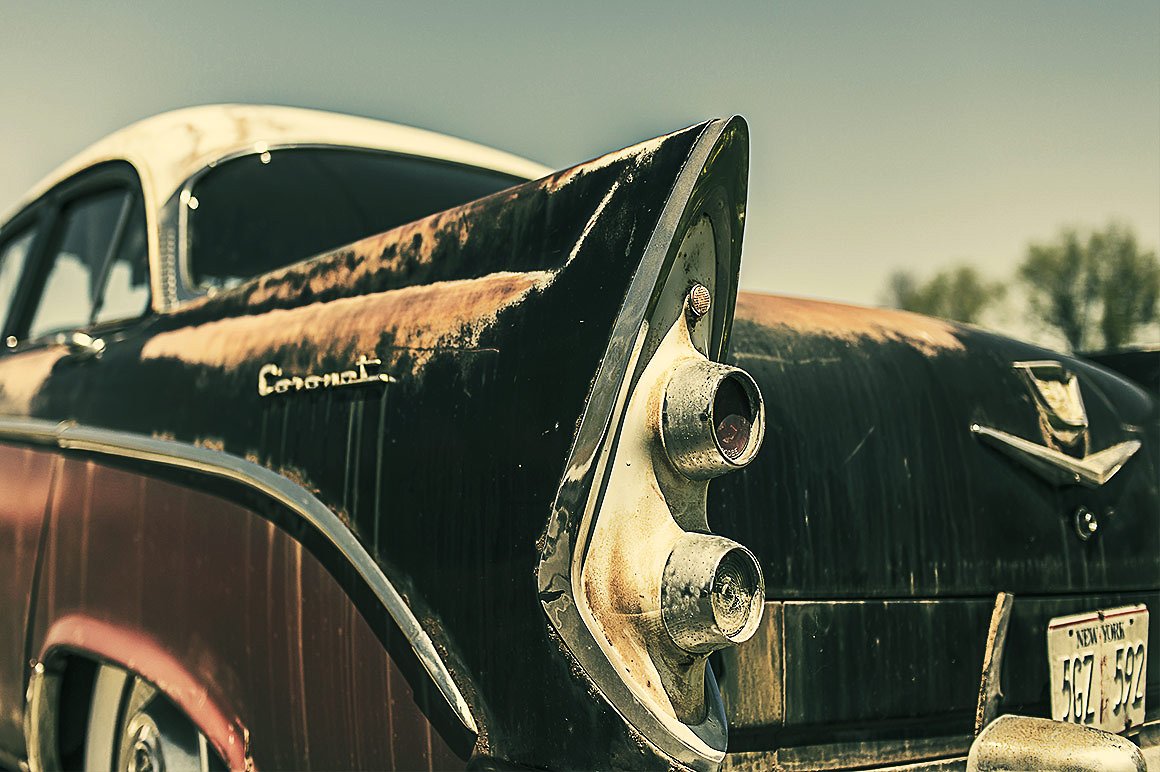 This file will spice up your photos with 17 vintage image effects / looks. You only have to insert your photo (by right clicking the red marked image holder and choosing "edit contents", then pasting your image and resizing. Save and close). There is a layer folder called LOOKS marked in orange. Open it and pick one of the looks you prefer. You can also combine looks and select more than one, play with their opacity, blend mode, etc. But generally the file will work straight from the box.
Info / Download Source
10 Retro Cars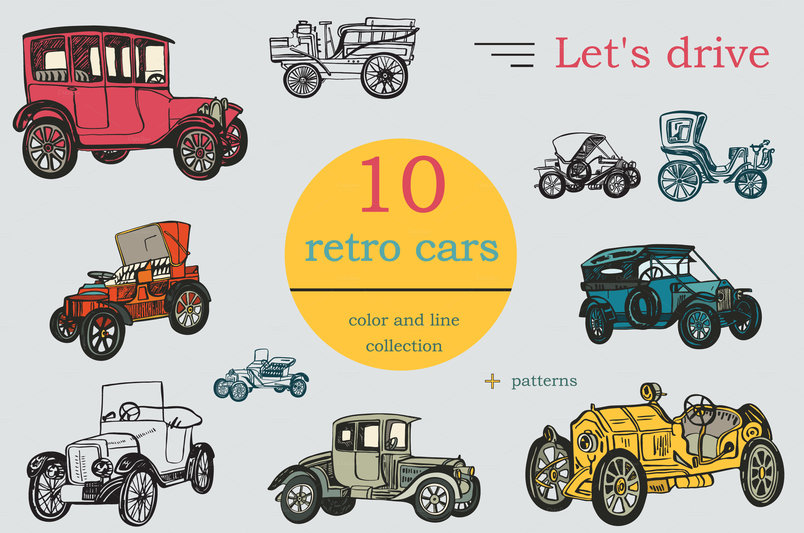 Let's drive: vintage retro cars collection. You will receive: 9 eps, 10 vector file, 9 JPG files
Info / Download Source
Free Bernier Font
This is the FREE Bernier font which is available in three formats: regular, shade and distressed. It has a vintage look that would be used well on old badges, and old skool looking items. It's available for personal and professional use…
Download Source
Vintage Leather Logo Mockups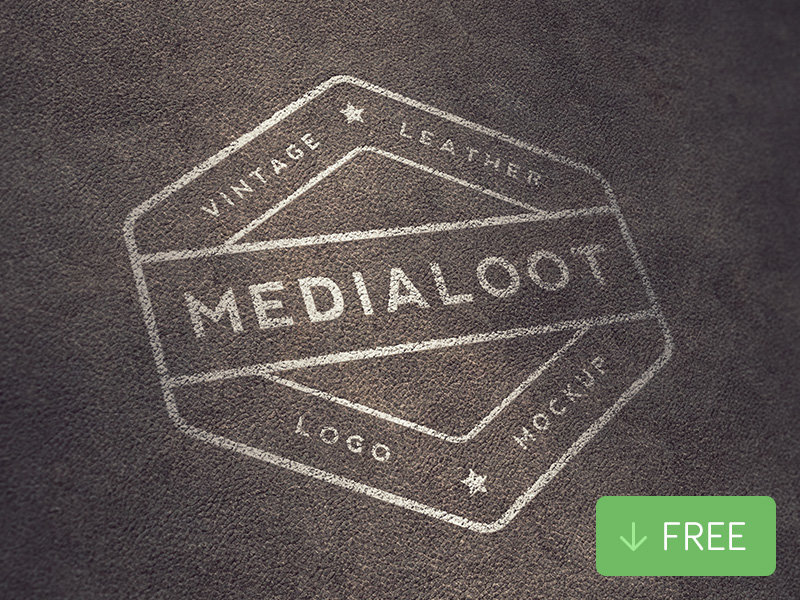 These free logo mockups feature faded, cracked print on worn leather textures. Included is a perspective scene with shallow depth of field, and a flat mockup which keeps more of the scene in focus. To edit, simply update the included Smart Objects with your own artwork. Photoshop CS6 or higher recommended.
Download Source
Free 4 Vintage Frames PSD Mockups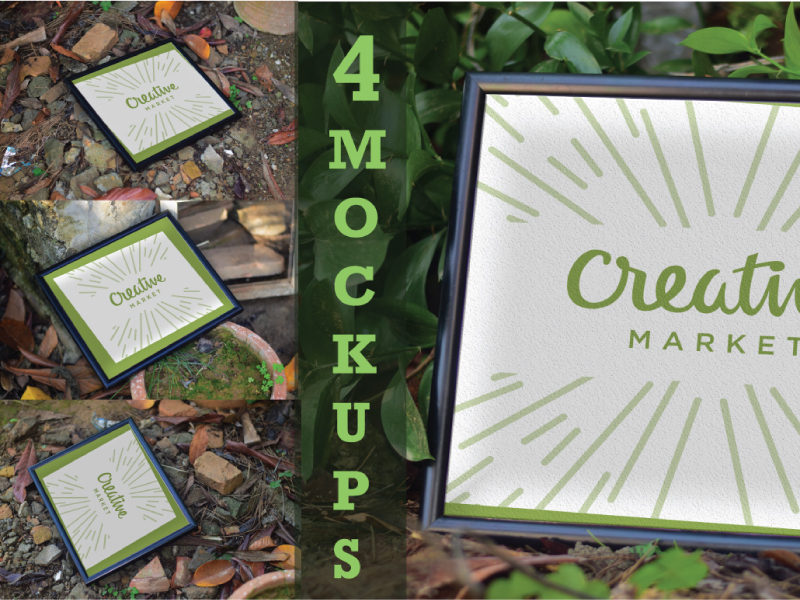 Set of Vintage and Rustic Frames mockups. You can use these frames for displaying your photos, logo, graphic designs elements, fonts, food related items or anything you feel suitable.
Download Source
16 Amazing PSD Mockups
An amazing set of 16, yes 16 free PSD Mock up images.
Download Source
PNG Grunge Lettering Set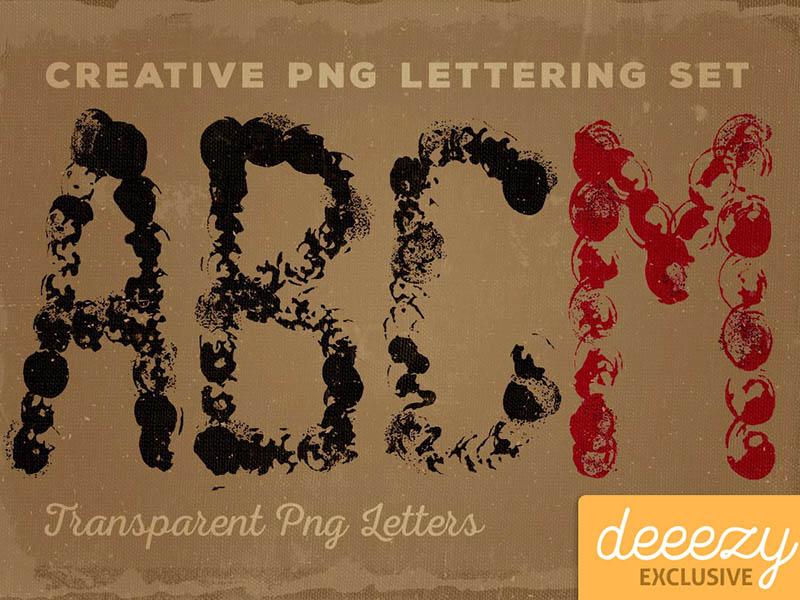 Download Source
Vintage Damask Ornaments II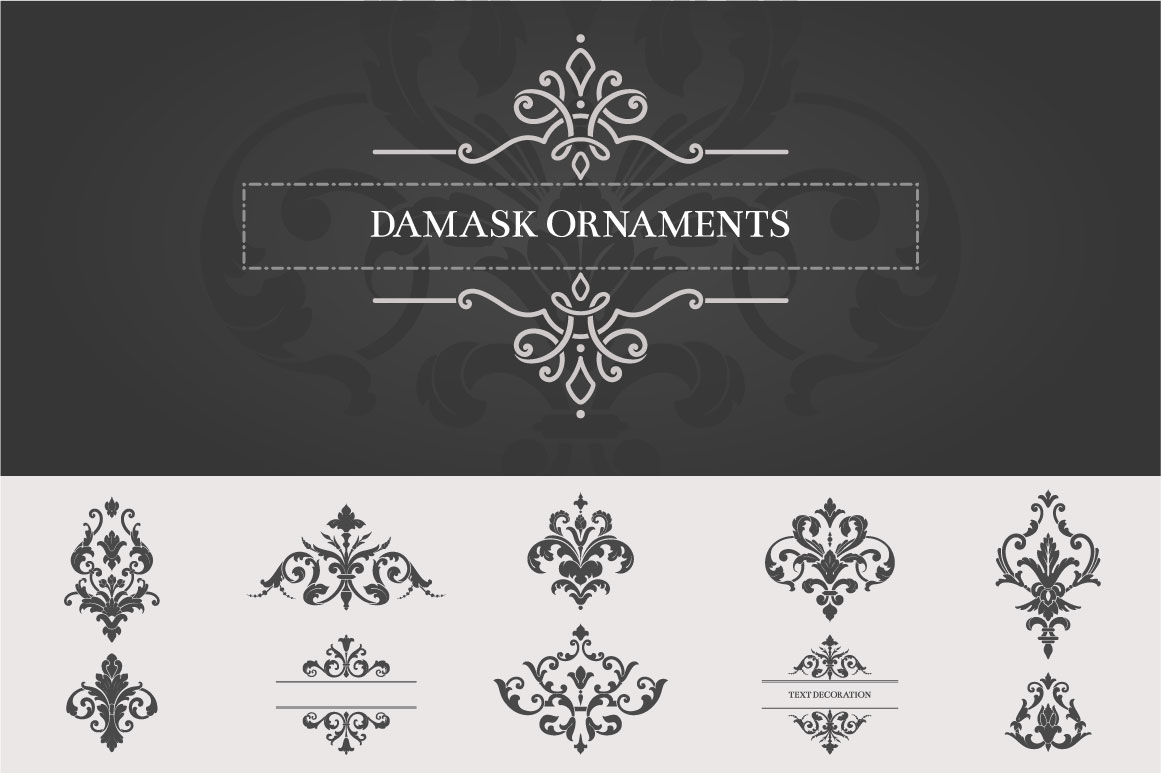 Set of 10 vintage damask ornaments for page/text decoration.
Info / Download Source
15 Rustic Wedding Badges & Stickers
Announce your wedding celebration, decorate your party, create a card or any design project using this set of vintage wedding badges & stickers. The pack contains 15 different badges and it's made for wedding, but you can easily change it for other purpose in less than 10 minutes!
Info / Download Source
Vintage Grit Textures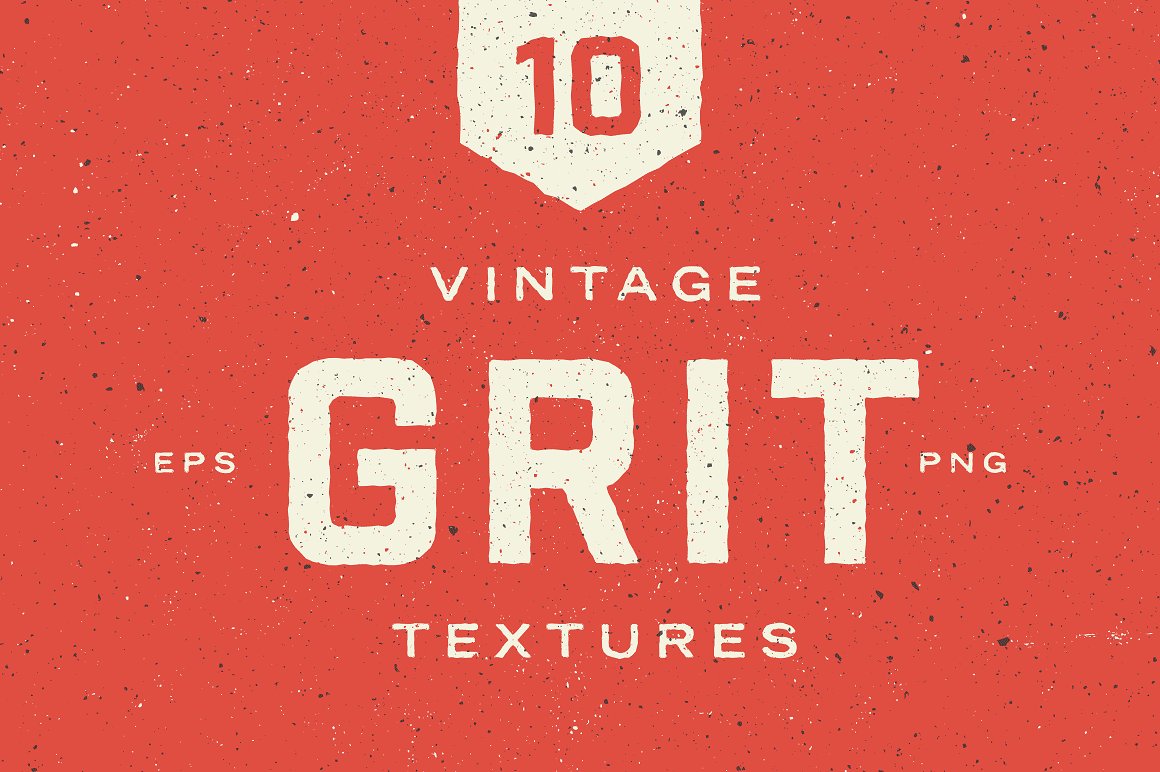 Save yourself the time-consuming work of creating these from scratch, and take this collection of authentic vintage textures home today. Easily drop these Vector EPS (or isolated/transparent PNG's) onto your design project for that instant subtle distressed look. Boom, done!
Info / Download Source
Vintage Coffee Set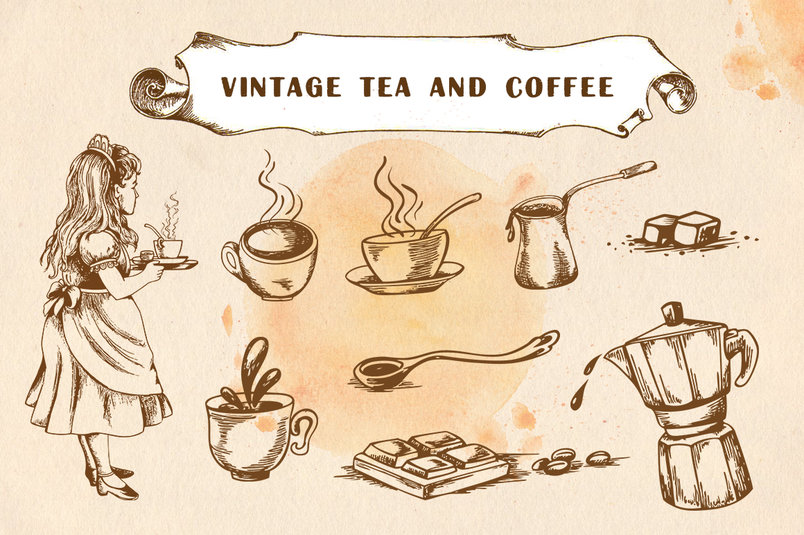 This is a collection of hand drawn vector coffee and tea in vintage style. This kit includes 9 different elements.
Info / Download Source
110 Distressed Textures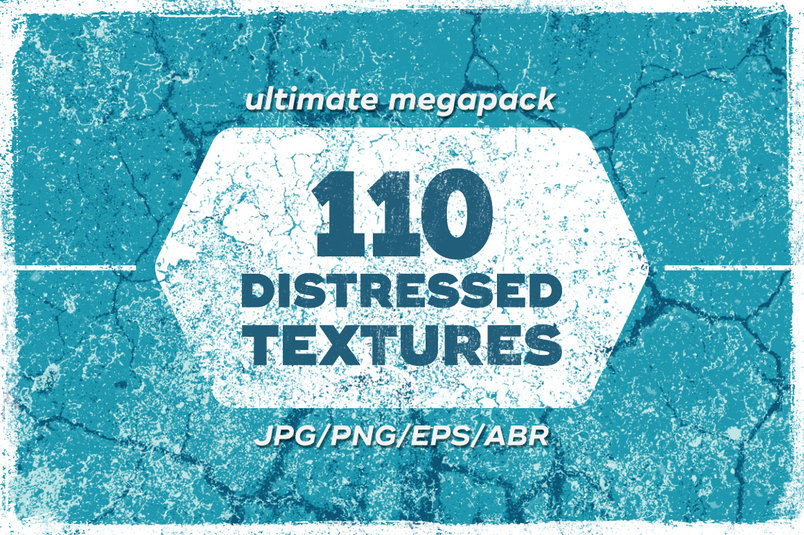 Set of 110 Distressed textures and brushes. It saved as vectors EPS, stamp brushes for Adobe Photoshop, raster JPGs and transparent PNG. With these textures you can add vintage effects to your design for posters, t-shirts, photos, vector and raster illustrations, or anywhere else in which will be necessary
Info / Download Source
330 Elements Vintage Decorations Set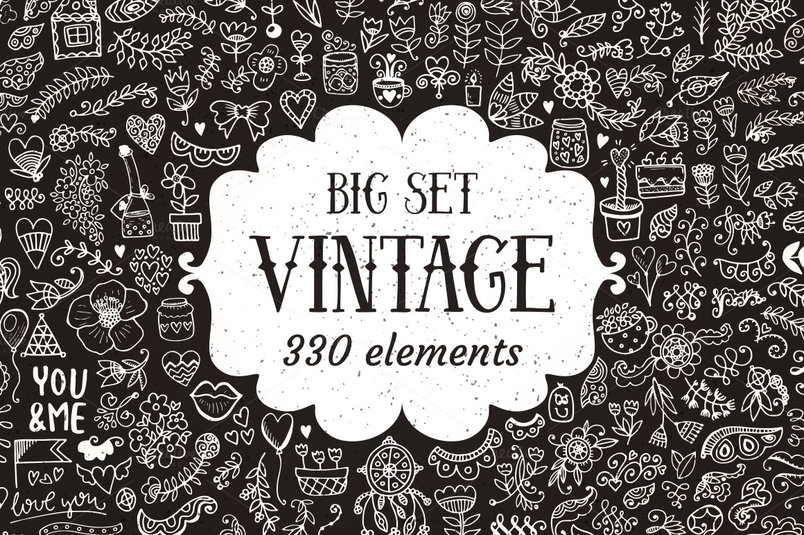 Big vintage vector elements collection. 330 hand painted elements. Flowers and leaves, ribbons and arrows, brushes and page decorations, and other vintage elements!
Info / Download Source
Hand Drawn Bread Illustrations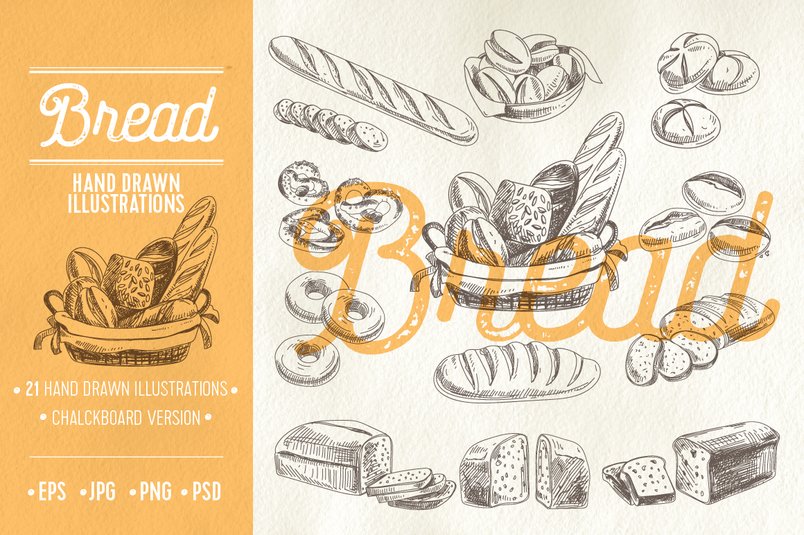 22 vector hand drawn bread illustrations. Highly detailed sketch. Chalkboard version included.
Info / Download Source
Antique Maps Vol. 1 – Standard Size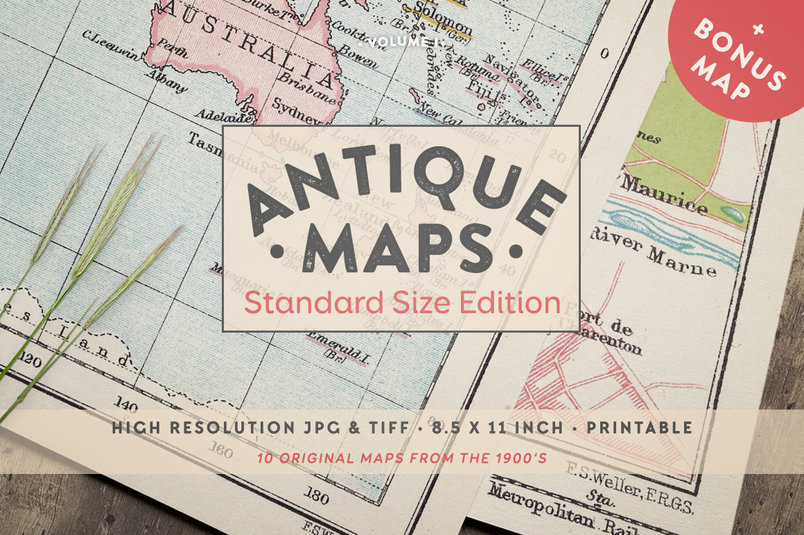 The maps in the standard edition come as 8.5x11inch high resolution (300ppi) JPGs and TIFFs. Zoom in and discover the little details! Perfect for print projects such as calendars, posters, book covers, invitations and more.
Info / Download Source
21 Vintage & Retro Graphic Style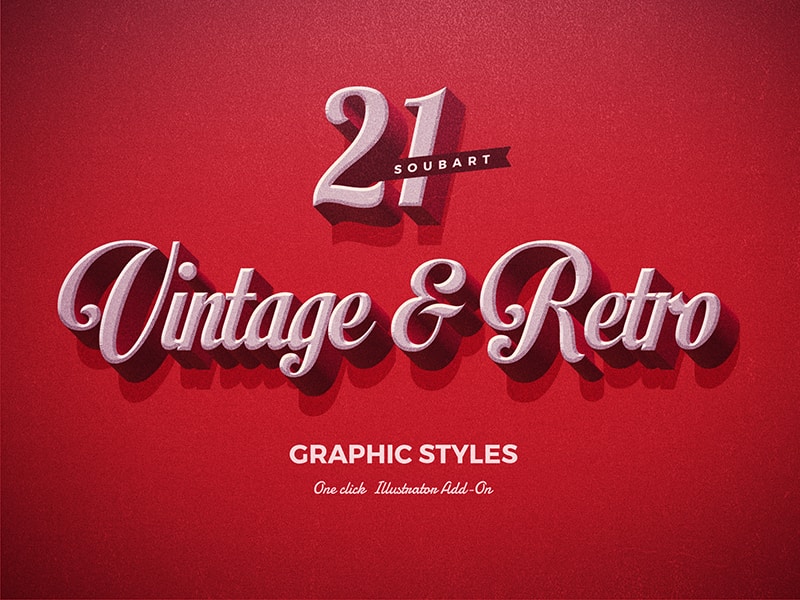 Vintage and Retro Illustrator Graphic Styles let you create your text/artwork with just one click! So enhance your artwork with these styles and give it a vintage look. These styles are suitable for poster, typography, web, banner, illustration…
Info / Download Source
Vintage Label – 2 Free PSD Mockups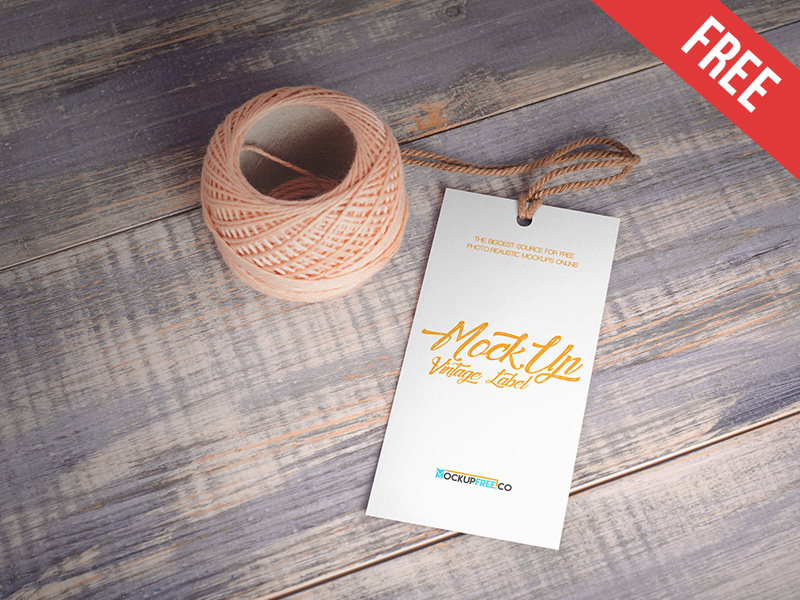 Free Vintage Label – 2 Free PSD Mockups for your business and entertainment. Download Free mockup in PSD and easily customize it in Photoshop any way you need.
Download Source
Old Photo Effect Free Photoshop Action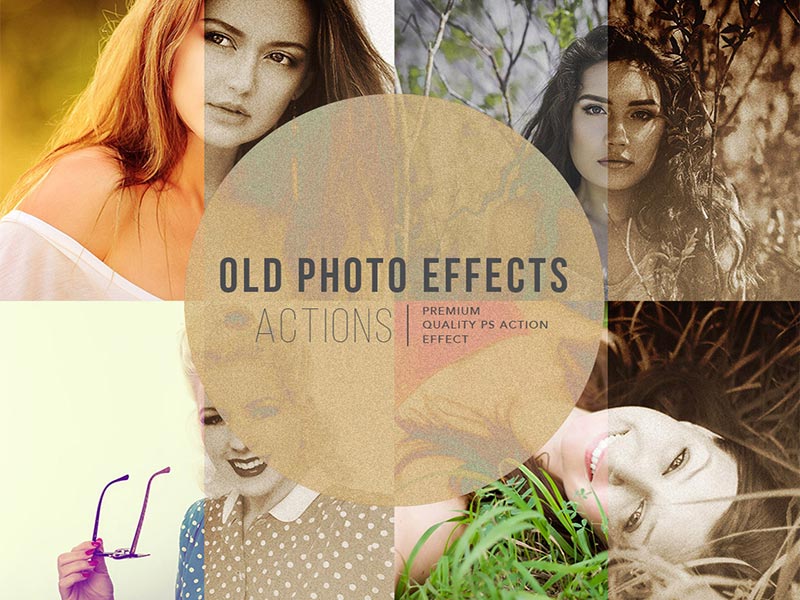 Free old photo effect Photoshop action file, especially for the photographers to save their time adding effect on their photographs they are clicking and editing using Photoshop. So why you will spend so much time editing photographs to put various effects on Photoshop when you are getting this damaged photography effects Photoshop action file from our website absolutely free to download.
Download Source
Concrete Wall Texture Background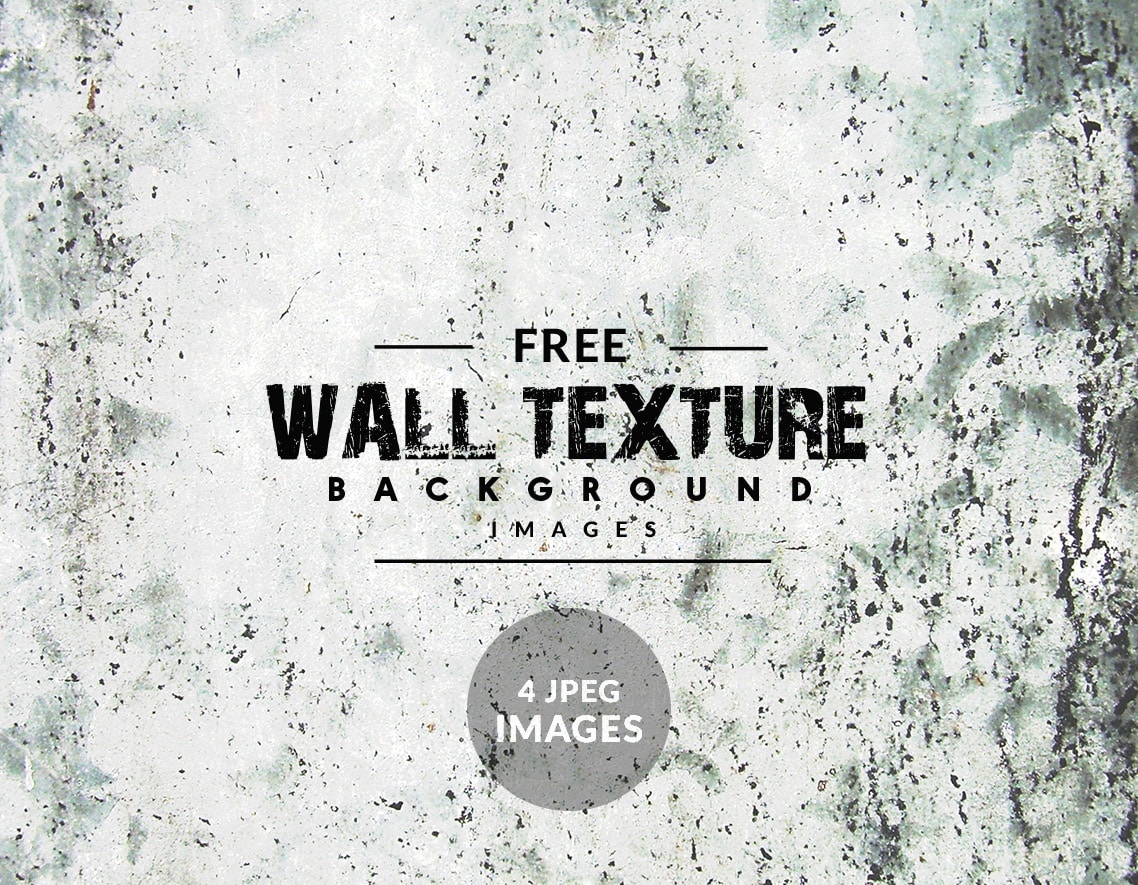 Free images of wall texture background as jpeg file format. 4 high-resolution images measures 3500 x 3000 pixel.
Download Source
15 Vintage Overlay Textures Mockup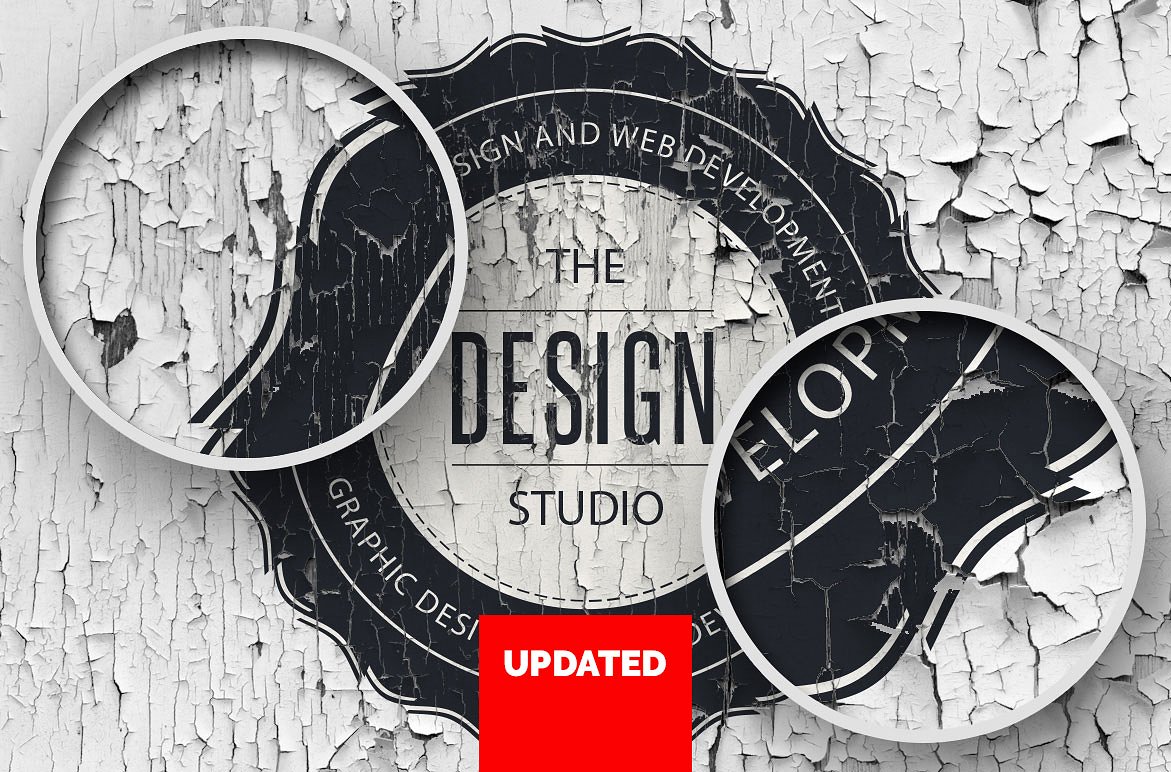 1 Photoshop file for cs4-cs6, 10 diffrent overlays texture Photoshop Smart Objects for replacing artwork Easy to replace with your images Well Layered and Organized Dimension 3000 x 2000px / 300 dpi All images and badges are not included.
Info / Download Source
Vintage Rose Wedding Set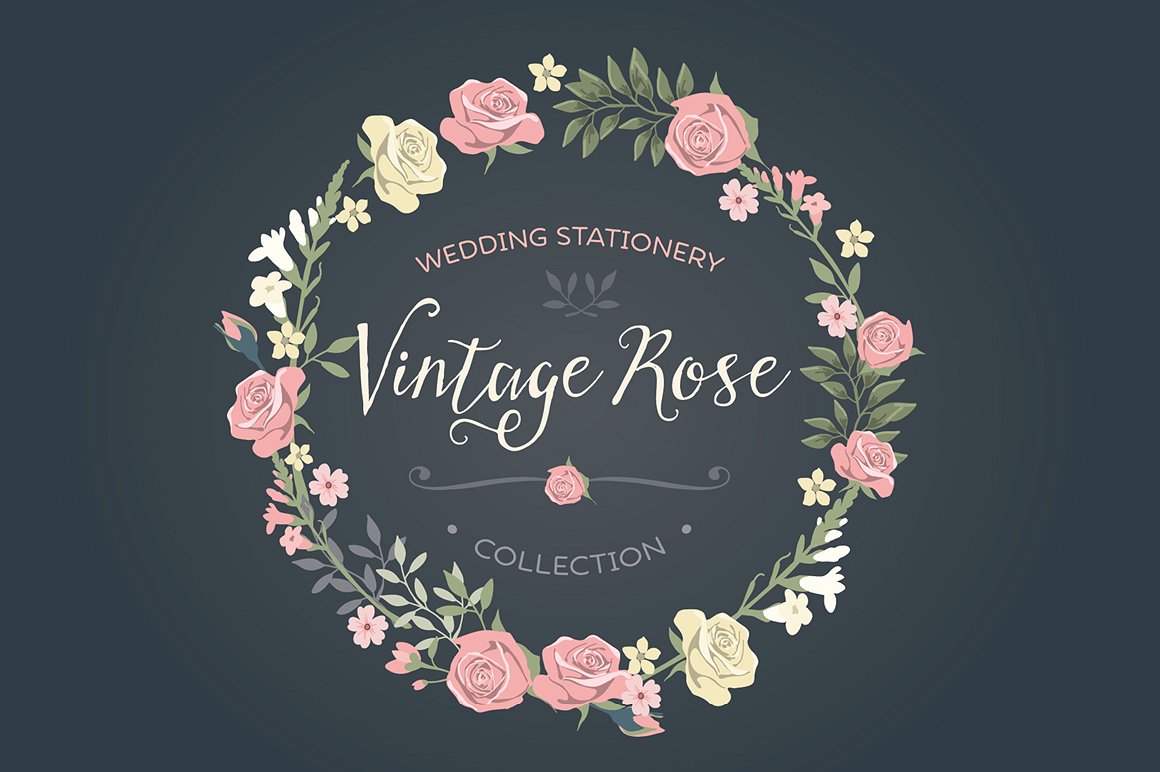 I love drawing flowers and all things vintage, so creating this set was such a pleasure. The vintage look of this collection will add a touch of charm to your next wedding stationery project.
Info / Download Source
Jibril Regular – Free Font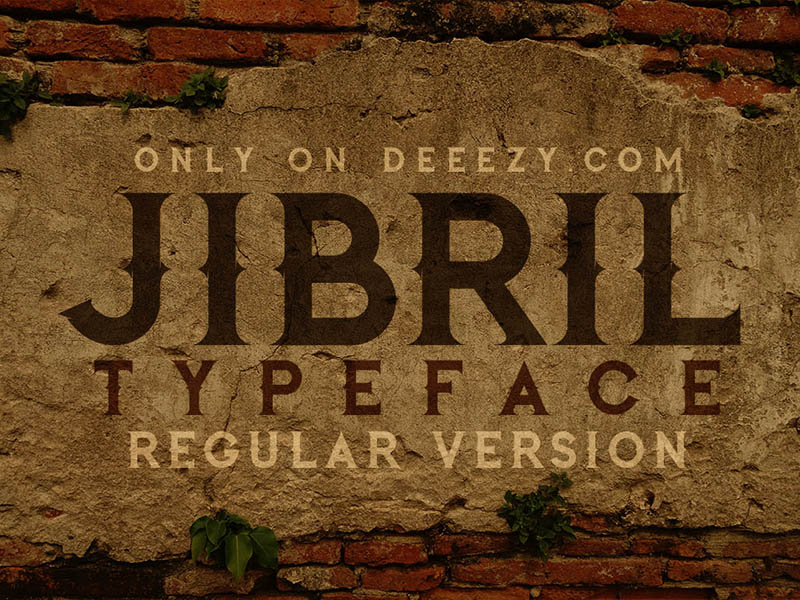 Unique vintage style custom font for your new projects. Great for modern but also for retro/vintage projects!
Download Source
Cocoa – Free PNG Lettering Set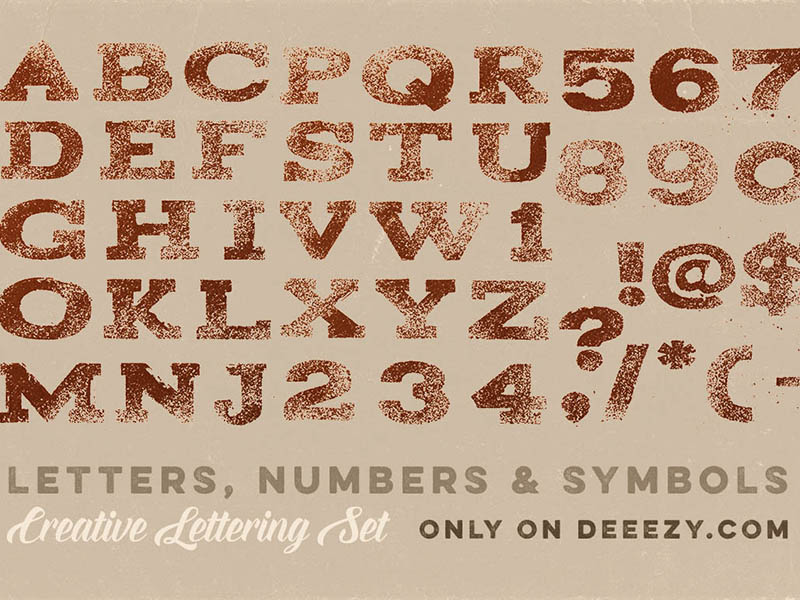 Creative lettering set (transparent PNG) from cocoa powder with all letters, numbers & some symbols.
Download Source
2 Free Vintage Poster Mockup PSD's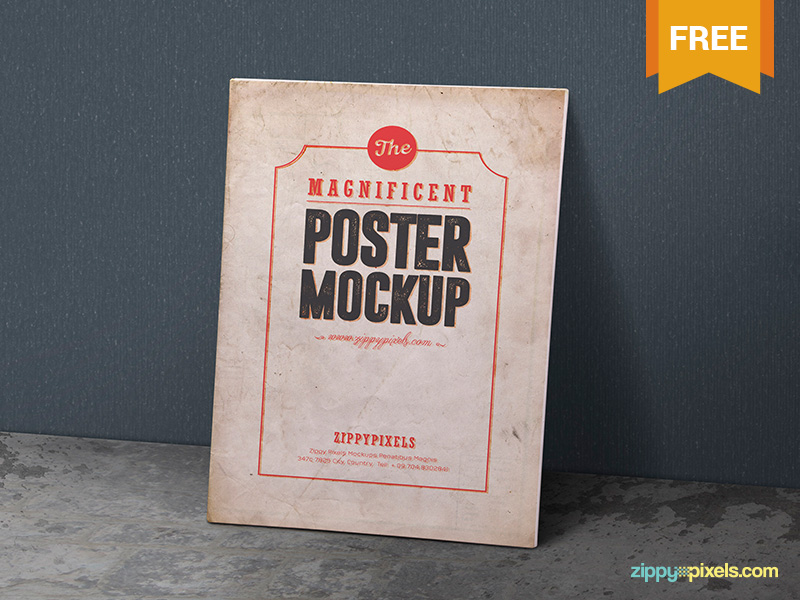 2 Free vintage style poster mockup PSDs to display your poster designs and artwork etc. Featuring a galore of customization options including editable poster design, shadows and lighting effects. You can even change wall/floor color or texture as per your requirements.
Download Source
8 Vintage Retro Badges Logo Vector Template Design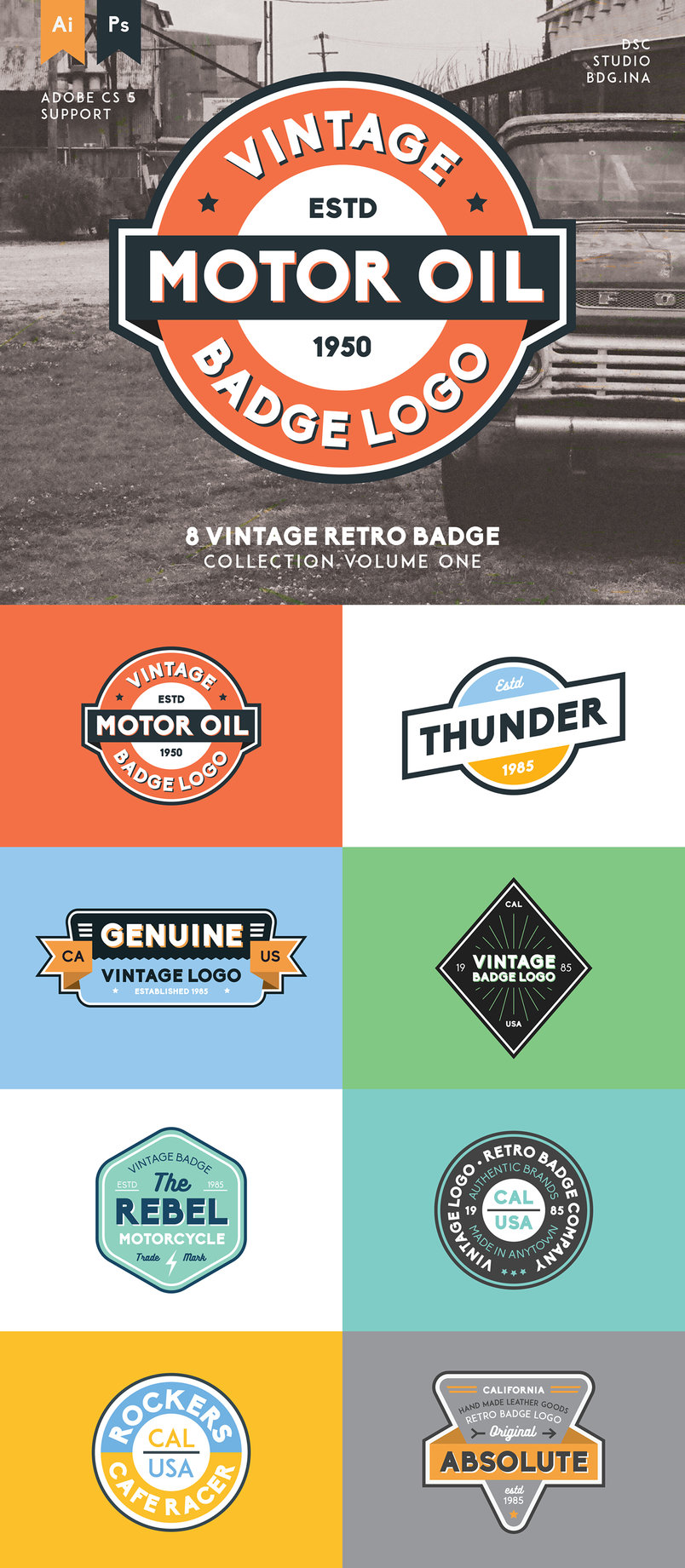 Info / Download Source
Vector Vintage Floral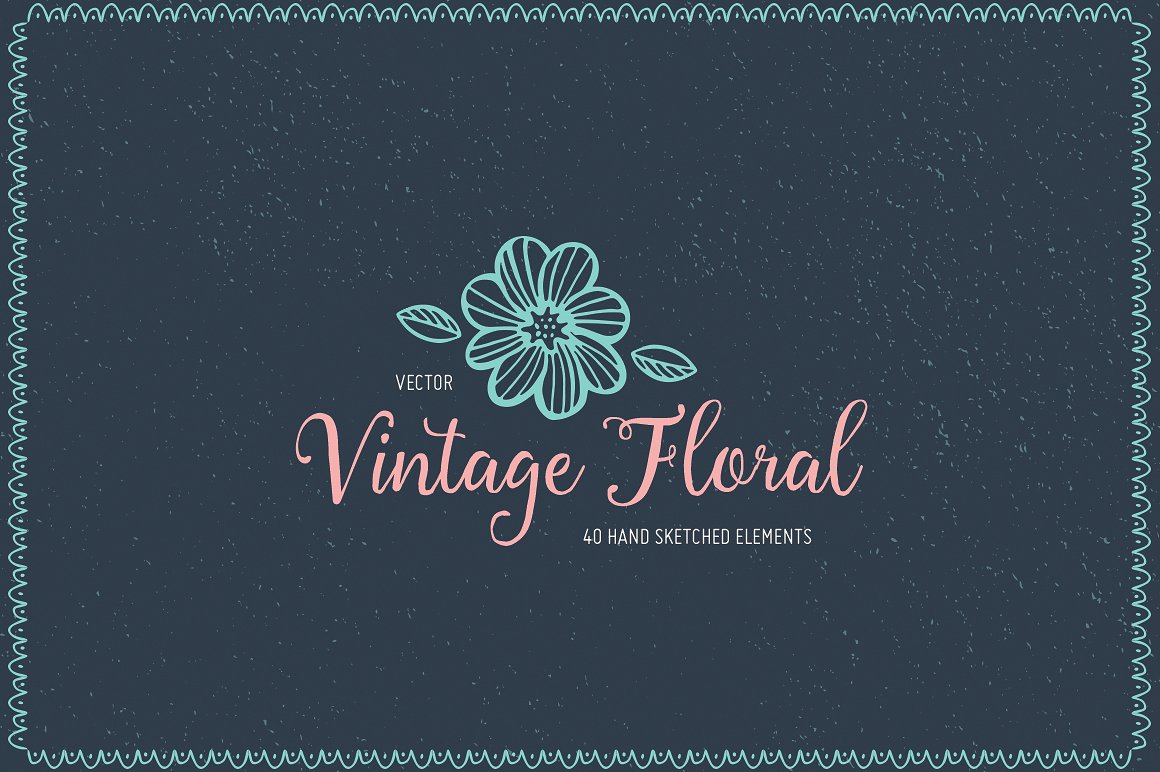 You will receive a zip folder with an AI, EPS, and PSD file that contains each floral piece in a solid black color! These little doodles are 100% vector and will make an excellent addition to scrapbook pages, posters, stationery, invitations, social media posts and more! Change the color, add your favorite texture and more! Happy Creating!
Info / Download Source
Weathered Logo Mockups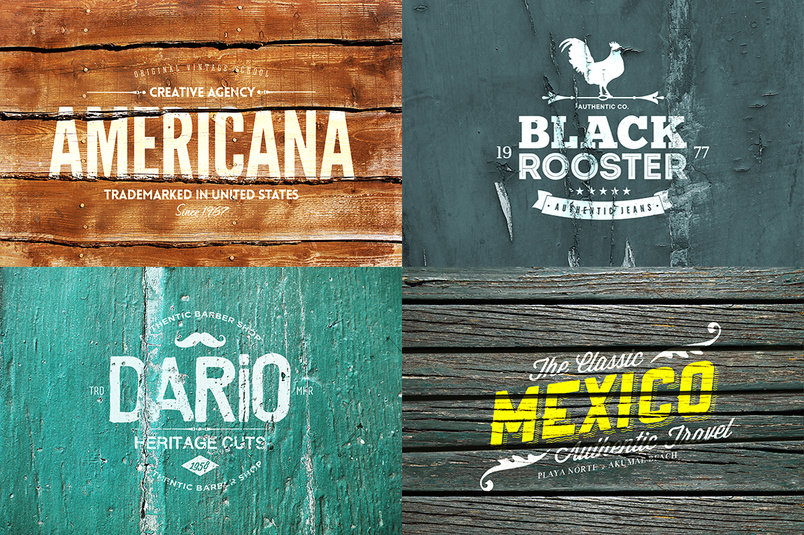 Info / Download Source