Are you utterly committed to increasing your self-confidence as a video editing pro? How are these professional video editors doing? Are they tech-savvy or just naturally skilled?
Every professional video editor begins from scratch. They are similar to you in that they take the first step and work toward becoming experts. However, most do not disclose their strategies for doing it expertly.

It should go without saying that having the best online video editor will make you stand out from the crowd in today's video-centric society. You have the talent, but you can't compete if you don't have a sophisticated tool or free video editing software.
This article can help you improve your video editing skills and create professional-looking clips.
Secret of Professional Video Editing
Utilize a Computer That Performs Well
It would help if you had a sophisticated mechanism to advance your video editing abilities. Having a high-quality device with elite specifications makes sense. The brand of computer you decide to buy, however, is entirely up to you. It is essential to focus on the features listed below to get a well-performing device:
RAM (Random Access Memory): Increasing your RAM can also be beneficial. It can speed up your workflow and prevent sporadic program lags and crashes.
GPU (Graphics Processing Unit): GPU importance is not any less. You will need to pay attention to the minor details because you will be working with footage. It is advised to refrain from buying integrated video cards here.
CPU (Central Processing Unit): If you can afford a modern processor, you will be able to use even the most sophisticated and complex Software.
Hard Drive: Think about purchasing a quicker storage drive (SSD). Making it easier for you to access your data and programs will hasten the rendering, loading, and extracting procedures.
For planning a seamless video editing process, these parameters are particularly crucial.
Choose the Right Software
Choosing the right Software is like choosing new smartphones, depending on your needs. The following examples show the most popular professional video editing software used most; by professionals.
Adobe Premiere Pro: It has excellent programs for your projects, no matter how big or small they may be.
WaveVideo: This Software contains all the tools required for practical and straightforward to professional online video editing.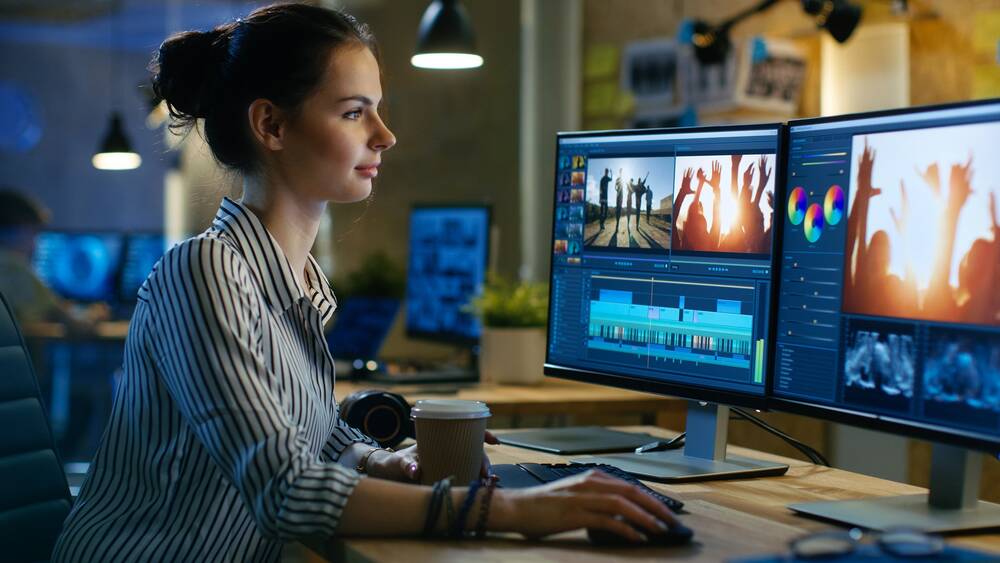 Identify Your Objectives
What do you expect to accomplish with your video clip? Is it intended for personal or professional use?
You need to add unique perks, transitions, and filtration to your footage if you want to make content for your social media audience. A collage maker or combined video clips will be helpful in this situation. Suppose you run a YouTube channel and blog. In that case, you'll need a cutting-edge video editing program to create videos like a pro.
Know the Language
These are not the languages we speak to each other like American or British English. You need to be familiar with these standard terms in video editing to act like a pro. In essence, you don't need to memorize every time; a basic understanding will suffice to enable you to communicate with other editors. Among them are: "Jump Cut", "Montage", and others.
Good Music Can Change All Things
Anyone's soul can be touched by good music. A captivating movie has engaging music. You can adjust various aspects of music mixing, such as the volume of sound effects and the overall mix.
Get Motivated by New Ideas
Learn from the best. Explore the internet or read some helpful guides to learn how to edit video like a champ. Examine and scan the internet for viral videos that have received millions of likes and shares.
Furthermore, be aware of current video editing trends such as animation creations, real-time video editing, and many others.
Practice
Practice does make perfect in every learning process. As a result, to become a professional video editor, you must practice and edit more videos. You can try adding current video editing trends to your skill set or practice using your video editing software.
Wrapping Up:
You will need time and perseverance to become a skilled online video editor. Improving your skills and learning new strategies are always important.
Additionally, find a tool that instantly converts speech to text and creates customizable subtitles for videos to save time on editing. You could also consider using Software with an extensive built-in catalog of stock videos, pictures, and audio tracks if you need secure video files on hand.
These are the pro's secrets; they use advanced online video editing software and invest time to learn to be called Video Editor Professionals.
Published by
decolore
Thanks for being a part of this beautiful blog. Hours spent to create this web space to our visitors as much useful as we can. We're living with a pace of life and build beneficial collections related to graphic and web design. Here we come up with premium and free collections like mockups, backgrounds, fonts, wordpress themes, branding, inspiration, tutorials and informative articles for professional designers and beginners. Go ahead and let's be a partners! View all posts by decolore