Tailor Brands Logo Maker Review
Gone are the days when branding was considered relevant to the multinational corporations only. Today, small businesses need good brands just as much as their larger rivals.
Fortunately, there is no death of affordable and accessible branding tools on the Internet. Tailor Brands is one such tool that allows budding entrepreneurs to create premium and attractive logos within a few minutes from anywhere in the world.
About Tailor Brands Logo Maker
Tailor Brands Logo Maker is an advanced AI-based utility that processes the inputs provided by a user (their brand's name, industry, design preferences, etc.) to create unique and appealing. The tool has access to a massive reservoir of icons, fonts, colors, and other visual elements which it can put together in millions of combinations. It meticulously picks the perfect elements based on the user's requirements.
Using Tailor Brand Logo Maker
You start by visiting Tailor Brands website and entering a name for your company logo. We are using the name LoveJoy Cupcakes. There is also an option for adding a tagline, and we entered the following "Share love, share joy".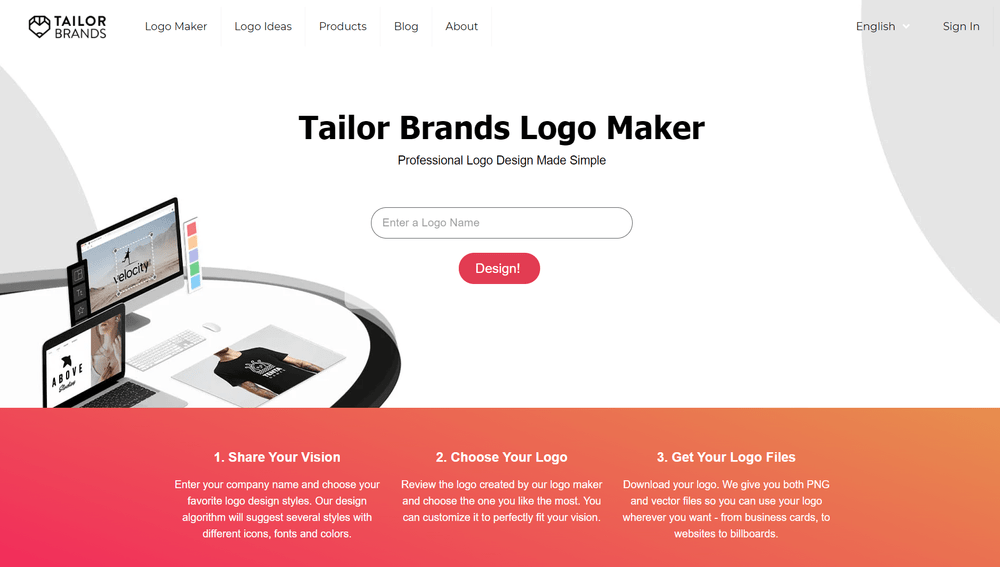 After you enter the logo name and tag line, the tool asks you a few questions to get an understanding of your company and products. The first question it asks is the product or service you are offering.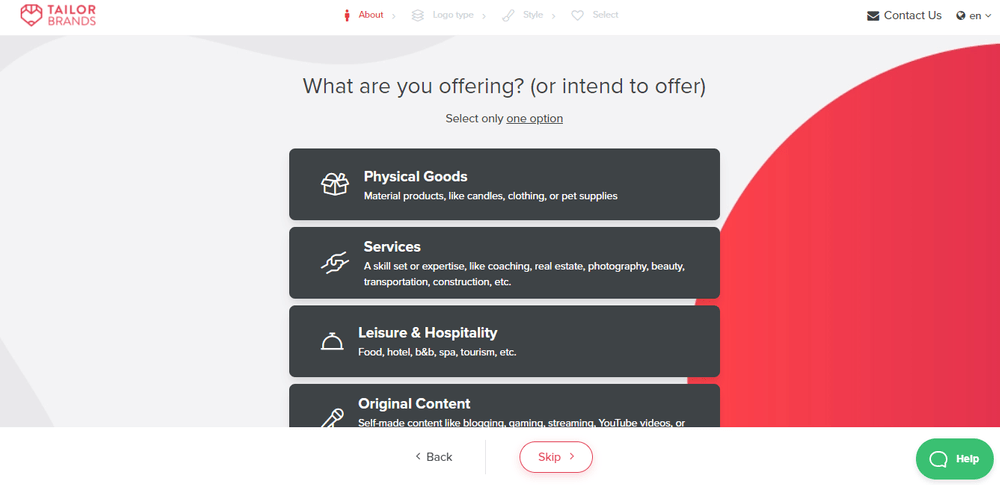 You then need to provide your industry's name and a small description about your business. These details help the AI tool to understand your requirements.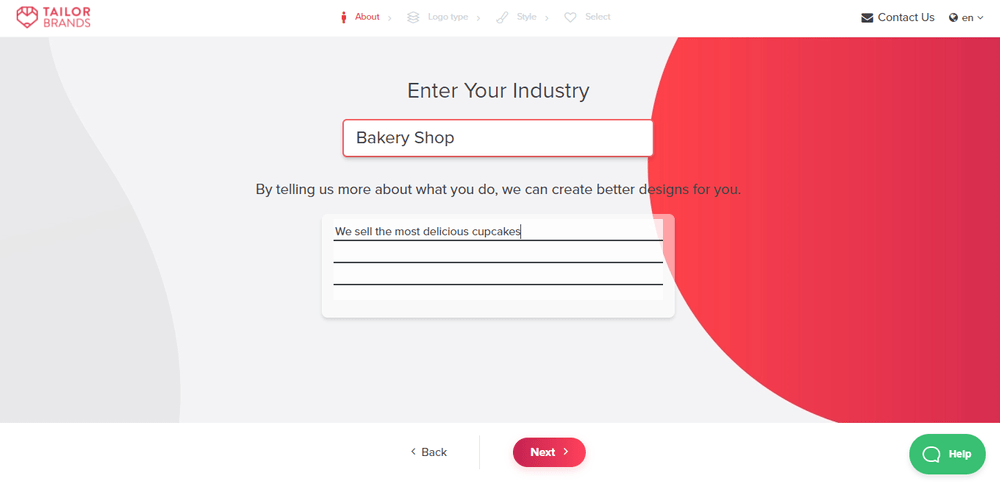 In the next step, you need to select the type of logo you want. You have the following options- icon based, name based, and initial based.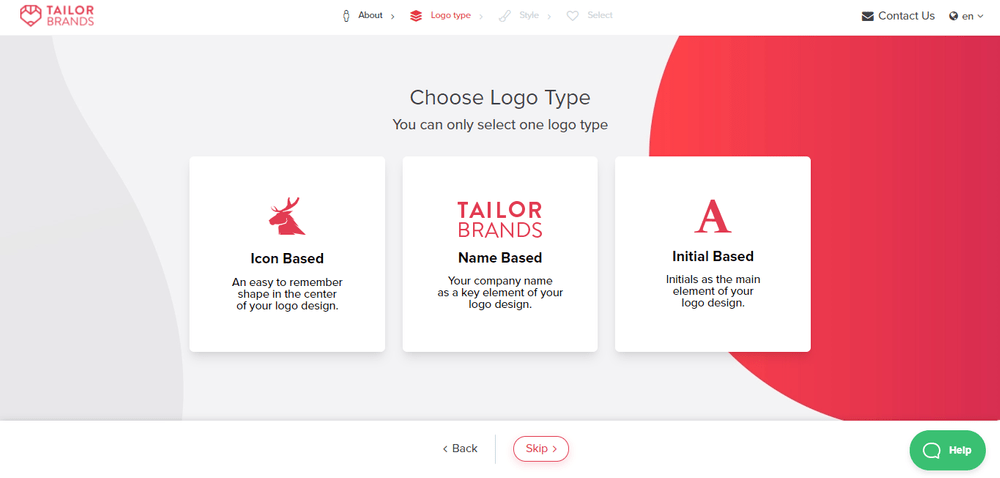 Depending on what you select, you get appropriate options. For instance, if you select icon based, then the tool will ask you if you want to use a geometric shape or find a specific icon. You can select up to 5 icons.
After selecting the icons, you have to select the fonts you want in your logo. Remember, all these selections allow the tool to learn about your preferences.
After selecting all these things, the tool finally starts to create the perfect logo designs for your brand. It puts together the most appropriate fonts, icons, and colors for your brand and personal preferences. This takes no more than 1-2 minutes, which is pretty amazing.
Once the software is done creating the designs, its lists them all in a new window. You get to see your logo in different mockups- logo printed on a notepad, coffee cup, business card, etc. You can also select another logo and the mockups change accordingly in real-time. This allows you to instantly see which logo looks best on various products.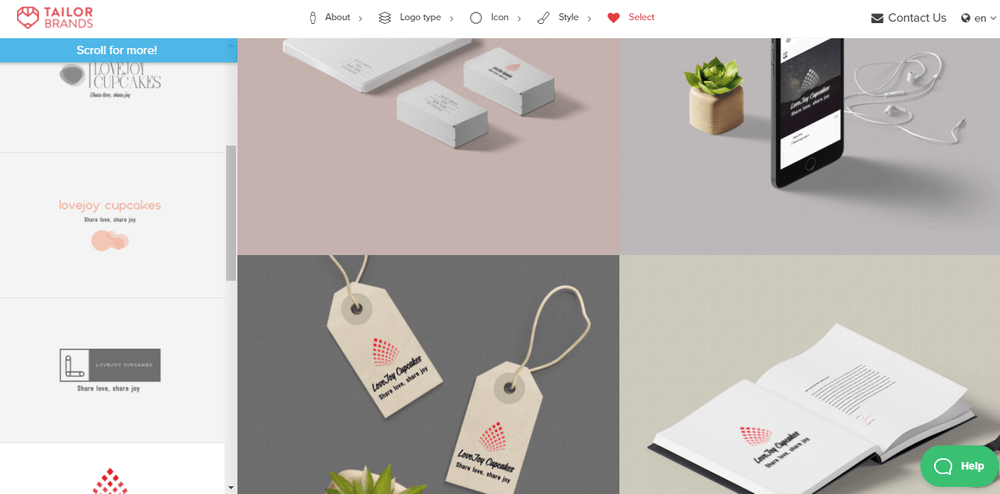 Once you select the logo that you find best, you can download it on your system and use it wherever you want- website, blog, email newsletter, etc. You can also customize the logos generated by the software to your liking. You can change all aspects of these logos- from the color scheme to fonts. Making these changes is also super easy as the tool is designed for both professionals and general users.
Features
The following are some of the best features of Tailor Brands that you need to know:
1. Easy- of-Use
Even though Tailor Brands is an advanced AI-based software, it's really easy to use. The tool walks you through the complete logo design process and provides simple-to-follow instructions. So, if you have knowledge of graphics design (Read: Easy tips to create effective logo designs), it's good, but even if you don't, you needn't worry.
2. Affordability
One of the main USPs of Tailor Brands is that it is way more affordable than traditional branding options- graphics designers, advanced software, etc. The basic plan costs just $9.99 which is drastically less than human graphics designers that charge $70 to $200 or more. Additionally, this tool offers different pricing based on your requirements.
3. Original and Premium Designs
As mentioned earlier, Tailor Brands has a massive database in cloud storage where it keeps countless fonts, icons, etc. So, the designs it creates by using different combinations of these assets are always original. Since the quality of these assets is also high, you can expect to receive premium-grade logos for your brand.
4. Download Options
You get multiple download options for the generated logos. You can download high-resolution files of all your designs, or you can also download the logos in custom sizes. You can also download the logos in vector format.
5. Turnaround Speed
Tailor Brands is an automated logo design solution. This means that there are no constrains on speed, time, revisions, etc. You can use the tool to create new logos at any time and at any location. Need revisions? No problem as you can make as many changes as possible you want in real time.
6. Mobile Support
Tailor Brands is available as a mobile app too. So, if you are someone who travels frequently, then you can create and modify your company logo on the road as well.
Pricing
Tailor Brands offers three pricing options:
Basic ($9.99):

Offers high-quality logo files, graphics design utility and templates, logos for your social media profiles, option to upload your own images or use stock photos/icons, and a decent website builder.

Standard ($19.99):

Offers all the features of Basic plan. Additionally, offers vector EPS files, branded business deck and presentations, business card and stationary tool, seasonal logo generator, a more expansive website builder, multi-language support, etc. 
Premium ($49.99): Offers all the features of Standard and Basic plan. Additionally, offers a social media auto-scheduler tool and analytics tool, option to share millions of trending articles and posts for your social media profiles, etc. It also gives you the tools to set up an online store and a payment system for receiving orders.
Verdict and Rating
Tailor Brands is easily one of the best logo maker tools that exist today. It is highly advanced, easily accessible, and easy on the pocket too. You will be surprised to see the kind of logos this AI platform can deliver. All things considered; I would happily give this product a rating of 4.5/5.0.