Simplify Your Marketing Process with These 12 Smart Tools
Everyone wants their work cut out for them, right?
Well, the last time we checked, we aren't in the 1980s, and market trends continue to rise at a global rate with volatile behavior amongst consumers that we don't even have time to keep up with it.

So, what's the point in being old-fashioned? It's time for you to acquaint yourself with marketing automation tools.
Let's just say that when you want to start a business and create a business plan, if you don't include automation somewhere in there, you are already a step behind your competitors. Findstack reveals that over 63% of businesses that implement automation outperform companies that do not.
The marketing automation market is growing, and people are starting to notice, with 63% of the marketers planning to increase their budget to integrate more automation into their business.
So, learn a little as we list the 12 best Marketing Automation tools to get started within 2022.
1. Oktopost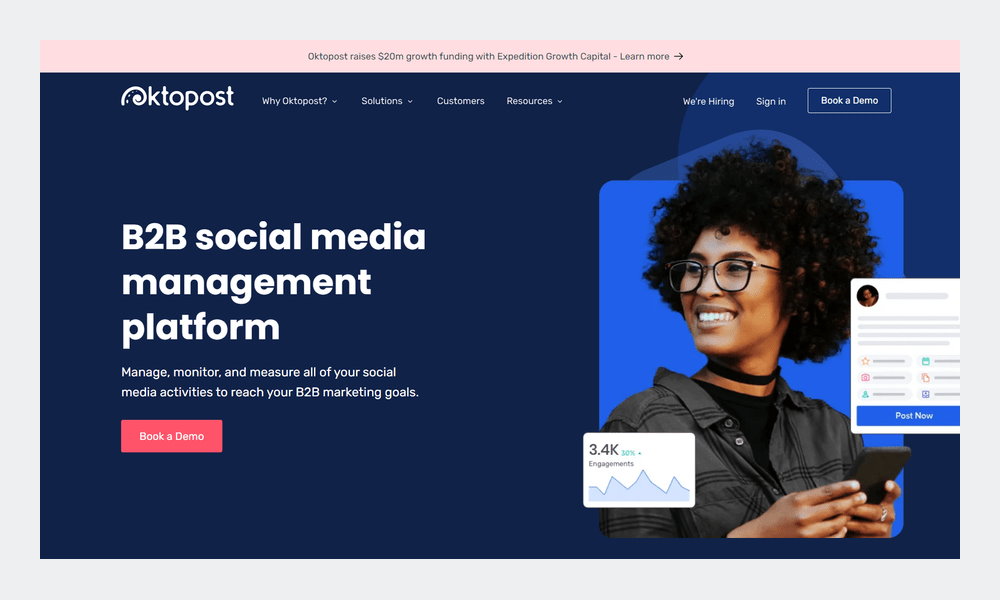 Despite social media being a big part of our lives, we still may not fully understand the scope of its impact on our lives. With the higher demand of shifting business to digital mediums, how can we possibly hope to adapt? Well, Oktopost is the perfect tool for you. It is built by B2B marketers for B2B marketers to manage a large density of content across various channels. Engage in social marketing, analyze the impact of your posts, communicate and follow trends in your customers and how they interact with your business.
The many benefits and features that users can experience when in Oktopost include:
Webinars from top-industry players.
Content library.
Case studies.
Social BI that tracks data that matters to you.
Social Media calendar tool.
And many more that allow interactive, complex, and organized marketing.
For those who wish to utilize Oktopost are curious for more, contact them at  https://www.oktopost.com.
2. Pixelixe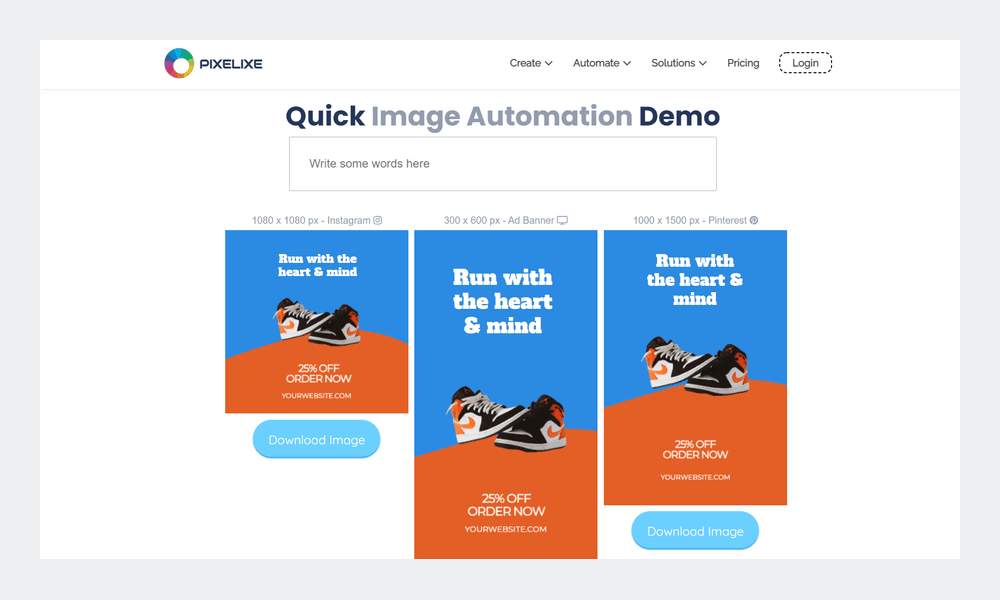 Perhaps the most important thing to have automated in your business is how it looks. With 29.7% of all business being conducted online and digitally, customers are becoming more lenient with how they present your business, as 94% of consumers will leave your site if it has a tacky and unappealing design. Now, consider Pixelixe, an online graphic design tool suited to those who aren't skilled at graphic design.
Create banners, logos, and infographics with point-and-click functionality with features such as:
Design set builder or auto-generated size scaling of your designs.
Unlimited storage for your documents.
Template library with weekly additions.
White label editor.
Image Automation API
Image Processing API
Pixelixe offers a free trial with 50 documents available, but you may opt to proceed with corresponding plans with different features (All include unlimited storage):
Subscribe to Pixelixe Create at $9 per month. It includes access to the template library, the graphic editor with crop, resize, rotate, and other options.
Get Pixelixe Automate at $49 per month. This includes the same features as Create but with the bonus of 20,000 documents available to be automated each month, image generation from Spreadsheet, Design Set Builder, White-label integration, Image Automation API, and Image Processing API.
You can get your hands on the Pixelixe Scale by paying $99 per month. Unlock all features of Pixelixe but with an upgrade of automation of 60,000 documents each month.
For $249 per month, Pixelixe Enterprise can give you all the features plus over 300,000 documents to automize.
For those who wish to try Pixelixe, visit their website at https://pixelixe.com/.
3. Encharge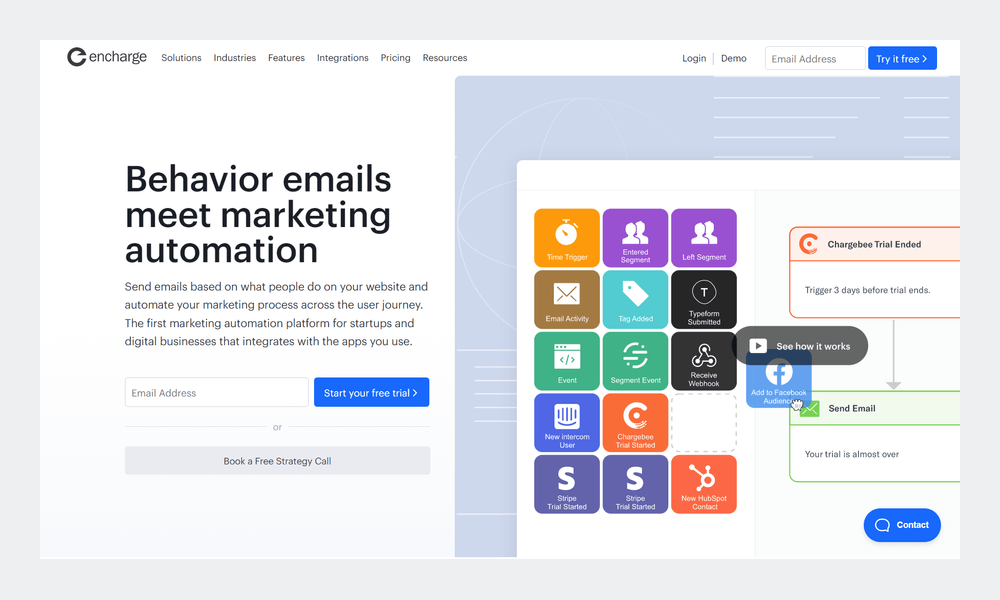 With business relationships and opportunities now spanning a global market, email is the primary mode for communication. 9 out of 10 marketers use email to promulgate and circulate content in the digital world, and 81% of small businesses consider email as their primary source of finding customers. Yet, if we have a growing business, more and more emails have to be sent out, with the same repetitive tones that accommodate those receivers. With Encharge, your emails are automated according to the apps that you use and the behavioral trends of both you and your customers.
Encharge makes emailing easier that much easier by having:
Behavior emails study the behavior and activity of customers on your product or website and send out targeted emails.
Flow builder allows you to map the user journeys and enables you to keep with clients and customers.
Personalization is big on Encharge, as you can scale and create interactive emails by using live data from your business and can even deliver complex emails with liquid tags.
Email editor allows you to have beautifully pre-made emails that you may merely drag and drop.
As for pricing, the payment scales with the size of your business, ranging from paying $49 for 0-2000 subscribers and $999 for 100,000 to 150,000 subscribers. You are also given the choice of availing growth plan or premium plan. Still, all plans include unlimited emails, unlimited broadcasts, unlimited leads, unlimited users, free email verification, and all automation tools and software. If you choose to avail of the premium plan, access segment integration, salesforce integration, event-based segments, transaction emails, and free migration. You may try a free trial for 14 days with no credit card needed.
If you want to try Encharge, you can request a free trial at https://encharge.io/.
4. Post Planner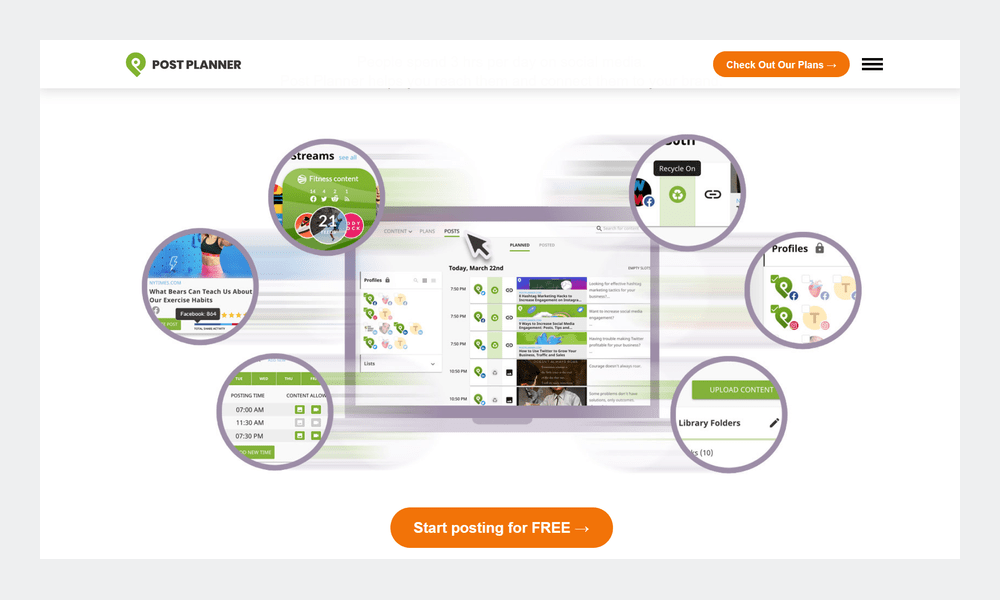 With already more than ten years of functionality and over 223,617 relying on its services, Post Planner is one of the most reliable automation tools for scheduling and organizing posts. A study by Buzzsumo found that posts created by Postplanner had 510% more likes and shares, and Post Planner had the largest average engagement in this automation market.
Spoil yourself with features such as:
Content curation
Seamless cross-posting
Post-recycling
Automated post
Media library
Prices and Plans:
For small businesses, you may have annual or monthly plans ranging from $5/month for Starters, $19/month for Solo, and $29/month for Business.
For enterprise, you may also have annual or monthly plans ranging from $79/month for Venture, $139/month for Agency, and $299/month for Enterprise.
If you want to try Post Planner, you can request a demo at https://www.postplanner.com/.
5. Pixelied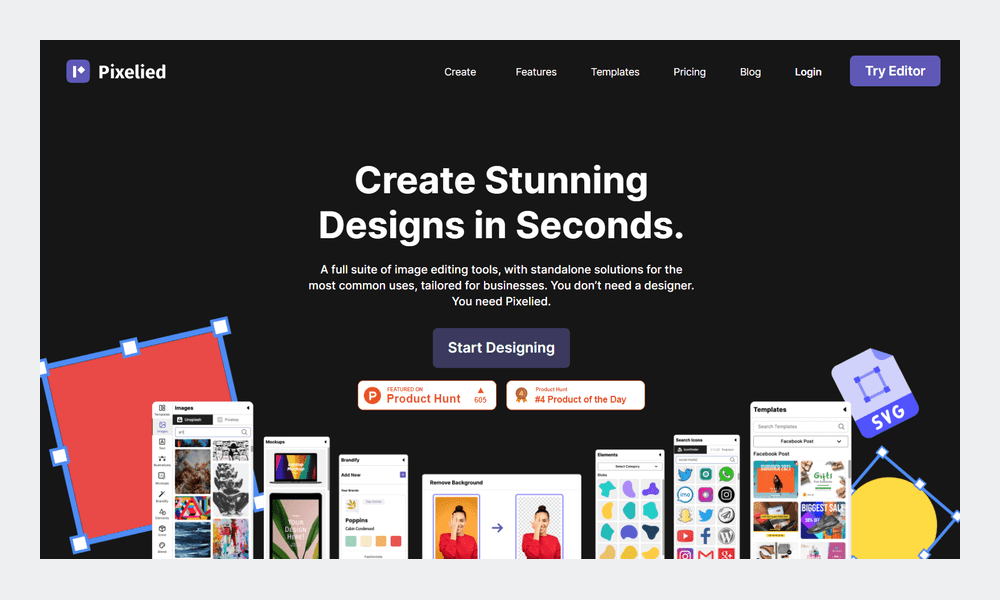 Still hung up on Canva? With the often associated alternative for the editor, Pixelied provides you with almost the same ease and diversity through the abundance of tools and assets that lets you create various stunning and quirky designs. These notable features include background remover for your images, 25+ ready-made formats, an almost limitless library of pictures, icons, and illustrations, with all of these done in a second! Most importantly, the freedom to invite, collaborate and share works with your team makes it very suitable for businesses and organizations.
As smooth and mellow as the editor already is, Pixelied is free for its basic features, including three downloads and 5 BG credits per month, one workspace, and 1GB of Cloud Storage. But complete and lifetime access to its unlimited features can be acquired with only a one-time payment of $97. You can have the option to withdraw your payment within 30 days if the software doesn't meet your expectations.
If you want to create more stunning graphics using Pixelied, you can subscribe to their life-time offer https://pixelied.com/.
6. Missinglettr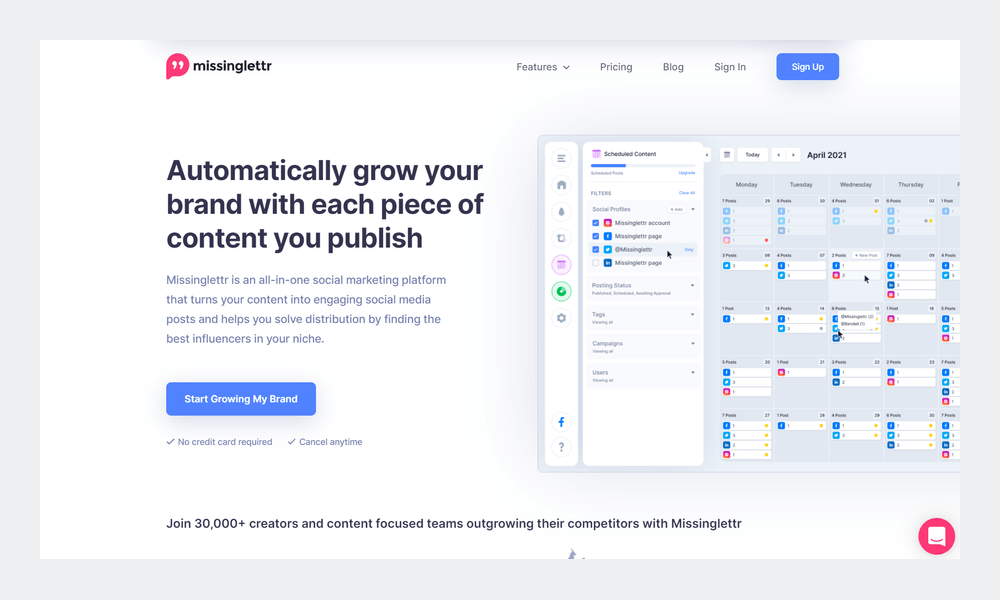 Simultaneously expand your business as you create more and more posts by choosing Missinglettr, a social media management automation tool. It allows you to distribute your content and products and locates the best influencers to advertise your niche.
Join the other 30,000 users and teams who continue to outsmart their competitors with features such as:
Drip Campaigns.
Post Curation.
Interactive Calendar.
Social Media Analytics.
As for pricing, you may opt for Solo or Pro monthly plans, at $19 and $59, respectively. There is also the choice of availing yearly Solo or Pro plans, billed at $190 and $590, respectively. All plans do not require a credit card and can be cancelled anytime.
If you want to test out Missinglettr, you can sign up for a free trial at https://missinglettr.com/.
7. DesignStripe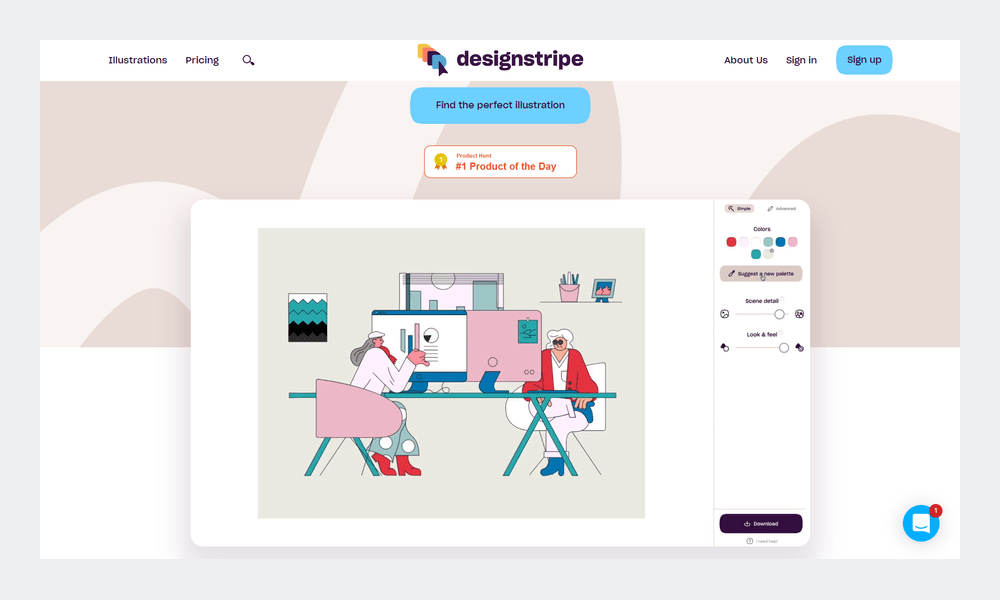 Simple and creative, DesignStripe is perfect for beginners in graphic design and users with limited editing experience. No design skills are needed for the software since it puts your work all in one place while being equipped with thousands of high-quality creative and versatile tools.
As beginner-friendly as it is, DesignStripe offers a free version with unlimited access to their freestyles, full scene customization, and downloads in PNG and JPG format. On the other hand, the full version has an early-bird price of $20 per month with unlimited access to all styles, full scene customization, and downloads in SVG, PNG, and JPG format. Unfortunately, the collaborative team version is still under development as of November 2021, with the possible features of custom team assets, unified branding and colors, and multi-user support.
Create more unique illustrations with DesignStripe, visit their website at https://designstripe.com/.
8. AI-Writer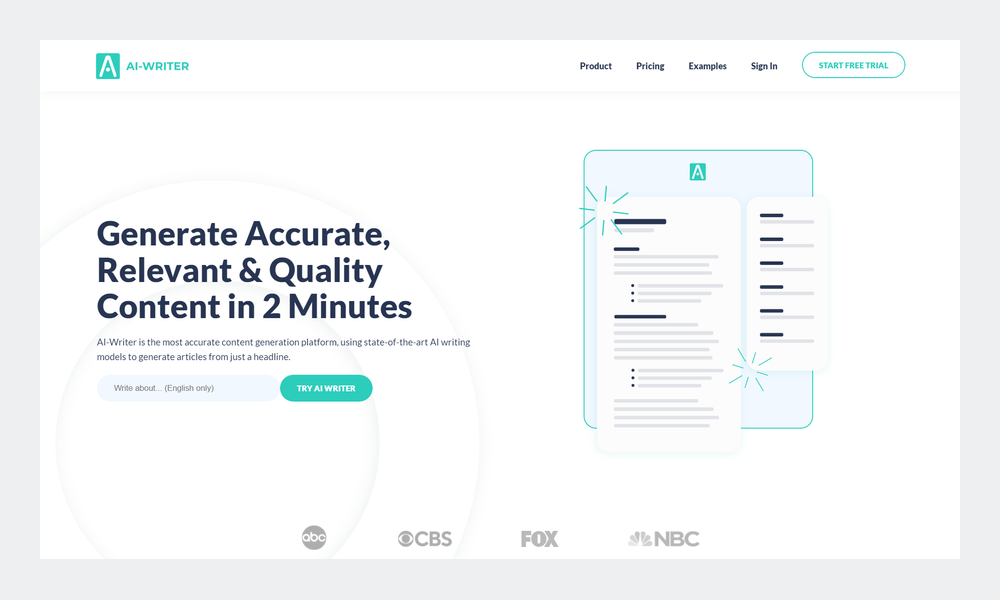 Writing articles, essays, and columns is one of the most mentally demanding jobs. Time-consuming research and writer's block are among the few hurdles writers have to jump over in the writing experience. With AI Writer, turn a week of work into 2 minutes and still retain the quality and accuracy of the content. AI writer utilizes advanced AI writing models that can turn just a headline into an entire, comprehensive article.
AI writers can affirm users of their content with features such as…
Assured Uniqueness in articles with Research and Write
Text Rewording
Verifiable Citations
SEO-focused Editor
For those who wish to use AI Writer, you can unlock Basic, Standard, and Power Plans at $29/month, $59/month, and $375/month, respectively. Users get two months free upon yearly subscription.
Try AI Writer for free and generate content at scale, visit their website at https://ai-writer.com/.
9. Filecamp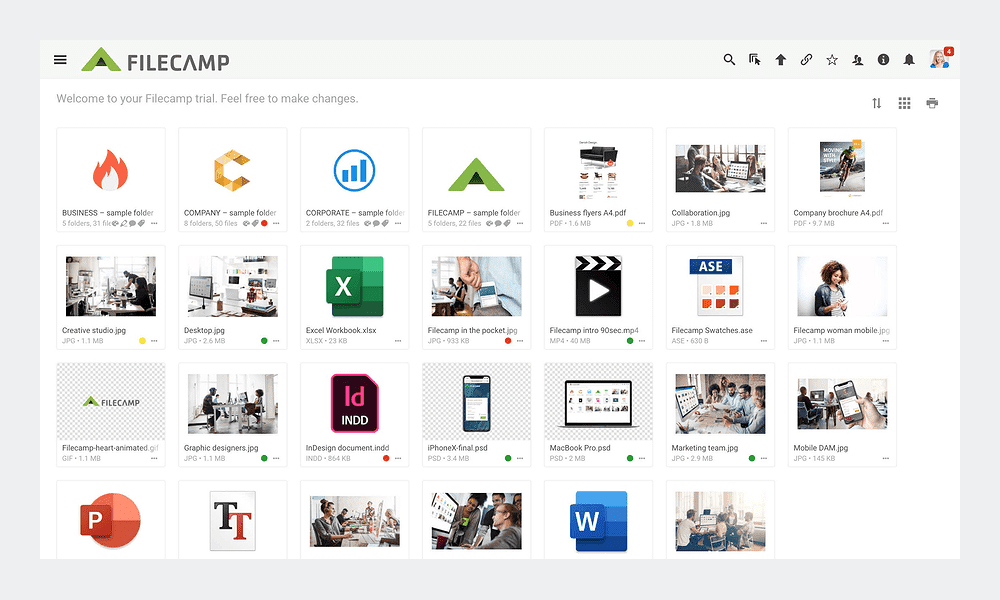 Ask any motivator and veteran and life for advice, and chances are they'll tell you to get organized. The task of organizing your room is challenging enough, but with digital assets and files, it may be even more headbanging. With Filecamp, have control over your brand and business with digital asset management software that makes organization a routine for users.
It creates a domain of security and authority by giving users features such as:
Granular Access allows you to control who has access to your files.
Multiple themes that will enable users to customize folders and files.
Keywords and Tags allow you to edit metadata without leaving Filecamp.
Collections for easy distribution of files.
Request File Links that automatically notify you when someone asks permission to files.
Filecamp offers you three plans to avail, all without startup costs and hidden fees, as well as unlimited users and free bandwidth. You may cancel anytime you'd like:
Basic Plan – $29/month.
Advanced Plan – $59/month.
Professional Plan -$89/month.
If you want to try Filecamp, you can request a demo at https://filecamp.com/.
10. Text Blaze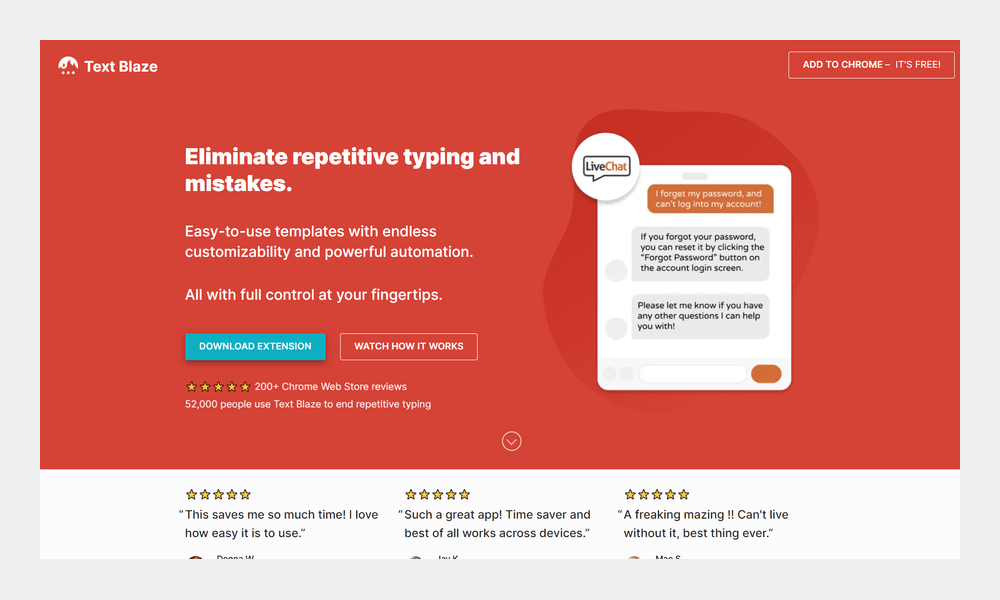 Working in the digital world demands you to be quick at the keyboard, with witty writing and adept communication skills. With Text Blaze, save up to 28 hours per month by speeding up your work by using templates and snippets that help with text automatization and expanding text. It puts bookmarks on repetitive actions with your team and creates snippets that allow you to predict your next action.
Boost your productivity with Text Blaze's trailblazing features such as:
Dynamic templates.
Shortcut and snippet text.
Sharing and collaboration.
Unlock Text blaze with the following plans – for individuals, the Pro plan is available at $2.99/month, for those who work as a team, $6.99 per user/month, and customized pricing is available for those who wish to use Text blaze for an enterprise.
If you are looking for an effective email automation tool, check out and try https://blaze.today/.
11. Icons8 Mega Creator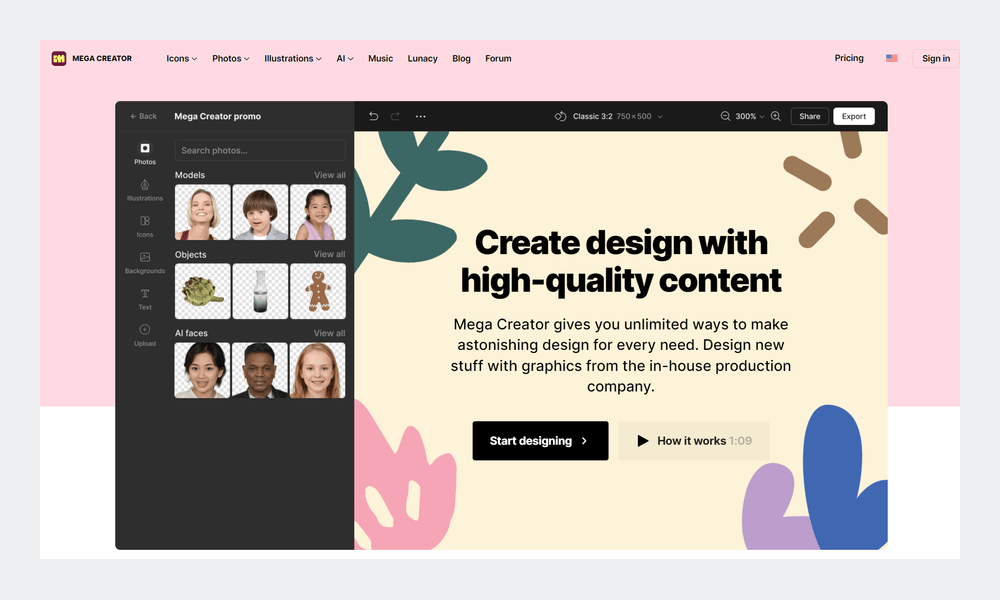 Look, we aren't all Picassos or Da Vincis. Most of us don't know how to draw with a pencil, let alone create awesome graphic designs that hook an entire market of customers. Luckily, we have Icons 8 Mega Creator for that. Icons 8 Mega Creator is online graphic design software that creates original and eye-catching graphics with high-quality icons, backgrounds, and even AI-generated faces.
With Icons8 Mega Creator, you can have unlimited ways to create your designs with features from PNG and PSD and a lot more.
Icons 8 Mega Creator offers six different plans, yet all allow for flexible assets without a time limit:
Icons plan – $24/month.
Photos plan – $24/month.
Illustrations plan – $49/month.
Music plan – $49/month.
Icons & Illustrations Plan – $48/month.
Full Set – $89/month.
If you want to design awesome social media images with Icons8 Mega Creator, you can explore their website at https://icons8.com/mega-creator.
12. Slazzer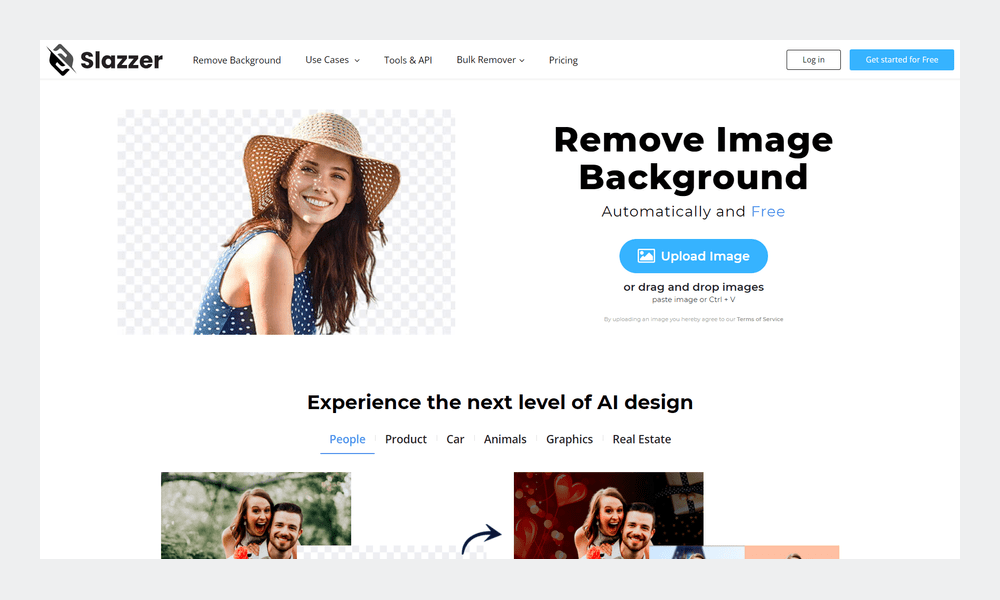 Slazzer is an online background remover tool that can instantly transport the subject of your photos to anywhere you want in a matter of seconds. Be it animals, people, or cars, Slazzer can smoothly remove anything but the subject of the photo, saving hours off your work after you tried to trace that single strand of hair manually in your editing tool.
Not only this, but Slazzer offers a variety of useful services and features such as:
API Documentation.
Design Maker.
Photoshop Plugin.
Slazzer Editor.
Bulk Background remover.
Be able to start using all these nifty features by availing yourself of 8 plans that Slazzer offers. The free plan provides two free credits, unlimited free previews, photoshop extension, and API access. Paid subscription plans offer a range of 100 credits to 50,000 credits and $13/month and $1999/ month, respectively.
If you want to try Slazzer, you can subscribe to the website at https://www.slazzer.com/.
Conclusion
The world will not wait around for you. Everything and everyone moves at a pace that demands us to be quick, resourceful, and unrelenting. Help yourself by getting into marketing automation now. Get your seeds planted as early as possible, and you'll be surprised at how plentiful and swift the harvest will be.
Published by
Shelly Solis
Shelly Solis is a passionate writer with more than ten years of freelancing experience. She writes articles on digital marketing, finance, telehealth, SaaS, accounting, IT, photography, and infrastructure management. She is the co-founder of SaaSLaunchr: SaaS Marketing Agency, a digital marketing service provider for SaaS companies. View all posts by Shelly Solis