Lately, I am seeing the tendency of people falling for the idea that outsourcing your photos on Fiverr is better than using online Photoshop editing services.
As a photographer, let me assure you, that it couldn't be further from truth! That's why I've decided to compile a list of 10 best Photoshop editing services for you to order from instead of Fiverr.

Difference Between Fiverr and Photo Outsourcing Companies
Perhaps, you may think that there are no significant differences between Fiverr and professional Photoshop services. But it isn't so.
Speaking about Fiverr, it is a platform for freelancers, where you may choose different services. When you browse the services offered, you may find the gigs like lawn-mowing or writing a poem.
Don't be swayed by low prices on Fiverr. They say you can get any service for $5 but, in reality, the situation is a bit different.
As a rule, the starting price is like this, but the final one may greatly surprise you. As a result, you will get a standard price which is not lower than the market one.
Professional Photoshop services, in their turn, are focused solely on image editing. They are provided by experienced pros who know what they do. Moreover, it is a team of retouchers that will cope with all the tasks quickly and qualitatively.
Top 10 Photoshop Editing Services Review
If you are not convinced yet that Photoshop editing services are better than Fiverr, I compared them for you to think it over once again. I sent one unedited photo to all websites to see the way the work.
1. FixThePhoto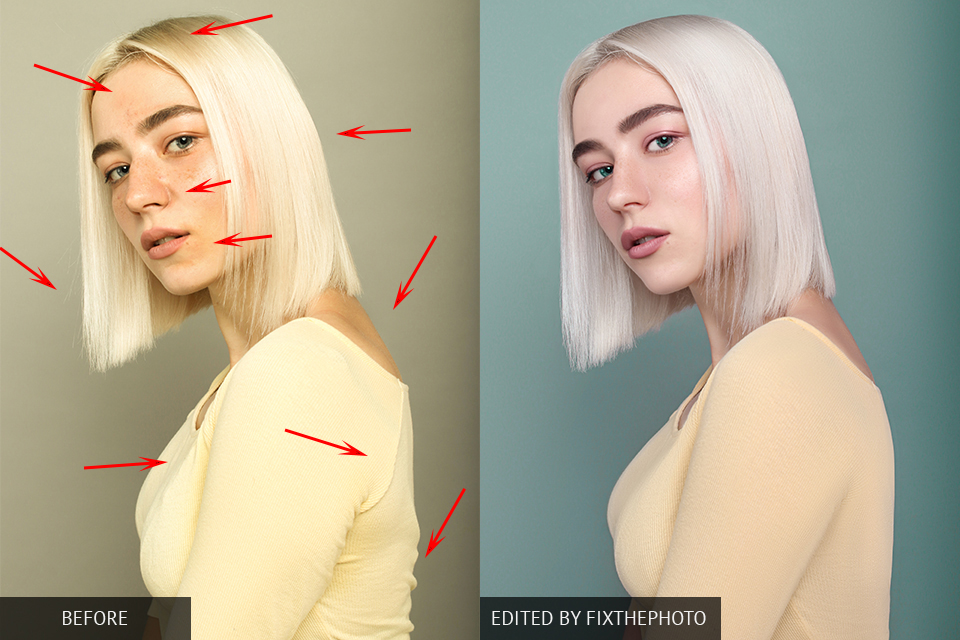 FixThePhoto is a platform created for beginners as well as professionals. In other words, beginners turn to it asking for professional image editing, while pros just want to save their time and get qualitative results ASAP.
FixThePhoto team will improve pics of any genre (portrait, wedding, newborn, landscape, real estate, e-commerce photography, etc.) and do it quickly and professionally.
The company offers such services as photo culling, color correction, beauty editing, portrait improvement, etc. Speaking about Fiverr, there are so many gigs that it's difficult to find the one you need.
Moreover, you can't be sure that the person you selected is a professional retoucher.
The turnaround time at FixthePhoto was faster than at Fiverr. I guess it all depends on the fact, that Photoshop services have a whole team working around the clock to deliver the results as quickly as they can; but when we talk about Fiverr, there's only one person doing all of the orders.
Last but not least are the results. FixThePhoto demonstrated professional results and I was really satisfied.
The photo looks like a magazine cover. I love their attention to detail: they even fixed the bumps and wrinkles on the model's clothes.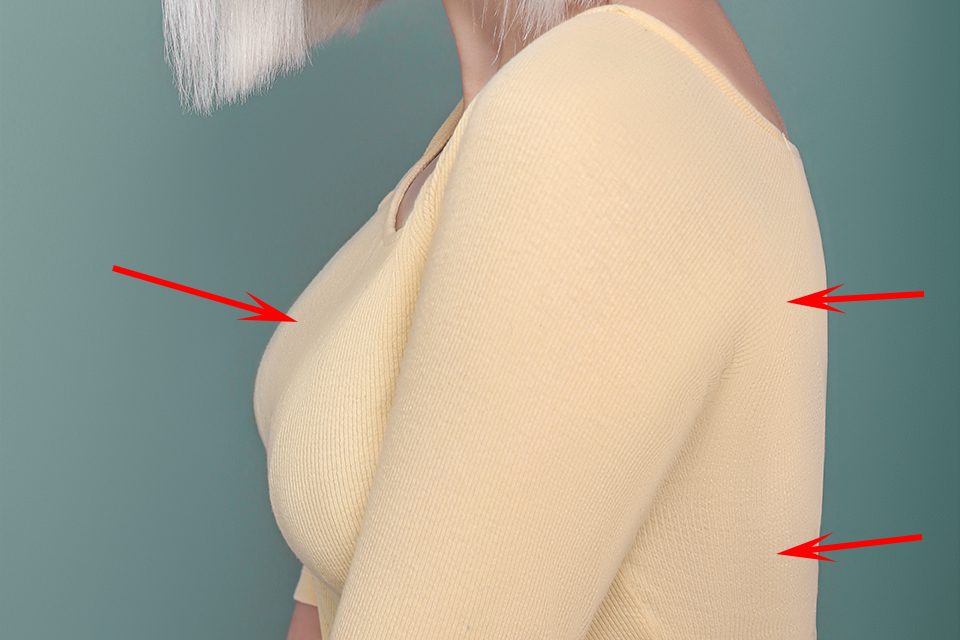 FixthePhoto made it look like the model has flawless skin, which couldn't be far from the truth. The retouchers even fixed the bump on her nose!
Couldn't wish for better result. Speaking about Fiverr, picture editing was amateurish and not satisfactory for me.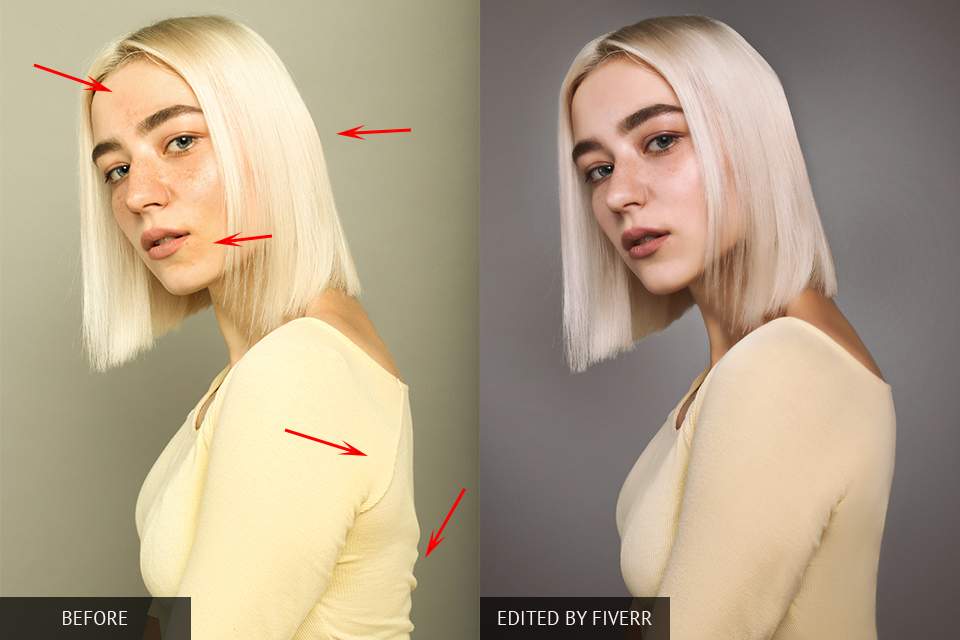 They didn't even out the skin tone and the model looks like she is sick with those dark circles around her eyes. I feel weird even comparing results. Fixthephoto clearly delivered superior results.
Summing Up:
In general, I can distinguish a winner in FixThePhoto vs Fiverr battle ‒ it is undoubtedly, FixThePhoto. This Photoshop service provided quicker and more qualitative results.
2. WeEditPhotos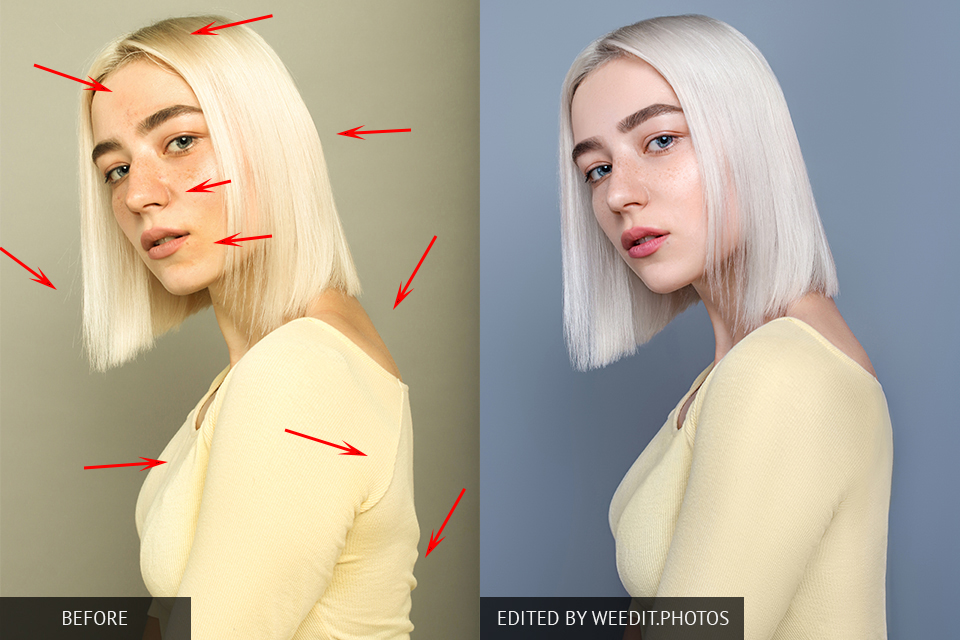 One more thing that prevents me from using Fiverr is that freelancers do not undergo any professional tests before signing up. In other words, the person you hire may have no experience or be incompetent in this sphere.
Speaking about WeEditPhotos, you may be sure that you will get top quality results, and this service has stood the test of time. WeEditPhotos is primarily focused on portraits and wedding shots.
In case you are not sure whether to apply to this Photoshop service, you may view the before/after photo samples and make a choice.
This platform also has a blog about photo programs and equipment. In such a way, we see a significant difference between Photoshop editing services and Fiverr.
Undoubtedly, WeEditPhotos is better than Fiverr. Just look at how WeEdit Photos managed to save the texture of the model's skin!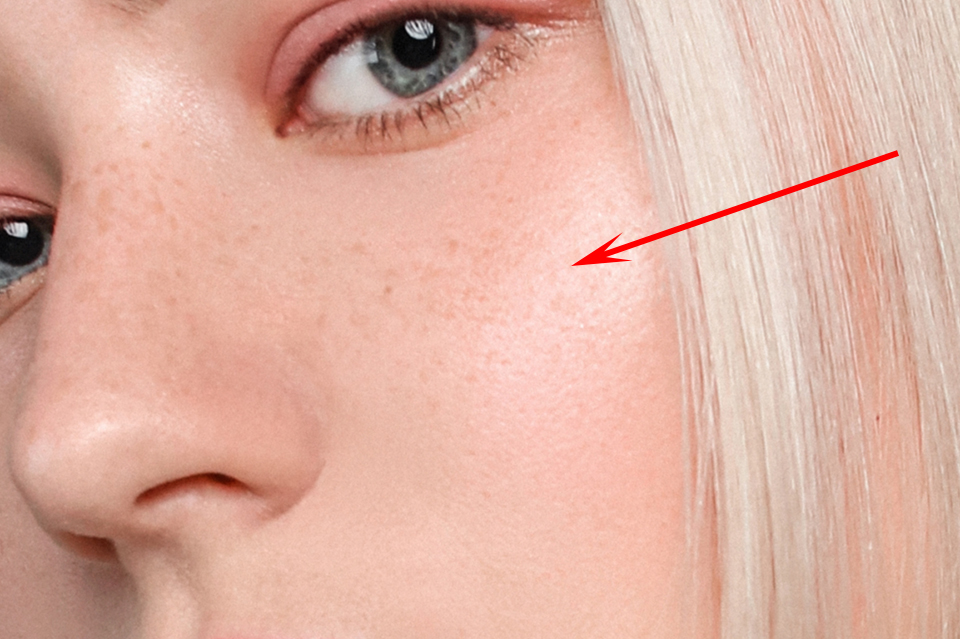 The skin looks soft and silky, without a single blemish. Coincidentally, Fiverr really failed at skin retouching.
Although they did fix some minor imperfections, the skin in their final image has weird dark spots all over the face.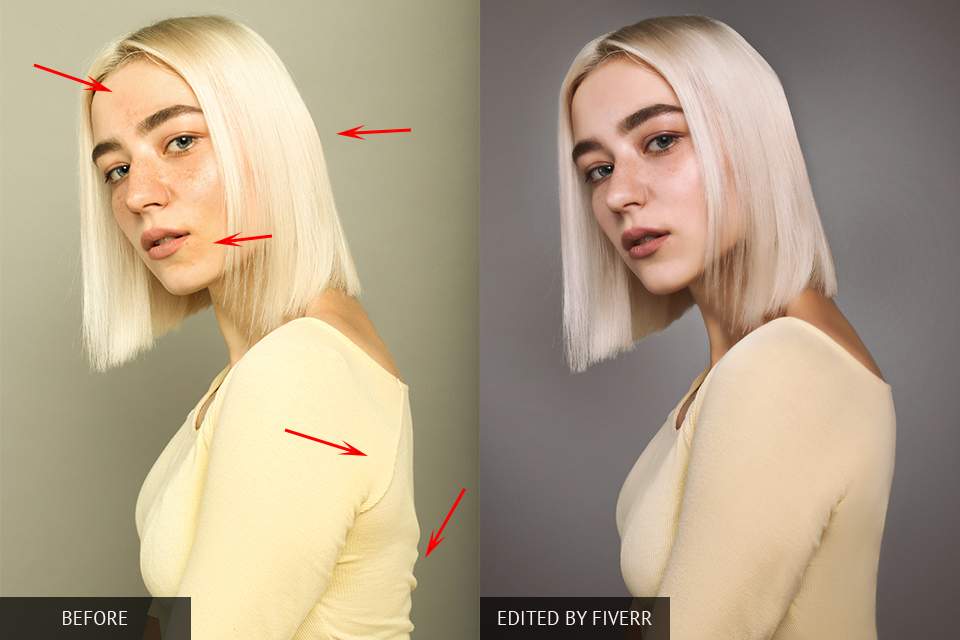 If I had sent this photo to Fiverr only, I would have lost money and time. I had to send it somewhere else to get it retouched again or do it on my own. Working as a shooter, I have to value my time and the time of my clients, so such a situation is unacceptable for me.
There's also no point comparing their color correction. WeEditPhotos' final image looks light and airy, while the one delivered by Fiverr – dark and gloomy, with a weird vignette.
Summing Up:
Although WeEditPhotos is not the top Photoshop service on this list, it is far ahead Fiverr. Everything from color correction to skin retouching is superior.
3. WeddingRetouching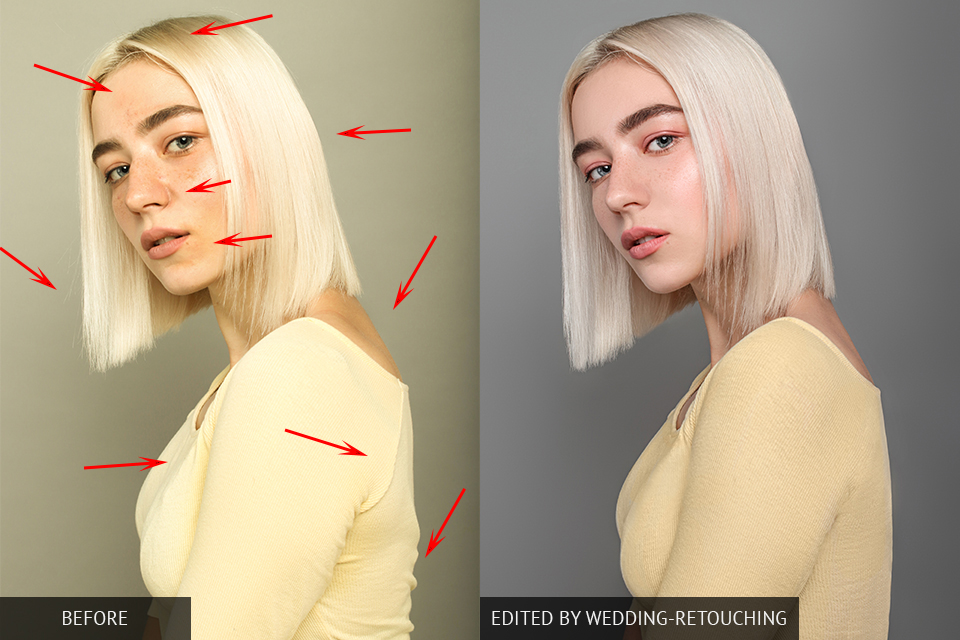 Wedding-Retouching is popular among users and has many positive reviews. Speaking about Fiverr, it also has many positive reviews but, let's figure out where they come from.
First of all, a lot of sellers ask their friends to buy Gigs and then write reviews. In such a way, dishonest sellers get a 5-star rating being incompetent and unprofessional. Moreover, many sellers offer a cash-back in case the client is not satisfied.
As a result, buyers do ask for a cash-back and then write positive comments. So, one can't rely on such reviews. Such manipulations are impossible with professional platforms like WeddingRetouching.
If the client is not satisfied with the results and they are really poor, WeddingRetouching can't hide negative reviews. This online Photoshop service cares about its reputation and tries to satisfy the needs of every client.
You can definitely see this, once you compare the results.
Speaking about WeddingRetouching, they coped with the task the way I wanted ‒ corrected colors making the picture natural and lively. The precise and neat work they did with hair deserves admiration.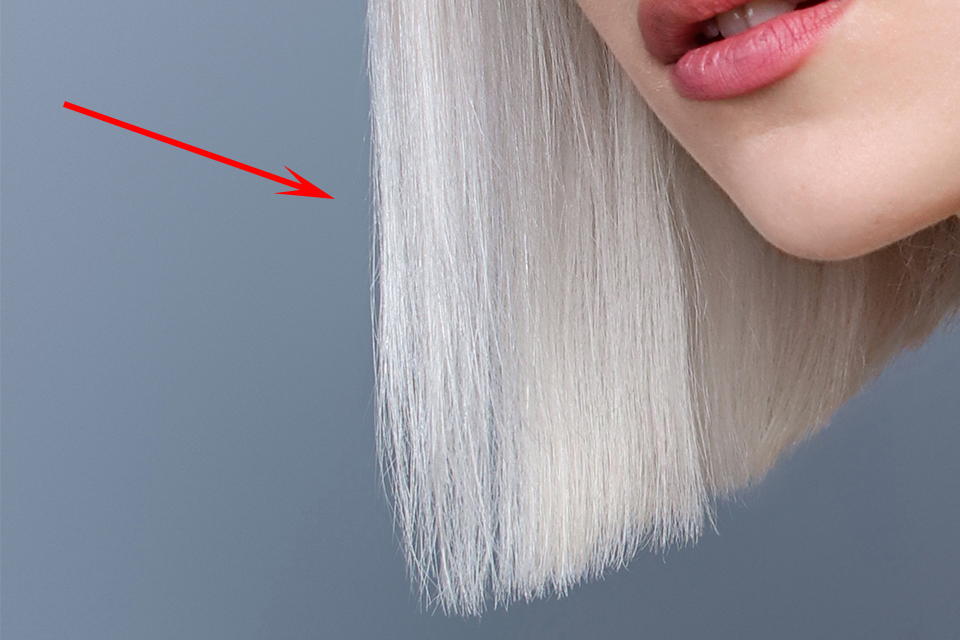 Judging by the photo retouched on Fiverr, you can see that no one cared about the reputation – the results are far from being perfect. Instead of getting rid of the shadows on the face, they seem to have made them darker.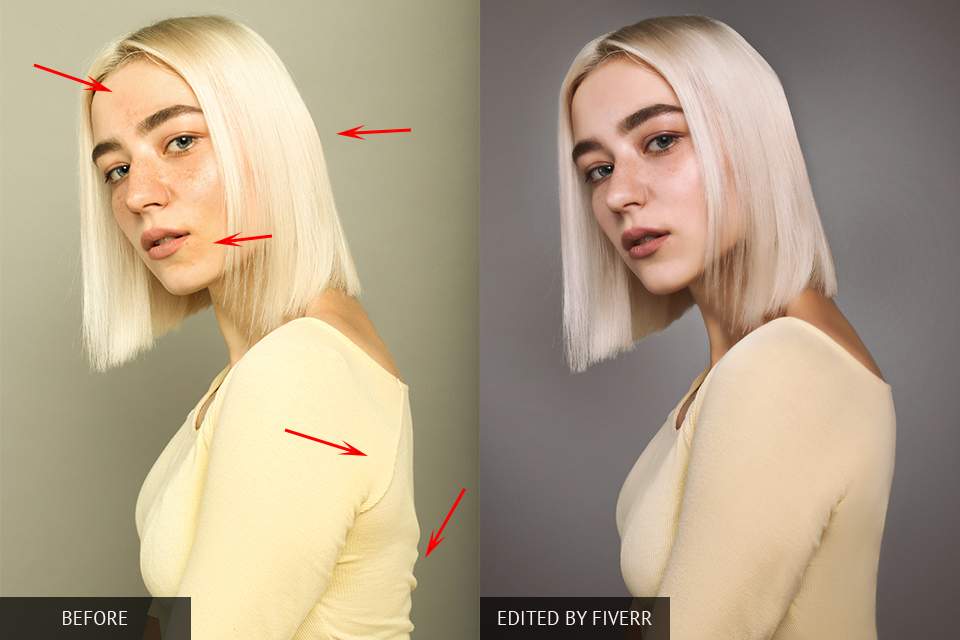 Although I feel like both of those services could have brightened the background, I still prefer Wedding Retouching.
Summing Up:
I am fully satisfied with the results provided by these Photoshop editing service. The image they returned is far better that the one delivered by Fiverr. That is why I put this service in the top 3.
4. HighEndBeautyRetouching
This platform offers a wide range of digital image editing services. For example, you can order a poster, a billboard, a calendar, a cover for a magazine or a newspaper photo enhancement and HighEndBeautyRetouching will cope with it.
If you apply to this Photoshop service, be ready to pay from $10 to $150 per photo. The price policy is clear and transparent.
Speaking about Fiverr, placing an order, you can't be so sure about the price. For example, at first, you are charged $5, but if you go to the site, you will see that the prices are much higher.
Moreover, a lot of costs are hidden (fees, commissions, etc.) One more thing that I don't like is that a seller may change the price whenever he/she wants.
In general, HighEndBeautyRetouching provides decent results but, still, it isn't as good as the top 3 companies mentioned above.
The thing that I particularly like about their editing is that they got rid of the dark shadow on her forehead.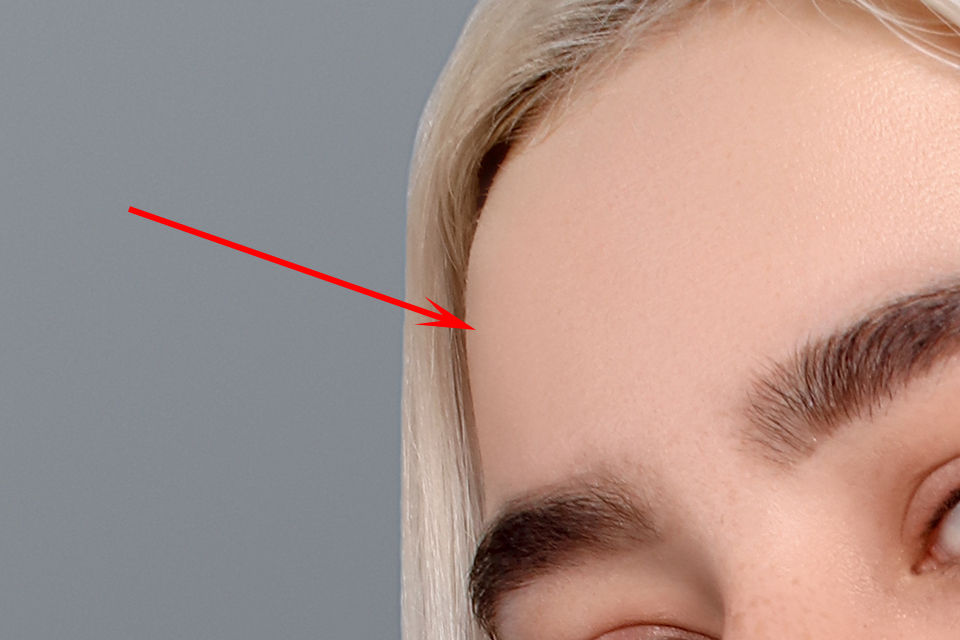 I have no complaints about retouching, but their color correction could be a bit better.
However, if we compare the final result of Fiverr and HighEndBeautyRetouching, the photos literally look like before and after shots.
Fiverr didn't even bother performing any pro skin retouching. This is unacceptable for portrait photography.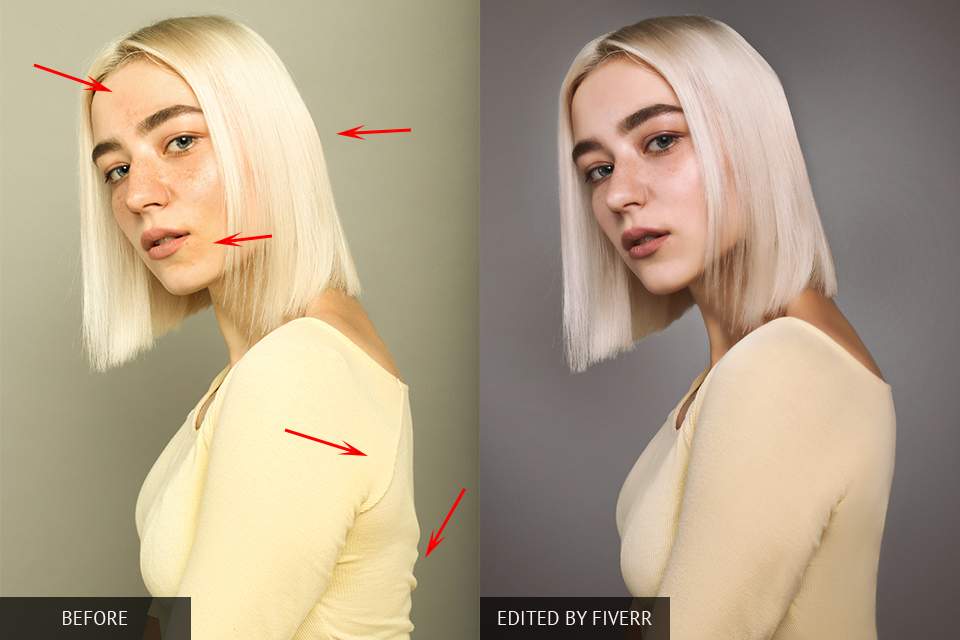 Although they delivered the results not as quick as previous Photoshop editing services, they did it faster than Fiverr.
Summing Up:
Great results but their color correction skills are not the best ones. Still, they are much better than Fiverr.
5. NudeRetouching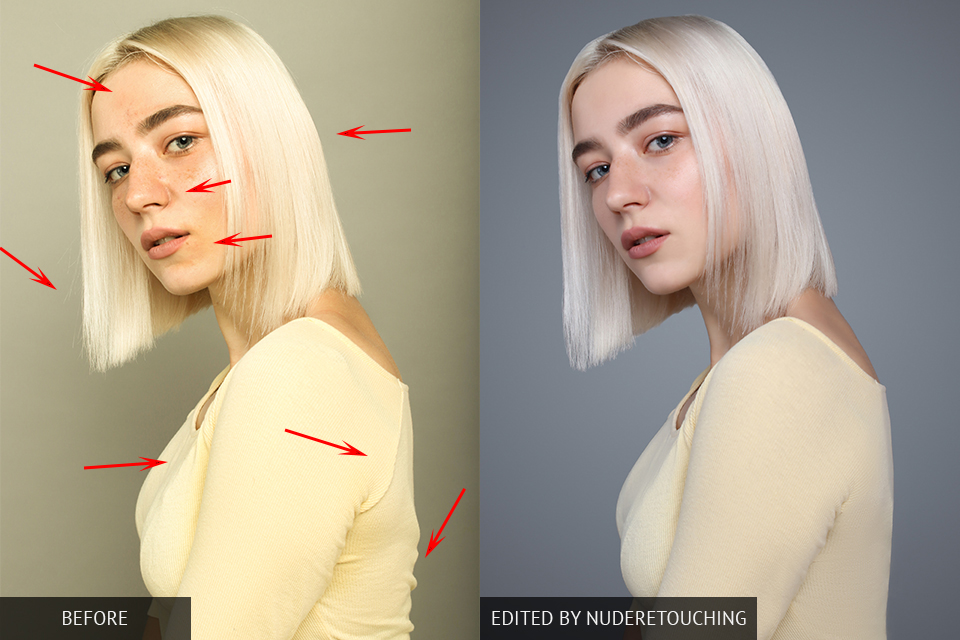 If you are interested in boudoir and nude photo correction, contact NudeRetouching. It is Photoshop service that offers a great number of various services.
I like that here you see the pricing list and the delivery time. When it comes to Fiverr, one can't tell you the price and when your order is ready before they know all the details.
It is not convenient since you need to know approximate prices and delivery time before placing your order.
As for the retouching results, they were quite good, but still not the best ones.
What I like, is that they fixed the redness near her nose.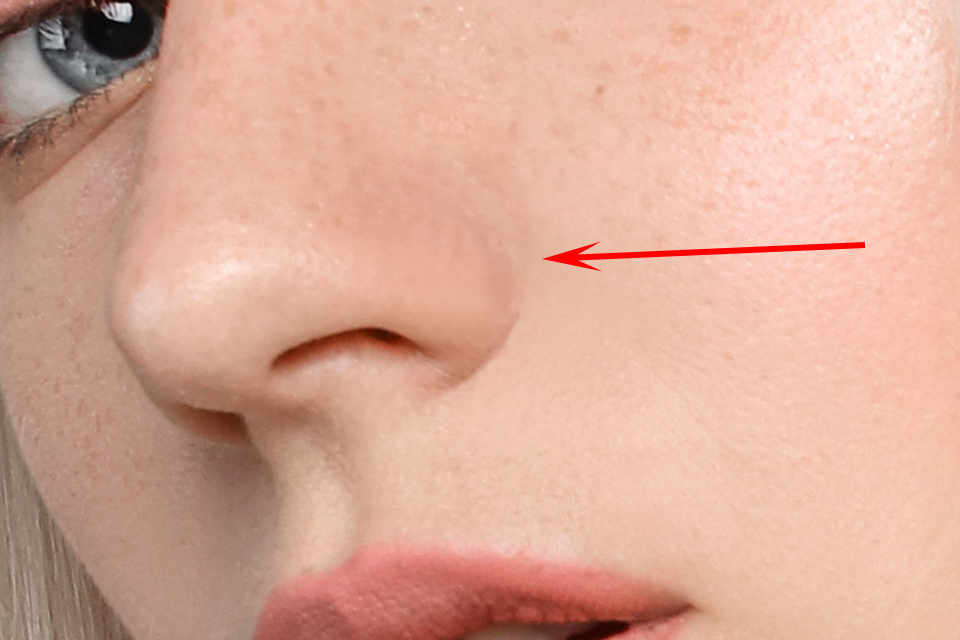 The retouching is not bad, but the color correction is average. I feel like they could have worked a bit more with the white balance.
Still, the result that Fiverr sent me can't even compare to their result.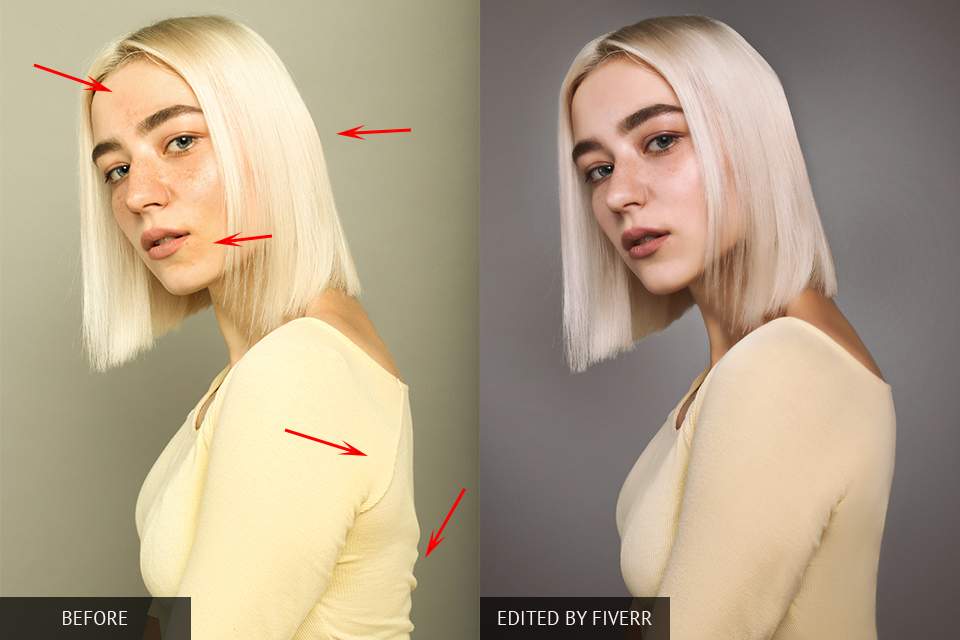 Summing Up:
In general, I am satisfied with my outcome. This company does not exceed the above-described services. However, by addressing it, you will get much more professional results than Fiverr offers.
6. Tucia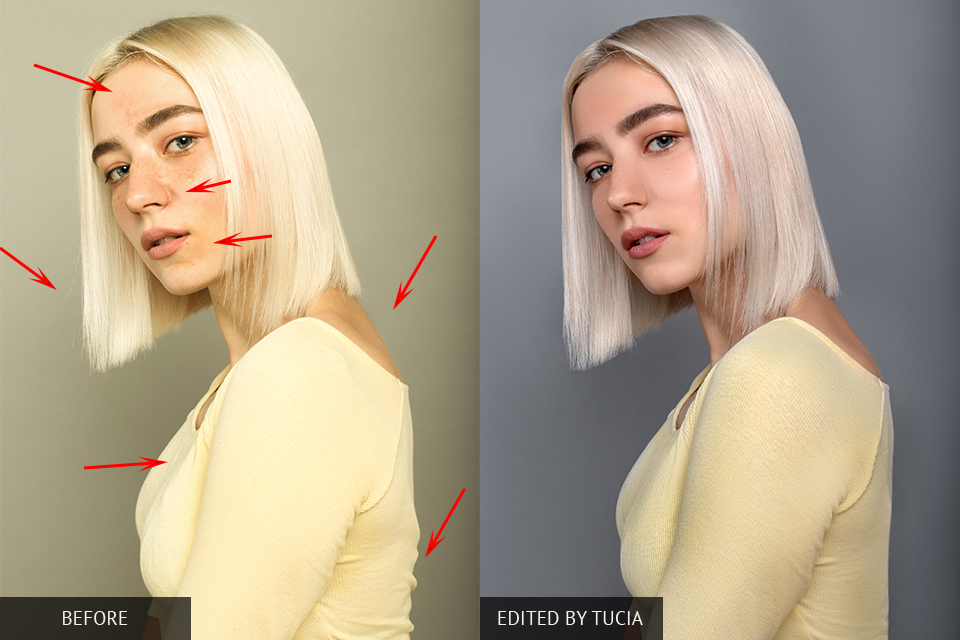 Tucia is one of Photoshop editing services that are not very customer-friendly, actually. However, it provides professional and qualitative image editing services.
They offer image previews for you to know what to expect. In general, professional shooters and amateurs may easily find the image editing level they need.
Speaking about Fiverr, you have to look for various freelancers in case you need different levels of services.
When I think about Tucia, I have mixed feelings. On the one hand, the price is quite high ($8) in comparison with other Photoshop editing services while the results are "so-so", actually. On the other hand, my picture was retouched very fast.
The skin retouching is performed quite well. As for color correction, this picture lacks vibrancy.
What I really didn't like is that they improved the top of the model's head very sloppily, which is a big no for me. I'd rather spend more time on retouching and do it professionally.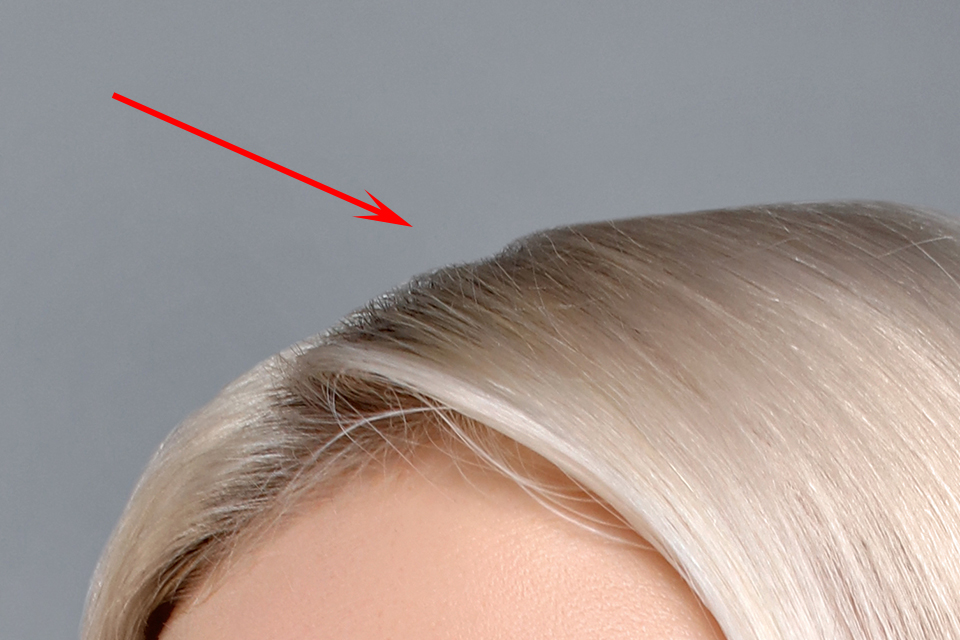 Coincidentally, that's what these two services have in common: they didn't do a good job with hair.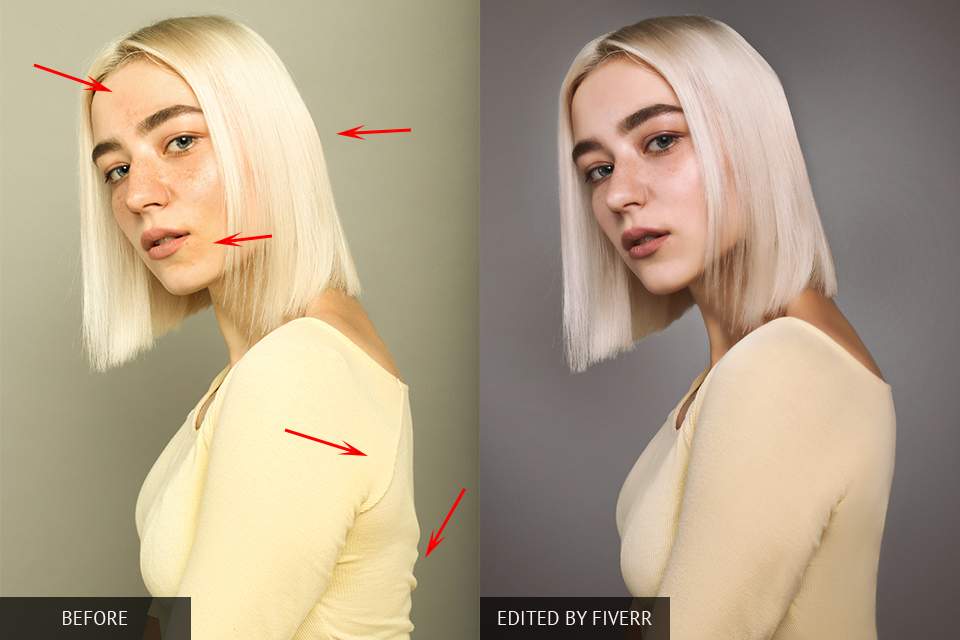 Summing Up:
I heard that this platform is one of the best on the market, but, as for me, it is not so. It's below average but their result is still better than the one I received from Fiverr. If you're interested in this service, read this complete Tucia Review.
7. ProPhotoshopExpert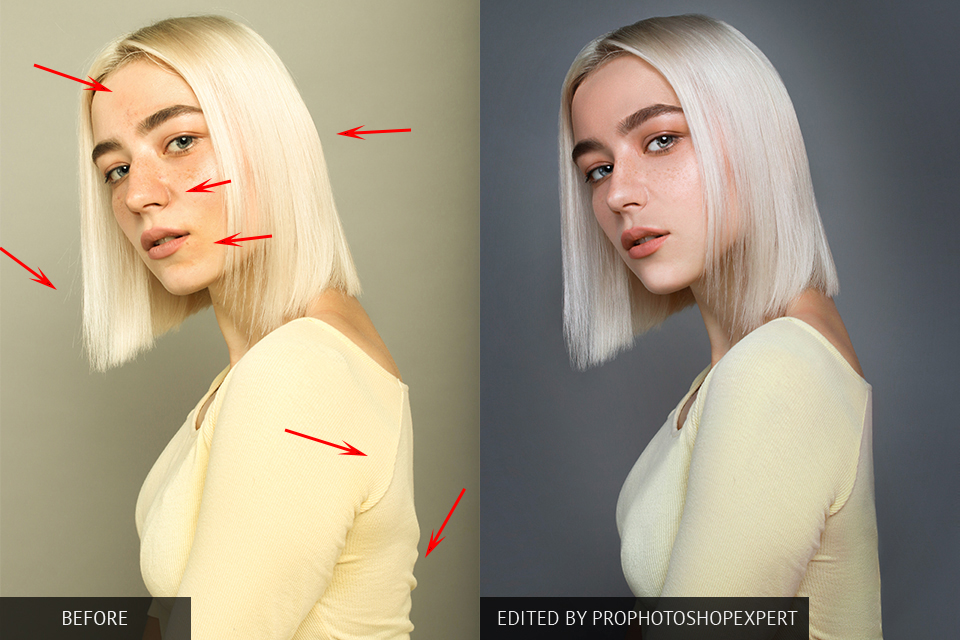 At first sight, this company makes a good impression: the site is stylish and understandable, the information is conveniently located, they offer discounts to regular customers, and deliver pictures very fast.
According to their words, they have been providing professional Photoshop services for 9 years already. ProPhotoshopExpert promises top quality, good service and privacy.
Here, your identity is kept anonymous as well as on Fiverr. However, having received the results, I can say that I wouldn't pay for such quality.
I was dissatisfied with color correction. The picture is too blurry and the background color is uneven.
Moreover, when zooming in, I can see the dark shadows on her face, that weren't there in the original image. It seems to me like the retouchers tried to cover up bad skin retouch. Or even worse, they don't know how to do proper Frequency Separation and only used the Spot Healing Tool.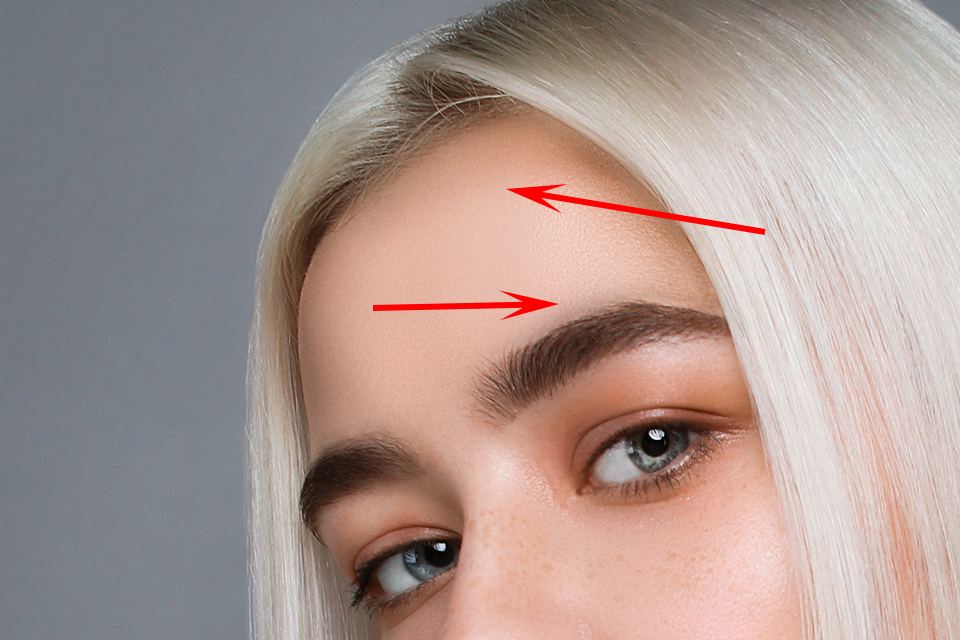 However, although their retouching leaves much to be desired, it's still better than Fiverr. At least they made her skin tone even!
I don't like what both of these services did to the background. I feel like those random shadows distract from the subject.
They should have even out the background color as well and made it solid.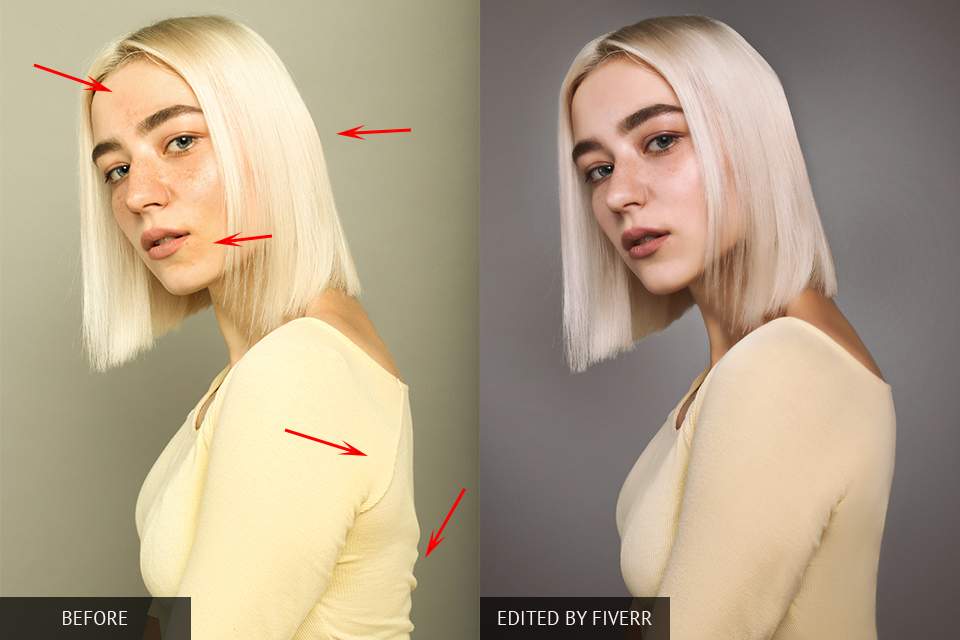 Summing Up:
Price, as well as quality, are below the average. I don't recommend this site for professional image editing. The final result from Fiverr and ProPhotoshopExpert are similar.
8. ClippingPanda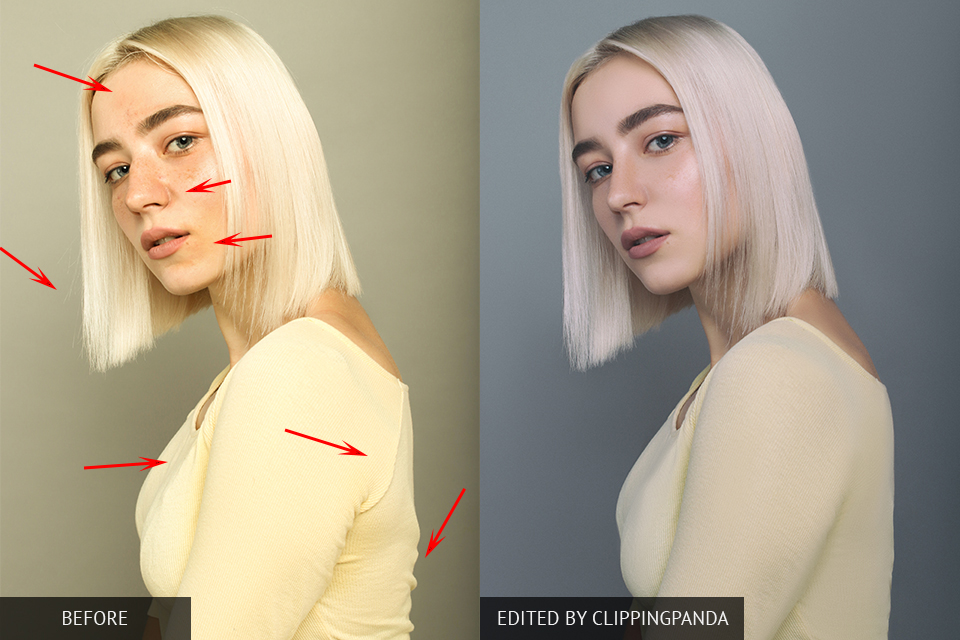 It is one of those Photoshop editing services that focuses on background removal and gives a 100% guarantee, which is very important. However, it also has fake reviews like Fiverr does.
I am satisfied with prices but I am not satisfied with the results. Moreover, what I noticed is that an original photo is even better than the edited one. Customer Support didn't help me either.
Perhaps, the results are so bad because the company is primarily focused on product photo editing. Here they are similar to Fiverr. As for me, it's better to order from the sites, which offer you various image editing services and specialize in different photo genres.
Just look at the terrible job they did with clothes retouch. Why is everything so blurry? They should have fixed all of the wrinkles more carefully. It seems like they were in a rush.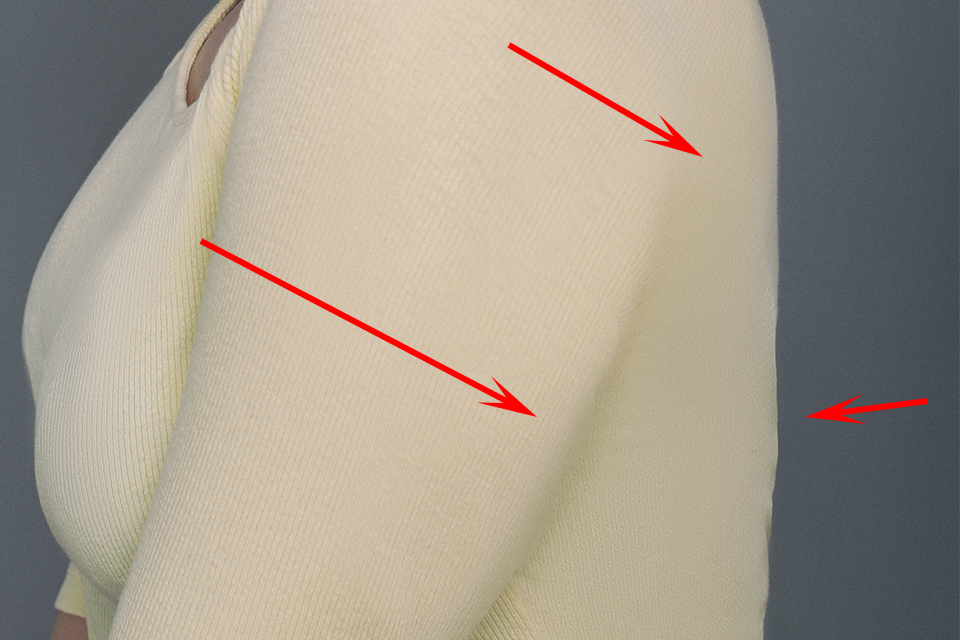 The result they provided is below average. Everything looks flat and uninteresting.
Color correction is boring and lacks liveliness. I prefer the color correction that Fiverr did to the color correction by ClippingPanda. The skin retouch is the only thing they coped with.
If we compare the final result to the one from Fiverr, I would say they are equally as bad, just in their own ways.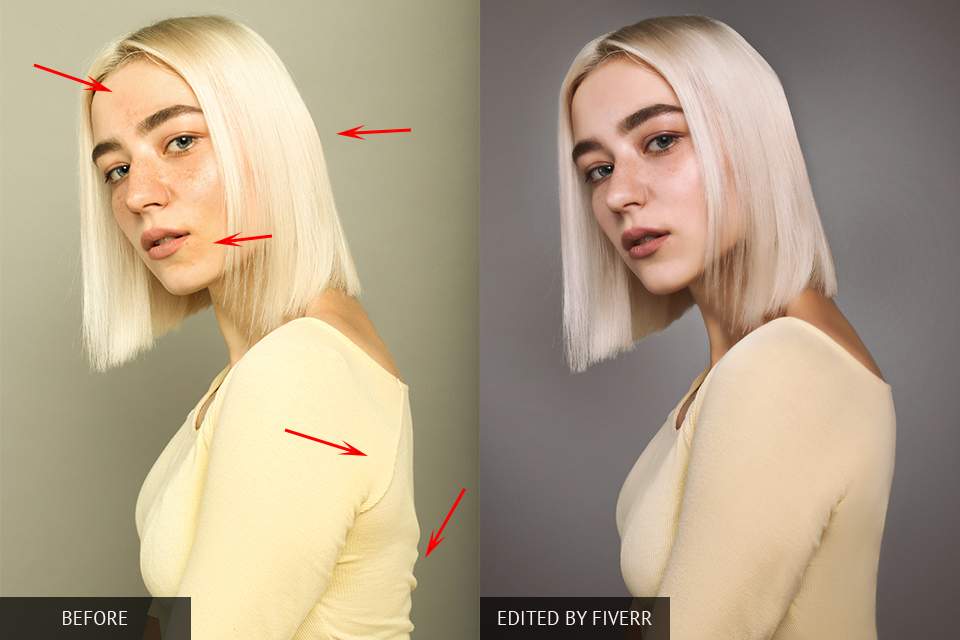 Summing Up:
Retouchers from ClippingPanda failed to provide qualitative results and appeared to be unprofessional and incompetent in portrait improvements. Unfortunately, their results are similar to Fiverr.
9. ColorExpertsBD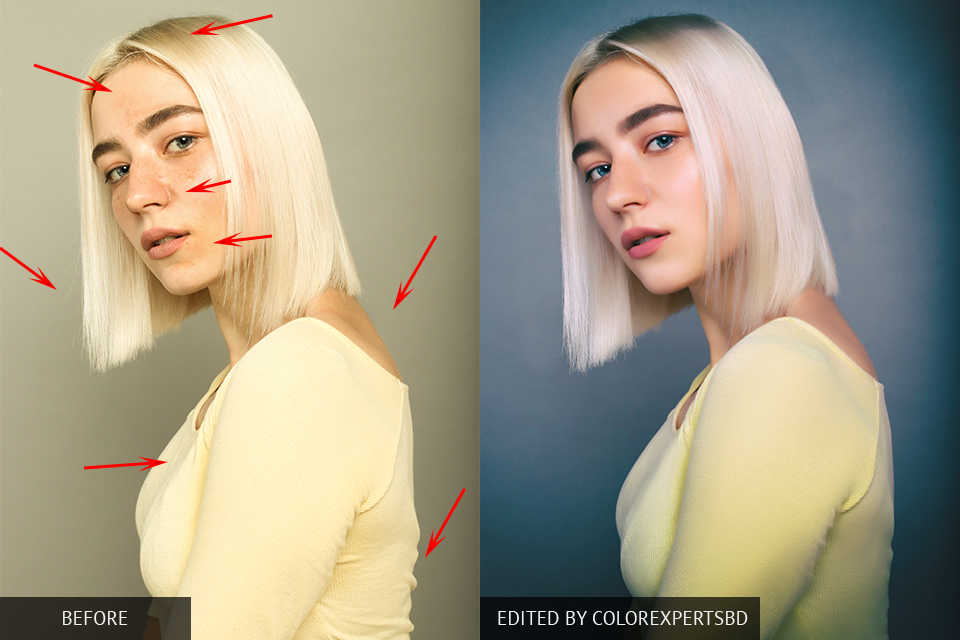 As you have probably understood, this online Photoshop service is not the best one on this list.
Speaking about Fiverr, we can easily identify a dishonest and incompetent freelancer. We check how long he/she has been selling, the cancellation rate, whether there is a profile picture and whether he/she replies to the customers' reviews.
When you visit ColorExpertsBD, you see that the site is old-fashioned. Although the before/after picture samples are gathered in one place, their size and quality are very poor.
Therefore, I didn't hope to get great results from this Photoshop service.
The color correction is random, the skin is blurry. I feel like they only applied the Gaussian Blur filter with a huge radius and that was it!
There are also weird spots all over her face. They should have evened out the color.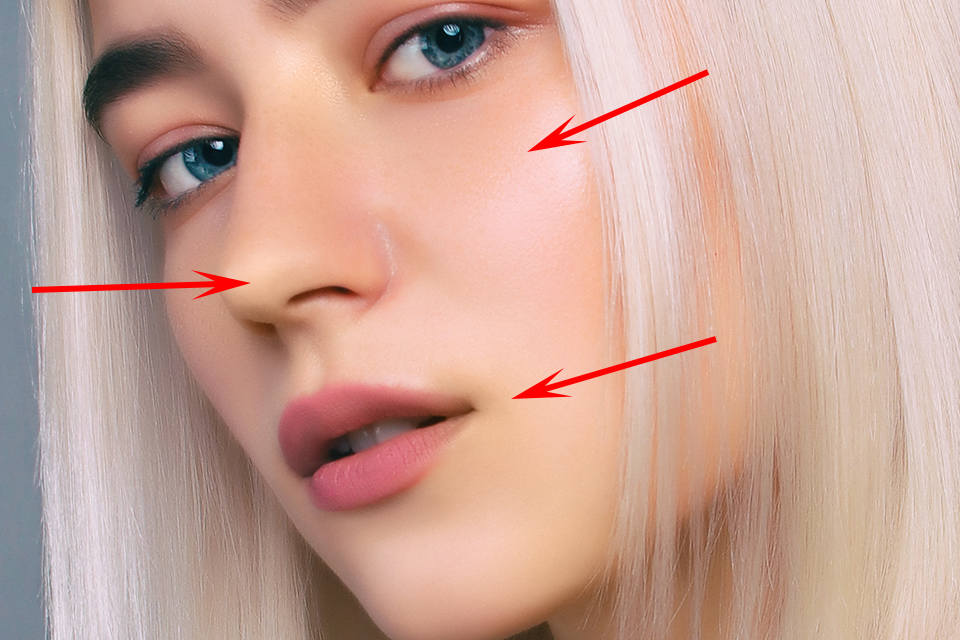 I don't like what they did to the background too. What was the point of making it stand out so much? And why did they use that weird vignette effect?
If the image from Fiverr is too gloomy, this one is its complete opposite. It's way to saturated.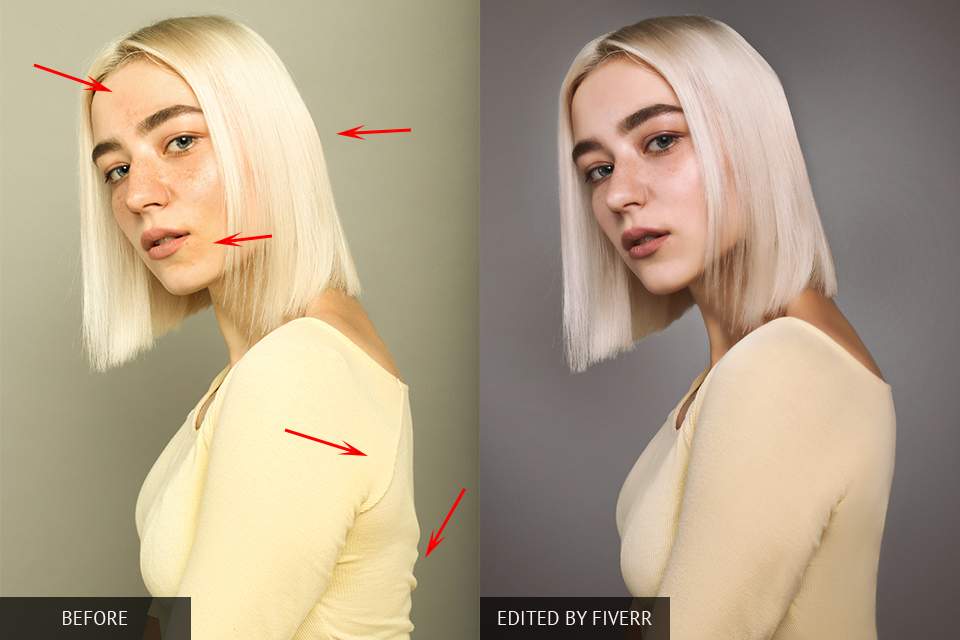 Summing Up:
I can't even name this platform a photo editing service since no professional image retouching was done. Both, Fiverr and ColorExpertsDB provide incompetent editing and sloppy retouching.
10. RetouchGem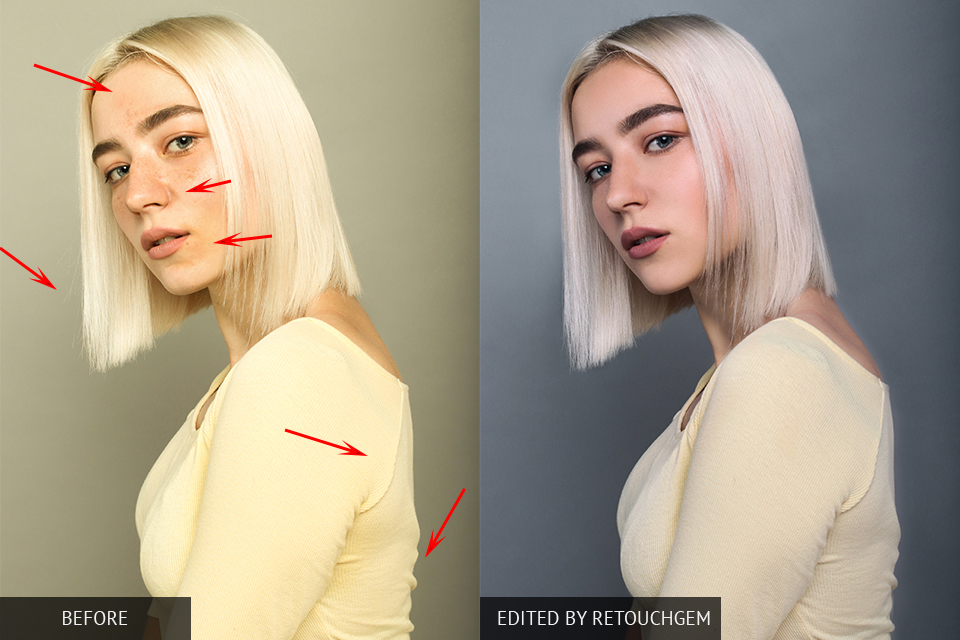 At first, this platform looks professional and qualitative. But it isn't. I can't describe my dissatisfaction.
How can they call themselves a professional Photoshop service? If you have to choose between RetouchGem and Fiverr, select the latter.
The image editing results are terrible and you may easily see it. I wanted to have my money back, but it's impossible to get any response from its Customer Support.
Speaking about Fiverr, you may communicate somehow with the seller which is not possible on RetouchGem.
As for the results, they made me very upset. The clothes are all wrinkled and bumpy. They didn't even try to fix it.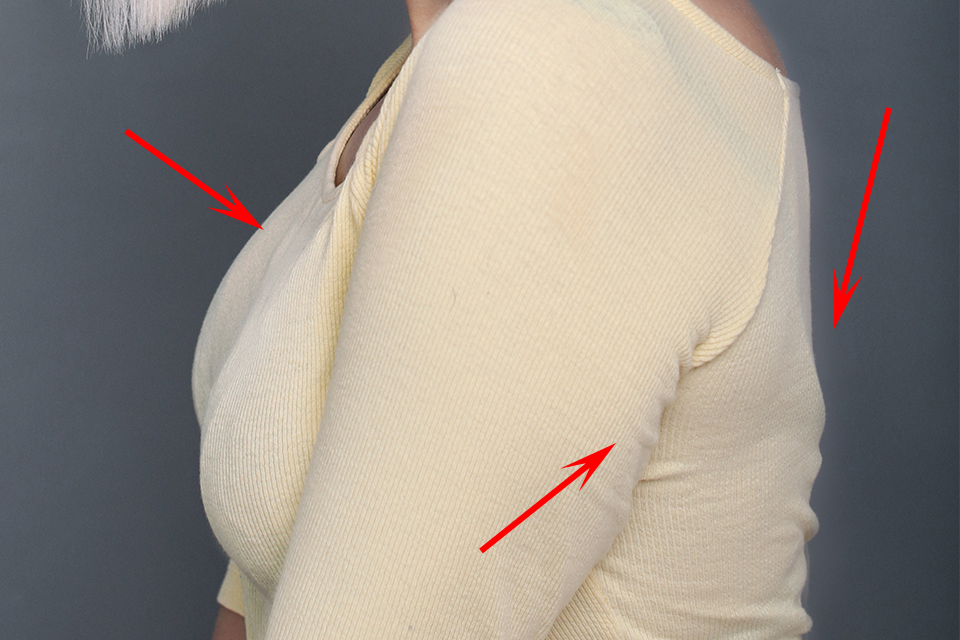 I feel like if you apply slight changes to the image, it's going to look exactly like the one from Fiverr.
The retouchers of both websites are incompetent. Such services shouldn't name themselves professionals.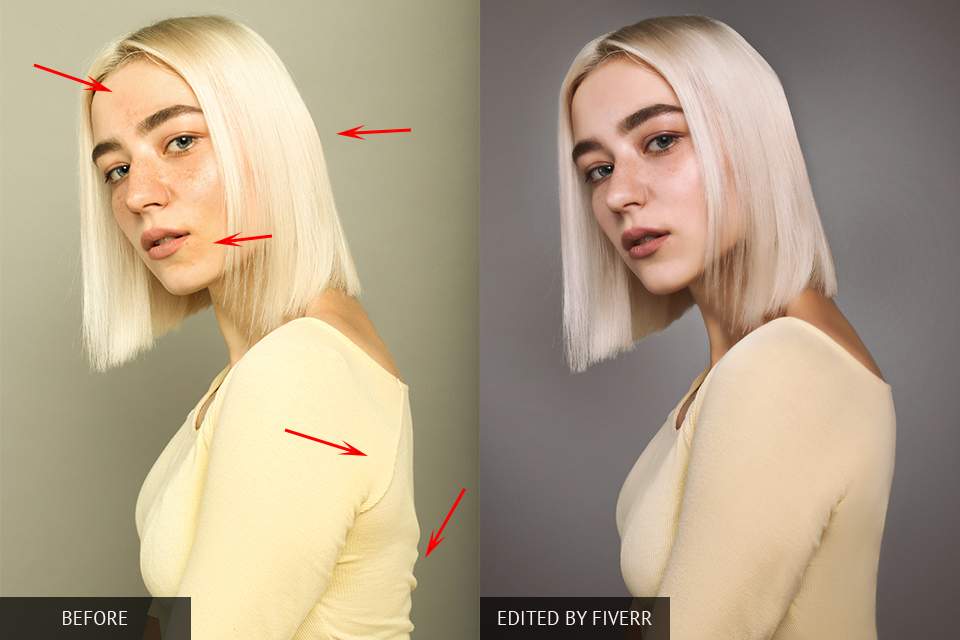 Summing Up:
I don't recommend this platform at all – terrible unprofessional results and long delivery time. Equally as bad as Fiverr.
Published by
decolore
Thanks for being a part of this beautiful blog. Hours spent to create this web space to our visitors as much useful as we can. We're living with a pace of life and build beneficial collections related to graphic and web design. Here we come up with premium and free collections like mockups, backgrounds, fonts, wordpress themes, branding, inspiration, tutorials and informative articles for professional designers and beginners. Go ahead and let's be a partners! View all posts by decolore