Online graphic design tools have made it easier for anyone to quickly and easily create great looking designs in no time, regardless of whether they have prior design experience or not. There are plenty of options for online design tools so you might not know what tool is the best choice for you. We've put together a list of the best ones to make it easy for you.
Here are 11 incredible online graphic design tools that you should check out to start creating designs today.
1. Canva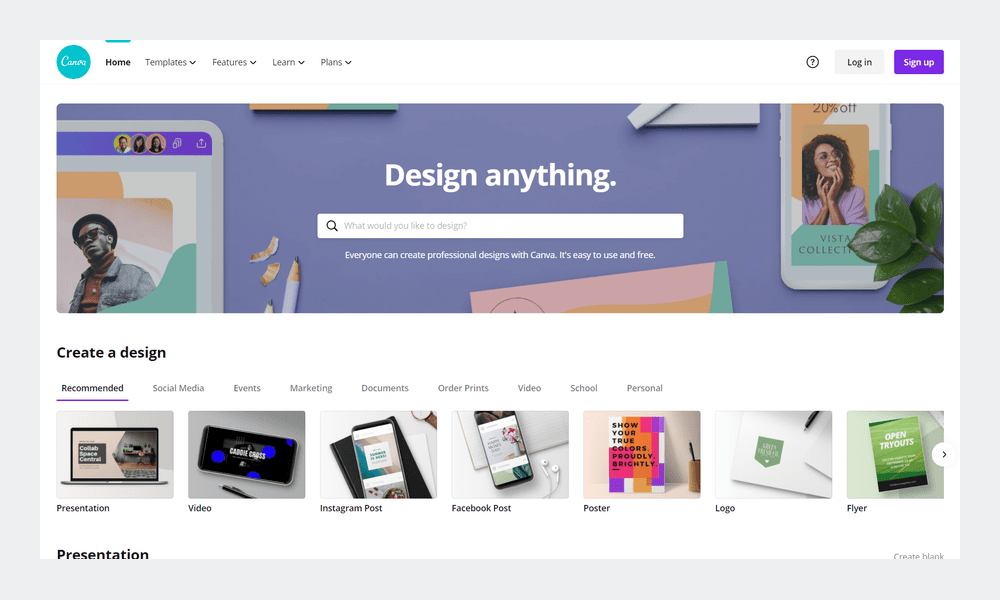 Canva is a fantastic graphic design tool that is ridiculously easy to use. They offer a huge range of pre-designed templates that you can use as the base of your design making it super easy and quick to create great looking designs.
Due to the huge library of design elements and Canva's user friendly interface it's also easy to create designs from a blank canvas. You can create great looking social media posts, videos, logos, printables, and so much more.
You can do so much on Canva for free, but it's worth keeping in mind that some features are for Canva Pro users only.
Canva at a Glance
Canva Pricing
2. Placeit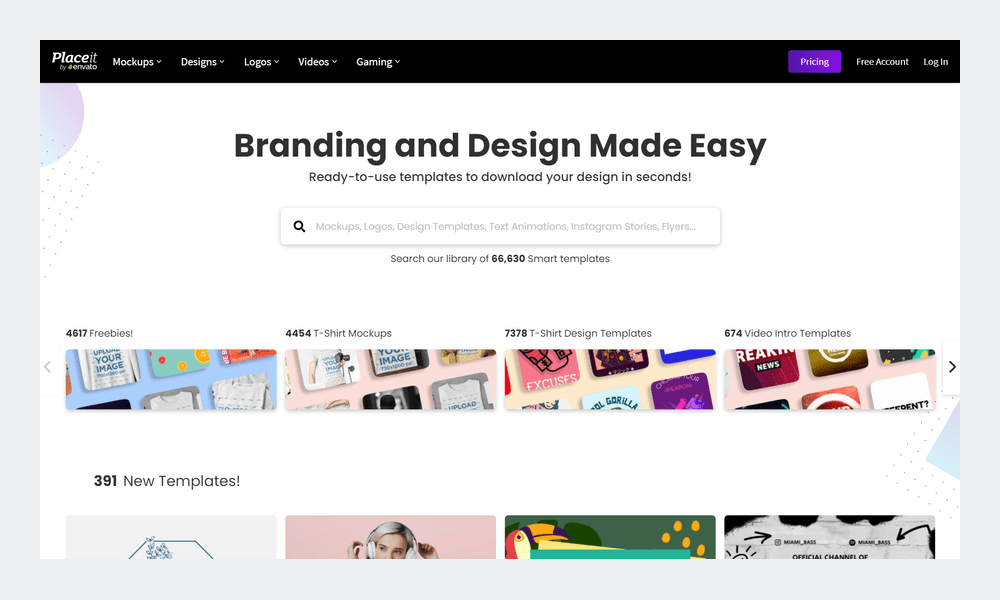 Placeit is a great design tool for non-designers that is extremely easy to use. The product is fully template-based meaning you will never start from a blank canvas. You simply choose one of their thousands of pre-designed templates and customize it to your liking.
They have a huge range of tools for all kinds of users and categories such as their mockup generator, logo maker, thumbnail maker, and many more.
You can even create designs for free on Placeit. Just visit their free templates area, choose a template you like, customize it, and you can download it completely free.
Placeit at a Glance
Placeit Pricing
3. Adobe Spark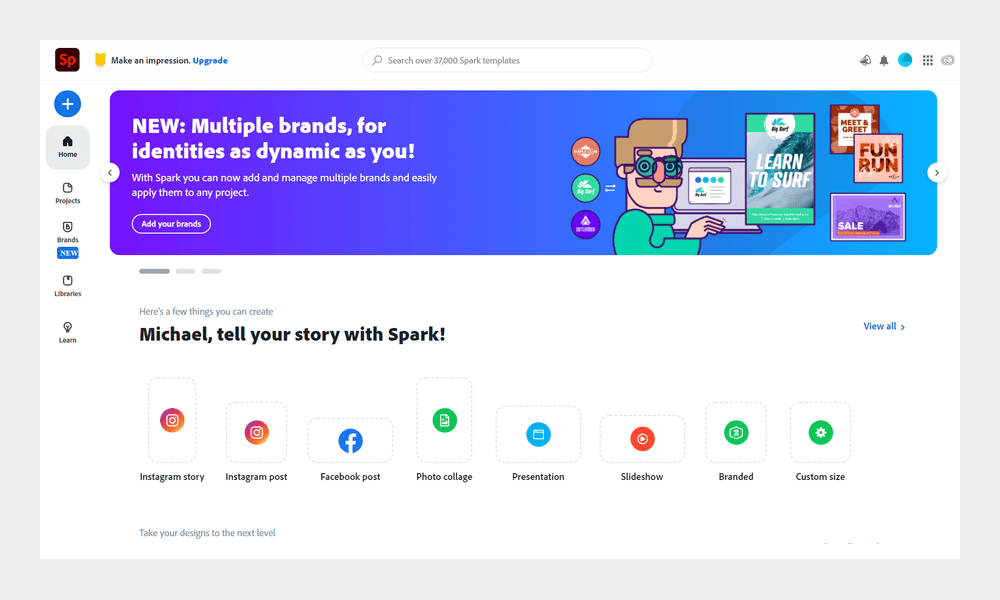 Adobe Spark is Adobe's first step into the online design tool market, and they've created a great product that keeps to the high quality standards Adobe has set themselves.
The product was obviously created with non-designers in mind. There's no real learning curve, and it's incredibly easy to use. When it comes to creating and customizing designs the user interface is very clear and smooth.
Like most of the other tools in this you can create designs from scratch or use pre-designed templates but one unique element of Spark is that you can easily design great looking single page websites.
Spark at a Glance
Spark Pricing
4. Visme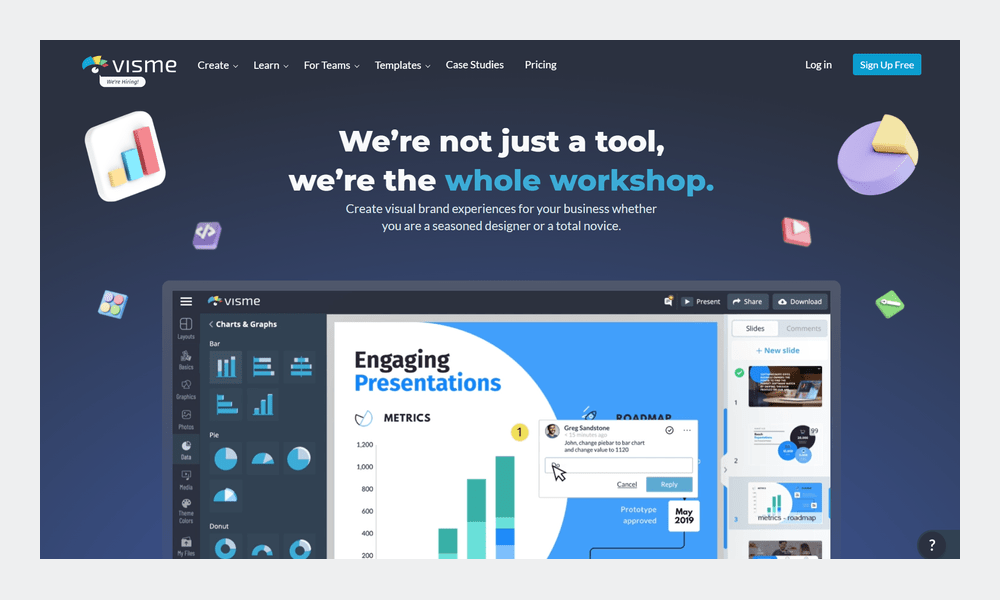 Next up is Visme, another super online graphic design tool that needs no design skills and barely any learning curve to get up and running.
Visme allows you to create designs from a blank canvas and they have a huge library of pre-designed templates to tap into as well. Creating and customizing designs is easy using their smooth interface.
You can create all kinds of designs on Visme but what sets them apart from other online design tools are the visualization design capabilities and templates you can utilize.
Visme at a Glance
Visme Pricing
5. Befunky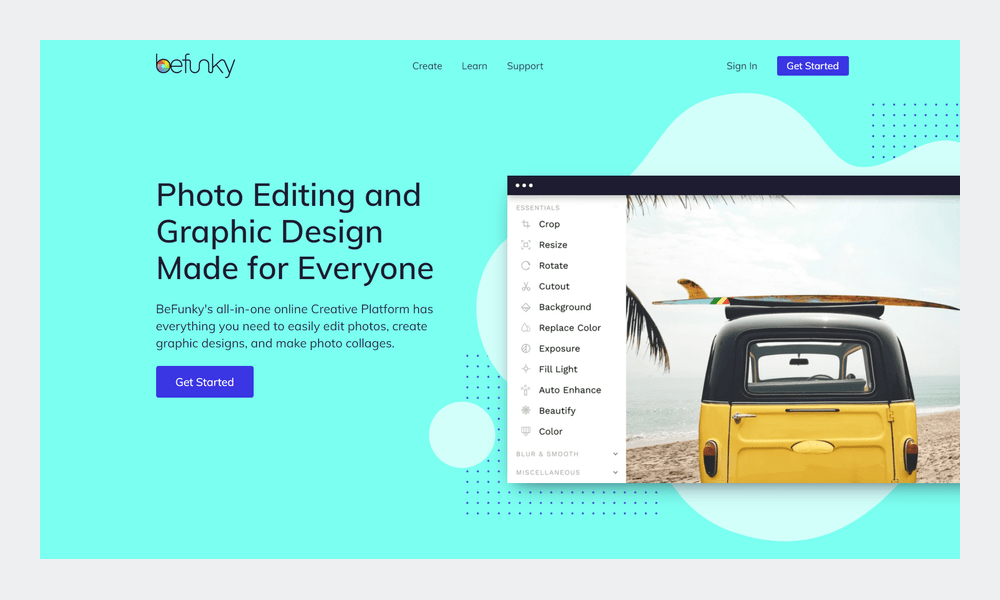 Befunky is an extremely affordable online graphic design tool that offers a unique range of features including a Photo Editor, Collage Maker, and Graphic Design Tool.
Photographers can use Befunky's photo editing software to easily manipulate and alter their images, and then create great looking collages with a few clicks. It's even possible to edit multiple images at once but only users with a Pro subscription can take advantage of this feature.
Their Graphic Design Tool offers a solid range of pre-designed templates and features that make it easy and quick to create great designs including social media content, posters, and much more.
Befunky at a Glance
Befunky Pricing
6. Creatopy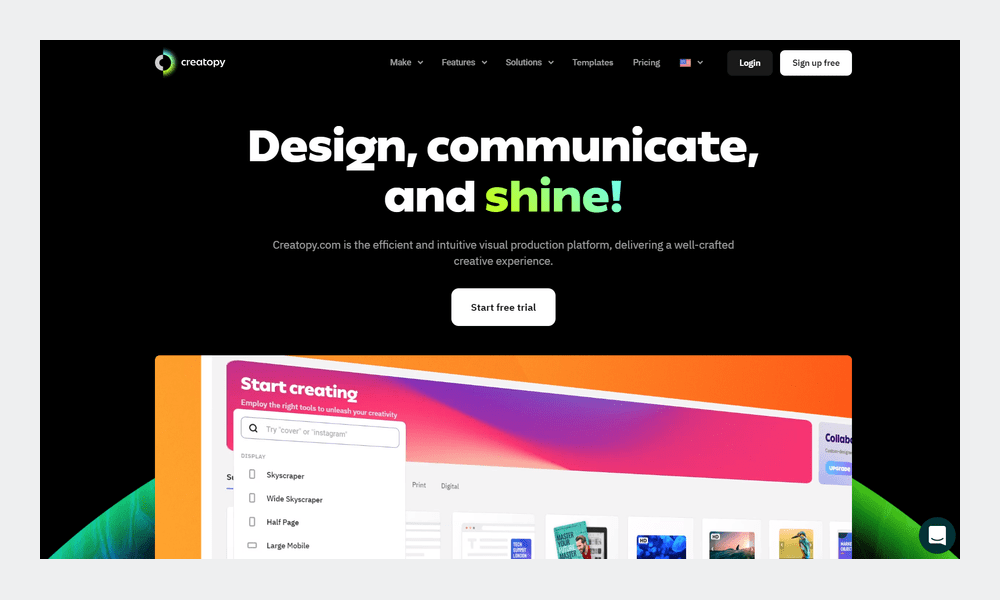 Creatopy (formerly known as Bannersnack) is an online design tool that looks to have tremendous potential.
With their tool it's possible to create a whole host of designs including social media templates, print designs and display ads including HTML5 banners.
A fantastic feature of the product is that you can create designs in multiple formats simultaneously, meaning you can design a banner and have a version ready to go for Facebook, Instagram, and more all at the same time.
So if you want to scale up your social media content or Display ads production then it's definitely a tool you should check out.
Creatopy at a Glance
Creatopy Pricing
7. Gravit Designer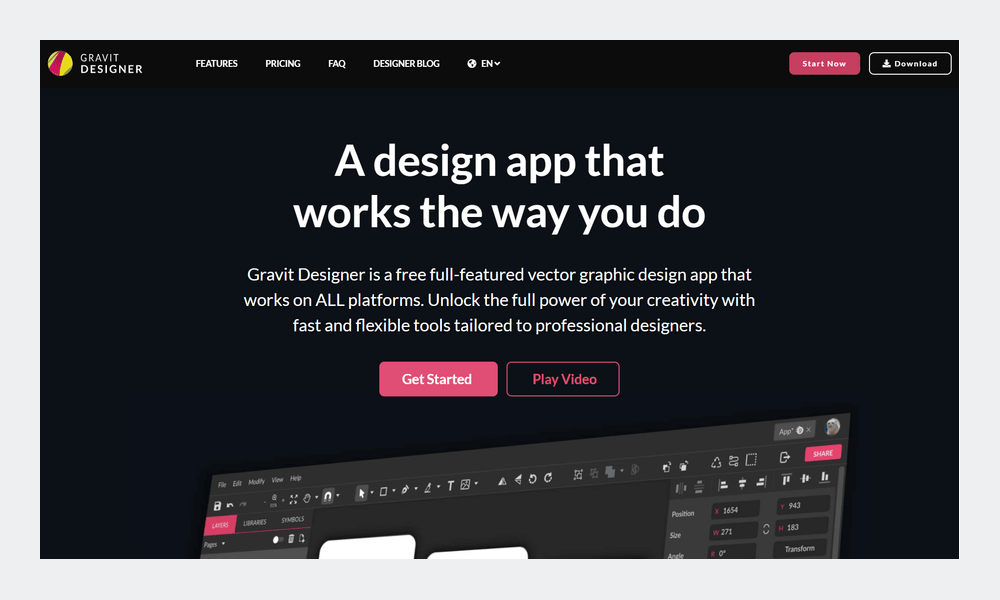 Gravit Designer is an awesome design software that can be used online or downloaded to your local device.
Compared to the other tools in this list, there is a lot more to learn with Gravit Designer. However, it means you have much great control and customization options when it comes to creating designs.
Essentially, if you're looking for an online alternative to Photoshop then Gravit Designer is a tool you'll want to check out.
It includes a huge toolkit that covers many of the features you'll find in professional level design software, and the best part is that you can use it for free.
Gravit Designer at a Glance
Gravit Designer Pricing
8. Crello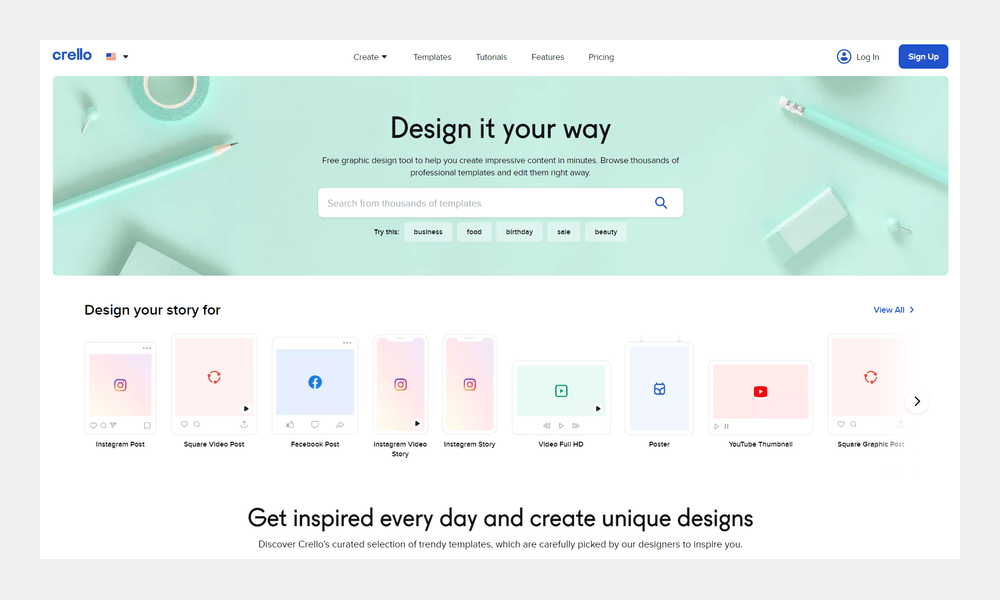 Crello is another quality online graphic design tool that offers a similar range of tools and features as Canva.
It's easy to create designs from scratch and they also have a large library of pre-designed templates you can utilize. The library contains designs for social media, logos, videos, and much more.
Crello's free plan allows you to create 5 designs each month but if you splash out on a subscription you'll get access to unlimited downloads and extra features such as their background remover.
Crello at a Glance
Crello Pricing
9. Snappa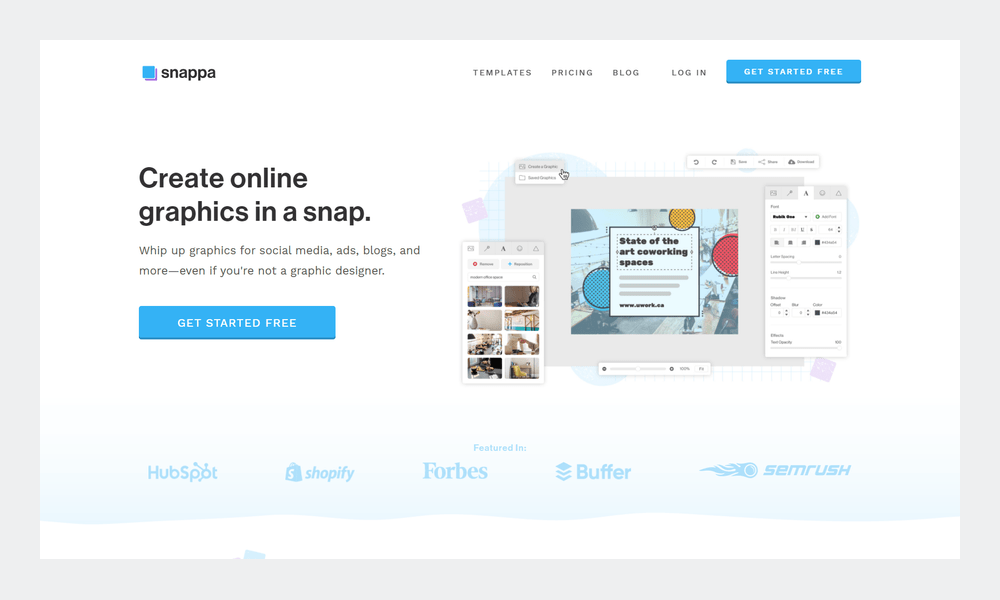 If you're a complete beginner with design then Snappa could be a great tool for you. It's one of the easiest online design tools to use.
As with many of the online design tools in this list you can create designs from a blank canvas and also utilize one of their many pre-designed templates as the starting point for your design.
You can easily create a whole host of designs including Facebook posts, YouTube thumbnails, Twitch panels, posters, and more. With Snappa's Buffer integration you can also schedule your posts to go out via your social media profiles with one click.
Snappa at a Glance
Snappa Pricing
10. PicMonkey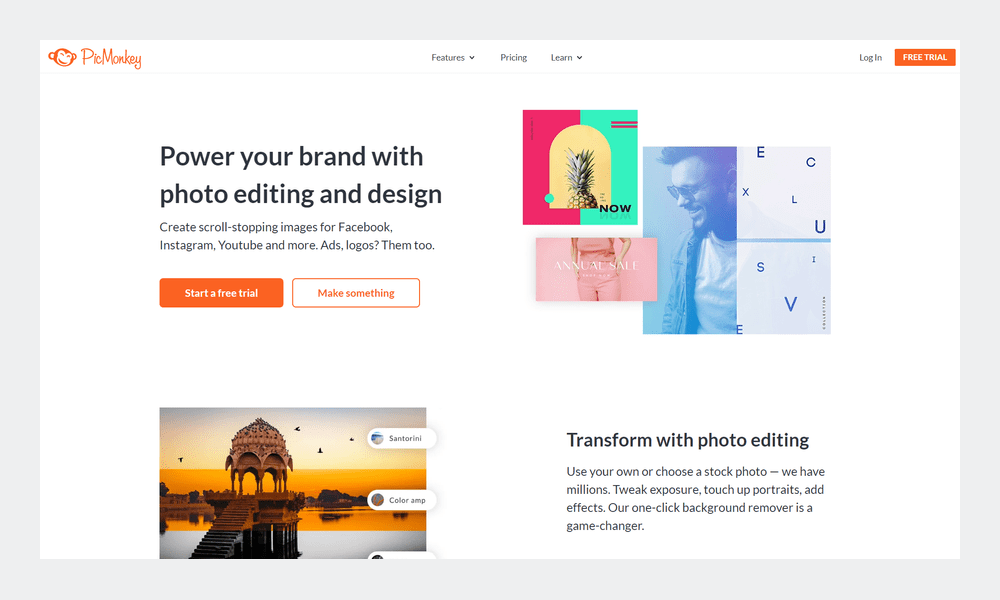 PicMonkey is one of the most user friendly and feature packed online photo editors out there, and they've recently added more graphic design creation elements to their product too.
They have a range of photo editing and manipulation features and their extremely user friendly makes it easy to make all the customizations you need.
When it comes to graphic design they've recently added a good range of pre-designed templates that users can use to create designs that cover many categories including logos, social media, banners, printables, and more.
A useful feature that PicMonkey offers is the ability to export your designs directly to third party platforms including Facebook and YouTube.
PicMonkey at a Glance
PicMonkey Pricing
11. Desygner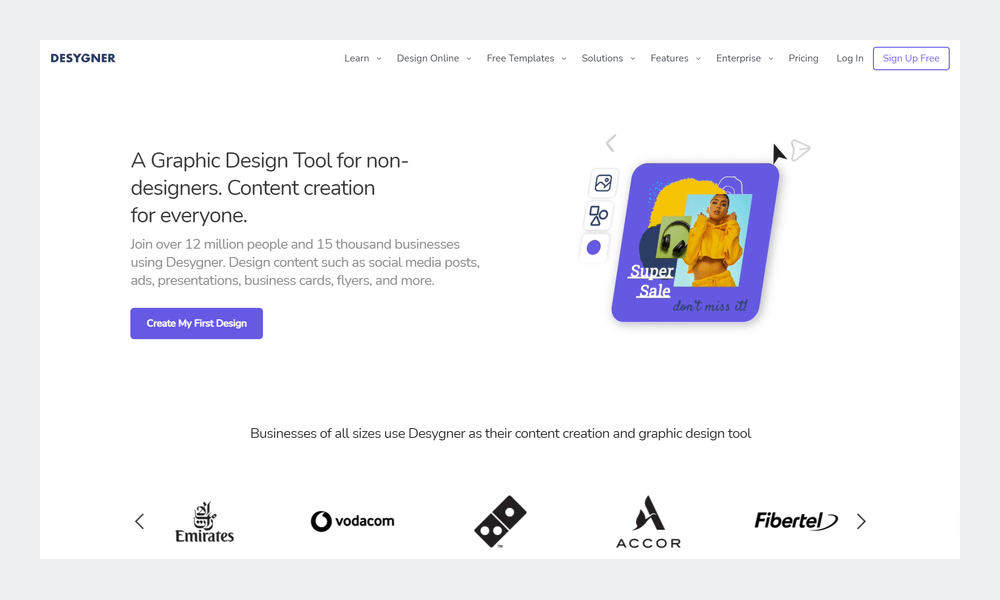 Desygner is very much a graphic design tool that was designed with non-designers in mind. It's one of the easiest tools out there to use.
The tool is perfect for social media marketers, bloggers, or anyone who is looking for a quick and easy way to create good looking designs.
You can create social media templates, web ads, email banners, and much more with the product. Like many of the other tools in this list you can utilize pre-designed templates or create designs from scratch.
You can get started for free on Desygner with access to free design assets and templates. However, if you plan to upgrade it's very affordable and comes with access to 500,000+ Shutterstock images.
Desygner at a Glance
Desygner Pricing