Photos mean much for each of us as they remind us of the best moments of our lives. Is your worst fear to lose photos from your computer?
Or maybe you already know how horrible it is to lose photos? In any case, this information will be useful for you. Whether you need to recover deleted photos quickly or just want to be prepared for this, learn what you can do to solve this problem. There are several ways to recover deleted photos. Check how they work to know how to behave if you delete photos by chance, face an unexpected virus attack or some other challenging situation you couldn't even think about.

3 Methods That Can Help You to Get Photos Back
Let's have a look at the steps you need to make if you want to recover lost photos.
Check

Recycle Bin

. It's the very first thing to do if you've deleted photos accidentally. You should know that all the deleted files are stored in the bin until you empty it. You can also change the settings and choose the exact period of time when your bin should be emptied. So, your photos will be there for a predetermined period. Check the bin and choose "Restore" if the necessary file is still there. The recovery process may take several minutes depending on the volume of photos.

Check Backup Files. Today, everyone is recommended to create backups not to lose valuable information. If you are a responsible person who has backups, then you need to do the following. You need to connect the device where these backups are and press "Backup and Restore". It's the guaranteed way to get files back. The problem is that still there are not many people who create backups.

Use deleted photos recovery software. It's one of the best ways to get back photos and any other files

on Windows 10

. There are many different tools that can help you to retrieve deleted photos but Disk Drill is the most popular tool among them. It's the software that can restore the photos you've lost within minutes.
Use Disk Drill and Restore Photos with 99.9% Guarantee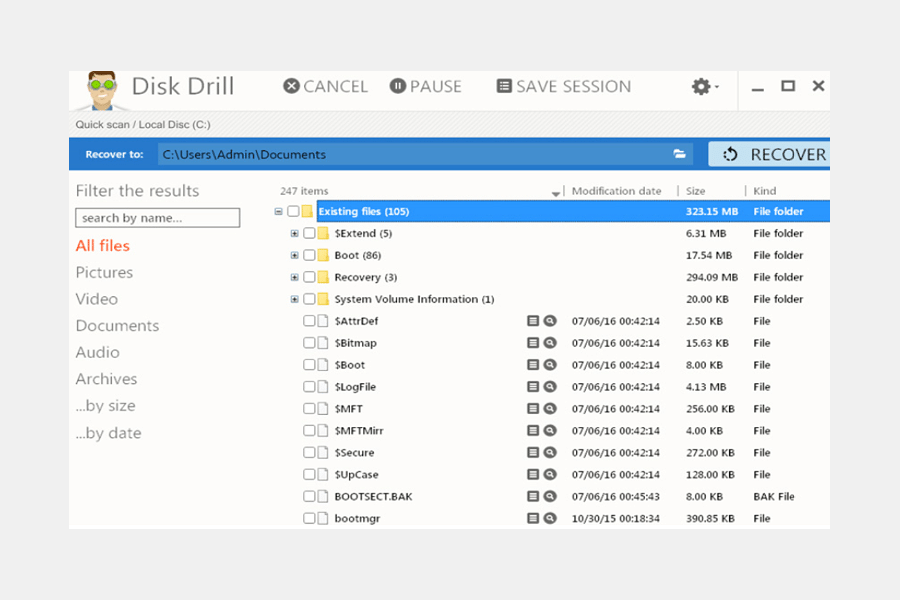 Disk Drill is a high-quality recovery tool that can be used whenever you lose data unexpectedly. How does this program work? It's a real expert in recovering information. First, you need to download the software. The installation process takes minutes. When it's completed, you need to choose the disk where the lost photos were. Start to scan the disc. There are two types of scanning: quick and deep. First, you can try quick scanning. If it doesn't give the expected result, then, proceed to deep scanning.
You'll see all the files that were detected by the program. You need just to sort out the folders and select only those where your photos were stored. The deleted photos recovery tool will offer you to select the necessary file. Have you found the one you need? Now, choose a new location for it. The whole process takes minutes. However, there are many situations when it's hard to restore the lost files on your own.
Youtube Video
What to do if you can't succeed in getting some valuable information on your own? Today, you can ask professionals to deal with your problem effectively. There are expert recovery services that aren't free but they work wonders. So, you shouldn't worry that you will never see your photos again. First, try to get them back by yourself. If you have faced a really serious situation like damage to the disk, then, turn to specialists and they will help to recover the lost photos.

Published by
decolore
Thanks for being a part of this beautiful blog. Hours spent to create this web space to our visitors as much useful as we can. We're living with a pace of life and build beneficial collections related to graphic and web design. Here we come up with premium and free collections like mockups, backgrounds, fonts, wordpress themes, branding, inspiration, tutorials and informative articles for professional designers and beginners. Go ahead and let's be a partners! View all posts by decolore