Today we have gathered a cool collection of the most awesome feminine fonts for your blog and business. Let your most colorful side out thanks to these feminine fonts. This great fonts are best for titles, heading or even logos.
Here are more as 35 nice designed feminine fonts for blogging womens or sweet lover people. We are not referring to anyone when we talk about feminine fonts; it is simply a style that highlights elegance over robustness. Handwritten calligraphy in italics is a good example of a style we call feminine, but all it does is overwhelm elegance.
You may also like:
Sophia – Free Handlettered Brush Script Font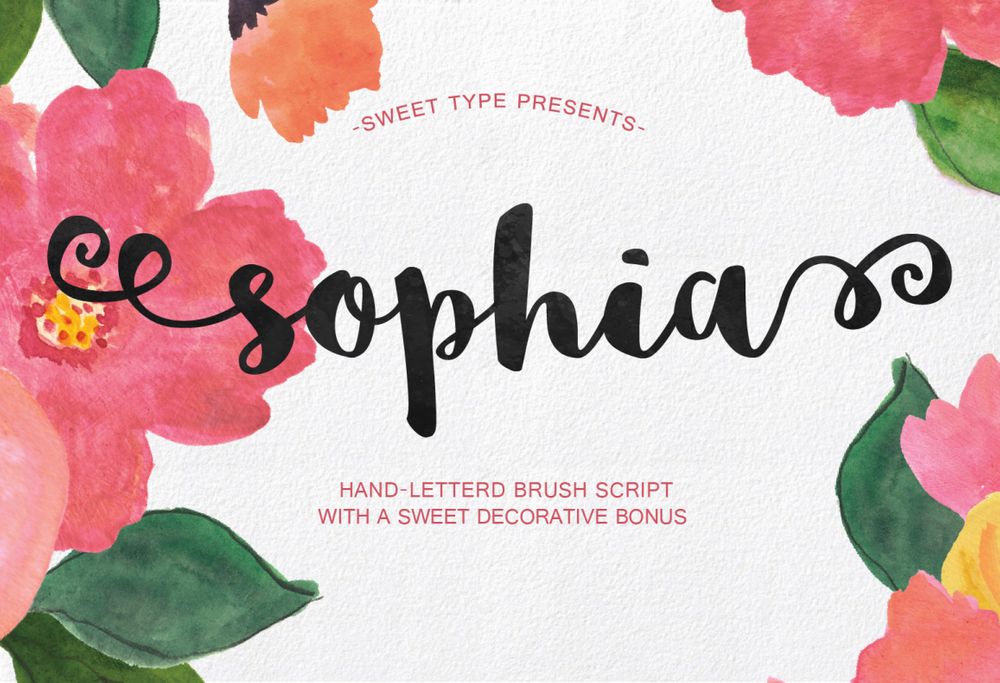 It's time to introduce you to our latest amazing free font Sophia, a handlettered script font made by the super-talented Emily Spadoni. This font is sweet, saucy, and a little shabby. A new hand-lettered brush style typeface.
Free Pink Script Font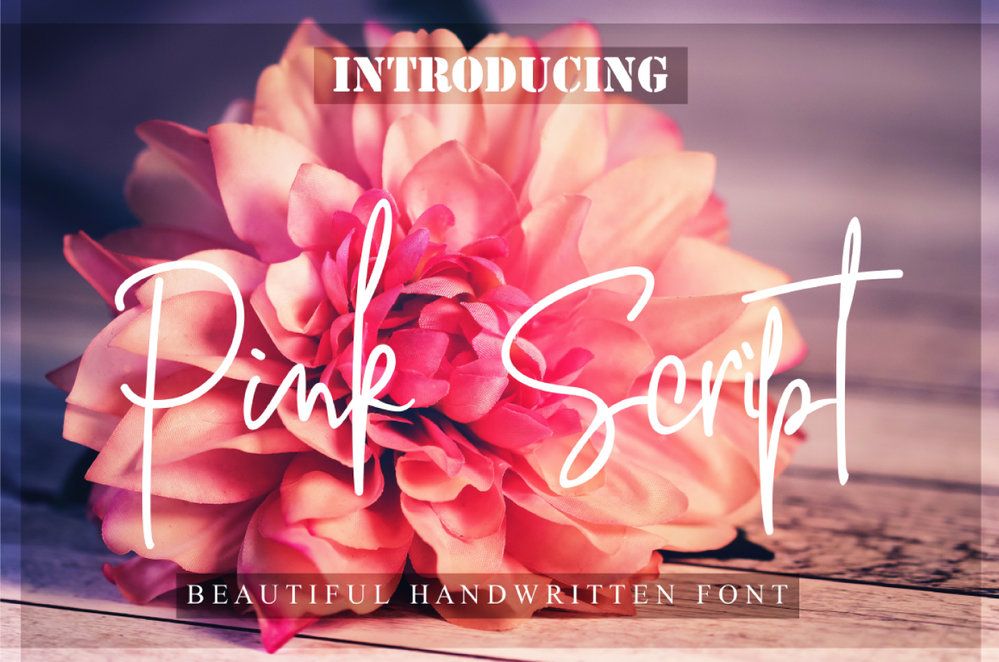 A fashionable and quirky new handwriting font script. Created to look as close to a natural handwritten script as possible by including over 100 ligatures, and a full set of lowercase alternates.
Free Font Cutie Star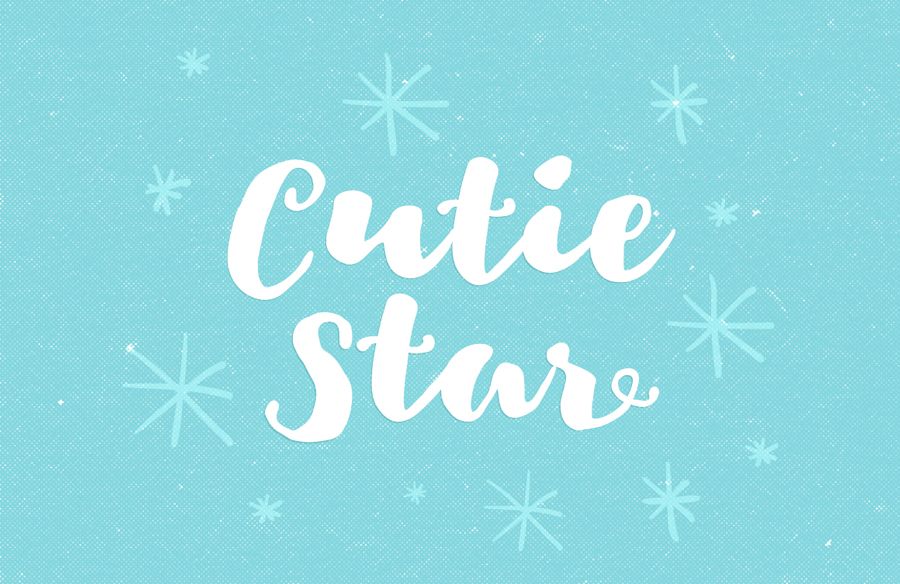 Cutie Star Free Font is a modern brush script typeface with irregular baseline and natural hand written shapes. Drawn with regular brush pen and optimized to look like hand lettered brush.
Debby Free Font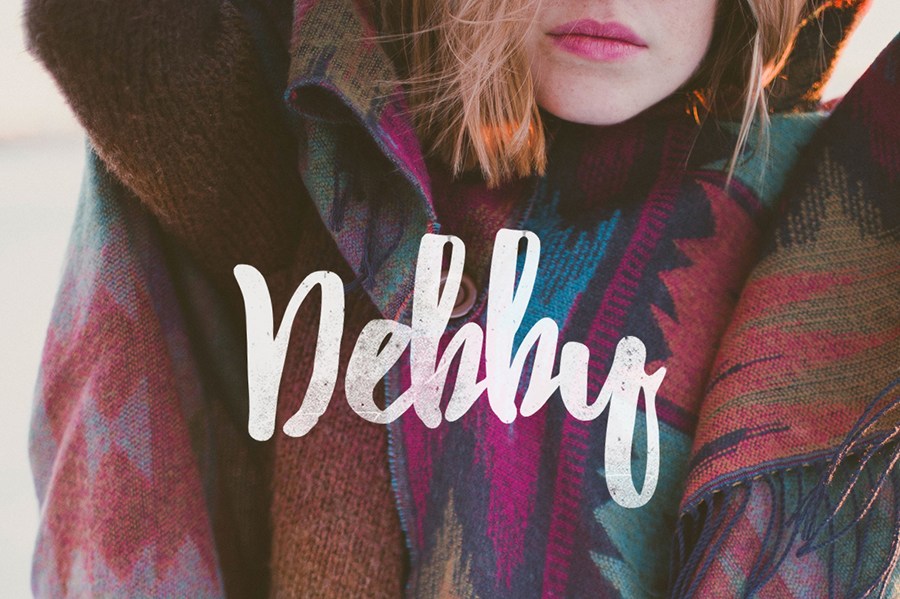 Debby is a hand-drawn brush font designed to make your works look natural. Debby free font designed to feel personal and imperfect; the irregular bouncy characters and the rough shapes speaks by itself. You can use it for anything from a wedding invitation, quote, poster, logo, greeting card, etc.
Luna – Free Font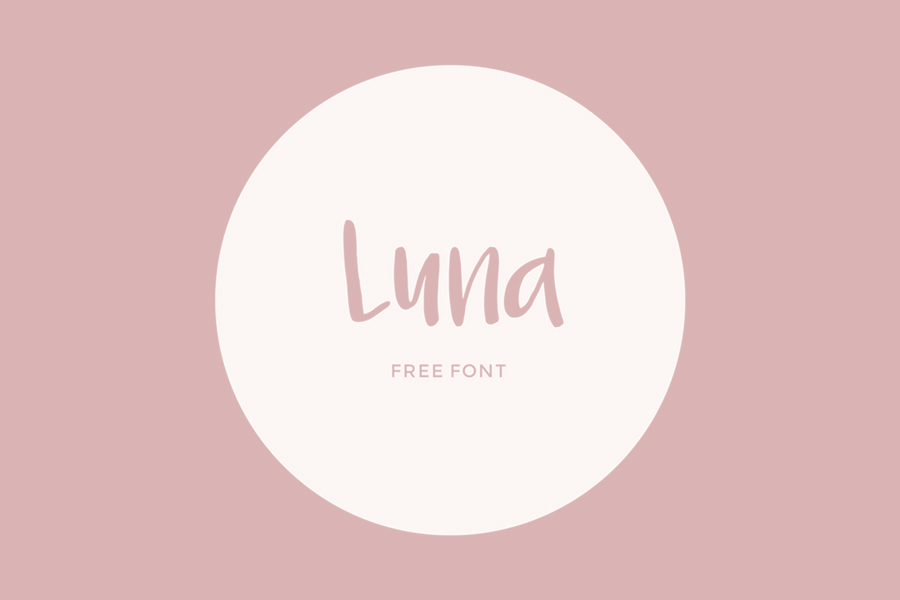 Luna is a quirky handwritten font that represents the feeling of feminine, joy, and casual. This free font has a big contrast and so legible, made it great to use on something fun such as scrapbooks, wedding invitations, greeting cards, blog headings, etc.
Bujole – A 3 Style Vintage Font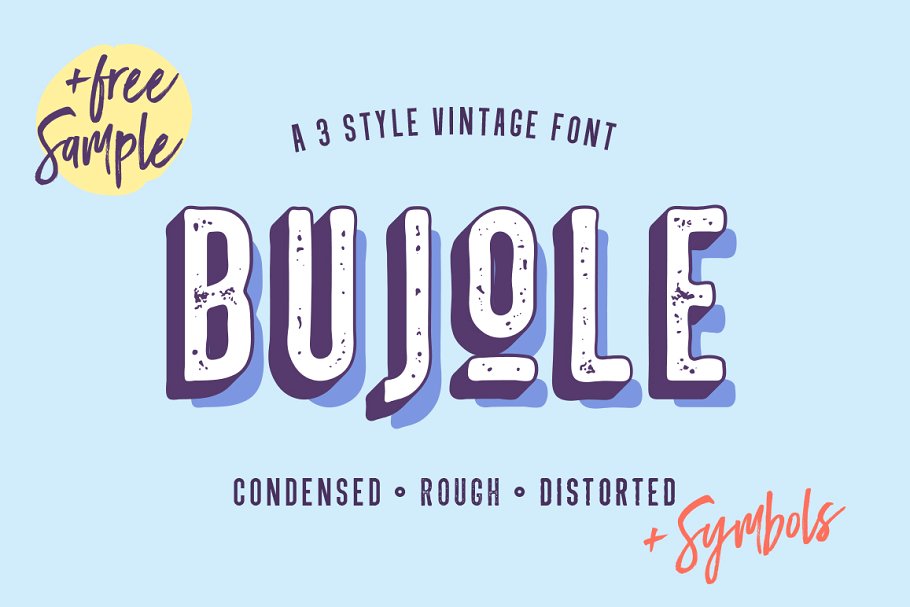 Bujoleis a vintage inspired font that comes in 3 different styles: Condensed, Rough and Distorted. Use this font to create Logos, Badges, Labels, Packaging Design, Headlines, Advertisement or simply use it in your next design project.
Silver South Font Duo
Introducing the Silver South Font Duo, a classy, contemporary pair of script and serif fonts. With a stylish didot-style serif font and a free-flowing, expressive script companion, Silver South offers beautiful typographic harmony for a diversity of design projects, including logos & branding, wedding designs, social media posts, advertisements & product designs.
The Stay Classy Font Duo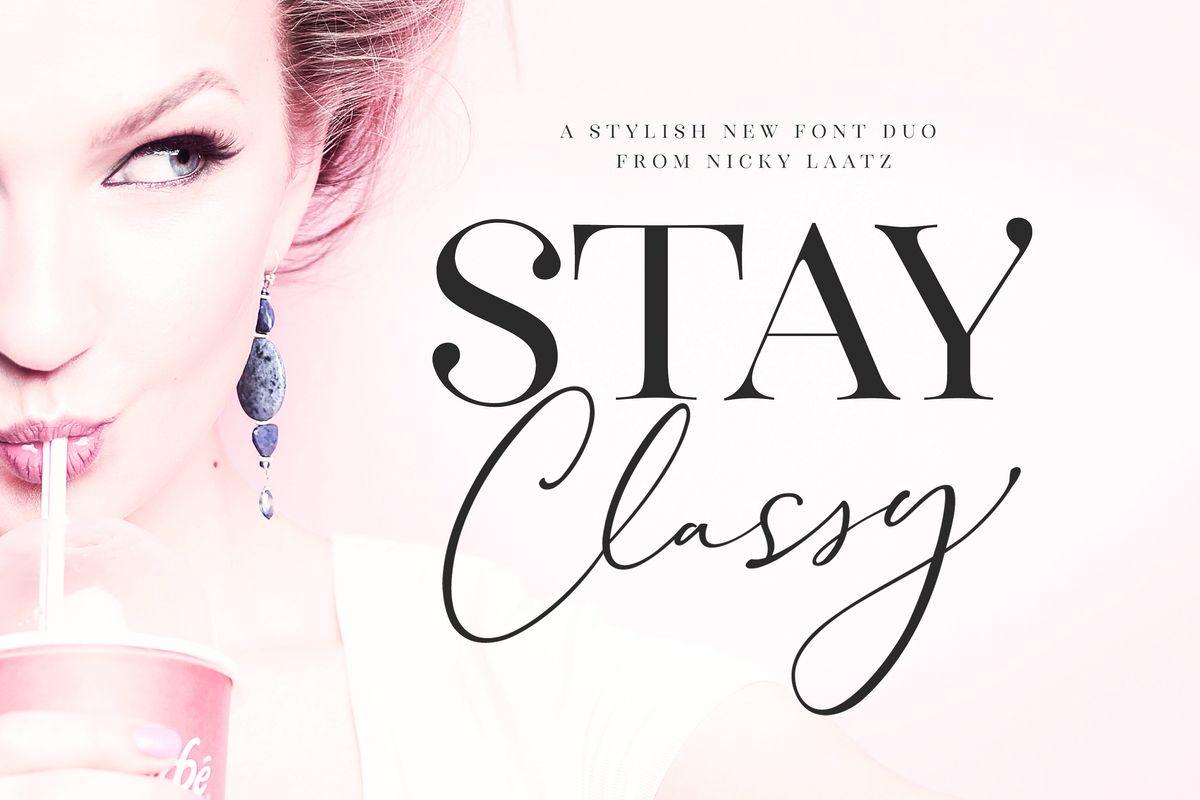 Perfect for branding, weddings, social media, product design, stationery and advertising – Stay Classy is versatile enough to add that elegant element to just about any project where a special touch of class is required.
Chloe – A Classic Typeface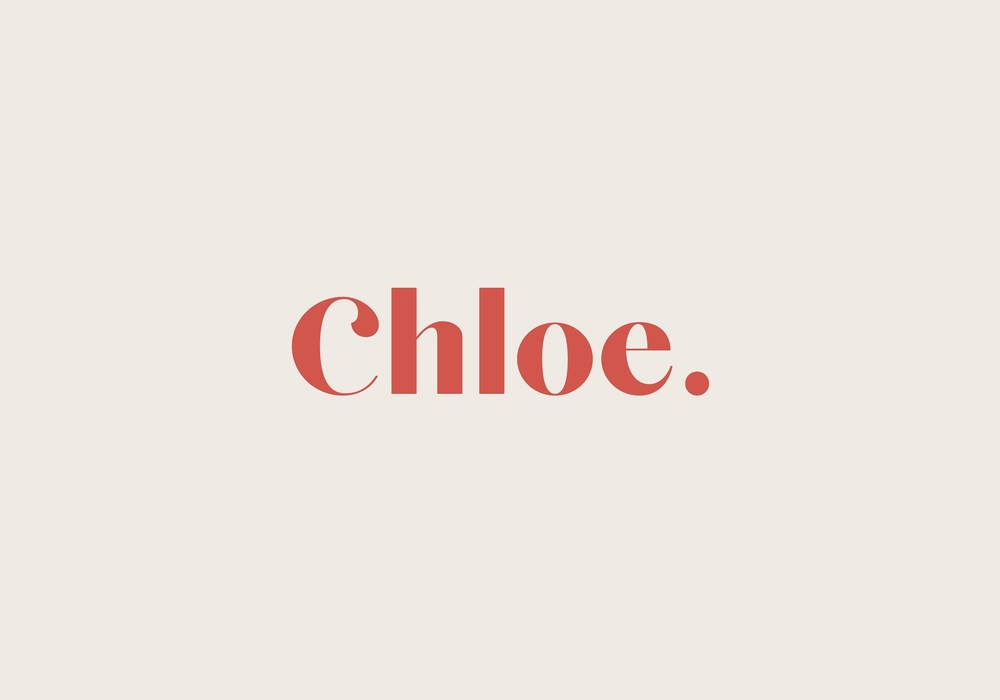 Create bold, gorgeous headlines and elegant designs with a vintage flair. Chloe's contrasting lines and curved terminals give a sleek, elegant look to logos, holiday cards, wedding invitations, quotes, advertisements, and more.
Abigail | A Modern Serif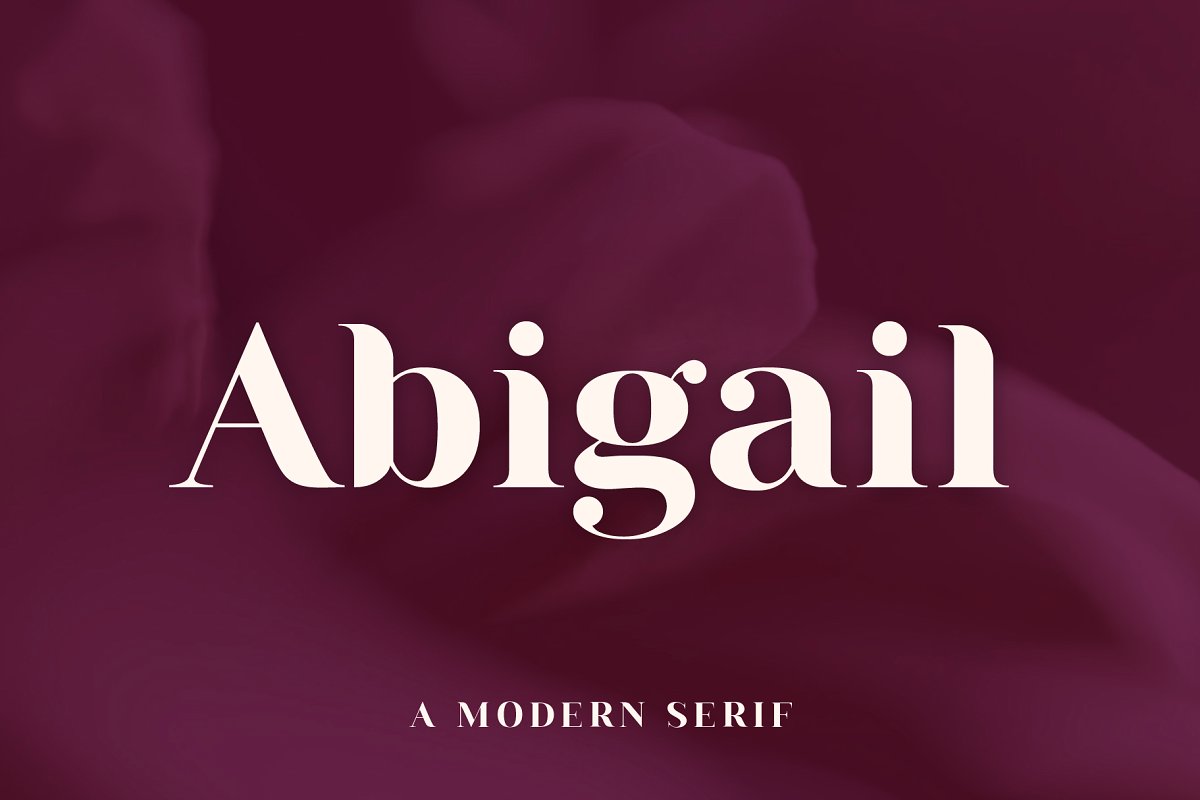 Introducing Abigail, a modern, classy serif typeface. This font pairs well with modern san serifs, script and handwritten fonts or stand strongly on its own as a heading or editorial font.
Rotarity Feminine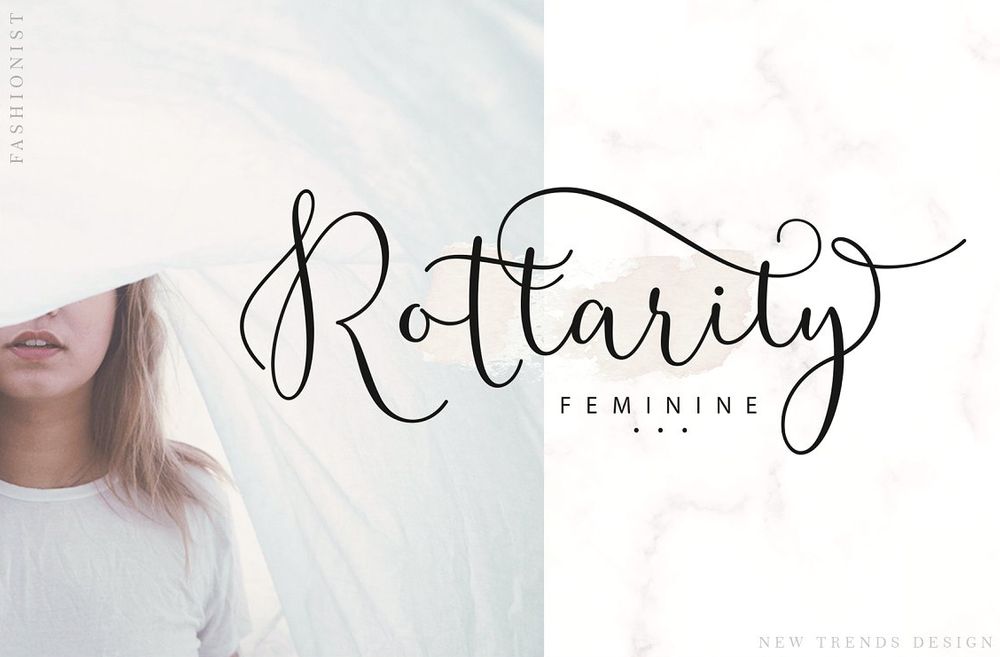 Rottarity Feminine, connecting script, designed to convey elegance and style. It is slender, feminine and friendly, let alone sexy. Rottarity Feminine will work perfectly for fashion, e-commerce brands, trend blogs, or any business that wants to appear classy and chic.
Margo Font Duo + Bonus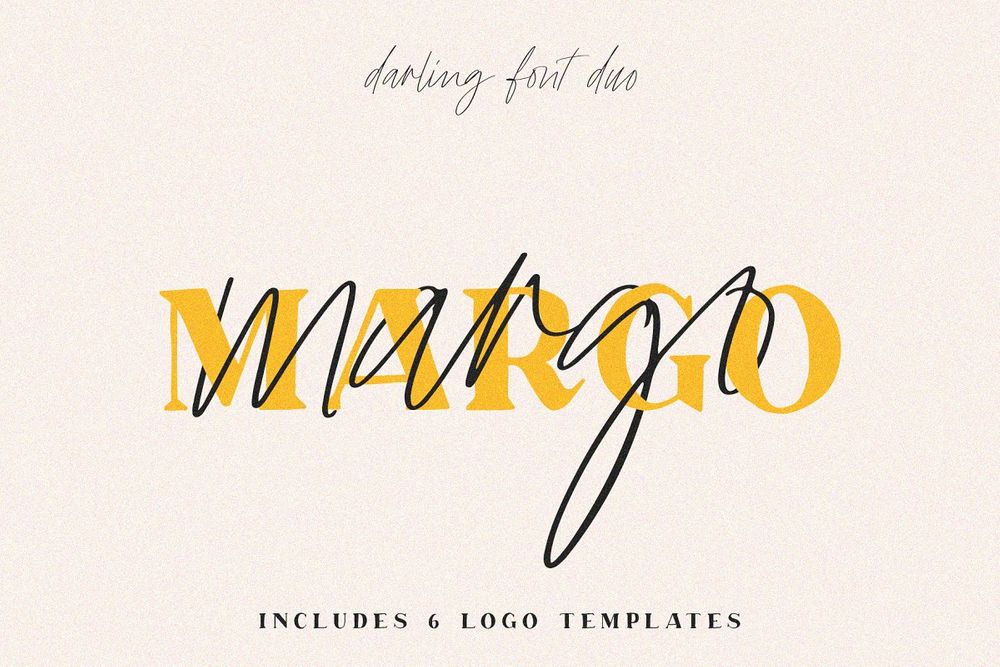 Margo is a playful font duo that includes a signature script and a hand-drawn serif – already matched up and ready to be used together for your next design!
MARION & The Essentials – Logo Font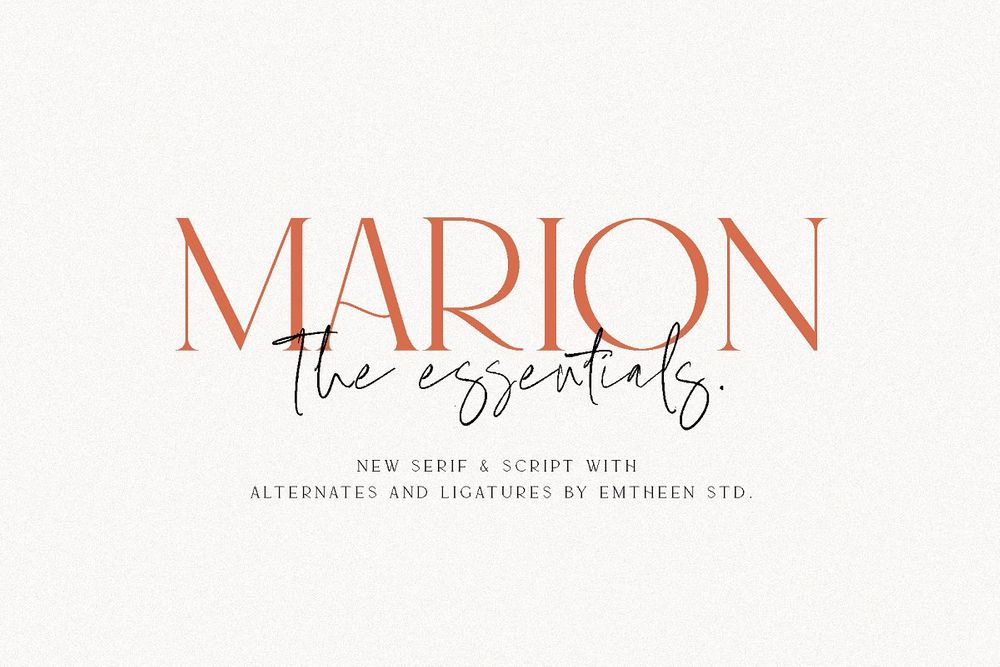 Marion & The essentials are the matching fonts between serif which are fonts elegant and handsome with beautiful handwriting fonts that are pretty, firm and a little texture in every letter.
Sunflora – Unique Ligature Font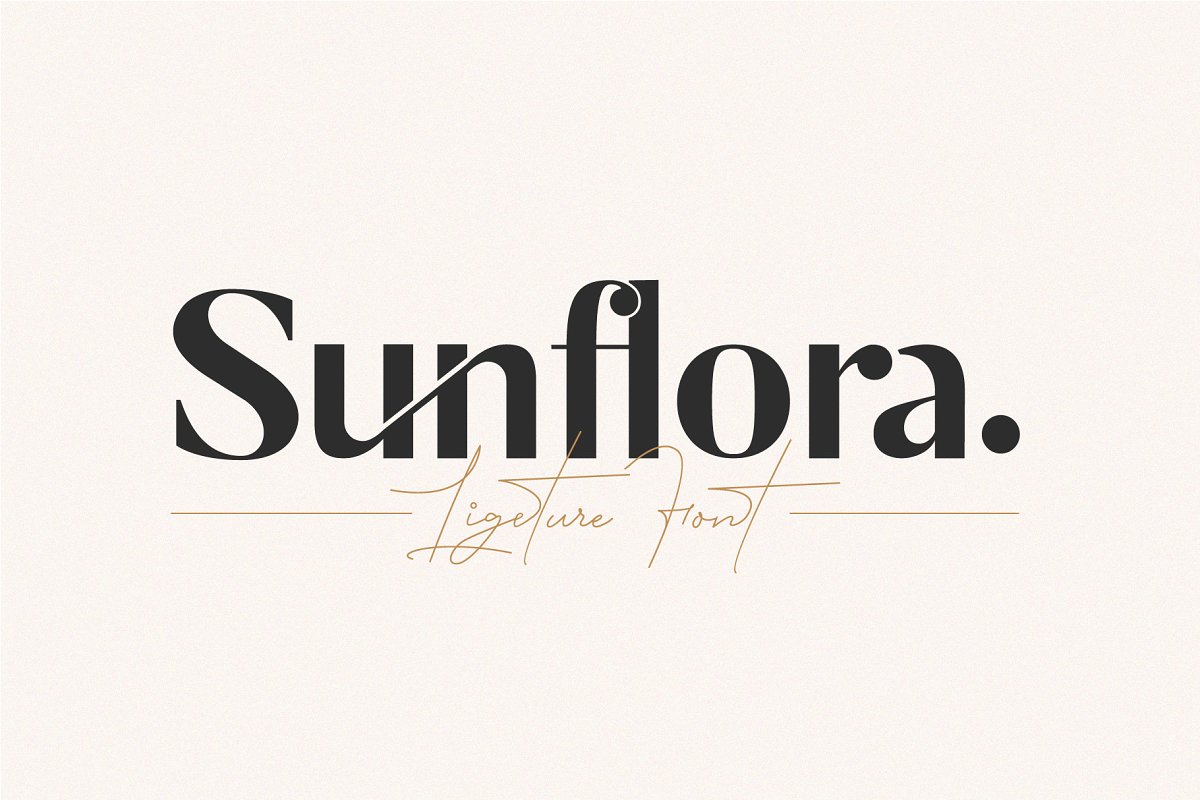 Sunflora is an elegant, unique font that uses ligatures to smoothly link letters. Perfect for adding a unique twist to word-mark logos, monograms or pull quotes. Sunflora has 20 ligatures as well as numbers and punctuation making it super versatile. Ligatures are able to be turned off if needed for body copy.
Sophistica – 10 Fonts & Ext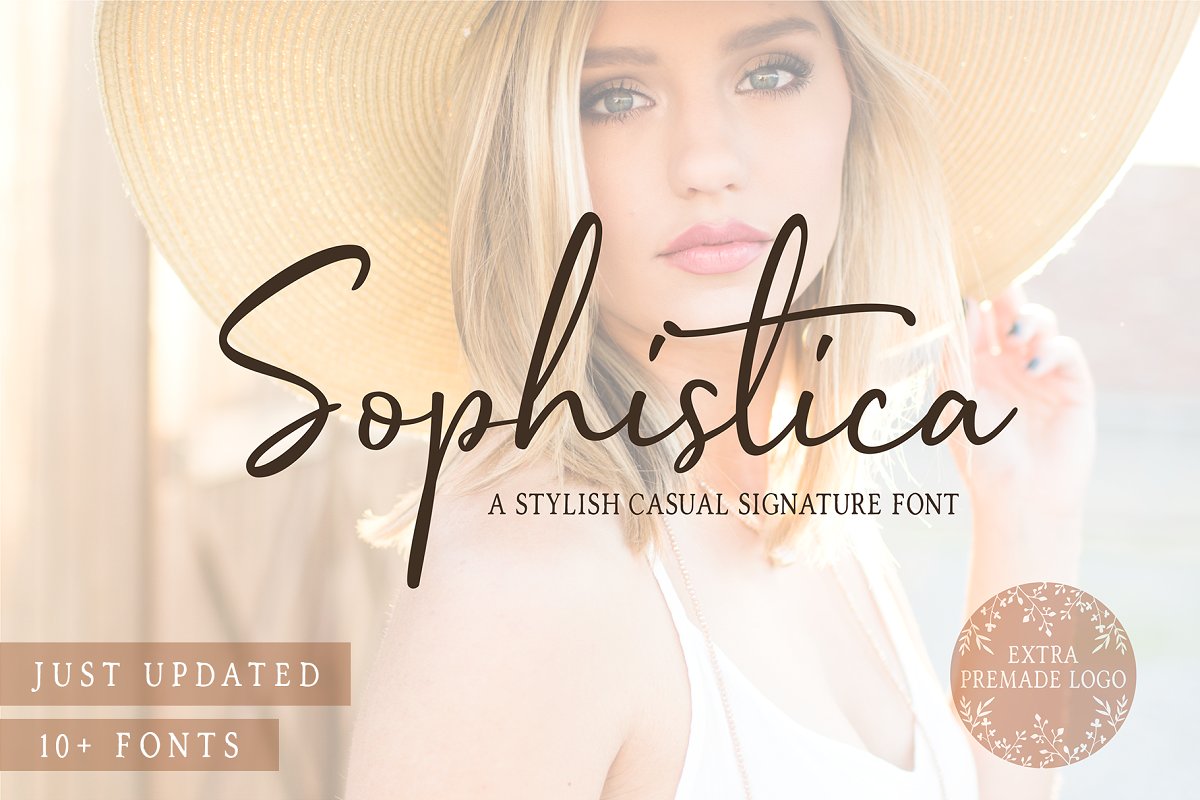 Introducing the Sophistica Stylish Font a classy, fun and fabolous dreamy font inspired by luxury fashion. Sophistica contains 10 Classy Variations, opentype features such as stylistic alternates, swashes & massive ligatures.
Chin Up Buttercup! Font Duo & Extras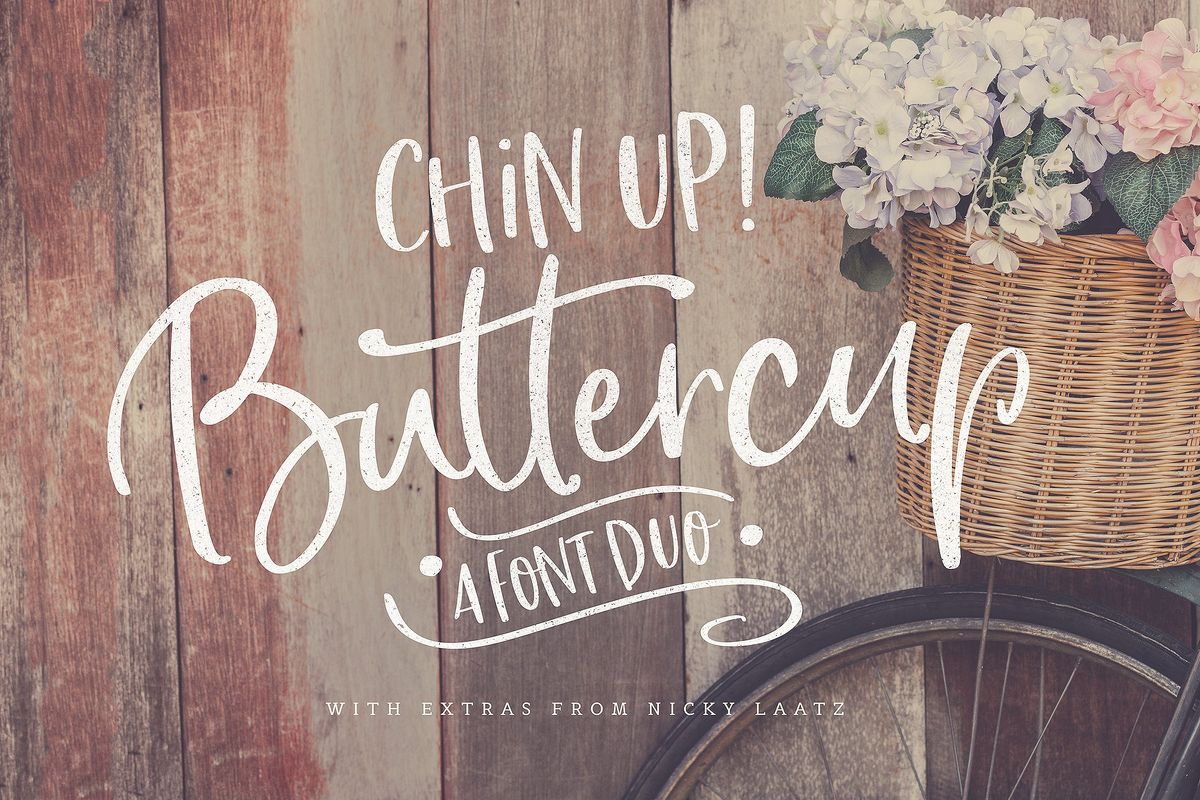 Creative and Casual, together or apart, Chin up Buttercup Fonts and Illustrated Doodles allow you to make tons of gorgeous typographic designs in a jiffy, just in time for all your Christmas labels, cards and branding too!
Amaro | Script + 6 Free logos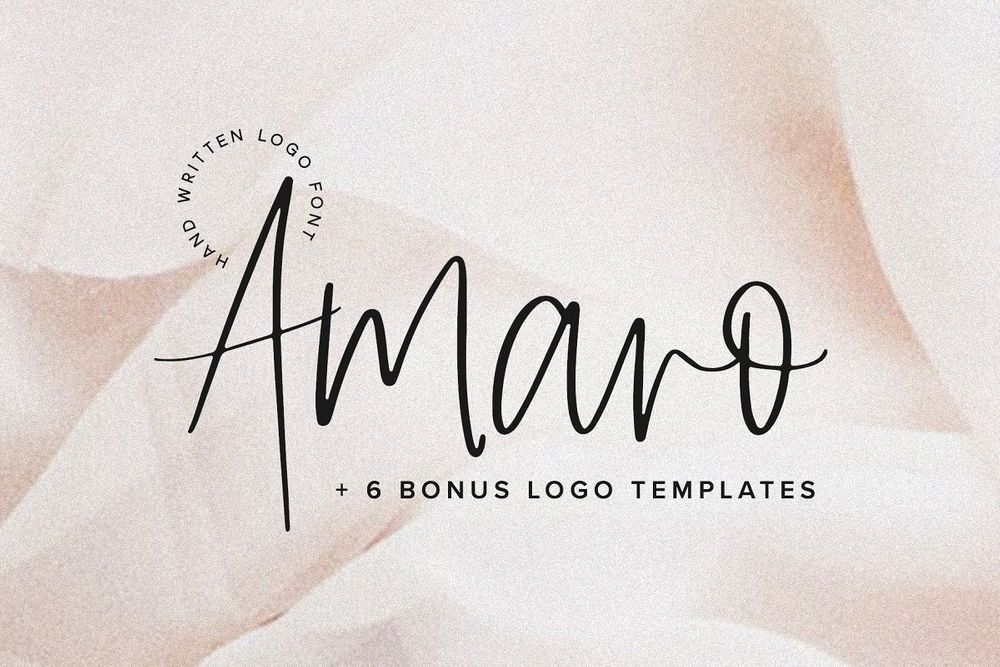 Amaro (formerly Amalfi) is a messy, feminine, carefree script that is perfect for logos, posters, signage, and more! Because of how much I love using this font for logos, I've included all of the 6 logo templates you see in action in the samples in Illustrator, Photoshop, and .eps formats.
Salmela | Free Calligraphy Font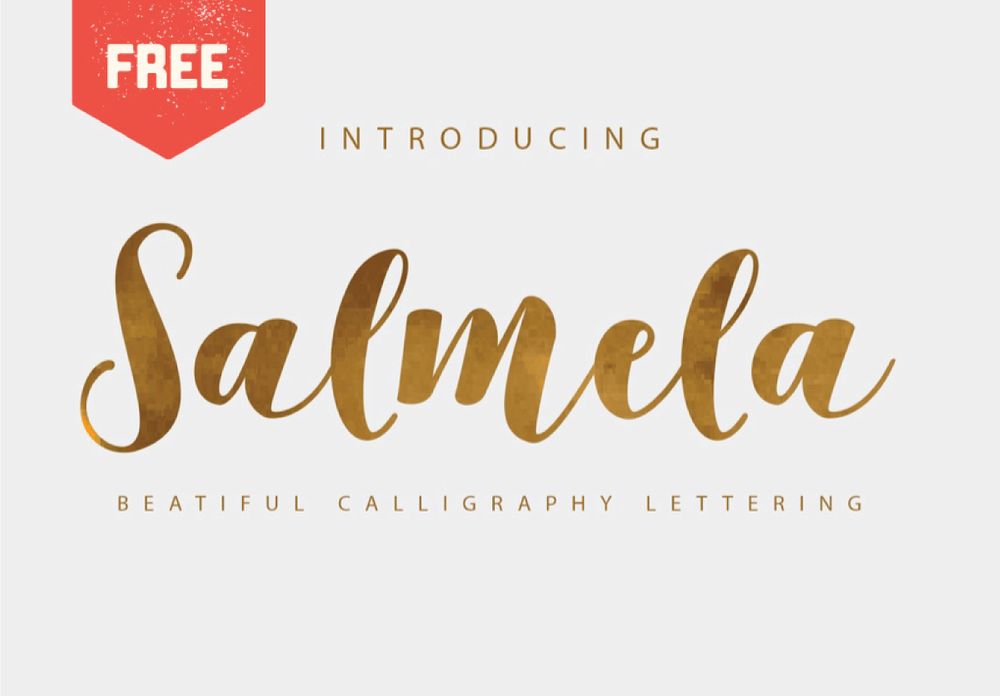 This flowing script is perfect for creating wedding invitations, signatures, letterheads, logos, T-shirts, and everything in between.
Athene Free Font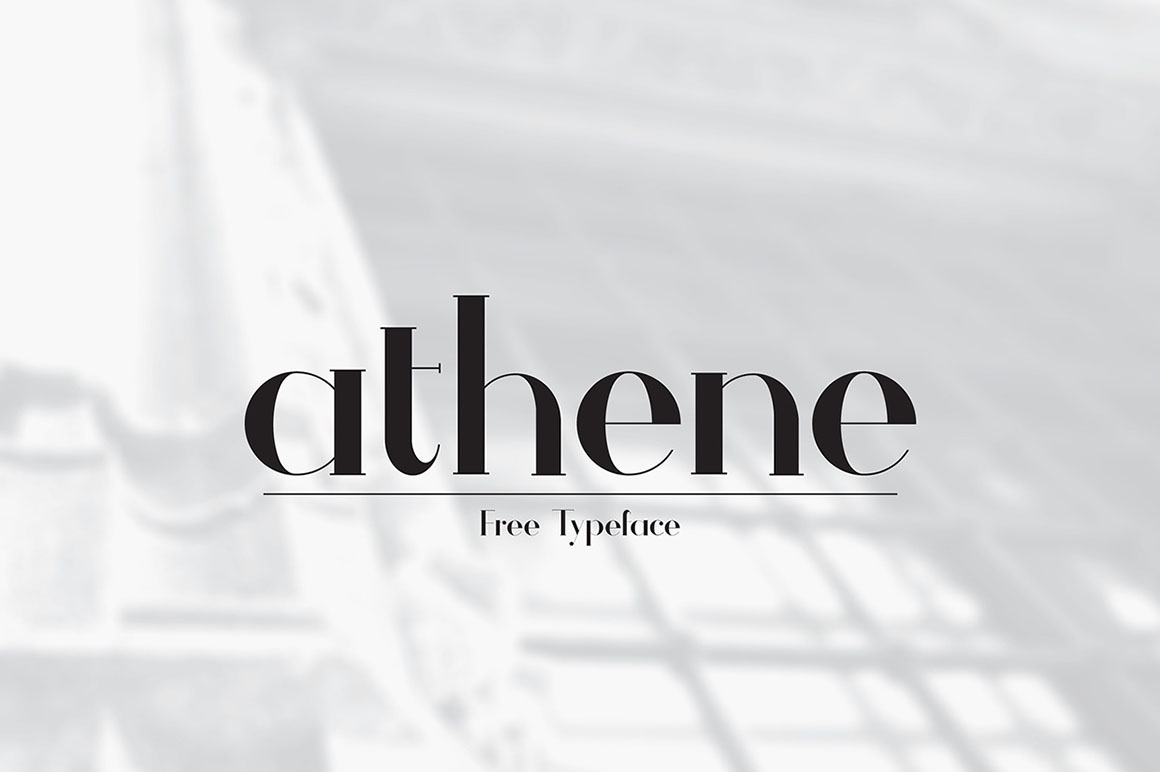 This short and stout elegant font, Athene, was designed by Matt Ellis. Athene is great for titles and headings in magazines or classy invitations. This special font also works great for logos and wedding seating tags. It's a versatile font that can work well with fashion brands as well as editorial concepts.
Fragile – A Delicate Typeface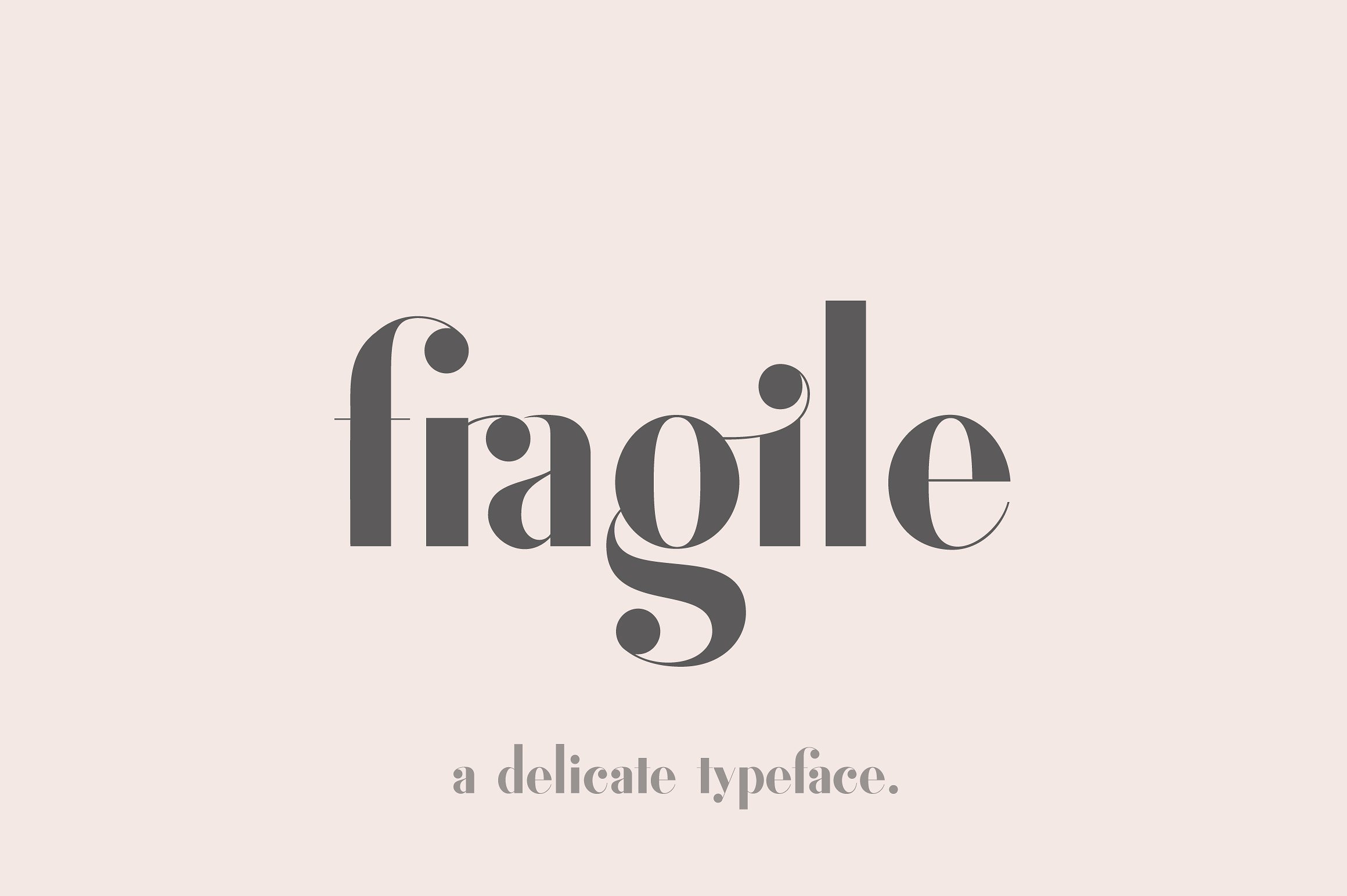 Fragile is a delicate typeface that's perfect for creating gorgeous headlines and designs with personality. Based on vintage letterforms from the '60s and '70s, Fragile makes an excellent typeface for vintage graphics, and the clean lines and ball terminals give a sleek, elegant look to logos, wedding invitations, editorials, and more.
Fiona – An Elegant Typeface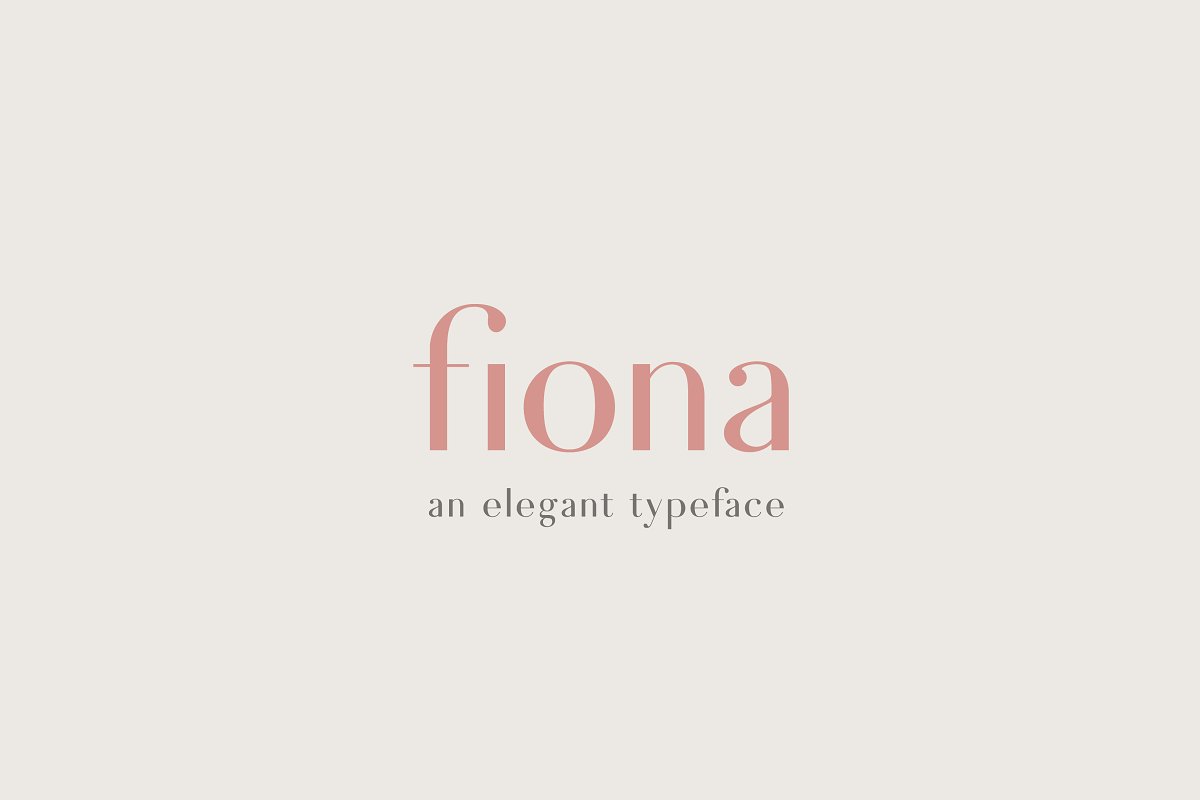 Fiona is a gorgeous sans-serif typeface that is both classically elegant and inherently modern. Create beautiful wedding invitations, use it as an elegant solution for your next magazine layout, or choose Fiona for any graphics that require a sleek look with a vintage flair.
Ravensara Sans | 7 Fonts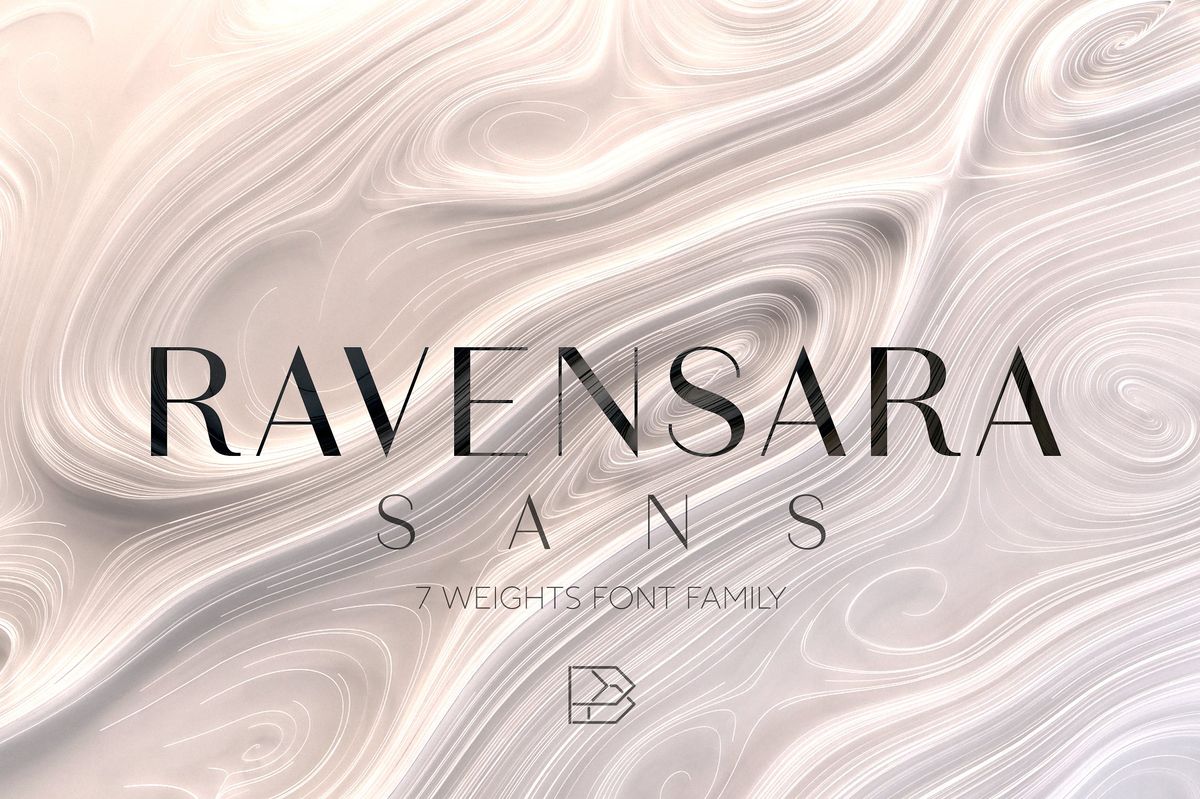 Ravensara Sans is display font family with 7 weights, from Thin with no contrast to Black with hightest contrast. Style of font family originates in a classic didone, but made a step to simplify and modernize some letter forms and make didone feel more contemporary.
Olivia – A Curvy Typeface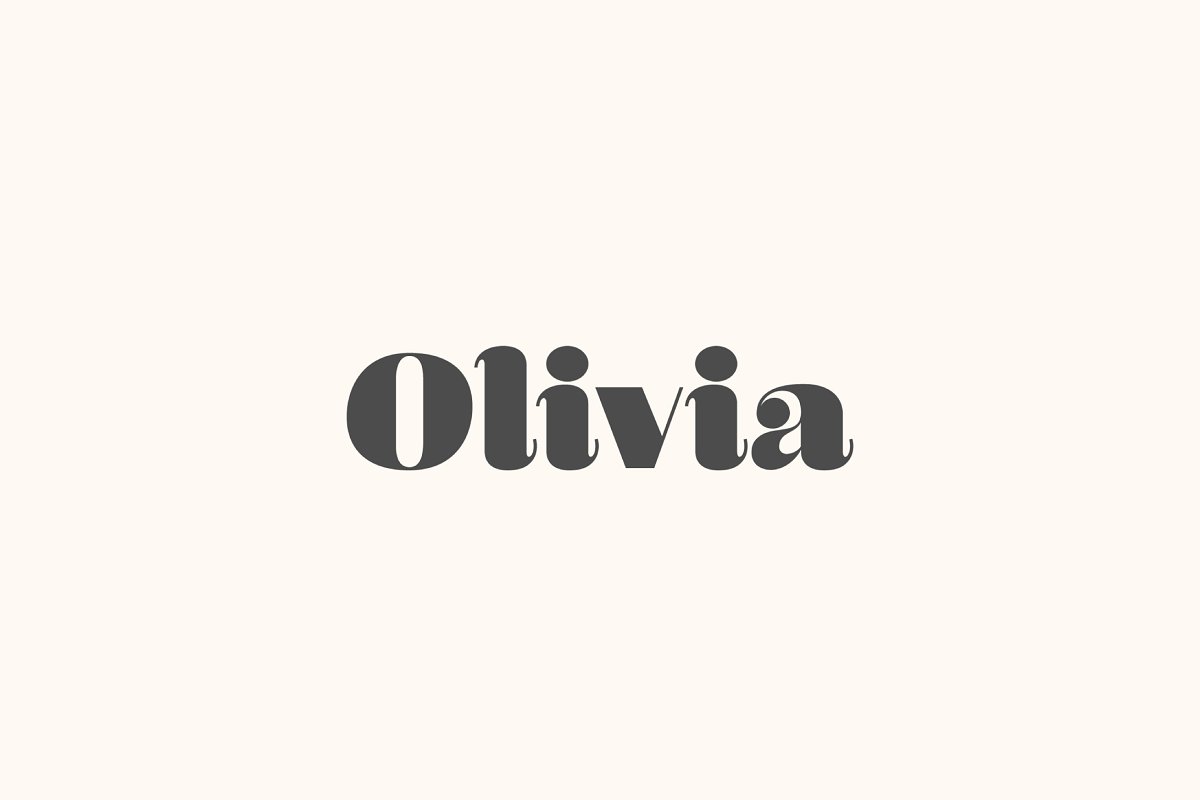 Create bold, beautiful graphics and gorgeous headlines with a vintage feel. Olivia's contrasting lines, wide curves, and short tails give your designs personality and a touch of elegance.
Unleash | Edgy Font Duo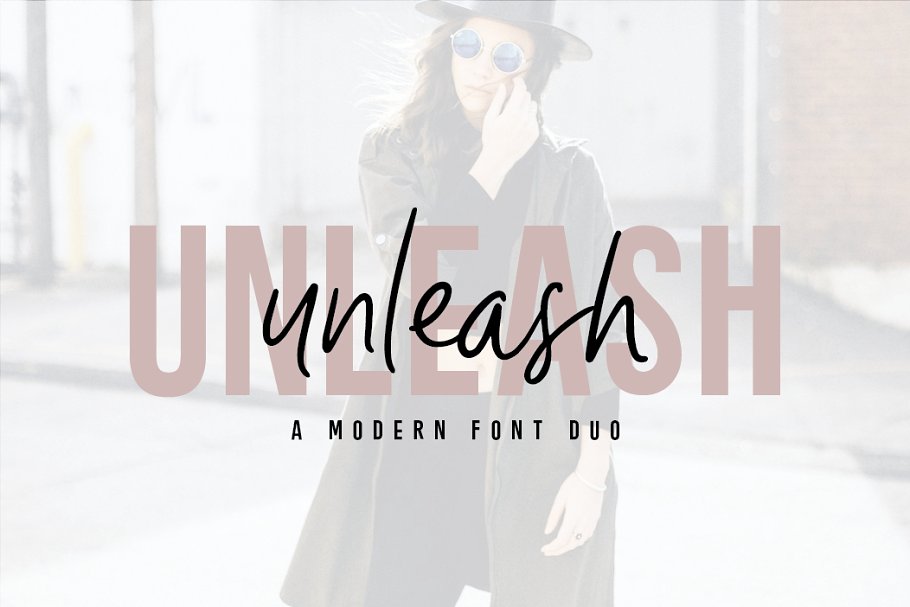 Introducing the Unleash Handwritten and San Serif Duo, a modern and edgy font duo. This font duo includes a handwritten script paired with a bold and clean all caps sans serif.
Paris | Font Duo + SVG with Extras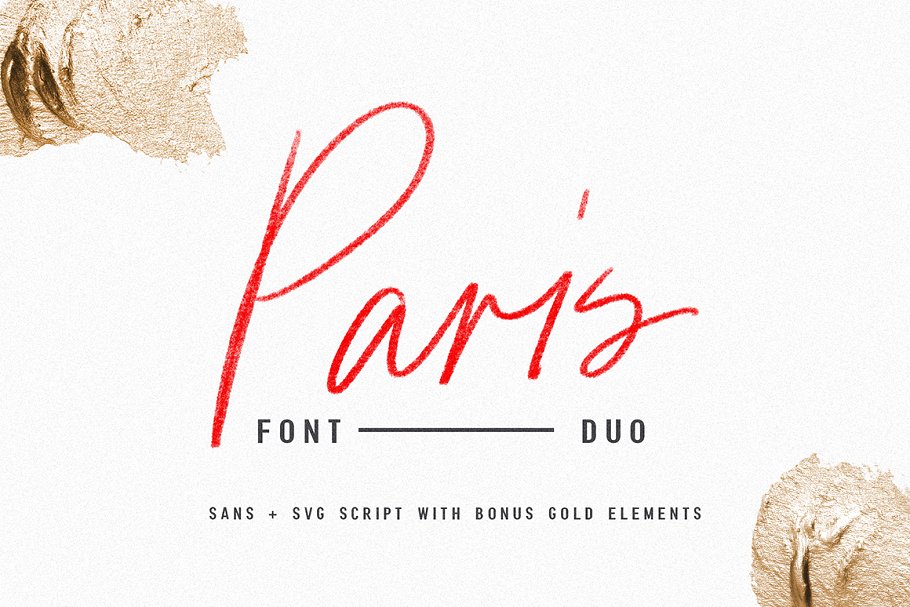 Say hello to Paris, a beautiful new font duo featuring a pencil textured SVG script! Create gorgeous invitations, quotes, mood boards, and more with a delicate, realistic pencil script and a bold, minimal sans (in both italic and regular styles).
Zefani Free Font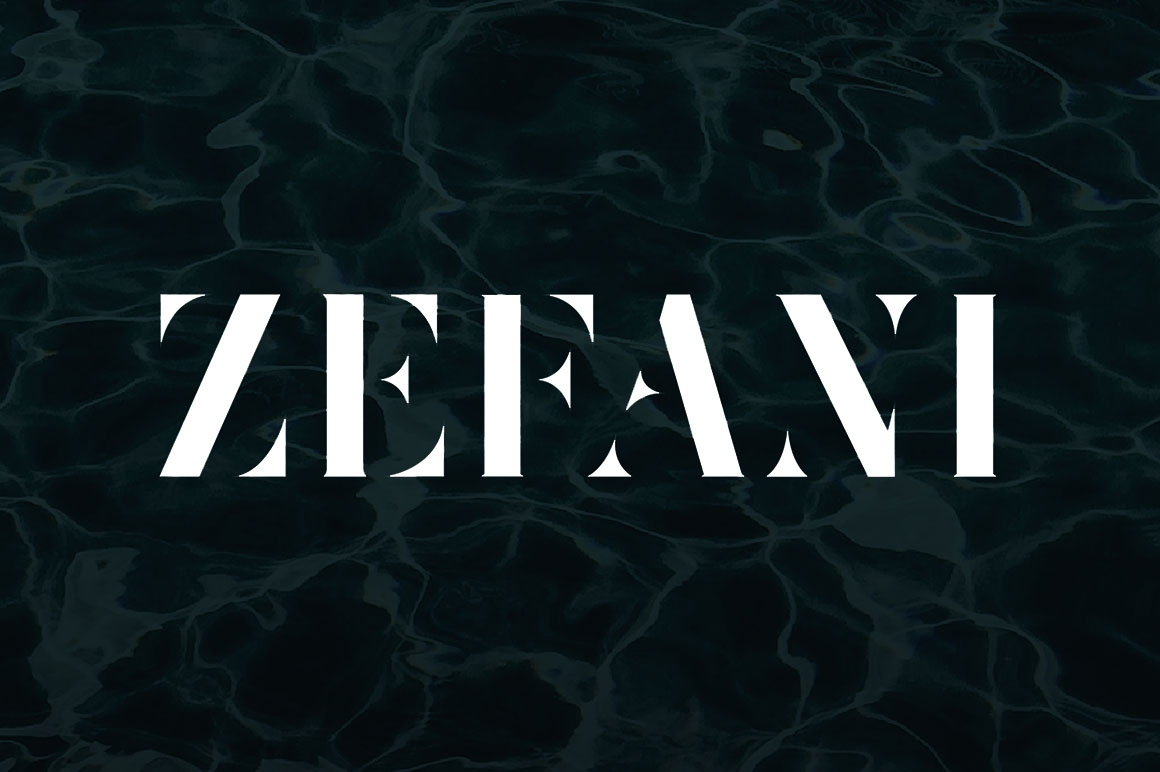 This luxurious font family is available in two elegant styles; stencil and sans. This means that both versions of the font can be used together as a perfect pairing. The stencil style has a special way of connecting the parts of the letters which makes it a great option for your stylish projects. The sans serif style is perfectly geometric and comes only in uppercase.
Casual Free Typeface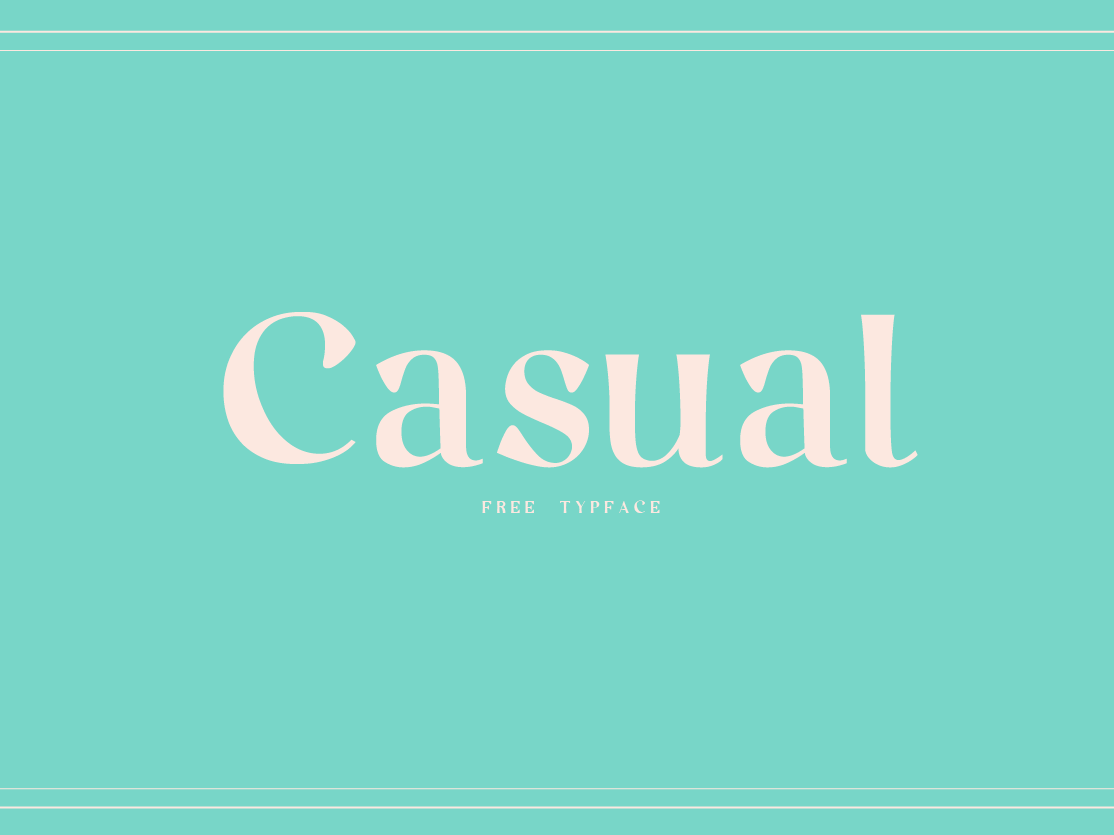 Casual has uniquely rounded point terminals, giving the letter a special air of nonchalance. This font works great for labels, sticker tags and invitations. Titles look wonderful while longer text could look a bit crowded.
Espoir Font Family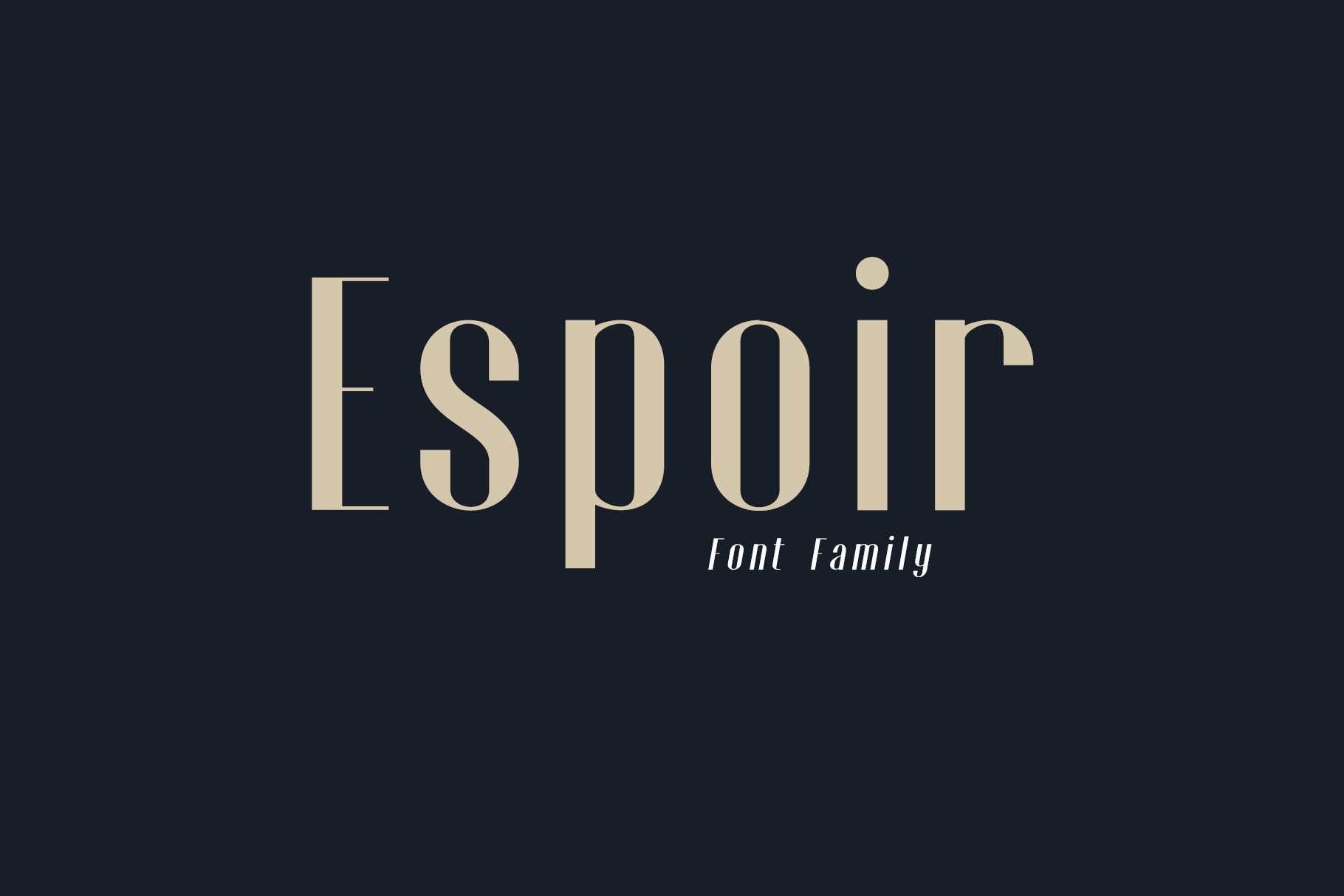 Espoir looks great on invitations, titles and packaging. Bot uppercase and lowercase are slightly elongated and the spaces inside closed letters are elegantly condensed for an air of minimal sophistication.
Feminist Casual Font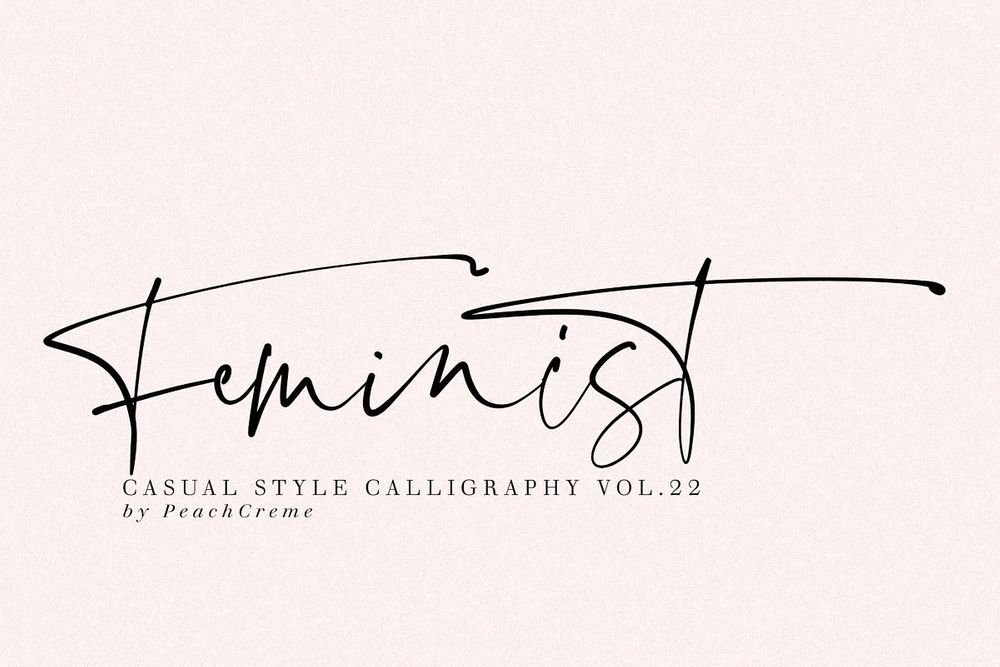 Feminist includes full set of uppercase and lowercase letters, multilingual symbols, numerals, punctuation. The font has smooth wet ink texture, so would be perfect for all types of printing techniques+you can do embroidery, laser cut, gold foil etc.
Athalia – Modern Calligraphy Script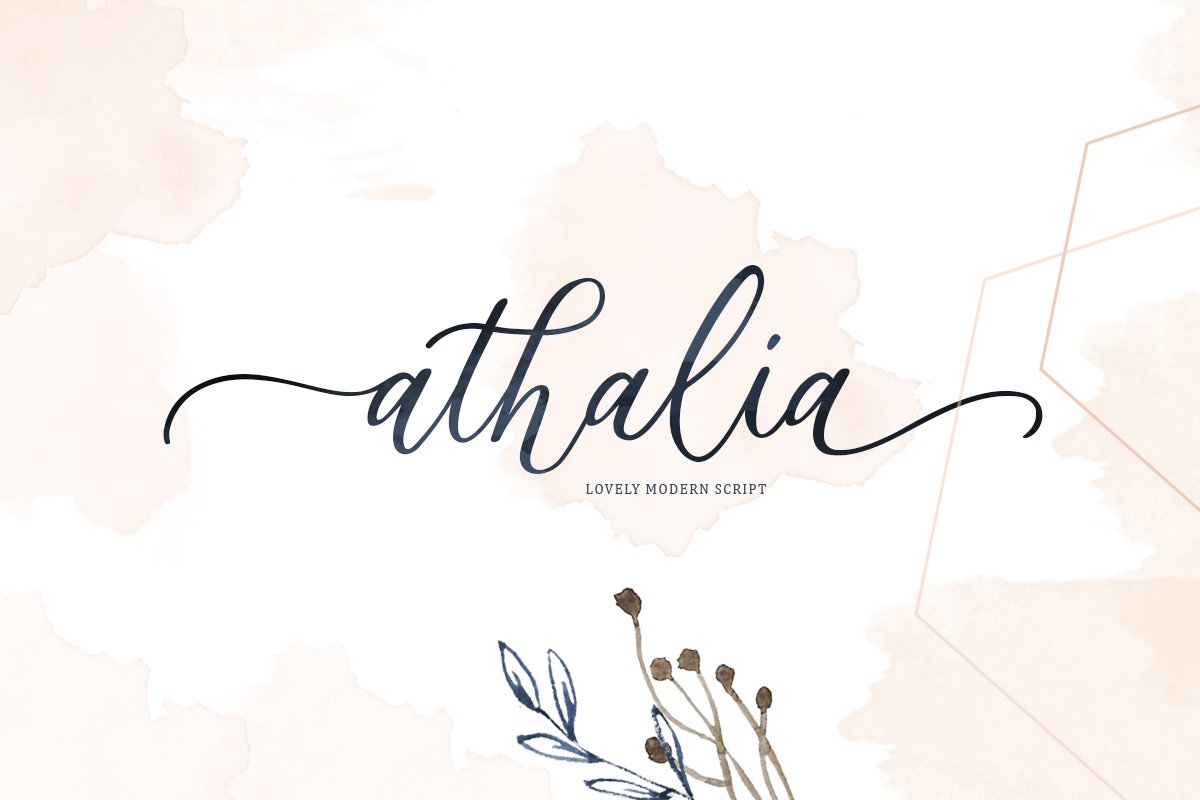 Introducing, Athalia, a lovely modern script that bring luxury feel. The natural hand writing script is suitable for you who needs a typeface for headline, logotype, apparel, invitation, branding, packaging, advertising etc. This typeface is comes in uppercase, lowercase, punctuations, symbols & numerals, stylistic set alternate, ligatures, etc also support multilingual.
Duarose – An Elegant Serif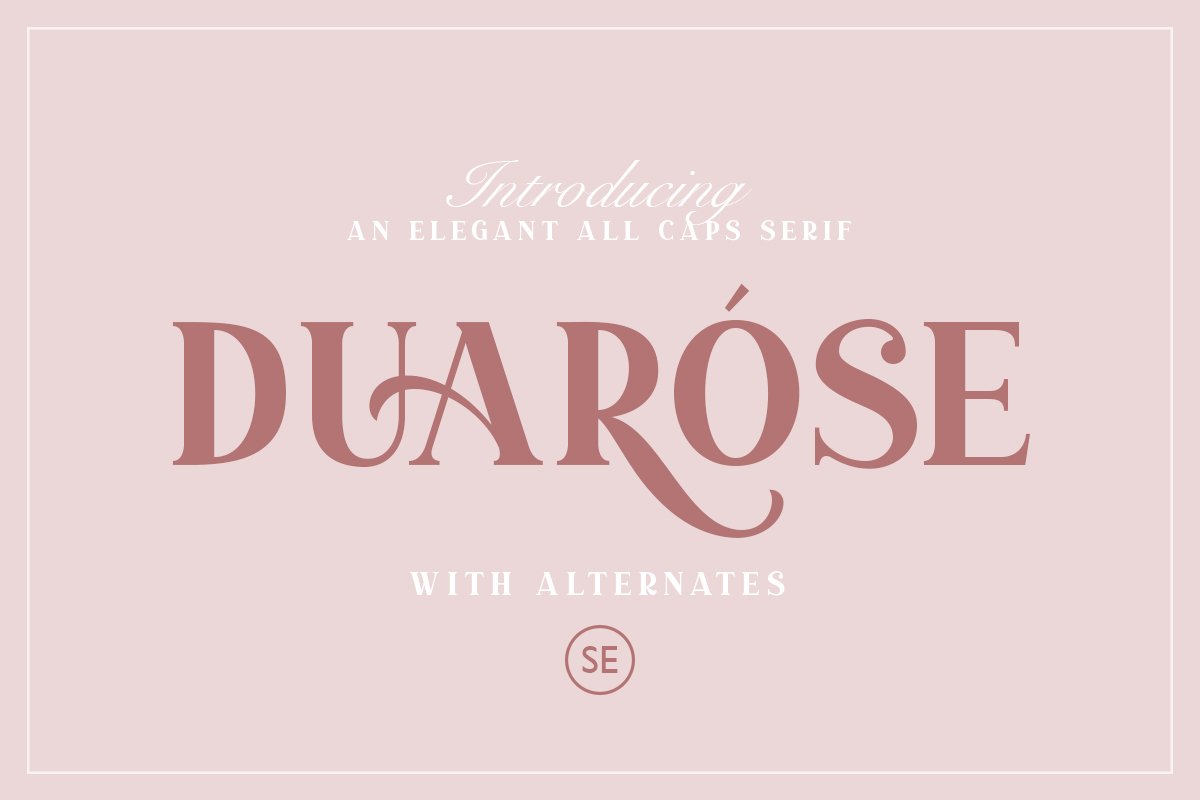 Duarose is a classic and elegant serif with a bunch of alternates up to 6 style for each characters that will make your presentation or logo even more stunning and stand out! Duarose also support Multi Language. and already PUA Encoded!
Cloak – Minimal Fashion Font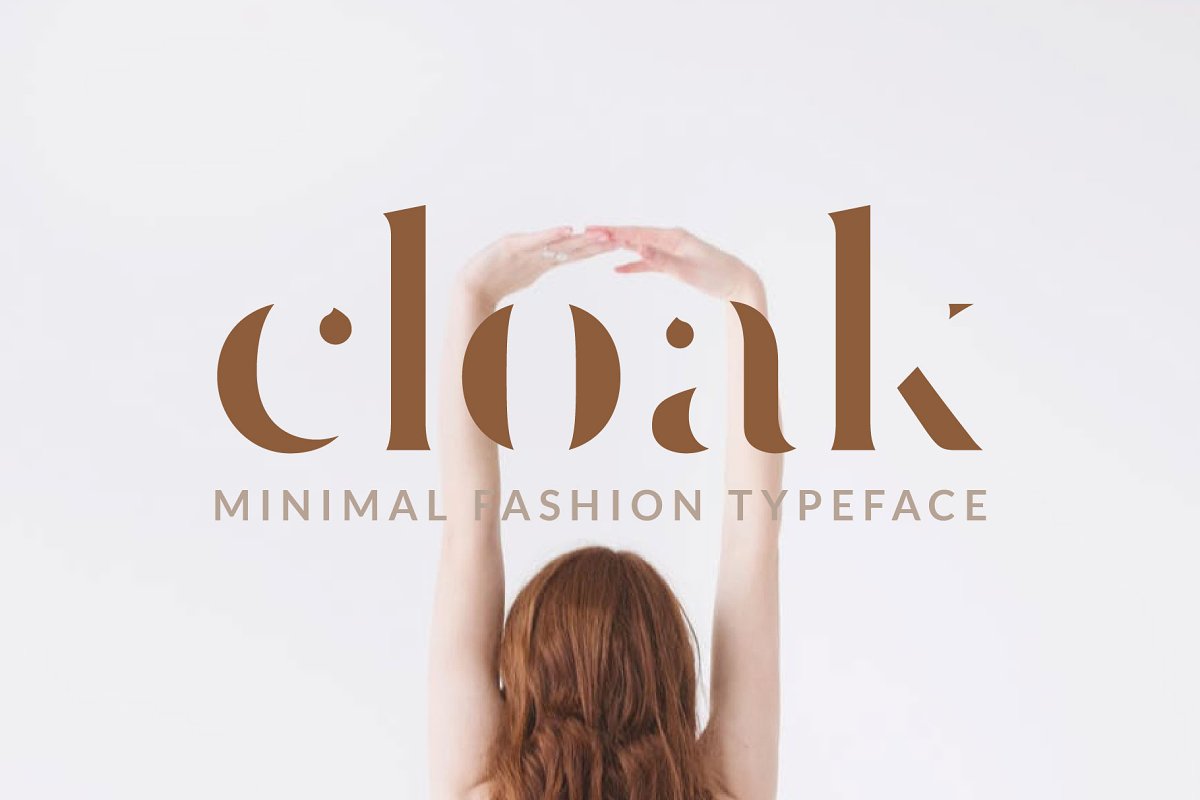 Cloak mixes the modern and minimal. It's sharp and clean but the simple curves add a feminine/fashion touch. Great for mastheads, magazines, logos and headers. Gaps in the letterforms work perfectly as a monogram or wordmark. Pairs well with any simple sans serif font like Lato or Proxima Nova. Comes with numbers and symbols.
Callisto – Modern Stencil Font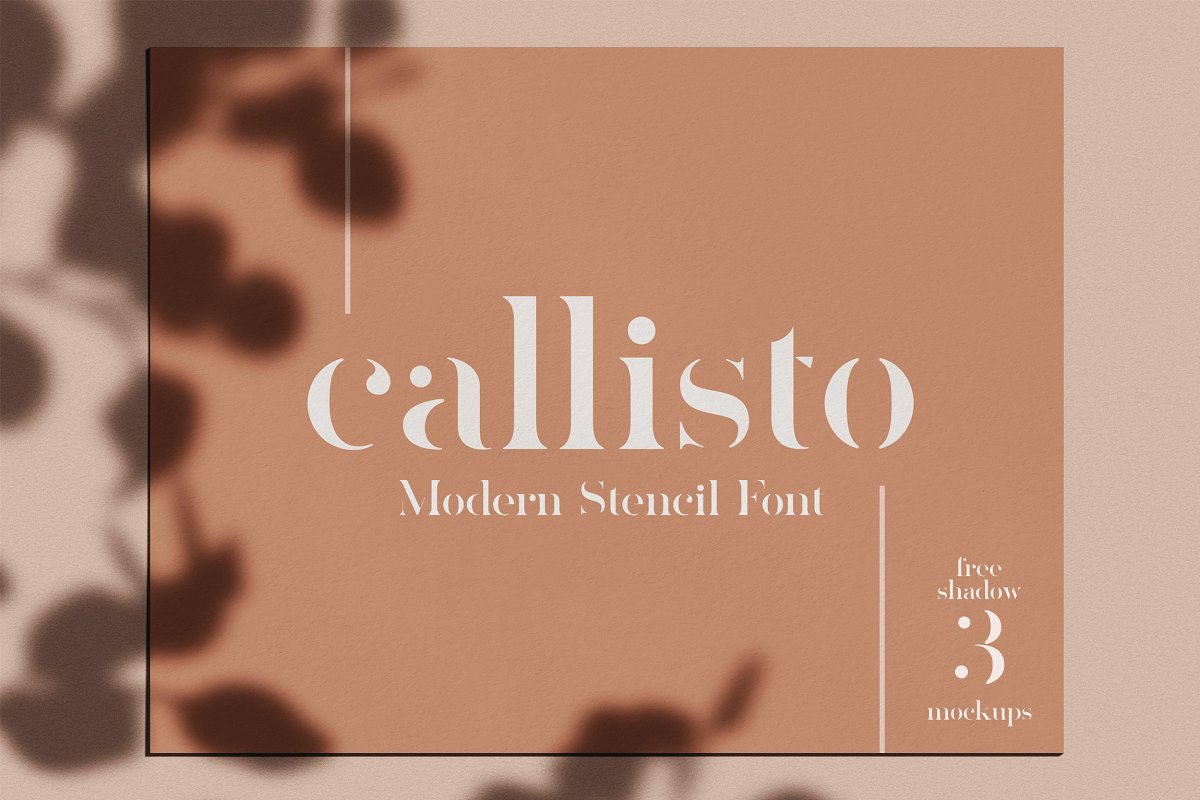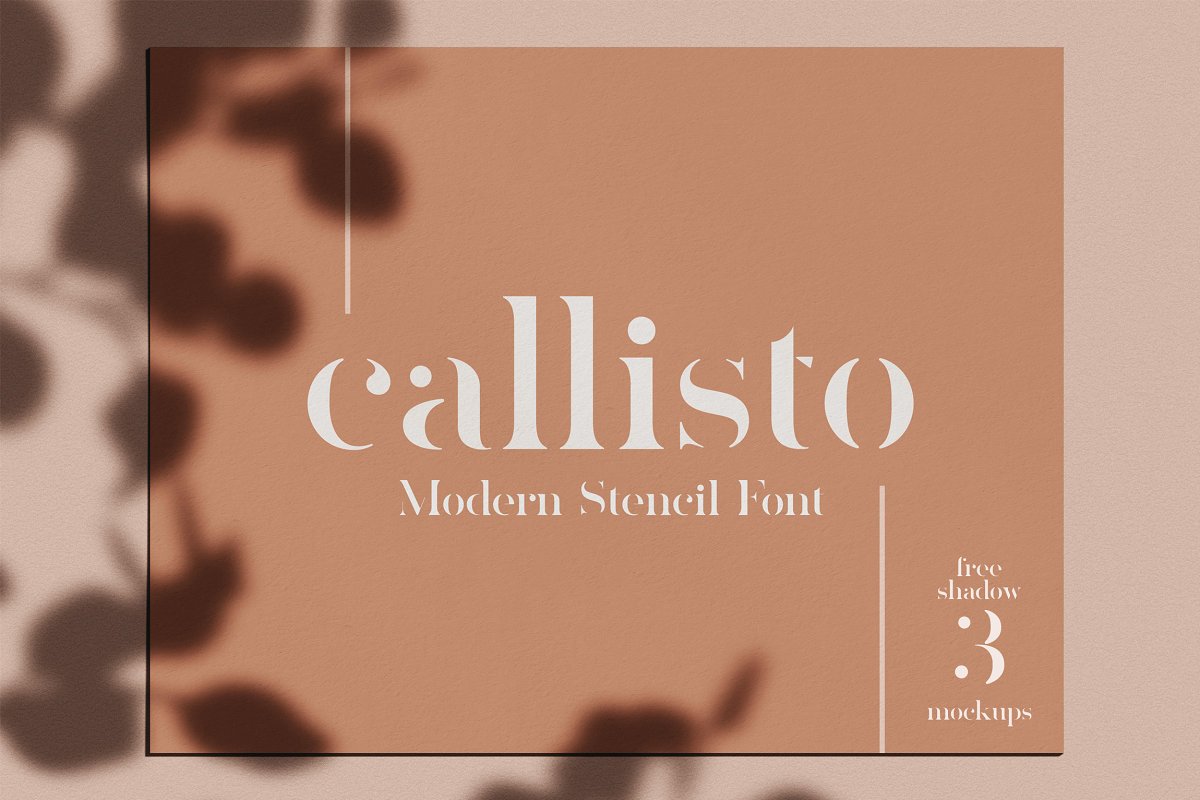 Callisto is a very feminine and very legible serif stencil font that is perfect for blogging, fashion, art and much more. With two versions (Regular and Half, in which gaps are slightly smaller) included, it's a great tool for those who need a font with lots of character and style.
Adelaide | A Bohemian Script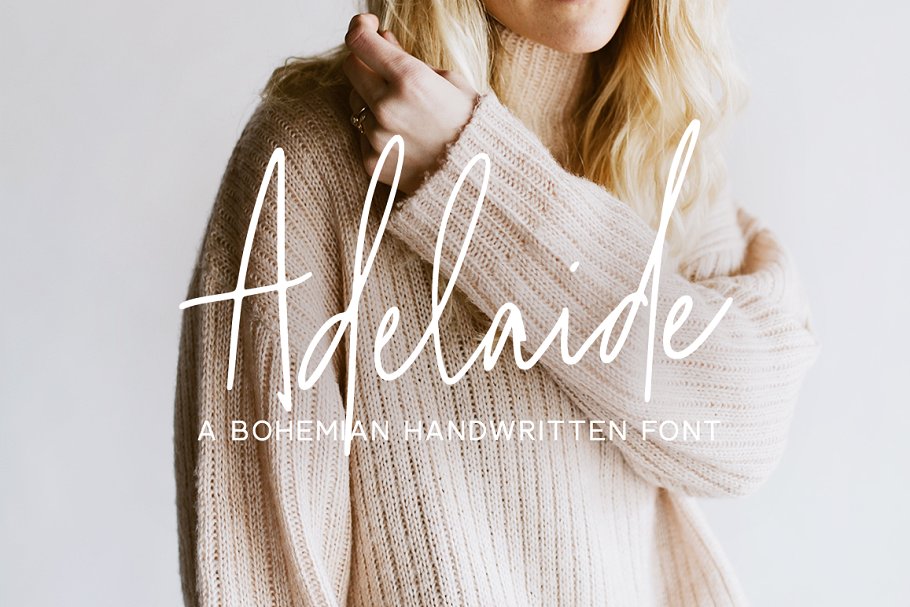 Adelaide is a fashionable and sweet handwritten typeface that is perfect for moodboards, logos, blog posts, invitations, and so much more! It looks beautiful when used for handwritten quotes and logos, and can even be used to make fun products like mugs or t-shirts.
Raisa Script – Logo Font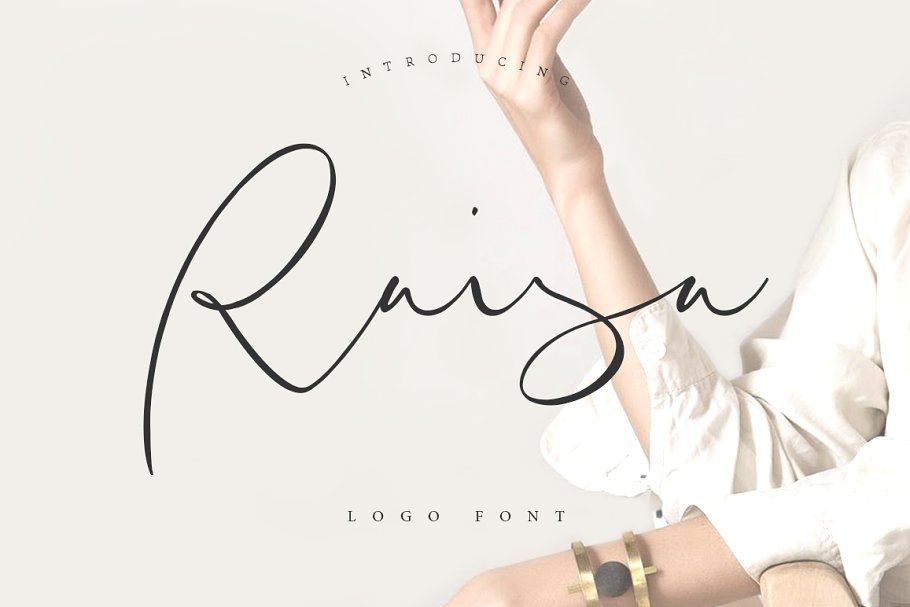 Give your designs an authentic handcrafted feel. "Raisa Script" is perfectly suited to signature, stationery, logo, typography quotes, magazine or book cover, website header, clothing, branding, packaging design and more.