Presentations play an important role in the business world. This is one of the key ways to present ideas and introduce products. When it comes to real estate, presentations are also used quite frequently. Here they help to show professionalism and present the property in the best way for the clients.

Many real estate agents use presentation templates to save time on creating a well-put presentation. And many online marketplaces like MasterBundles or CreativeFabrica offer a wide variety of products to choose from. Om MasterBundles, for example, you will find plenty of ready-made customizable solutions to use in your designs-illustrations, clipart, SVG, stock content, templates for presentations and prints, fonts, textures, patterns, and more.
Why Use PowerPoint Templates for Real Estate Presentations
The main benefits of using PowerPoint templates as a real estate professional or business include the following:
Customization. The templates can be easily customized and edited the way you want. You don't need to have any design knowledge to work with the templates, as everything is already pre-made.
Trendy designs. There are many professional designs available, which are modern and made with an eye for current design trends.
Color themes. Most templates are available in several color themes, so you can choose the one you like the most.
Custom graphics. When presenting your research, you can use various charts and icons, and adjust them.
You can find many professional presentation templates to use for various projects and tasks here: https://masterbundles.com/templates/presentations/powerpoint/.
Main Types of Real Estate Presentations
You can create various presentations based on which purpose you want them to serve. For real estate companies the most common types of presentations to use are the following:
A listing presentation
An agent's sales pitch to a new potential seller is called a listing presentation. To take on a new customer and represent them in their transactions is the ultimate purpose of a listing presentation.
A new build orientation
The new build orientation serves as a welcome package to the neighborhood and house. In this presentation, you should have information about the builder's projected building time, what to expect at the design center when you select your modifications, closing fees and processes, and other important information that may interest your clients.
A real estate marketing presentation
Real estate agents must create awareness about their brokerage services, just like any other business. In a presentation, they should show their expertise and experience to attract more potential clients.
How to Prepare a Real Estate Listing Presentation
Property listing presentations are the most common type of presentations used in the real estate industry. Real estate agents showcase the property to their clients, highlighting the unique features and amenities it had to offer.
Here are the key tips on how to create a property listing presentation with all of the needed information for your clients:
Focus on research
As an agent, you should be familiar with the market. To be better equipped to respond to any related queries your clients may have, think about going beyond the data and basic information and personally seeing a couple of the nearby comparable houses.
Communicate your strengths as a professional
Don't forget to demonstrate your professional value, expertise, and experience. If you're starting out, it's still important to include what you can and which service the client can expect from you.
If you provide any additional services make sure to mention them
Everything you do for your clients has to be highlighted in your marketing materials, including presentations. Since they don't work in the industry, it might not be obvious to them, so you need to make sure you provide all information needed.
Keep an eye on details
Any successful business endeavor or marketing presentation includes thorough planning and preparation. As a real estate agent, you are responsible for the success of your firm. You will have an advantage over the competition if you show up and are seen as being well-prepared, professional, and capable.
Choose the presentation design that suits the listing
Make sure to choose a presentation design that will highlight the uniqueness of the listing and shows a recognizable brand of your company. All materials you share with your clients should have one design to make the branding recognizable to people.
6 Premium Real Estate MasterBundles Templates
MasterBundles offers a wide variety of real estate PowerPoint templates to choose from. Each presentation bundle provides a unique style, so you can definitely find something that will suit your real estate projects.
Huge Real Estate Presentation Bundle: 300 Slides PPTX, KEY, Google Slides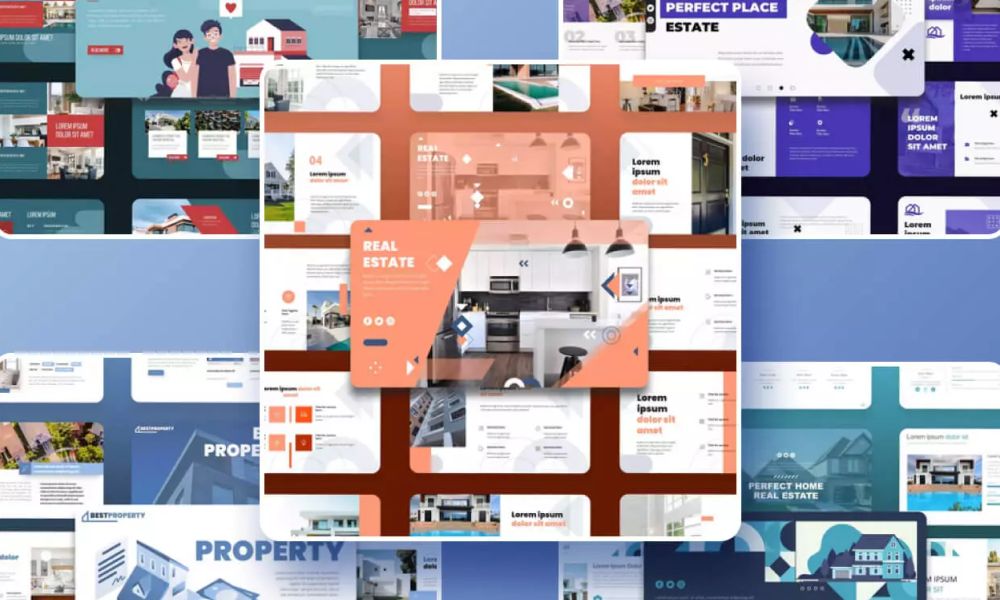 This is an amazing bundle of strong presentation slide templates with various designs. This product contains 300 editable slides with a different layout that you can use for different types of presentations.
Perfect Home Real Estate Presentation Template: 50 Slides PPTX, KEY, Google Slides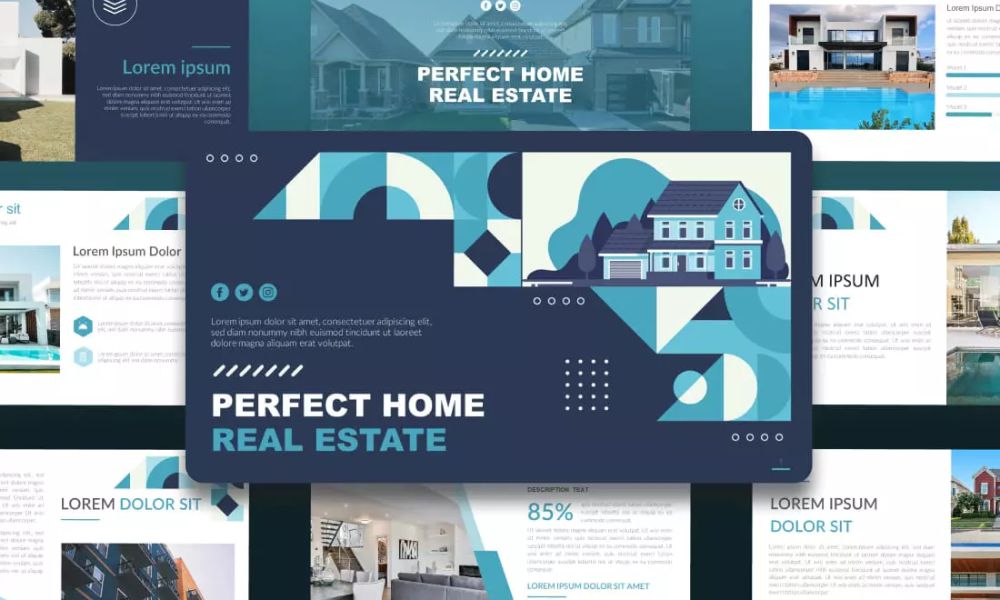 This presentation template is simple, clean, yet creative and multipurpose. You can use these slides for different listings, business plans, marketing materials, etc.
Perfect Place Real Estate Presentation Template: 50 Slides PPTX, KEY, Google Slides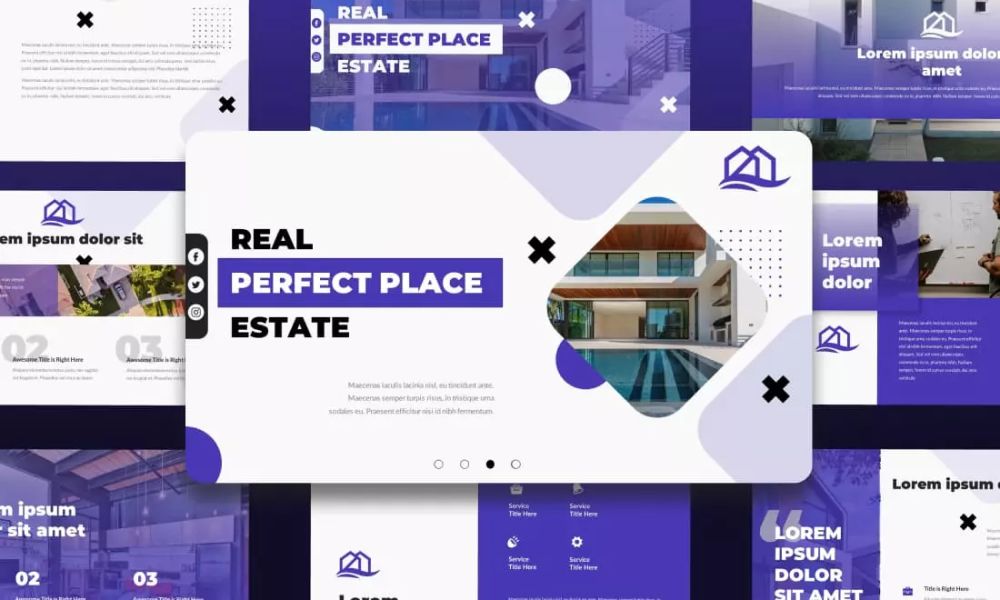 Another great presentation template that offers a variety of slides with professional layouts, graphics, and additional elements that can be easily customized.
Real Estate Presentation Template: 50 Slidet PPTX, KEY, Google Slides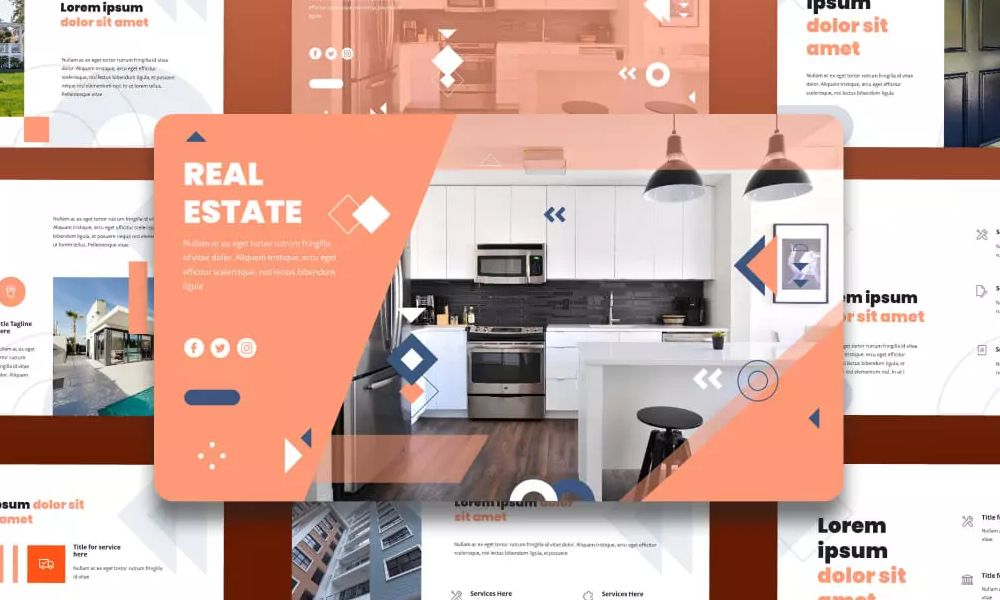 This template offers a minimal modern design, where all slides are created with great attention to detail. There are 50 slides available, which can be edited and used in PowerPoint, Keynote, and Google Slides.
Best Property Real Estate Presentation Template: 50 Slides PPTX, KEY, Google Slides
This presentation template is easy to use, as all elements are editable. You can fully customize them to better showcase the property or an offering. The template includes editable elements, which you can use to present additional statistics or information.
Dream House Presentation Template: 50 Slides, PPTX, KEY, Google Slides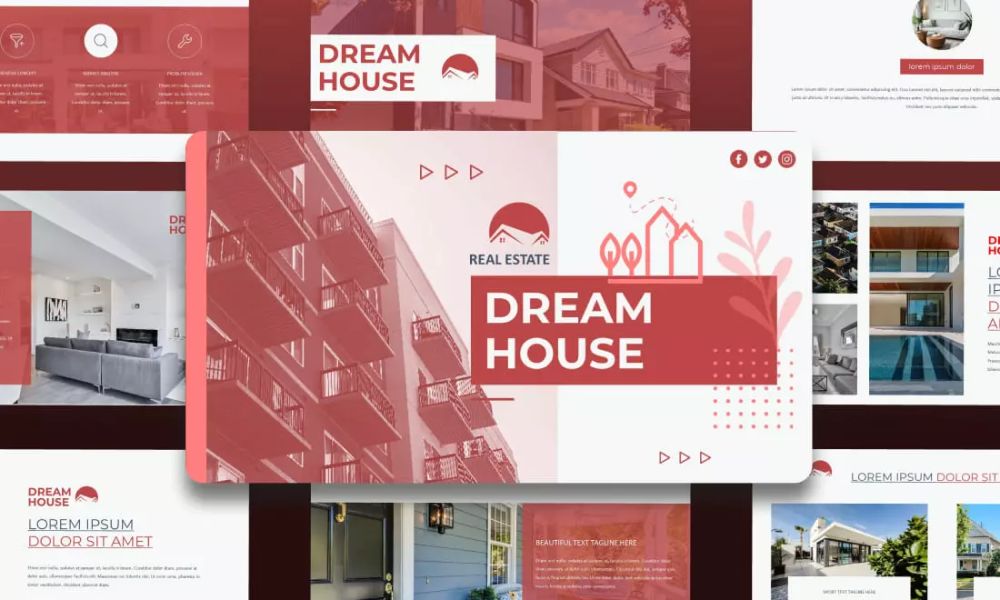 In this template, you can change the color themes, adjust the colors of elements, and modify property photos, graphics, and other elements.
Published by
decolore
Thanks for being a part of this beautiful blog. Hours spent to create this web space to our visitors as much useful as we can. We're living with a pace of life and build beneficial collections related to graphic and web design. Here we come up with premium and free collections like mockups, backgrounds, fonts, wordpress themes, branding, inspiration, tutorials and informative articles for professional designers and beginners. Go ahead and let's be a partners! View all posts by decolore