Designing an app may take dedication and hard work, but many people believe that the venture is worth the trouble. With an average American spending five hours a day using their phones, the demand for mobile applications has risen spectacularly. With this in mind, more people are now trying to develop new and innovative apps to provide the best user experience to customers.
User experience refers to designing products that are meant to provide consistent and meaningful involvement with customers. It aims to improve the interaction between the app and the individual, with the app's growth depending on user experience. An improvement like a rich push notification might make the difference between a profitable and an ineffective mobile application.

What is an App Design?
App design combines the user experience (UX) and the user interface (UI). These two elements have different focal points. The overall focus of the UX is how an app remains usable and functional for the user. The UI, on the other hand, centers its development towards the app style, which includes fonts, colors, etc.
App designers have to ensure that these apps are utilized continuously since users are fast to leave an app when they don't enjoy it. The more that the app fits the user's needs, the more they'll make use of it. Investment in excellent user experience is a must, and it should be the main focus of your design. You can also check some of the most recent concepts that are popular for apps.
You should plan your app meticulously. Many people recommend outlining your design to prevent future challenges in materializing it. Go through the process. You should conceptualize your app and its functions. You should also be able to incorporate these functions into your app. Finally, you can monetize your app through in-app purchases, advertisements, and many other ways.
Factors to Consider
Platform

– There are two types of operating systems for mobile apps: iOS and Android. It's advised to use the one you're most familiar with. For example, if you have an iPhone, you should be familiar with the way apps look and feel on an apple device. You'll be able to design for both sooner or later, but starting with the one you have more experience with will let you move forward more quickly in the beginning.

User needs

– You will have to consider what your users can get out of your app. It should be able to address the reasons they downloaded the app in the first place. Also, it should adapt to the possible needs of the users that may come up in the future as your app progresses and upgrades.

First-time experience –

This is one of the most important factors to consider when designing your app. It's important to know that there will always be first-time users, and their first impression of the app may be one of the factors they'll continue using your app.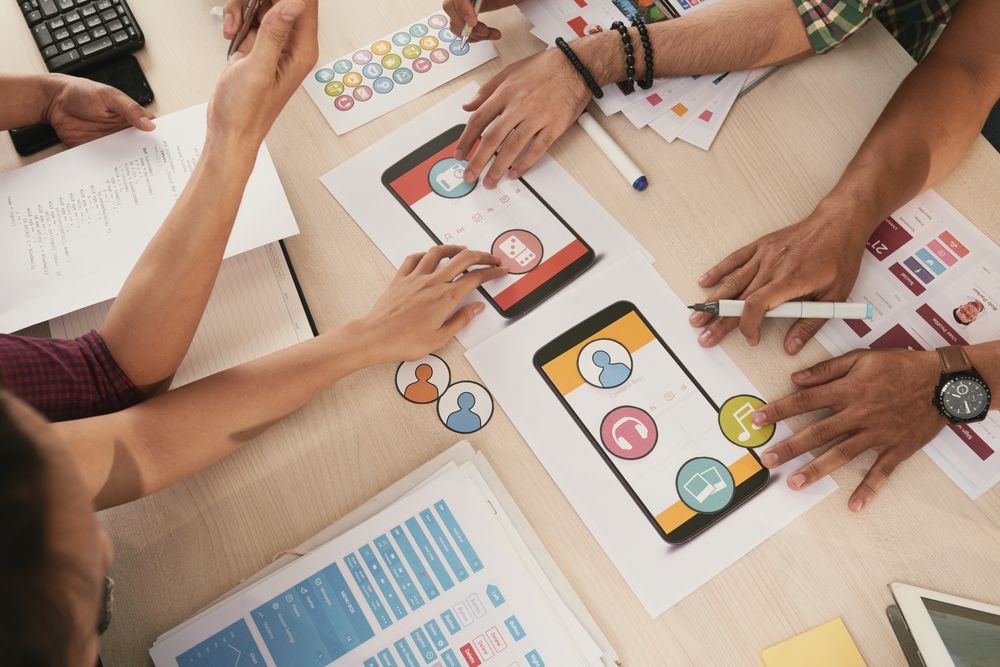 Elements of a Good Design
Crucial elements should be included in designing your app. You should also be able to identify them as you move forward with your design. Some of these important elements include:
User-friendly

– A good app design means that the app is reliable, easy to use, and straightforward. It should be easy to understand as users wouldn't have the time nor patience to learn the complexities of an app.

Easy on the eyes

– This is one of the essential elements of a good design. Your app shouldn't be too flashy nor dull to the eyes. The visual element is crucial in capturing the interest of your potential users. Thus, you should be careful in selecting color schemes and other visual elements.

Limited user input

– One of the reasons an individual downloads an app is to make things easier. Having an app that provides too much information in one go may overwhelm users, which might compel them to uninstall your app. Intelligent features like auto-completion and customized keyboards can help make things easier for the user.

Anticipated user needs

– Your app should be able to have more room for improvement. It should revolve around the user's needs, and its functions should be relevant to the users' demands.

Consistency

– No matter the mobile OS you're dealing with, your app should be consistent. It's one of the fundamental elements of a good design as it helps remove confusion among the users. For example, maintaining visual consistency through fonts, labels, and buttons can make the app look organized.
What Tools Should You Use?
There are different tools that you can utilize when designing your app. Most popular options for app design include Sketch, Adobe XD, and Adobe Photoshop. There are other options available, but most are for more complex structures.
Photoshop is the most common tool in app design and this could be your first pick. But if you're designing an app, Sketch or Adobe XD comes in handy, since their functionalities provide more options. These two can help you with your design workflow and are more tailored for UX and UI designs, while photoshop focuses on manipulating images. Another thing to take note of is that Sketch is only available on macOS, thus, it's better to use Adobe XD if you're planning to create a cross-platform application.
You should also be able to wireframe, which can help you navigate your app's structure and flow. There are many wireframe tools available, but you can also use both Sketch and Adobe XD for this purpose. Wireframing allows you to see how an individual will use your application. Through this, you'll be able to simplify the design and focus on its usability.
Mock-ups and Prototypes
Forming mock-ups and prototypes should give you and the developers an idea of what your app would look like and how it will function after it launches. From there, you should list down all of the changes you would like to make and what you can do to improve further after releasing it.
Presentation to the Developers
As the designer of the app, you are responsible for delivering your design to the developers. You should be able to present the backgrounds, logos, icons, and fonts for the application. Once they get the whole design, they'll be responsible for how your app functions moving forward. They might encounter some problems sooner or later, so you should be ready to collaborate with them as they develop your application.
Take Away
Designing an app is a complex process that will require your creativity and skills. Being able to conceptualize an app that can fulfill user needs and improve in the long run should be your primary goal as an app designer. After all, user experience is the ultimate determinant of the success of your app.
Published by
decolore
Thanks for being a part of this beautiful blog. Hours spent to create this web space to our visitors as much useful as we can. We're living with a pace of life and build beneficial collections related to graphic and web design. Here we come up with premium and free collections like mockups, backgrounds, fonts, wordpress themes, branding, inspiration, tutorials and informative articles for professional designers and beginners. Go ahead and let's be a partners! View all posts by decolore