If your social media pages look unremarkable, your target audience will only ignore you. You'll lose opportunities to raise brand awareness and recognition, and building a solid social media presence can become a long, uphill climb.
The solution? Make a great first impression on your audiences by designing your social media pages to stand out. It can help you make your social media profile more attractive, supporting your efforts to create and grow your social and online presence effectively.

Start with these five tips.
1. Ensure cohesion and consistency
Maintaining consistency in your social media page designs can help you raise brand recognition. After all, not sticking to a consistent color scheme and design can lead audiences to confuse your company with other brands, or they won't remember you at all.
Ensure a consistent and cohesive design by including your branding elements and using a visual theme. For instance, use the same editing style or filter on images you post across your social media pages to ensure they fit with your branding.
Ensuring a cohesive and consistent design in your social media posts can be challenging when you handle multiple channels on top of your other marketing efforts. Streamline your content creation and design with reliable Social Media Marketing (SMM) platforms.
For example, Vista Social lets you plan, create, and schedule your content across your social media marketing channels such as Facebook, Instagram, and TikTok. You can create your social media posts on the platform and preview your content. Then, add the posts to a queue and schedule them for bulk publishing or auto-publishing on your specified date and time.
You can also edit your photos within the platform. It lets you check whether your social media images have a consistent design and appearance quickly without leaving the platform or using other editing tools.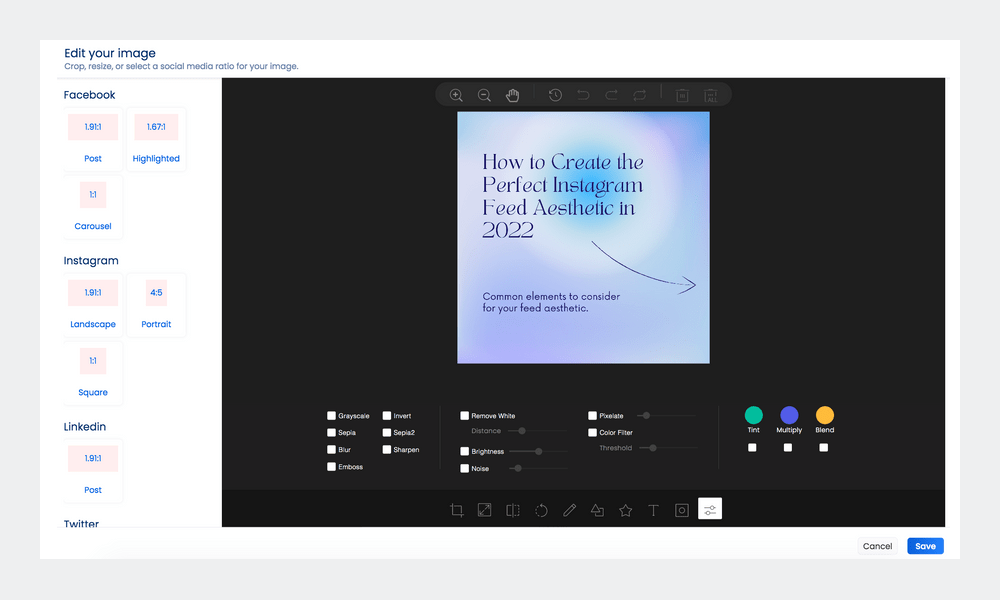 Vista Social also offers other sophisticated SMM features—from a reviews management functionality to TikTok tools for marketing.
2. Adhere to design best practices
You can get as creative as you want with your social media content, pages, and profiles to draw more eyeballs to them and encourage engagement.  However, you still need to follow the general design rules to create aesthetically-pleasing visuals and content.
For instance, using white or negative space can help draw your audience's eye to elements you want to highlight, such as your Call-to-Action (CTA) or offers.  White space can also help keep your social media, content, and page design look clean, uncluttered, and minimalist (if you're aiming for that).
Below are several other design principles to consider when creating your social media pages and content.
Balance. Create harmony in your designs by having equal visual weight in your images. The tweeted image below from Lonéz Scents is a classic example.
Hierarchy. Layout your visual elements in an order based on their importance. Play around with contrast, sizing, space, and other elements to implement visual hierarchy in your design.
Contrast. Make specific design elements, such as your CTA buttons, giveaway announcements, etc., stand out using contrasting textures, sizes, or colors.
Simplify planning, creating, and organizing your creatives and designs for social media using reliable task management software.
3. Adopt your design based on each platform
Social media platforms have particular content and sizing guidelines.  For instance, Instagram Reels formats are designed to be viewed on smartphones and mobile devices, so you need to film your videos in portrait orientation.
On the other hand, Facebook and YouTube are formatted for landscape videos, so you need to shoot your videos accordingly.  Besides sizing and formatting, consider the content type and design. Determine whether your creatives and visual content fit the specific social media platform and audience.
For example, sharing infographics isn't likely to do too well on Twitter. A better approach would be to tweet a sentence or two and include the link that users can click to view the infographic.
You're better off sharing infographics on Facebook, LinkedIn, and maybe Pinterest. Use templates to save time and energy figuring out which designs fit certain social media platforms. Use handy digital marketing software such as Canva.

You can collaborate and create templates for your social media content and designs easily using Canva's graphic design tools. Canva also offers ready-to-use templates for Instagram Stories, Facebook posts and covers, LinkedIn banners, and more.
You can customize the templates easily to fit your branding, content, and campaign goals. Ensure your design meets and fits each social media platform's required and appropriate format. 
Doing so increases the chances of audiences noticing your social media pages and content, boosting your engagement opportunities.
4. Leverage colors to convey your brand identity
When used strategically, colors can affect how customers perceive your brand. Incorporate the right colors into your social media content and page designs. 
For example, use color schemes that reflect your brand colors. It can help raise your brand recognition among potential customers.  Urban Skin RX's use of turquoise in its Instagram feed is a classic example.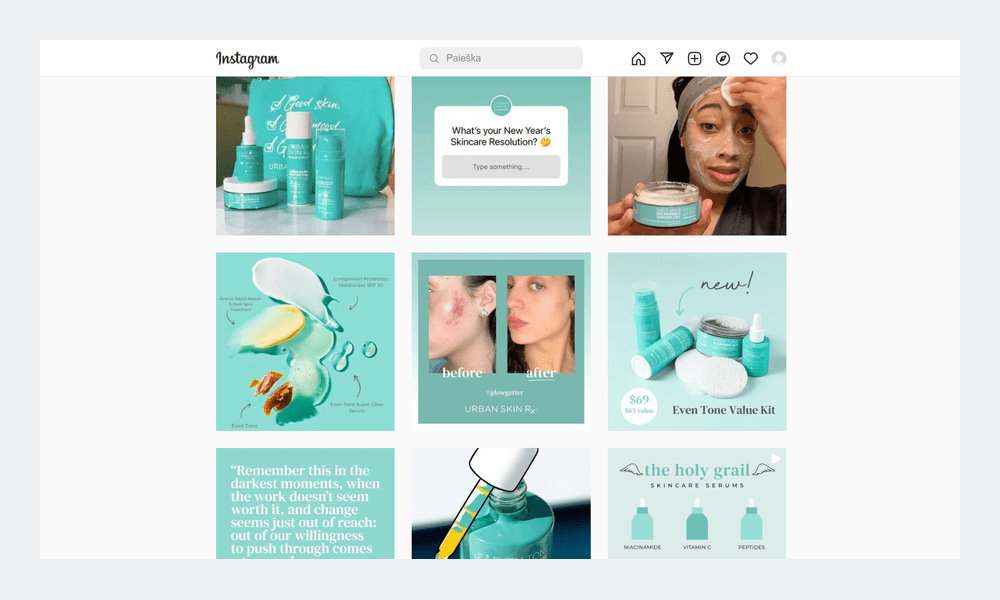 You can also highlight specific colors in your social media videos and images to help them stand out.
Another approach is to design your social media content to align with specific themes and colors based on events. For example, if you own a women's clothing brand and you plan to promote a three-day sale for Easter, build your creative assets around pastel color themes (commonly associated with Easter) for the month.
It's an excellent way to create relatable content and draw attention to your pages and posts while staying on-brand. 
Remember to set measurable metrics for your content tracking strategy. It can help you determine which content with specific color schemes, designs, and strategies help you reach your social media marketing goals.
5. Optimize your profiles
While your social media audience's focus will mainly be on your content and posts, designing your profiles is just as important. For instance, design your social media profile picture, cover photo, and other visual elements to be aesthetically pleasing while mirroring your brand. 
Below are a few tips to help you design your profiles.
Use the same profile photo, such as your logo, across social media platforms for consistency and brand recognition.
Include cover photos that align contextually and visually with your brand.
Update your profile to highlight holidays or events relevant to your brand. For instance, you can add wreaths to your profile photo during the Holidays.
Make your social media pages stand out
Make the best first impression and draw your audience's attention to help build and grow your social media presence. Design captivating social media pages and content that help raise your brand recognition and awareness while encouraging engagement and driving conversions and sales.
Published by
decolore
Thanks for being a part of this beautiful blog. Hours spent to create this web space to our visitors as much useful as we can. We're living with a pace of life and build beneficial collections related to graphic and web design. Here we come up with premium and free collections like mockups, backgrounds, fonts, wordpress themes, branding, inspiration, tutorials and informative articles for professional designers and beginners. Go ahead and let's be a partners! View all posts by decolore