1000+ Best Vintage Mockups and Design Tool
Looking for a way to make your design process easier and faster? Do certain famous design software confuse and overwhelm you to the point that you lose your inspiration and focus? Then you'll love hearing about this simple graphic design tool that lets you create vintage designs.
From an intuitive interface that caters to both newbies and experts to an abundance of eye-popping templates made by professional designers – Kittl ticks all the boxes. You will like this creative platform if you're a:
Graphic designer (professional, intermediate, or beginner)
Design enthusiast that loves vintage designs
Someone in need of a design and without much time to spend on it (e.g. you need a last-minute poster, wedding card or company logo…)
In short, you will probably need Kittl at some point. So, here is a rundown of why you should check out this tool while it's still free.
If you want to check it out for yourself already you can sign-up here and get a $45 Kittl Pro-Plan for FREE.
1. Eye-Catching Designs Made Fast
Want a quick way to evoke a rustic aesthetic with your creation while conveying a clear message? Kittl turns complex design processes into easy and quick steps.
The team behind the platform developed the tool with intuitiveness in mind – in today's fast-paced world, you often don't have the time to lose yourself in a maze of features and options. With Kittl, you can make a professional-looking logo within minutes and render it to any format if you want something that's quick to use.
This is basically a drag-and-drop editor containing a vast and searchable library of typefaces, templates, and design elements.
Imagine you need to design a logo for an artisan coffee shop. You have a color palette in mind and a vague idea about the rest of the design elements. But you're simply lost on how to create, position, and align the typography. That's where one of Kittl's many ready-to-use vintage or decorated typefaces come into play. Just select the one that caught your eye and double-click to replace the default text with your own.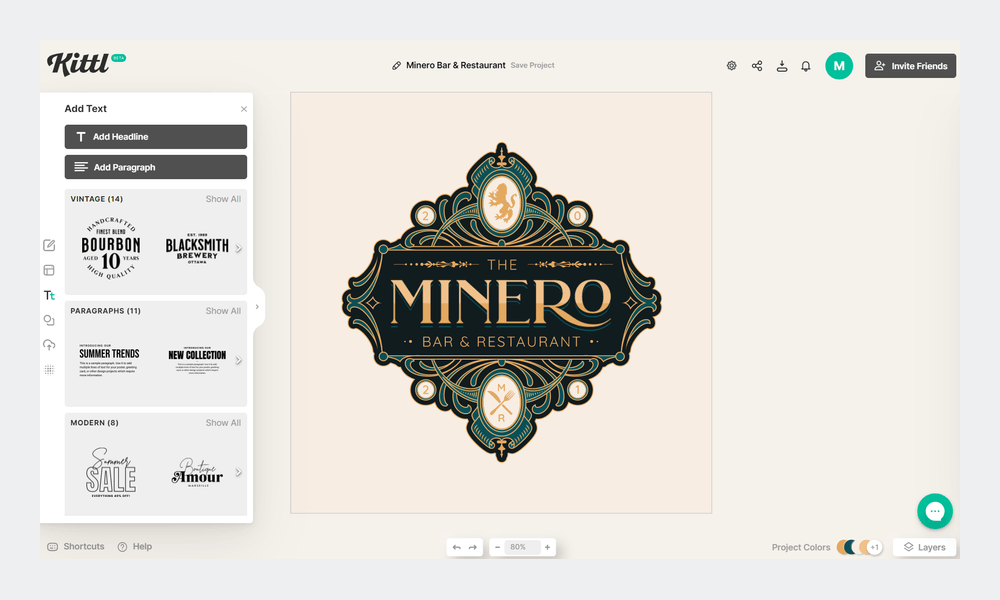 2. Professionally-Designed Templates and Design Elements to Customize
This intuitive platform doesn't just offer ready-made typefaces. With Kittl, you enter a fully-customizable and creative playground where you can pick templates and elements made by experts. And there are thousands of them, all free to use if you sign up here.
Templates
The templates offered on this designer web app cater to different needs: from ornate ones to those containing animal references, to retro eat-and-drink designs – it has it all.
The already finished designs rely on the true-and-tested principles of retro designs – muted colors that still appear noticeable and bright.
And even though people tend to think of ornate and rich designs when they think about vintage aesthetics, there is actually an abundance of minimal designs to choose from. Such is the York Paper design, reminiscent of the elegance of bespoke manufacturers of the past, thanks to the Old Style serif typeface and the color scheme.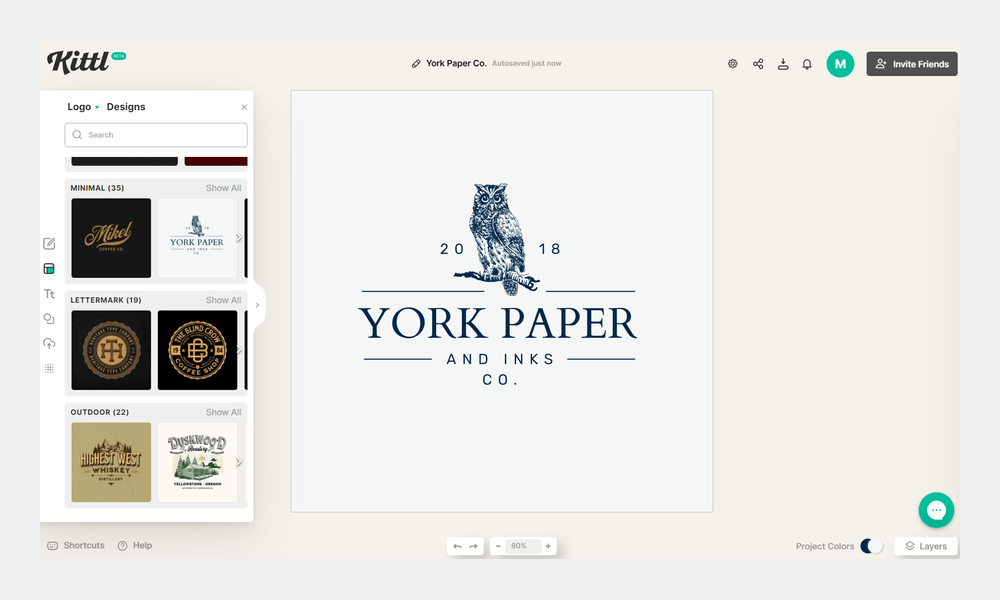 On the other end of the spectrum, lovers of Americana and steampunk will satisfy their needs with the mentioned ornate templates. The Straight Shooter Tavern design below contains a multitude of concepts – a whimsical typeface, effective shading that makes the text stand out, and a color palette that evokes rust and an old-timey atmosphere that is perfect for any craft brewery out there.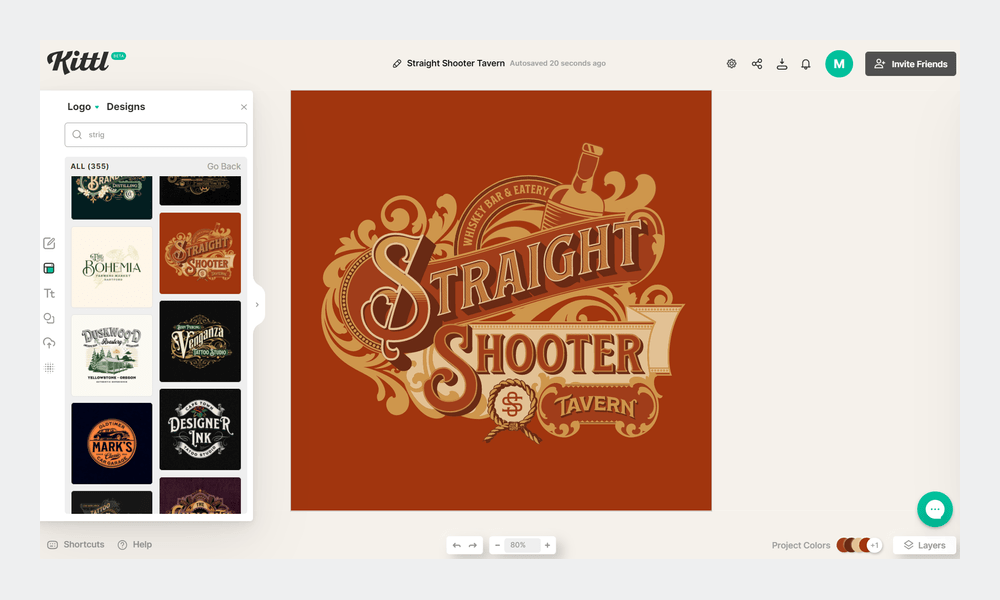 And even with thousands of vintage templates on offer, a birdie told us that Kittl has much, much more categories added as this piece is being written!
Design Elements
Dreaming of making a label, poster, or menu with outdoor pictograms or with detailed animal drawings? You don't have to be an illustrator or artist to incorporate such attributes into your project. You can make some designer magic with vintage illustrated fruits, skulls, vintage vehicles, brewing and beverage elements, and much, much more.
To check out the vast assortment of Kittl's drag-and-drop elements, click here to sign up and get exclusive early access and 3 months of pro subscription for free.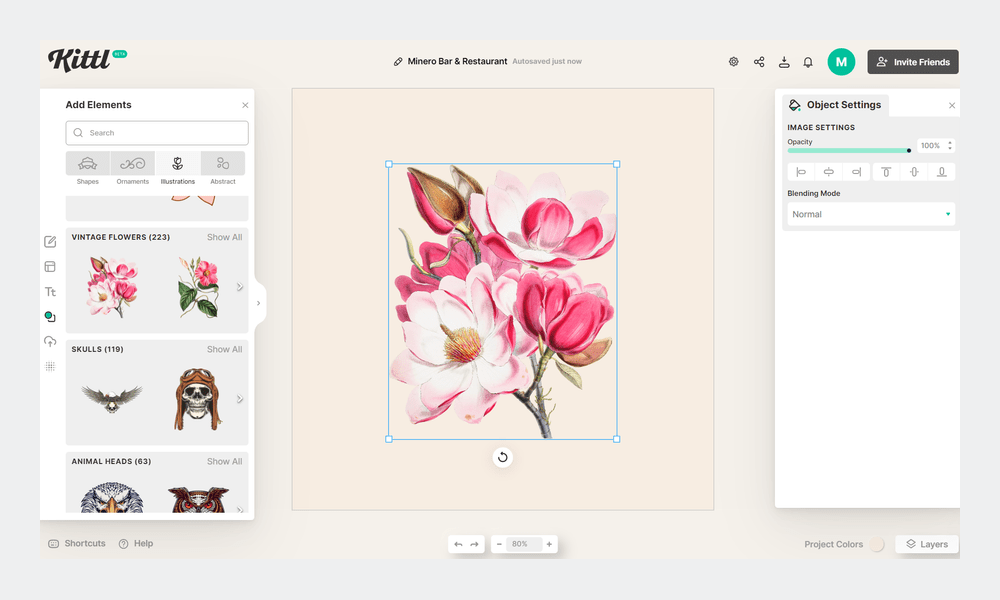 3. All in One Place
No need to seek other design apps and graphic design platforms! Kittl holds everything in one place. So if you were, until now, going back and forth between a couple of platforms in order to get use of their limited free features and complicated interface – wave goodbye to those day.
A responsive interface with drag-and-drop features situated on the left conveniently lets you play out your imagination. Text, ornaments, textures, and colors all come together on the platform that offers autosave options.
4. Great for Beginners and Experts!
Maybe you're just starting out your artistic journey. Maybe your foray into graphic design started 10 years ago and now you're able to make logos with one hand tied behind your back.
Or maybe you have no intention of making a living out of this – you just decided to make a poster as an anniversary present for your boyfriend, or you're scrambling to make a memorable birthday card for mom.
Whichever the case, you'll fit right into Kittl's niche. Those who're racing against a clock to create a design will love the aesthetic 5-minute designs they will be able to put together. And that goes for designers of all levels of expertise.
Professionals will appreciate the ready-made templates that have been carefully designed by other experts. And beginners will love the tightly-organized website that makes it easy to create, save, and modify their own templates.
5. Ideal for Both Print and Digital Needs
Heritage Designer offers online editing and image customization that renders your designs great for print and digital needs. You can also apply filters and effects, crop and resize images, and retouch portraits to magically transform ordinary pictures into striking works of art.
When saving and downloading your design, Kittl makes your options clear. The web app helpfully lets you know which formats are great for prints (PDF and SVG) and which are great for digital use (JPG and PNG).
Hop On to Claim Your Offer!
Intrigued? We can't blame you. Designing retro works of art has never been a faster feat. So don't hesitate to sign up for Kittl and get three whole months of a free professional subscription. Don't miss out, because the platform is currently invite-only, so this is your chance to peek into the micro-cosmos of creativity it holds.

Published by
decolore
Thanks for being a part of this beautiful blog. Hours spent to create this web space to our visitors as much useful as we can. We're living with a pace of life and build beneficial collections related to graphic and web design. Here we come up with premium and free collections like mockups, backgrounds, fonts, wordpress themes, branding, inspiration, tutorials and informative articles for professional designers and beginners. Go ahead and let's be a partners! View all posts by decolore